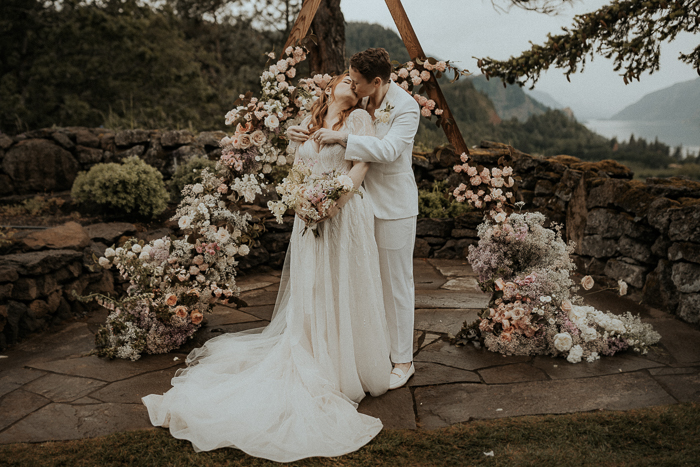 From the scenic views and cozy misty vibes to the earthy color palette and whimsical florals—Abby and Abby's Griffin House wedding details perfectly tied into their natural surroundings, making it an ultra-romantic and dreamy affair. The pair celebrated their big day with their closest loved ones in the most picturesque location.
Set amongst a quintessential PNW backdrop, the ceremony lawn made for a breathtaking setting for their ceremony. Overlooking the Columbia River Gorge, the two exchange vows under a triangle arbor that mimicked the mountain peaks behind them. At the marquee reception, the guests dined and danced all night under glittering mirror balls, florals, and the golden glow of string lights.
If you and your partner have your hearts set on tying the knot in the great outdoors, you'll want to check out this Griffin House wedding. Whether you're pulling out all the stops or opting for something a bit more laid-back, keep scrolling to see more amazing photos captured by Sarah Olivia for some of the best ideas to get you inspired for your big day.
The Couple:
Abby and Abby
The Wedding:
Griffin House ,Hood River, Oregon, United States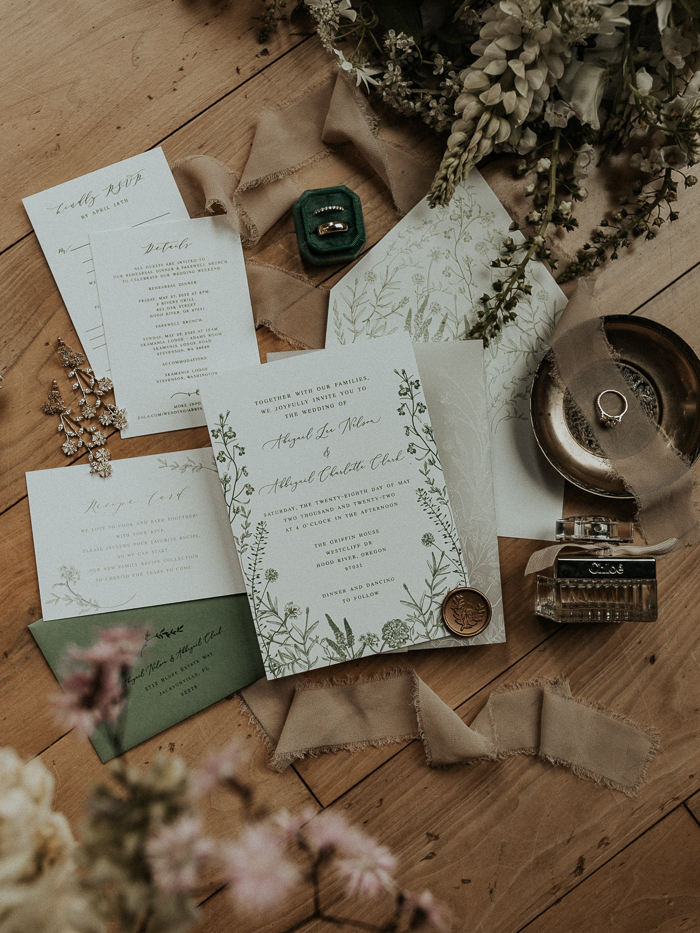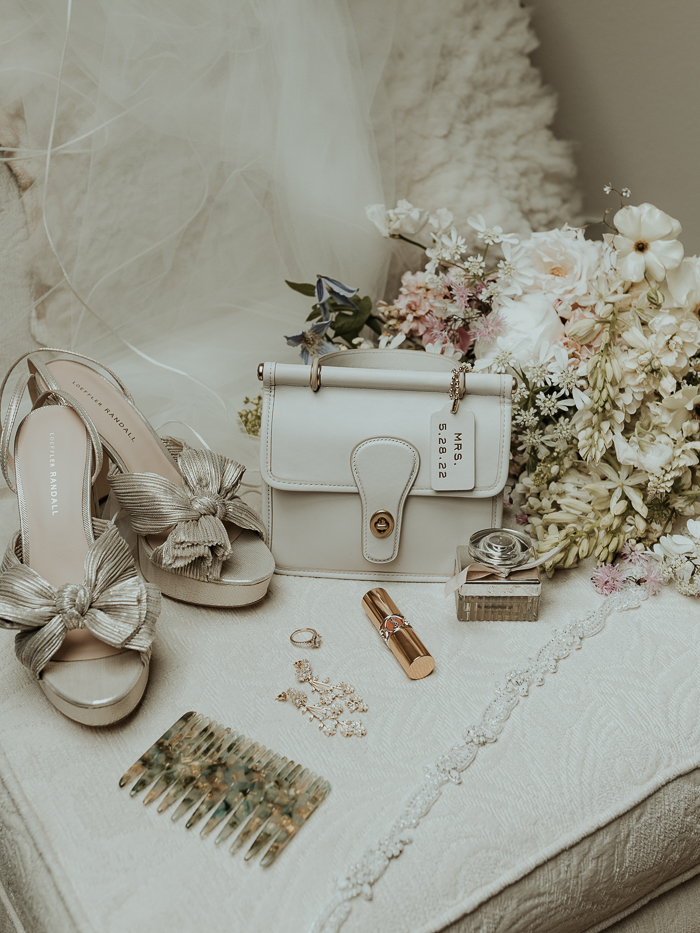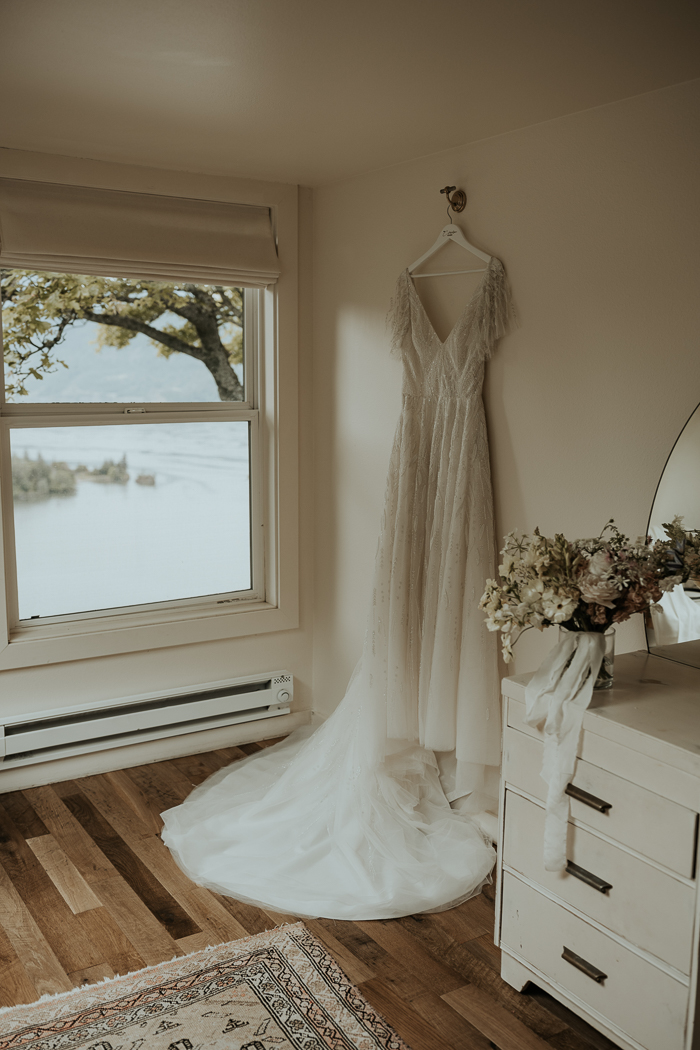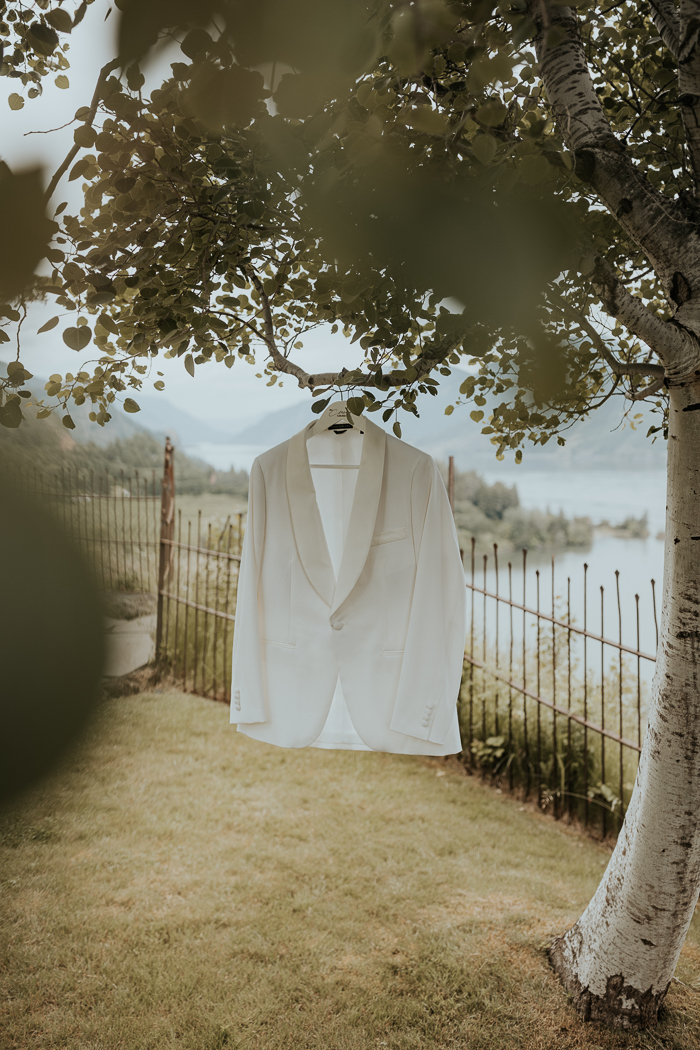 Recommended Reading: Perfect Bridal Jumpsuits and Pantsuits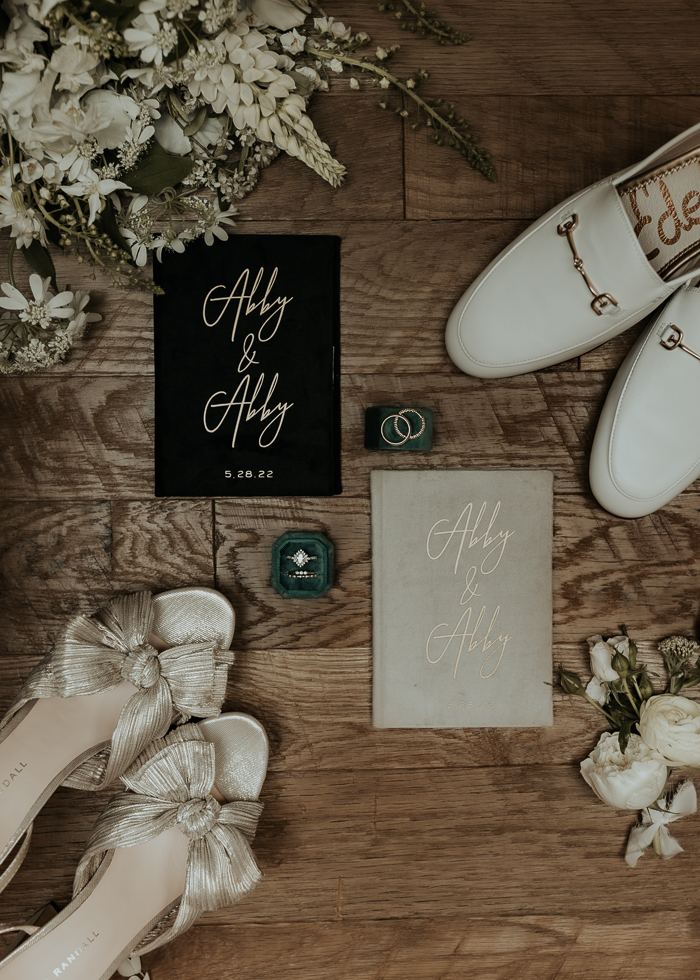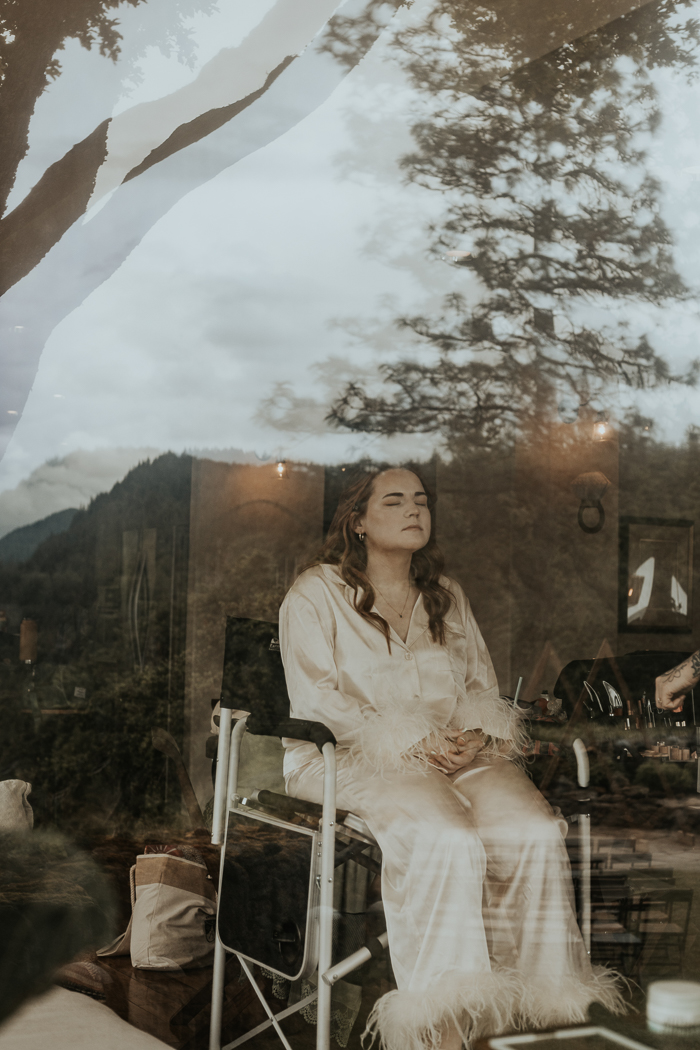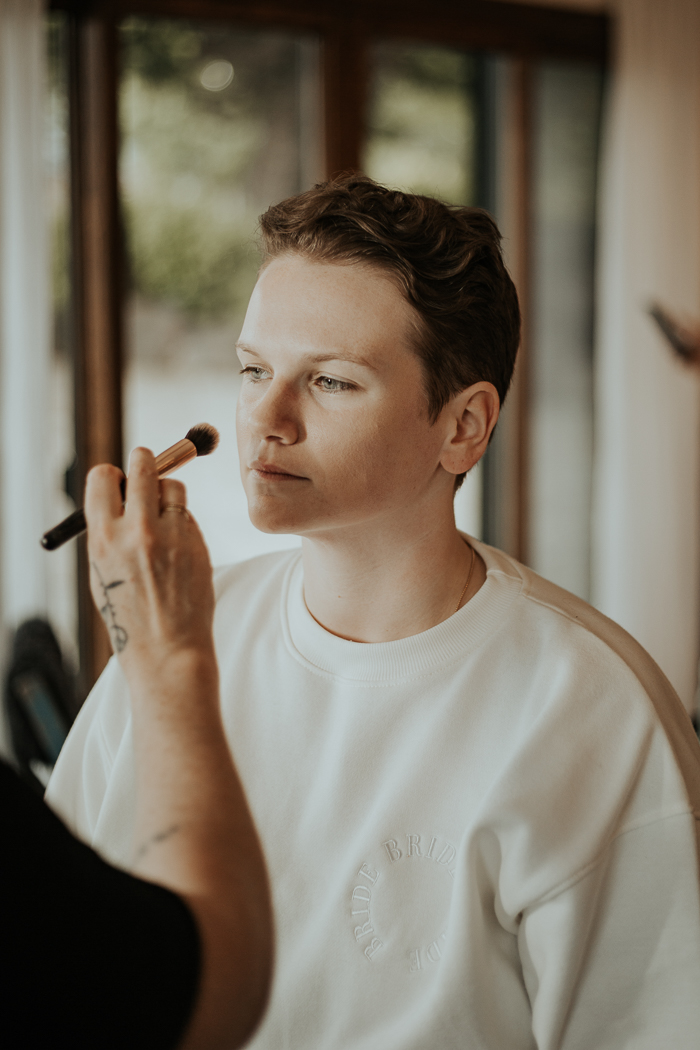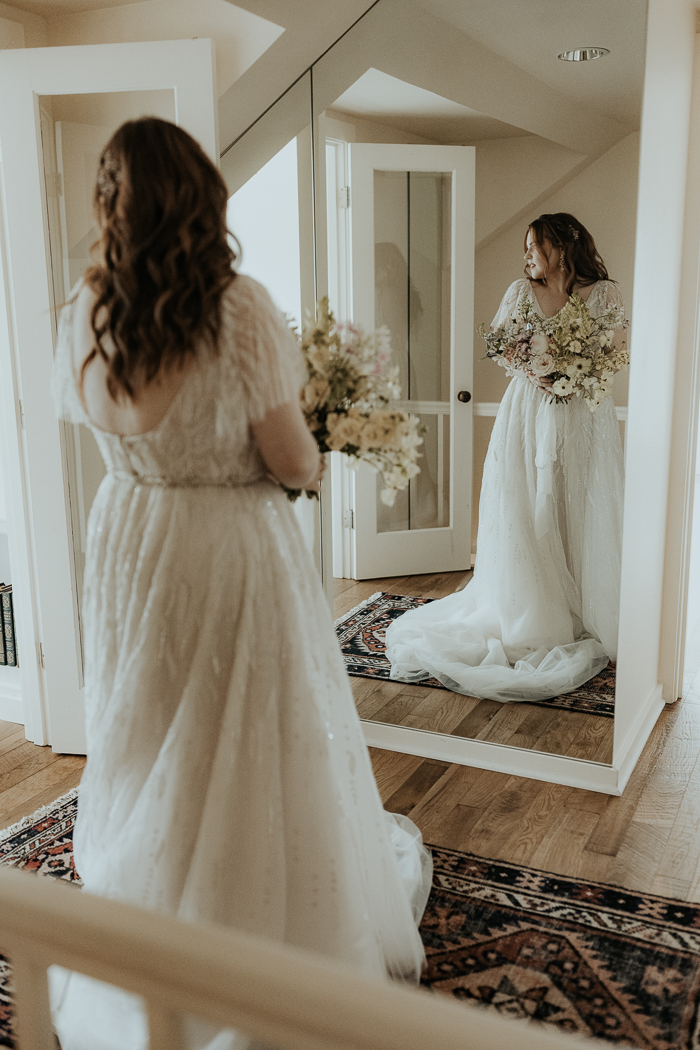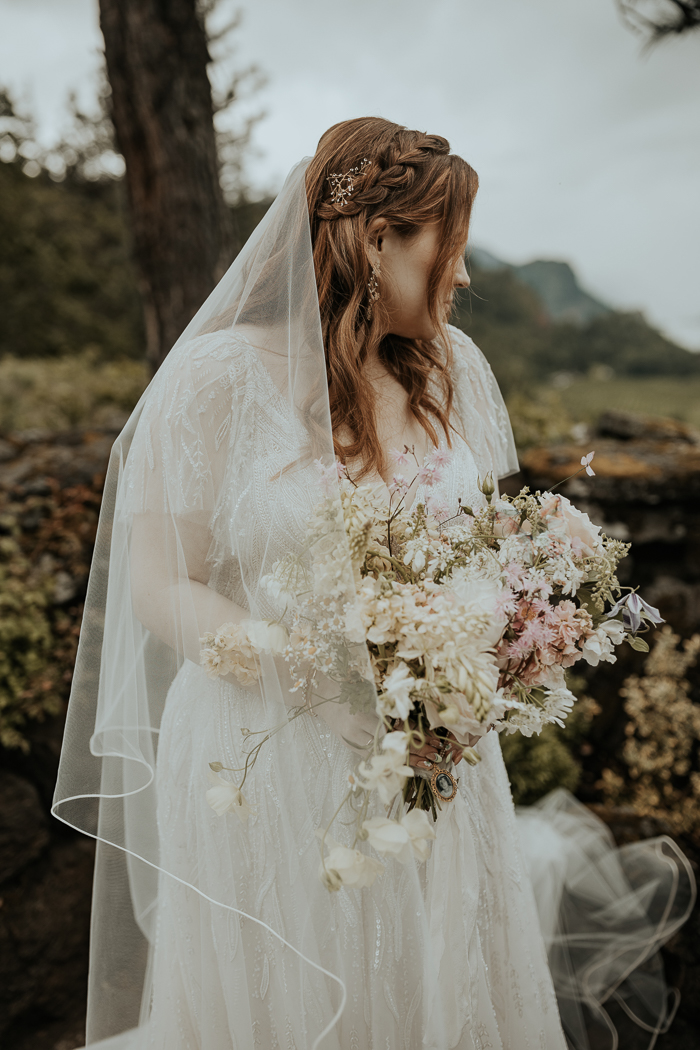 How All The Details Of Their Griffin House Wedding Came Together
The vibe of our wedding came together throughout the planning process, but we knew we wanted to it to feel dreamy, romantic, enchanting, and elegant—unique to us. We knew that a destination wedding would make this occasion extra special and a fun vacation for our family. We looked online for about two weeks at venues across the country, but nothing spoke to us. And then Ab looked on Instagram and found The Griffin House in less than five minutes and nothing else even compared. The venue is absolutely stunning on its own, so we wanted to play off the natural elements around the property and feel authentic to the PNW. Our guest count also helped us make the vibe more romantic and intimate, as we could focus on ourselves and visit with our loved ones throughout the night. Ab and I have a special place in our hearts for discos, so we absolutely had to have disco balls in the reception tent. That got everyone out on the dance floor having a blast!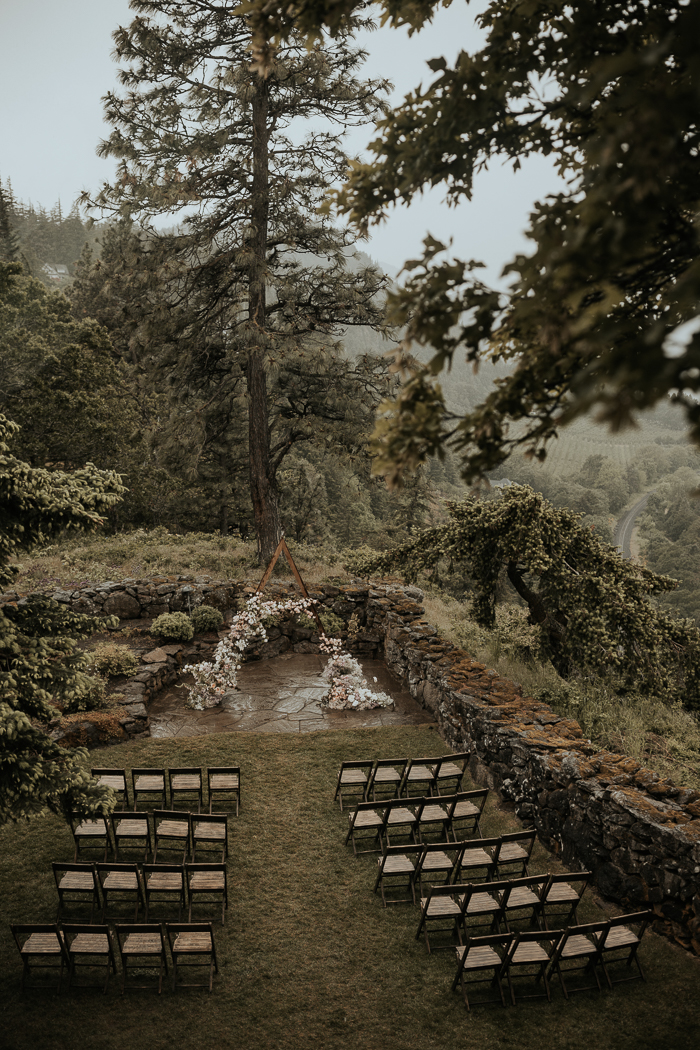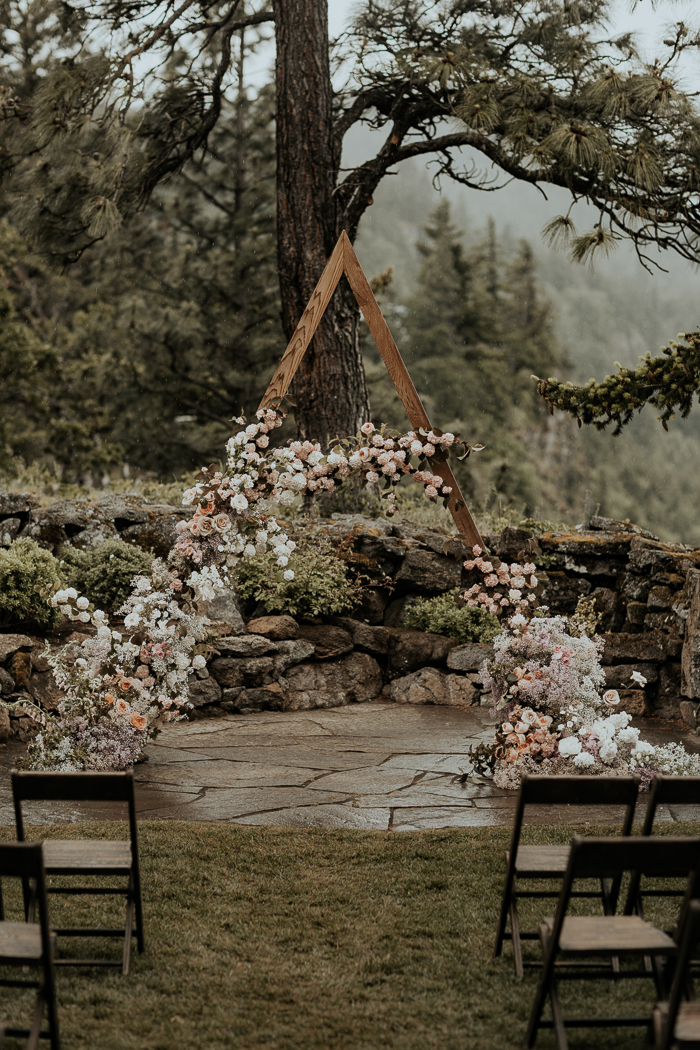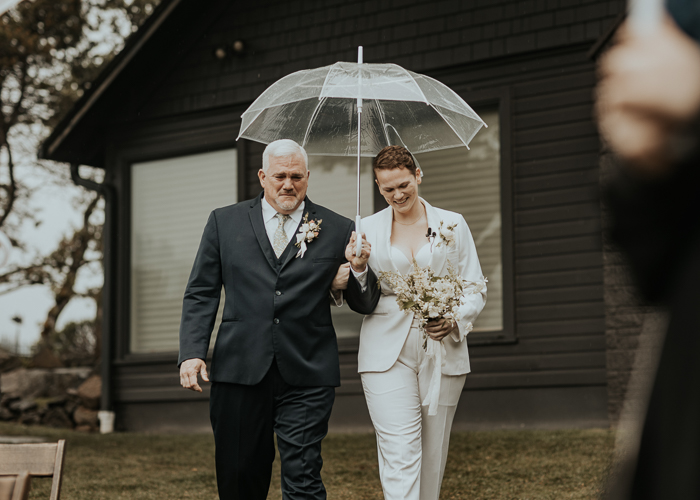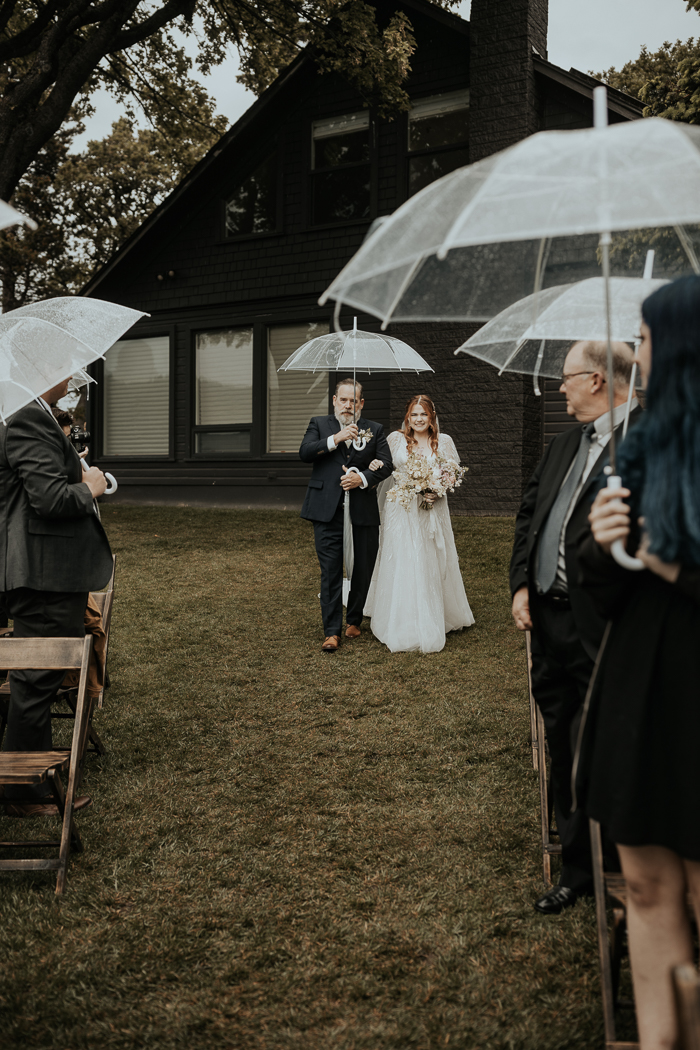 Making The Unpredictable Weather Work For Them
We had a few big surprises that day, and they made the moments truly magical. First was the rain, and although everyone would've expected us to panic, we were oddly calm and just enjoyed the weather. We do love the rain on normal days. PNW rain is more of a light mist, so since it wasn't ceremony-ruining weather but we were prepared for it to go throughout the day. We had clear umbrellas for all our guests, which made for beautiful photos. The drizzle of the rain made it look extra dreamy and like it was straight out of a fairytale.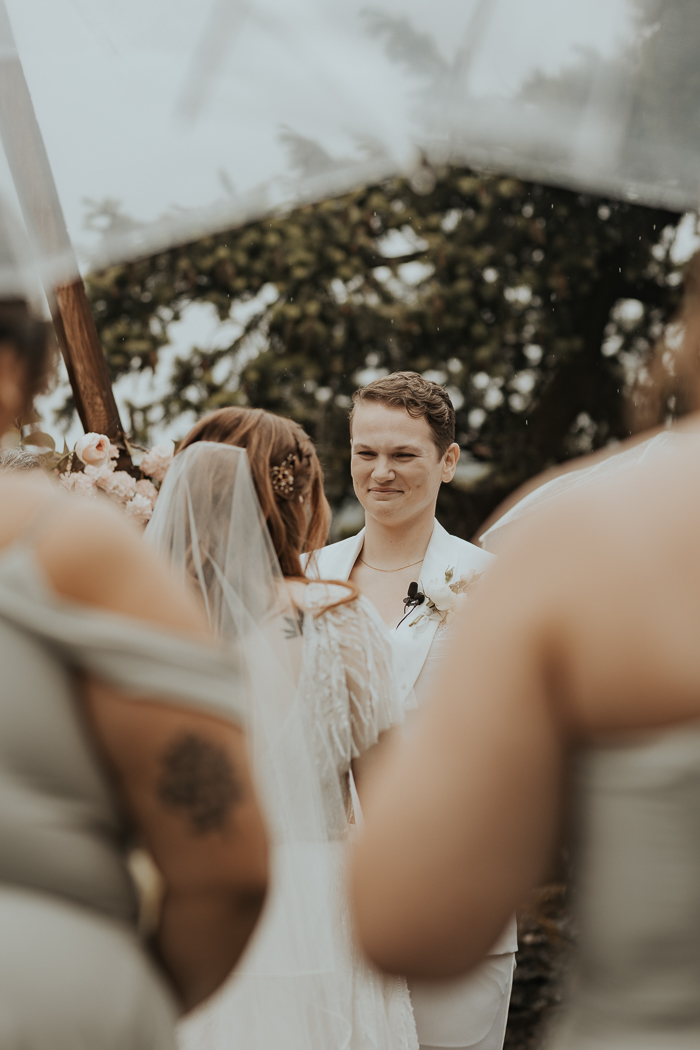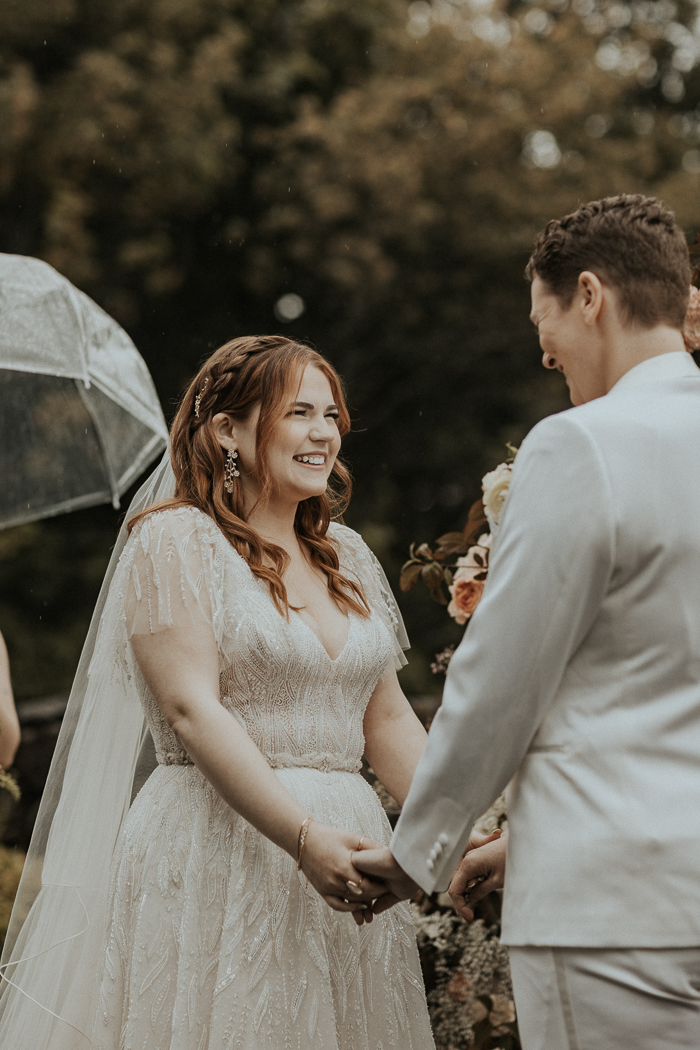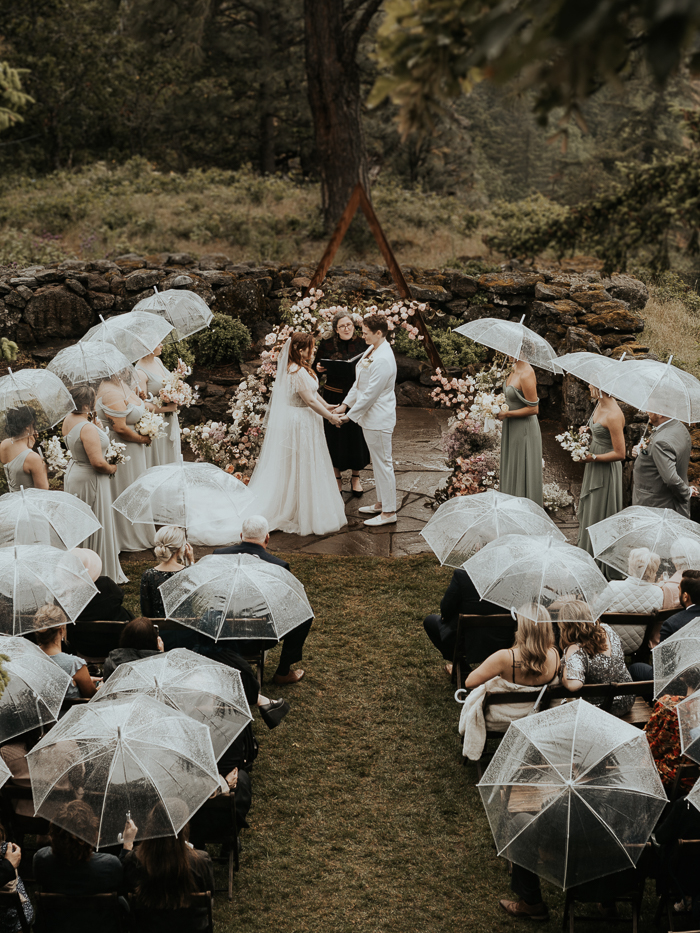 Proudly Showcasing Their Love And Baring Their Hearts To Each Other Through Their Vows
We're most proud of how our vows turned out and how our love showed through to everyone. We could feel everyone looking at us with tears in their eyes and love in their hearts for us. It's been a difficult road for two queer women growing up in the south, especially having the same name. But we persevered and got to be a representation of true love. We played rock, paper, scissors to decide who went first, which was another detail that made it unique to us (that's how we always decide things). We both cried at our own and each other's because we poured our hearts out to one another in front of everyone we love. Lastly, we proudly marked our love by combining our last names to make a new one together, her maiden name being Clark and mine being Nelson. We're now the Clarksons.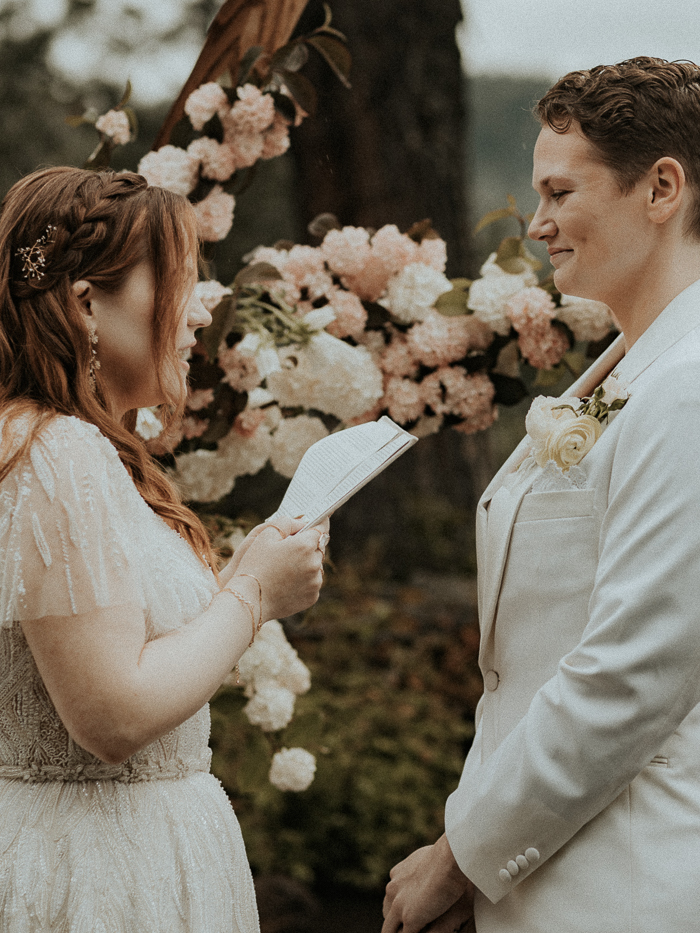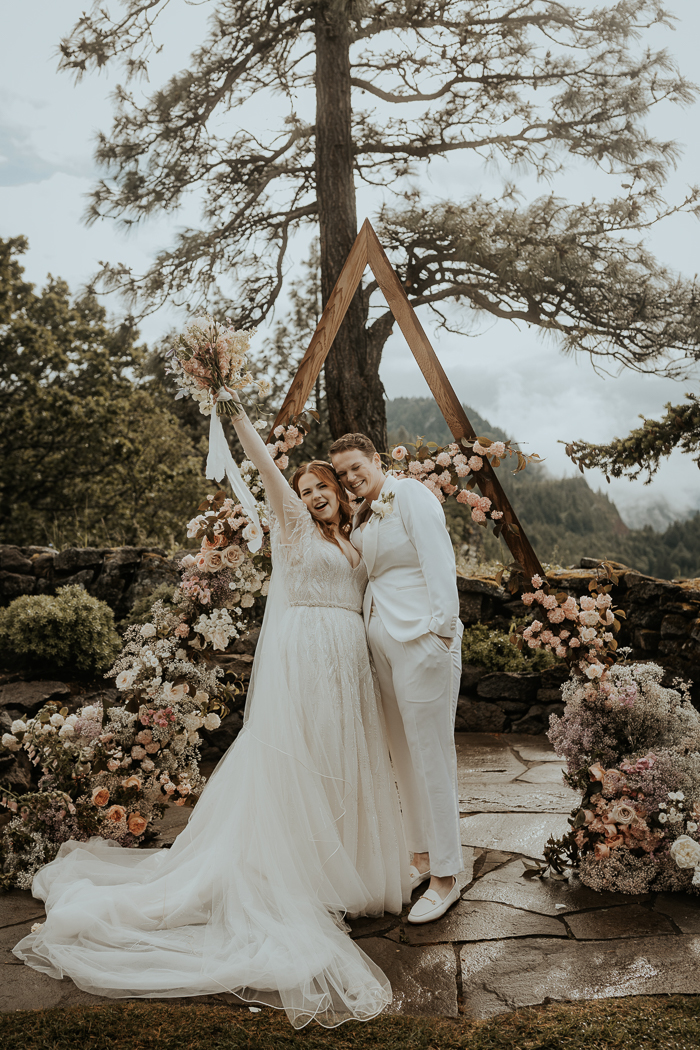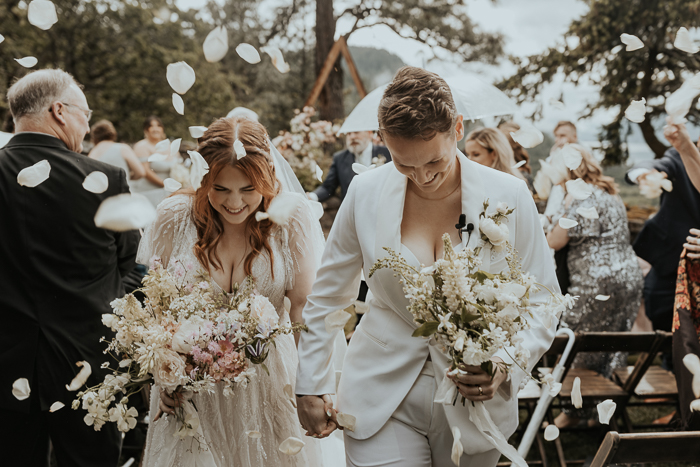 Recommended Reading: Fun Wedding Confetti Alternatives for Your Ceremony Recessional and Grand Exit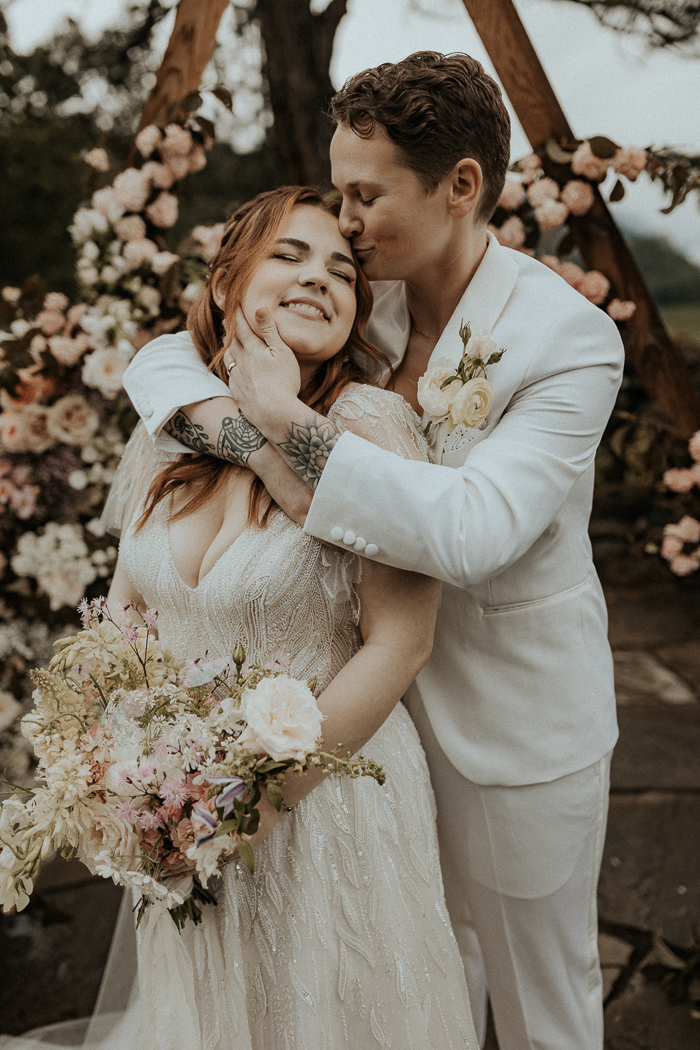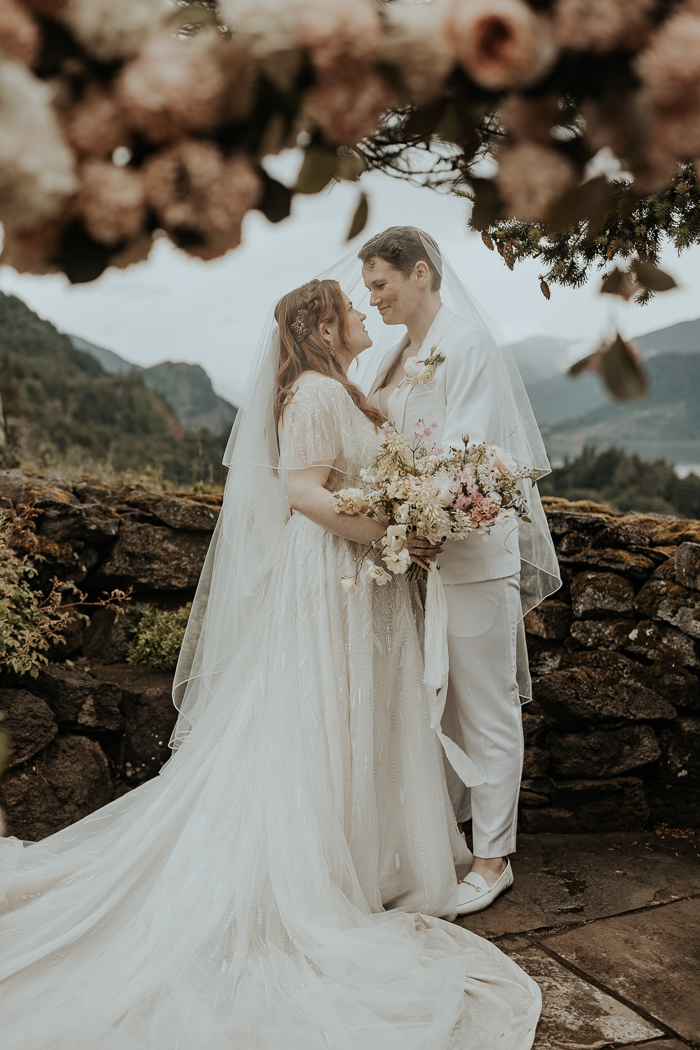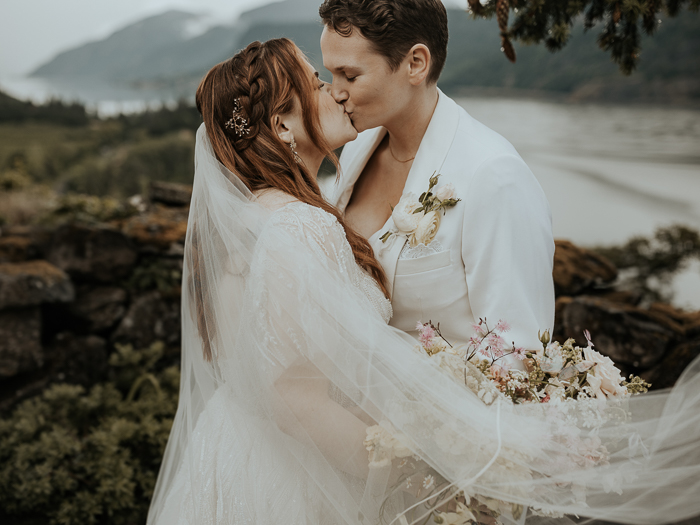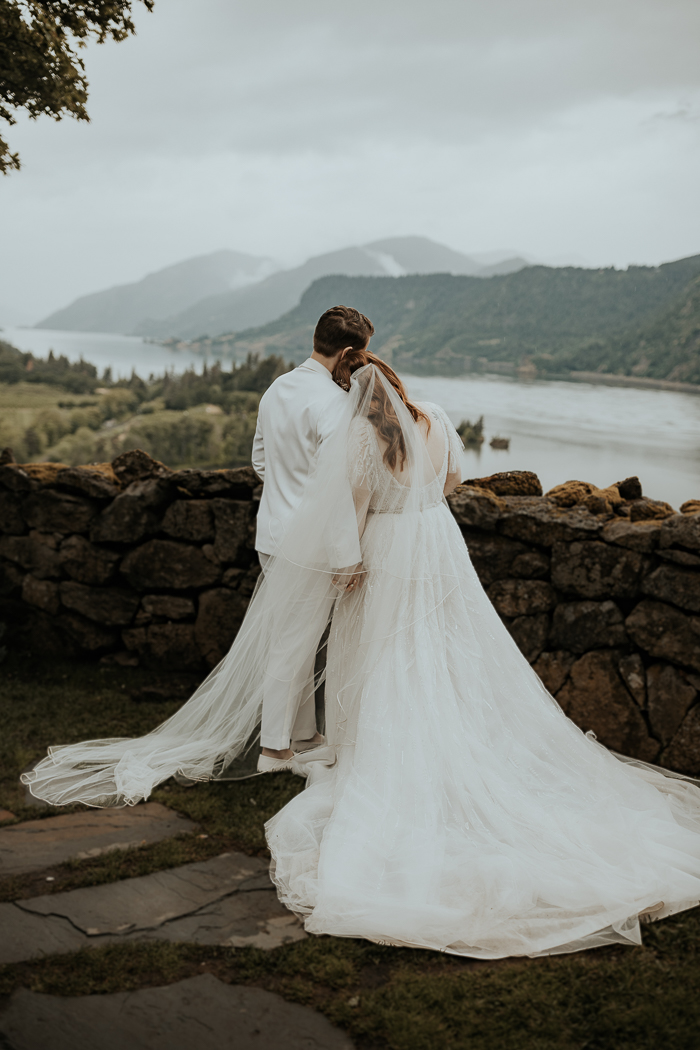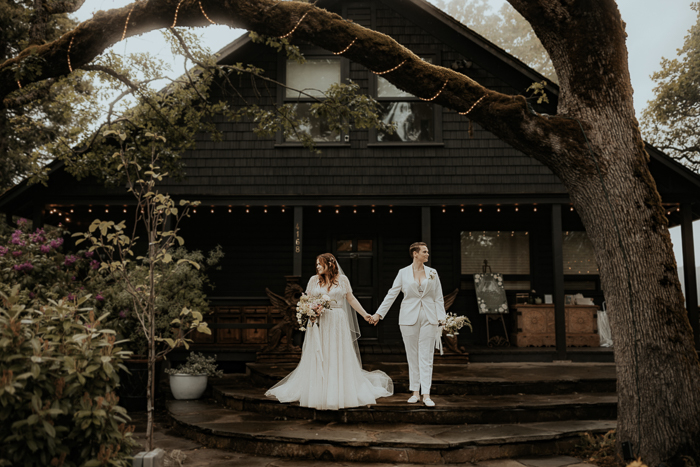 Working With An Experienced Vendor Team To Bring To Life The Celebration They've Always Envisioned
We wanted the details to be special and mean something, and I think we were able to accomplish that. And working with the most amazing vendors brought everything to the next level. Our advice for couples who have just started their wedding planning journey is to keep your love at the center of everything you do during this process- and in life, for that matter! Jokes aside, it can be a stressful process if you take it too seriously and stress over details. Remember that the whole point is to just get married and be with your love. As long as you two leave as happily married, all went well.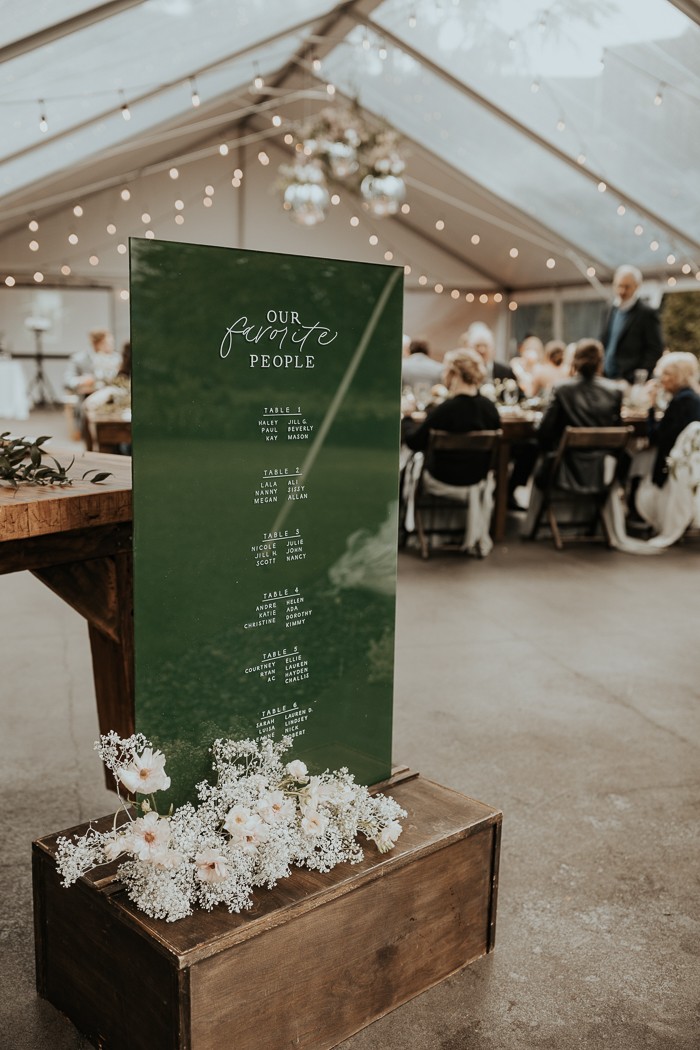 Recommended Reading: Unique Wedding Seating Chart and Escort Card Ideas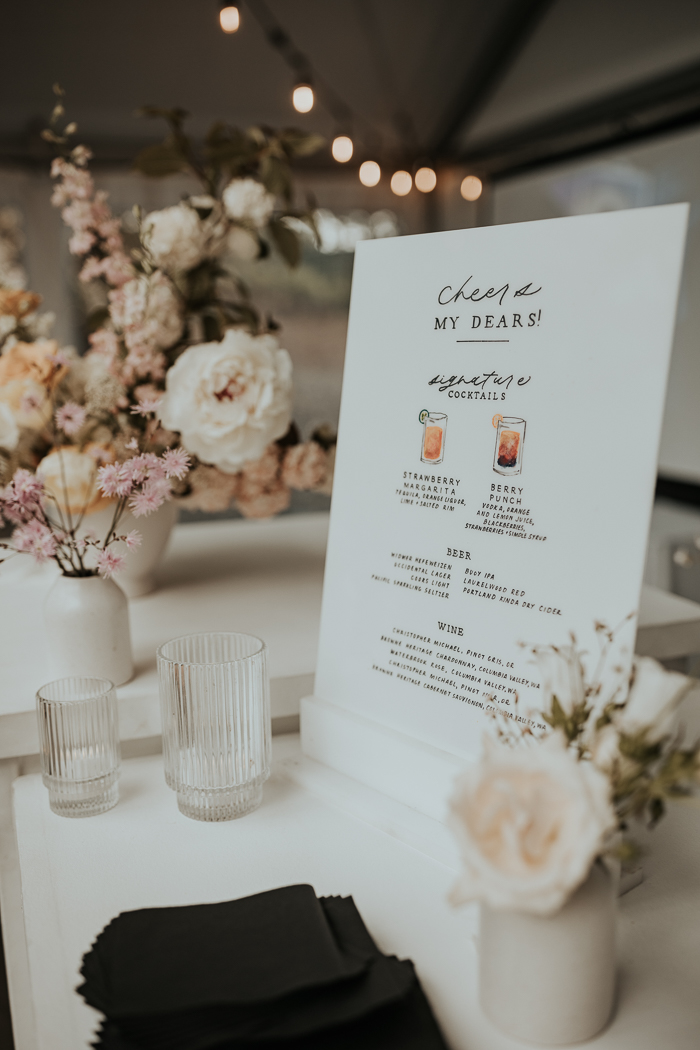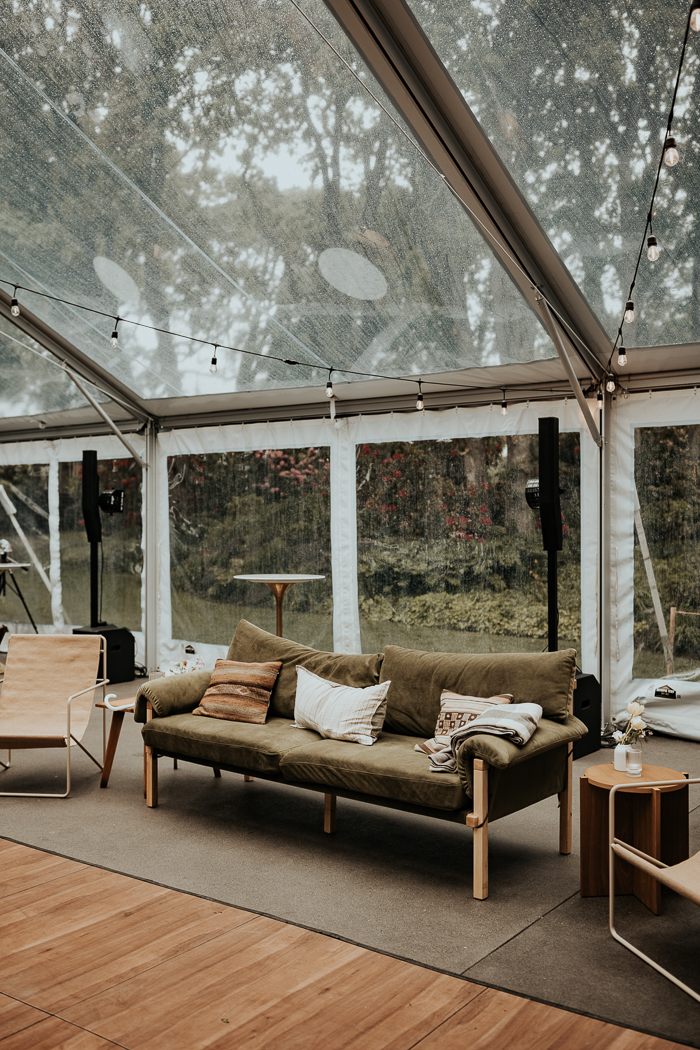 Recommended Reading: How To Create The Perfect Wedding Lounge Area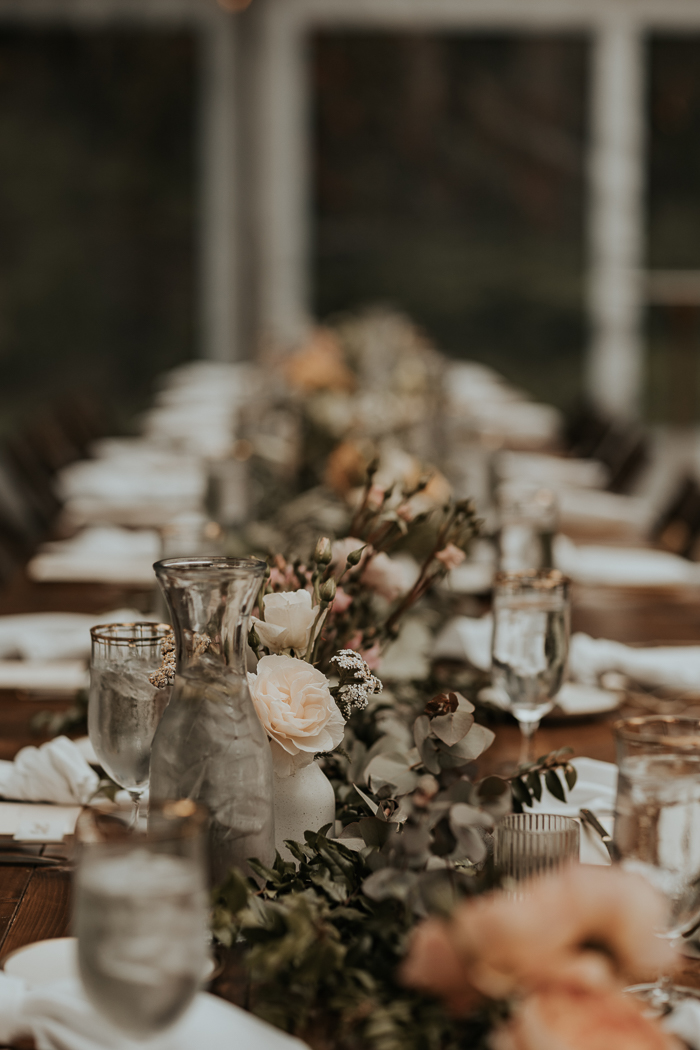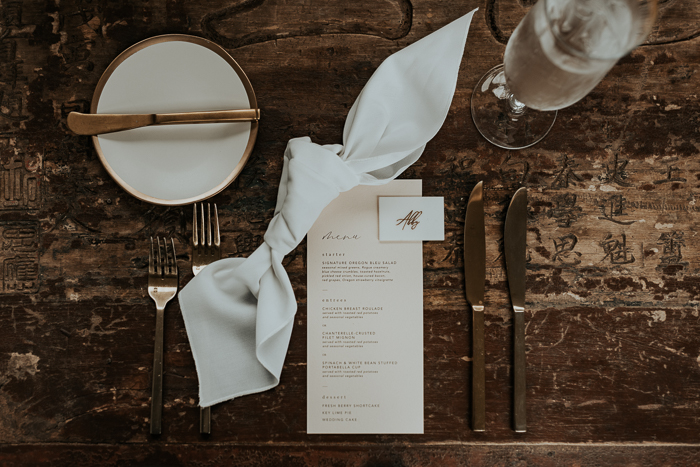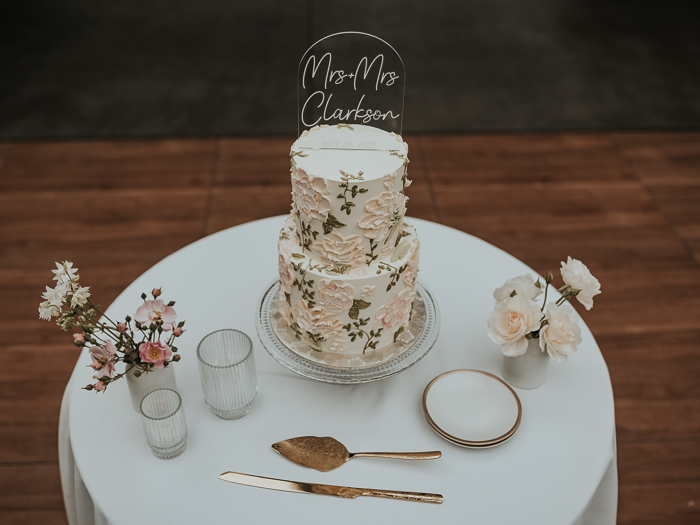 Shop Similar Acrylic Cake Topper: 1.Personalized Acrylic Wedding Cake Topper 2. Acrylic Wedding Cake Topper 3. Personalized Acrylic Cake Topper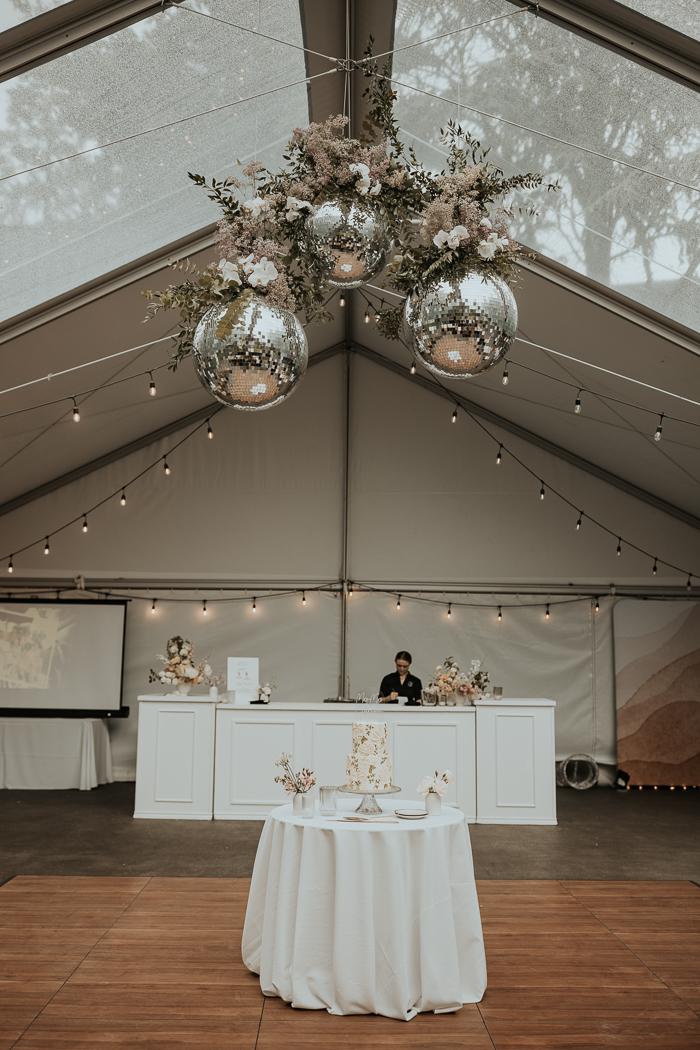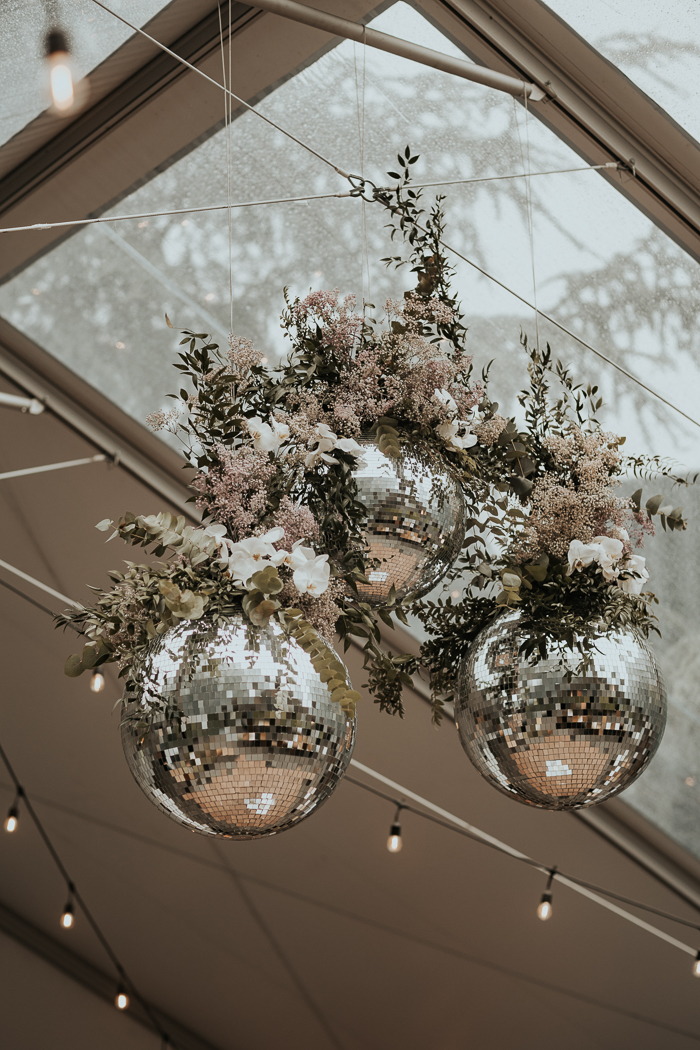 Heartwarming Surprises That Made Their Griffin House Wedding Even More Special
The surprise came when I walked down the aisle, the rain stopped, and the sun came out. My mom and aunt had been praying to my Grandma all morning, asking her to be present at our ceremony from Heaven. Although I'm not religious, I felt in my heart that it was her giving us her blessing. Another surprise that we will truly never forget was from our DJ. Before our grand exit, our DJ Robby asked our guests to grab our twinkle light sticks and create a circle on the dance floor with us in the middle. He announced we would have one last special slow dance to Adele's "Make You Feel My Love." The song started as usual, and then we heard our voices reading our vows from the ceremony only hours before, line by line, over the instrumental bits of the song. Everyone cried happy tears again, especially us, as we soaked in the last moments of our wedding.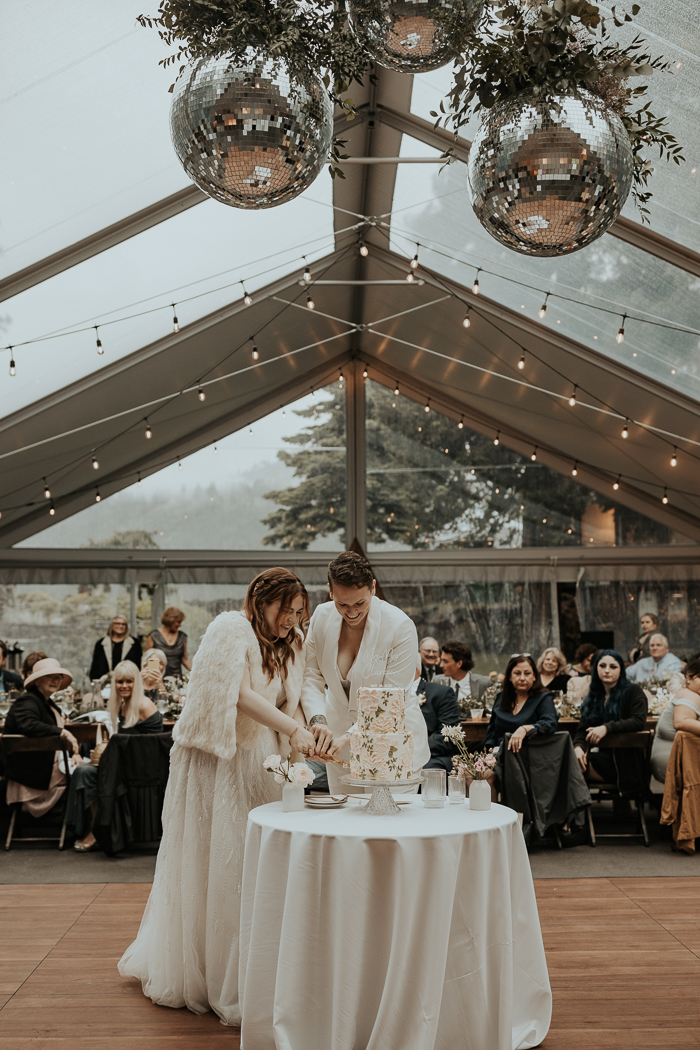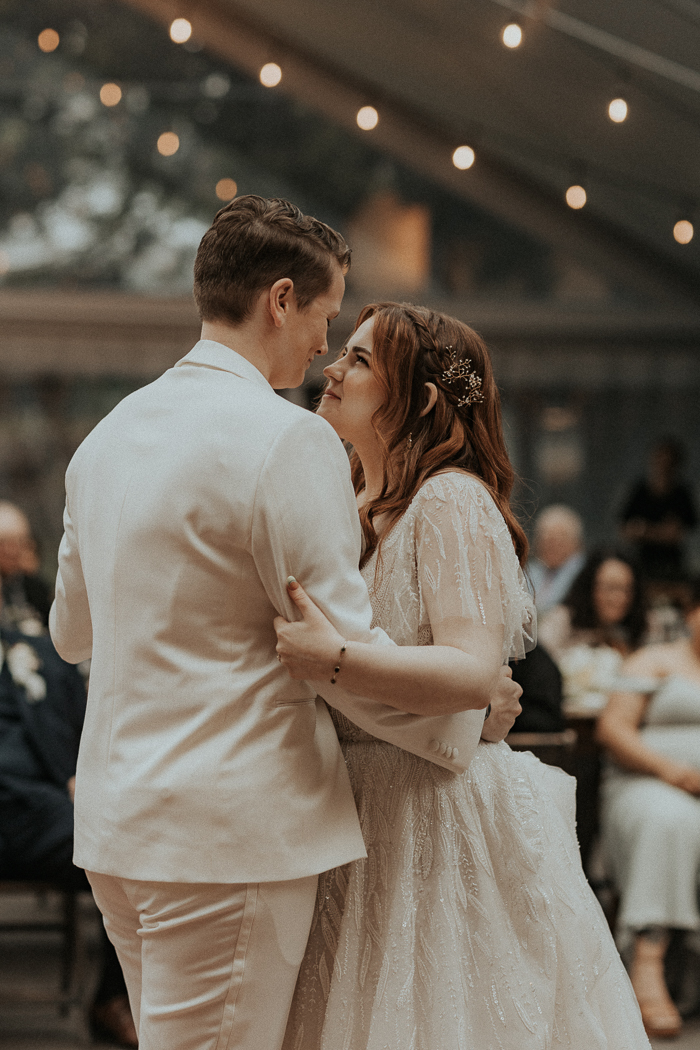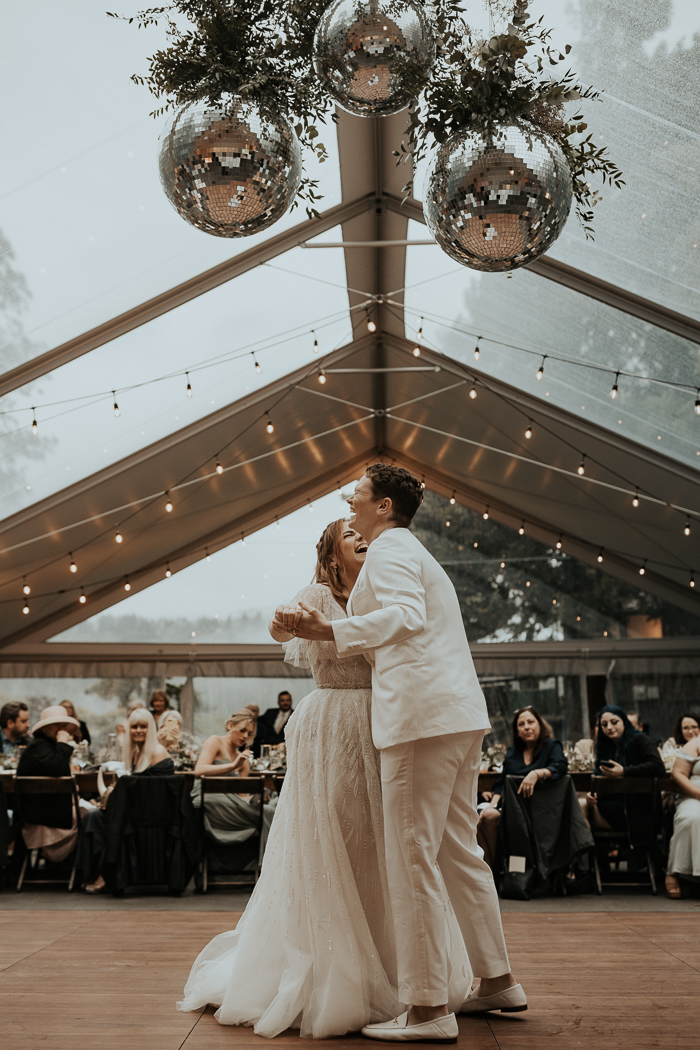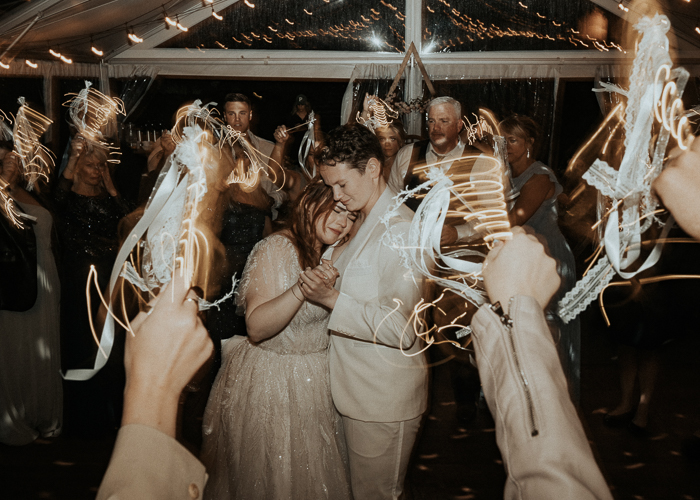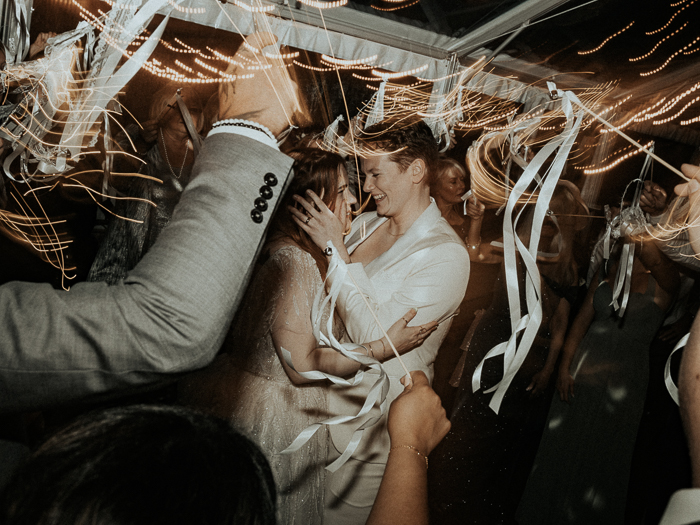 Congratulations to Abby and Abby on their Griffin House wedding that perfectly played off the PNW's natural beauty. And many thanks to Sarah Olivia for capturing all the special moments and gorgeous details that nature-loving couples can use as inspiration for their own celebration.
If you and your partner are looking to create a beautiful atmosphere for your wedding, then playing off and taking design cues from the venue is a great place to start. Mimicking colors, textures, and overall feel in your decor and florals will ensure that it all seamlessly blends with the natural surroundings.