With its rich history, stunning landscapes, and mythical charm, Diana and Travis were captivated by the irresistible allure of Greece. In their quest for a meaningful and intimate experience, they sought a serene sanctuary where they could express their love without any distractions or the passage of time affecting their connection. They knew that a romantic Santorini elopement would be the perfect way to celebrate their love.
The Aegean Sea offered a stunning and unique setting for their special day. They exchanged heartfelt vows at a beautiful waterfront ceremony adorned with a dreamy arch, perfectly framing the rugged sea and majestic cliffs as the sun set. With the entire day to themselves, they took advantage of the breathtaking scenery to capture stunning portraits. As the day came to a close, they returned to the place where their love story began, enjoying a dinner for two under the twinkling lights and starry sky.
Cinema of Poetry beautifully captured every detail that made their elopement truly unforgettable. If you're an adventurous couple searching for wedding inspiration with breathtaking views, you've come to the right place.
The Couple:
Diana + Travis
The Wedding:
Dana Villas & Infinity Suites, Santorini, Greece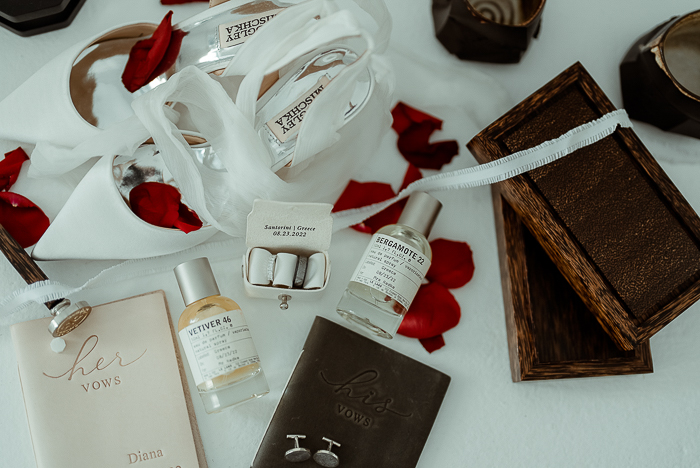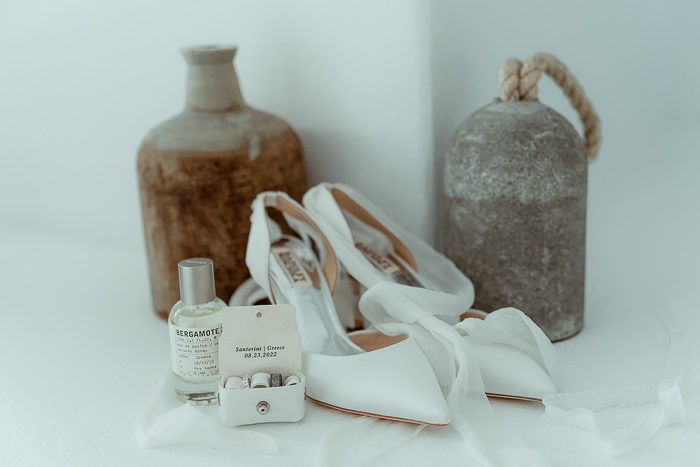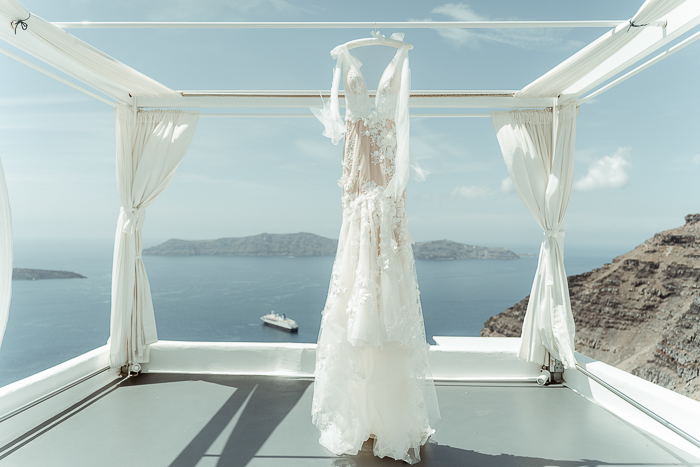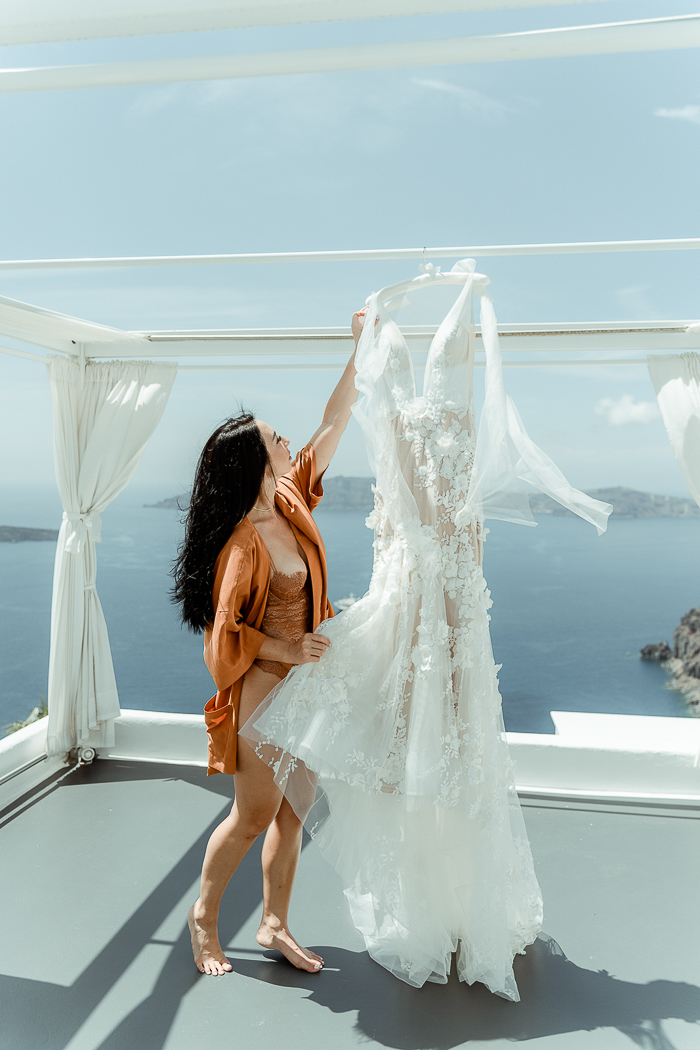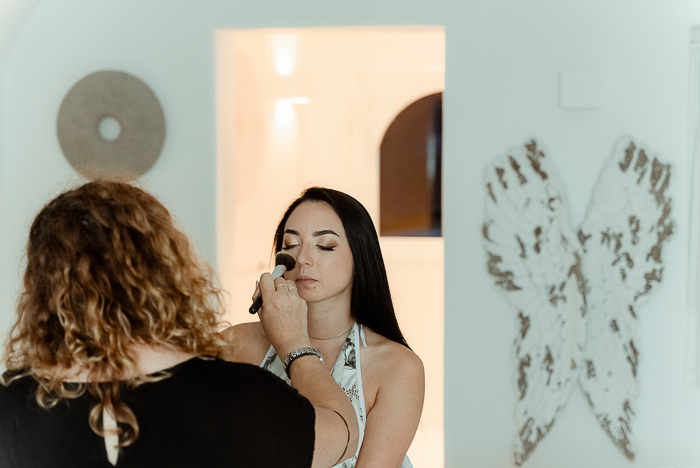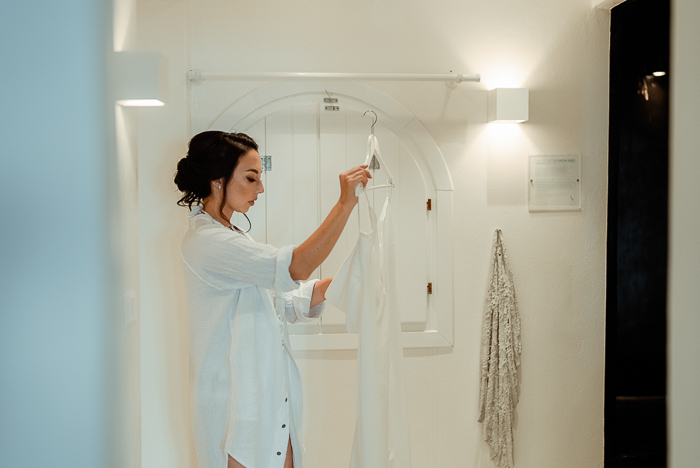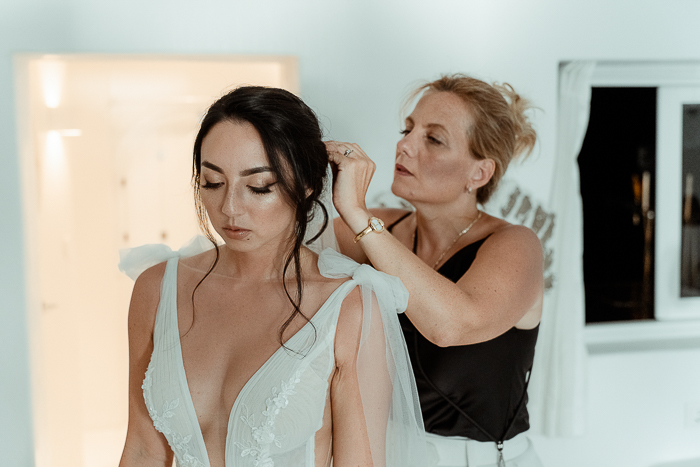 Why They Chose A Romantic Santorini Elopement
Our main priority was to find a stunning location with captivating scenery. We were specifically drawn to places that would provide us with breathtaking views, especially during sunset, as watching sunsets together holds a special meaning. Greece was ideal because of its rich history, captivating mythology, and picturesque coastal landscapes. The Aegean Sea had a unique and extraordinary appeal to us. We were captivated by the contrast between the white architecture and the rugged, dark cliffs, which made the setting genuinely remarkable.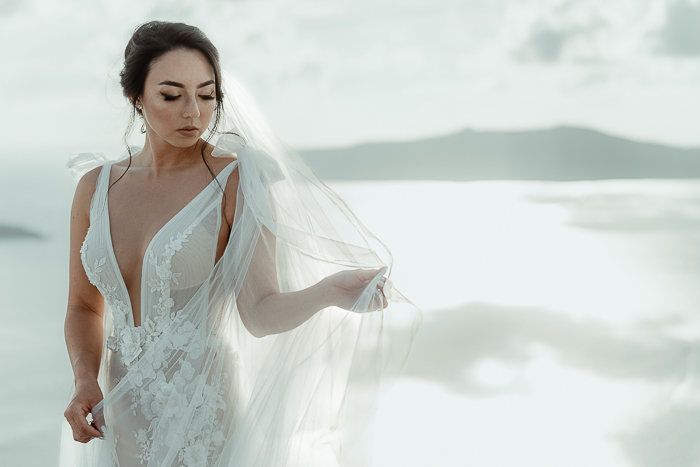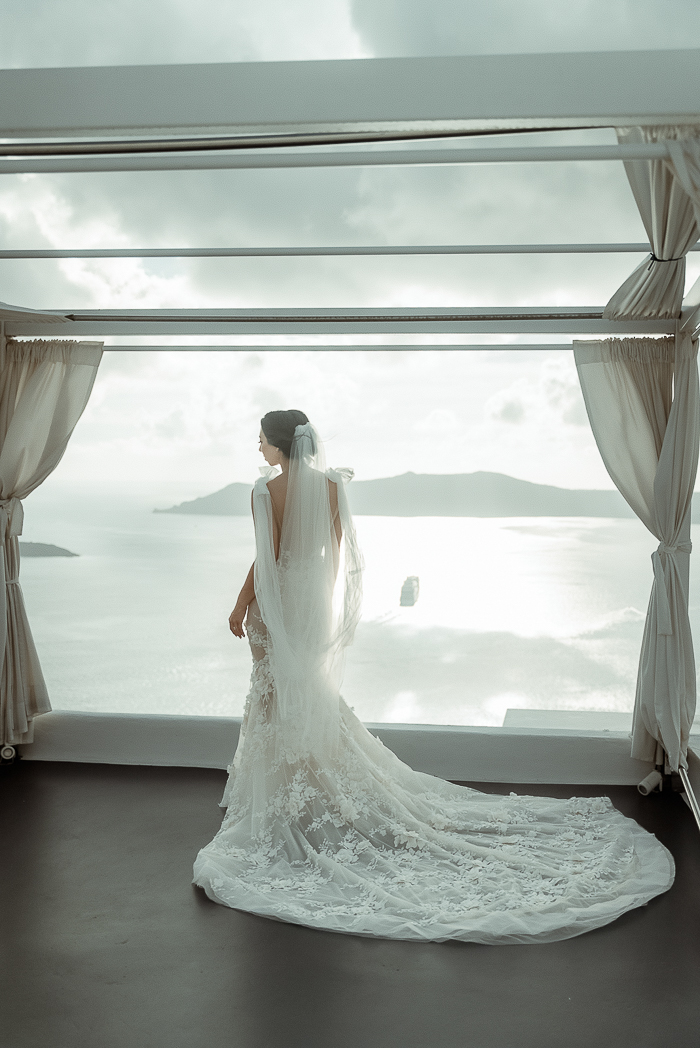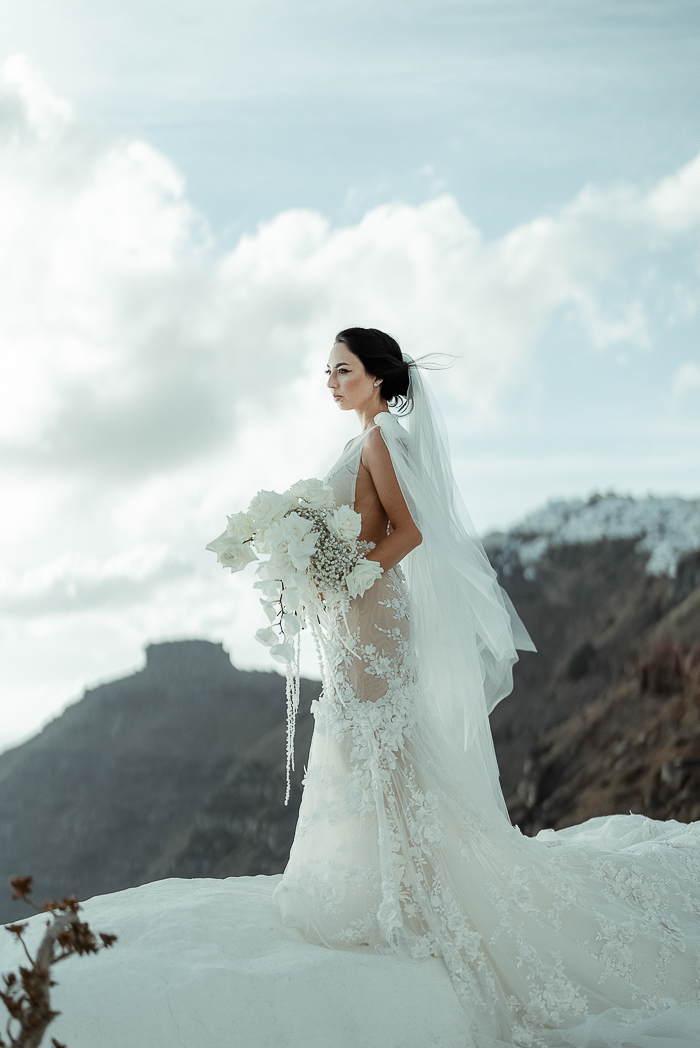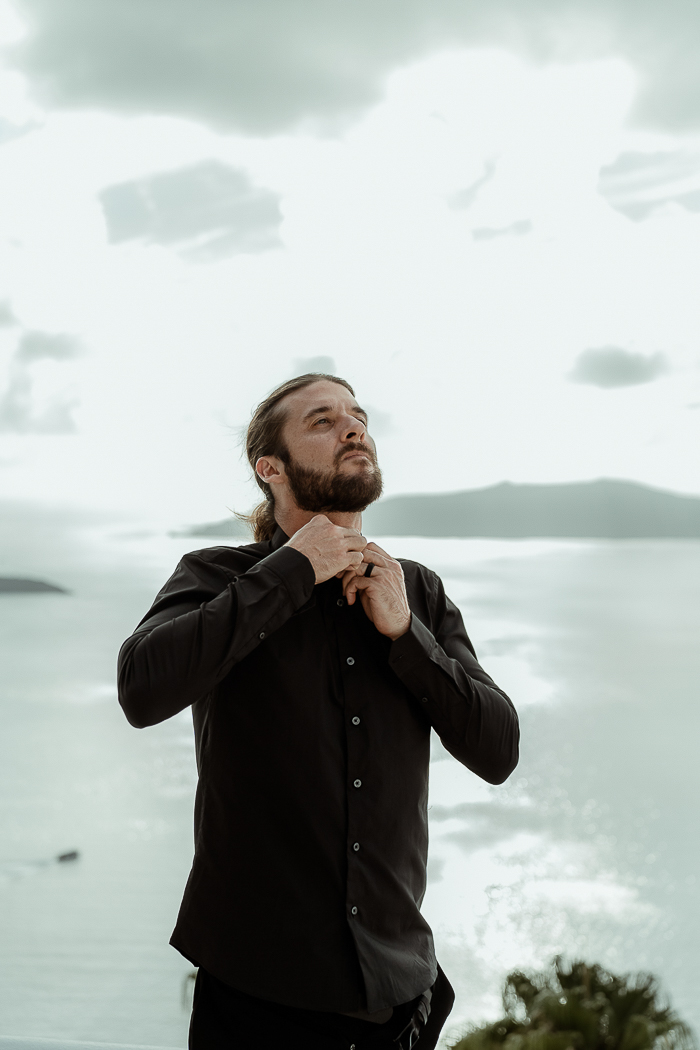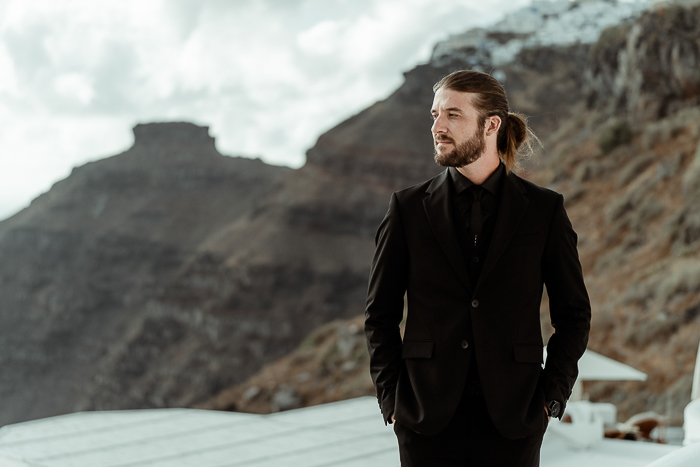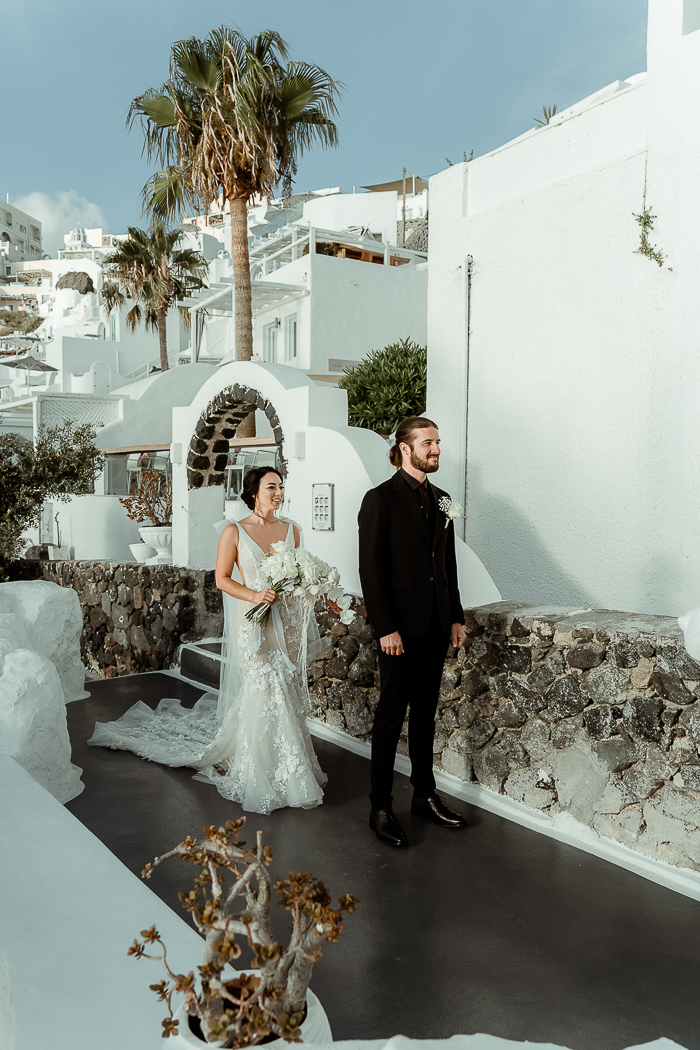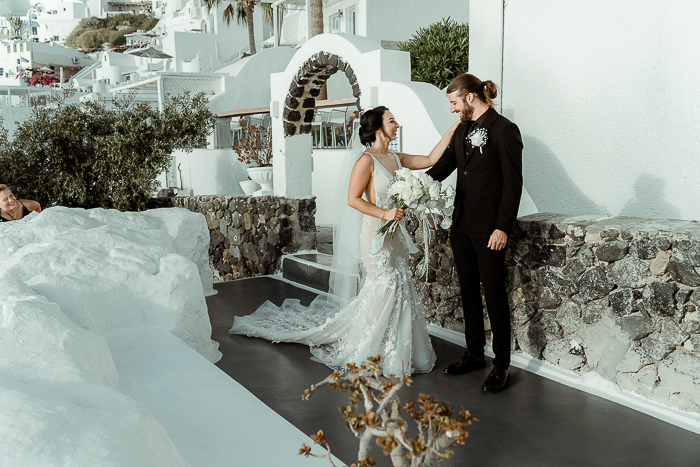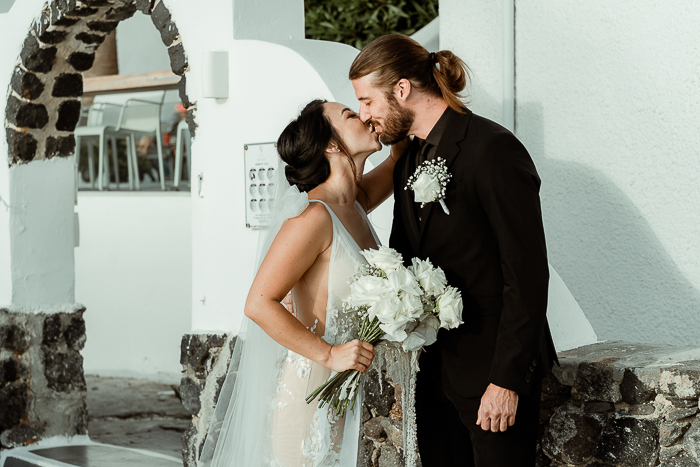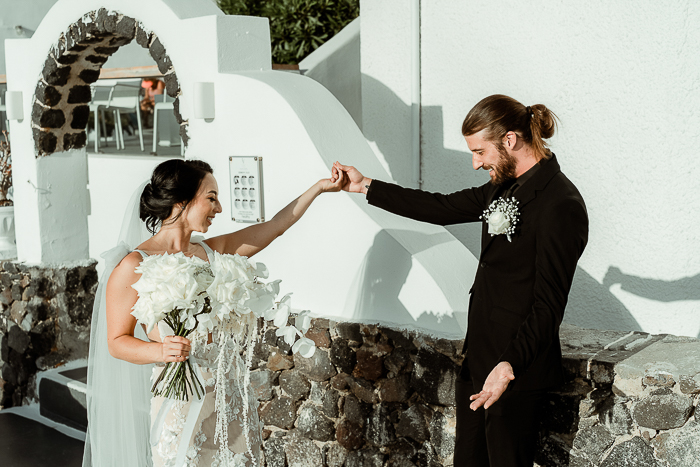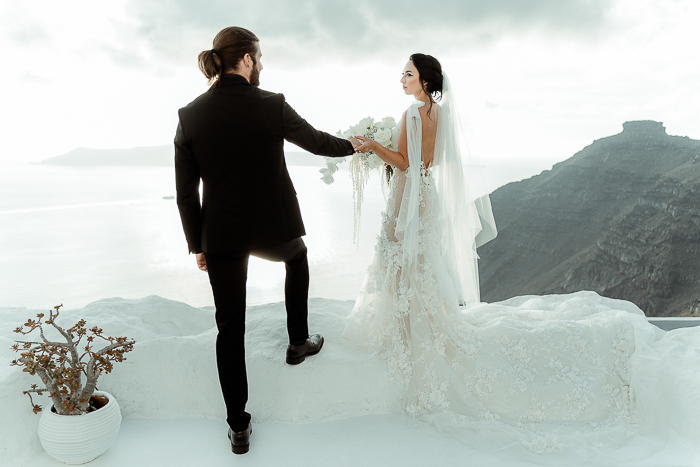 Blending Eras: Old World Romance Meets Modern Minimalism
Our vision was to blend the charm of old-world romance with a modern and minimalistic style. For the flowers, we chose big white roses for that classic romantic feel, and we added white and beige orchids for a simple and clean touch. Our color palette focused on neutral tones with splashes of black. The ceremony arch was a striking black double arch with a pointed tip, and we used black column candles to represent the years we were together before getting married. We incorporated black accents like napkins to enhance the overall look. The arch was the centerpiece for our vows and ceremony and later transformed into a beautiful dining area with candles and chandeliers as the sun went down. We loved the mirrored tabletop, which added a magical ambiance and soft glow.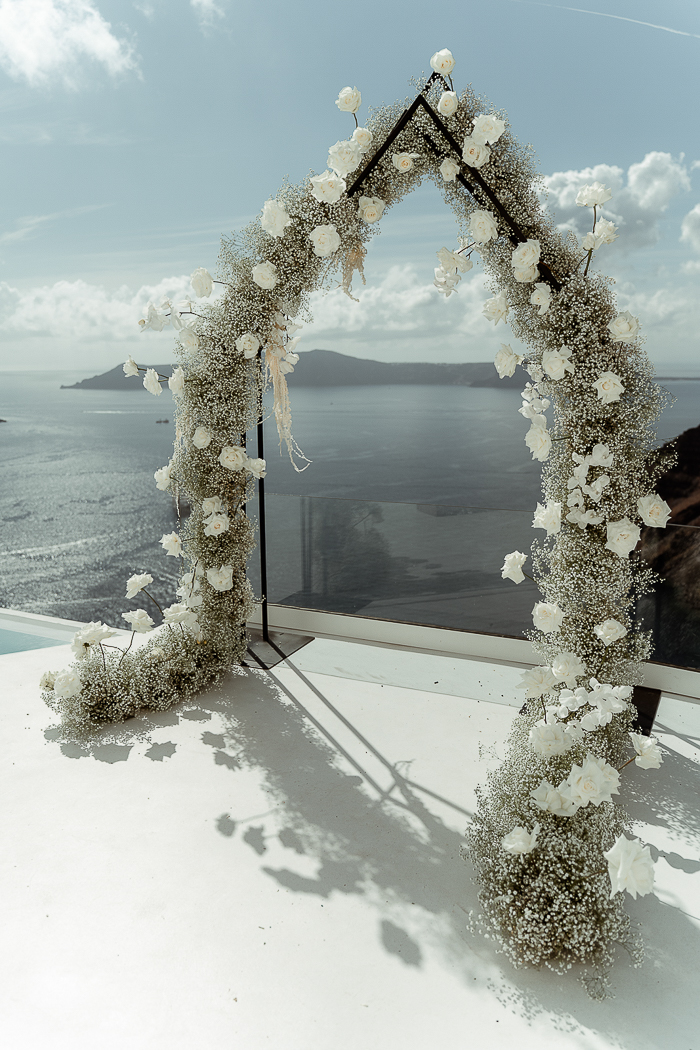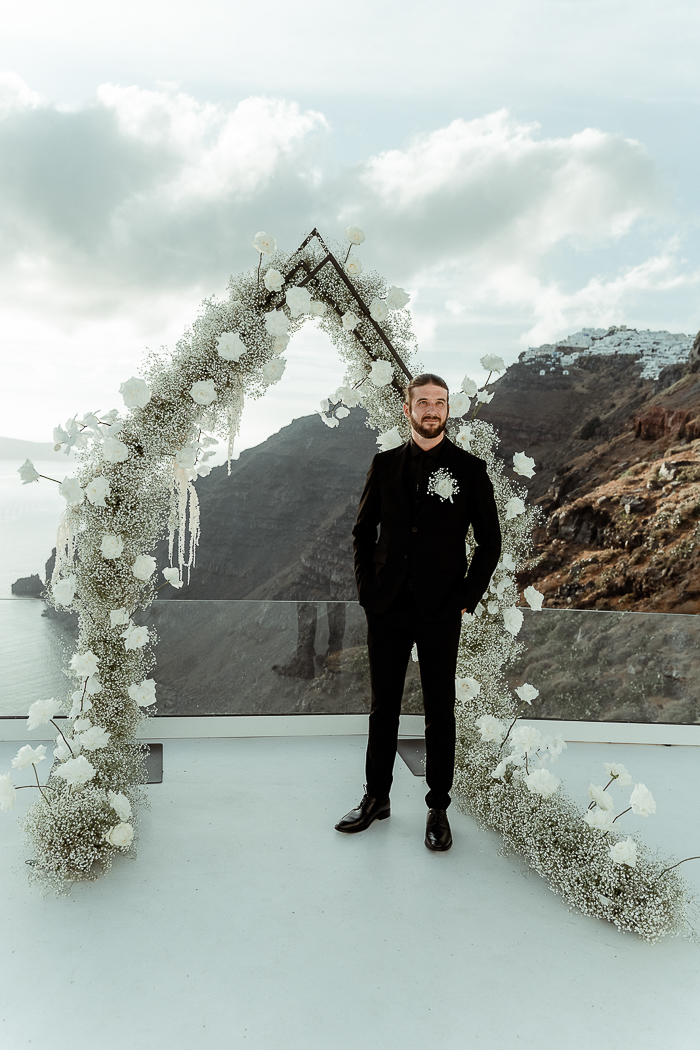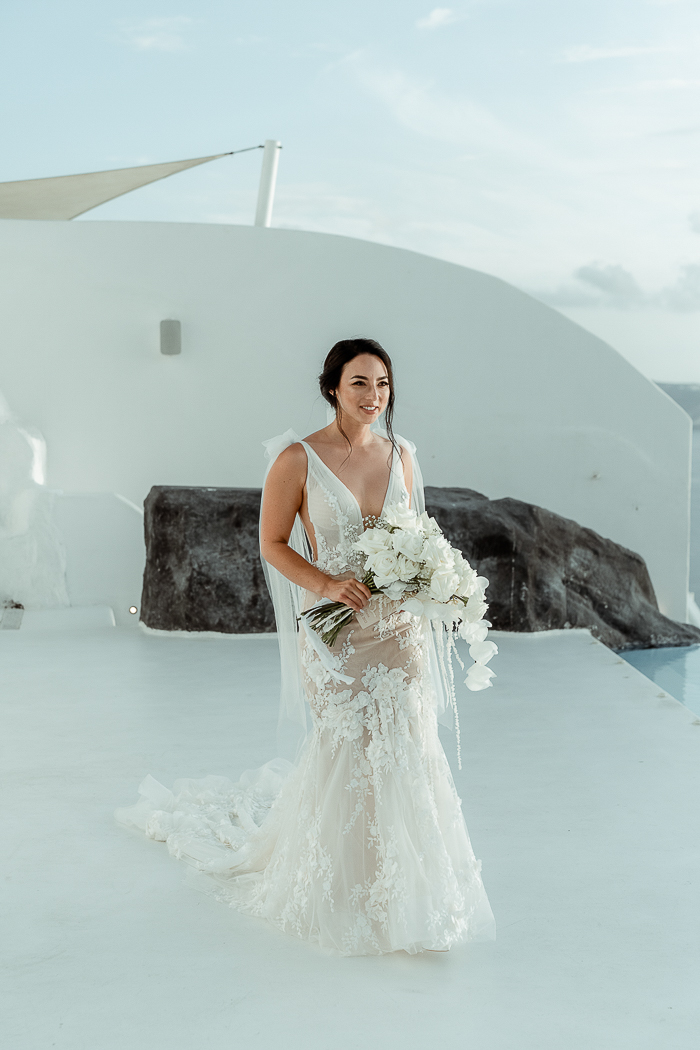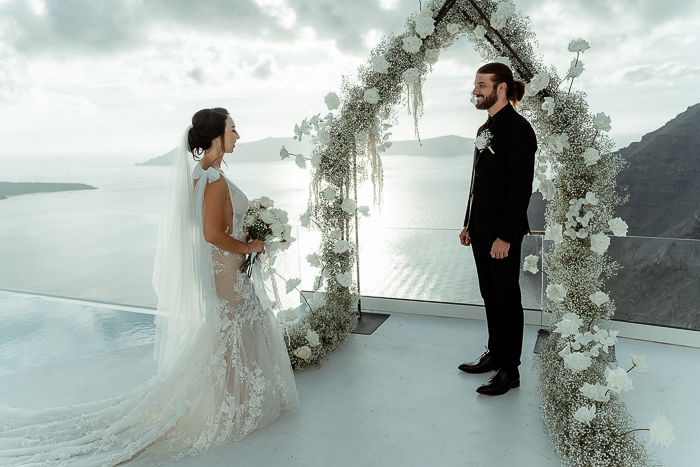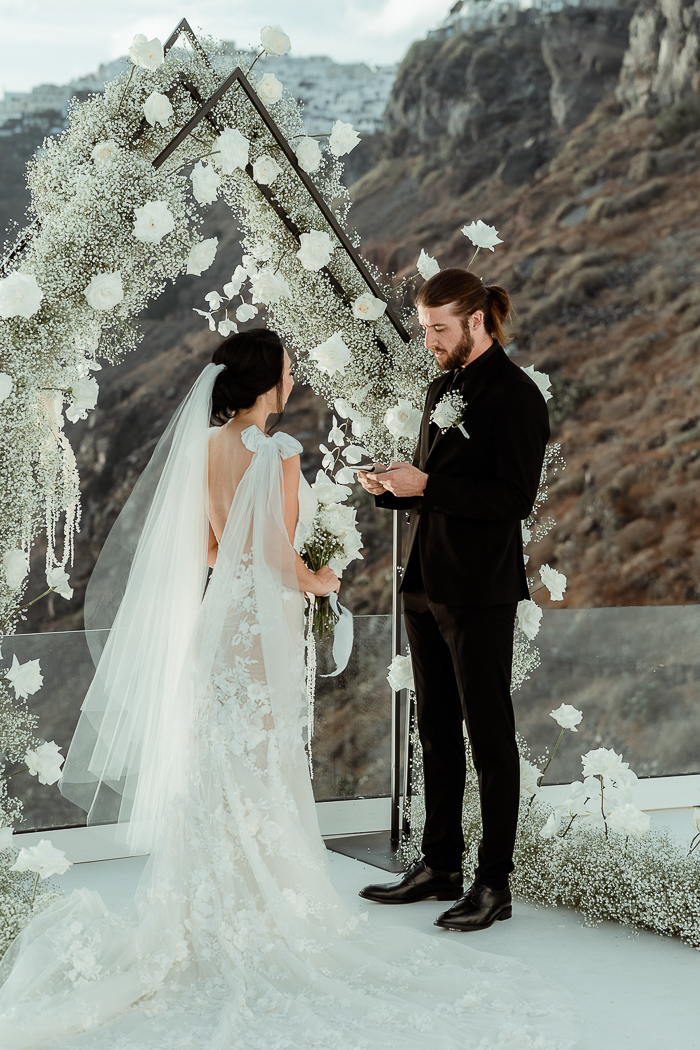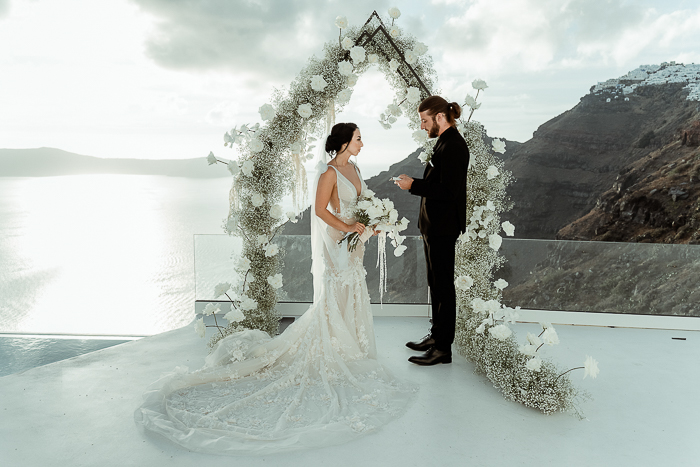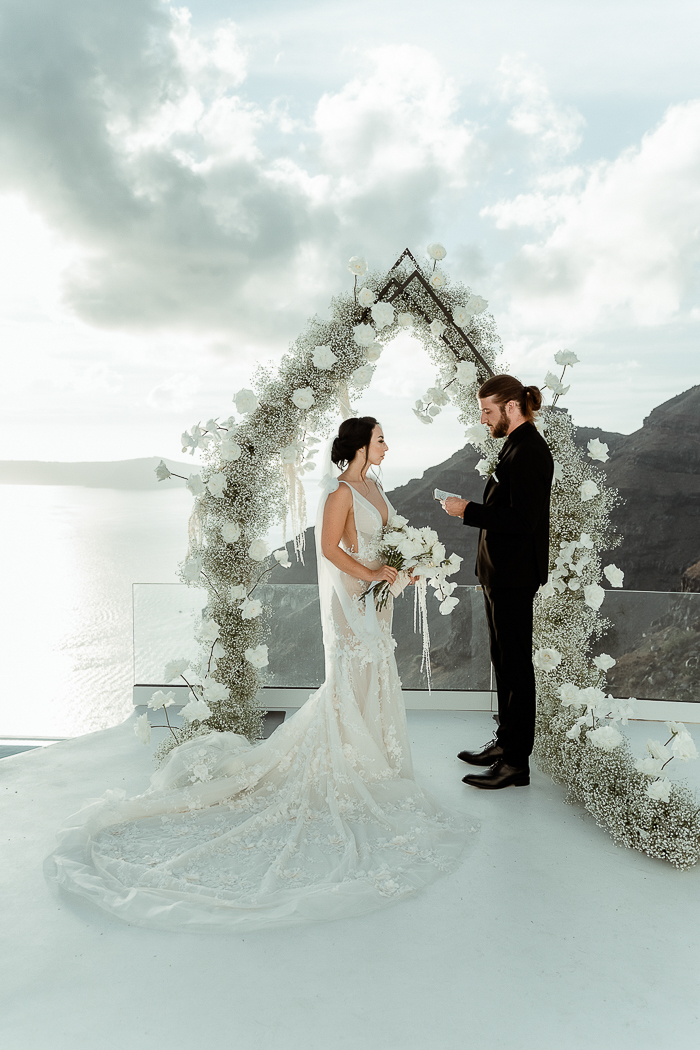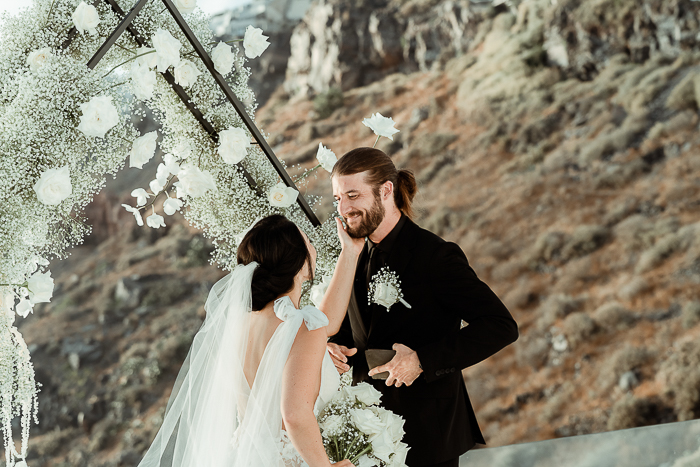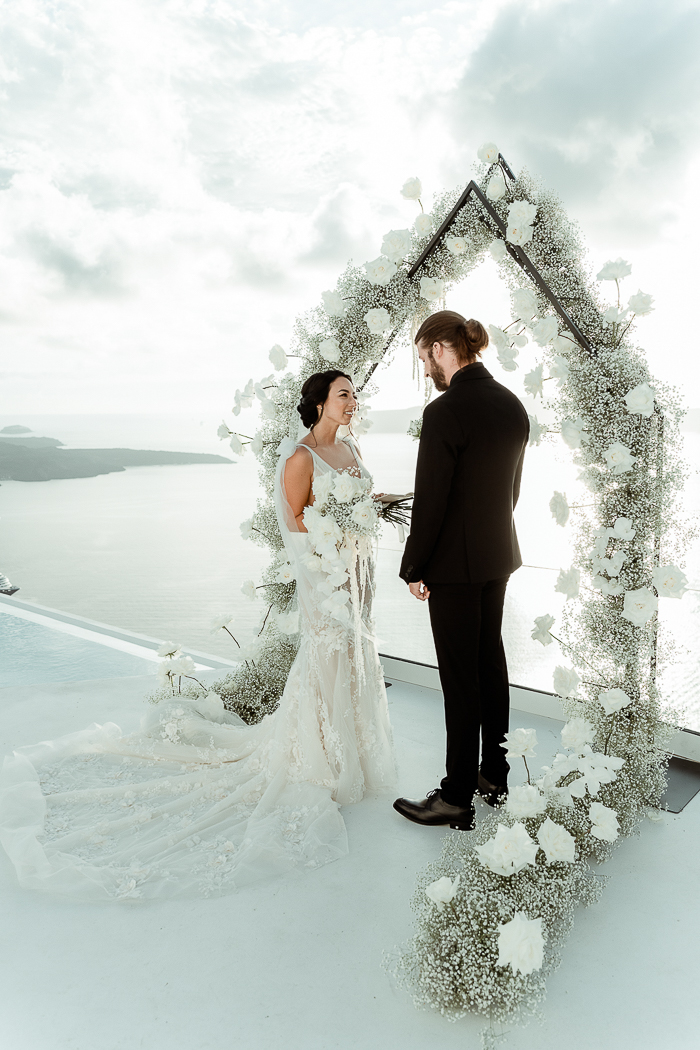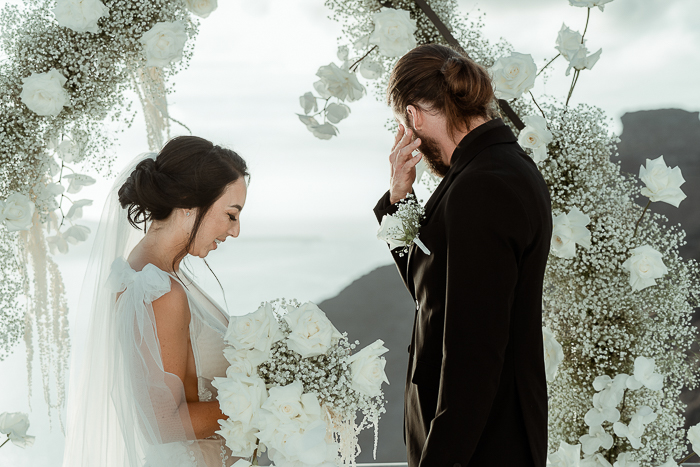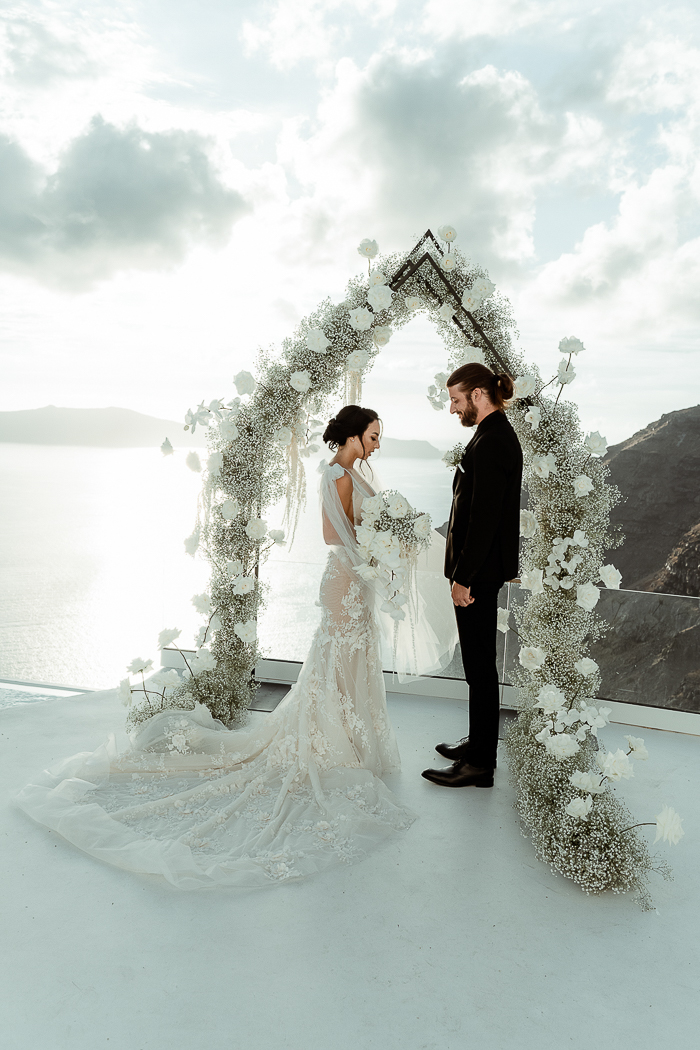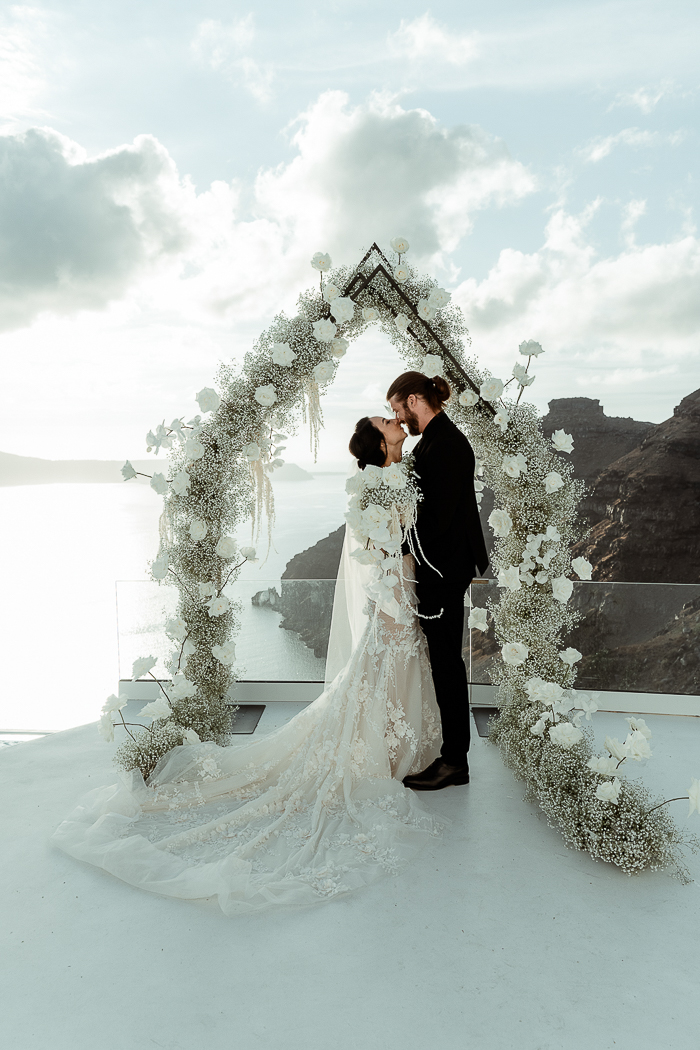 Embracing Personalization When Planning Their Romantic Santorini Elopement
Our wedding reflected our individuality and allowed us to celebrate our union fully. We understood the symbolic importance of a wedding and made deliberate choices that held personal meaning for us. We strongly advise hiring a planner for couples planning to tie the knot in Greece, regardless of the situation. Prioritizing your photographer and videographer is crucial as they capture the precious moments you'll want to cherish forever. Having a videographer to document your special day should not be underestimated.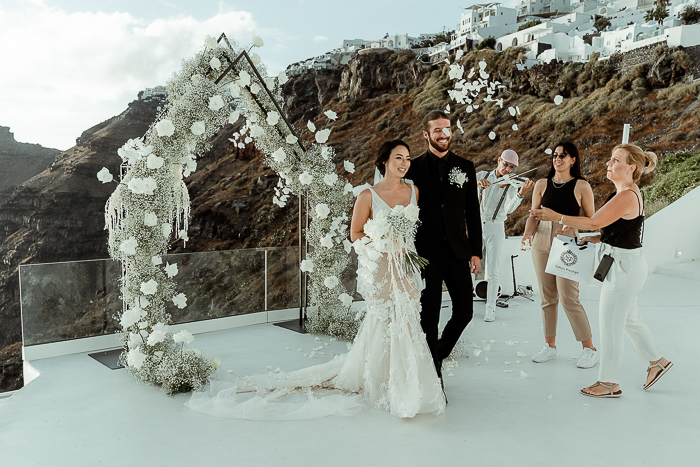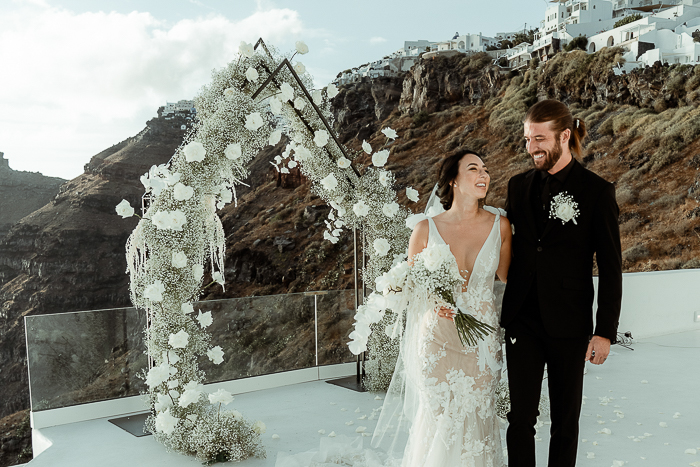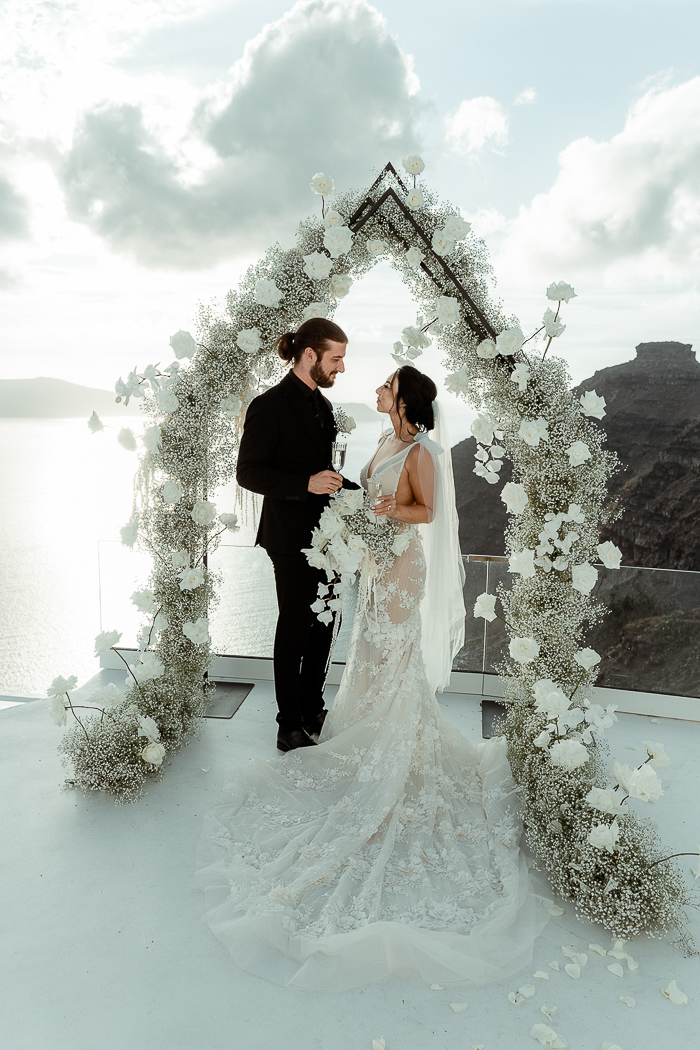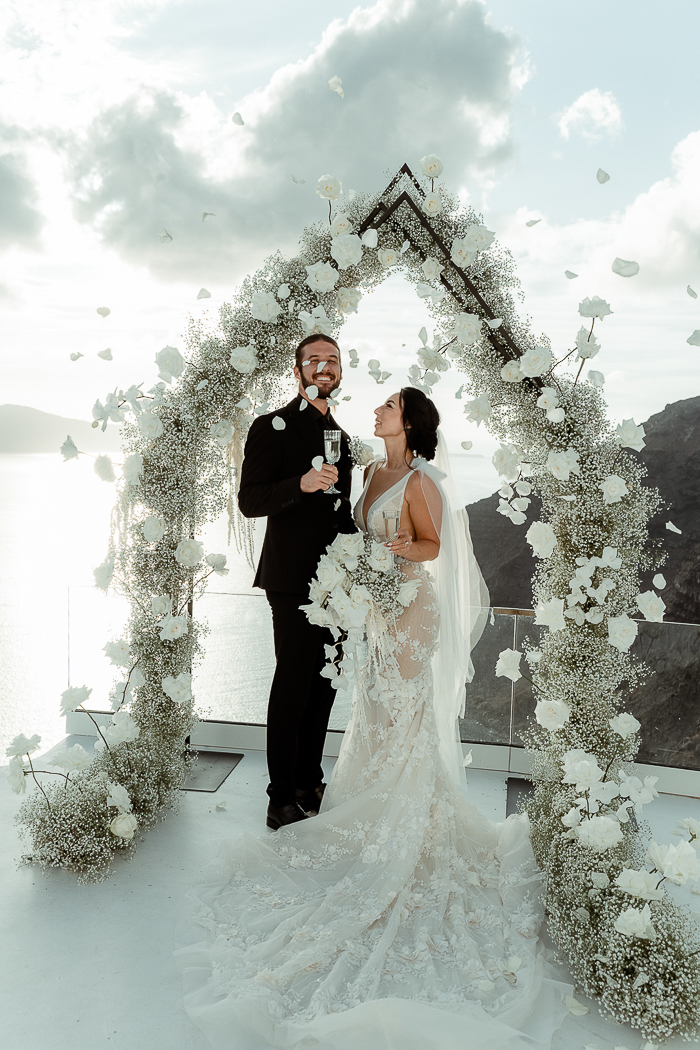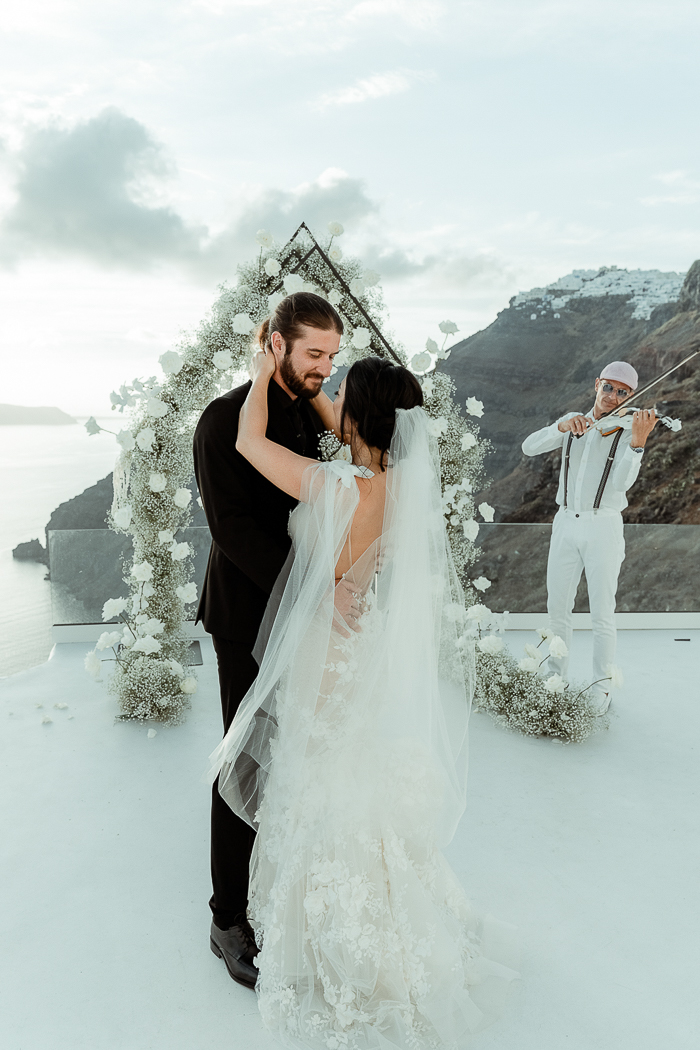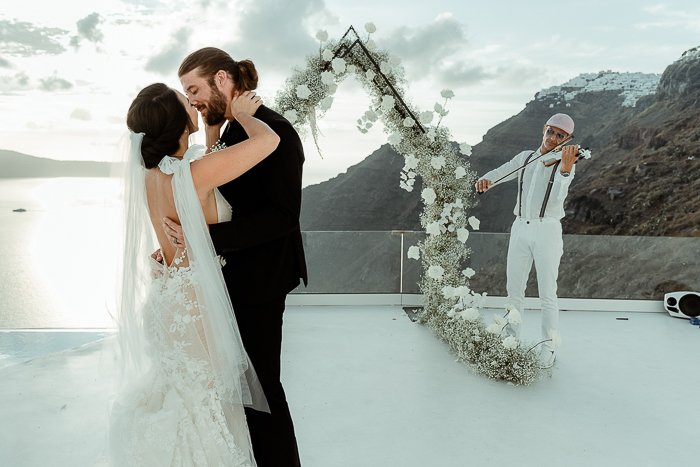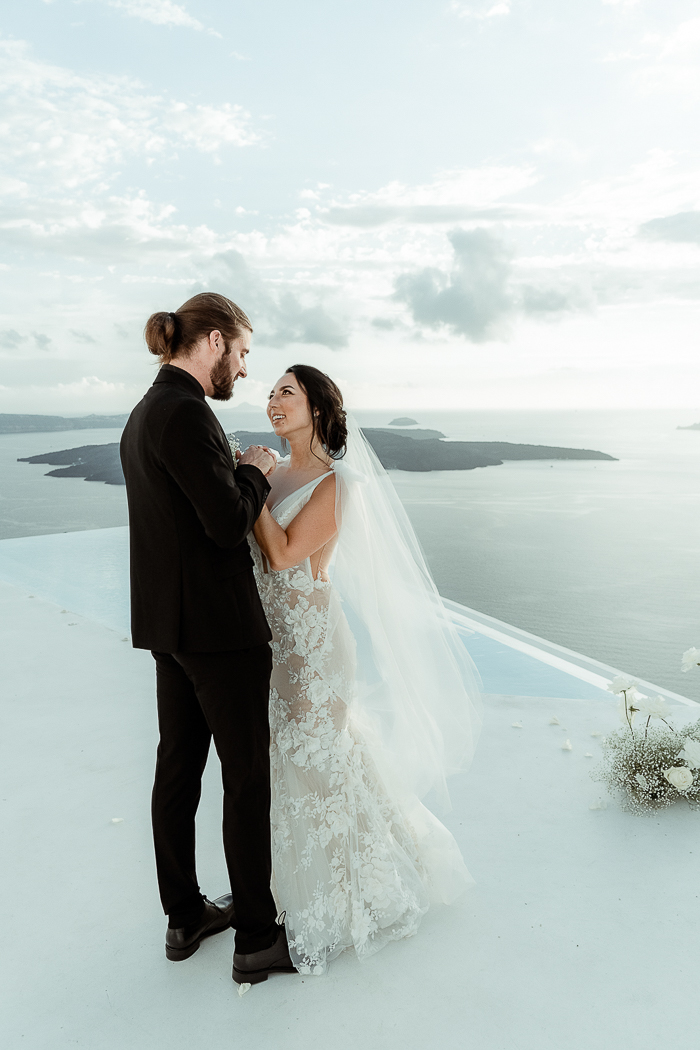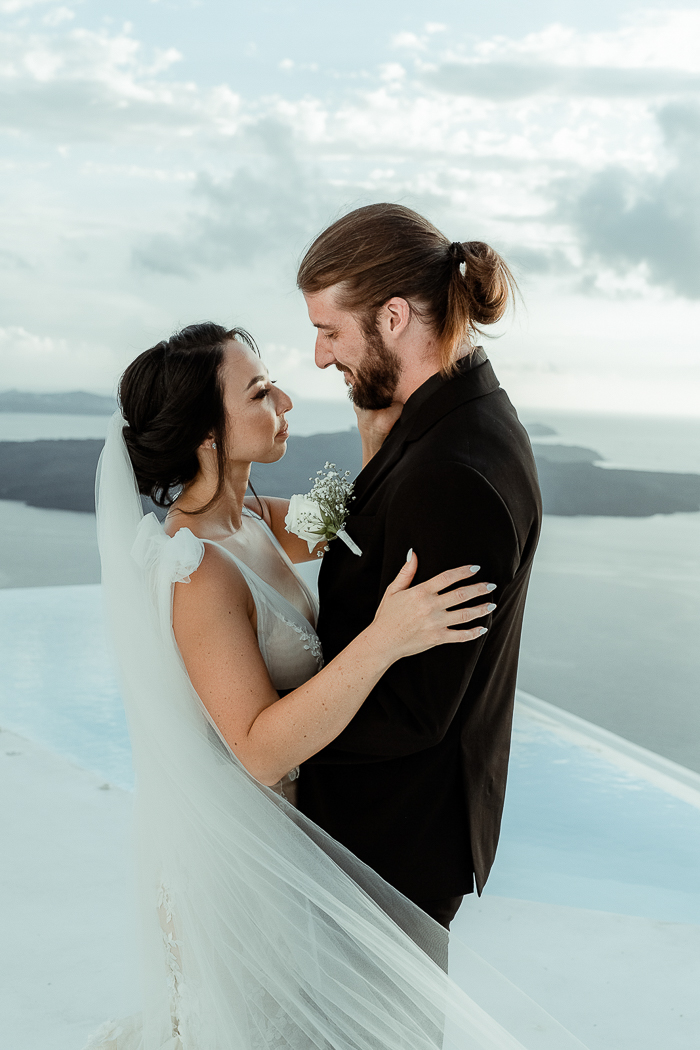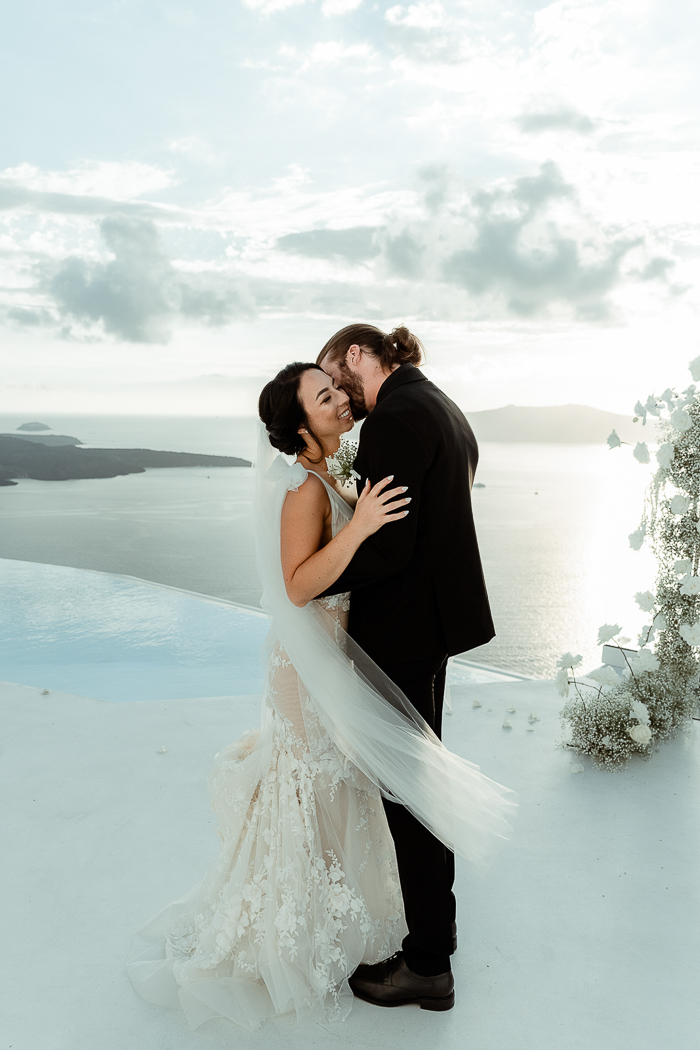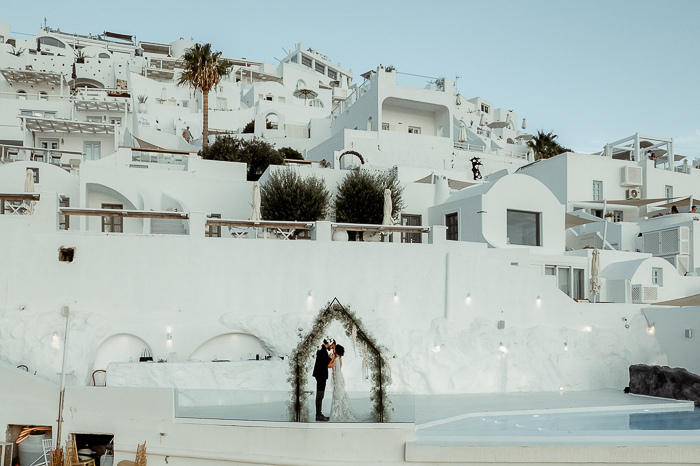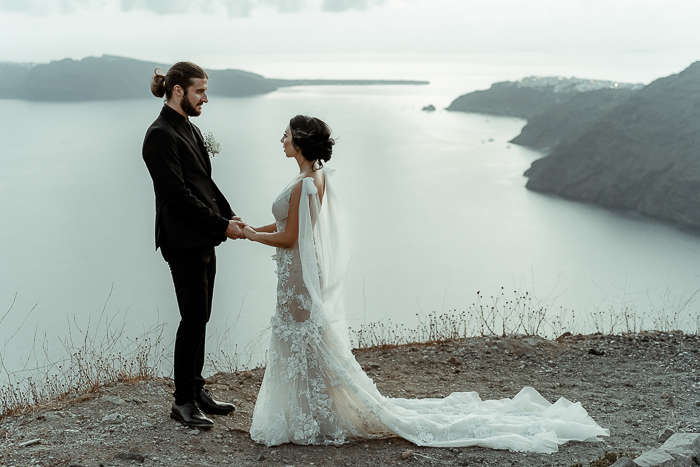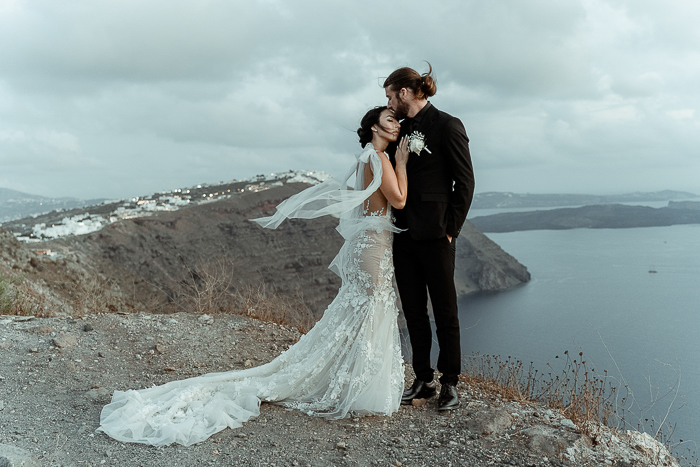 Writing Letters to Their Future Selves in Greece
We wanted to find a special place in Greece to write heartfelt letters to our future selves to celebrate our five-year anniversary. To add a personal touch, we designed a unique stamp featuring olive branches, symbolizing the significance of even the small things in our relationship. Travis crafted a beautiful box using black palm wood, a material that holds a special memory of a desert hike we shared in California. After sealing the letters with wax, we carefully placed them inside the box. We plan to open them in 2027 and revisit the memories we have created throughout our journey.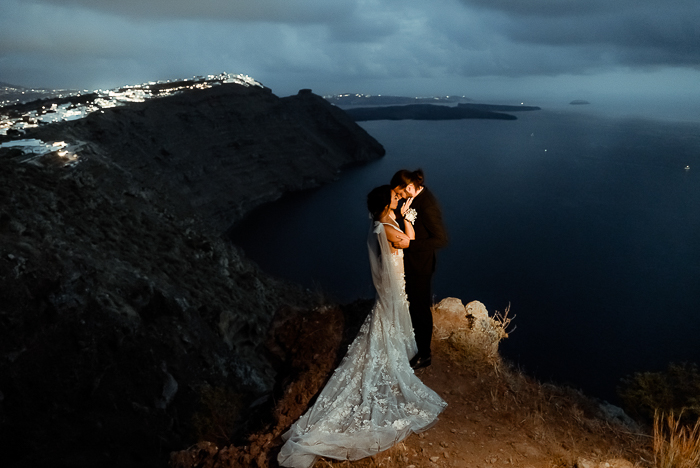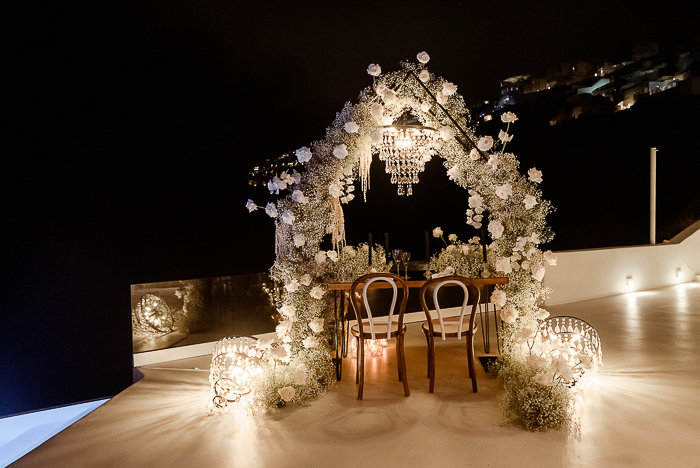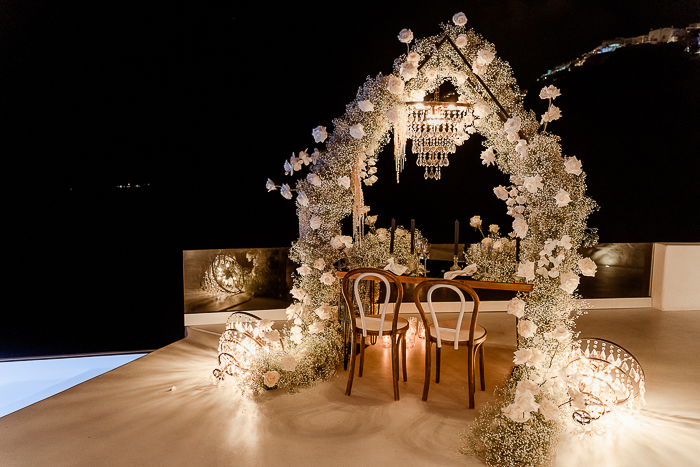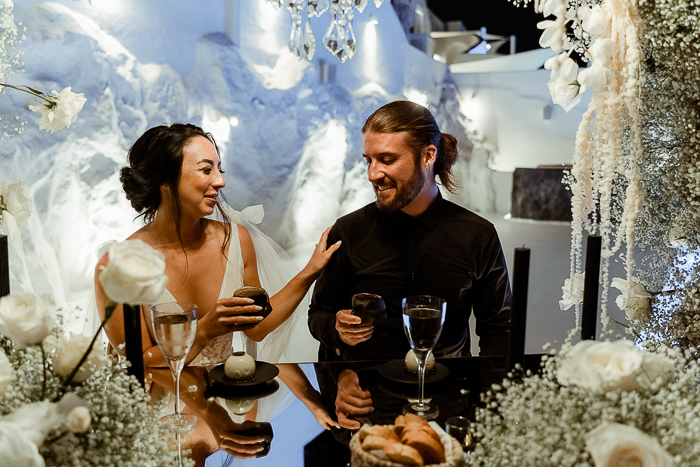 A Culinary Artwork in Place of a Wedding Cake
Instead of a traditional wedding cake, we chose something different and unique. With the help of our wedding planner, we sourced a custom-made culinary masterpiece locally. It was no easy task, as our wedding planner had to transport these unique chocolate spheres from Ma Douce Patisserie-Café in Rethymno, Crete. This whimsical choice brought an unexpected touch of surprise and delight to our celebration.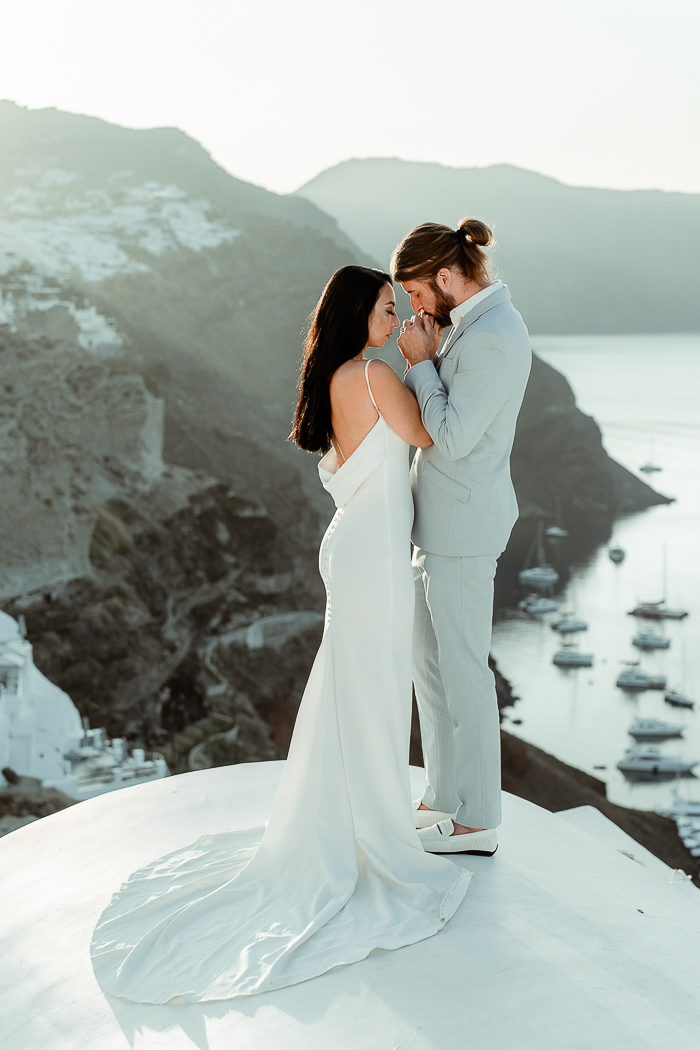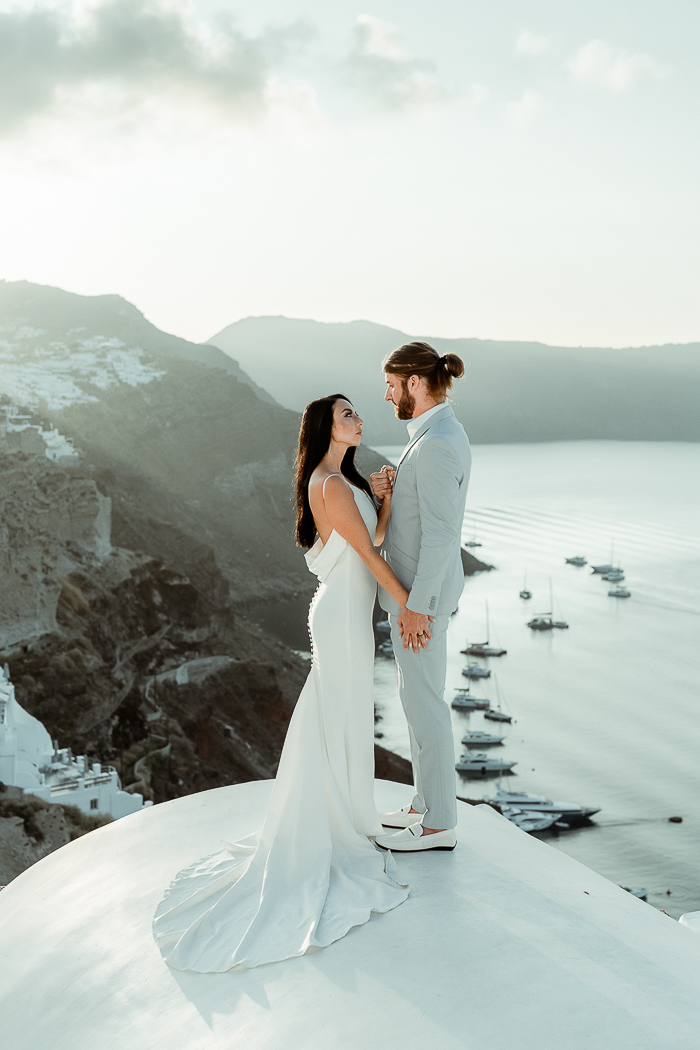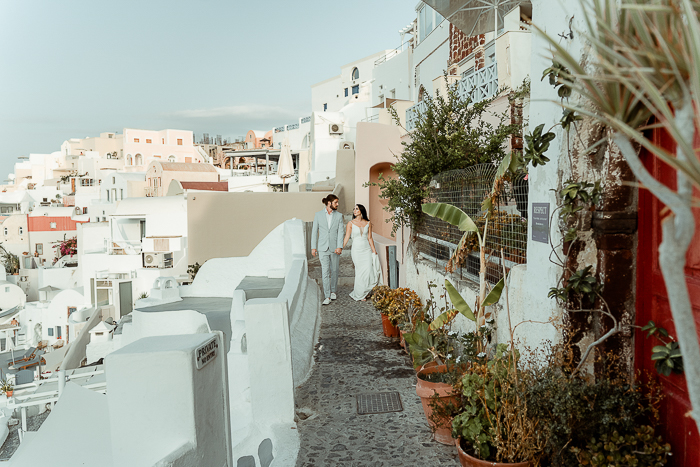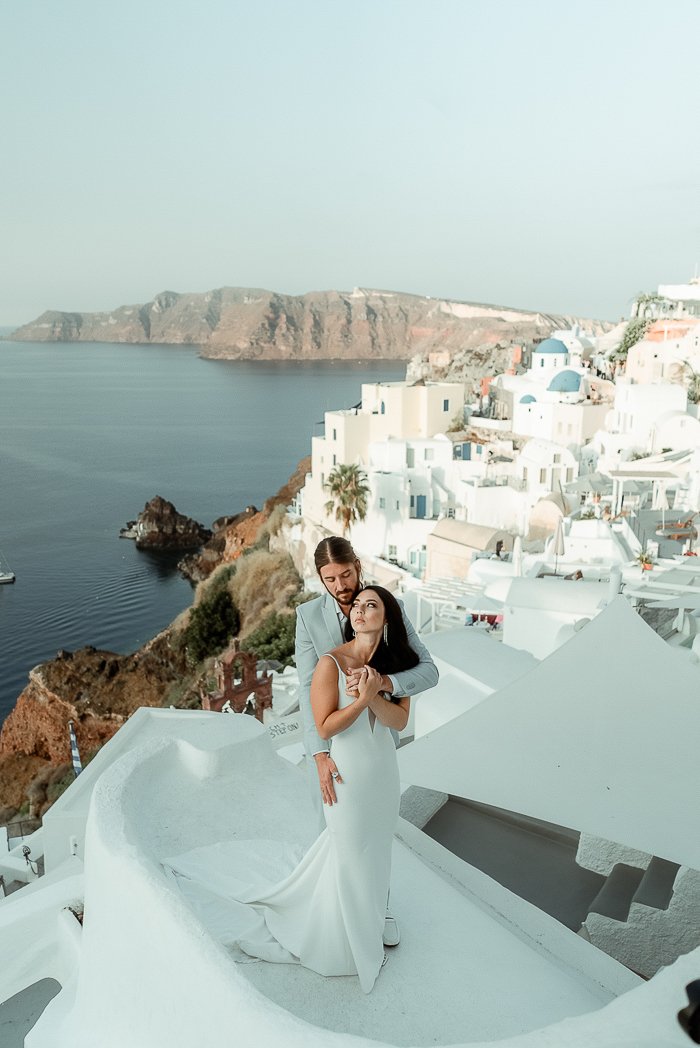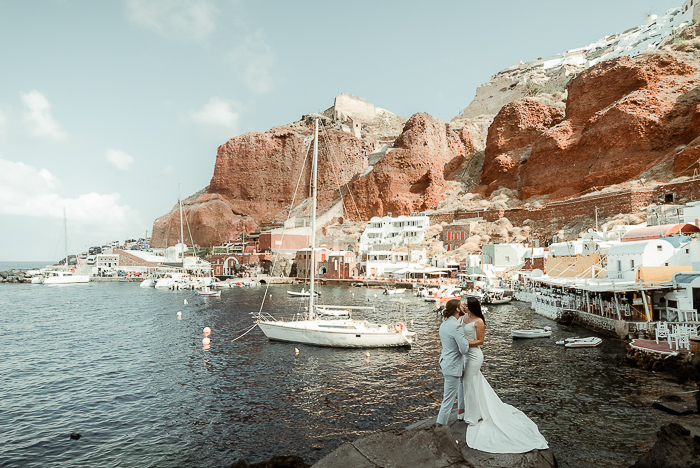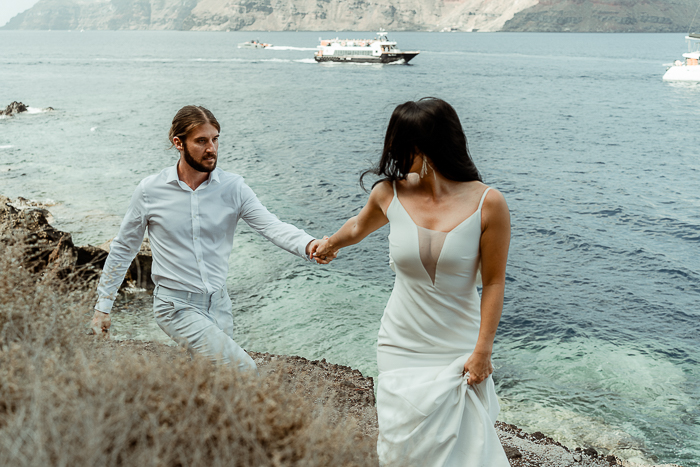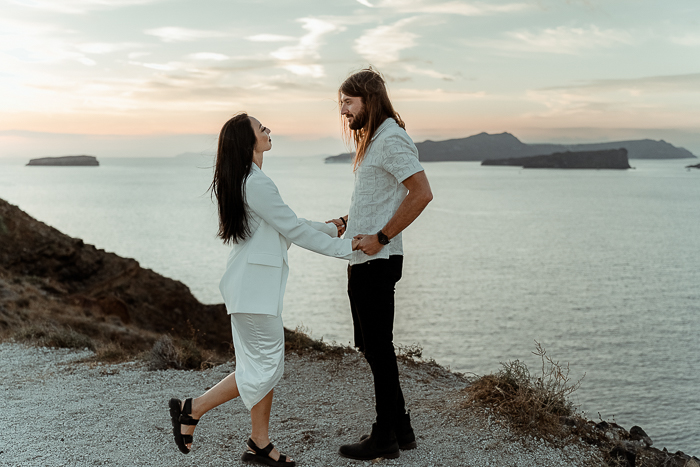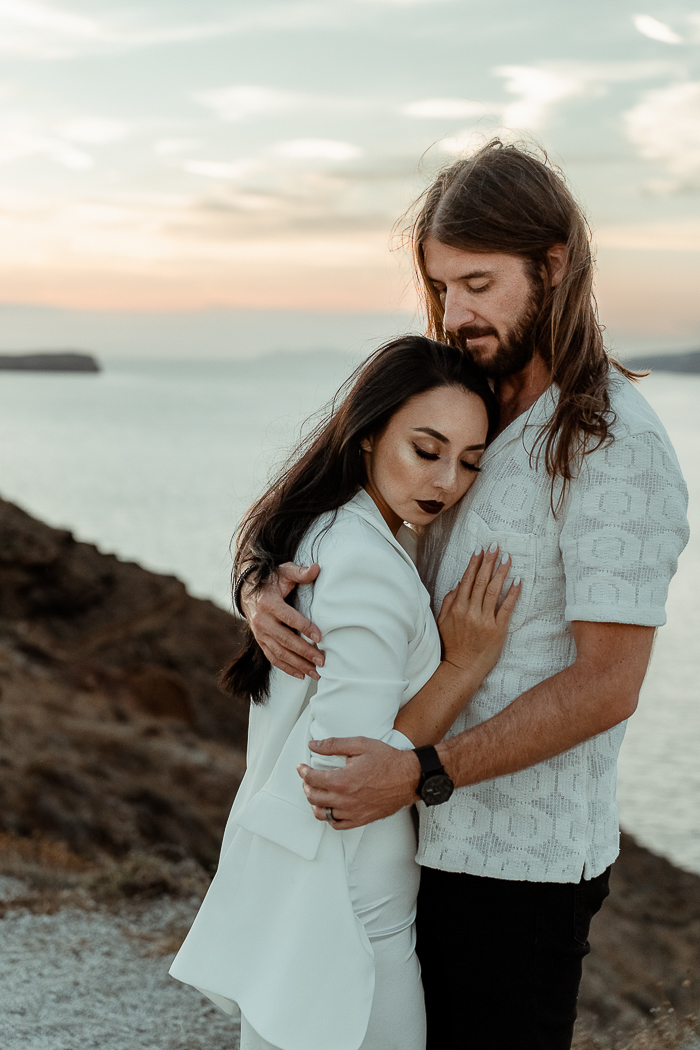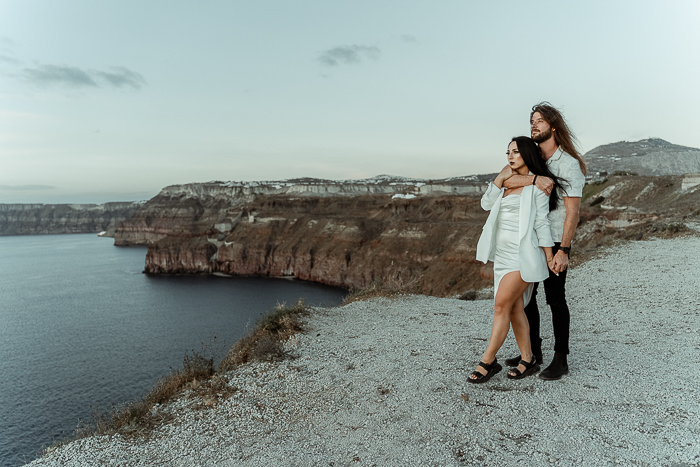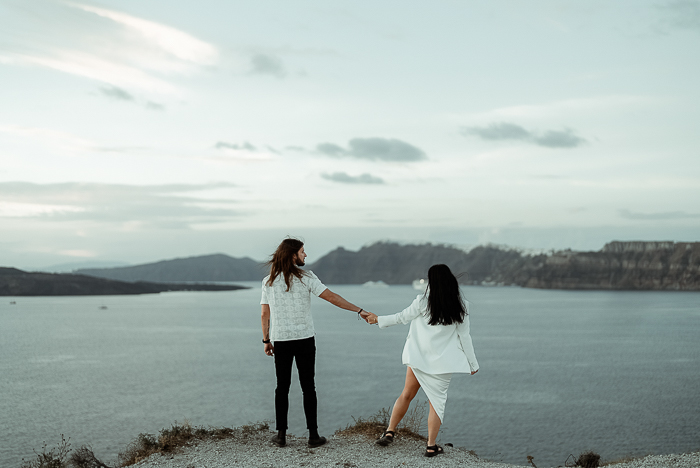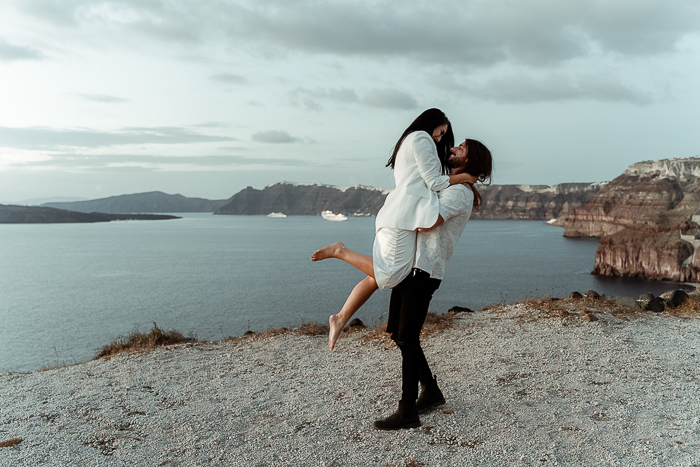 Congrats to Diana and Travis on their romantic Santorini elopement! And a big thank you to Cinema of Poetry for capturing every precious moment that'll leave couples feeling empowered to plan a non-traditional celebration that's authentically them.
If you're feeling inspired to elope but don't know where to begin, we've got you covered. Our easy-to-use elopement planning checklist is here to help you get started and make the process a breeze.