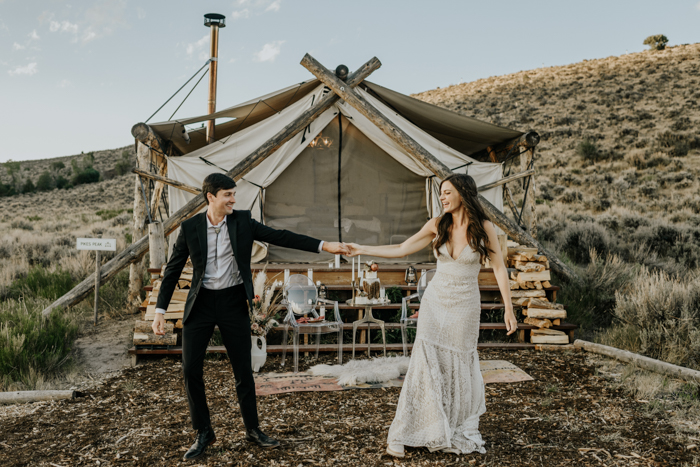 You can't control what life throws your way, but you can control how you deal with it. And for Torey and Tom wedding planning during the pandemic and personal life-altering changes weren't going to stand in their way. After trimming their guest list, changing venues, and hiring trusted wedding vendors, their Hoosier Pass elopement became a reality.
With the help of wedding planner ​​Silver Thistle Events this couple was able to create a fully personalized elopement filled with love, laughter, and views that made the 3am hike well worth it. After their sunrise ceremony—officiated by their photographer—the couple headed back to their reception at Collective Retreats in Vail for their first dance, cake cutting, and readings of loved-ones letters.
Elopements don't have to be boring. And if you don't believe us, we'll let these images by photographer Map and Compass Photography do all the talking.
Photographers Thoughts On This Hoosier Pass Elopement
Tom and Torey decided to elope in July after COVID-19 hit. Tom reached out to me explaining that he would be moving for flight training in the Air Force and they wanted to have an epic summer elopement before the transition. With the help of Silver Thistle Events, we immediately started planning a beautiful wedding that was true to them. We woke up around 3 AM to hike Hoosier Pass, picking the perfect spot out for their ceremony. After the elopement ceremony, we went to Lake Dillon for a beautiful brunch picnic. Every detail was thoughtfully planned, including the handwritten name tags. The day ended with Torey and Tom's first dance, cutting their cake, and most importantly, reading letters from friends and family that couldn't be there.
The Couple:
Torey and Tom
The Wedding:
Hoosier Pass, Colorado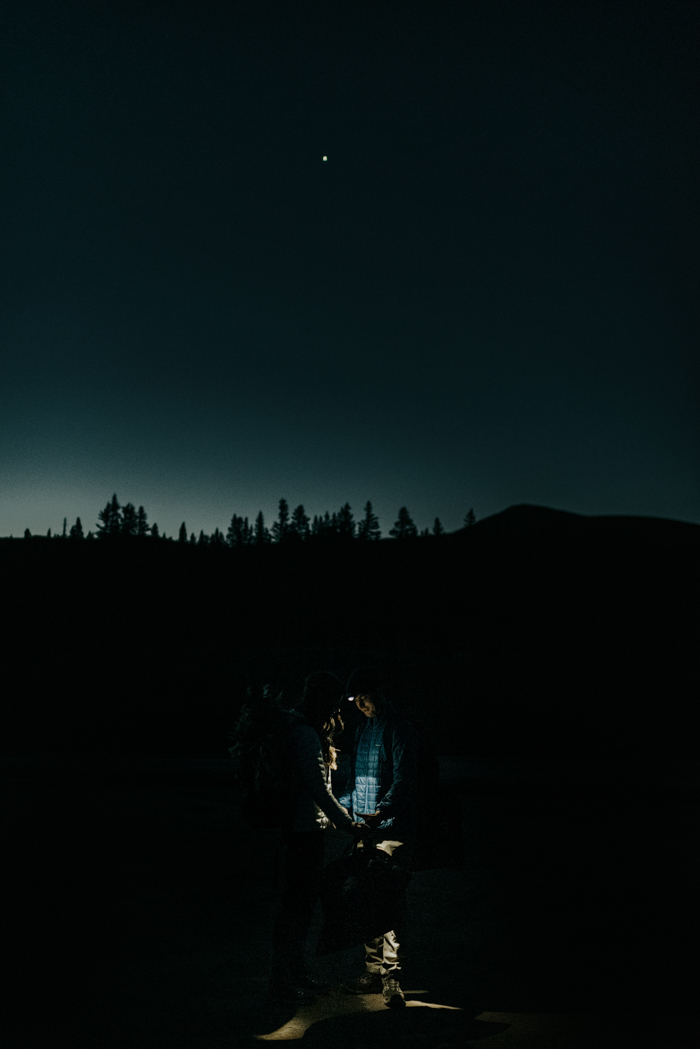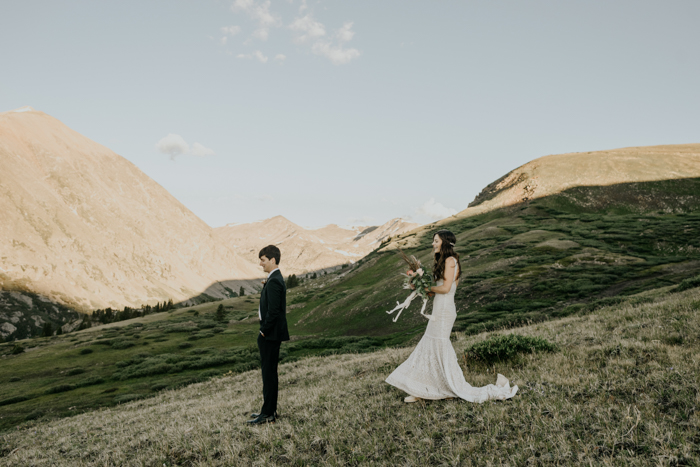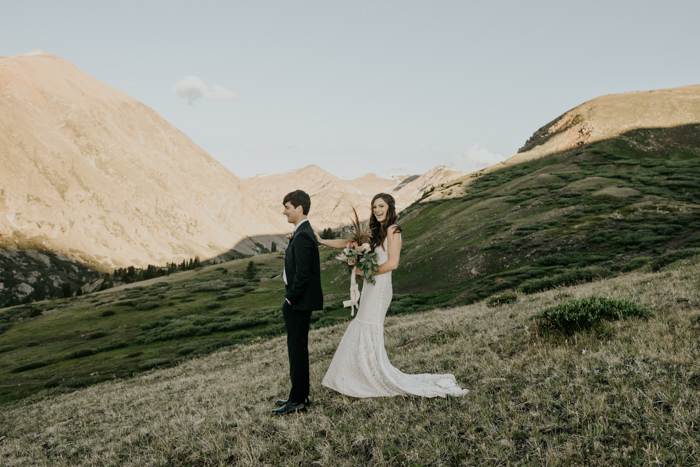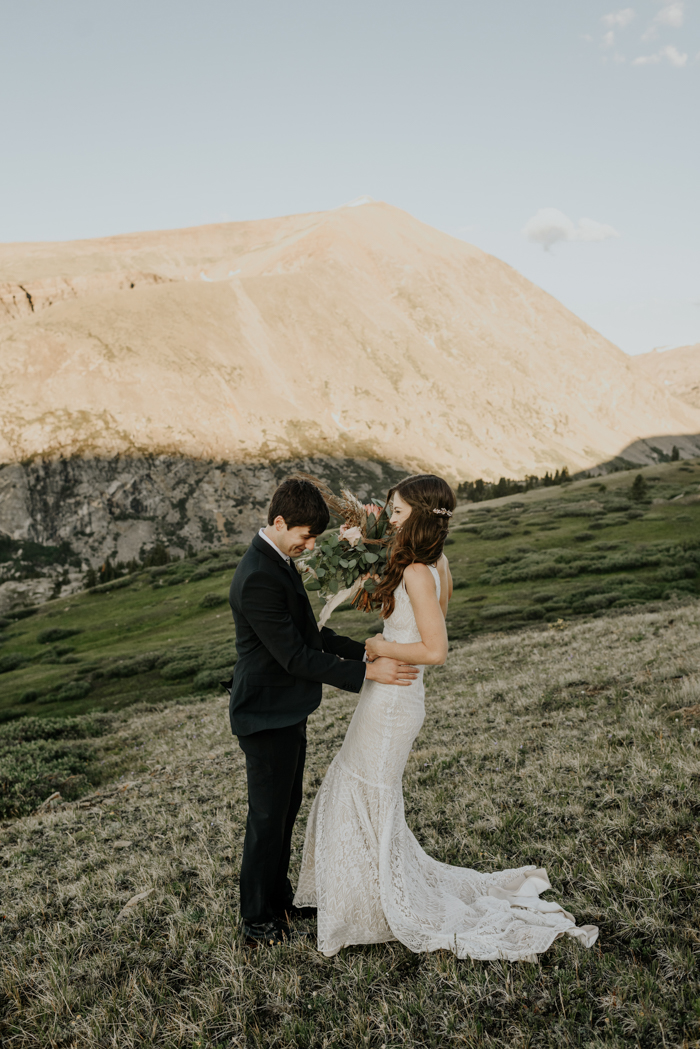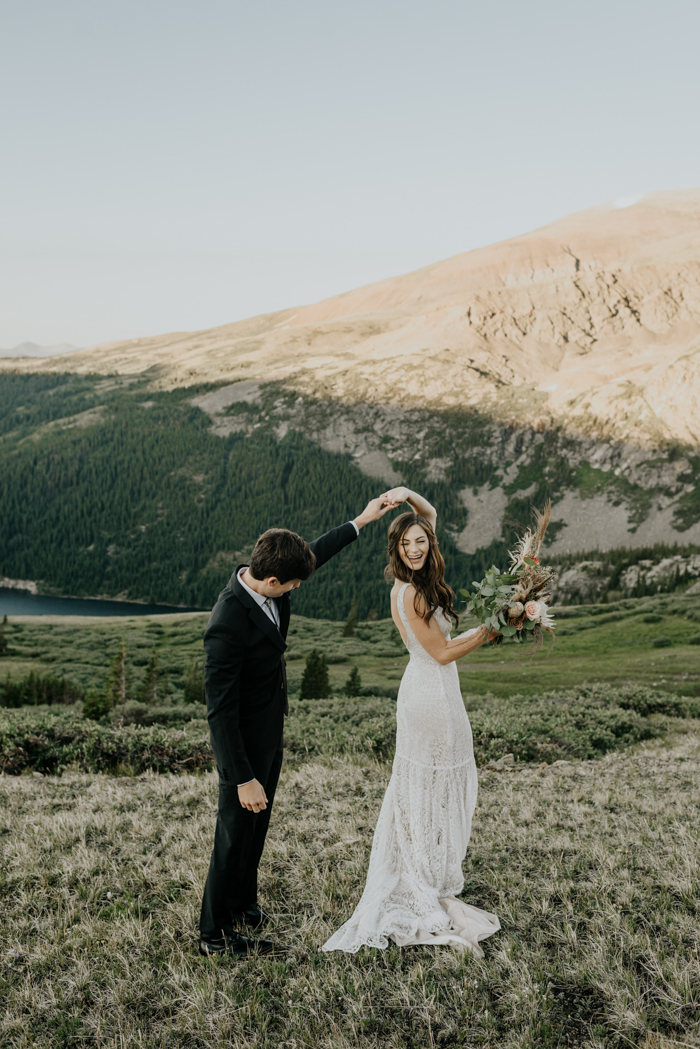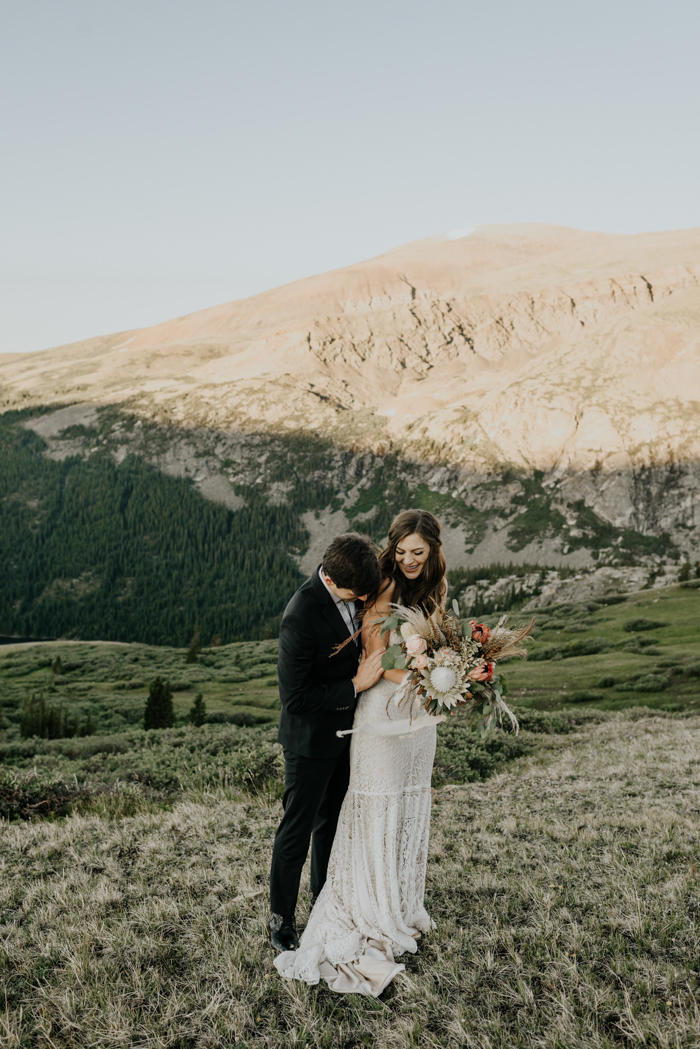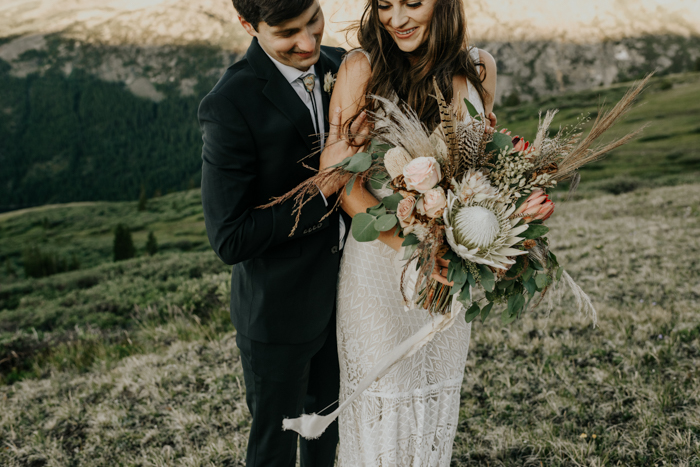 An Unforgettable Sunset Ceremony Moment
The day was full of so many different experiences that make it tough to choose a favorite part. But, for me it might be the hike up the mountain on the way to say our vows. When we started the hike it was still dark out, and watching the sky change colors over the mountain is something I'll never forget. There's something almost sacred about the early morning when no one else is awake. There was no one else on the trail that morning and it felt like we were alone in the world. I remember looking at Tom and thinking how much I loved him in that moment, and it just felt like everything in my life had led to this really beautiful snapshot in time. I felt overwhelmingly happy, grateful, and excited for the rest of my life with him to begin.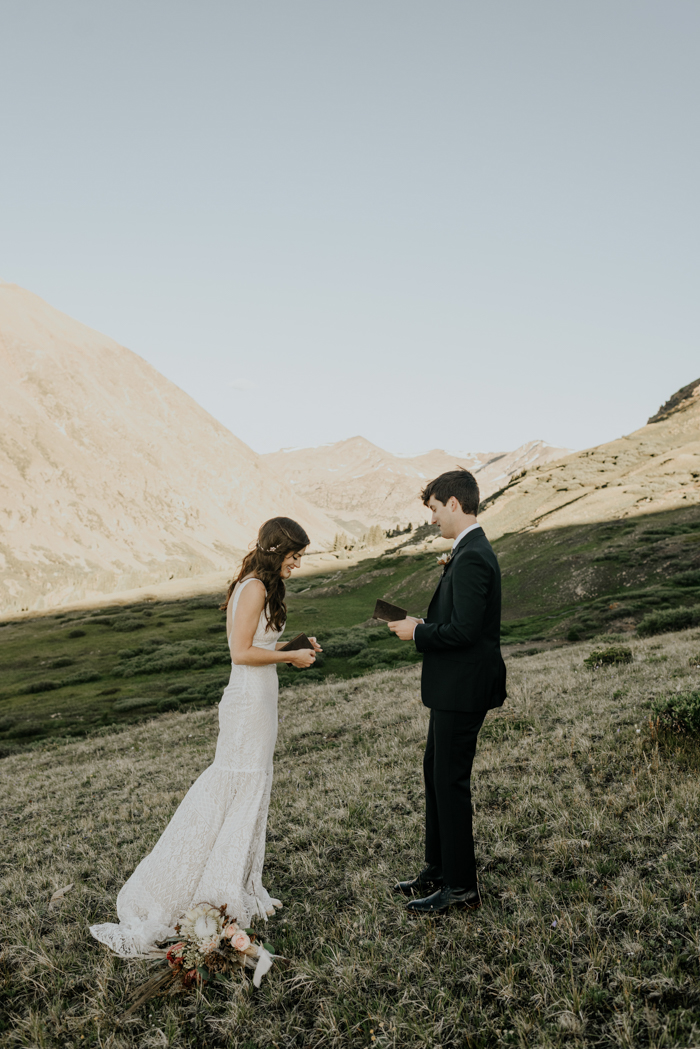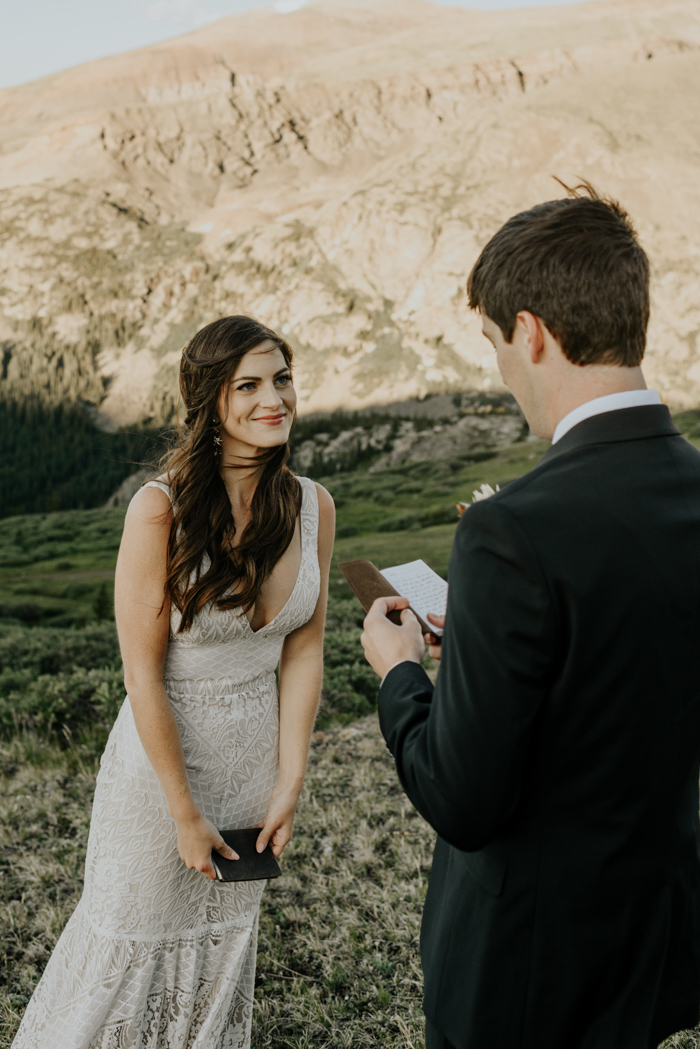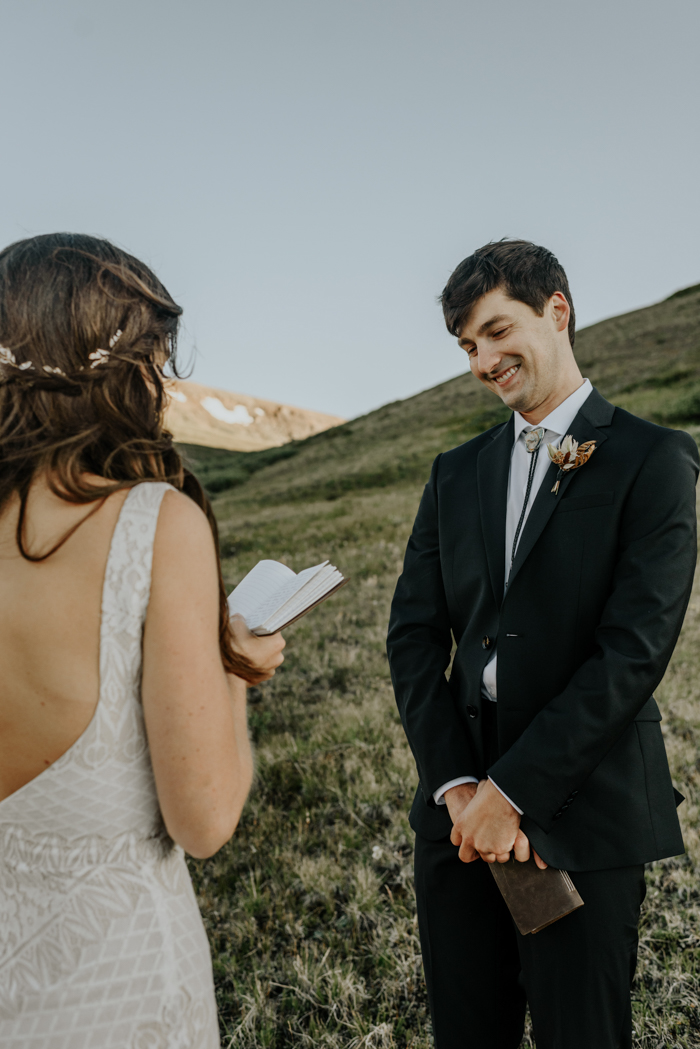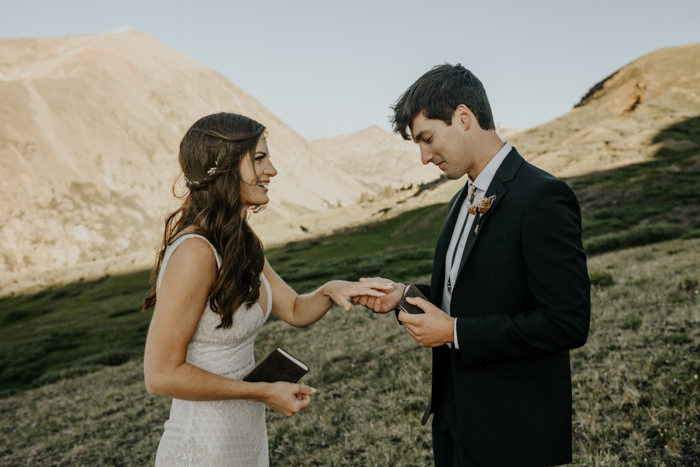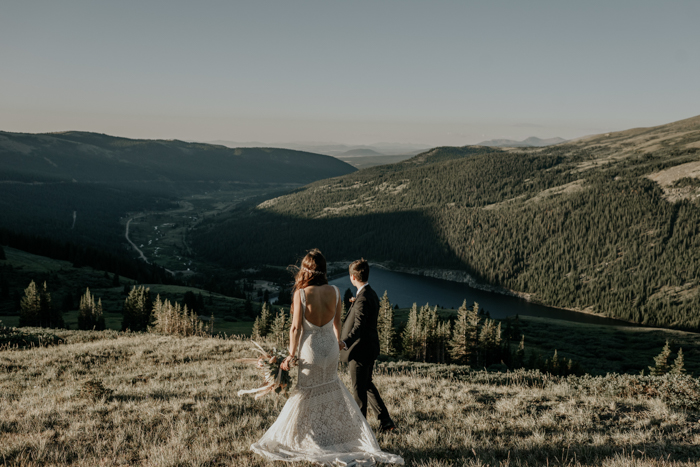 Sometimes Less Is More
When it came to planning, we did something pretty out of character because we didn't do much of anything. Before getting married, I had been a bridesmaid six times. While my friends all loved their engagements, I also pretty vividly remember the stress they were under from all of the little details that go into planning a wedding on such a large scale. Tom I had a few things we cared about, like making sure the day felt like an adventure and writing out our own vows. Other than that we pretty much just made a Pinterest board of our style inspiration and handed it over to our wedding planner. I had no idea what my bridal bouquet looked like until I showed up at 5 am on the side of the mountain and no idea what our cake looked like until we got down to our tent after dinner—somehow the surprises made it so much sweeter.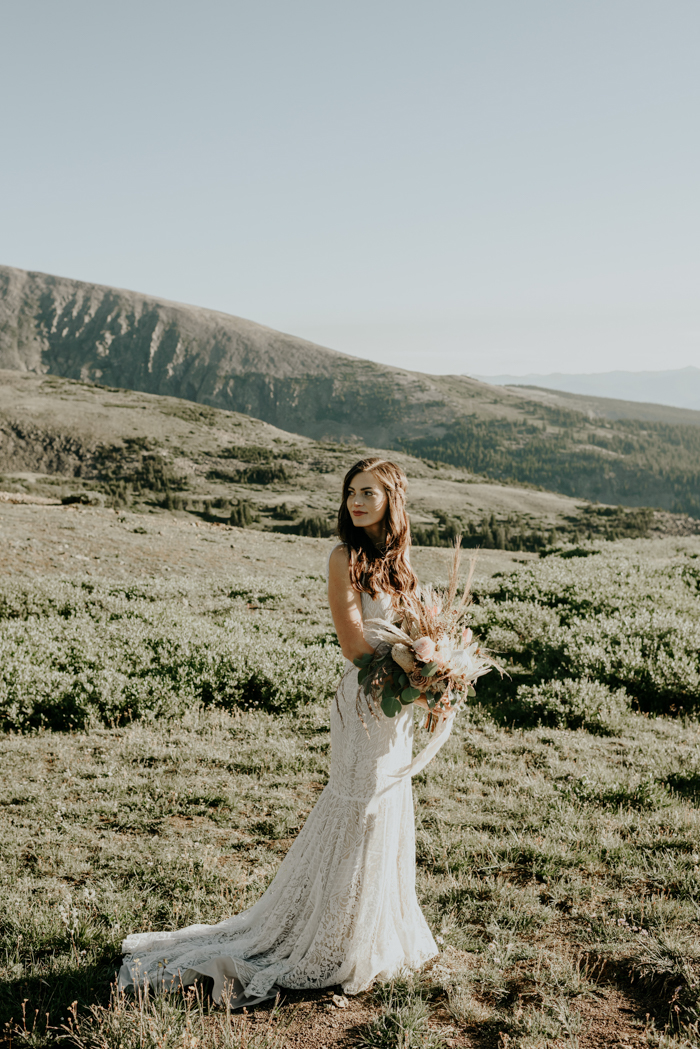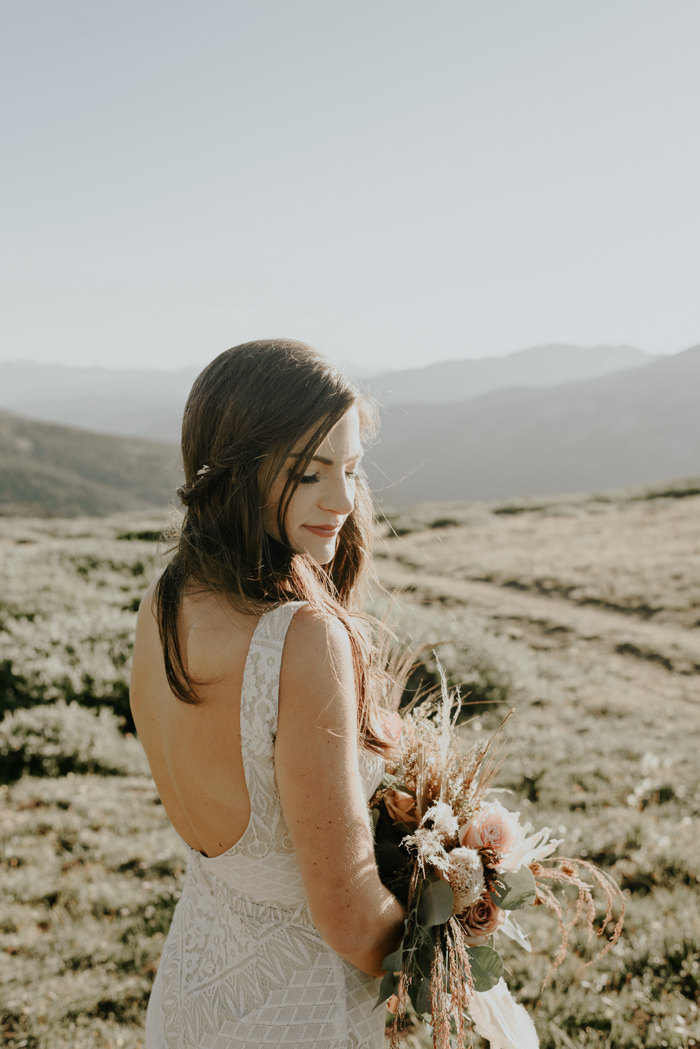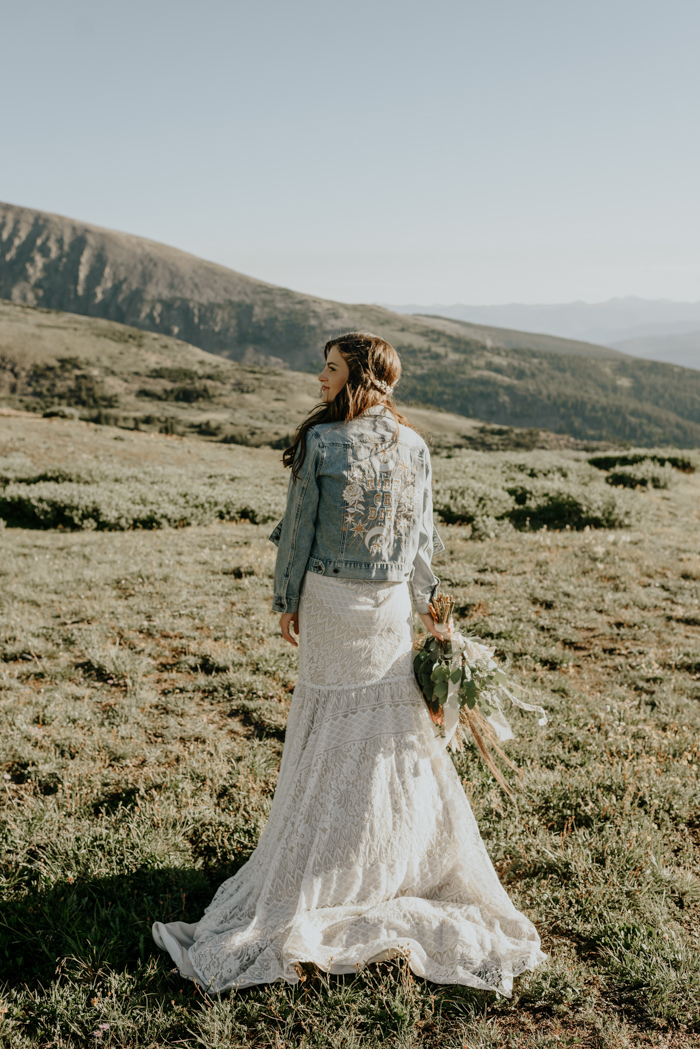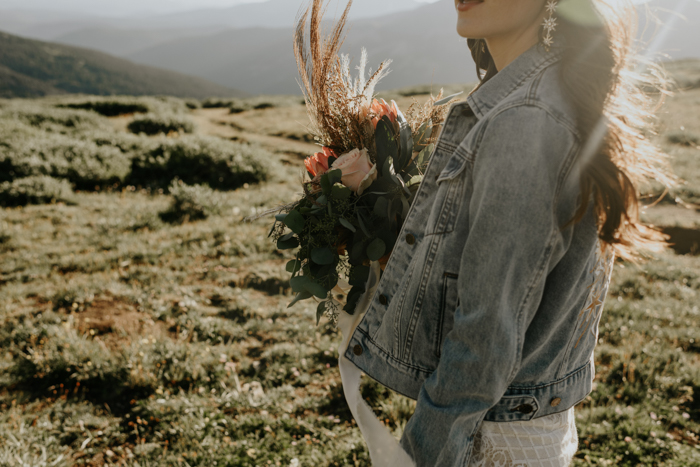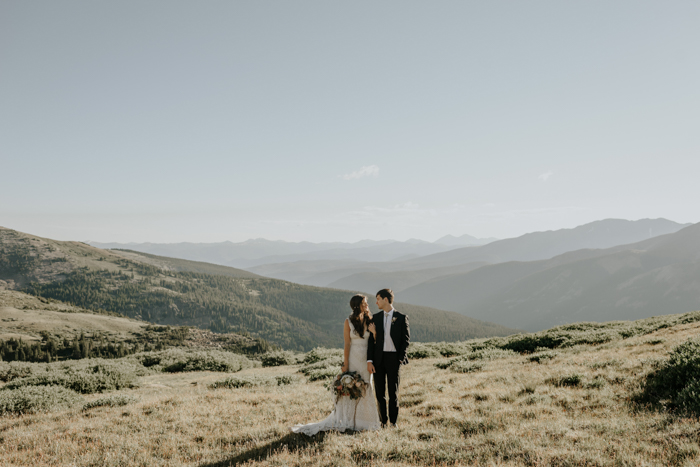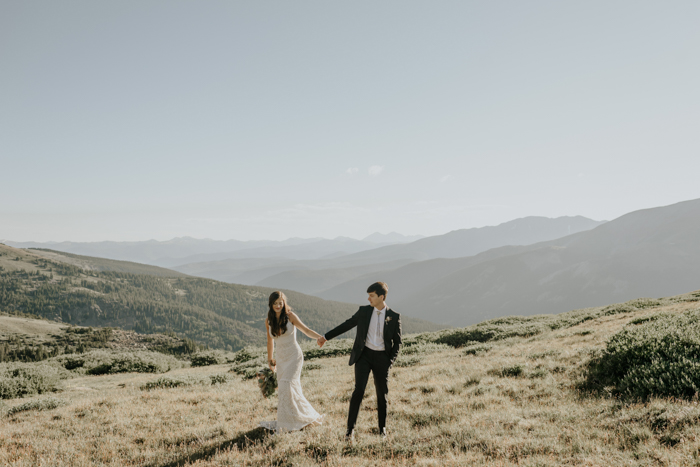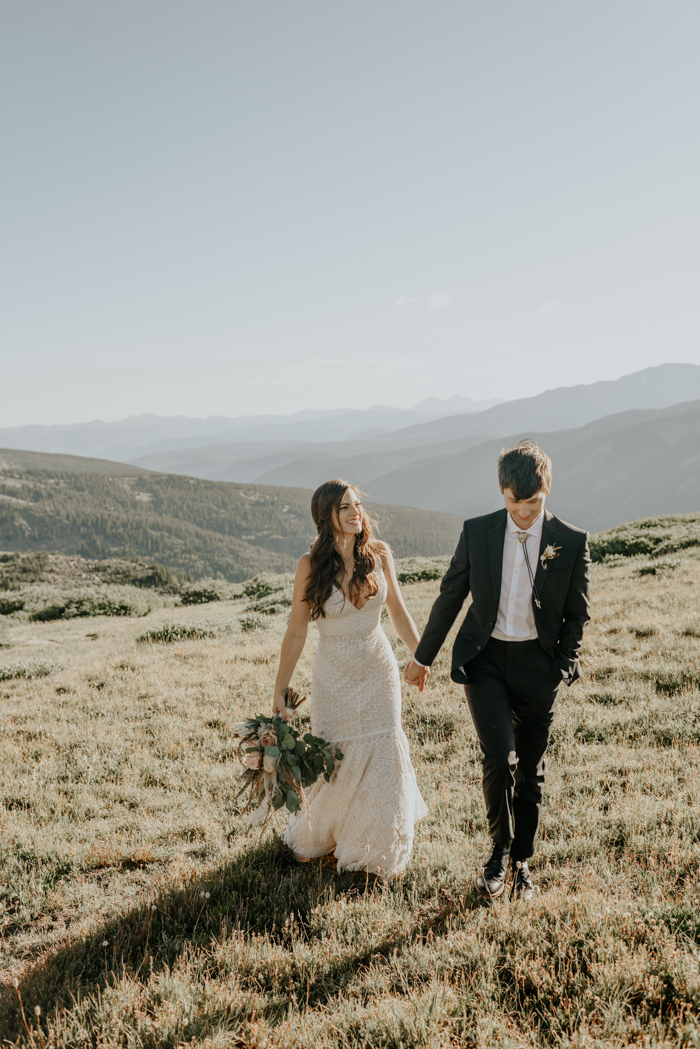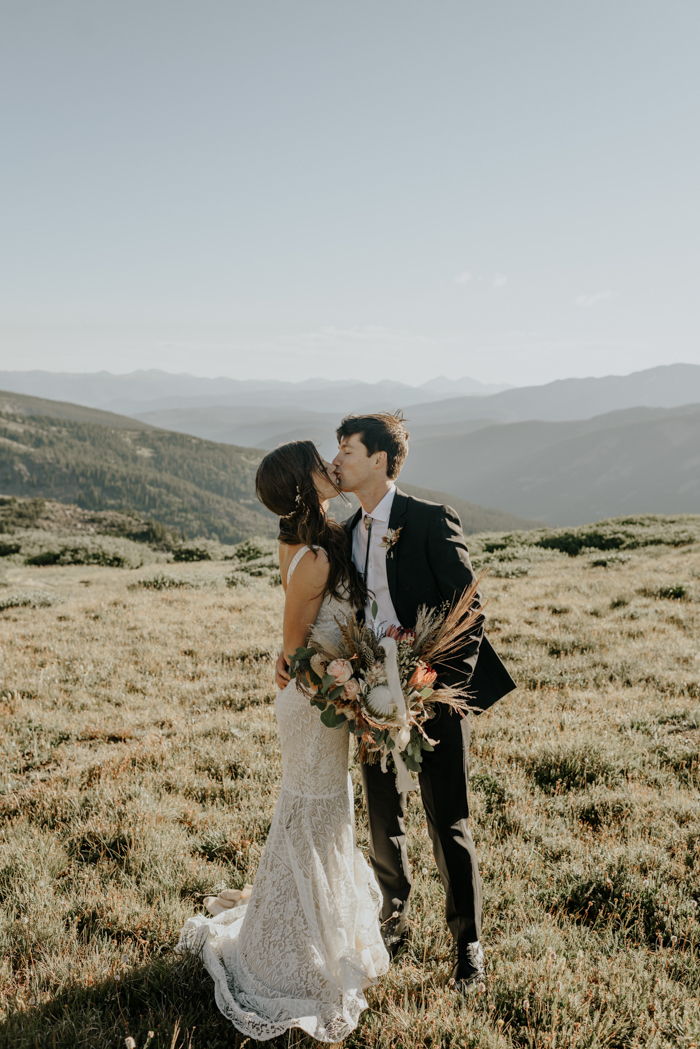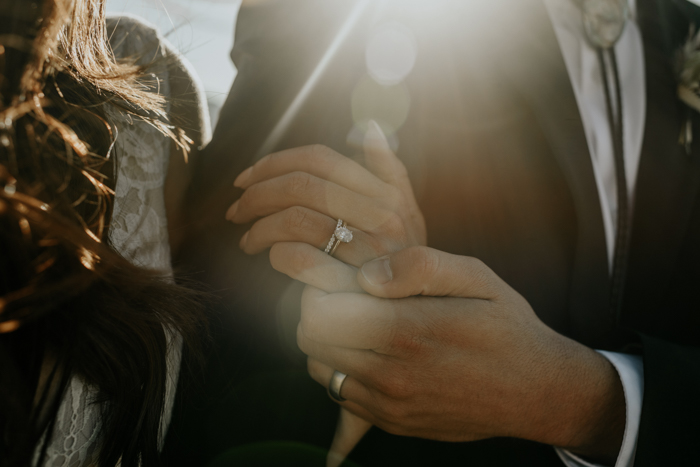 The Importance Of Hand-Writing Vows
We wrote our own vows to each other, which was one of the most important things to us. I've always really loved weddings where the couple writes their own vows, but always worried about being so vulnerable in front of an audience of people. Luckily it was just the two of us so we were able to be as open and honest as we wanted. I'll cherish that moment forever. We still have our vow books and plan to write in the empty pages every anniversary.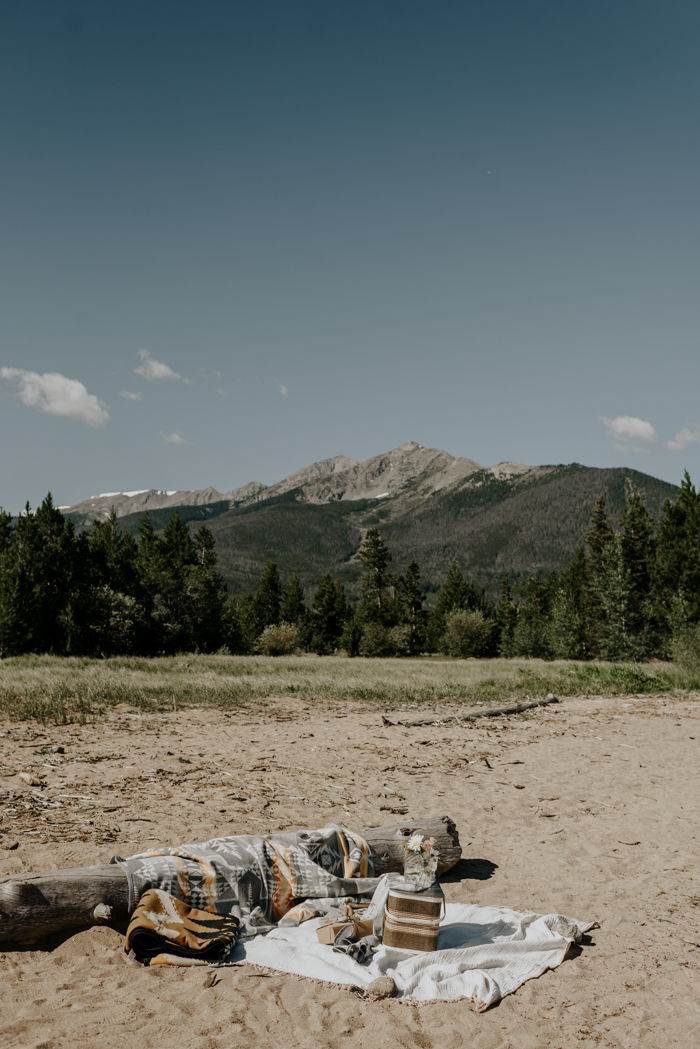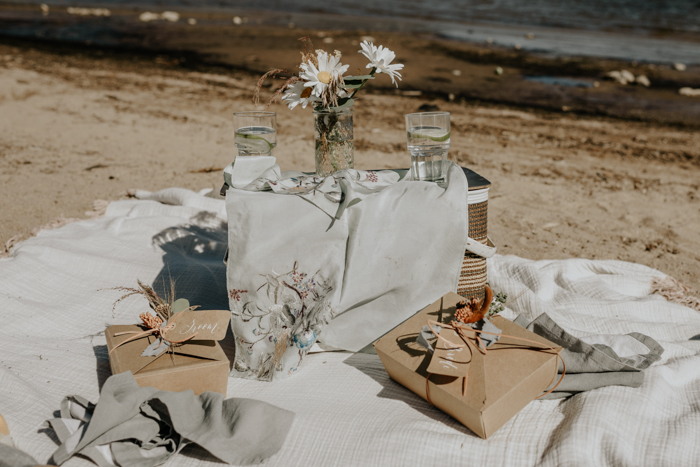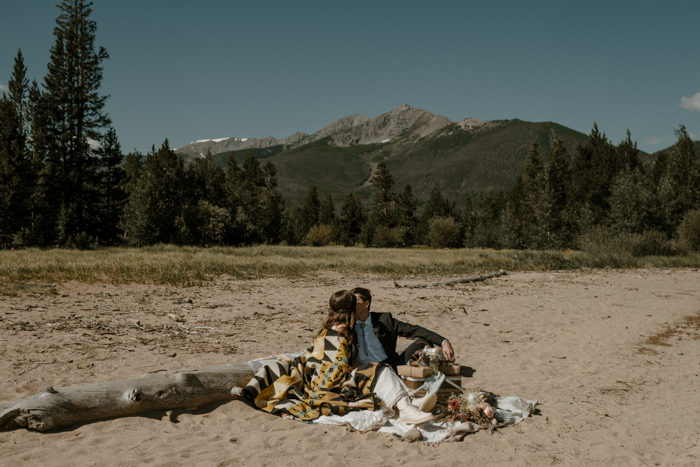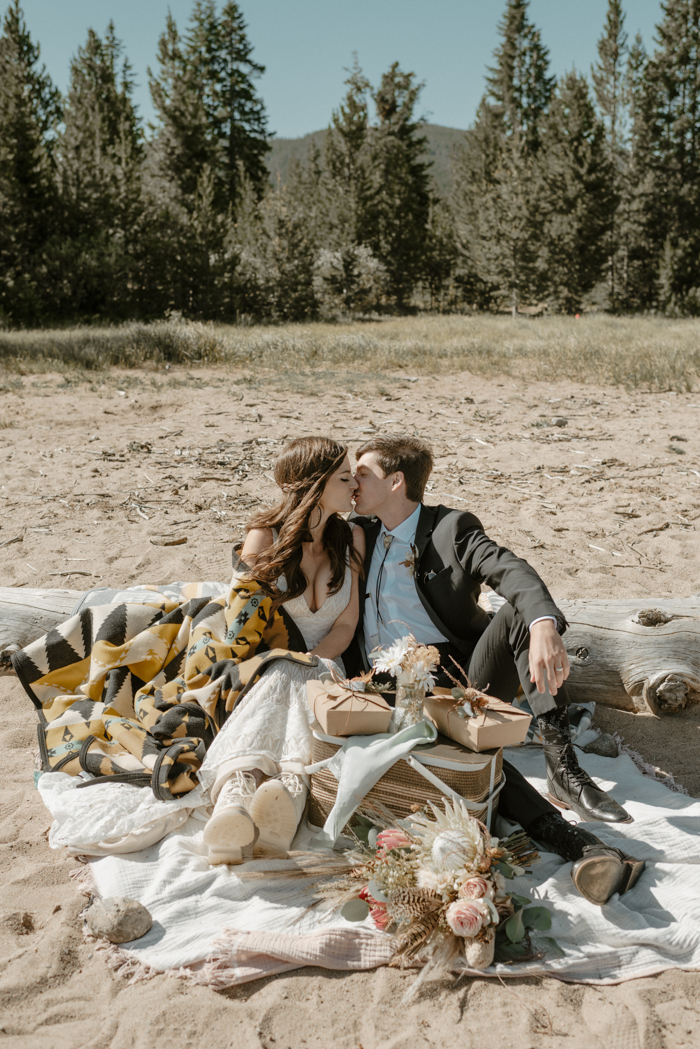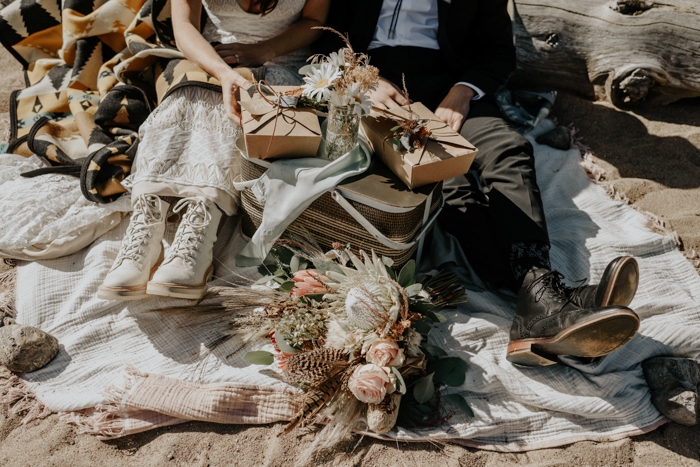 Map and Compass Photography went so above and beyond my idea of a typical wedding photographer. She scouted out the spot on the mountain where we said our vows and hiked up there with us at 5 am and incredibly officiated our ceremony for us as well. She read us something that her husband had written when he officiated a wedding for a friend. It was beautiful, personal, and made us feel surrounded by love in every possible way.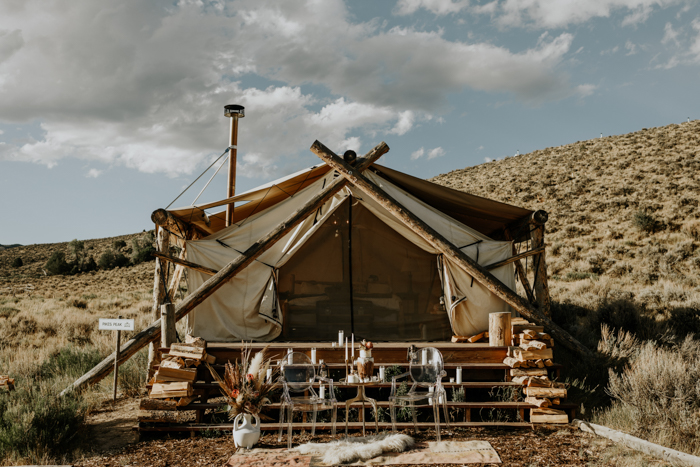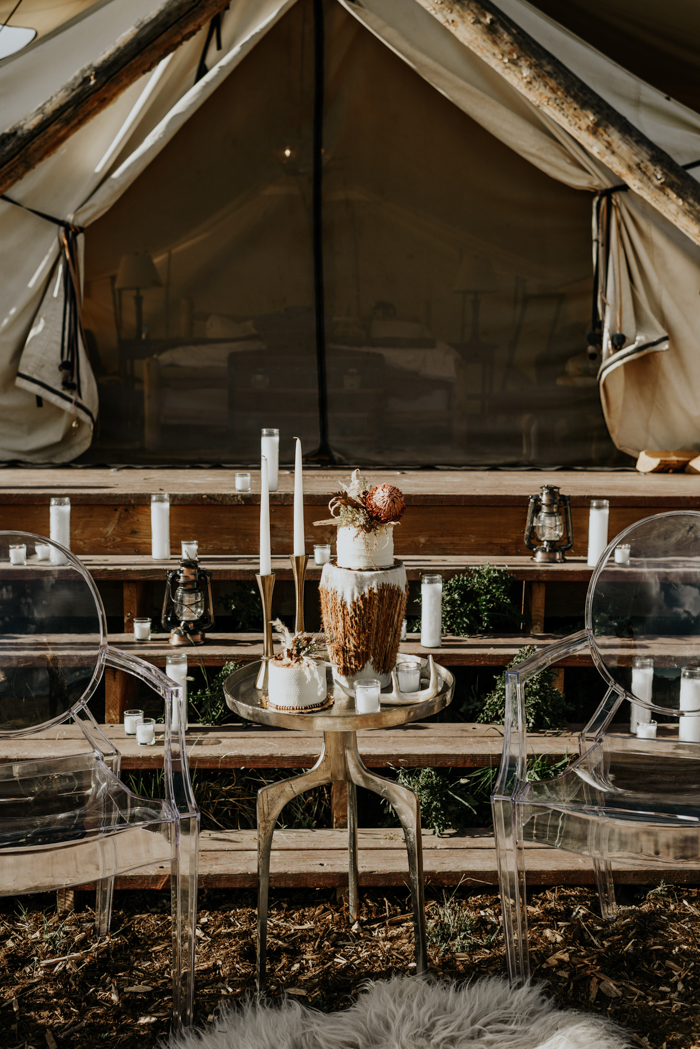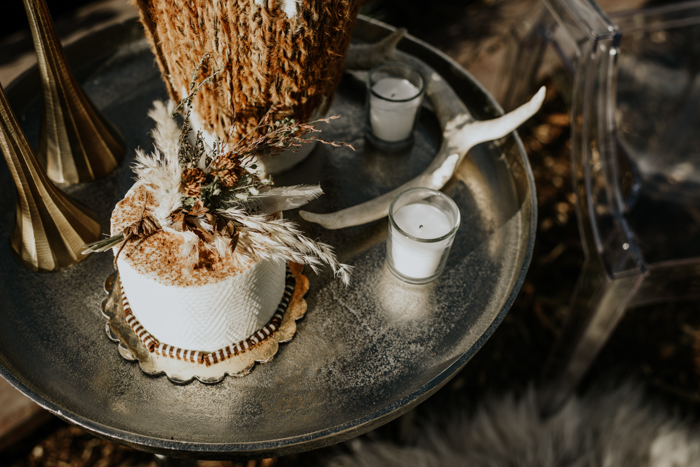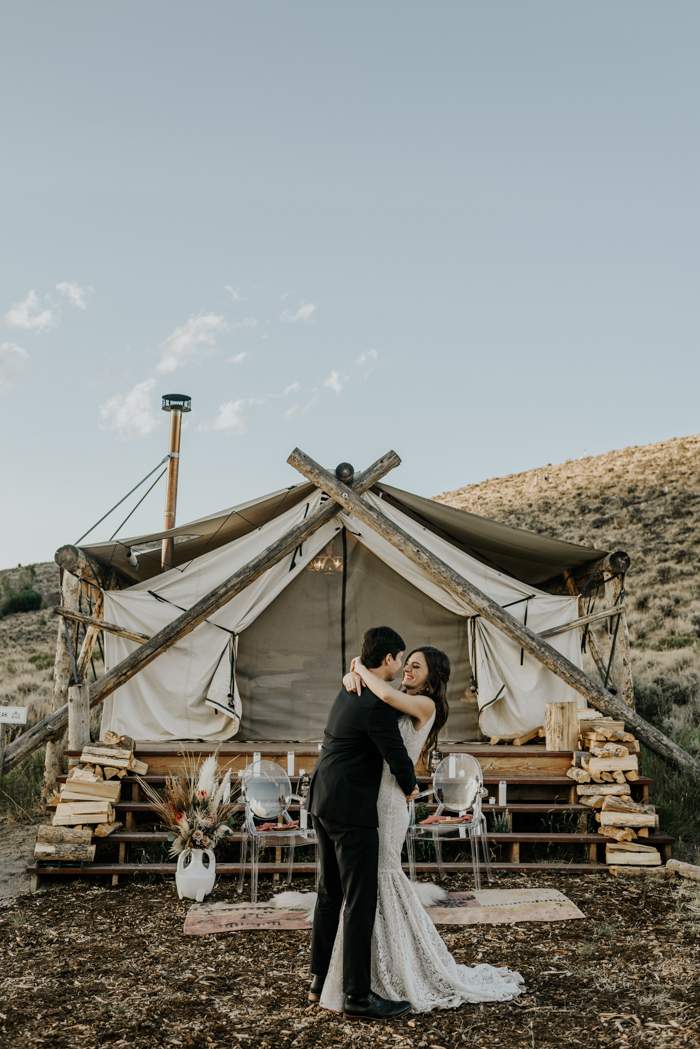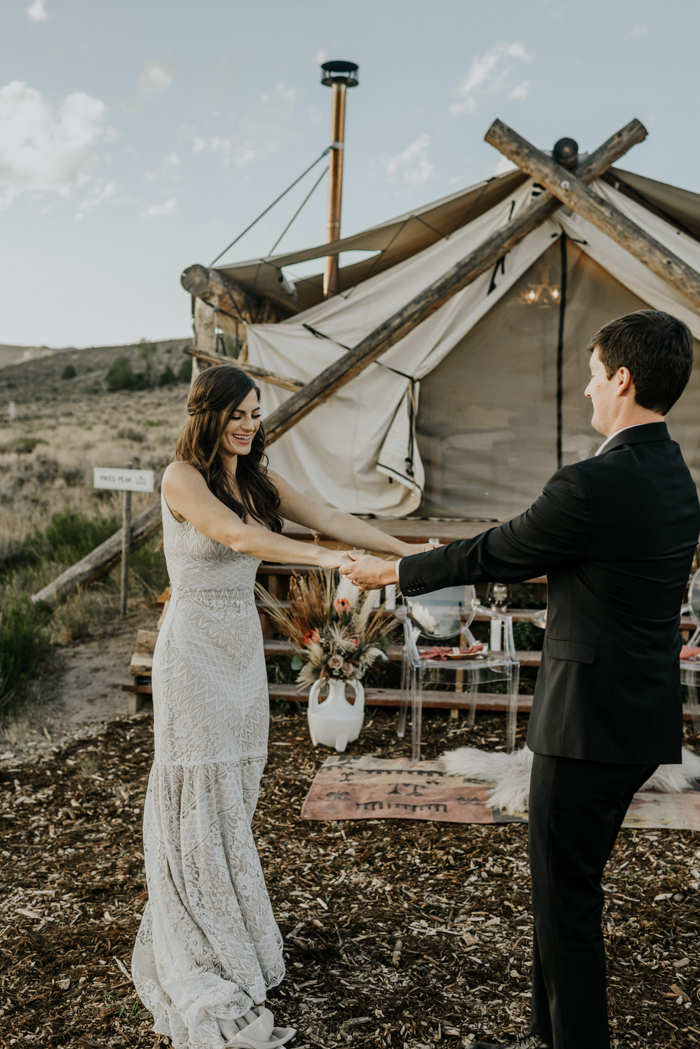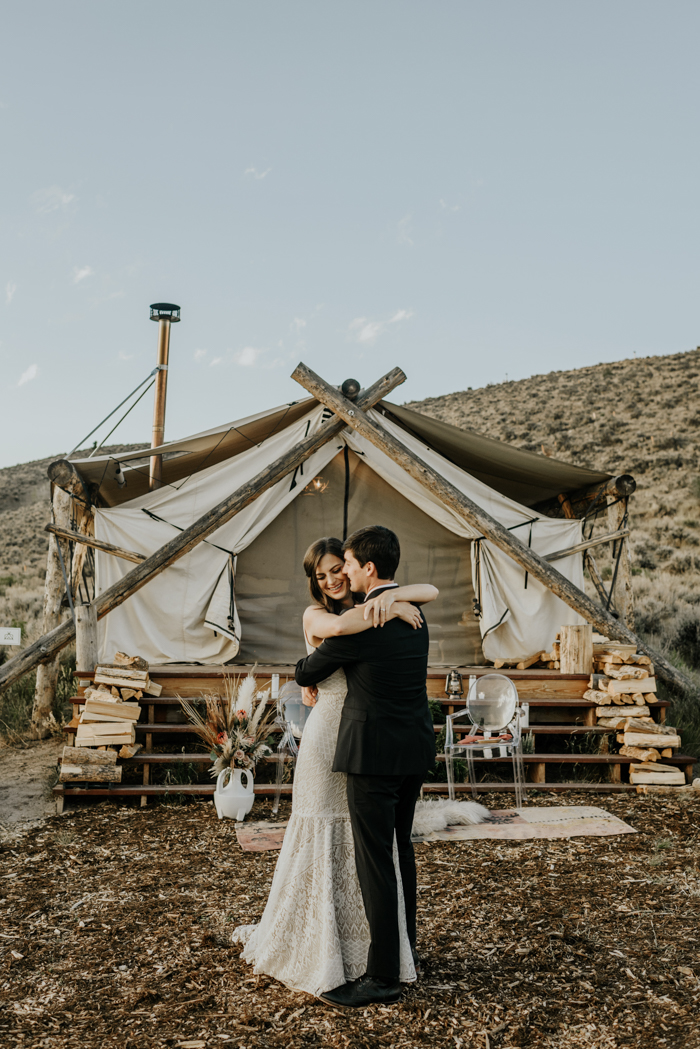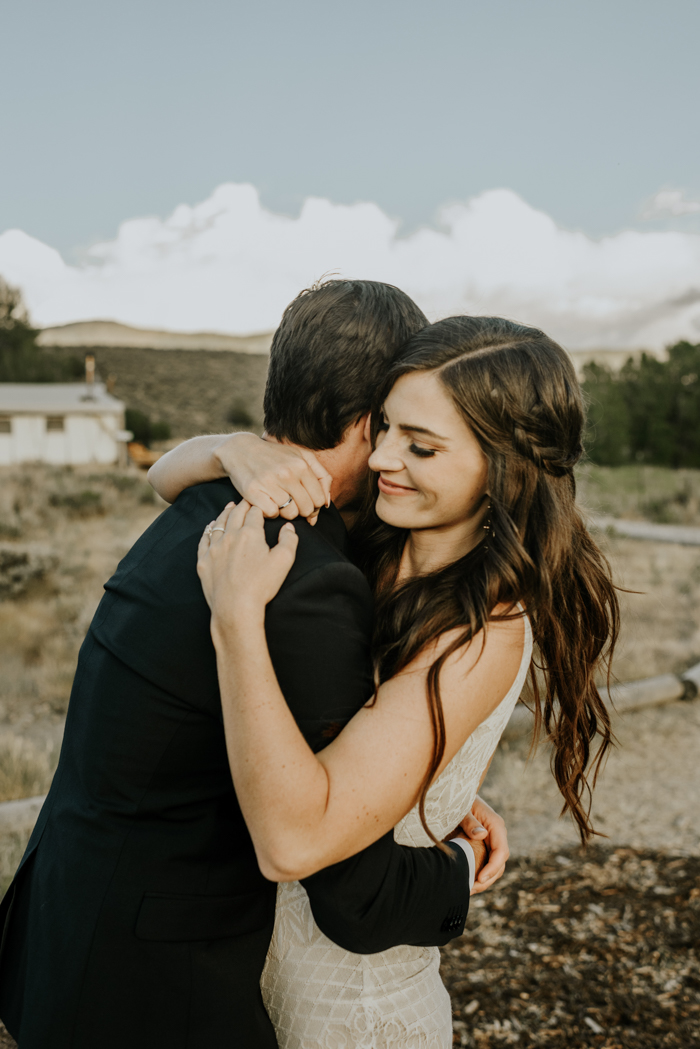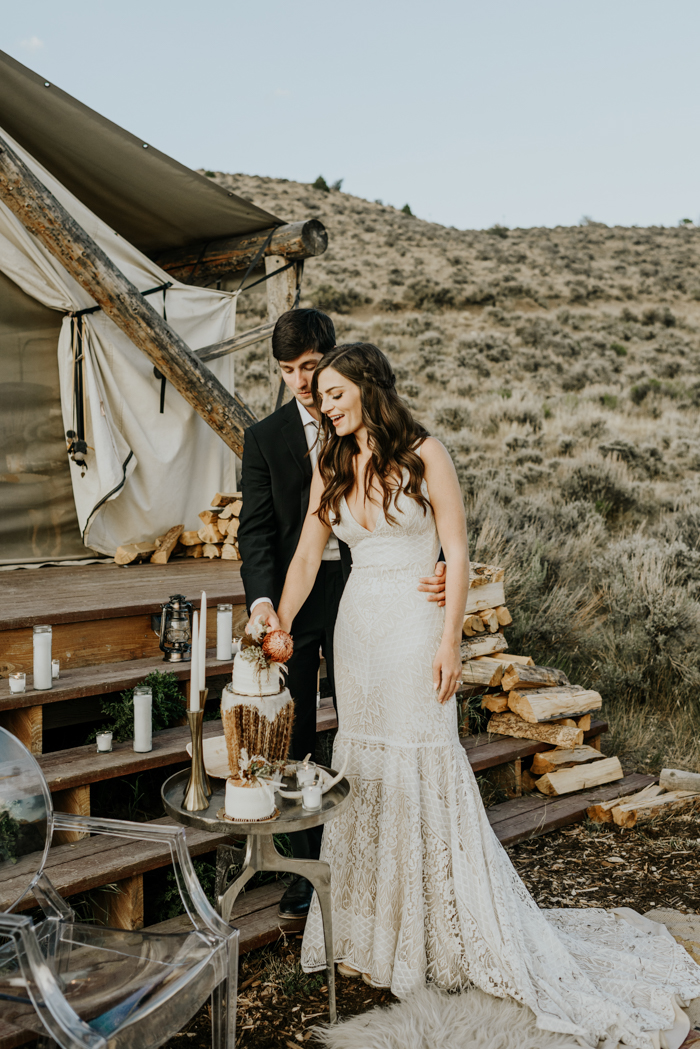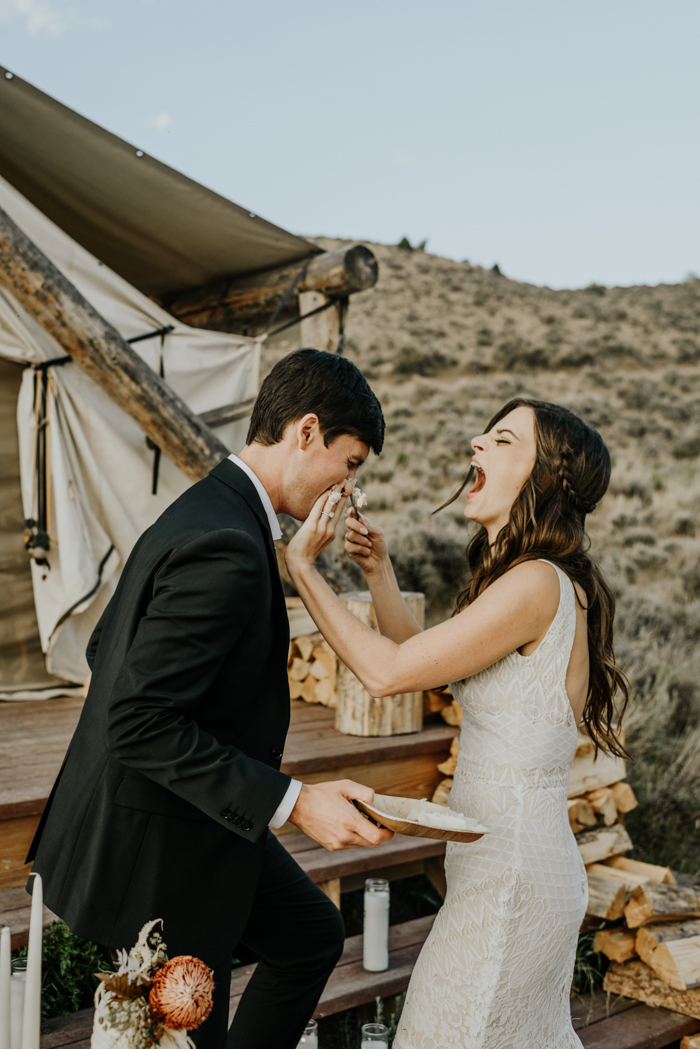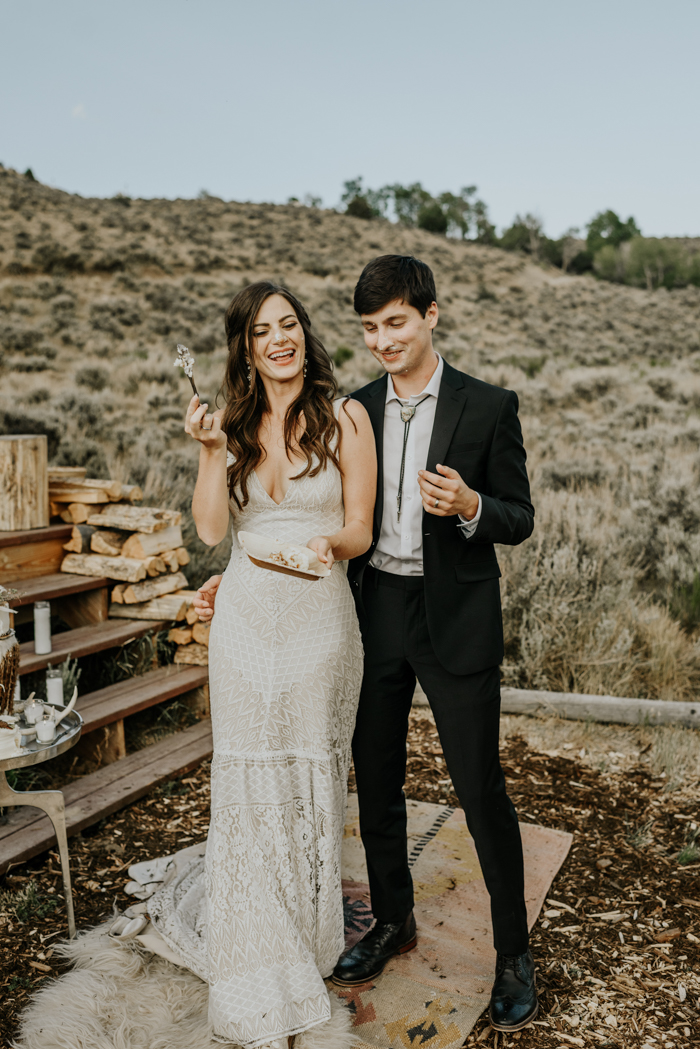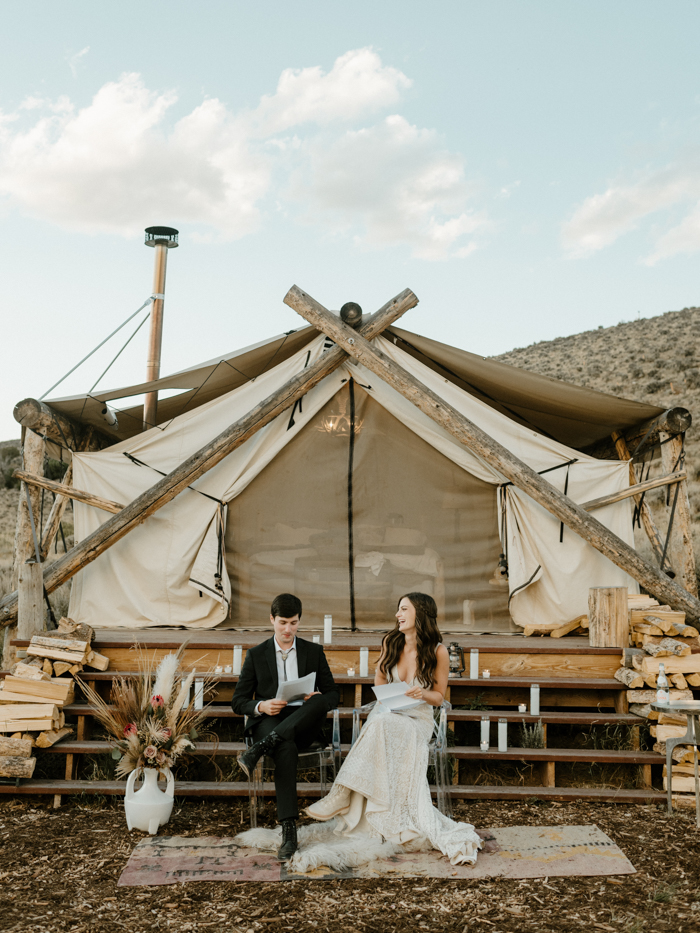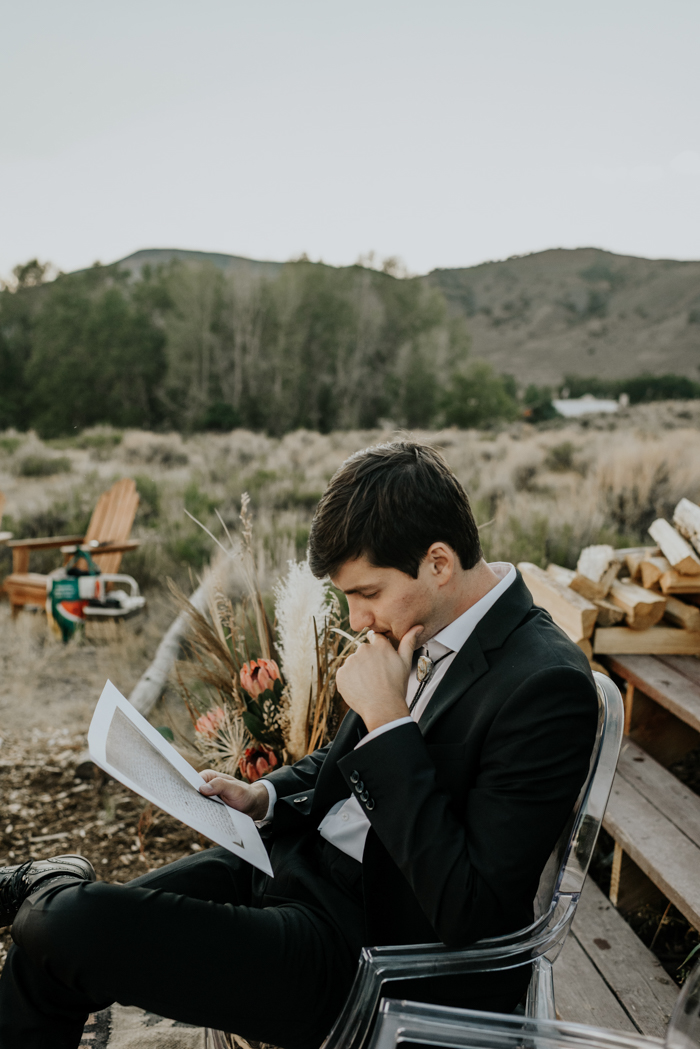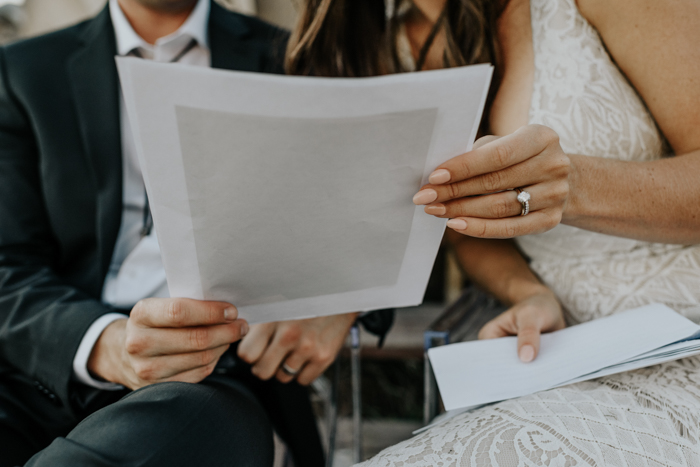 How To Include Loved-Ones In Your Elopement
One thing that I'm really happy we decided to include in our day were the letters from our friends and family. A couple weeks before the wedding, we asked a few people to write something for us to read the day of. It was a really beautiful moment that helped us feel close to the people we love so much, and it felt like they were really a big part of our day even though they weren't physically there. Plus, we now have really special keepsakes to look back on and remember all of those feelings we felt that day.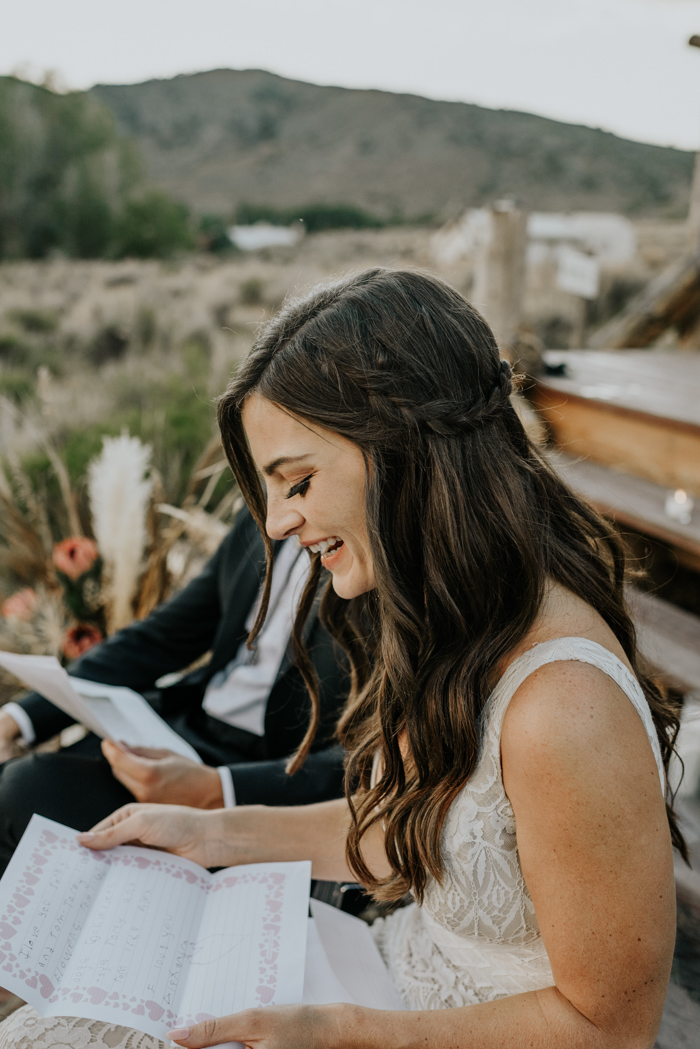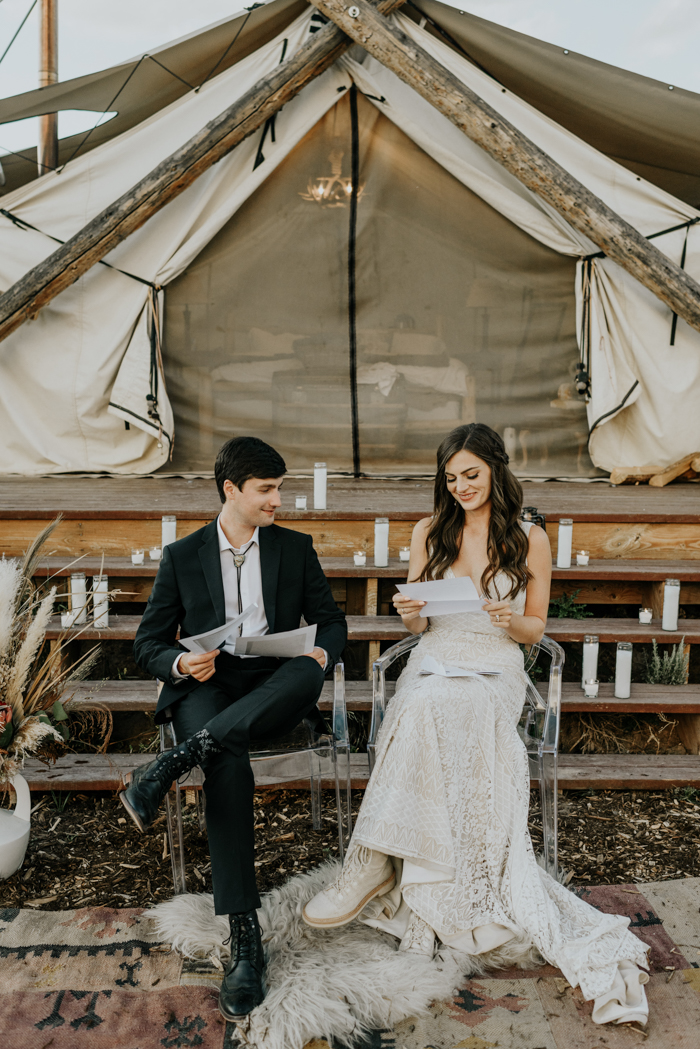 Congratulations to Torey and Tom on their stunning Hoosier Pass elopement! And big thanks to Map and Compass Photography for preserving all the moments that prove elopements are anything but ordinary.
If Torey and Tom's adventurous, intimate celebration has inspired you to elope, we don't blame you. Kickstart your elopement planning process with our ultimate elopement planning checklist that'll keep you on track and eliminate your wedding planning stress.