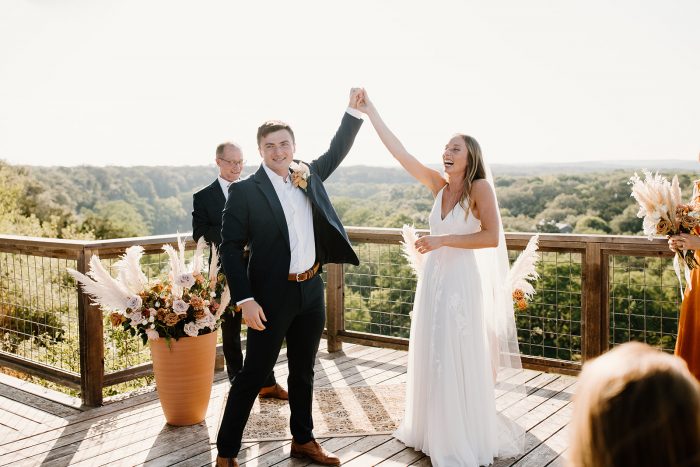 photo by Blake Nelson Photography
To our 2020 babes, we see you. We see your hearts hurting because of COVID-19 wedding postponements, we see your loved ones supporting you through change after change, but most of all—we see your resilience. We see you looking to positivity, realizing that your love really is the only thing that matters, finding ways to celebrate despite the circumstances. Because of those things, our hearts are full. This post is a celebration, too. A celebration for real couples who sent in their stories to help inspire others who are going through the same thing. We see you. And we're virtually celebrating with you!
In this post, you will find tips and insight on different ways to get married during and after quarantine, including:
Virtual weddings
Elopements and intimate gatherings
Celebrate now, get married later
Rescheduling for 2021
Read on to hear from real couples about their experiences, full of advice for your own COVID wedding planning journey!
Virtual Weddings
Stephanie & Peter – New Jersey
Their experience: Mid-March, my fiancé and I started working from home due to COVID-19. We emailed our venue the week of March 16th. At that point, they were confident our wedding for April 24 would still happen. The weekend of March 21 is when things became strict in New Jersey and that following Monday we talked to the venue and had to postpone. It was the week for our final videographer meeting and the beginning of my dress fittings. We still had our bachelor and bachelorette trips to be had, but had to cancel it all. The venue only had two weekends available for 2020, June and November and Thursdays. We decided to take the November weekend because we didn't know what June would be. It was heartbreaking! We planned for two years for the "perfect day". Our hearts were crushed. We reached out to our vendors, and luckily all were available for our new November date!
The wedding: We wanted to keep our original wedding date and after talking to the town, we were able to get a marriage license with no problem! We ordered decorations off Amazon and did the wedding in the backyard. We live streamed our wedding with Event Live to some of our family and close friends. We had a 10 minute wedding, got Italian take-out from a small business, shared a first dance in our sweats and ate a wedding cake we ordered from a local bakery. It was sweet and happy and filled with so much love. We used our vow books and plan to use the same ones in November. Our family and friends were so happy and they said it brought such happiness to the bad situation going on. Some friends dressed up to watch from home. Some did drive-bys and some sent sweet words and cheers. It was a beautiful day I will cherish forever with my husband.
Advice for couples: Try and keep your day special! If you can't or do not want to get married on the original date, do something special. Order a cake, have a picnic, dance to your first dance song, do a virtual happy hour. Your wedding may change, but your love is not!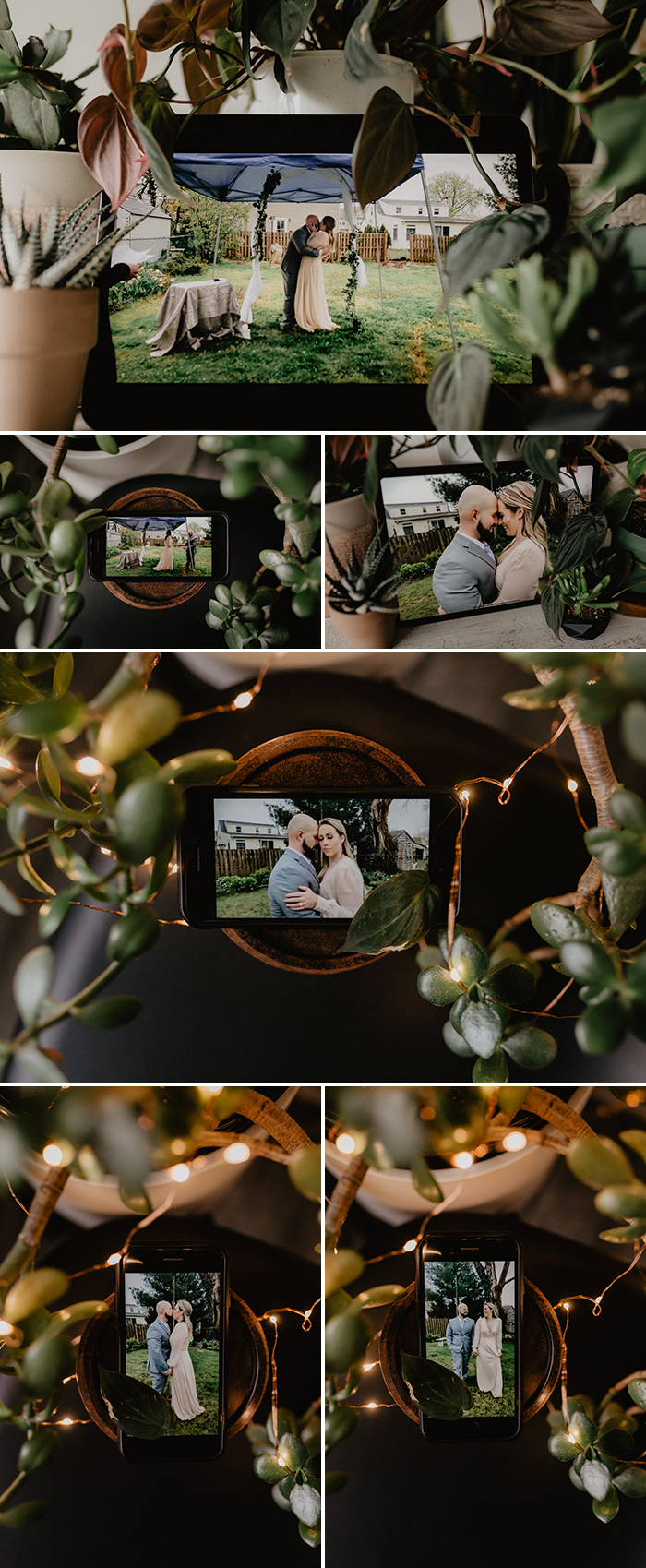 photo by Nicole Nero Studio (Check out Nicole's Junebug portfolio here!)
Jennifer & Kerry – Texas
Their experience: Our special date was April 4th. I remember thinking, "wow the big day will be here in three weeks, time is going to fly by!" But I also remember thinking, with everything going on, rules and regulations are changing everyday and so much can happen in three weeks. That was around the point in time when the suggested amount of group gatherings went from 250 to 100 to 50 to 10 within a matter of days. At that point, my fiancé and I wanted to get ahead and make the call to postpone our wedding for the safety of our family, friends, and vendors. It was the only responsible thing to do. I remember feeling anxious, worried, in disbelief, but it was out of our control. We wanted to get married that day anyway, so we planned for just our bridal party to be there to witness our marriage, but we ended up having to cut our bridal party out of our day and only keep essential people involved like our officiant and videographer. It was such a difficult decision to follow the rules, social distance from our closest friends and family and to not be able to have them share in our happiest moment. Usually I'm a very positive and optimistic person, but I was a little drained from hoping that nothing would go wrong on my wedding day to the unthinkable and unexpected happening.
The virtual wedding: Things turned out better than I could have ever imagined and wanted. My younger sister, who is also my maid of honor, set up a Zoom conference call with about 50 of our closest friends and family to watch the ceremony virtually. The ceremony turned out to be so meaningful and special because it was in our own home and it was so intimate. It showed us that as a couple and team we could get through anything that is thrown at us. After the ceremony we had another surprise! About fifteen of our best friends threw a neighborhood car parade! They decorated their cars and drove by honking and celebrating with flowers and gifts. It was a little sad to have everyone there and not be able to invite them in to party and celebrate. We then continued our intimate night with homemade steak cooked by my husband. This is a story we will have to tell our future generations.

video by Thy Ngo Productions; florals by Billie Ball & Co; hair and makeup by Beaute at Heart
Kristen & Ryan – Texas
Their experience: We had one of our final walk throughs at our venue with our coordinator on March 15th. The week leading up to the meeting with our coordinator was a weird one. It was the week all sports were canceled, all work from home orders were issued, etc. We live in Austin, and there were no gathering orders issues yet, so we were trying to remain positive. Once we arrived at our venue the weekend of March 15th, we discussed with the owner of the venue the possibility of having to change dates and what that meant. I couldn't even fathom having that conversation, but thank god our coordinator said we should play it safe. Sunday night, March 16th is when the gatherings of more than 50 people were banned until May 1st. The moment we saw that, we started reaching out to ALL of our vendors and knew we had to postpone our wedding. It was a heartbreaking moment of realization that all the hard work and effort we put into planning our dream Spring wedding wasn't going to happen. The day we had looked forward to for the past year and a half was going to have to wait. The saving grace of this whole experience is working with such amazing local vendors in Austin that were extremely gracious and kind and worked with us to make things happen. We ultimately had no choice but to postpone our wedding to October 30, 2020 — but it will be the best Halloween weekend of our lives! 10.30.20 has a nice ring to it.
The special day: We didn't get officially married, but we wrote vows to each other. We went to our wedding venue, and I walked down the aisle to my fiancé Ryan. We stood on the altar and reach each other our vows. It was the most emotional and intimate experience — one we will never be able to recreate. We weren't planning on reading our own vows at our wedding, so it was amazing to have the opportunity to do this with each other and so private and romantic. We are grateful to have been able to do this.
What they wore: Since we didn't actually get married, we didn't wear our wedding day attire — saving that for October! I wore a white jumpsuit I rush ordered from Revolve (thank god for 2-day shipping). Ryan wore a brown short-sleeve button-up shirt with jeans and brown leather shoes. He's planning on wearing a brown suit on our wedding day, so this was fitting! He actually wore this shirt in our engagement photos, but since it was impossible to online shop leading up to our day, we resorted back to that perfect shirt!
Advice: Every bride and groom are entitled to their own feelings and emotions in regards to their wedding being effected by COVID-19. We ultimately decided to make the most of it, and make the day as special as it could possibly be despite the circumstances. Whatever makes the two of you happy, and represents you and what you want out of that day, I say do it! This is the way that we chose to celebrate, and we will always remember and cherish this day for the rest of our lives. Looking at the bright side, we would've never had the opportunity to go to our venue and have an intimate ceremony and picnic with just the two of us otherwise. For that, we feel so grateful. It made us even more excited to officially get married in front of friends and family in October!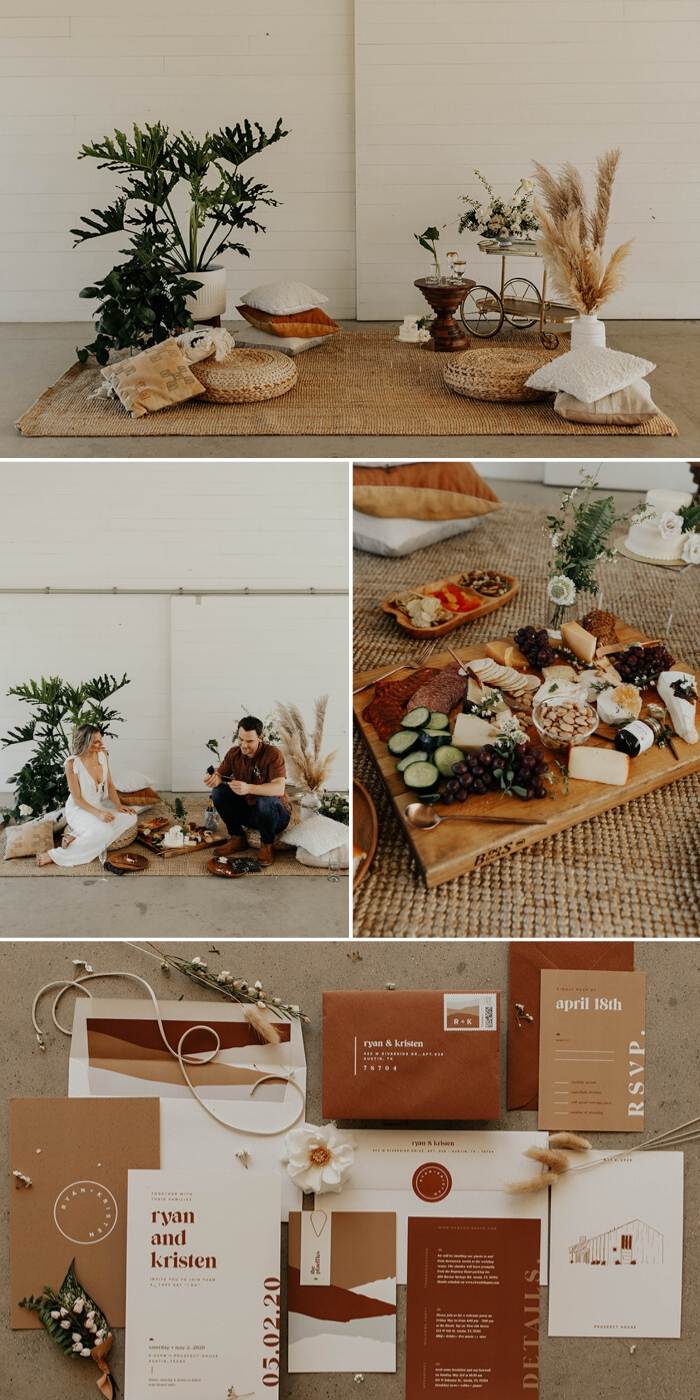 photos by Heidi Elyse; event coordination by Lovely Day Events Austin; venue Prospect House; rentals by Loot Rentals; florals by Gypsy Floral (Check out Lovely Day Events Austin's Junebug portfolio here!)
Brooke & Bosch – Texas
Their experience: Two days before our wedding weekend was set to begin, Brooke's dad texted saying that if we were going to postpone, this was the day to do it, but he would support us 100% either way. It was the first time somebody has actually said the words and we were forced to face the facts. We deliberated for hours and then finally made the decision to postpone and elope in our backyard.
The elopement: We had our hearts set on becoming husband and wife that weekend (not to mention we wanted the 3/21 anniversary date) so we decided to elope in our backyard with just our officiant and photographer. We live-streamed the ceremony to our friends and family. It was short and sweet (probably 15 minutes tops including ceremony, cake, and champagne), but still truly special and memorable.
What they wore: We wore exactly what we planned to wear at the original ceremony! Who else gets to wear their wedding dress twice? Brooke plans on doing her hair differently for the postponed ceremony just to mix it up a bit.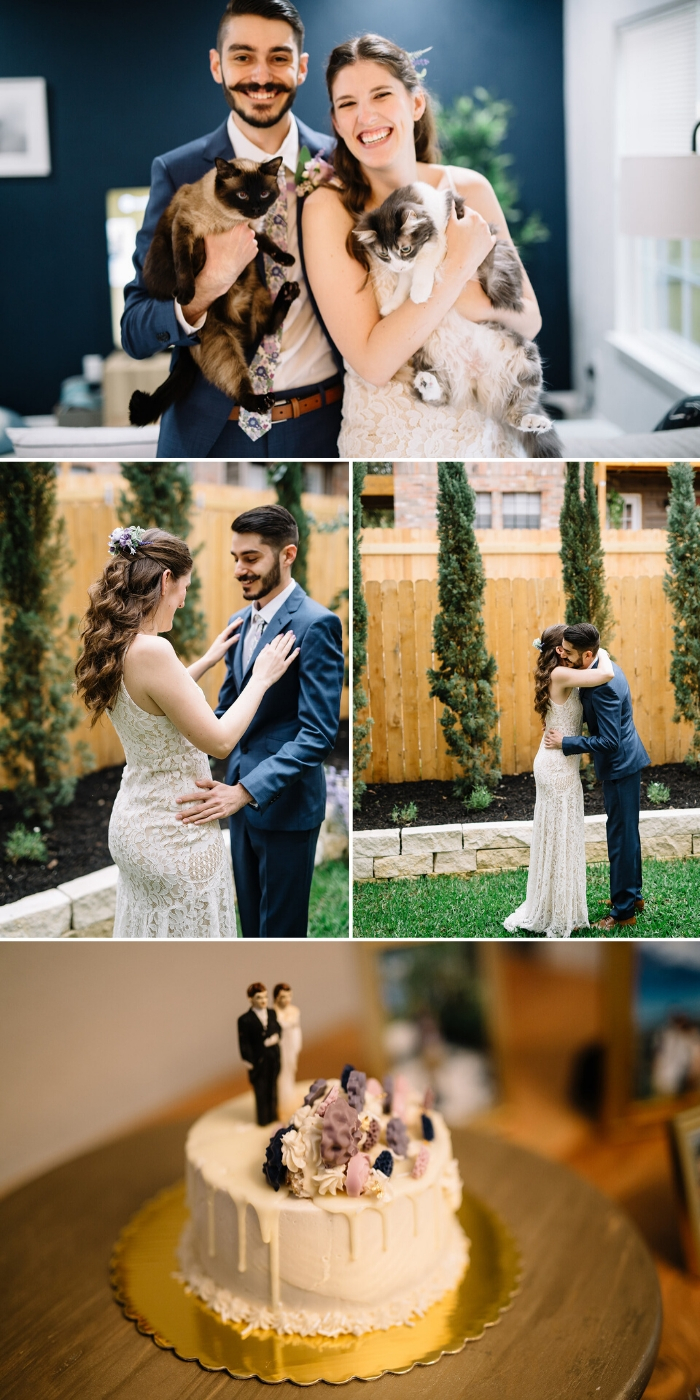 photos by Eva Cranford Photography; cake by Honey Suckle Tea Time
Austin & Rhiannon – California
Their experience: When California mandated a lockdown and stay at home order in March, we spoke with our venue and agreed to reschedule the wedding. At first it was heartbreaking, especially since we planned the whole wedding ourselves, so to see it have to be postponed was pretty upsetting. We rescheduled it for June, but given the extension of the stay at home order and the Four Phase Plan Governor Newsom laid out, we knew that our June wedding was not ideal due to traveling concerns and social gathering limitations laid out in the plan. The second reschedule was much easier to deal with, despite being a year postponement, since we anticipated it and were much more realistic about the situation we were facing.
How they told their guests: We notified our guests via email twice, first about rescheduling April to June, second to notify of the reschedule to May of next year. Guests were extremely understanding about the situation, especially given the circumstances of the pandemic, and have continued being very supportive. Initially when we decided to elope we did not share the news with all of our guests, instead we only shared the news with our immediately family members and our closest friends. Even though there was heartbreak that it was not happening the way we originally planned, both of our families were extremely supportive and understanding. After we eloped, we then told the whole world (or what felt like it) and received an overwhelming amount of love and support!
Advice: Do what feels right for you! It was so disappointing for me personally that the day we got married wasn't when I had originally planned for or how I originally pictured it, especially since my mom and best friends were not going to physically be by my side. But, getting married and not waiting any longer, simply felt right. It was the right decision for us and has only built up the anticipation and excitement for our wedding next year where we get to celebrate with everyone, in person!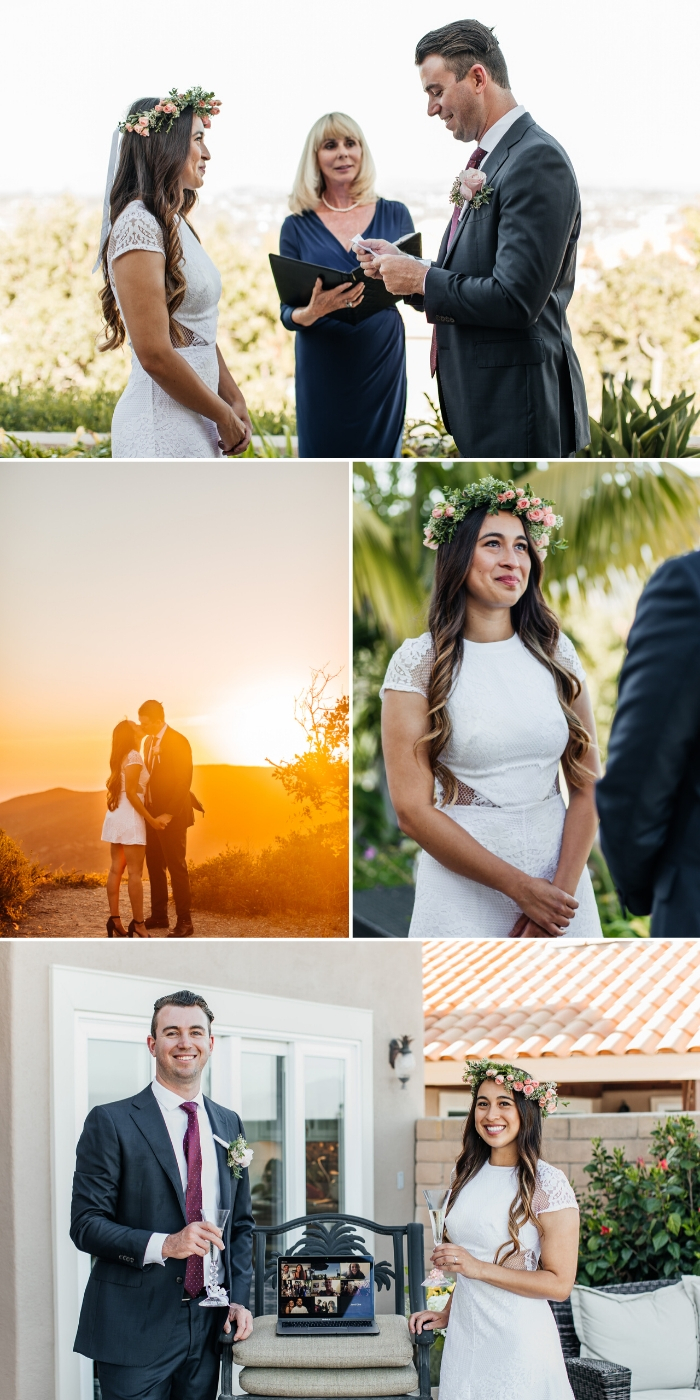 photos by Erin Marton Photography; sparklers by Broadway Bridal
Jess & Aaron – Maryland
Their experience: On March 16th, the CDC rulings quickly changed from gatherings of 250 to 50 to 10 people. That Monday, we both spent hours on the phone with our wedding planner (2hands Studio in Annapolis), the venue and the court house to see what the projection was for the next month and the possibility of obtaining a license. Monday morning, things looked OK, but by the afternoon the courthouses had already closed and everyone suggested for us to postpone. Thankfully, we were able to make the decision right then and there to move the date and found a date in August that worked for our venue and photographer. However, moving the date four months in the future threw a huge wrench in our life plans—insurance, putting my house on the market, etc. So after talking with family and close friends, we decided that we would get married that Saturday, March 21st.
The celebration: I cannot express this enough — we have an amazing group of friends and family! Our photographer, Victoria Selman, went above and beyond for us to the point where she let us hold our small, 10 person wedding in her very own backyard (with only five days notice)! Victoria and her husband, Hunter, have a picturesque house on the water in Annapolis and worked so hard to get their newly built dock ready for our wedding. I ordered a dress off of the internet and it thankfully got here in time. We spent that morning dancing and laughing — what else are you going to do in this situation with a spur of the moment wedding? Our friends met us at Victoria's house — two friends from each of our wedding parties to keep it under the 10 person maximum. My bridesmaids helped me with my hair and make up and my Maid of Honor doubled as my flower girl with flowers that she brought herself. We were able to stream it on Facebook to our friends and family. Some friends did a drive-by surprise reception afterwards. It wasn't at all the 200 person wedding that we had spent months planning, but it was perfectly us. Afterwards we went to a friends house where we ordered take out BBQ and when we arrived back home, our neighbors had hung a huge sign over our front door saying Just Married.
What they wore: It was not what we had planned. In fact, I have yet to even have the final fitting of my wedding dress due to COVID-19. Aaron wore a suit that he already had and I ordered a simple white dress from Lulu's that came two days before we got married.
Advice to other couples: Just let it be about the two of you! I know that is easier said than done. When we got married on March 21st, I had no idea what the day would look like. We didn't rehearse or really plan anything. We just let go and let the day be what it was. And honestly, after spending months stressing out and planning, it was so freeing. I feel as if people always say that your wedding day is not going to go 100% to plan. After having a wedding that went 0% according to plan, it really takes the stress off of what our big celebration is going to be in the future and I couldn't be more excited!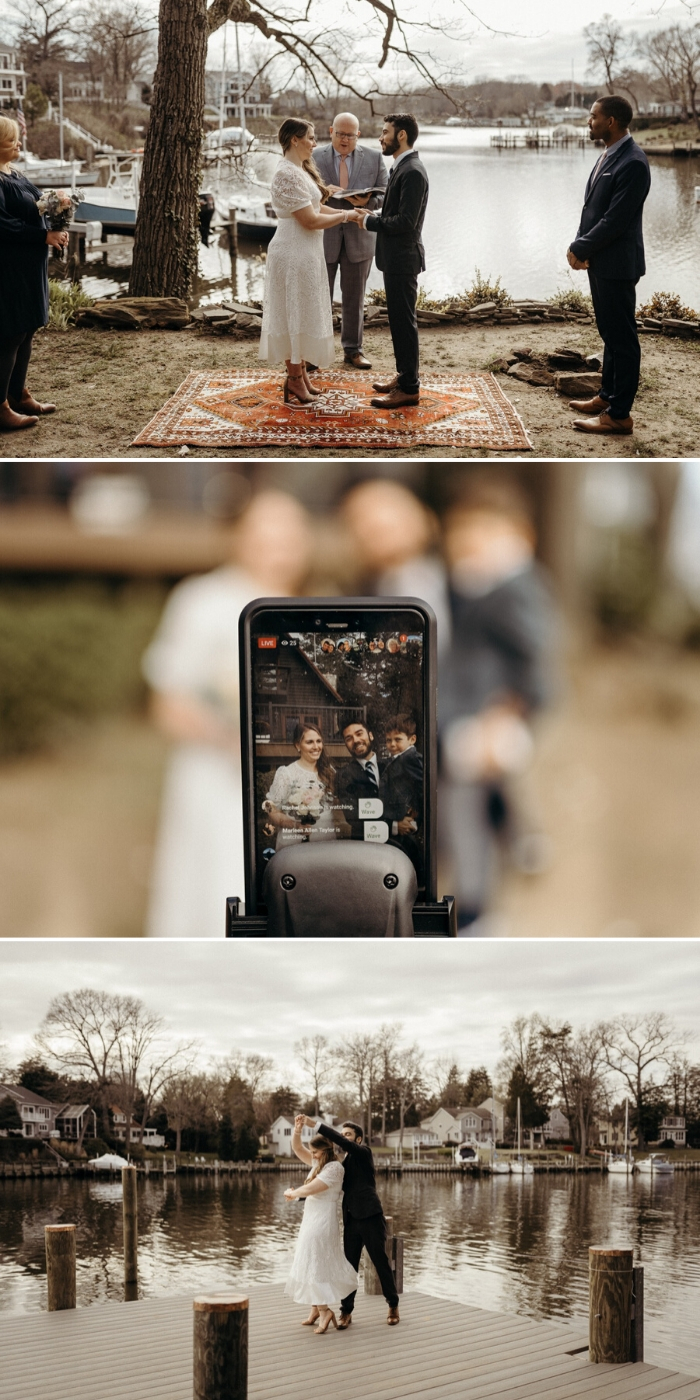 photos by Victoria Selman; elopement meal provided by Mission BBQ
Madeline & Connor – Texas
Their experience: About two weeks before our original date, they started talking about closing the country and limiting gatherings to less than 50 people. That Saturday, after my fiancé took the MCAT to get into med school, we tried to cut our guest list down to 150 people from 300 people because we assumed the gathering guidelines would get smaller. That Sunday, they said no gatherings greater than 50 people. One of our sweet friends offered to host our ceremony and reception at their house. On Monday March 16, they changed the gathering guidelines to 20 people or less. So, after a weekend full of trying to make plans only for them to get canceled/changed an hour later, we decided we were going to get married at home. We called our vendors that night to let them know we'd be postponing and that we'd have a small wedding the next day with just our families in my living room. I wasn't going to wear my dress, have a bouquet, or get my hair and makeup professionally done. However, our church graciously offered to open the chapel for us if we followed social distancing guidelines, my hair and makeup said they would come to my house to give me my original wedding look, and our photographers drove three hours back in town to take photos of our ceremony.
How they celebrated: We celebrated with 20 people at Prestonwood Chapel. Ten people on the lower level and ten people on the upper balcony. It was even better than I imagined! Afterwards, we picked up Maggiano's for everyone, one of our friends ended up getting a free wedding cake from someone who canceled, and we danced until 1:30am in my living room! I had three bridesmaids there and my husband was able to have five groomsmen. They were in their dresses and tuxes!
Advice: Don't be afraid to do exactly what you want. If you'd rather wait and do everything at once later, do it! If you want to do a small ceremony right now and do a big reception later, that's great too! We were just ready to be married and be together, so an intimate wedding with our closest friends sounded perfect to us. Do what will make you happiest!

photos by Laning Photography; hair and makeup by Brittany Jones Beauty; venue Prestonwood Chapel
Maddie & Noah – Texas
Their experience: We had originally invited 150 people to our Austin wedding at a beautiful venue we found called the Addison Grove. As COVID-19 progressed, we realized we wouldn't even legally be able to gather with more than 10 people in the state of Texas. As the days passed and our date came closer and closer, we realized we would have to change our plans. We wanted to stay true to our date and get married no matter what, no matter how small it would need to be (and our two immediate families combined coincidentally came out to exactly 10 people — nice!). So we started cancelling with our venue and vendors, the rehearsal dinner, and held off until the last second to also cancel flights and reservations for our Costa Rica honeymoon. :/ We officially decided to change plans a little over a month before our wedding date, which was crazy and scary and sad but also exciting getting to reimagine the experience.
Their elopement: We got married at an AirBnB, which we had originally rented as our makeshift honeymoon location in Gruene, Texas. It was on a cliff and overlooked the Guadalupe River, a Hill Country dream. It was a last minute (three days before the wedding) decision to get married at this location, as we originally had our eyes set on a neighborhood park which ended up being closed, hence us needing a new place to wed. Just our immediate family's were in attendance and we set up a livestream so all of our relatives and friends could still participate in the most special day! My dad is a pastor so he officiated the wedding, my sister made the cake, my brother-in-law was the DJ, my dog was the ring bearer, and everyone else helped in so many other ways to set up and make the day super special for us. Our florist ended up not being able to make it so she had flowers delivered to us and we got to assemble the bouquets and arrangements on our own which was exciting and fun! Our photographer, Blake Nelson was amazing and was still able to come, so we got the day documented beautifully. Then for our reception we headed back Noah's family's house in New Braunfels where we had set up string lights all over the back yard and patio. We had chicken fried chicken and mashed potatoes and wine under a sprawling oak tree covered in lights and had the best dance party under the lights on their back patio, we ate cake, we drank gin and tonics and we danced the night away wearing pink cowboy hats (but mine was white of course). It wasn't what we expected but it was sweet and so beautiful.
What they wore: We both wore our originally planned outfits to our wedding, we had thankfully gotten them before the pandemic hit! I had a white spaghetti strap dress with embroidered sweet little flowers from BHLDN, and wore the veil my sister wore to her wedding which was special. Noah wore a navy blue suit with caramel colored shoes and belt and white shirt.
Their team: Blake Nelson was our photographer and he did AMAZING, he stayed longer than we had paid him for, brought us coffee, made the day so so special and dreamy. Studio Tersilla was our florist from afar and had all the flowers we would need for our bouquets and arrangements delivered to our door and sent us instructions on how to do everything, it was so fun!
Advice: Be open to change; if you expect this from the beginning then you won't be as upset when you almost literally have to constantly change your plans. Don't be afraid to still yearn and ask for what you truly want on your special day, as opposed to just what you think is feasible, people are so willing to help if you just ask! Use Facebook Live or Zoom to allow people to be included at your wedding! Start planning for a reception in the future so you can party with all your people later!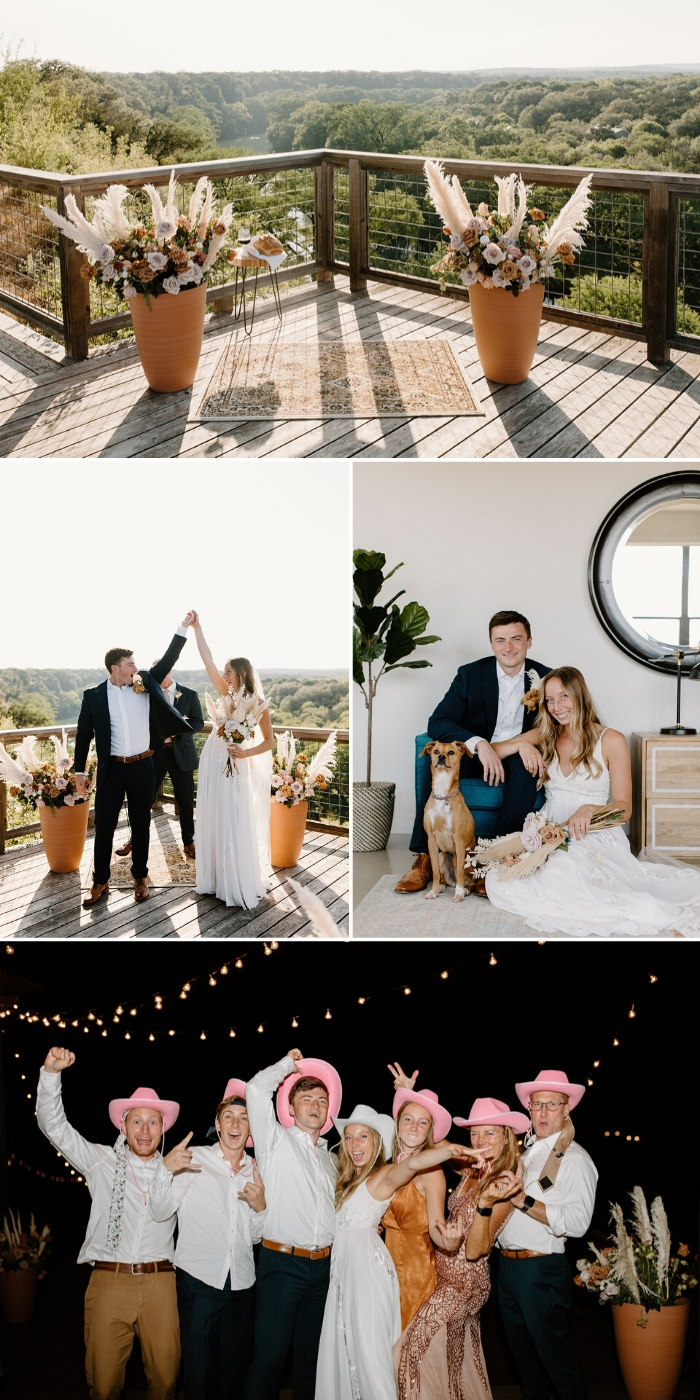 photos by Blake Nelson Photography; florals by Studio Tersilla
Postponing The Wedding But Celebrating Now
Nick & Steph – Pennsylvania
Their experience: We canceled our honeymoon to Italy at the end of February and then postponed our wedding by mid-March. Of course, it was all devastating but we are most concerned with our guests' safety. Money was a big concern with moving our date because we had already tried to pay off our vendors as we got closer to the wedding. We had to find a new hotel and photographer because our original ones were not able to accommodate the new date given to us by our venue.
How they celebrated: We didn't officially get married because we are waiting for a church ceremony. However, we did "pretend" and it was absolutely incredible. We both agreed it was the most perfect day. Originally, I was supposed to work, but my boss surprised me that week and took me off the entire weekend (she's the best)! Nick and I got dressed up; I put on a white flowy dress I had bought to wear on our honeymoon. I called it my "Under the Tuscan Sun" dress — ha! Even our dog got dressed up too. He was the "Best Dog!" We shared our personal vows and wore our wedding bands for the day. Our families surprised us with an email including a 20+ minute video of well-wishes from our families and friends. We bawled! It was so overwhelming and amazing. My parents had 7-11 cups, Nick's family wore "your love is contagious" shirts, and my 93-year-old grandfather did his South Philadelphia mummers strut! It was incredible to feel the love from our family and friends from across the country. Almost felt like what we would imagine it to be like on the real day in person. Nick's Aunt stopped by and dropped us off a huge box and Italy-themed treats and our bridesmaids treated us to an amazing take-out dinner from one of our favorite restaurants. Lastly, we enjoyed lots of Prosecco and played our entrance song into our first dance song and danced in our living room. I'll never forget this day. I am so lucky to have Nick and we're so lucky to have such incredible family & friends! They helped make this day so special for us.
What they wore: The dress was a honeymoon dress! Unfortunately, my real dress is only half-altered and still at the bridal salon. However Nick LOVED it and I totally felt like a real Mrs. in it.

photo provided by the couple
Jonathan + Megan – Nebraska
Their experience: When COVID really began to make an appearance in the U.S. in early/mid-March, and capacity restrictions started to be put in place, I immediately began thinking about the impact on our wedding. (It's not uncommon for weddings in Nebraska and other midwest states, to be much larger than some in the larger cities. Our estimated guest count that will be in attendance is about 500-550. So social restrictions have thrown a big wrench into those plans.) Before making any decisions, I reached out to all of our vendors that we personally felt were very high priority for us to keep for the new day if we chose to move our wedding date (priest, church, reception venue, photographer, videographer, florist). I asked them for all of their available Fridays, Saturdays and Sundays from June through September. (We personally did not want to get married any later than September.) After we received all of those vendors' dates (which side note – ALL of them were super responsive and understanding), there was one day that worked for all of them for a reschedule – Friday, Sept. 18. They all graciously held the day for us while we waited a few more days to make the decision to postpone or not.
How they celebrated: We plan to spend time together and with our immediate families – whether it be golfing, spending time outside, etc. We plan to drink some mimosas in the morning, using the champagne we received from Jonathan's mom when we got engaged. We plan to pray the rosary together – specifically praying for all of our loved family and friends who are involved in our day. We also ordered a small cake to share.
Advice for other couples: I think the hardest part of coming to reality that you have to change your wedding plans is giving up the idea/dream you have already created and been thinking about in your head through your entire engagement up to this point.I'll be the first to admit that it feels so unfair and like you're being cheated of all you have planned and spent so much time (and money) on. It's not an easy decision and it will take some time to come to terms with. At first, I tried to be so, so positive. I kept saying how much this was out of our control and completely according to God's plan. Which it all IS, but a friend of mine made me realize it's still completely and 100% okay to grieve. And while you may feel guilt about crying over your wedding even when others are facing more detrimental losses during this time, your feelings are still valid, and it is heart breaking. It's so important to acknowledge that.We've had over a month now to grieve and look forward to the new date and change plans. We try to remind ourselves that it still may not look how we had originally planned. We're trying to remain flexible and go with the flow. Restrictions and new guidelines are changing every day, so if we can, we've stopped making any purchases related to the wedding (i.e. decor, programs, etc.) until we know more of what the day will look like (just to make sure we're not spending money/time on items we may no longer use).Finally, this whole process has reminded us how much this day is truly about celebrating OUR marriage and each other (and not all the frilly details involved in a traditional wedding). I'm a huge planner, and I love decorating. But in hindsight, I was spending so, so much time on minor details and fixating over what the decor would look, making sure the day was going exactly according to schedule by every 15 minute time slot, we captured all the perfect photos, etc. The situation we've found ourselves in has now made me realize how so small and minor those things are when you look at the big picture. Sounds super cliche, but we truly just want to be married and celebrate our life together. And while we love the idea of all 550 of our family and friends being there, we also see a lot of perks of celebrating in a less traditional and more intimate setting.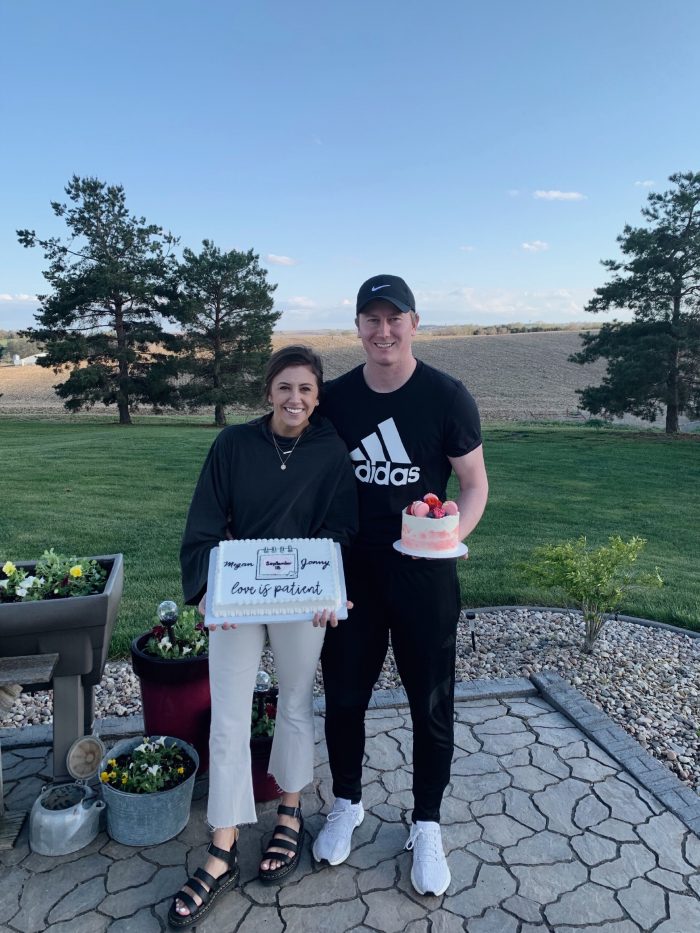 Kristy & Victor – Washington
Their experience: We originally chose to move our wedding date on March 15, the day the CDC made their recommendation that events scheduled within the eight weeks following March 15 be cancelled or postponed. This had our wedding date (May 16) "in the clear" by only a couple days, and we anticipated that this guidance would most likely be extended past that date. Even if it wasn't extended, we figured much of our family would be uncomfortable traveling and gathering so close to that date. We had been worried for a couple weeks that we may need to do this, and I had already had to cancel my bachelorette party that was previously planned. The day I realized it was inevitable the wedding date would have to move was really difficult emotionally. We didn't know if we'd have to reschedule for a few months out or a full year, and the latter felt like it delayed so many of our other life plans that we were excited to begin this year. In my heart it felt like the universe was saying I wasn't allowed to have the wedding we wanted, even though I knew in my head that wasn't true. There was a big sadness there, and I definitely had my moment of crying and being held and reassured by my partner that we would still have the day we had dreamed of and that we had plenty of time for our big life plans together. That day we emailed our priority vendors — our venue and photographer — to see what alternative dates they had available. Unfortunately, nearly every Saturday for the rest of the year was booked for one or both (the only available were the Saturdays after Thanksgiving or Christmas, which we weren't in favor of). Our photographer suggested looking at Sundays, which worked out better for all the vendors, and we rescheduled for July 5th. We had "Change the Date" postcards made and mailed them out to guests in April… and then shortly after those went out we got news that our state and several others had extended their Shelter in Place or Stay at Home orders into July or indefinitely, and we were back in the same boat.It felt a bit embarrassing, to change our date for a second time with vendors, and invite our guests to our wedding a third time. Though I know everyone understands the circumstances, it still feels very uncomfortable. This time, we've chosen to move the date to May 1 of next year, which ultimately feels much better. It is a Saturday at the same time of year we'd originally planned, and it takes a lot of pressure off of us to figure out wedding logistics (like having our dress and suit tailored) in a time when most businesses are closed. There was a big feeling of relief when we decided on the date next year, knowing we could set down our planning and worrying, and come back to it later in the year when things have settled down.
How they told their guests: When we changed our date the second time, we reached out to every guest via call, text, or email to let them know, and we plan to send out new invites at the beginning of next year. That way guests don't have to keep it all straight in their heads or remember to check the website. We'll have all guests re-RSVP next year for the new date. In the meantime, we've inactivated our registry for now.
How they are planning: In the time since we have had to reschedule we have had some deep conversations about our wedding, and realized that the most important part of the wedding for us is to have a big celebration with our friends and family in person. To us, we would really grieve not having that and doing it any other way. We also know we will be together whether we have the legal paperwork or not (and we have the privilege to not need paperwork to live our life fully, which I know isn't the case with everyone), so we have decided to wait to get married until our ceremony next year. We are very excited about our future big event, and now have another year to save up and add a few extra special pieces that were on our wishlist, like a videographer and additional floral installments.
How they are honoring the original date: One big thing we are doing to honor the original date is change our last names publicly. Both of us have legally changed our last names to Victor's matriarchal family name, which was always our plan to do. We'll be announcing that on social media and changing our names across our public platforms on May 16th! We have thought about having a virtual get together on our original date, May 16th, and inviting all our guests to pop in that evening so we can see them and say hello. We have also heard rumor that our friends in our wedding party may also have something in the works as a surprise.
Advice to other couples: First, I would definitely tell people to not be scared or ashamed to feel all their feelings about this. Even though our brains can tell us we are overreacting or shouldn't be so upset, a change of such big, meaningful plans will probably bring up sadness and maybe anxiety. I hope people feel safe enough to cry it out and be ok with things feeling unfair.I would also recommend being communicative with your vendors early and often. They are getting a lot of inquiries, so giving them a heads up that you may reschedule will help you and them — they can give you possible alternative dates, and may allow you to hold a few dates while you make your final decisions.Lastly, lean on your support system. Everyone in the world is going through the impact of COVID right now, so people really understand and empathize with you. People want to celebrate you — whether that's tomorrow, next month, or next year! Your partner and wedding party or close friends can be a big pick-me-up as well as logistical help to bounce ideas off of. You don't have to do it alone, practically or emotionally.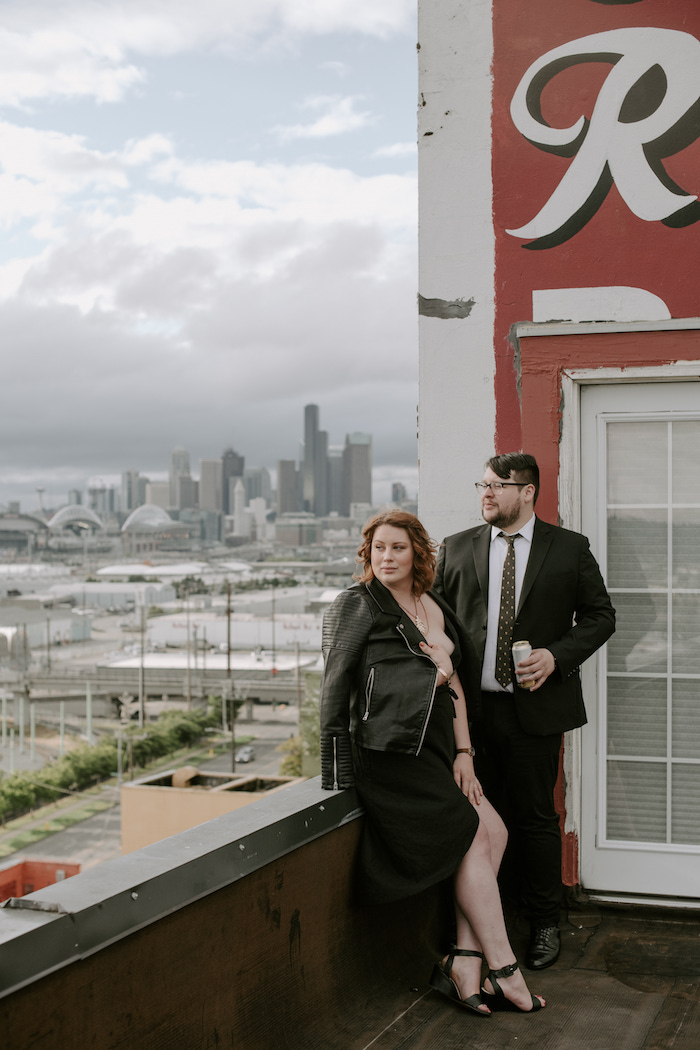 photo by Kristen Marie Parker
We're so honored to share these stories from our couples who have been resilient in the midst of COVID-19. If you've had to reschedule or cancel your original plans and are looking for a little inspiration, here are some articles that might help:
Wedding Planning During COVID-19: Advice for Couples
30 Ready-to-Ship Wedding Dresses You Can Buy Right Now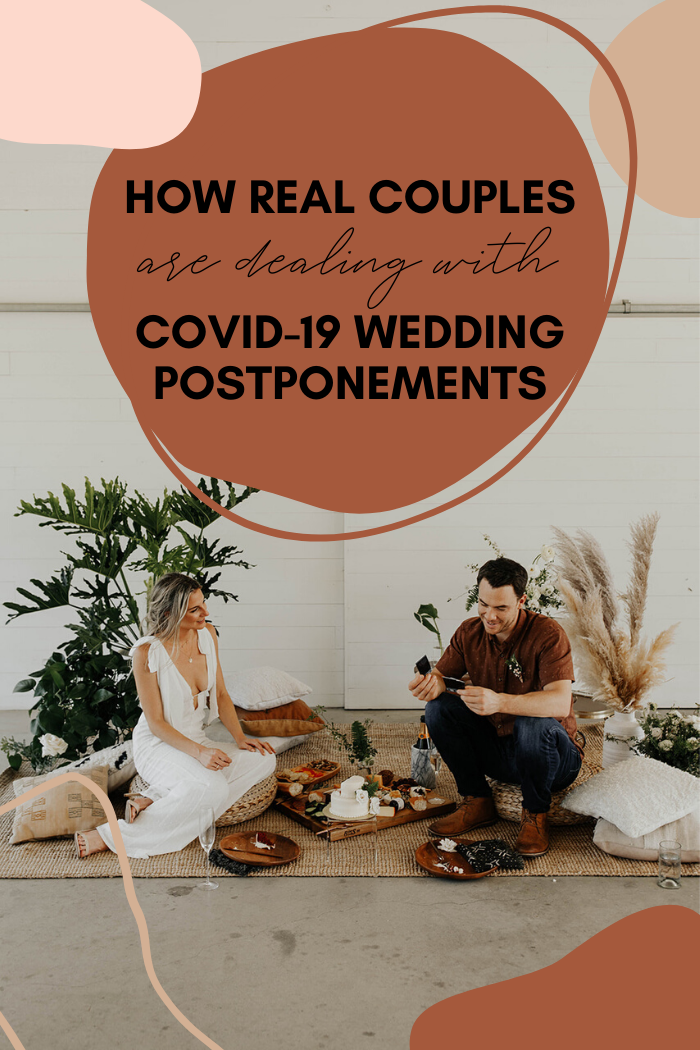 photo by Heidi Elyse