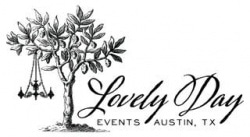 Best Wedding Planners in Austin, Texas
Lovely Day Events Austin
About
MEMBER SINCE 2019
WHO WE ARE
We are creative thinkers, caring individuals and award winning planners. With over ten years experience producing events, we create seamless, joyful, and gorgeous weddings.
WHY LOVELY DAY
At Lovely Day, we work with a limited number of clients each year (10-12). This allows us to give each client individual attention and allows us to get to know our clients personally. The result is our unique ability to anticipate needs and translate your ideas, tastes, and wishes into a very personal and meaningful wedding day.
WHAT WE DO
The majority of our clients are busy professionals and often live out of town, and as such, planning a large event can easily become unmanageable. We delight in saving our clients time (and a few headaches) by simplifying and organizing the planning process into a manageable and fun experience.
We give our clients peace of mind by providing professional experience, resources and guidance throughout the planning process.
We will help you budget according to the Austin market. We will help select talented and professional vendors within your budget that meet your requirements so you have the best vendor team possible team on your wedding day.
CREATIVE
With a background in fine arts and production, we bring uncommon creativity and inspiration to every wedding and love to think outside the box. We help to coordinate all the little tiny details while remaining true to the overall big picture for your day. We bring together all your vendors, day of logistics, and all your design elements and meld them into a cohesive overall vision and seamless event.
LET'S GET REAL
Weddings can at times become emotionally stressful! All the decisions, well meaning advice, and family dynamics can feel overwhelming.
We are compassionate problem solvers, we care for and advocate for our clients. We provide etiquette advice and can help to spearhead any issues on the day of the wedding.
It is certainly a pleasure and our privilege to help our clients create some of the most unique, gorgeous, joyful and memorable events in Austin.
We hope to hear from you!
Why couples love Lovely Day Events Austin
Request Information
Thank you for your submission. We will be in touch soon!
X

Email Sent.