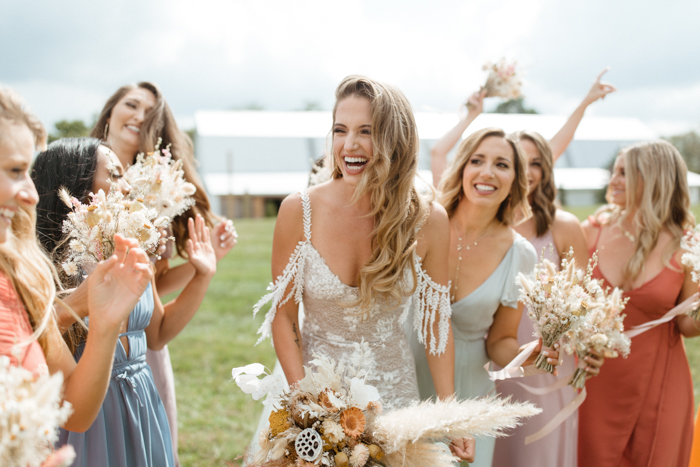 photo by Michelle Lyerly Photography
These are some tough times to be engaged. On one hand, couples are filled with excitement and expectation for your upcoming wedding day. But, on the other, it's a very uncertain time to be planning anything for the future — especially an event in which hundreds of people might be in attendance. If you've come here searching for ways to support your engaged friends (or maybe you're an engaged couple needing a little something to nudge their friends in the right direction), we've got your back.
1. Be there to listen
Sometimes the greatest thing we can do for our friends is just listen. Don't feel like you have to give them advice — because, if we're being honest, none of us really know how to handle this season anyways. Empathize with your friends by letting them know you agree, "it sucks." Let them cry, or laugh, or joke. However they might be handling their emotions is valid, and the best thing you can do is lend a listening ear until it seems appropriate for action to be taken. If they want your advice, offer it.
2. Organize a virtual happy hour with friends
If your friends are planning a wedding, especially during the current pandemic, they might be slightly overwhelmed. Especially if they're the friends who usually pull everyone together for happy hour or a group hang, take that task off their plates. They'll surely appreciate having one less thing to do. Plus, a happy hour with friends might be just the thing they need to lift their spirits!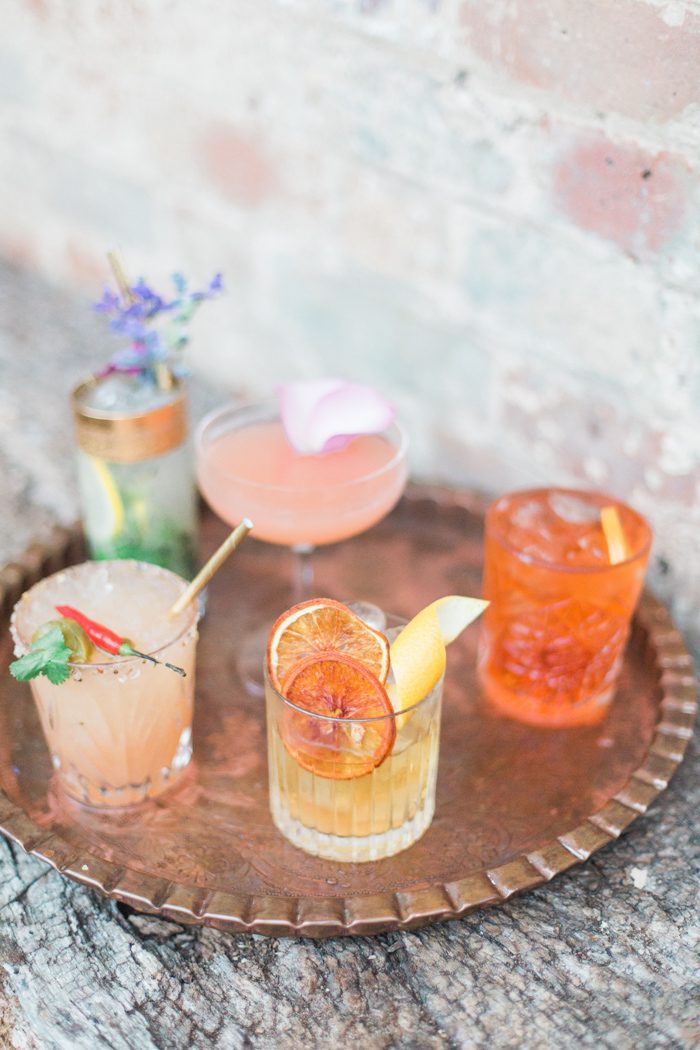 photo by Amy Fanton Photography
3. Call them to talk about things other than the wedding
You were probably friends with this person before their wedding planning was a thing and before COVID-19 was a thing. So, remember to check in with them about things other than their wedding. Ask them how they liked binging Tiger King (or whatever the latest Netflix craze is at the moment). Tell them about something funny that happened during the day. Or even sending a silly meme or Tik Tok video can be helpful to give their mind a little break from the stress of wedding planning.
4. Write a letter
Where are our super sentimental friends at? If you've got a lot on your heart that you want your friend to know, you might consider writing them a letter. Yes, a handwritten note. You might be surprised how impactful walking to the mailbox and receiving a letter from their friend might be during this time. This way, they can also keep it forever, rather than a text that will get lost in a few days after you send each other 100s of GIFs and quarantine memes.
Bonus tip: Ask their close family and friends to all write them letters and create a scrapbook for them to cherish and read together.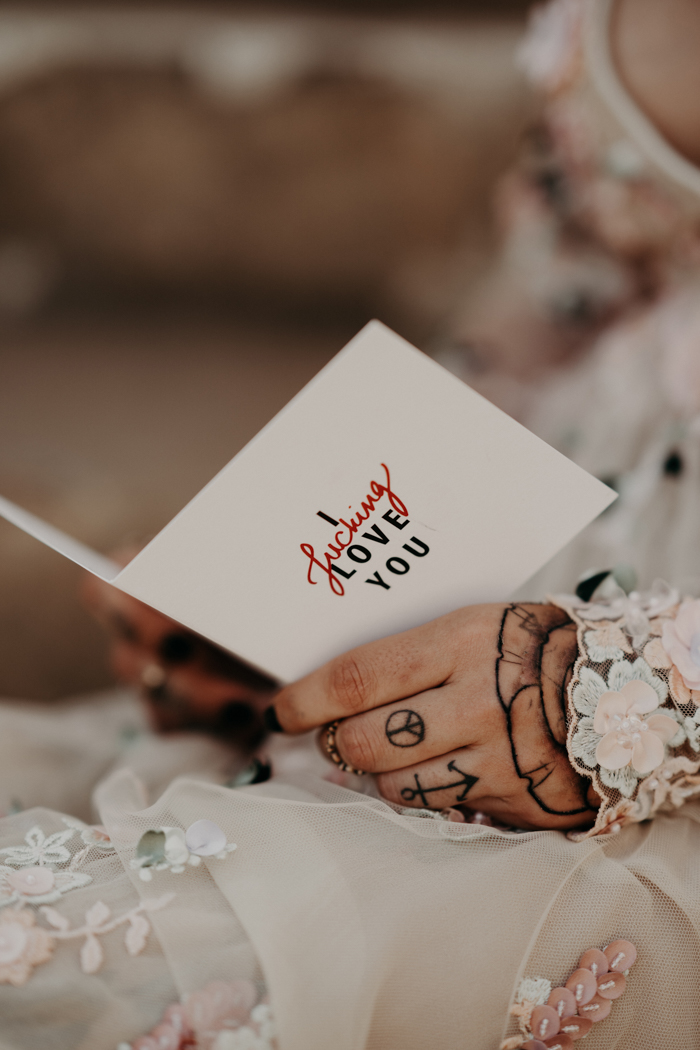 photo by The Quirky
5. Throw a virtual bachelor / bachelorette / engagement party
We know a lot of couples are getting engaged during quarantine, just as quickly bachelor and bachelorette parties are getting cancelled. But there's always a way to celebrate. Send your couple some decorations to spruce up their house with, hire a Zoom DJ, grab the cocktails, whatever you would usually do for a party—do it! Then, send out invites and start hyping everyone up for the big event.
6. Send a care package
For our gift-givers, we want to set you up for success with the ultimate care package for your engaged friends! We've gotten pretty good at knowing what the "typical" engaged person might like (especially if they are spending a lot of time in the house these days), but remember to throw in a few things that are just them.
Here are Junebug's favorite (and most creative) things to send your engaged friends:
If you follow even just one of these tips, we're sure your friends will be feeling oh-so grateful to call you theirs! Searching for more wedding planning ways to support your engaged friends? Let them know about these 10+ Wedding Brands Supporting Couples During COVID-19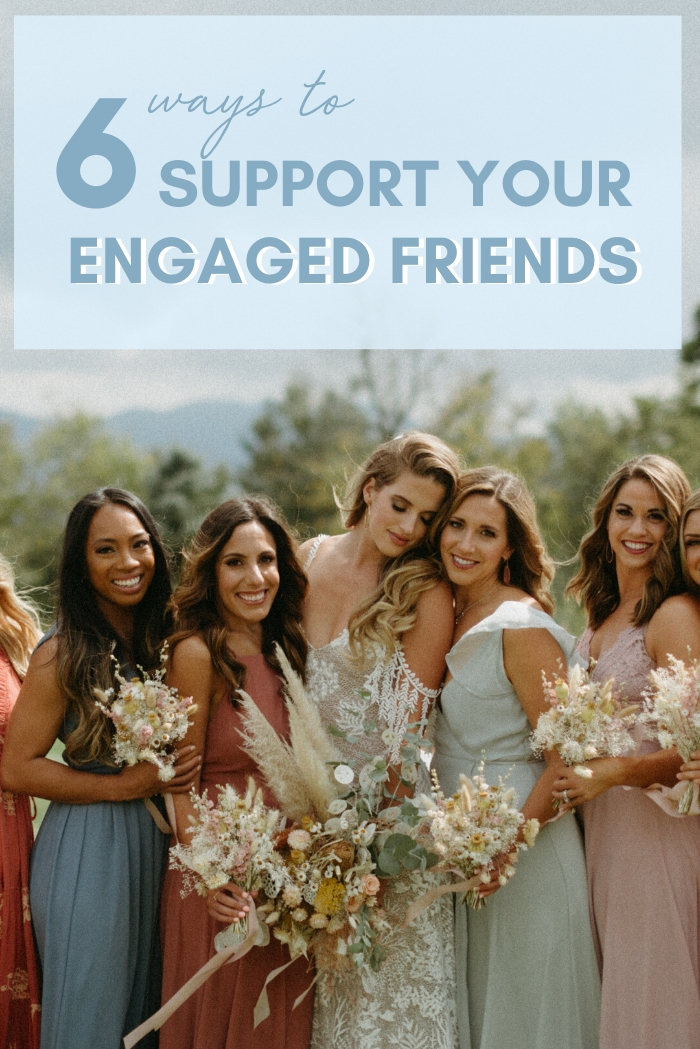 photo by Michelle Lyerly Photography