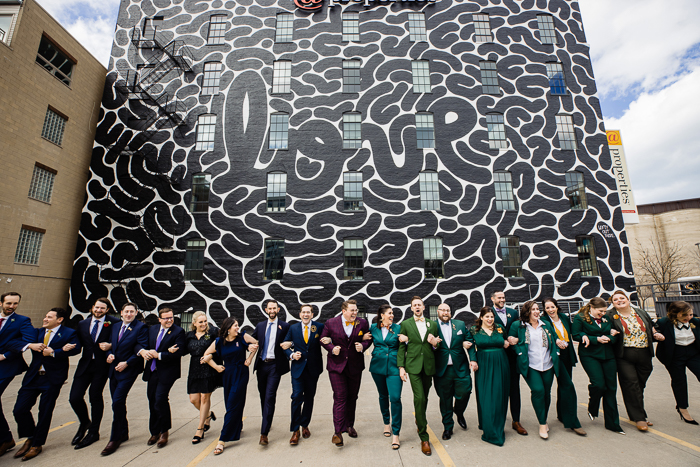 After an incredibly thoughtful and romantic proposal, Danny and Marco tied the knot in an intimate gathering. Intending to go all out on their follow-up celebration, it would be an understatement to say that their big day was an absolute blast! From the old brick warehouse venue and eclectic vintage decor to the now viral Lizzie Mcguire-inspired vows—their Salvage One wedding was truly what dreams are made of.
The two grooms were very intentional with what they included in their celebration. Kicking off the ceremony on a high note, their "beverage bearers" passed out jello shots with "It's Raining Men" playing in the background. The same lively vibe carried over to the reception that followed. It started with an Easter egg hunt and the chicken dance, and ended with an epic drag queen performance.
From the hilarious polaroid place cards to the late-night nachos (a nod to their first date), the pair filled their day with fun and personalized touches that reflected their journey together. And they pulled it off spectacularly. If you love the idea of weaving your love story into meaningful moments and wedding details, keep reading and scrolling. You're not going to want to miss these photos by Ann & Kam Photography.
The Couple:
Danny and Marco
The Wedding:
Salvage One, Hubbard St, Chicago, Illinois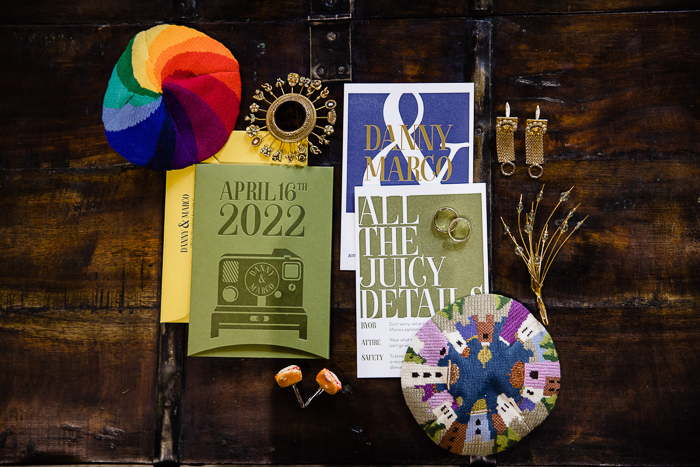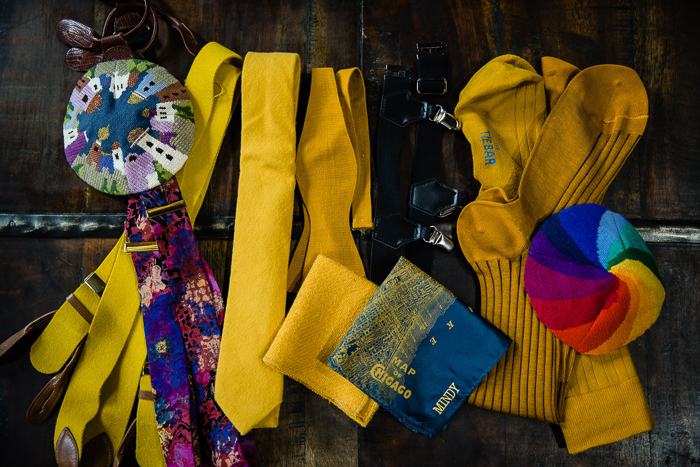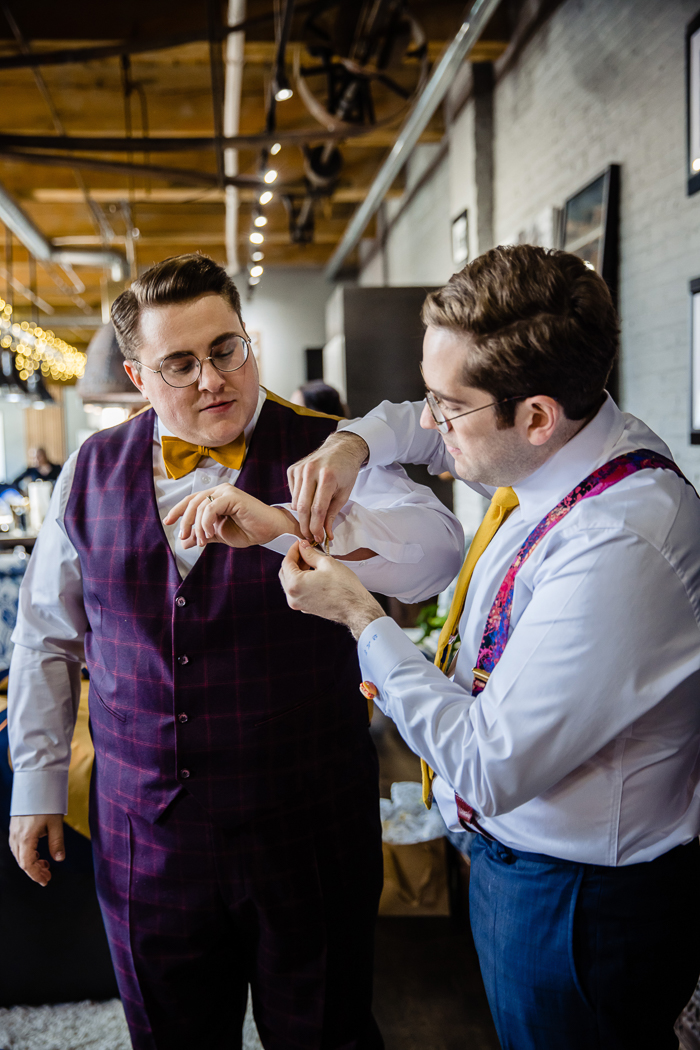 Ann & Kam Photography's Insights On This Salvage One Wedding
Danny and Marco have been on the same wavelength since the start of their relationship. When Marco offered hockey tickets for one of their first dates, Danny replied jokingly, "I'll go, but only for the nachos." Naturally, Marco took matters into his own hands and picked his date up with matching shirts that boasted, "I'm just here for the nachos." That's when the two knew that they were the perfect pair. Since they had already tied the knot at an intimate gathering, they focused their efforts this time on creating a high-energy and fun celebration for loved ones who weren't there the first time. Their second wedding celebration meant lots of laughter, fun energy, and all the nachos you could eat. From the vintage decor and polaroid theme to the embarrassing photo place cards and the Passover celebration Easter egg hunt—every aspect was handcrafted and planned for the ultimate pizzazz. Their vows received national attention from media sources like People Magazine, even eventually connecting the pair with celebrity Hilary Duff after she was mentioned in their viral vow video.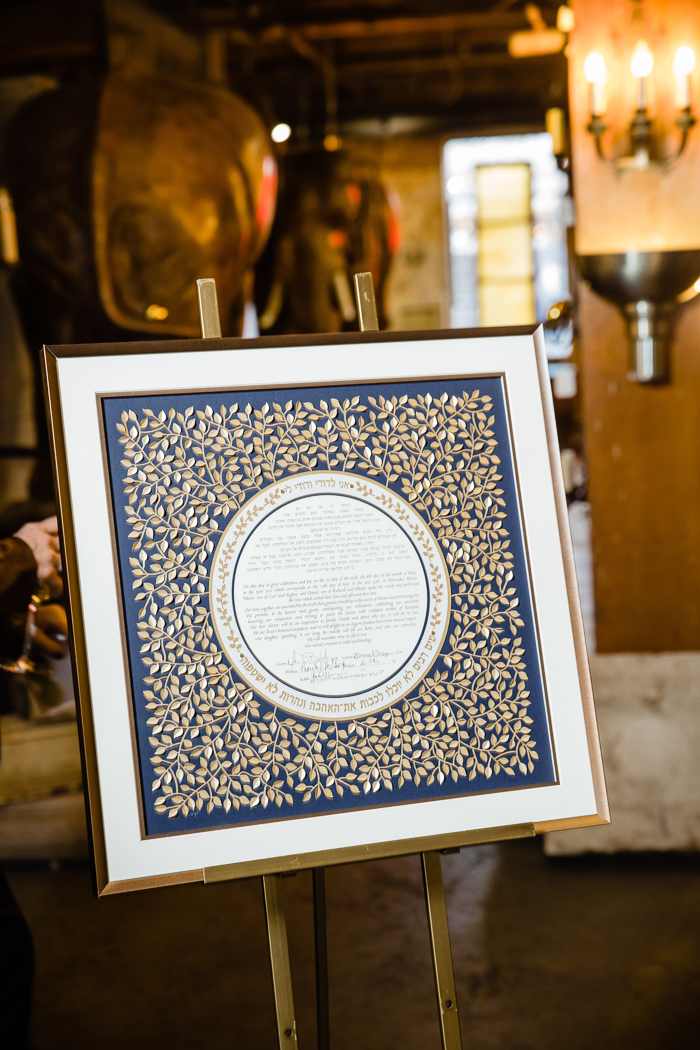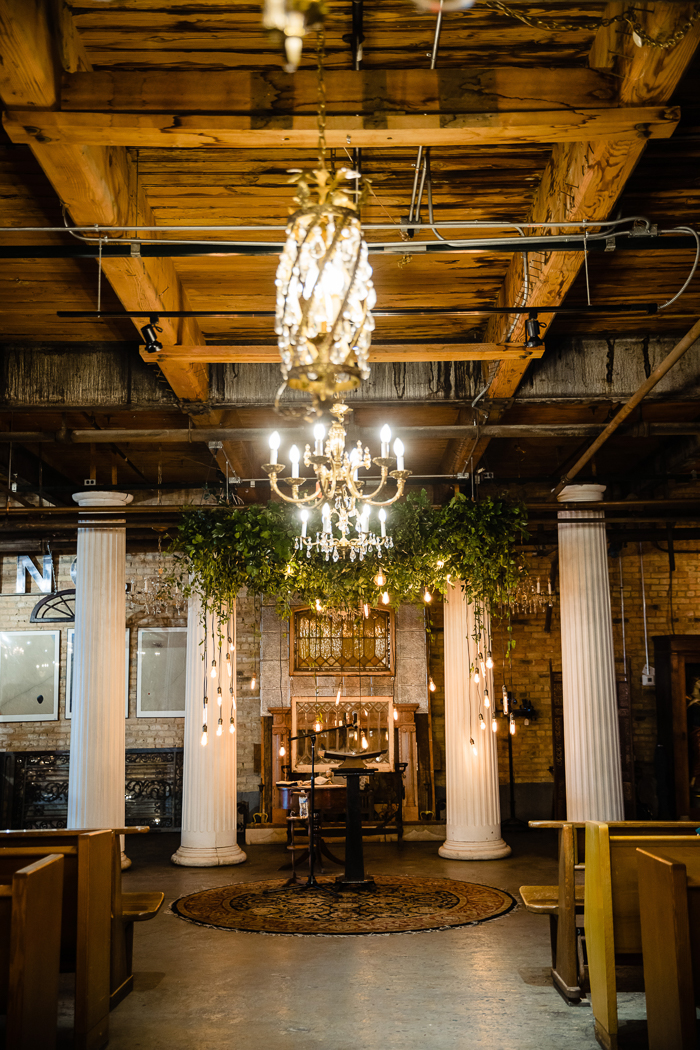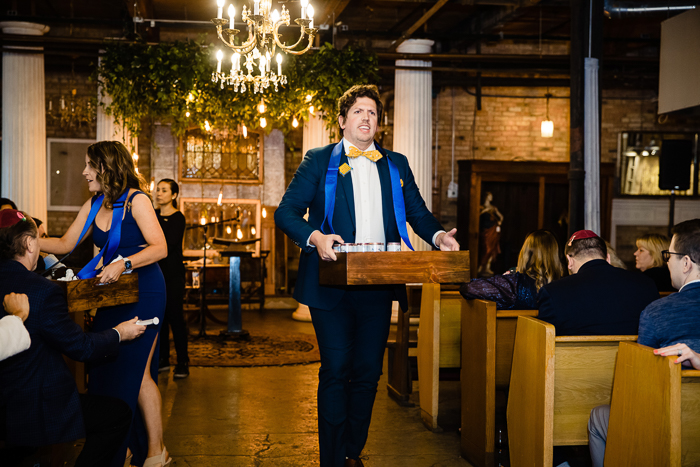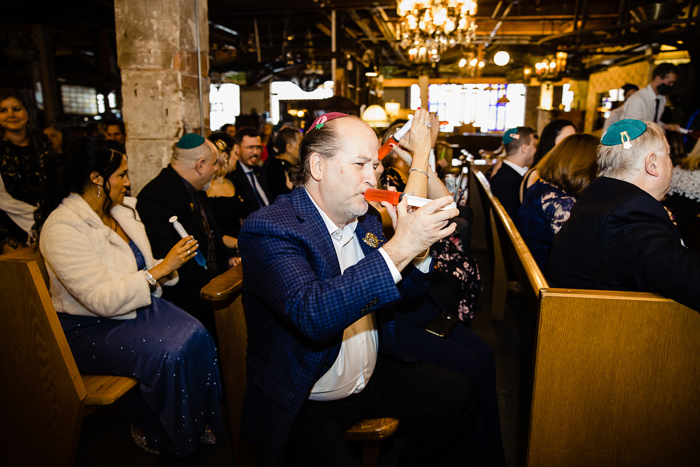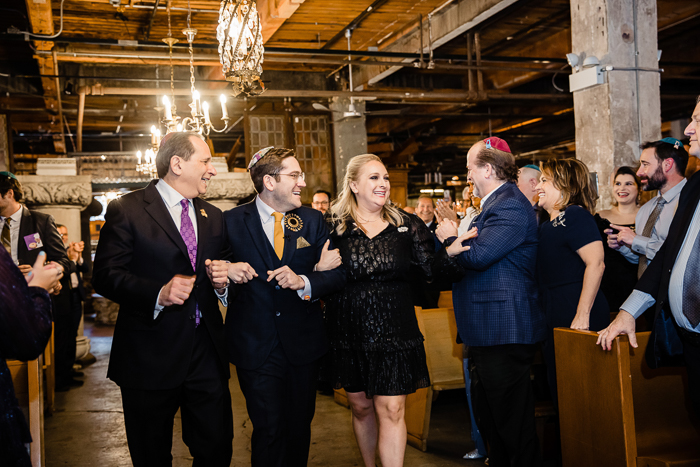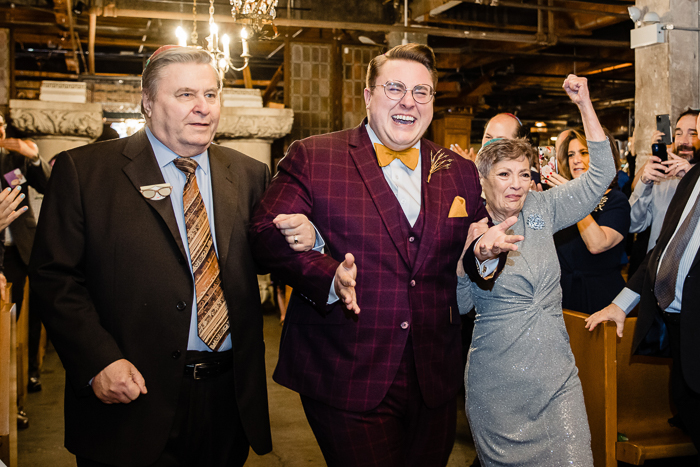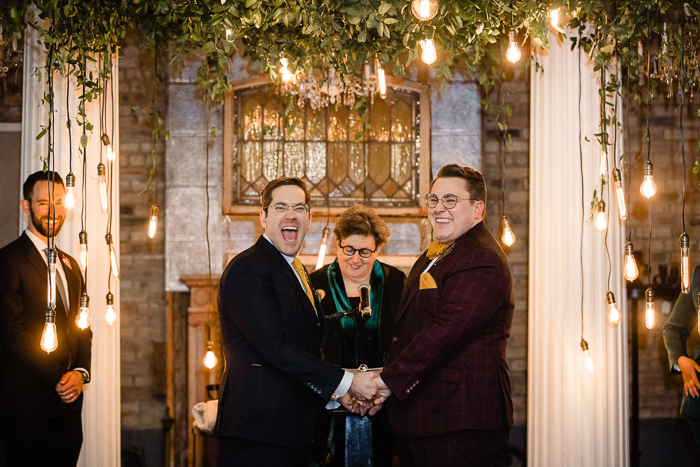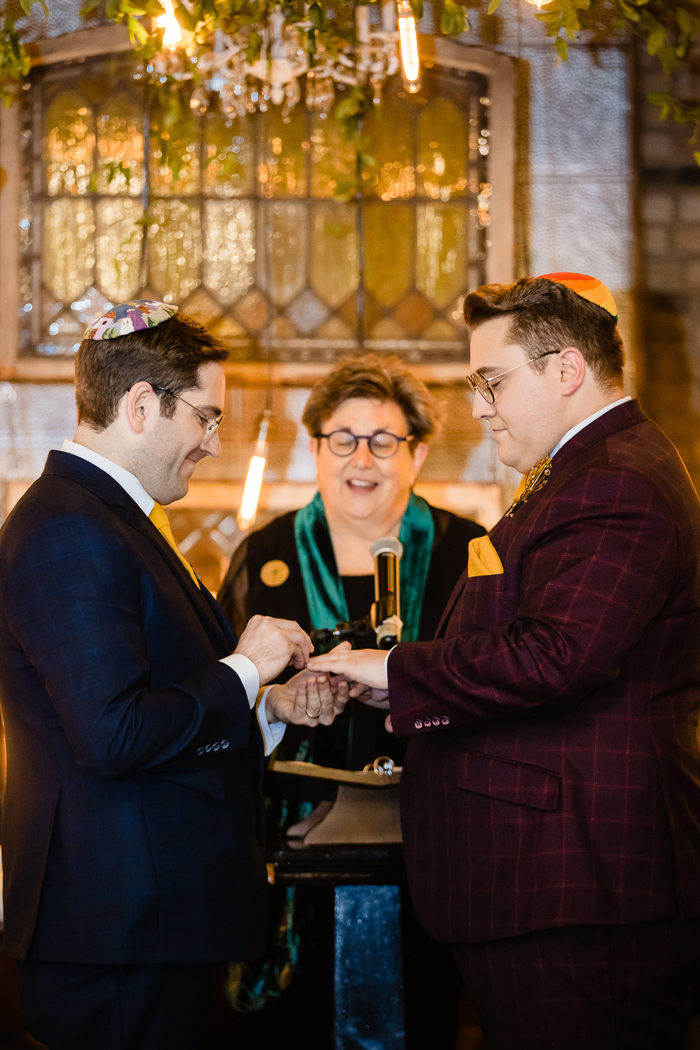 Recommended Reading: 9 Ways to Personalize Your Wedding Ceremony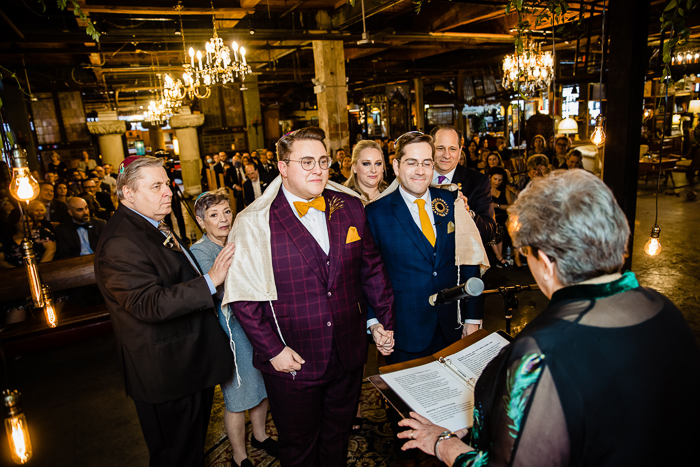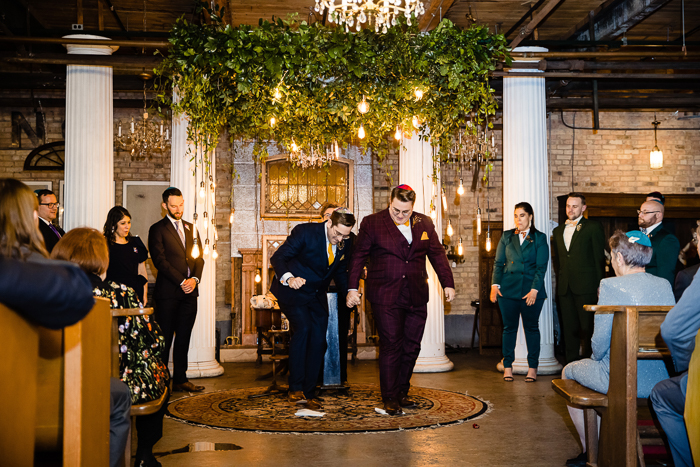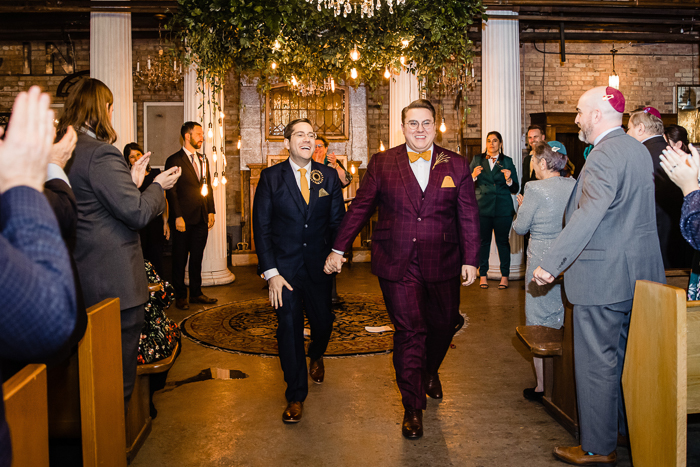 Personalizing Their Ceremony With Humor And A Now Viral Lizzie Mcguire-Inspired Vows
The ceremony was a non-stop love-and-laugh-fest. Danny's Aunt Ali officiated and brought so much joy and laughter through comedic timing and heartfelt memories. Each of our vows was special and reflected our relationship. Of course, Marco's is extra special now that his part went viral with the theme of Hilary Duff! It's now even more exciting since it helped us connect with Hilary Duff and get a few mentions, including People, Insider, The Knot, and more.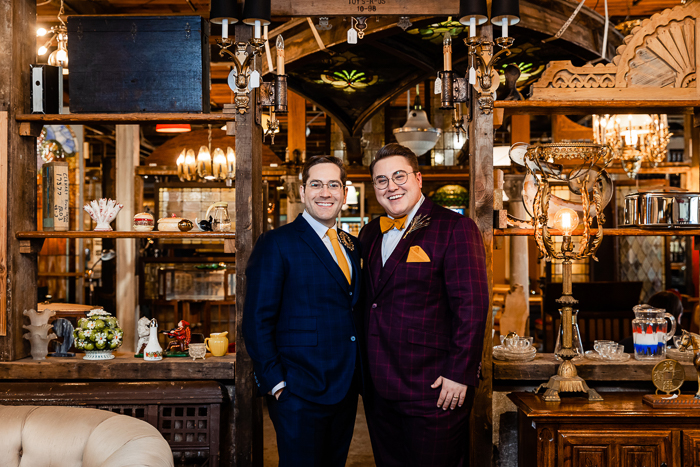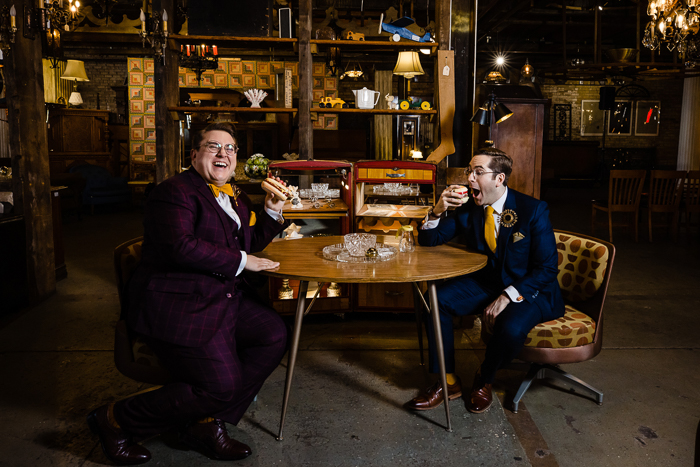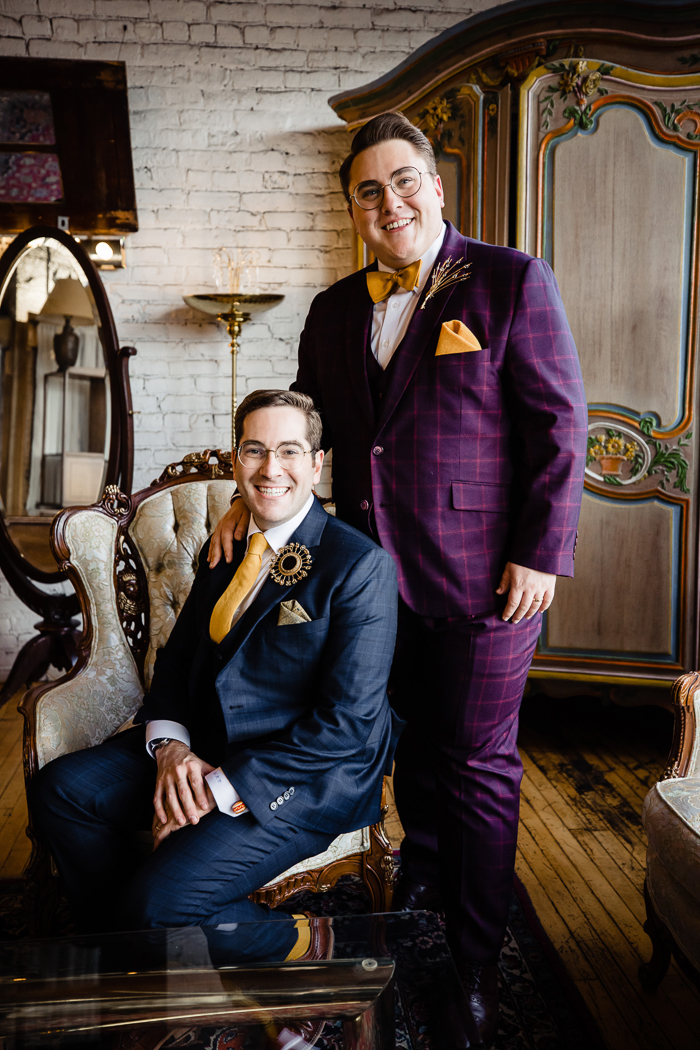 Recommended Reading: 6 LGBTQ+ Wedding Fashion Tips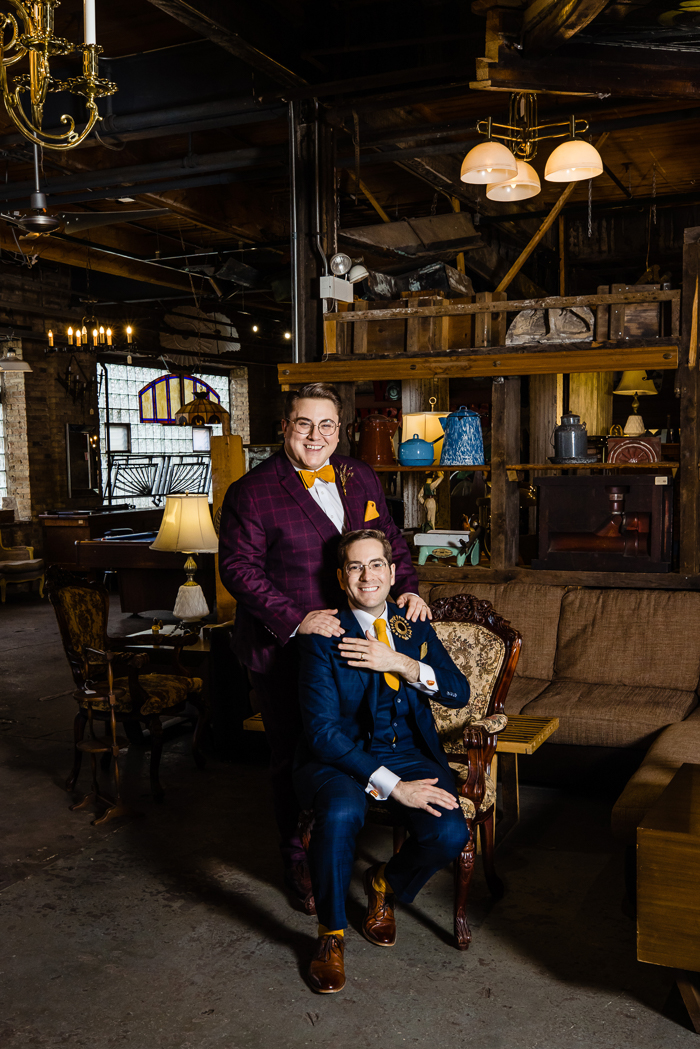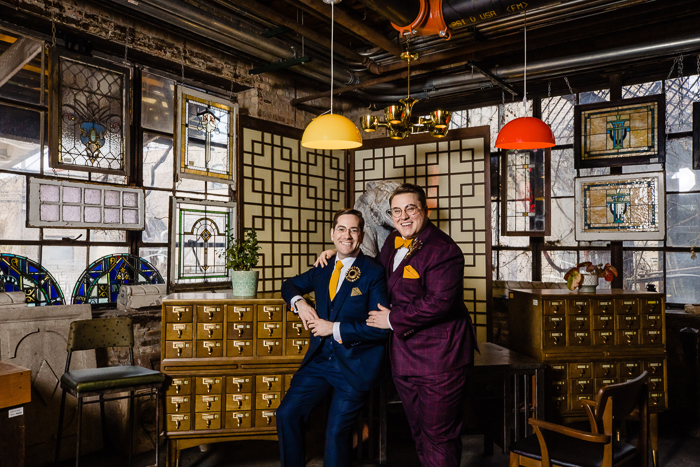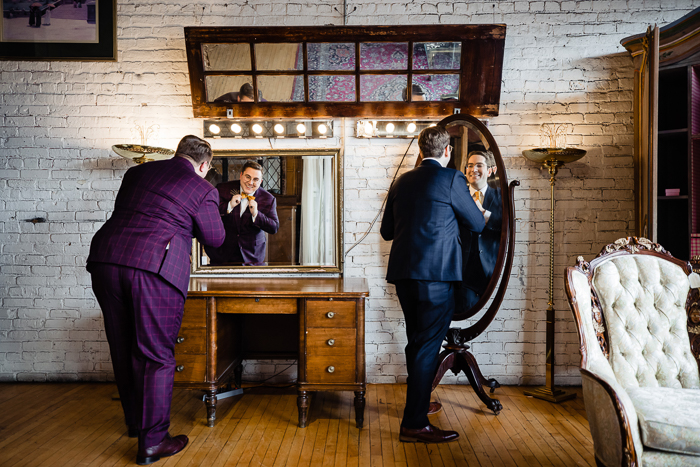 Making Their Guests Feel Extra Special By Including Them In Fun Wedding Details
We asked everyone to "BYOB" or "bring your own brooch"—a reference to Marco's signature fashion statement. Everyone brought heirlooms, made their own brooches, or showed off a new accessory. It helped connect each other, and many talked about wanting to wear them after the wedding. Everyone had a lot of fun laughing at the place cards, which we designed to look like polaroids, and picked the most embarrassing photos of our guests.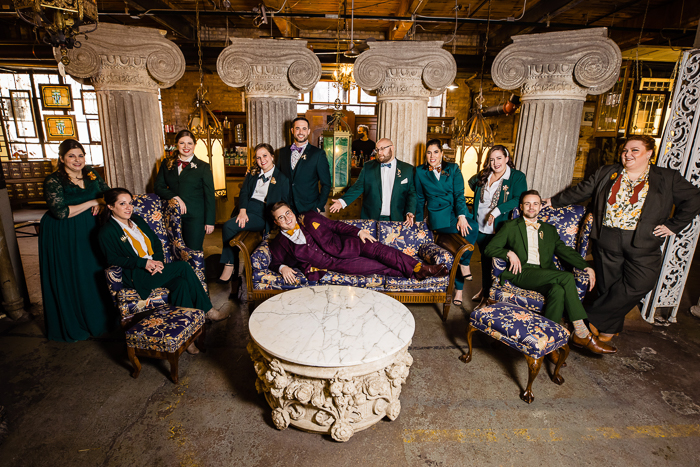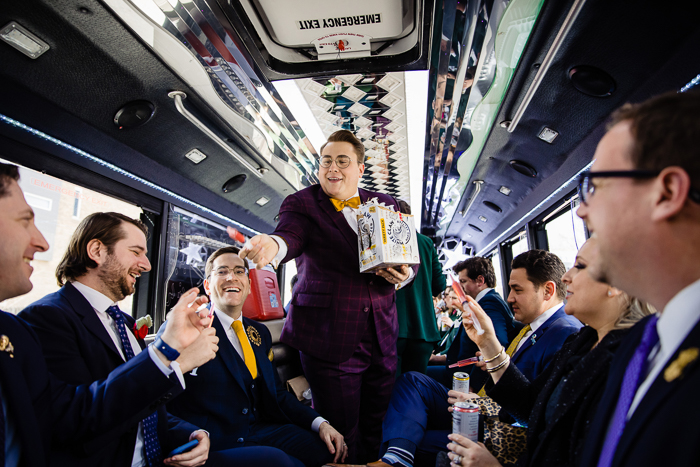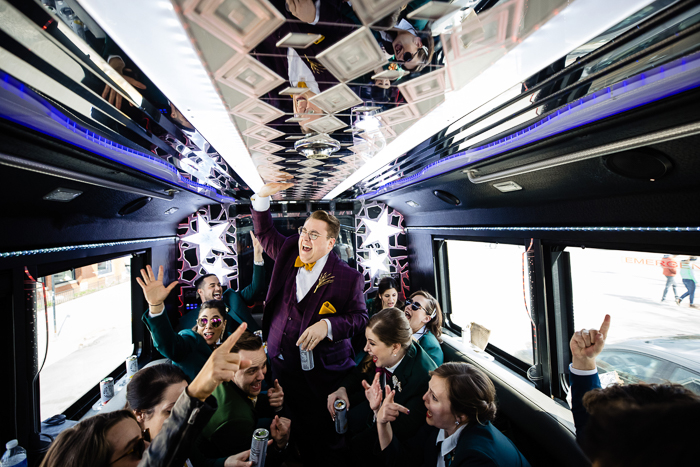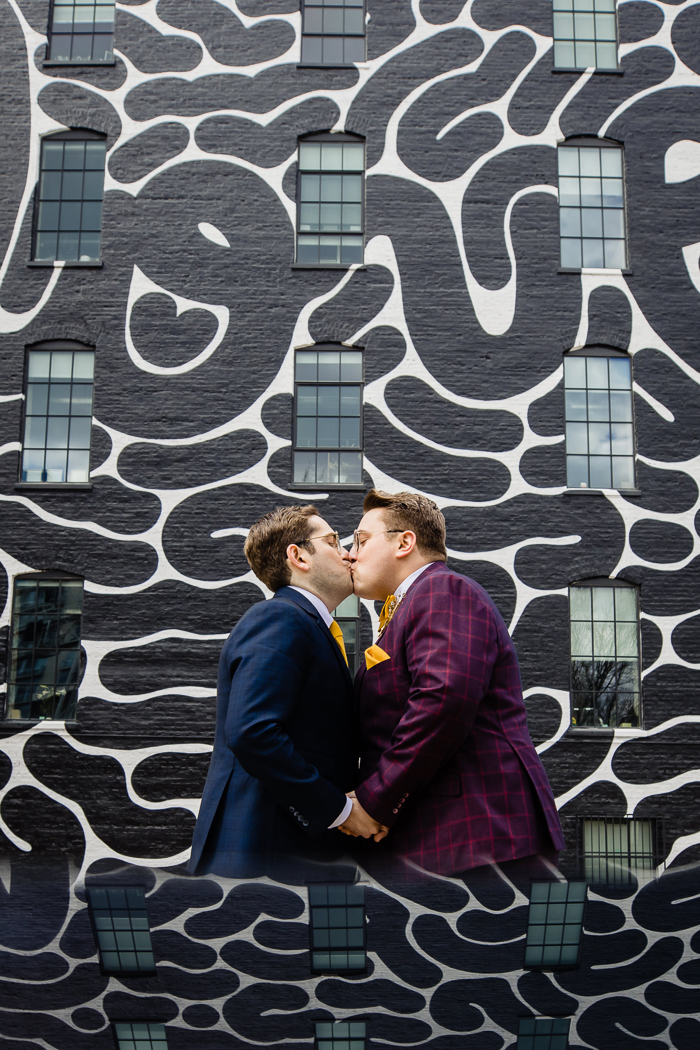 They DIY'd Almost Every Detail Of Their Salvage One Wedding
Almost every detail was DIY'd. For the ceremony, we designed the programs and made the jello shots that were passed around. For the reception, we handpicked the most embarrassing photos of our friends and family and made them into polaroid place cards. We also designed all the signage, including the polaroids of us drinking cocktails, and made the name labels for the fans and egg inserts. Marco sells antiques at Eye Spy Antiques, so we used some merchandise for our tables and some of our own. Lastly, we made a custom golden fan for whoever found the golden matzoh as per Passover tradition.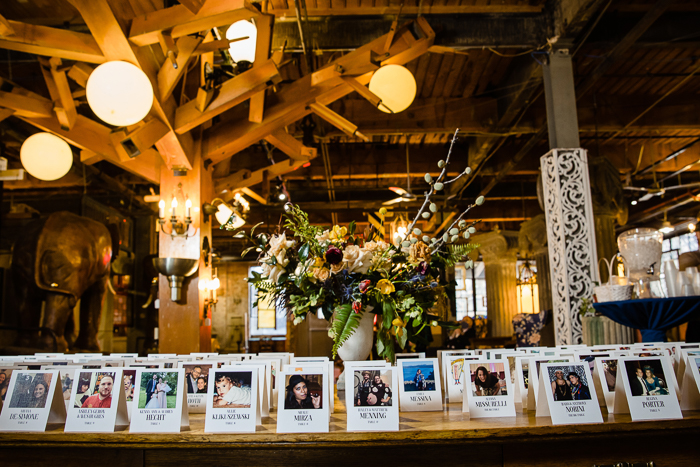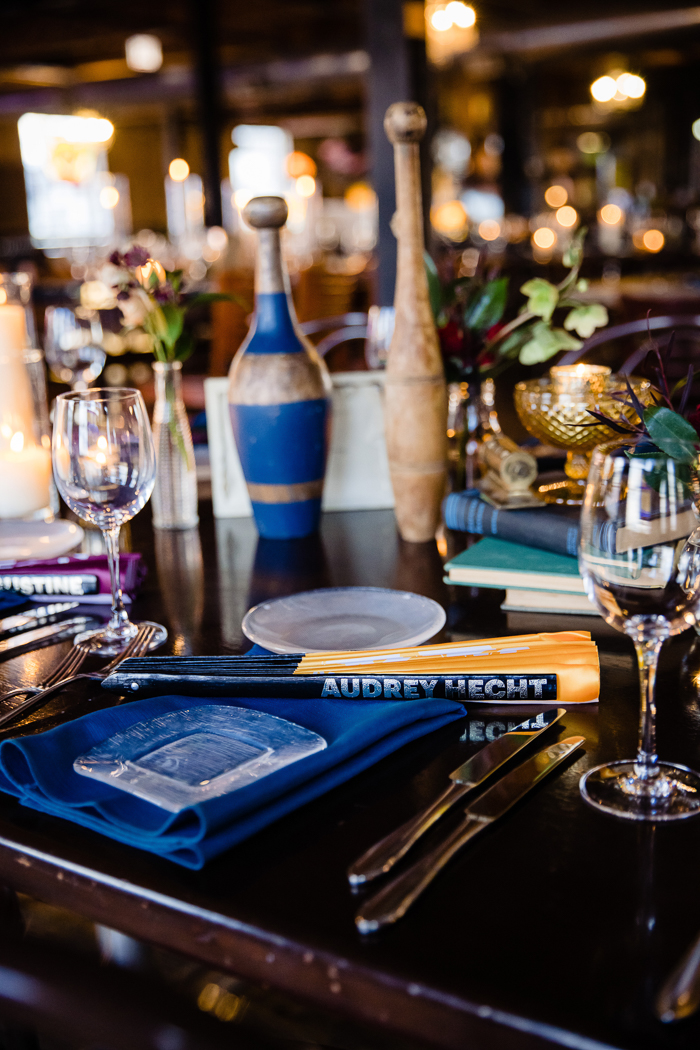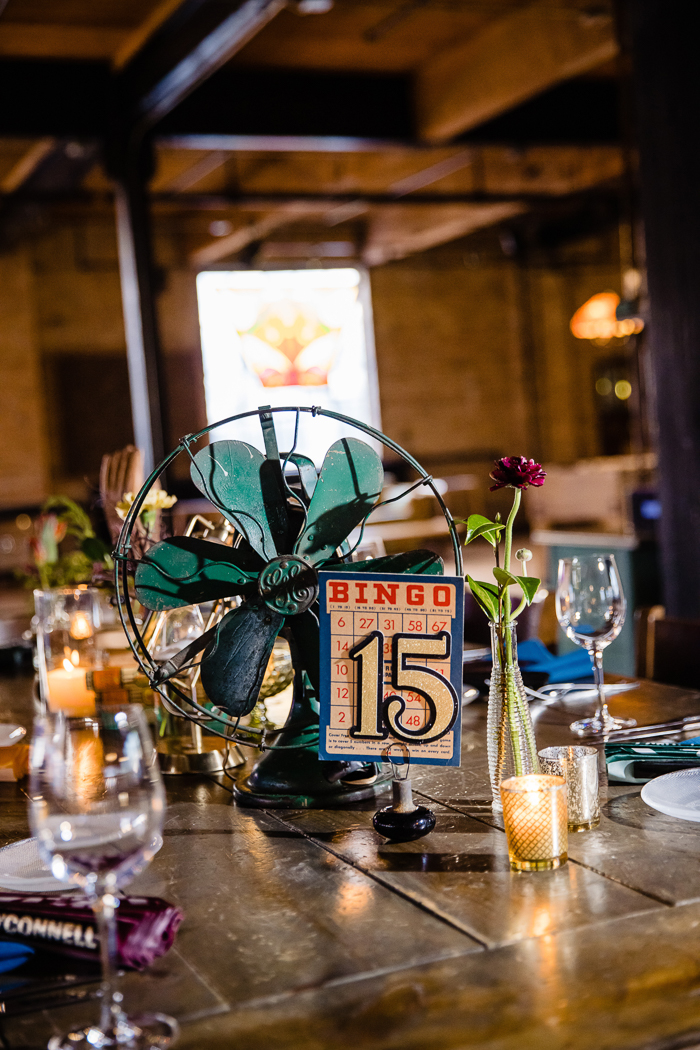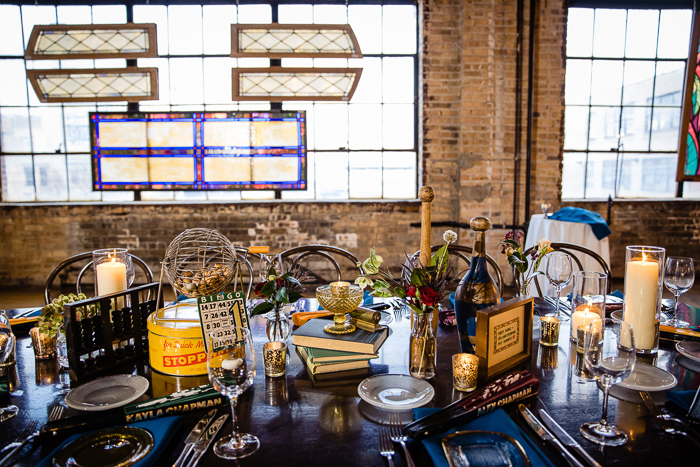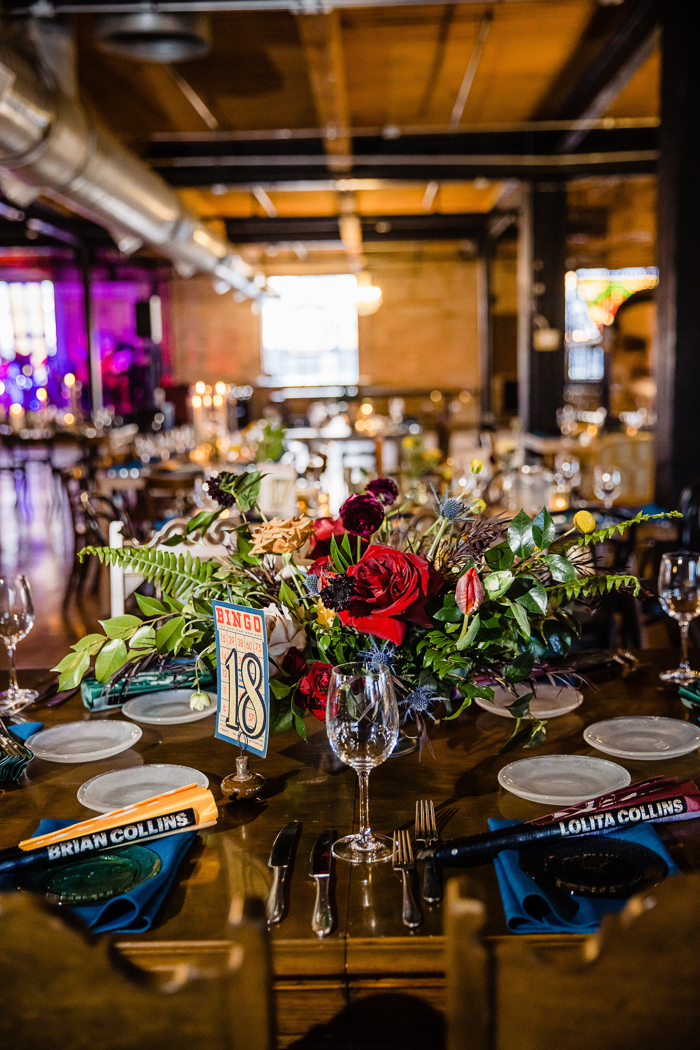 Shop Similar Custom Fans: 1. Custom Clacker Fan 2. Custom Text Hand Fan 3. Custom Full Color Fan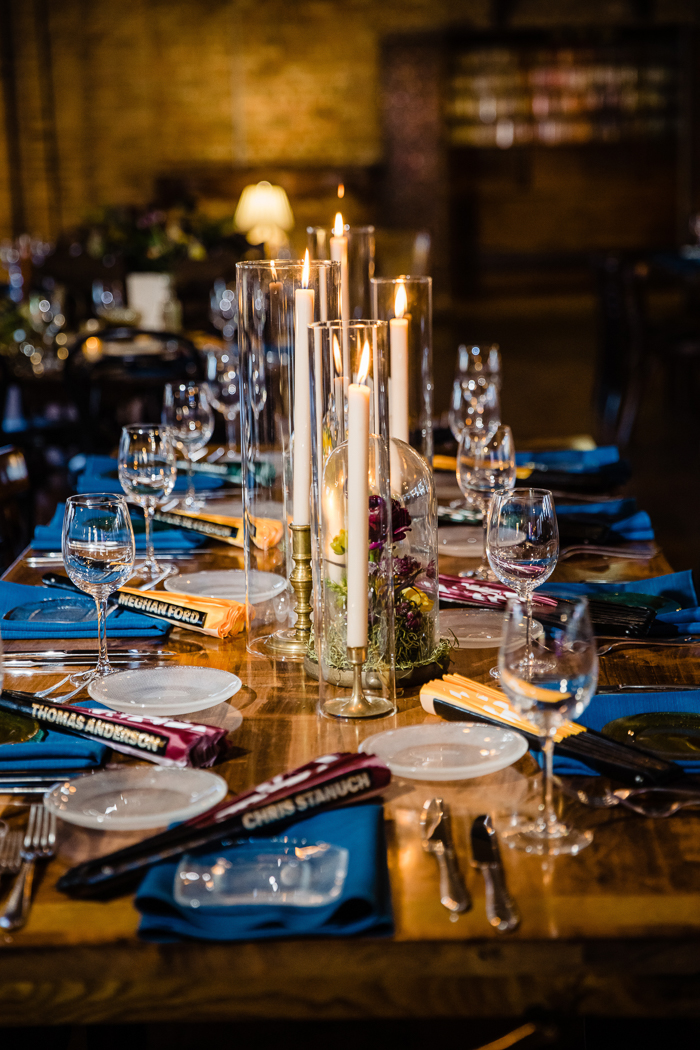 Honoring The Memory Of Danny's Mom Through A Heartfelt Speech And A Glitter Toast
Marco gave a beautiful speech recognizing Danny's mom–who passed away six years ago–ending in the glitter toast where everyone sprinkled glitter on the table. We had everyone continue her tradition of adding glitter to tables, including packs of custom glitter with all the name tags.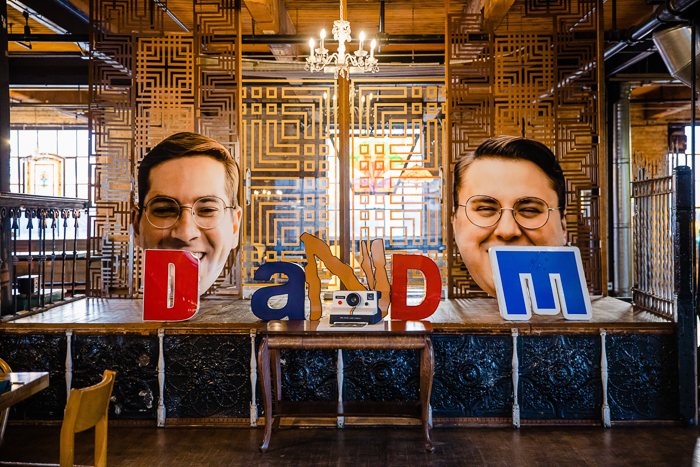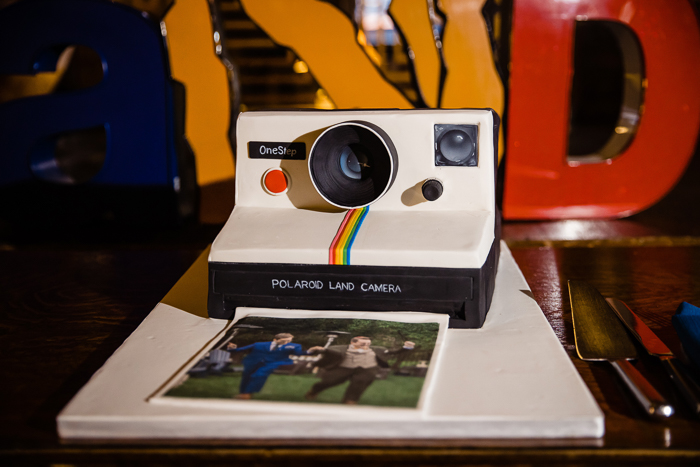 Recommended Reading: How To Plan A Unique Wedding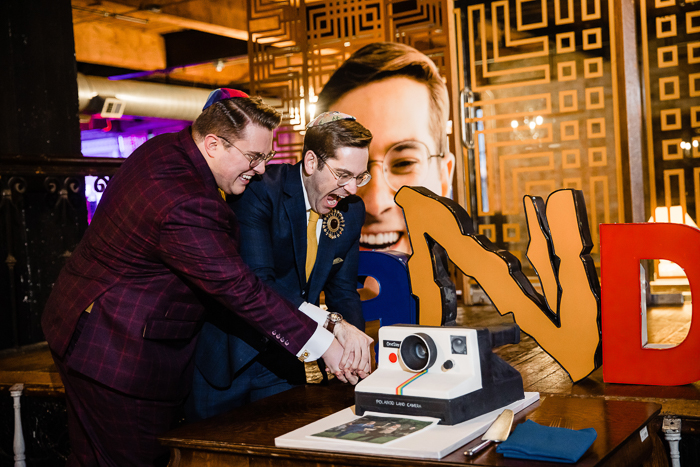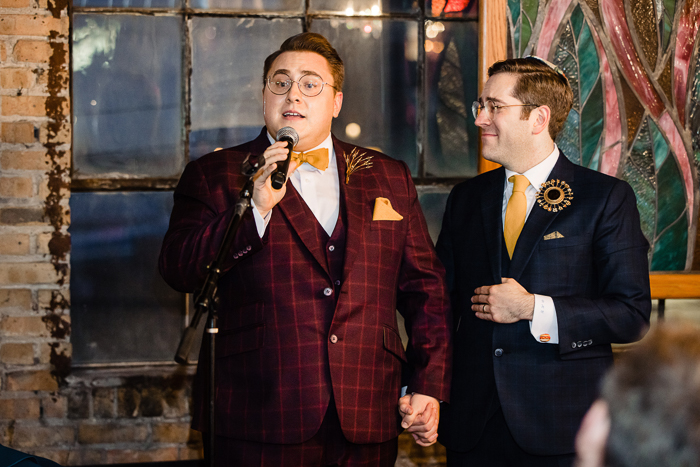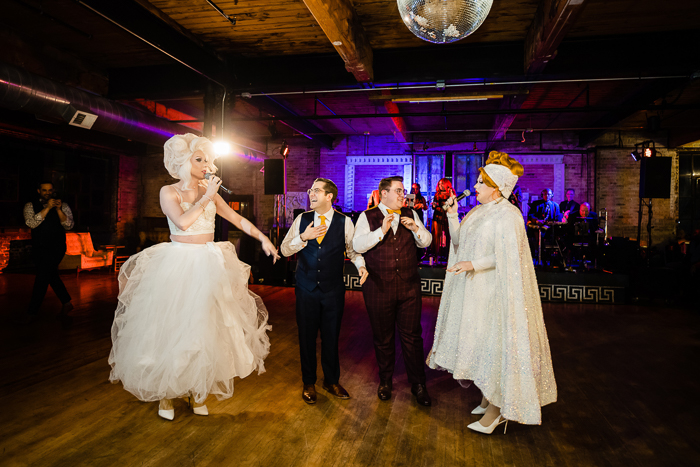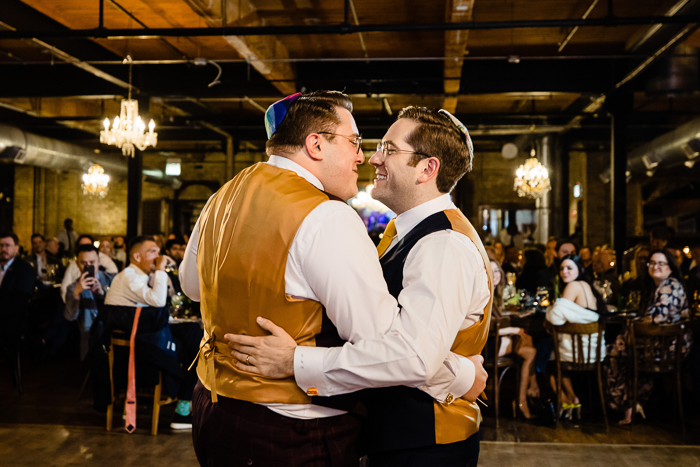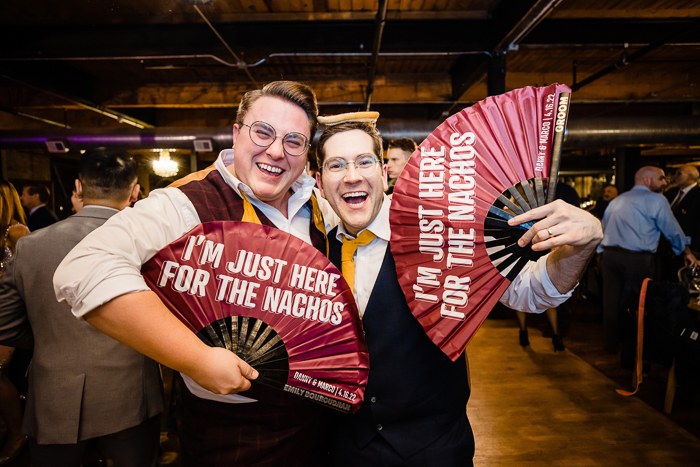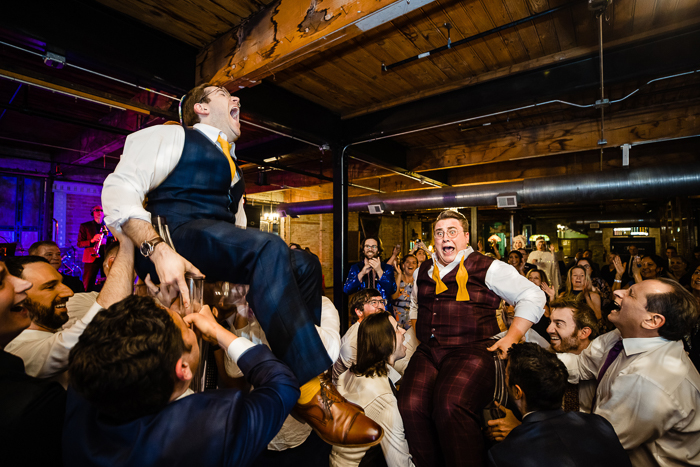 Congratulations to Danny and Marco on their quirky and vintage-inspired Salvage One wedding. And big thanks to Ann & Kam Photography for capturing every detail of their personality-filled celebration—the perfect embodiment of their fun and fabulous vibe.
Adding personal touches are essential to creating a unique and memorable wedding experience. So make your big day all about you and your partner down to the last detail. Whether you want an over-the-top affair or prefer to keep it low-key, check out our guide to help you put a personal stamp on your wedding day.