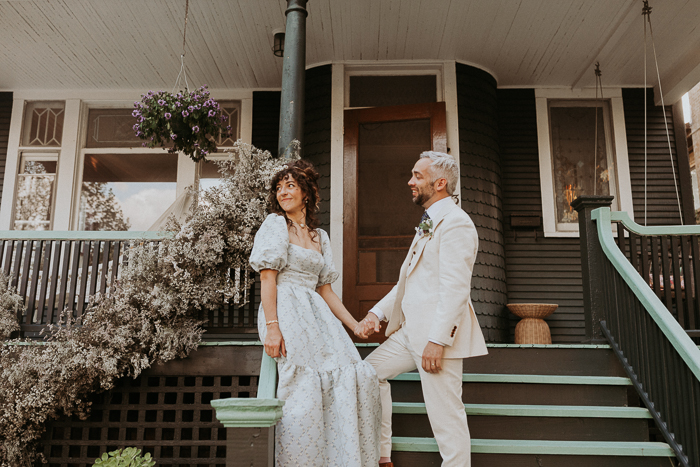 As parents to two daughters, Angela and Jeramy knew their special day needed to be all about family. And what better place to host a laid-back, child-friendly celebration than in their own Victorian-style family home? With the help of their planner, Details Chicago, the couple turned their yard into a garden party inspired backyard wedding, complete with tables spread with tea sets, picnic blankets, and parasols strewn across the lawn.
Guests were greeted with a cloud floral installation draped across their front porch, which also served as a pretty backdrop during the festivities. The two exchanged vows under a beautiful white arbor adorned with greenery and delicate white blooms, surrounded by their loved ones. Their intimate ceremony was then followed by a tented reception that featured a tablescape of vintage place settings, antique doilies, and dainty floral centerpieces.
From their wedding cake down to their on-theme attire, every detail was thoughtfully planned. But don't just take our word for it. If you're looking for the ultimate backyard inspiration, scroll through for unique ideas to inspire your big day, as beautifully captured by Tova Studios.
The Couple:
Angela & Jeremy
The Wedding:
Oak Park, Illinois, United States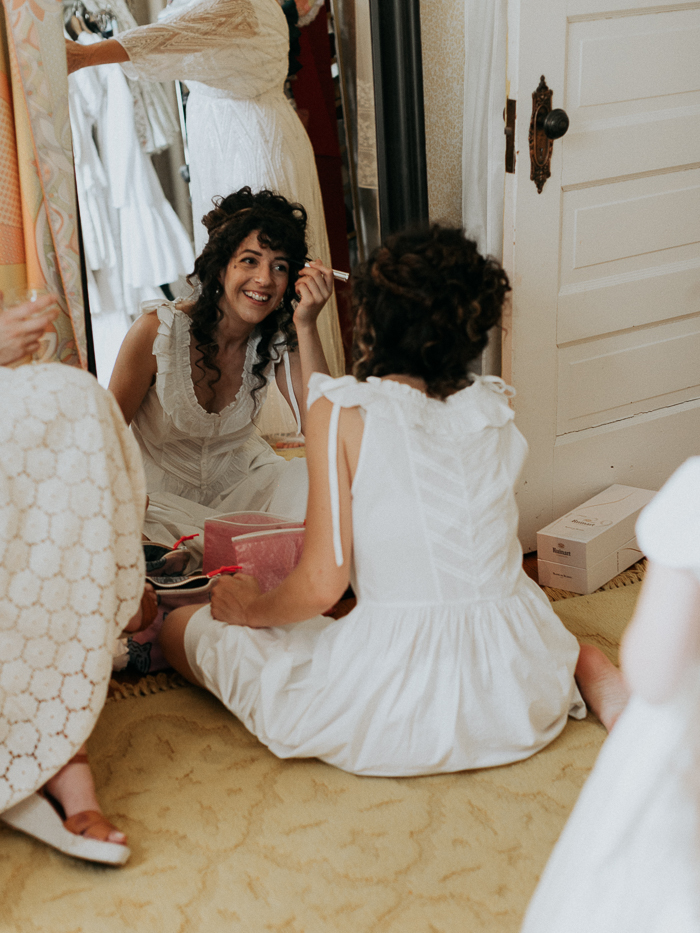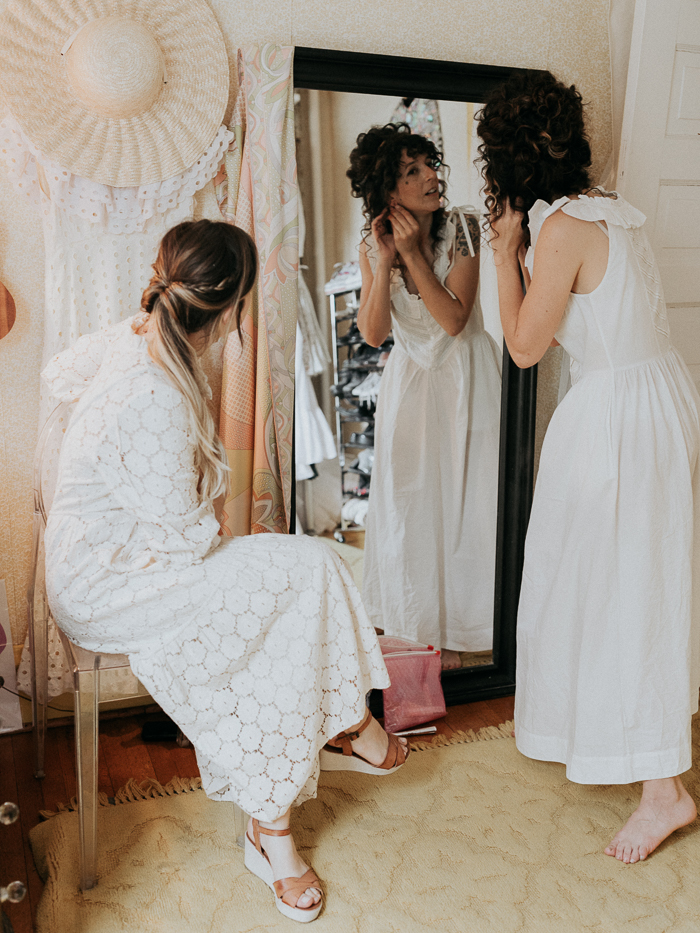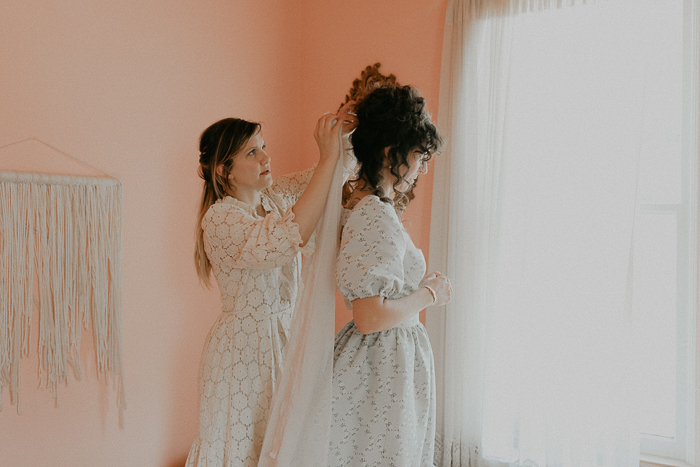 Their Planner's Insights On This Garden Party Inspired Backyard Wedding
When the bride reached out to us, we knew this was going to be one heck of a wedding, and we had to be the ones to plan it! The vision was a Victorian garden party—think picnic-style, croquet games, cocktails flowing, smooth jazz, guests wearing white, romantic, no fuss, and all-around fun. There were no speeches, first dances, and cake cutting. This wedding was truly a reflection of the couple, not influenced by what people think a wedding should be or look like. We live for clients who are true to themselves.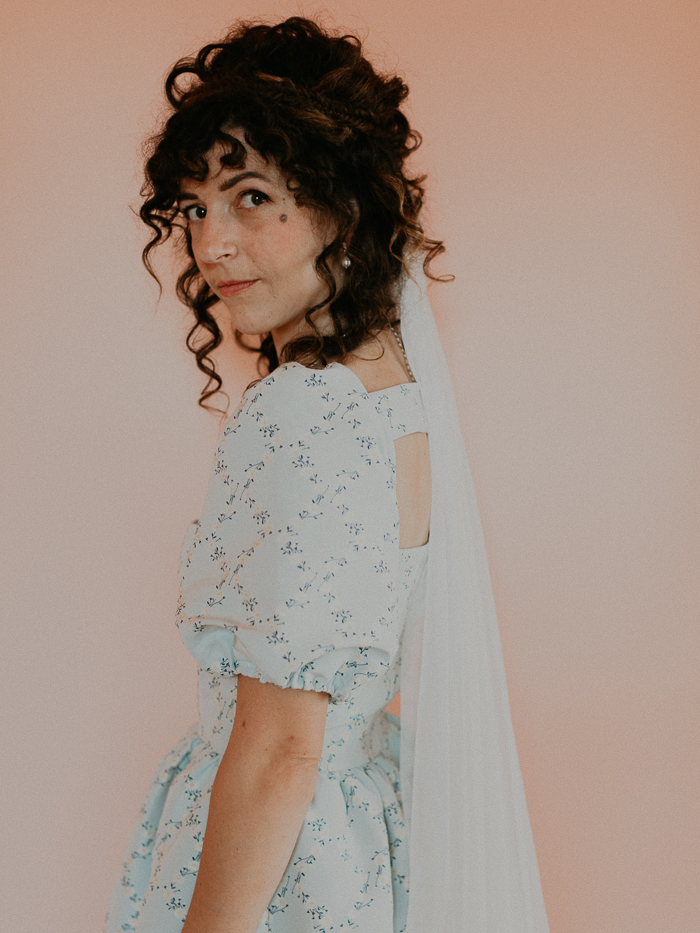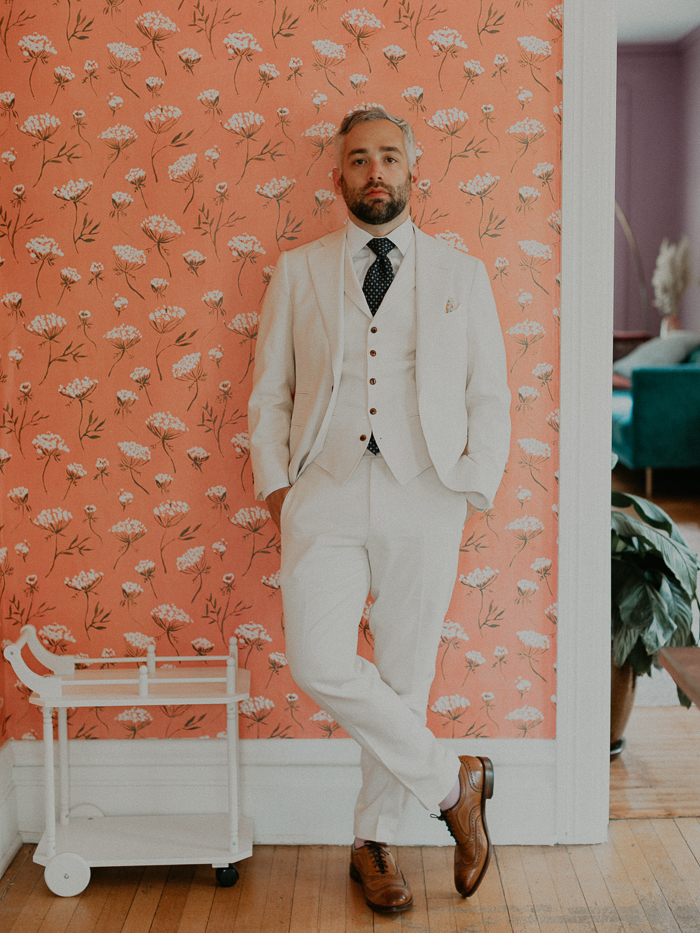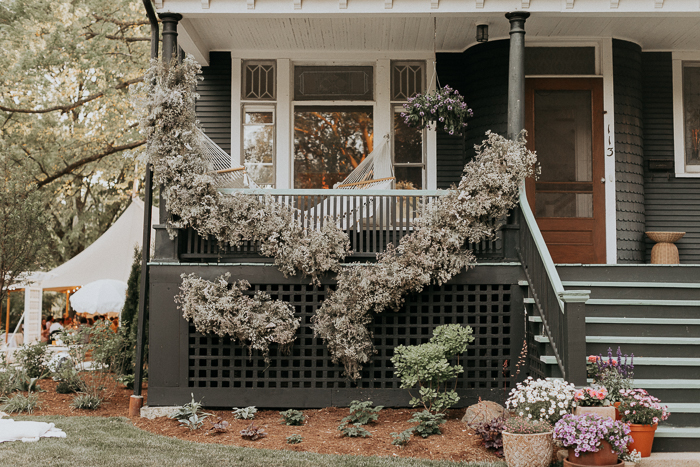 The Bride's Best Friend Worked With Their Florist To Surprise Her With A Floral Installation
Two days before the wedding, my best friend Jen took me out for lunch, and when I returned home, a huge dried floral installation by Taxaflora covered the front of our house. Jen had coordinated with my two other closest friends to orchestrate the surprise installation. She consulted with Taxaflora and Details Chicago–our wedding planner–to ensure that whatever they did would fit with the rest of our wedding decor. It was the most beautiful surprise, and the installation was a memorable backdrop during our procession and ceremony.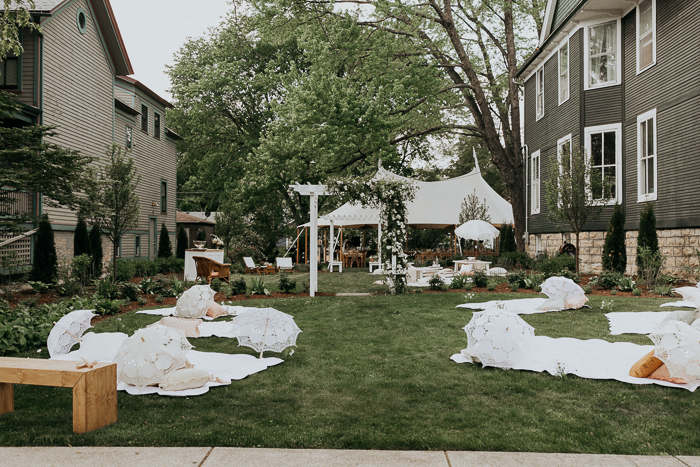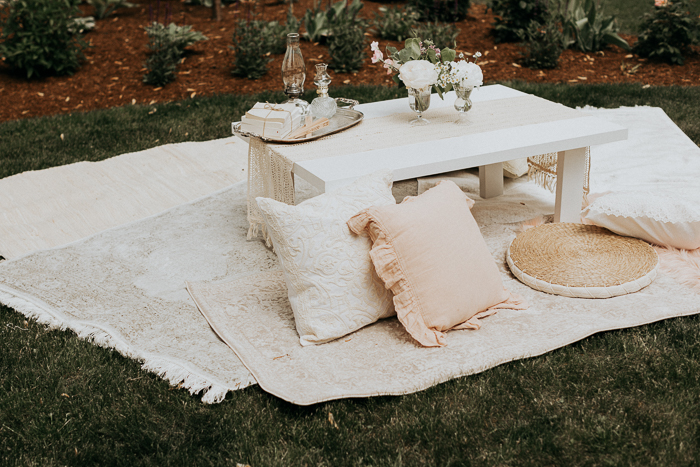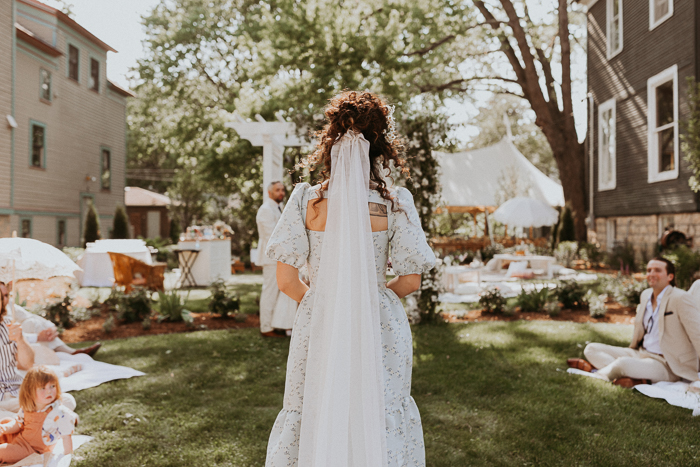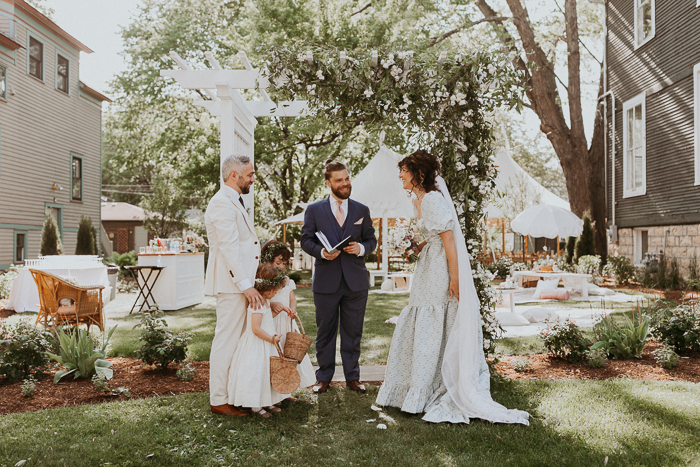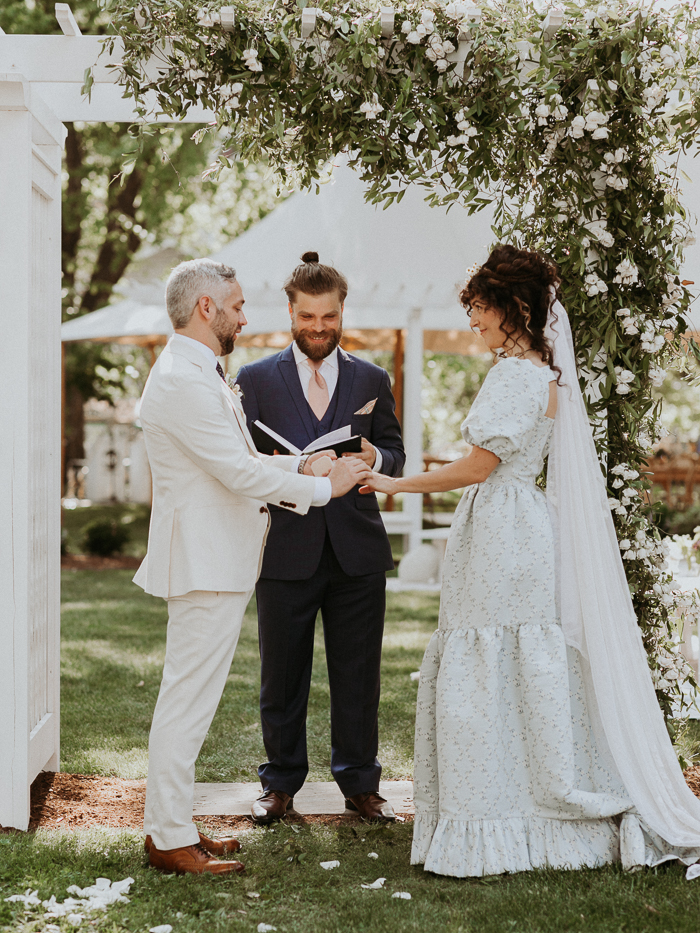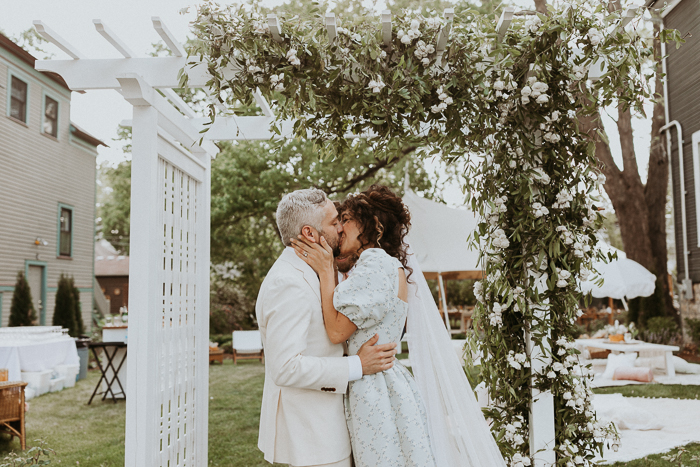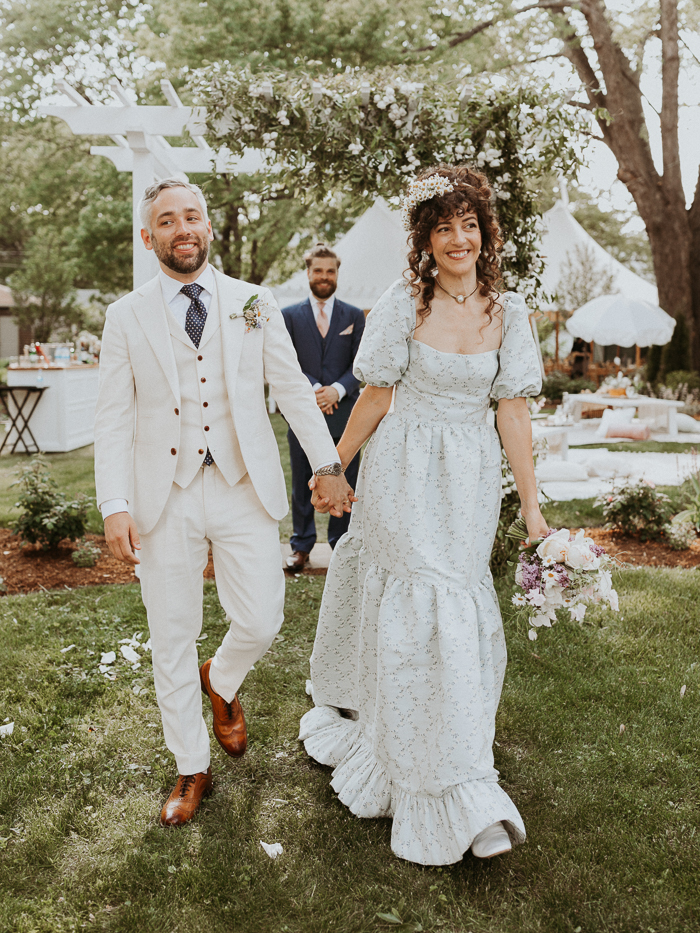 A Kid-Friendly Garden Party Inspired Backyard Wedding
We knew we would have tons of kids at the wedding since most of our friends have kids, so we wanted to ensure it was a relaxed atmosphere for parents–with no assigned seating or designated "chair time" and no speeches or prolonged ceremonial moments. It was a laid-back, free-for-all for the kids right from the start. We recently restored a 1920's swing set in our yard, and watching all the kids swinging in their beautiful white clothes while their parents got down on the dance floor made us so happy.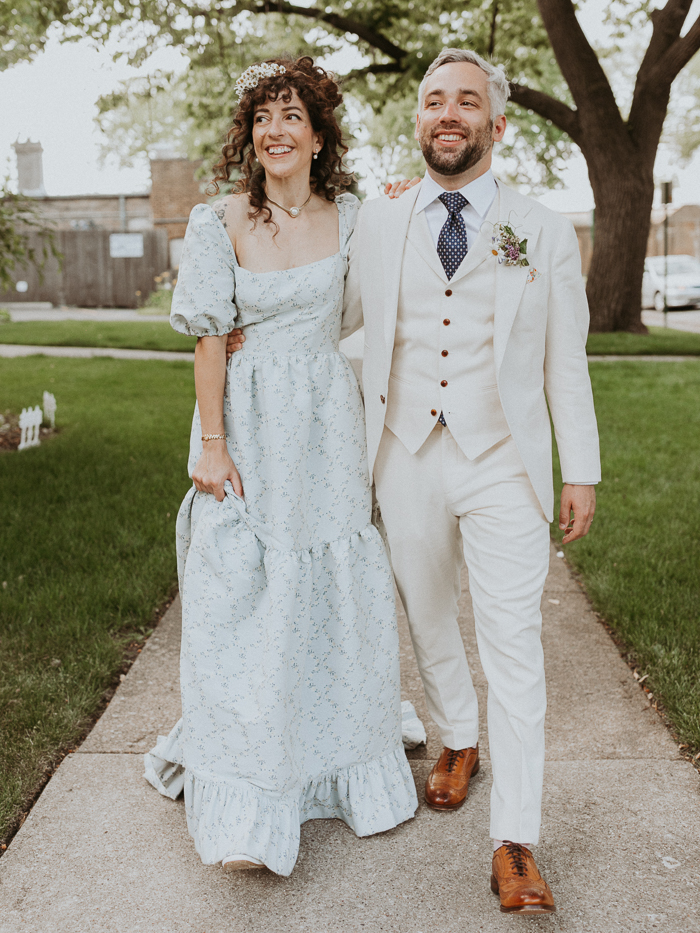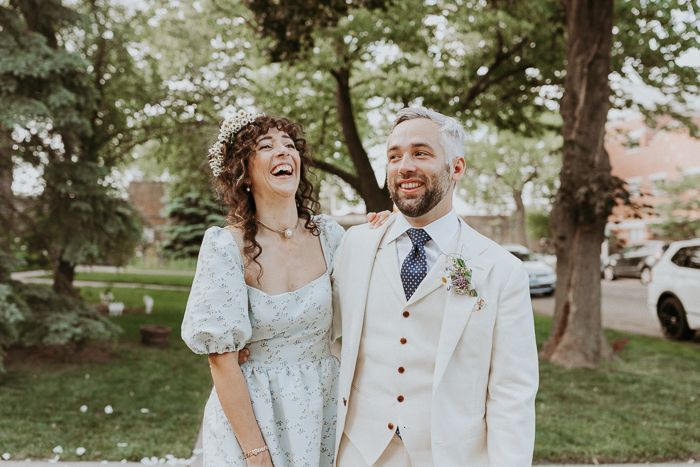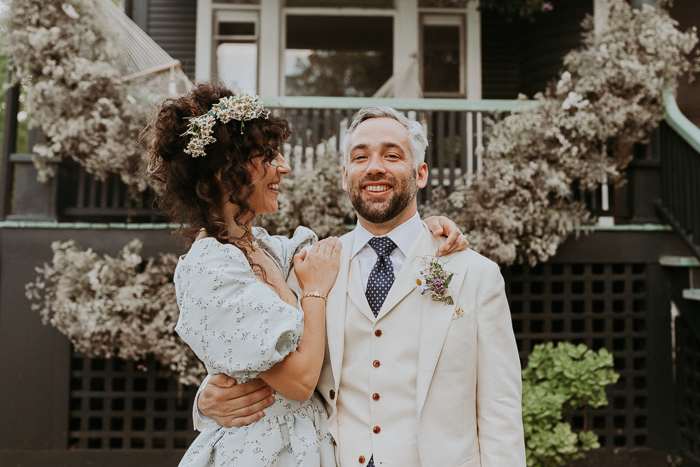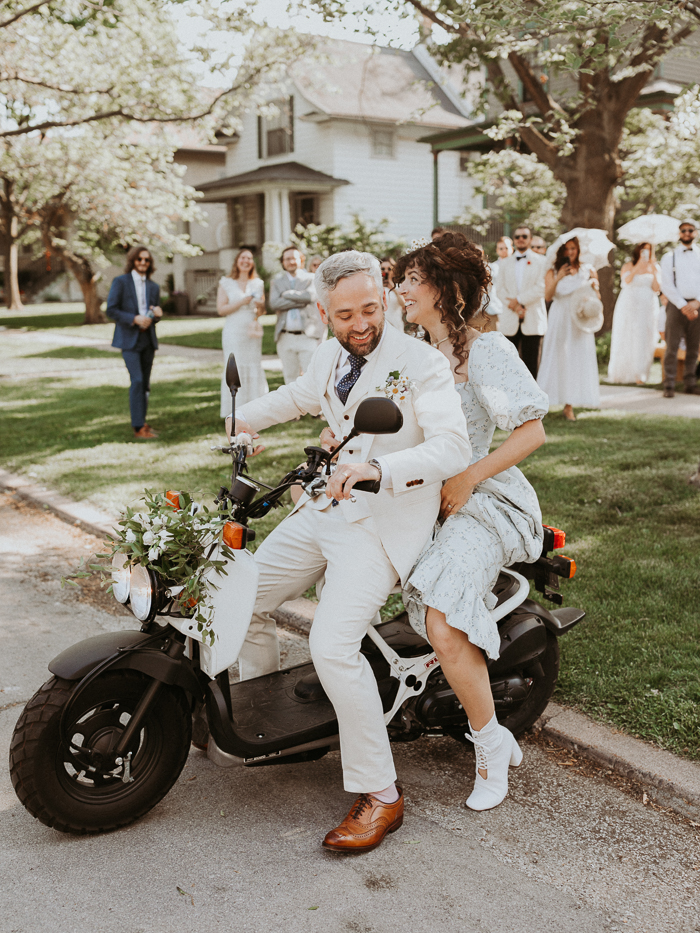 Advice: Hiring A Wedding Planner is Key To A Stress-Free Wedding Day
Hiring a wedding planner to coordinate with the vendors and direct everything on the day was absolutely instrumental in my ability to enjoy our wedding day. I felt completely relaxed, and as someone who throws many parties, I know that I'm usually running around in a sweaty panic until ten minutes after the guests arrive. Our other wedding planning advice would be to make quick decisions, go with your gut, and, when in doubt, always simplify. It's easy to get caught up in details, but at the end of the day, you're just throwing a party and want everyone to have fun.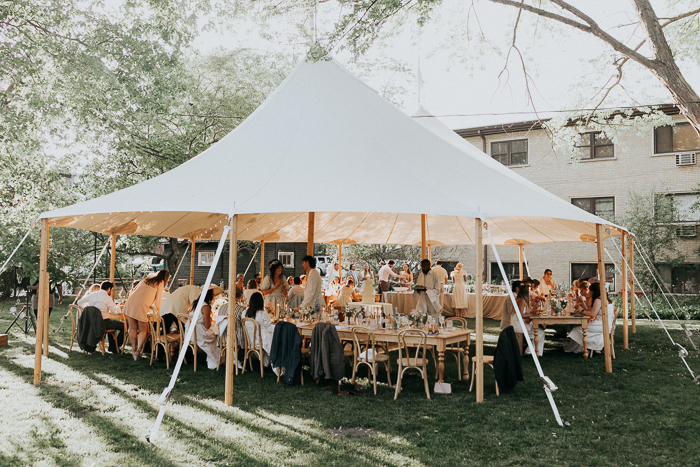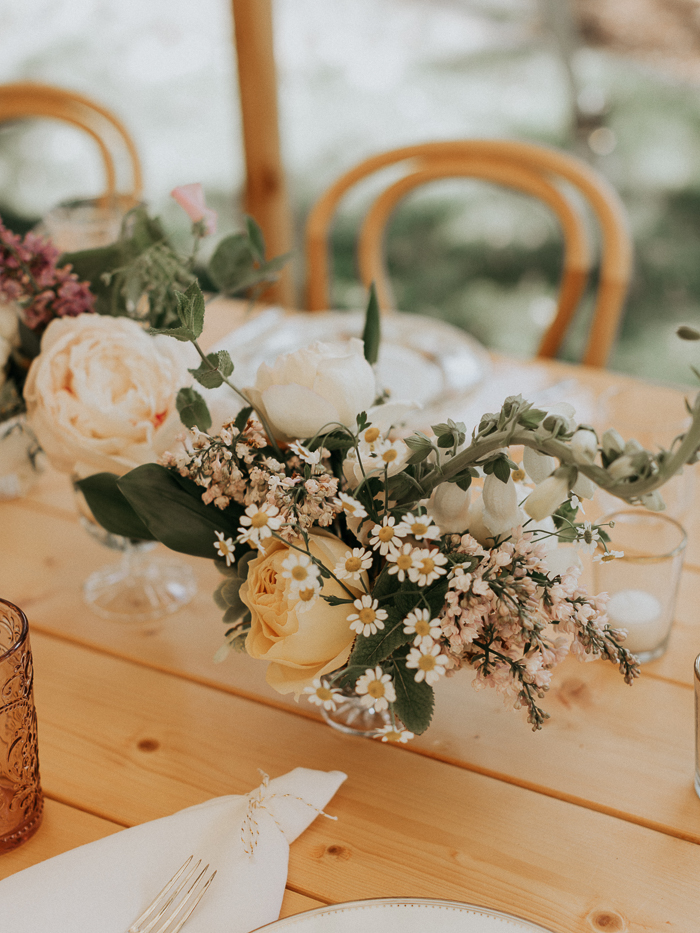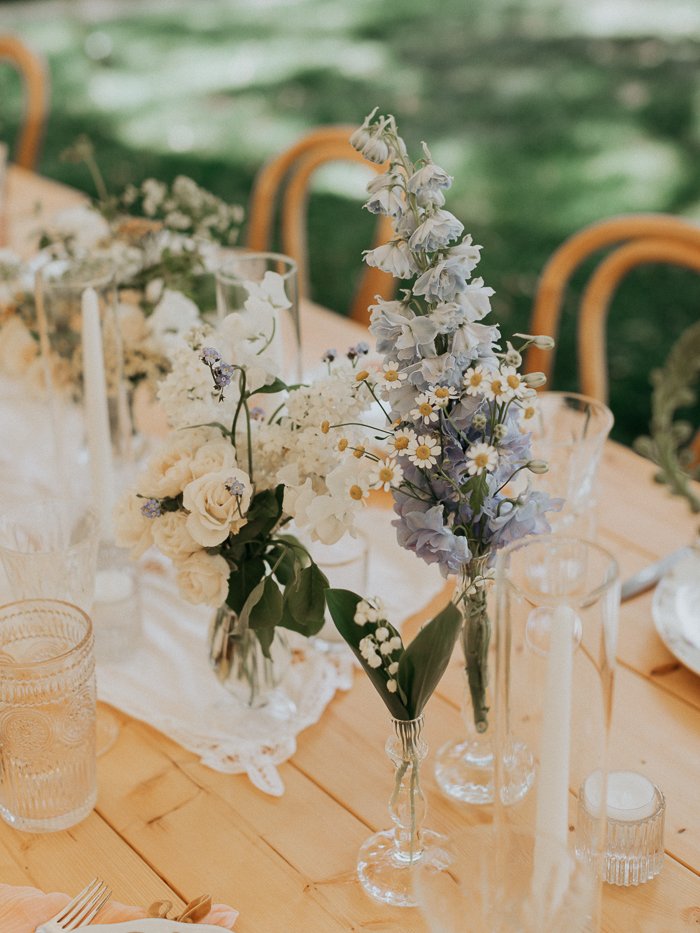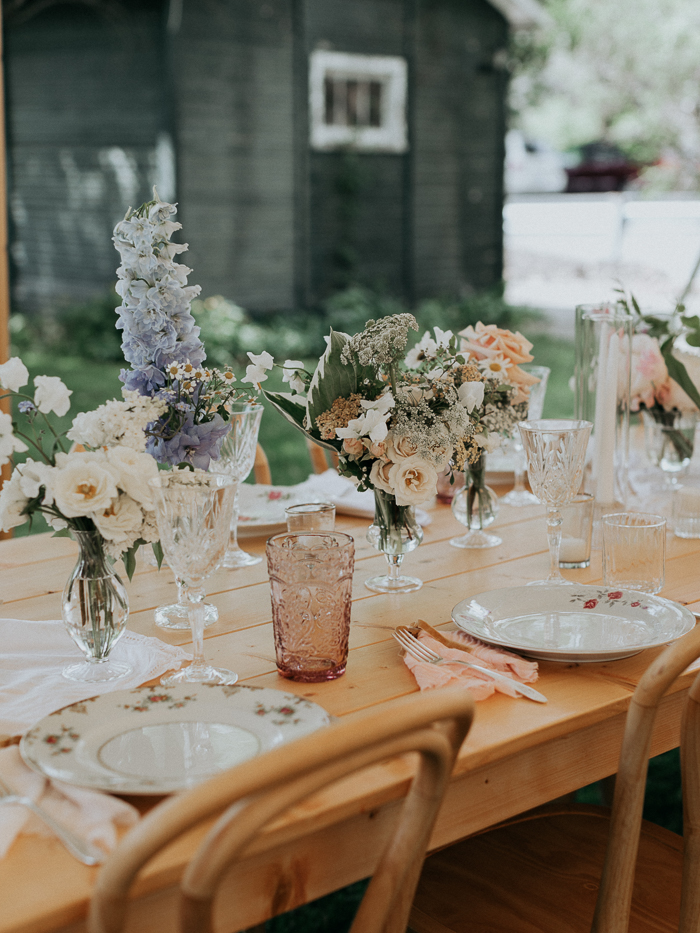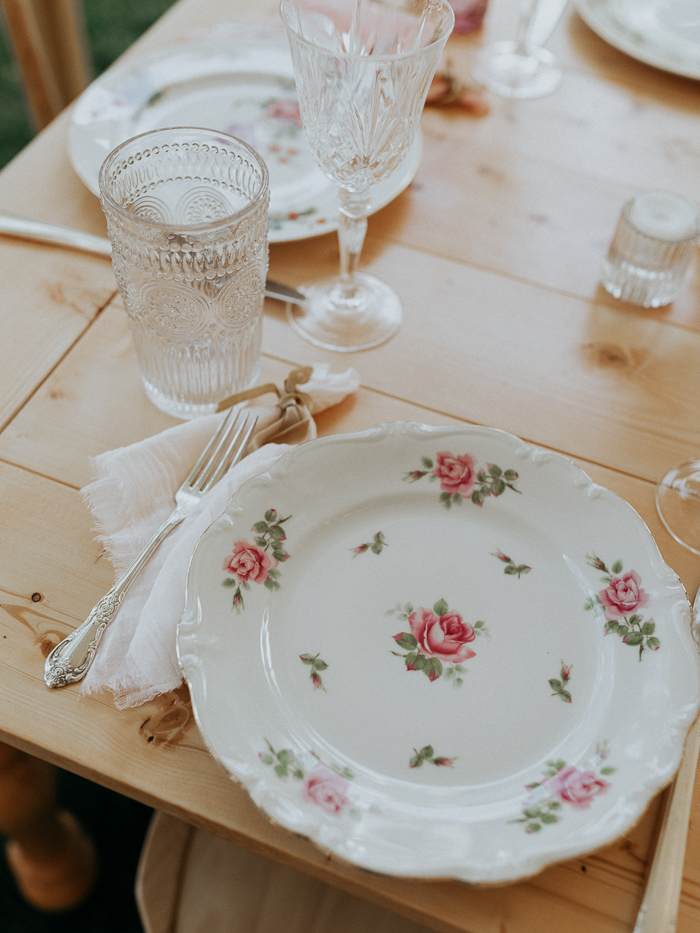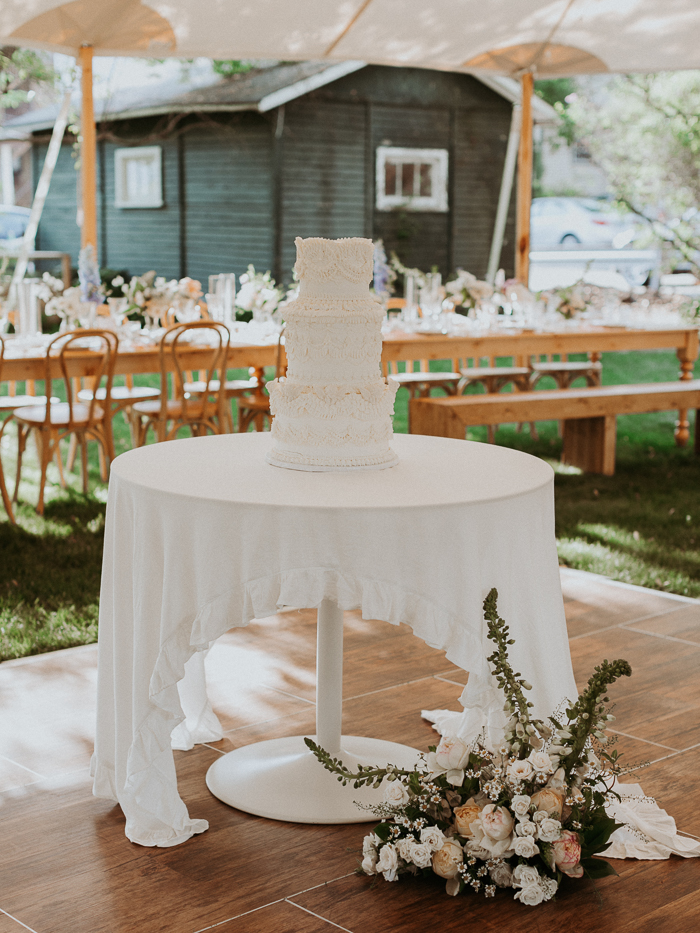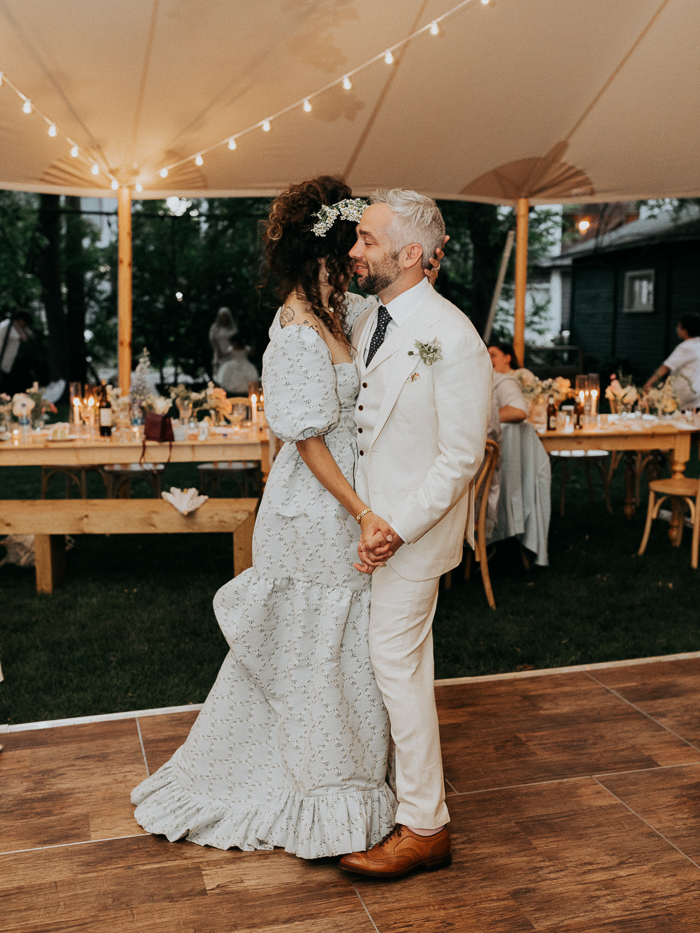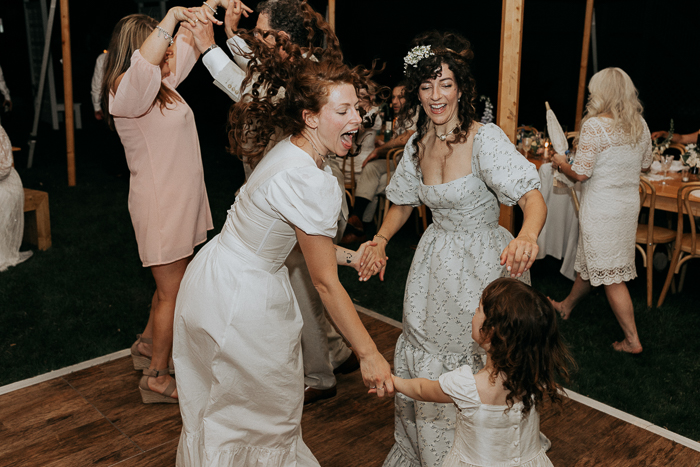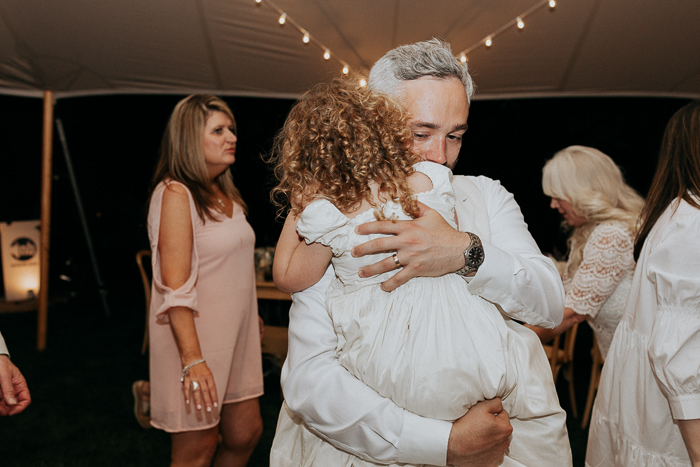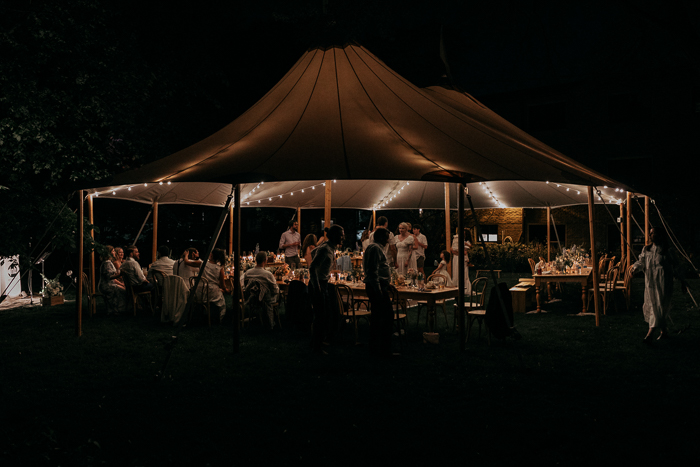 Congratulations to Angela and Jeremy on their Victorian garden party inspired backyard wedding. Photographer Tova Studios beautifully captured every dreamy detail and special moment. And, of course, big thanks to Details Chicago for sharing and planning this unforgettable celebration.
This wedding proves that backyard weddings don't have to be an overly casual or rustic affair. With the right team of vendors by your side, there are endless ways to transform your backyard into anything you want it to be. And what's not to love about a backyard wedding? After all, there's no place like home.