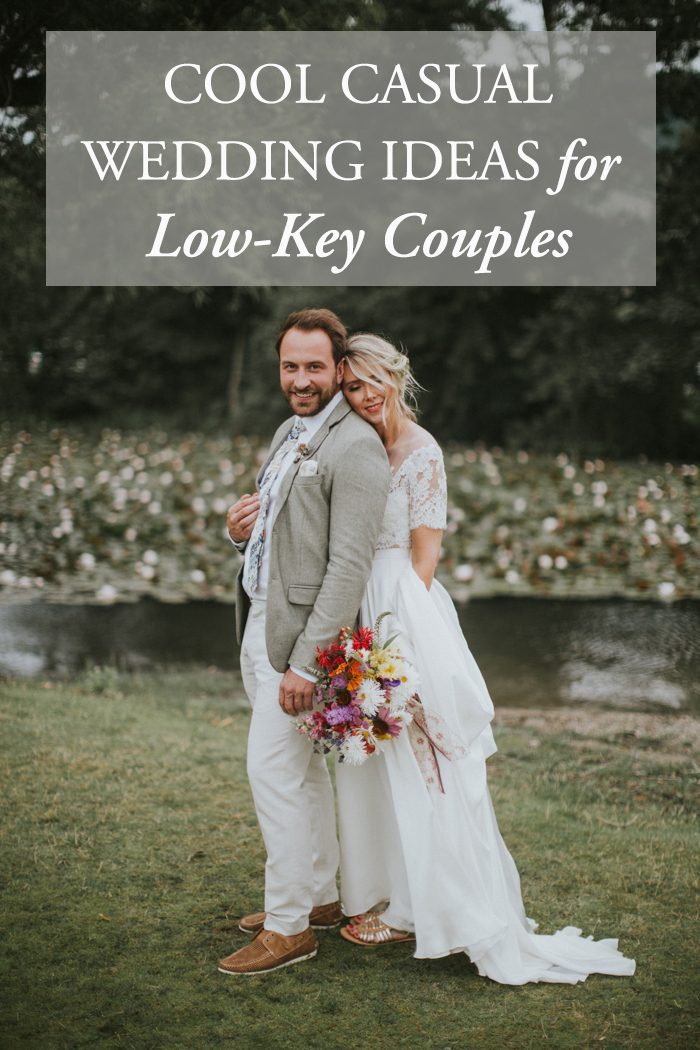 photo by Sharon Litchfield Photography
For a casual wedding, it's all about finding that perfect balance between understated elegance and fun. You want the overall feel to be laid-back and effortless, but you also want the day to be memorable for you and your guests. If our Junebug couples have proven anything, it's that you don't need to go over-the-top to create a truly spectacular, true-to-you wedding day. So, we've gathered some of our favorite casual wedding ideas inspired by our most laid-back couples to help you create that carefree vibe with a cool, unique flair.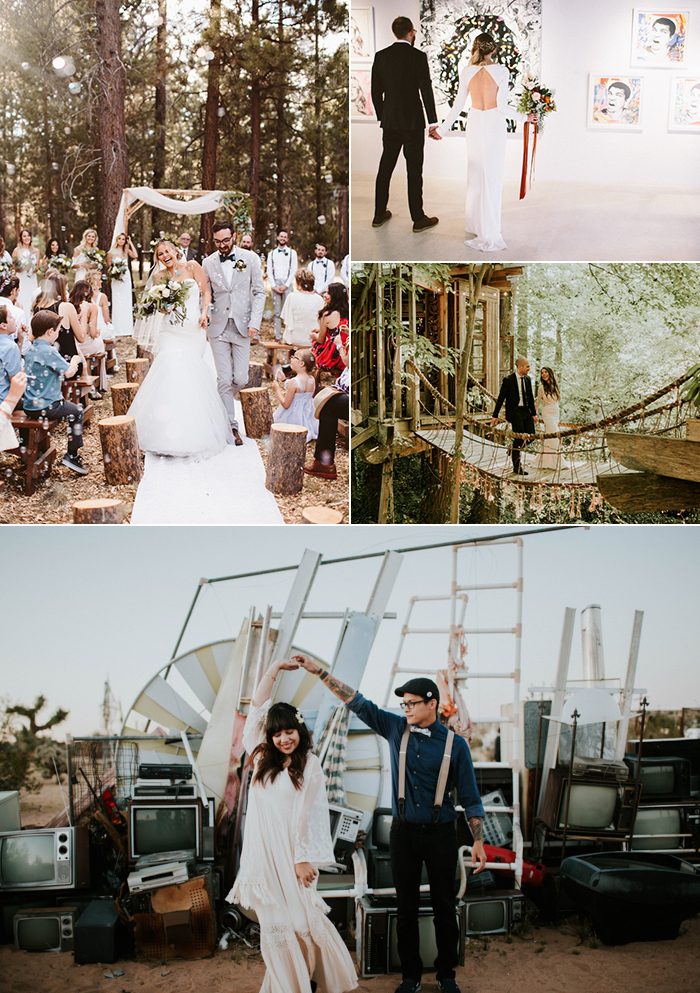 photos by Allison Harp, Vic Bonvicini Photography, Alyssa McElheny Photography and Valerie Denise Photos
Comfortable, Unconventional Location
When choosing a venue, comfort is key to pulling off a relaxed vibe. Start by thinking about the places you feel most like yourselves. Maybe that's your parents' backyard, which you can transform into an ideal party spot, or a unique location that isn't considered a "traditional" wedding venue but that can suit a casual vibe. Your favorite restaurant, a secluded beach, a national park, a charming campground or a local museum are all great options. We've even seen couples get married in tree houses, which is probably the most laid-back location we can think of! For a casual wedding, you have so many more options! As a bonus, by choosing a unique location, you cut down on the amount of extra decor you need to create a memorable experience for you and your guests.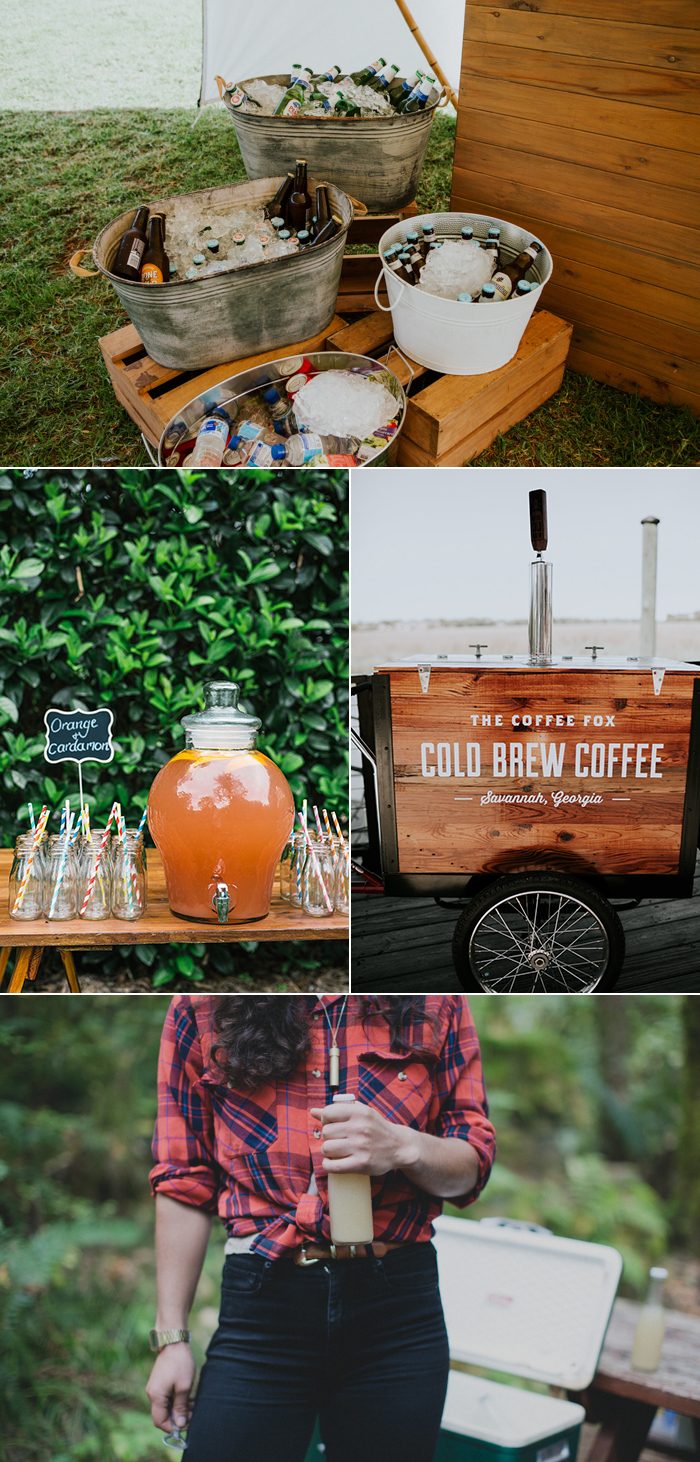 photos by Amy Higg Photo, Hannah Blackmore Photography, and Nicole Veldman Photography + Video
Pre-Ceremony Refreshments
There's no rule saying your guests have to wait until after you say "I do" to enjoy a cocktail. Set the stage for a fun, laid-back time by offering your guests a simple cocktail, a refreshing non-alcoholic beverage, or a glass of champagne as soon as they arrive at the venue. You could add a water and tea station right next to the ceremony spot, or simply set out a cooler of drinks for guests to grab on the way to their seat. Don't forget to add a cute sign, koozies, and bottle openers so your guests can get situated before the ceremony begins.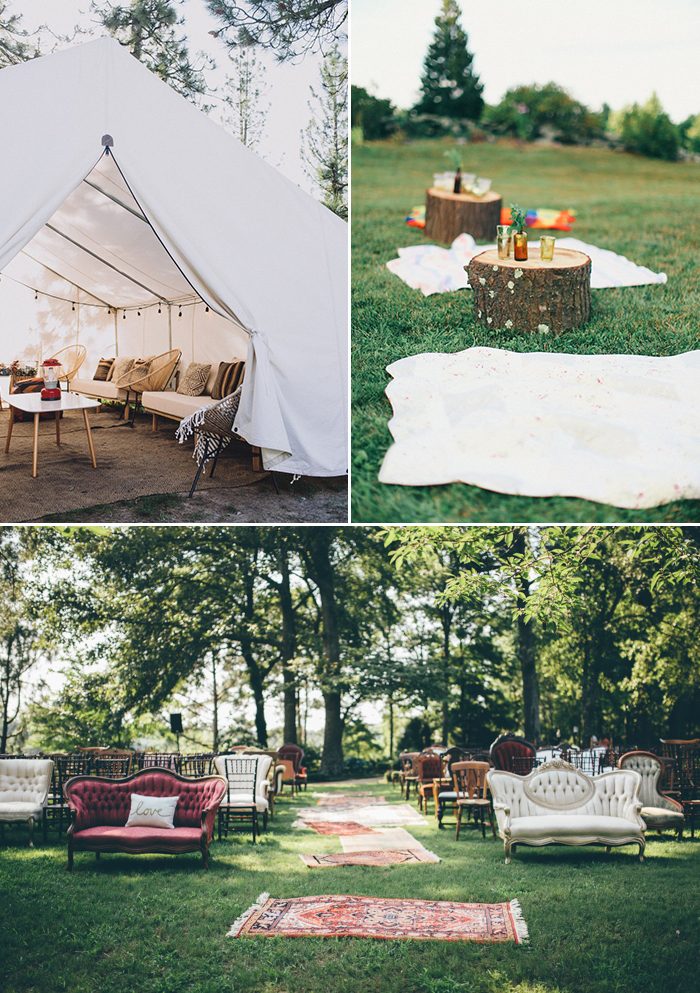 photos by Mandee Johnson Photography, Meg Haley, and Amber Phinisee
Mix-and-Match Seating
A lot of people think that alternative seating options should be reserved for the reception, but we think you can mix it up for a casual ceremony, as well! If you're getting married at home, gather all the chairs and couches you already own into one room for the coziest feel. If you're getting married in a park, backyard, or other natural landscape, lay some blankets in the grass for a Sunday picnic vibe. Poufs and oversized pillows that guests can lounge on are also great additions if they will be sitting on the ground. Not only is the mix of chairs, textures, and colors fun and unexpected, but it's visually stunning in person and in photos! If you're inviting older guests, keep in mind that you might need to include more supportive or higher chair options for them.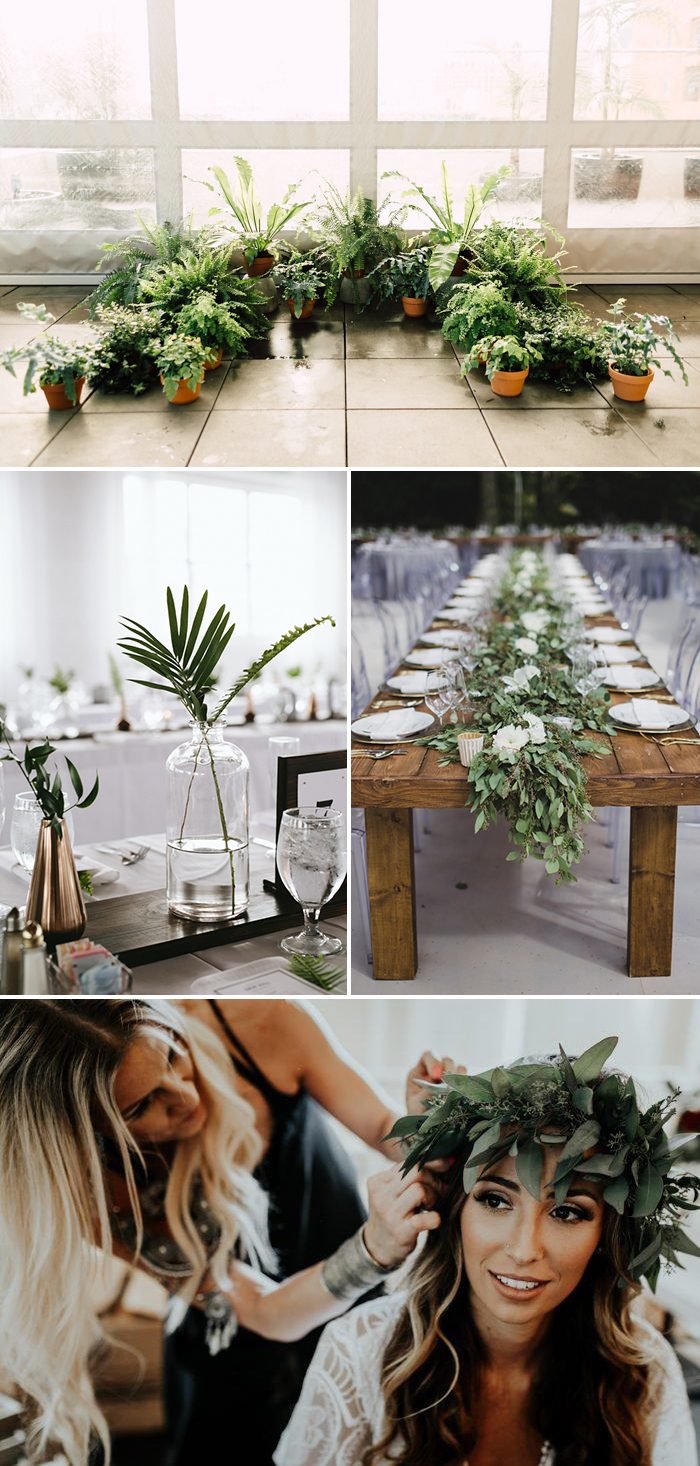 photos by Plum & Oak Photo, Marisa Albrecht, Sugar + Soul Photography, and Melissa Prosser Photography
Greenery Galore
Skip the over-the-top floral arrangements and create a fresh, natural feel with lots of greenery and subtle blooms instead. Greenery is not only beautiful — and a favorite wedding trend for modern couples — but it's a cost-effective way to add some life and and a little color to your space. You could even skip the flowers altogether and use a few different textures of greenery for your bouquets, centerpieces, and ceremony backdrop. There's something strikingly beautiful about a ceremony backdrop draped with garlands or a hand-tied bouquet with different textures and shades of green. Eucalyptus, olive branches, rosemary garlands, and tropical leaves are some perennial favorites, and your local florist or flower shops should be able to recommend others if you're looking for more unique — or specifically local — options.

photos by Anna Schroeder Visuals, Katie Hoss Photography, Jaicee Morgan, Moment Studio, and Shannon Rosan
Impactful, Creative Signage
Signage is an easy way to make a big impact in your wedding decor without too much fuss. You can use it to welcome guests to the venue, instruct them on what you want them to do, or simply display your favorite quote. Whether you light it up in neon, paint it on a plank of wood, or print it on a canvas banner, get creative with your 1-2 key signs and let the rest (if any) be understated and simple. Also, consider what you could reuse in your home decor so those statement pieces have a purpose beyond your wedding.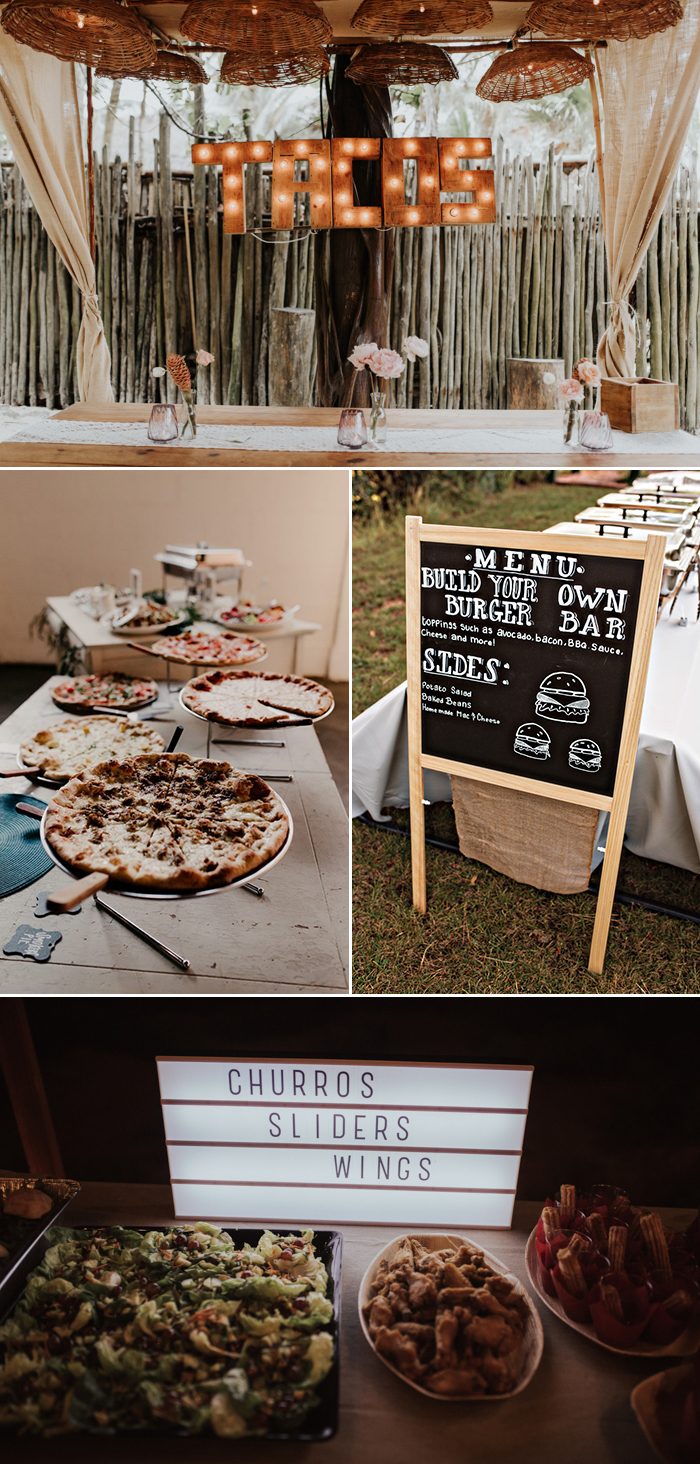 photos by Melissa Marshall, Photography Anthology, Amilia Photography, and Tews Visual
Comfort Foods
We have two words for you: pizza party! An informal dinner is a must for a casual wedding, and we can't think of anything better than a buffet of fresh-made pizzas and local beers. Except a build-your-own burger buffet. Or a taco station and margaritas. Food trucks are also becoming a staple for couples who want a super convenient dinner option, especially at unconventional locations where there is no in-house caterer. You absolutely do not need to spend a ton of money on gourmet food to make your guests happy. We're pretty confident in saying that most people would take a slice of pizza or a loaded taco any day, especially if they need energy to dance the night away!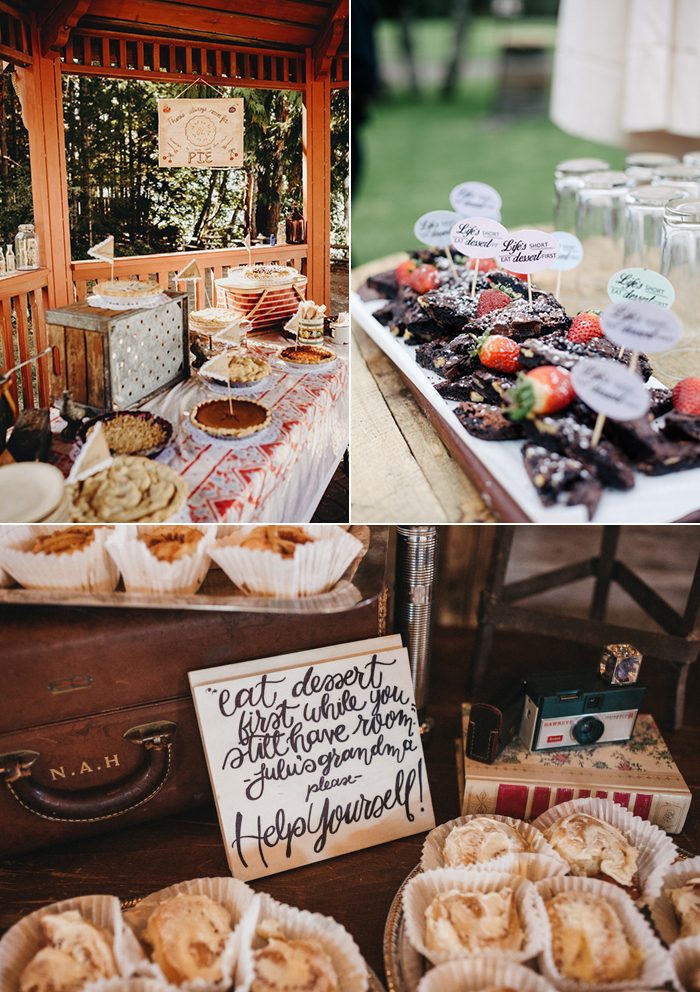 photos by Noelle Johnson Photography, Vanilla Photography, and Jason Lucas Photography
Family Recipe Desserts
For dessert, you can't go wrong with donuts, mini pies, or cookies. But, if you want to add a taste of home to your wedding, dig up those old family recipes and get baking! Even better, ask your family members to bake their favorite recipes to contribute to your dessert bar. There's nothing quite like a warm slice of grandma's apple pie to end your special night on the sweetest note.
Now that you know how to add a cool casual feel to your wedding, it's time to pick your first dance song! Check out our list of 80 first dance songs you haven't thought of yet!