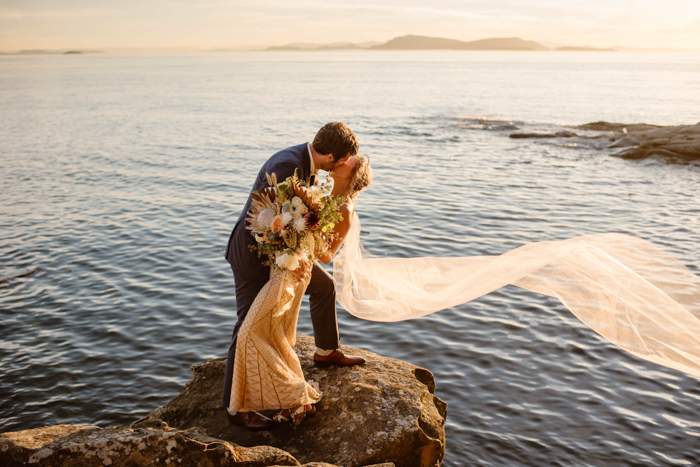 Courtney and Ahren's lakeside micro wedding gives getting married in nature a whole new meaning. With a shared love for travel, the great outdoors, and each other, they couldn't think of a better way to tie the knot than a two-day camping adventure with their closest loved ones on Sucia Island off the coast of Washington. On their big day, the pair set sail to their island destination and even took turns rowing their small boat—talk about an actual labor of love!
Rather than starting the day with the ceremony, they chose to begin the celebration with a cozy cabin reception. Their tablescape featured an eclectic mix of boho decor and celestial-inspired accents for a beautifully laid-back vibe. The group enjoyed a delicious pescatarian feast before heading out for a short hike to the lakeside ceremony location.
Overlooking the water and the mountains, Courtney and Ahren shared an emotional and private first look. It was followed by a magical sunset ceremony, where the pair exchanged handwritten vows. Their small group then headed back to the campsite and spent the rest of the evening sharing memories around the campfire. An epic location makes for spectacular portraits, and this micro wedding is no exception. Get ready to be blown away by these stunning images captured by Junebug member Adventure and Vow.
The Couple:
Courtney and Ahren
The Wedding:
Sucia Island Marine State Park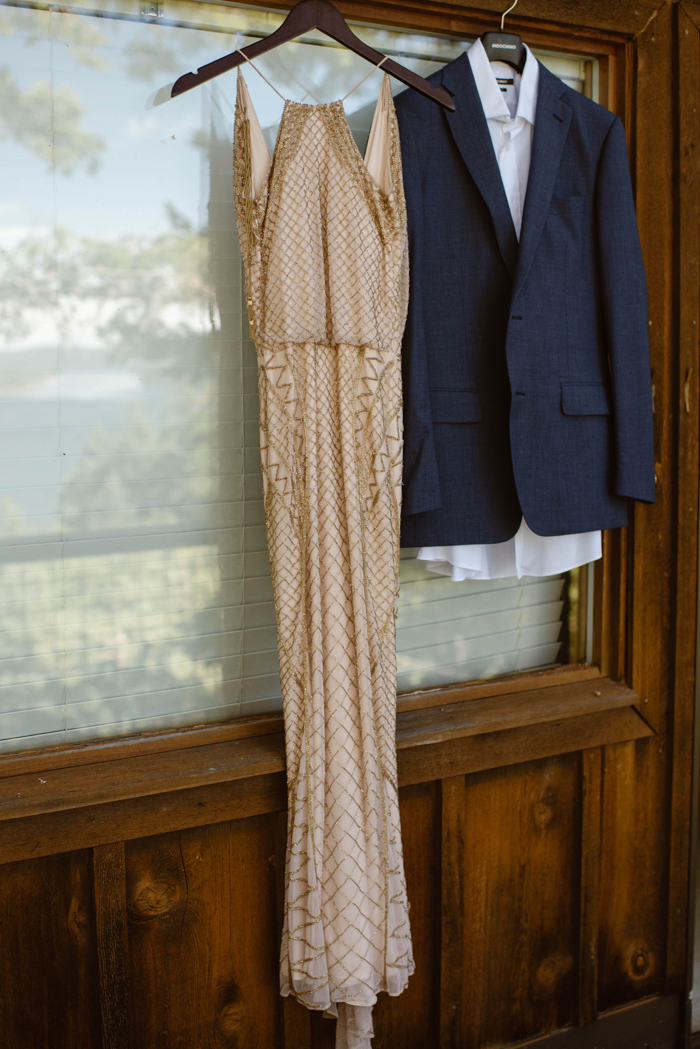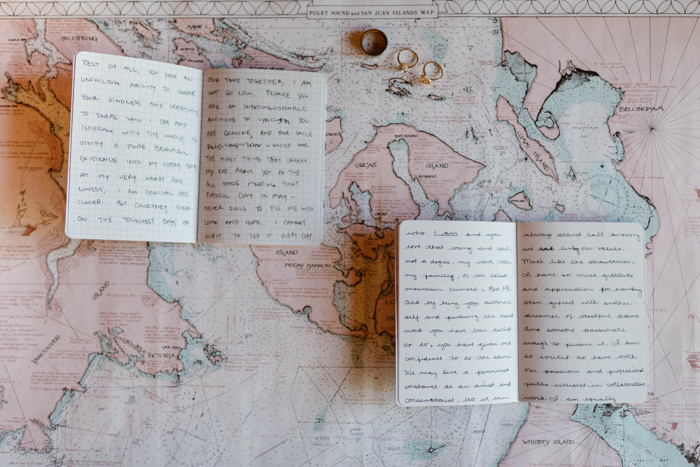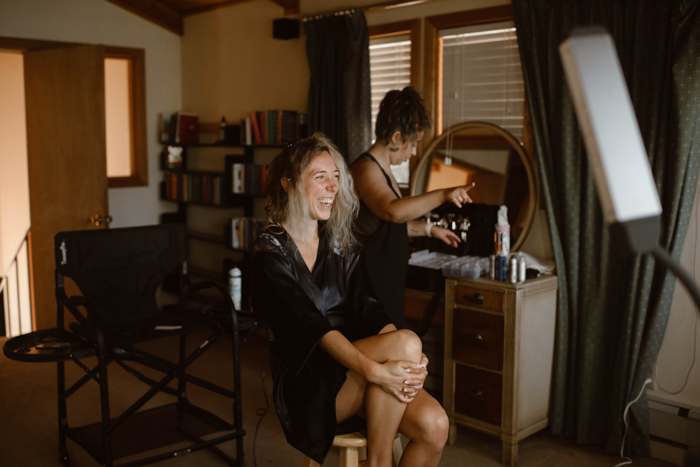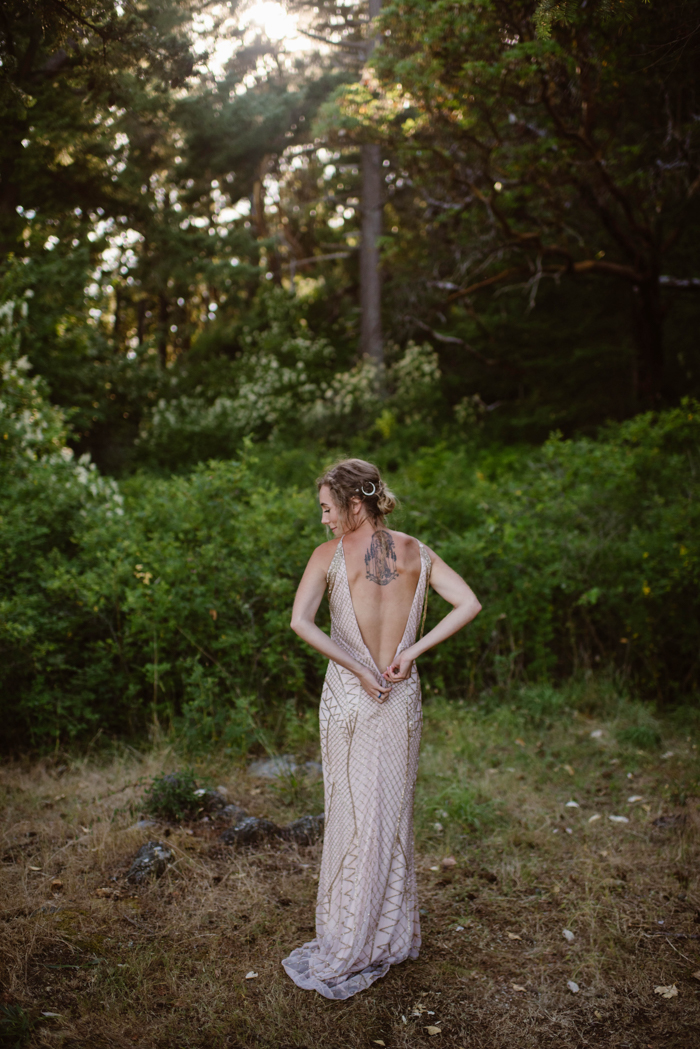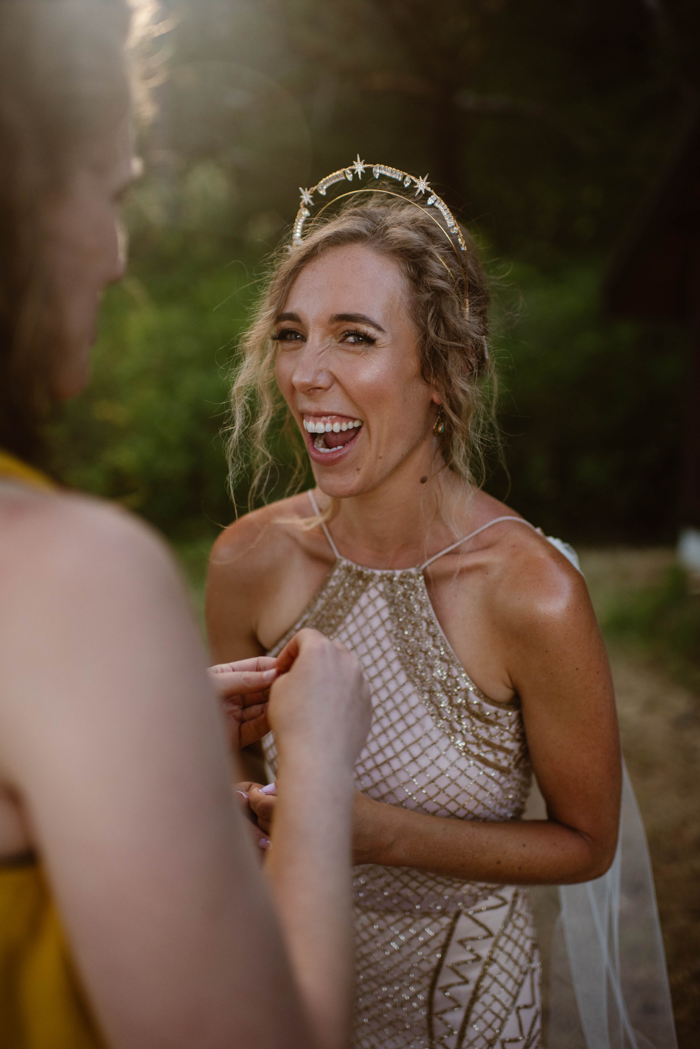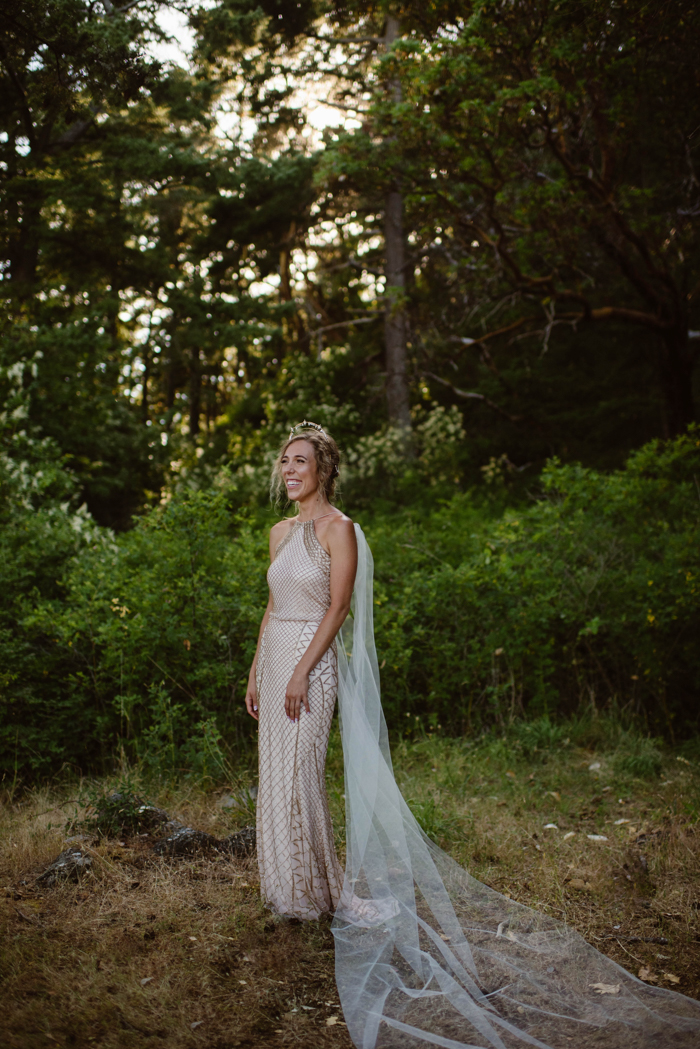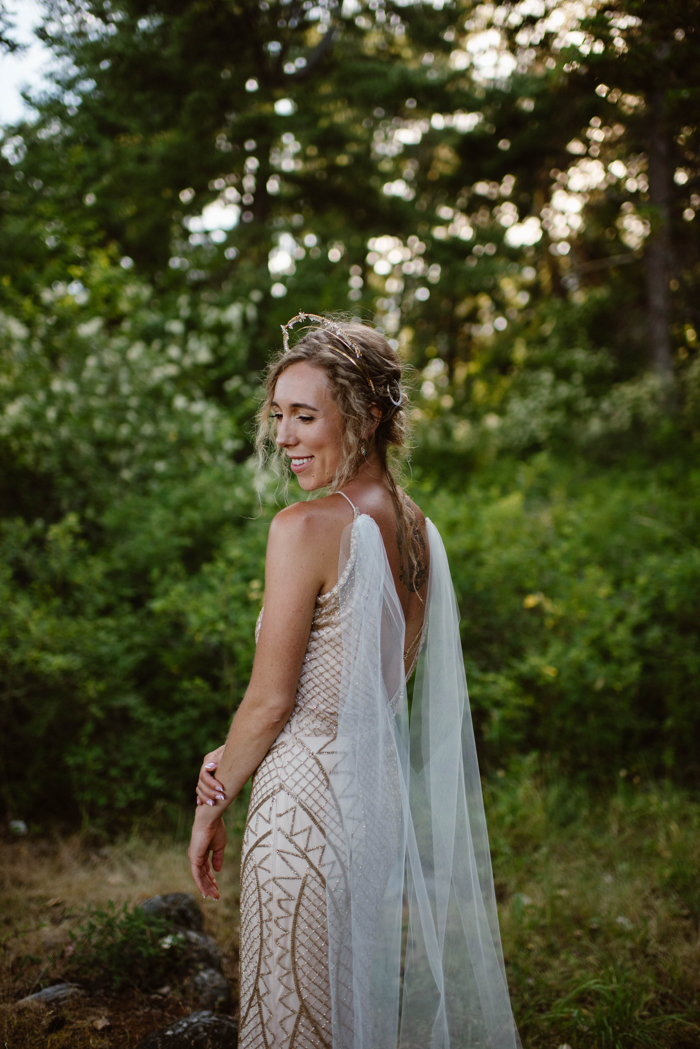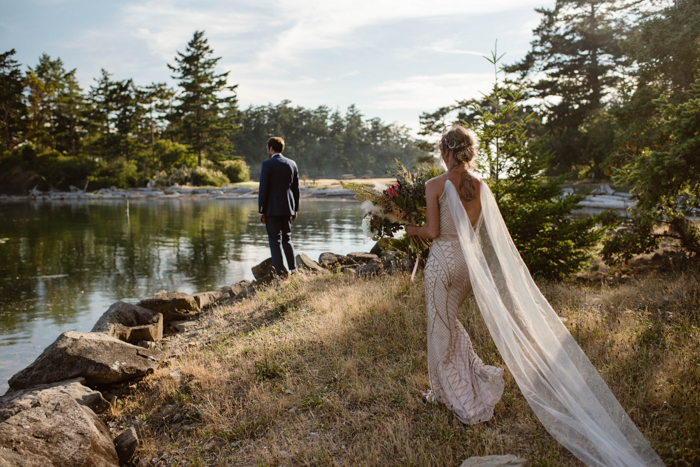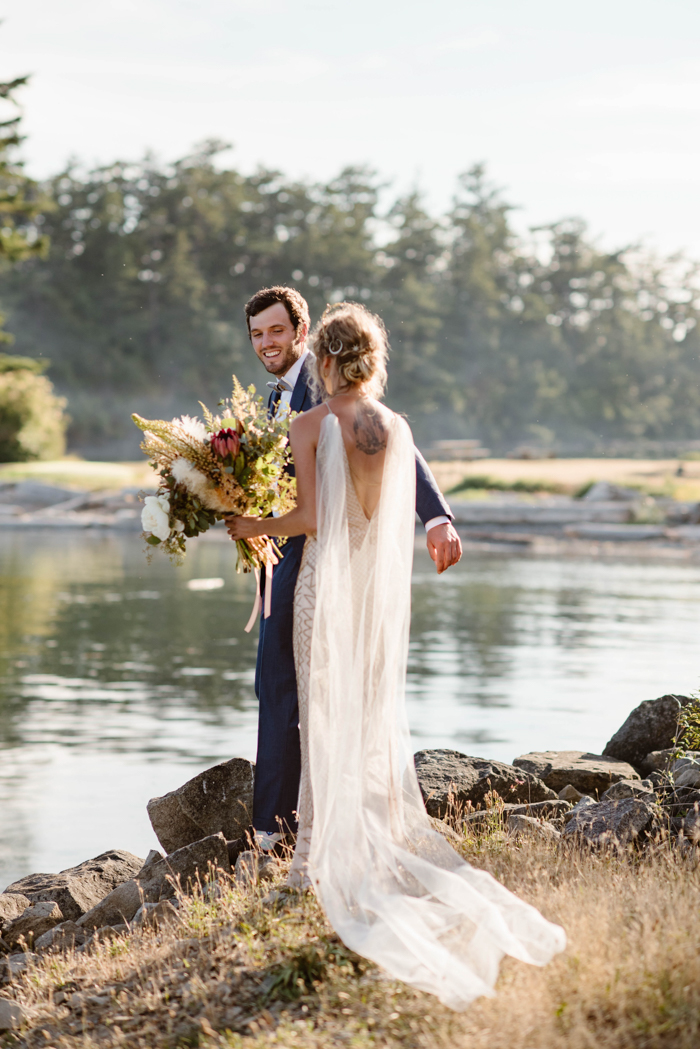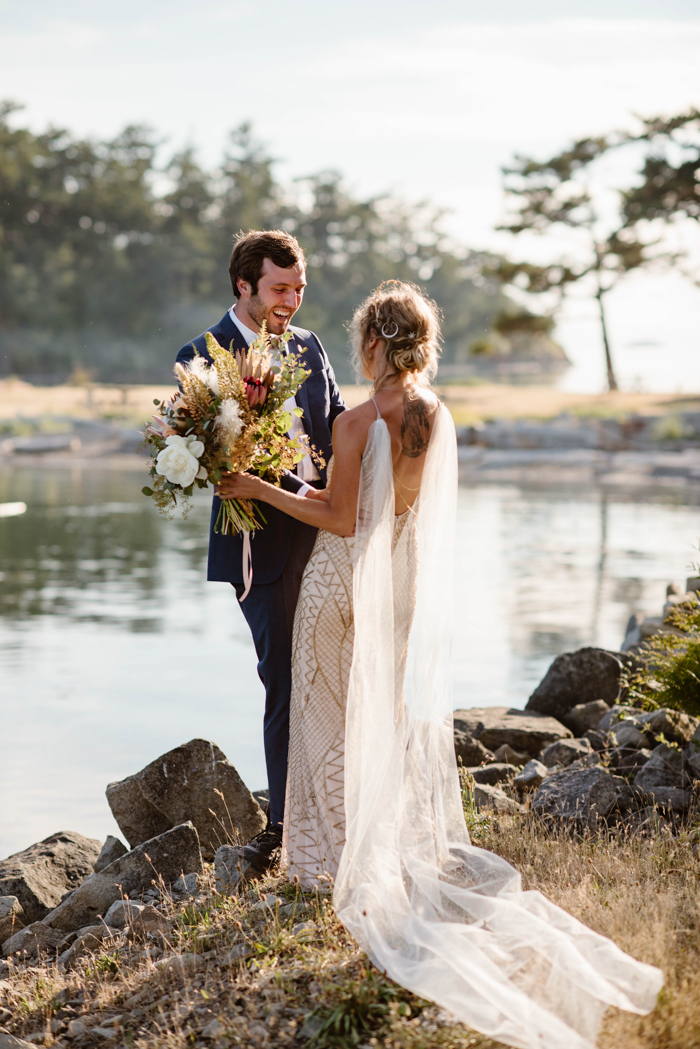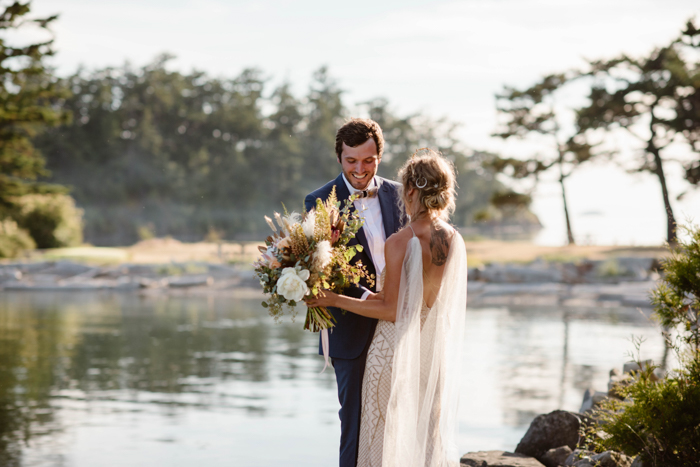 Every Aspect Of Their Lakeside Wedding Was Intentional And Well-Thought-Out
It was most important that every aspect of our wedding reflected our values, our relationship, and to be surrounded in comfort and love as we embarked on our new adventure. Every decision felt true to us and to the partnership we were inaugurating. Something we're so grateful for is–because of the intimate scale and the intention behind each moment–we can remember almost every detail. We hope our experience encourages others to see past tradition and expectations to create a truly authentic ritual focused on love and partnership.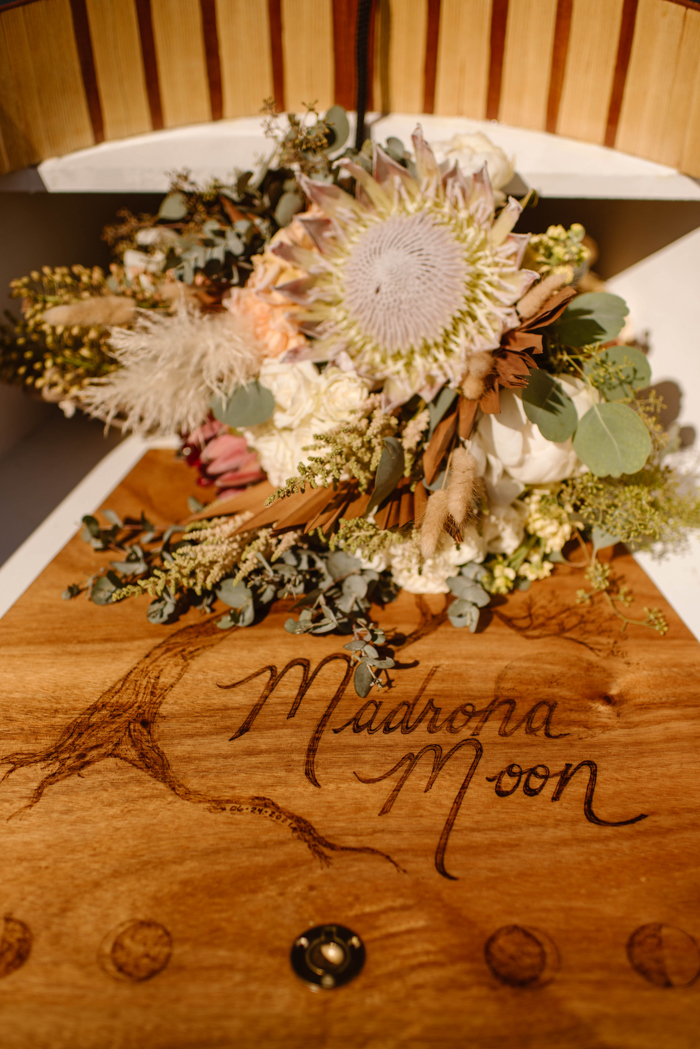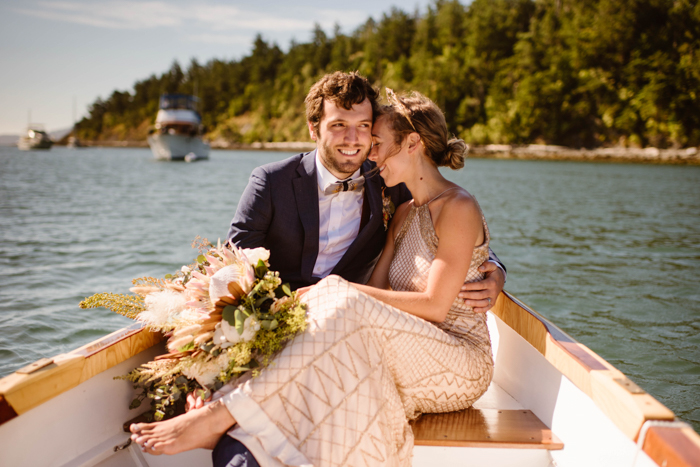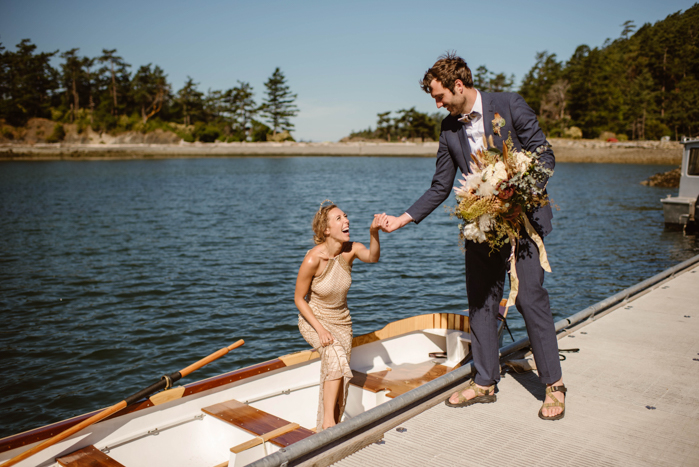 A Boat DIY Project and Thrifted Wedding Decor
The biggest DIY project was our boat, the Madrona Moon, which we built with the great help of the folks at Northwest Maritime Center in Port Townsend. We also hand-thrifted all of the depression glass, wooden plates, centerpieces, and ornate linens from local antique shops to further our celestial, art deco-inspired vibe.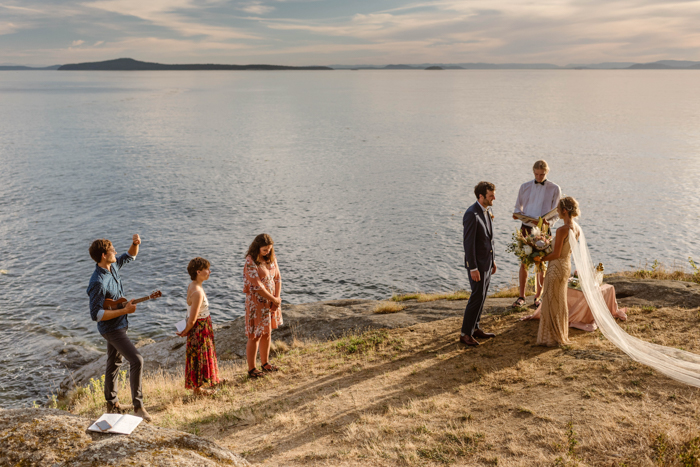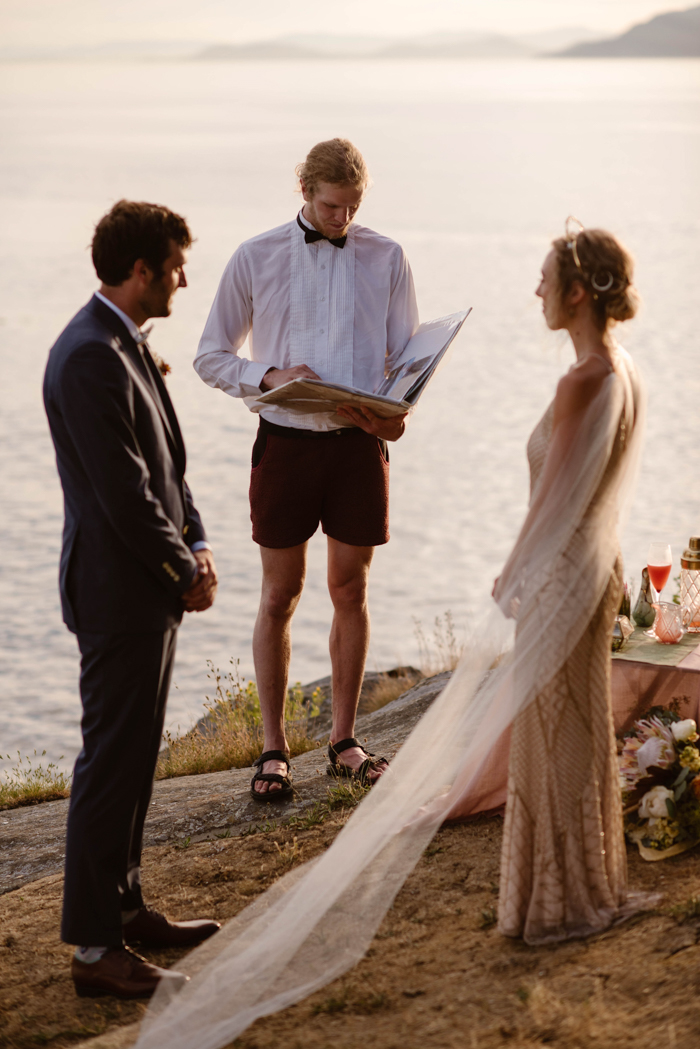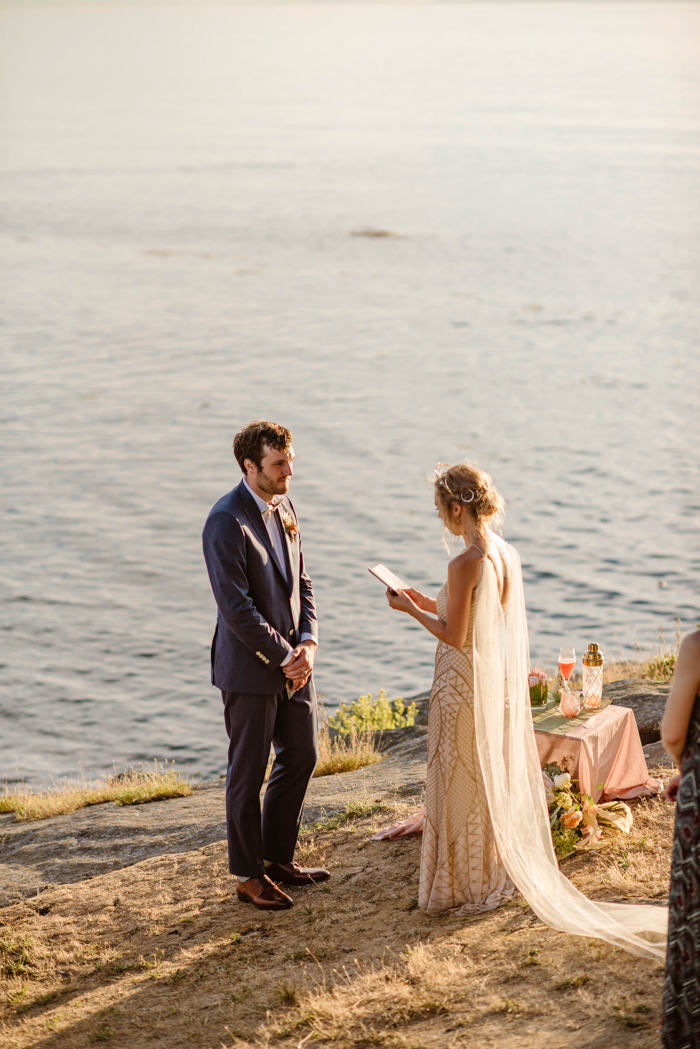 Wedding Planning Advice From The Newlyweds
Our advice is to keep things small, simple, and focused on the "why." Keep the ceremony true to your relationship, but don't try to plan every single detail. Instead, cultivate an atmosphere that ensures you'll be comfortable and able to be yourself and bring the people around you to that common purpose. And then don't be afraid to ask for help and hand out assignments. Your loved ones will be more than willing.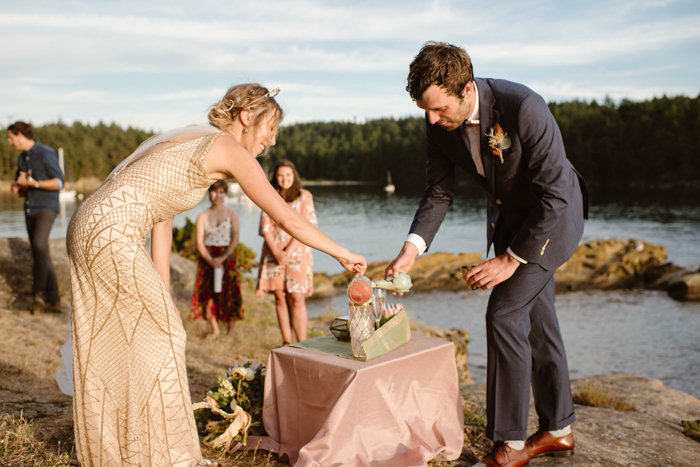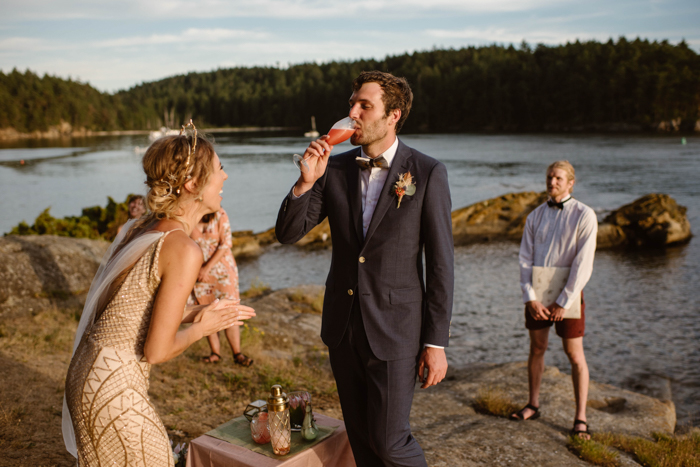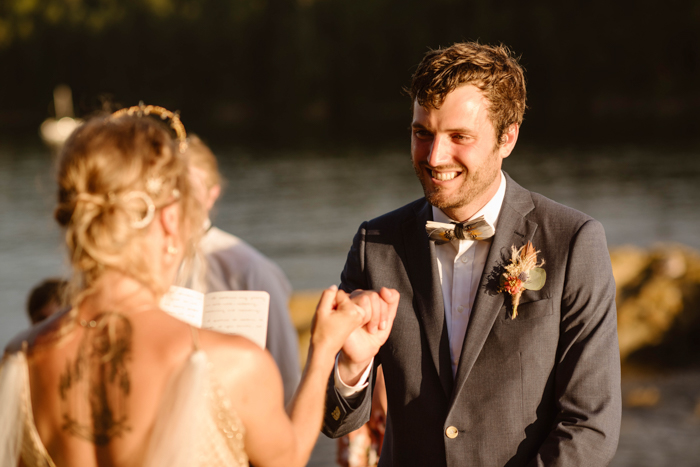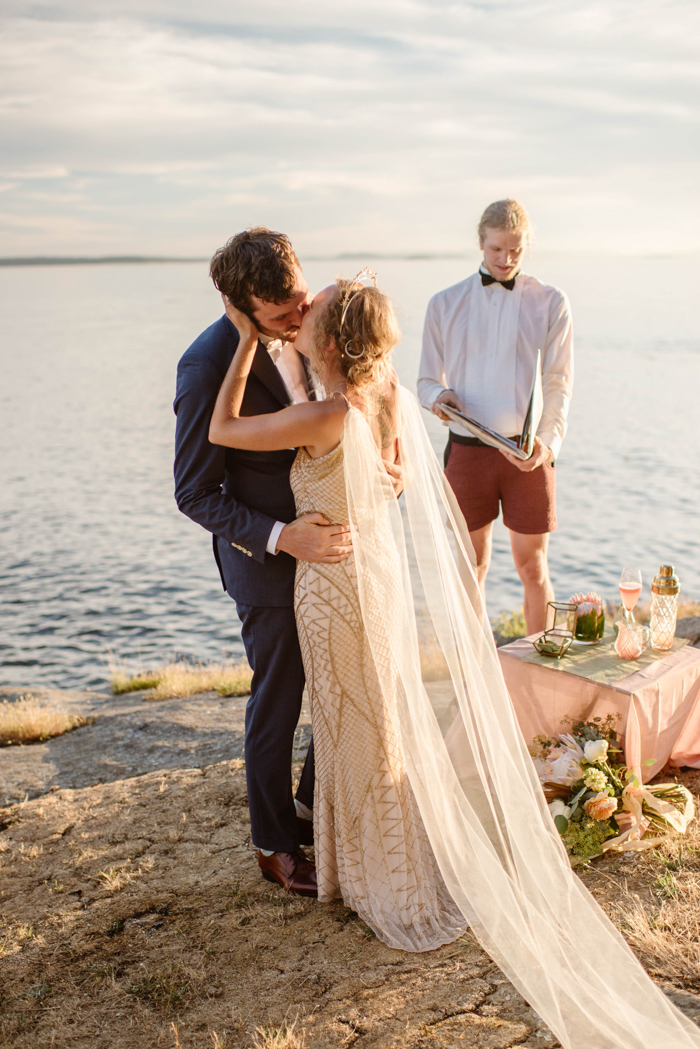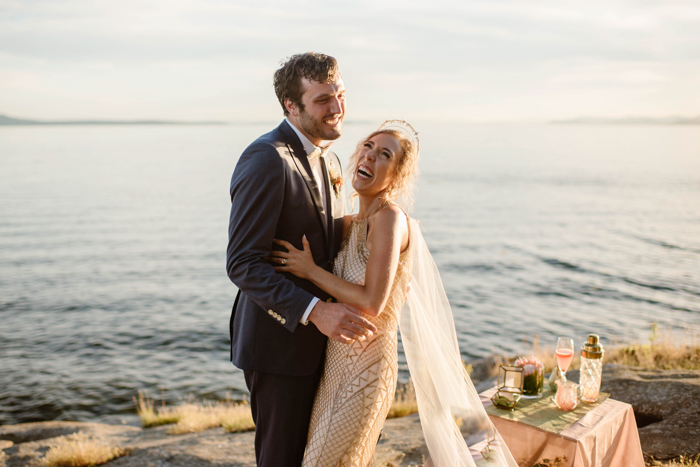 All Of The Wedding Food Was Prepared By Their Small Group
We picked up a few dozen fresh oysters from Buck Bay Shellfish Farm on Orcas Island the day before the ceremony, which we shucked and served together once we made it to our campsite. Paired with a salad, olives, dolmas, and other crudités prepared by the rest of our wedding party, we had a light, local, and delicious pescatarian feast before our sunset ceremony. We ended the night with a delicious olive oil cake beautifully prepared and decorated with a moon made of flowers by our dear friend Rey.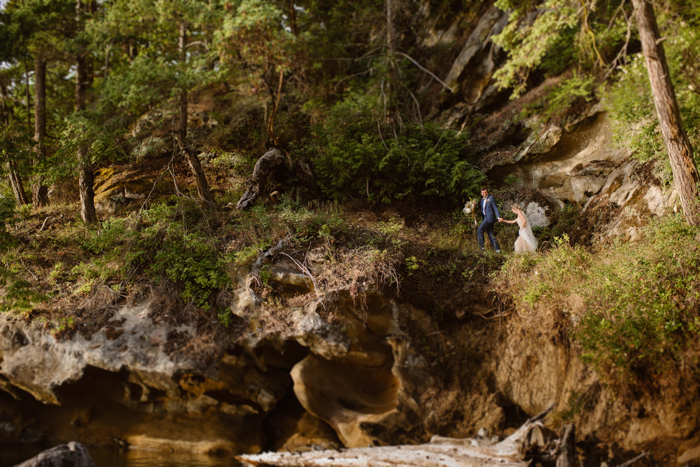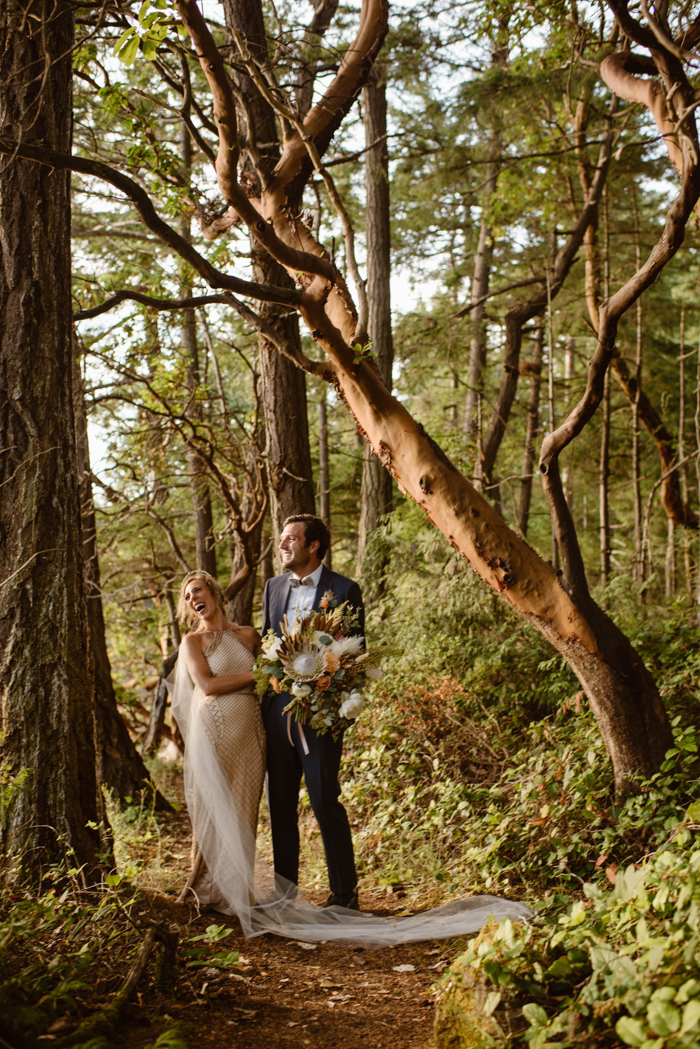 Why They Decided To Have A Lakeside Micro Wedding
Sucia Island is a beautiful state park in the San Juan Islands archipelago, only accessible by boat. We visited on our first multi-day sailing trip and fell in love with sailing and the beautiful places the wind and sea can carry you. Sucia Island, with the convergence of nature—from the ocean, Madrona groves, and vistas to snow-capped volcanoes— all in one place, captured our hearts.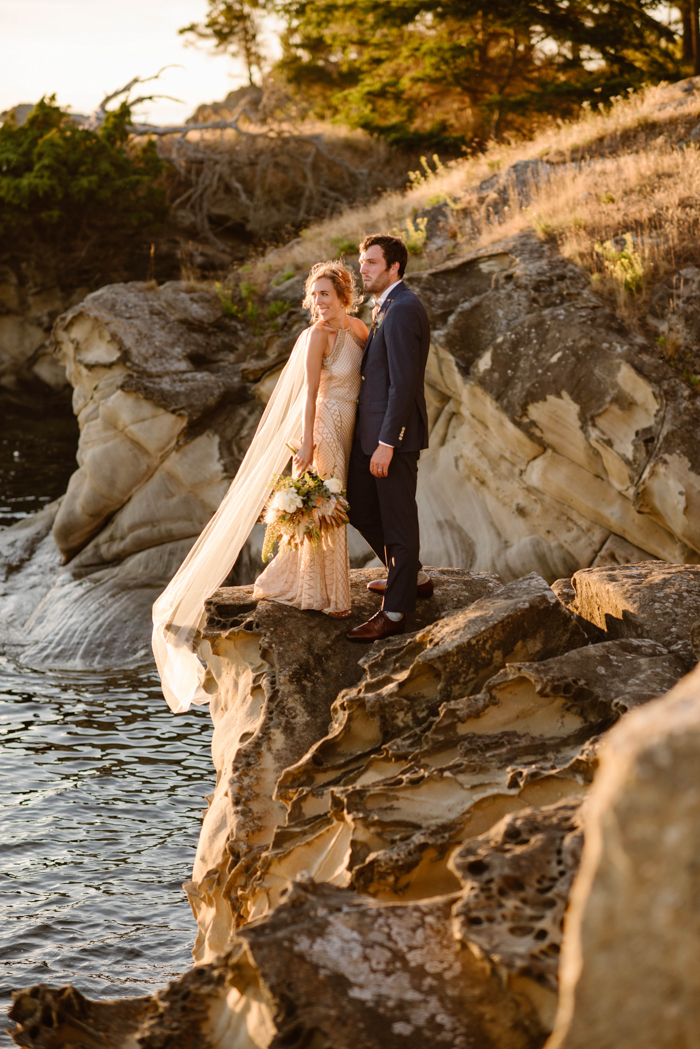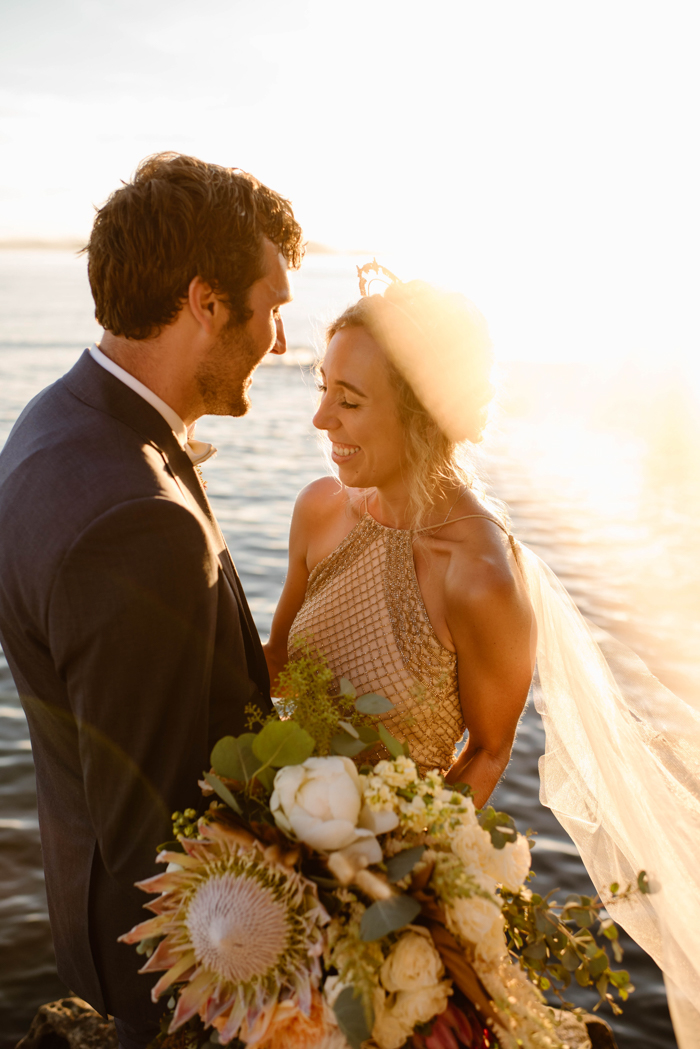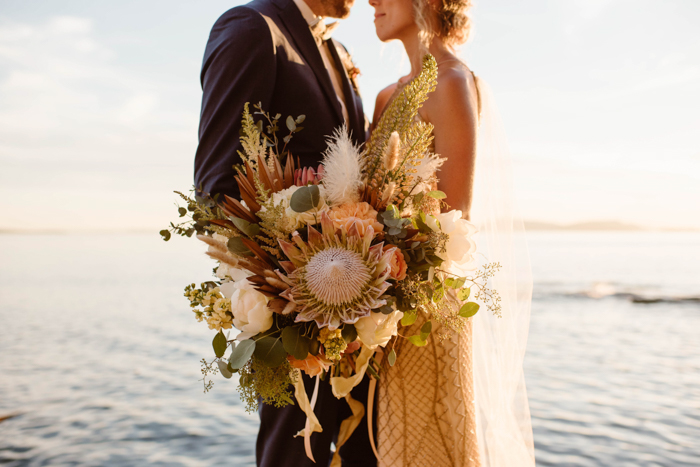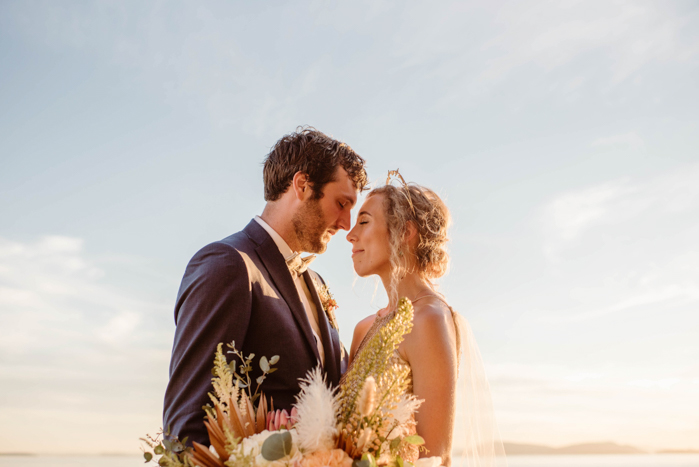 Junebug Member Adventure and Vow Was The Perfect Fit For Them
Traci of Adventure and Vow was absolutely incredible, and hiring her was the best decision we made in planning our wedding. She made us feel comfortable from the moment we met her, and she truly shares our values. Having her document the day felt natural and thrilling to have someone equally as excited for an adventure. She captured the natural beauty of the island and all the tender moments that will last a lifetime. We are so happy to have made a lifelong friend in capturing such a special day.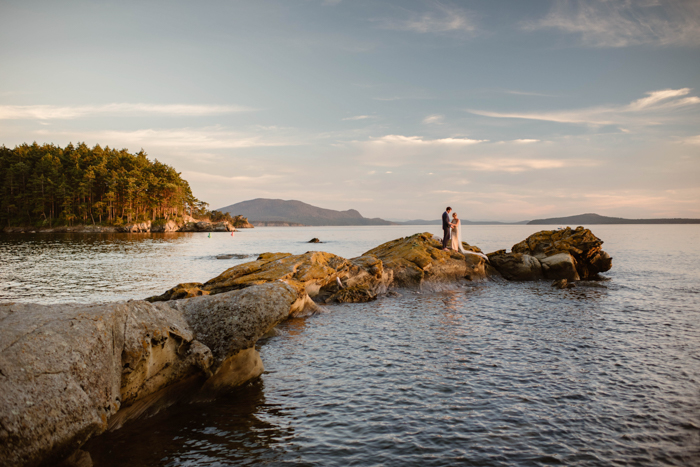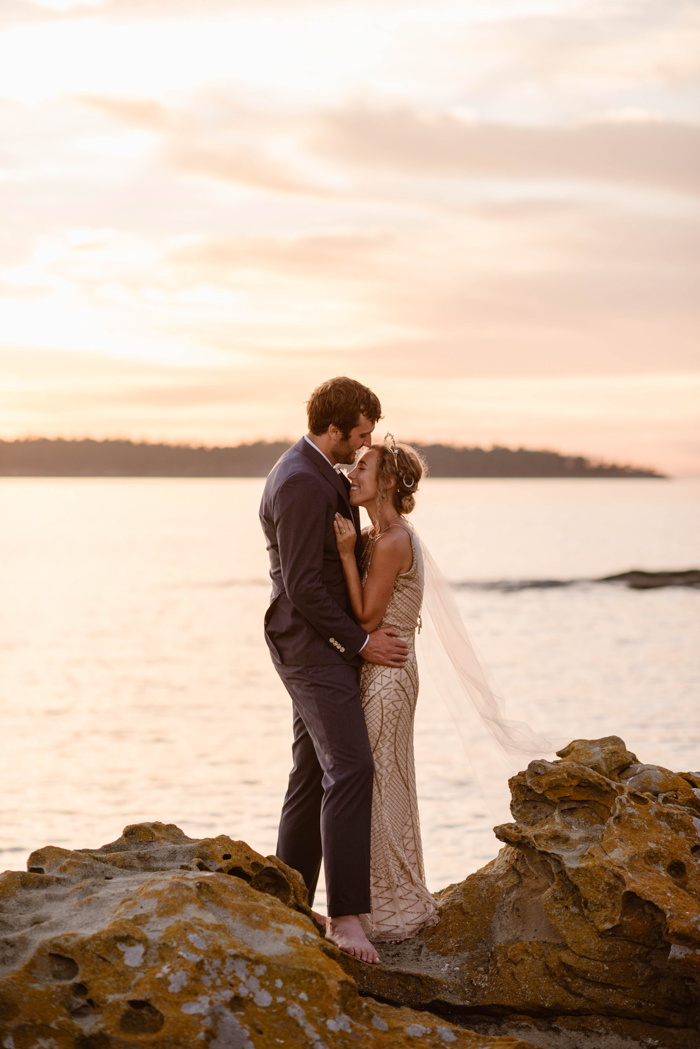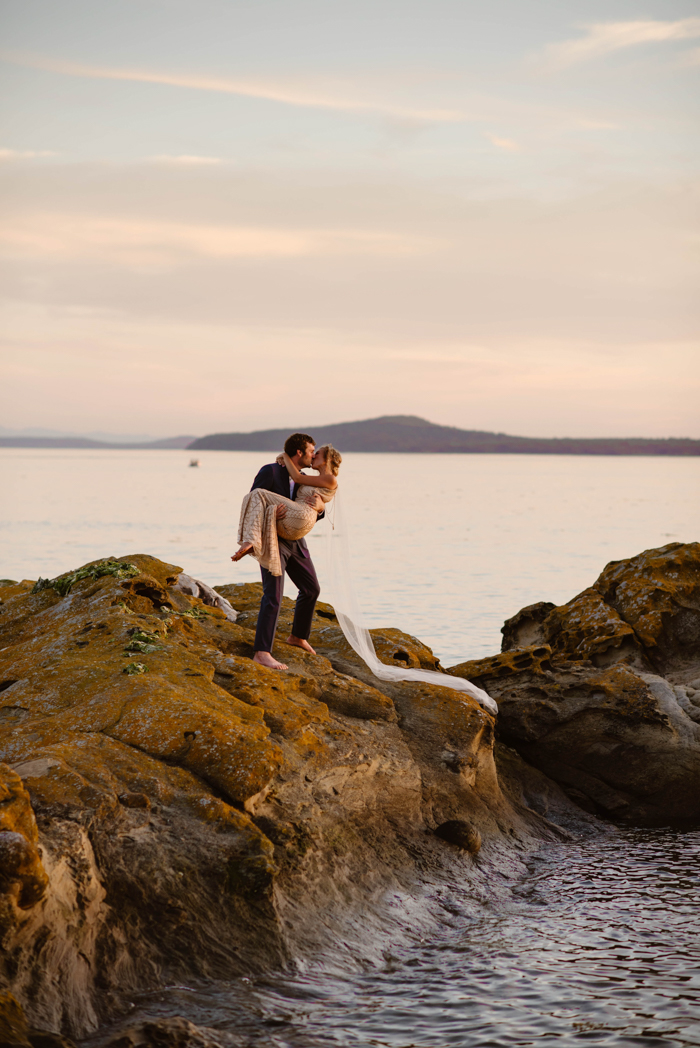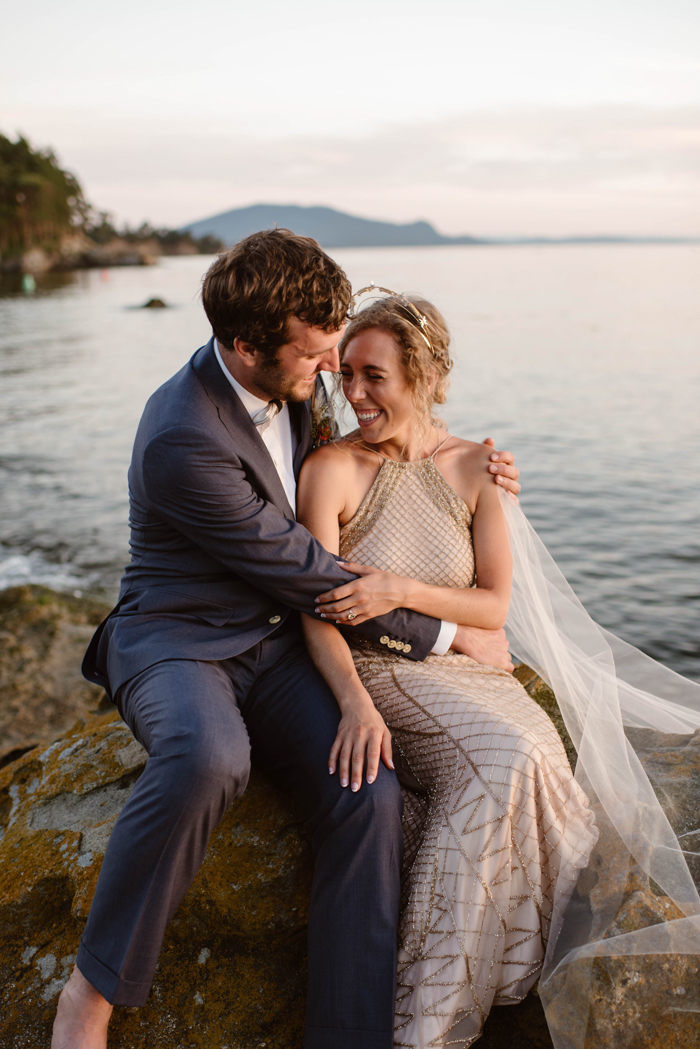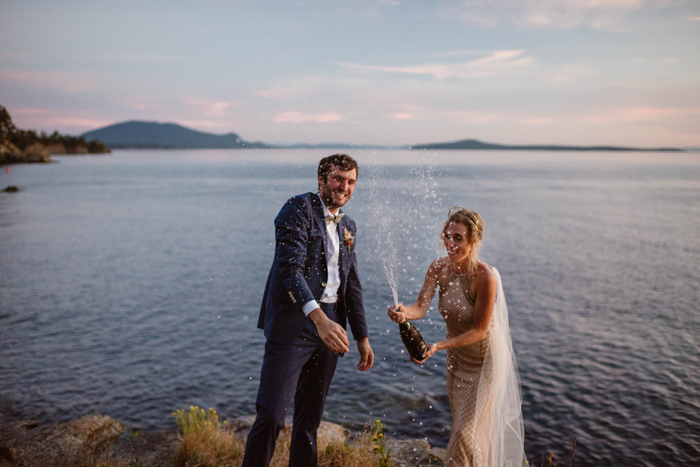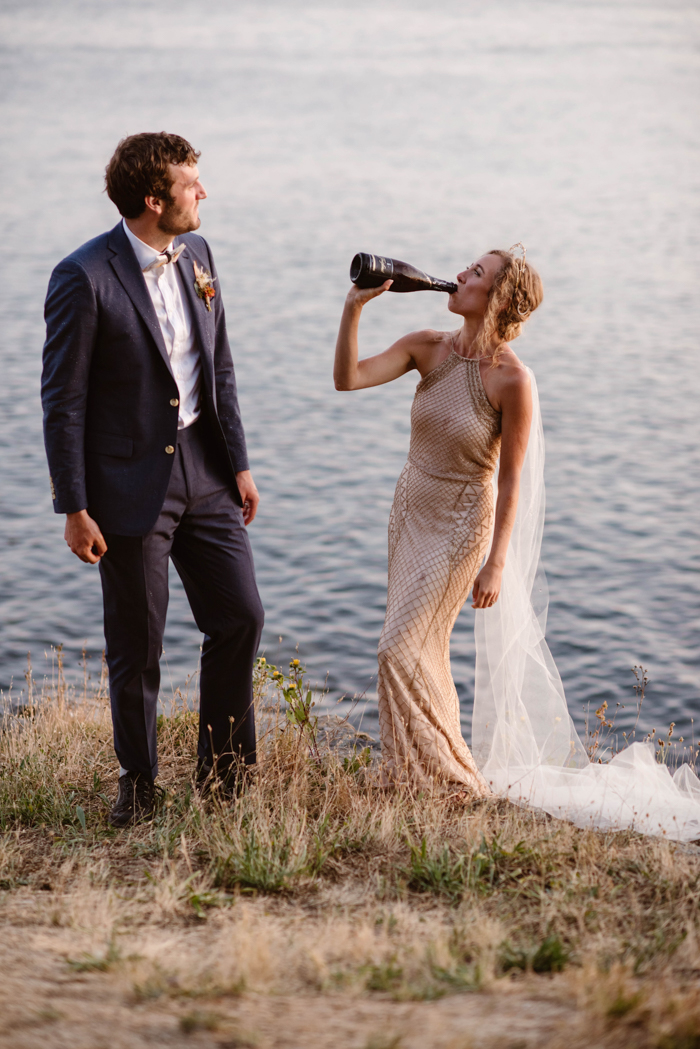 Seeing The Moon Rise Made For A Memorable Moment
One of the most striking parts occurred on our walk back to the campsite after our sunset ceremony. As we emerged from the forest back out onto the path along the shore, we saw the moon rise—giant and deep red—over the water. It left us all speechless.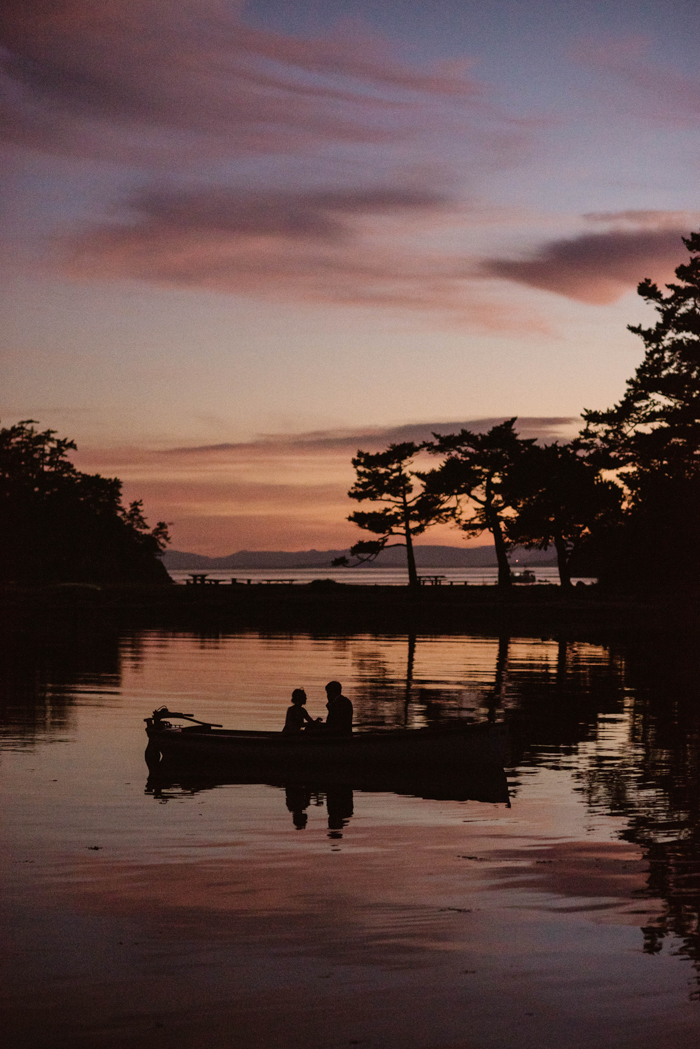 Congratulations to Courtney and Ahren on their adventurous lakeside micro wedding. And big thanks to Junebug member Adventure and Vow for expertly capturing each loving moment and breathtaking detail that made their big day unforgettable and special. To see more of their work, check out their profile in our directory of photographers from around the world.
As the world changes, so do customs–and wedding traditions are no exception. If you and your partner are an unconventional couple like Courtney and Ahren, then a unique celebration like this one might be right for you. Your wedding is an incredibly personal event—this is your day, so make it your own.