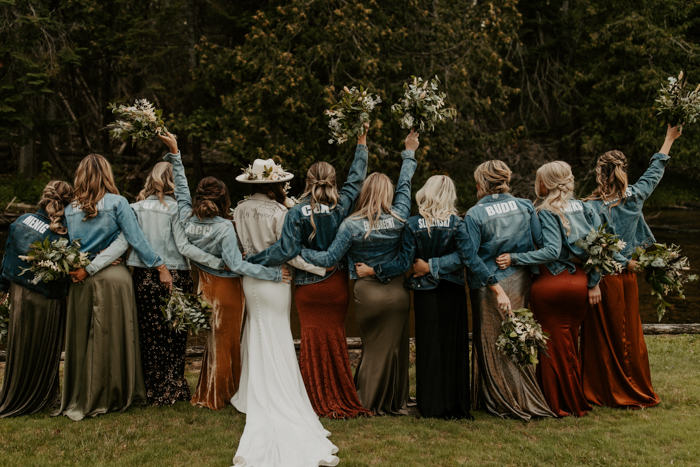 photo by Autumn Nicole Photography
Is your love language gift-giving? Do you want to spoil your friends with lovely gifts? What if we told you that the gifts you choose can actually make your wedding photos better? It's a win-win situation at this point. Toss out the generic gift ideas you've seen on Pinterest, and let us guide you to thoughtful items your 'maids will surely love.
After you "add to cart" on the below items, read these bachelorette party ideas that will help you reconnect with your nearest-and-dearest.
Minimalistic Overnight Bags for the Getting Ready Room
Why we love them: Clutter in the "getting ready room" is distracting. It's hard to get ready around and you'll cringe seeing it all when you get those photos back. We know your 'maids need their things, so make it a little easier on the eyes with a simple bag. Bonus: They'll totally use it again.
MODAEMB Monogram Weekender Duffle Bag ($48.00)
Water Bottles to Stay Hydrated All Day Long
Why we love them: Hydration is incredibly important on your wedding day. Go the sustainable—and photo-friendly—route by gifting your crew with these awesome water bottles. Slip them a Liquid IV packet to help with those next-day feelings, too.
Welly Bamboo Water Bottle via Free People ($33.00)
Super Cute Heart-Shaped Sunglasses
Why we love them: Your bridal party will love posing with these super cute heart-shaped sunnies. Wear them while you get ready, have your photographer stash them away for bridesmaid photos, and—most importantly—rock them on the dance floor.
ModParty Heart Shaped Sunglasses ($8.95)
Denim Jackets to Wear for a Chilly Reception Forecast
Why we love them: If you're planning a wedding in Fall or Winter, the chilly weather should be on your mind. Follow this DIY bride's lead and gift your bridesmaids matching—or thoughtfully mismatched—jackets to wear during the reception. Trust us, they'll look much better than they would if they stole coats from the groomsmen.
Pearl Denim Jacket via Amazon ($32.99)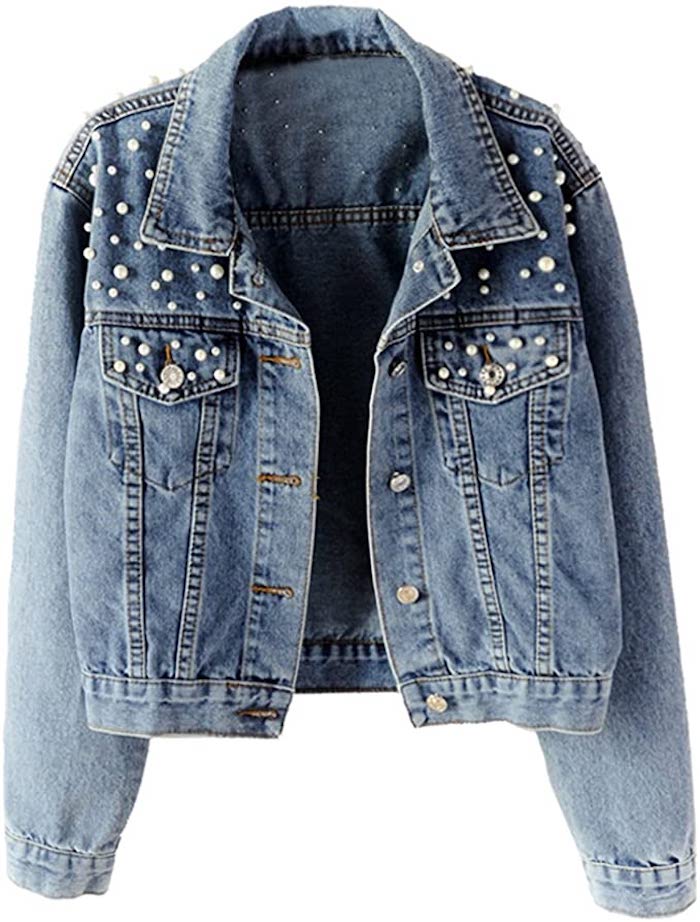 PJ's that are Totally More Comfortable than a Robe
Why we love them: While we do love a cute bridesmaid robe, they really aren't the most practical option. You don't want to forever remember the time they accidentally flashed the camera while sitting, bending, or jumping with excitement because their bestie is getting married. Plus, if you're having bridesmen they'll appreciate the ability to match with similar PJ styles.
Women Tie Dye Button Long Sleeve Pajama Sets Ruffle Sleepwear via Amazon ($36.99)
Marble Personalized Compact Mirror
Why we love them: It's expensive to be a bridesmaid these days—hair, make-up, nails, and all the money spent primping to look lovely for the big day. Help your pals check their looks with totally chic compact mirrors. Beautiful and functional—what's not to love? Bonus: these compact mirrors double as a contact case and this Etsy shop also has matching mugs for everyone to sip their coffee from while getting ready.
MadeNala Personalized Compact Mirrors ($12.95)
Matching Koozies for their Beverage of Choice
Why we love them: Do we have any seltzer fans in the house? These koozies are custom made for Truly and White Claw lovers. Bonus: Get them customized so there are no drink mix-ups through the night.
SoKoolCreations Monogrammed Skinny Can Cooler ($18.00)
Leather Saddle Bags for Their Smaller Items
Why we love them: It makes sense that Portland Leather bags are known for their gorgeous leather, but did you know that each piece has slightly unique qualities? This makes them perfect for your group gift for your bridal party! They'll also be able to use it for years to come.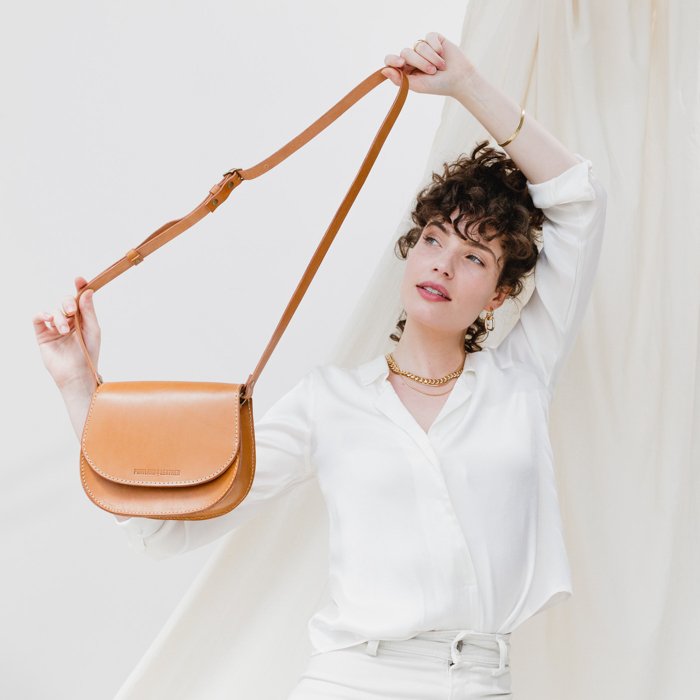 90s Inspired Scrunchies for When the Dance Floor Gets Hot
Why we love them: If epic dance parties are your thing, pull your hair back and get into it! Even if your 'maids choose not to put their hair up, these scrunchies make fun arm candy during the reception. Bonus: If you're having a micro wedding you can place a bulk order and offer different colors to get your guests in on the fun.
Mulberry Silk Scrunchie via SilkSpiritStore ($12.00)
Now that your bridesmaids are photo-ready, make sure you know how light can affect your ceremony photos. Looking for a photographer who can guide you through all of these tips and more? We've got you covered with the world's best wedding photographers.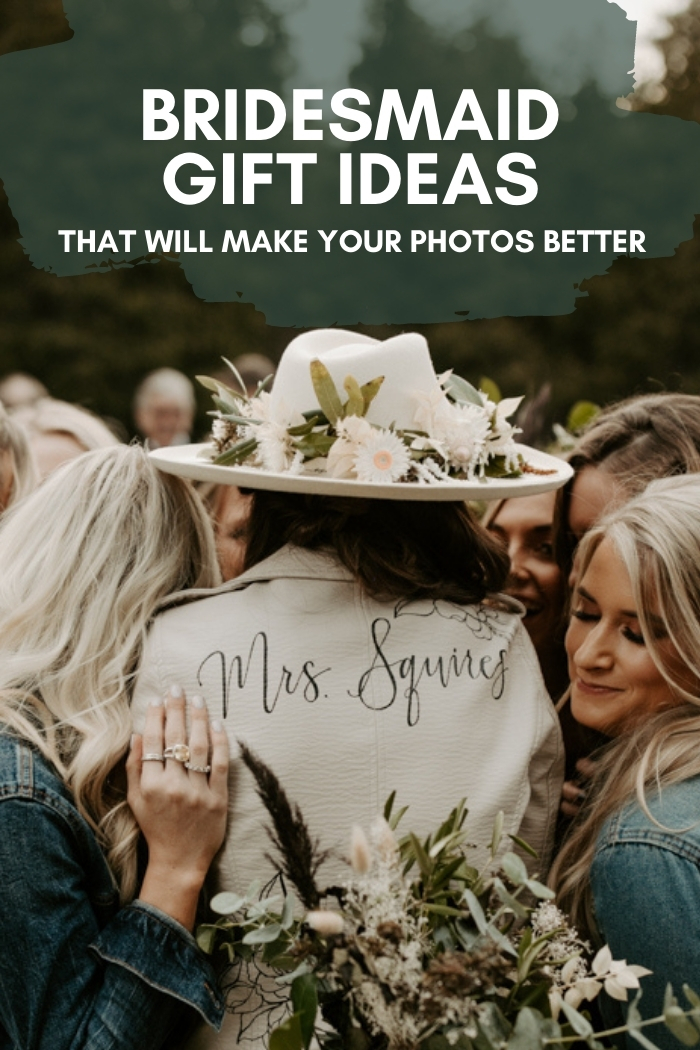 photo by Autumn Nicole Photography