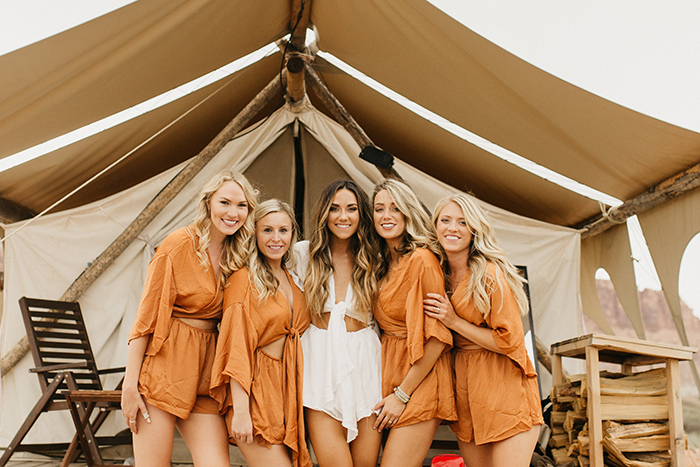 photo by Tews Visual
Gone are the days when throwing a bachelorette party means you have to spend a night at the bars, wearing matching tiaras, and shelling out tons of money on cocktails and shots. (And we can't say we miss them!) The bachelorette party is all about giving the bride quality time with her fierce tribe, and a crowded bar scene just isn't going to cut it for everyone. Each bride is unique, so we think each bachelorette party should be, too! To help you throw a bachelorette weekend your bestie is sure to remember, we've rounded up our favorite group activities for bonding with the babes.
Here are our top 10 unconventional bachelorette party ideas:
Camping (or glamping!) trip
Sweat sesh and brunch
At-home spa and sleepover
Cooking or mixology class
Yoga retreat
Winery tour
Tea party
Karaoke night
Day at an amusement park
Volunteering together
Get inspired and learn how to throw a unique bachelorette party using our tips!
Camping or Glamping Trip
For the bride who prefers to be one with nature, skip the downtown bar scene and head for some wide-open spaces. Whether you pitch tents or rent a cabin, you're guaranteed a lot of quality time and can all hit the reset button before the big day. When researching camp sites, look for other activities nearby, such as hiking, swimming in a lake, or tubing down a river, so you can be prepared. Also, make sure to read up on the local outdoor regulations for everything from glass bottles to alcohol allowances to quiet hours. And, most importantly, don't forget the s'mores!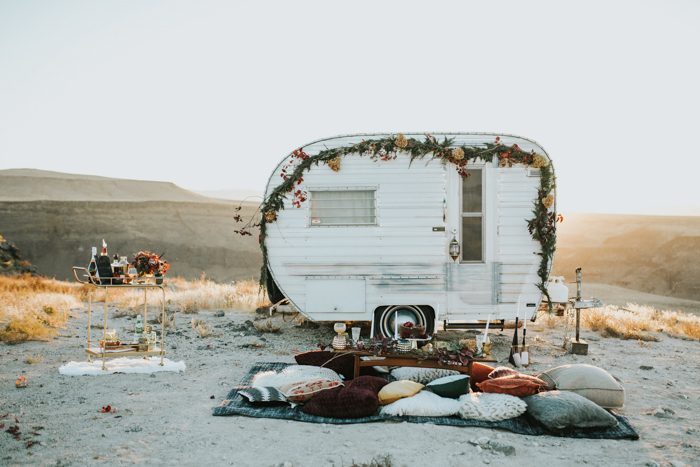 photo by Maggie Grace Photography
RECOMMENDED READING: How to Throw the Best Bachelorette Party: The Essential Guide
Sweat Sesh + Brunch
What's better than spending the morning breaking a sweat, getting those endorphins flowing, then indulging in your favorite brunch foods? If you love a good workout and breakfast foods, then the answer is nothing! Find a local spin studio, book a hot yoga session, try a new dance cardio class, or simply plan to meet at a running trail and go for a long jog. It's a great way to burn off some wedding planning stress while trying something fun and new. Plus, you get to reward all your hard work with the best meal of the day!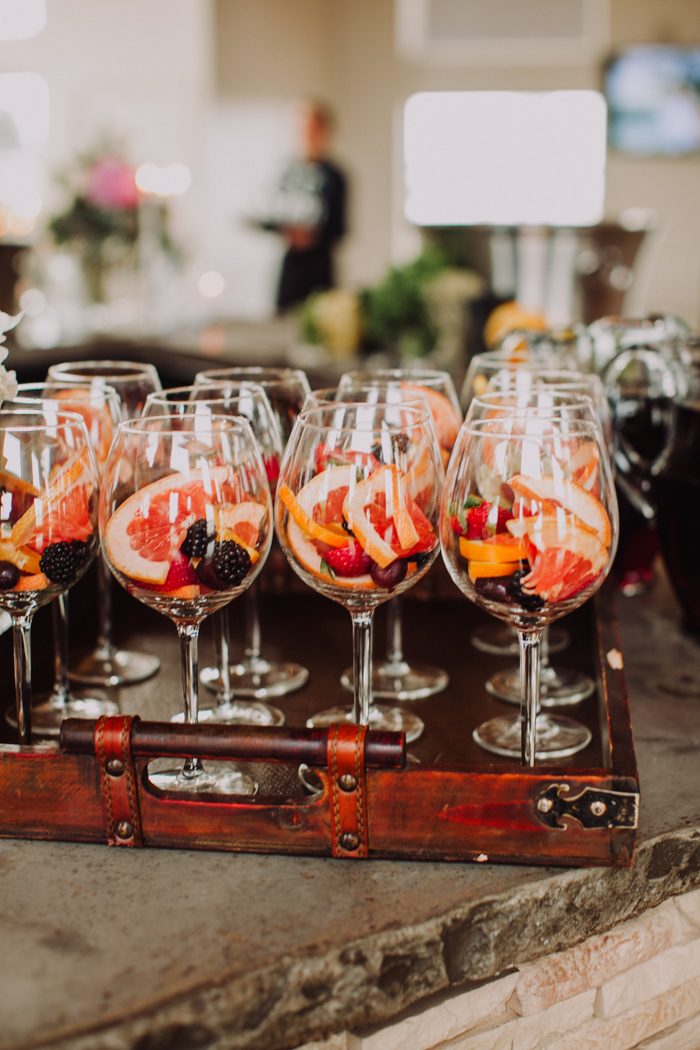 photo by Pam Cooley
RECOMMENDED READING: 5 Unique Bachelorette Activity Ideas That Will Help You Reconnect With Your Girls
At-Home Spa + Sleepover
Spas are great, but they can get expensive quickly and it can be hard to spend quality time with everyone when they're split up for various treatments. So, why not bring the spa into the comfort of your home? Gather all your favorite beauty products, pick up a few bottles of wine, light some yummy candles, and spend the night doing facials, manis, pedis, and shoulder massages. Ask all the girls to bring their cutest pajamas, their favorite spa products, and an overnight bag. It's an inexpensive but meaningful way to give the bride a relaxing girls' night and some much-needed pampering.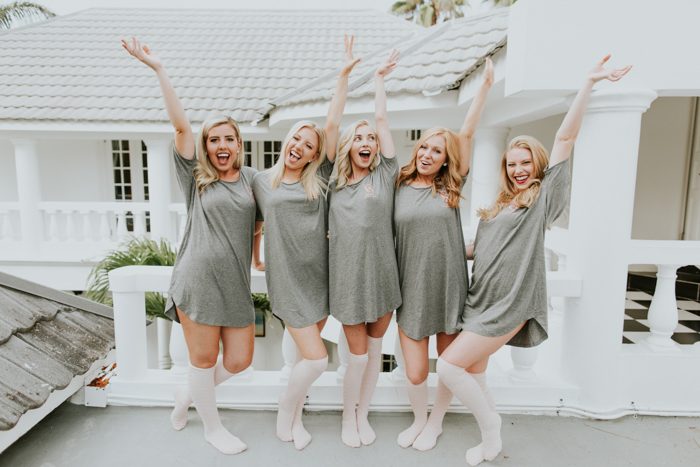 photo by Haley Rynn Ringo Photography
Shop Our Favorite Home Spa Essentials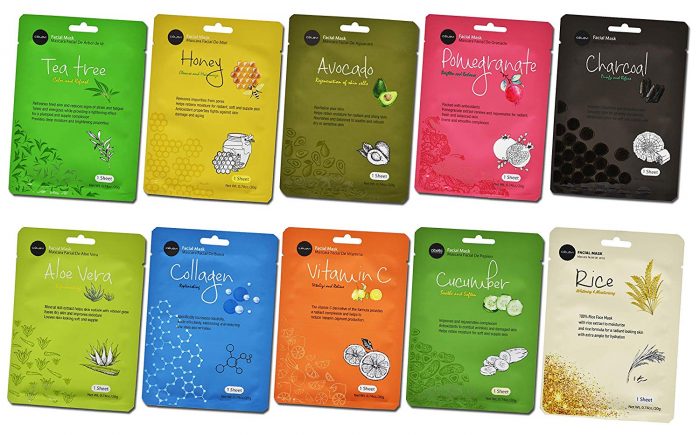 Collagen Face Mask (10-Sheets) Classic Korean Skincare via Amazon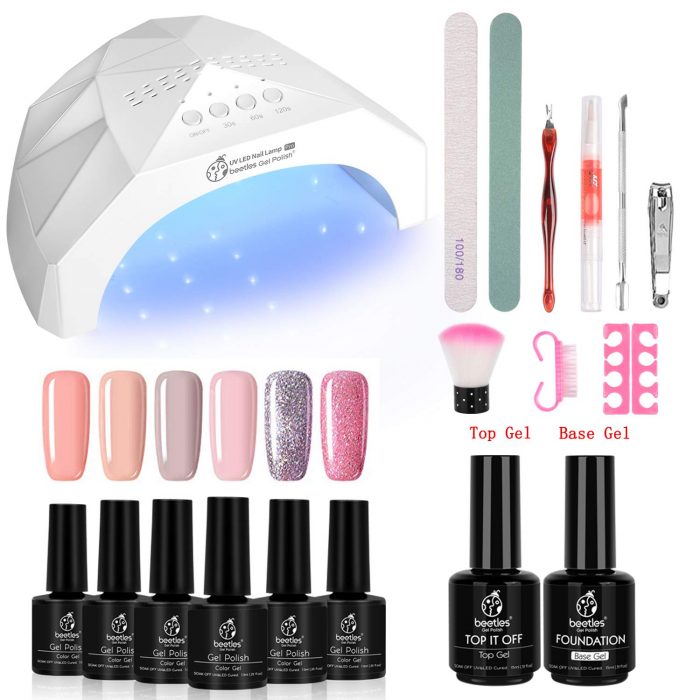 Gel Nail Polish Starter Kit via Amazon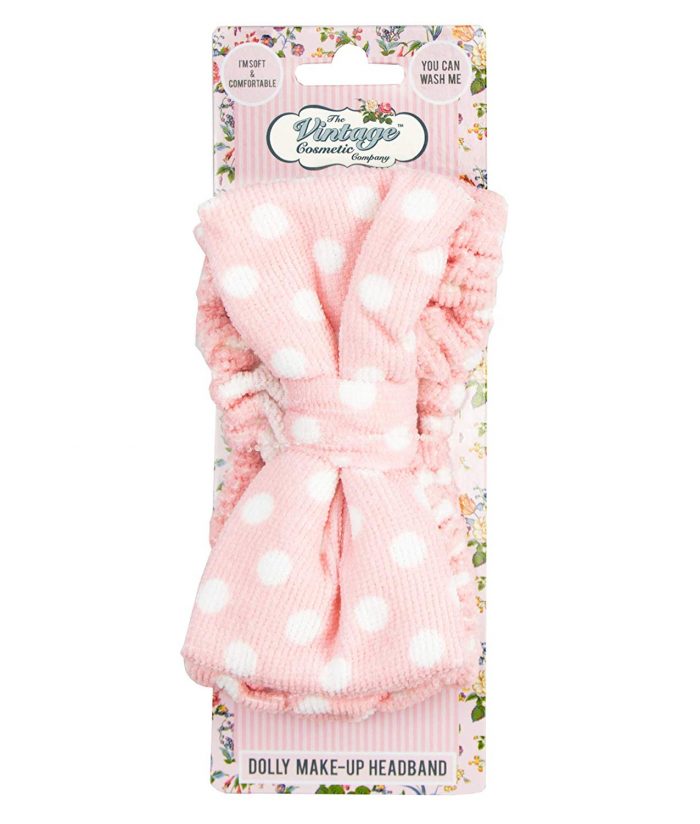 Dolly Make-Up Headband via Amazon
Sugar Lip Scrub Exfoliator via Amazon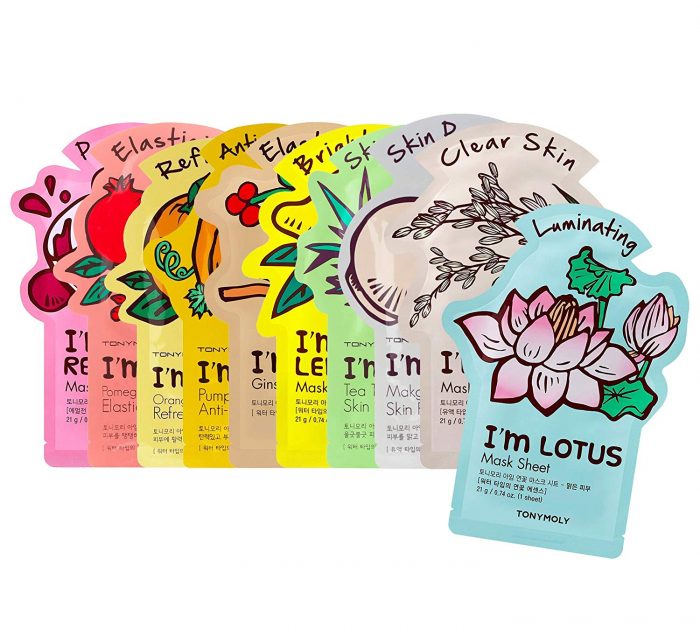 I'm Real Hydrating Mask Sheet Set via Amazon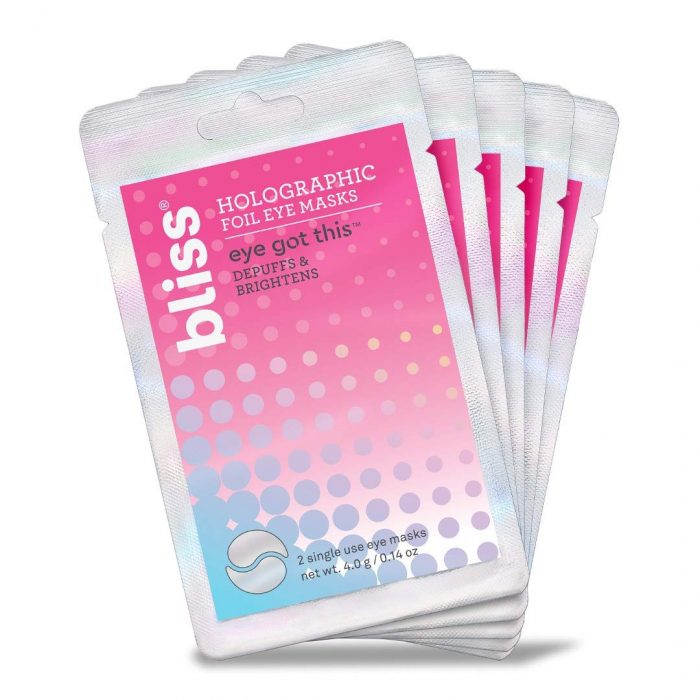 Eye Got This Holographic Foil Moisturizing Eye Mask via Amazon
Cooking or Mixology Class
Food brings people together in the most special way, and that's even more true when you make food with the people you love. An in-home or on-site cooking class is such a fun way to spend a day because you get to learn new skills, walk away with new recipes, and enjoy a meal you've created with your own hands. There's also a really good chance you'll be sipping on a glass or two of wine while you're cooking! If you'd rather just focus on creating some killer cocktails, you could also book a private mixology class to learn the tricks of the trade and shake up something delicious.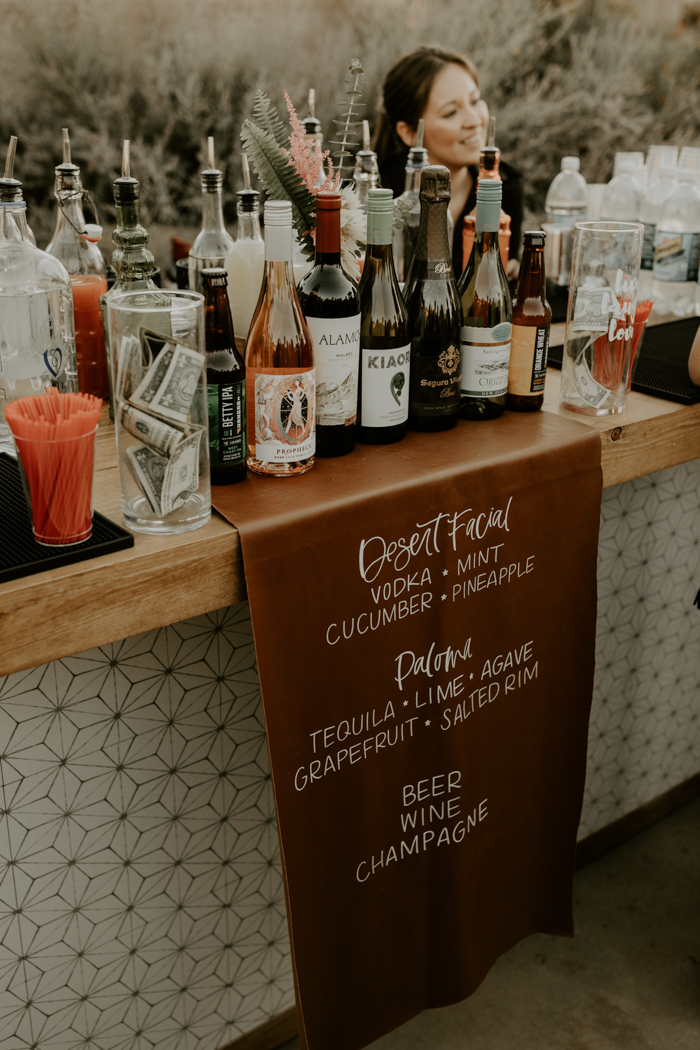 photo by Alyssa Marie Evans Photography
Yoga Retreat
If there are yogis — or aspiring yogis — in the group, we love the idea of booking a weekend yoga retreat. You might be able to find one in your city, or you could look into a destination retreat in the desert, in the mountains, or on the beach. This is a great way for everyone to reconnect with themselves, connect on a deeper level with everyone in the group, and enjoy a few days of uninterrupted peace. If you want some other activities to break up the yoga and meditation classes, there are tons of yoga festivals around the country that are part of larger music, art, and dance festivals.
Shop Our Favorite Yoga Essentials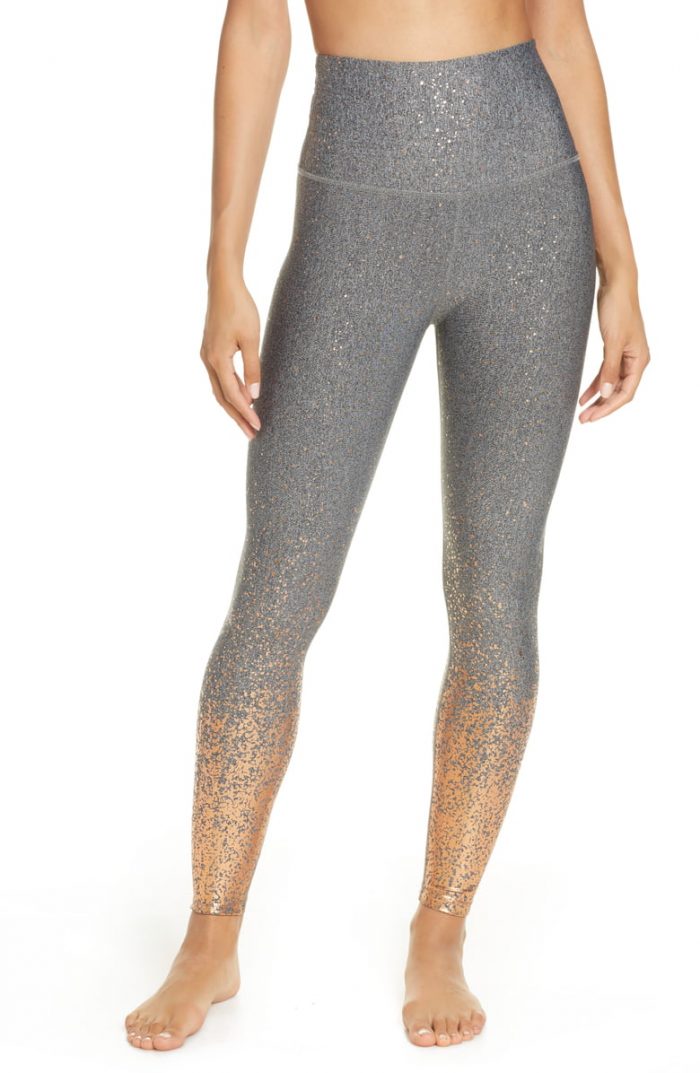 Beyond Yoga Ombré High Waist 7/8 Leggings via Nordstrom (Also in Plus Size)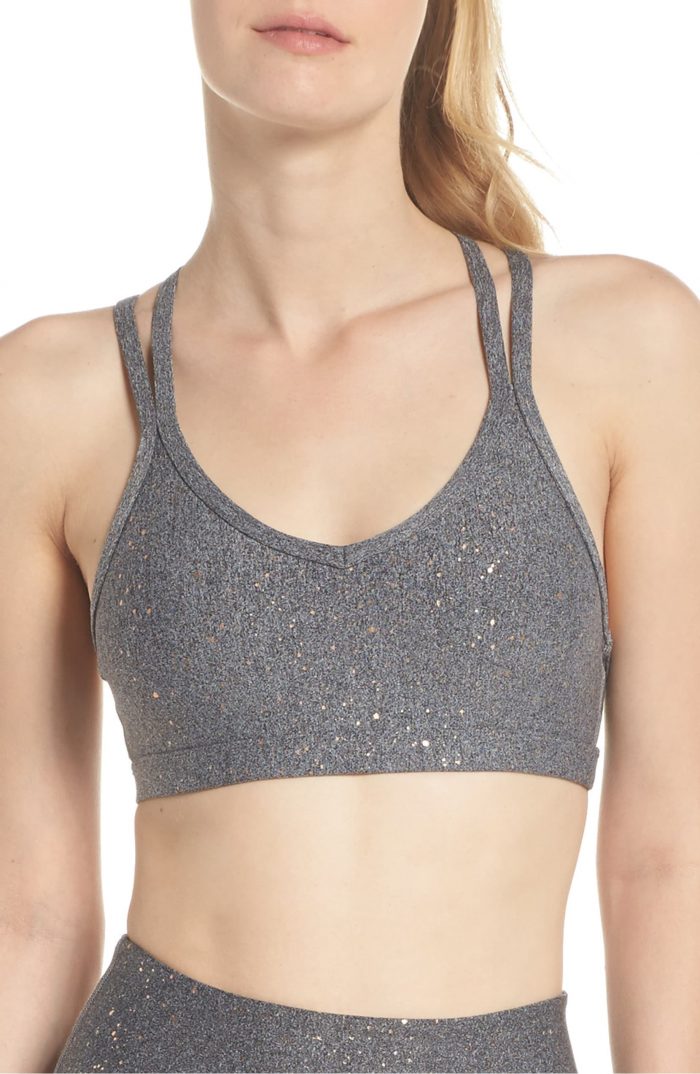 Beyond Yoga Double Back Alloy Speckled Bra via Nordstrom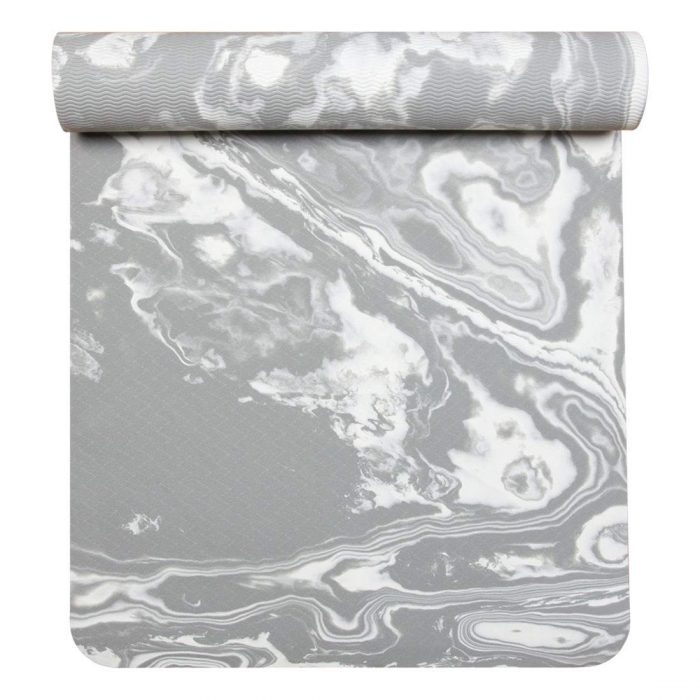 Non Slip Yoga Mat via Amazon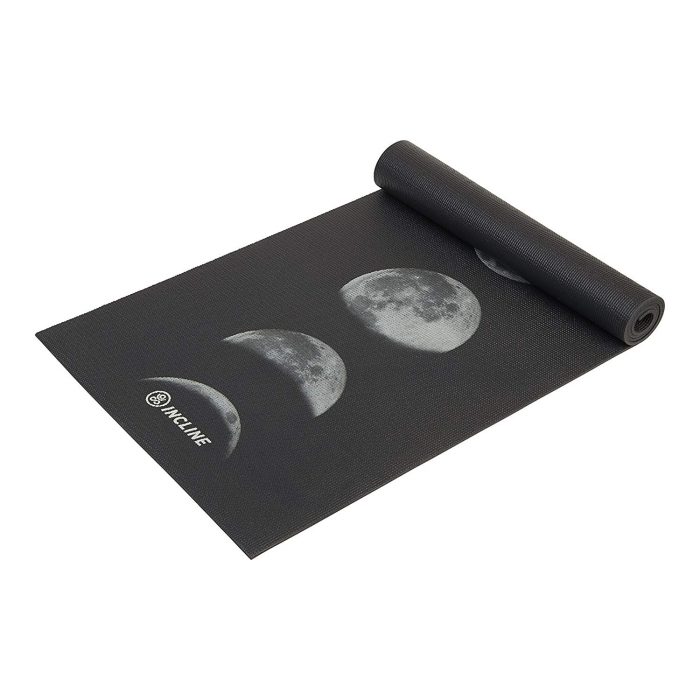 Incline Fit Thick and Non Slip Printed Exercise Mat via Amazon
Winery Tour
If you live in a place with wineries close by, make a day of sipping wine, enjoying charcuterie boards, and learning about the wine-making process. We highly recommend booking through a tour company so you get a car and driver to take you to the best places and nobody has to worry about driving. If you don't live within driving distance of wineries, make it a destination bachelorette party in the closest wine region and rent an Airbnb on or near a vineyard. That is sure to be a dream come true for any wine-loving bride!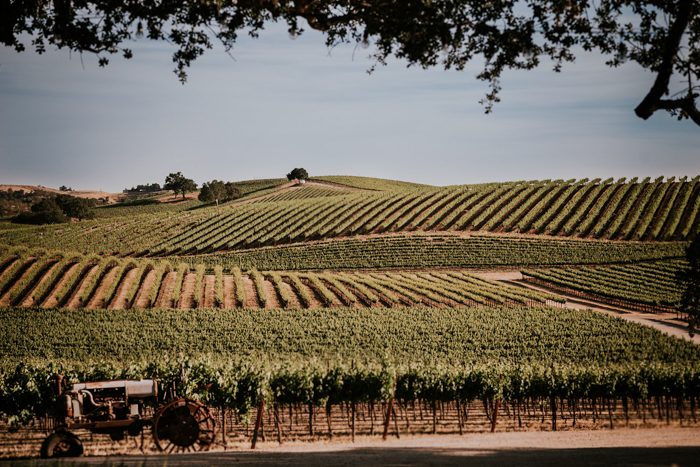 photo by Love Tribe Weddings
Tea Party
If the bride loves all things fancy, there are few things classier than a grown-up tea party. You could host it in someone's home or backyard or even in a city garden space that allows small events. Set the scene with vintage china, finger sandwiches, mini desserts, and lots of fresh flowers. And, of course, no tea party is complete without the proper attire, so ask your girls to wear their favorite garden party dresses and either fancy hats or fascinators!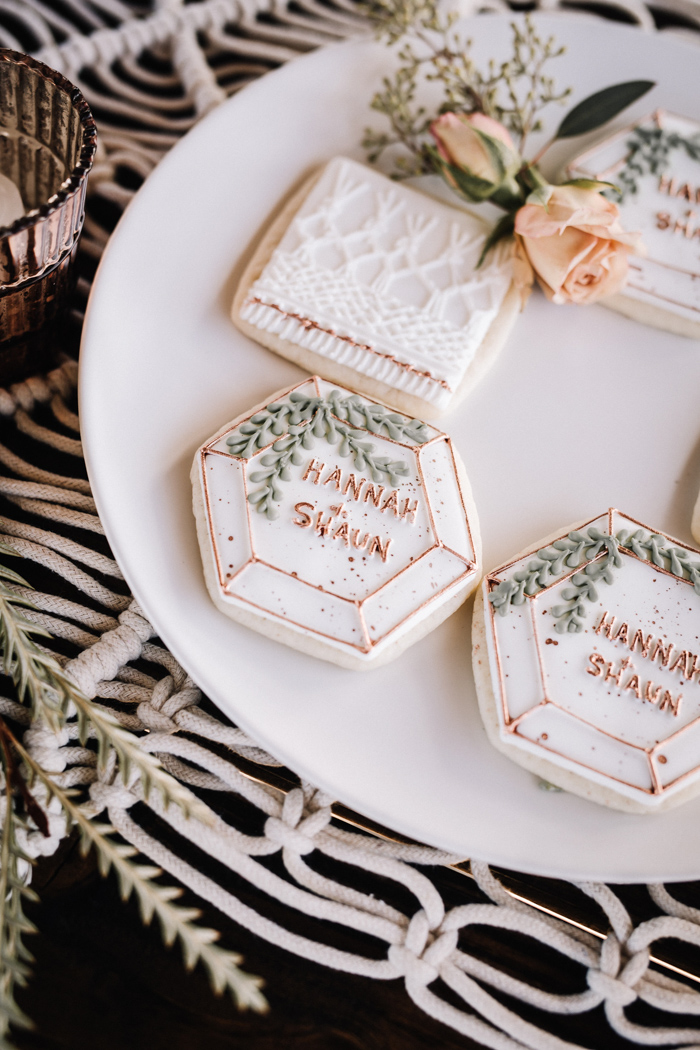 photo by Dearly Beloved Photography
Shop Our Favorite Tea Party Essentials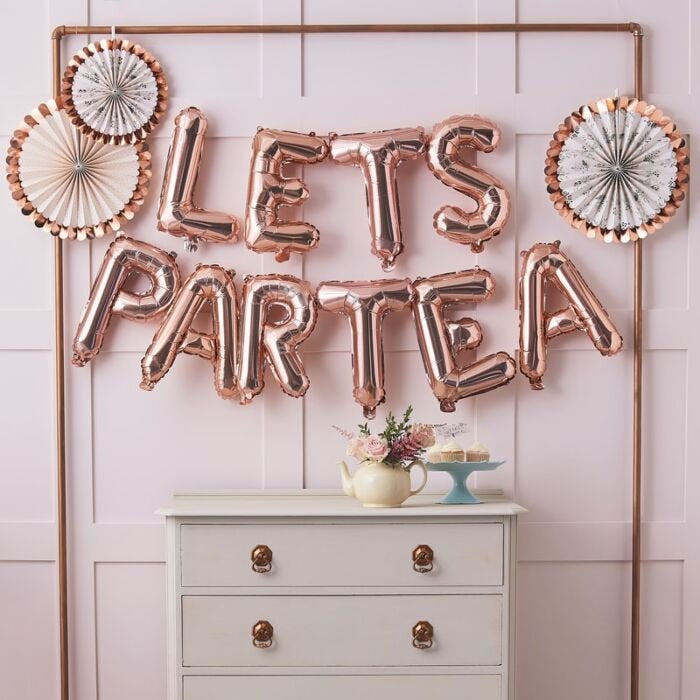 Lets Partea Bachelorette Party Balloons via Etsy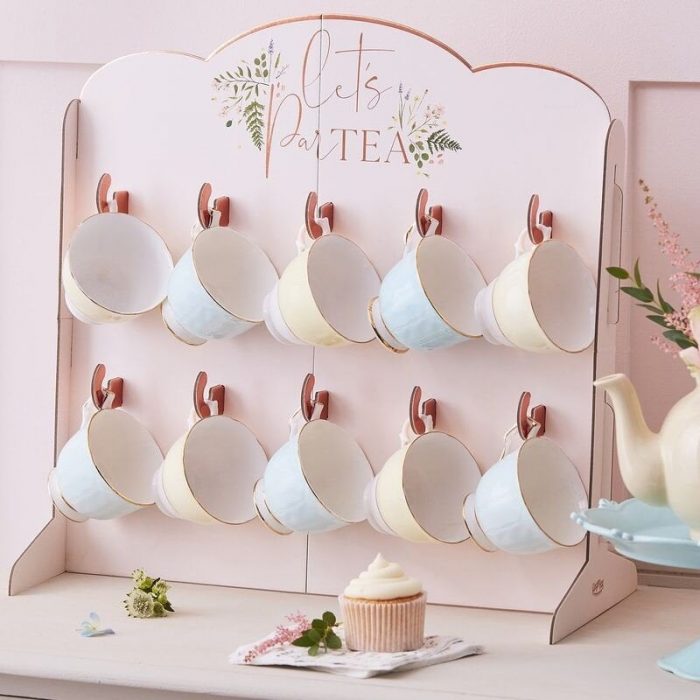 Floral Pink Tea Cup Holder via Etsy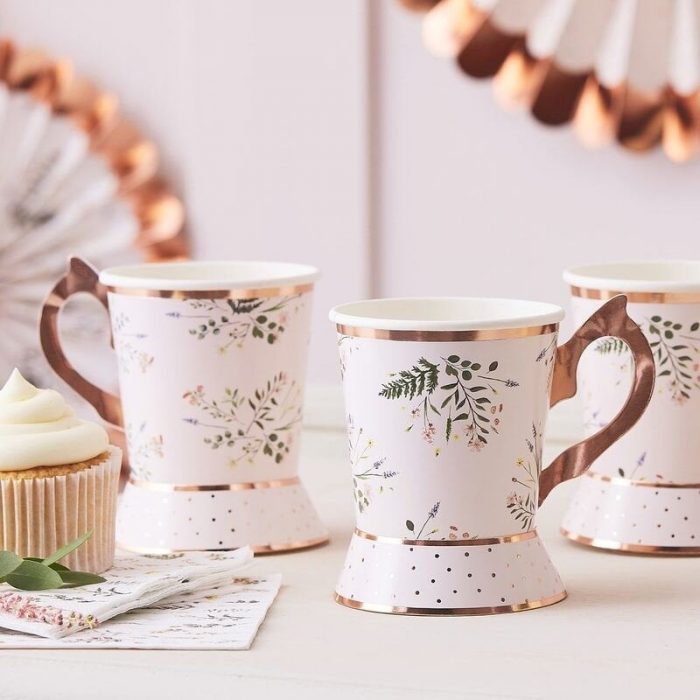 8 Afternoon Tea Party Cups via Etsy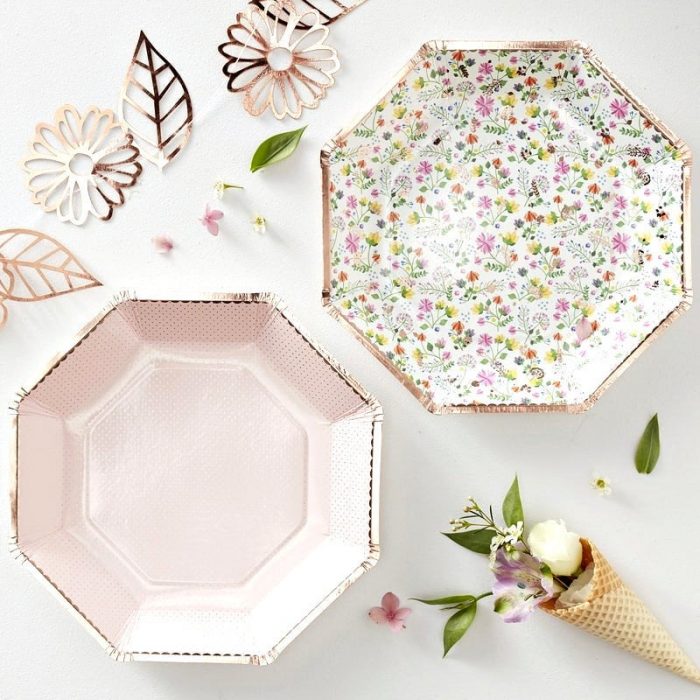 Rose Gold Floral Paper Plates via Etsy
Karaoke Night
Warm up those vocal cords and hit up your local karaoke bar for an evening of fun, cocktails, and Insta story-worthy videos! Karaoke is one of our favorite ideas for a night out, especially with a group of ladies who feel no shame in belting out some Queen ballads or Spice Girls medleys. Some karaoke bars have a stage in front of the whole bar in addition to private rooms, but some do only have one or the other. So, just make sure to ask the bride how courageous she wants to be and choose a bar accordingly.
Need help choosing songs? Our wedding reception playlist is filled with crowd-pleasers!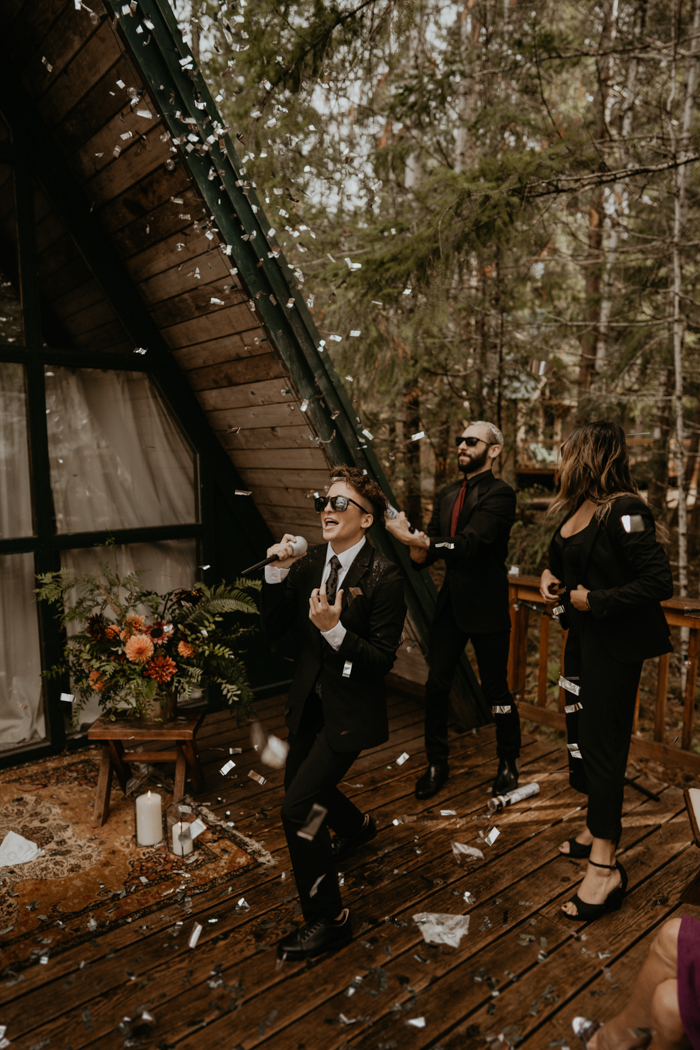 photo Henry Tieu Photography
A Day at an Amusement Park
If a night of partying doesn't get the bride's heart pumping, how about some thrilling roller coasters instead? You're never too old to enjoy some fried food, attempt to win ridiculously large stuffed animals, or scream yourself hoarse on scary rides! A lot of amusement parks also offer group discounts, so grab all the bride's best girlfriends — and lots of sunscreen — and head to the nearest amusement park for a day of good, old fashioned fun and games. You could even take it up a notch with a getaway to the Happiest Place on Earth during their Food and Wine festival to add a little boozy fun to your adventure!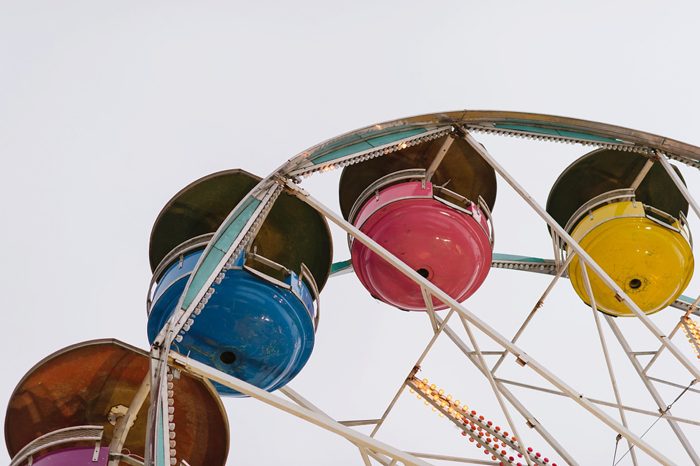 photo by Darling Photography
Volunteering Together
Some brides really do not want the attention and hoopla of a bachelorette party, but that doesn't mean they don't deserve something extra special to celebrate this milestone. One of the sweetest and most thoughtful ways to give your bride a memorable experience without putting an uncomfortable amount of attention on her is to plan a volunteer project with all her girls. You could help plant a community garden, head to the animal shelter to walk the dogs, or even gather supplies at your house to put together hygiene kits for the homeless. Follow up the project with a nice dinner at her favorite restaurant and you have the makings of a perfect day for even the most laid-back bride.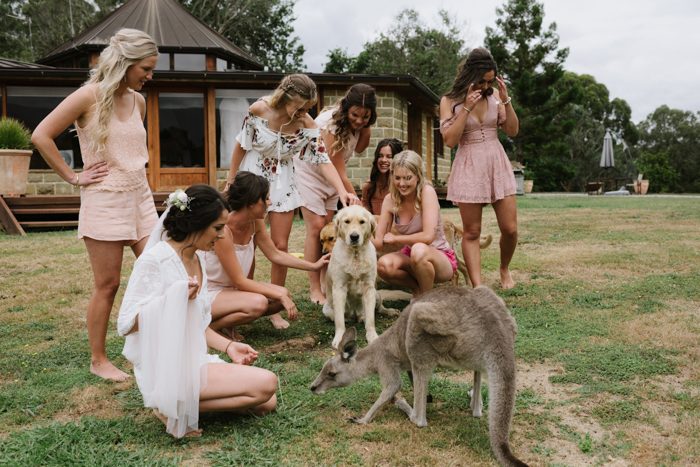 photo by Madeline Druce
Before you head out (or stay in) to create memories the bride will cherish forever, don't forget to stock up on these bachelorette party essentials for a fun + stylish weekend!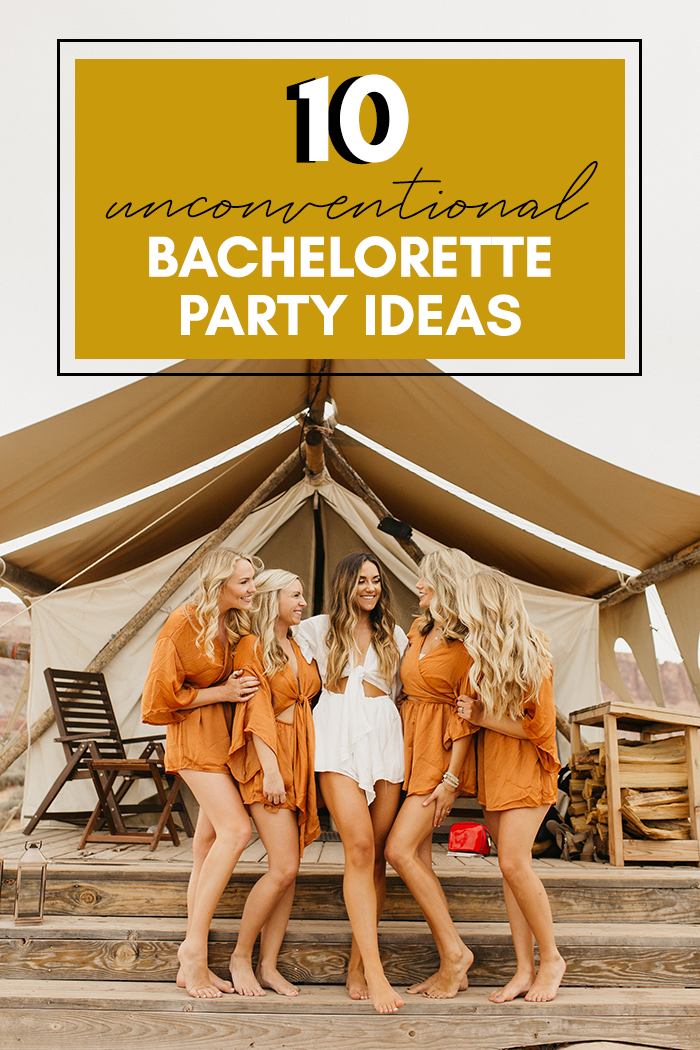 photo by Tews Visual