We have to admit that we have a soft spot for desert weddings, so Mallory and Brian's intimate wedding at Moab Under Canvas stole every piece of our hearts. The glamping destination offered a secluded oasis for the couple to create a free-spirited celebration, with the help of the Gatherist even planners. Using natural textiles, locally foraged florals arranged by Amber Reverie, minimal glass vases, driftwood, and a rustic-chic white marble table from House of Yonder, they set the scene for a laid-back dinner party right in the middle of the famous Utah desert. It was equal parts bohemian chic and effortlessly earthy. And don't even get us started on the bride's spectacular Rue De Seine lace dress! The talented team at Tews Visual not only captured all the photo-worthy moments but also recorded the sweetest video from the cozy getting ready moments in the tent to the surprise sparklers the guests lit during the couple's first dance beneath the stars.
The Couple:
Mallory and Brian
The Wedding:
Moab Under Canvas, Moab Desert, Utah
When researching venues, we were all over the place, with way too many ideas! What led us to Moab Under Canvas was the wildness of it, and the ability for everyone to stay on site — our own private little tipi village in the middle of the desert! Can you really ask for anything more? Brian and I are adventurers at heart. Most weekends, you can find us gallivanting off in the FJ, dogs in tow, to go explore some new ends of the earth. With that being said, this sort of "glamping" experience made the perfect wedding venue for us. We also wanted to make our wedding more of a weekend-long event so it would last as long as we possible. We booked out our venue for 2 nights, and it was absolutely perfect. Everyone was able to arrive and check in on Friday for our rehearsal dinner that night. On our wedding day, a bunch of our guests woke up and hiked to Corona Arch at the end of this massive breathtaking canyon. It was such a magical start to our even more magical day!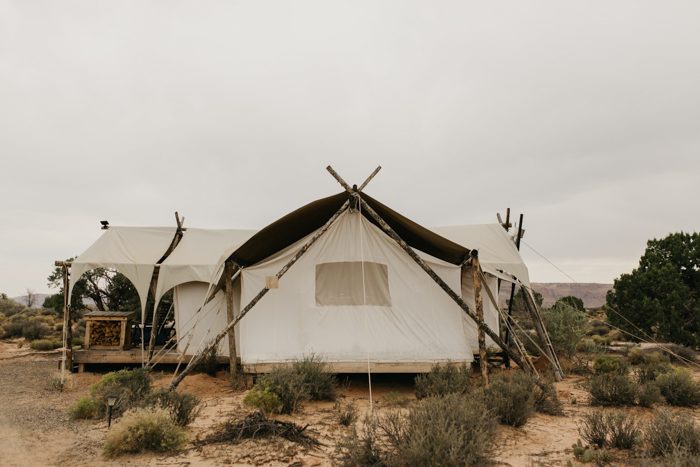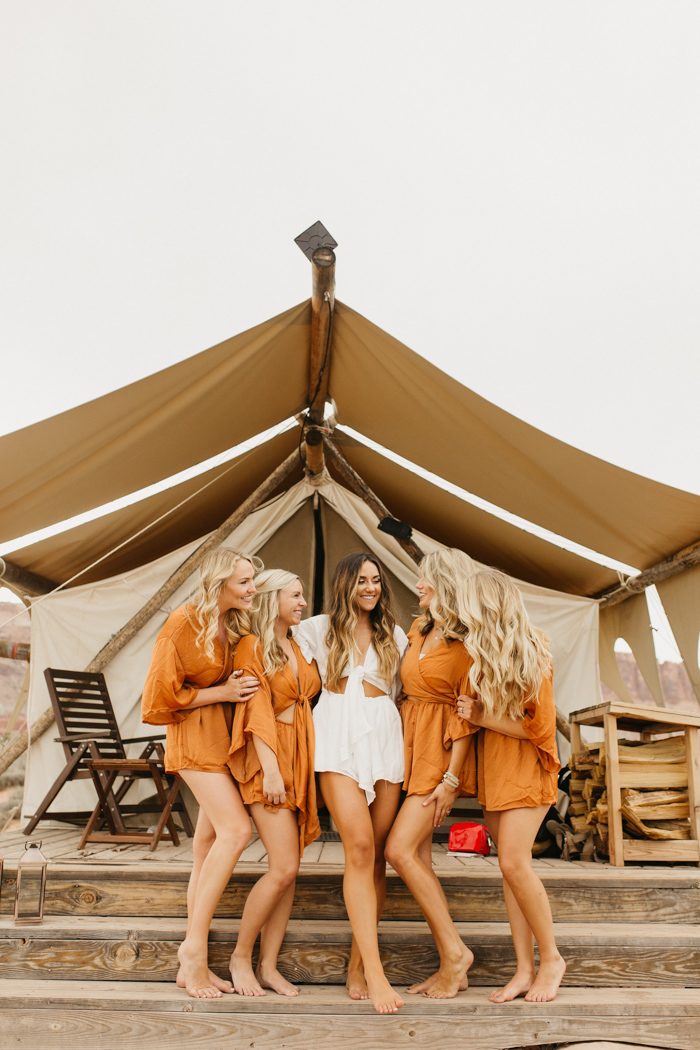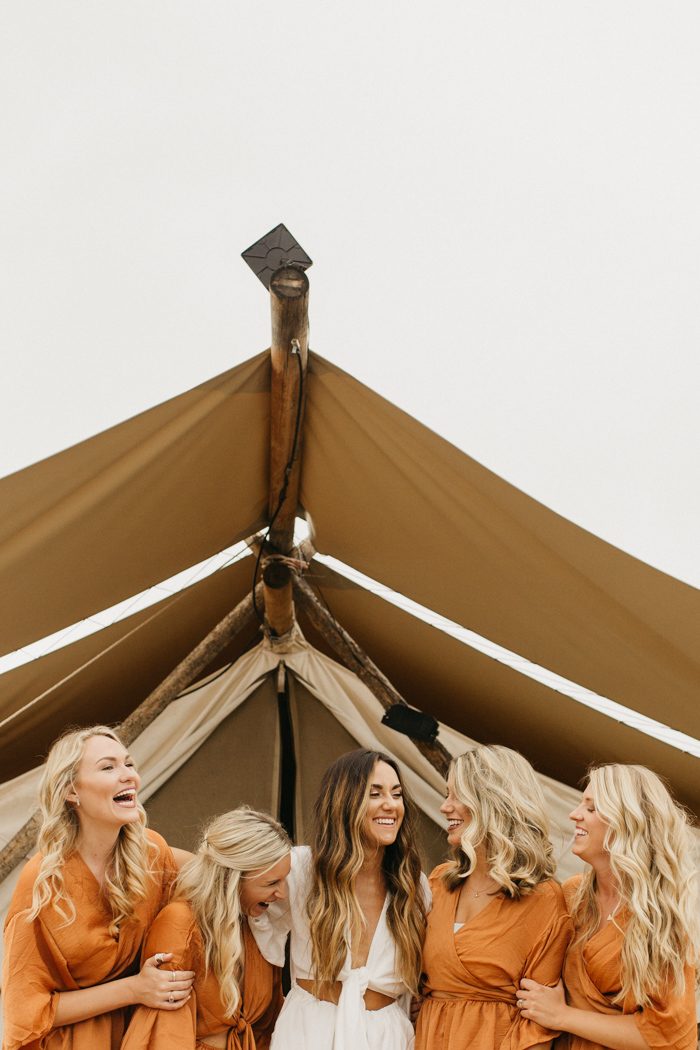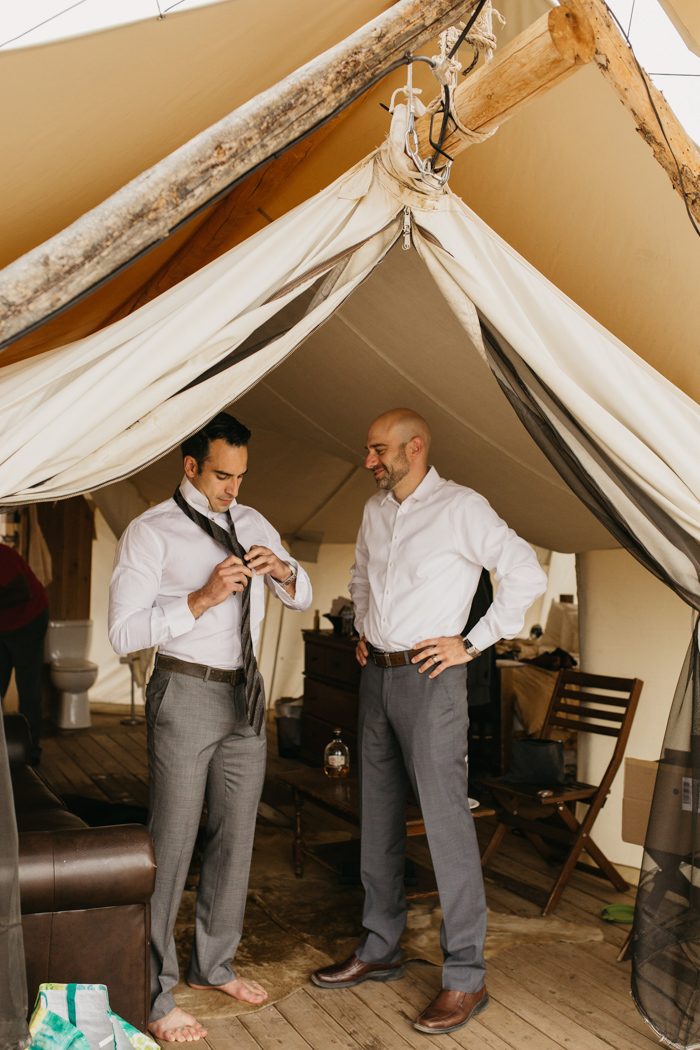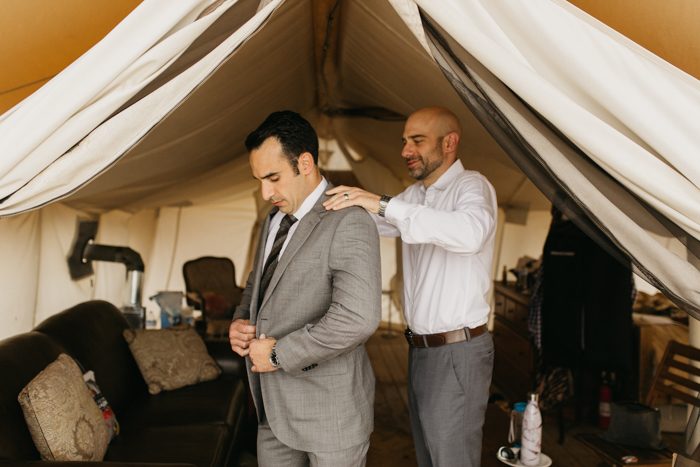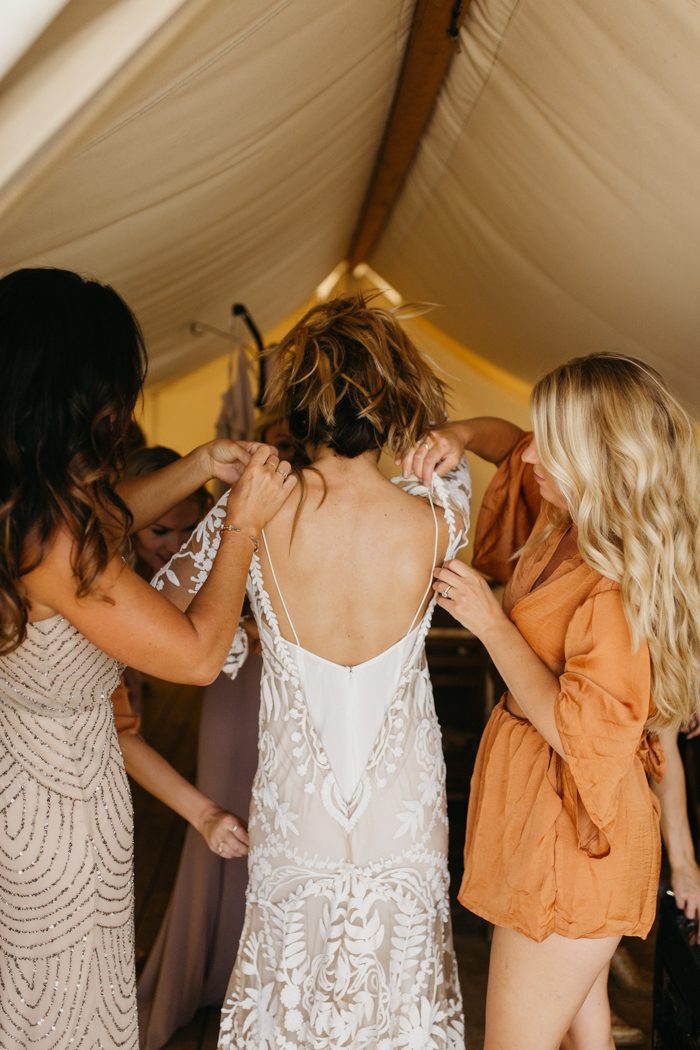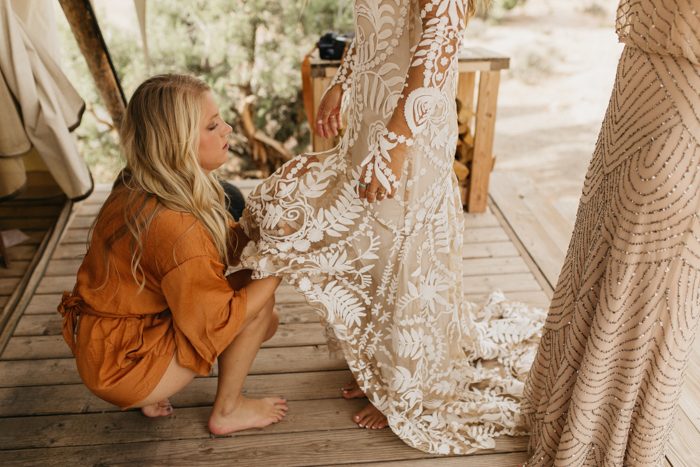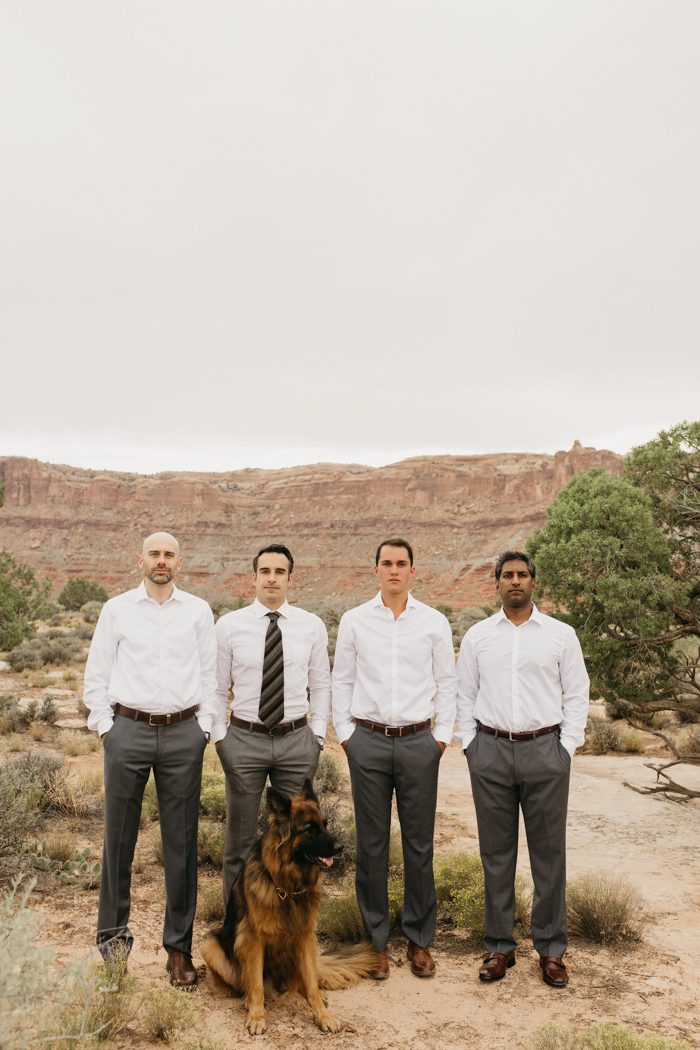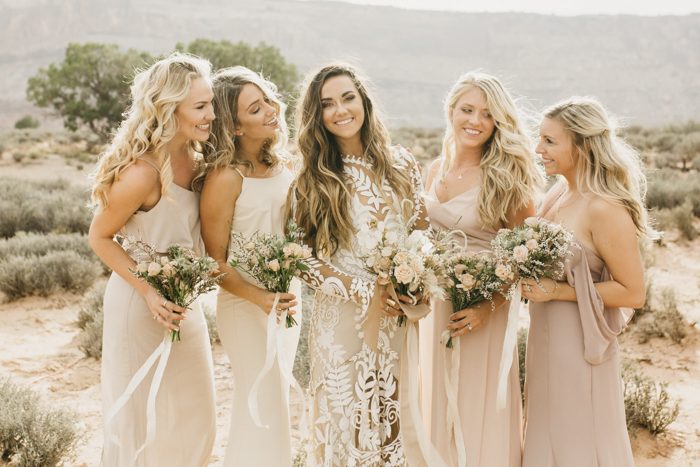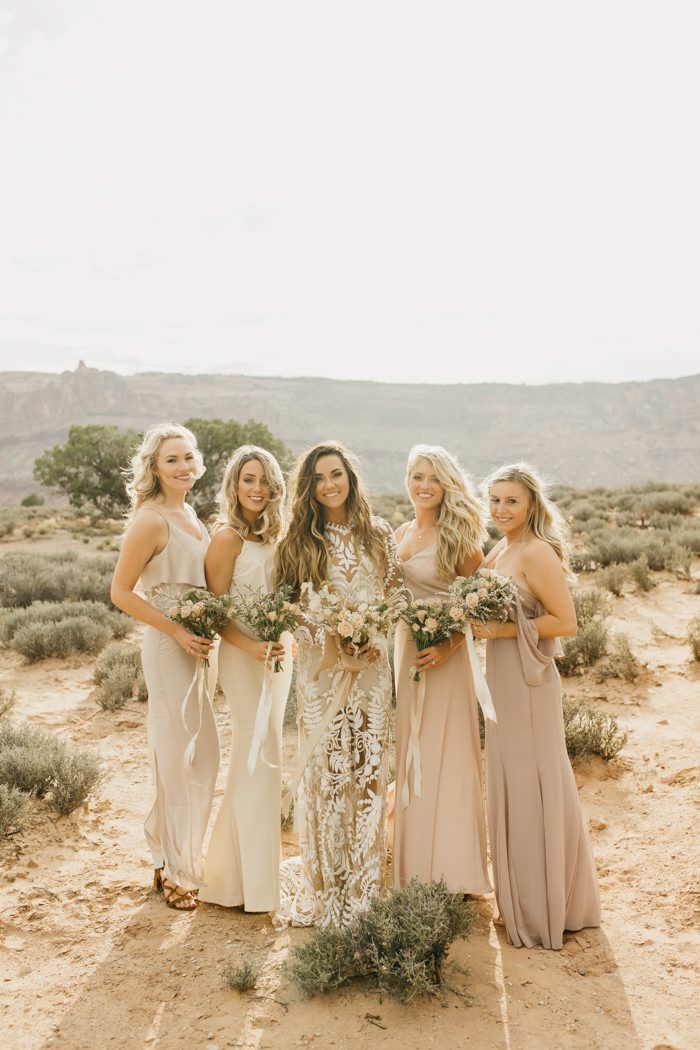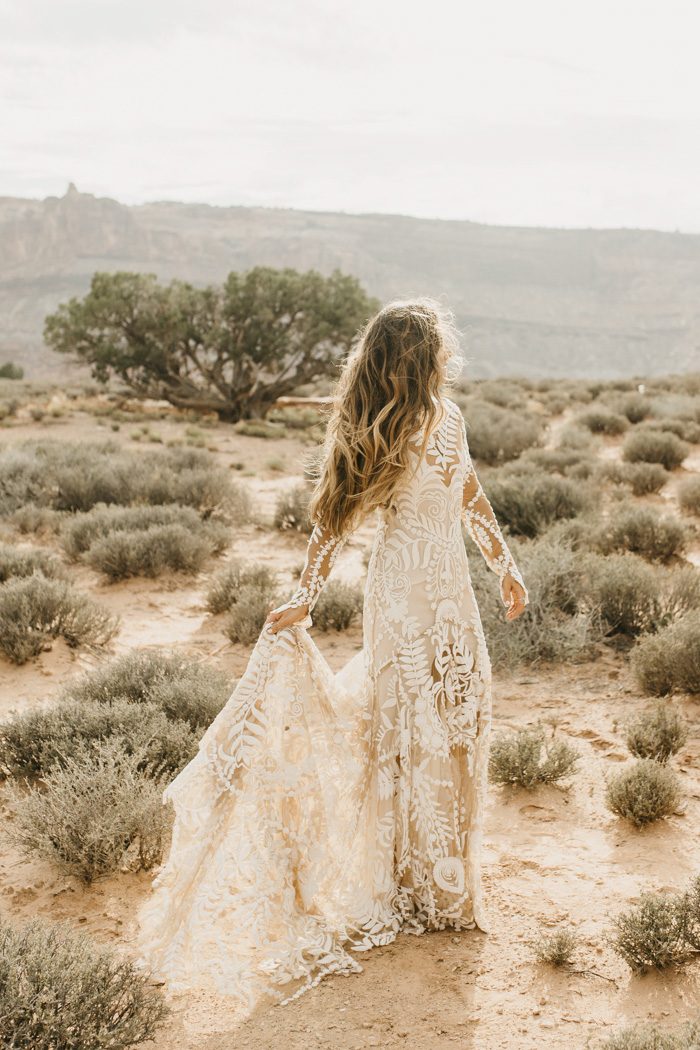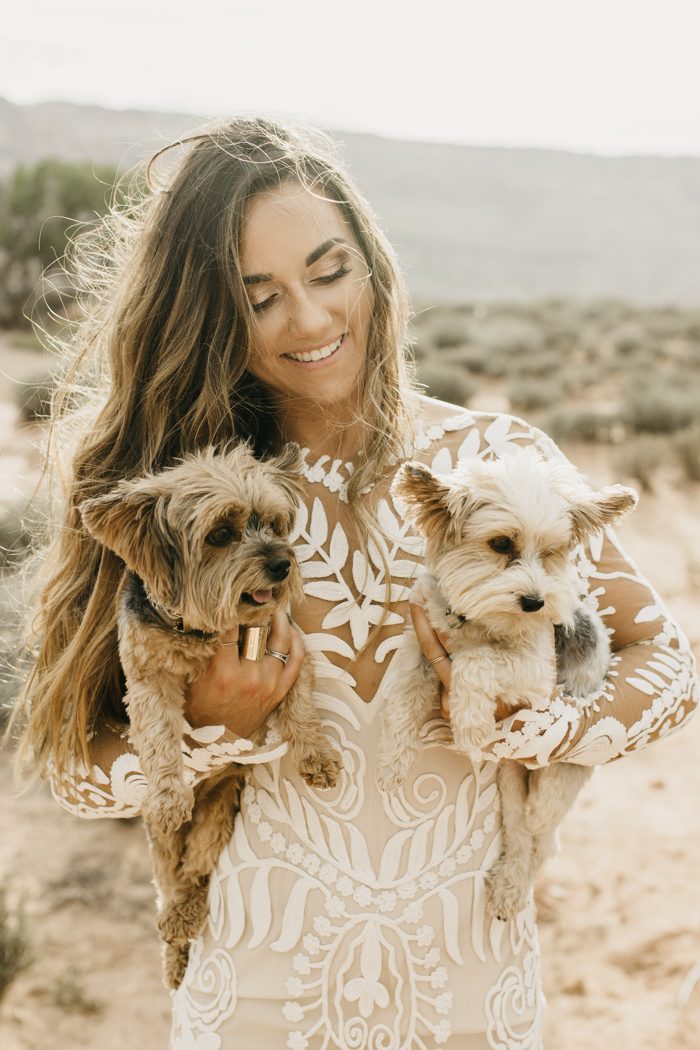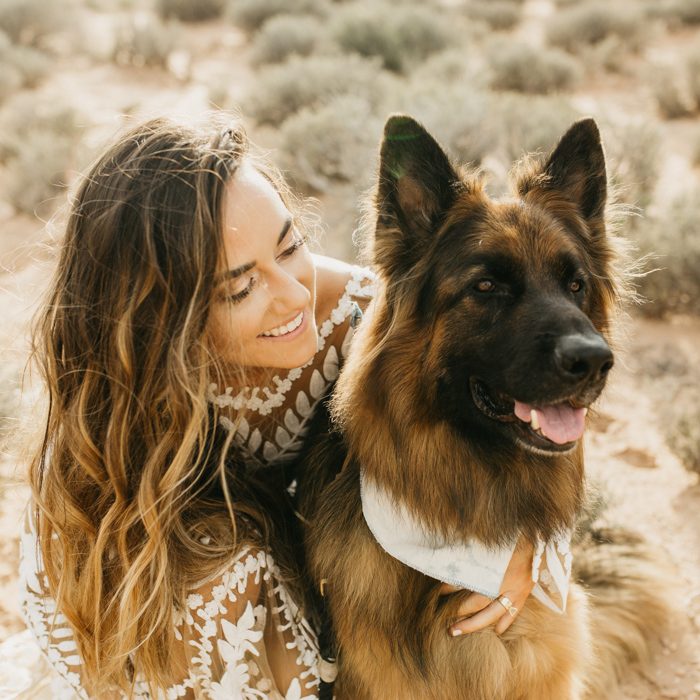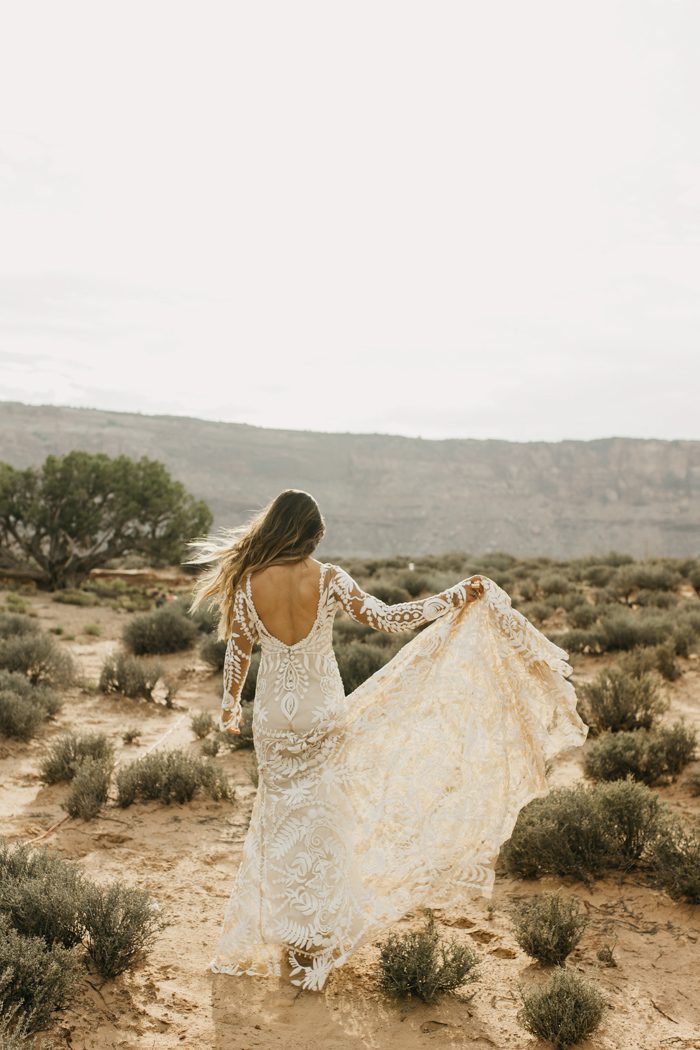 Our ceremony was not what you would call traditional. We did not have chairs (except a couple for the elders) and got married at a rock overlook on the far edge of the property. We sourced vintage Turkish rugs, I brought a bunch of my Native American blanket collection, and everyone sat on rock ledges or rugs around us. Our florist foraged local desert vegetation that adorned our copper arch. The entire setup was very organic, and looked like it just sprouted up out of nowhere! This truly made the ceremony so intimate.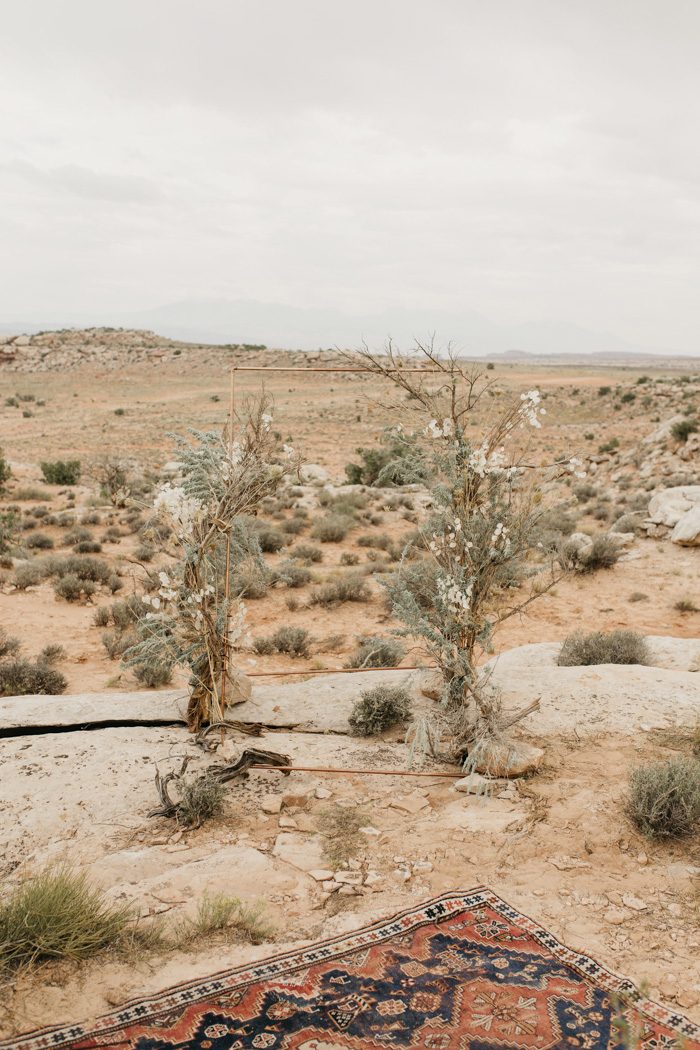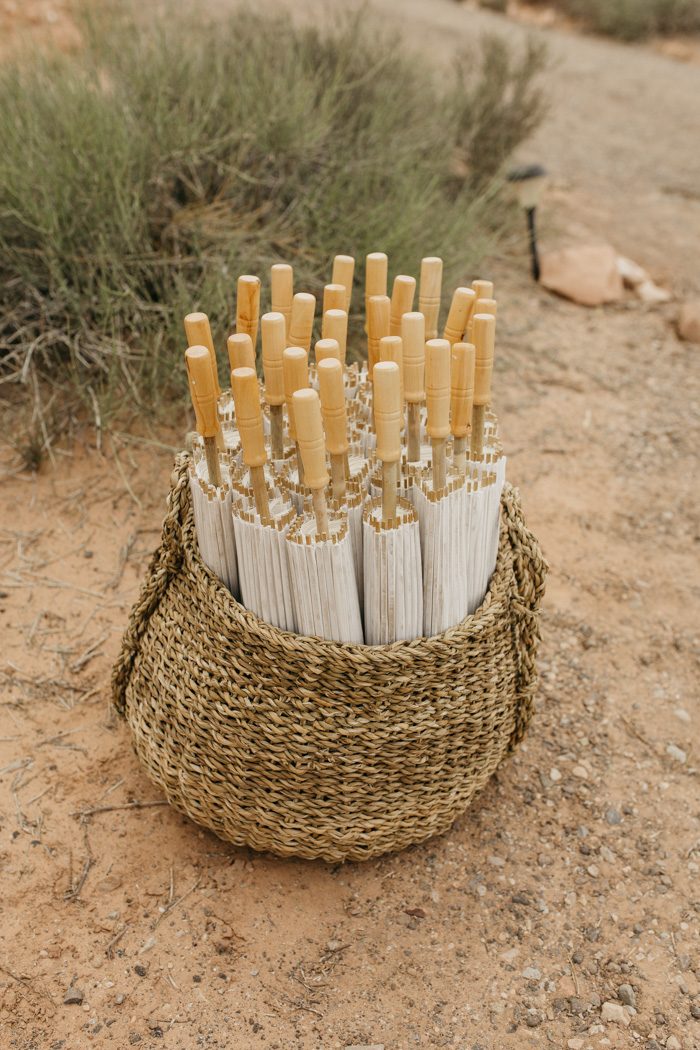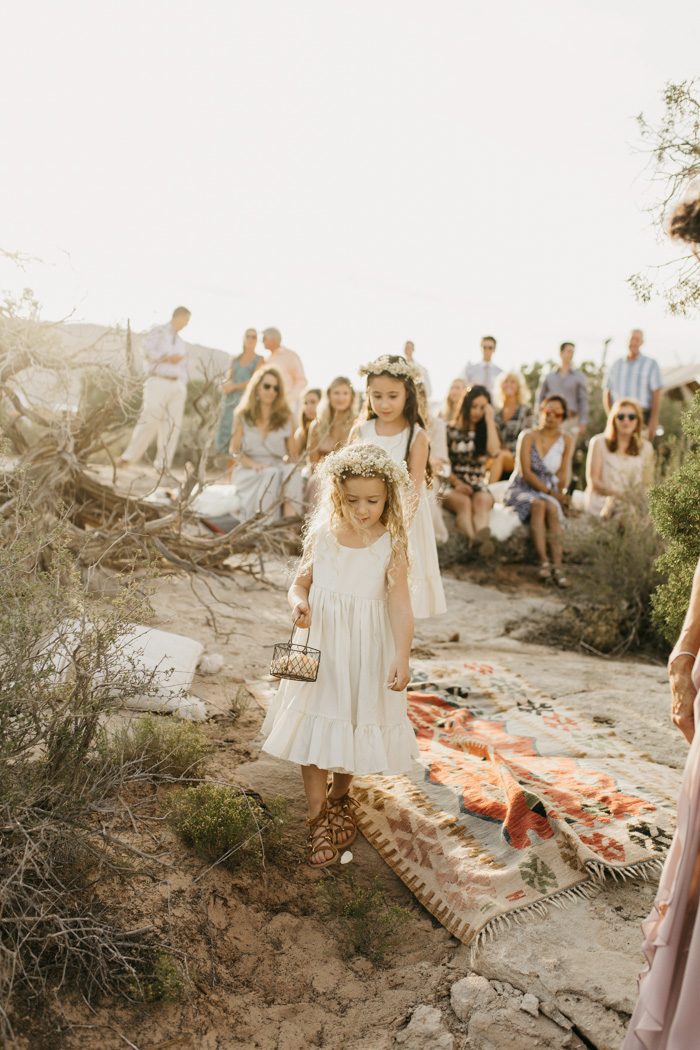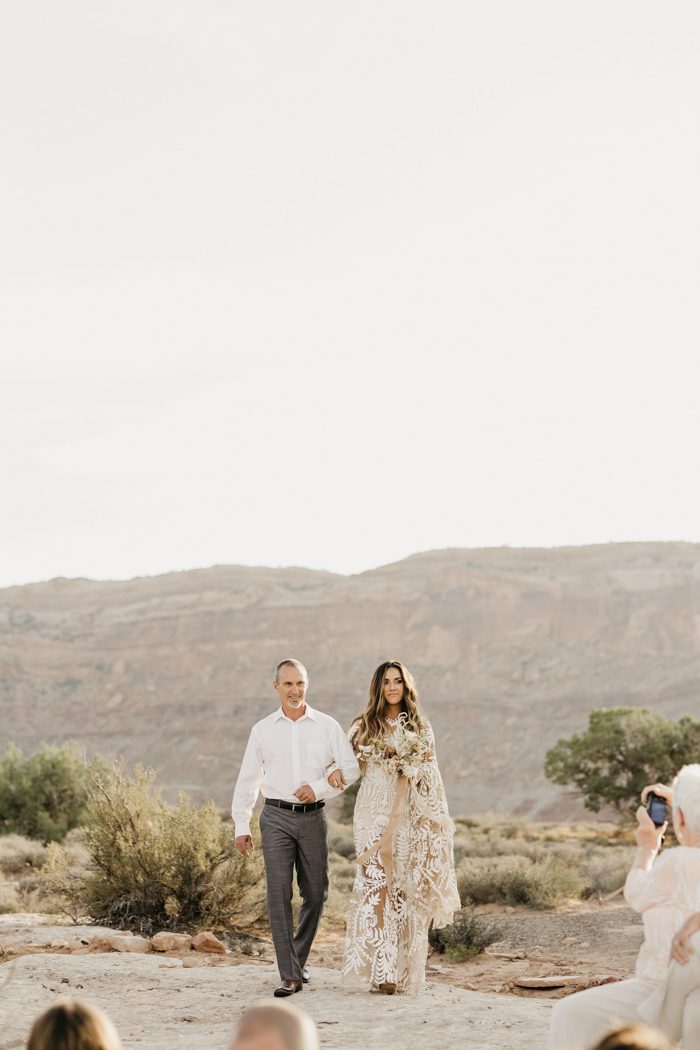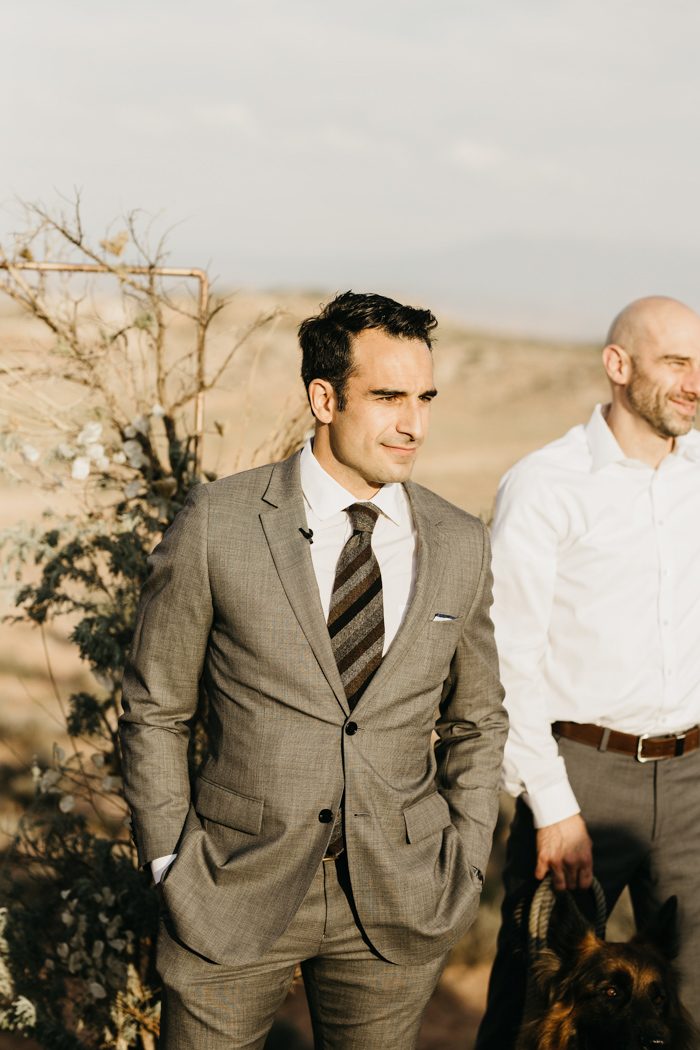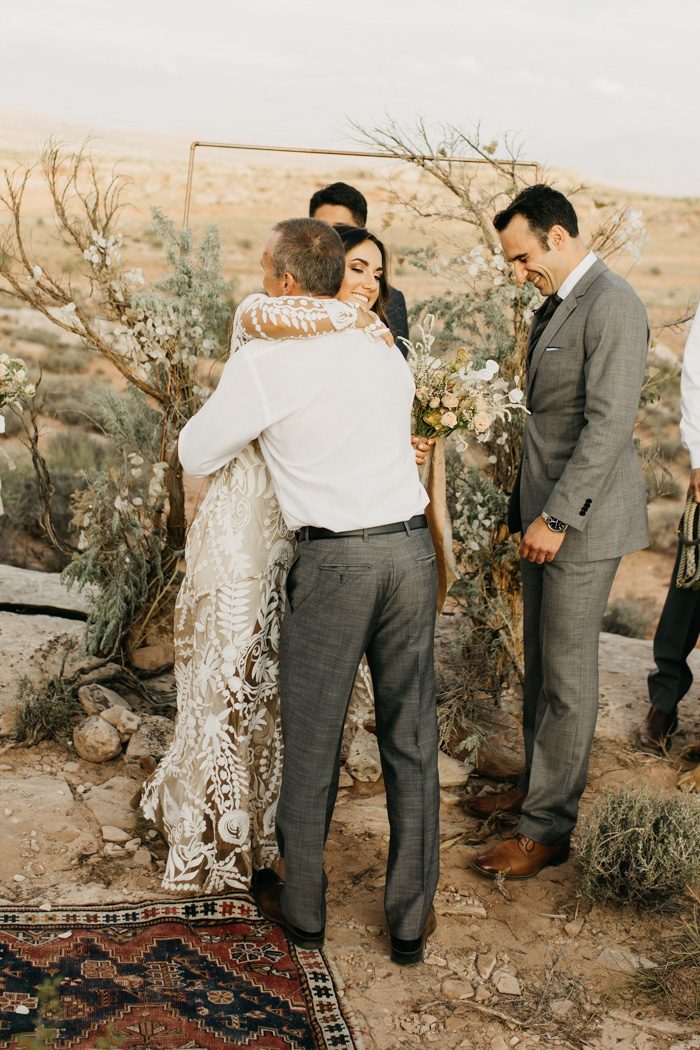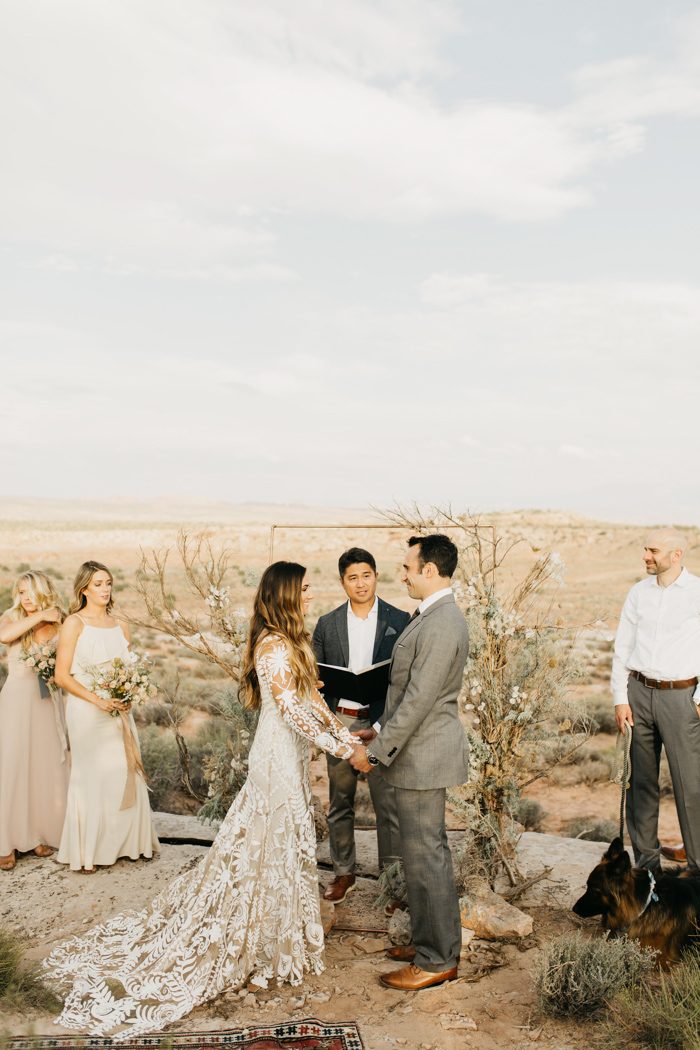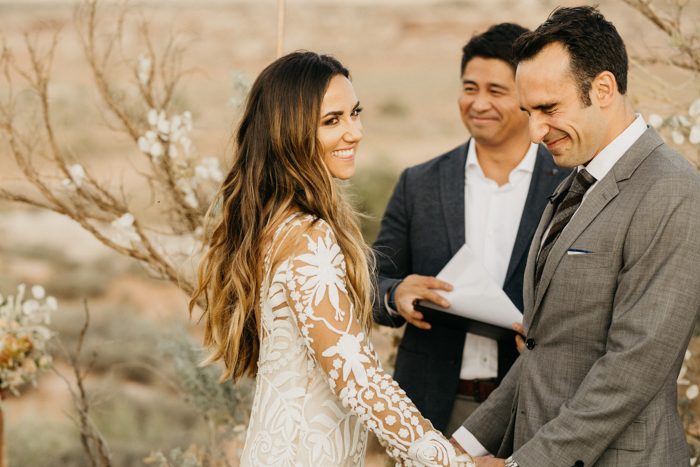 We wrote our own vows, which I would highly recommend everyone doing, as well! I was crying, he was crying, the guests were crying — there was not a dry eye in the crowd. One of my other favorite parts of our ceremony was having my little brother read the poem, "How Falling in Love is Like Owning a Dog" by Taylor Mali. We are huge dog people. Our dogs are our children. As you can see, they were even in our ceremony, so this little reading made me tear up and truly put such an individual touch to our ceremony.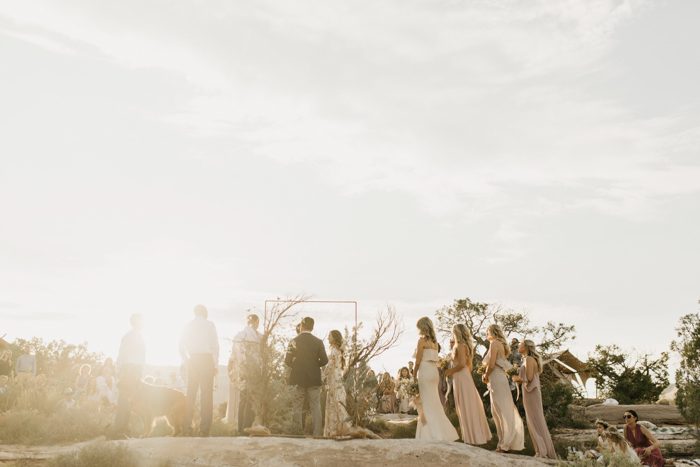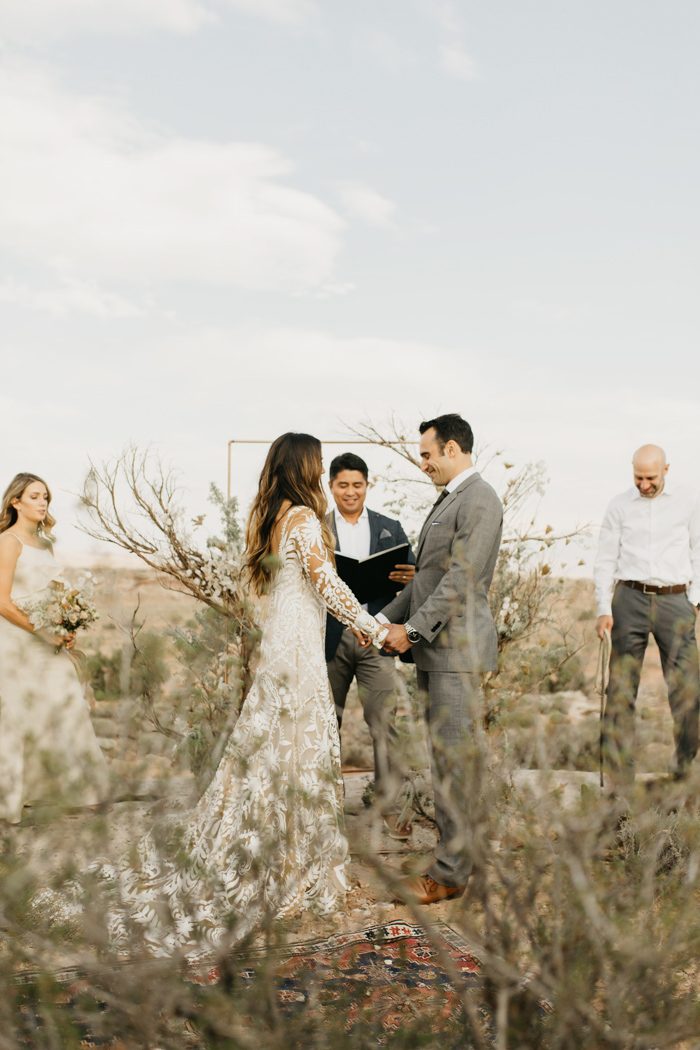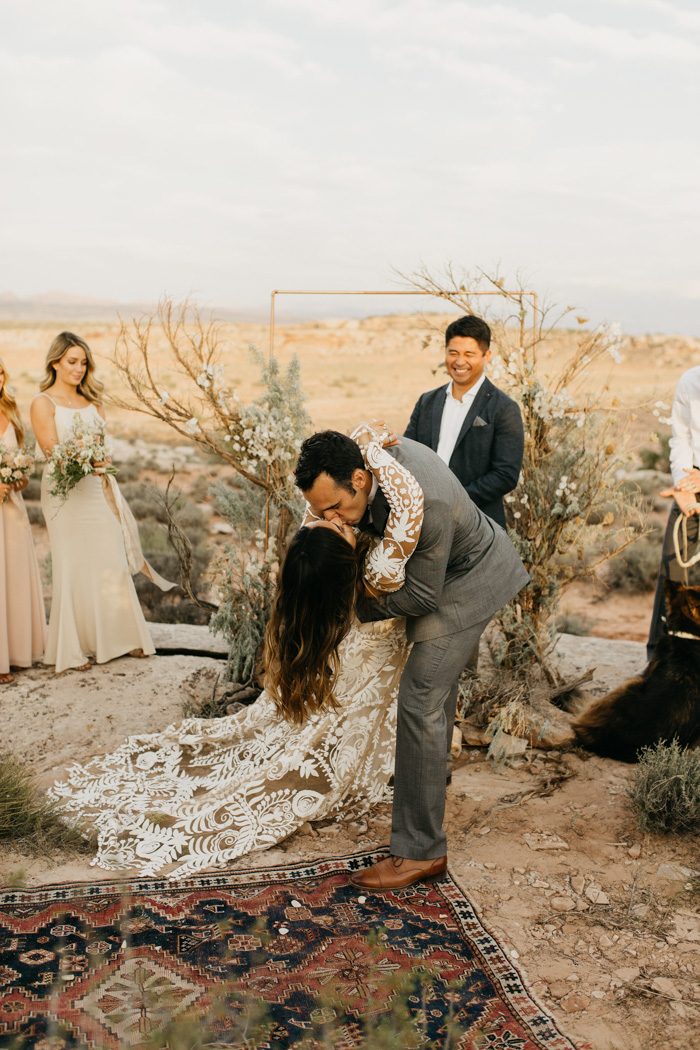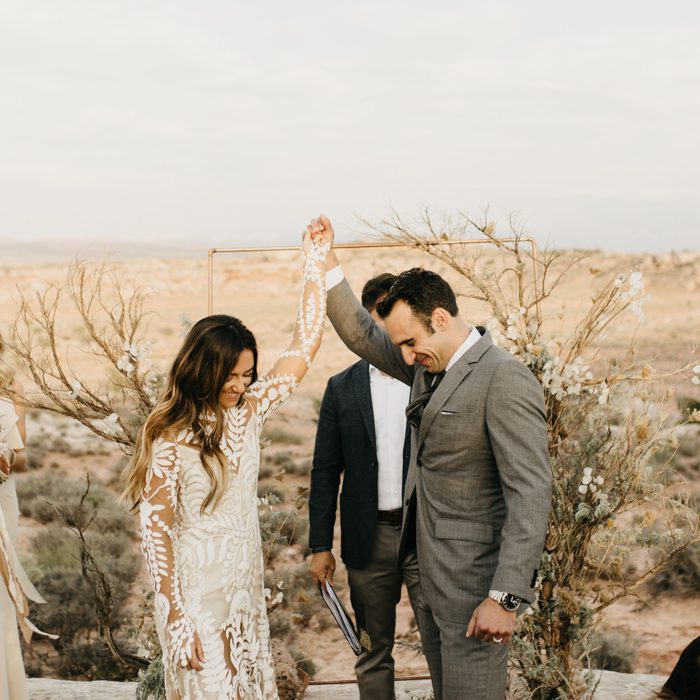 We wanted the entire weekend to feel natural, unique, and as dreamy and love-filled as possible. And that's exactly what it was…good vibes only! All our furniture rentals came from House of Yonder in Denver and brought the minimal, boho, southwestern feel to life. Everything from the Turkish rugs to the wooden and marble tables, Equipale chairs, and mud cloth accents made this desert dream come true. We used a lot of locally foraged vegetation and greenery, including the tumbleweeds that hung over head in the cocktail hour and our name card display! We also utilized copper accents to make everything blend seamlessly into the natural red dirt landscapes, including our very own mule bar, complete with copper mugs, featuring my homemade recipe, the Moab Mule. All this aside, we really did not have to try very hard to establish this aesthetic or create these vibes because our venue was pretty much as dreamy as they get!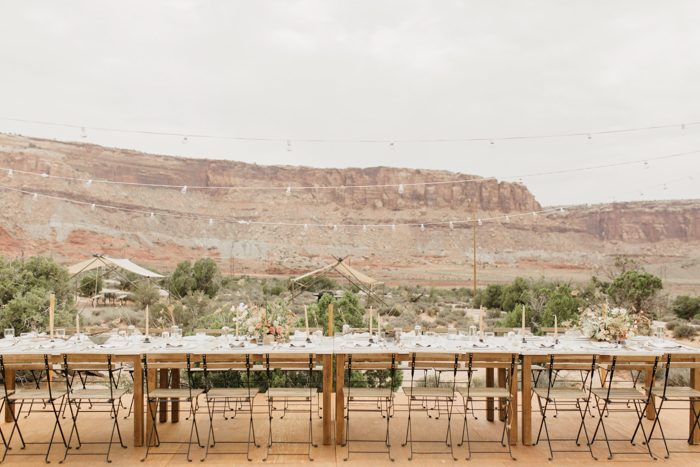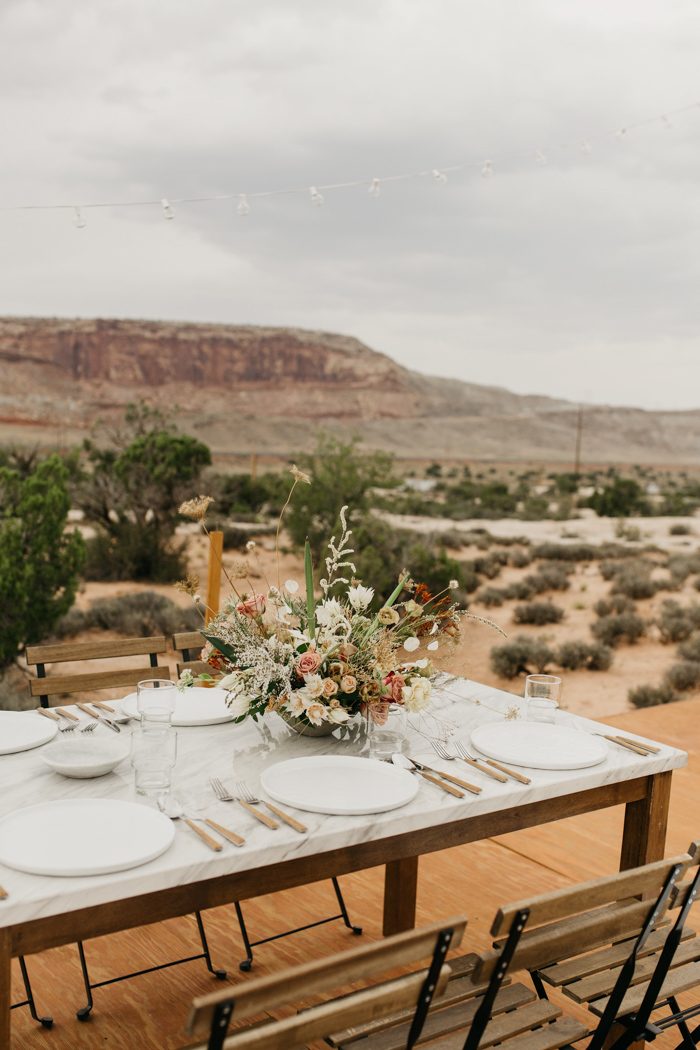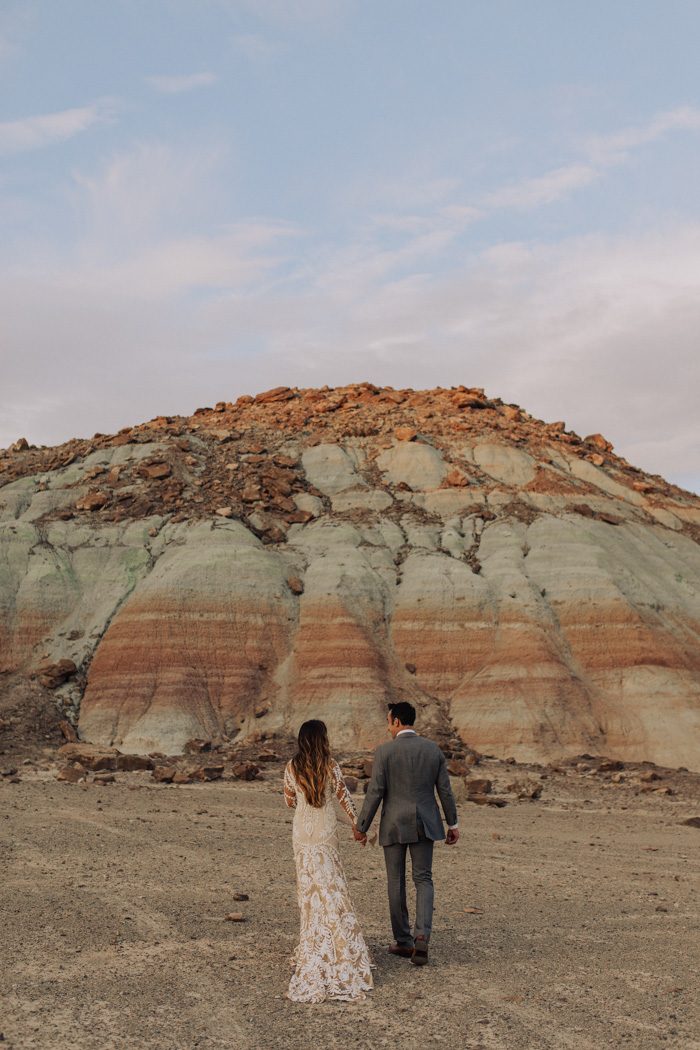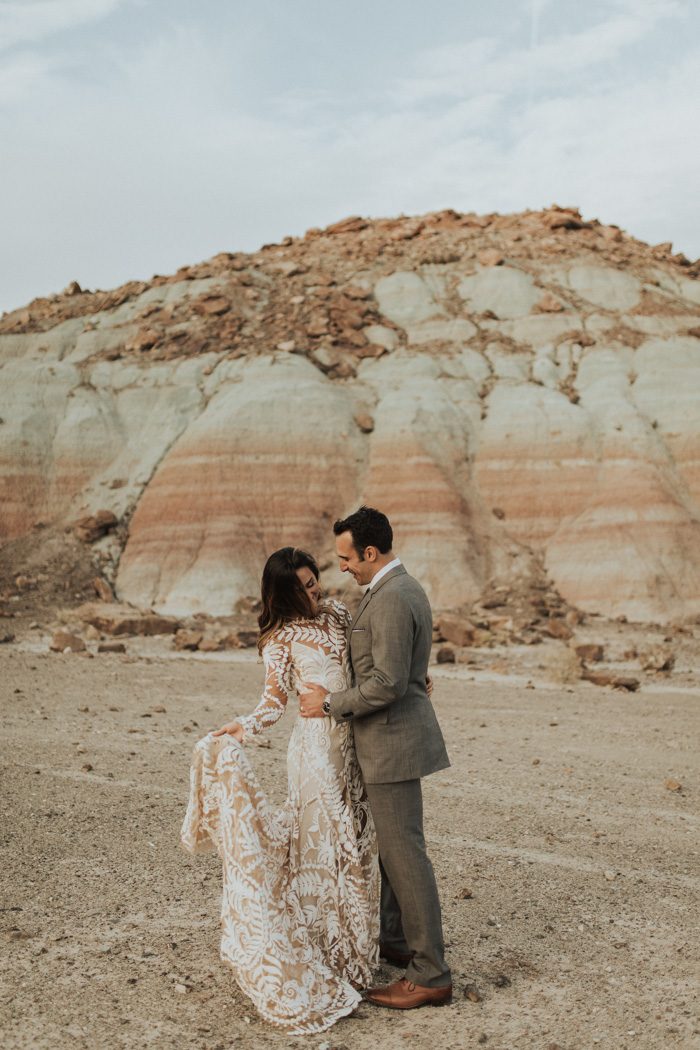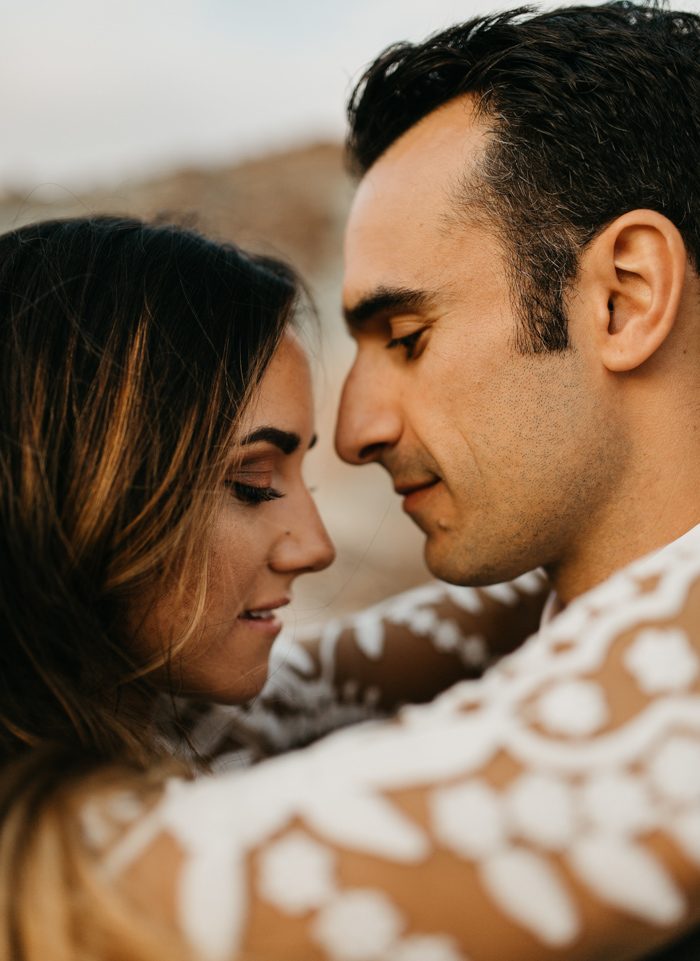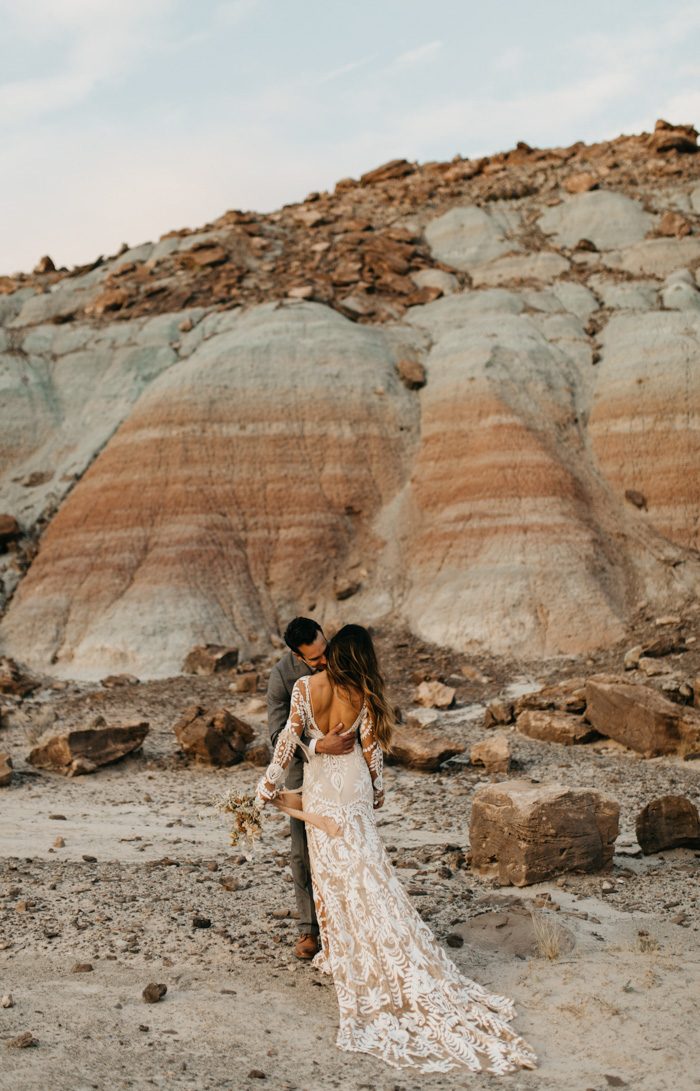 Our advice is to stay true to yourself and trust your gut! There were so many times I would go back and question my original choices on something, but your original instincts will lead you down the right path. There are far too many other decisions to make to get caught up in one little detail! Also, enjoy every little moment of it, the planning process included. There were times when I felt so overwhelmed and just wanted the wedding planning to be over. But cherish all those headaches because they are worth it and you won't ever get them back.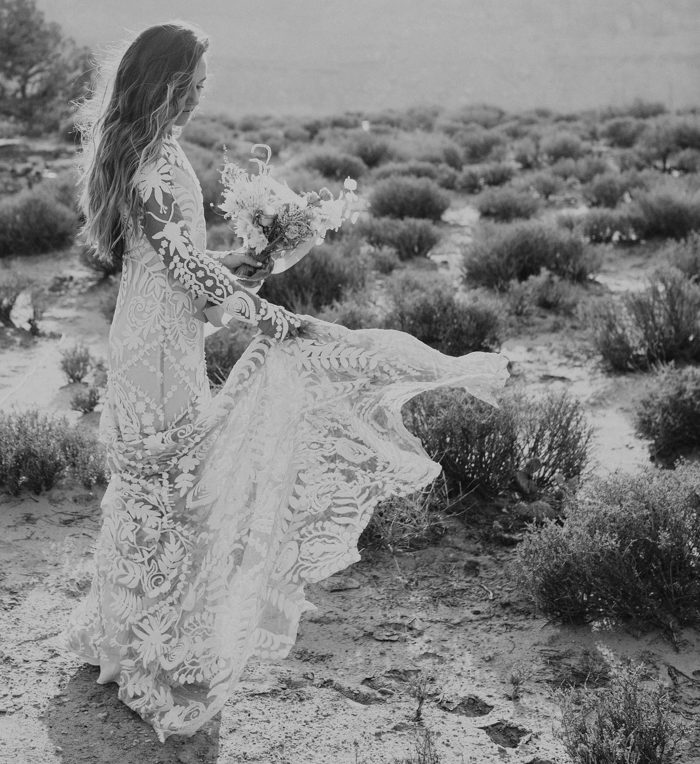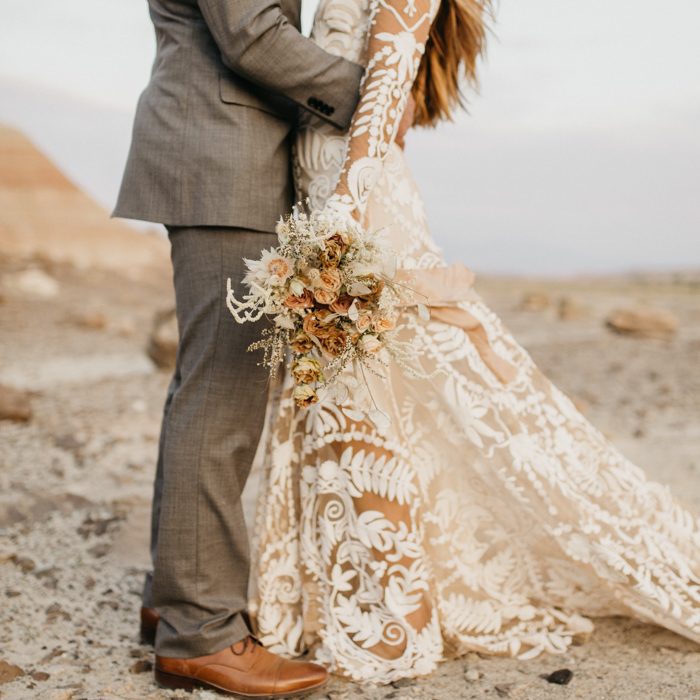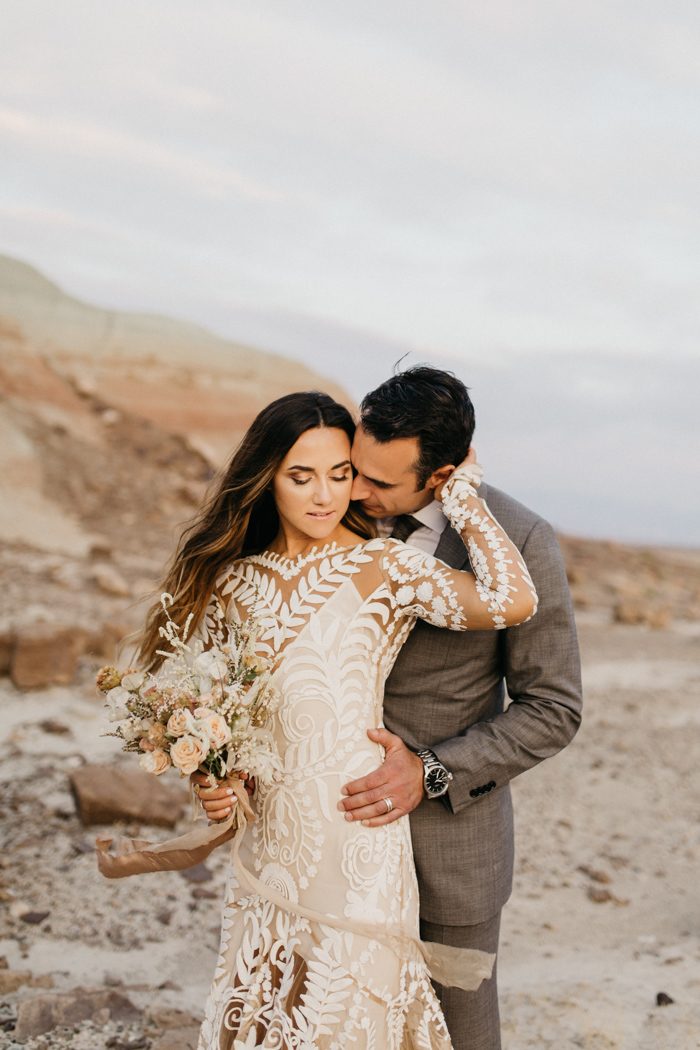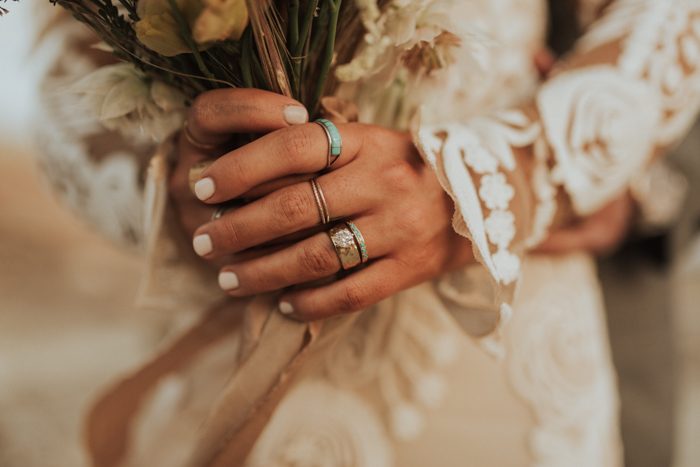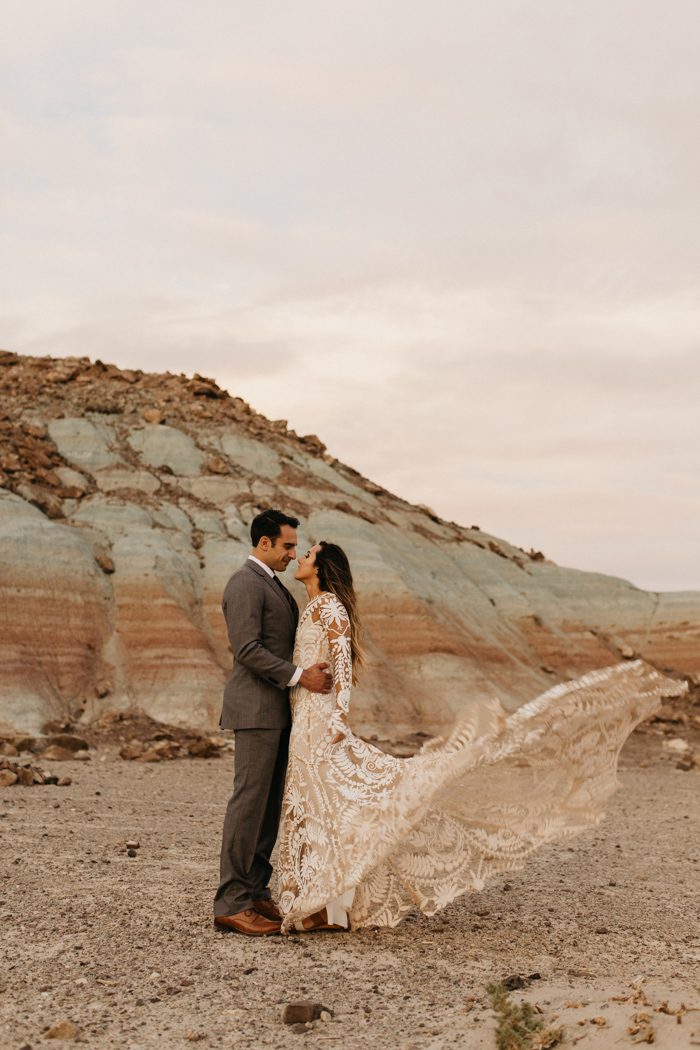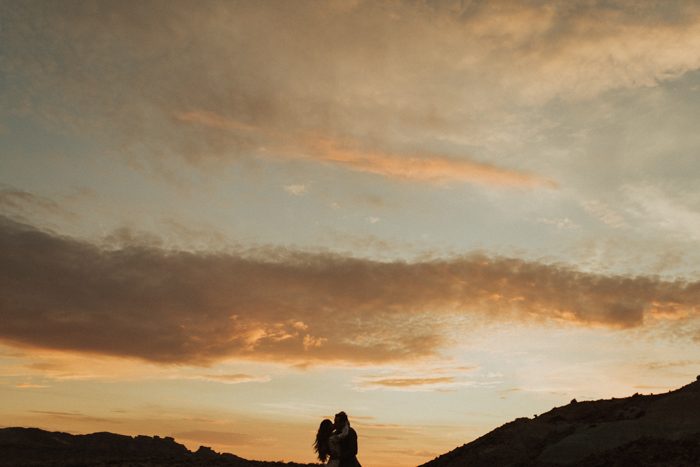 The most memorable part of the day for me was being introduced as Mr. & Mrs. at our reception, walking in under the stars and twinkly lights, in middle of the desert, my favorite song playing, surrounded by my favorite people, and the most beautiful tablescapes I have ever dreamed of in my life. I remember sitting down and just soaking it all in, and I began to break down in tears. I told Brian, if I could freeze that moment in time right there, I would for all eternity. I don't think my heart has ever been so happy!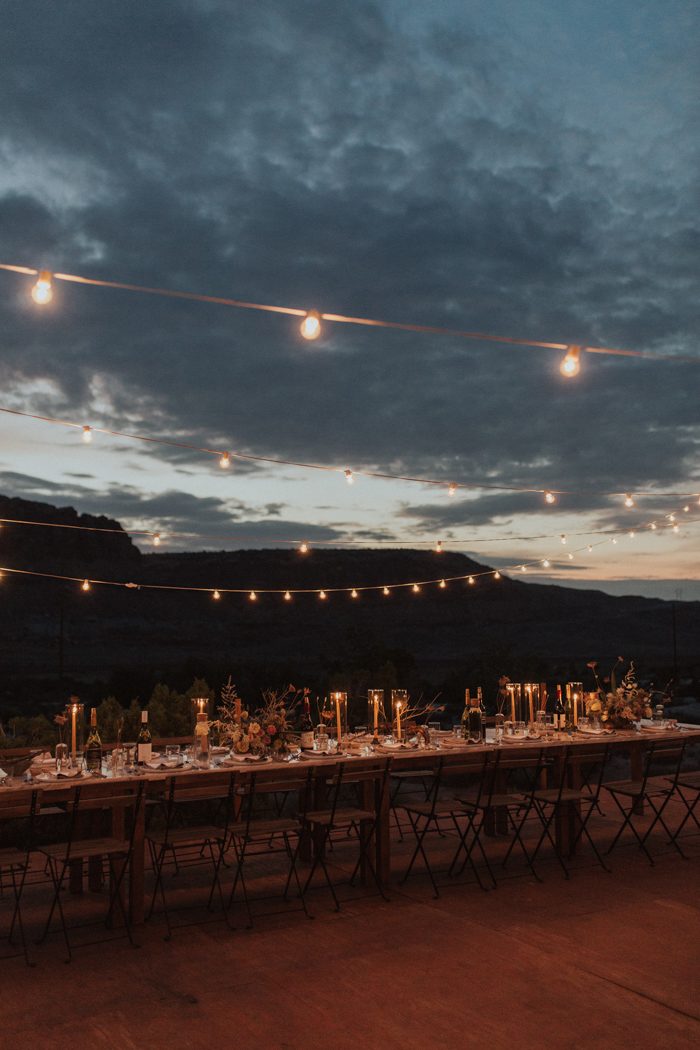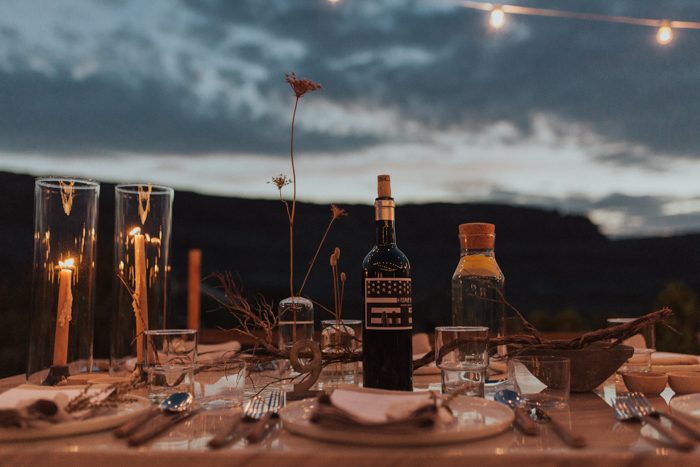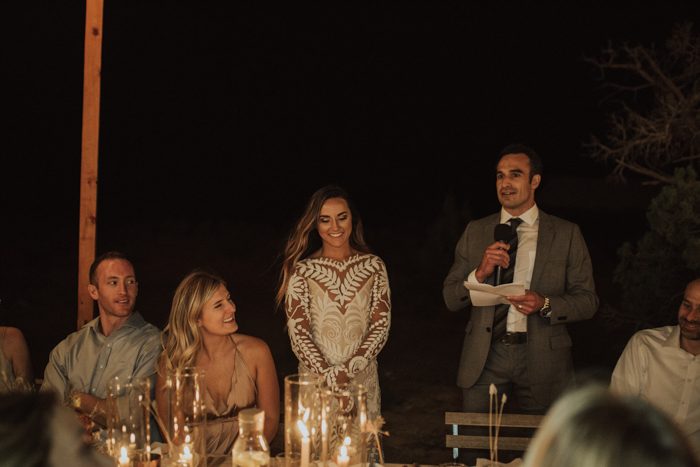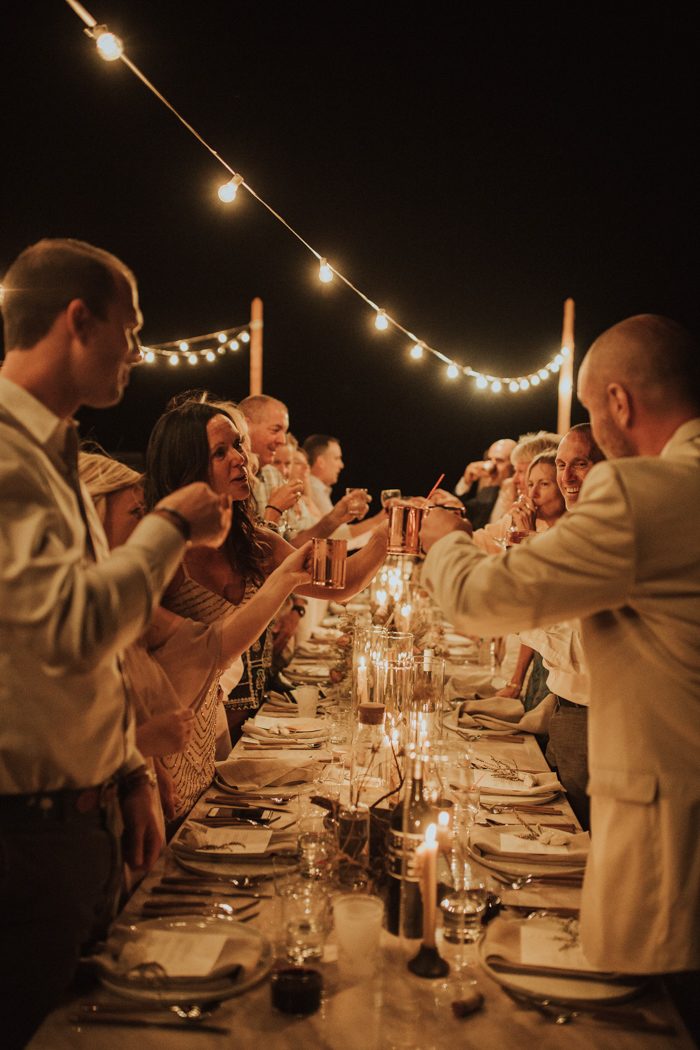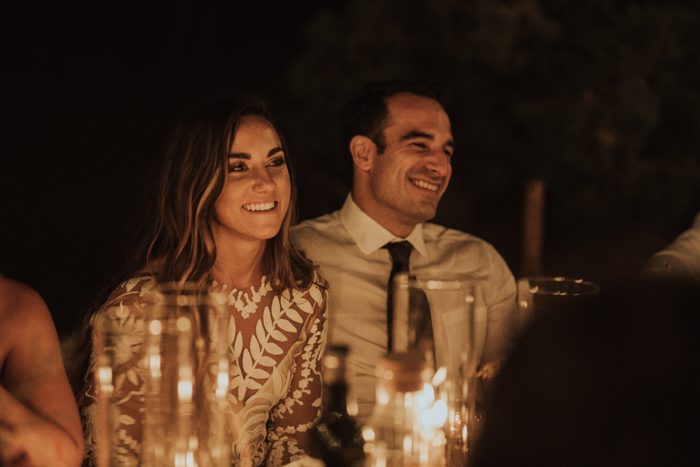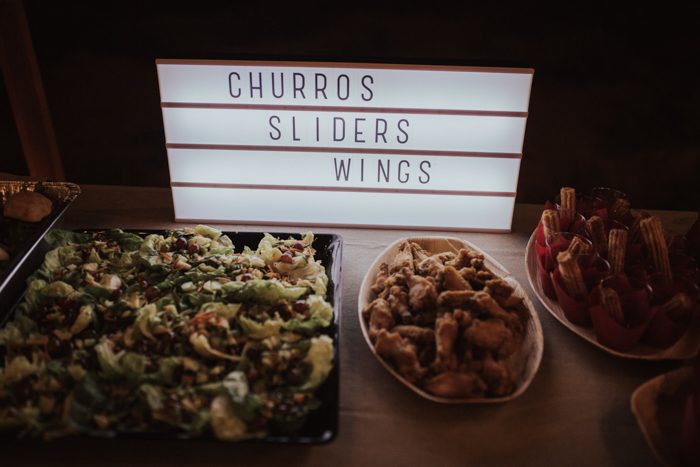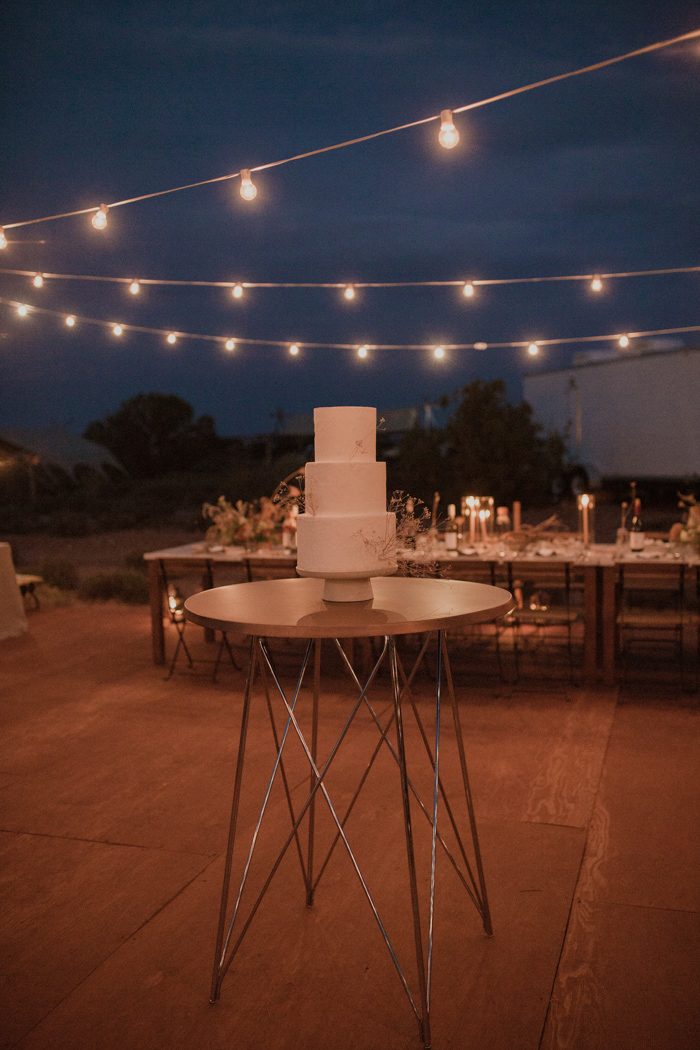 My favorite surprise (which was also a surprise to me because we got behind schedule) was walking into our first dance to all our guests lighting their sparkler fireworks. This was not on our original schedule and Emmily came up with it last minute, so it was such a fun surprise for us and the guests. It was the most amazing magical first dance. We danced to the Haley Reinhart version of "I Can't Stop Falling In Love With You" and I cried like a baby!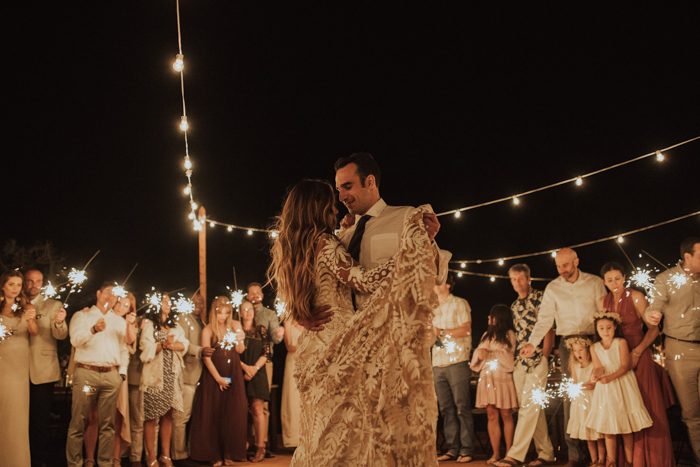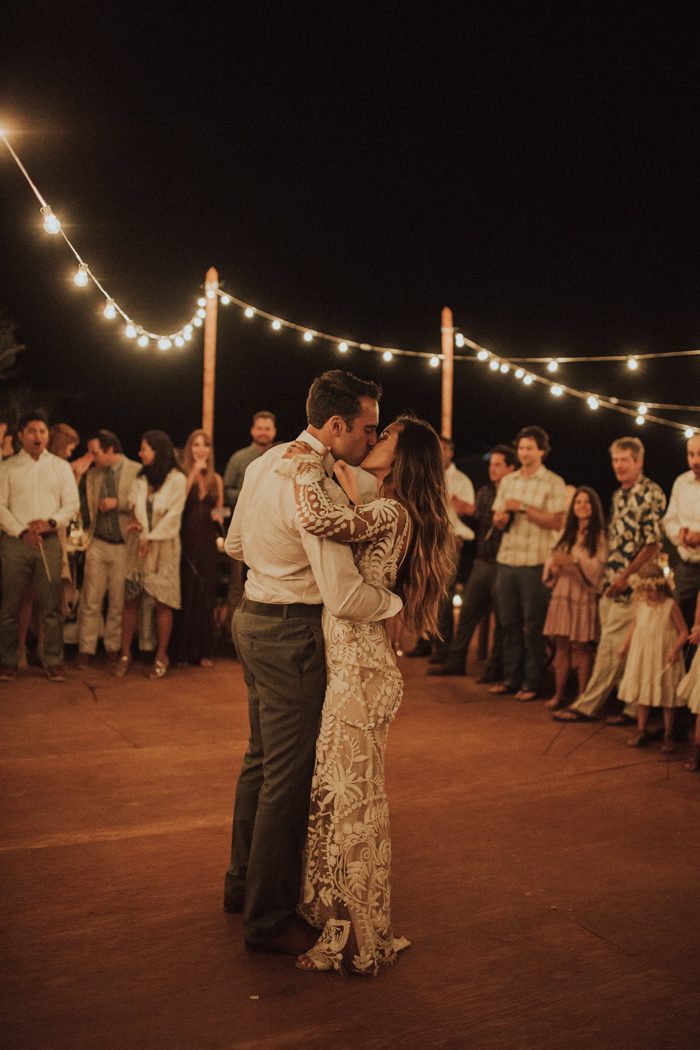 Congratulations to Mallory and Brian, and the biggest thanks to Tews Visual for sharing this spectacular desert wedding with Junebug! Want to see more desert vibes? This black, burgundy, and gold Desert Botanical Garden is a total showstopper!