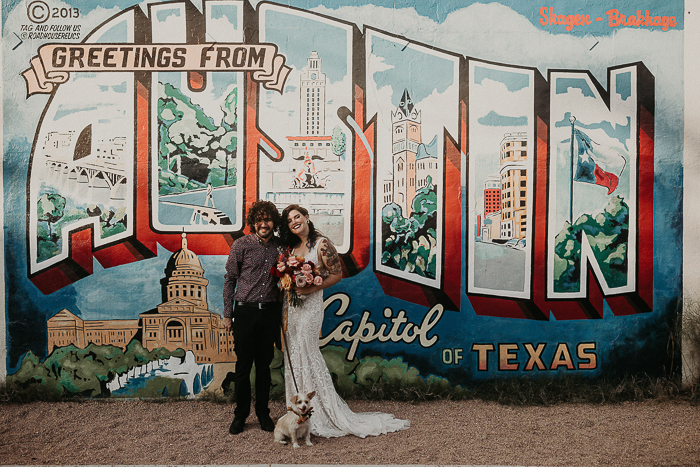 The pandemic may have changed the wedding industry as we know it, but couples all over the world didn't let that deter them from saying "I do." After their original 150-person wedding in Malibu was canceled, Kelley and Jonathan hosted a small quirky backyard wedding that was the epitome of personalization.
With ten of their closest friends, the two exchanged vows while their loved ones watched from California on Zoom before snacking on charcuterie, tacos, and chocolate wedding cake from La Patisserie. And although the celebration was small, they didn't skip out on any detail. The backyard was filled with autumnal toned florals arranged by Wildly Cultivated Floral Design, mini picnic tables, and romantic string lights.
So whether your plans have shifted, you're planning a wedding on a budget, or you just want to tie the knot at home for sentimental reasons, keep scrolling to see these beautiful photos captured by Junebug member Nikk Nguyen Photo to get inspired.
The Couple:
Kelley and Jonathan
The Wedding:
Austin, Texas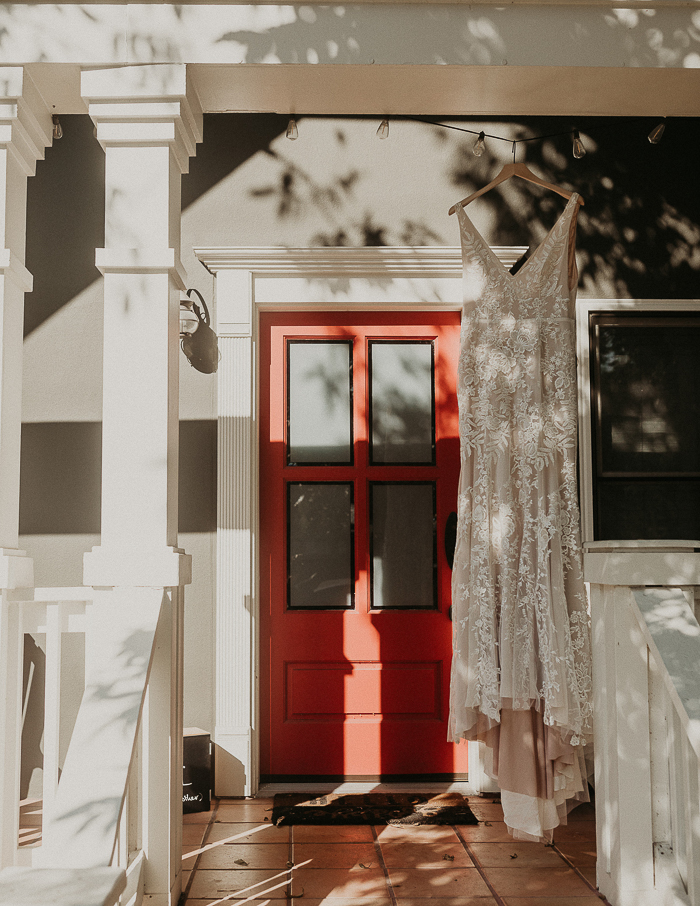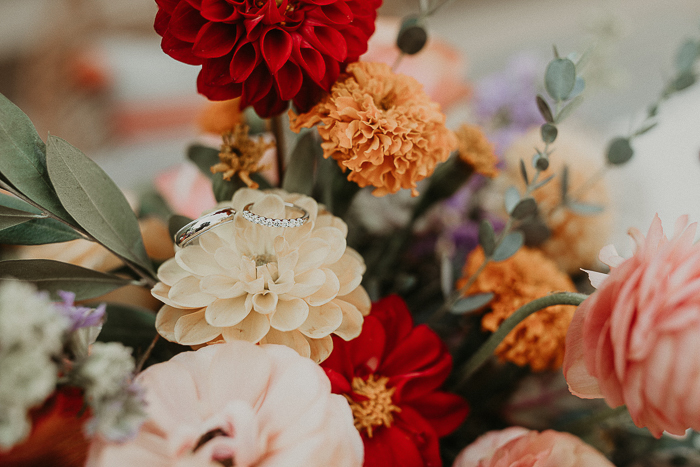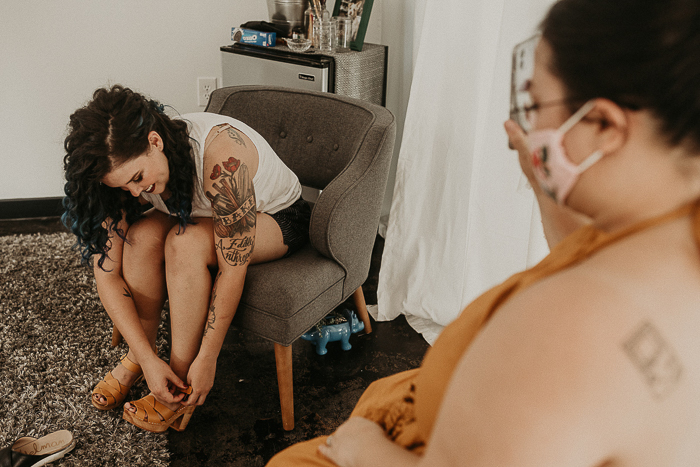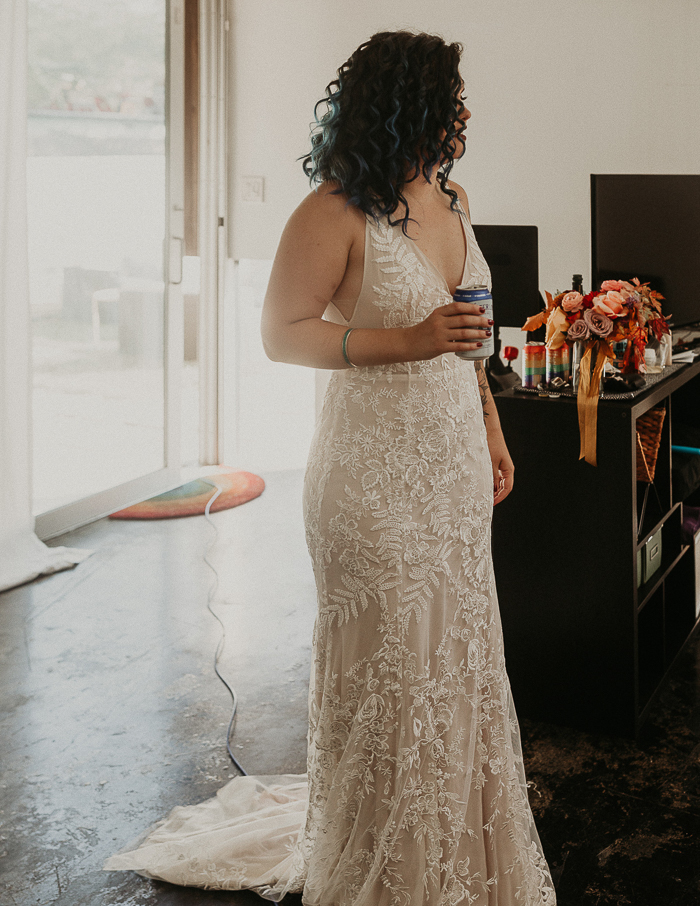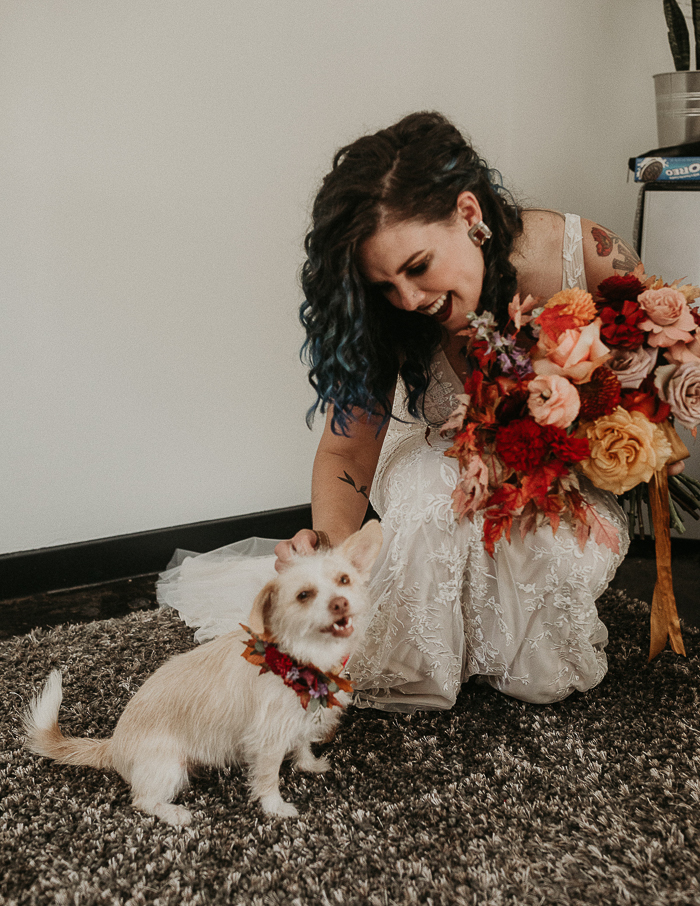 A Change Of Plans That Led To The Quirky Backyard Wedding
Our wedding style was very fun and personal. Because of the pandemic, we had made many changes to our original plans of getting married on the beach in Malibu with a 150-person reception a week later in San Francisco (where we met). However, we were determined to keep our commitment to our original date and not let COVID cancel the beginning of our married life together. Although our family could not join us from California, we made it work with the ten-person gathering restrictions and had our closest friends participate in the day, with our parents, grandparents, and siblings attending via Zoom. Whether it was our officiant, maid of honor, or sage smudger, all our friends really came through to make our Austin backyard magical and romantic.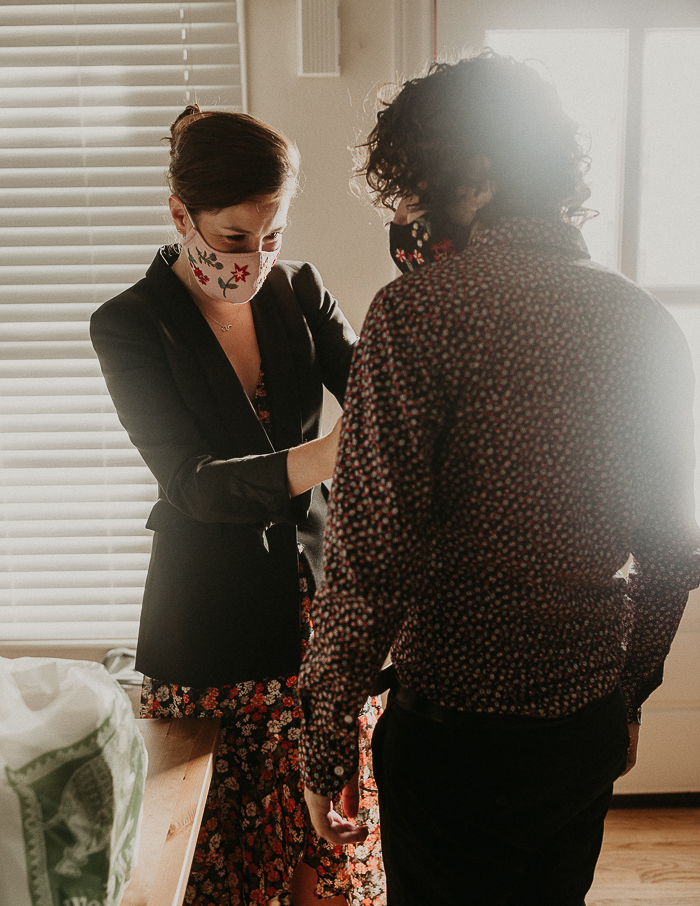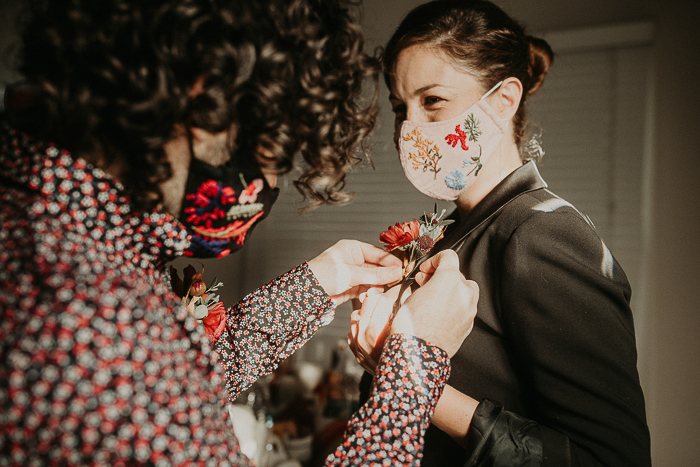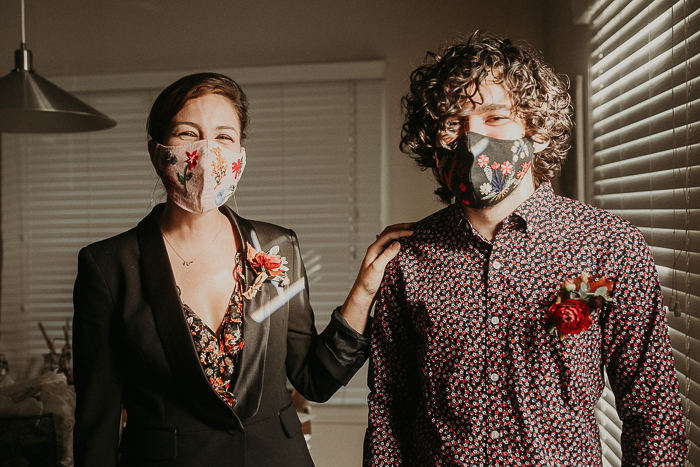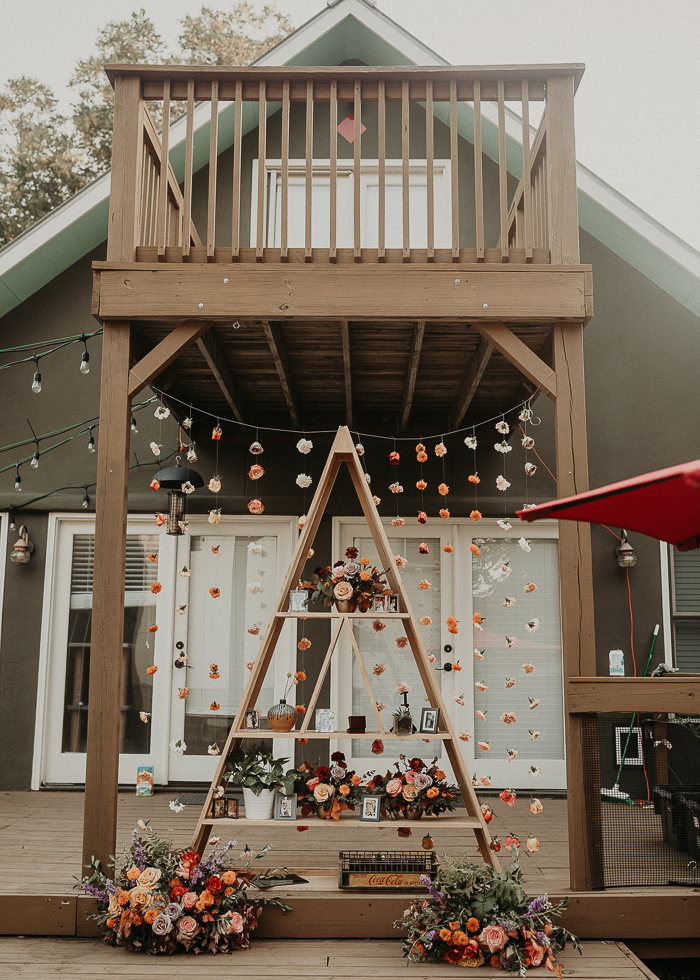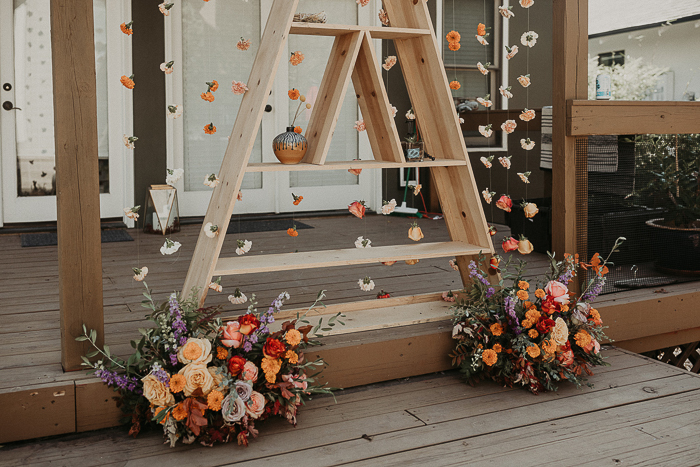 Warm Autumnal Vibes
We wanted a vintage autumn vibe, so we selected our tableware–a 1970's Charmware pattern–from Etsy. Our flowers were lovely autumn blooms from Wildly Cultivated with my favorite flower, dahlias, and romantic blush roses and other hues of deep reds, vibrant yellows, and oranges. We also wanted to incorporate accents from our original seaside plans, so I hand-painted champagne flutes with blue watercolors and selected macrame and blue accents to break up the warmer full tones. To make the perfect backdrop, we used our existing porch structure and hung a curtain of flowers behind a triangular shelf, accented with personal decor and the wedding pictures of our parents and grandparents to honor their presence and examples of love and commitment before us.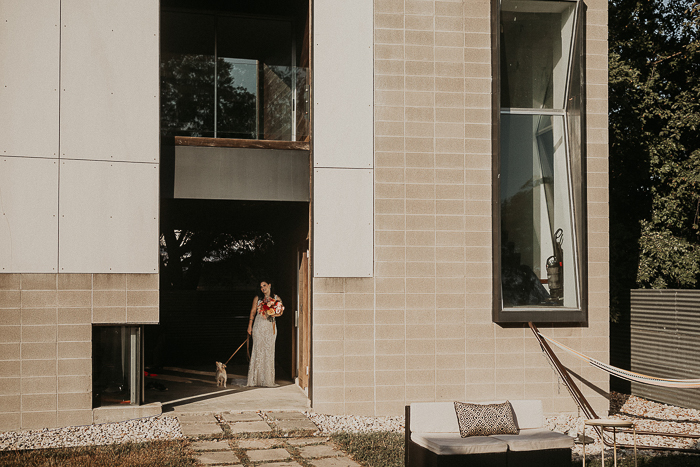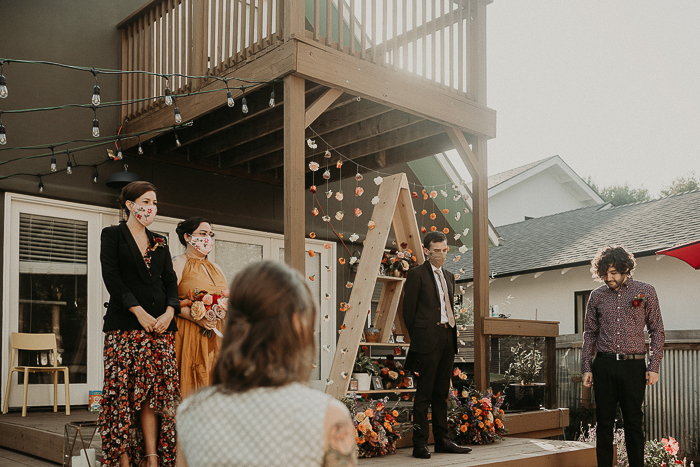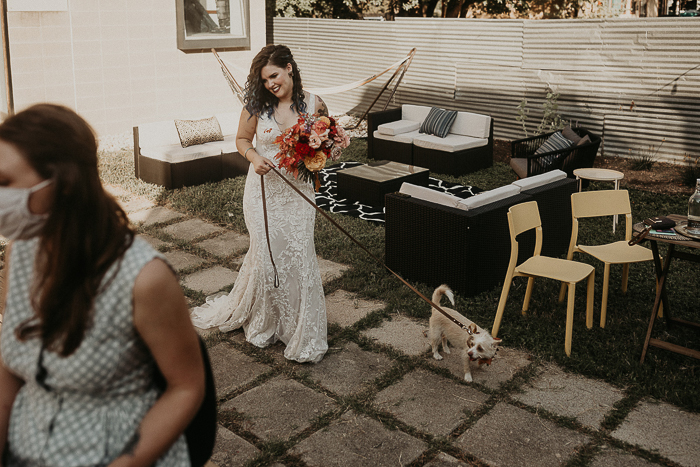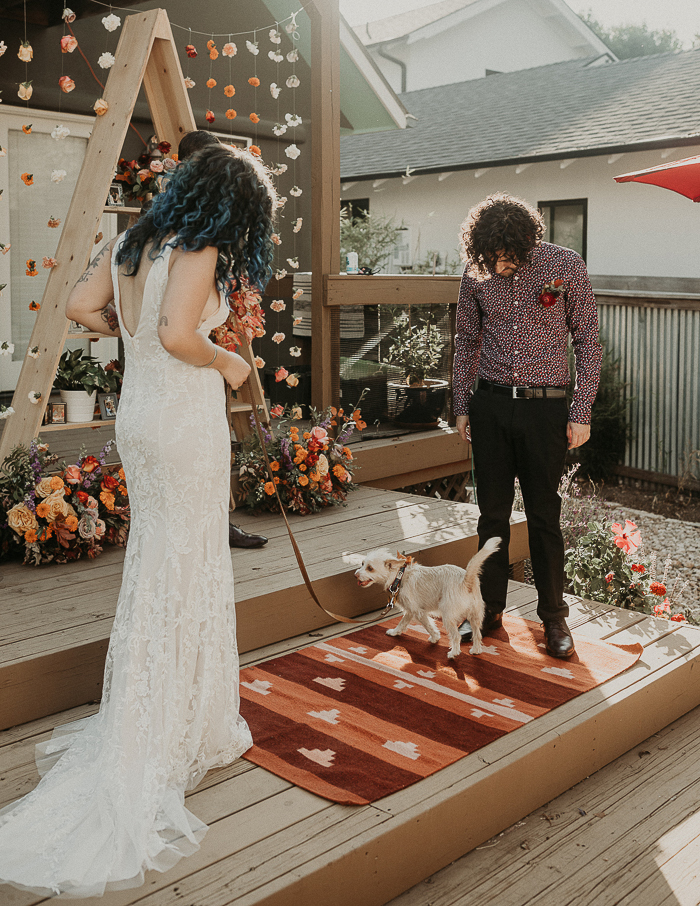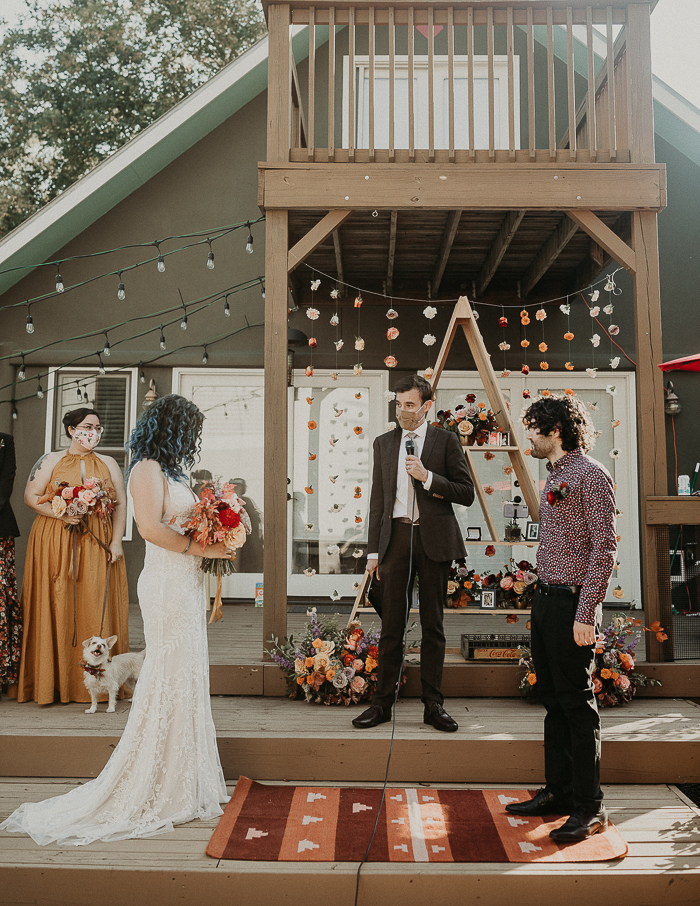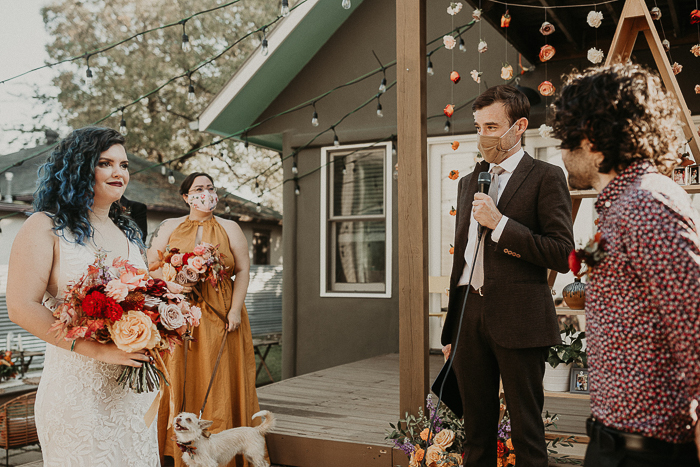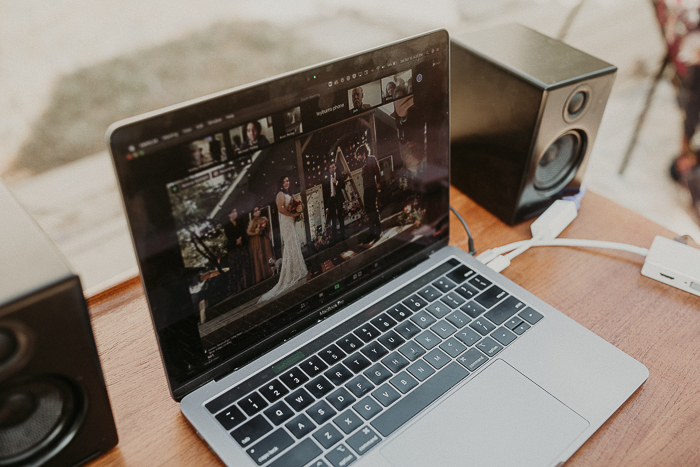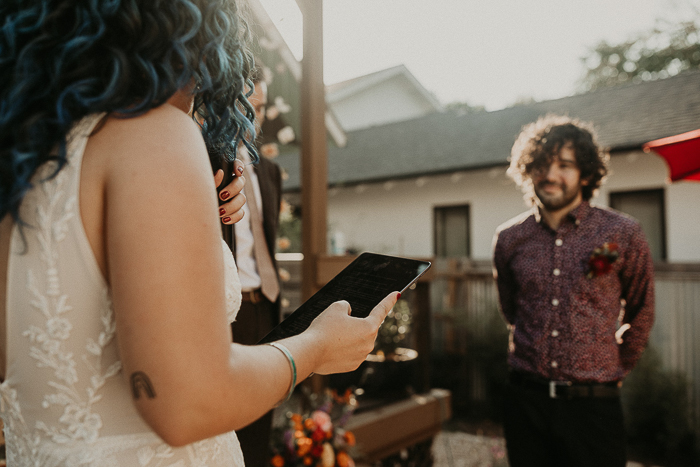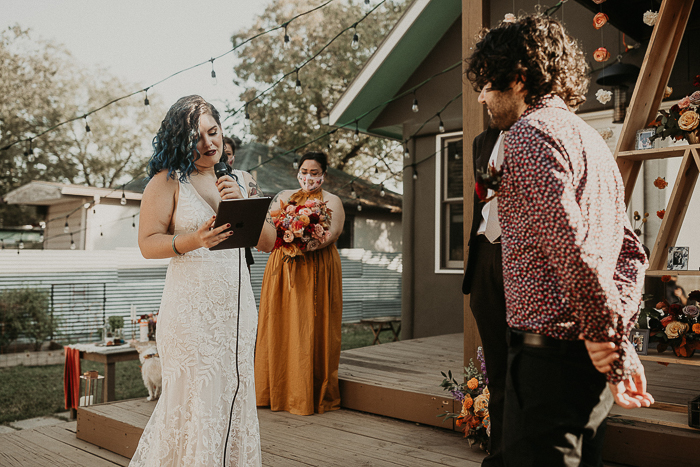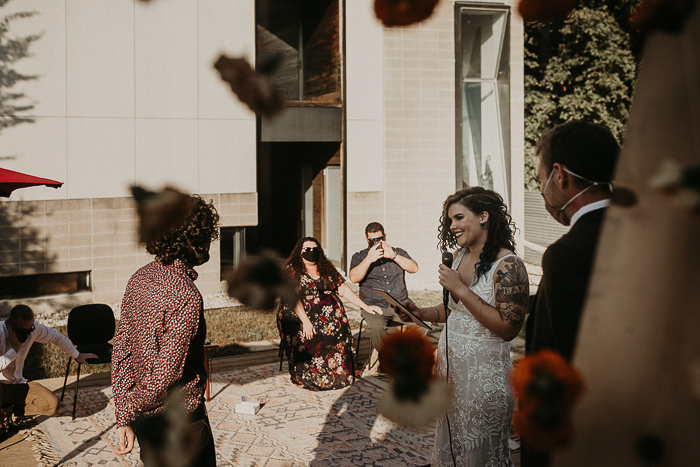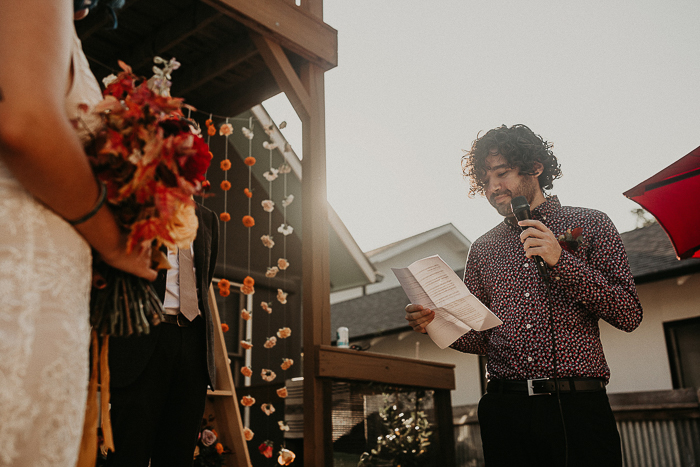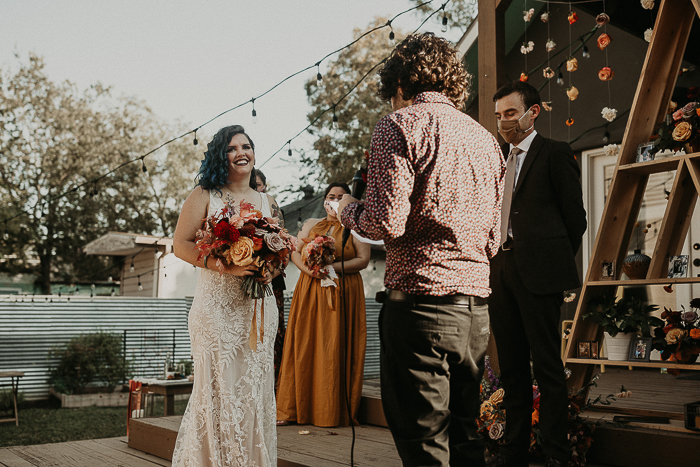 Wedding Advice From The Couple
The most important advice we can give is to give up on perfection and enjoy the ride that is wedding planning. I got mired down in all the details and really exhausted by the constant curveballs the pandemic threw at us. Once we threw all outside expectations away (thanks to the nudge of a pandemic) and started focusing on the parts of our wedding day that were essential to us–an enjoyable evening with good company to celebrate our love for each other–we created an evening as unique and personal as it was unforgettable.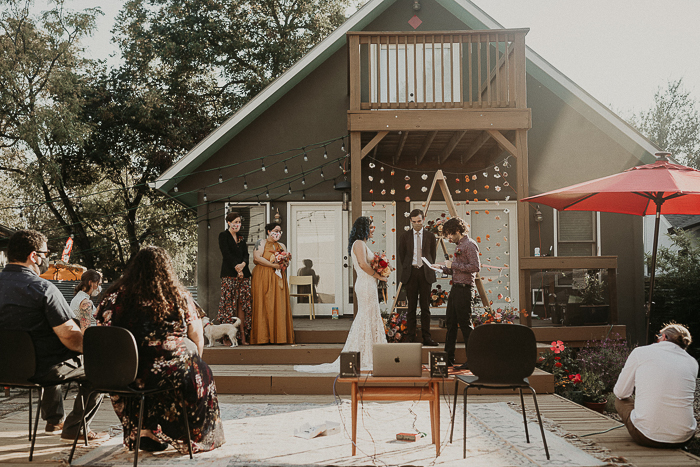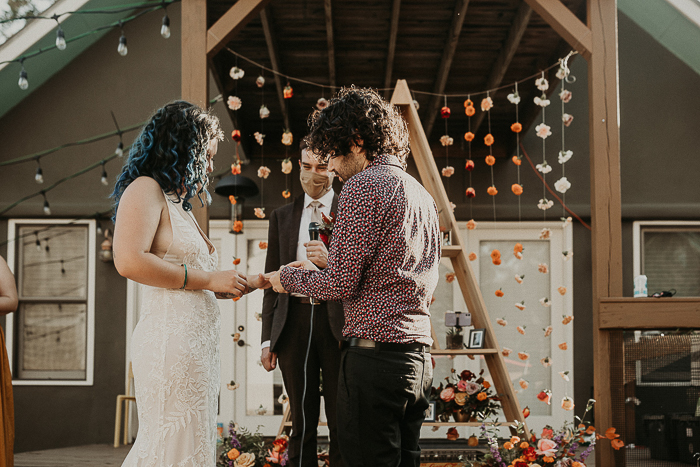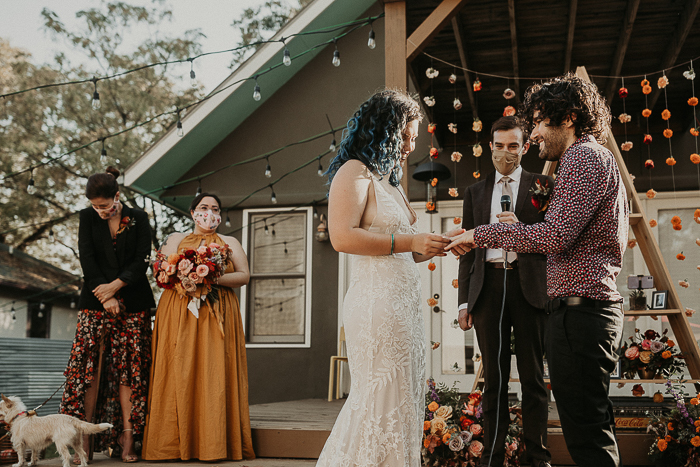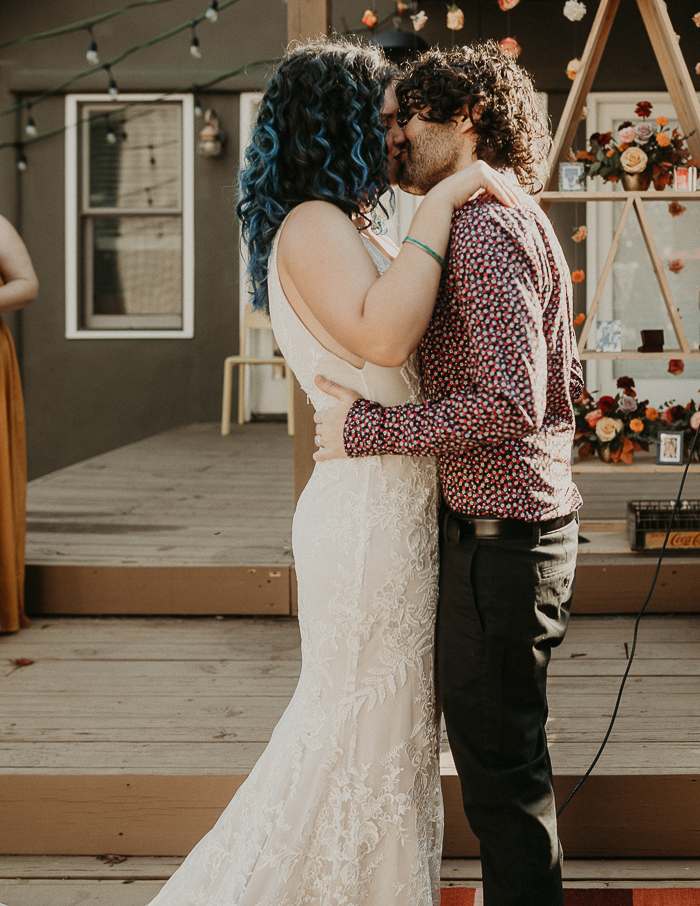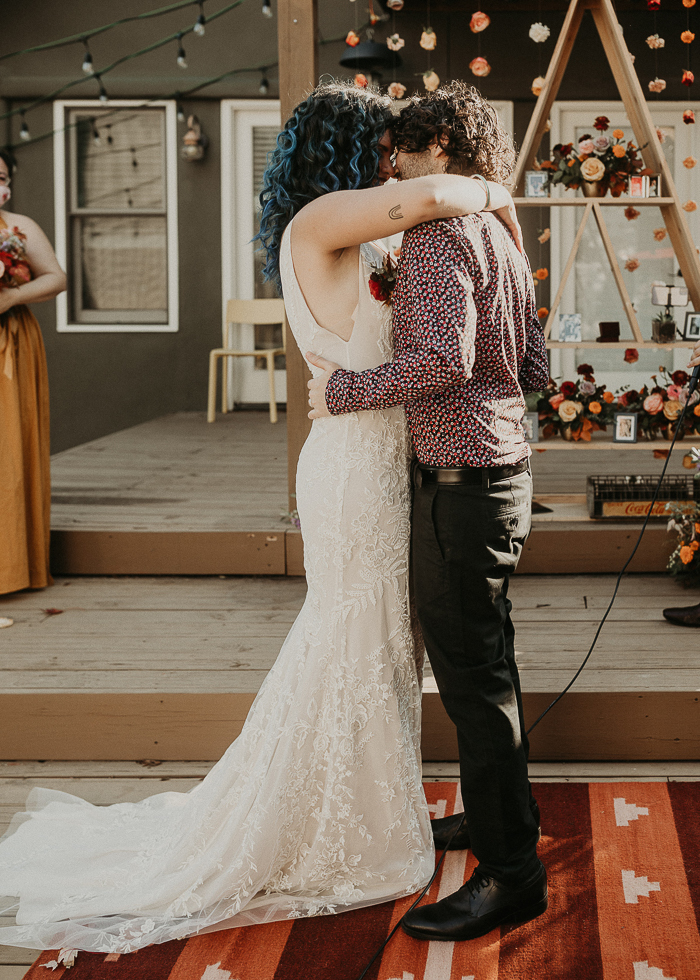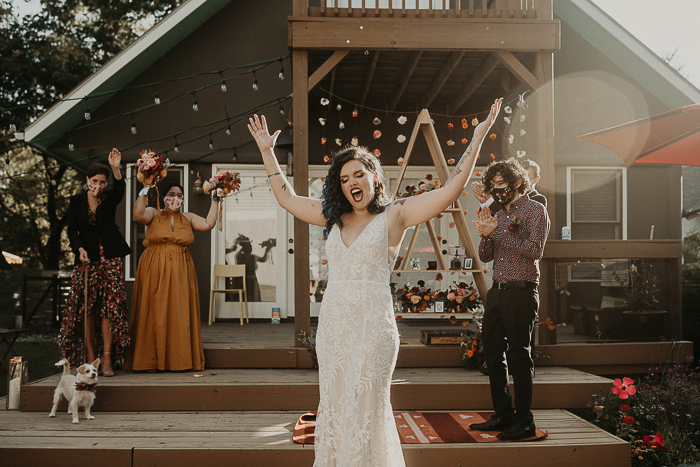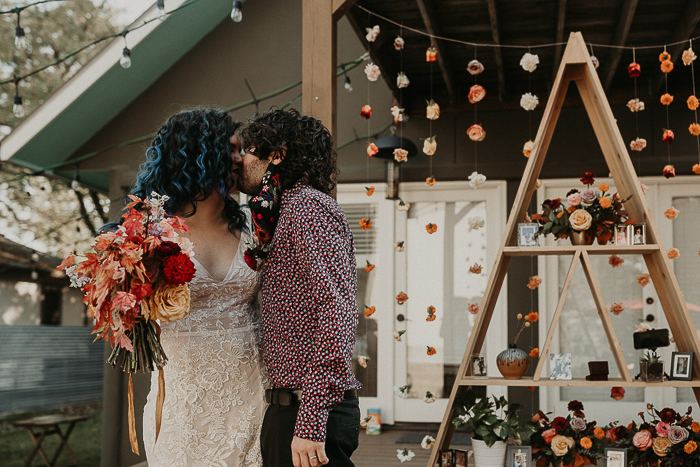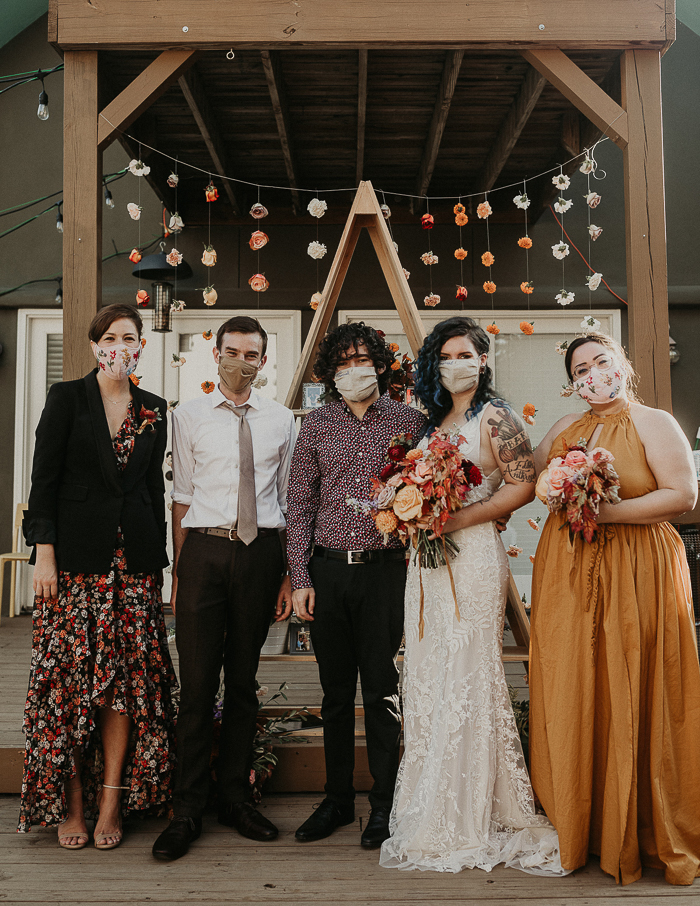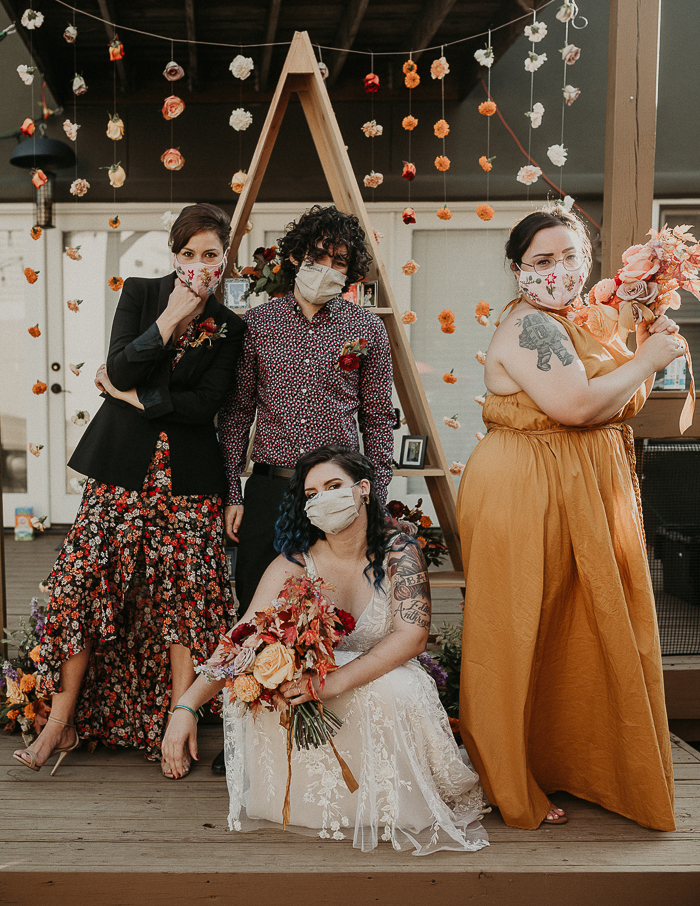 DIY Care Packages For Those Who Couldn't Attend
We put together little care packages that we sent out to our remote guests to create a shared ambiance despite the miles between us. I also hand-painted champagne flutes in shades of blue so we could share and keep the decorations. The packages also contained a soy wax candle with our wedding date and hashtag labeled on them and an envelope filled with dried lavender "confetti."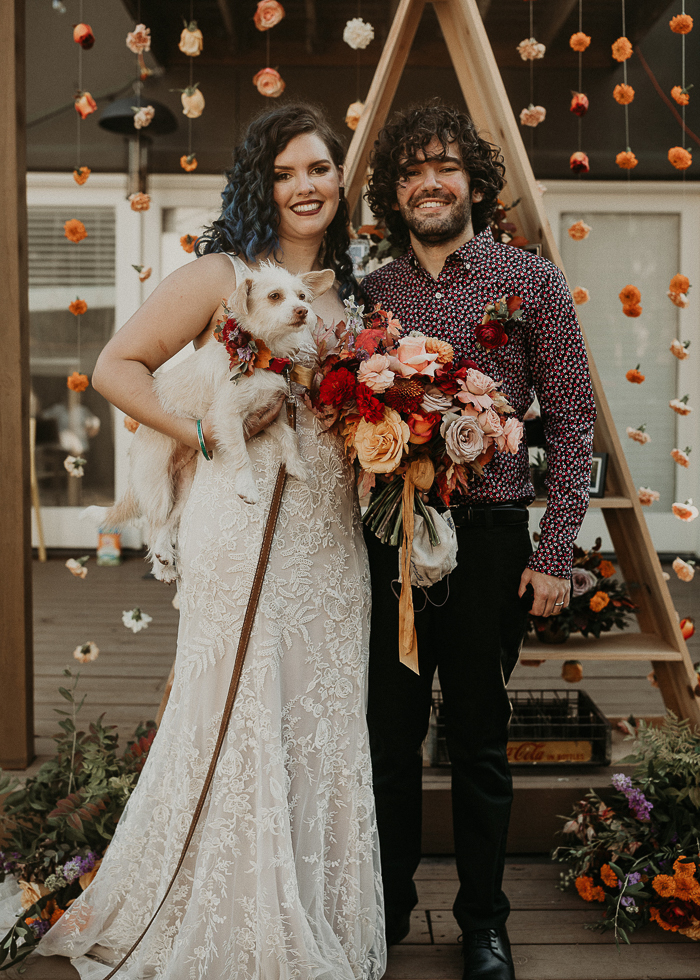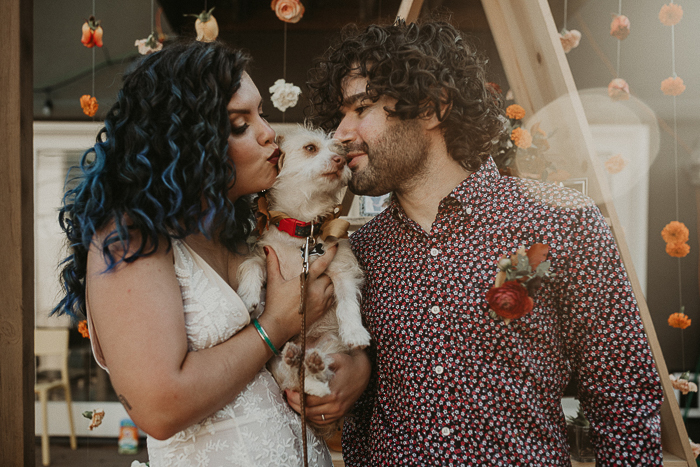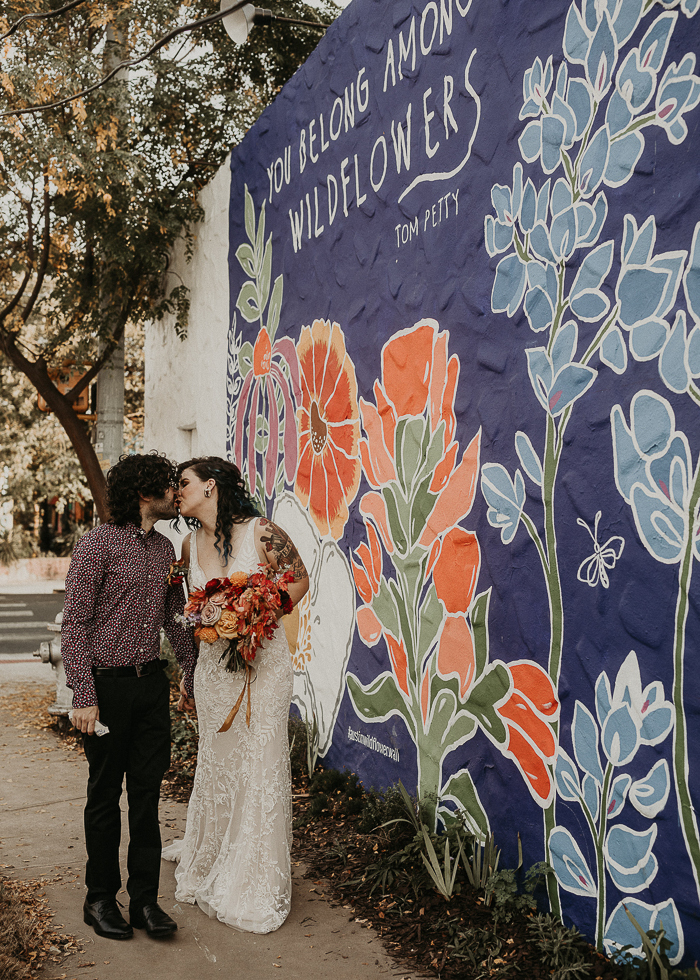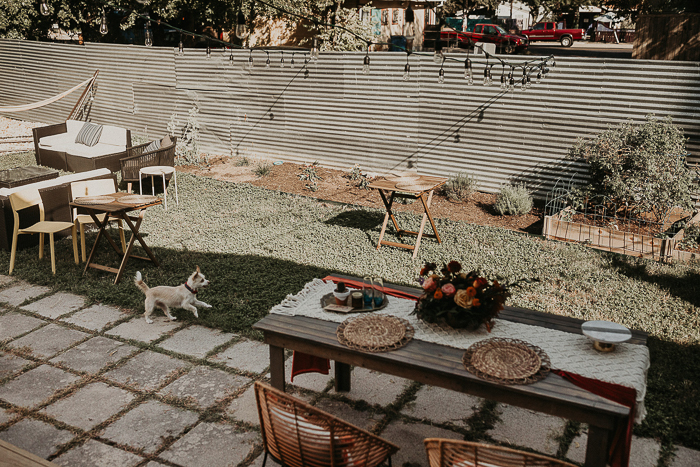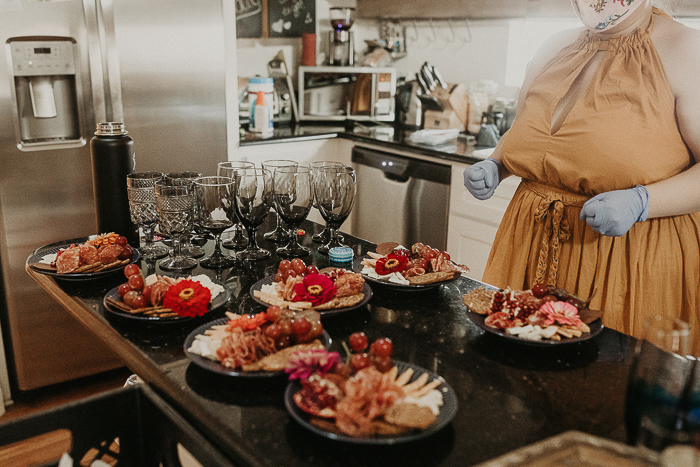 A Feast Consisting Of The Couple's Favorite Foods
We all had a part in the wedding menu and what we didn't make ourselves came from our favorite neighborhood restaurants. I mixed sangria and other cocktails in large bottles the evening before, and our Maid of Honor, Mary, prepared individual charcuterie plates for each table to snack on while the toasts were being made. Jonathan's brother and sister-in-law from down the street picked up our group order from Fresas on South First, and Best "Man" Chelsea grabbed our 8-inch chocolate wedding cake from La Patisserie next door.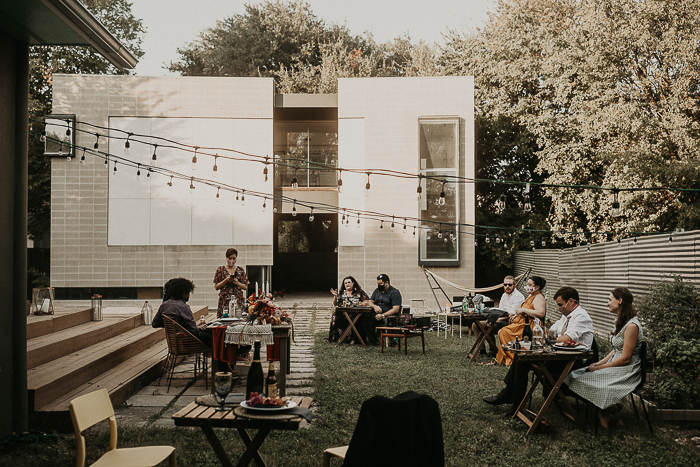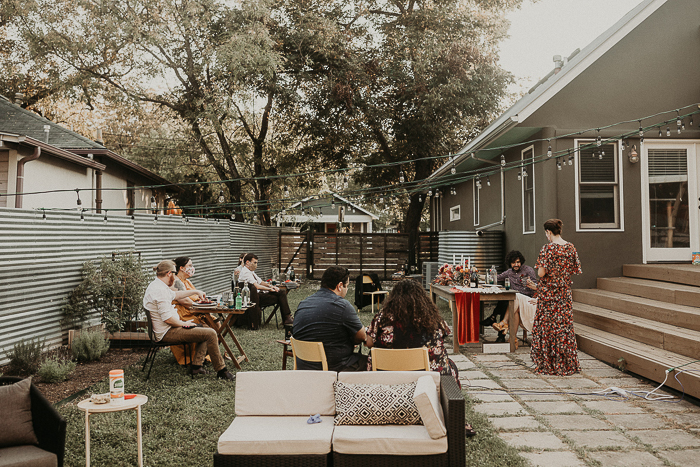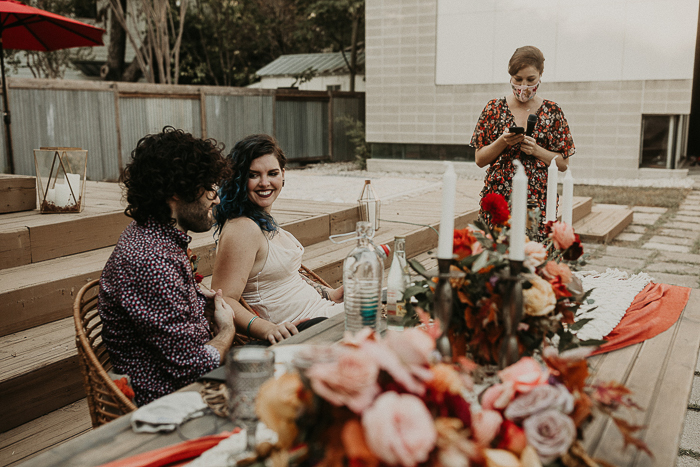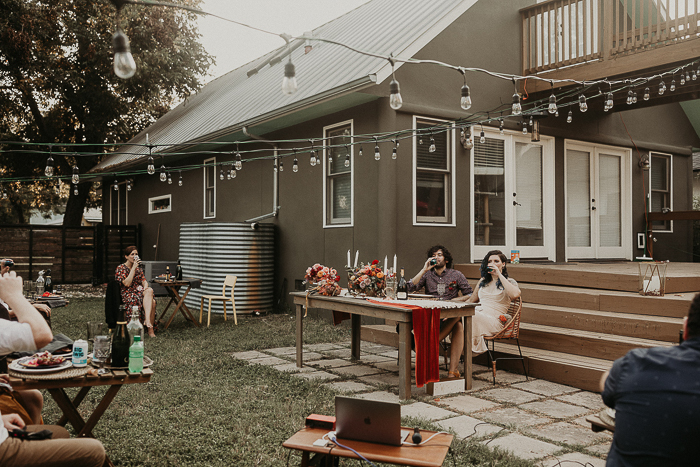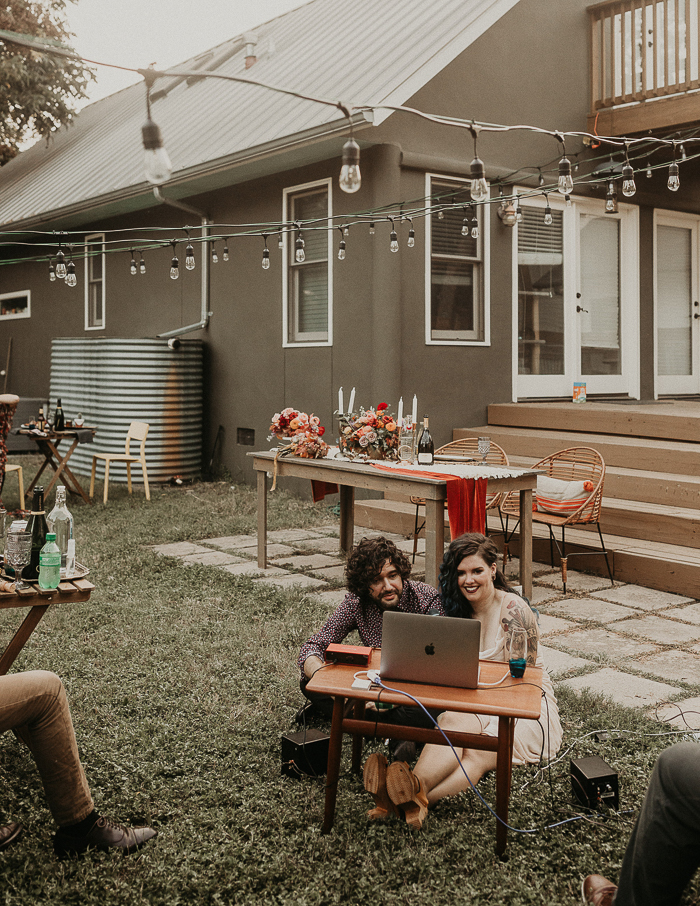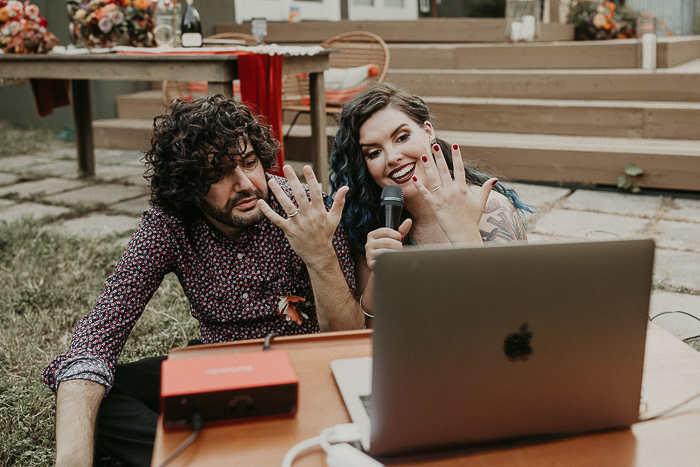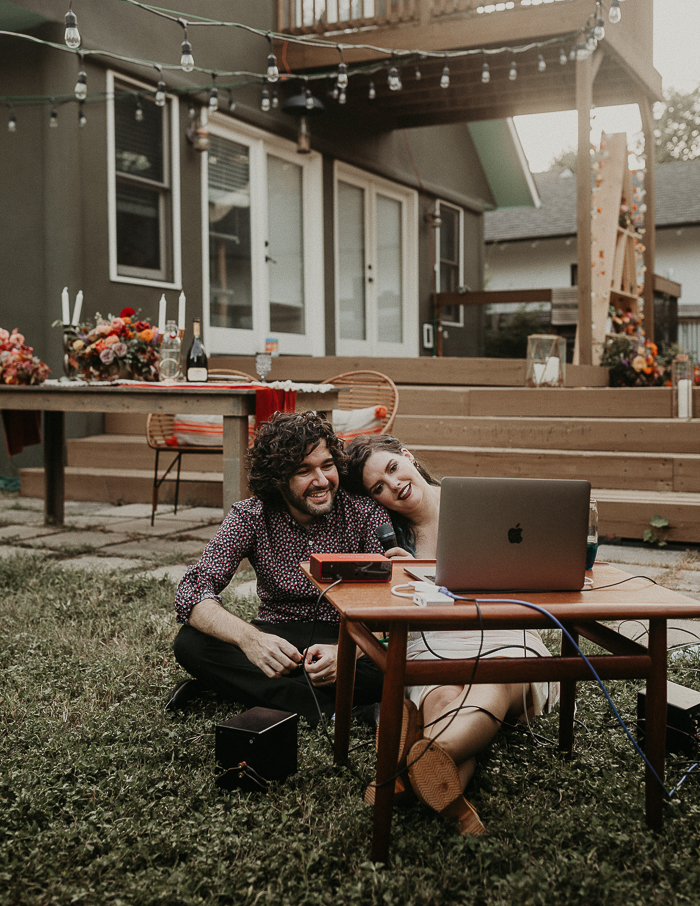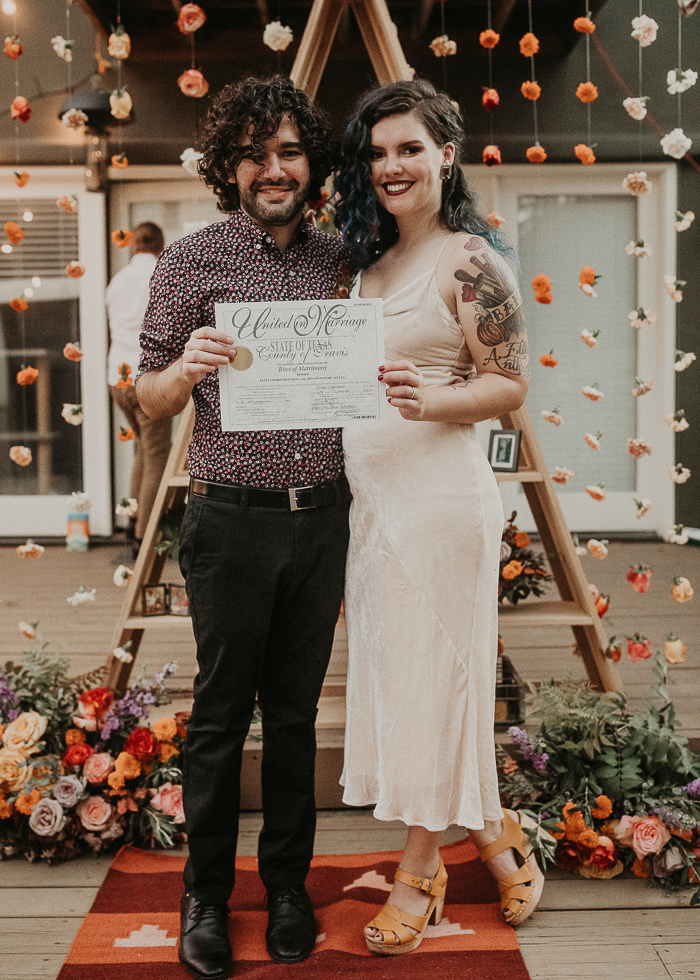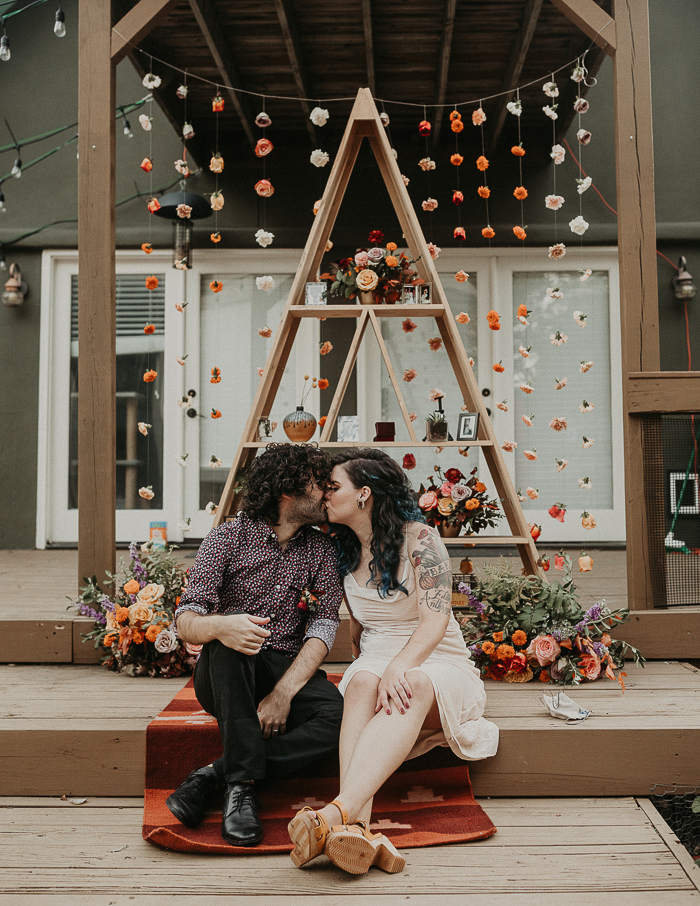 Congratulations to Kelley and Jonathan on their quirky backyard wedding! And big thank you to Junebug member and photographer Nikk Nguyen Photo for capturing and sharing their special day with us. To see more of Nikk's work, check out his portfolio in our directory of wedding photographers from around the globe.
To get started planning your own unique backyard wedding, be sure to check out our ultimate guide, which breaks down everything logistical from lighting to yard maintenance and more.