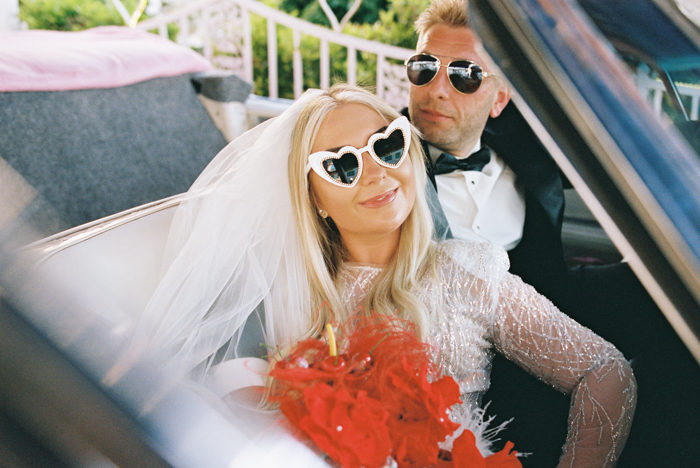 Molly and Adam had always held a special place in their hearts for the allure of Las Vegas. In fact, it was right there at the very top of their must-see destinations. Let's be honest, who can resist the glitz and glamor that this city has to offer? But the cherry on top of their Vegas dreams was an unforgettable Las Vegas destination elopement. Picture this: a celebration just for two, in the spotlight of the iconic Little White Chapel, exchanging vows inside none other than Elvis' legendary pink Cadillac. Now that's what we call a rock 'n' roll wedding!
They kicked the day off with a dip in the rooftop pool, soaking in stunning views of the bustling strip below. Once they were ready, a fancy limo took them to the chapel. The sun was setting as they tied the knot on the pink Cadillac. After the drive-through ceremony, their adventure took them to the iconic Las Vegas sign, where they immortalized their big day with portraits. Returning to their hotel room, they indulged in a heart-shaped cake, savoring every bite, all while basking in the day's happiness.
These lovebirds didn't overlook a single detail, making sure everything aligned perfectly with the classic Vegas vibe they were after. It was an intimate affair, just the two of them, but their intention was to ensure their loved ones back home could share in their joy. And thankfully, Erin Roberts was there to capture every single moment. If your wedding style is out-of-the-box unconventional, you definitely don't want to miss out on this elopement. Keep on scrolling to delve into their remarkable journey and find some inspiration of your own.
The Couple:
Molly and Adam
The Wedding:
The Little White Chapel, Las Vegas, Nevada, United States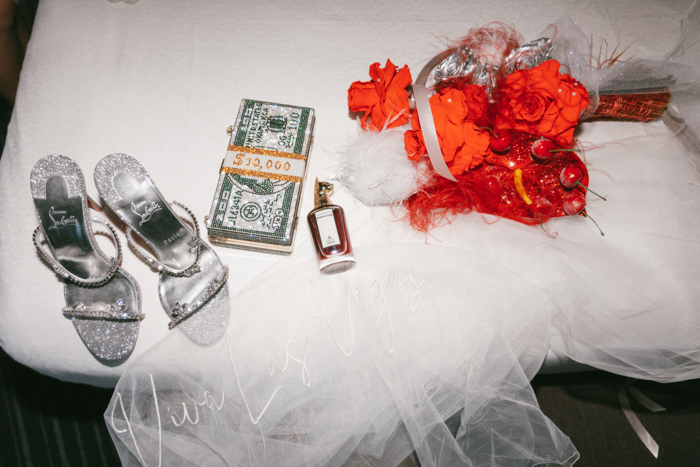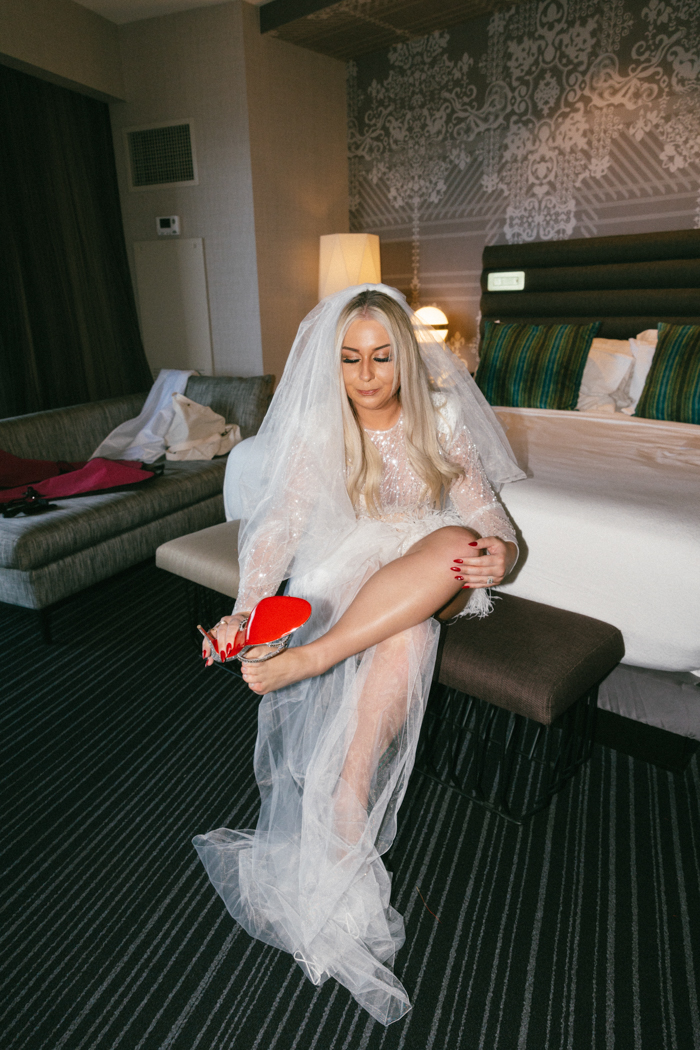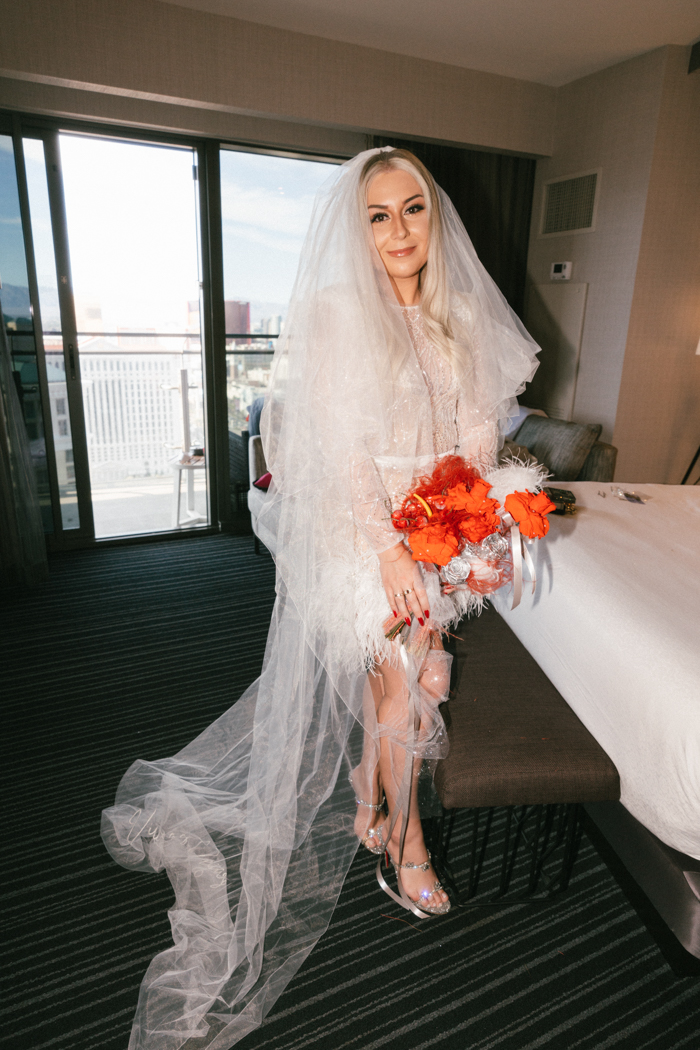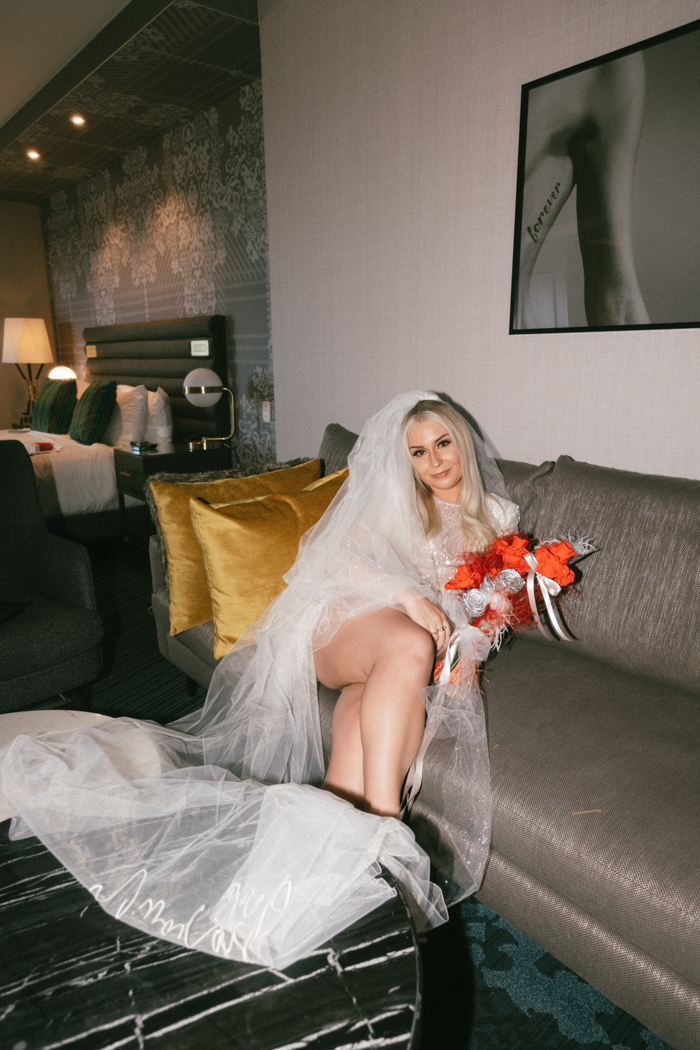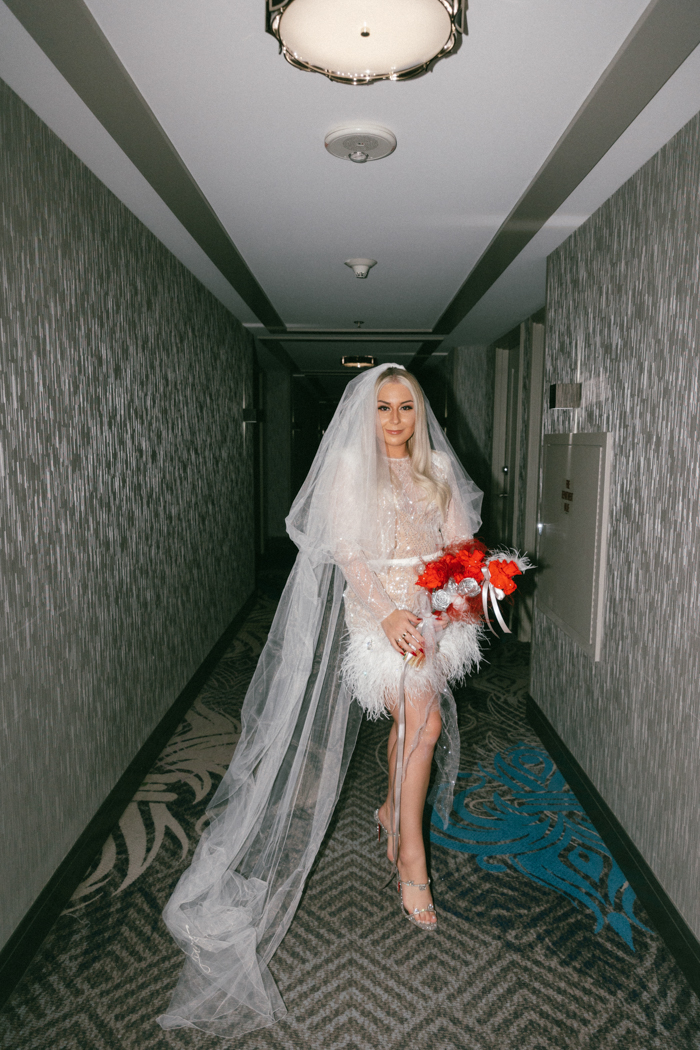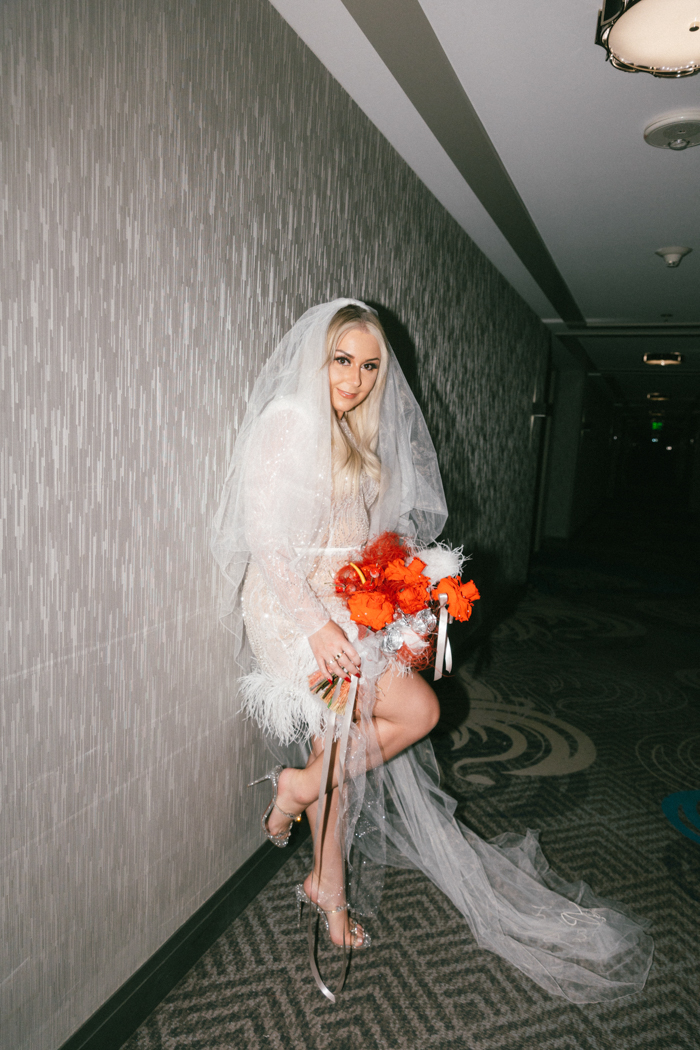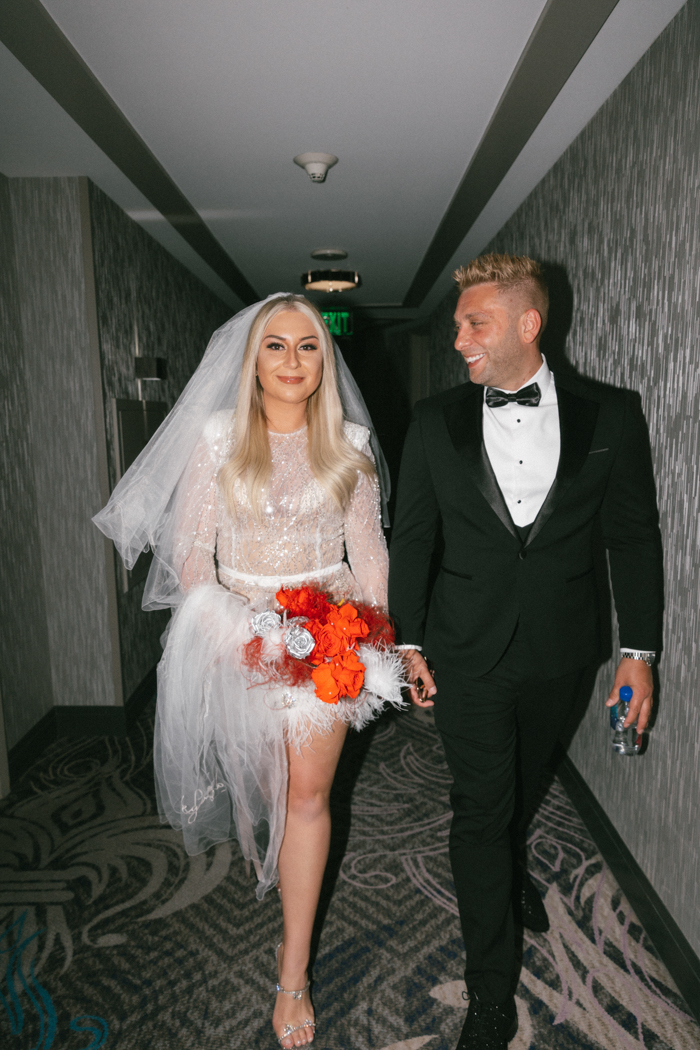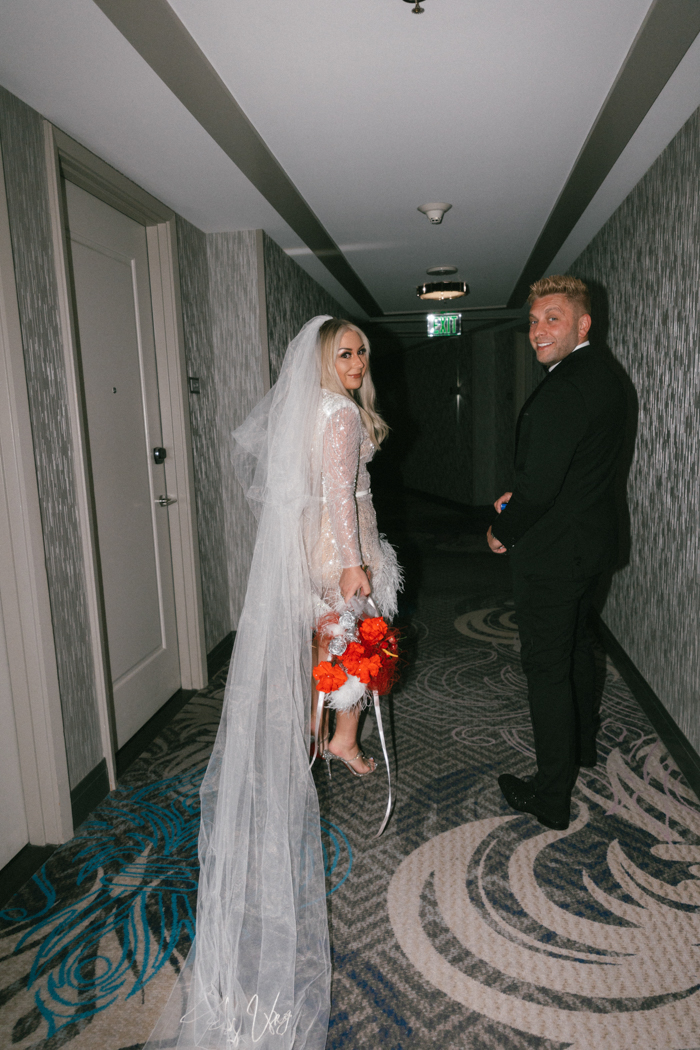 How Their Las Vegas Destination Elopement Came To Be
We simply booked our holiday to Las Vegas. We added on a package at the Little White Chapel but came at it from the mindset that we were booking a pre-planned holiday excursion, which was the best excursion ever! We had no budget as we were going on holiday. We weren't saying "no" to anything or making second guesses and would think about any consequences later.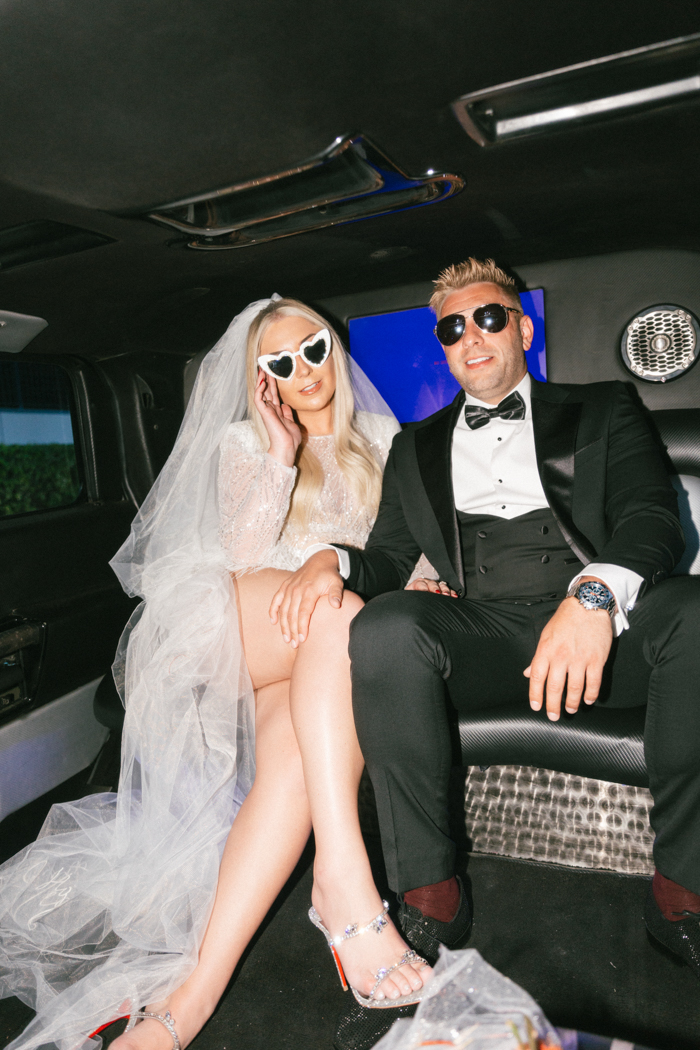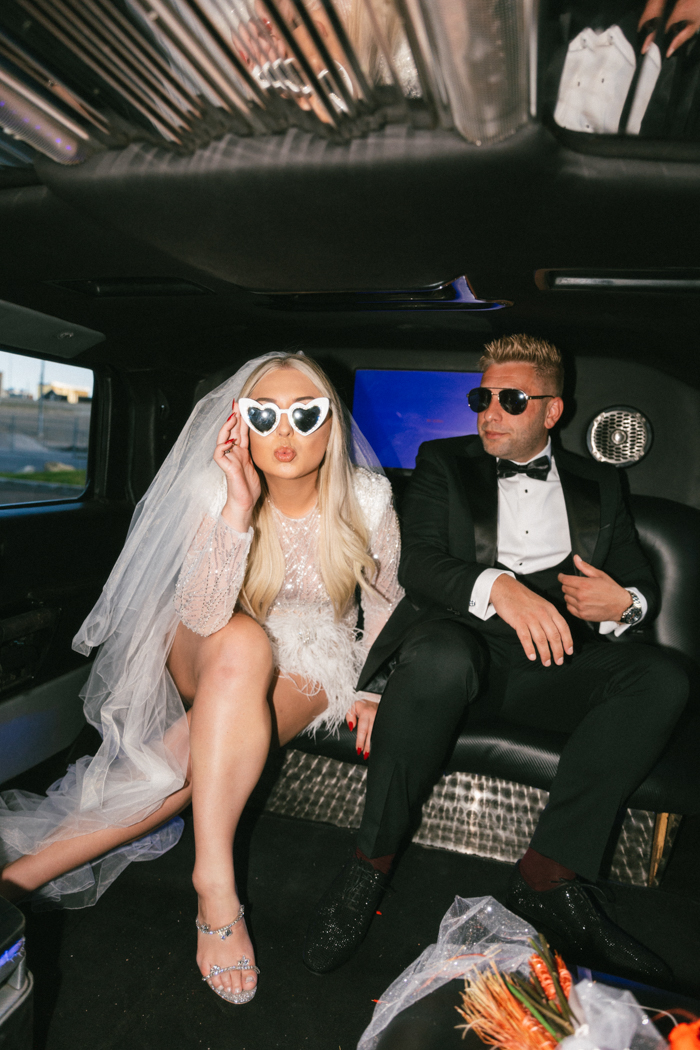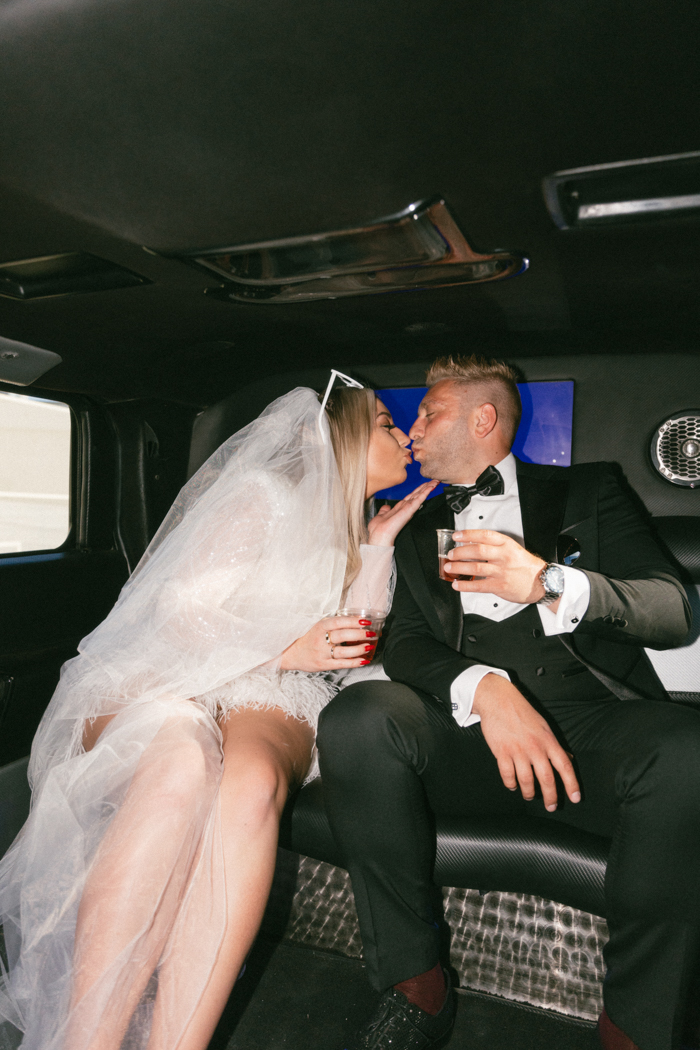 The Reason They Tied The Knot at The Little White Chapel
We chose The Little White Chapel because of its history and is one of the most famous chapels in the world. As we are from the UK, it was the only place we would have chosen in Vegas. There were many options, but the iconic pink Cadillac ticked our box for style. What more could you ask of Las Vegas? Pink is also my favorite color.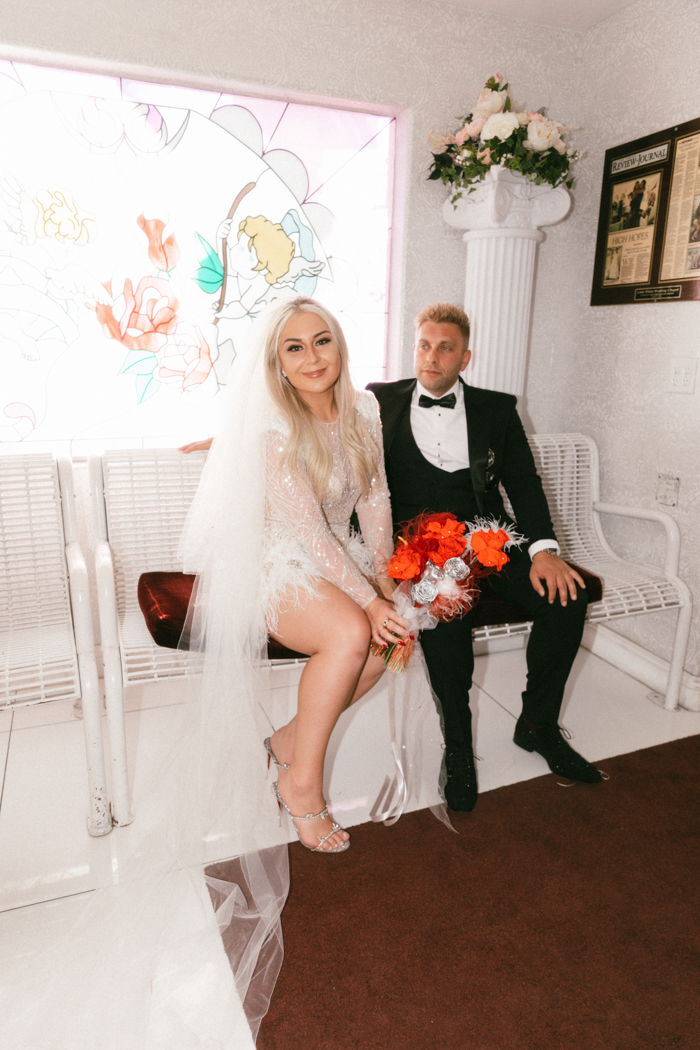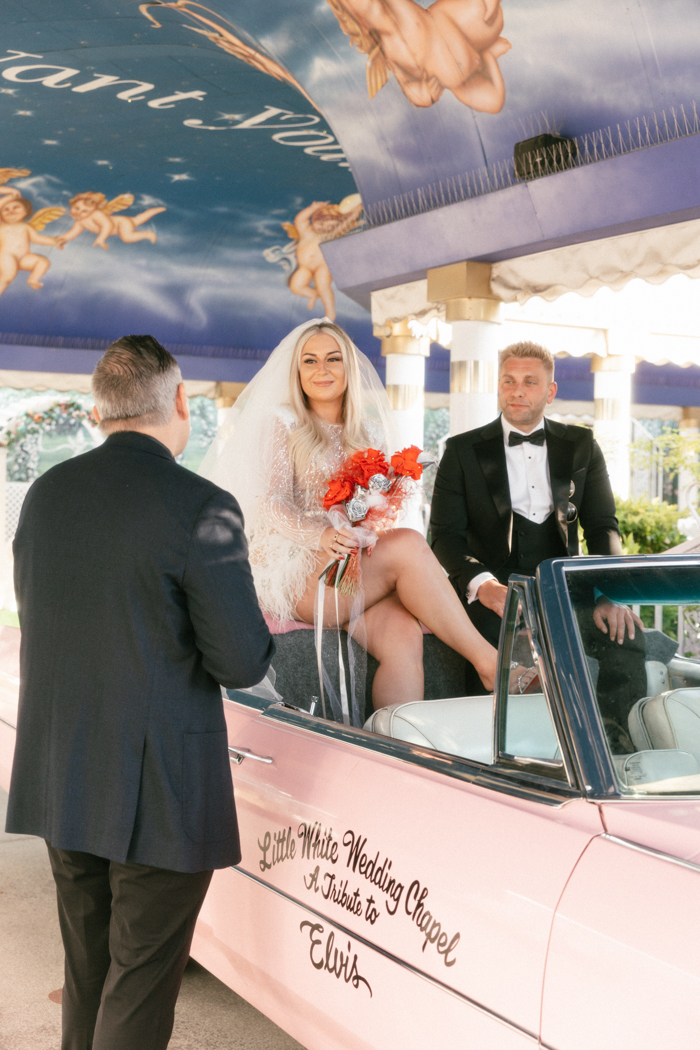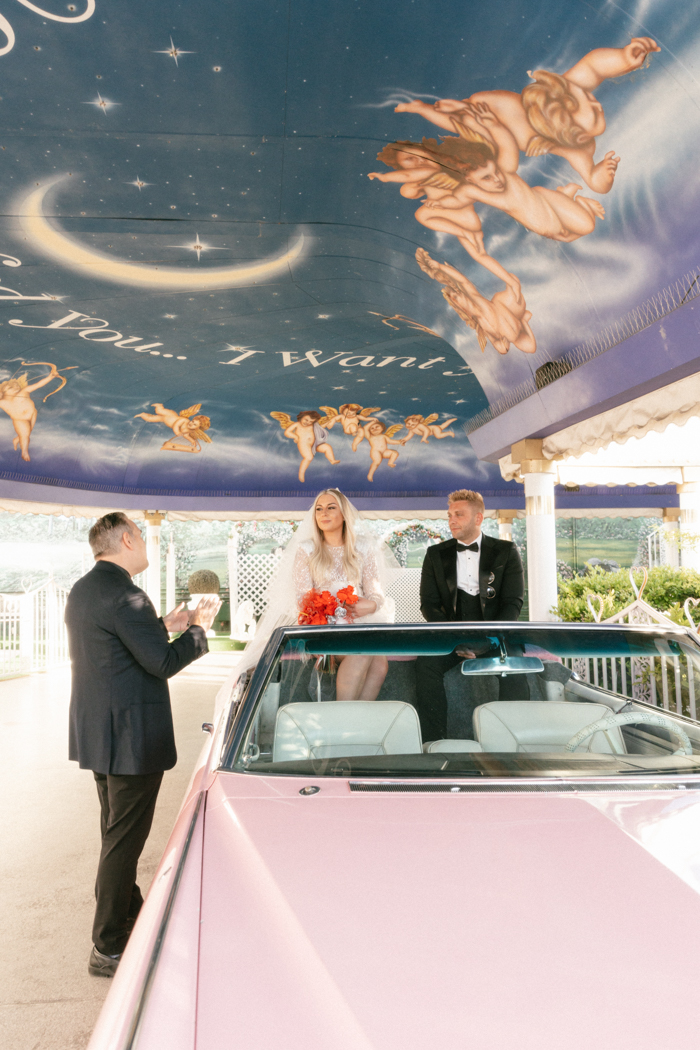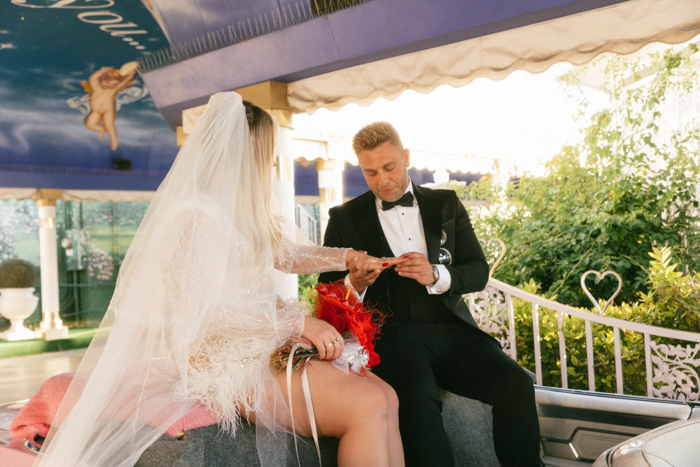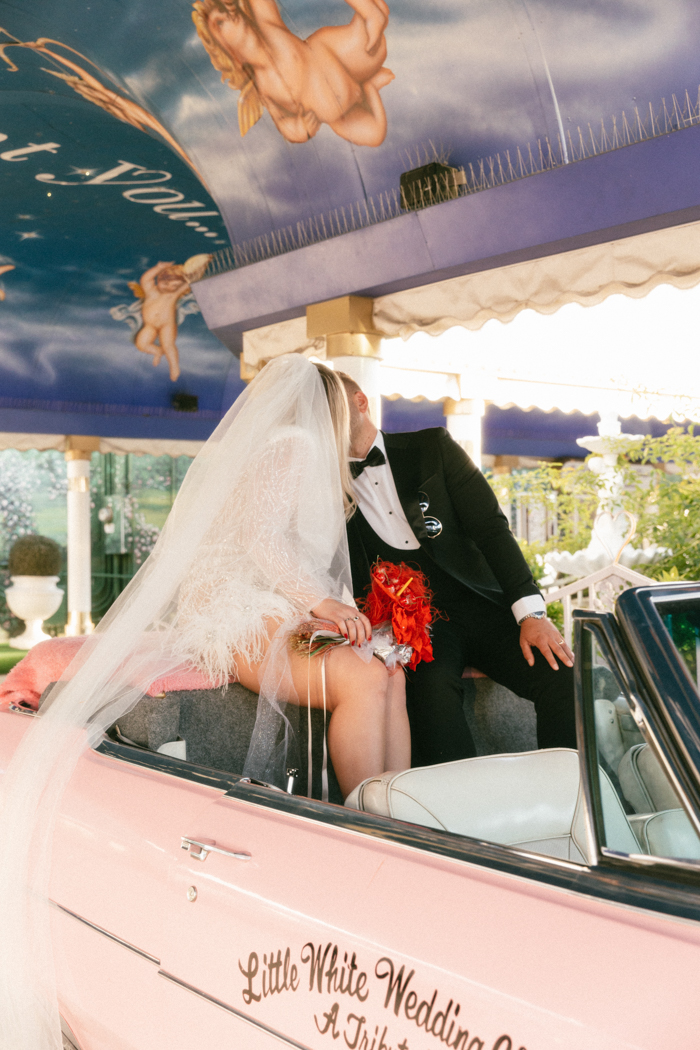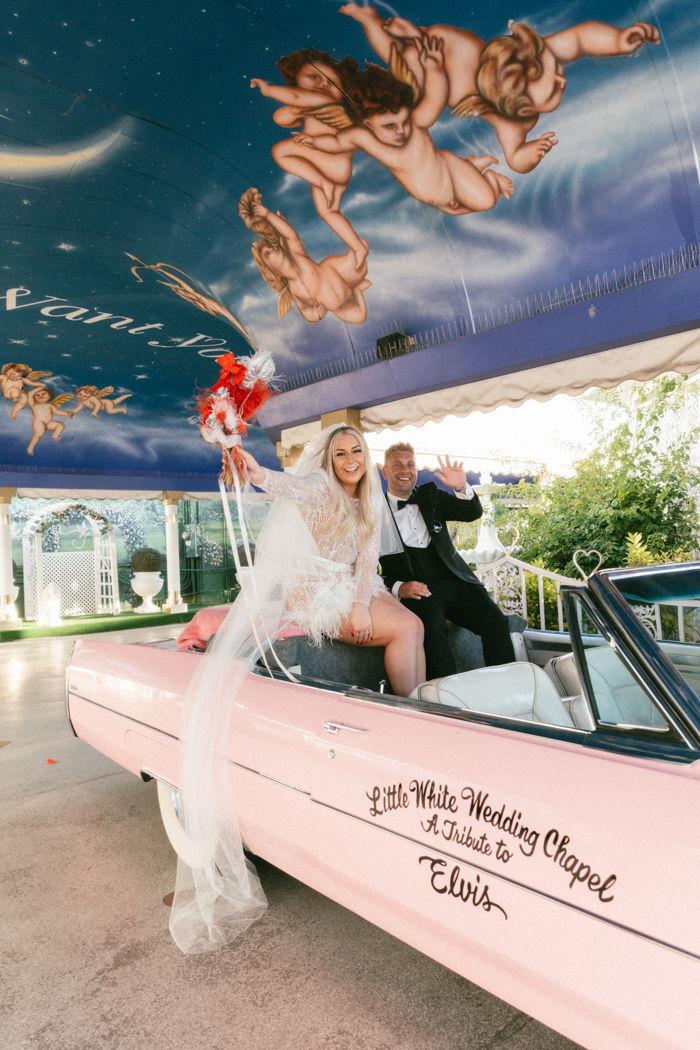 Embracing Vegas Vibes with Fashion-Forward Bridal Attire
Molly: My attire blended modern elegance and classic showgirl charm. My short dress was adorned with sequins and feathers, and the two-tiered veil carried a personalized touch with 'Viva Las Vegas' written at the bottom. Christian Louboutin sparkling shoes added a touch of glam, matching my red bouquet of feathers and pearl-encrusted roses. Red Ace of Hearts on my nails (the "A" representing Adam) and a "10k dollar bill" clutch brought playful details, while a cherished heirloom ring held sentimental value. Paying homage to old Hollywood glam, I later switched into a tight diamante-covered white dress paired with diamond-studded cowboy boots featuring eagle motifs, capturing the desert essence of Vegas. Heart-shaped sunglasses sealed the look.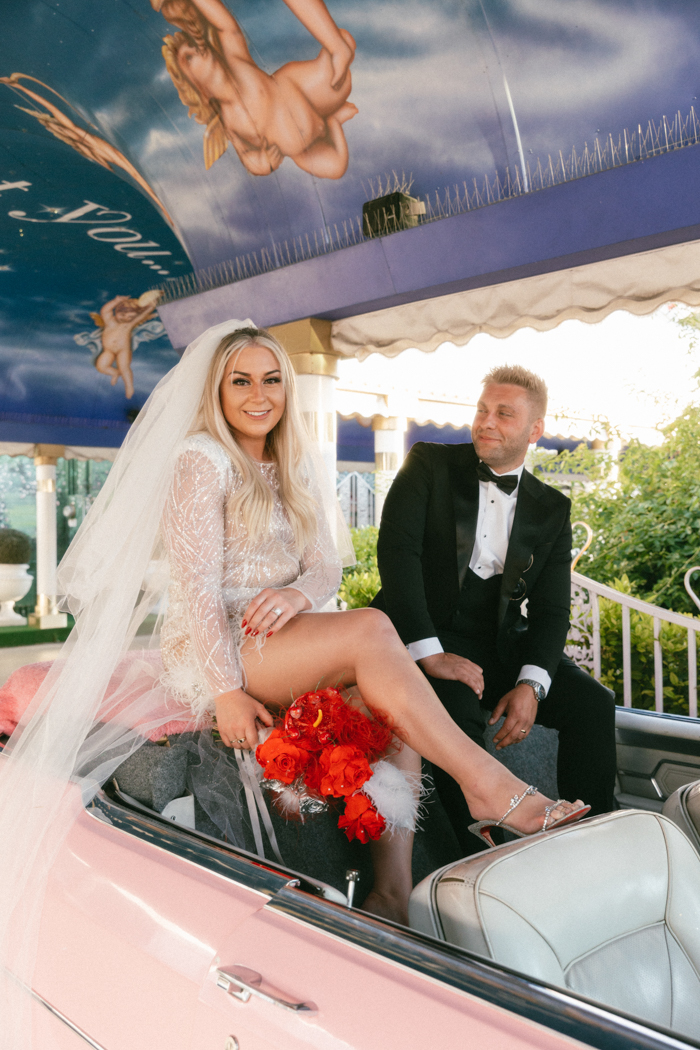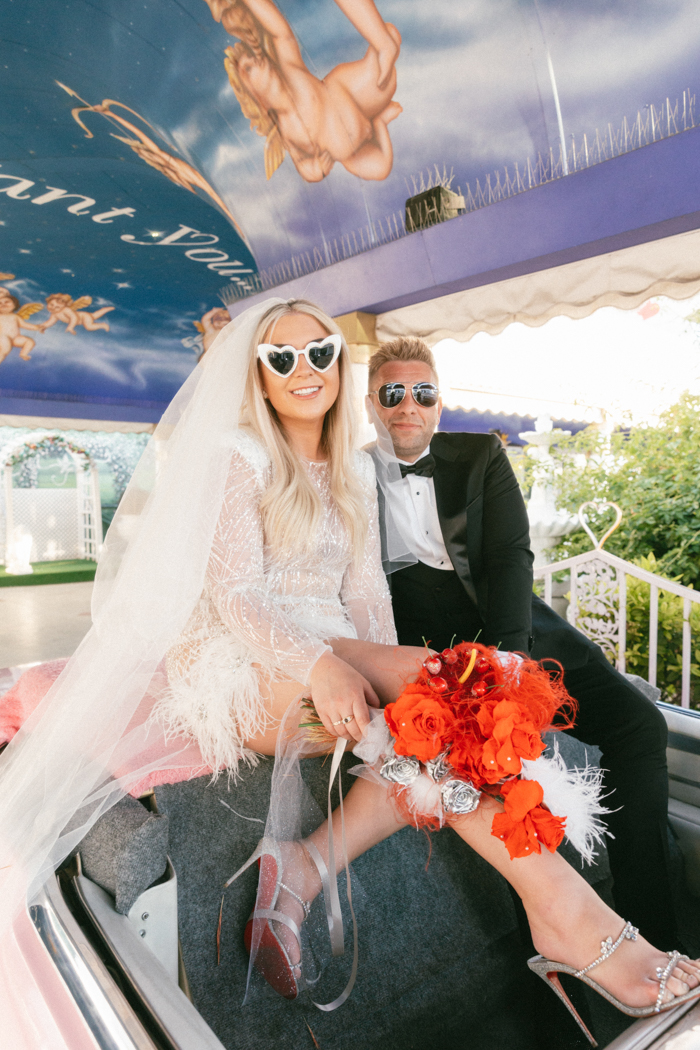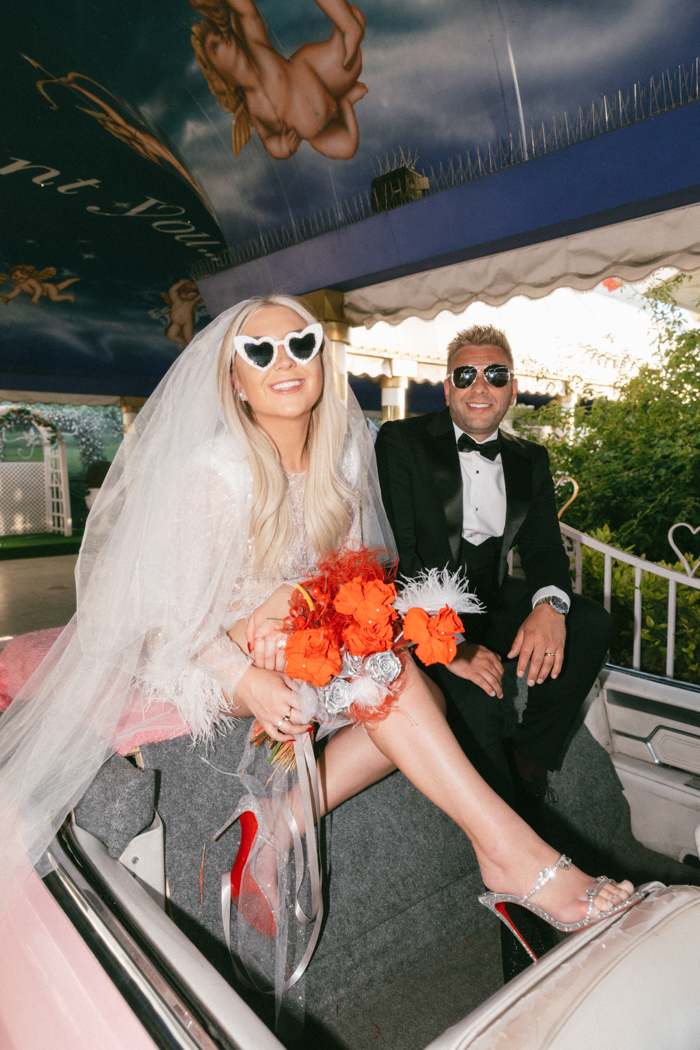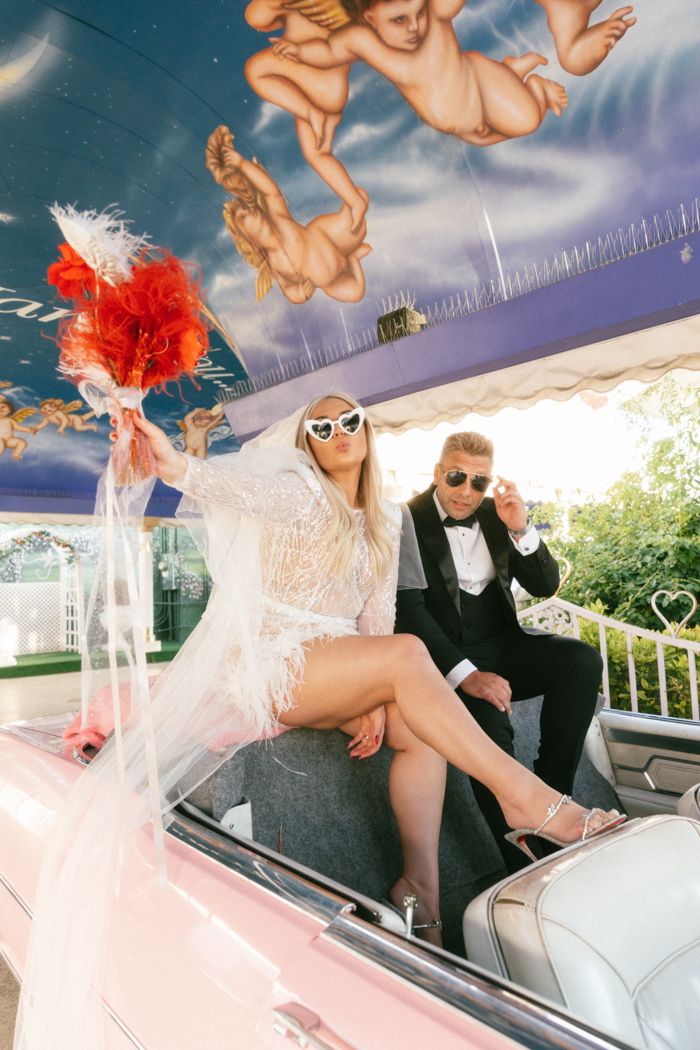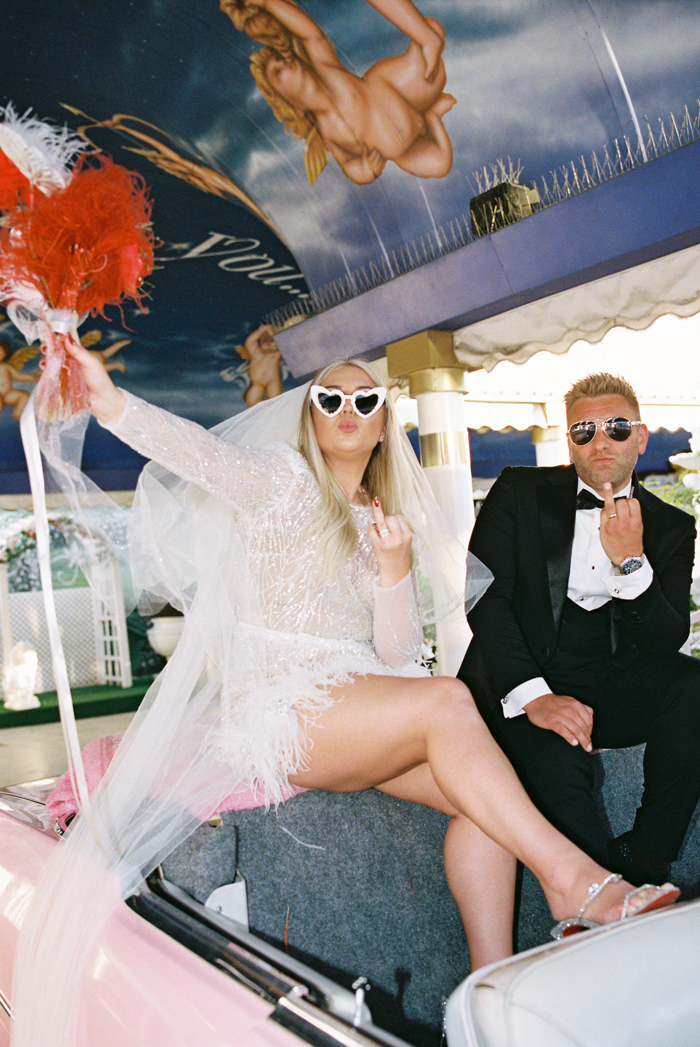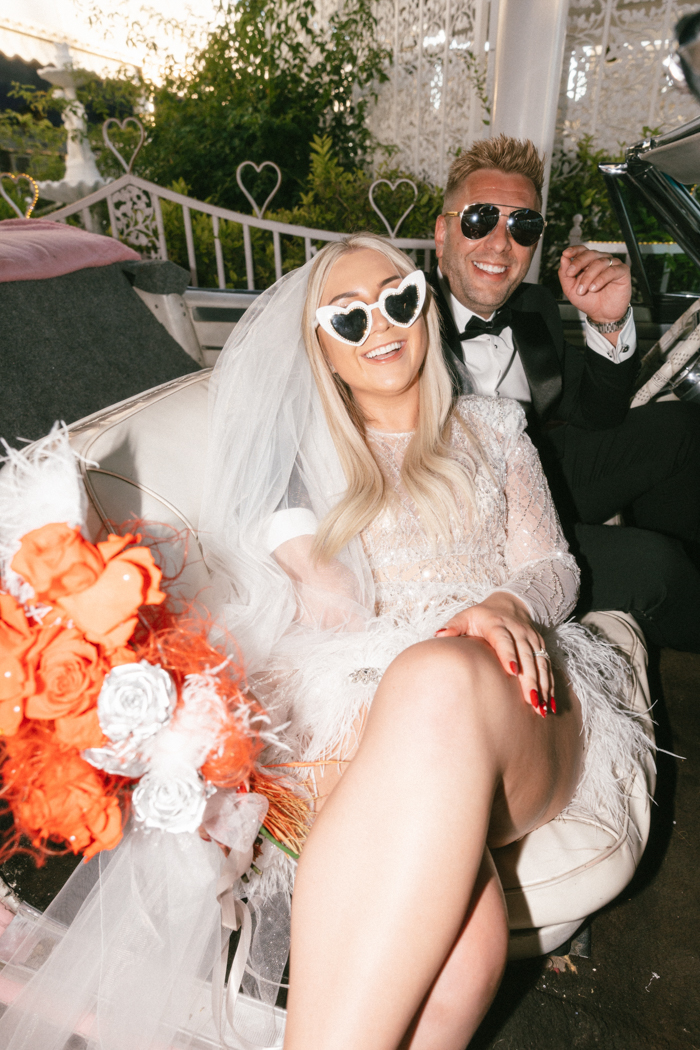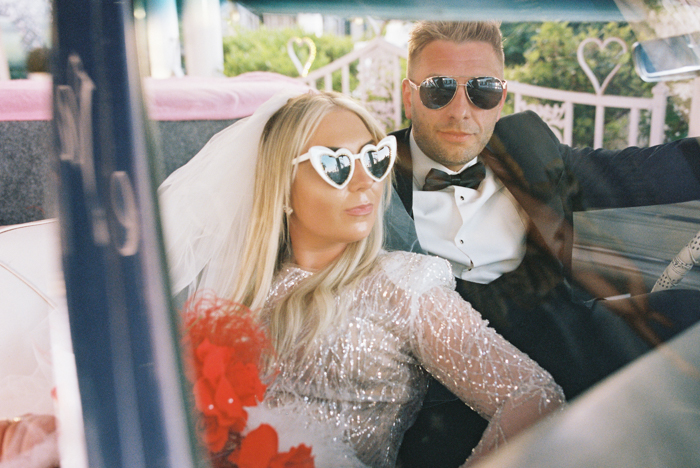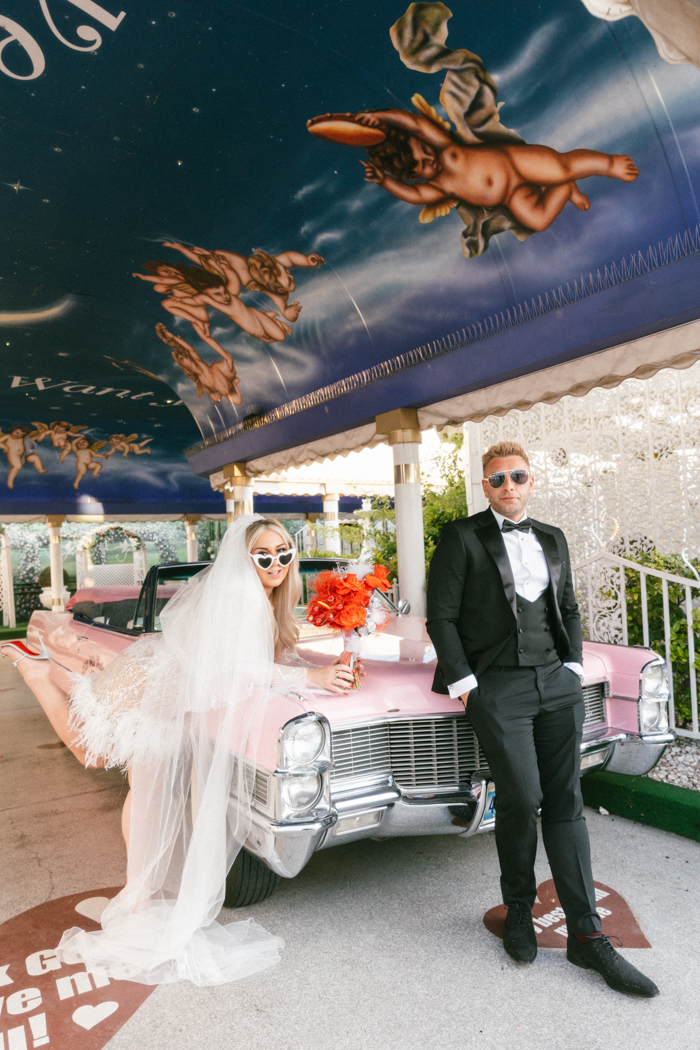 Channeling Classic Groom Elegance for Las Vegas Destination Elopement
Adam: I opted for a suave deep black tuxedo with satin lapels, drawing inspiration from vintage Hollywood charm. My silver and diamante embellished dice cufflinks added pizzazz to the suit. A double-breasted black waistcoat for elegance, while black rhinestone-covered shoes added character to my soles. The satin black bow tie exuded sophistication, and I embraced an Elvis-style with gold aviators, a nod to the King himself (picked up from a souvenir shop). To add a personal touch, I wore deep red socks for a subtle pop of color.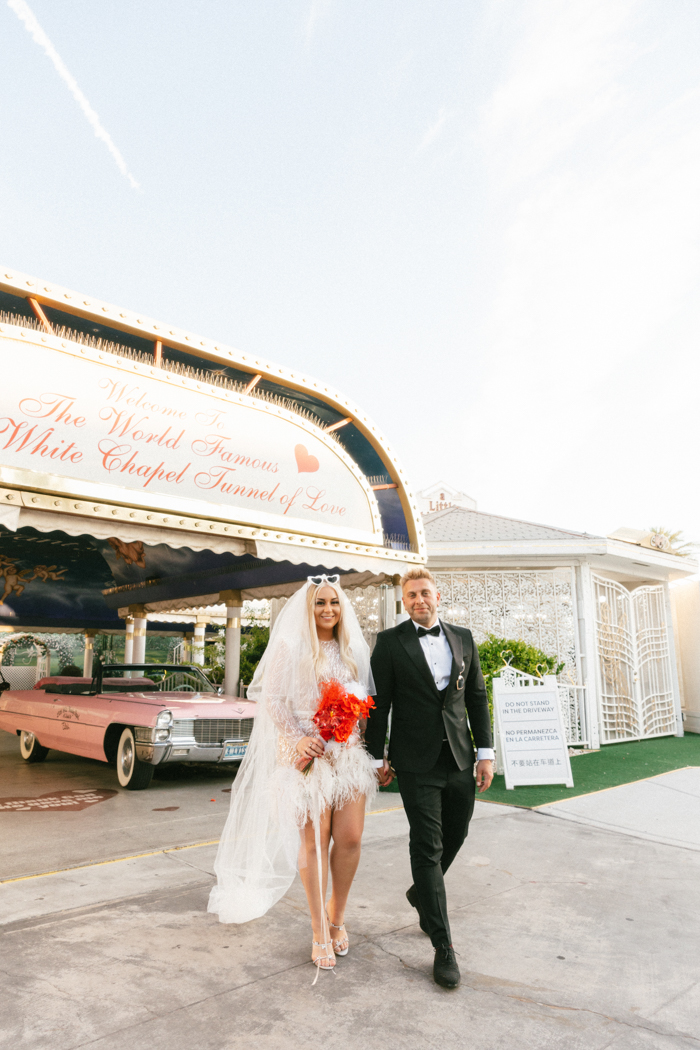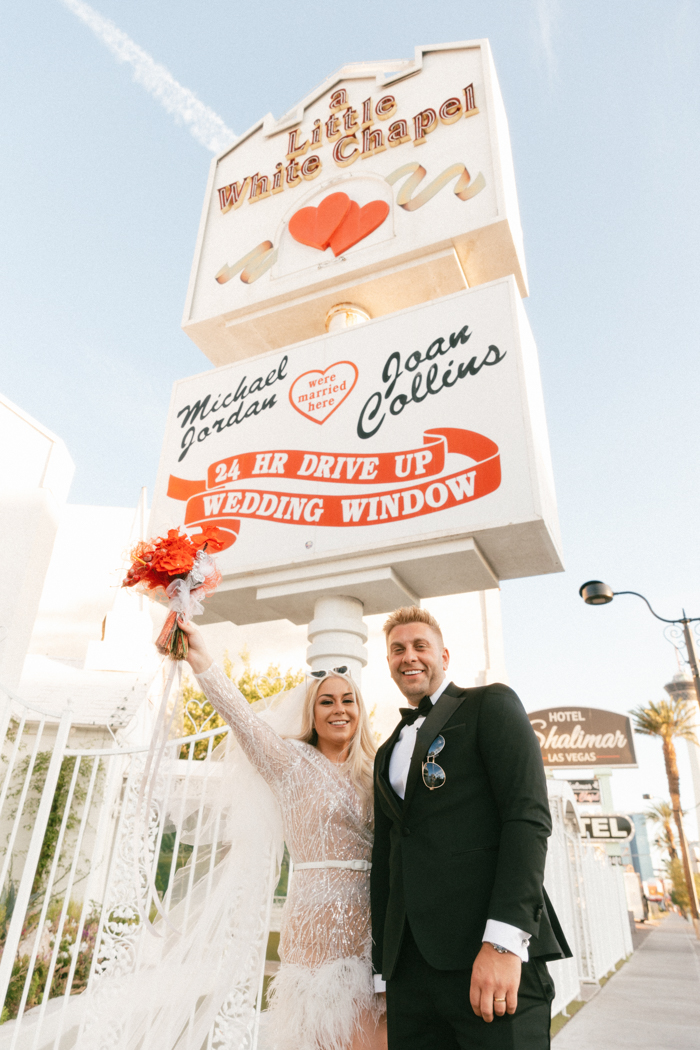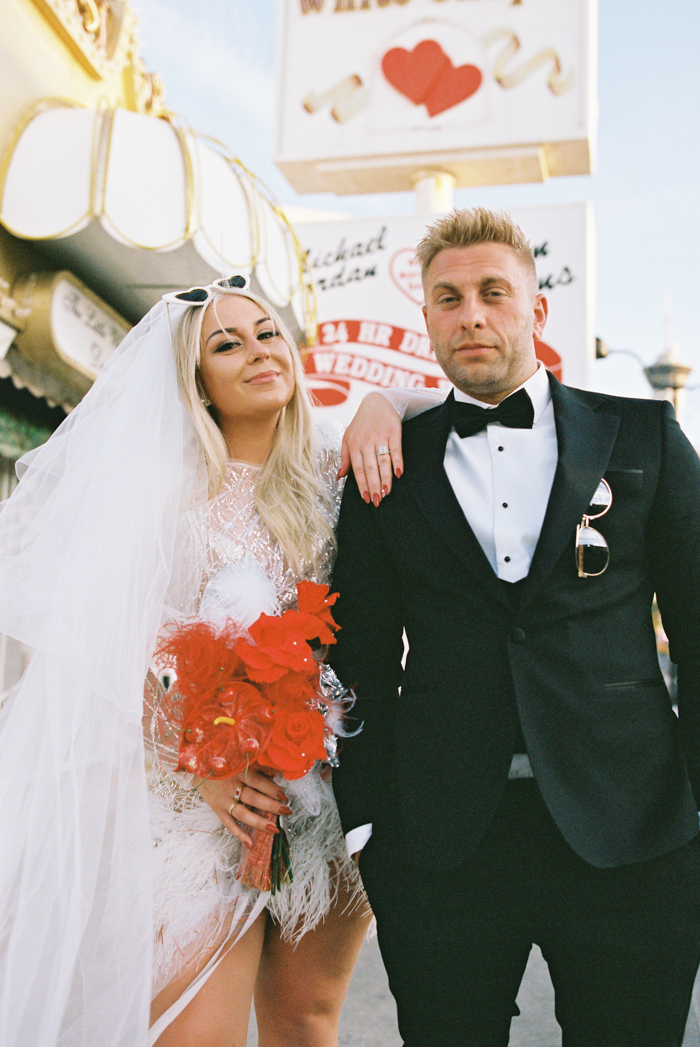 Embracing Authenticity: Creating Their Own Path in Vegas
Our wedding day is and will always be one of our most unforgettable memories. The whole day was special because it was so easygoing and stress-free. We started the morning by the rooftop pool at the Cosmopolitan, enjoying the fantastic view of the nearby strip, sipping cocktails, and having some fast food. We sunbathed, took a refreshing swim, and then returned to our room to prepare. Our photographer took natural photos before we hopped into a champagne-filled limo to head to The Little White Chapel. The sun was setting when we exchanged our vows, and we got a fantastic picture at the famous Las Vegas sign in perfect lighting. We felt fantastic walking through the casino, sipping martinis, and feeling like a million dollars. Remember, your wedding day is all about what you want, and you don't need to worry about other people's opinions or traditions. It's your special day, so make it yours.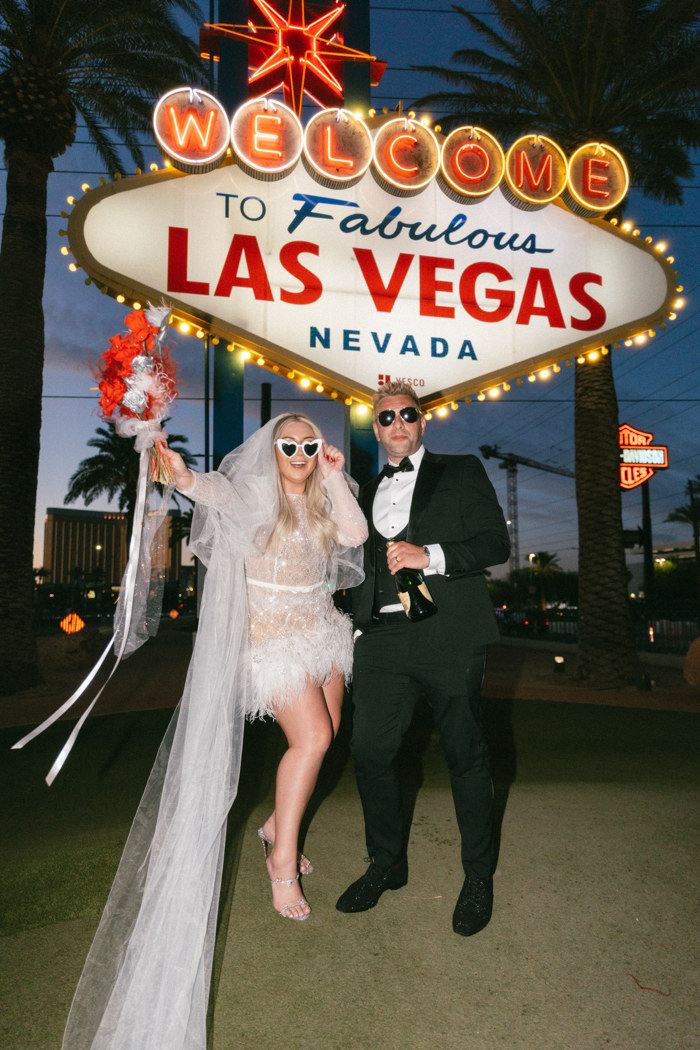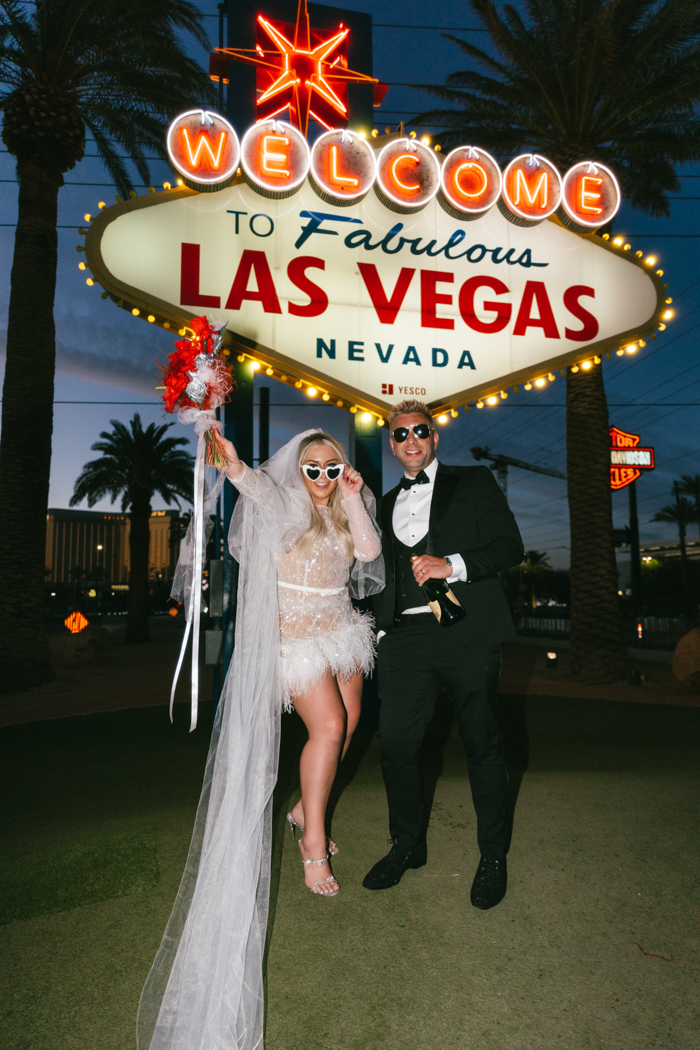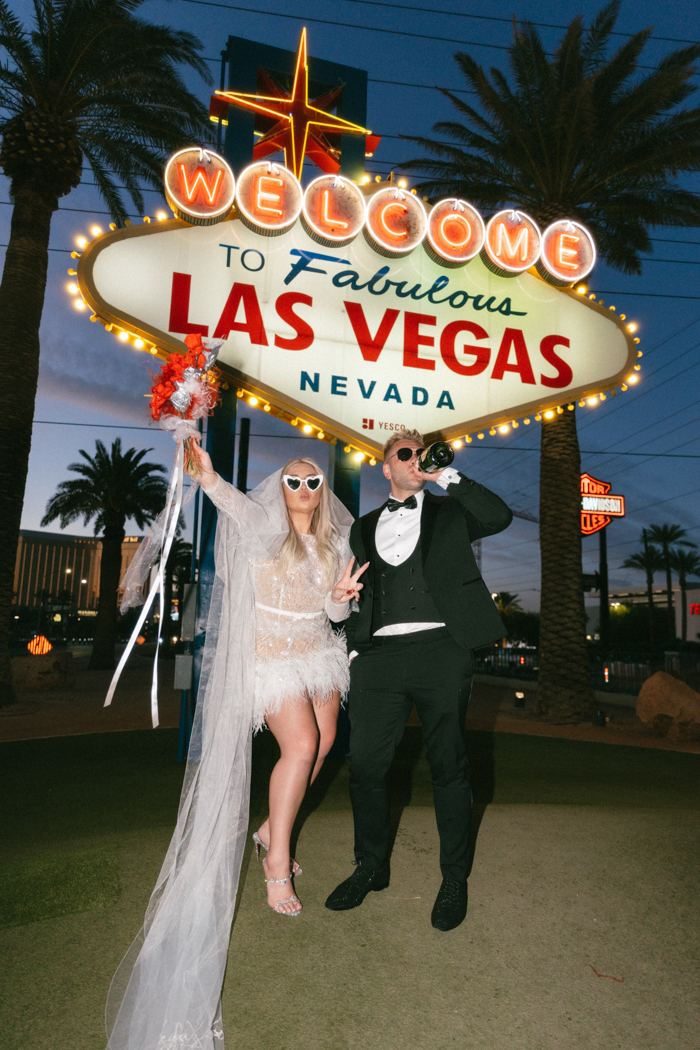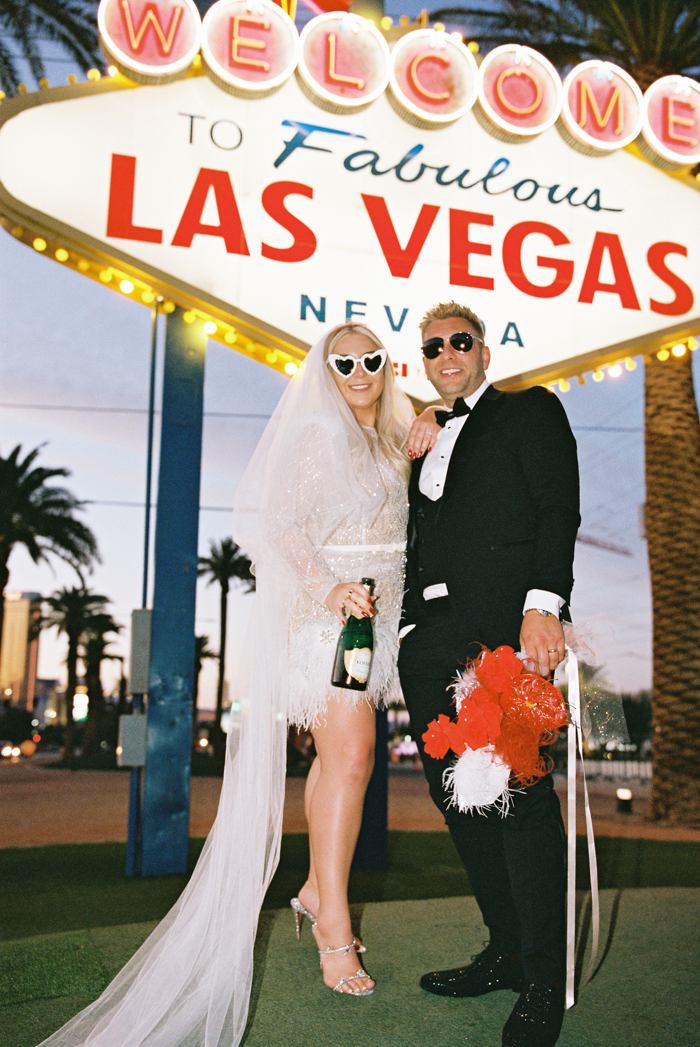 More Than Just Photos: Building Bonds Beyond the Lens
We booked Erin Roberts almost two years ahead, and throughout this time, she shared her wealth of knowledge about Vegas—from cake makers to floral artists. She was more than a photographer; she became a pen pal and a dear friend, a bond that's now profoundly cherished. This connection is truly reflected in our photos. It was as if she truly understood us, and there was no way I could find fault with her work. She made us feel completely at ease, going the extra mile by taking care of my bouquet and delivering it to our hotel! Being a part of her gallery is a genuine honor that I treasure.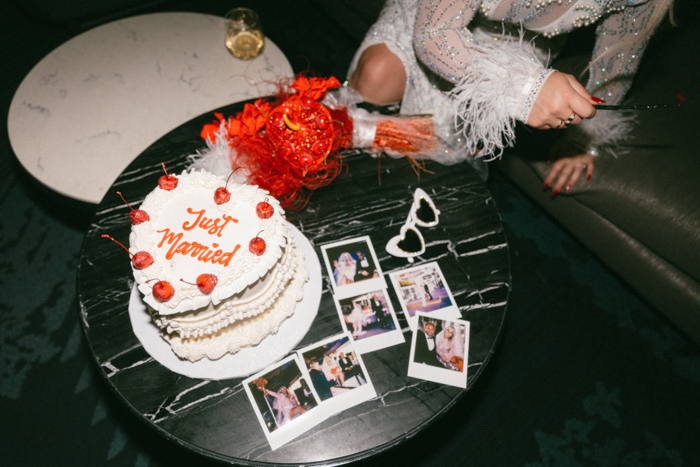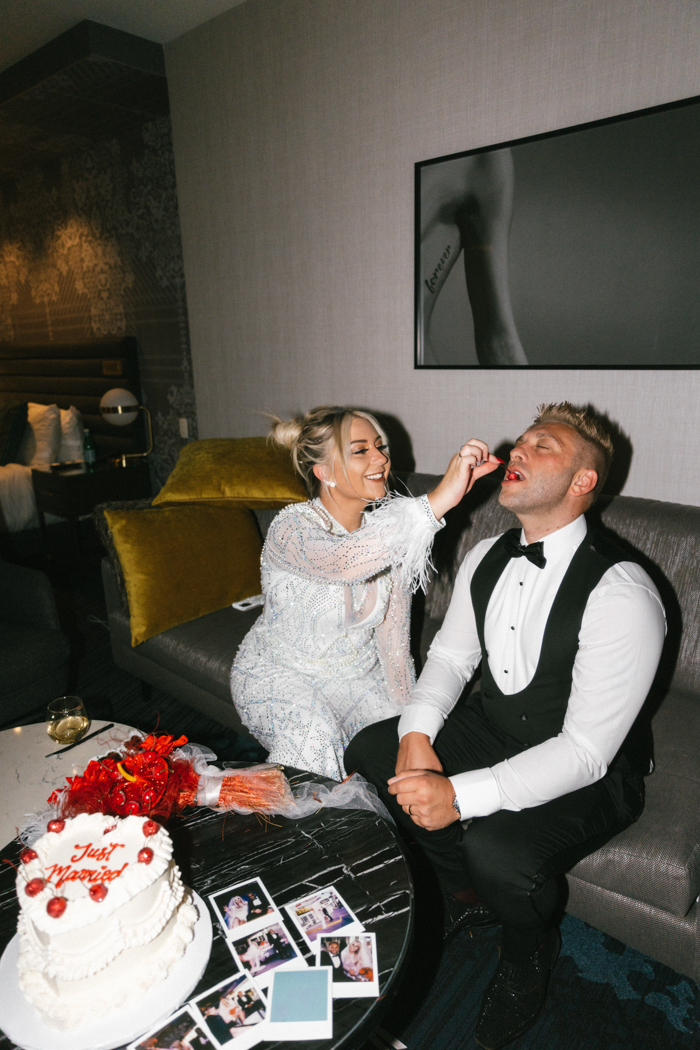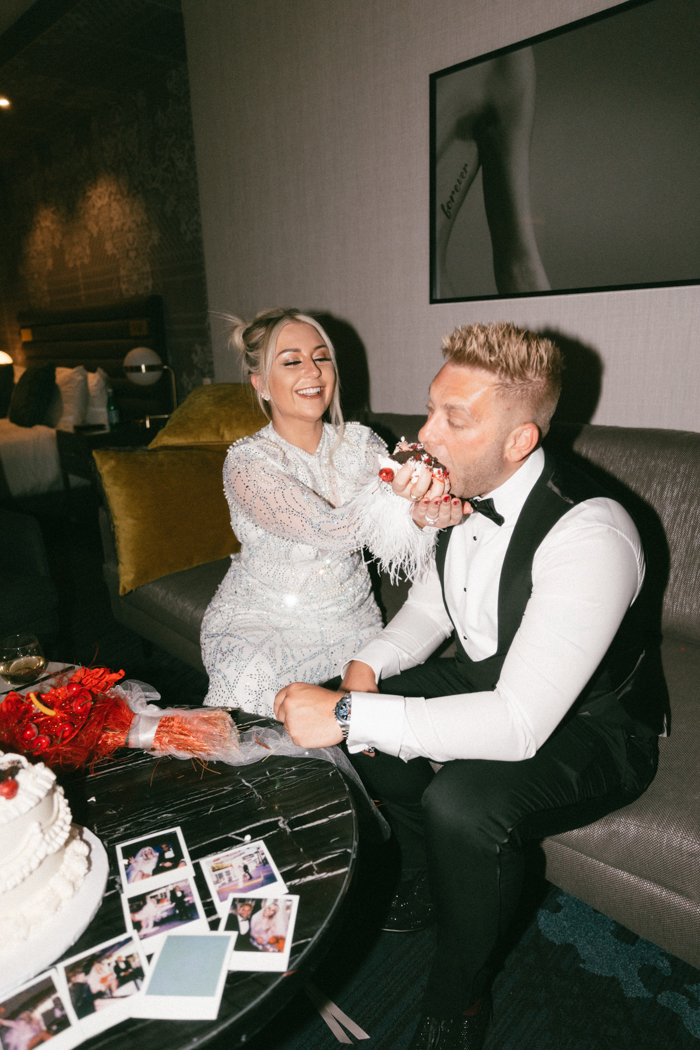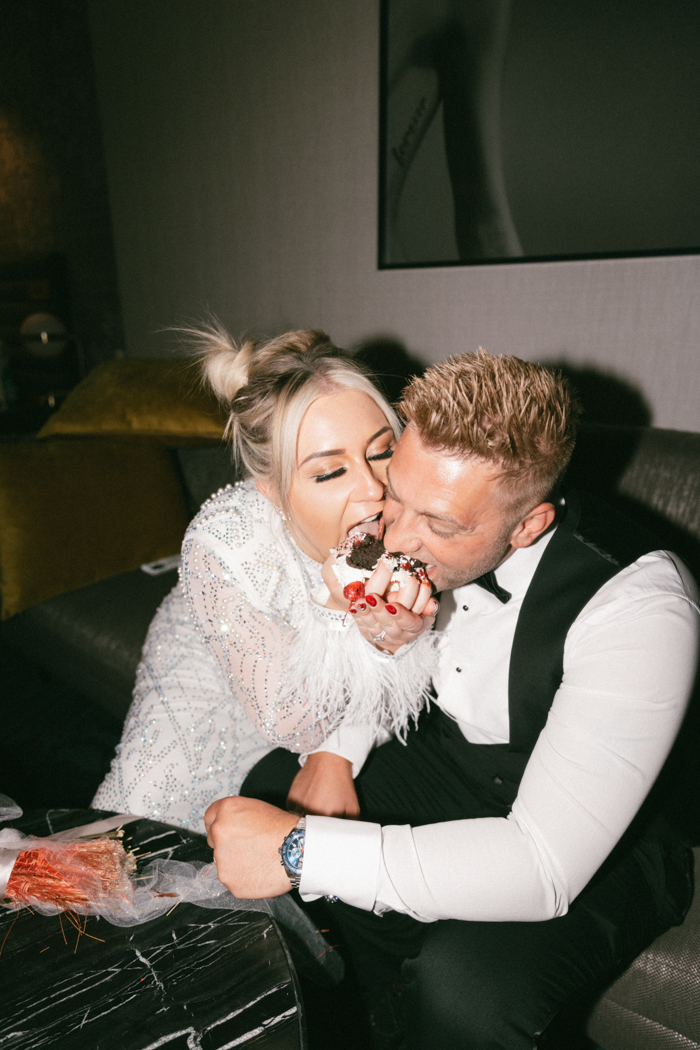 Sharing Their Special Day With Friends and Family Through Photographs
What truly stands out to us is how our photographer skillfully captured the very essence of our unique day. Our primary focus was to convey raw emotion and let our genuine selves radiate, especially since our dear friends and family couldn't be there. A couple of snapshots hold exceptionally precious memories. One by the Las Vegas sign features me flashing a peace sign while Adam enjoys a bottle of champagne. Another favorite is us strolling away from Elvis' car, my bouquet held high, and both beaming joyfully. These images are part of my "Sneak Peek" album, where our happiness and personalities genuinely shine. These moments, captured so perfectly, felt like the ultimate snapshots of our Vegas wedding. These cherished photos would be shared with everyone back home, amplifying their significance. Moreover, we take immense pride in how seamlessly our styles blended, culminating in an unforgettable and distinctly memorable aesthetic.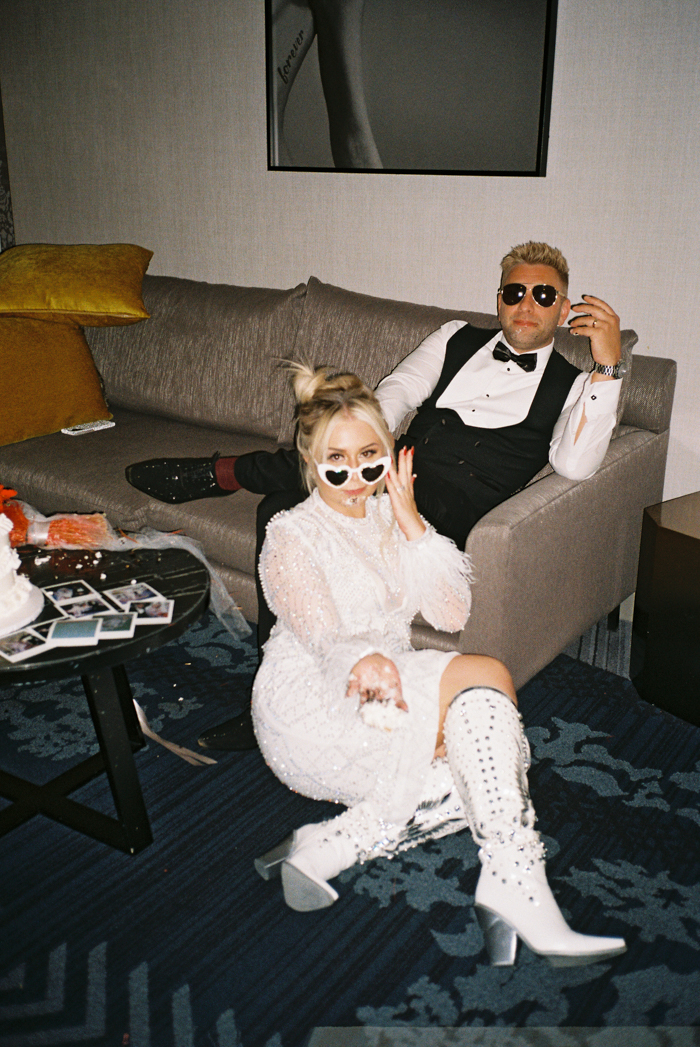 Congratulations to Molly and Adam on their Las Vegas destination elopement at The Little White Chapel. And a big thank you to Erin Roberts for capturing every moment of their epic day reminding us how important it is to do your wedding your way.
Rather than conforming to traditional norms, their choice to focus on what mattered most to them resulted in a stress-free and authentically enjoyable celebration. If you're all set to kickstart the planning for your incredible and one-of-a-kind celebration for two, don't forget to take a look at our elopement planning checklist!