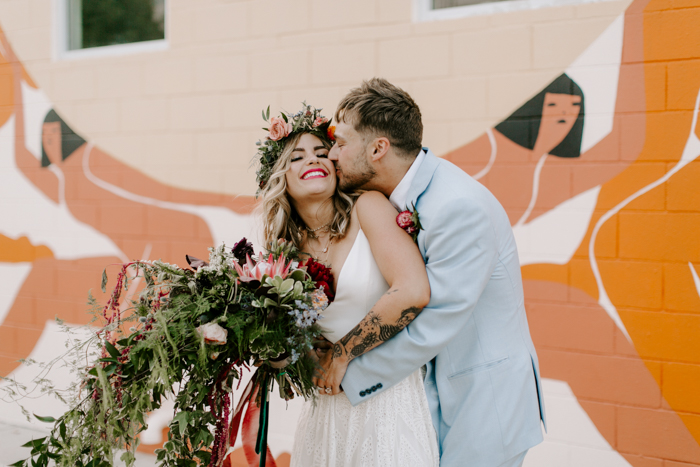 photo by Jaicee Morgan
Welcome to the second edition of the Roaring 20s, where color is "in" again — and we are beaming with excitement! When it comes to the top trending wedding colors for 2020, here are the hues you can expect to see used in creative ways all year:
Dusty Aqua
Warm Canvas
Saffron
Sherbet Pink
Faded Denim
Punchy Rust
What wedding colors for 2020 are you most excited to see this year? Which ones do you hope stay in the last decade?
DUSTY AQUA
Shades of aqua are having a major moment. We saw this trend start to emerge in 2019 as a jewel-toned turquoise, and we're excited to see subtle and sweet hues pair'd with other trending colors (hint: sherbet pink) of the year!


photos by MLE Pictures; see more of this real wedding here!
WARM CANVAS
If there's one thing that's here to stay, it's earthy neutrals. We're going to see lots of warm taupes, whites, and tans taking centerstage this year. Think: all-white-everything and monochromatic to the core.


photos by Avonné Photography; see more of this wedding inspiration shoot here!
SAFFRON
Go bold or go home — color blocking is in and saffron will surely be used in lots of blocked color combos in 2020! We can't wait to see how our brides get creative with this orang-y mustard hue.


photos by The Hendrys; see more of this real wedding here!
SHERBET PINK
The 80s called, they said we can steal the color pink in 2020! Expect to see a soft version of this color used in subtle, even unexpected, places this year. Think: shoes, small decor accessories, bowties, pattern-play, etc. We can't wait for more of this one!


photos by Emma Hill Film & Photography; see more of this elopement here!
FADED DENIM
This year is going to be an easy one for brides to find "something blue." We could have listed many, many hues of blue for this roundup—apparently we're going to be seeing a lot of it this year—but, out of all the options, our favorite shade for weddings is faded denim. It's soft, yet powerful, and can be used almost anywhere!


photos by Paulina Weddings; see more of this real wedding here!
PUNCHY RUST
Oh, you thought we were leaving rust in 2019? Nope! It's here to stay — and in an even bigger way. Expect the rust trend to take on an element of punch this year. The color will come to the forefront of design in bold ways.


photos by Rosanna Lilly Photography; see more from this wedding inspiration shoot here!
We hope you're feeling inspired as ever by these trending wedding colors for 2020! Itching for more "roaring 20s" inspo? Check out these posts:
60 Stunning Simple Wedding Invitations for the No Frills Couple
2020 Wedding Trends to Obsess Over This Year
The Best Places to Shop for Groom Attire Online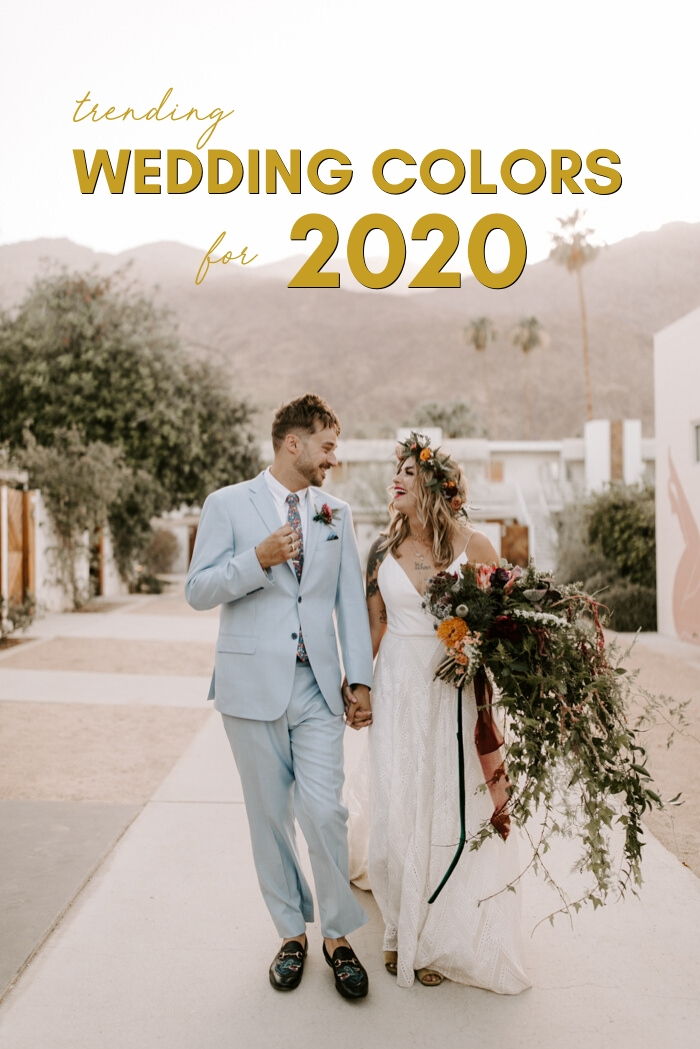 photo by Jaicee Morgan