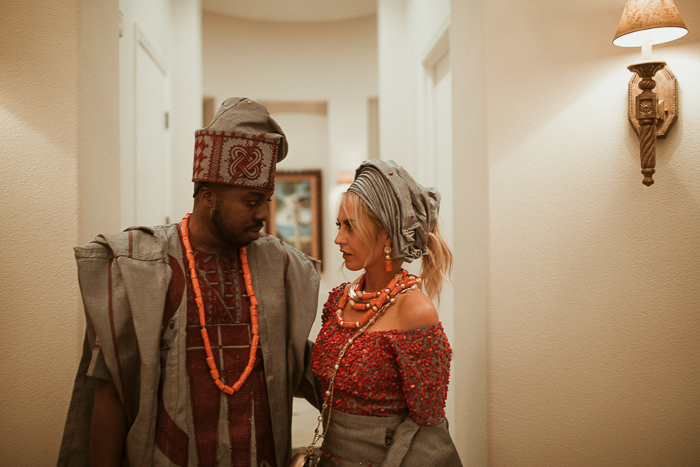 Merging two cultures into one wedding may seem impossible. The results are worth it when it creates a gorgeous multi-day affair full of colorful outfits, cultural traditions, and an extensive menu. Taylor and Jay's California Bougainvillea Estate wedding featured a traditional Nigerian ceremony and a classic American wedding the following day. It was stunning—to say the least.
The couple's special day included a hand-built altar, hand-sewn table linens, and a wedding dress that Taylor designed with Anomalie–talk about taking a DIY wedding to the next level. Along with the handmade touches, we can't forget the intricately beaded Ines di Santo necklace that Taylor paired with her crepe gown or the fact that the couple changed into matching luxe gold outfits for the reception. That's right, there were a total of three outfit changes!
From the grandmothers acting as flower girls to the romantic poolside party, Jessie Jean Photography beautifully captured every detail of this multicultural wedding.
The Couple:
Taylor and Jay
The Wedding:
The Bougainvillea Estate, Indio, California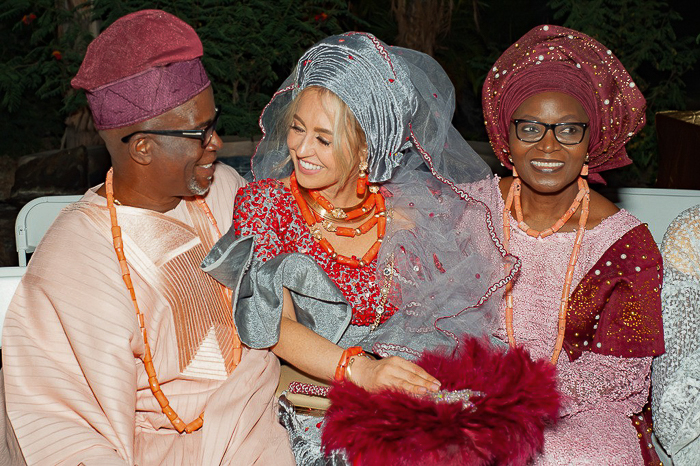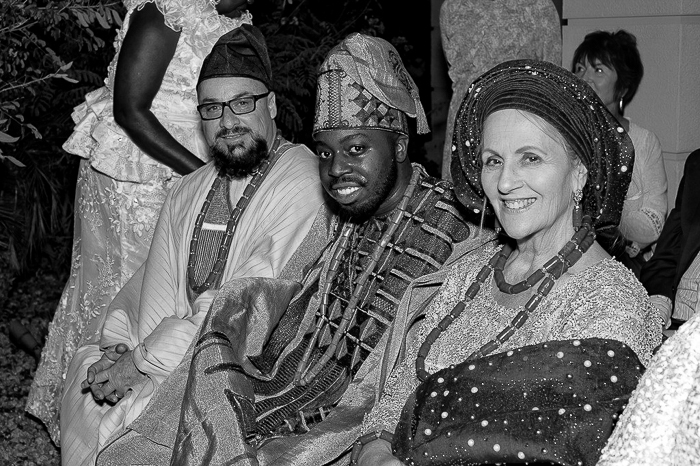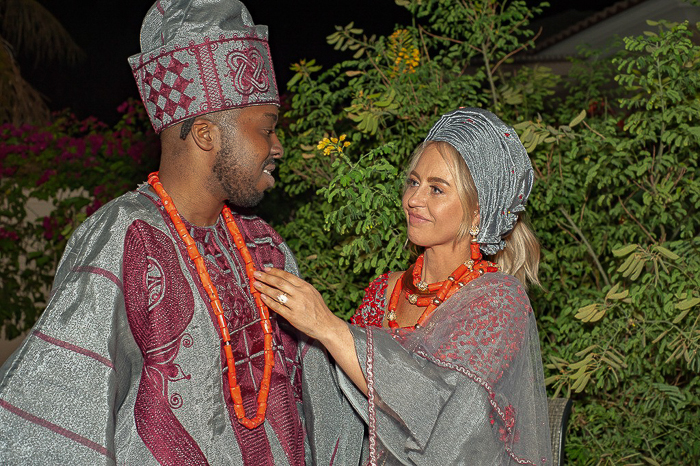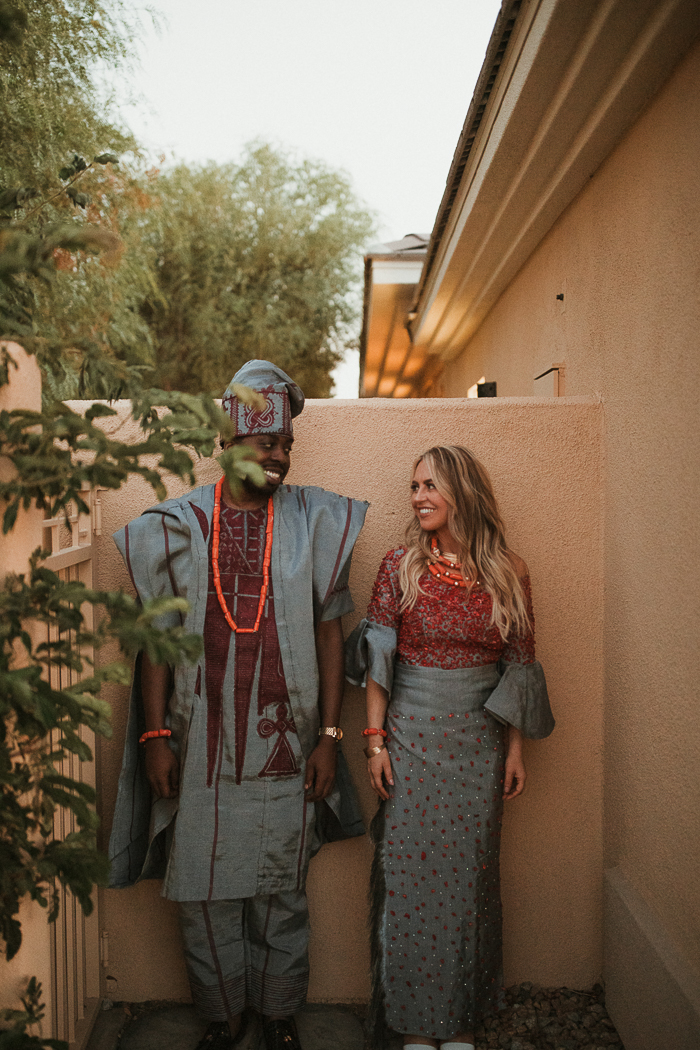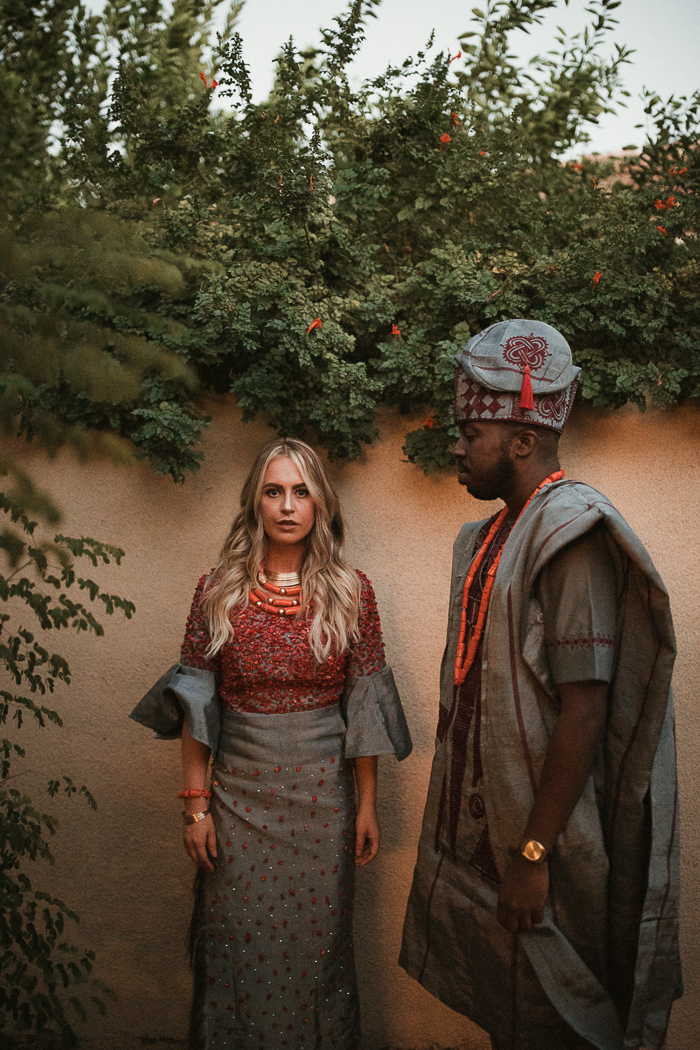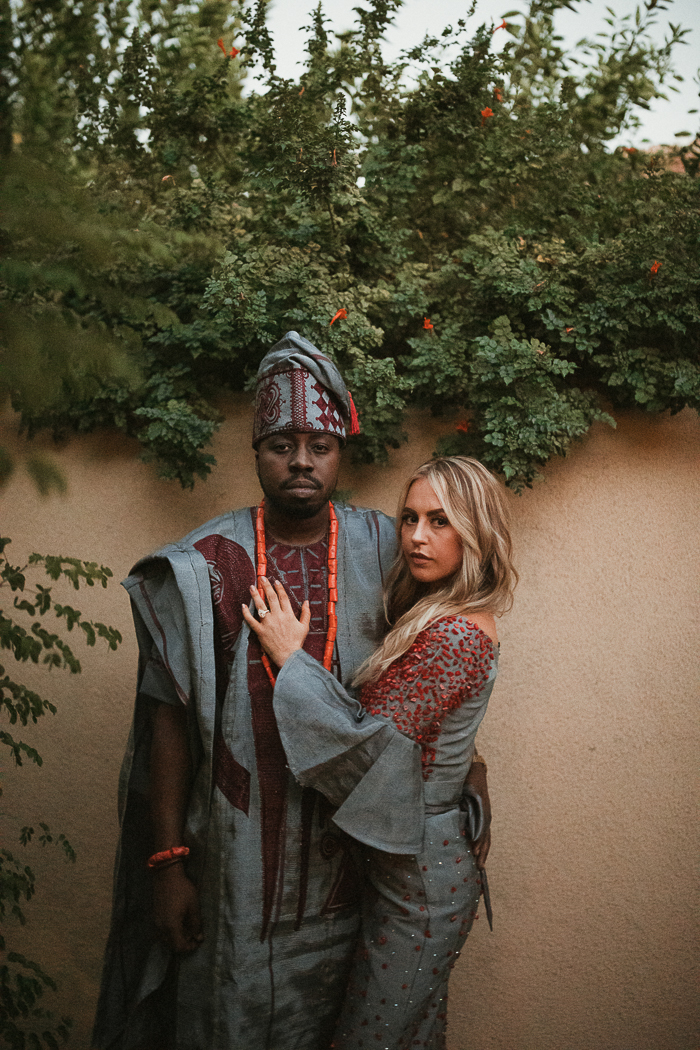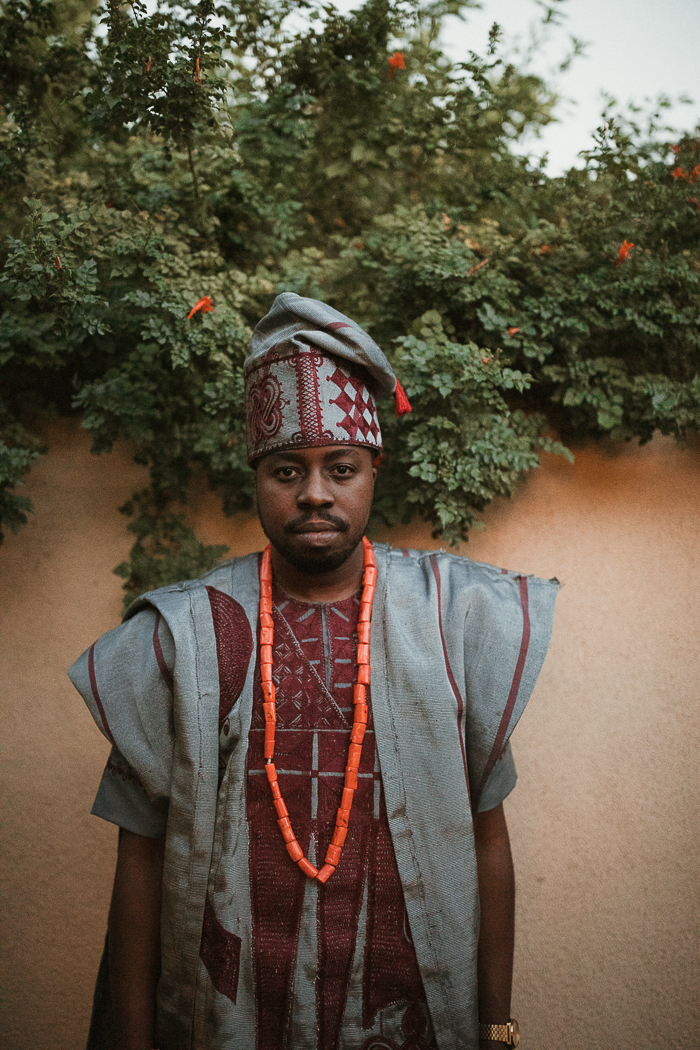 The Merging Of Two Cultures
We had a multicultural wedding, and although we had a traditional Nigerian ceremony the day before our official wedding day, we wanted to integrate elements of Nigerian culture and traditions into our American wedding. Nigerian weddings are glamorous, with bold and rich details. We wanted to incorporate that into our wedding aesthetic. We knew that two cultures were coming together and that my family had never been to a Nigerian wedding, and many of Jay's family had never experienced a traditional American wedding. In blending the two cultures, we crafted a unique and special day.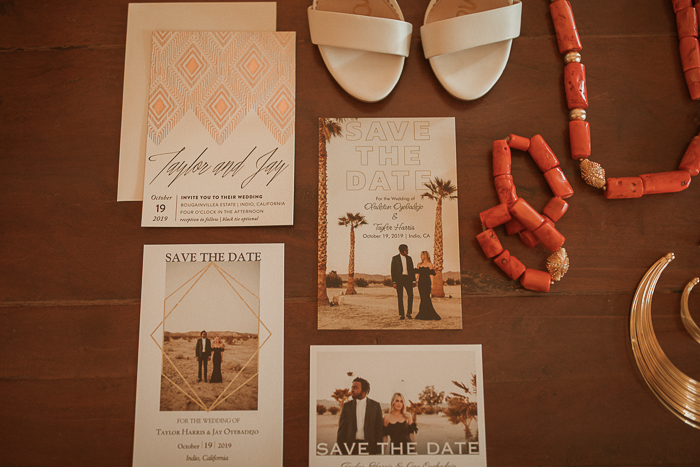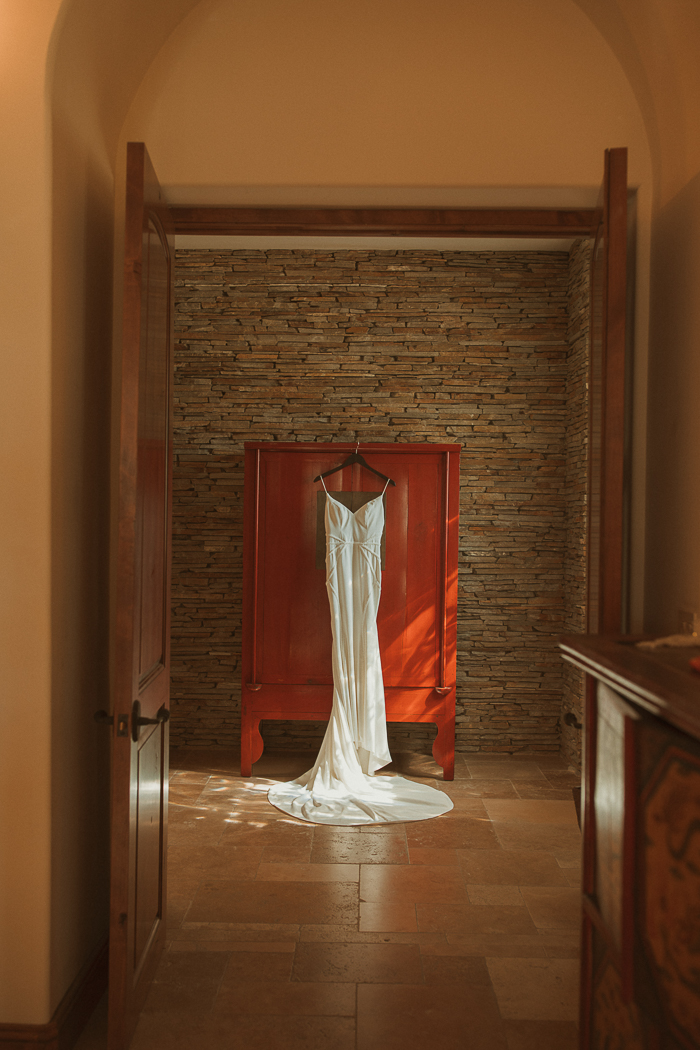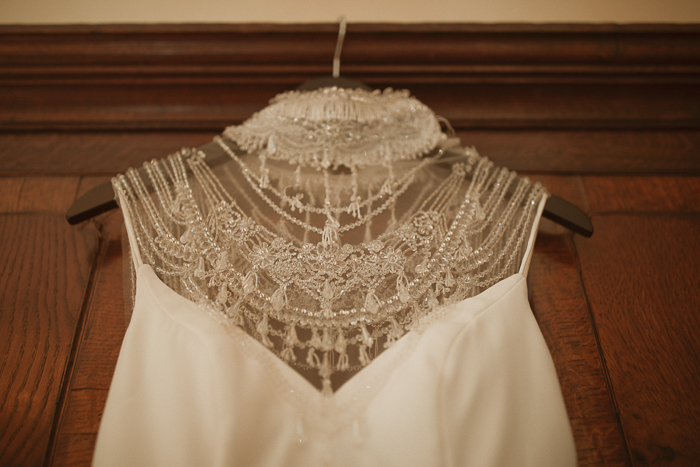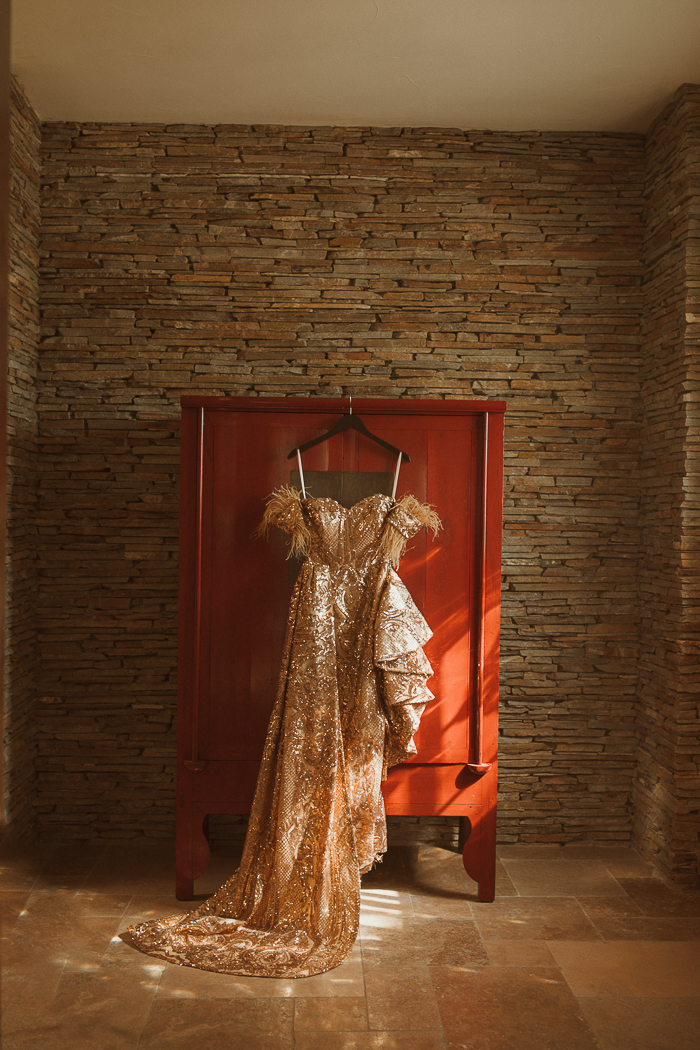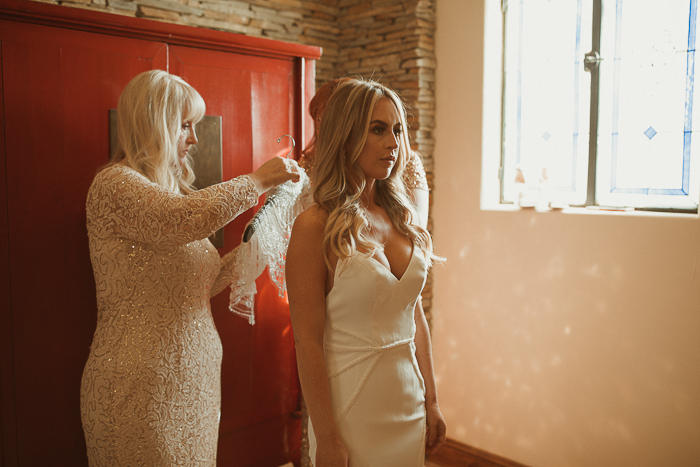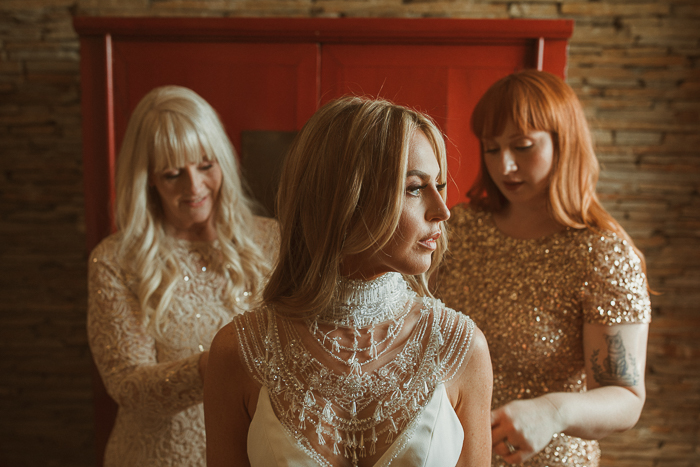 Shop similar necklaces: Pearl Collar Necklace Bib ($49.95); Gold Wedding Shoulder Jewelry ($134.23); Beaded Wedding Cape ($153.60); Vintage Pearl Bridal Shoulder Necklace ($73)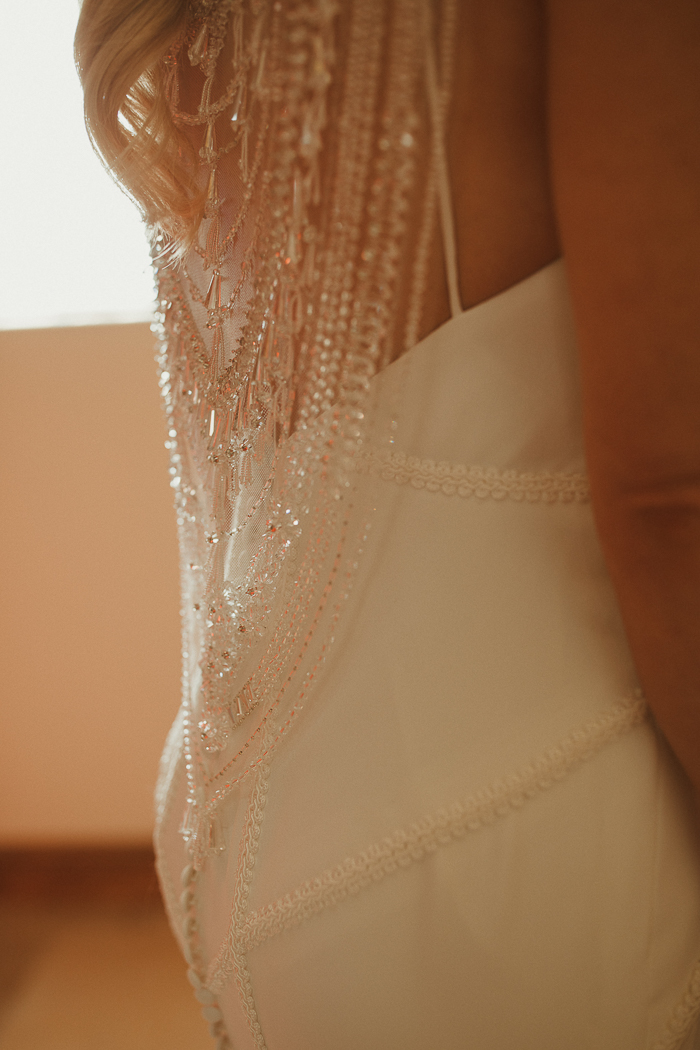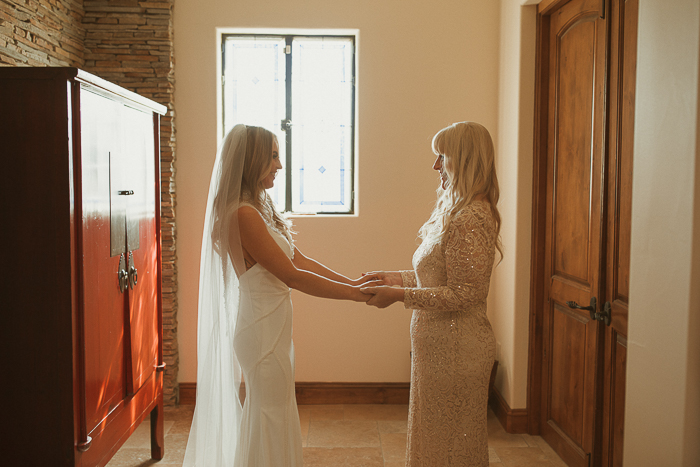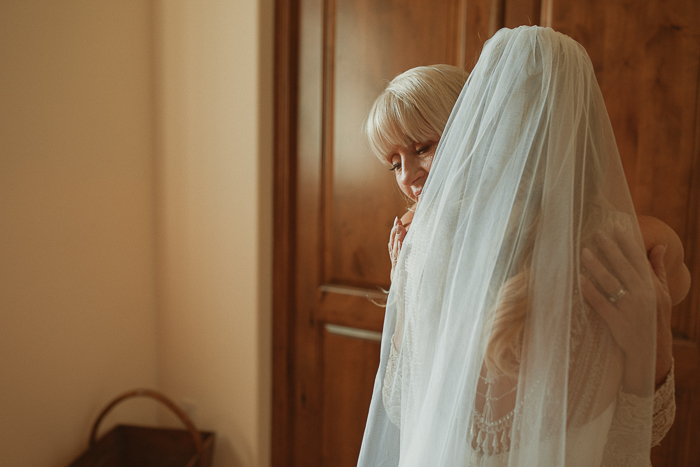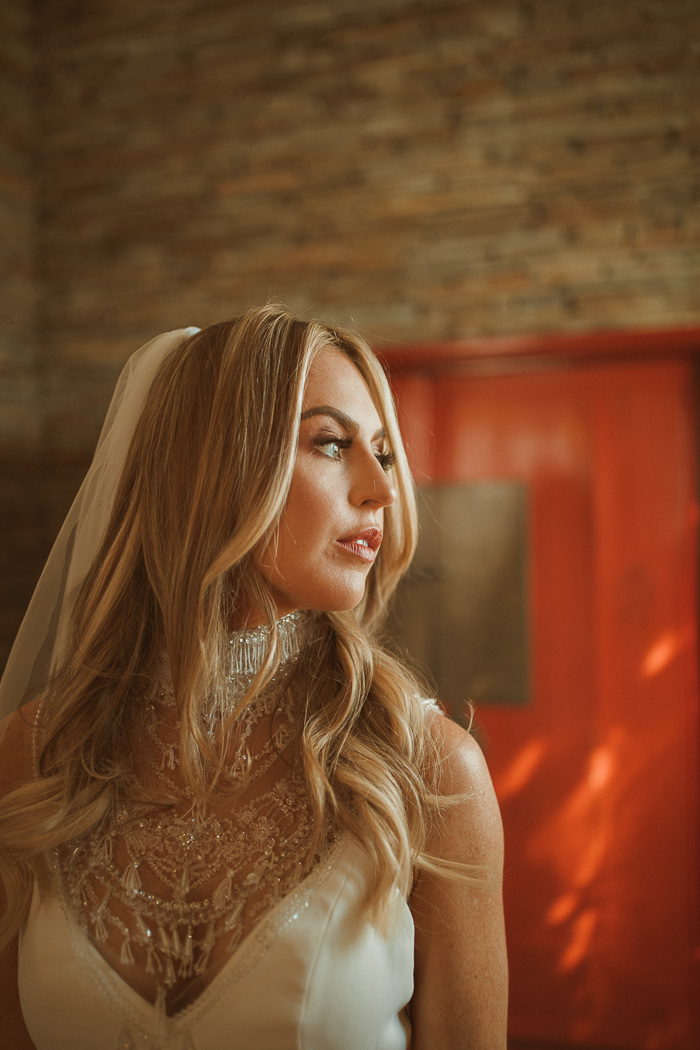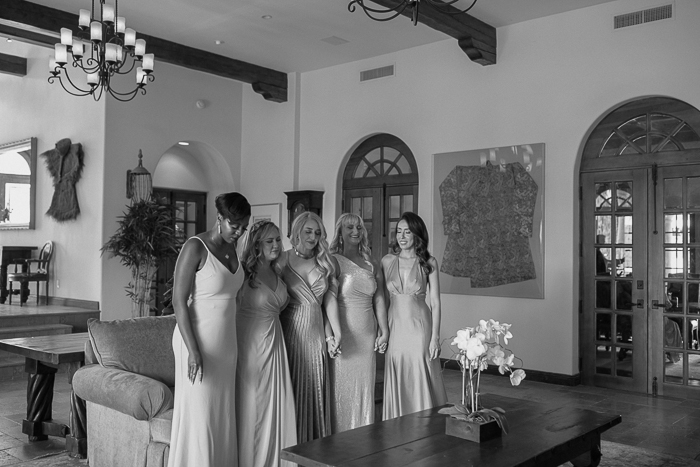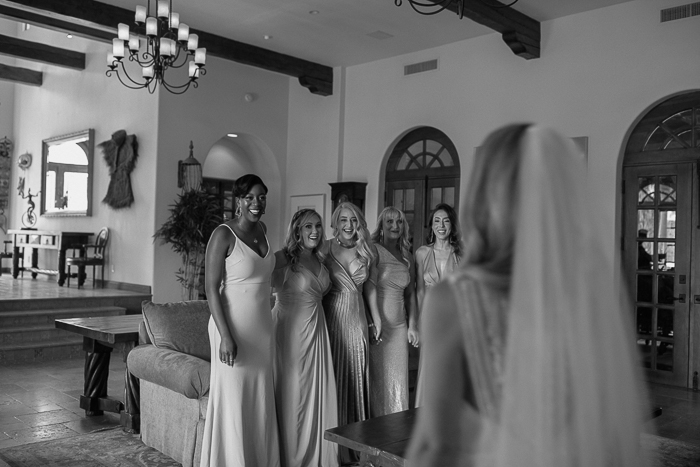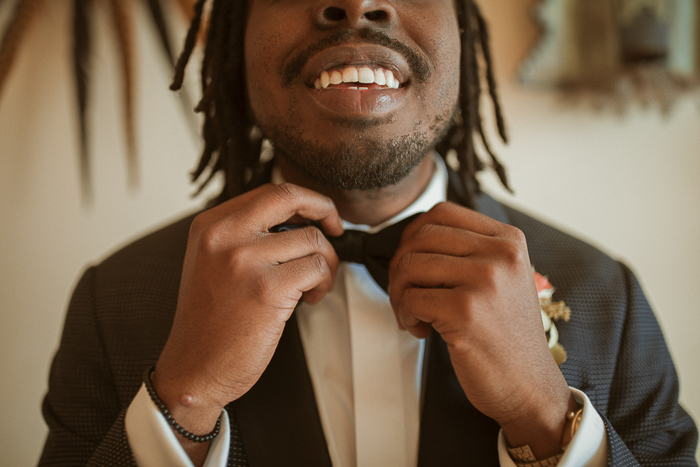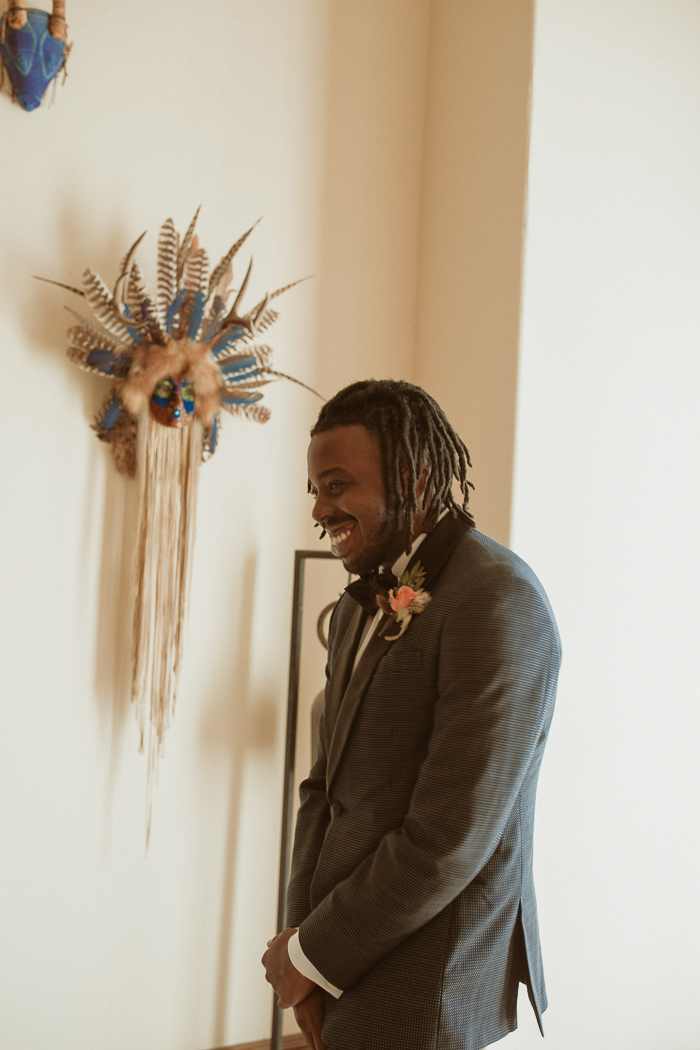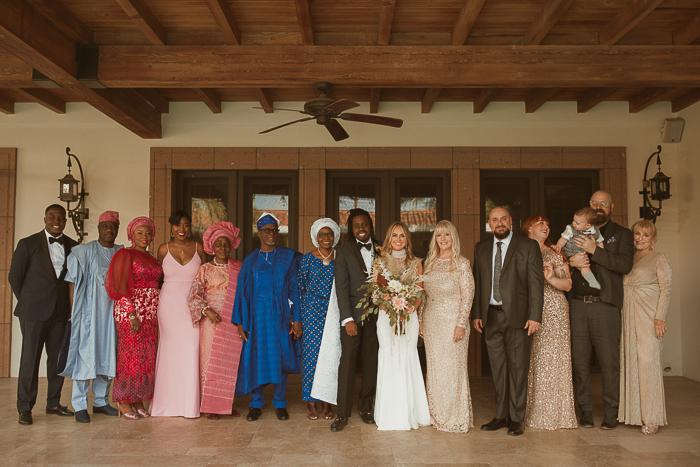 Why An Estate Wedding
We looked at a lot of venues–probably about 15 to 20 in total. I grew up in Southern California and we went to Palm Springs every year for Mother's Day weekend, so the desert has a nostalgic and sentimental place in my heart. We also took our first trip as a couple to Palm Springs and we were regular Coachella attendees, so the desert is a very magical place for us, too. The flow of the wedding ended up being a pretty big determining factor for our venue selection. We liked that we could get married on the lawn with the estate and pond in the background, followed by cocktail hour on the terrace on the opposite side of the water, and then dining in the courtyard around the pool. It felt like guests got to experience all the views the estate offered.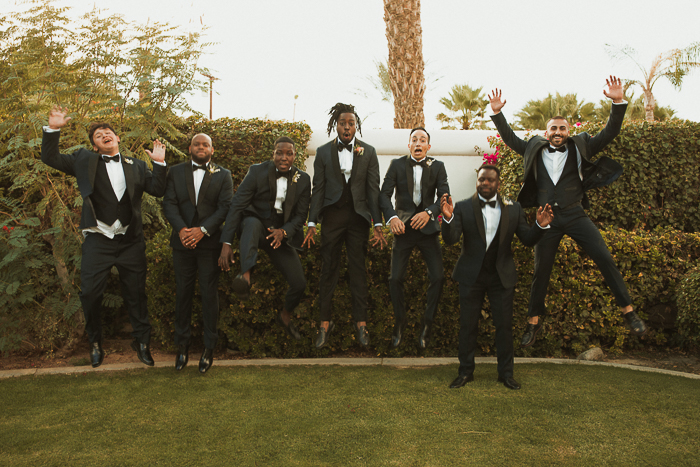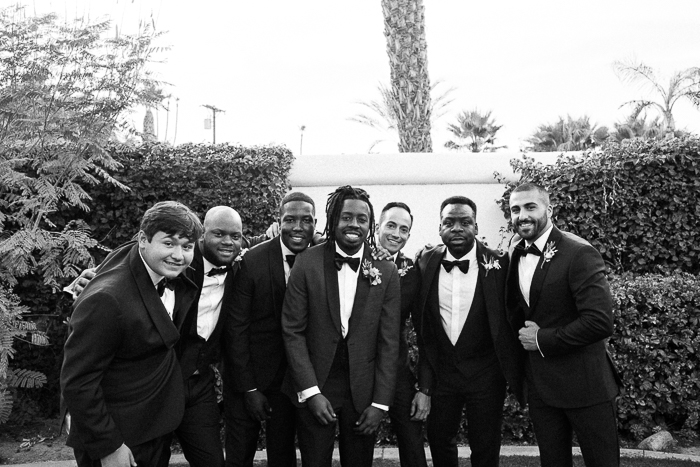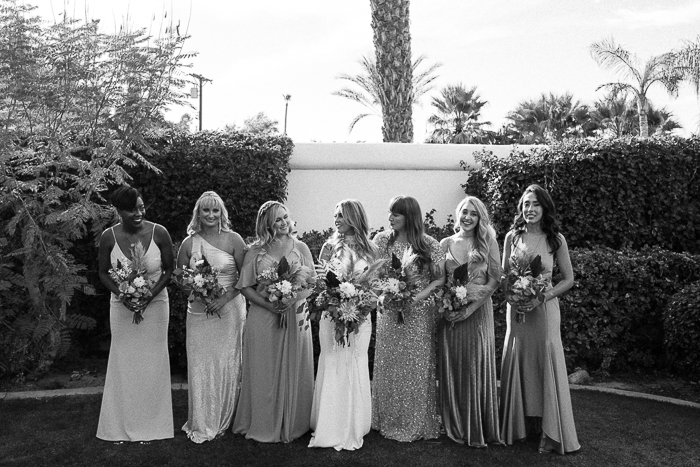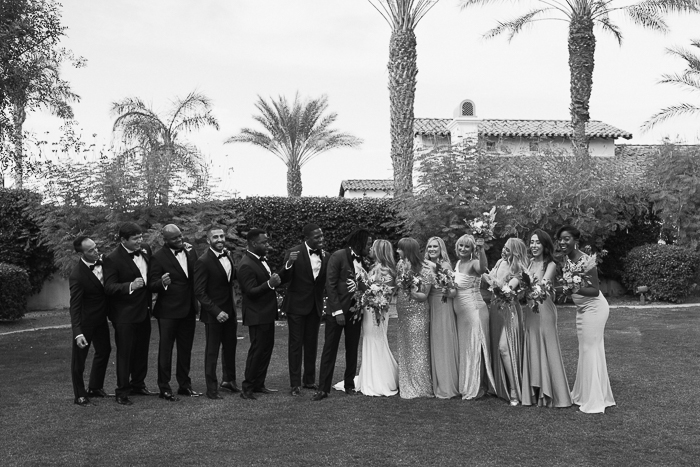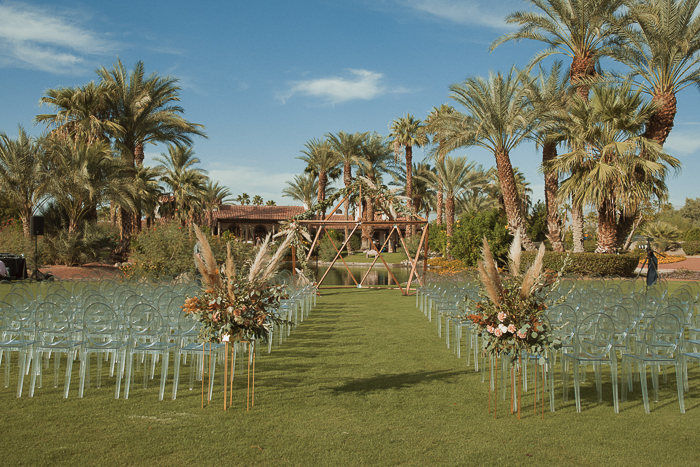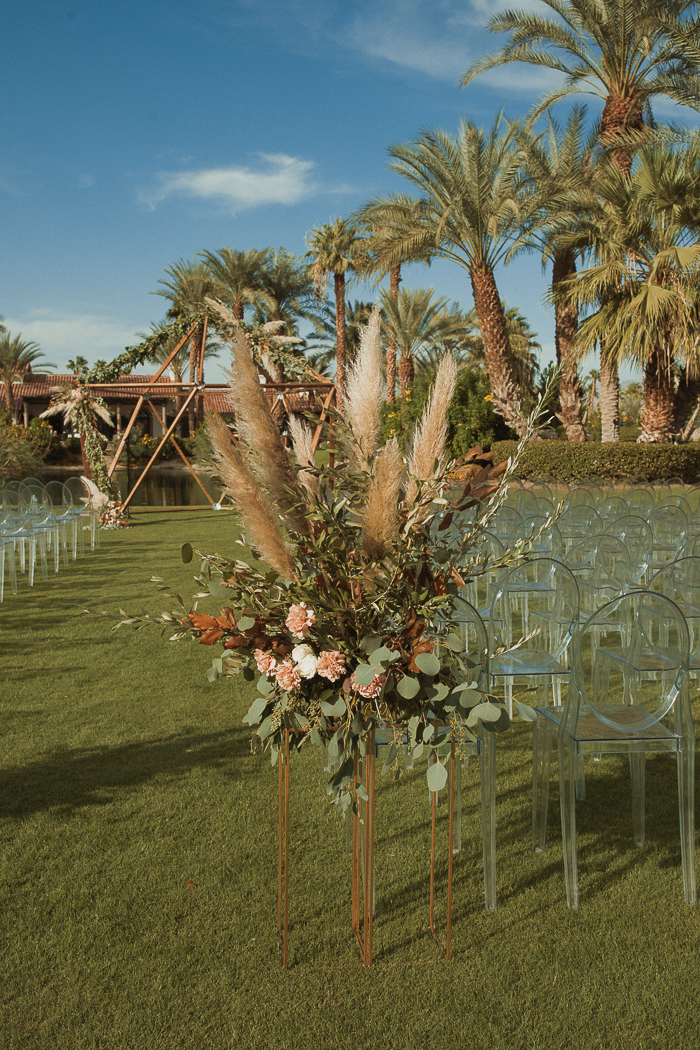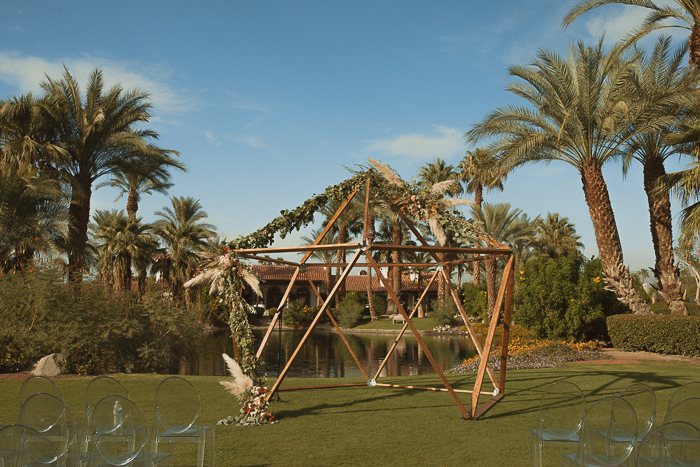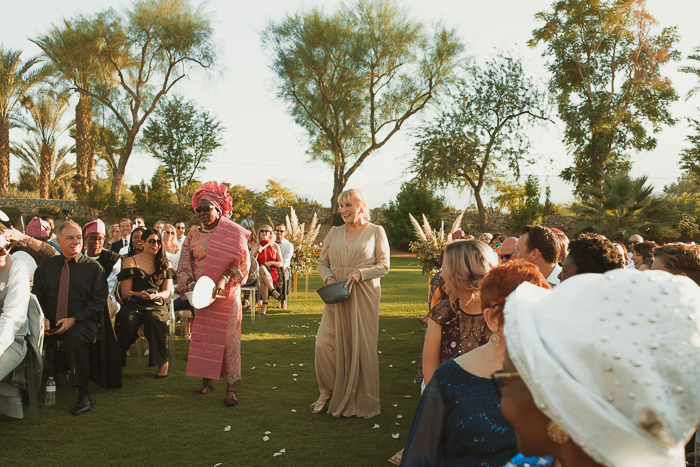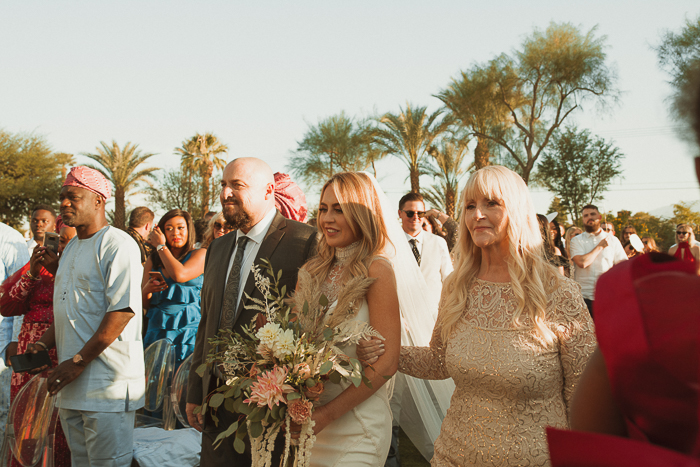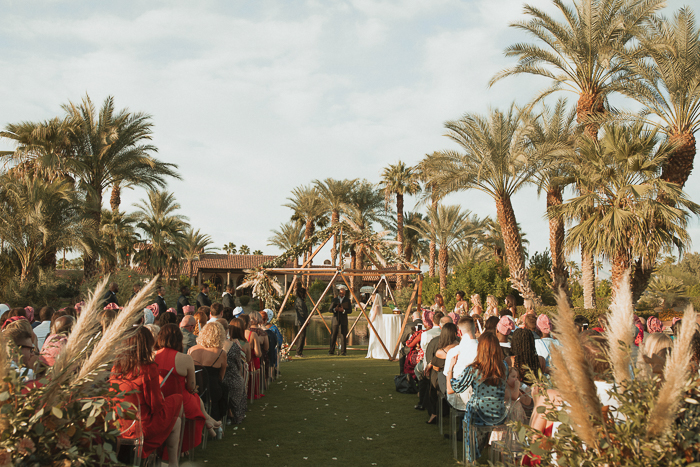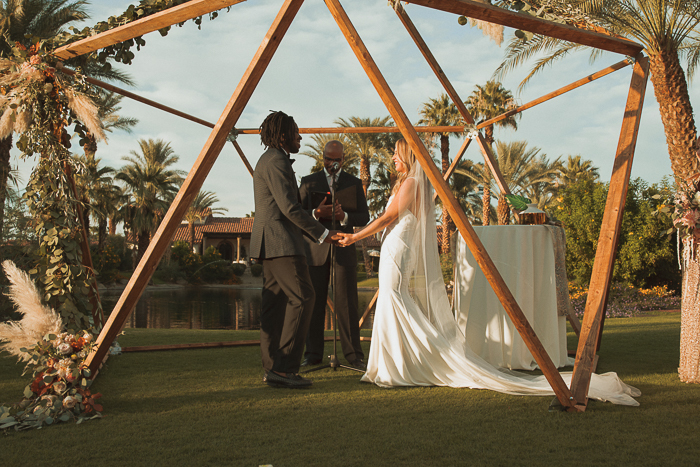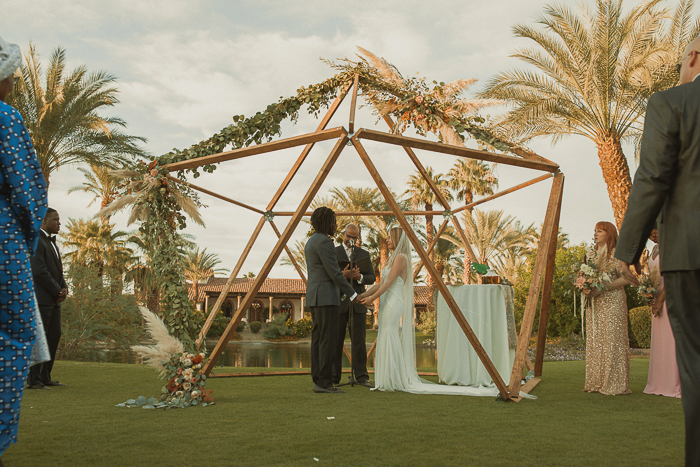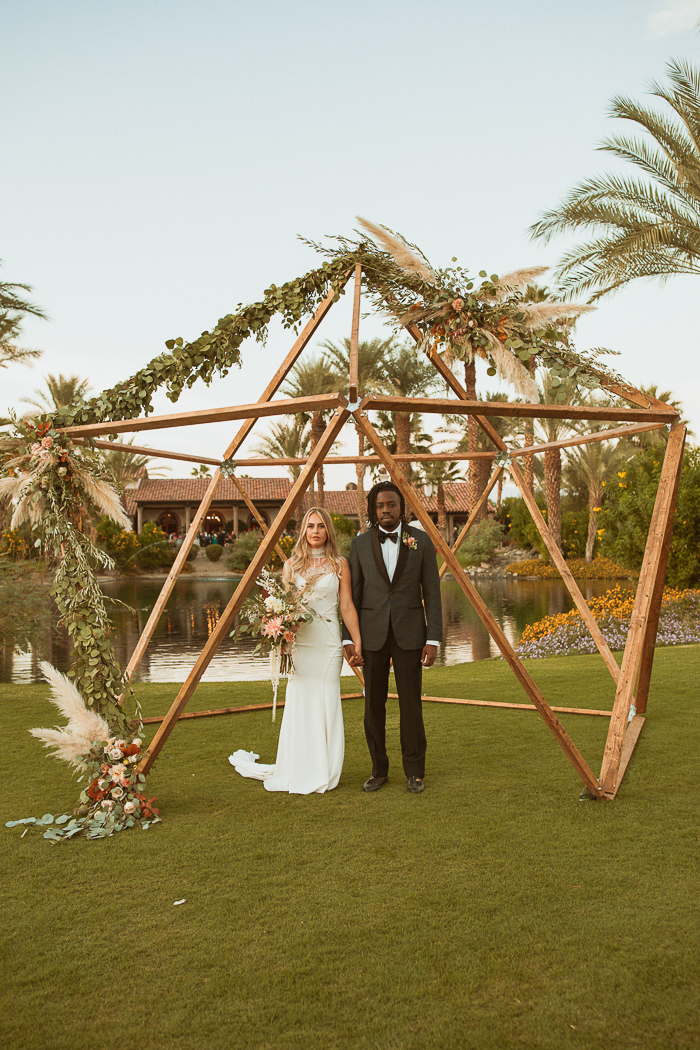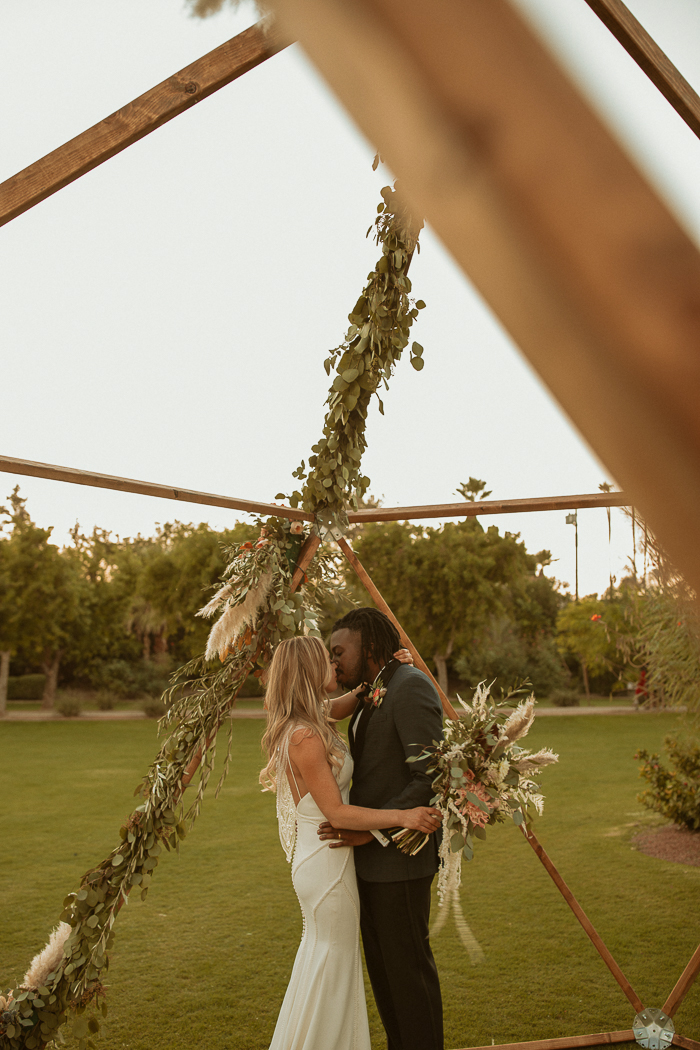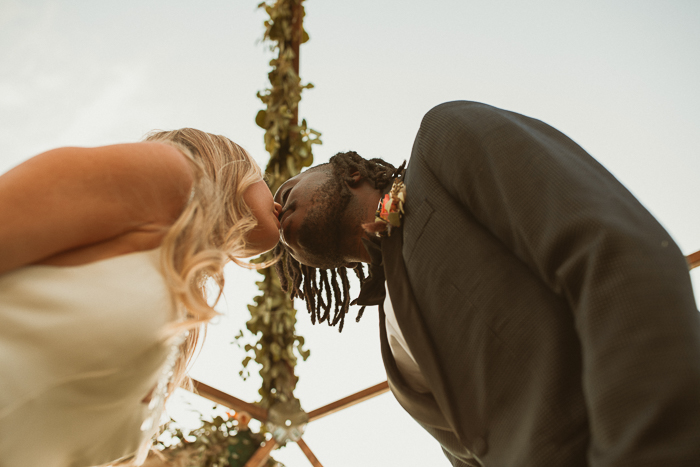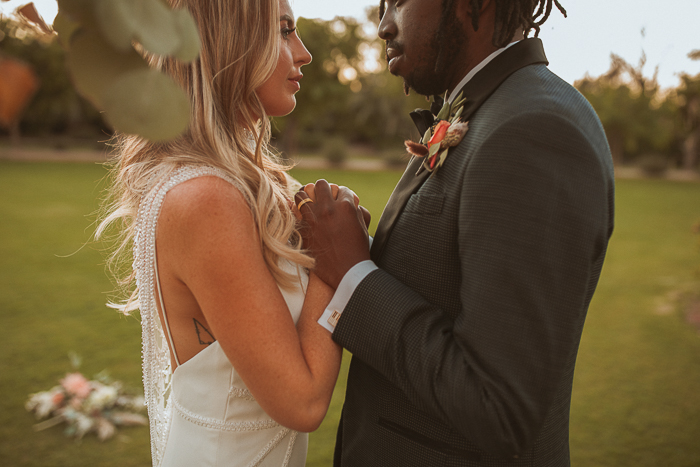 Wedding Advice From The Couple
It is important to prioritize pleasing yourselves as a couple in your decision-making process. Decide what aspects matter most and budget accordingly. It can feel like there is an enormous amount of pressure to meet others' expectations. Keep in mind that your guests want to have a good time and, more importantly, want you to have a good time. They are not there to judge and critique you. Remembering this helped put us at ease. It can feel like you are on stage. We often related the wedding day experience to a performance or play. Things may not go perfectly, but the reality is that the "audience" (aka your guests) will never know.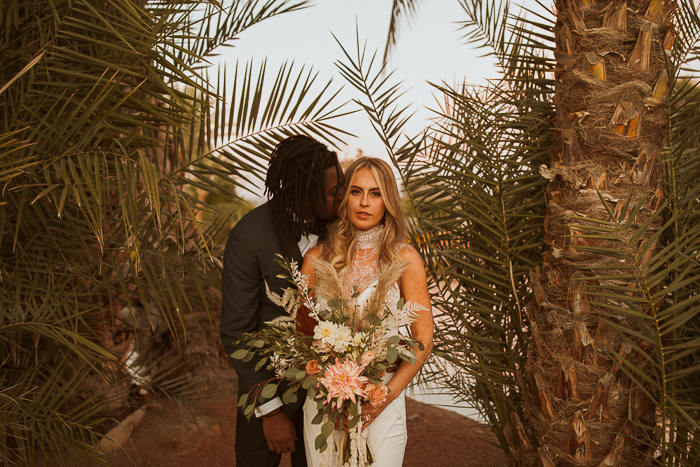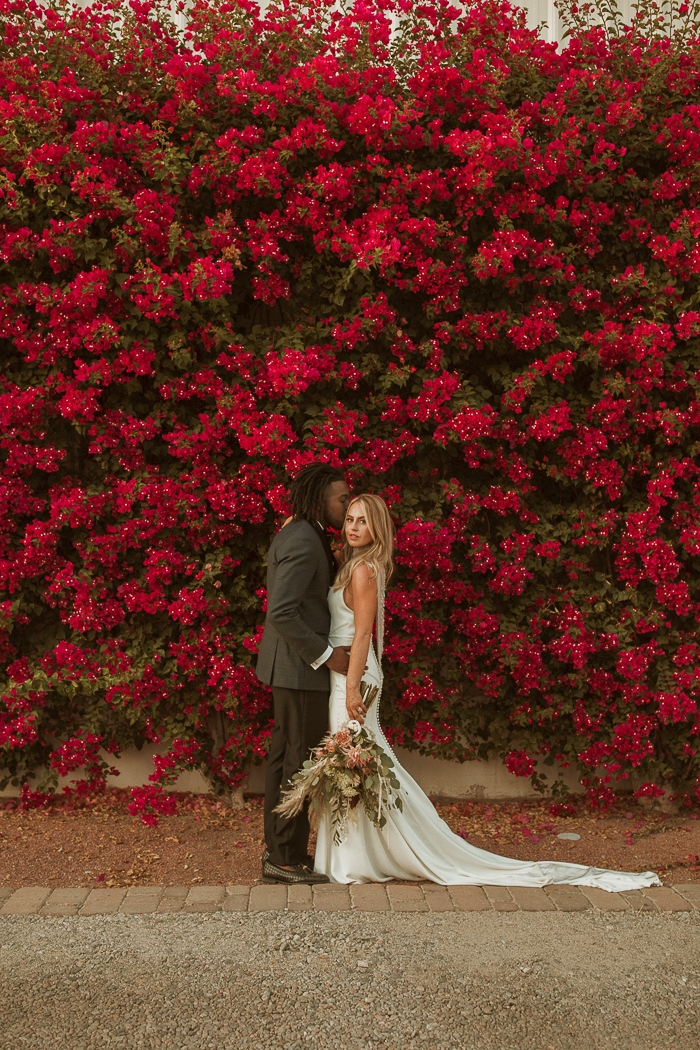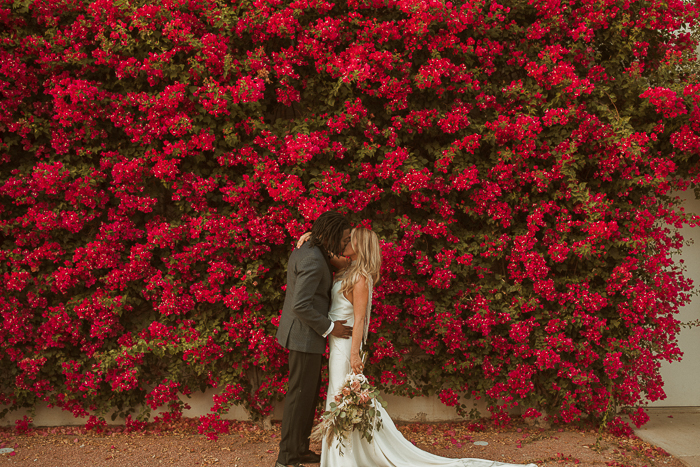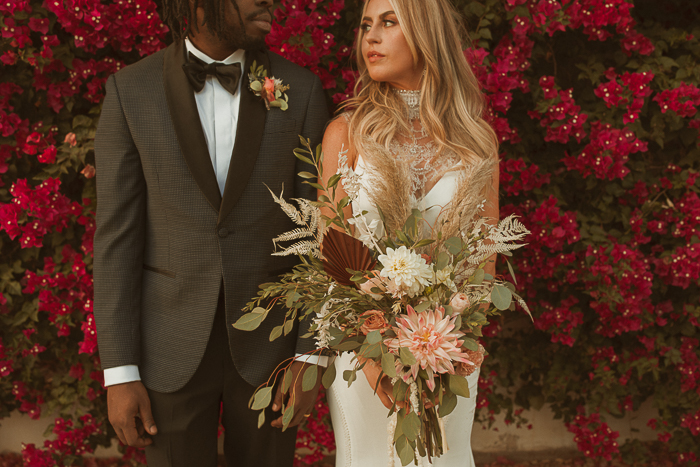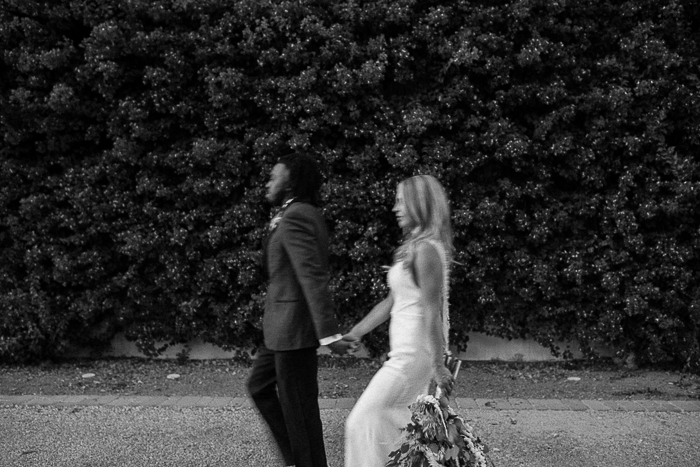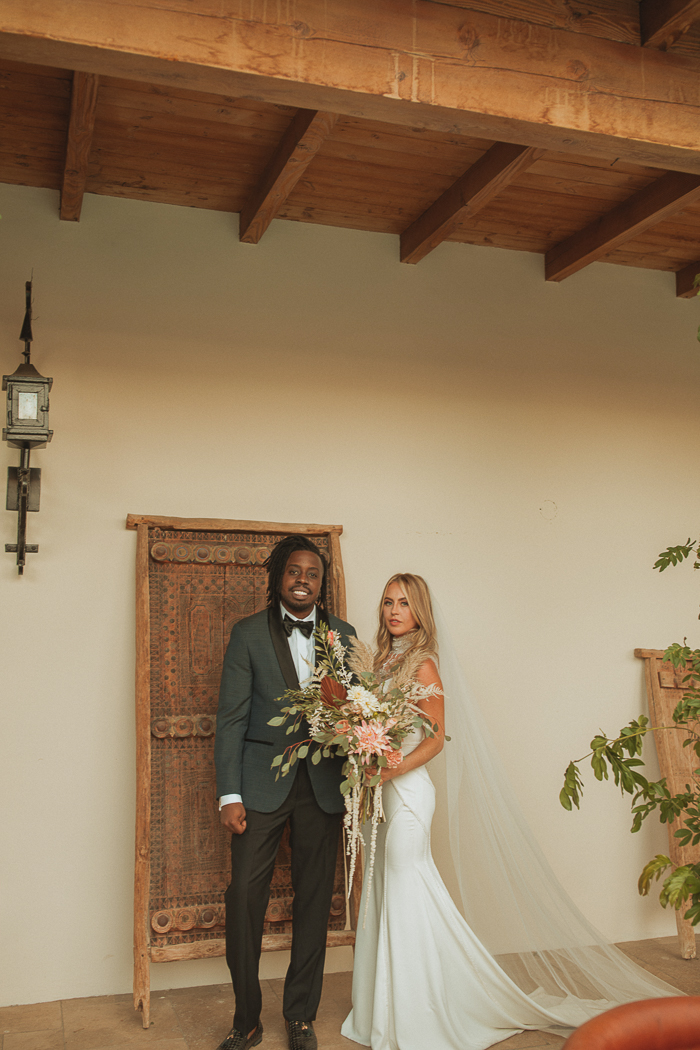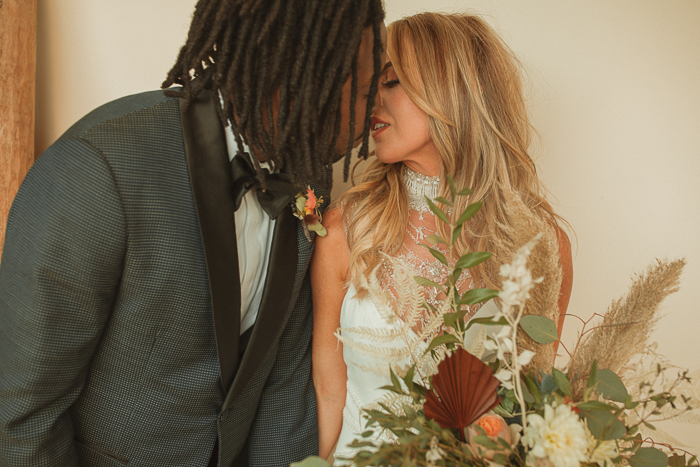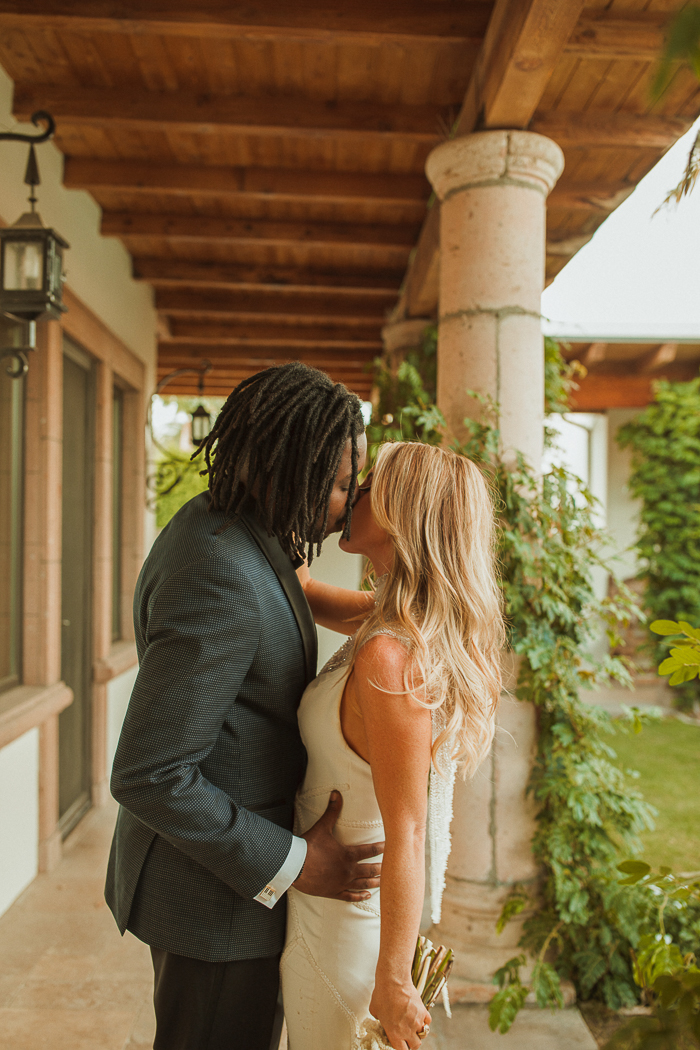 The DIY Touches
I found incredible fabric in downtown Los Angeles, and when I saw it, I knew I wanted it for our table runners. My mother then made all of our table runners and table linens. We also designed all of our own day-of signage. Our altar was more or less a DIY project, as well. I saw a similar arch that wasn't available for our wedding date, so my mom's friend made our wedding altar as our wedding gift. He now rents it out for any couples getting married in Southern California!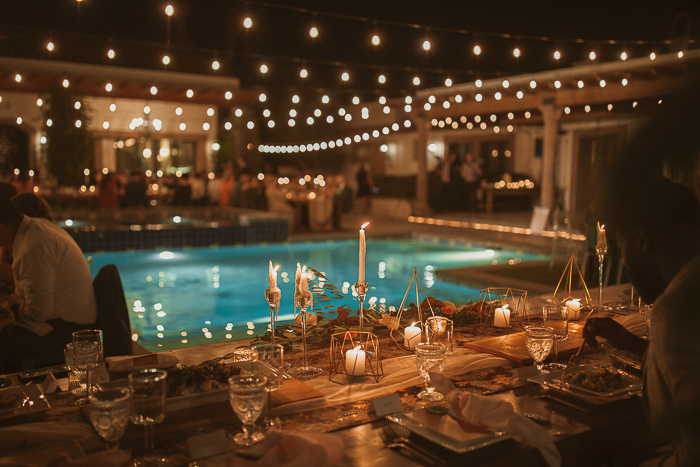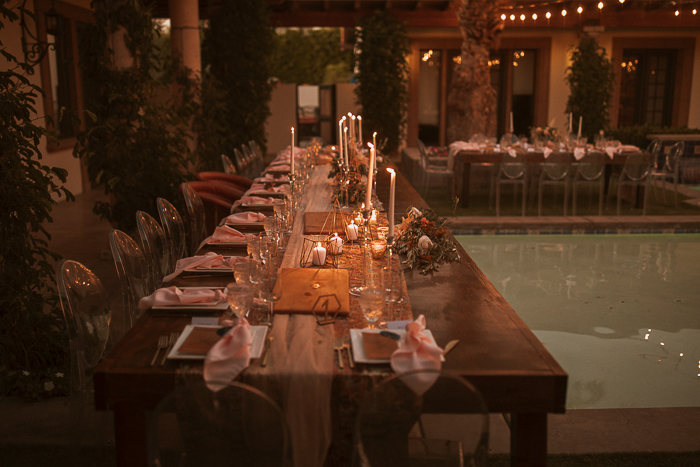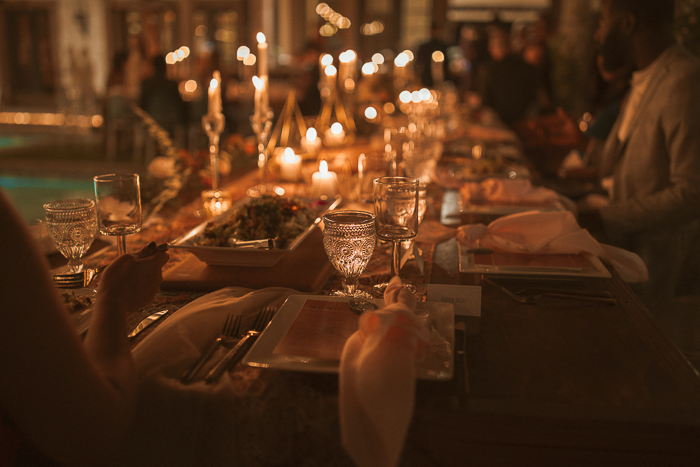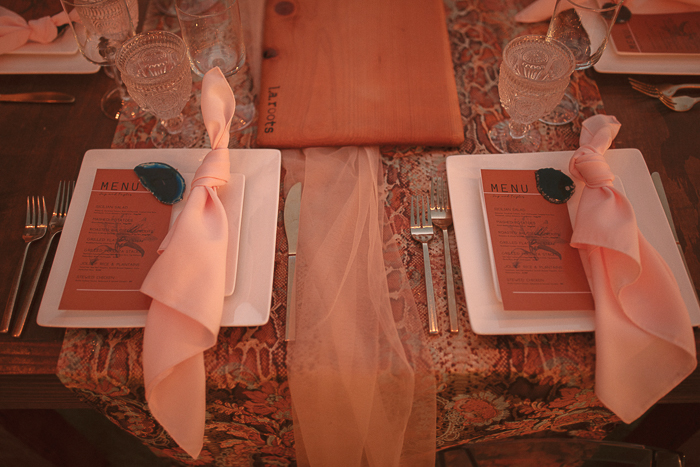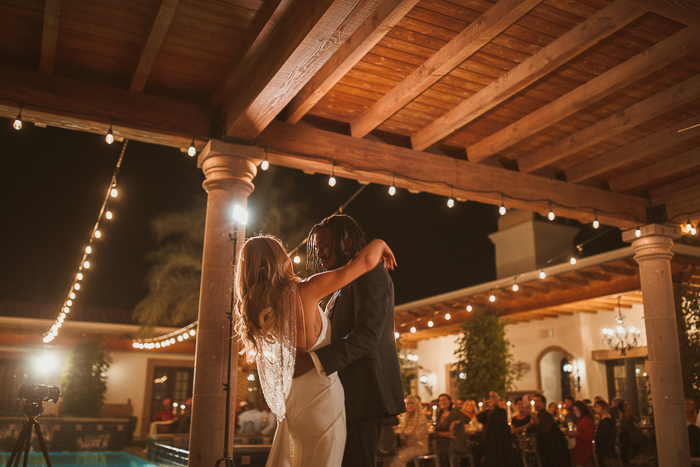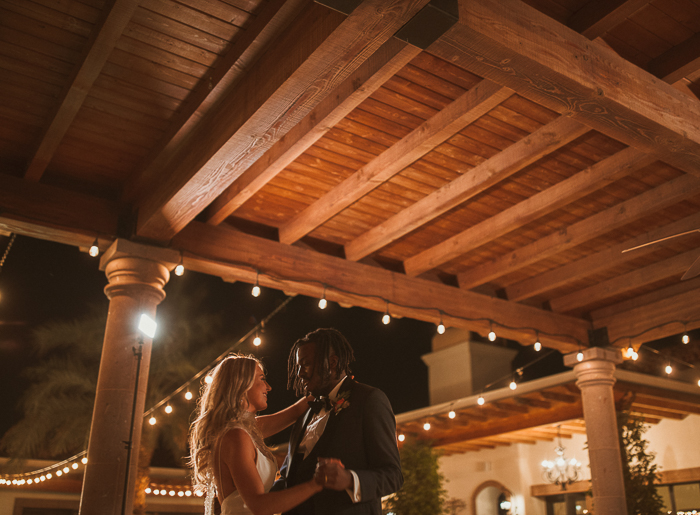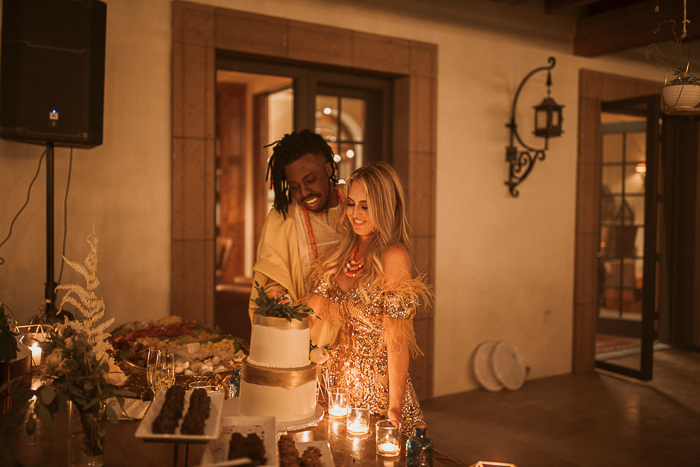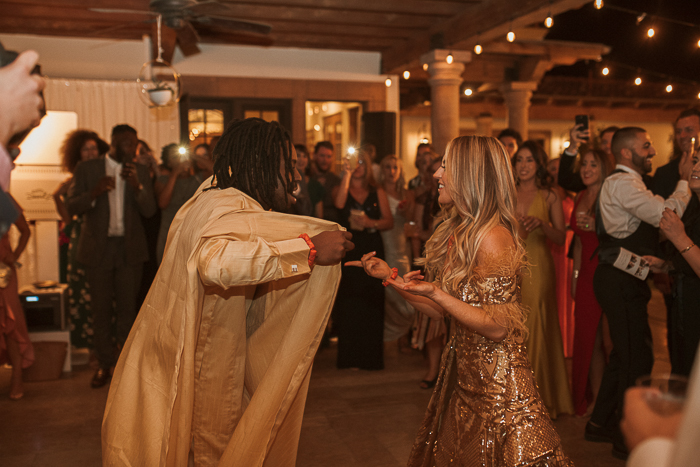 Congratulations again to Taylor and Jay on their sentimental and intimate multi-day Bougainvillea Estate wedding! Thank you to Jessie Jean Photography for capturing the day and coordinator Leilani Weddings for sharing it with us. If you're interested in adding DIY touches to your special day, check out our guide to planning the perfect DIY wedding.