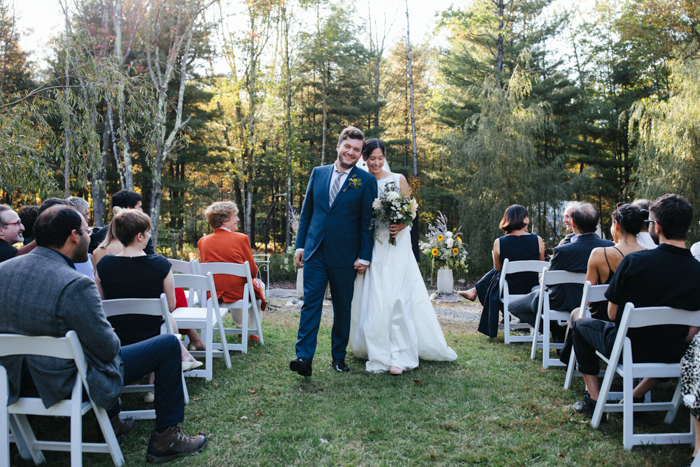 Weddings with furry friends are always fun, but what if the furry friend can't attend your wedding? Kate and Anthony had to leave their beloved cat at home, but they paid homage to their fur baby by adding a cat to their wedding favors! That's just the beginning of the fun. Their unique and beautiful Outlier Inn wedding also had a few surprise guests—cats, alpacas, sheep, and goats all on property.
Kate and Anthony really made their wedding their own by adding elements of their heritages, DIYing their wedding favors, having an interactive cake, and including a precious moment of silence. As if those details weren't enough, they also created a mouthwatering Chinese-Russian fusion food combining their cultural backgrounds both in marriage, and as a meal. Keep scrolling to see every detail of this outdoor Outlier Inn wedding perfectly captured by Sylvie Rosokoff.
The Couple:
Kate and Anthony
The Wedding:
Outlier Inn, Woodridge, New York








A Long Moment of Silence
Our ceremony began with five minutes of silence. I grew up attending Quaker schools, where silence is a regular practice. We wanted to create an open space for reflection and a pause in the middle of the day. After we'd walked up the aisle, and our friend and officiant asked our guests to settle in for the period of silence, the three of us looked at each other with sudden panic. Nobody had a watch. Incredibly, our friend timed five minutes exactly. It was the best moment of reflection regardless, standing in front of our friends and family with time to breathe slowly and think about what was about to happen.








Personalized Touches
The music played as we walked down the aisle was also composed by a friend of ours, who managed to adapt the 1998 pop song "Crush" for the keyboard, violin, and cello. Kate's brother created a station for guests to write letters to us to open on our first and fifth year anniversary and designed wooden boxes to hold the letters until then.








DIY Outlier Inn Wedding
Many elements of our wedding were DIY. The two favors we gave out were a pair of iridescent chopsticks that we had printed with the words, "I accept my feelings" (which comes from a Twitter bot that has some meaning in our relationship) and a cookbook that we compiled with comfort food recipes from our friends and family.
Shop similar wedding chopsticks: personalized wedding favor chopsticks ($79.50)







Combining Culinary Cultures
Our families are Russian and Chinese, so we combined culinary influences from both in the menu. Our reception appetizers included beet chips with sour cream and my recipe for Lao Gan Ma chili crisp deviled eggs. We had both pierogi and potstickers during the main meal, in a nod to the holiday dumpling party that we throw every year. Our cake had layers of lemon curd and blueberries, which Anthony loves, and a Sichuan peppercorn buttercream.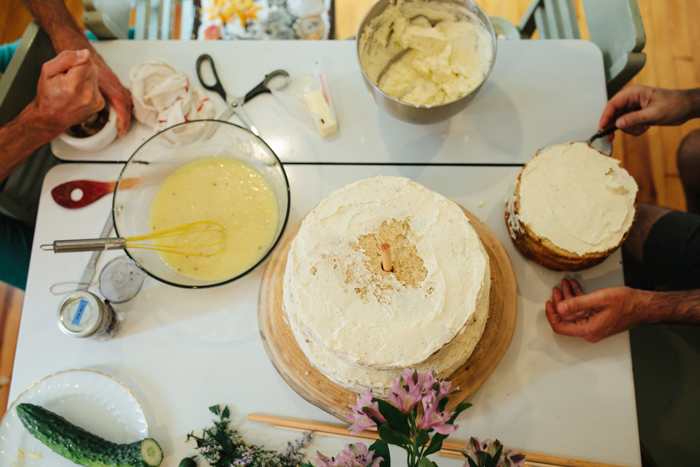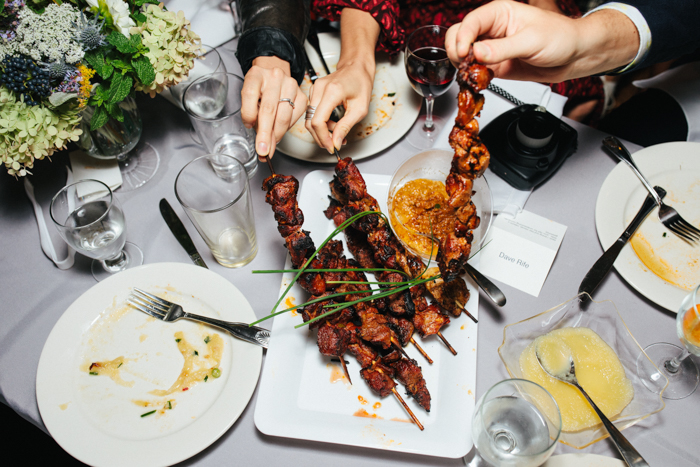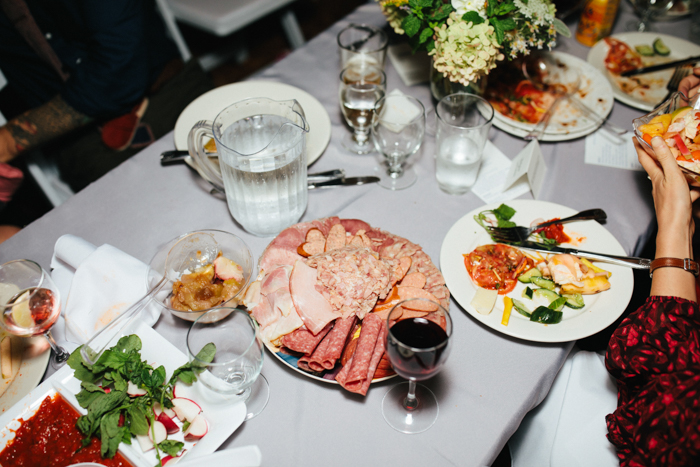 Wedding Advice for Nearlyweds
Delegate. We didn't have a wedding planner, so we made exhaustive lists of everything that needed to be done, and then distributed the tasks among the friends and family who we thought could handle them. One couple who was good with timing and crowds acted as our masters of ceremony and day-of coordinators, so we went over all the logistics with them beforehand so that we wouldn't be constantly bombarded with questions. Other friends were put in charge of decorating the reception area, audio-visual set up in the dance tent, building the bonfire, or fetching ice.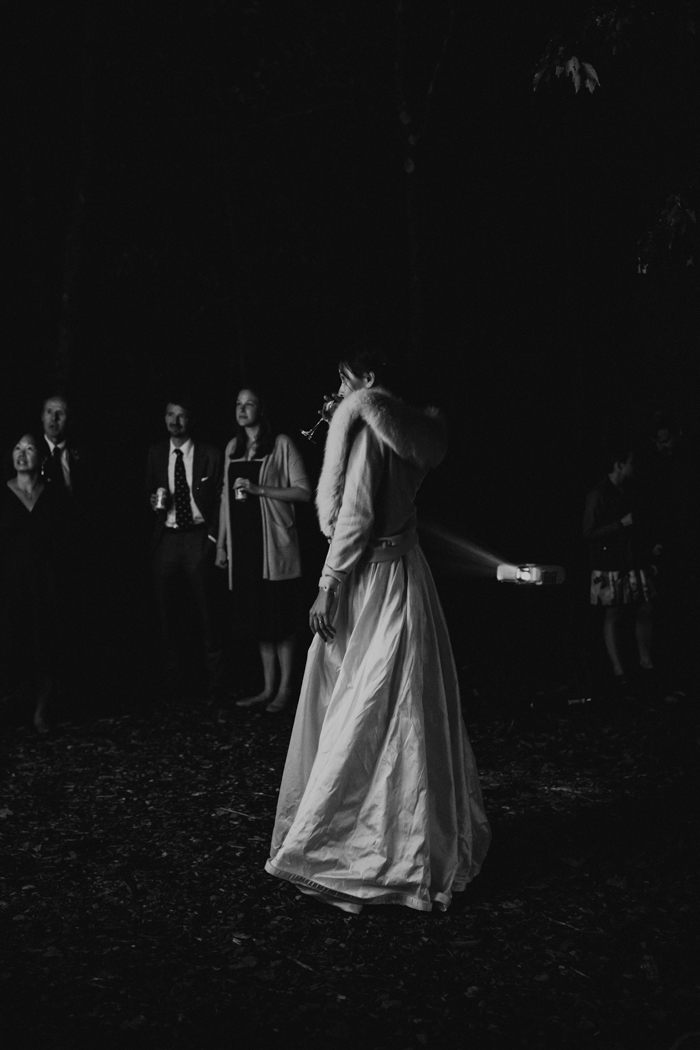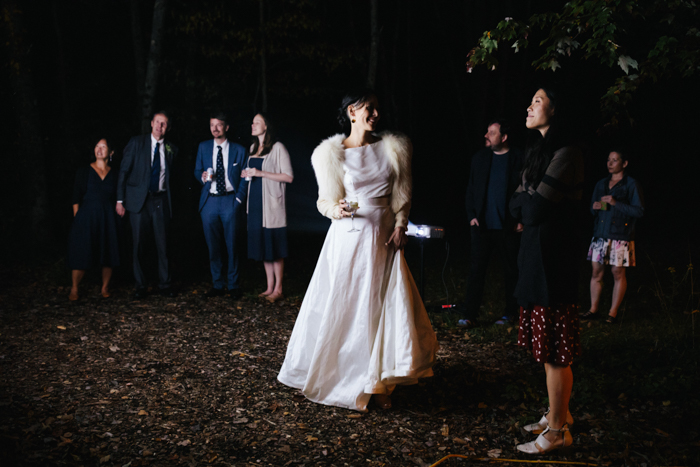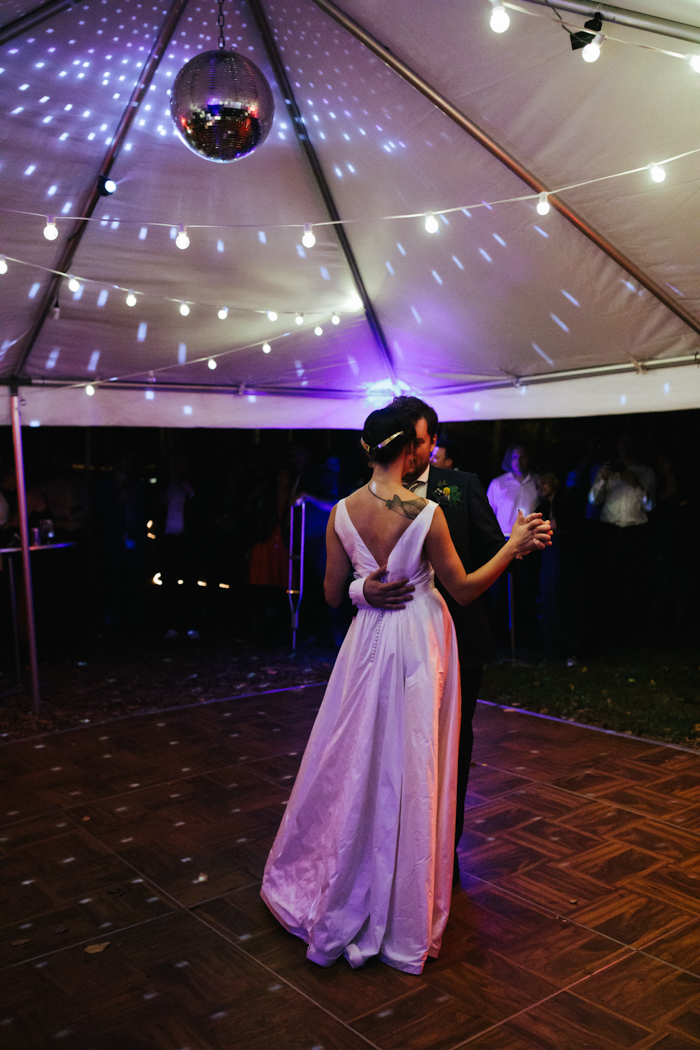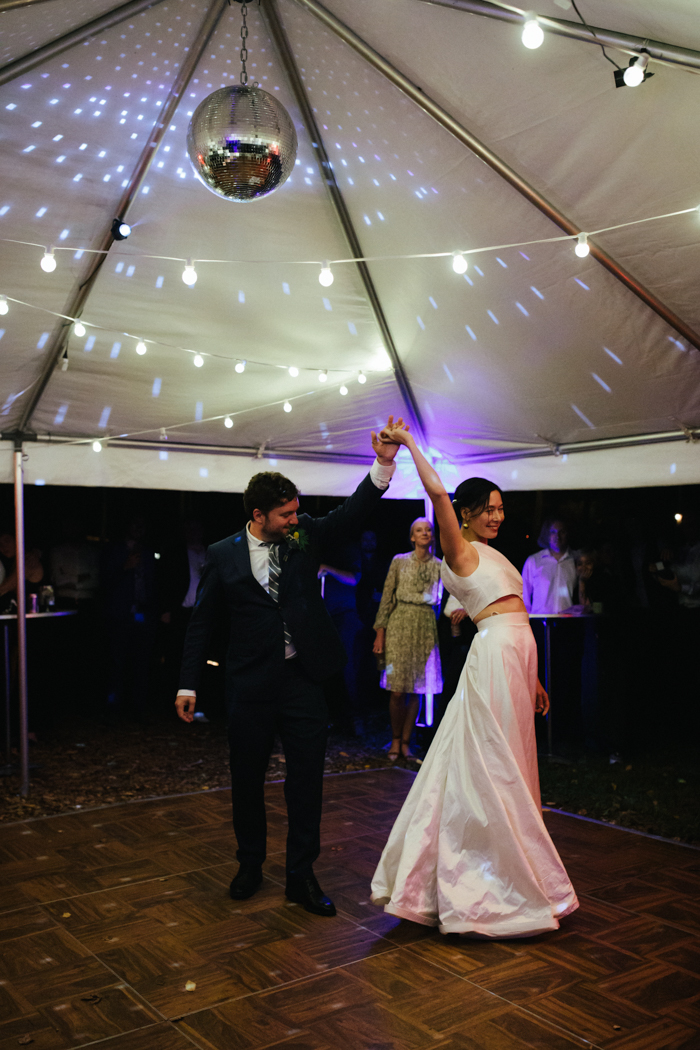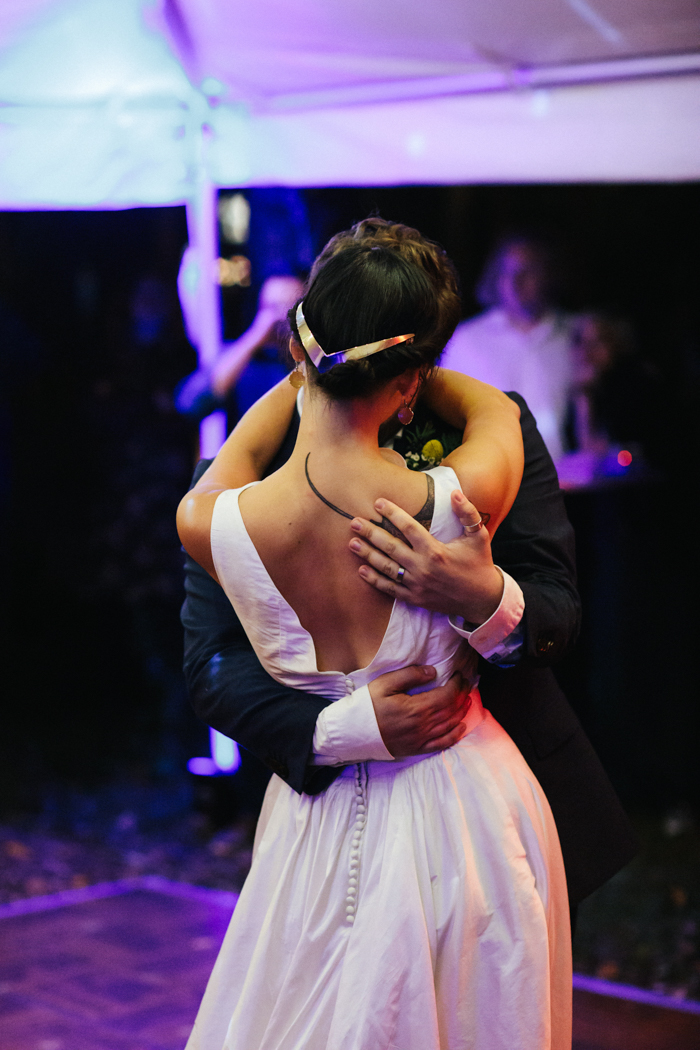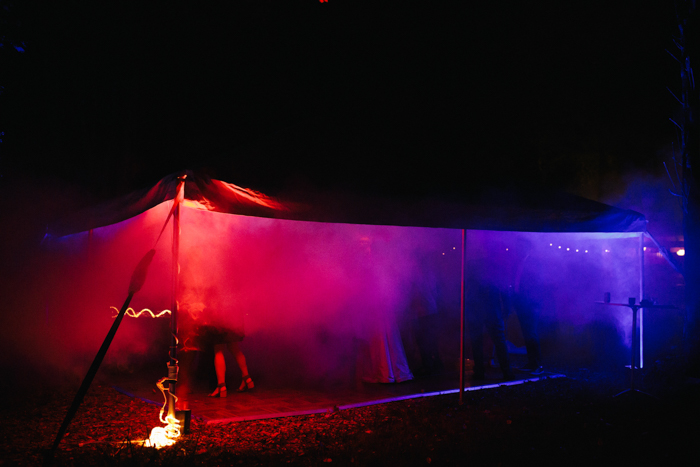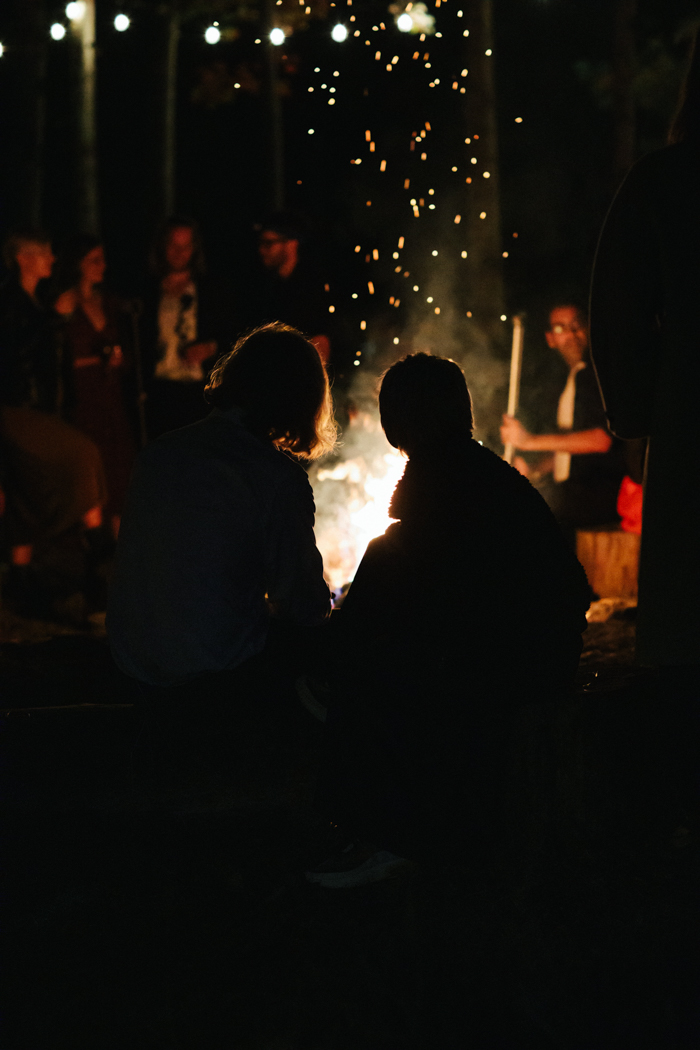 Congratulations Kate and Anthony on their perfect Outlier Inn wedding. Huge shout out to Sylvie Rosokoff for capturing and sharing this day with us. If you're planning a wedding without a wedding planner, check out our ultimate wedding planning guide and our tips on creating your wedding mood board to help you plan the wedding of your dreams!