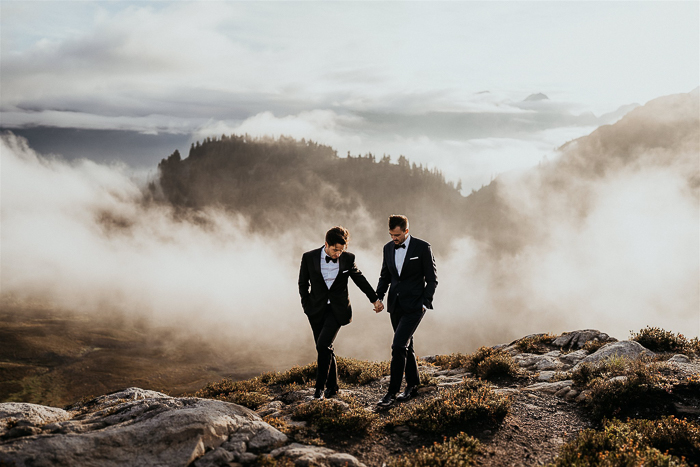 Cote and David wanted the focus of their wedding to not be on flowers, decor, or centerpieces but on sharing meaningful moments with their loved ones surrounded by beautiful scenery. Because it was the first time that both of their families would all be together in one place at the same time, the couple set out to make their elopement experience to be unforgettable. Thankfully, the spectacular mountain range truly showed up for them during sunrise and sunset at their epic North Cascades National Park elopement.
Although their elopement wasn't originally the plan, with the breathtaking sea of mountains in the background as they exchanged their vows, it's safe to say it worked out perfectly. Their beautiful ceremony was followed by an intimate reception at the Misty River Ranch. From the thoughtful wedding menu and homemade wedding cake to the custom gift bags filled with personalized goodies, the couple put a lot of love into each and every detail. Scroll through to find out more about their love story through these breathtaking photos by Henry Tieu.
The Couple:
Cote and David
The Wedding:
North Cascade Mountains, Washington, USA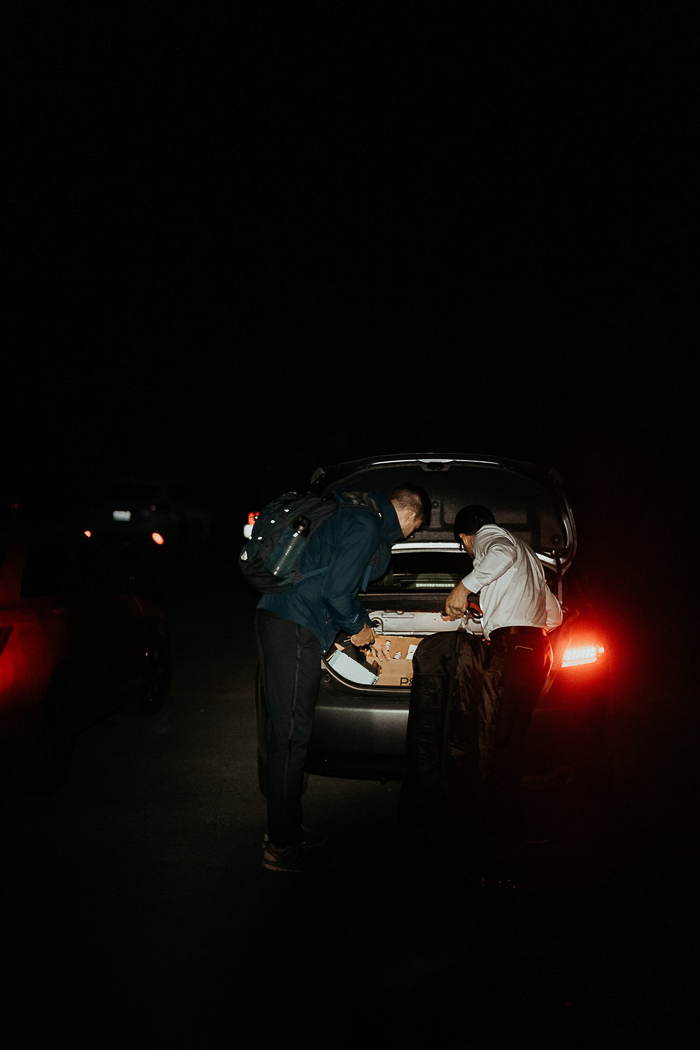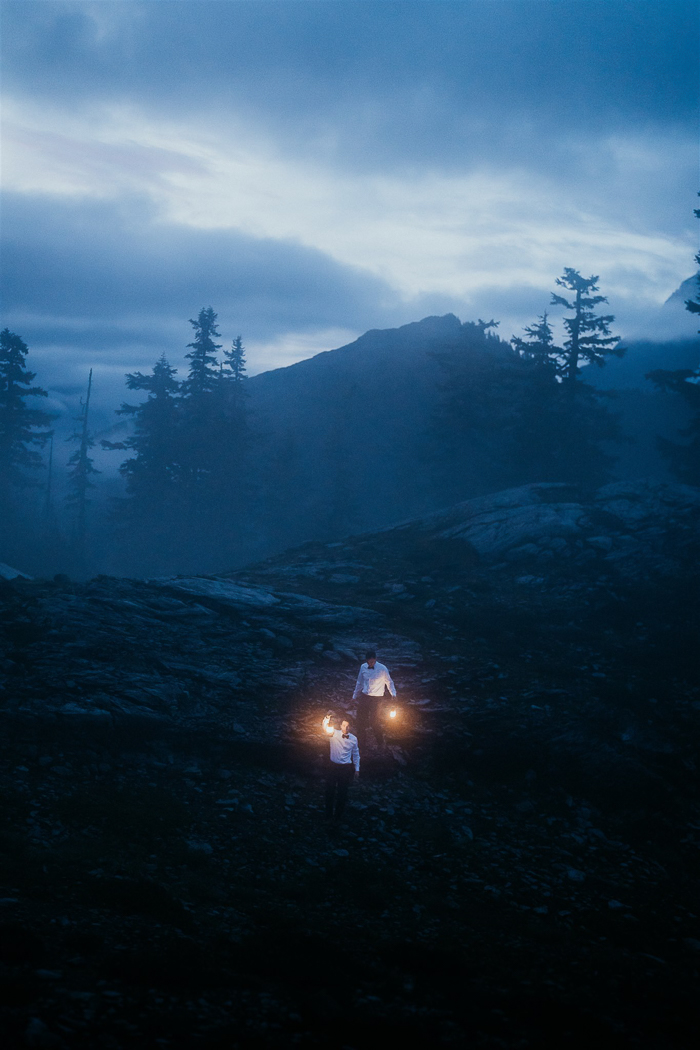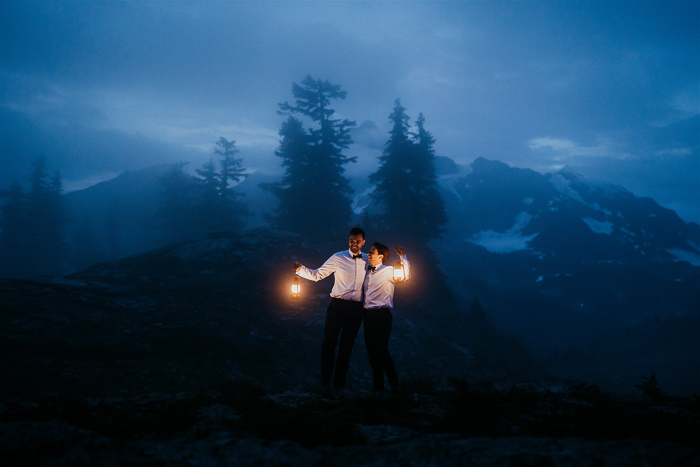 Challenges That Worked Out In The End
There were moments in the weeks leading up to the wedding where we questioned whether anything would come together. We faced a lot of unexpected challenges in those weeks and spent hours trying to make alternative plans. In the end, every part of our wedding day was perfect—from the 2:30 am wake up to eating leftover cake right out of the fridge at midnight, the day was everything we could have hoped it would be and more.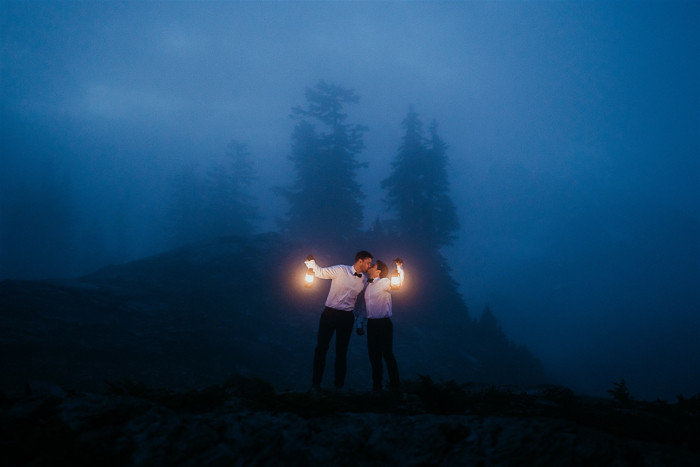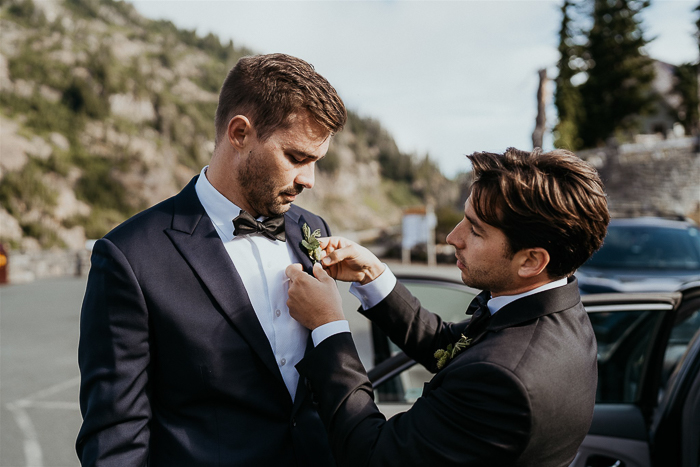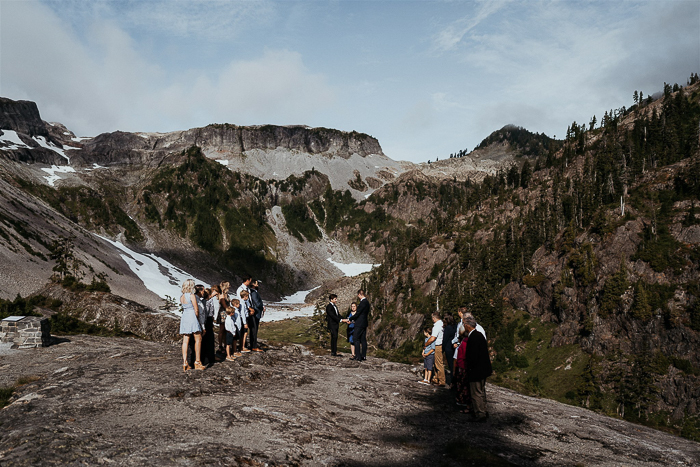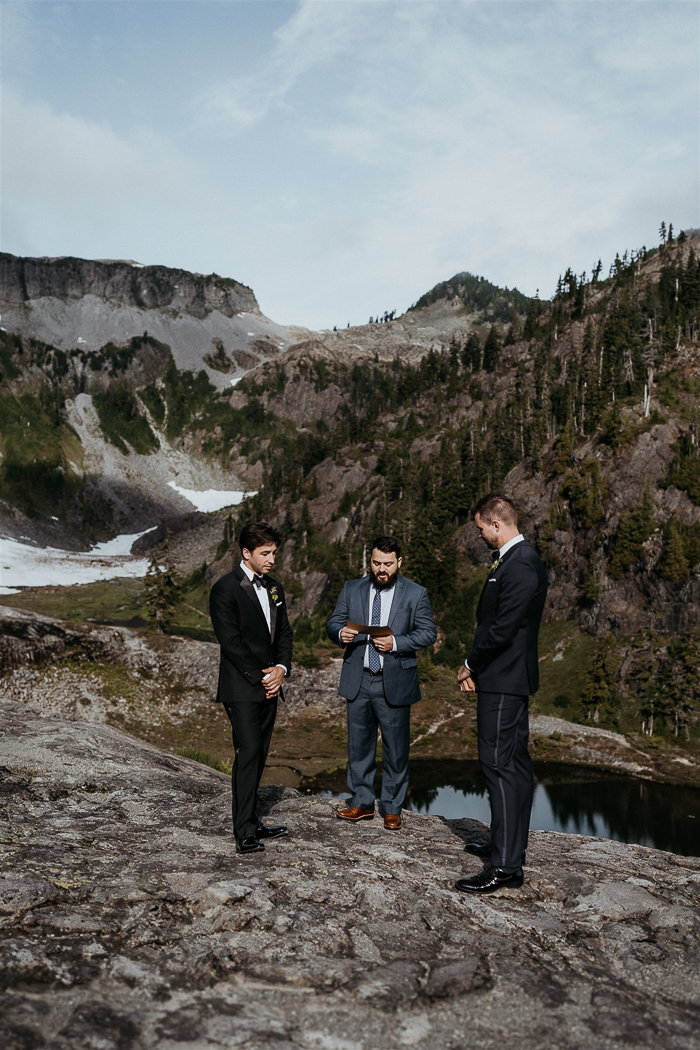 We included the passage below from the Supreme Court's majority opinion in our ceremony. In the opinion, Justice Kennedy writes: "No union is more profound than marriage, for it embodies the highest ideals of love, fidelity, devotion, sacrifice, and family. In forming a marital union, two people become something greater than once they were. As some of the petitioners in these cases demonstrate, marriage embodies a love that may endure even past death. It would misunderstand these men and women to say they disrespect the idea of marriage. Their plea is that they do respect it, respect it so deeply that they seek to find its fulfillment for themselves. Their hope is not to be condemned to live in loneliness, excluded from one of civilization's oldest institutions. They ask for equal dignity in the eyes of the law. The Constitution grants them that right."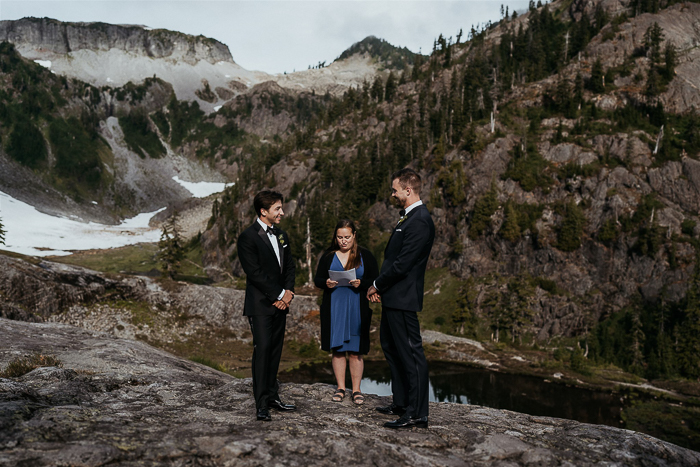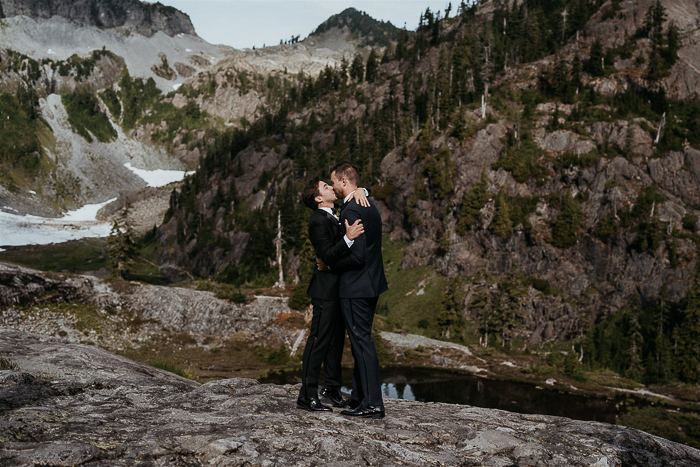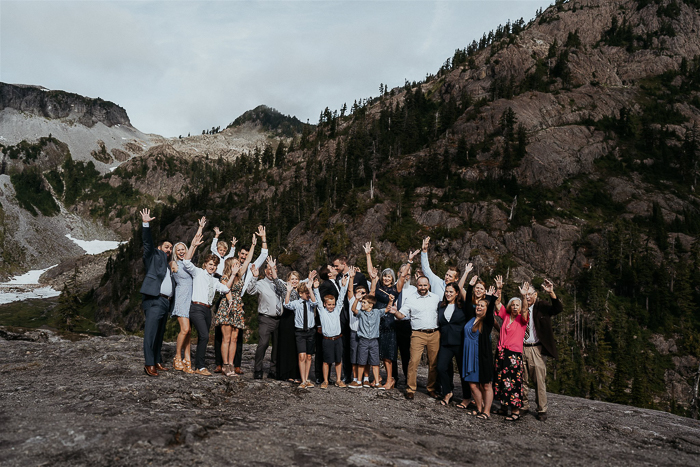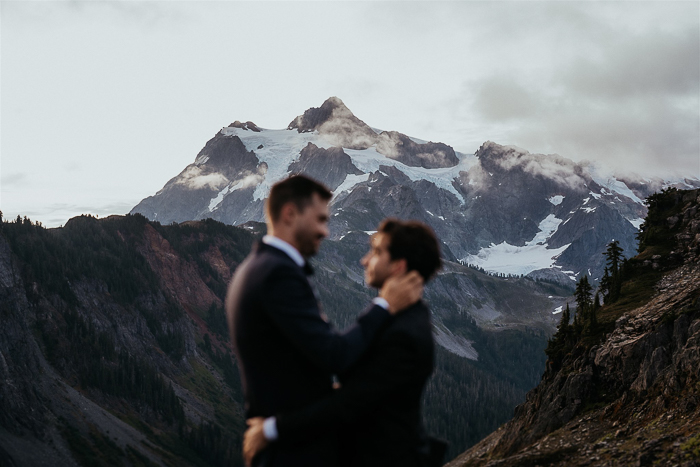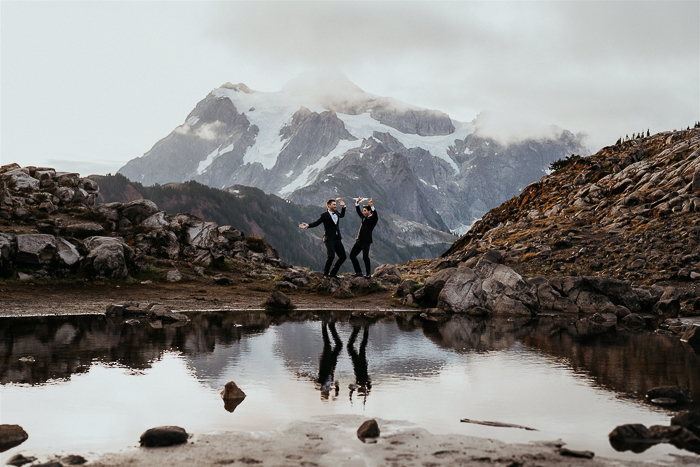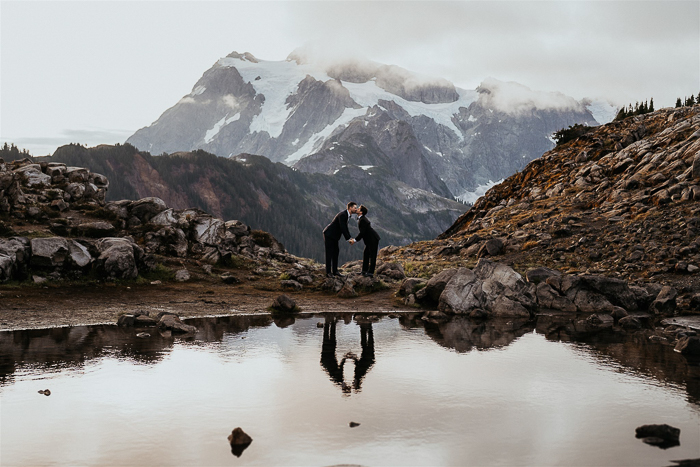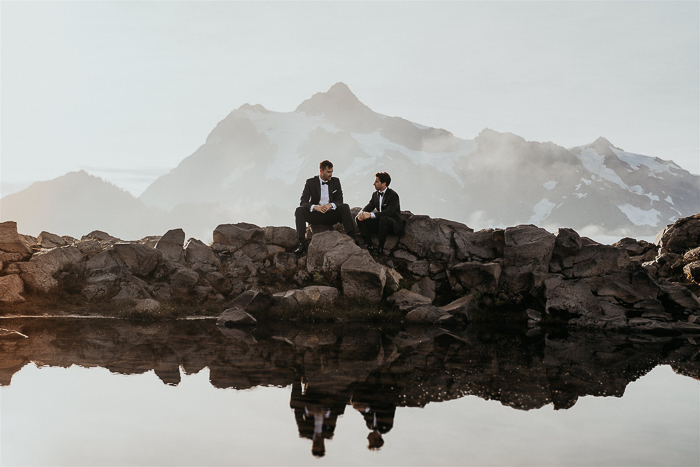 Last Minute Change That Led To Their Epic North Cascades National Park Elopement
Our venue was really chosen out of necessity. After the wildfires forced a change of plans, we had to find a new location days before the ceremony. You can hold an intimate ceremony in any number of places, but where were we going to eat and celebrate? We found a place online just 30-minutes from the new ceremony spot. We were told that they normally don't accommodate weddings during the week, but when we explained our predicament, this saint of a woman from Misty River Ranch agreed to host us for our reception just two days before the wedding. It wasn't our original idea, but it was our only option, and it turned out perfectly.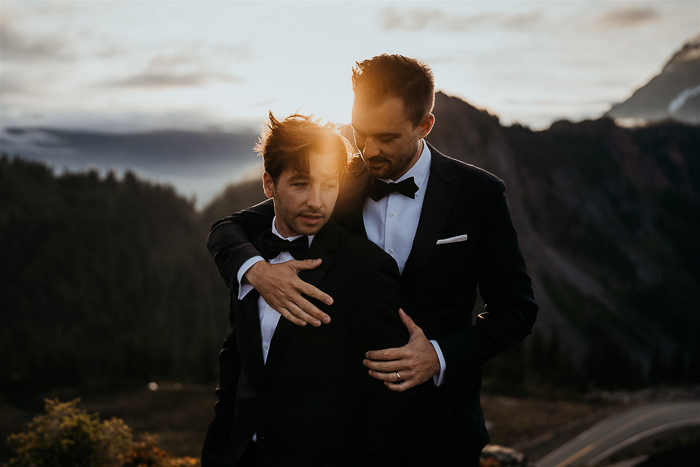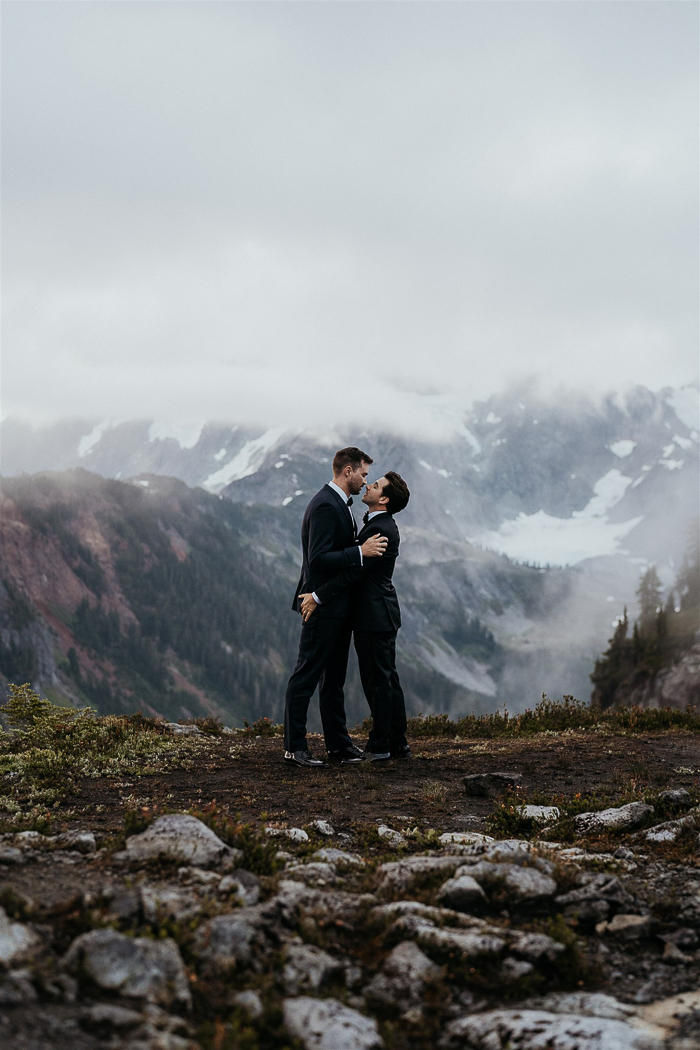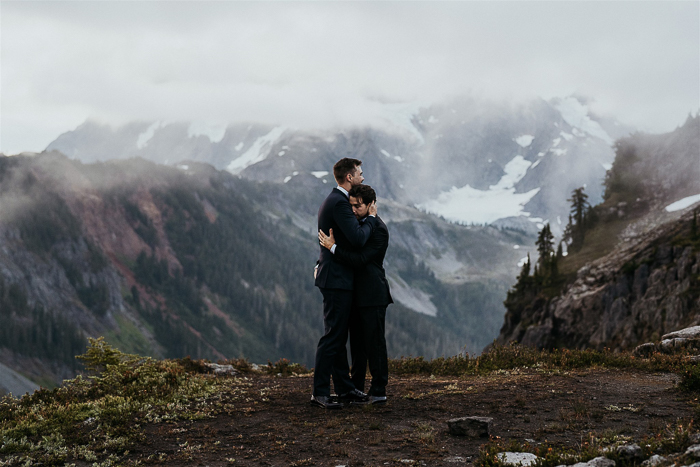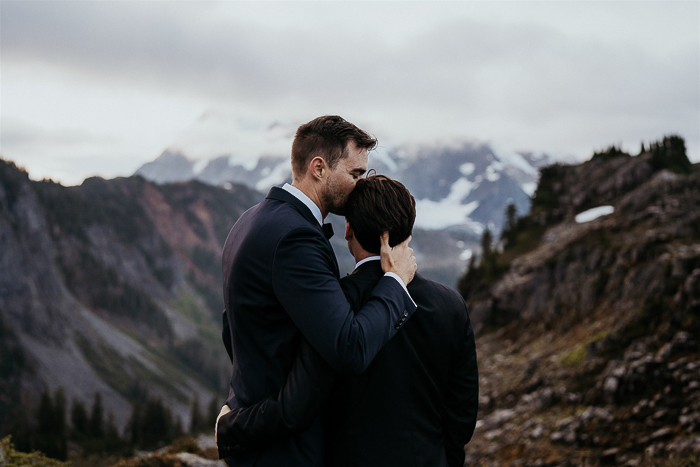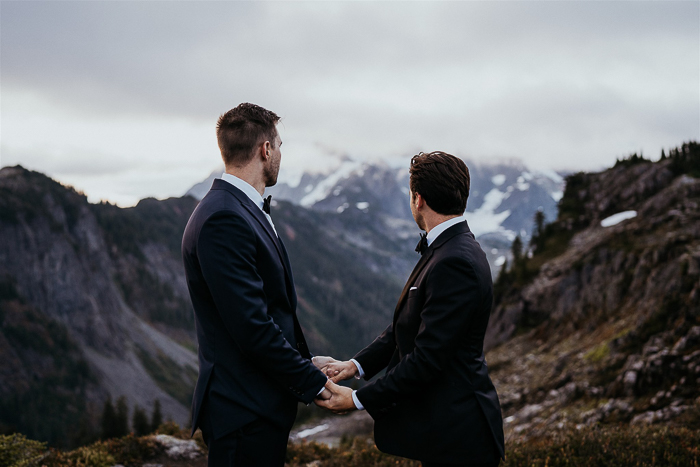 An Adventure North Cascades National Park Elopement With Family And Friends
When we set out to plan our elopement, we knew this would be the first time both our families would all be together in one place at the same time. We knew they'd be traveling long distances, so we wanted it to be a memorable elopement for them as well. In the end, it was effortless. We spent three days together sharing meals, hiking through the mountains, laughing, and creating memories to last a lifetime.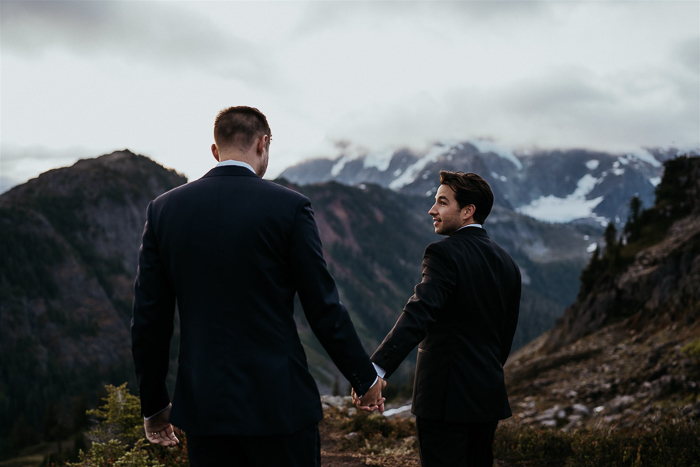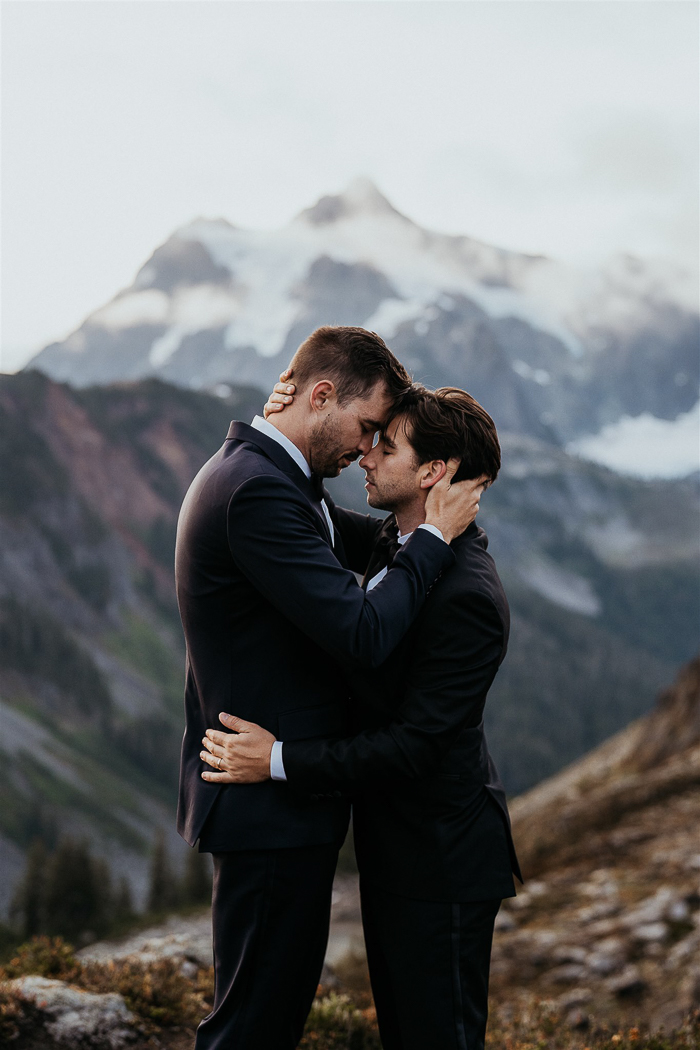 Working With Henry Tieu Photography
Working with Henry Tieu was an absolute dream. On a day where you're being asked to express uninhibited love and affection with your person, it's critical to find someone that puts you both at ease. We joked, shared laughs throughout the day, and got to know Henry for the wonderful guy he is. He provided tremendous instruction and guidance while still allowing us to be ourselves. Henry captured our love story in photographs, and we are forever grateful for that. Our decision to work with Henry was an exercise in trust and gut instinct. Ultimately, he played a critical part in our special day, and we couldn't be more pleased with our wedding gallery. He's truly a master of his trade and a phenomenal photographer to work with.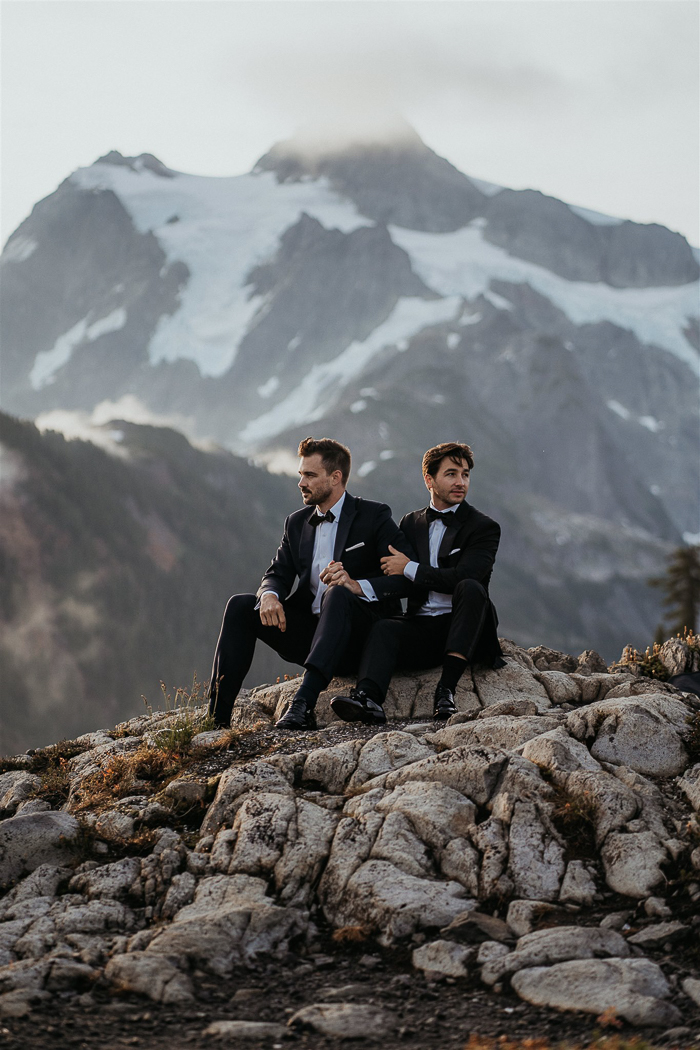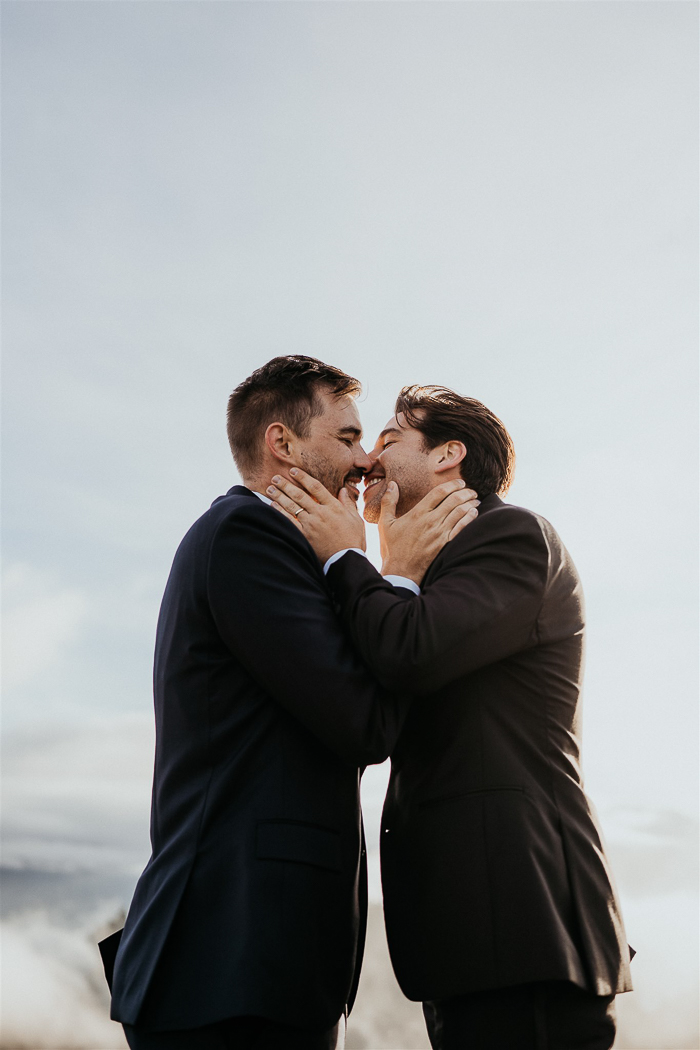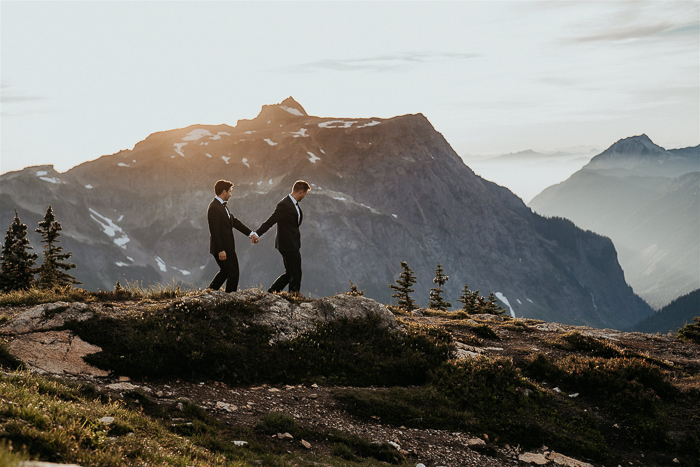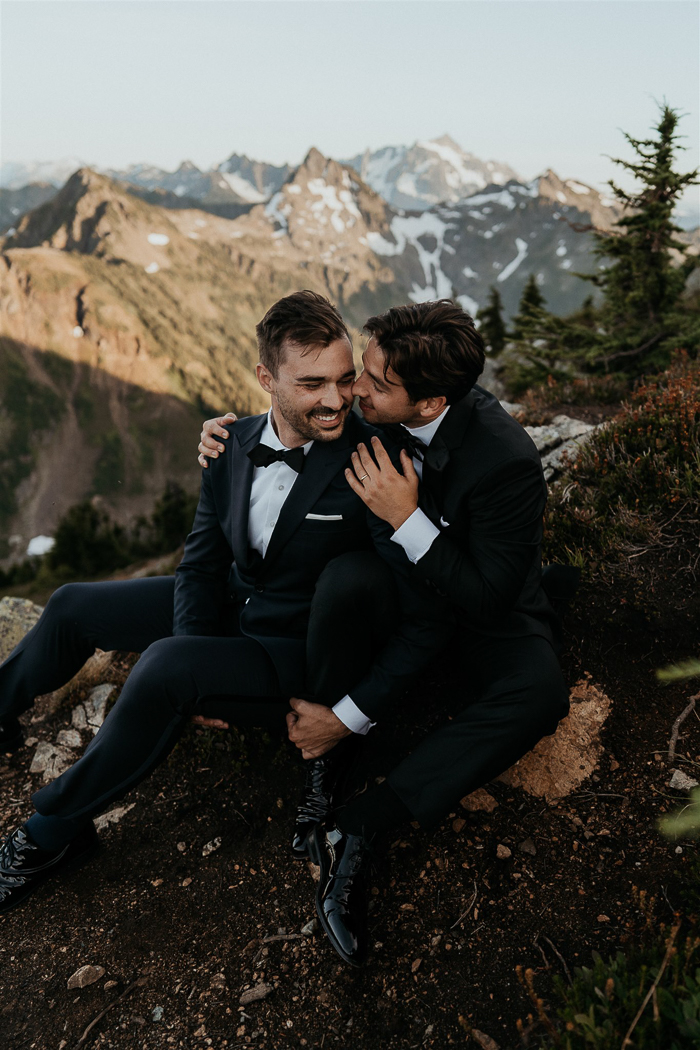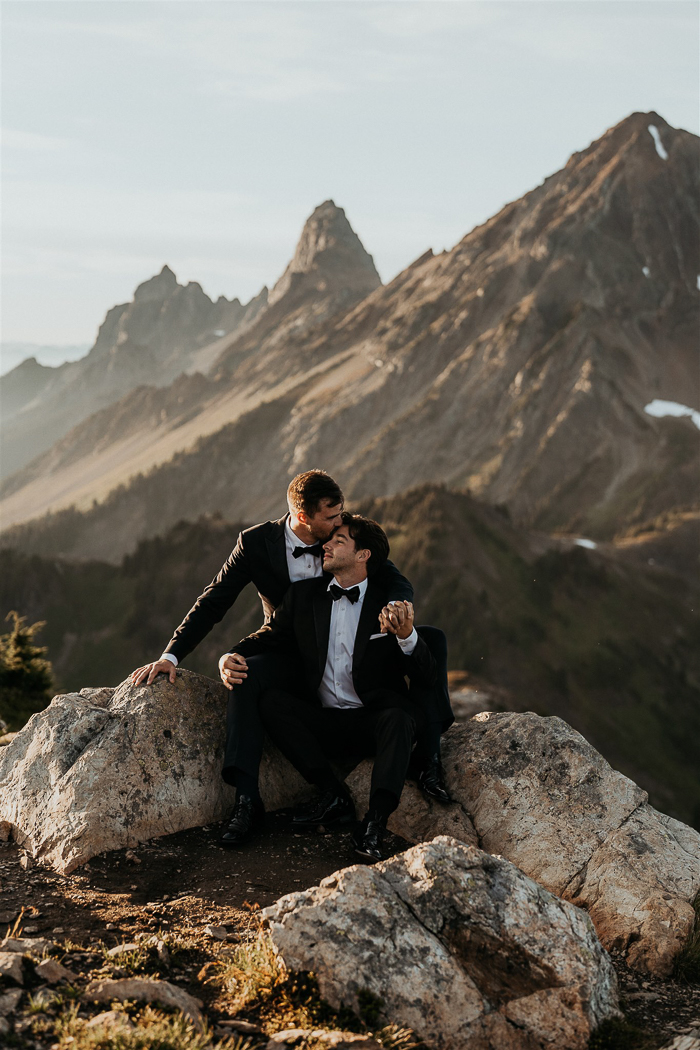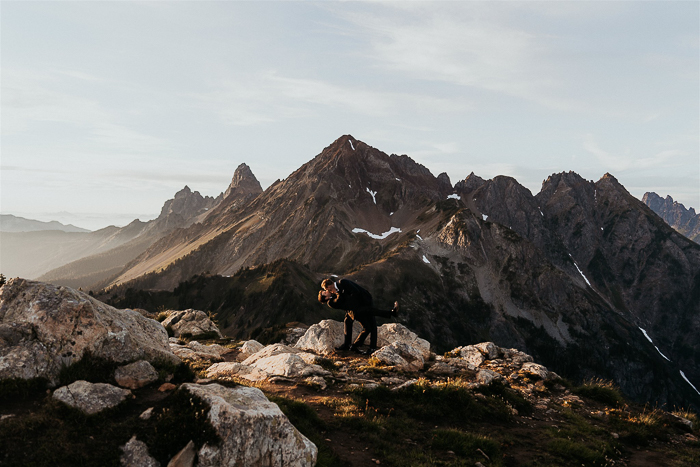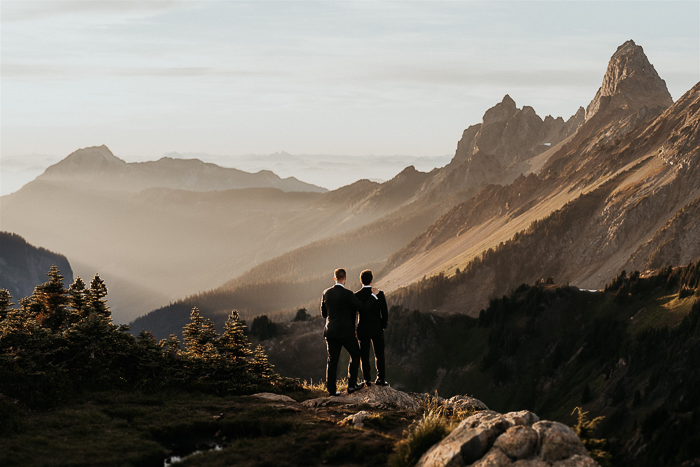 While we knew the photographer and caterer were areas we wanted to splurge on, we figured the wedding cake was one we could do ourselves. David enjoys baking and, with a few practices and taste tests with friends, got the recipe just right for the occasion. We ended up with a two-tier, semi-naked, Amaretto cake with a vanilla cream cheese frosting finished with fresh flowers and greenery. We also made our boutonnieres. We wanted a small personal detail that represented us and our relationship. We both have a love of beer and met at the annual brew fest in Michigan. Every year, we attend to celebrate another year together. We picked hops from the fields surrounding David's childhood home for our boutonnieres. The hops were joined by a sprig of rosemary because it represents love and loyalty.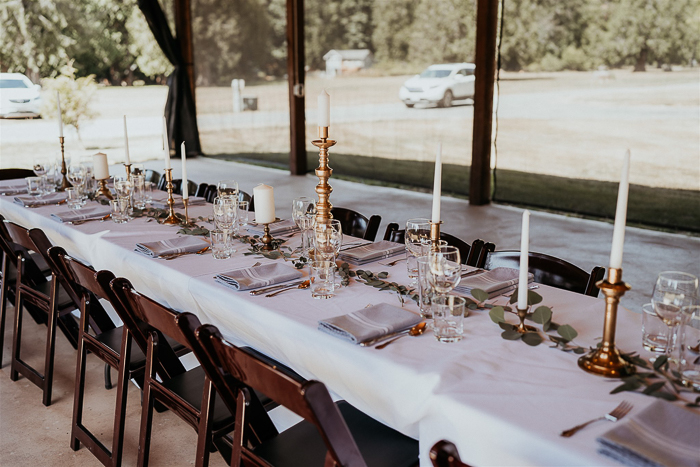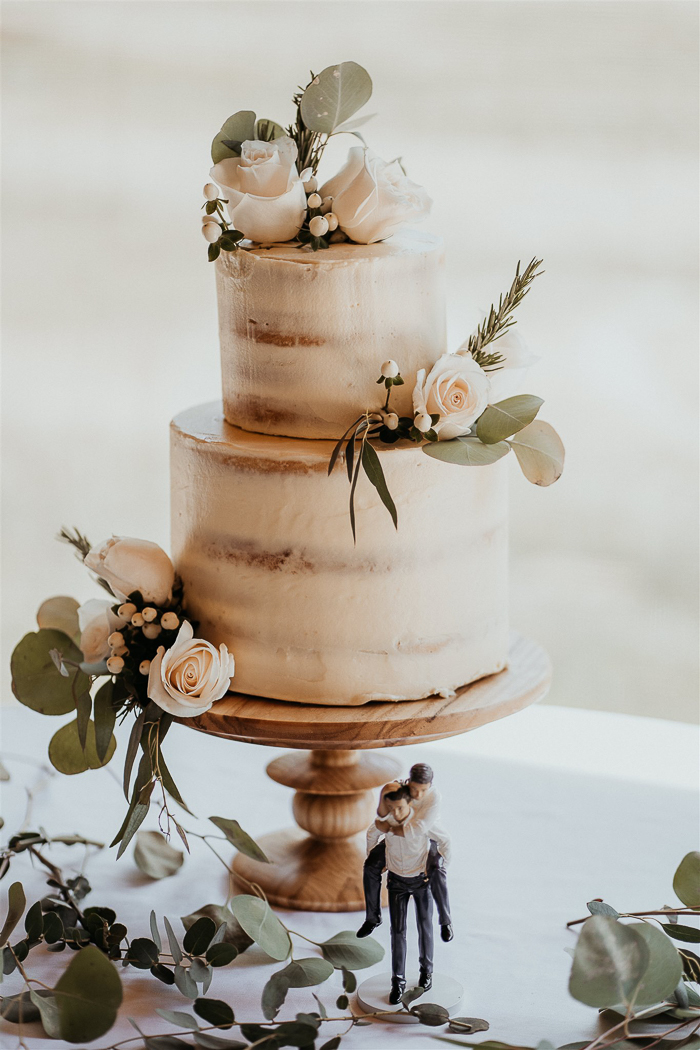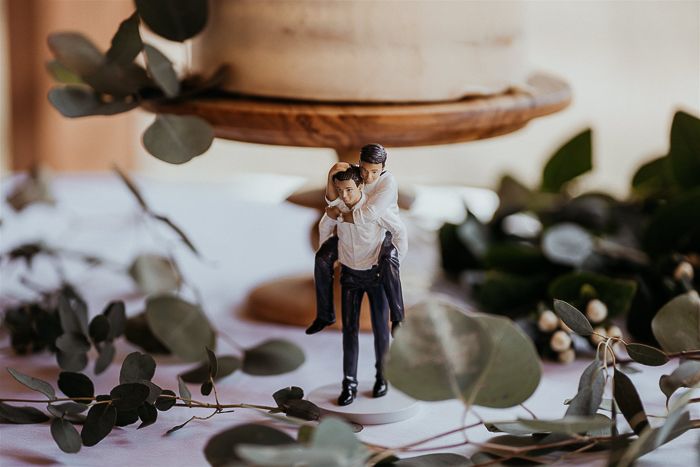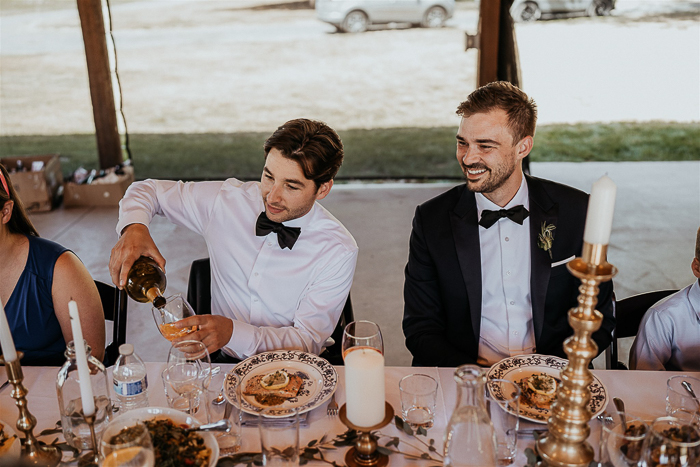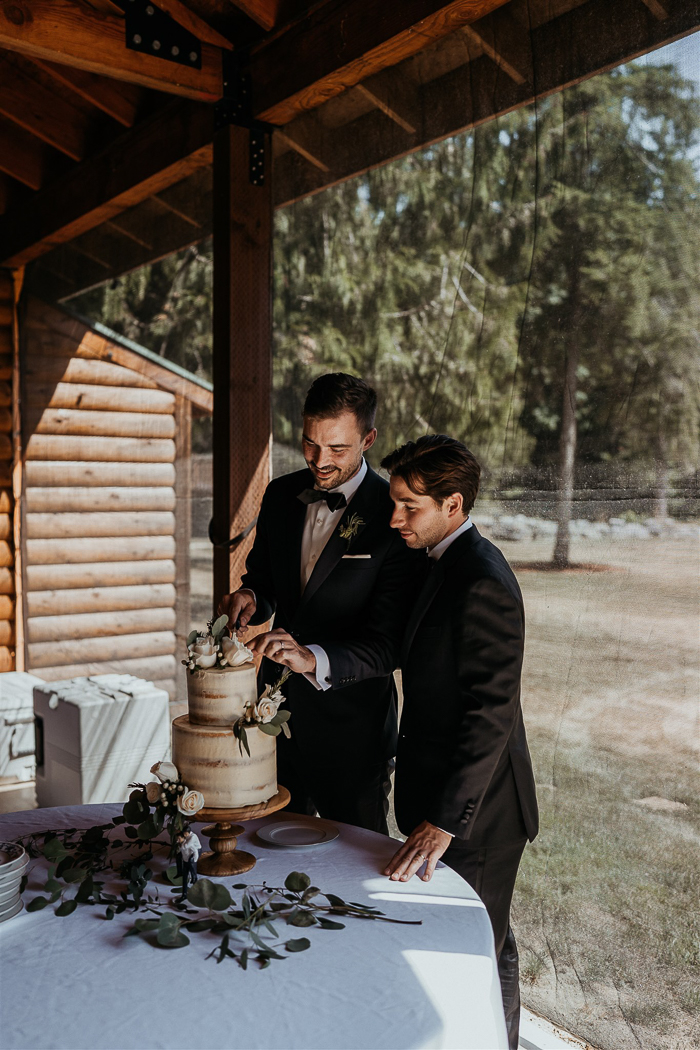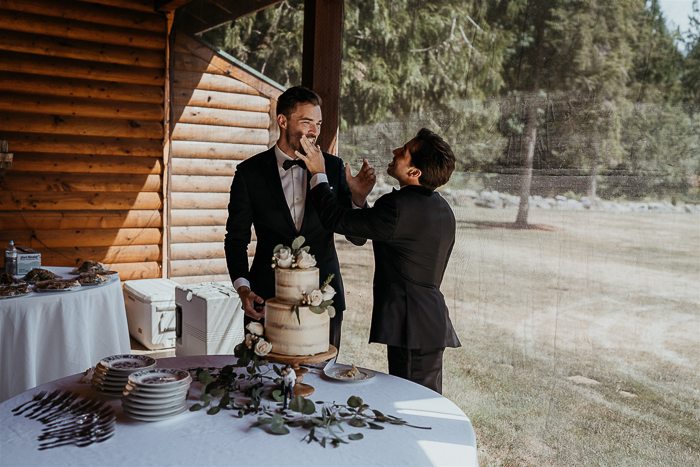 Congratulations to Cote and David on their epic North Cascades National Park elopement. Photographer Henry Tieu beautifully captured the amazing scenery, all the thoughtful details, and the happy moments of their intimate elopement.
Whether you envision your big day with just the two of you or if you want to share the experience with your loved ones, an adventure elopement like this one allows you to focus on having a celebration that feels more true to you and your partner. And with the right team of vendors, anything is possible!