Whether it's an open bar, a water station, or a fresh juice bar, drink stations are one of the most crucial and anticipated features of a wedding. These nine weddings channeled their creativity with drink station set ups that range from the DIY to the modern and unexpected!
1. A DIY Hand-Lettered Chalkboard Mixed With Vintage Pieces
Oversized metallic tassels, a vintage bar, and a chalkboard commanded a major presence at Laura and Dan's Ontario wedding! The backdrop featured the couple's favorite love poem by e. e. cummings, "since feeling is first," and kept it personal by emblazoning a hand-drawn version of their wedding logo in the middle of the chalkboard. Between the petite floral displays and votive candles, we love the delicate touches that pull this epic drink station's style together.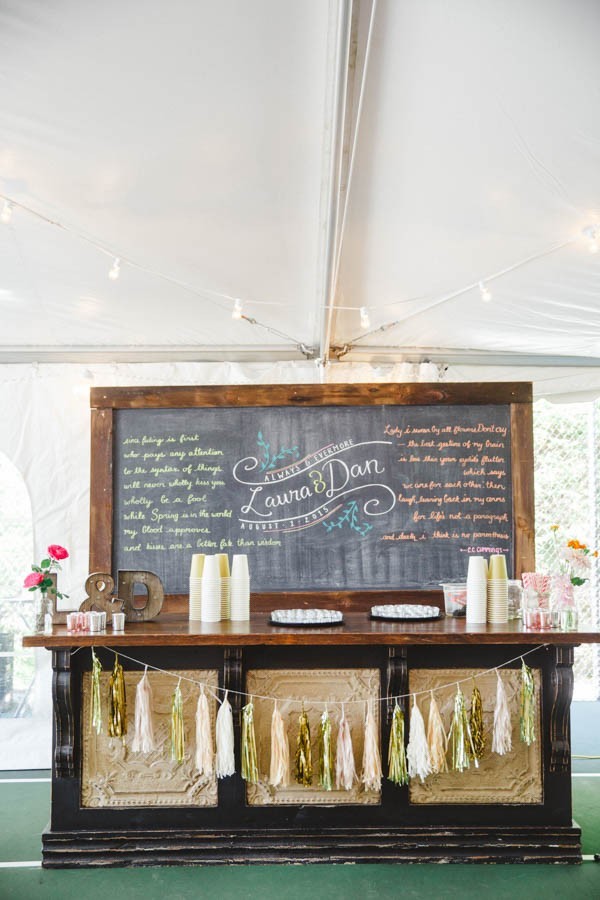 image by Magnolia Studios, wedding design by Maria Vella; see more from this wedding here!
2. A Winter-Inspired Drink Station With Burlap, Kraft Paper, and Evergreen Decor
When Kate and Nikita were planning their wedding reception, their family of artists pitched together to create this amazing winter-inspired drink station! With a coffee station on one side and a water station on the other, guests were treated to the ultimate in hydration. Hand-foraged pine, magnolia, and cypress details from a local forest were paired with burlap sacks, Kraft paper, and bright linens to create an unforgettable winter forest celebration.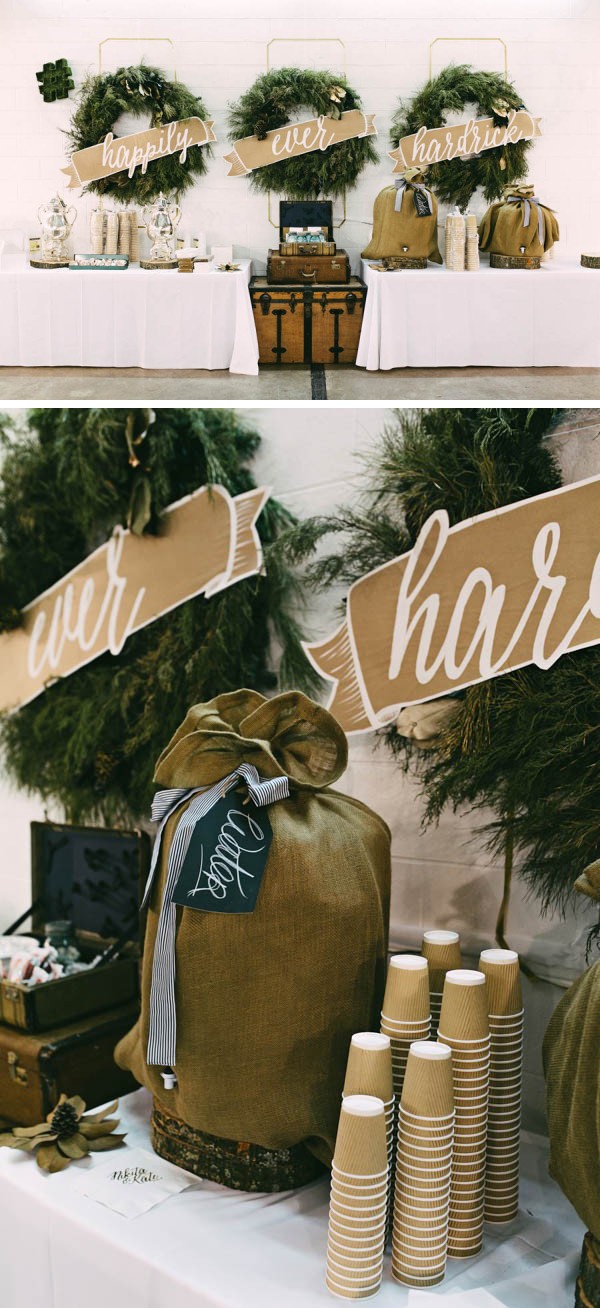 images by Kelly Ginn Photography; see more from this wedding here!
3. A Quirky Pre-Ceremony Juice Station With Upcycled Bottles
We've all heard of a pre-ceremony cocktail hour, but have you considered a creative juice station for guests to enjoy before your ceremony? Joanna and Mitch's Australian DIY wedding featured the cutest pre-ceremony drink station with orange and cardamom juices. This quirky station was fitted with fresh-squeezed details like striped straws and upcycled milk bottles, and a large crystal juice dispenser added a gorgeous touch of elegance.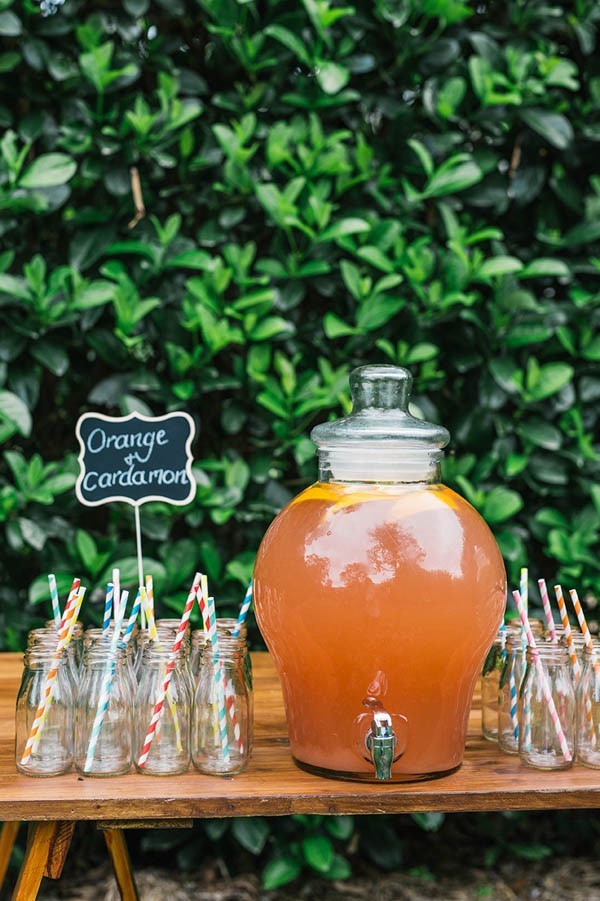 image by Hannah Blackmore Photography; see more from this wedding here!
4. A DIY Wooden Pallet Bar with Tons of Florals and Copper Accents
If you weren't already totally charmed by Joanna and Mitch's upcycled juice station, their DIY wooden pallet bar will knock your socks off! As an exciting twist on one of our favorite DIY trends, this very handy bride and groom fashioned not only the bar out of pallets, but also the bar's impressive wooden backdrop. To dress it up, they added a handmade cooper hoop and a stunning hand-lettered sign to the front of the bar. Joanna and Mitch then added the final touch of a personalized floral design by attaching fresh flowers to flower foam in the shapes of their initials.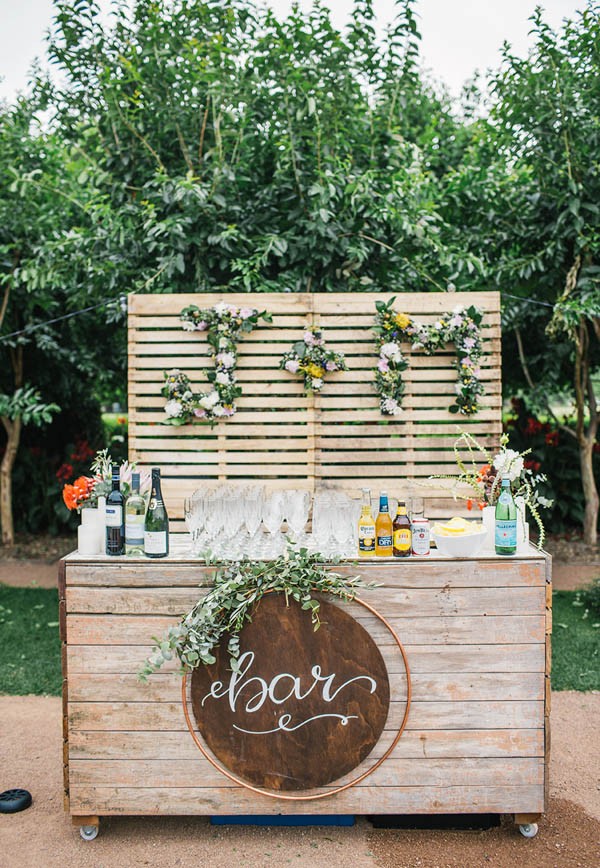 image by Hannah Blackmore Photography; see more from this wedding here!
5. A Self-Serve Prosecco Cocktail Bar with Custom Recipe Cards
If you're looking for a low cost and incredibly stylish alternative to a full open bar, you'll love this self-serve Prosecco cocktail station! Alanna and Scott's low-key British Columbian island wedding deserved an equally cool drink experience, so they chose a self-serve format. Custom printed cocktail recipe cards hung from twine on this drink station's minimalist white wooden backdrop. Guests were delighted by being able to shake and stir their own Prosecco cocktails, and Alanna and Scott were able to sit back and watch the wedding fun unravel!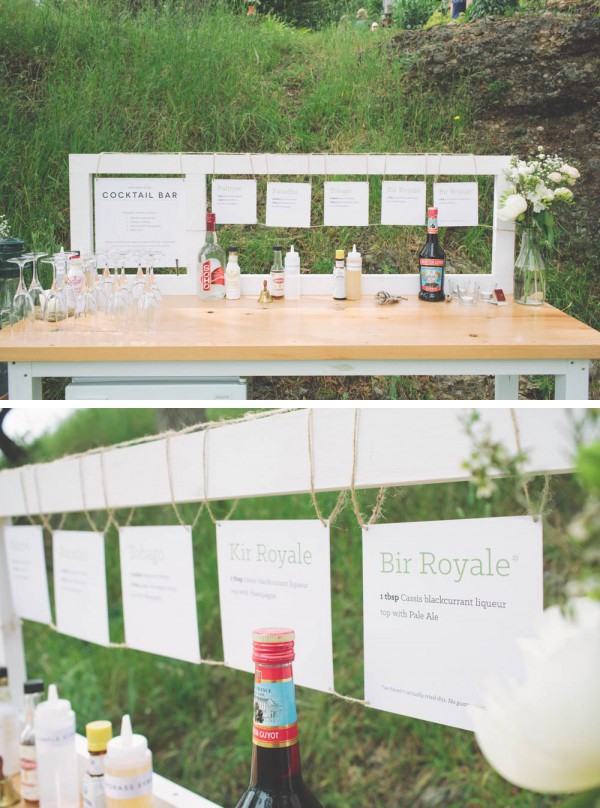 image by The Nickersons; see more from this wedding here!
6. A DIY Reclaimed Wooden Pallet Bar With Greenery and Terrarium Details
There's nothing more special than getting a family member to contribute to your wedding's decor, and this enchanting DIY drink station is no exception! The bride's father reclaimed, stained, and assembled old wooden pallets to create the coolest bar for his daughter's reception. A wooden armoire backdrop with open shelves transformed the drink station into a multi-dimensional experience. Candle-lit terrariums, greenery garlands, and a classic "Bar" marquee are the cherries on top of this amazing wedding drink station!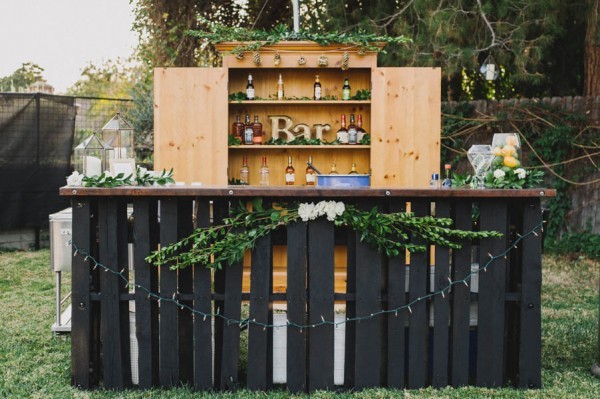 image by Richard Cao; see more from this wedding here!
7. A 1969 Vintage Scotty Camper Mobile Bar
We can't get enough of the mobile campers and trailers we've been spotting at wedding receptions lately, and this sleek 1969 Vintage Scotty Camper is one of our absolute favorites! Sweet Water Caravan, a mobile bar service based out of Ohio, brings instant vintage glam and sophistication to any outdoor wedding reception. Two real weddings featured on Junebug have used their services, and based on how stylish and accessible this drink station is, we expect to see it many more times to come!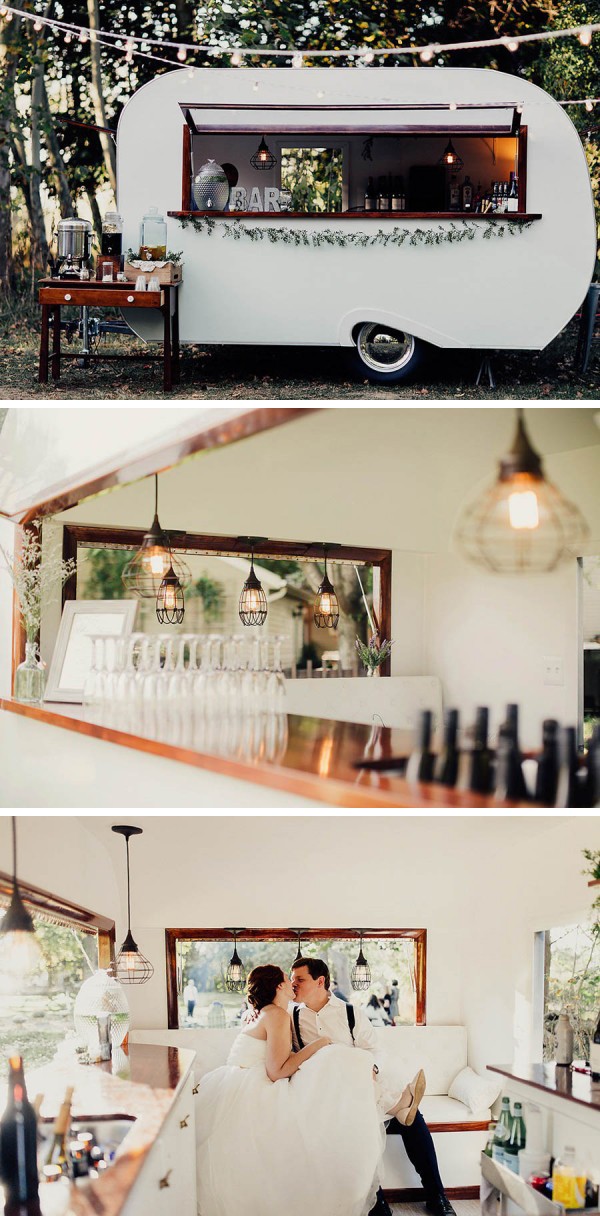 images by Addison Jones Photography, wedding designs by Oak & Honey Events; see more from both of these weddings here and here!
8. A Minimalist Drink Station with Cascading Florals and Steel Canopy
Guests couldn't stay away from this show-stopping drink station at Samantha and Tony's gorgeous Haiku Mill wedding, and we don't blame them! Keeping with the couple's cool minimalist style, a live edge marble bar sat on top of geometric steel legs and was surrounded by a massive steel beam canopy. As if that wasn't already a stunning set-up, they took it to the next level with a huge floating garden fixture above the bar with cascading greenery, vines, and crisp white florals. Twinkle lights illuminating the space completed this drink station's totally dreamy style.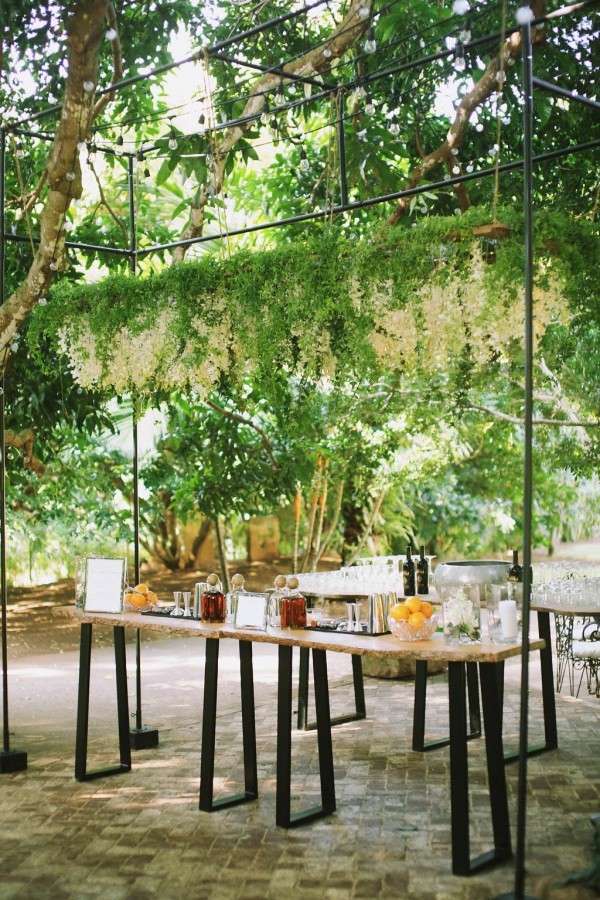 image by Anna Kim Photography, wedding design by Elements Luxury Events; see more from this wedding here!
9. A Self-Serve Scotch Bar, A Vintage Heirloom Table, and Plenty of Greenery
This Johnny Cash and June Carter inspired wedding in Michigan featured many nods to Southern hospitality, but this self-serve scotch bar takes the cake. Betsy and David set up their bar with a lush greenery garland, a DIY hand-lettered mirror sign, and classic scotch accoutrements like a crystal decanter and a silver whiskey pitcher. We love the idea of setting up a self-serve bar with the groom's favorite liquor as a fun, boozy alternative to a groom's cake that can be enjoyed by all!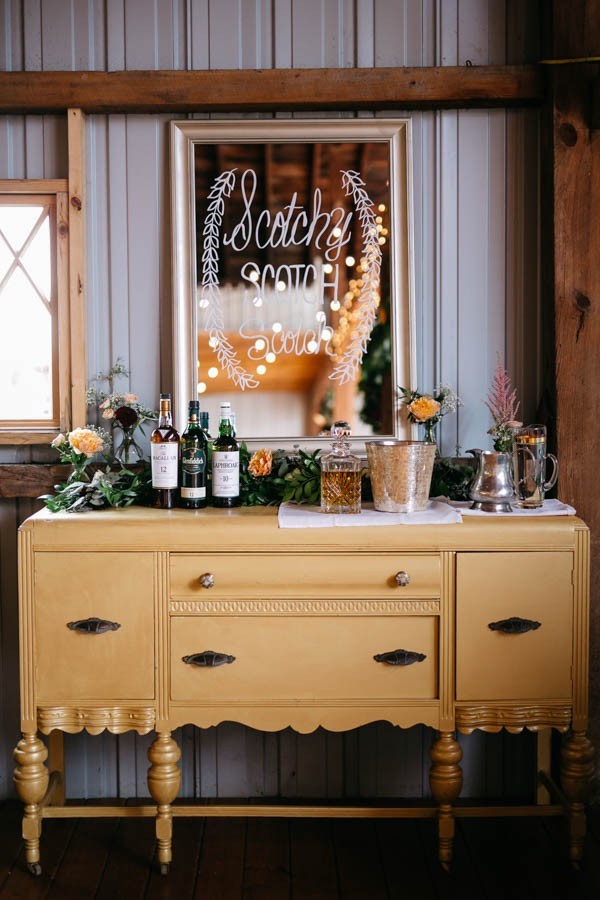 image by Dan Stewart Photography, wedding design by Smitten Events; see more from this wedding here!
Love the idea of expressing yourself through your wedding decor? Take a look at these 19 super sweet wedding dessert displays that will ignite your sweet tooth and spark your creativity!