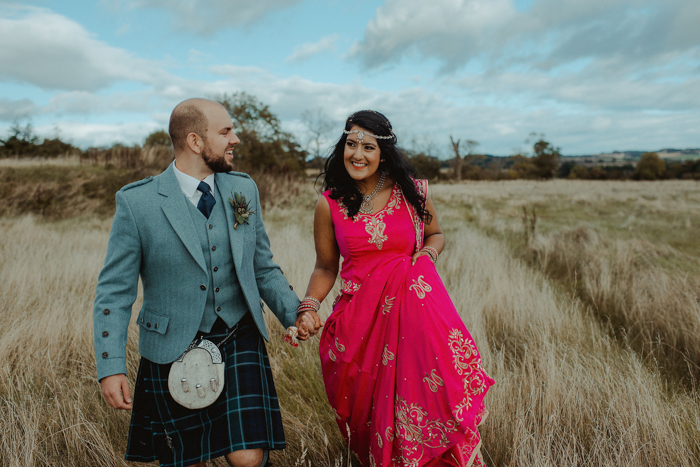 Jeneen and Steven found ways to combine traditions and customs from their different cultural backgrounds throughout their wedding. From the beautifully personalized ceremony and reception, to intentionally supporting local small businesses and a social enterprise—their dazzling Indian and Scottish fusion wedding was as unique as their love.
With vaulted ceilings, original stone walls, large barn doors, spectacular hillside views, and the rustic vibe—the Pratis Barns was the perfect romantic setting for their big day. The groom rocked a classic kilt and tartan suit while the bride looked stunning in her pink and gold lehenga. They said their "I do's" surrounded by family and friends in the ceremony barn adorned by fairy lights and candles. It was followed by a reception with amazing food and a great party at the heart of the celebration.
Scroll through these beautiful images captured by Nikki Leadbetter to see the many memorable and touching ways this couple took different elements from their cultures to create a unique and unforgettable experience.
The Couple:
Jeneen + Steven
The Wedding:
Pratis, Scotland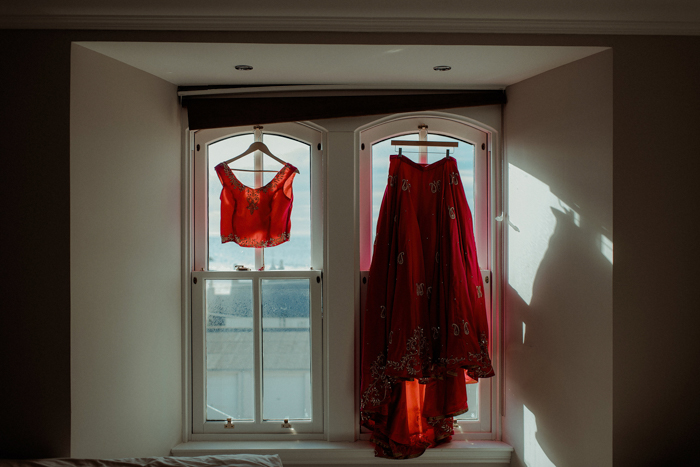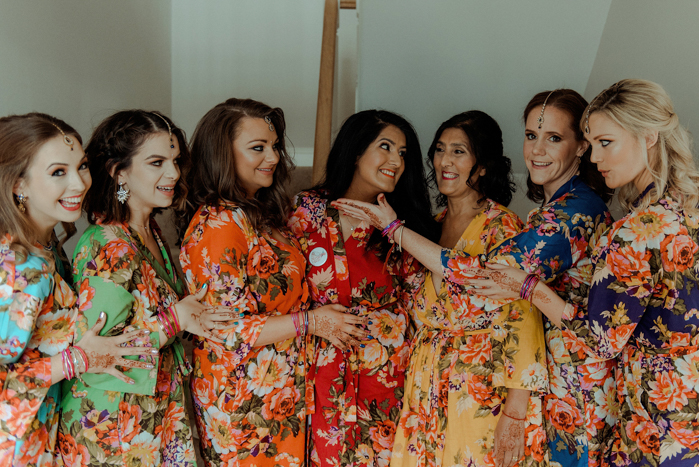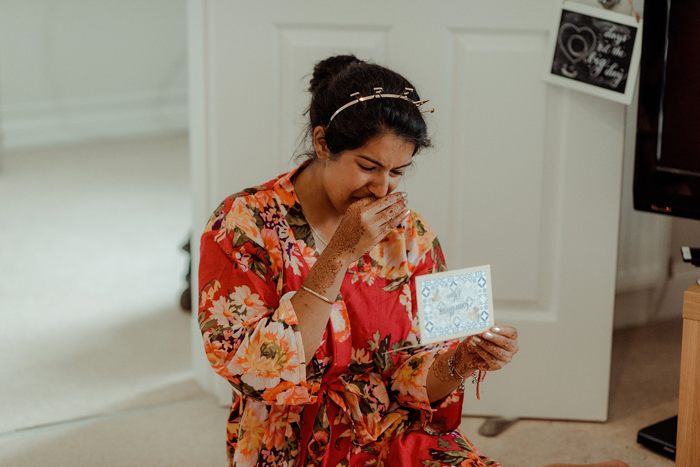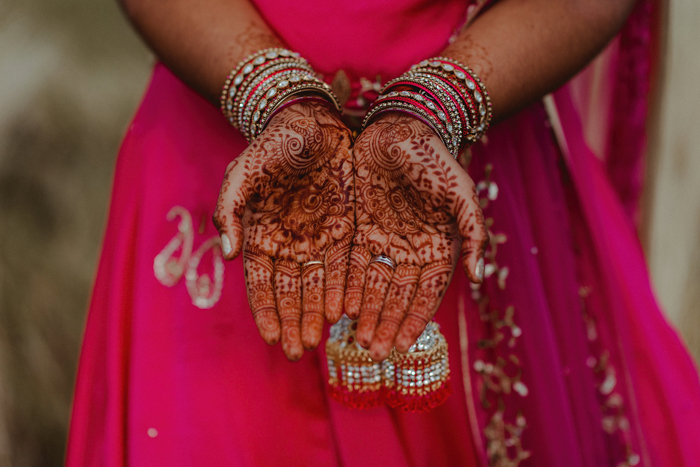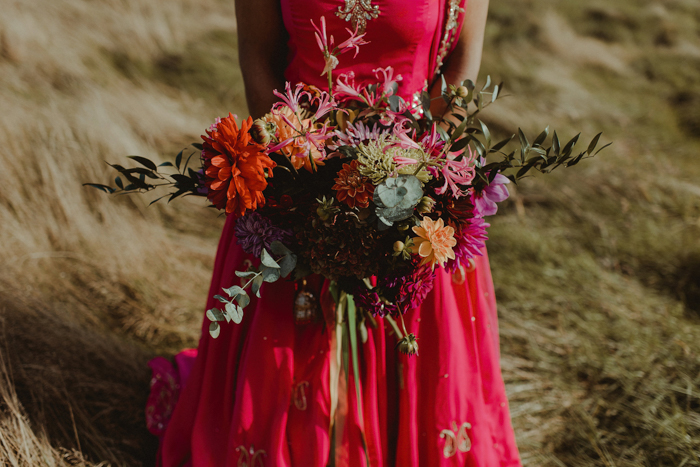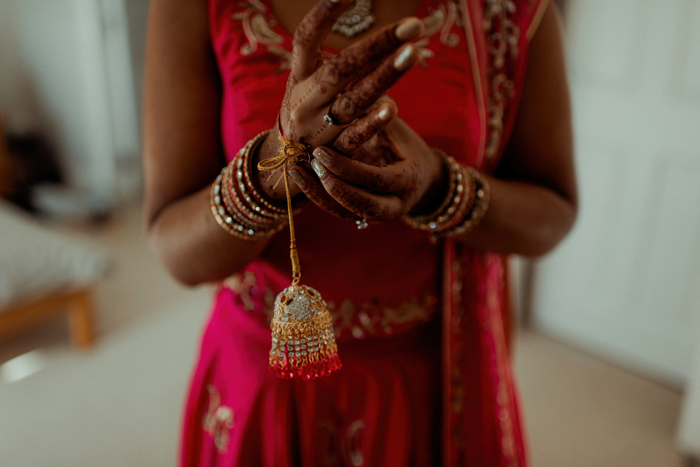 Choosing Pratis Barns For Their Indian and Scottish Fusion Wedding
One of the main reasons we picked our venue was because we both loved Susie who owned the Pratis Barns at the time. It was also one of the few venues that let us bring in our own caterers. We really wanted to use Punjabi Junction and they were so supportive in creating something unique for us, as opposed to rolling out a standard wedding package. When we booked the venue, the ceremony barn didn't actually exist. We were delighted on a subsequent visit to see what Susie had done with the place. It was an added unexpected bonus that was more than we even hoped for.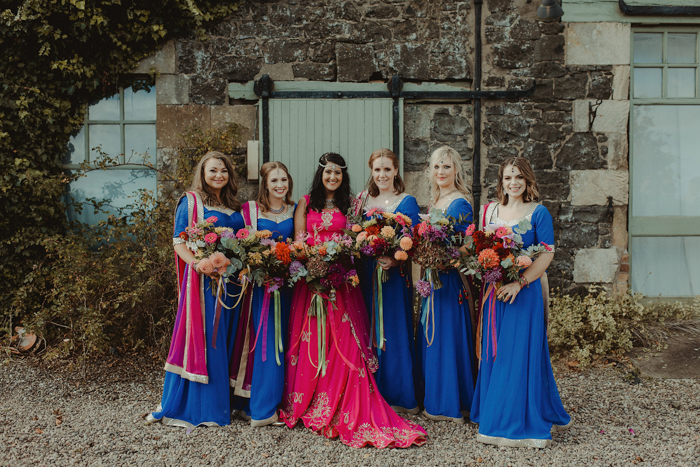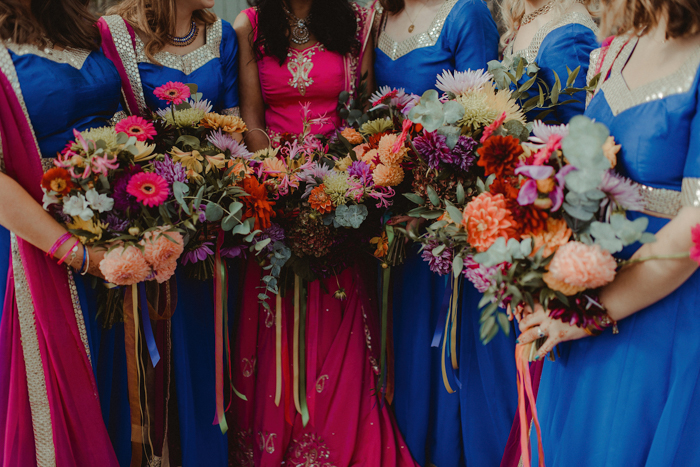 For both of us, the ceremony was something special from the beautiful fairy lit barn to our emotional vows. Personalizing our ceremony was easier for us because we had a humanist ceremony. So we wrote the entire thing with our celebrant. A humanist ceremony tells the story of the two of you and how you got to your wedding day which was a really special way of sharing that with all our guests. We also had a Milni ceremony before Jeneen walked down the aisle where key family members from both sides "met" each other and exchanged garlands to signify the wedding was as much about two families coming together as it was about us as a couple. This is an element of Sikh-Punjabi weddings that Jeneen has always loved. We incorporated some traditional Scottish elements into our ceremony too. For example, we tied the knot and shared a drink from the quaich using chai tea and material from both our wedding outfits.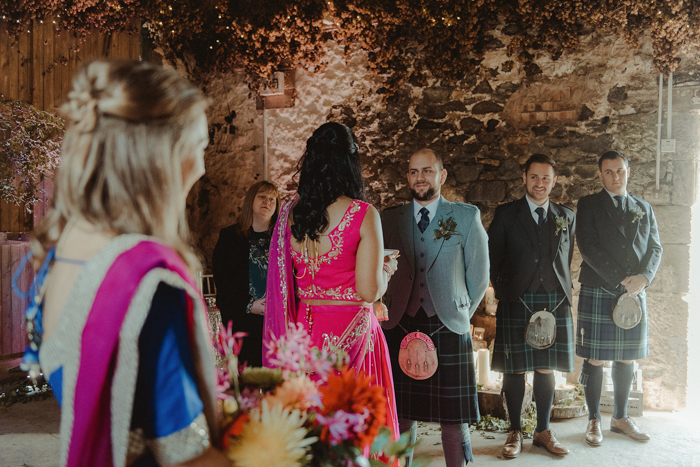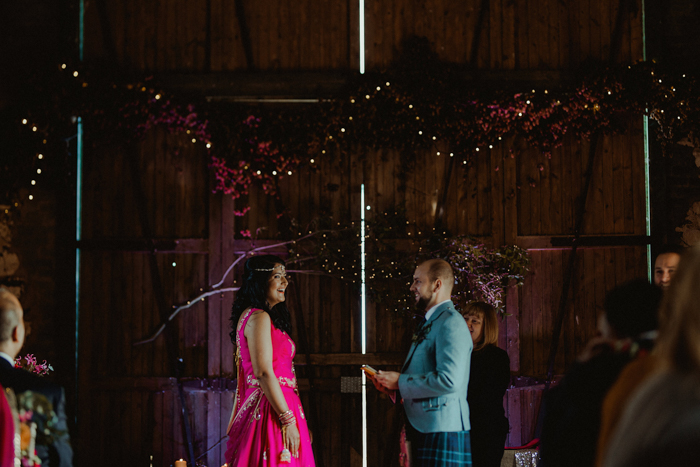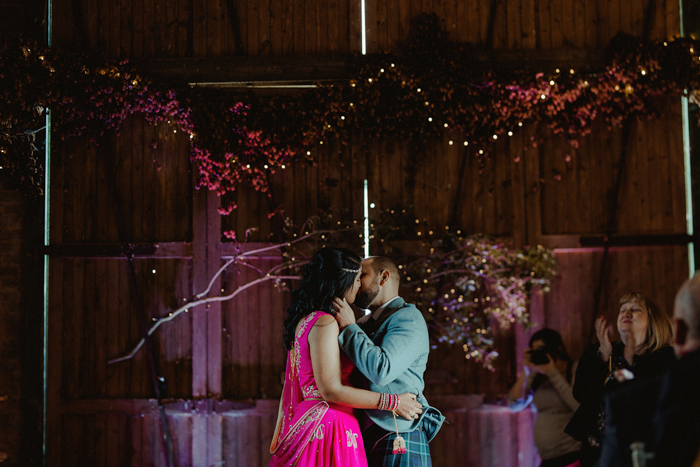 The Wedding Menu
We had a full Indian banquet—all the curry made by Punjabi Junction which was delicious. Our canapés were aloo paratha bites and haggis pakoras. Then our evening buffet was an array of samosas and chicken tikka bites. We had a cake table from Cuckoo Bakery for our dessert as well as a Scottish tablet made by Steven's mum to have with teas and coffees.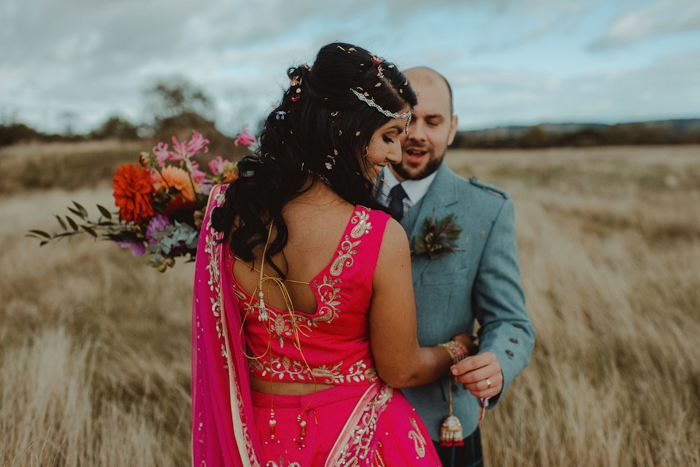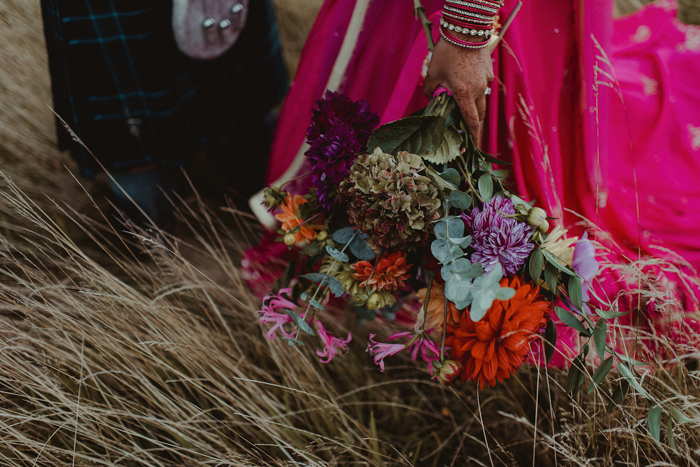 Working With Nikki Leadbetter Photography
Nikki Leadbetter was a dream. She made us both feel really comfortable, like hanging out with a friend and her photos speak for themselves. They're magic. We picked Nikki because we instantly loved her when we met her at a wedding market and we both think it's really important to get on well with your photographer. Nikki was really invested in us loving the photos of the day. She took the time to really understand what we wanted and anything we were worried about. Despite being ridiculously talented and able to take the artistic creative shots that deserve gallery space, she never makes it feel like it's about her. She does everything in her power to tell the story of your big day.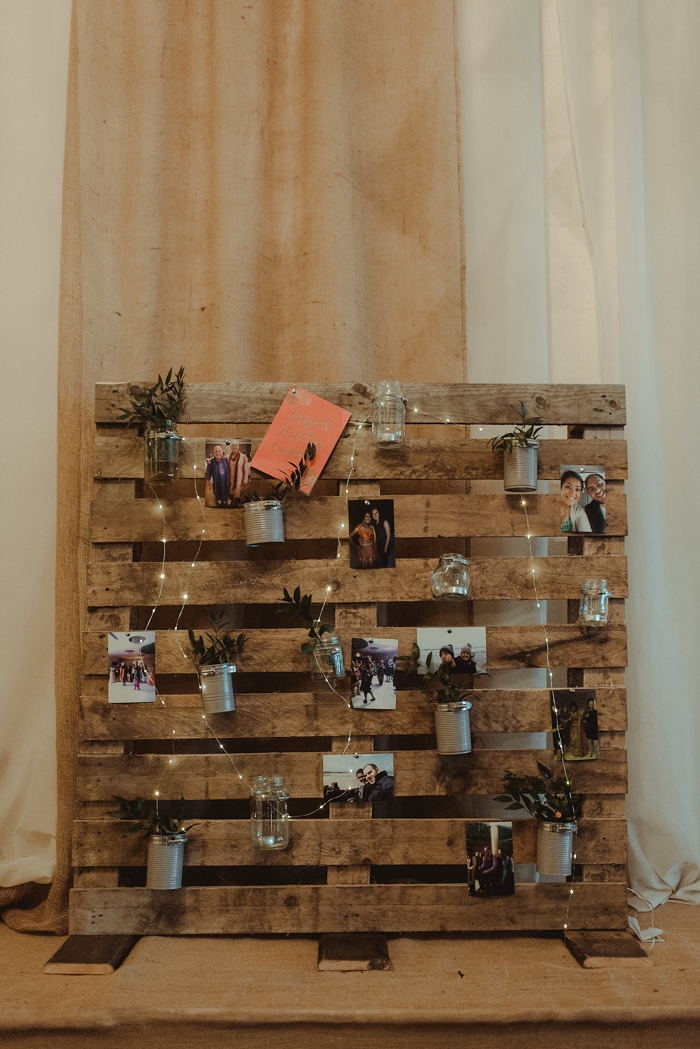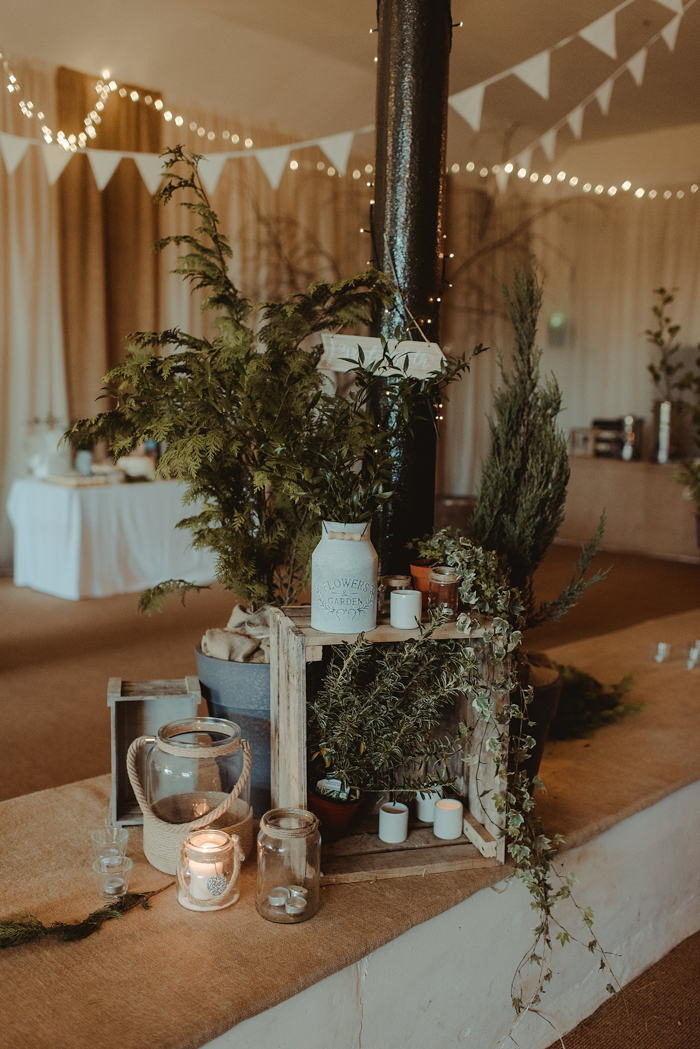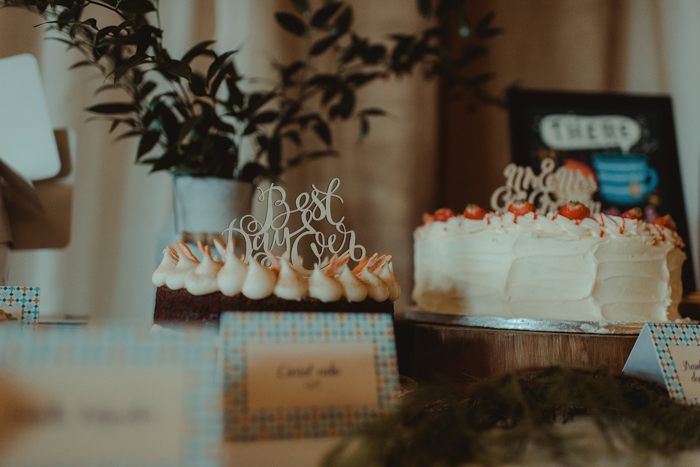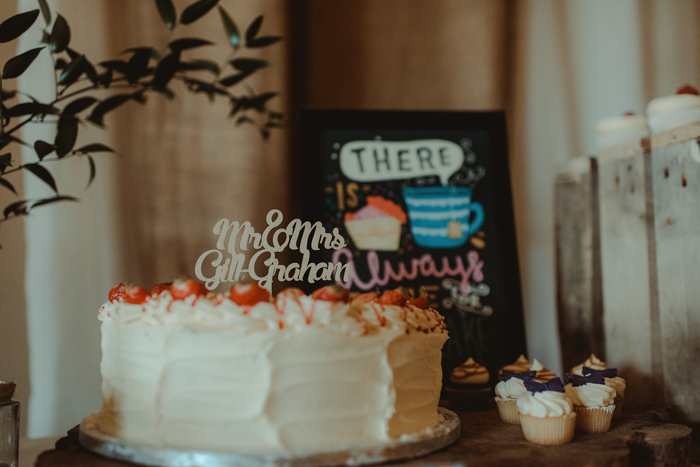 We did our very best to support small independent Scottish businesses. And we even used a social enterprise for our caterer. Doing these things took more effort to get organized but was definitely worth it. We really wanted every aspect of the day to reflect us and what's important to us as a couple.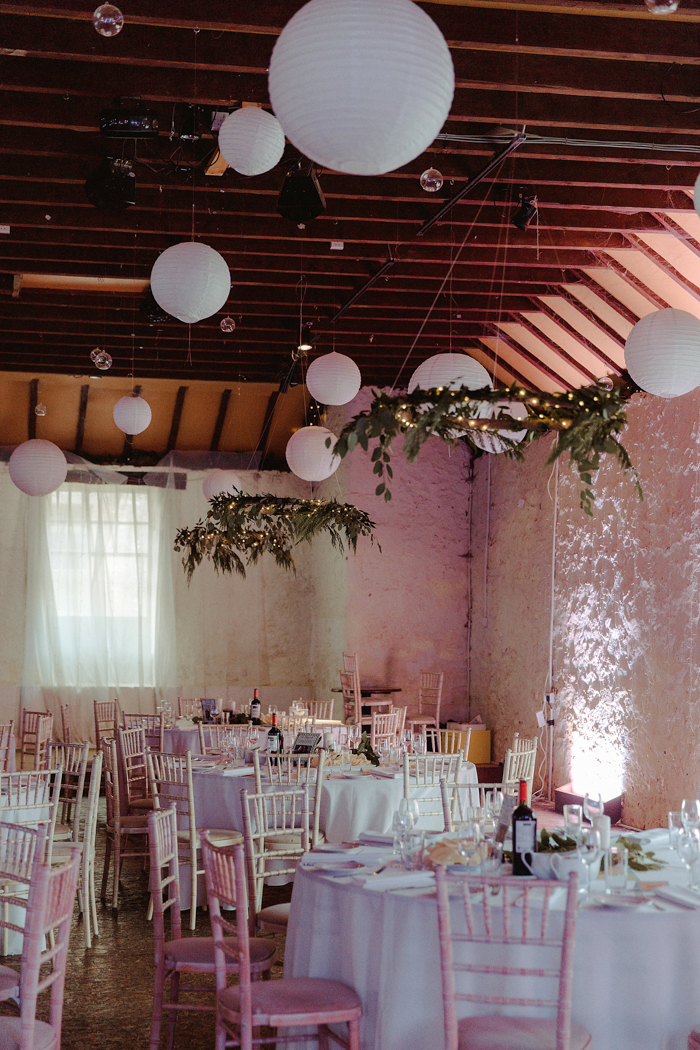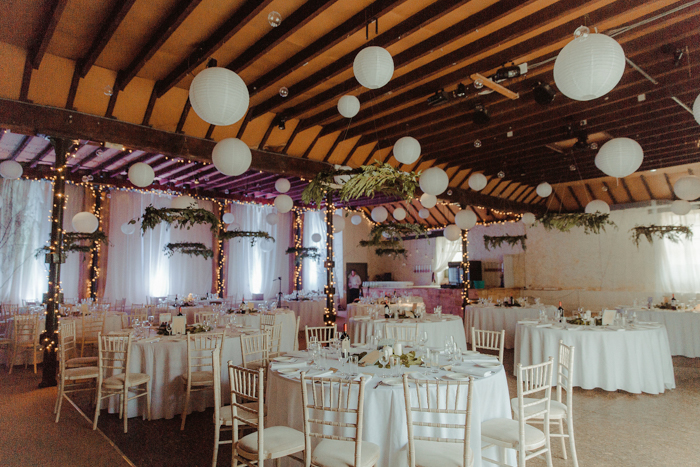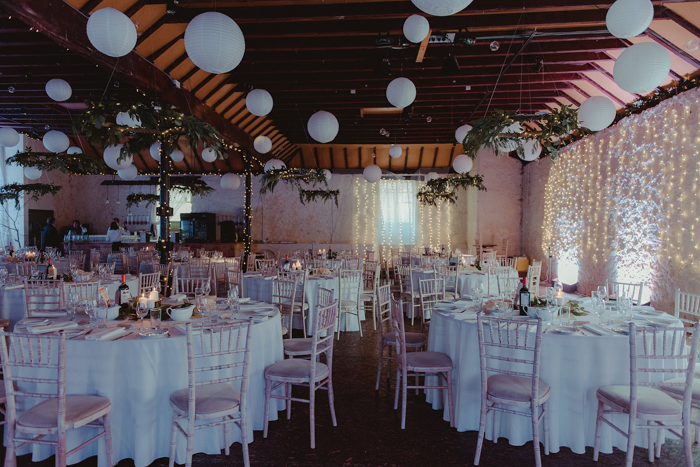 Wedding Planning Advice From The Newlyweds
Every couple should pick vendors they love and want to spend time with. Make sure you take time at the start of the planning process to think about what is really important to you. For us, it was food and family. Everything else we had in our head for the day came secondary to those.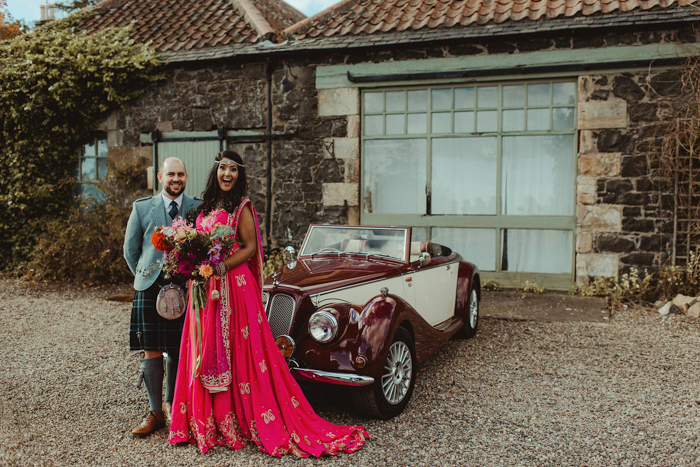 Congratulations to Jeneen and Steven on their dazzling Indian and Scottish fusion wedding. And special thanks to Nikki Leadbetter for capturing the joy, love, and fun of their big day. To see more of her work, check out her profile in our directory of vendors from around the world.
Trying to merge two cultures and traditions together may be a daunting challenge. But just like Jeneen and Steve, there are ways to pull it off and make it feel personal. From finding the perfect venue to sourcing the right vendors, having an experienced planner will go a long way in taking the stress and worry out of the process. Get started and find your wedding planner today.