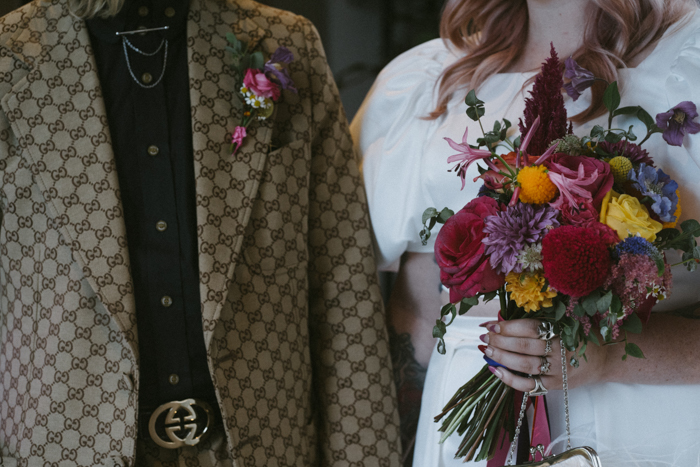 Letting their personalities shine through every detail of their big day, Faith and Greg's Charlton Hall wedding playfully mixes tradition with a touch of eccentricity. With its Alice in Wonderland-inspired decor, the couple chose the perfect quirky venue to set the fun tone for their entire celebration. With their three dogs in tow and colorful wildflowers creating a bold aesthetic, the party was set to begin. The couple and their guests danced the night away under the star-lit ceiling in a fun and edgy evening…
To top it all off, Faith and Greg made a seriously edgy fashion statement with their wedding attire. The groom rocked a Gucci monogrammed suit while the bride showed off a unique two-piece ensemble—a white cropped top with puff sleeves and high-waisted shorts featuring a sweeping train and detachable bow.
From the luxurious and fascinating wedding venue, down to the colorful details and romantic moments—don't miss a single detail captured by Dan McCourt. For couples looking for out-of-the-box inspiration, scroll to the very end. This one's for you!
The Couple:
Faith and Greg
The Wedding:
Charlton Hall, Ellingham, Alnwick, United Kingdom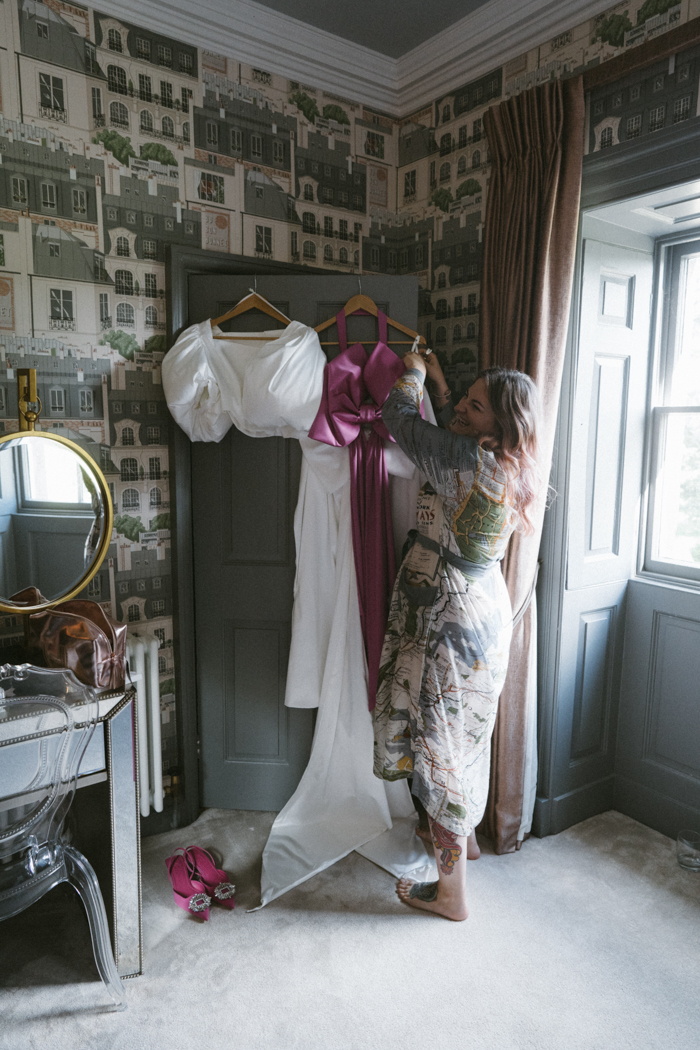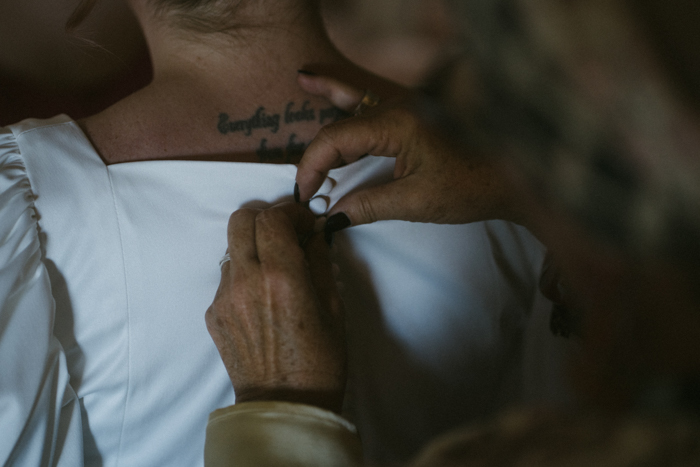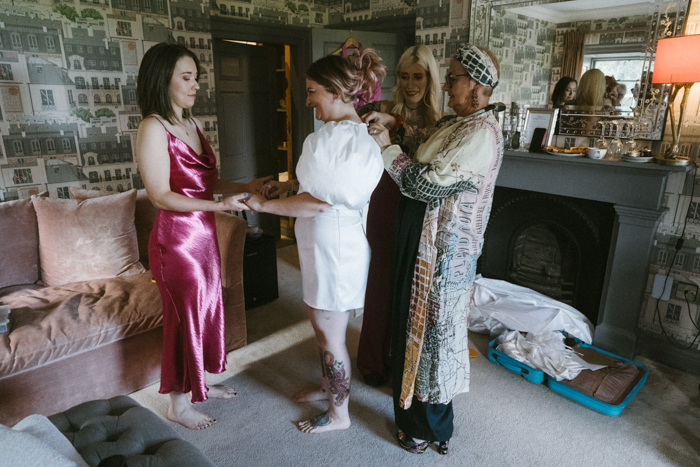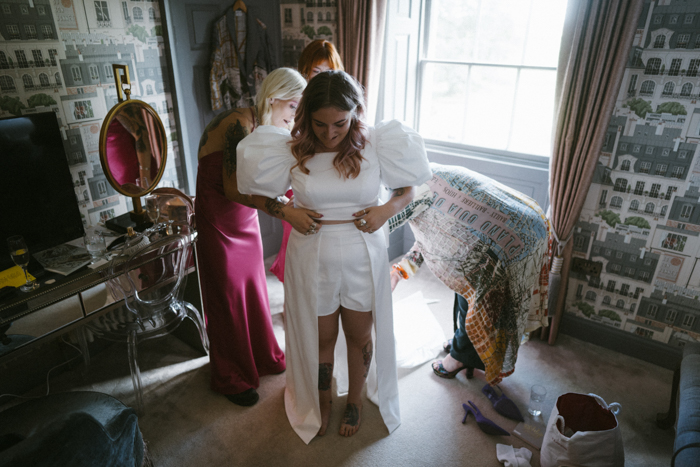 A Charlton Hall Wedding That Was One For The Books
Every single person came up to us and told us it was the most fun they'd ever had. There was so much love and joy all day. We're just really proud that we managed to put together something that we loved so much and everyone else did too.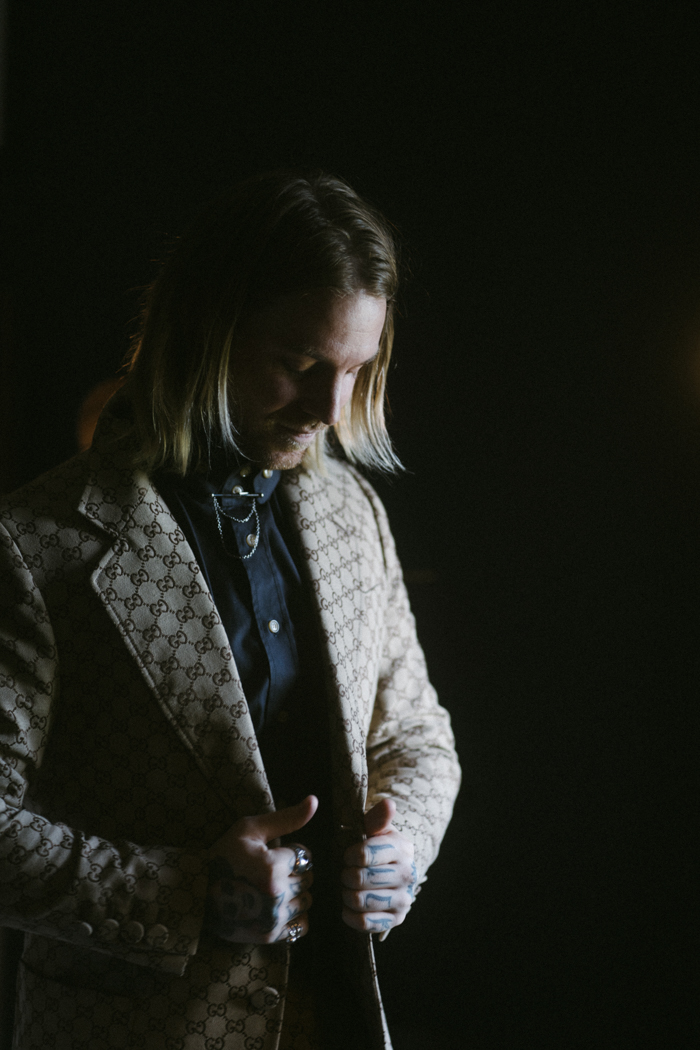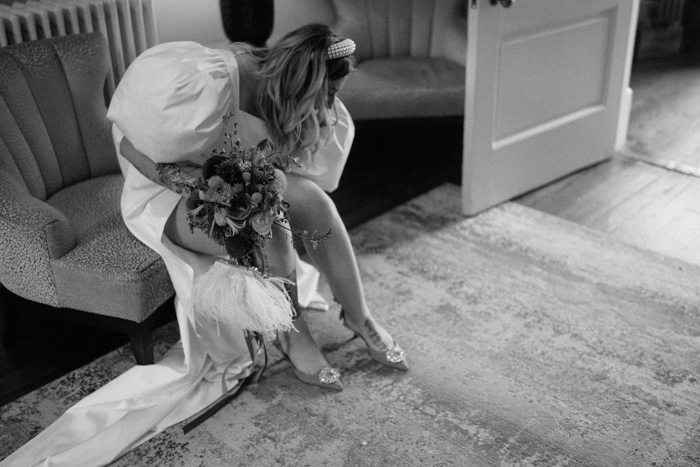 Supporting Wedding Vendors Who Are Also Their Friends
We're really proud of our vendors. They were all personal friends of ours and it was really important that we supported our friends and independent businesses.

How The Perfect Venue Saved Money On Wedding Decor
It was really important to us that our three dogs be there, so we found dog-friendly locations in the North East. Charlton Hall was only the second venue we looked at but we just fell in love instantly. It captured our style perfectly and knew we wouldn't need to do anything to it when it came to decor for the day, which helped us save money. Everyone thought we'd styled it ourselves because it suited us so well.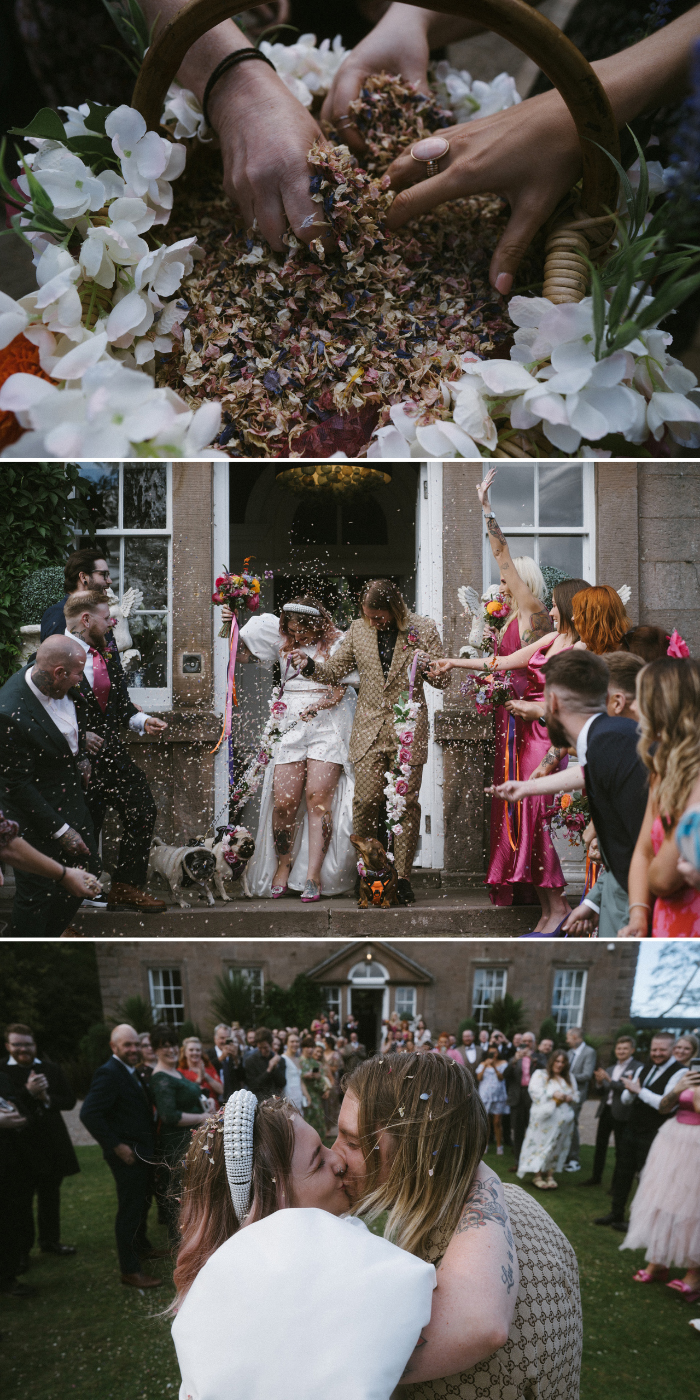 The Bride Surprised Guests With An Epic Walk Down The Aisle
I hadn't told anyone except Greg what song I was going to walk down the aisle to. I've always loved "Faith" by George Michael and it seemed so perfect. It started off with the traditional organ music then it kicked into the pop intro of the song. I heard everyone burst out laughing when they realized what song it was while I was waiting outside to make my entrance. It was exactly what I wanted—a reminder that nothing about our day was going to take itself too seriously.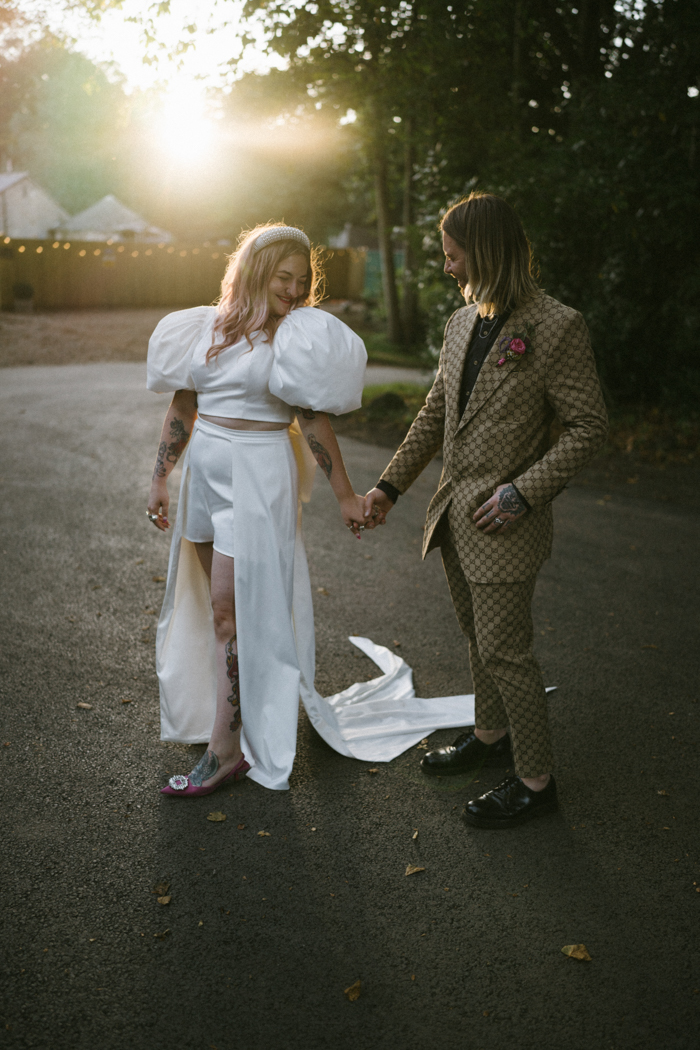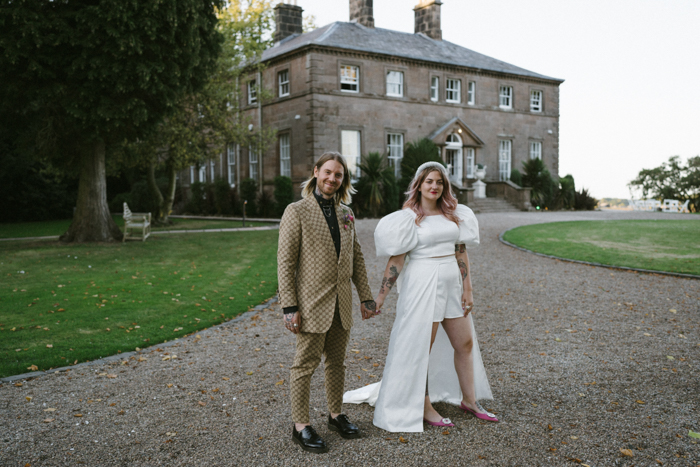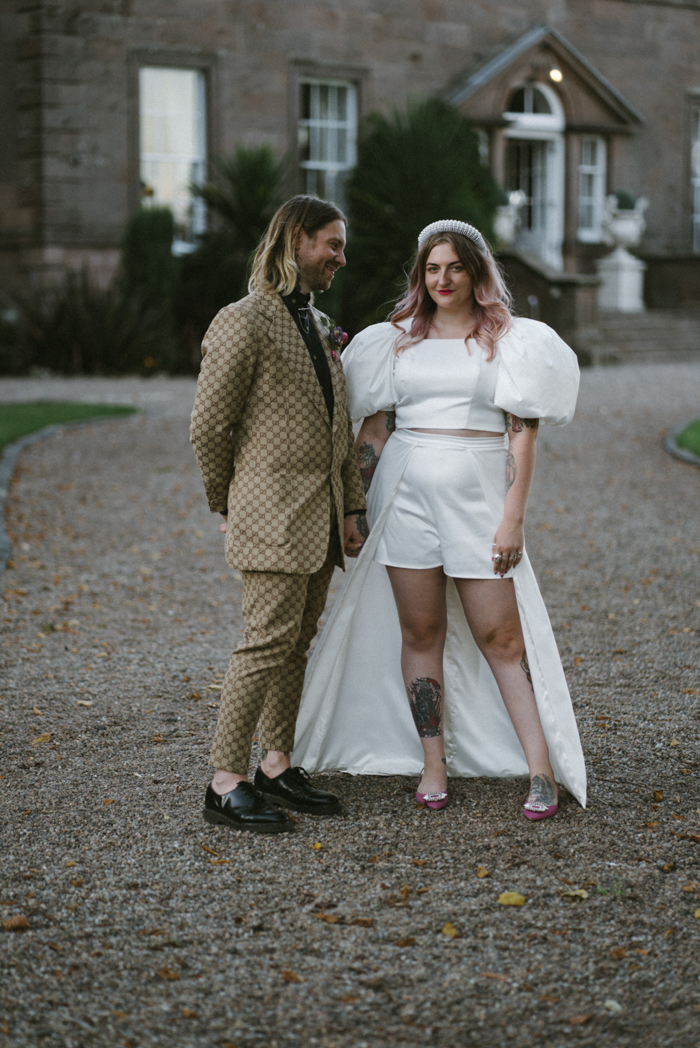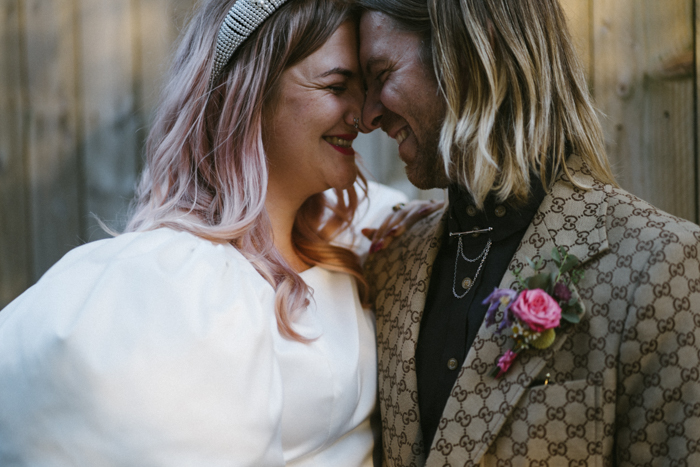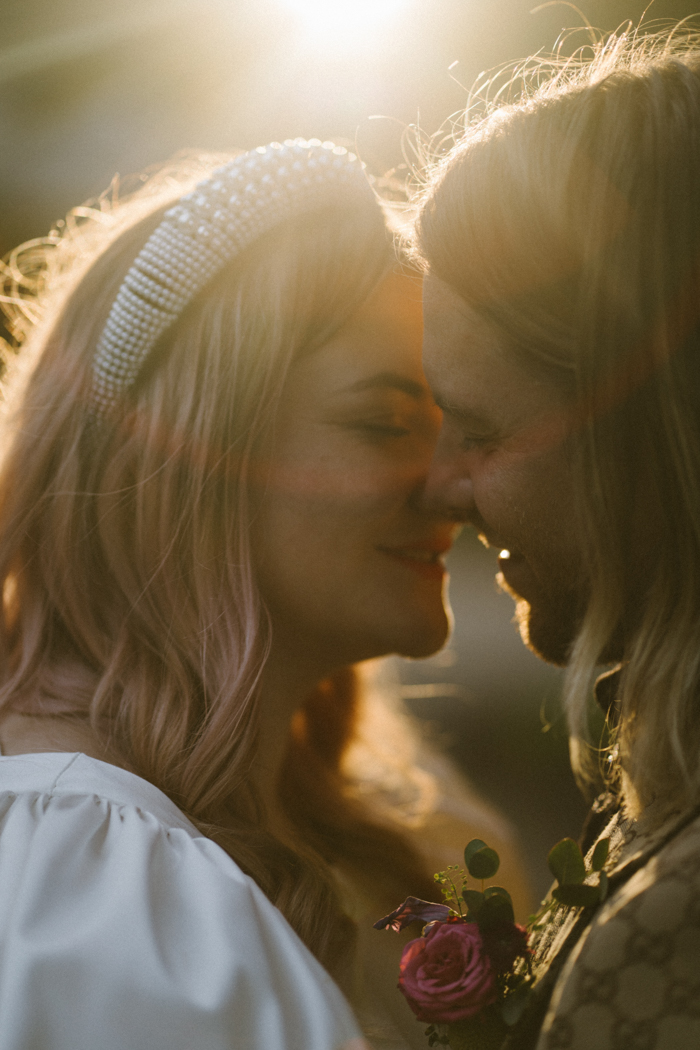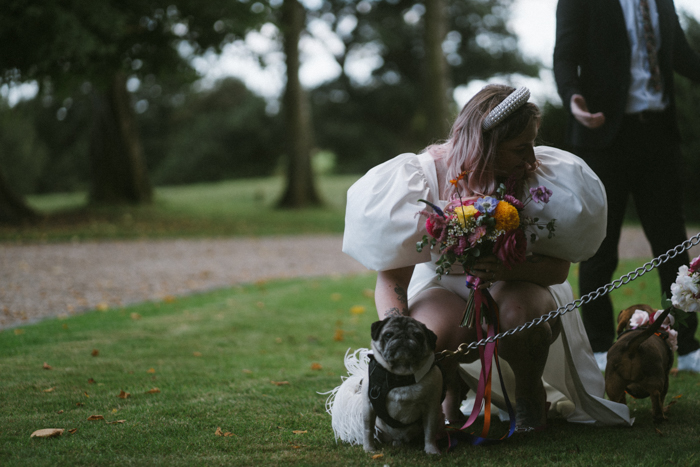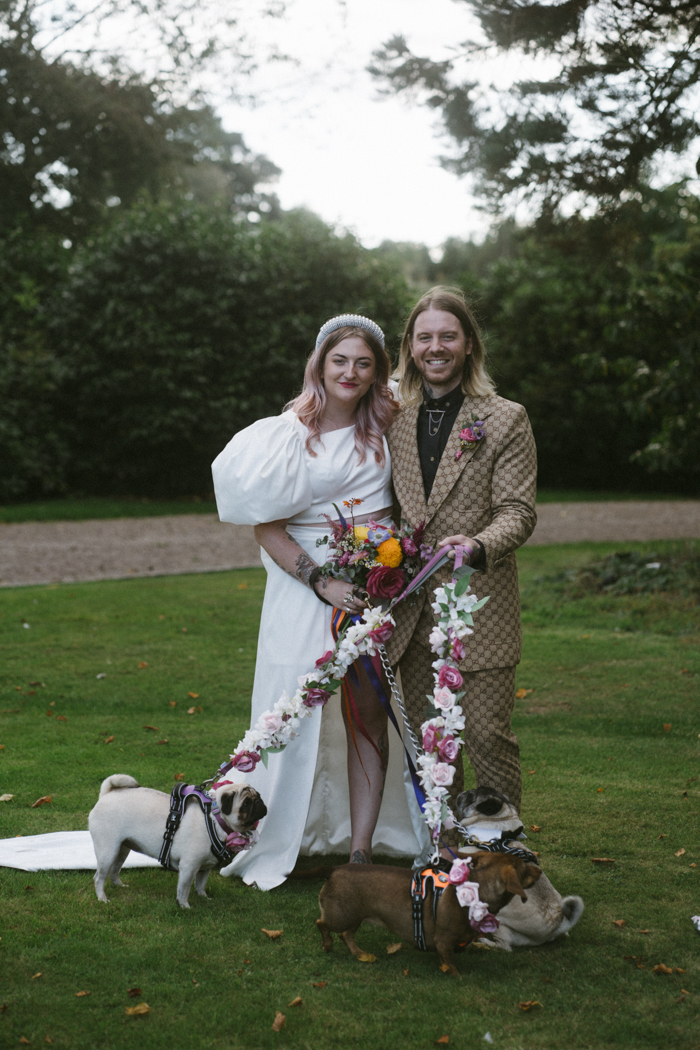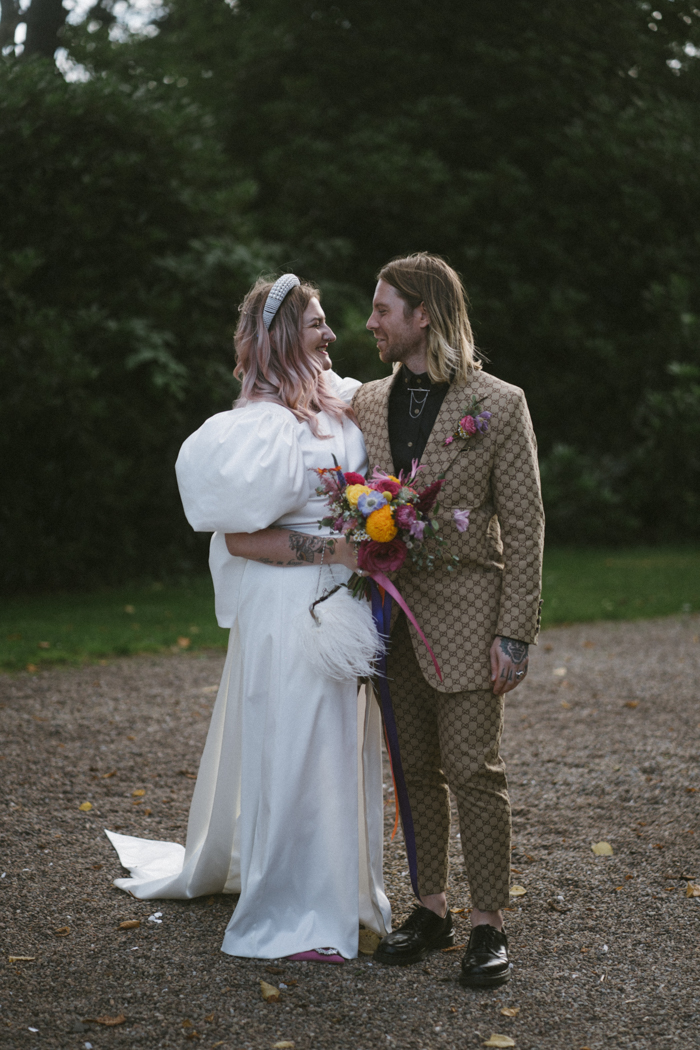 Getting Their Guests To Mingle While Eating
We decided we didn't want a traditional three-course meal, as we wanted our guests to be able to mingle and chat, so we went for a street food buffet. We also had quite a mix of vegan, vegetarian, and meat-eating guests. We wanted to make sure everyone was equally catered for. The venue had some fantastic options for us to choose from—slider burgers, nachos, hot dogs, and beyond. Everyone we spoke to said they really enjoyed the food.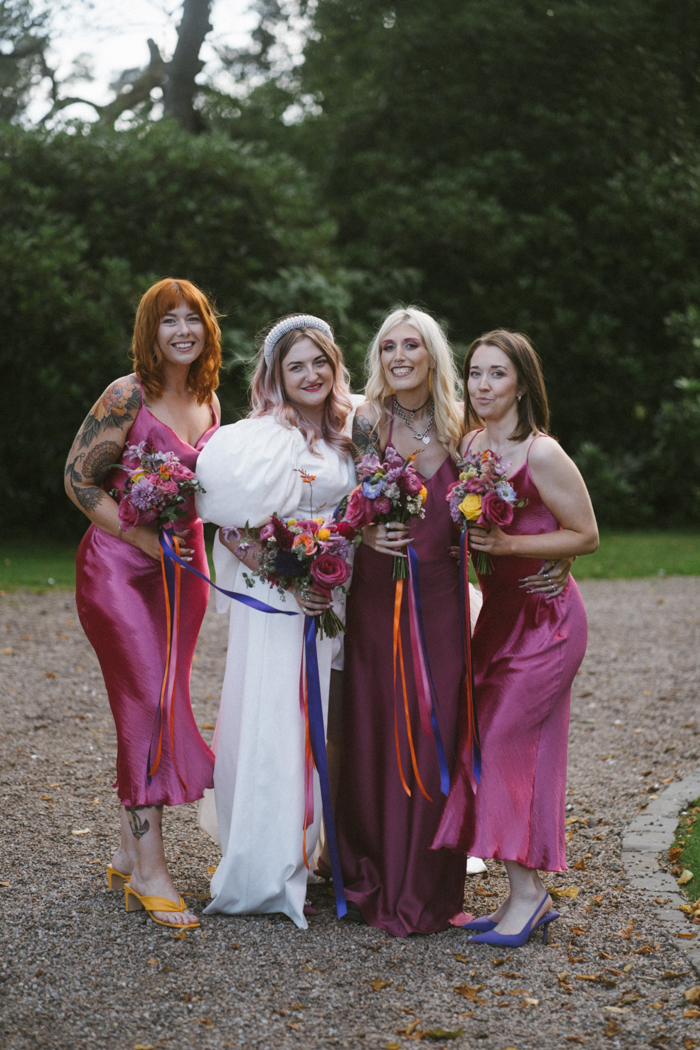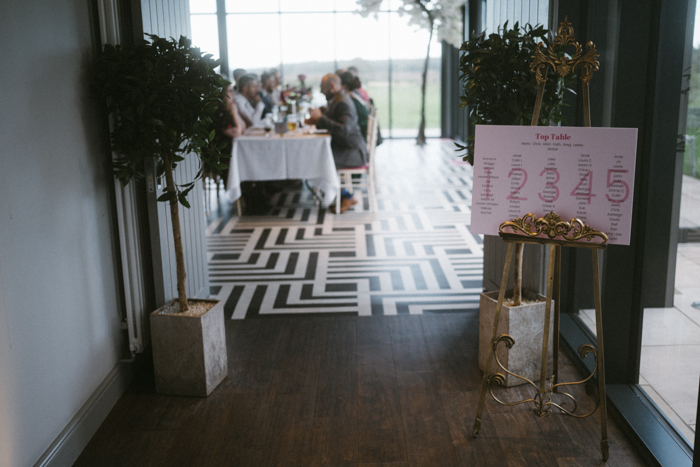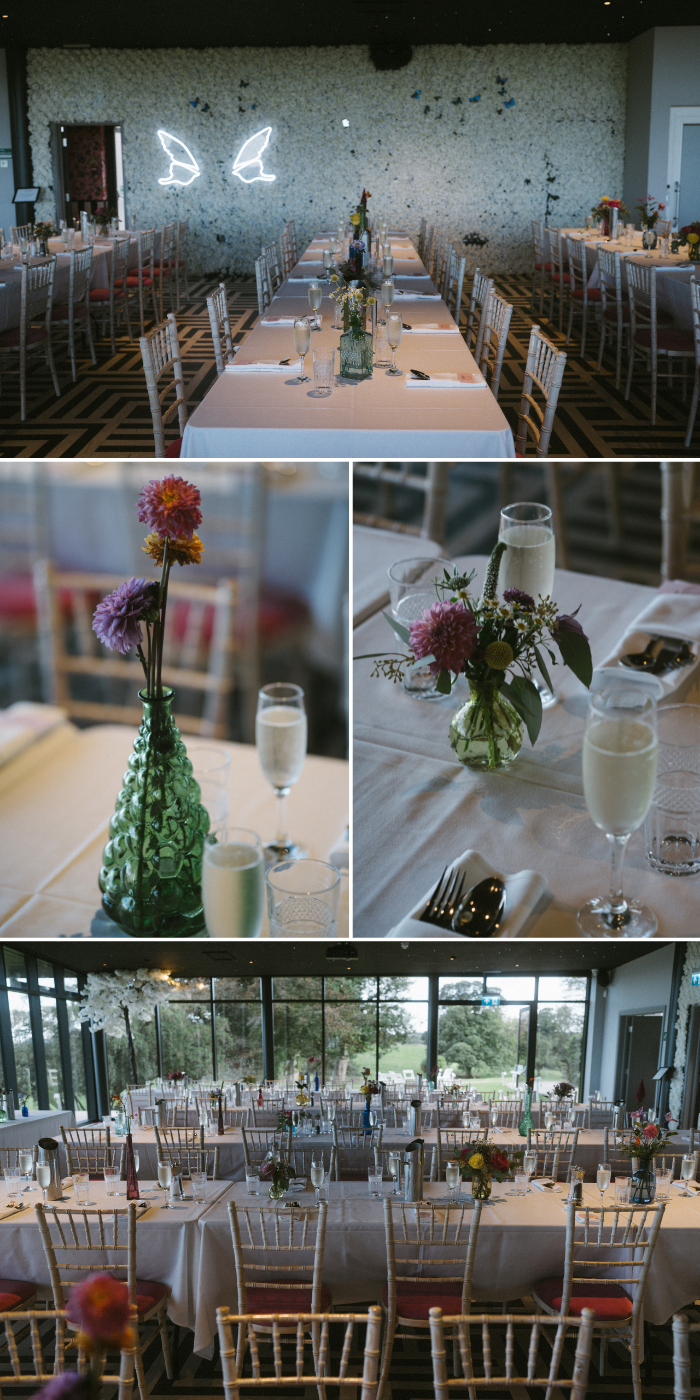 Dan McCourt Perfectly Captured Natural And Unguarded Moments
Dan was an absolutely brilliant photographer. I swear he was solely responsible for getting me down the aisle on time. He made us feel so comfortable that we didn't even notice him taking pictures which we loved. He managed to capture so many special moments. Every single photo of us and our guests captured our personalities perfectly. He knew exactly where to put us and how to make us feel comfortable. I couldn't recommend anyone better.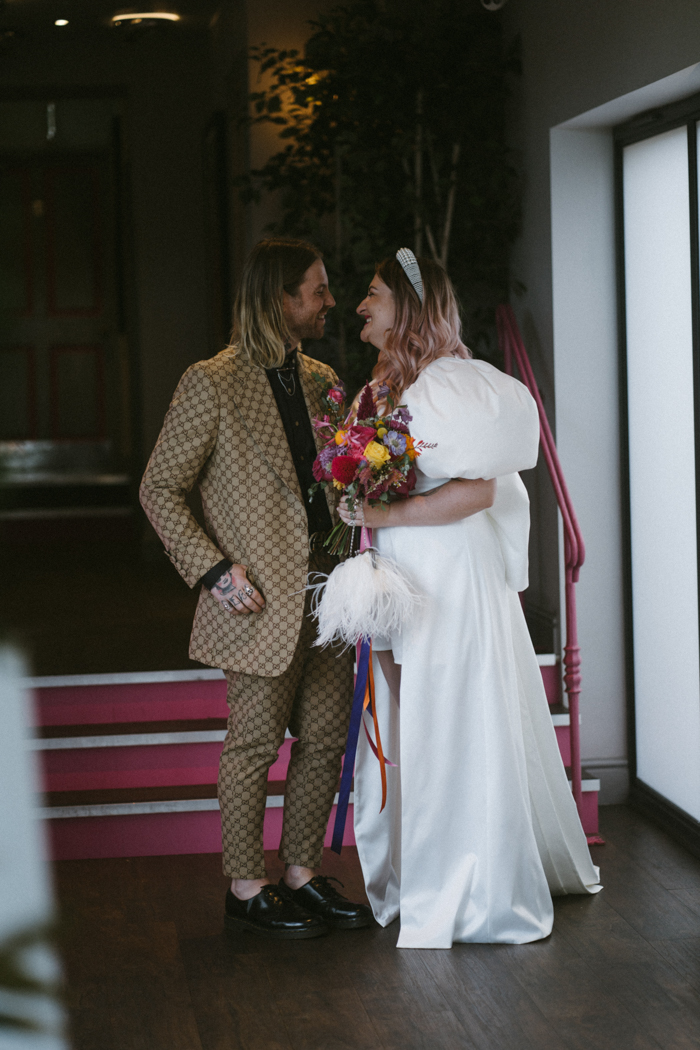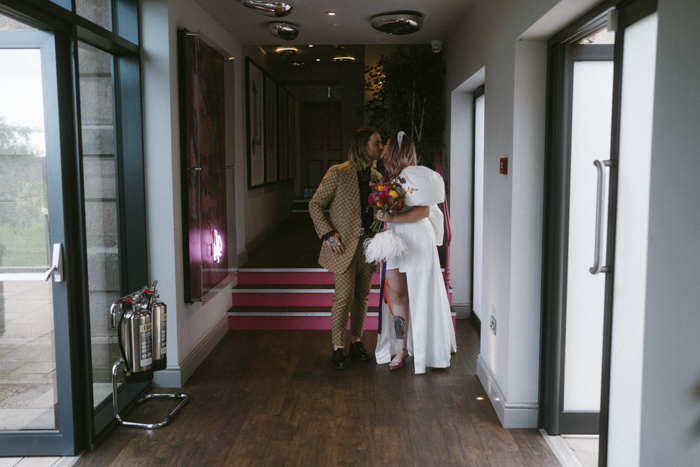 Advice For Creating A Wedding That Is Authentic And Fun
Don't take it too seriously and don't get tied down by what you think you should have when you're wedding planning. The celebration needs to feel authentically you. And make a wedding planning spreadsheet—it's truly a lifesaver.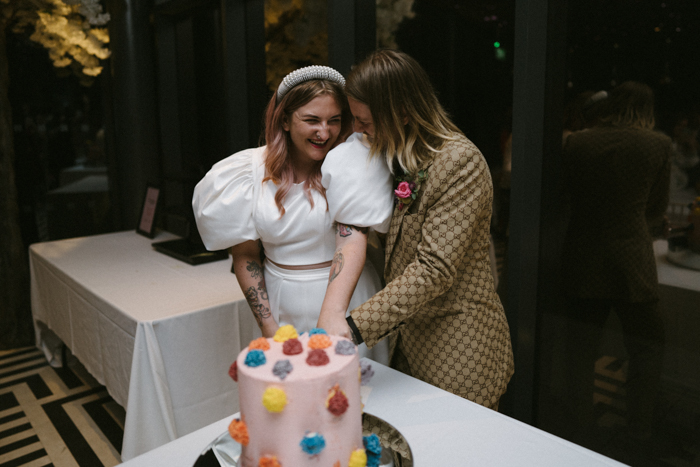 Congratulations to Faith and Greg on their fun, colorful, and edgy Charlton Hall wedding! And big thanks to Dan McCourt for capturing the vibe and energy of their special day.
Looking through this celebration it's easy to see that your wedding venue sets the vibe for the entire celebration. To make the task a little easier, working with a planner can help find the best fit for your vision, guest count, and budget. And just like Faith and Greg, it's important to choose a venue that feels right for your personality and style. At the end of the day, your wedding should reflect you and your spouse in every way.