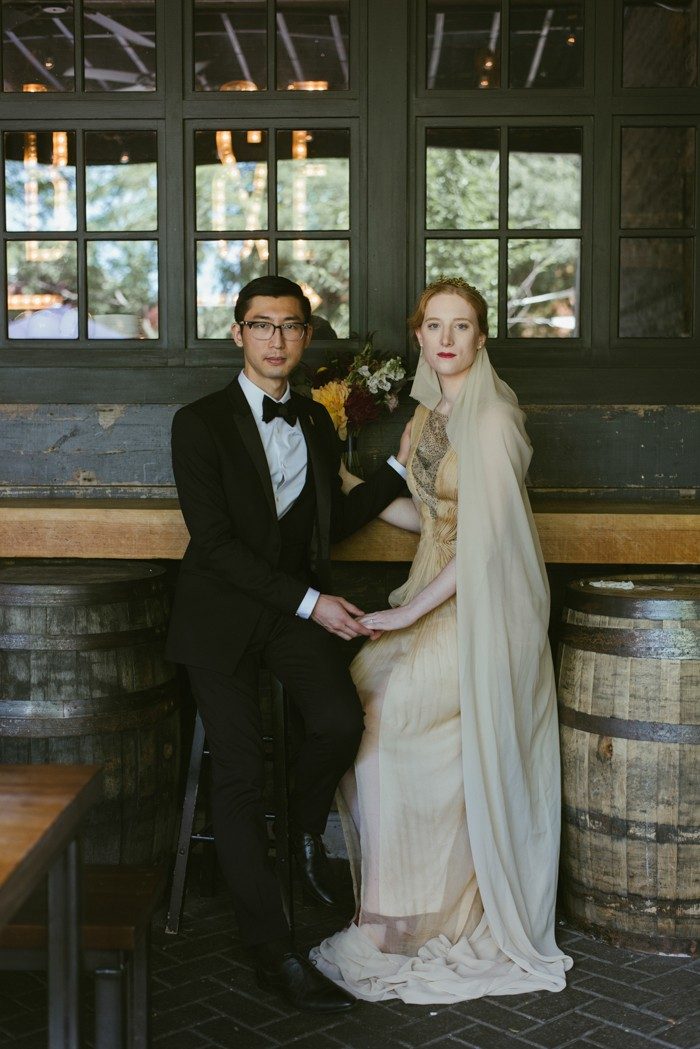 Kate and Tom's intimate Fulton Street Collective wedding was planned with sincerity and intention to create an unforgettable celebration for their guests to enjoy. The hardwood floors and exposed brick made for a seriously romantic backdrop for their wedding ceremony, which embodied love, fidelity, trust, and growth in marriage. Their reception at Low-Res Studio was the perfect setting for their traditional baijiu toast, featuring creative street art, an incredibly hip stereo system, and an urban-cool aesthetic full of quirks and charm. Persephone Floral Atelier created the gorgeous design-focused floral arrangements in shades of coral, orange, and burgundy, paired with unexpected oversized foxgloves and wild greenery. We love the bride's truly beautiful wedding day look, which included a champagne Tadashi Shoji bridal gown and gold leaf crown, reminiscent of an Italian Renaissance goddess, with dark red lips and nails seemingly inspired by a romantic Klimt painting. Allie Appel Photography captured every moment of this truly artistic wedding day, from the bride and groom's first look at the Illinois Centennial Memorial to couple's photos at the Off Site Bar, where Kate proposed to Tom.
The Couple:
Kate and Tom
The Wedding:
Fulton Street Collective, Chicago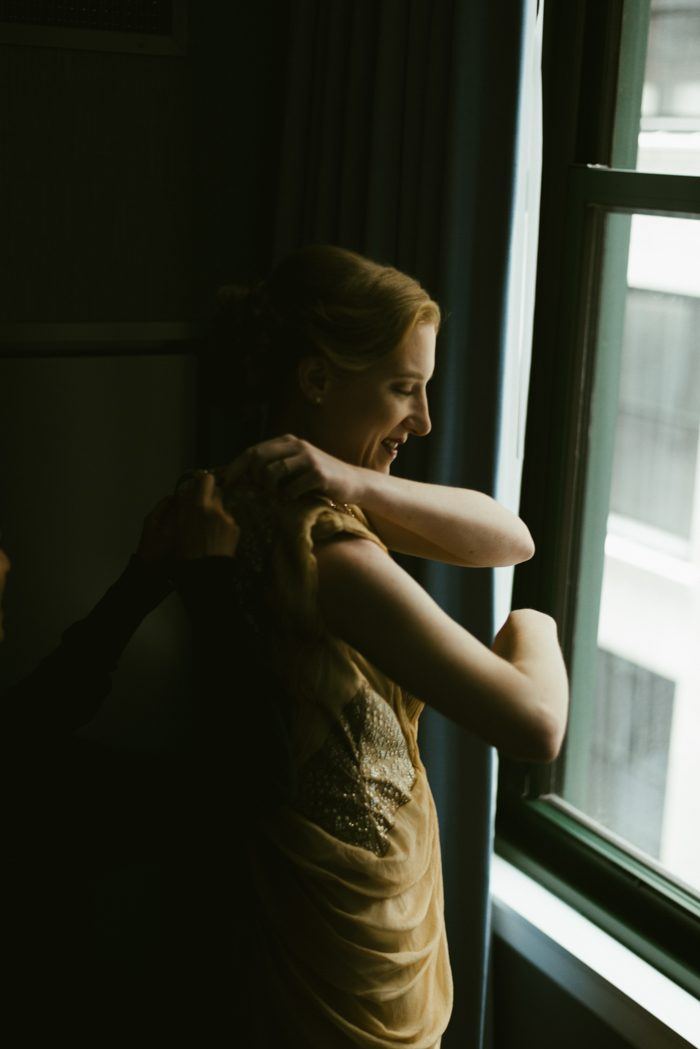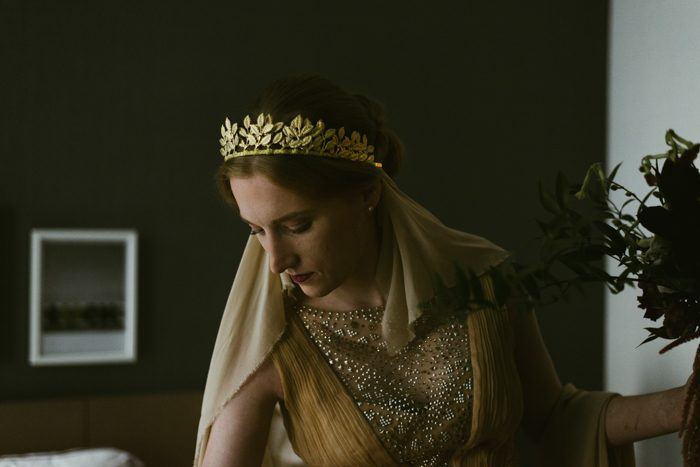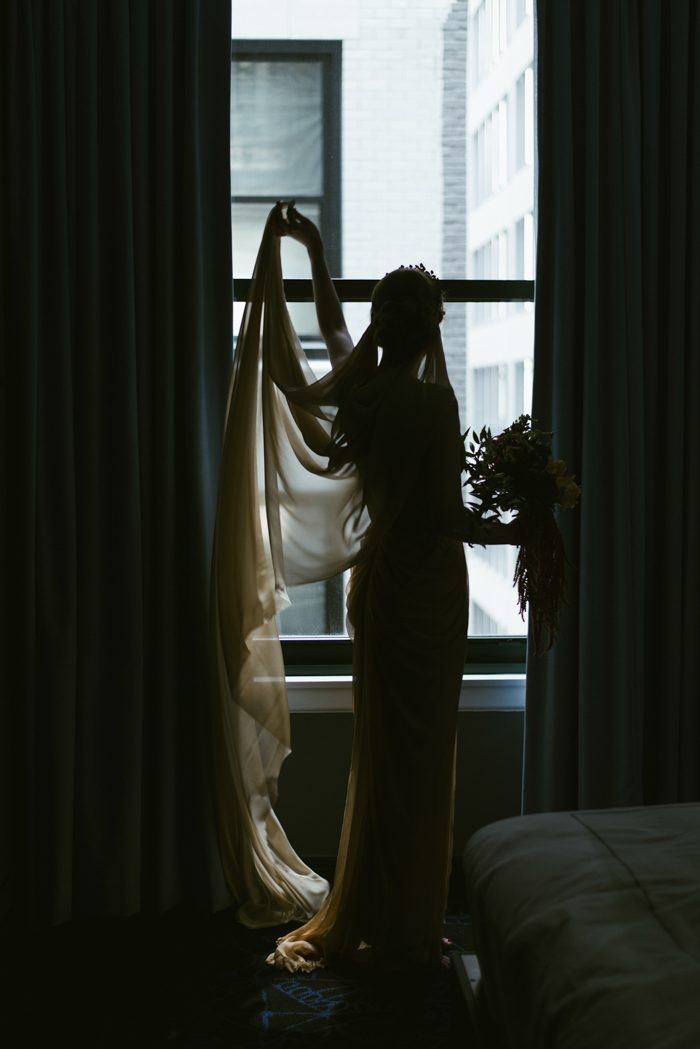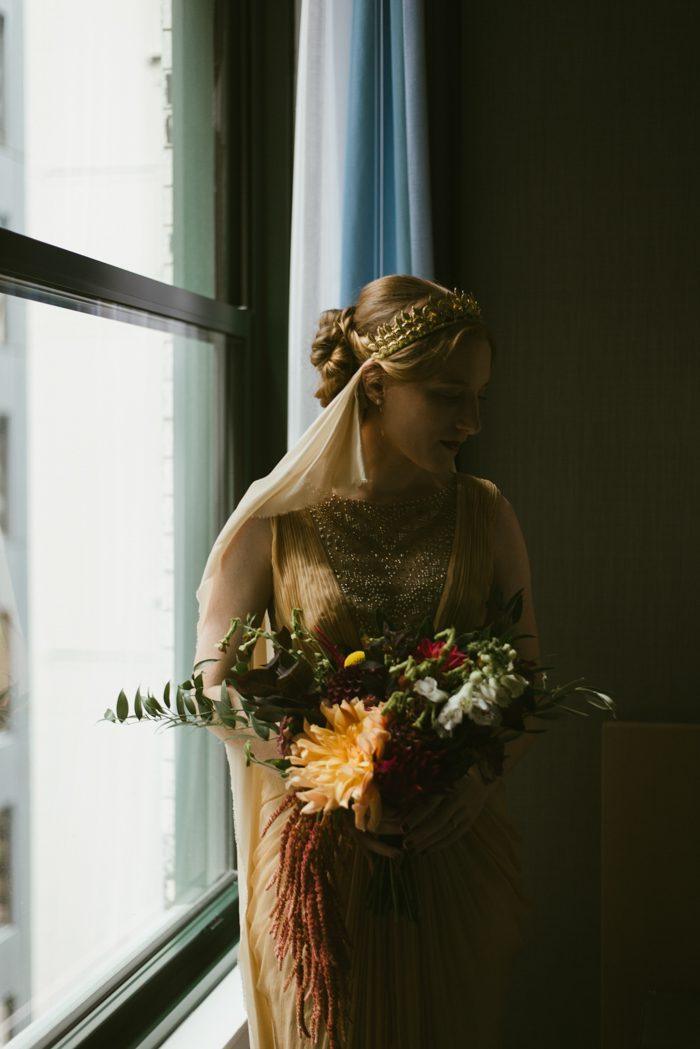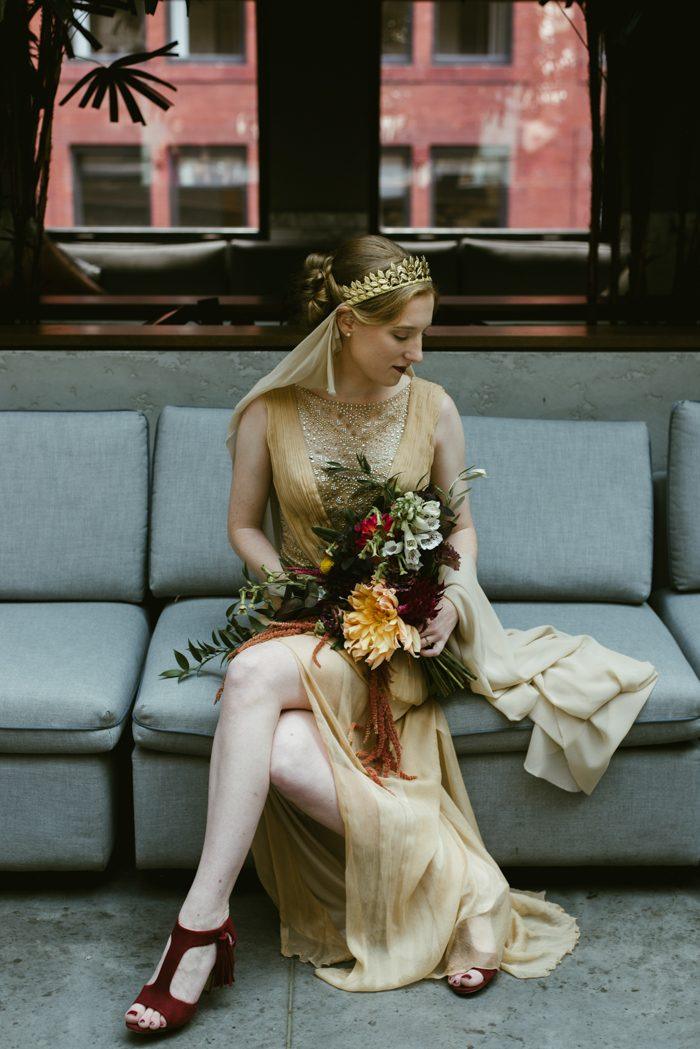 When we sat down to start planning our wedding, we quickly realized that at the core of it, we cared about the same wedding "values": having a sincere andmeaningful ceremony to mark our commitment to each other, hosting a fabulous celebration that our guests could genuinely enjoy, and doing both without making ourselves crazy, miserable, or broke in the process. The details — something contemporary, black tie, distinct, and Sino-American — flowed out of those intentions, and we think we mostly succeeded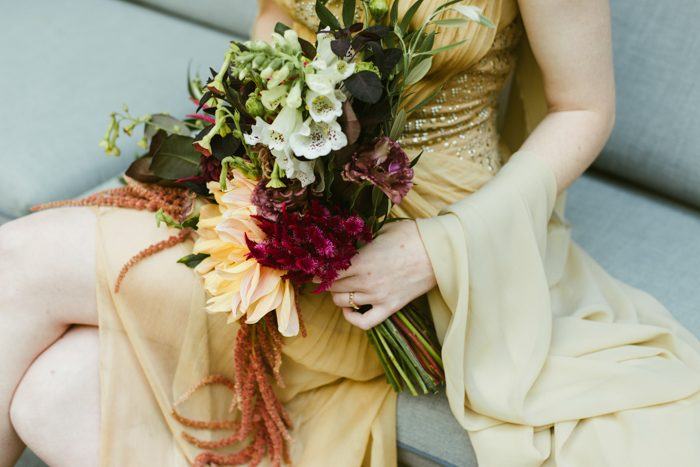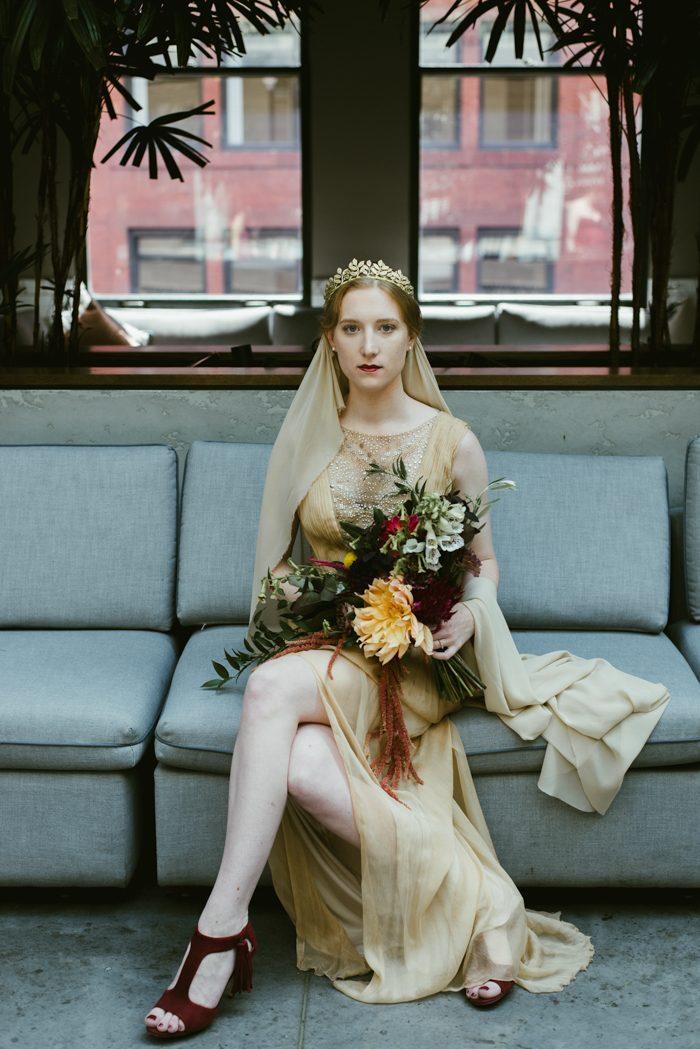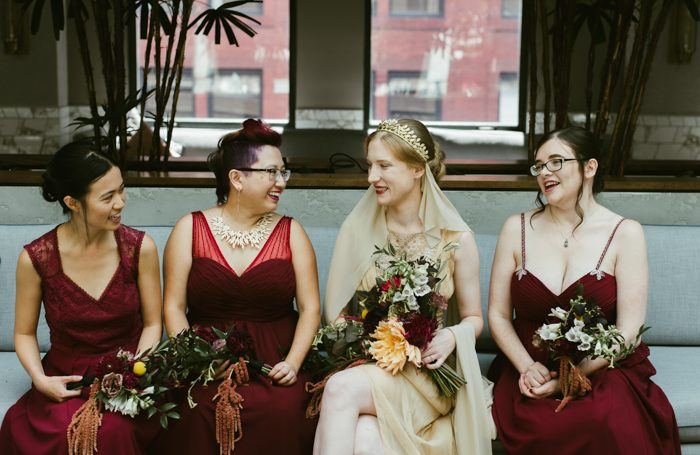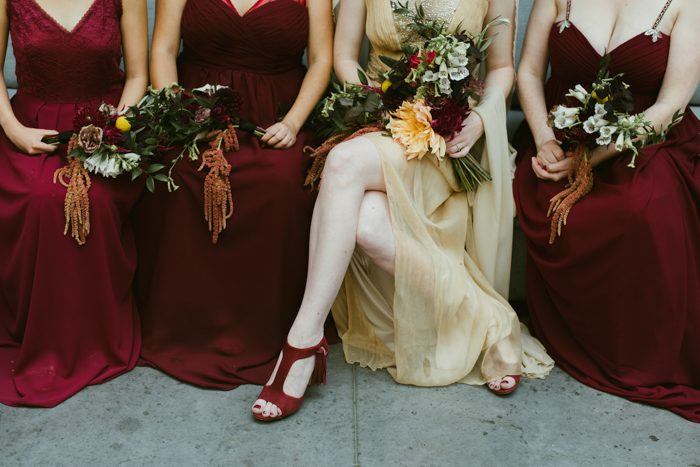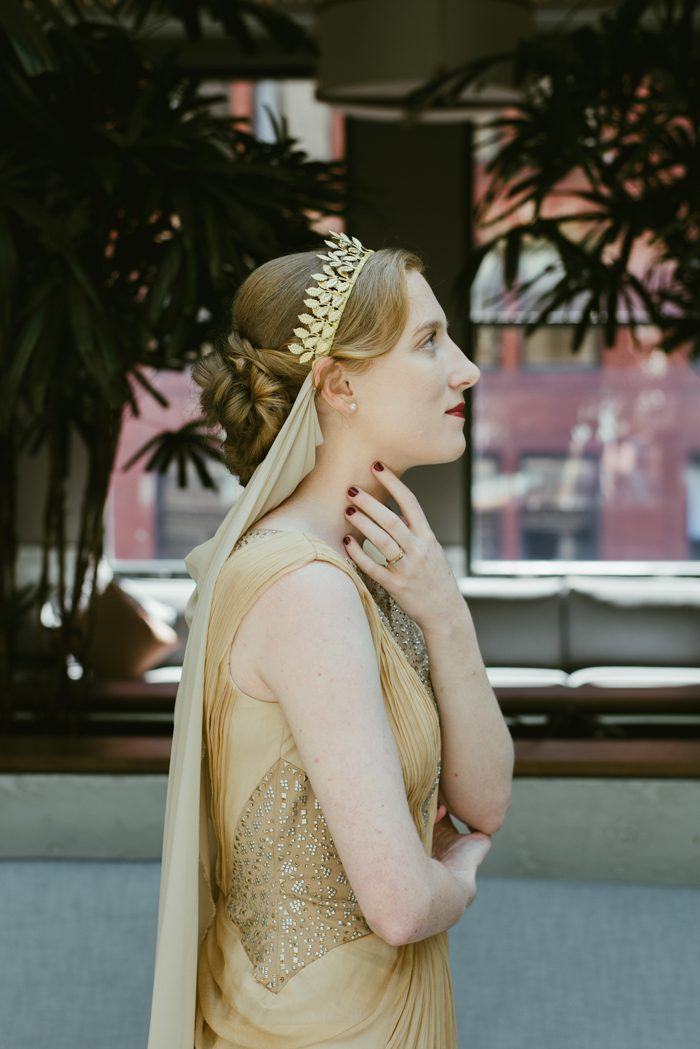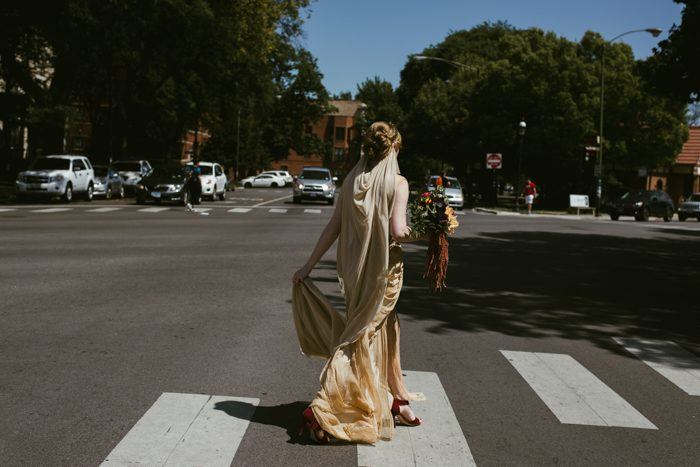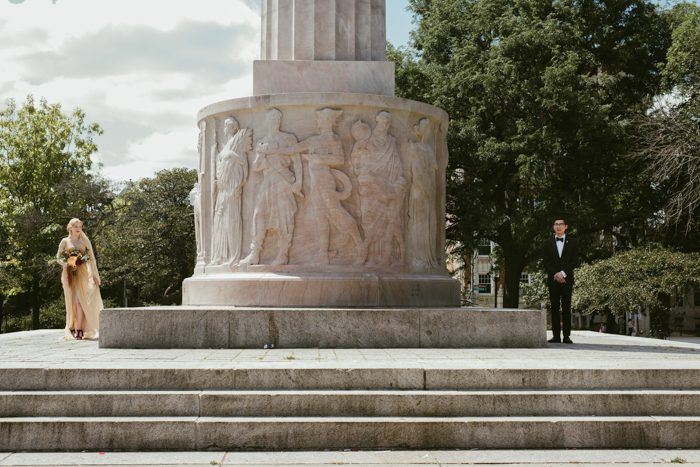 We both have very strong (luckily congruent!) aesthetic opinions, and we needed our budget to stay *well* below the average, so that drove our decision to go about 80% DIY on the entire wedding. Kate did all the event planning and sourcing, Tomdid all the graphic design, we collaborated on the design of the non-printed decor and aesthetic materials, and we executed those designs with some truly amazing independent and new-to-the-industry vendors who were willing to work with our pretty persnickety specifications.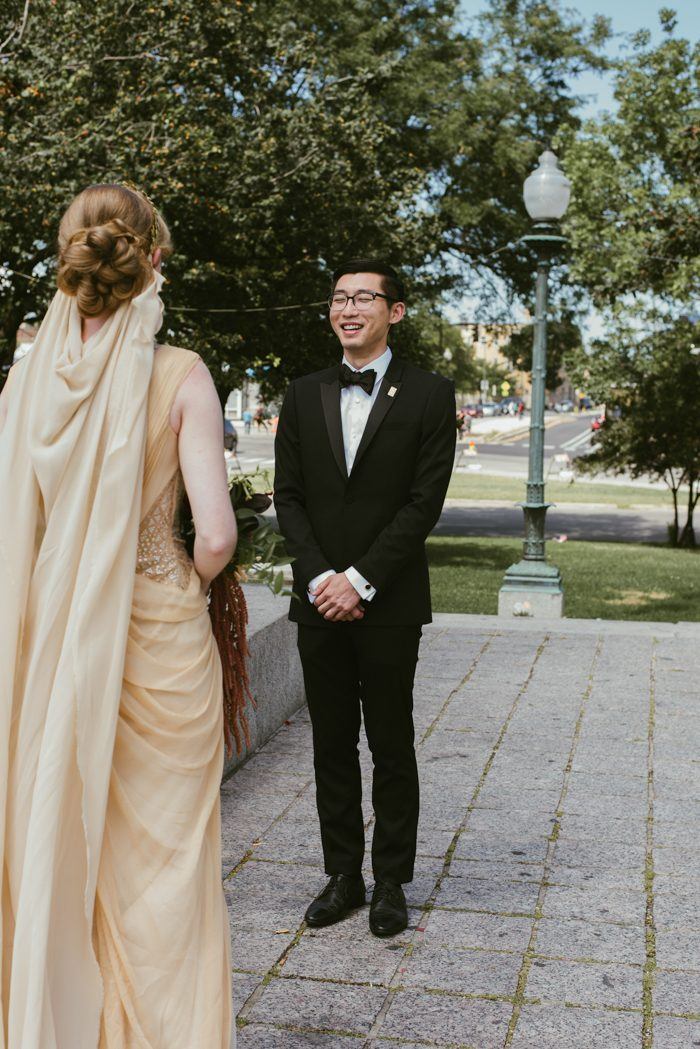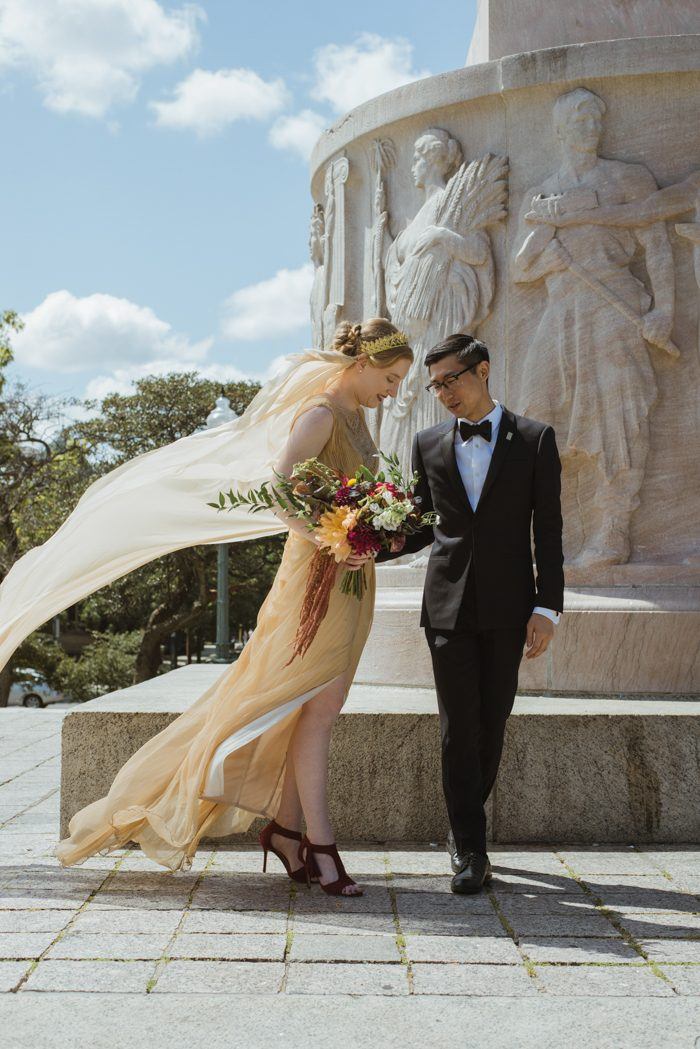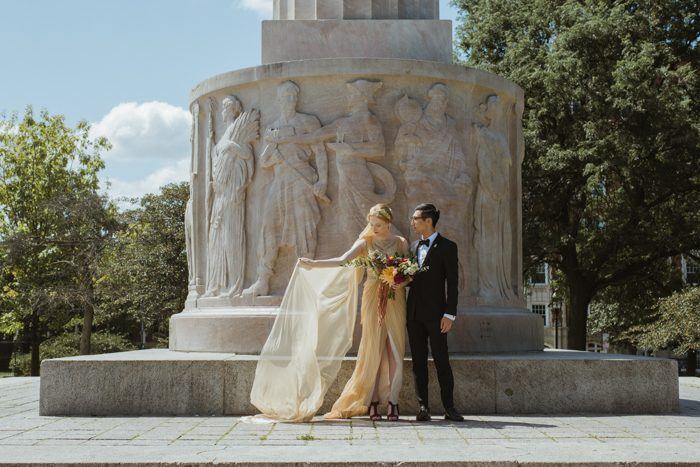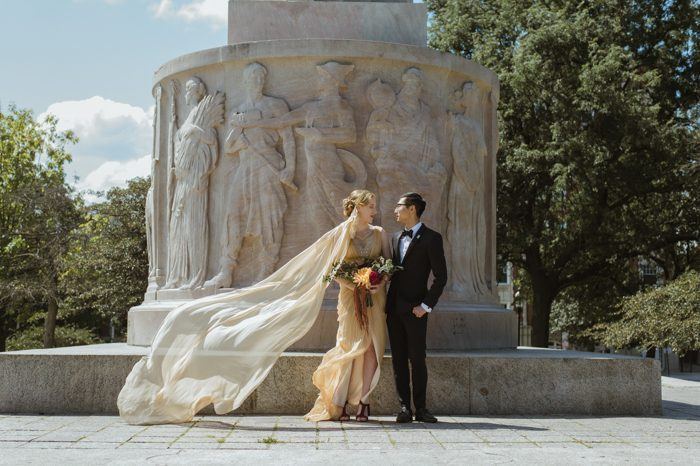 The moment when just the two of us had made it into the little back room from the wedding recessional; Tom picked me up and spun me around, laughing, before the rest of the wedding party could get in. It was suddenly *real* that we were married.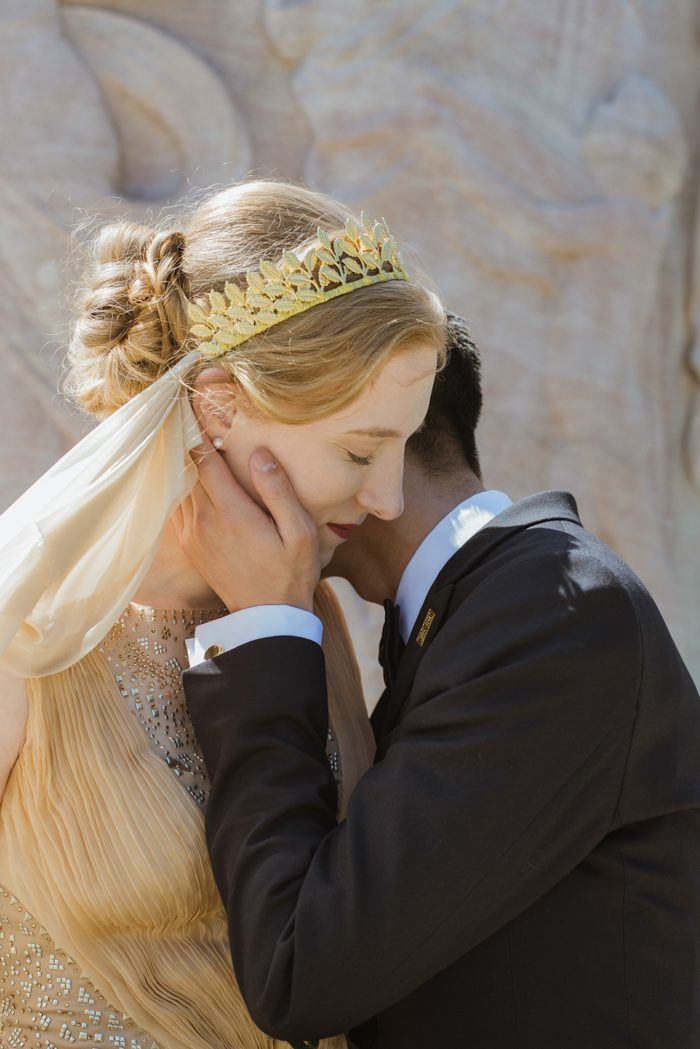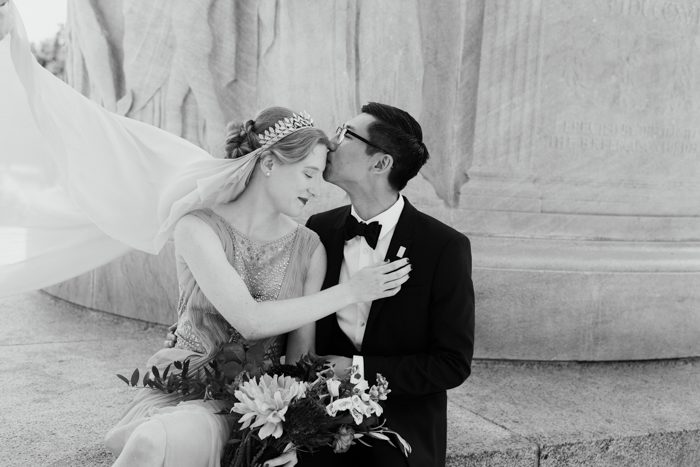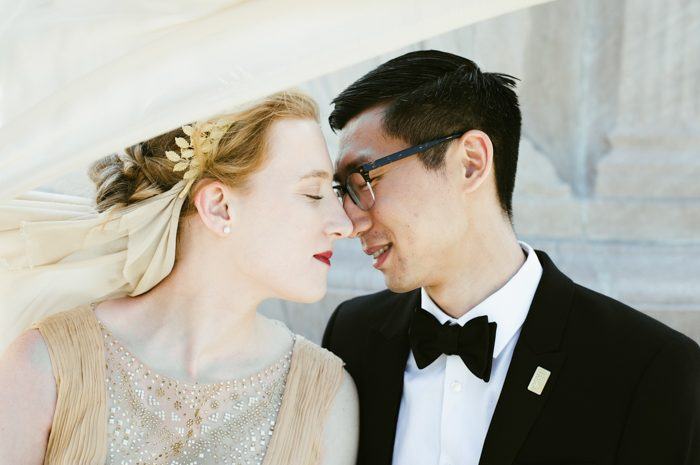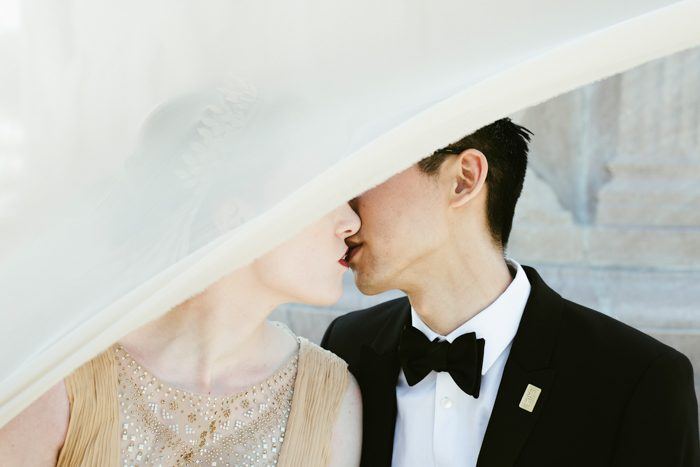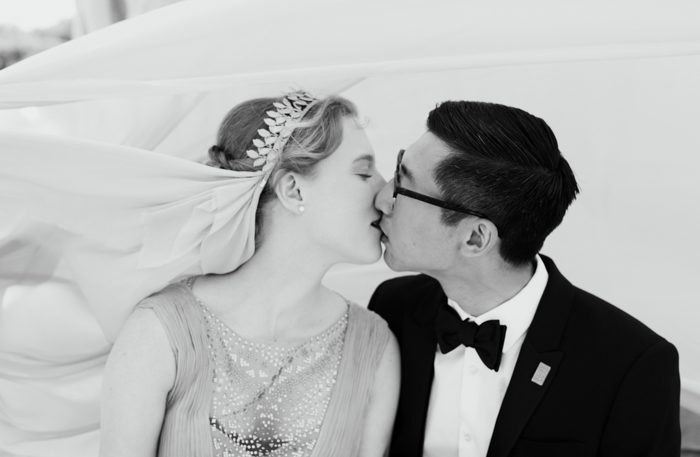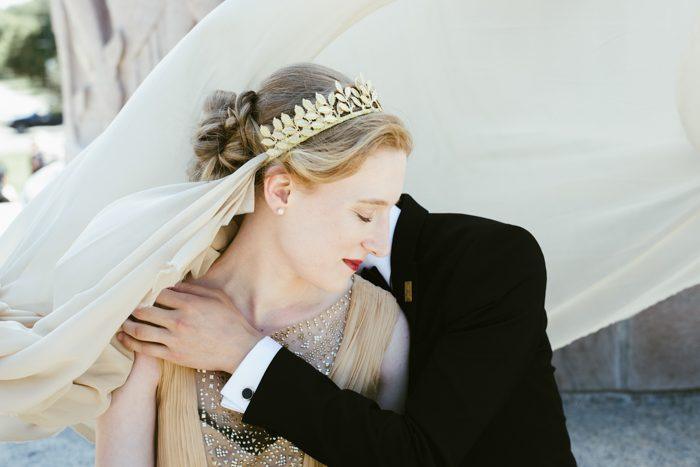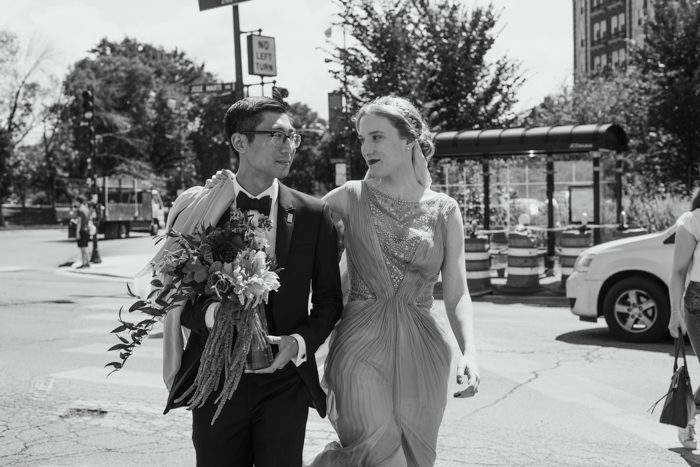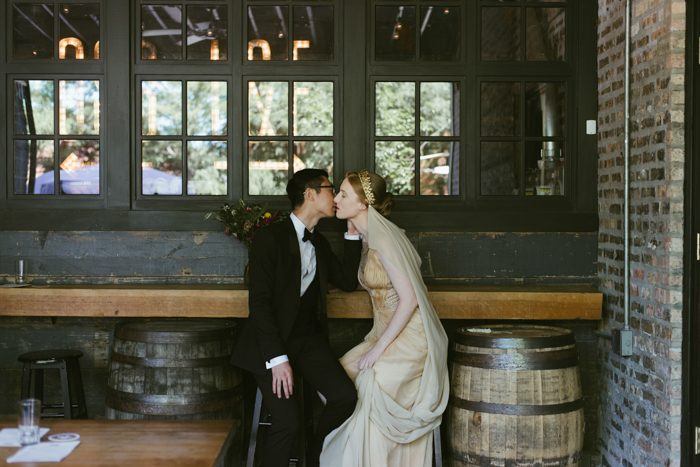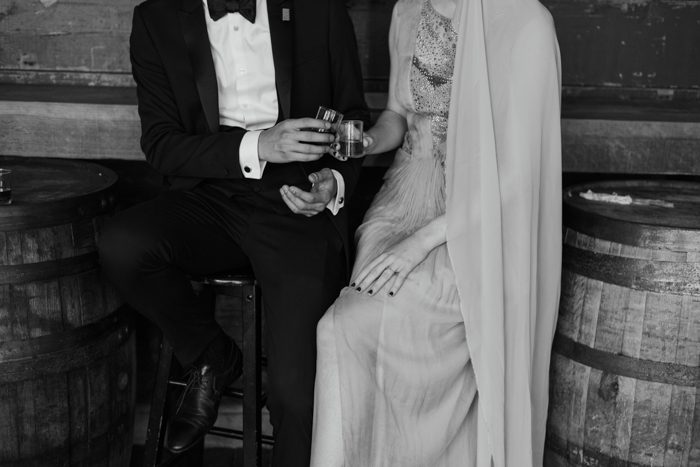 Don't catch your home on fire two months before the wedding!! While our apartment did fortunately survive, a bunch of complications with repairs meant we (and our two cats) were trapped in a hotel room for the last two months of wedding planning, and had to move back home on the second-to-last day before the wedding. SERIOUSLY not a recommended strategy.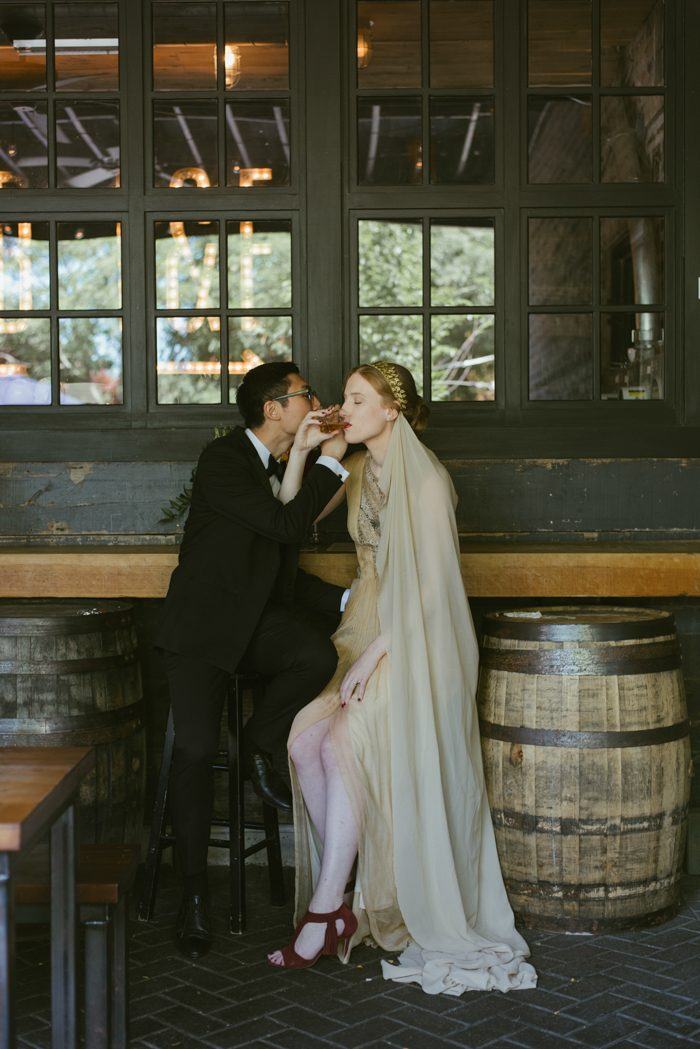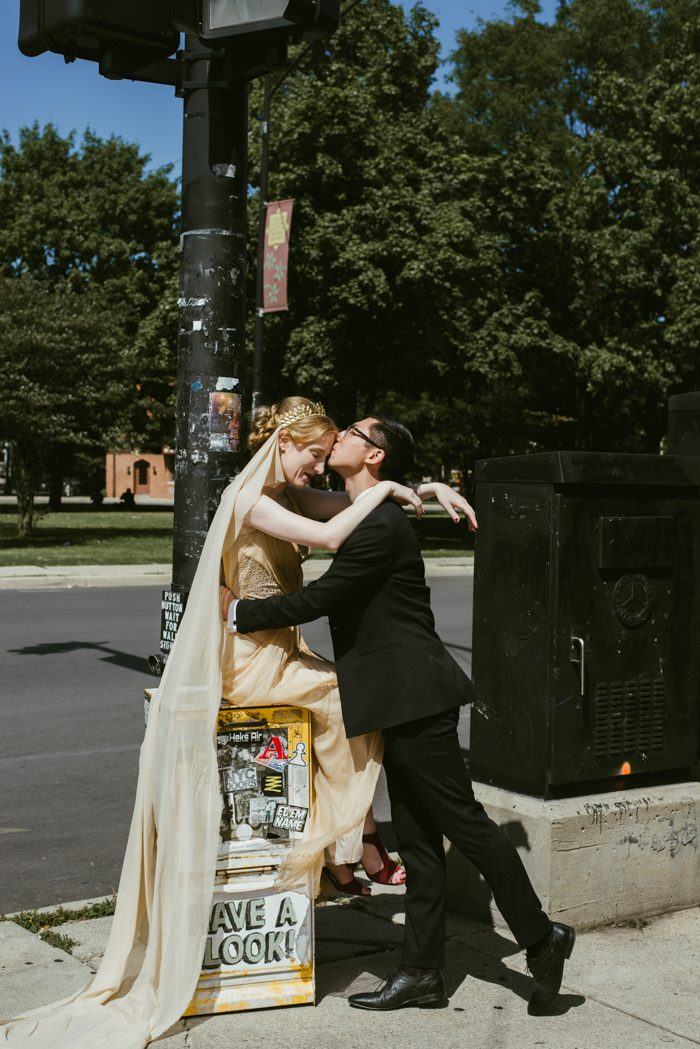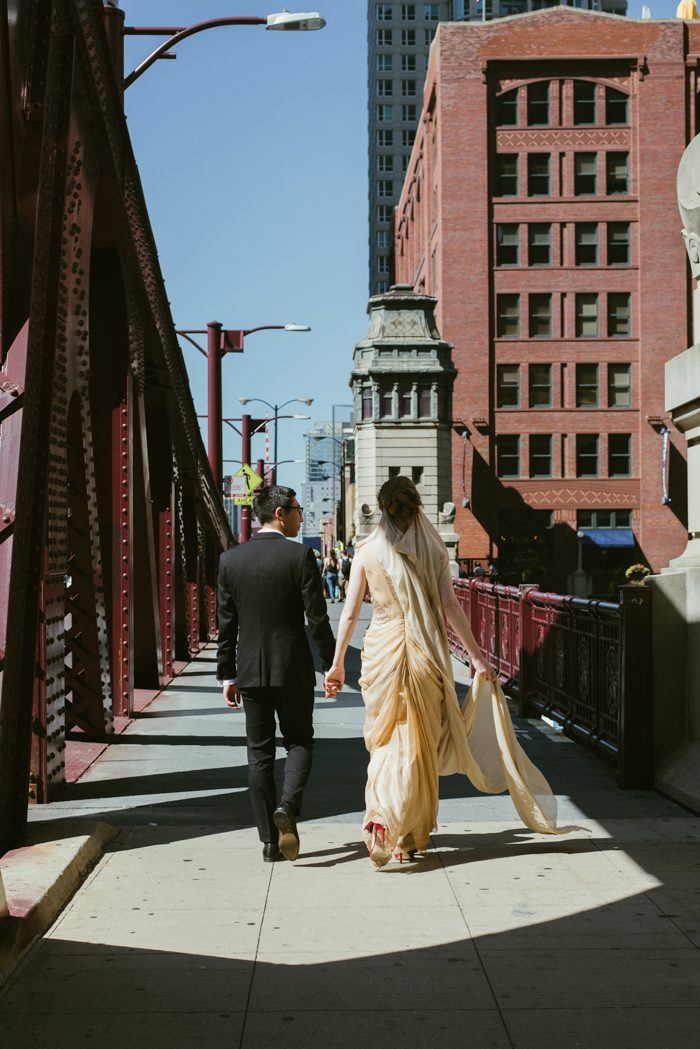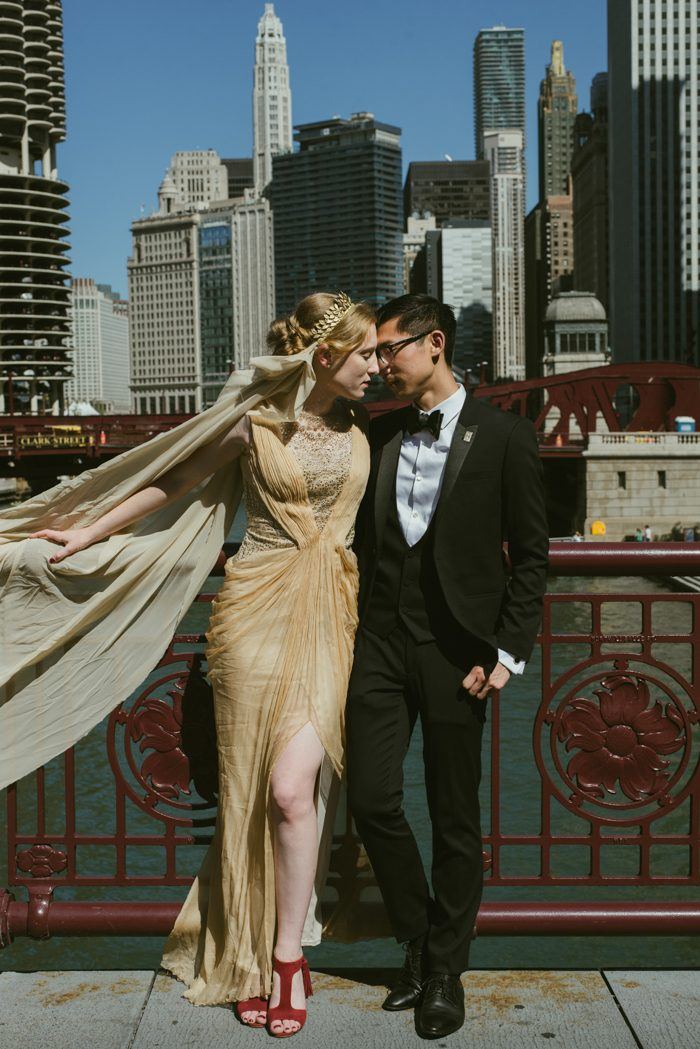 Having both of us make a list of our three biggest priorities and general thoughts about aesthetics *separately* before coming together to talk about them really gave us confidence that we were being honest with each other and on the same page about what we wanted. This was the solid bedrock under all kinds of decision-making later on.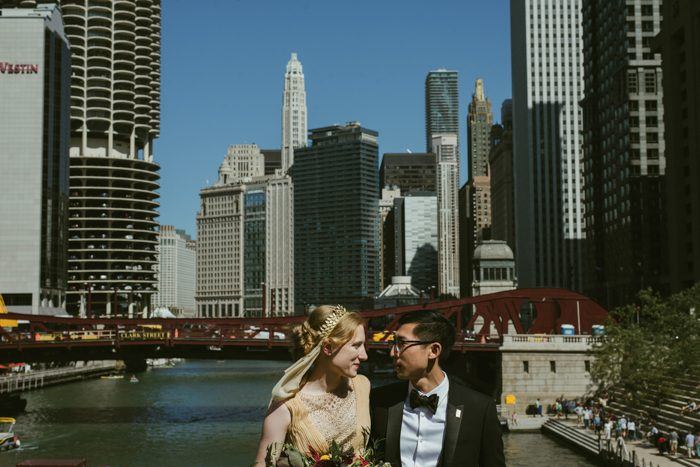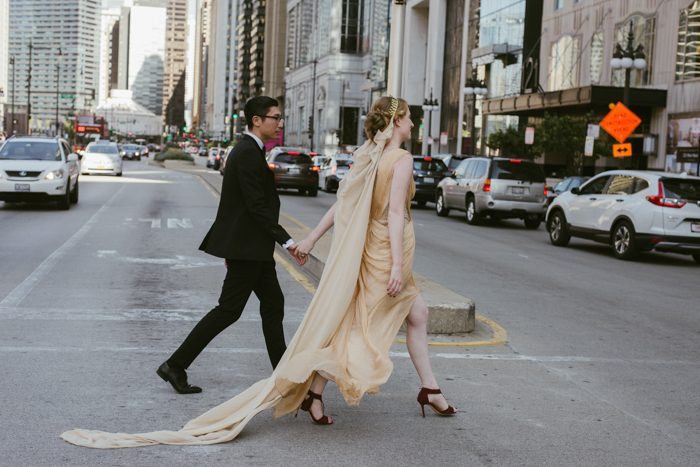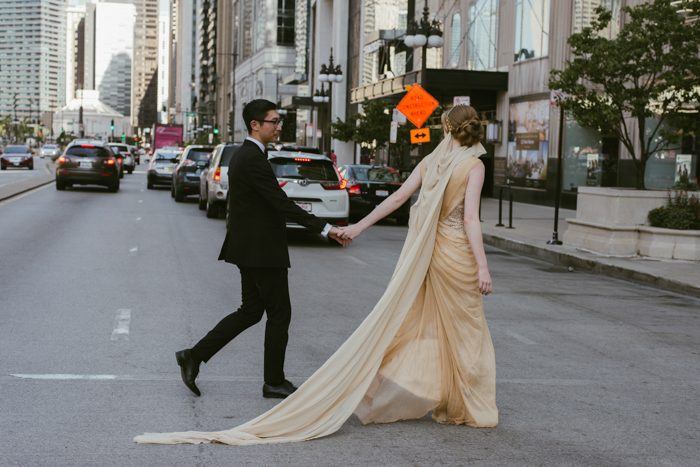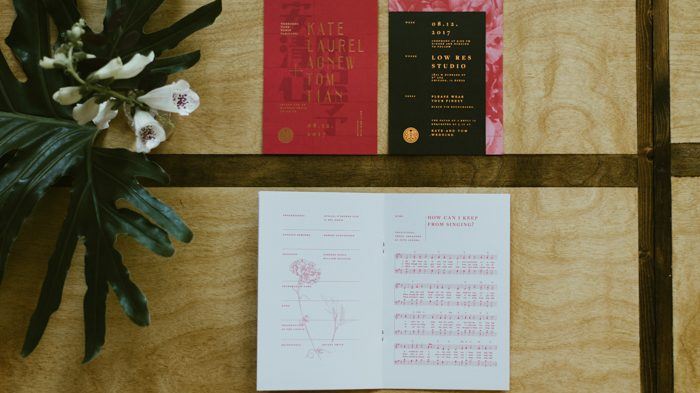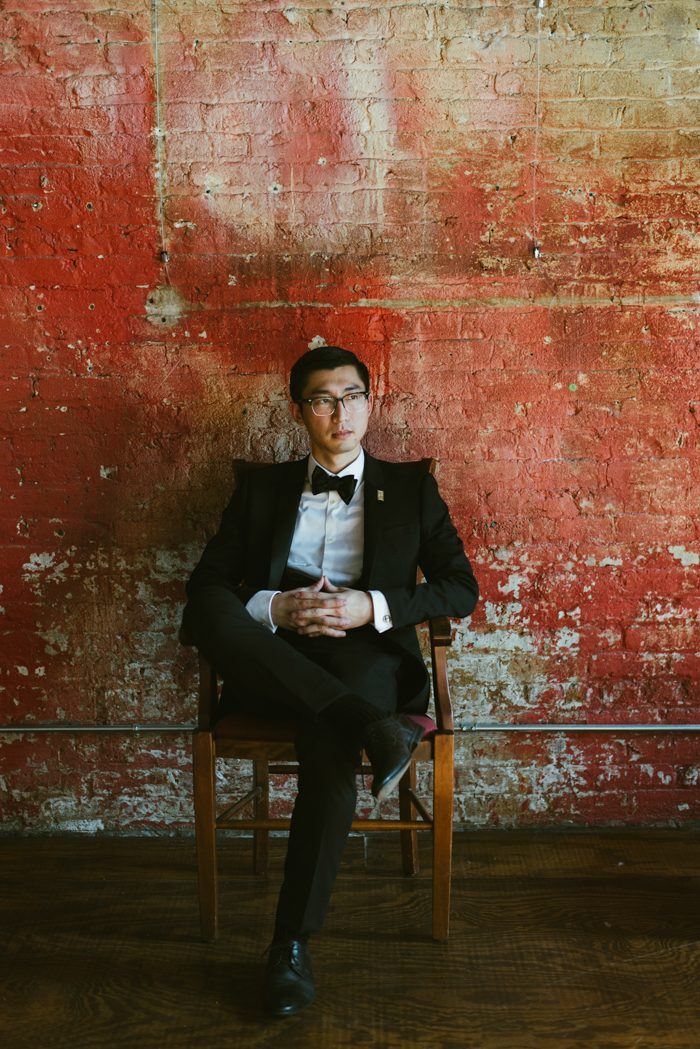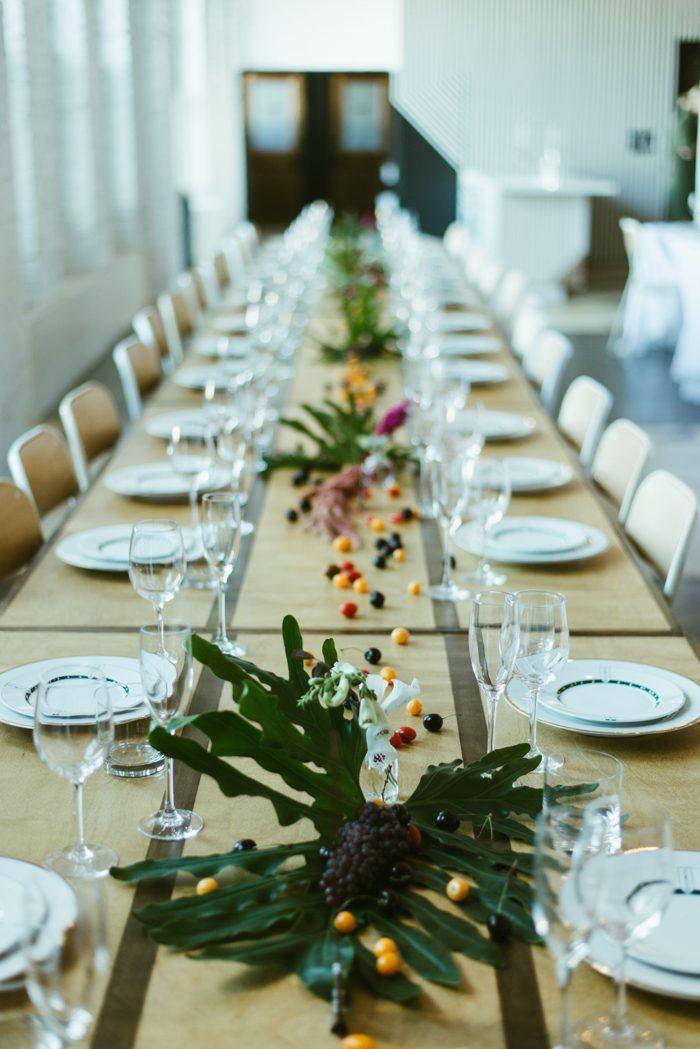 DIY is not just a two-way trade-off between time and money, but a four-way balance between time, money, aesthetic control, and organizational complexity. We were able to achieve some very specific aesthetic visions for much less money than if we had gone non-DIY — but that meant not just expending more time, but also being ready to work with industrial printers and new-to-the-industry vendors, all of which is more complicated than an off-the-shelf vendor situation. Make sure you think carefully before taking on DIY projects more involved than just doing some crafting.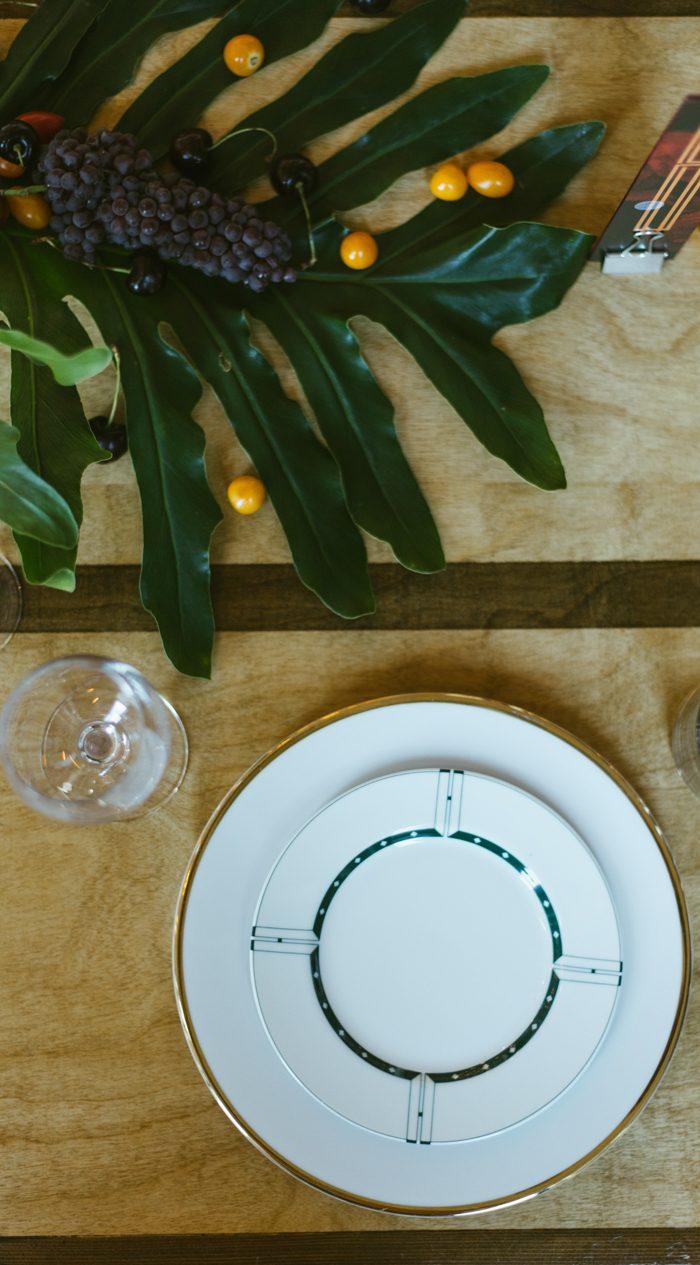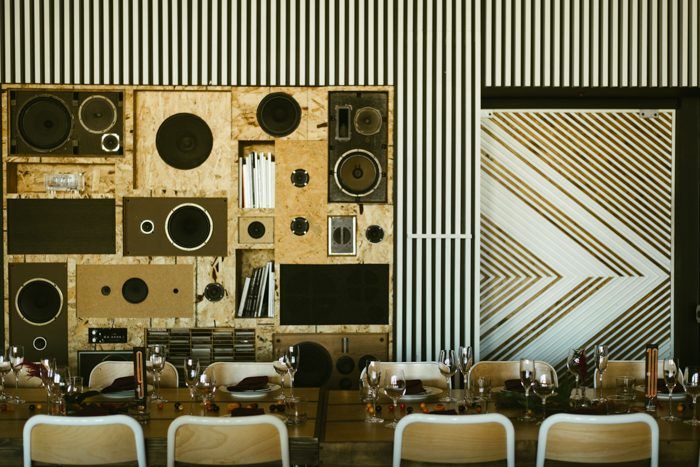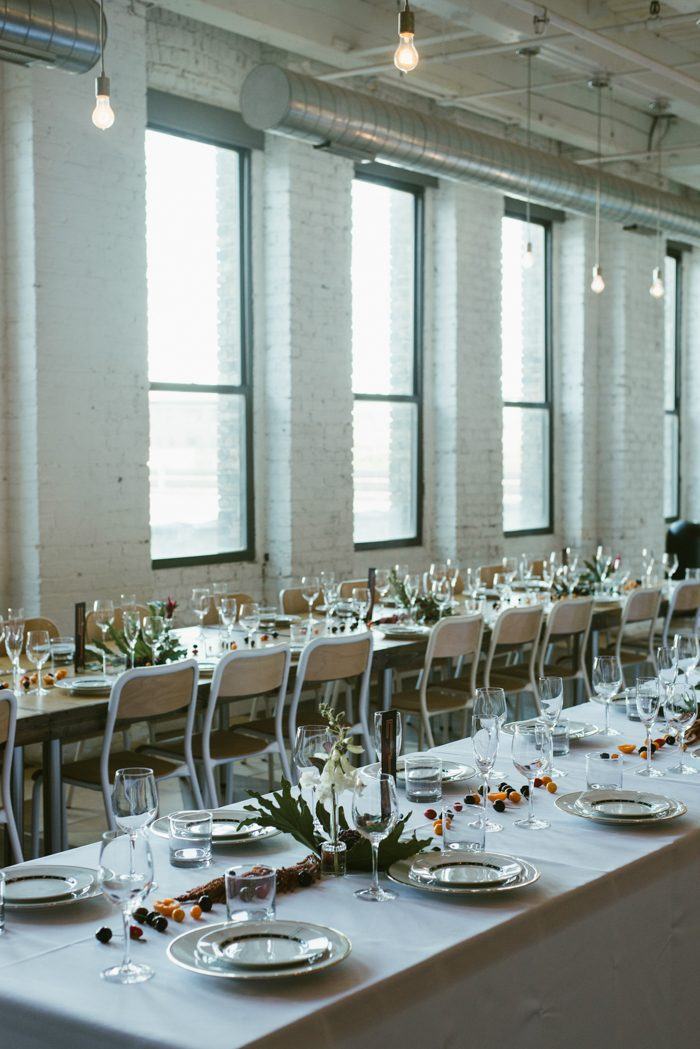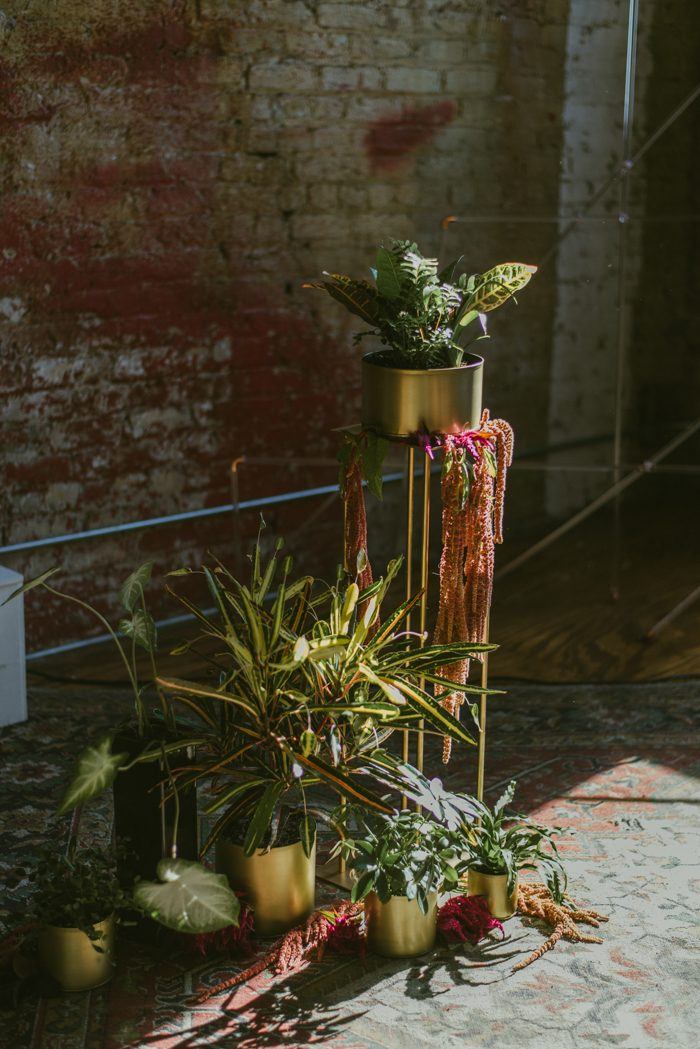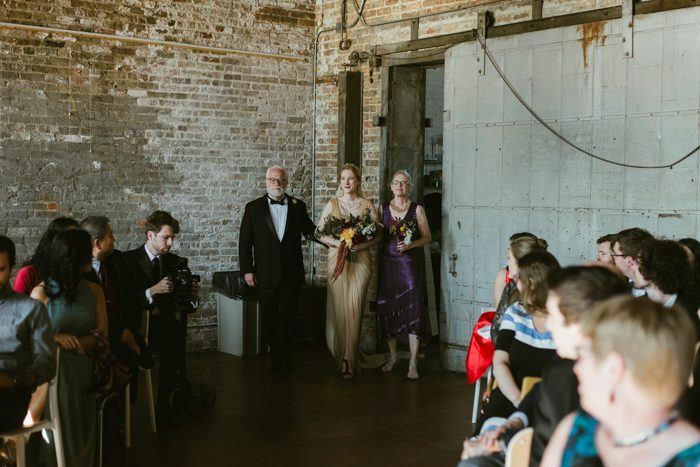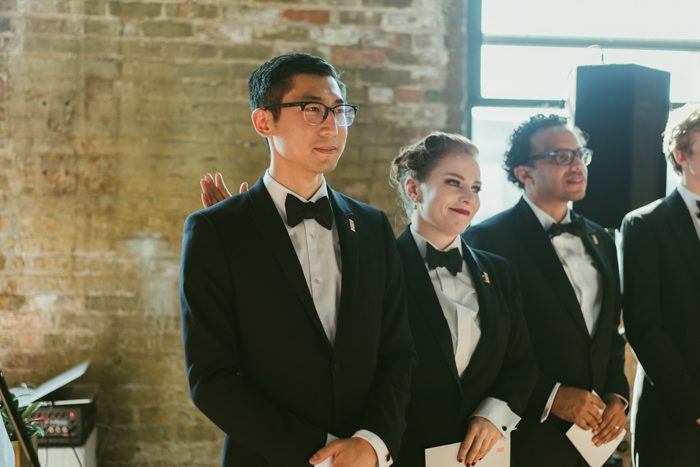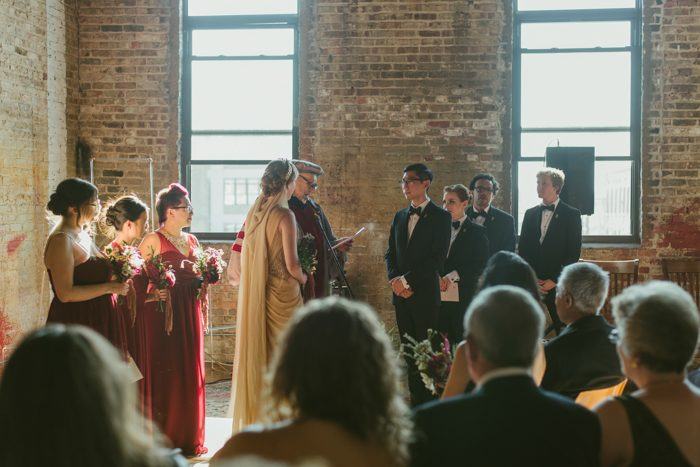 We spent a long time talking through how we wanted to embody commitment, love, fidelity, growth, andtrust in our marriage, and how to commemorate those values in our wedding ceremony and family tea ceremony. Although neither we nor our parents are religious, we borrowed from the general structure of Catholic ceremonies and vows (Kate's family's heritage) for our wedding. The result was a synthesis of personal, idiosyncratic details with existing words and customs that resonated with us.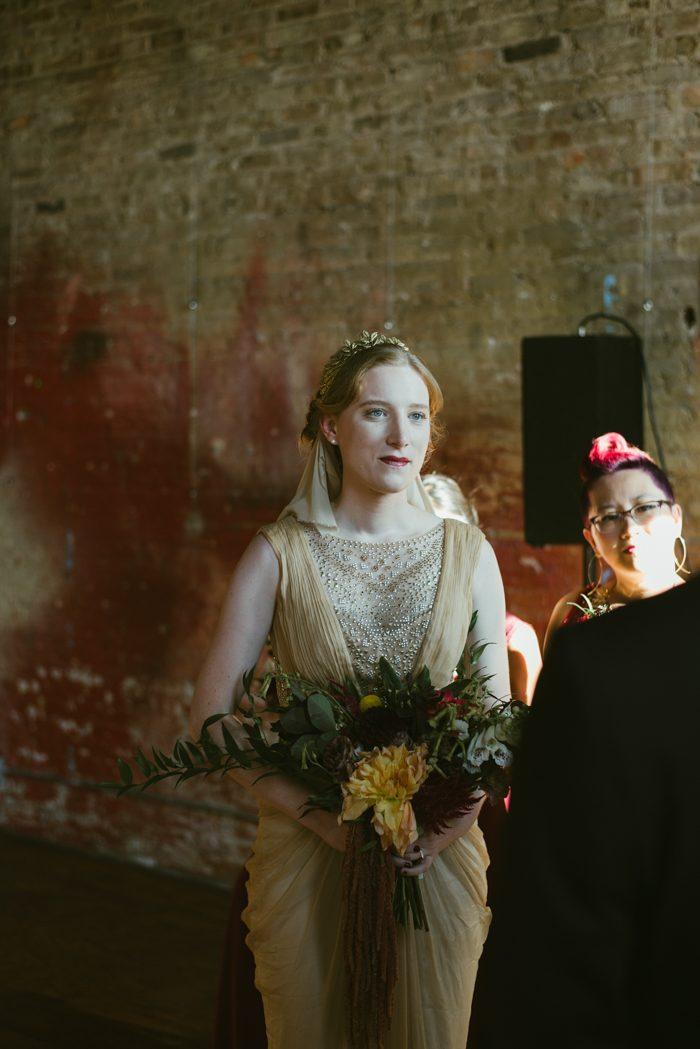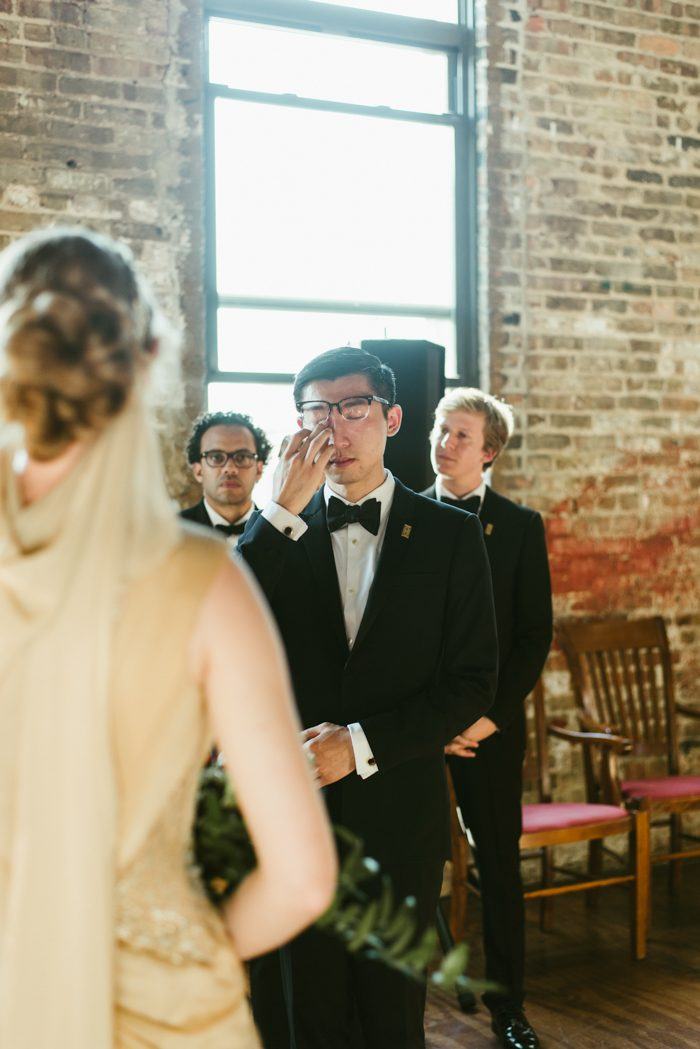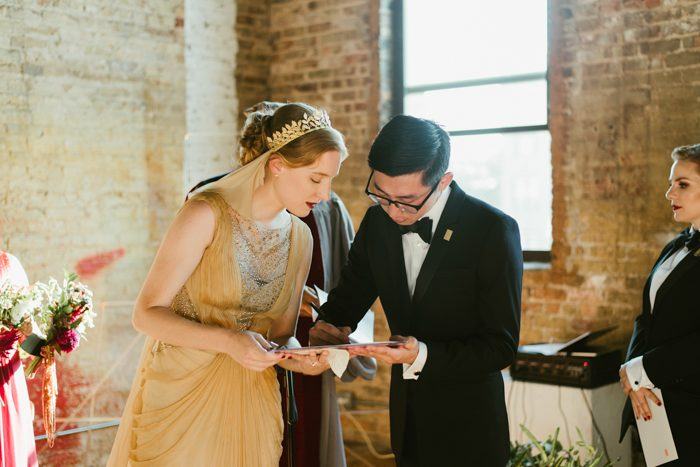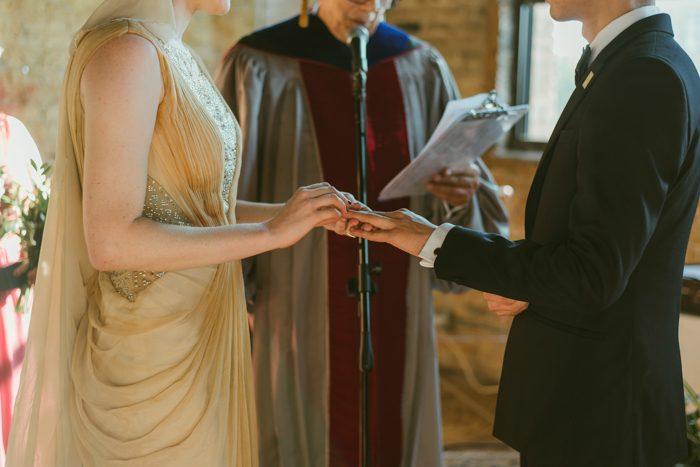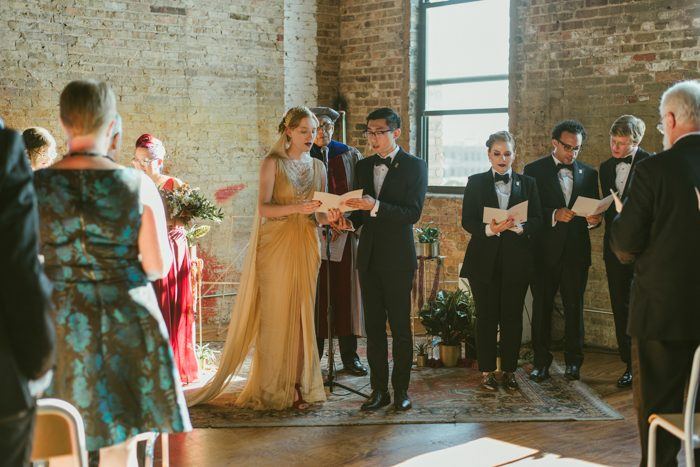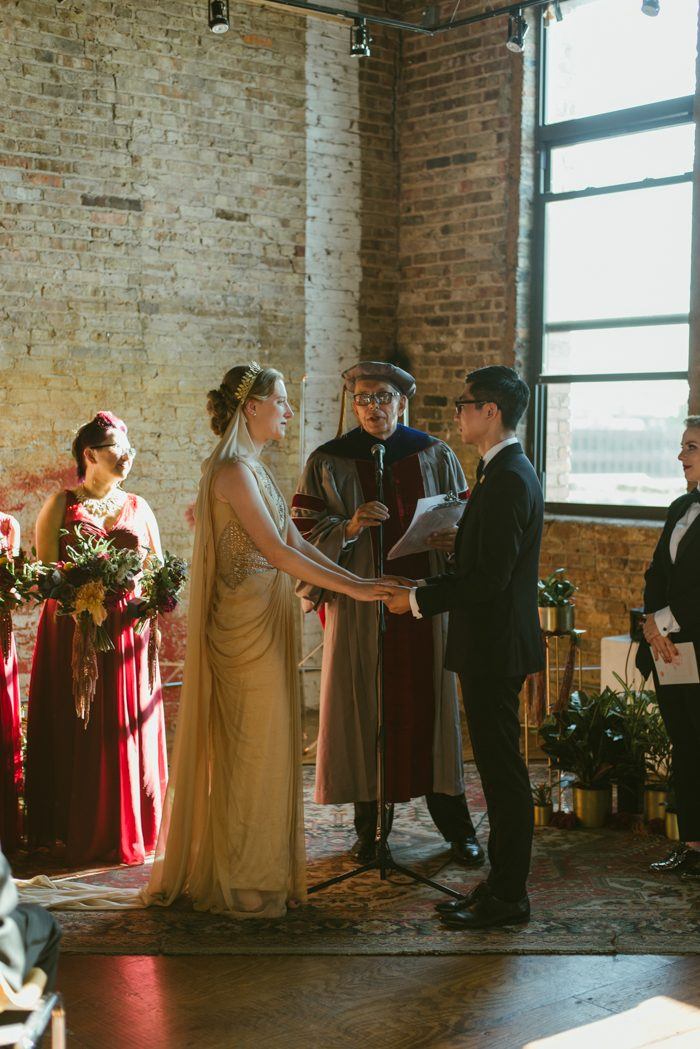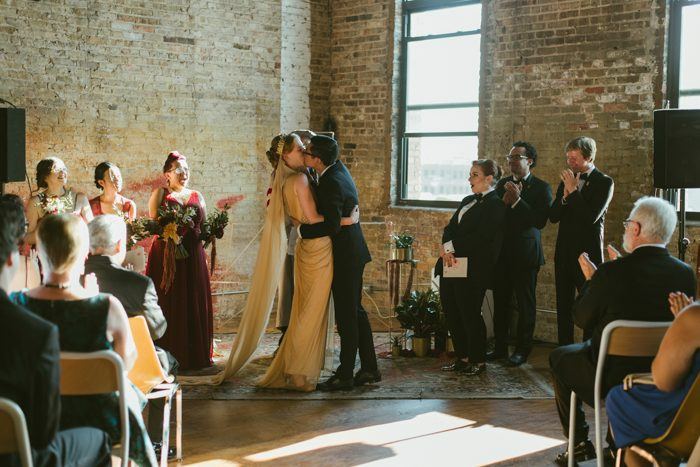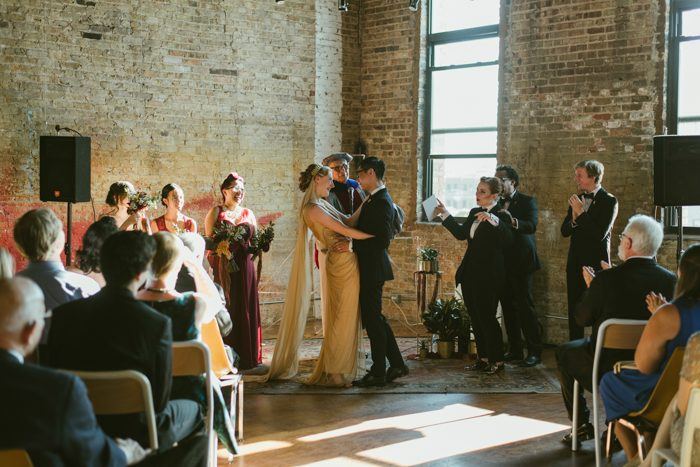 We used a Renaissance madrigal ("Apollo s'ancor vive il bel desio") with personal meaning to Kate as our processional, included readings chosen from poets and jurists that reflected our beliefs about marriage, filled out our marriage license publicly, included traditional and personal vows, and heard an extraordinarily eloquent and thoughtful set of speeches on our chosen themes from our officiant, a family friend. Singing our hymn (Pete Seeger "How Can I Keep From Singing," an important song for dark times) together with our guests brought us to tears, and our recessional (a live jazz trombone rendition by a friend of "I'll Fly Away") felt like the perfect triumph.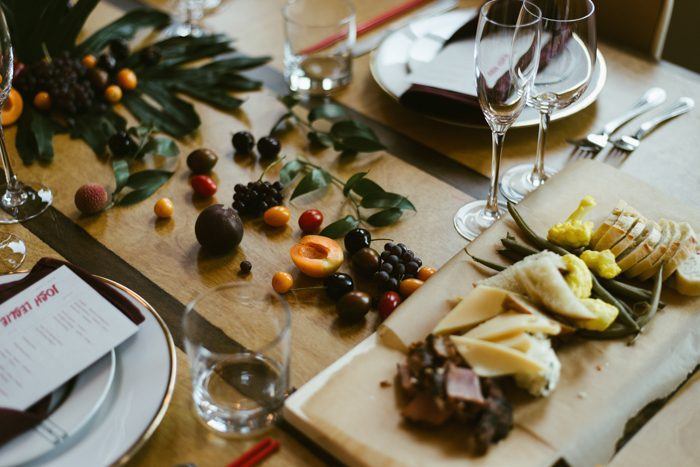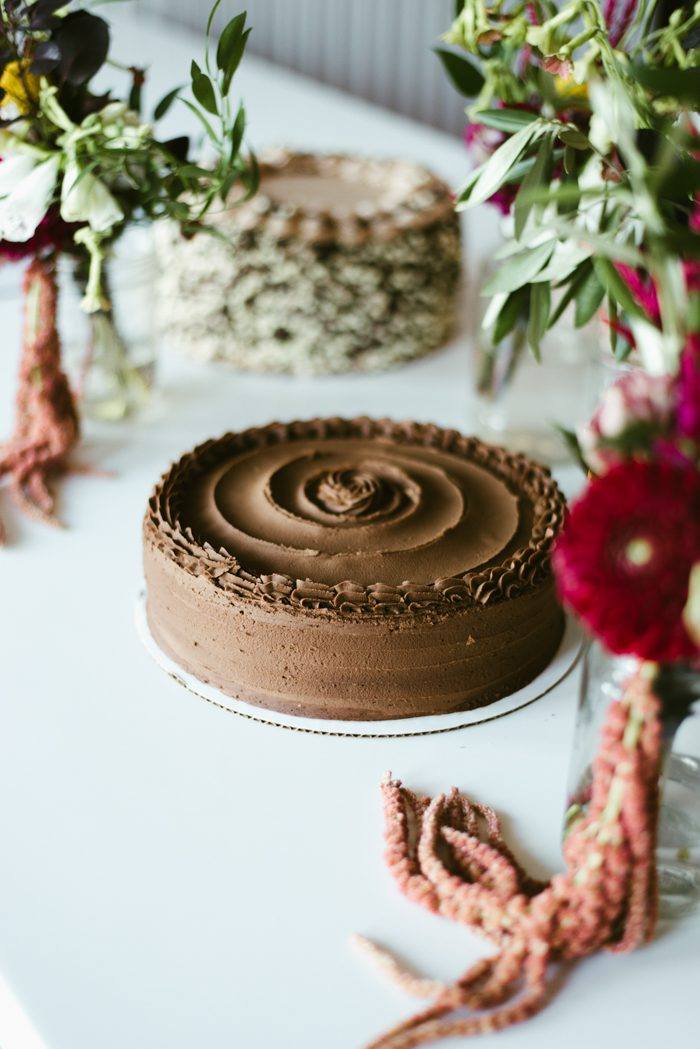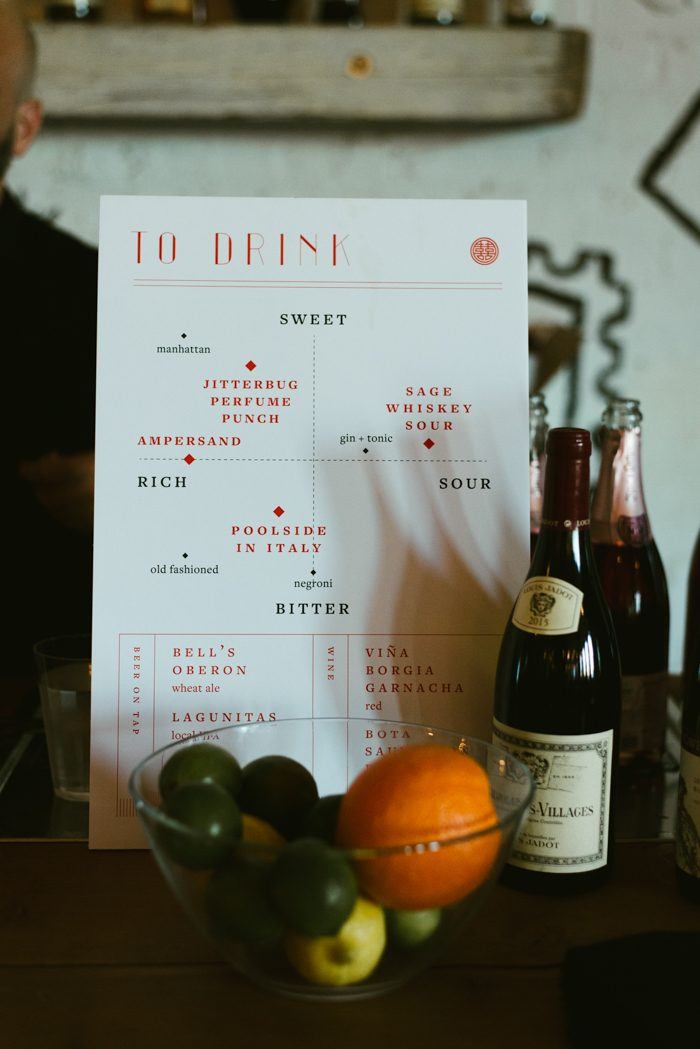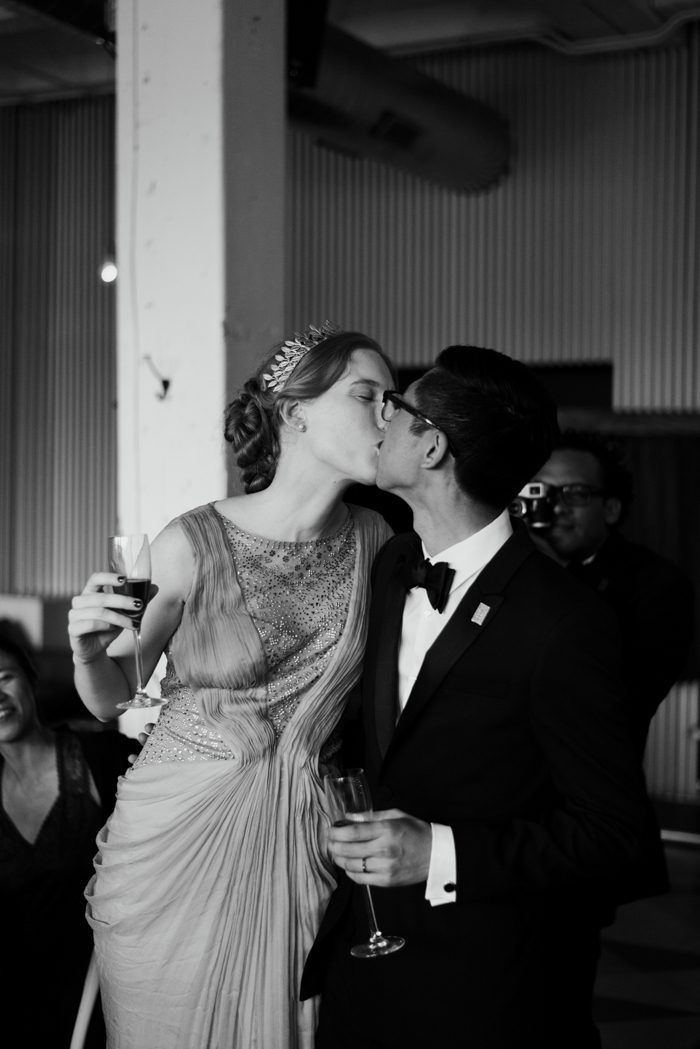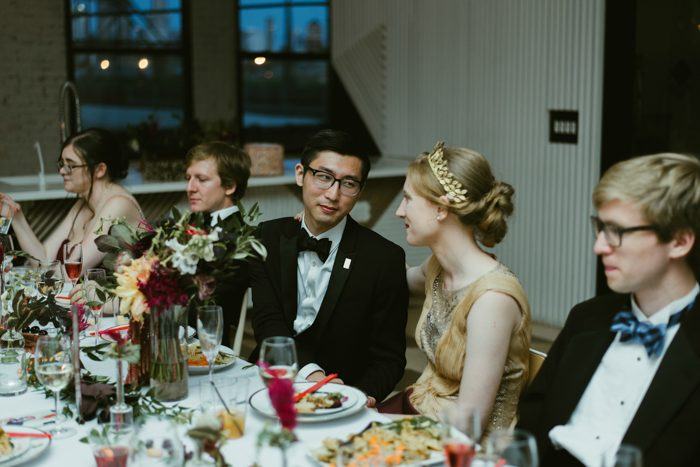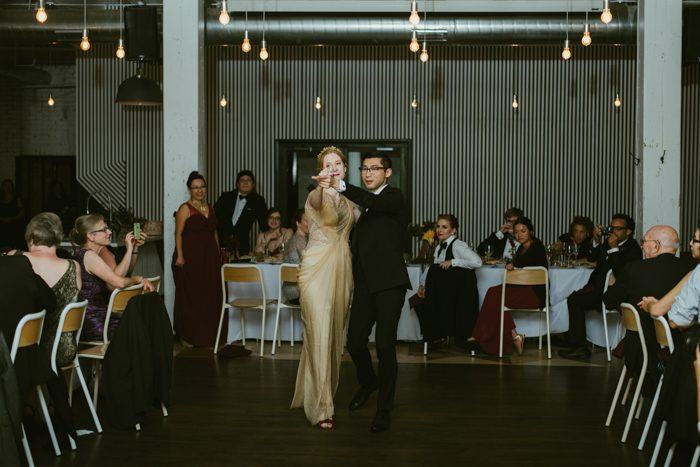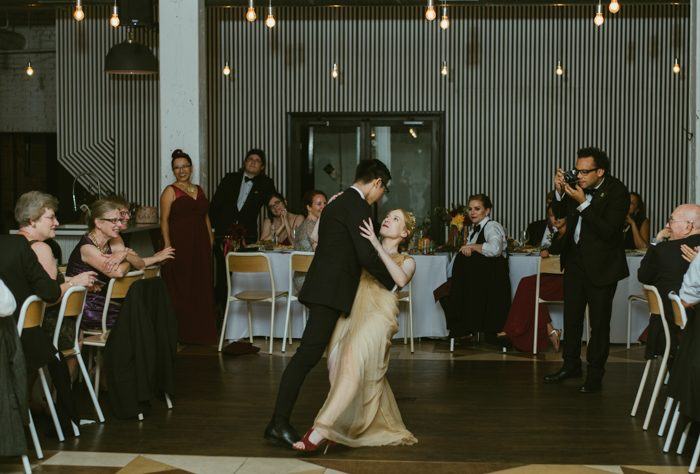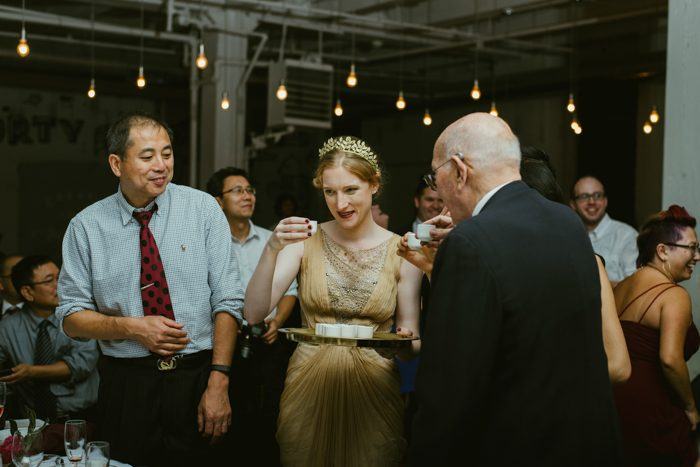 We also planned a quasi-traditional Chinese tea ceremony to be held at our rehearsal dinner. (Tom's parents are not very traditional, so they actually thought it was really funny that we wanted to do it!) Kate's maid of honor narrated our abbreviated ceremony as we bowed three times to mark our gratitude and respect for our ancestors, our parents, and each other, then formally served cups of tea to our new parents (and aunts and uncles) for the first time.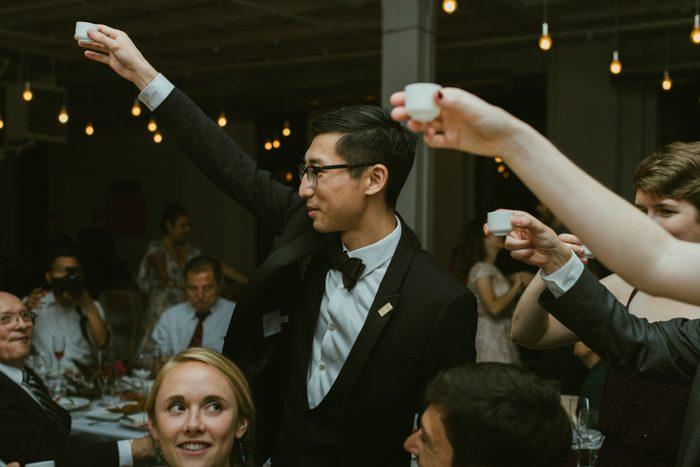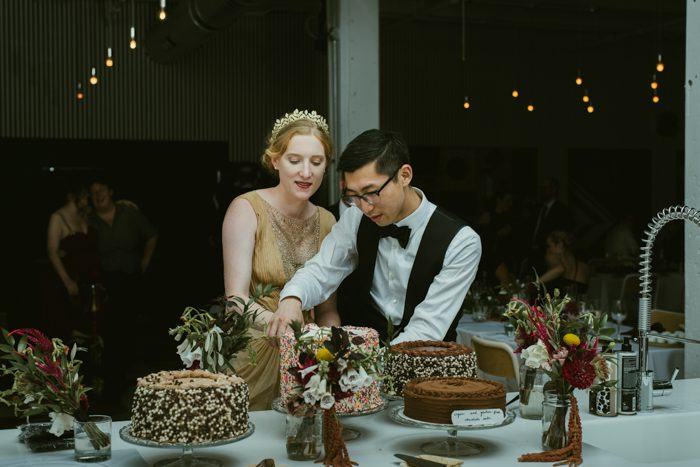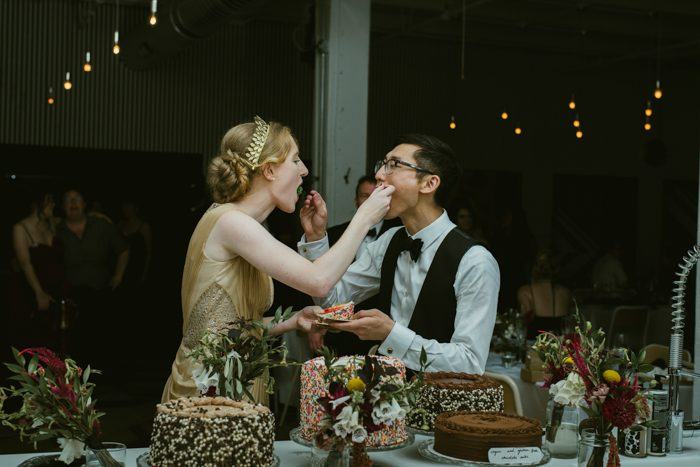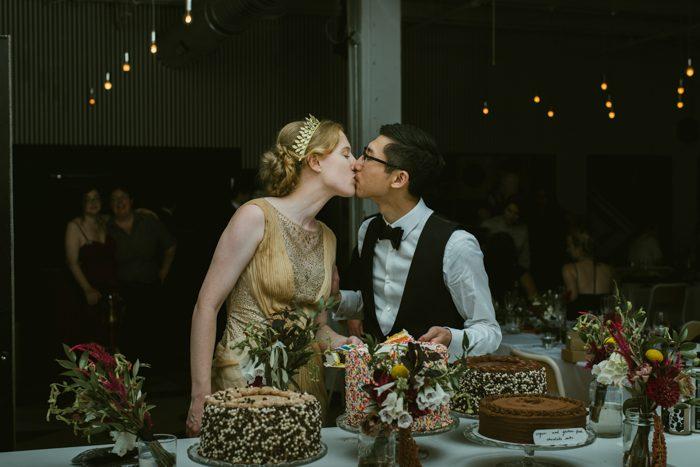 Congratulations to Kate and Tom and special thanks to Allie Appel Photography for sharing this jaw-droopingly gorgeous wedding with Junebug! For more alternative wedding inspiration, check out this artistic industrial desert wedding at The Doyle Las Vegas!