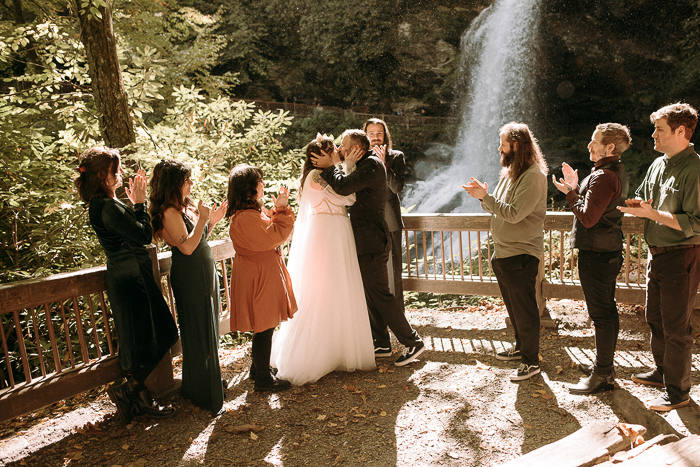 Haley and Anthony envisioned a laid-back and intimate celebration that would capture the essence of a fun-filled week's getaway with their closest friends. Drawing inspiration from their group's fondness for mountain vacations, they found the perfect setting for their love story during a fall/winter escape in the scenic beauty of North Carolina. They believe weddings should happen in places that hold special meaning to their relationship, which is exactly why the couple decided on a charming Dry Falls intimate wedding.
Their special day began with a heartwarming first look. They had chosen an area they often hiked in, knowing it would provide the perfect backdrop for their wedding. With just a few loved ones in attendance, they exchanged vows on a terrace overlooking the cascading waterfalls. After the heartfelt ceremony, they retreated to their cozy Airbnb cabin to create beautiful memories together.
This intimate celebration is a beautiful reminder that all you truly need for a memorable wedding is a meaningful setting and your nearest and dearest by your side. As you scroll down, you'll get a closer look at all the beautiful details beautifully captured by Junebug member Yaseli Olivera. Get ready to be swept away by the magic of this heartfelt celebration.