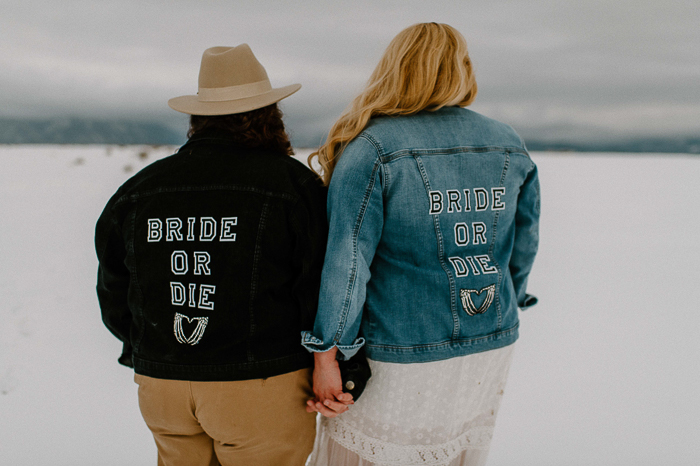 After falling in love with the panoramic mountain views, unique retro campers, and starlit campgrounds of Hotel Luna Mystica, Jimilyn and Kelly decided to return a year later to elope. They took it as a sign to tie the knot at their favorite spot when their Junebug member Maggie Grace Photography was available to document their special day. Sharing a love for travel and adventure, they set out to make their dream elopement a reality in just a week!
With a fresh blanket of snow covering the landscape, the pair kicked off their big day with a fun snowy first dance in their matching sleep shirts. After changing into their effortlessly stylish wedding attire, the couple walked hand-in-hand down the aisle leading to the ceremony circle and stone pillars framing the mountains. They exchanged beautiful heartfelt vows just as the sun was setting behind them.
Because of the spontaneity, the couple pretty much DIY'd every aspect of their celebration—from the dried floral bouquet and boutonniere to the boho-themed tablescape for two at their camper reception. And it reflected their laid-back and carefree style perfectly. An elopement is the most romantic way to make it just about the two of you and every detail of Jimilyn and Kelly's big day is proof of that. Scroll through these gorgeous photos captured by Junebug member Maggie Grace Photography. This Luna Mystica elopement will have you wanting to adventure to the nearest vintage trailer campground.
The Couple:
Jimilyn & Kelly
The Wedding:
Hotel Luna Mystica, Taos, New Mexico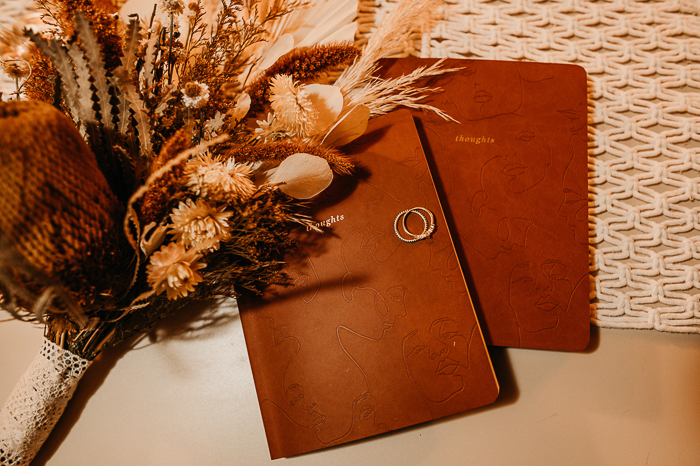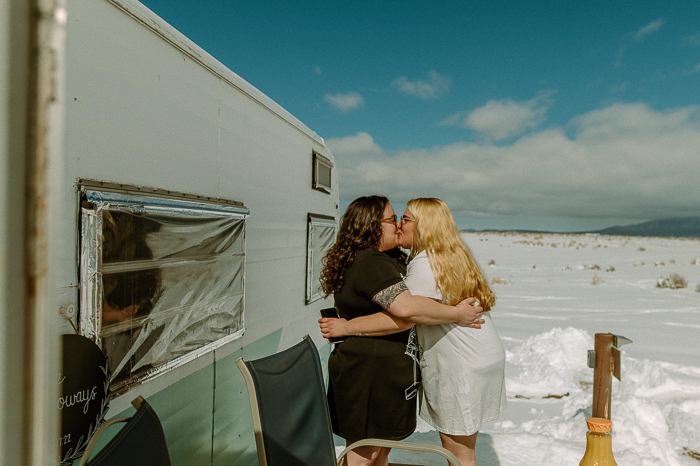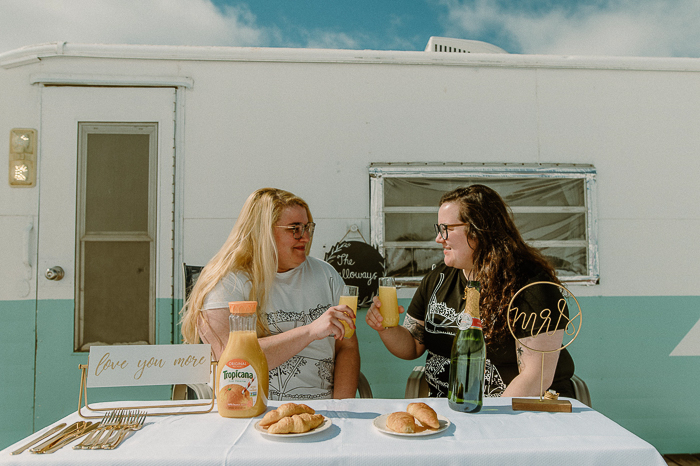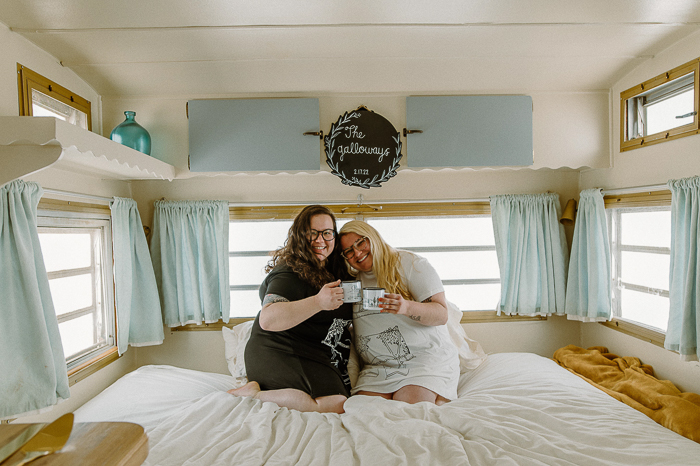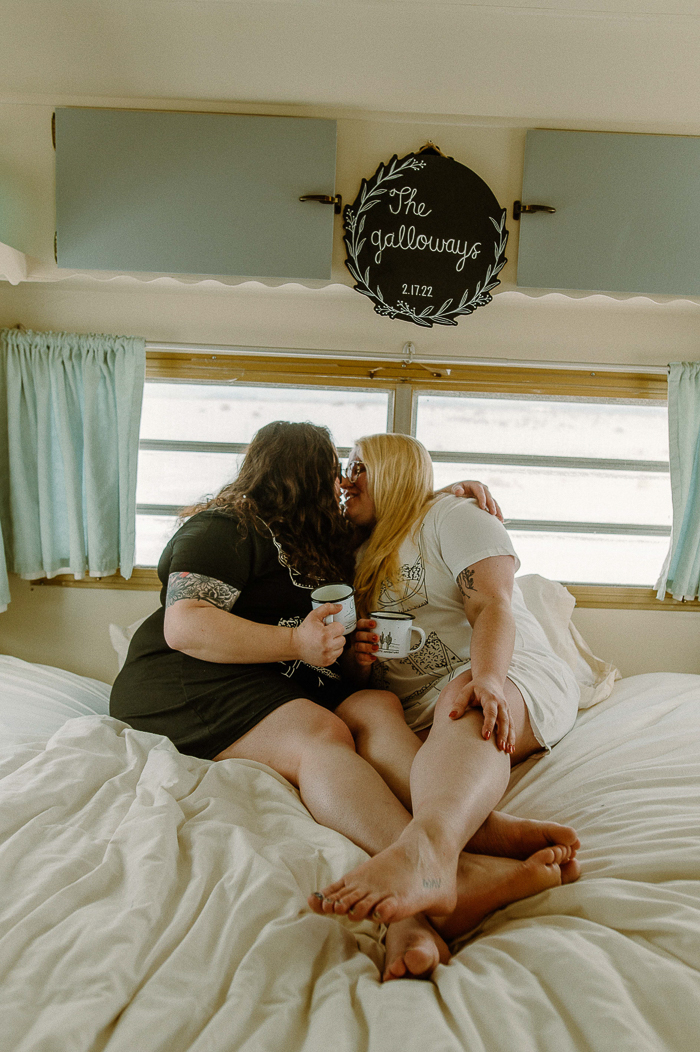 Why A Hotel Luna Mystica Elopement
Hotel Luna Mystica is a quaint little vintage RV park surrounded by the mountains of Taos. Each camper has its own unique personality and name. We stumbled upon this location when planning our first New Mexico trip in 2021 and absolutely fell in love with the homey, welcoming atmosphere and gorgeous mountain views right off our front porch. There is even a ceremony circle, including two large pillar stones and a circle of string lights. When we first saw this spot last year, we both looked at each other and knew we had to get married there.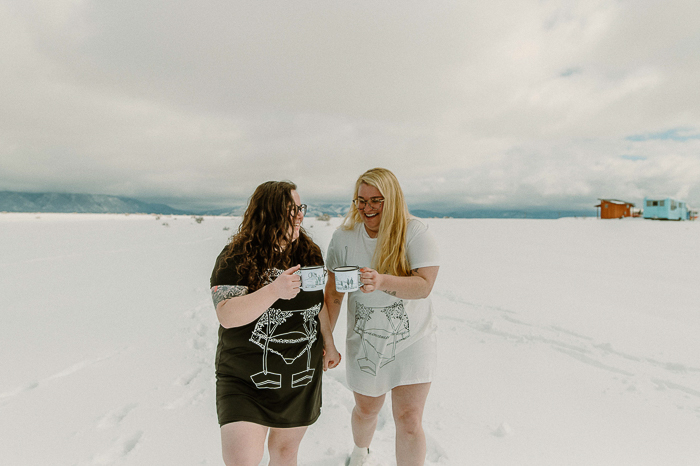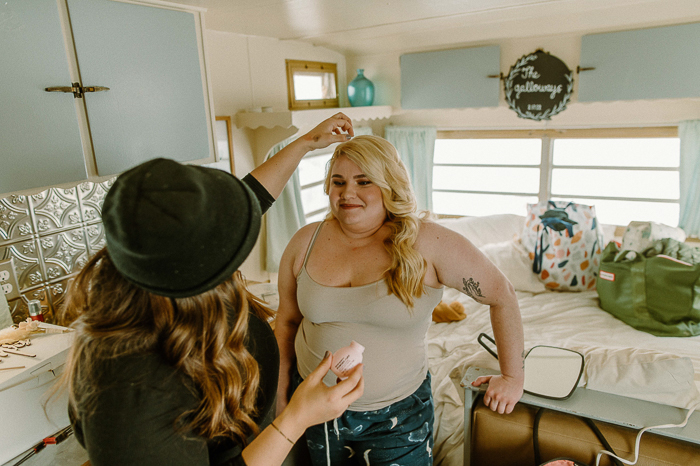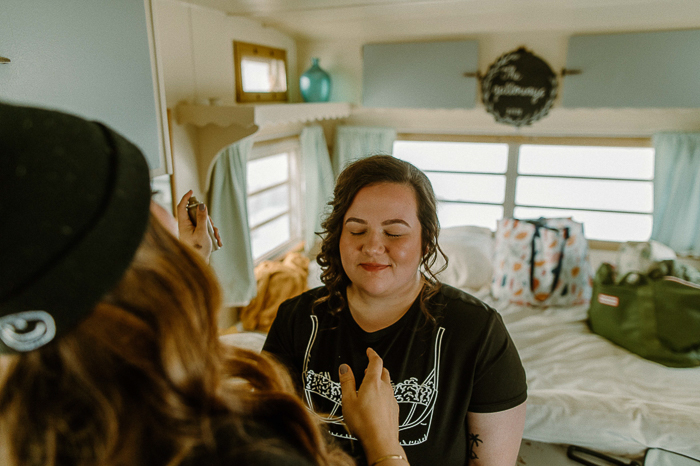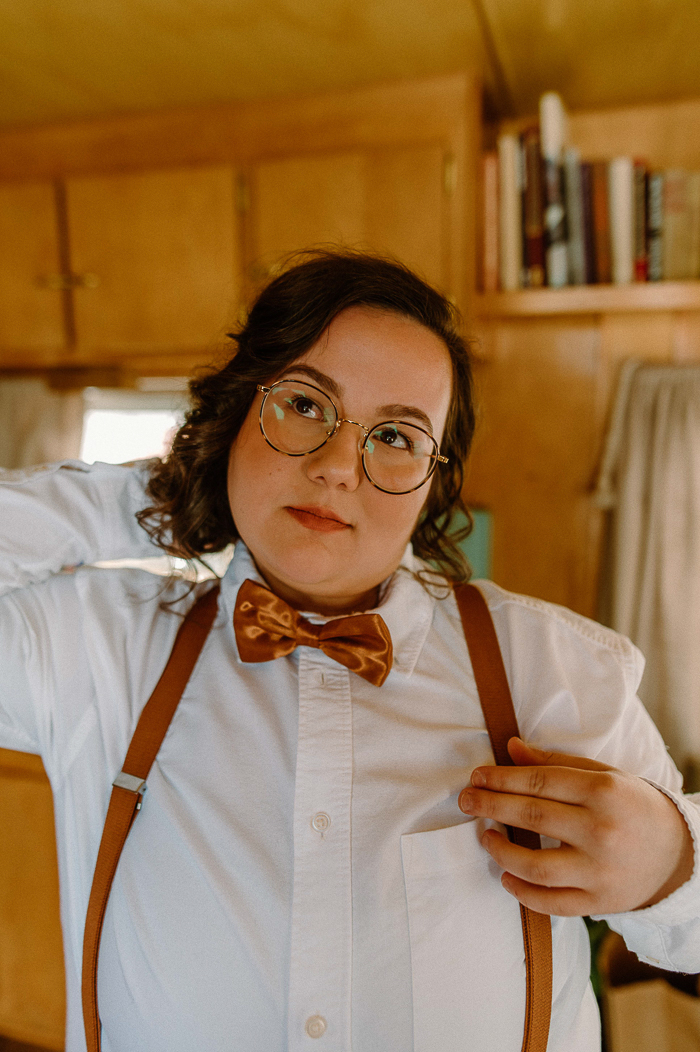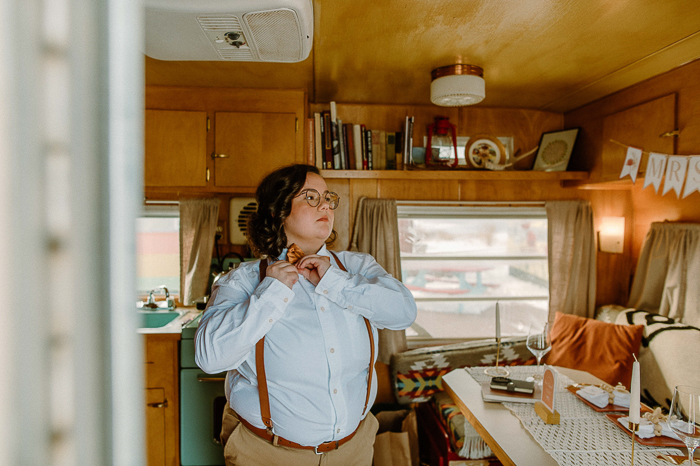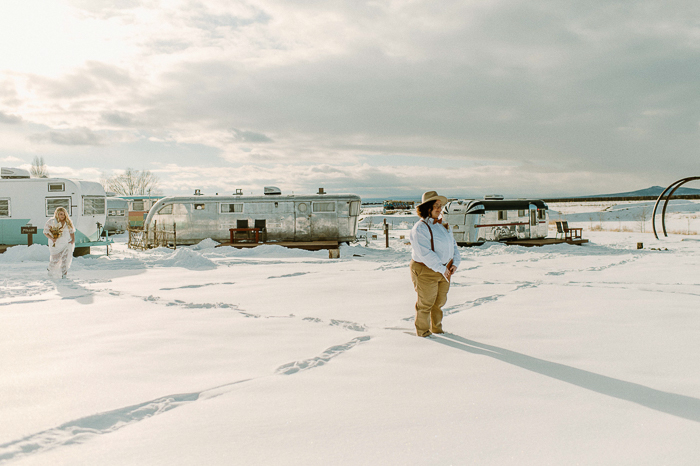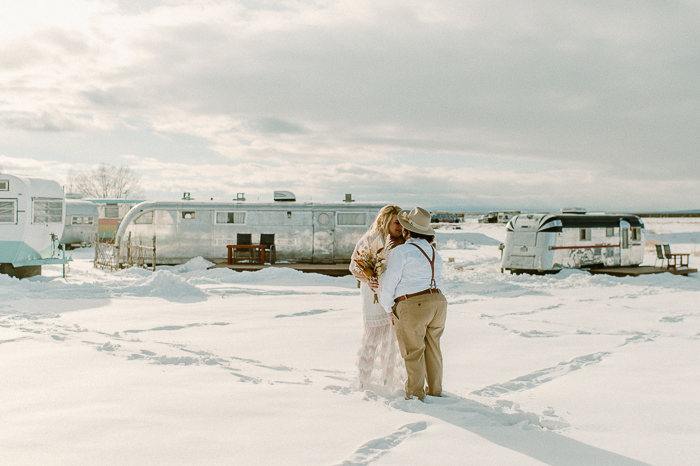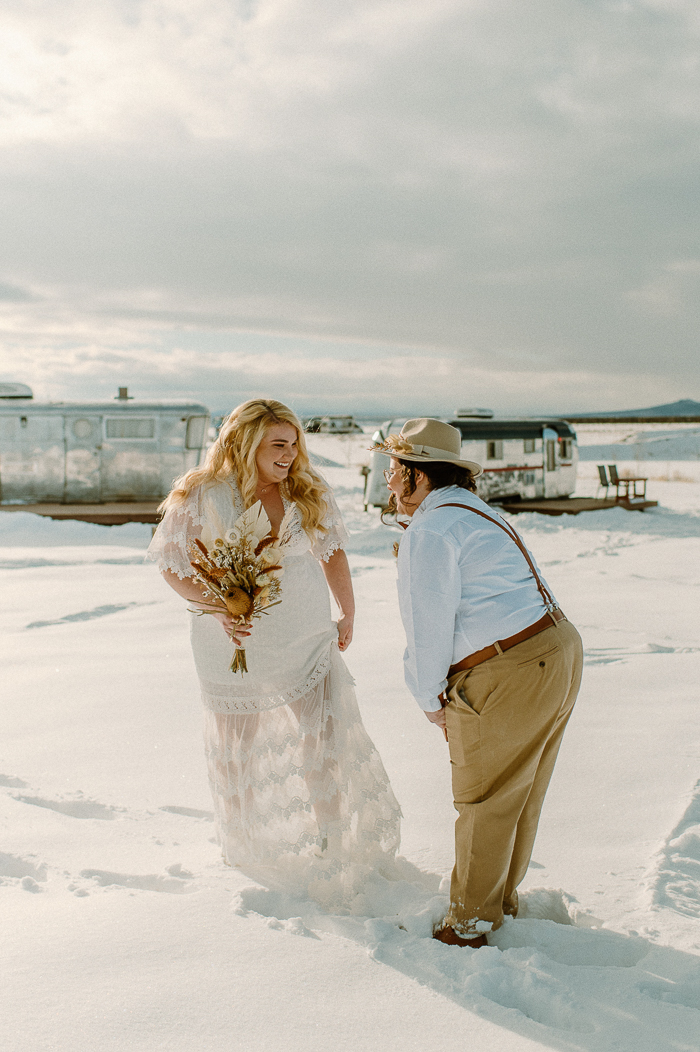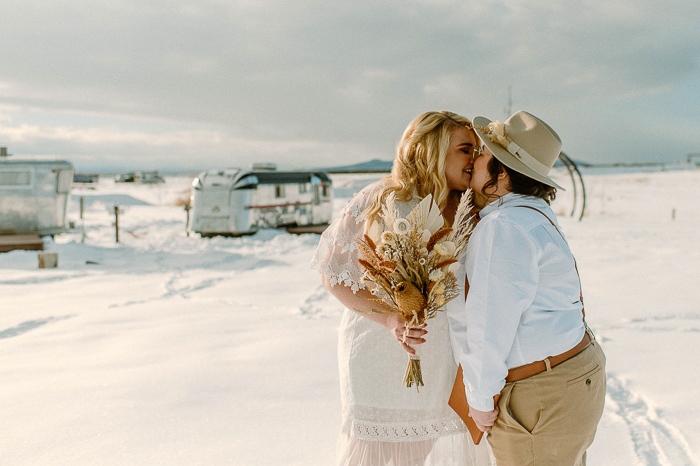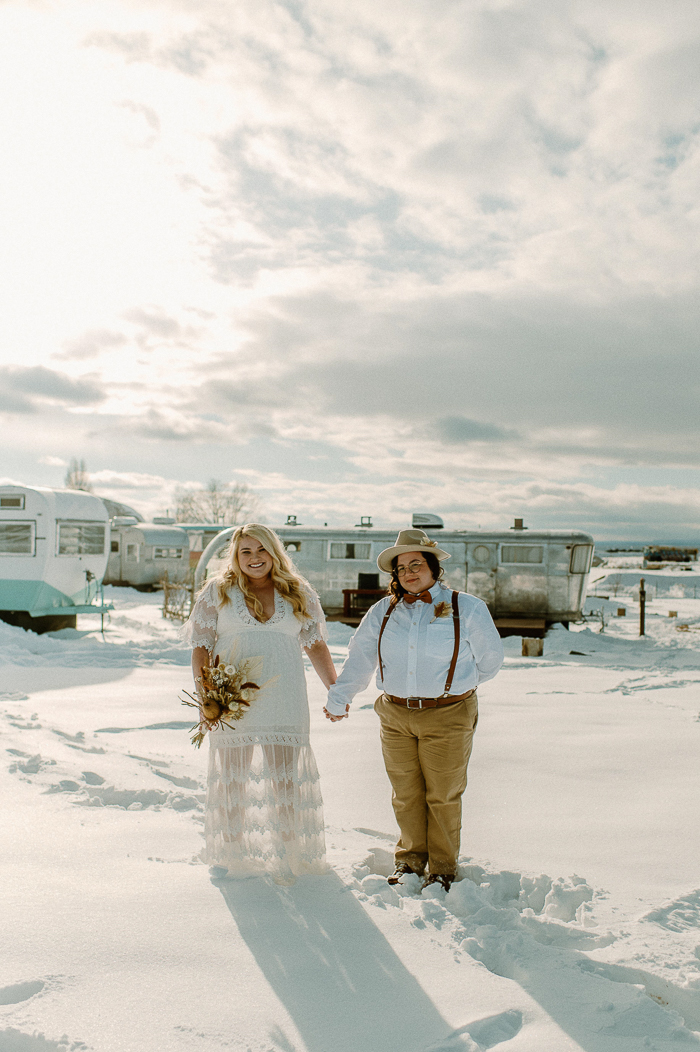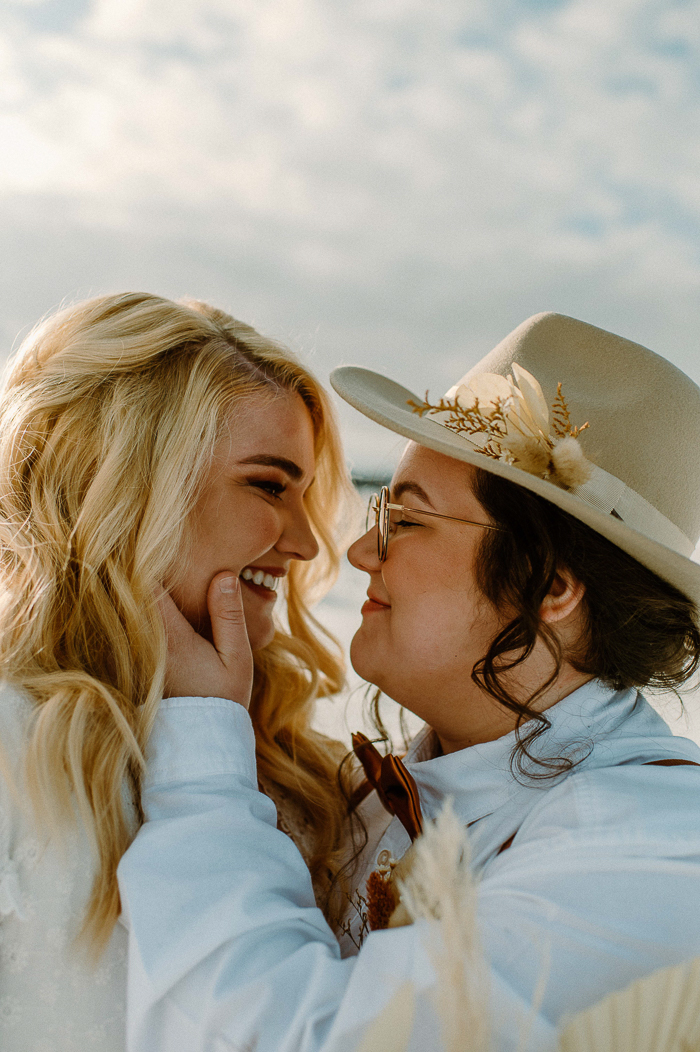 Eloping Allowed Them To Share Intimate And Personal Vows Freely
The most memorable part of our whole elopement experience was how intimate our ceremony was. We chose to tell only close friends prior and to have no guests outside of our wedding day team. This allowed us to make our day perfect–exactly how we wanted it to be–without any pressure from others. We were able to read each other our own vows and make our unique promises to each other. It also allowed us to be more present in the moment by being able to leave everything from home behind.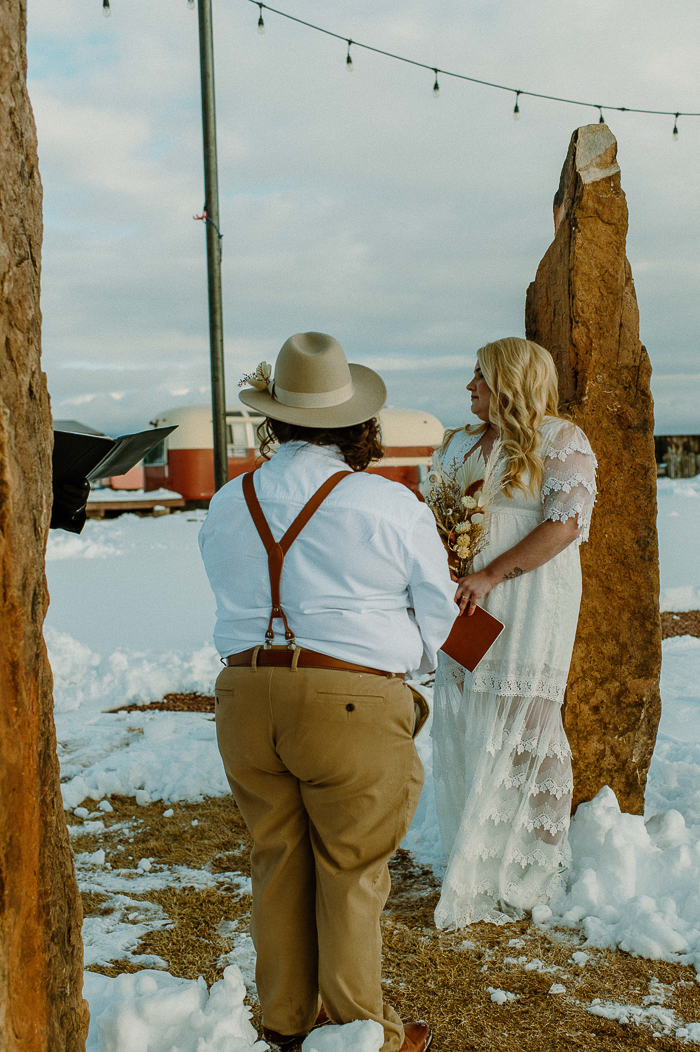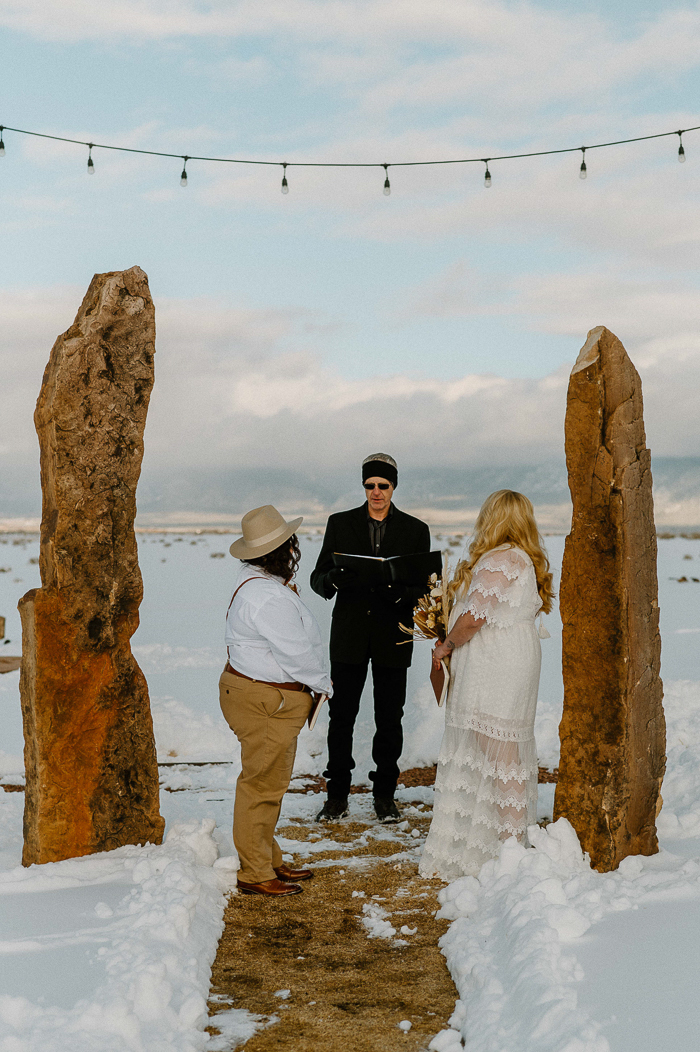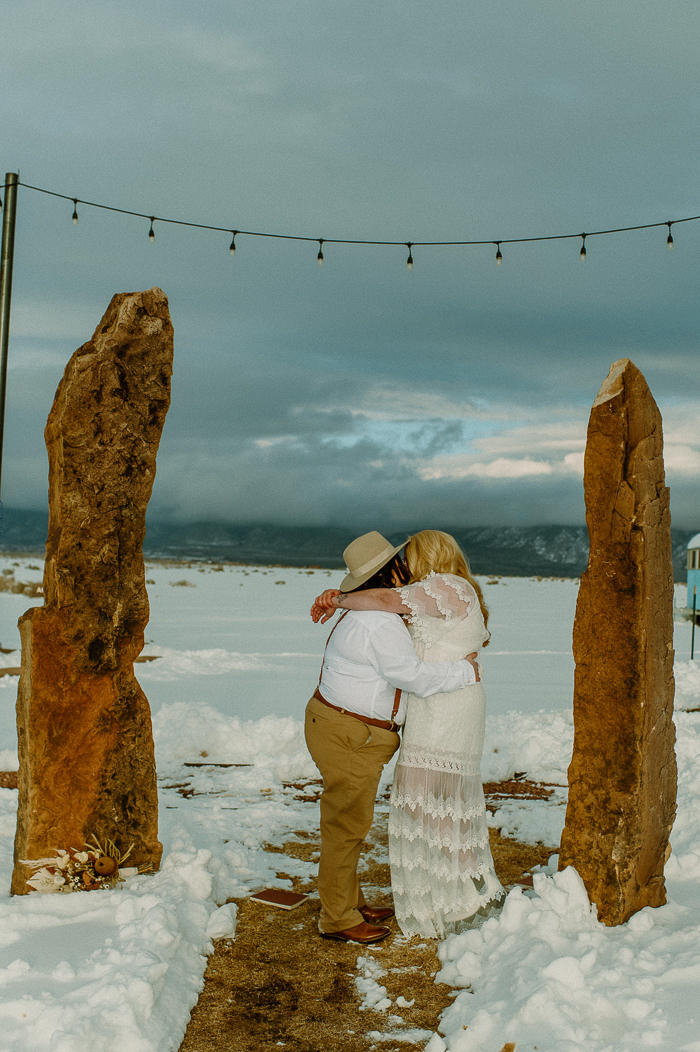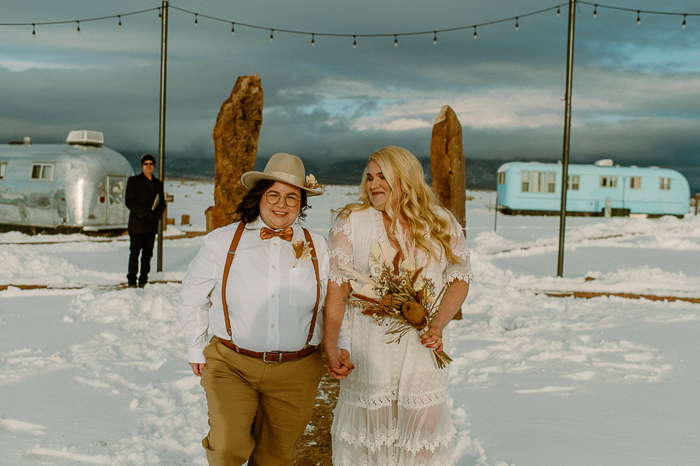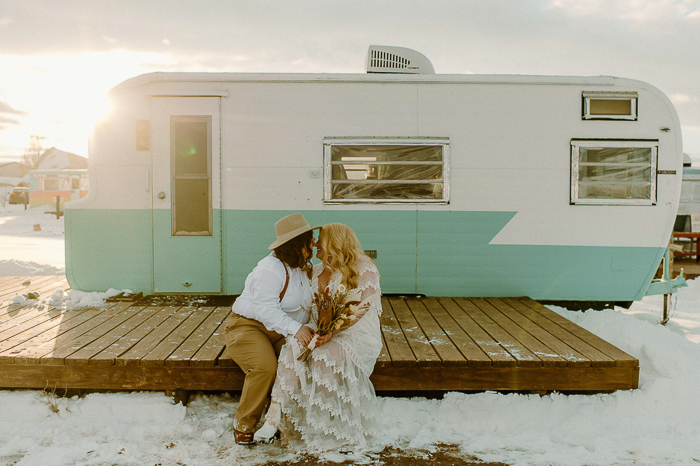 Wedding Planning Advice: Create A Day That Truly Represents You And Your Partner
Wedding planning can be overwhelming, but don't let yourselves lose sight of the most important aspect—celebrating your and your partner's love for one another. There are no rules. This day is all about you. We are so proud that we eloped and planned every detail of our wedding, including 18 hours of travel in a week! There were a few mishaps, but all of our late nights of planning, crafting, and shopping honestly turned out so unbelievably perfect, and we could not have imagined it all happening any other way.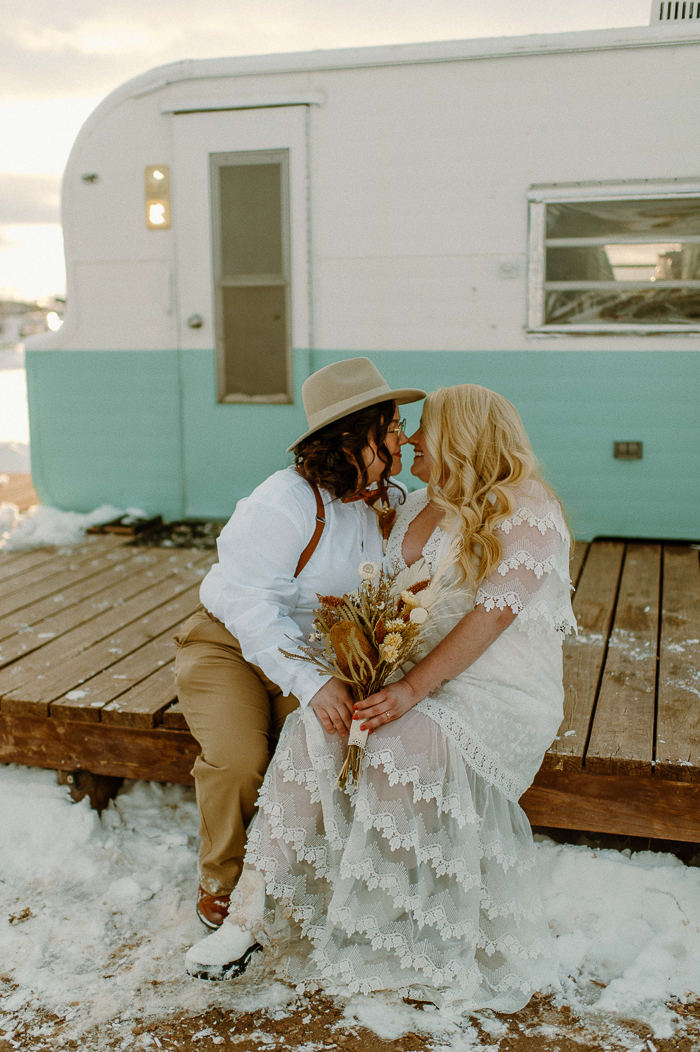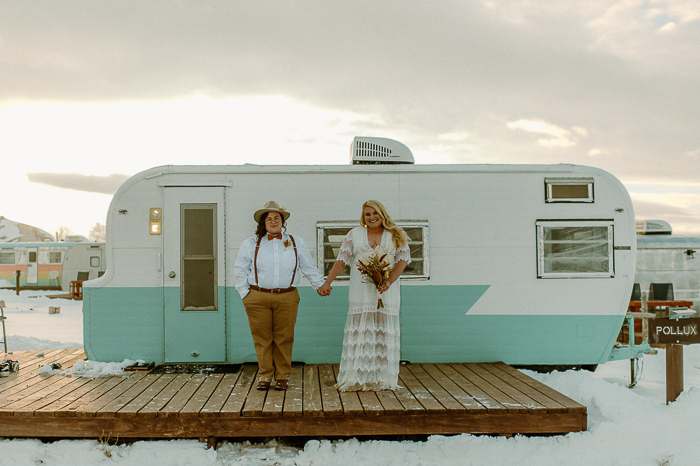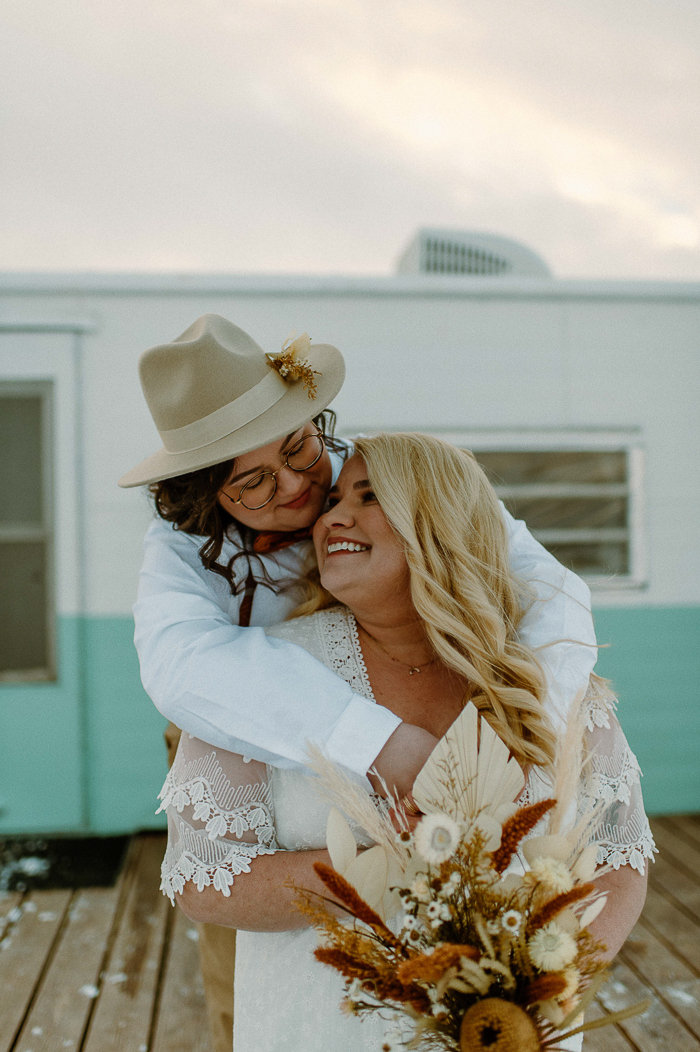 Junebug Member Maggie Grace Photography Was Their Dream Photographer
We had our dream photographer picked out for a while. Maggie made us feel so comfortable from the moment we met her. She also stayed in a camper on the grounds, close to us. The night Maggie arrived, she made sure to come to our camper for a drink and discuss wedding day plans. During our photography session, she genuinely made everything feel so natural. Some of the most intimate photos she captured were of us simply being ourselves in her presence, and she captured those moments beautifully. We couldn't have asked for a more perfect person to document our special day and definitely feel like we made a friend for a lifetime.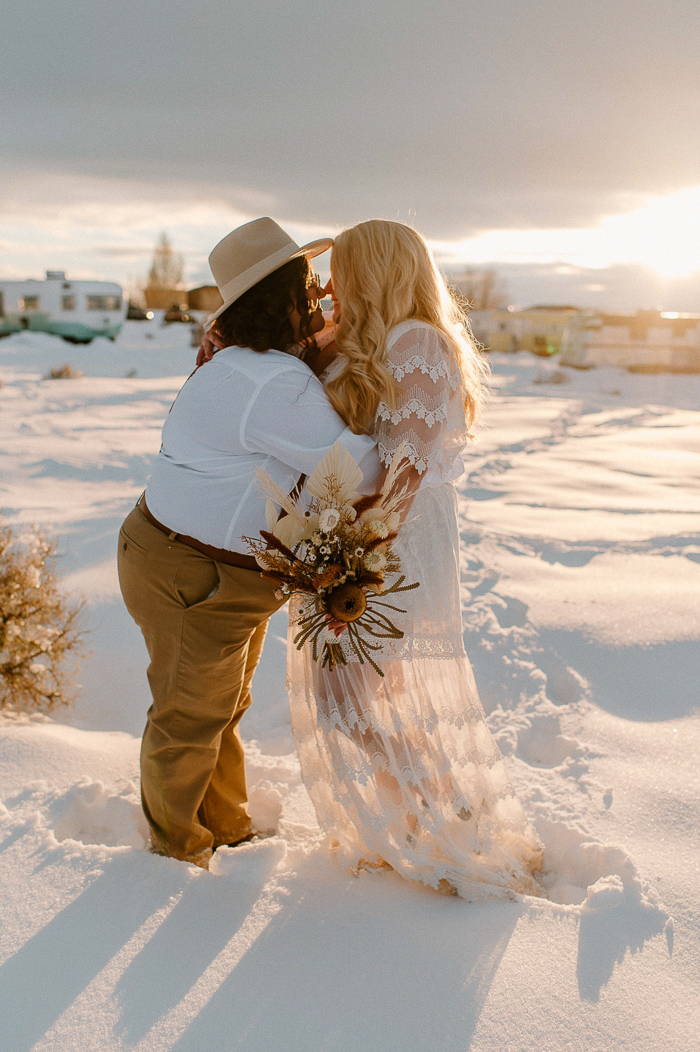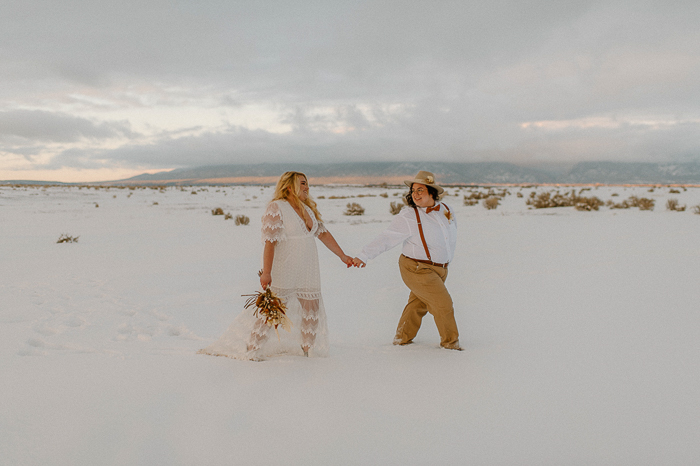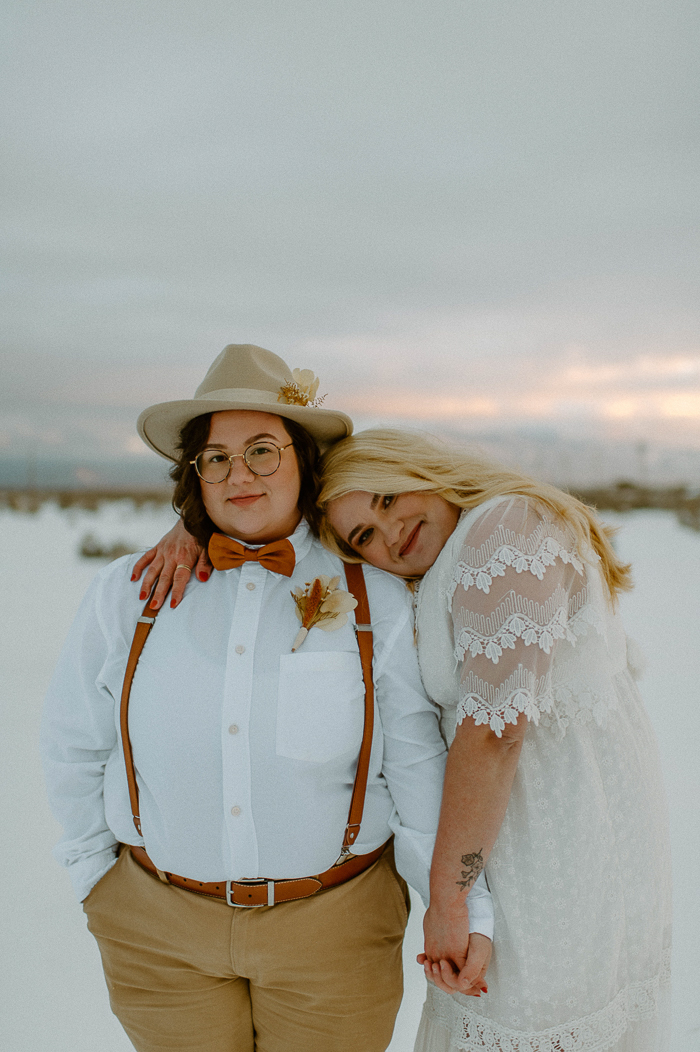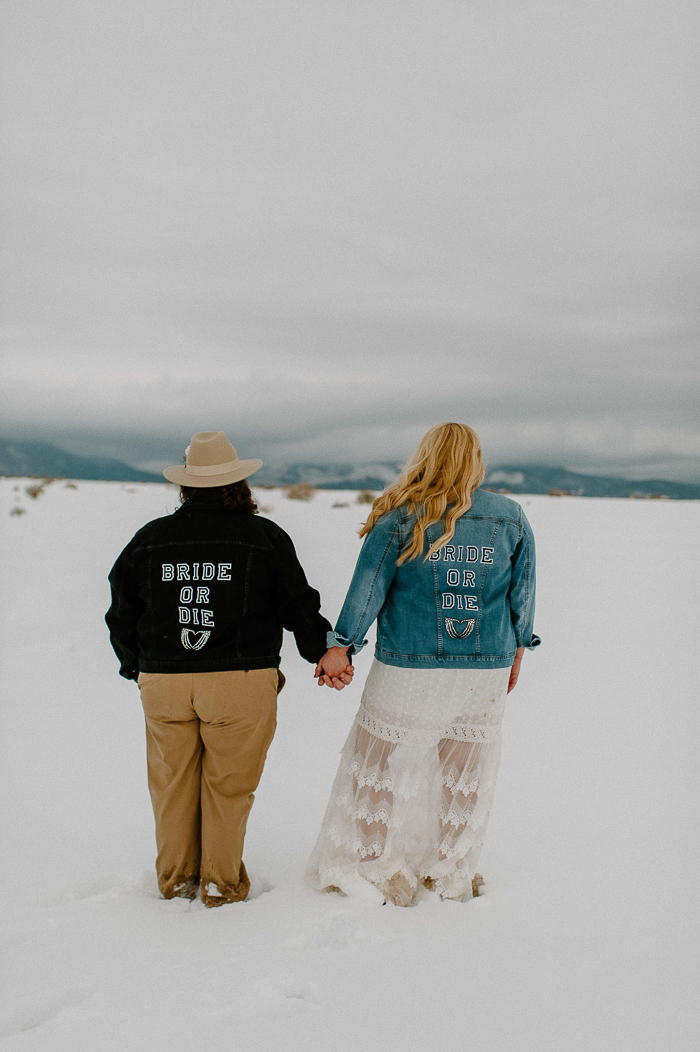 Handmade Details That Made The Elopement Experience Even More Special
Due to our spontaneity, just about every aspect of our wedding was DIY'd. Before leaving for our trip, many late nights and early mornings consisted of crafting and creating. First, we went to a boutique plant shop with a pick-your-own dried floral bar. We brought home enough florals to make Kelly's bouquet, my boutonniere, and the accent piece on my hat. We also designed and printed signs and a banner that perfectly fit our aesthetic to decorate our camper. One thing we were excited about was our intimate post-ceremony dinner. We thrifted the perfect dishes and created our place settings, including matching "bride and bride" place cards. It made for many special date nights being able to plan out and put our own decorations together.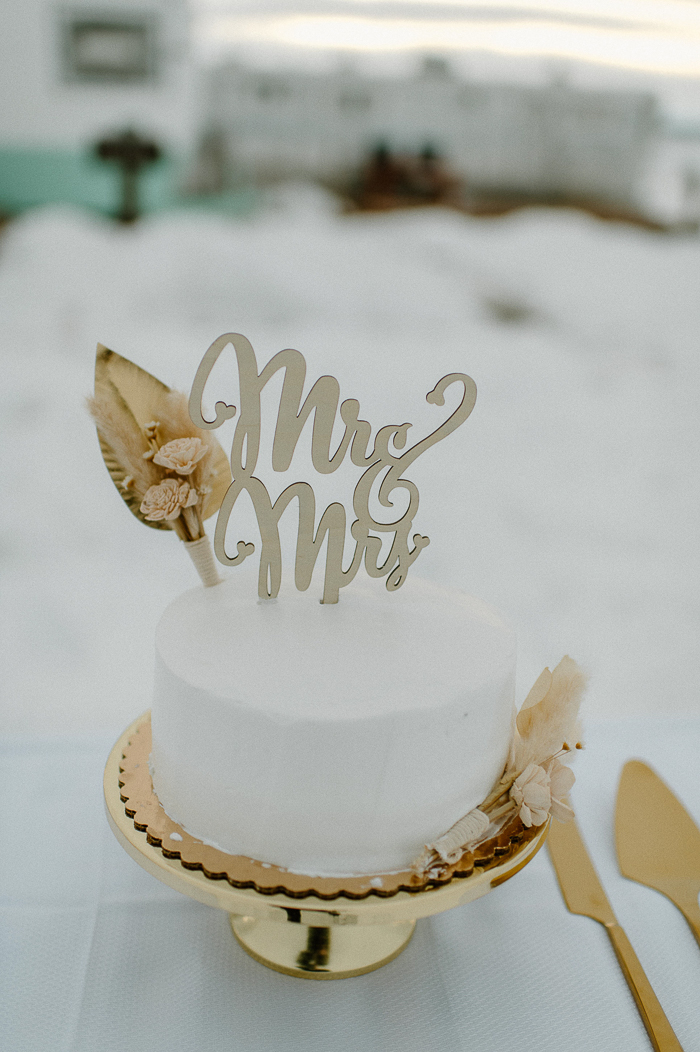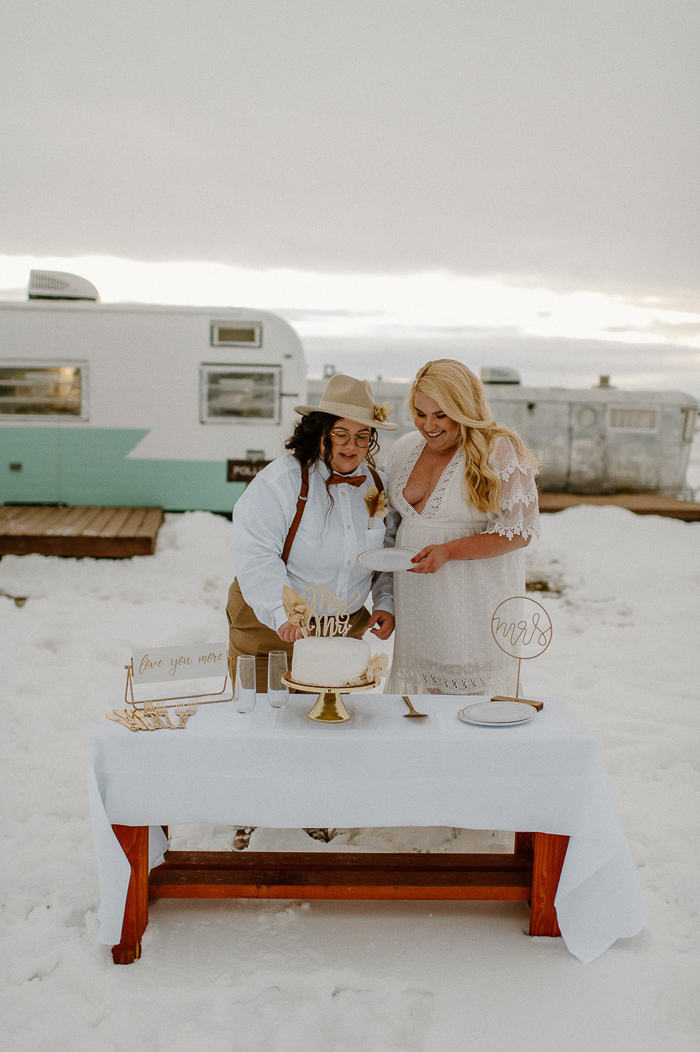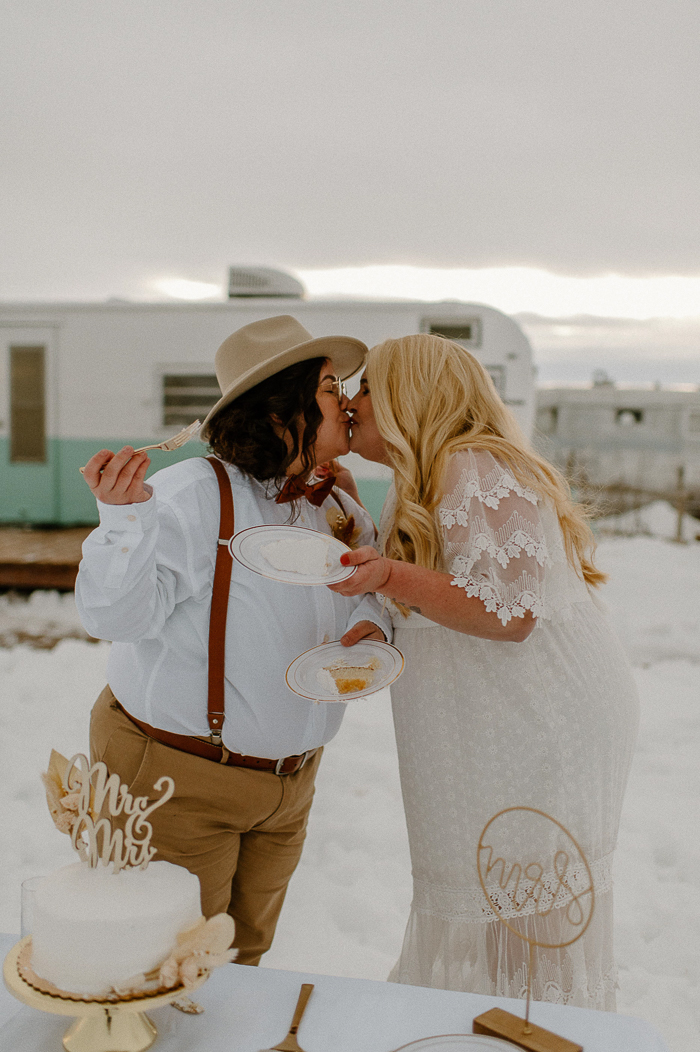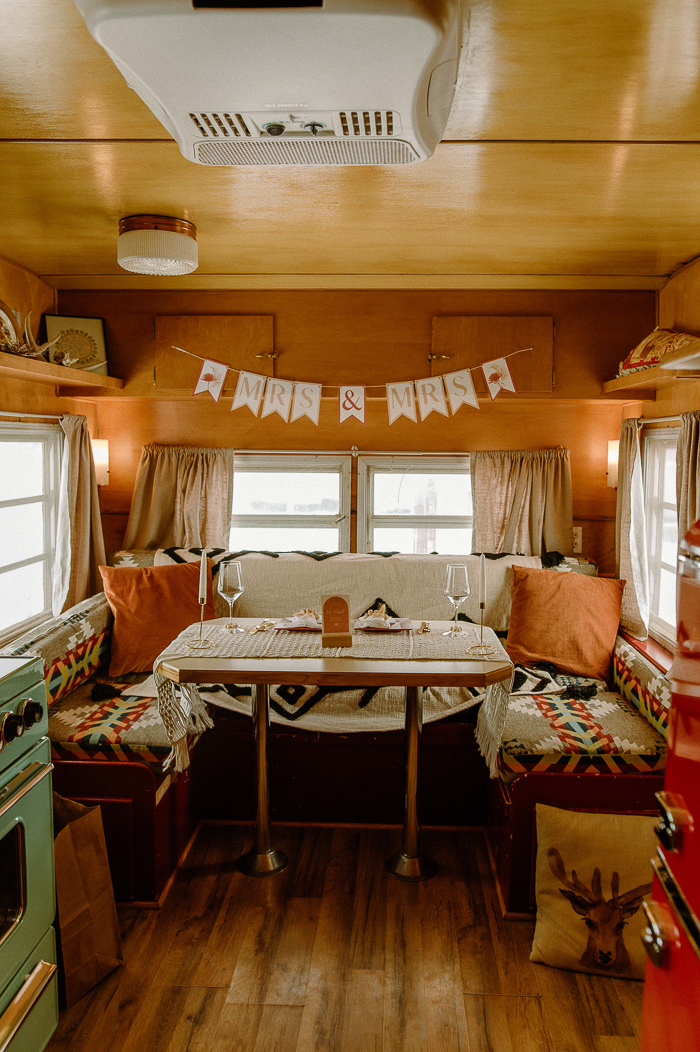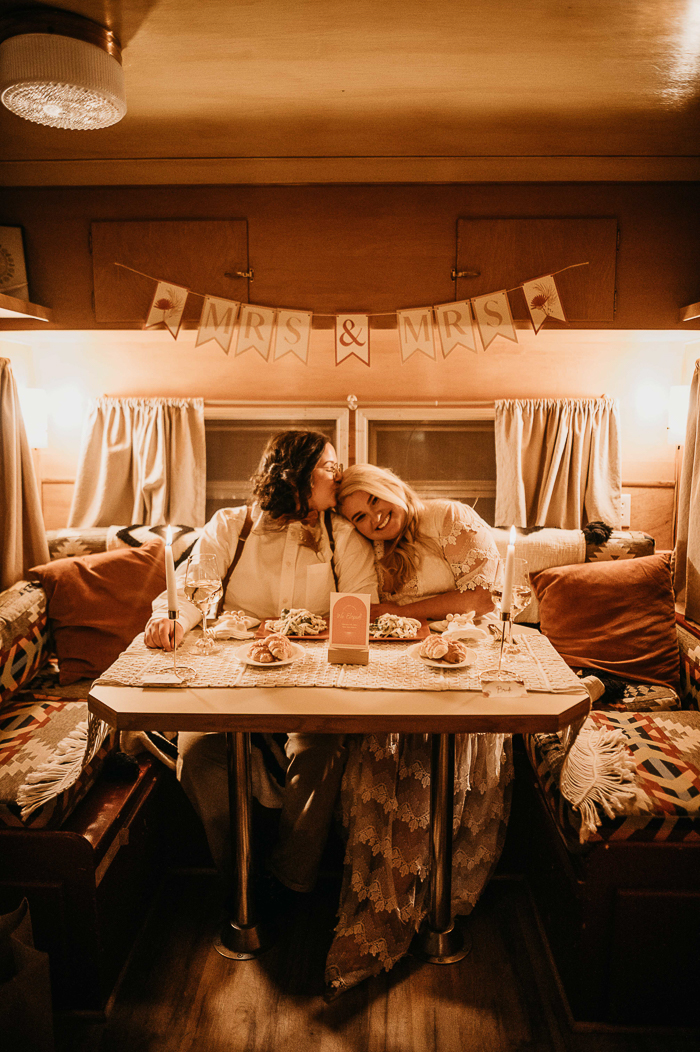 Congratulations to Jimilyn and Kelly on their boho Hotel Luna Mystica elopement. And big thanks to Junebug member Maggie Grace Photography for beautifully capturing the energy and love of their day. To get inspired by more love stories like this one, check out her profile in our directory of photographers from around the world.
From an epic snowy location to an unconventional timeline, Jimilyn and Kelly's elopement shows us what an intentional wedding can look like. The beautiful thing about eloping is that you can truly create a day that truly reflects you and your partner without having to sacrifice a single intimate moment. If you think that an elopement is right for you, check out our elopement planning guide packed with tips and ideas for inspiration.