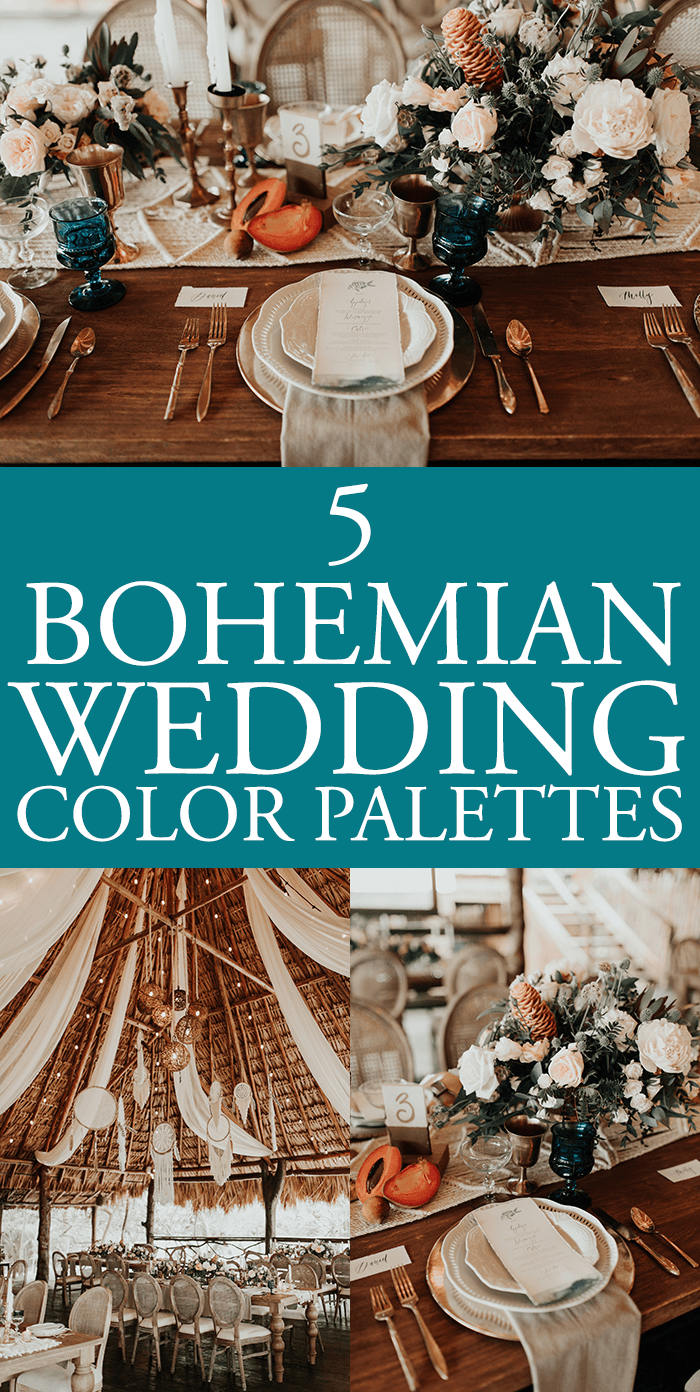 When it comes to choosing your wedding colors, a huge consideration is the vibe and look you want for your day! These bohemian wedding color palettes all capture the eclectic spirit, warmth, and natural elements typically associated with boho celebrations. Whether your boho wedding style is more feminine, earthy, or chic, there's a lot to be inspired by in these bohemian wedding color palettes!
Taupe, Peacock Blue, Papaya, Dried Eucalyptus, Sand

photos by Melissa Marshall, event planning by Diana Romo, floral design by Maria Limon, stationery by Art + Alexander, wedding dress by Rue De Seine, bridesmaids apparel by Show Me Your Mumu, rentals by Archive Rentals, venue: Ak'iin Beach Club; see more from this wedding here!
Cranberry, Pumpkin, Violet, Butterscotch, Sky Blue

photos by Let's Frolic Together, event planning by Luna Wild Design, floral design by Bespoke Occasions, wedding dress by Jen's Pirate Booty, rentals by CC Vintage Rentals and Not My Dish, weavings and pillows by One Wolff; see more from this wedding inspiration here!
Cyan, Fuchsia, Lapis, Sage Green, Baby Yellow

photo by Leslie Swan Photography, event + floral design and stationery by One Fine Day Artistry, wedding dress by BHLDN, flower crown and flowers by Blue Heron Farm; see more from this wedding here!
Ruby Red, Eucalyptus, Aubergine, Marigold, Sand

photos by Rubi Z Photography, event planning by Event Truly Yours, floral design by White Oaks Florist, cake by GhilaDolci Bakery, wedding dress by Ladies and Gents Bridal, rentals by Walker-Lewis Rents; see more from this wedding here!
Merlot, Navy, Jade, Mauve, Scarlet

photos by Michelle Lyerly, event planning by The Whole Shebang, floral design by Fuschia Moss Floral Design, wedding dress by Rue De Seine via Lovely Bride, rentals by Laurel Collective, pottery by East Fork Pottery, design by Laurel Collective; see more from this wedding inspiration here!
Looking for more wedding color palettes? Check out these pretty color combos!
5 Rustic Wedding Color Palette Ideas
These 5 Muted Wedding Color Palettes are Timeless with a Trendy Twist
5 Seriously Pretty Monochromatic Wedding Color Palettes to Consider
5 Cozy Chic Fall Wedding Color Palettes