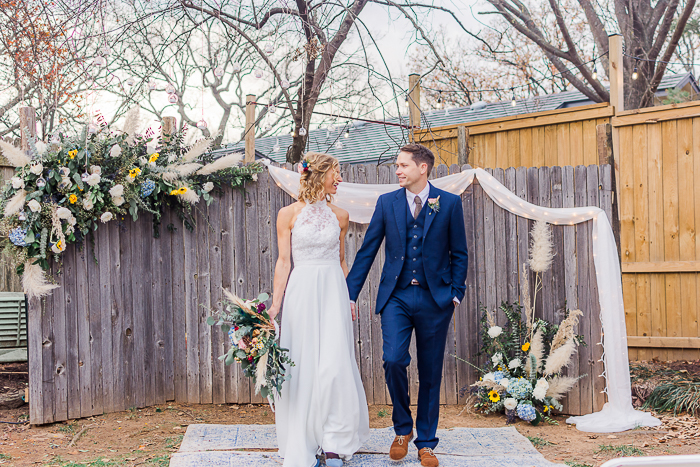 With winter only a couple of months away, we're soaking up as much winter wedding inspiration as possible. Ali and Joseph's beautiful backyard wedding may have been small in size, but it had everything they asked for. From fur shawls to a stunning blue color palette perfect for the season to a decadent s'mores station.
Despite planning a wedding during COVID and having no wedding planner, the two transformed their backyard into a romantic backdrop, perfect for a micro wedding. But they did have some help from their friends and family! The team came together and tackled some serious DIY projects–including the flowers, the wedding lighting, and even the bride's hair and makeup.
Photographer Sopheak Smith did an amazing job of capturing how this ordinary space was converted into the perfect venue for the laid back couple. If you're searching for creative ways to turn your own backyard into your dream venue, then keep scrolling!
The Couple:
Ali and Joseph
The Wedding:
Tulsa, Oklahoma, US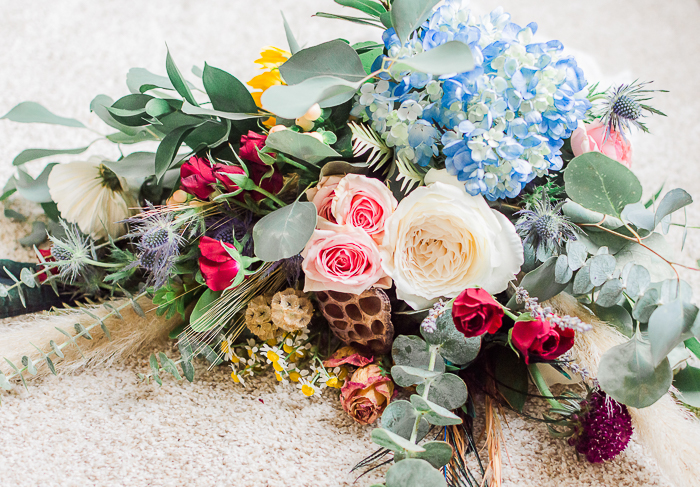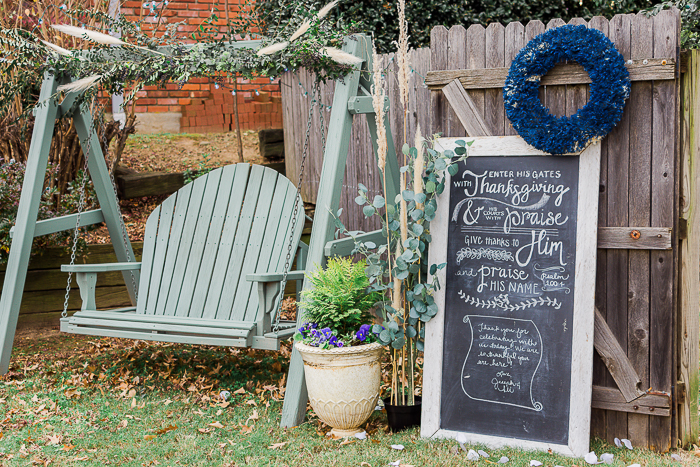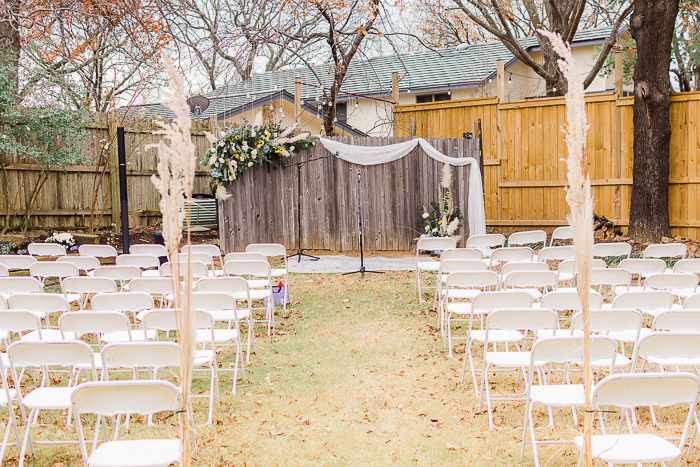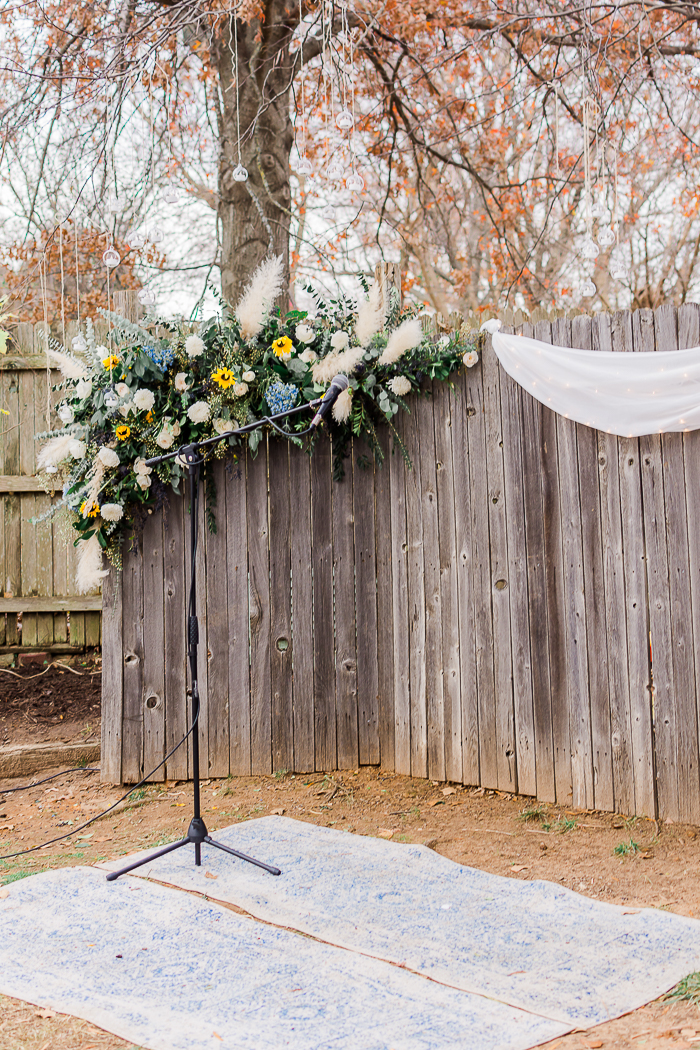 Simple Vibes At This Beautifully Blue Backyard Winter Wedding
Our backyard wedding was an eclectic boho chic blend of COVID-friendliness, child-proofness, convenience, whimsy, and low-stress beauty. As it was the second wedding for both of us, our main focus was our seven children becoming family with us. We transplanted a flowerbed, installed fence panels we found on Facebook marketplace, hung a lot of lights, ordered flowers online, and incorporated a lot of personal touches.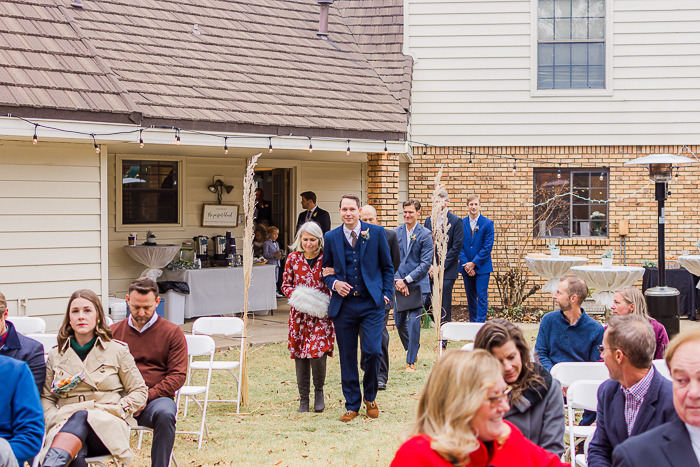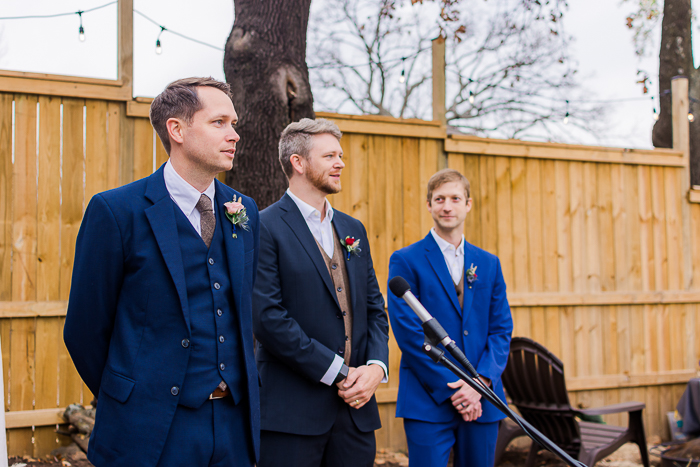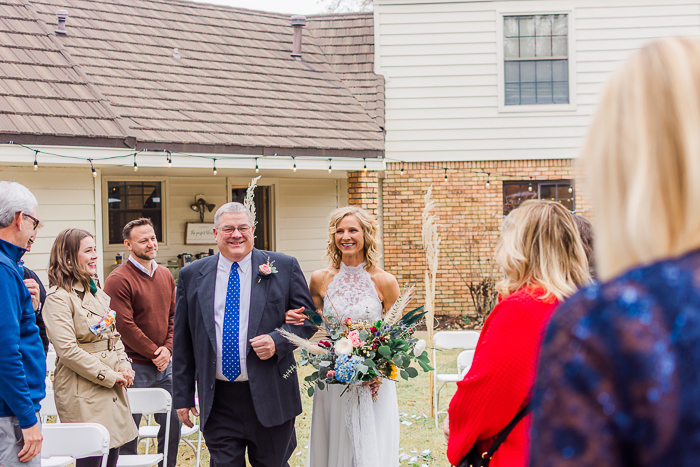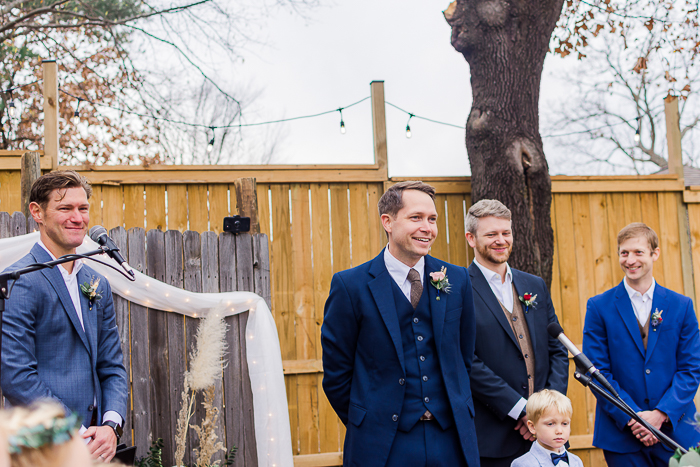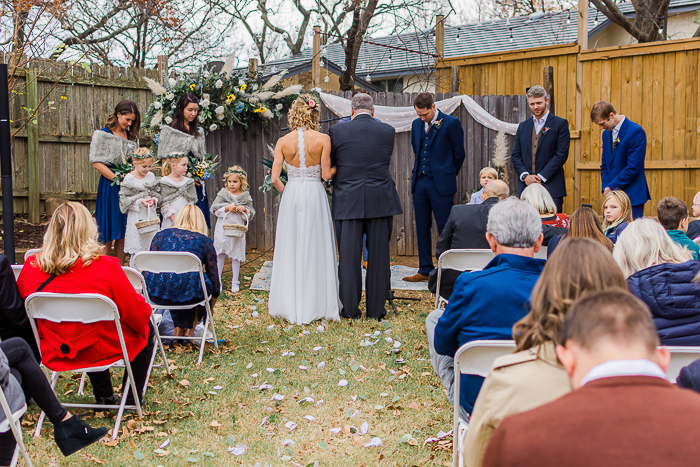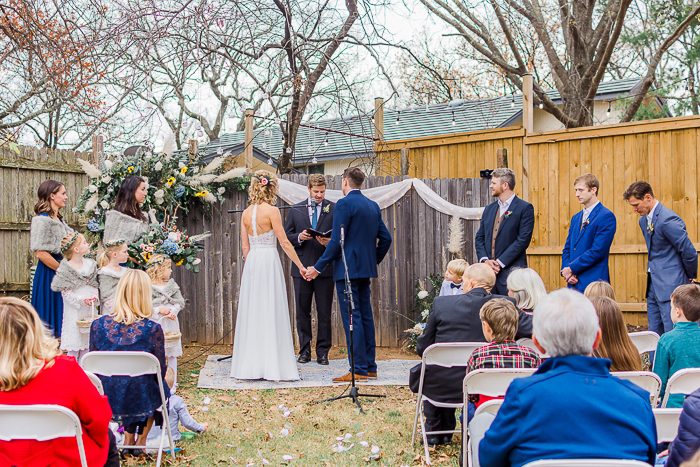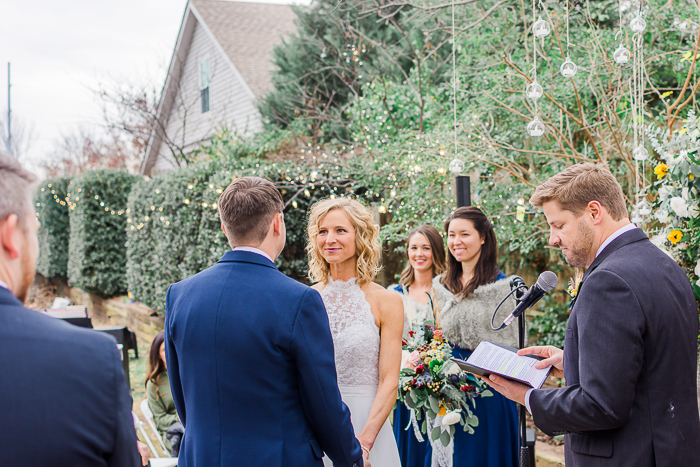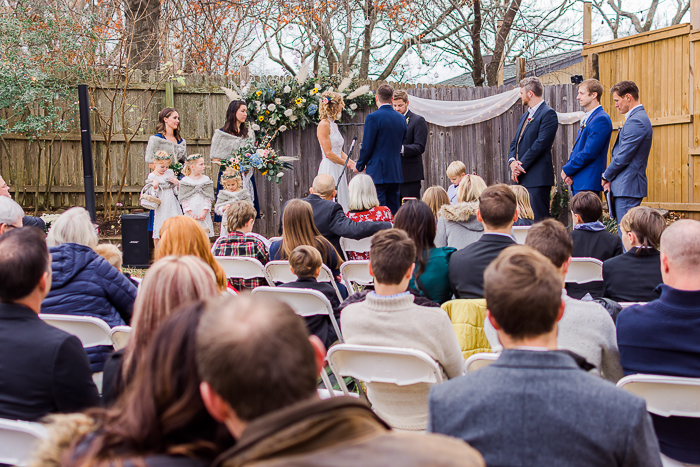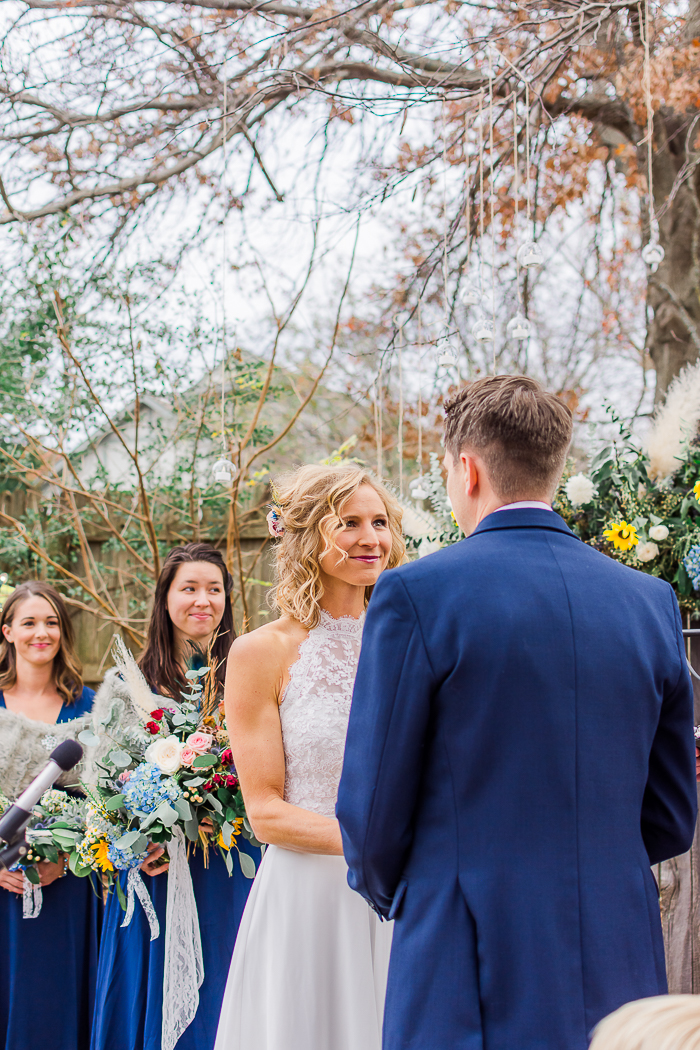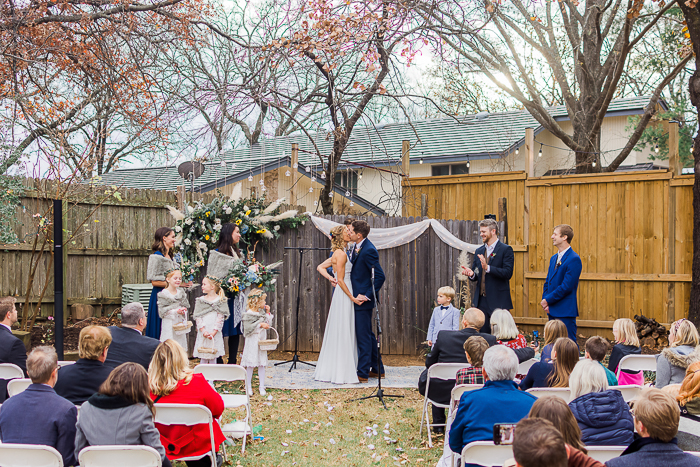 DIYing The Decor And Flowers
The florist–Joseph's sister–could not come due to COVID, so my Matron of Honor stepped in to arrange the flowers and blew me away. Also, it became my Herculean task to hang lights around the backyard leading up to the wedding. I had attempted to hang–and ended up bursting many strands–of lights. The morning of the wedding, I asked my neighbor if we could bum some electricity from his outlet, and then realized we would have to rehang all the lights the opposite direction. I had to get ready, so I asked Joseph if he could do it and–amidst everything else he was doing–he didn't even hesitate. He and a groomsman created the perfect ambiance for our post-sunset celebration.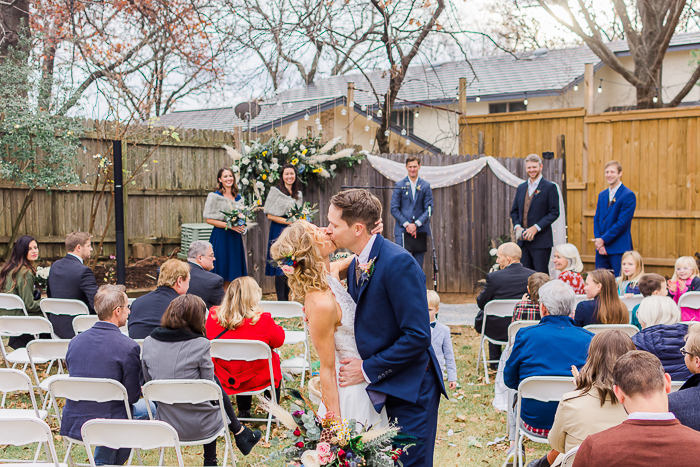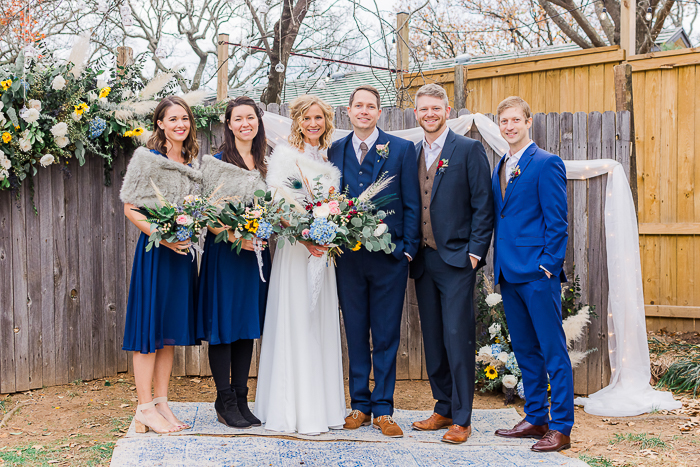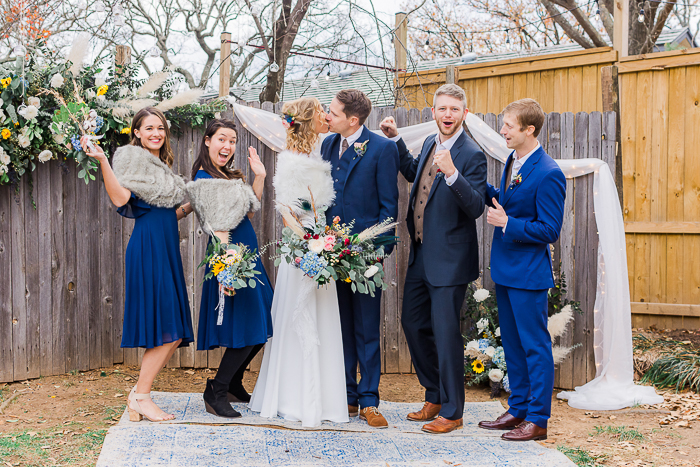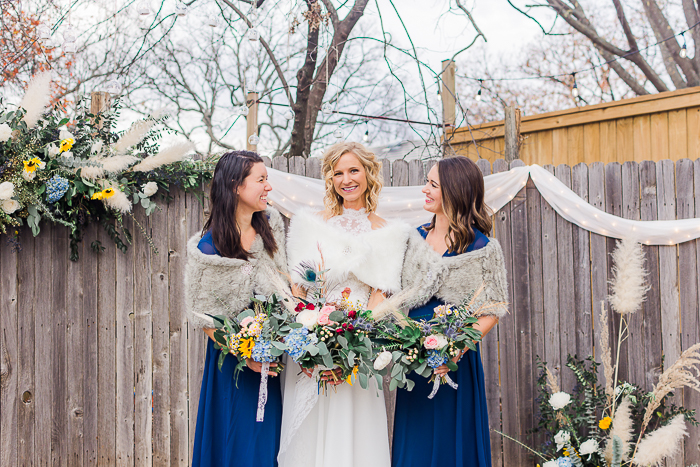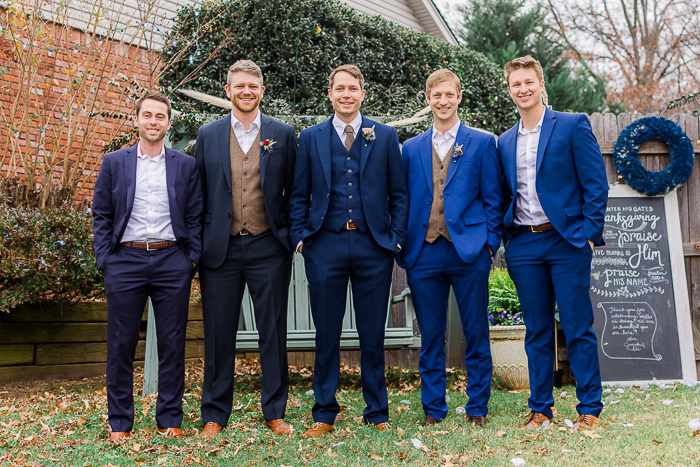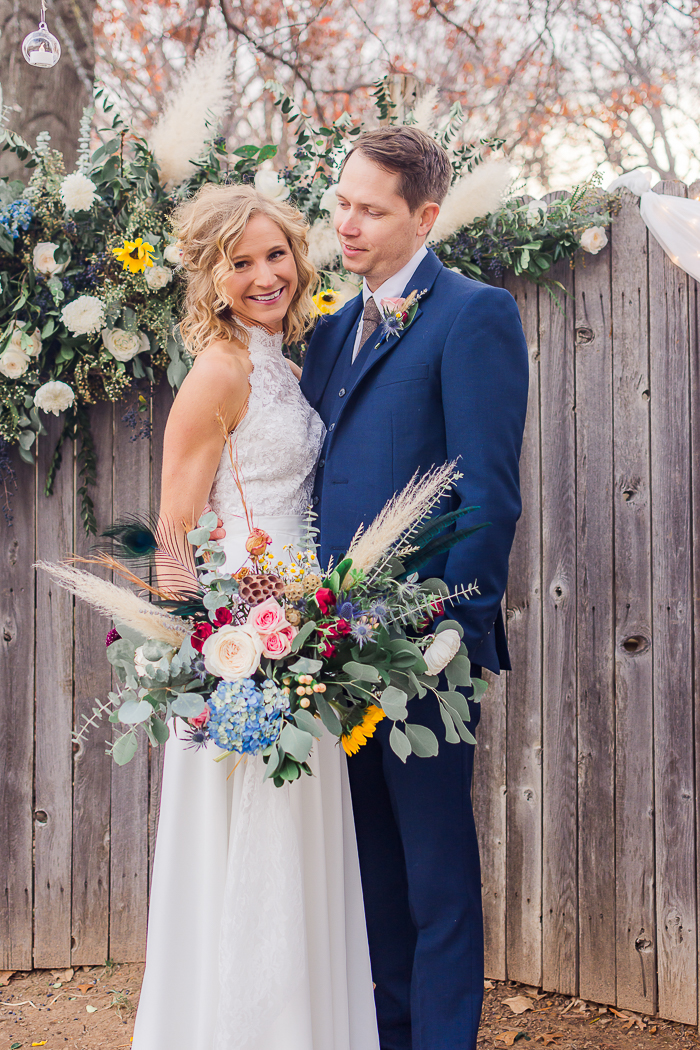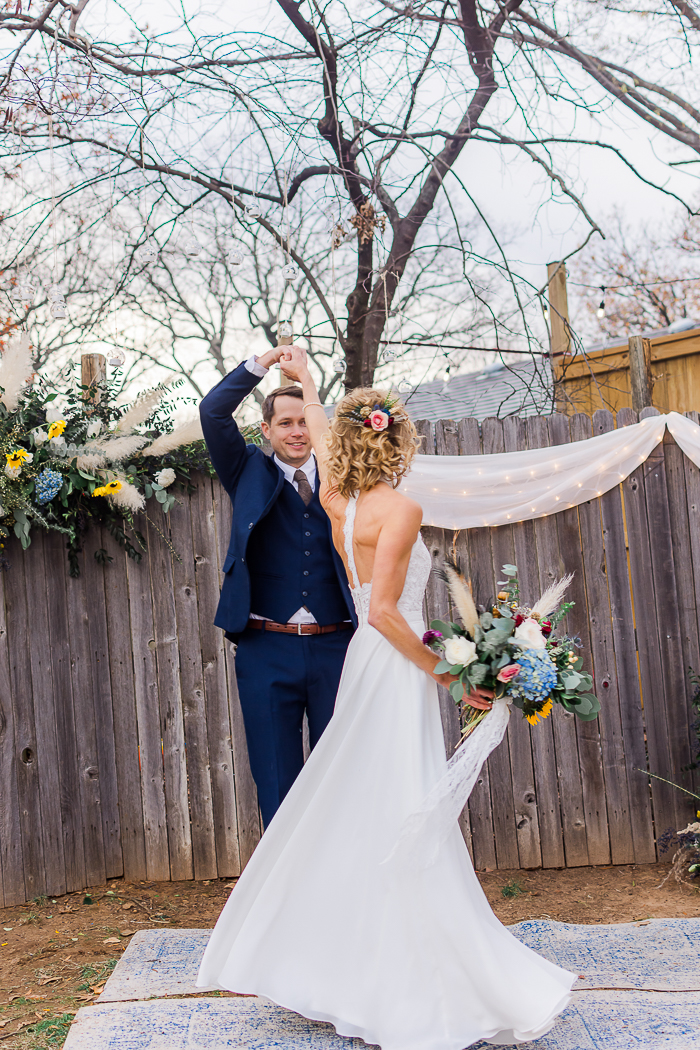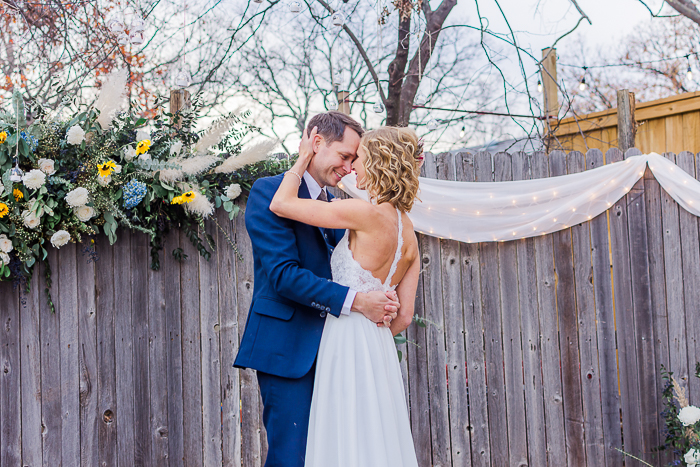 A Team Effort For The Bride's Look
I love both a classy and earthy style. I ordered the dress online because I loved the look and shape, and I had a tailor add material under the lace because when it came in, it was see-through! I looked like a mermaid and it turned out perfect. I made the faux-fur wraps for the girls and myself because it was a winter outdoor wedding and we needed something warm. One of Joseph's sisters is a hair stylist and took my naturally wavy hair to another level. And my Matron of Honor created my hair piece with hot glue and leftover flowers about 20-minutes before the ceremony began. I did my own makeup and had to send my sister-in-law to purchase some waterproof mascara for me since I figured I'd need it.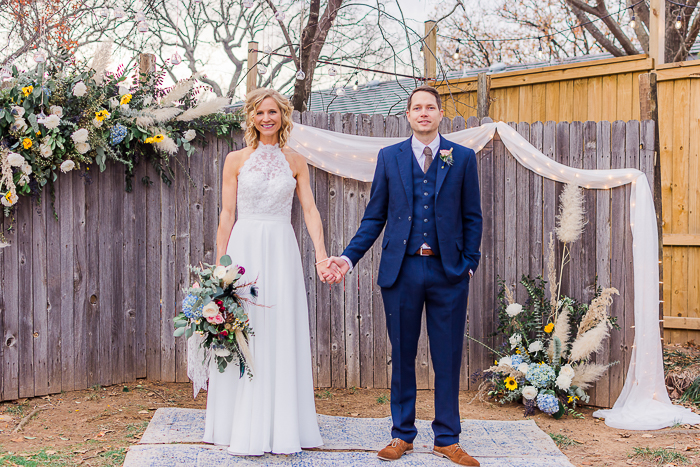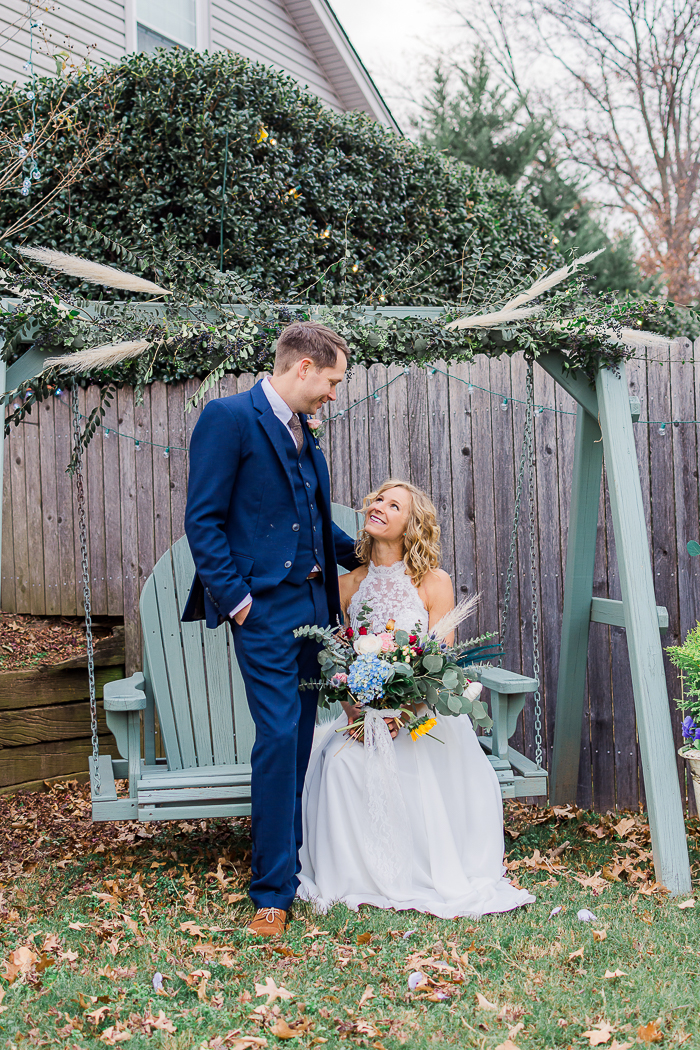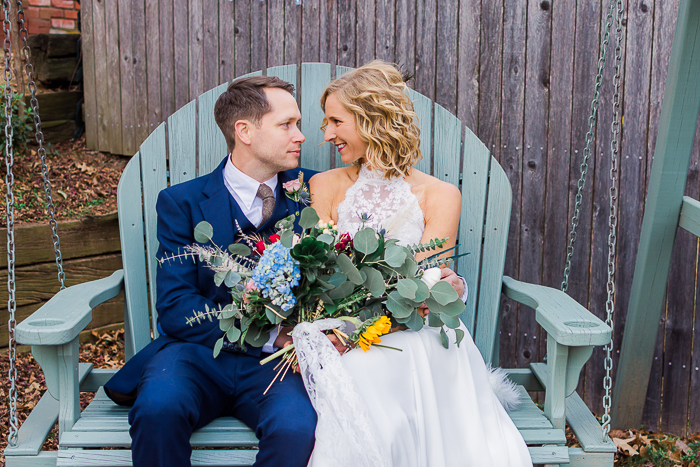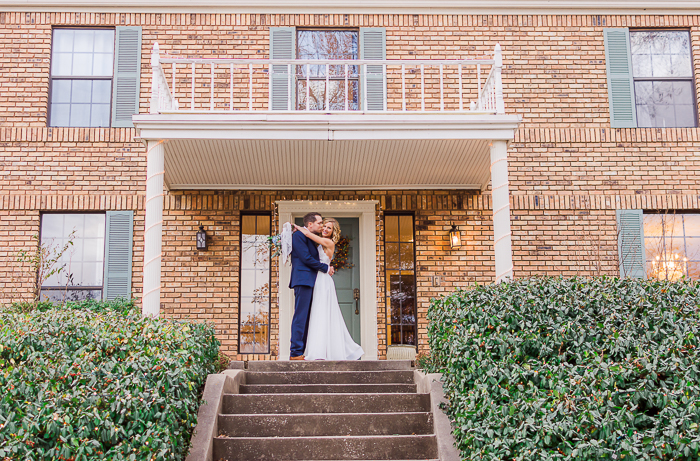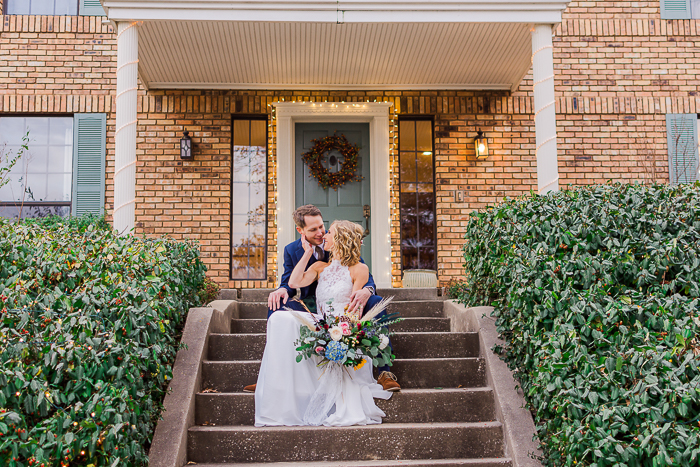 A Wide Selection Of Tasty Foods
Joseph is a taco enthusiast and his friend and business partner catered our reception with amazing tacos from his local restaurant. I own a business making locally-sourced bone broth, and we served it at the wedding, which was perfect for the cooler temperatures. Along with the wedding cake from Ludger's, our groom's cake was a cinnamon roll "cake" prepared by the owner of Missy's Bakery–my family friend (who incidentally was also Joseph's first boss)–and assembled by my mom. We also had a s'more station around a fire pit that was the kids' favorite feature.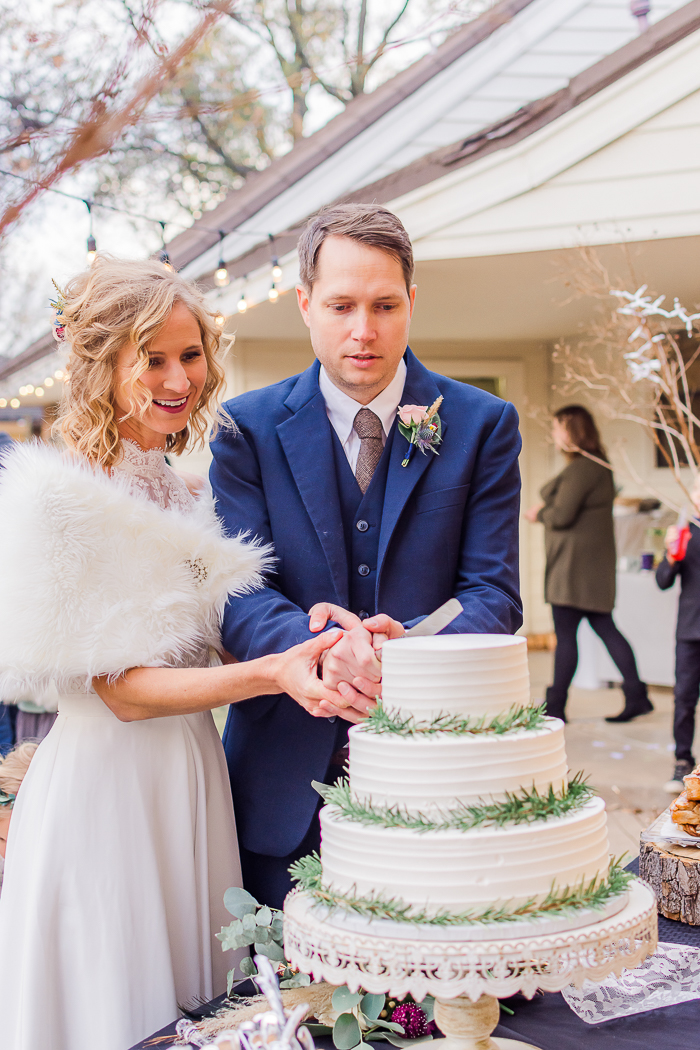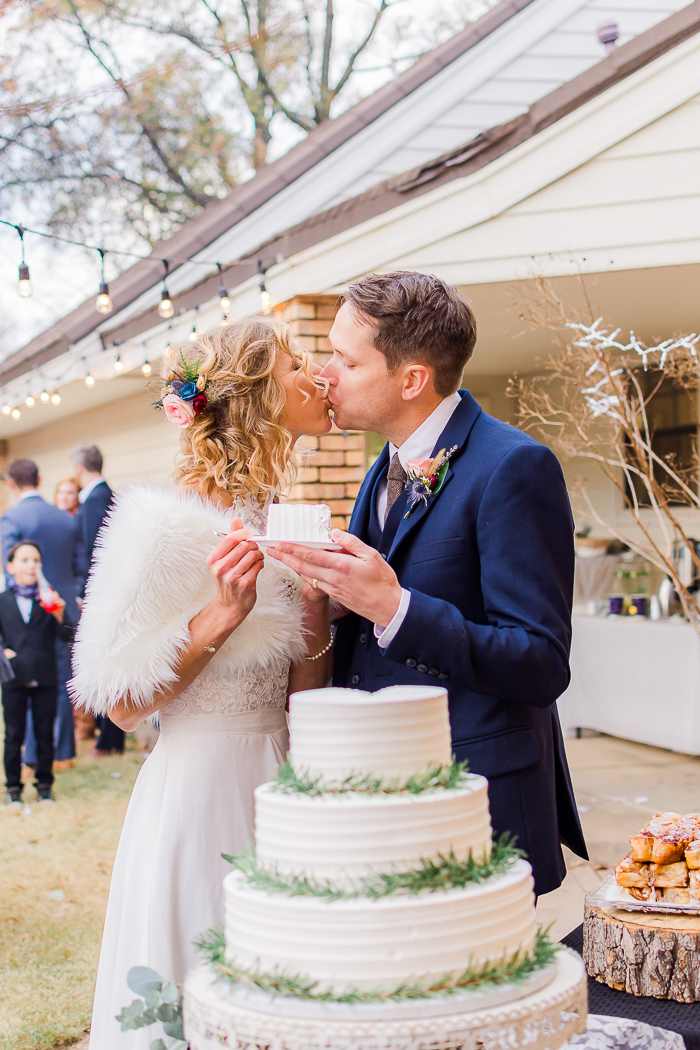 Congratulations again to Ali and Joseph on their blue backyard winter wedding. And big thank you to Sopheak Smith for capturing the beauty of the day. To nail your own backyard wedding planning, be sure to check out our ultimate guide!