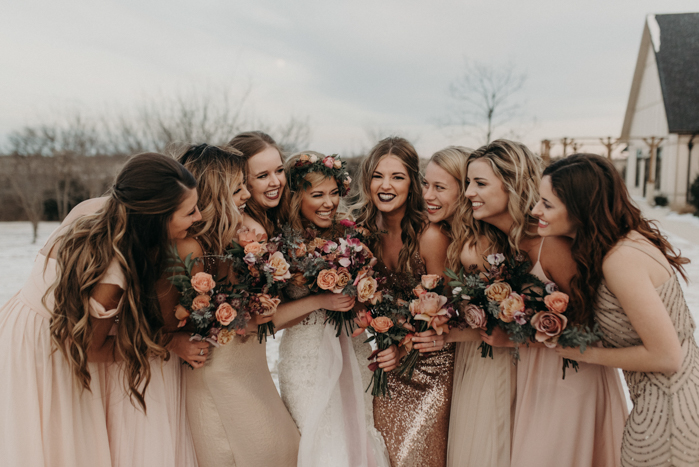 photo by Peyton Rainey Photography
If there's one thing we can count on from winter weddings, it's that they bring the coziest vibes! From rich color palettes to timeless style to luxurious florals, winter weddings also tend to be stunningly elegant, which makes them ideal for couples who want to the perfect combination of charm and glamour for their wedding day. For that reason, we've rounded up 8 of the best winter weddings we've had the honor of publishing. We hope these inspire you to create the winter wonderland wedding of your wildest dreams!
Lorna & Ryan's Rowallan Castle Wedding

Autumn/winter is my favorite time of year, and I wanted to mimic what was going on outside on the inside. I definitely wanted everything to have a whimsical feel about it. I chose more foliage and bare branches for the bouquets and table centerpieces over lots of flowers. We also had 2 free standing trees with lots of foliage and candles for where we stood during our ceremony. I wanted everything to feel effortless and natural.
See Lorna and Ryan's full wedding feature here!
Charyssa & Austin's Parker Palm Springs Wedding

The first thing we said when planning was we didn't want specific wedding colors. Instead of limiting ourselves to two or three colors, we opted to go by mood. We loved the idea of going dark and dramatic for winter so if it fell into that category, it worked for us! It was so much more fun to plan without worrying if it matched a swatch perfectly! All of the designs evolved organically until we eventually ended with black, gold, silver, gray, burgundy, gunmetal, blush, and white.

See Charyssa and Austin's full wedding feature here!
Joanne & Rebecca's Manuels River Wedding

We love the outdoors. We are always exploring our province with our two chow chows and love camping and hiking. So, we wanted our vibe to be a bit of an enchanted forest feeling. Our decorator did an excellent job creating the vision we had, along with a few touches we made ourselves!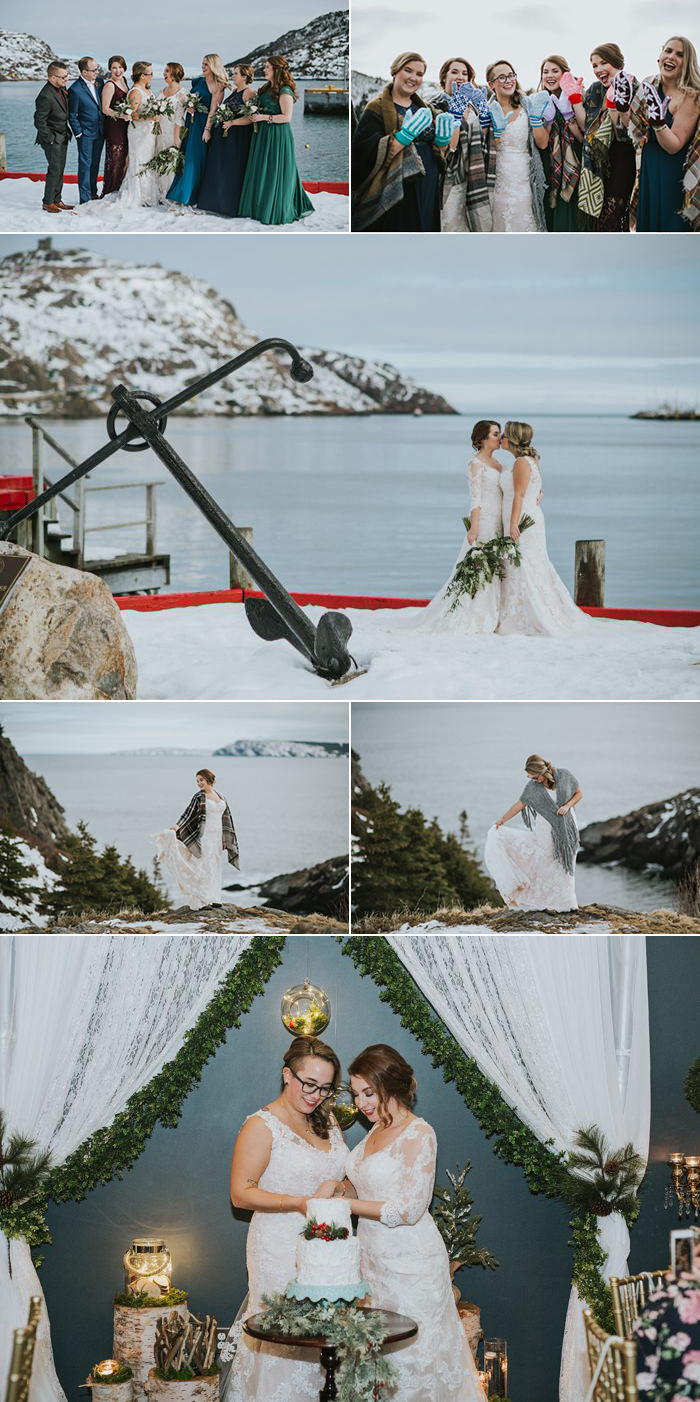 See Joanne and Rebecca's full wedding feature here!
Allison and Brayden's Edmonton Wedding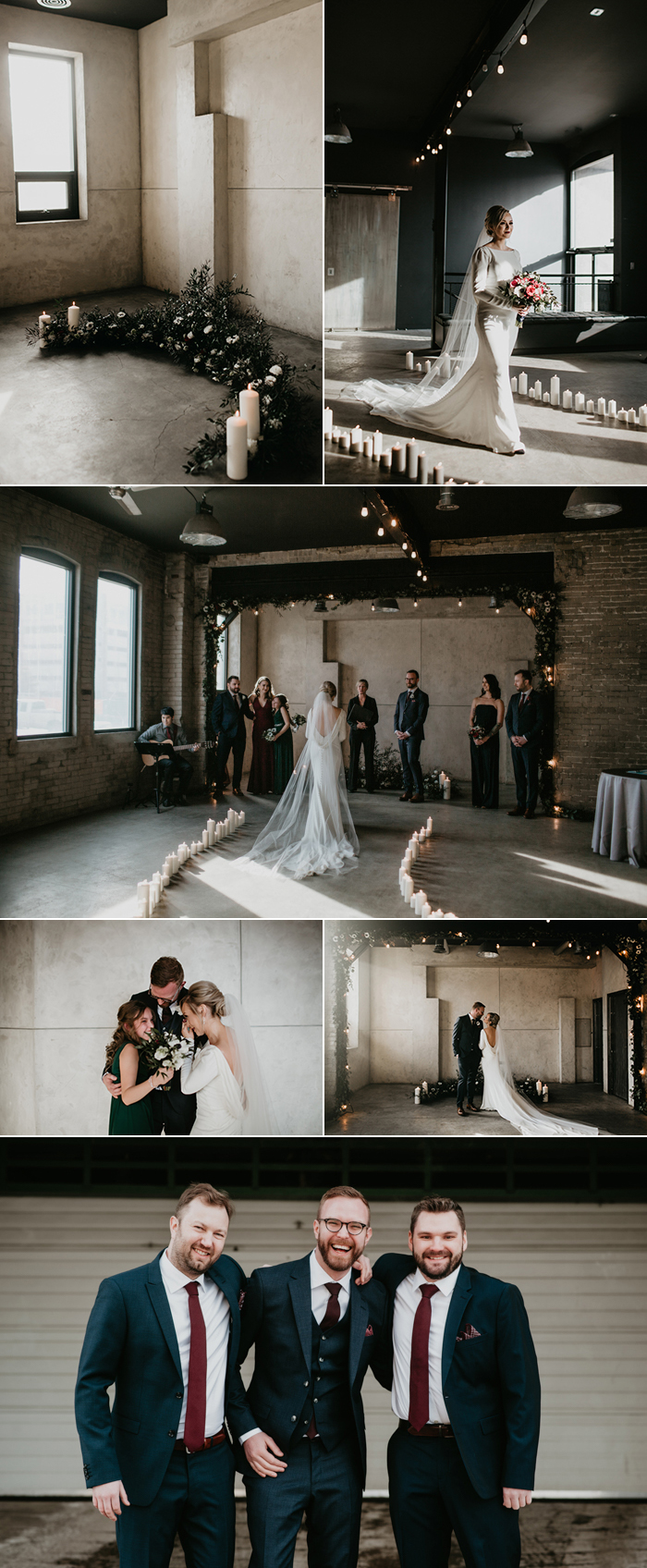 We planned our wedding in less than 5 months – and we would do it the same way again! Not allowing ourselves too much time to fret about the picky details was critical. By choosing to get married "off-season" on a winter Sunday, we were also able to secure our wedding planner and all of our top vendors on a short timeline. We kept our guest list unapologetically tiny; ultimately our extended families and friends were super supportive! Just because you have a small wedding, doesn't mean you should short-change yourselves. Use the money you save on the giant guest list to invest in what is truly important to you. For us, that meant prioritizing amazing photos, décor, and food! It also meant securing a planner to worry about logistics and facilitate our vision. In the end, our wedding was more about celebrating our marriage than the anxiety of planning.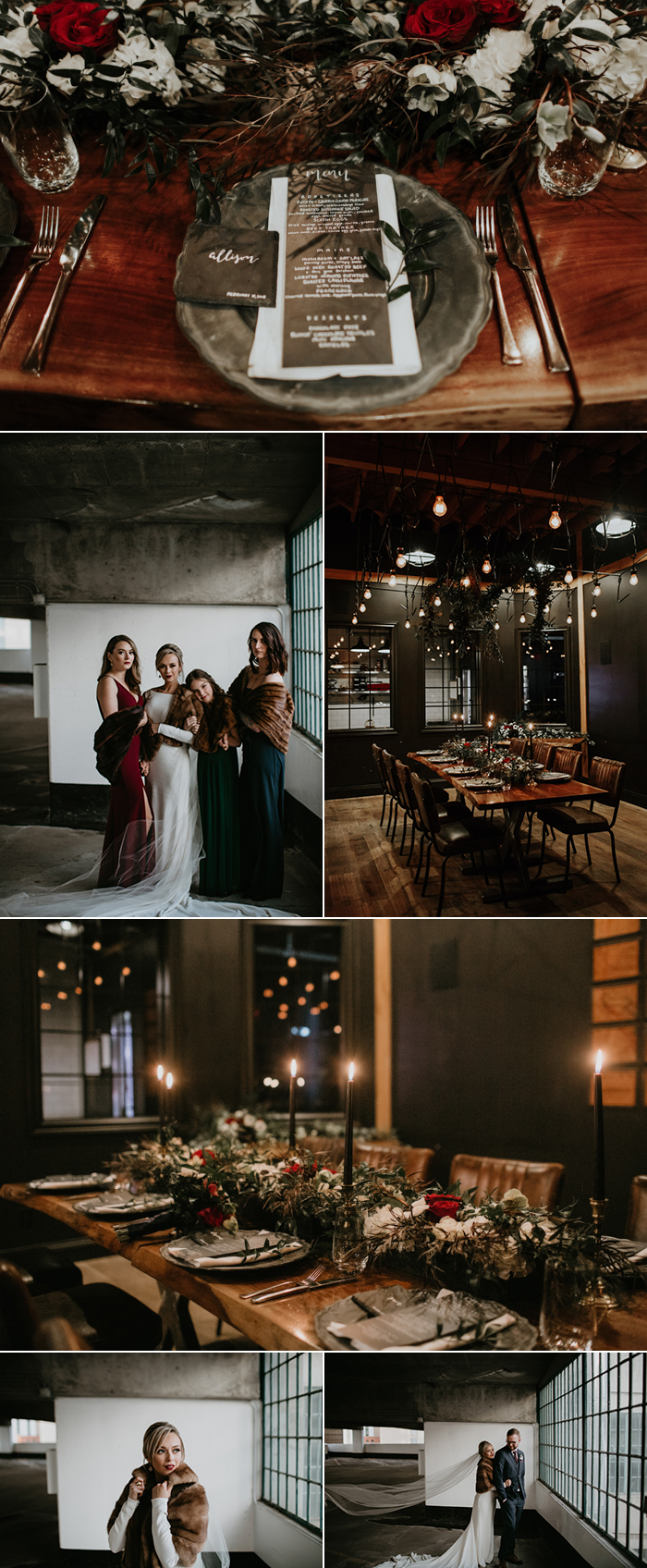 See Allison and Brayden's full wedding feature here!
Jamie & Riley's Southwind Hills Wedding

I had prayed and prayed for snow to fall on our wedding day but when I woke up on New Year's Eve in Edmond, Oklahoma, it was actually quite nice outside for a December day. I wasn't bummed out or anything but when the limo got closer to the venue, my bridesmaids and I realized it had snowed in Goldsby, Oklahoma! We all started freaking out and quickly pulled out our phones to take pictures and videos. I get so full of joy every time I look at our snowy pictures!

See Jamie and Riley's full wedding feature here!
Britney and Luke's Saskatchewan Wedding
We had a winter wedding, and we definitely wanted to use the natural elements around us as inspiration. The look and feel we were going for was natural, effortless and timeless. We chose some more modern/trending looks like the navy suits and brown shoes for the guys. And for the ladies, we kept it all in the theme of whites and off-whites for winter. It was classic and elegant.

See Britney and Luke's full wedding feature here!
Matt & David's Emerald Lake Lodge Wedding
Emerald Lake Lodge was one of our favourite places to visit since we moved to Calgary. It is isolated, with no cell phone service and no tv's in the rooms (only wood burning fireplaces!). We wanted our everyone to unplug and relax, spend time getting to know each other and enjoying the mountains.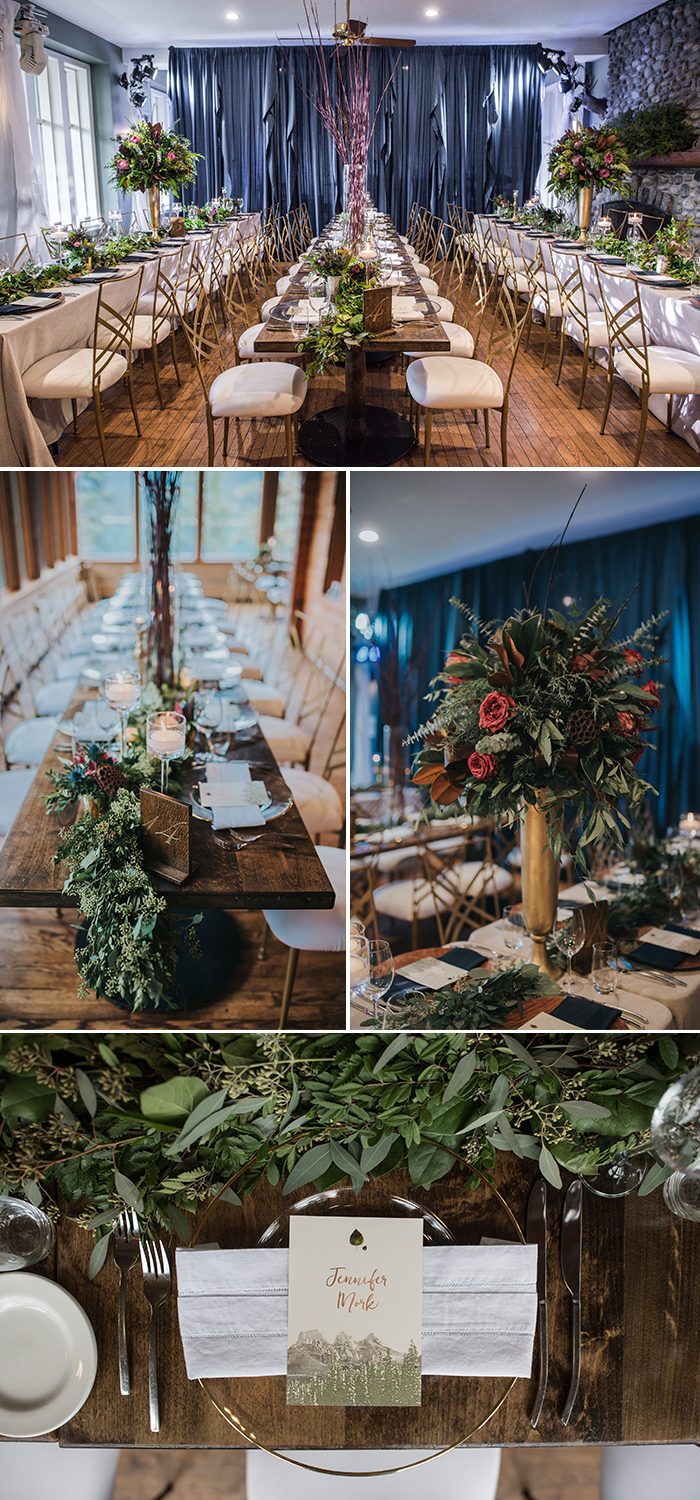 See Matt and David's full wedding feature here!
Nicole & Justin's Stanley Lake Elopement

Our ceremony was just the two of us, on the side of Stanley Lake, after a fresh snow. There was probably no one for miles around us, and it felt so secluded and peaceful. We hiked through the snow to one of the most beautiful places in Idaho with the Sawtooth Mountains as our backdrop. It was freezing but so beautiful! We wrote our own vows to each other, and our officiant Chris wrote a beautiful piece to say during the ceremony, as well.
See Nicole and Justin's full wedding feature here!
Are you a winter bride? Find out what to wear to your winter bridal shower and share these cute and warm winter wedding guest dresses with all your friends!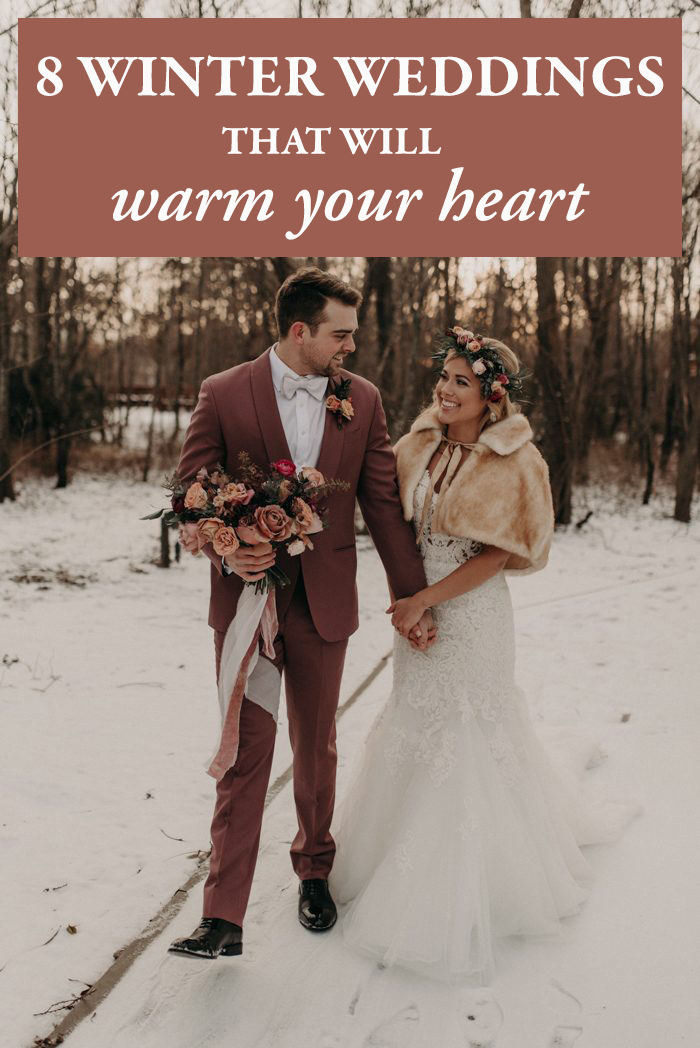 photo by Peyton Rainey Photography