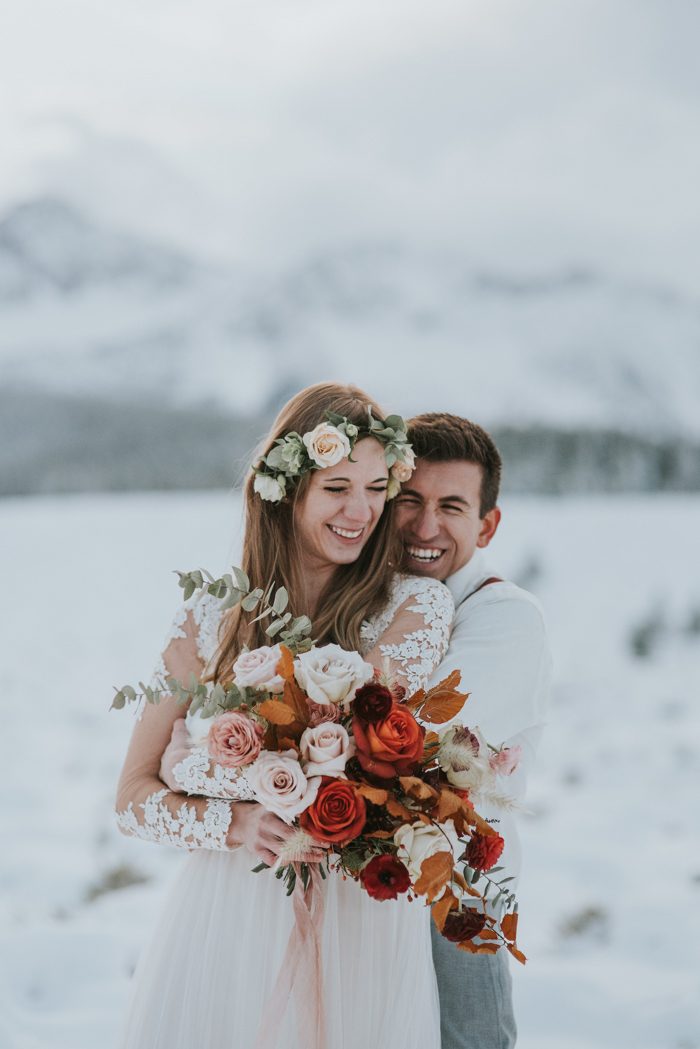 After seeing Nicole and Justin's epic Stanley Lake elopement, we're holding ourselves back from dropping everything and hopping on a plane to Idaho! This adventurous couple started their day cuddling on the couch with their sweet puppy then made their way to the waterfront for a private ceremony with a spectacular view of the Sawtooth Mountains. After some playful and romantic photo ops in the snow with Maggie Grace Photography, they ended their perfect day with s'mores and hot cocoa by a campfire and a dip in an indoor hot tub.
The Couple:
Nicole and Justin
The Wedding:
Stanley Lake, Idaho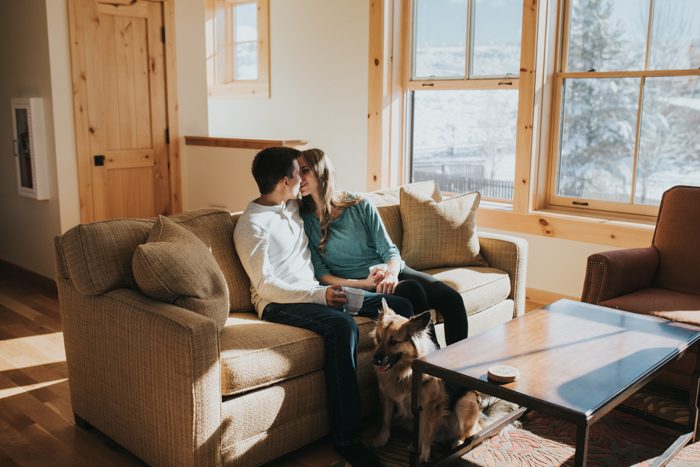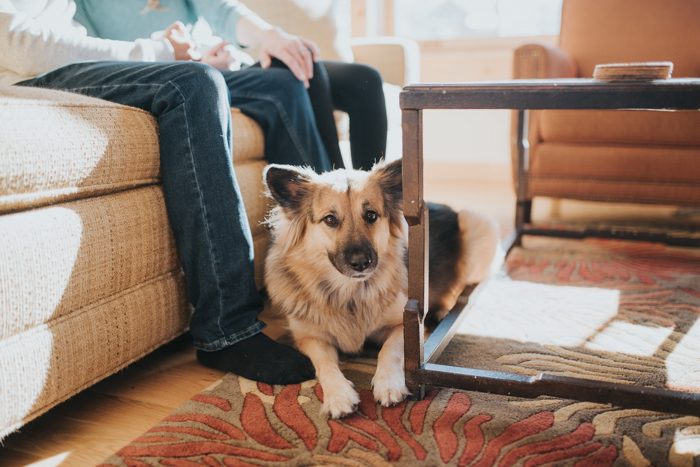 The most important part in planning our elopement was that it was an adventure. We wanted it to be somewhere beautiful that we had never been, and we wanted it to be just the two of us. We love our family and friends so much, but we believed that our ceremony should be a private moment that way we could enjoy each other more on our special day rather than dealing with the stress a wedding brings. It was also very important to us that we had a great photographer and a videographer to document our day so we could share it with our family and friends and have photos and a video to look back on and relive our special day.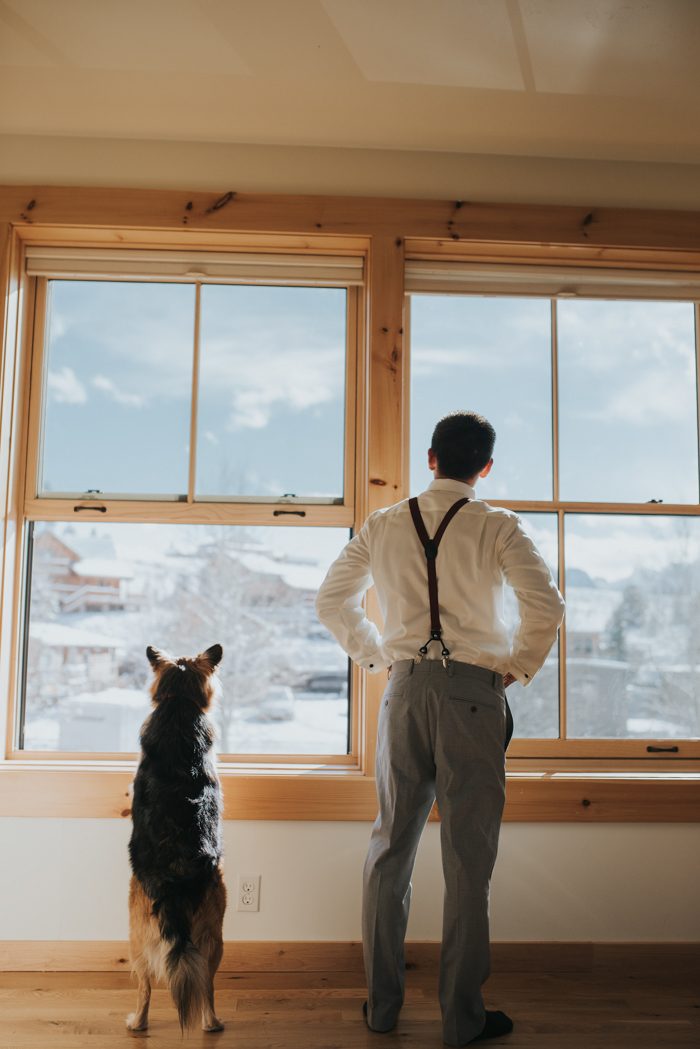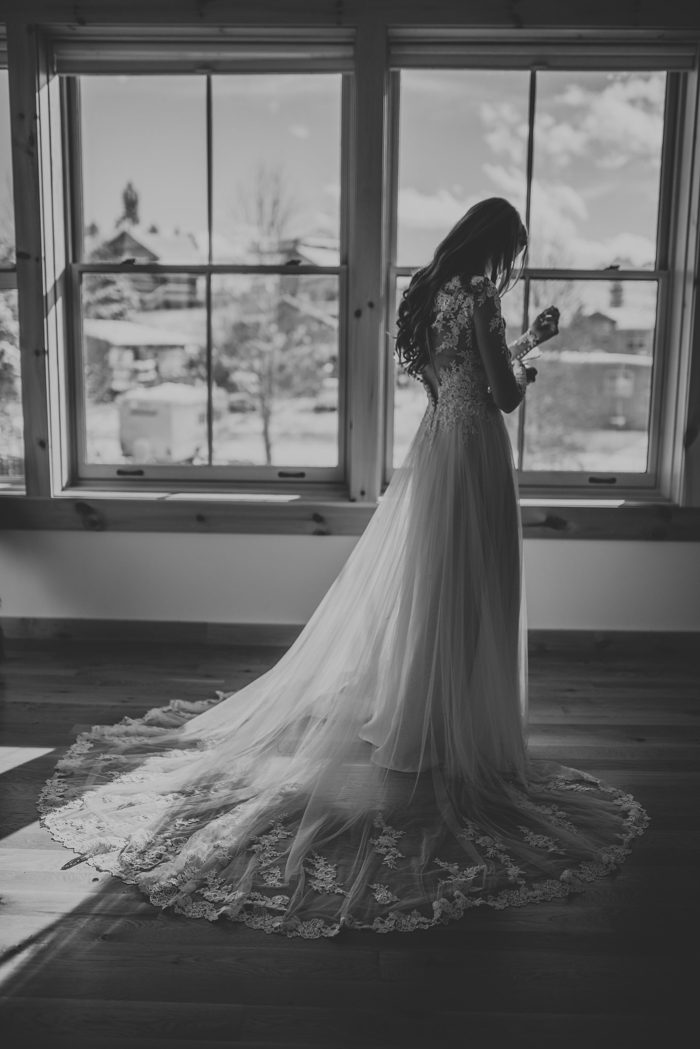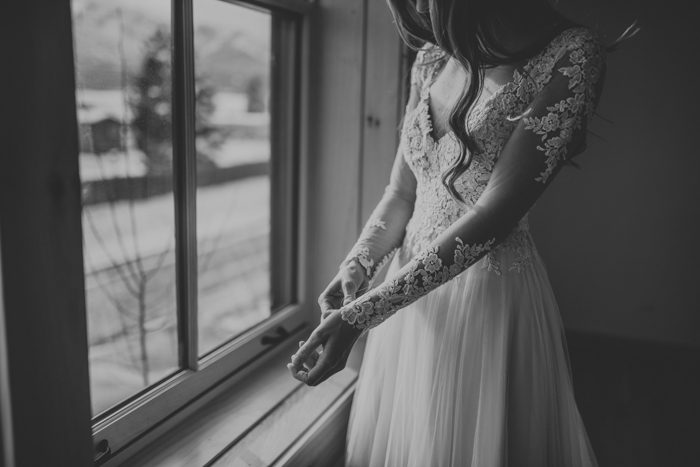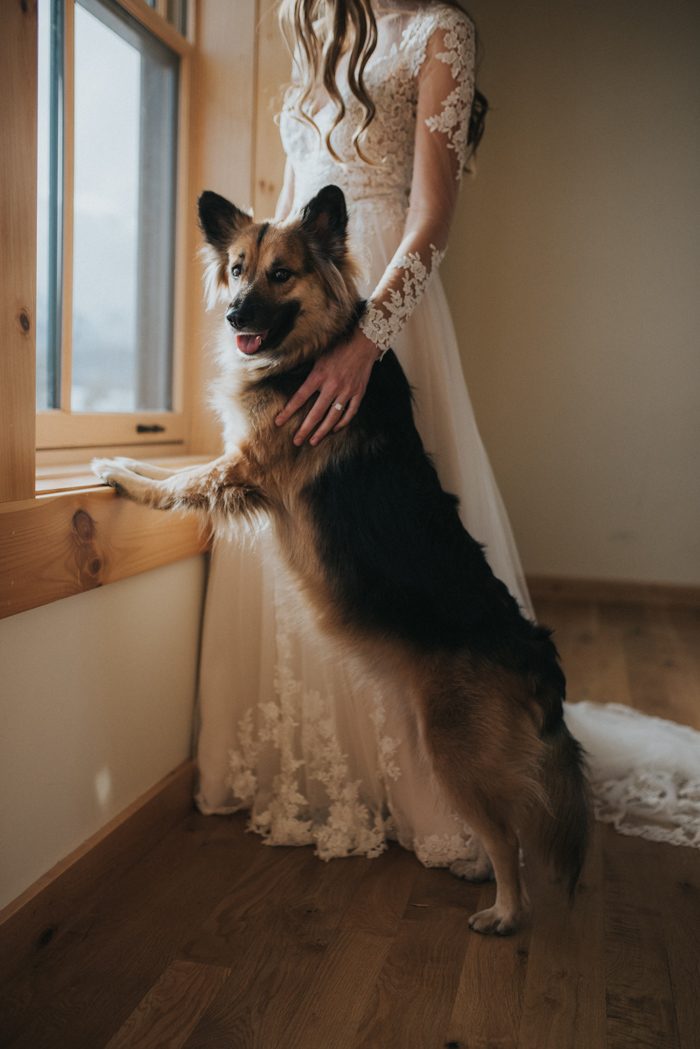 So many parts of our day were so memorable! Waking up to a fresh snow and traveling to the beautiful Sawtooth Mountains for the first time was pretty memorable for us both. But our first look was such a beautiful moment. We originally planned to elope in September, but on the day we had booked, the smoke from the surrounding wildfires in the Northwest filled the air. So we decided to postpone the date to November. When Justin finally got to see me in my dress (it really felt like forever), it was an unforgettable moment, and one we will cherish forever.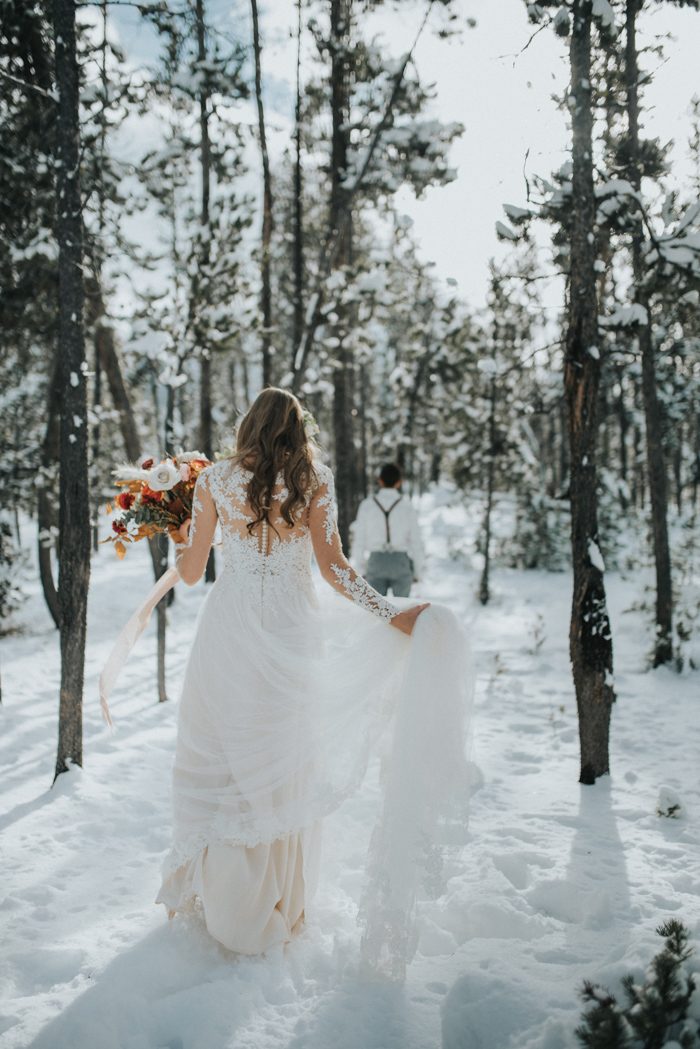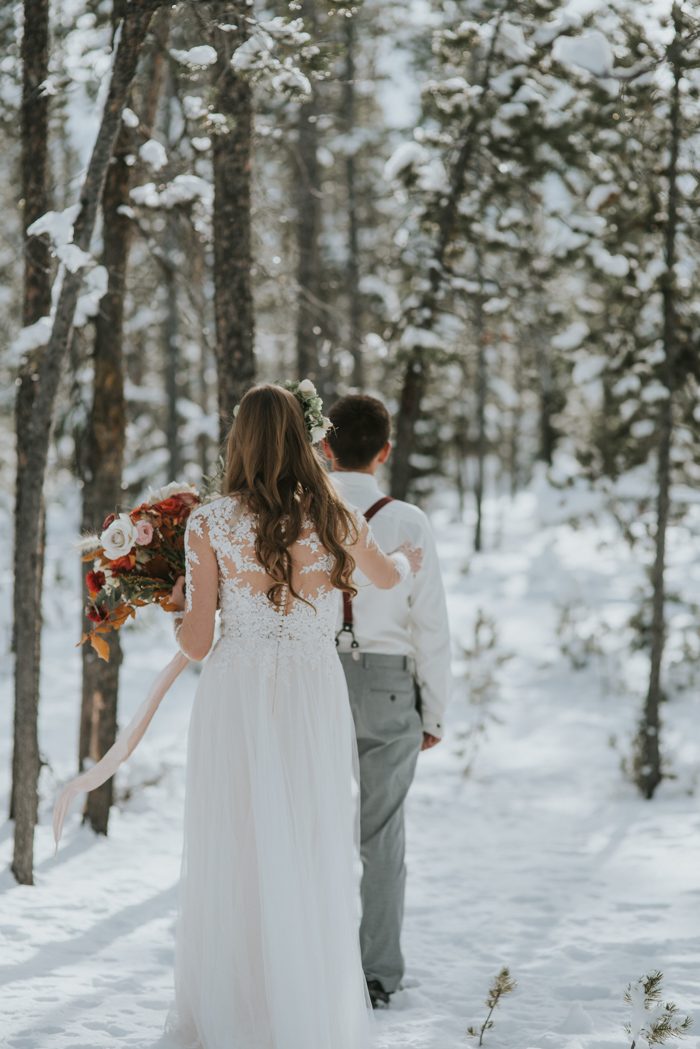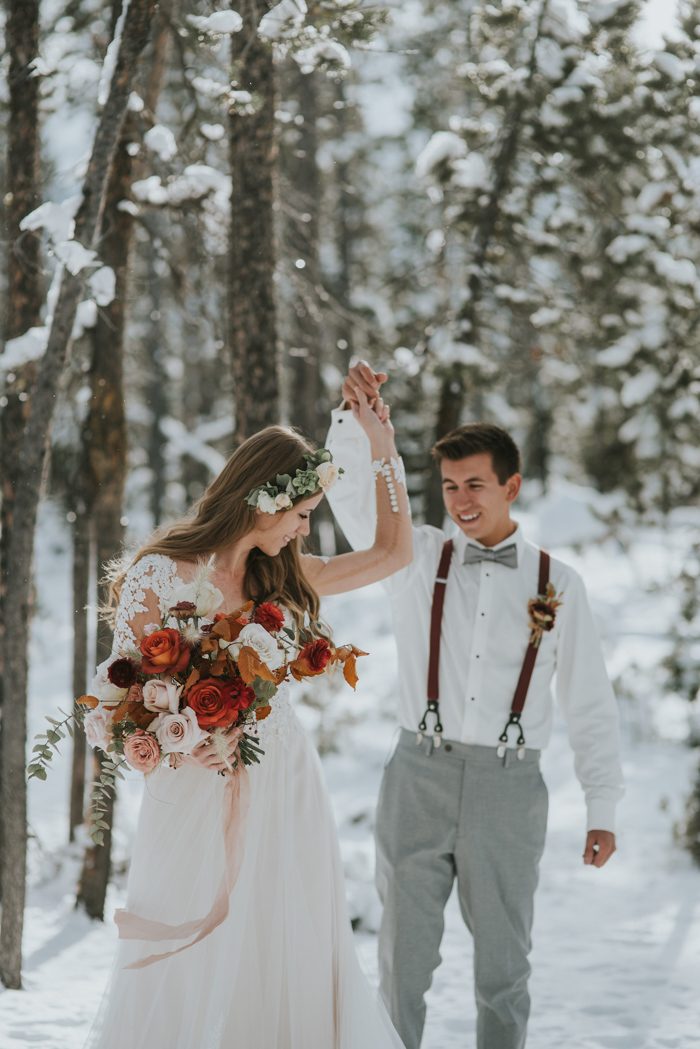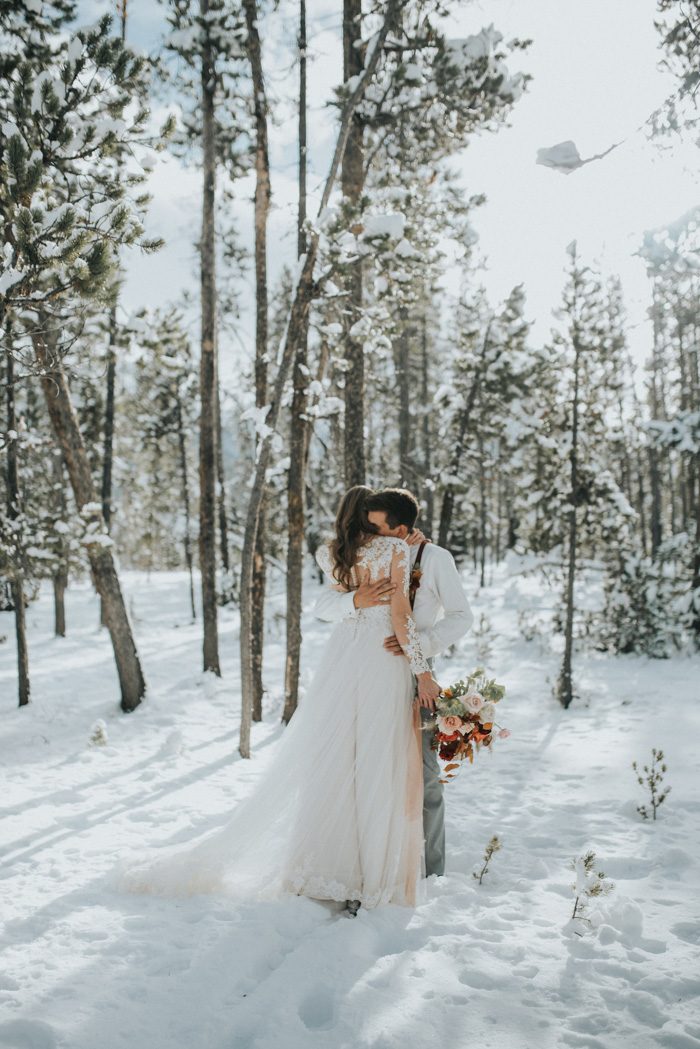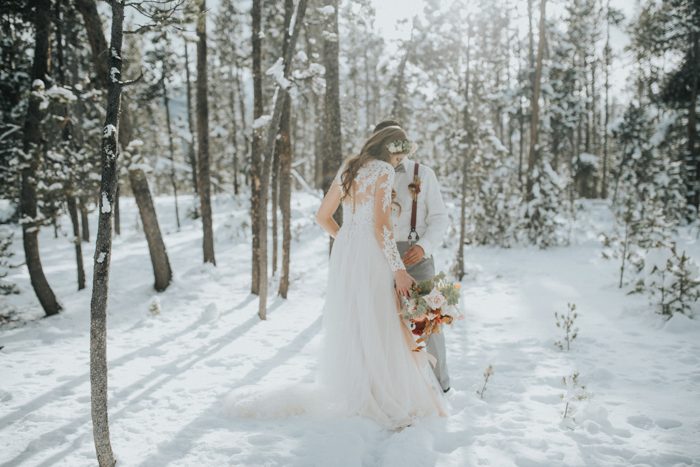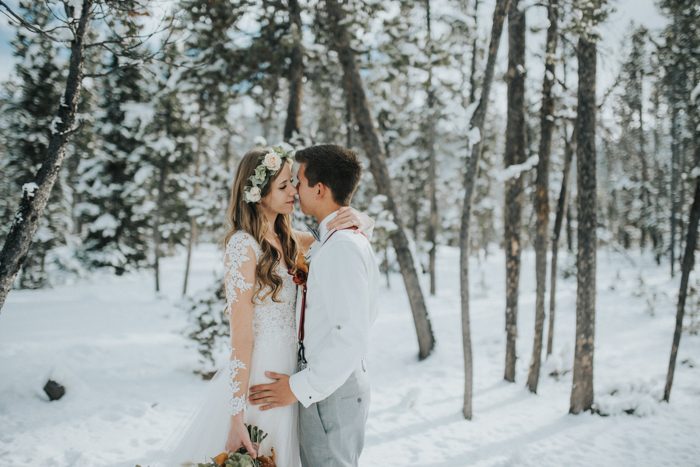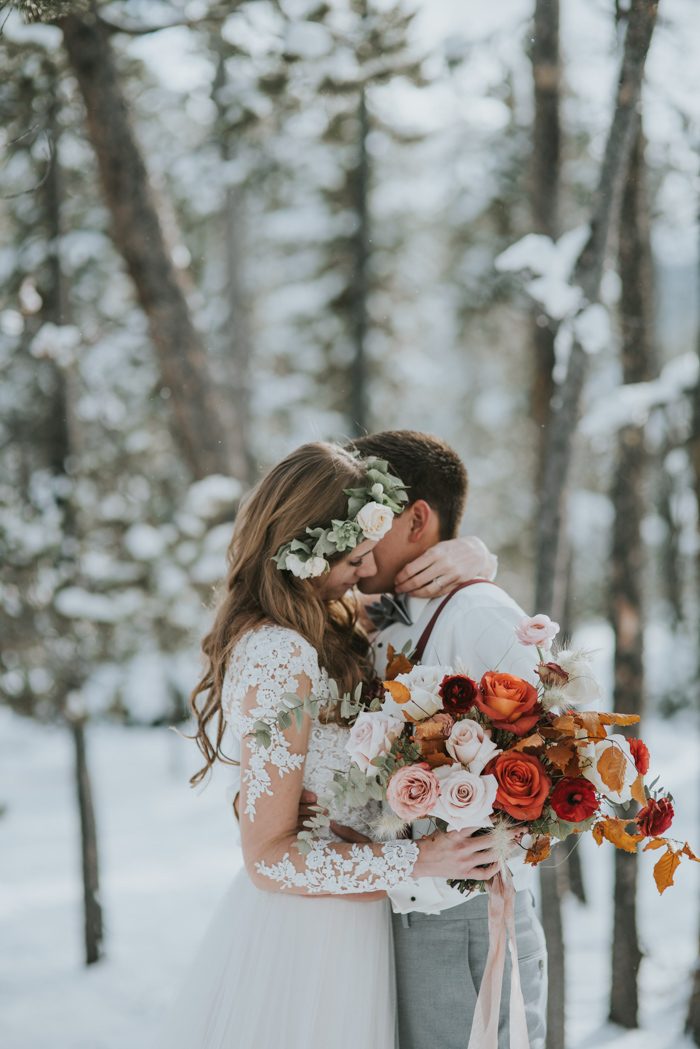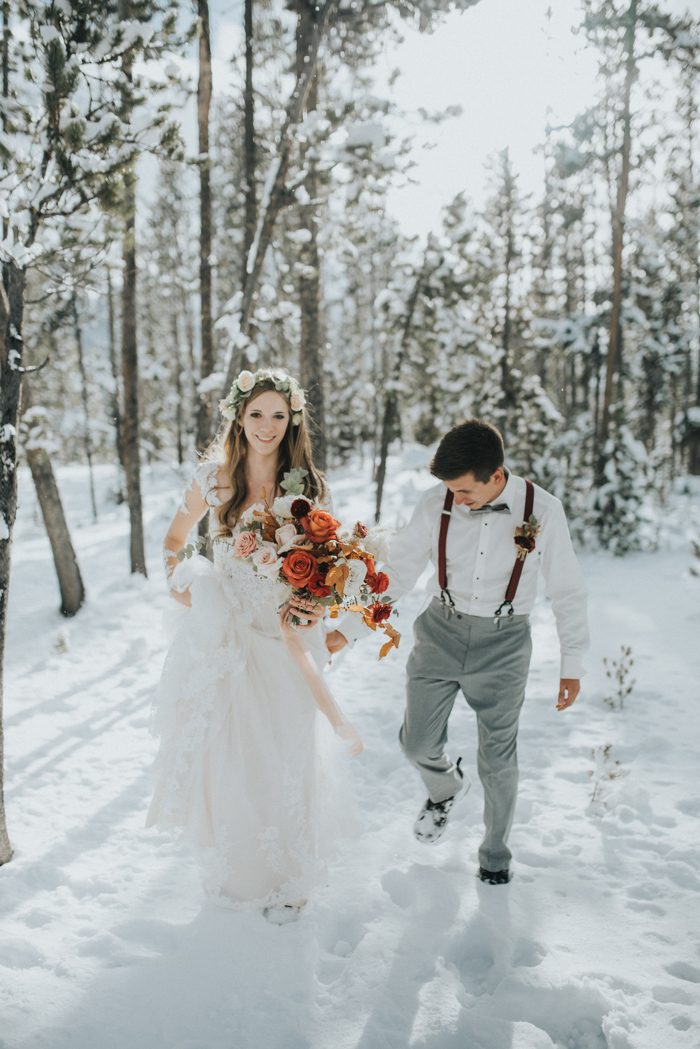 Our ceremony was just the two of us, on the side of Stanley Lake, after a fresh snow. There was probably no one for miles around us, and it felt so secluded and peaceful. We hiked through the snow to one of the most beautiful places in Idaho with the Sawtooth Mountains as our backdrop. It was freezing but so beautiful! We wrote our own vows to each other, and our officiant Chris wrote a beautiful piece to say during the ceremony, as well.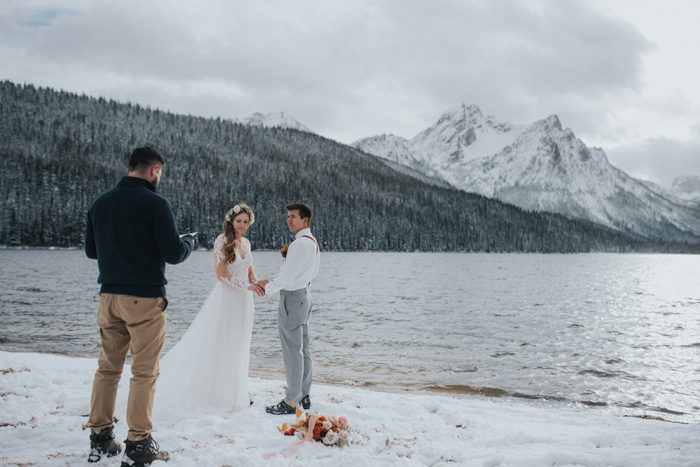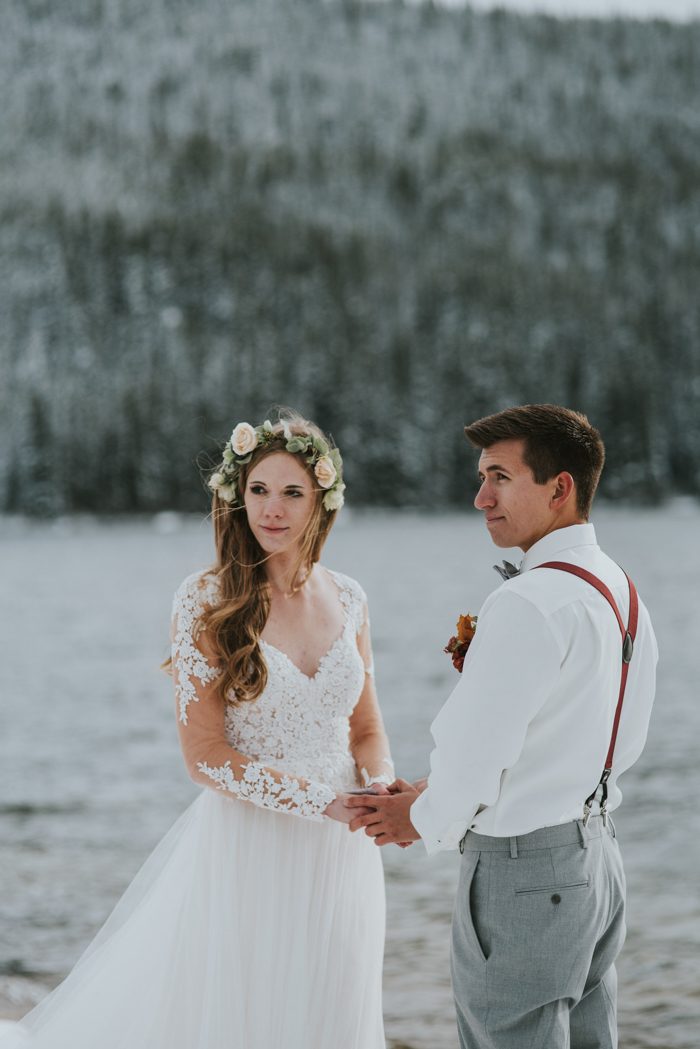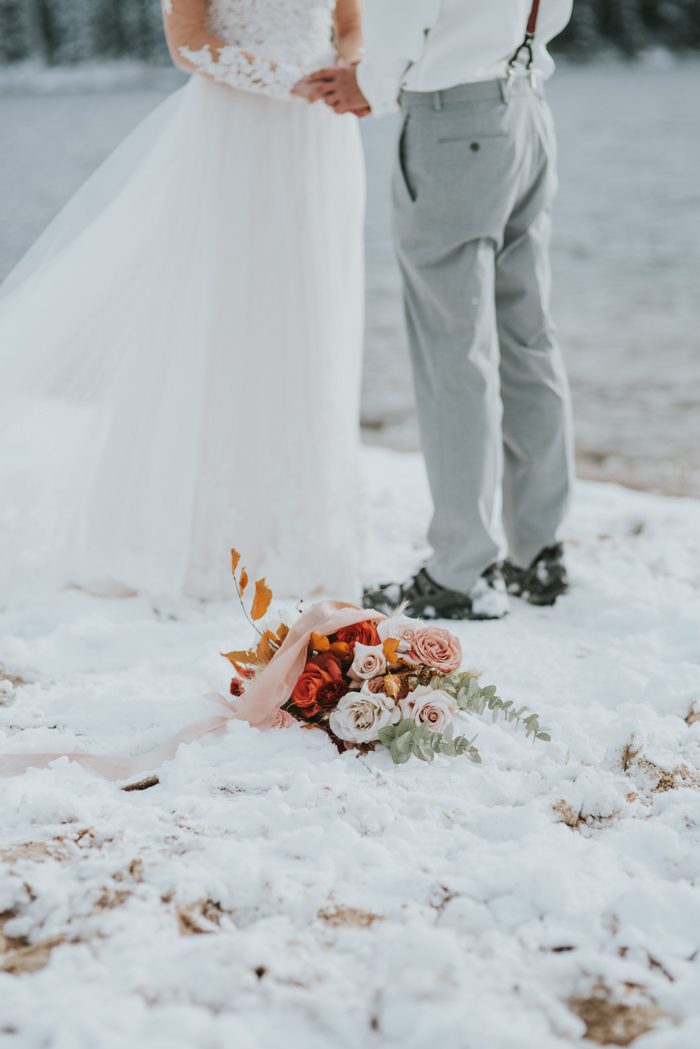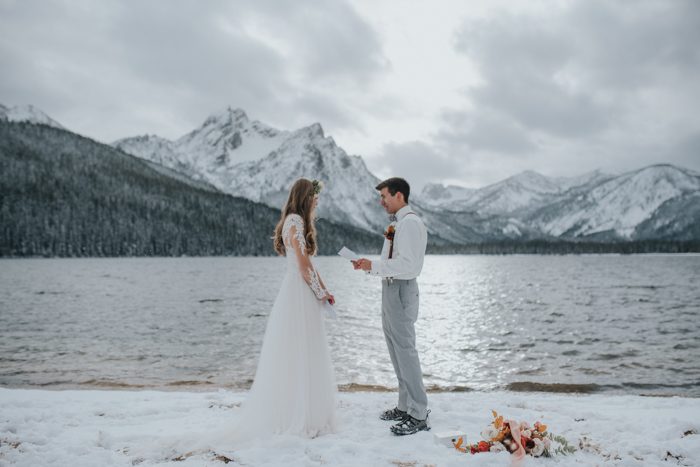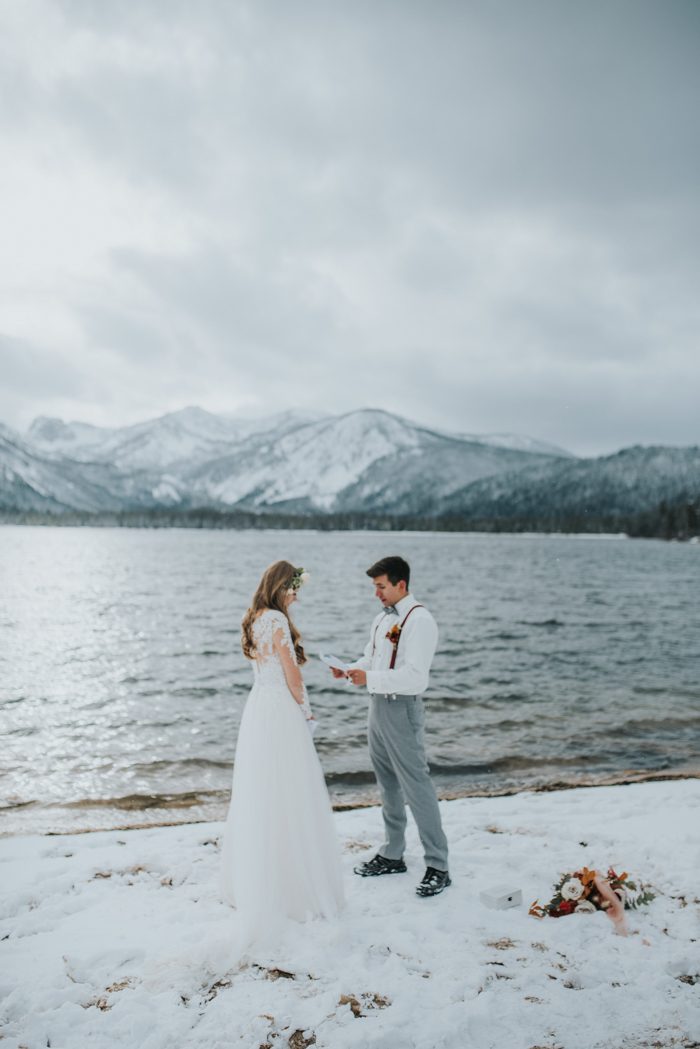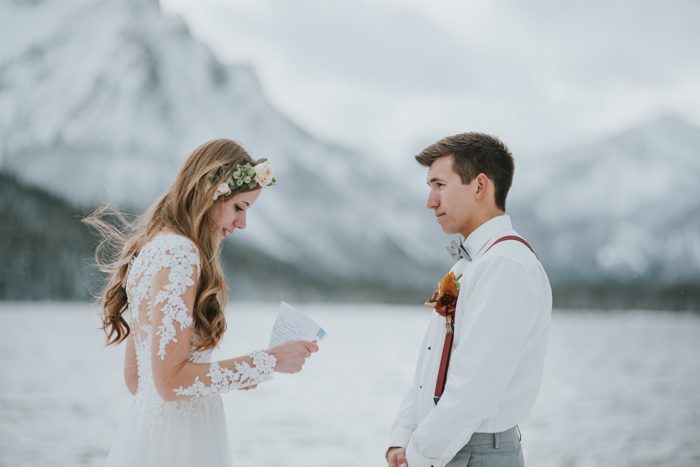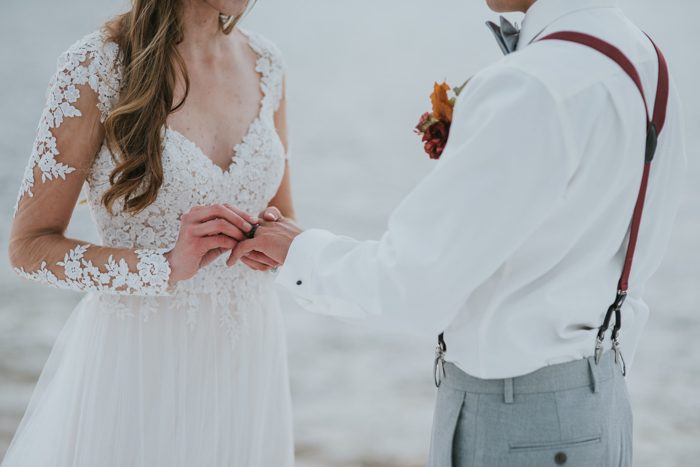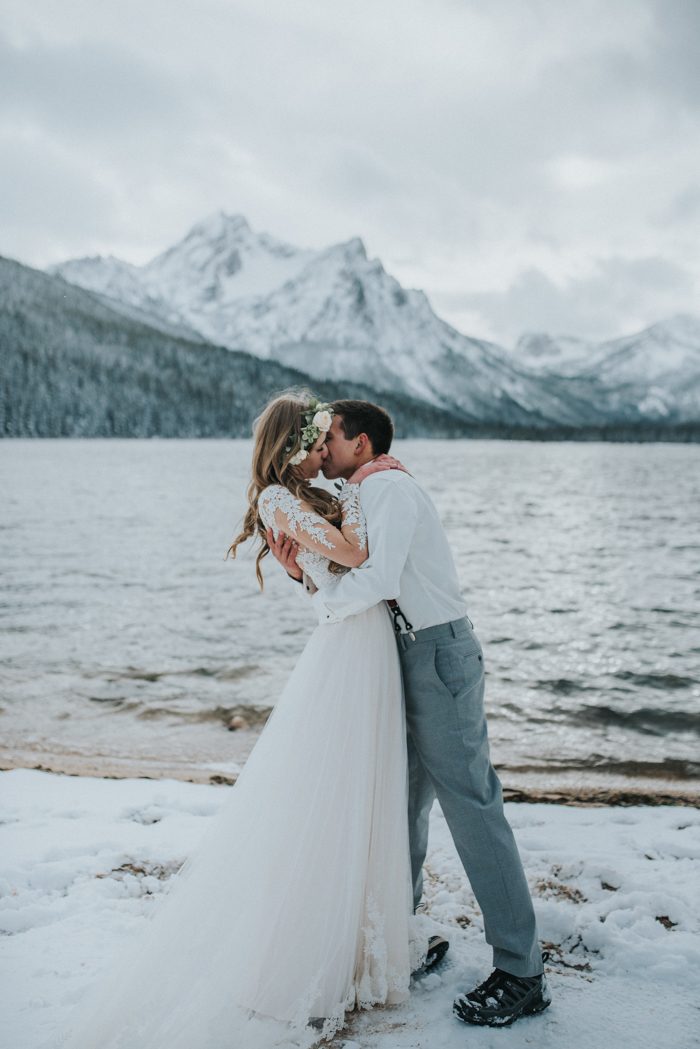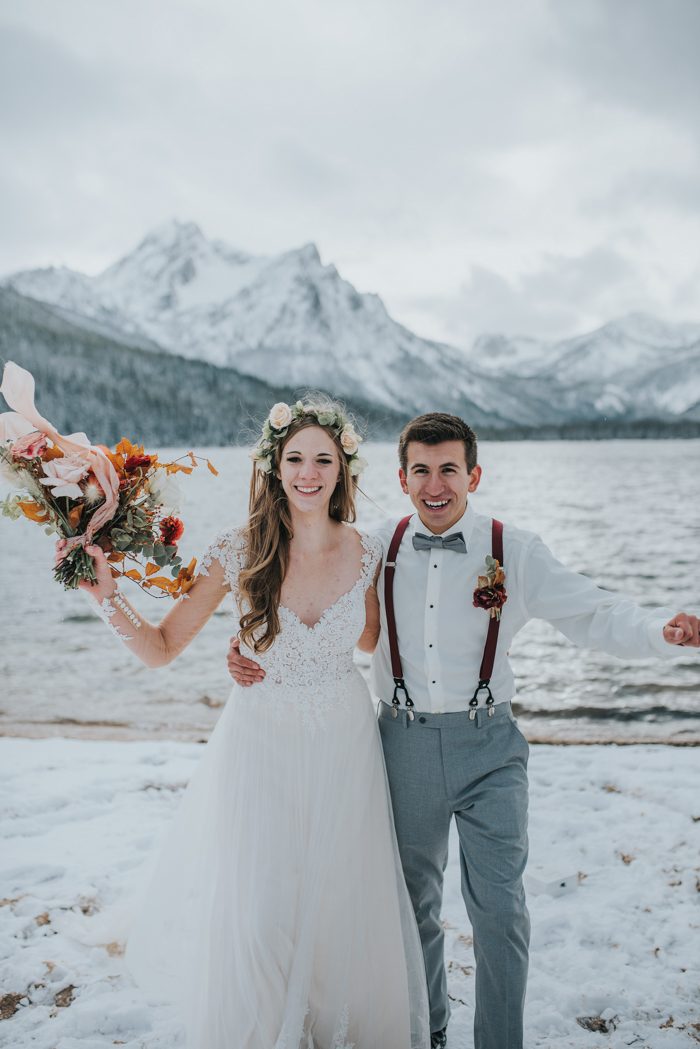 We have a passion for traveling to places we have never been and sharing amazing adventures together. Justin proposed at the top of Angel's Landing in Zion National Park (which is a 5 mile round-trip hike, with a 1500 ft elevation change, rated as strenuous). After that, we knew our wedding day had to be just as adventurous and intimate! So it was just the two of us, in the Sawtooth Mountains of Idaho, hiking around in the beautiful fresh snow.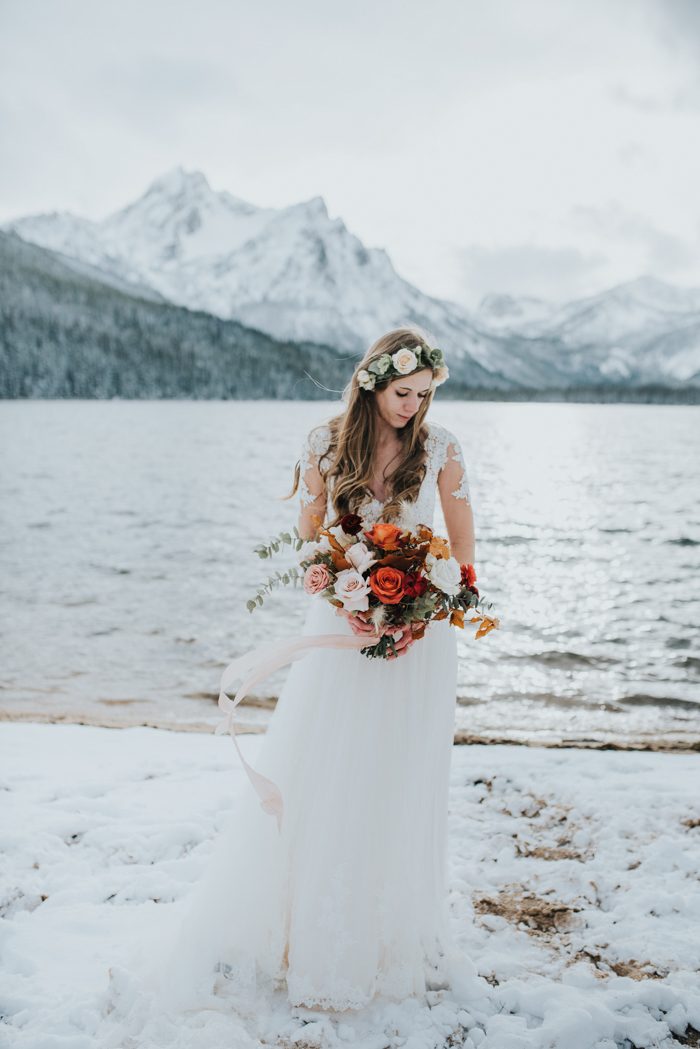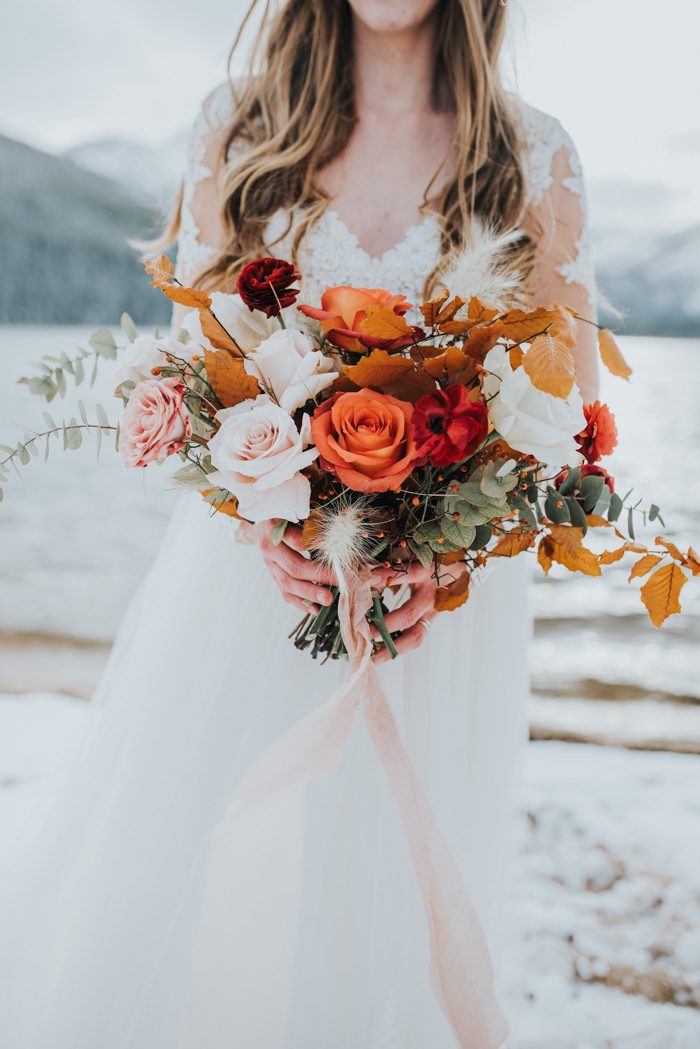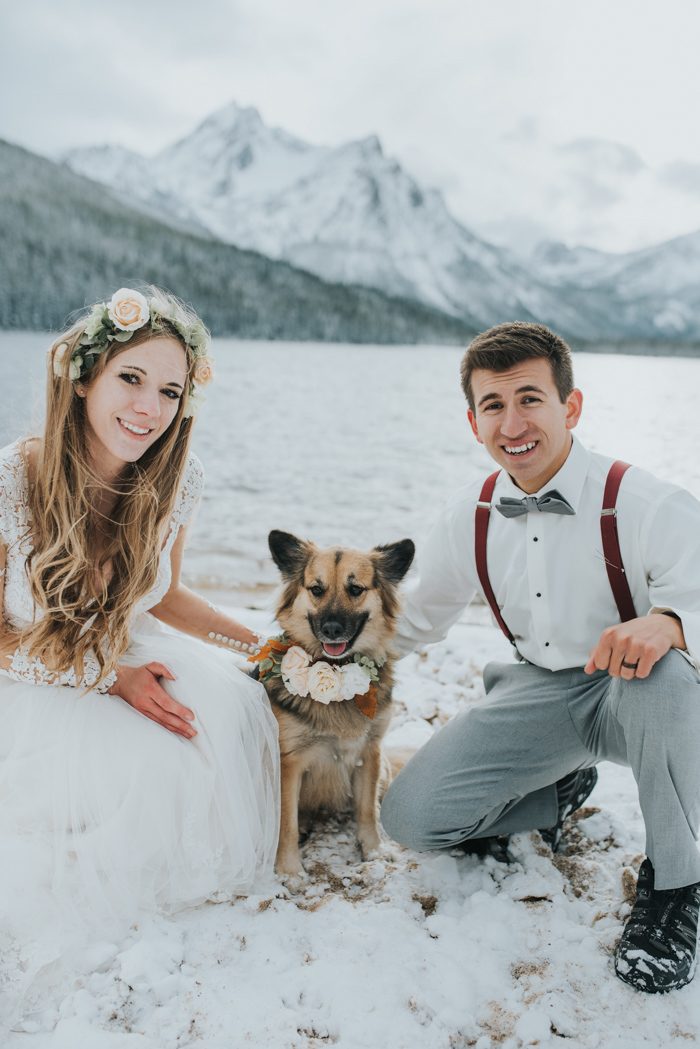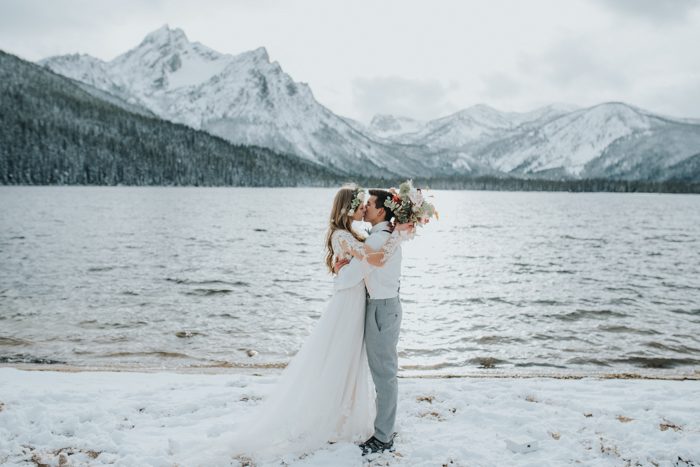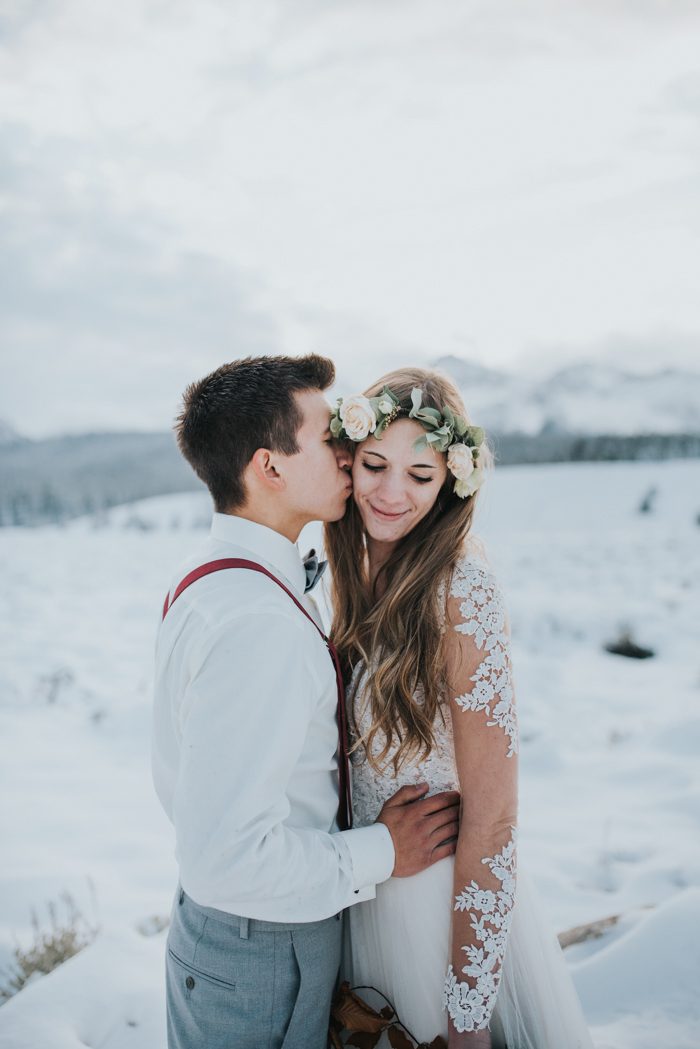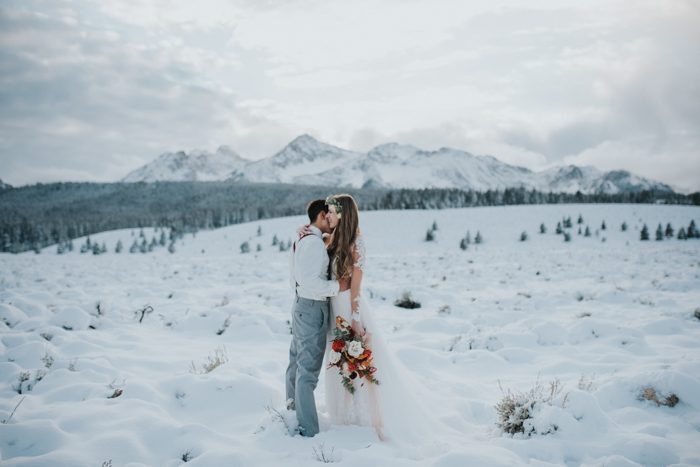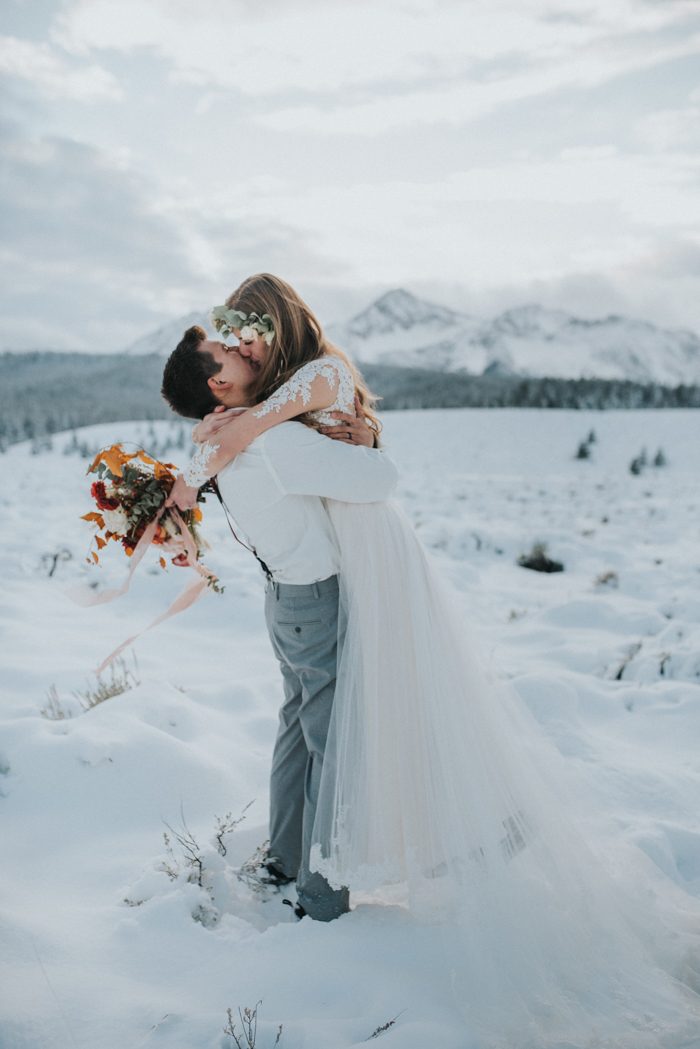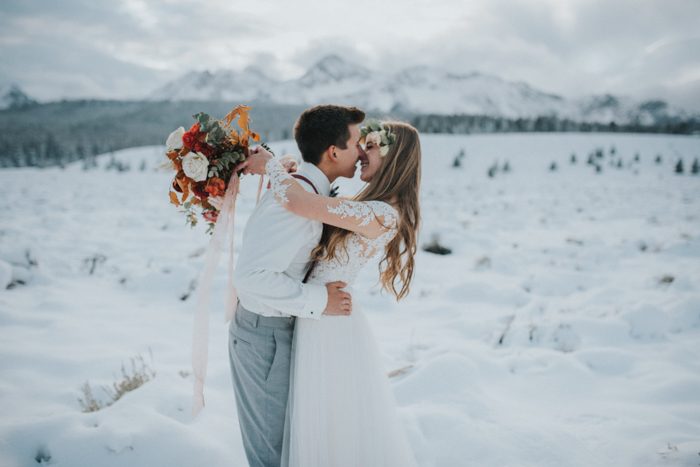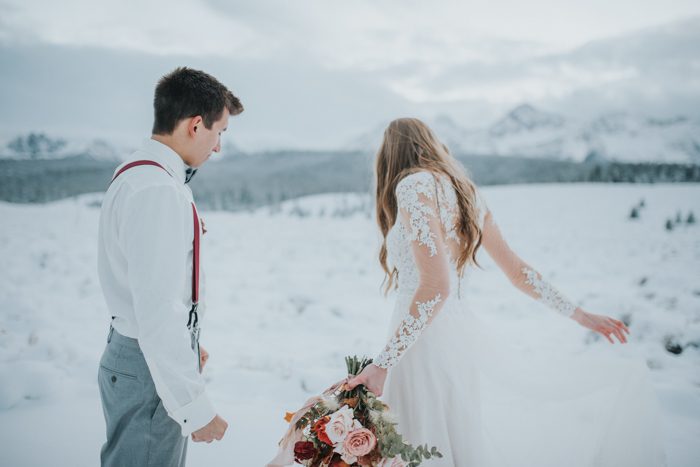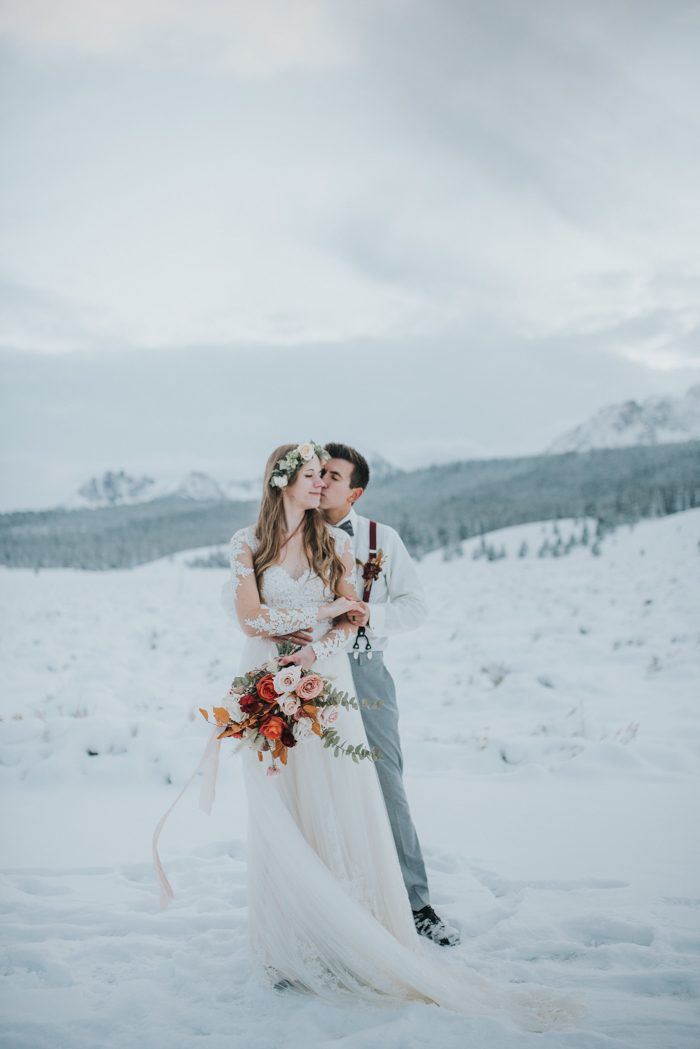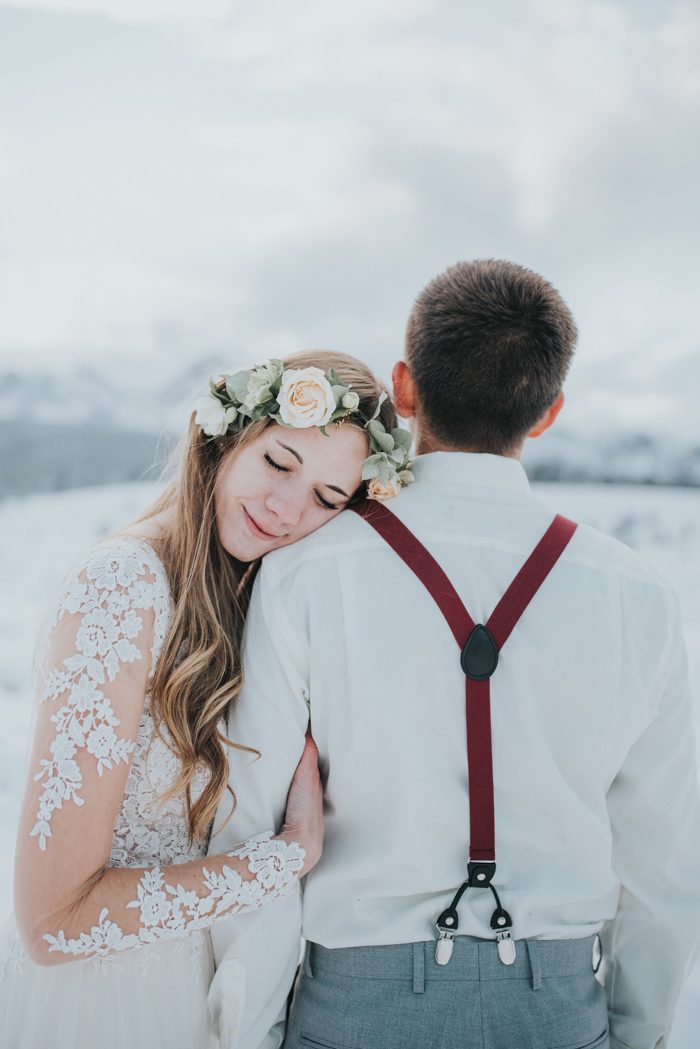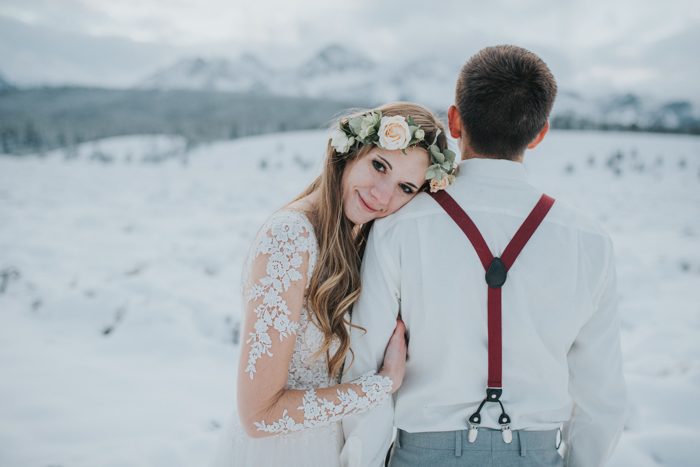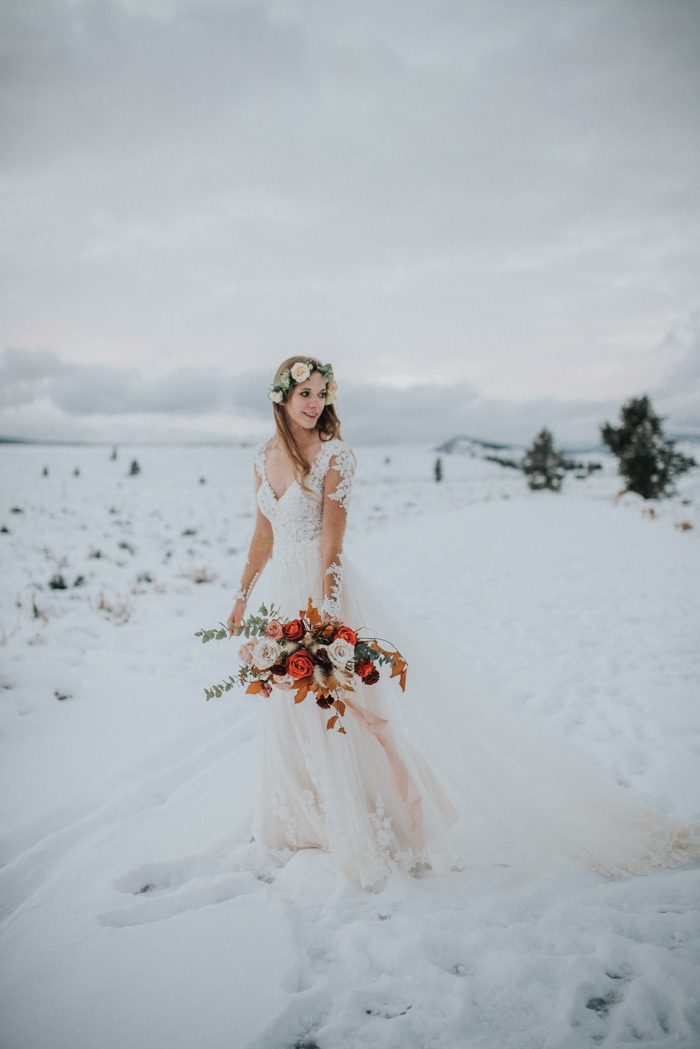 My advice to brides who are planning their wedding day is to always remember what the day is truly about: you and your soulmate becoming husband and wife. I see too many brides get carried away in their big weddings, and I think they forget what the day should really be about. Justin and I were able to spend our day adventuring around in the mountains, celebrating our love, and I couldn't be more happy about it! We didn't worry about a schedule, or walking around socializing with guests, or if the wedding party was lined up correctly. All we worried about was where we would adventure next, and making sure we didn't get hypothermia!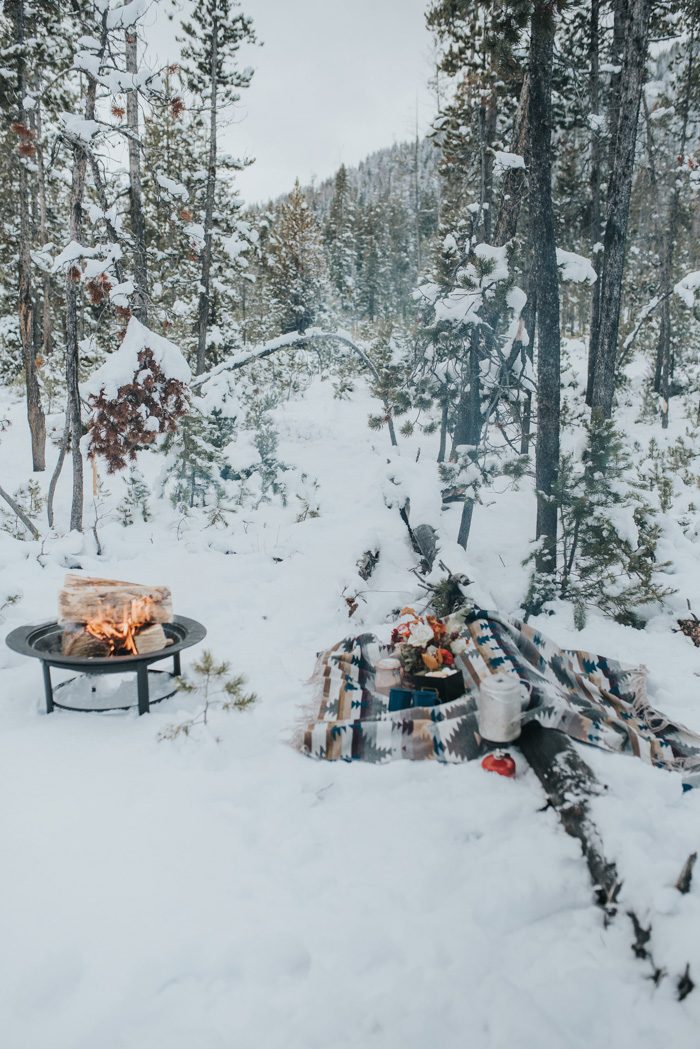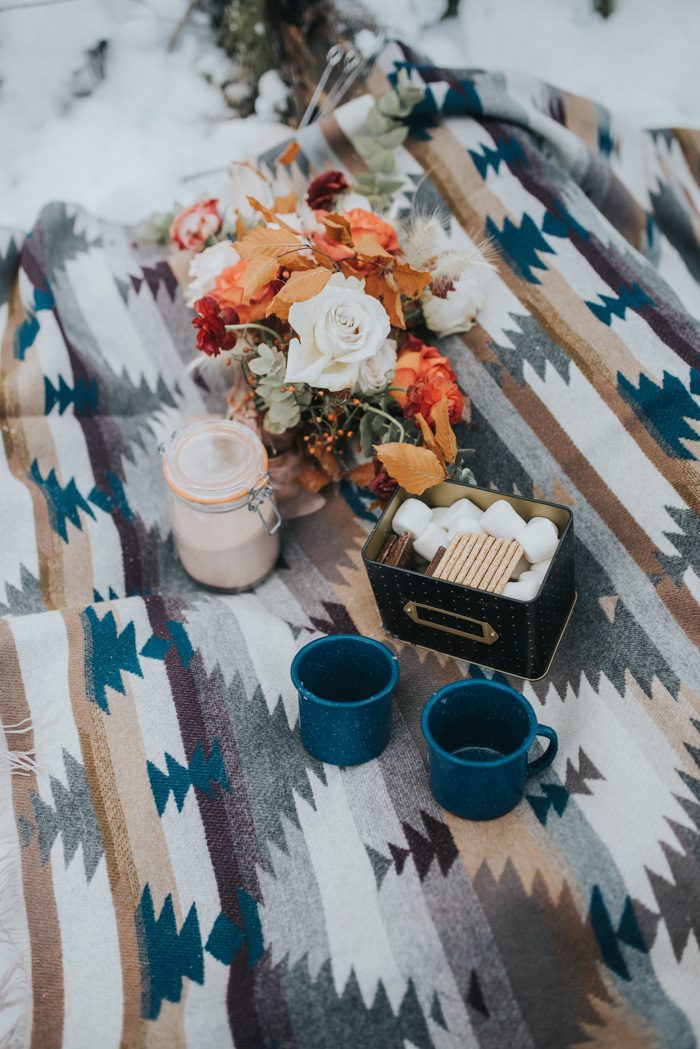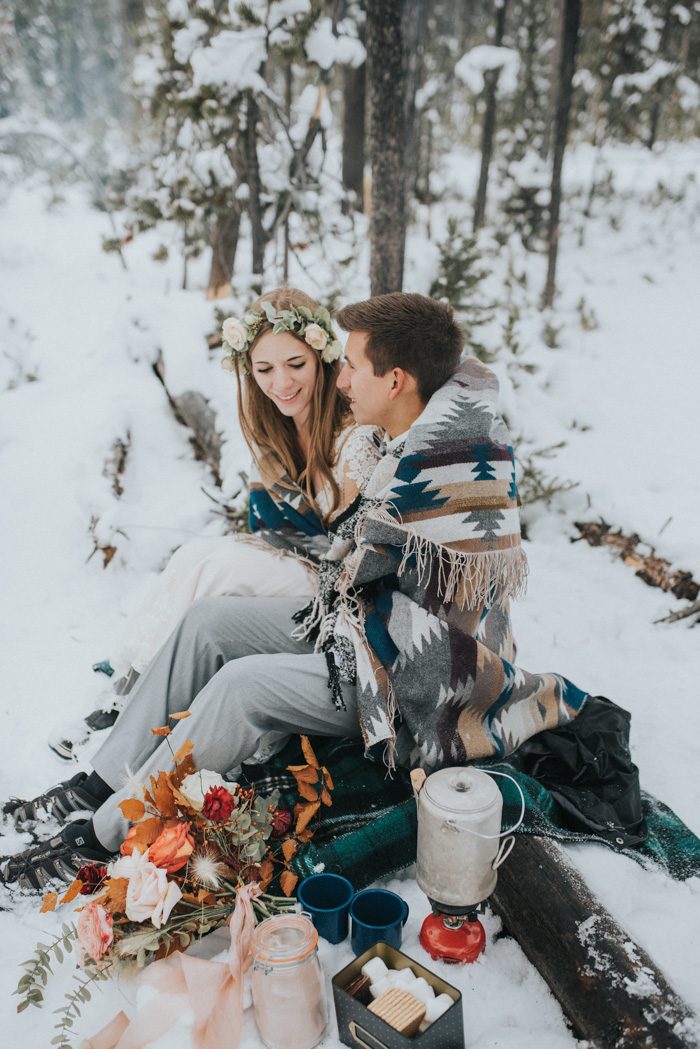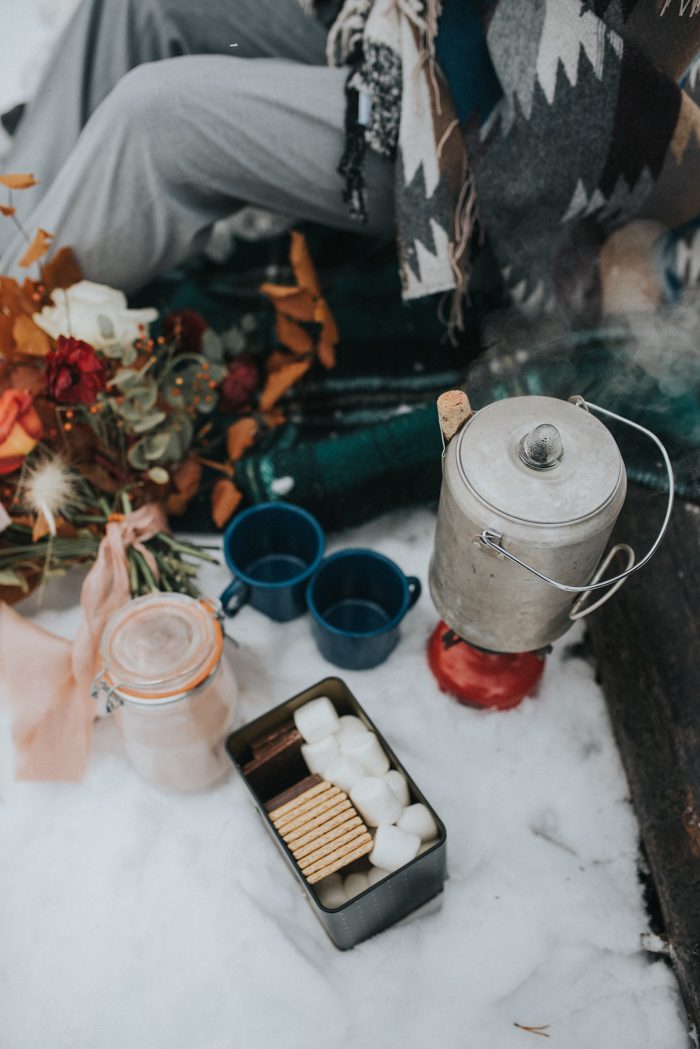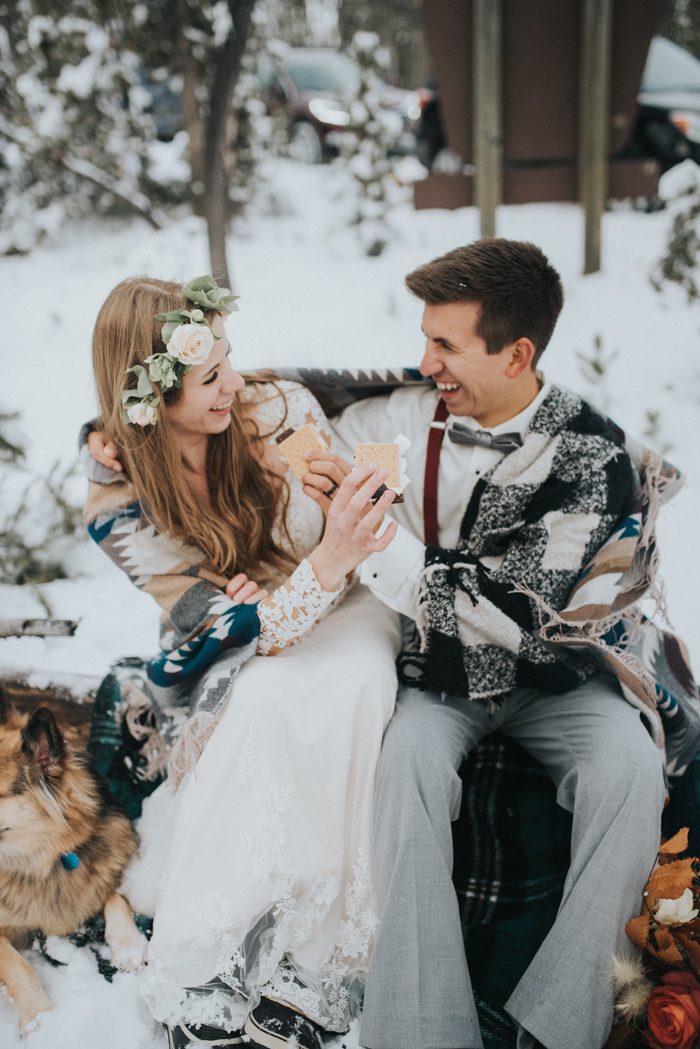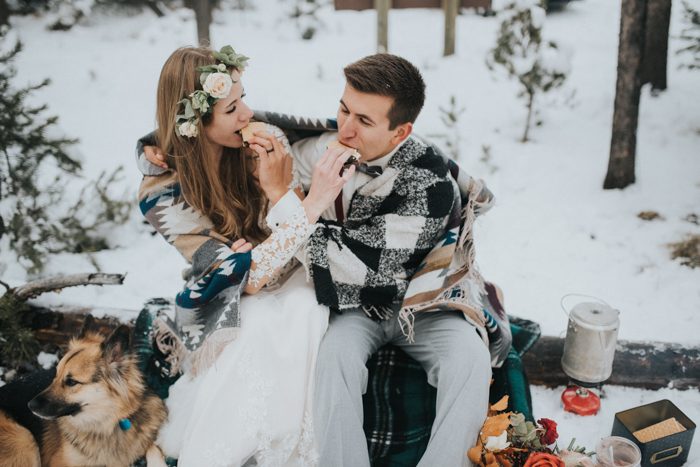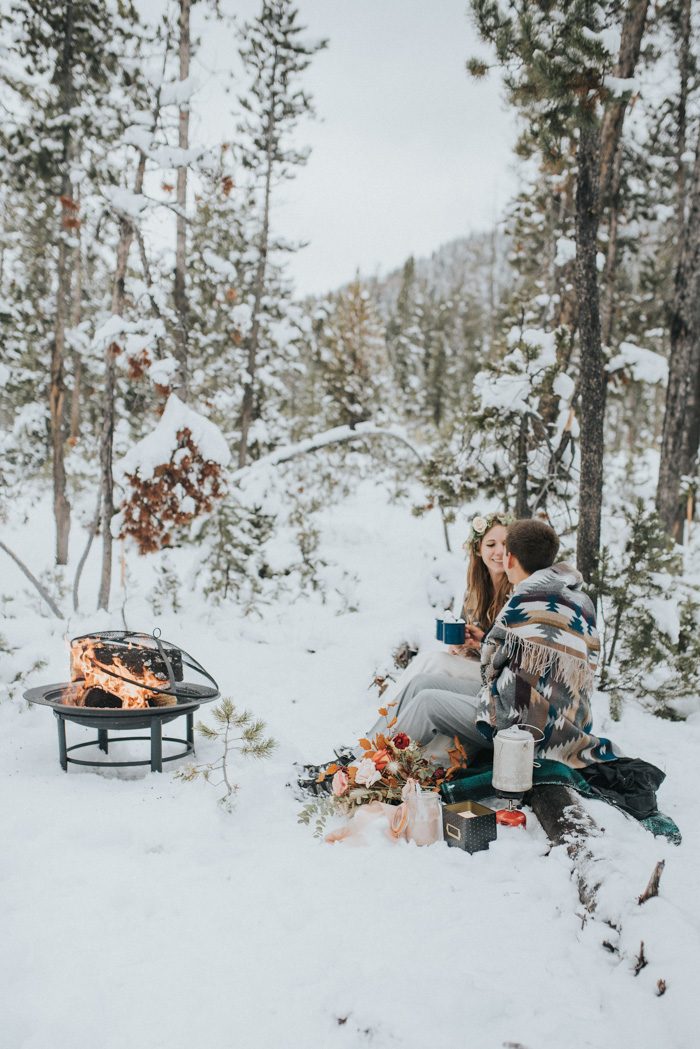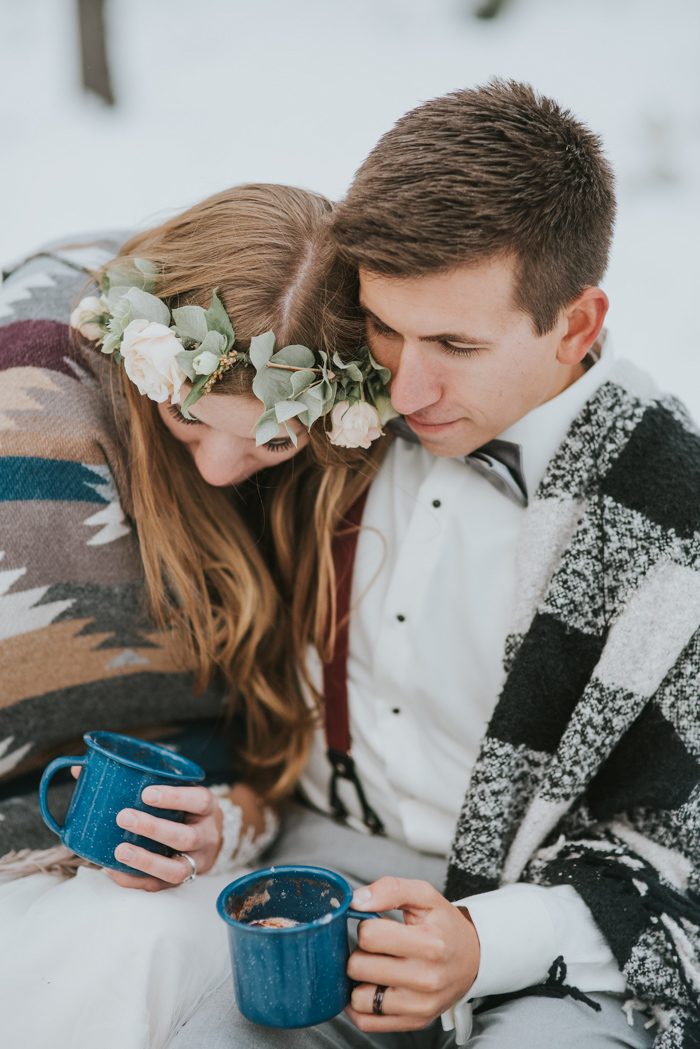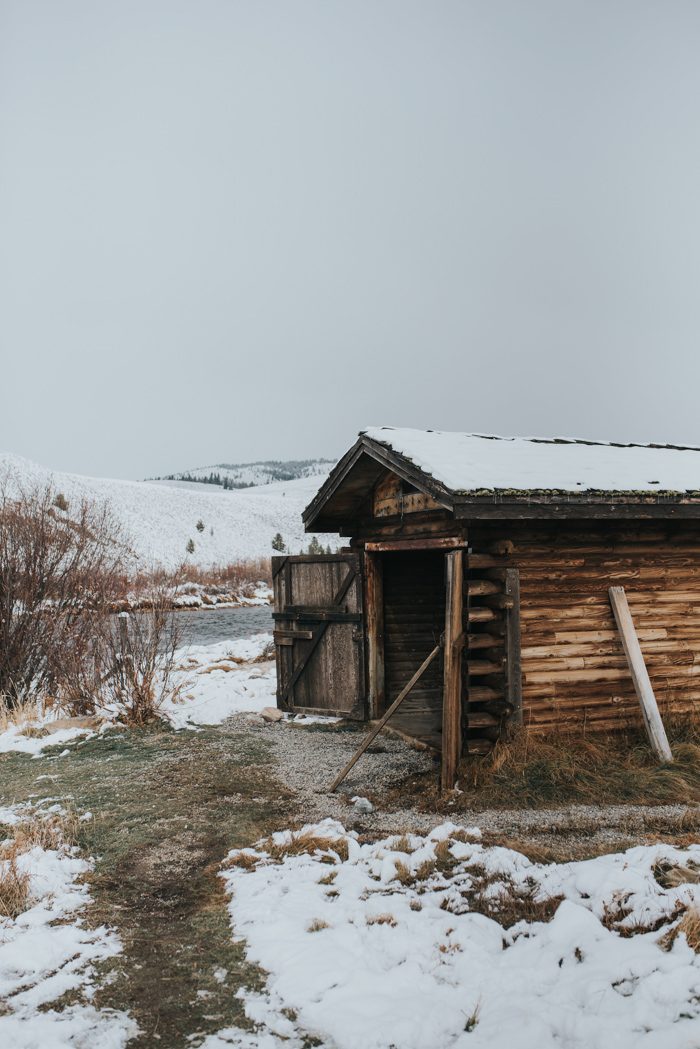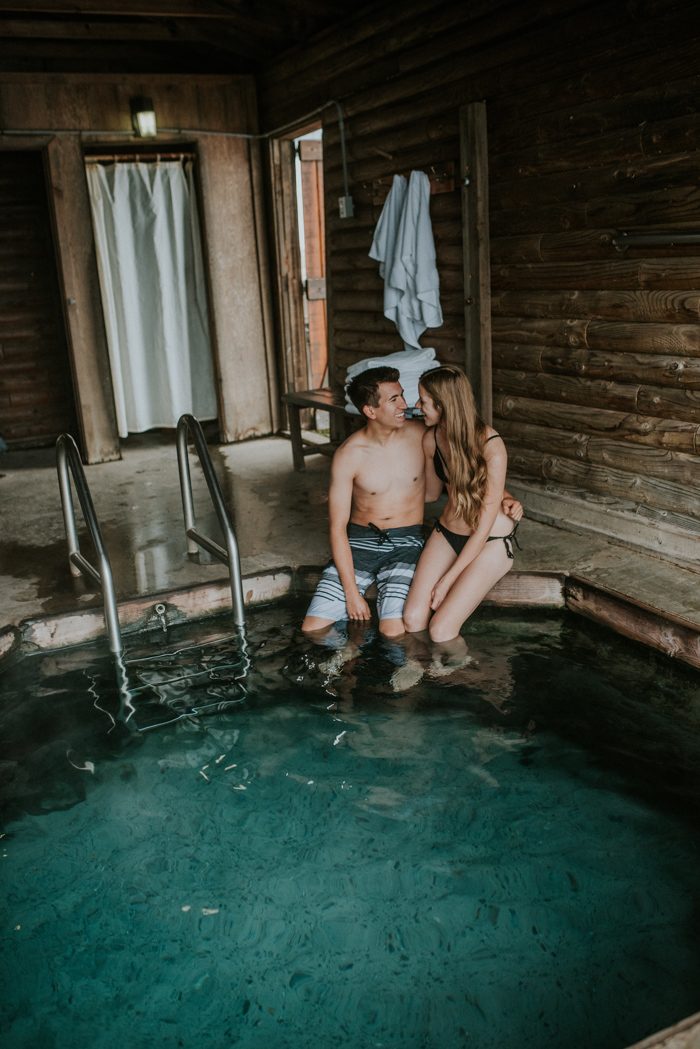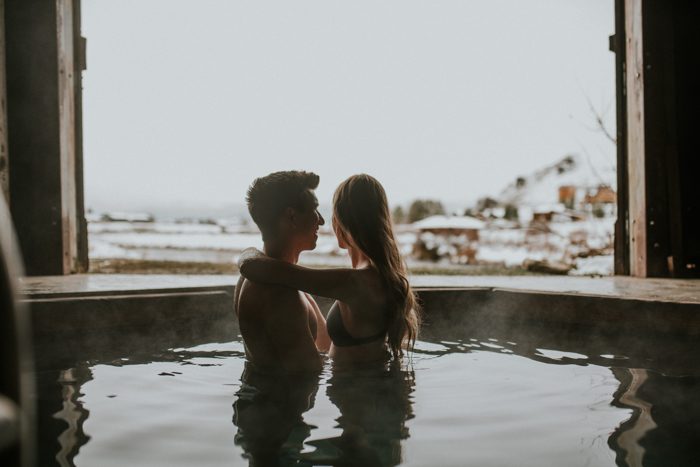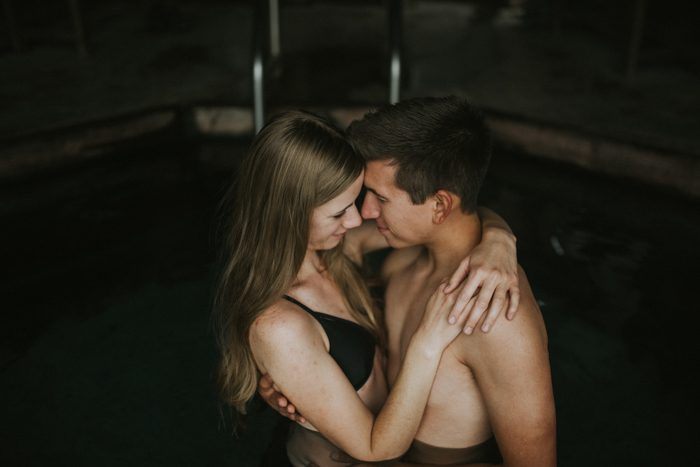 Congratulations to Nicole and Justin on the beginning of your forever, and a huge thanks to Junebug member Maggie Grace Photography for sharing this adventurous Lake Stanley elopement! Did this winter elopement speak to your soul? Then you have to check out Phillippa and Oliver's Wanaka helicopter elopement in New Zealand!