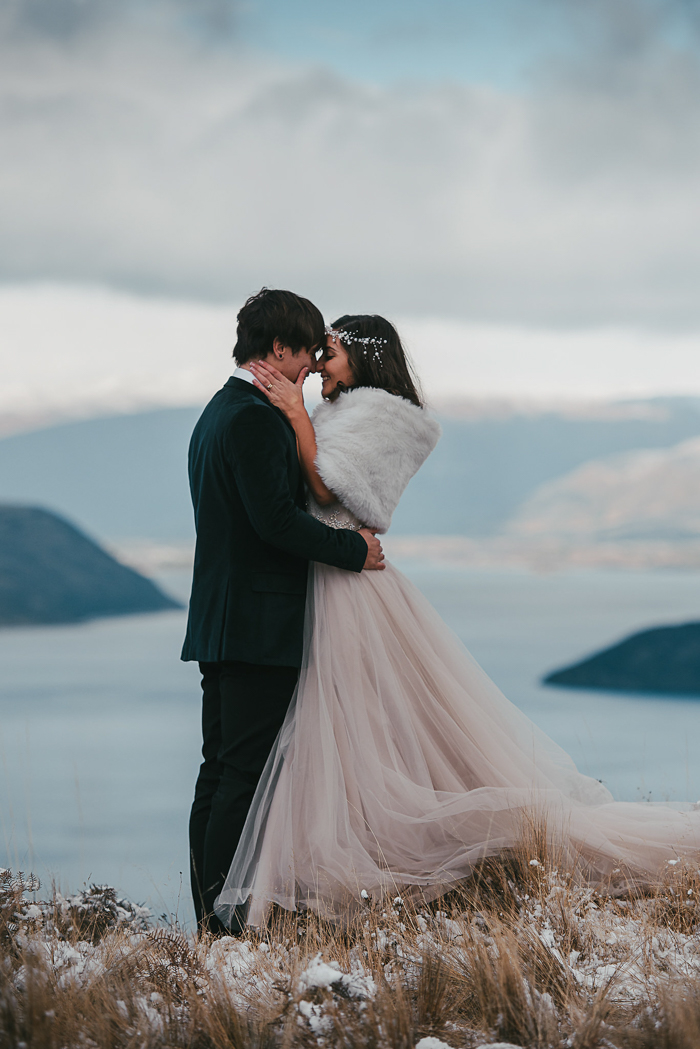 Once you land your eyes on this helicopter elopement in New Zealand, I promise you'll be reaching for your passport. Phillippa and Oliver's New Zealand elopement was the perfect way for these two's adventurous spirits to commemorate their love. The two of them read their hand-written vows on top of a mountain, with only their officiant and photographer to witness. Carla Mitchell Photography perfectly captured the intimacy and excitement from their elopement, which will be shared over and over again with family and friends.
The Couple:
Phillippa and Oliver
The Wedding:
Ote Koti Koko Peak, Wanaka, New Zealand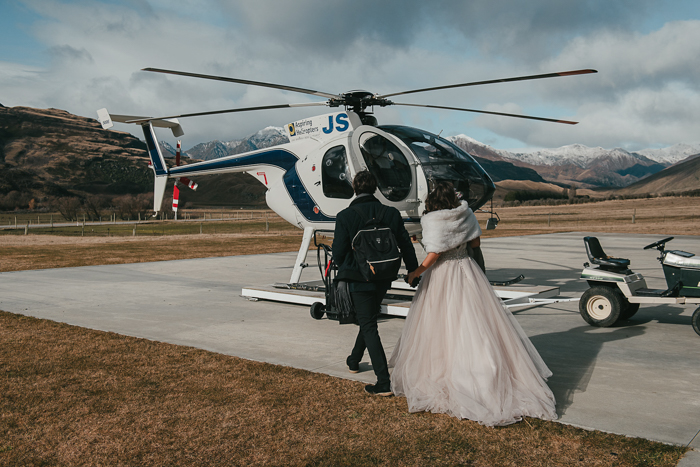 We really wanted to do something different, memorable and romantic – and I think we achieved it with our winter heli-wedding! We really wanted a unique and memorable story for the grand kids too!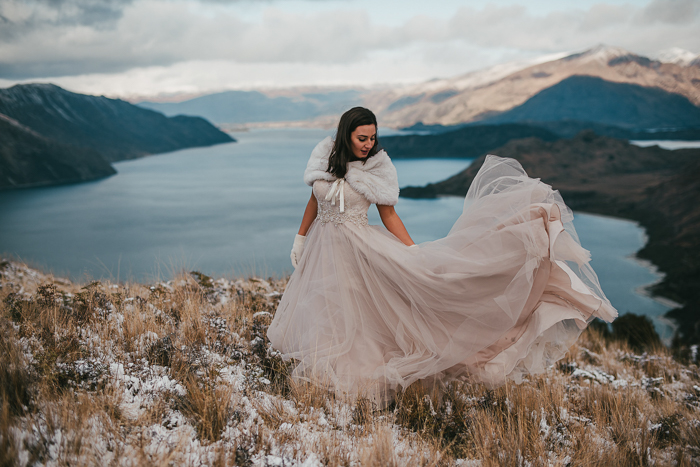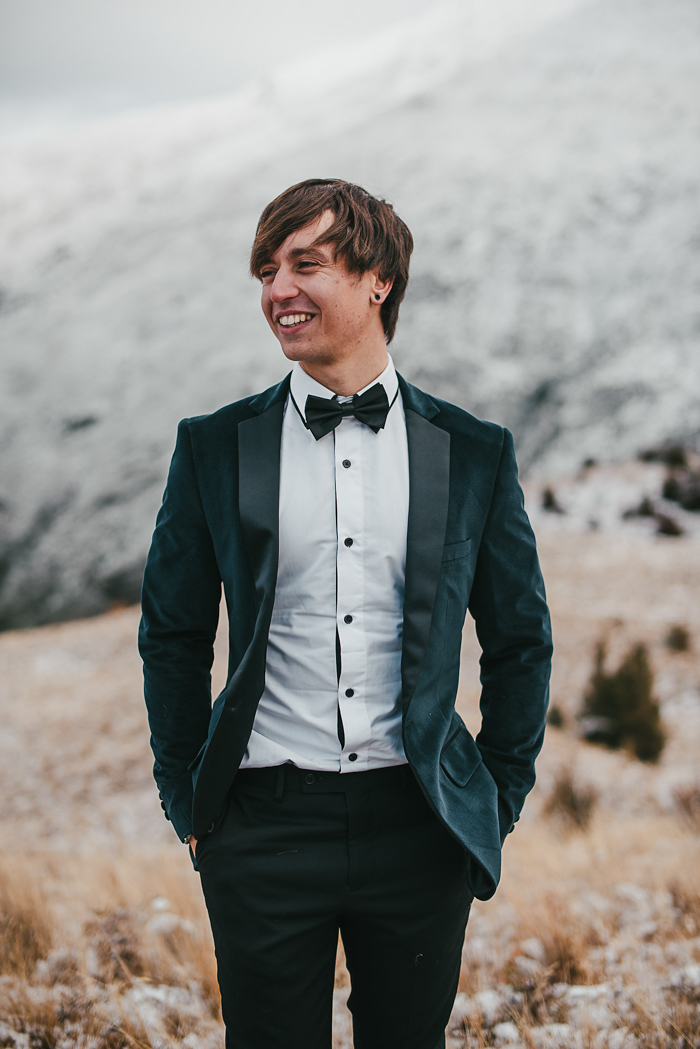 The weather definitely restricted us in terms of what we could wear. We knew it was going to be VERY cold so had to plan for that. I knew I wanted a really long train on my dress as I thought it would look stunning in the snow and the tulle on my dress meant I could wear two pairs of thermal leggings and snow boots under my dress without anyone knowing! I also wanted some fur to keep me warm and match the winter scenery! Ollie knew he wanted to wear a navy suit and so when we saw this one, he had to have it!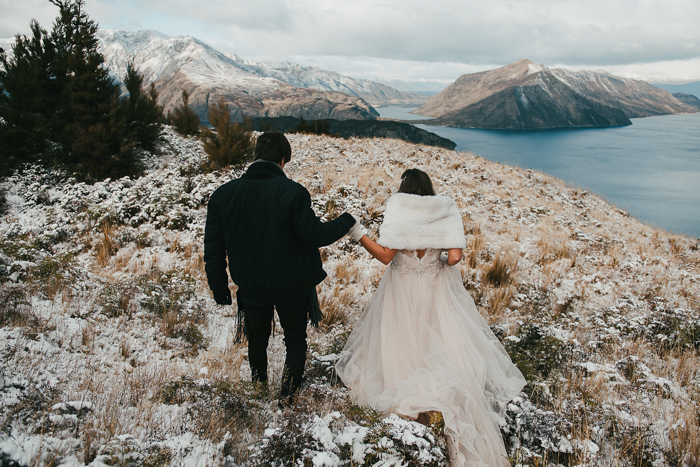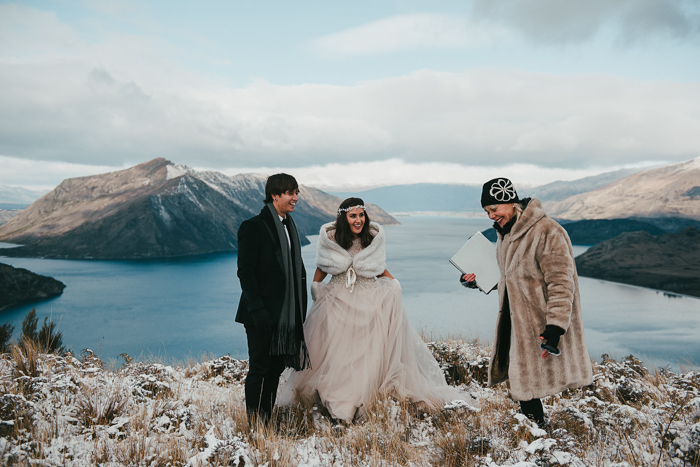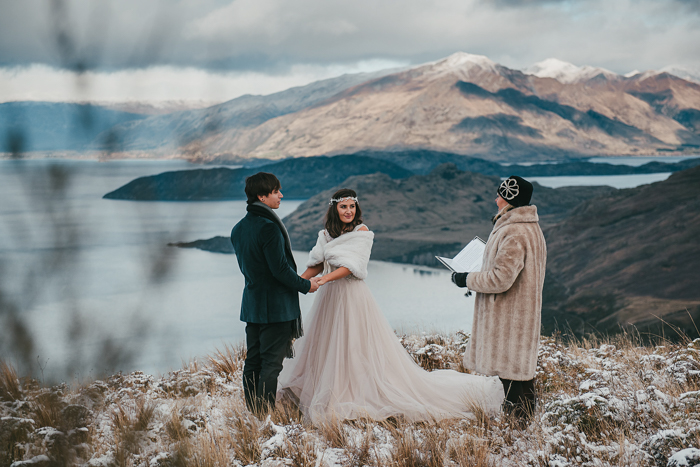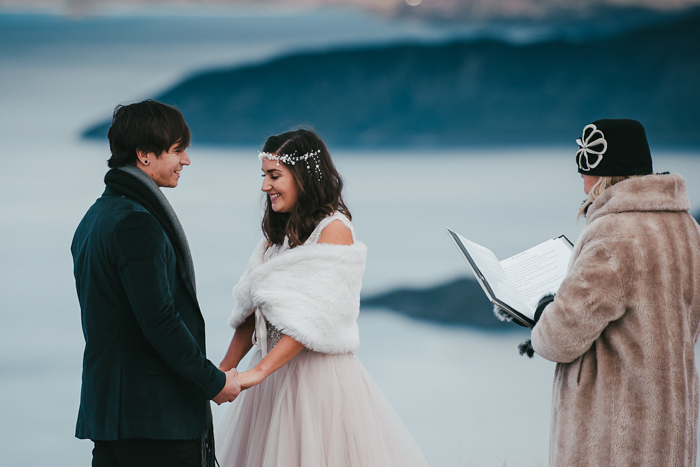 When we were standing on the edge of the mountain, about to say our vows, our celebrant asked us to take a moment to look out at the view over Lake Wanaka and just take everything in. That was a surreal moment – I'm so glad we did that to take a moment to process our surroundings and all our emotions.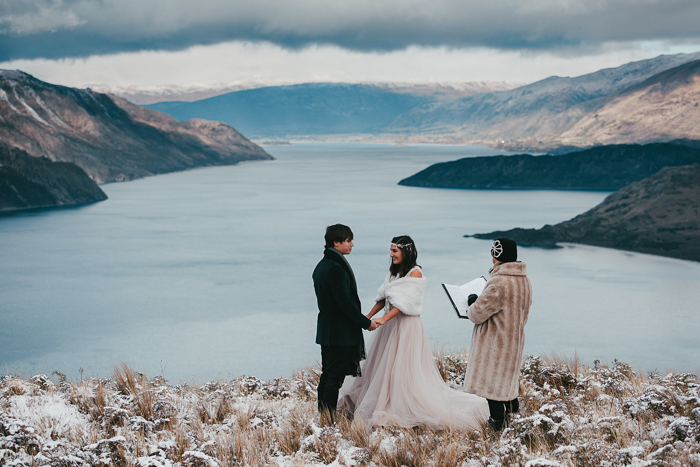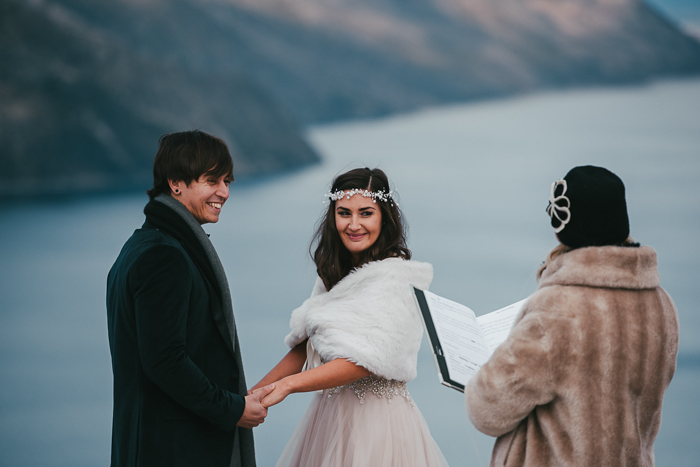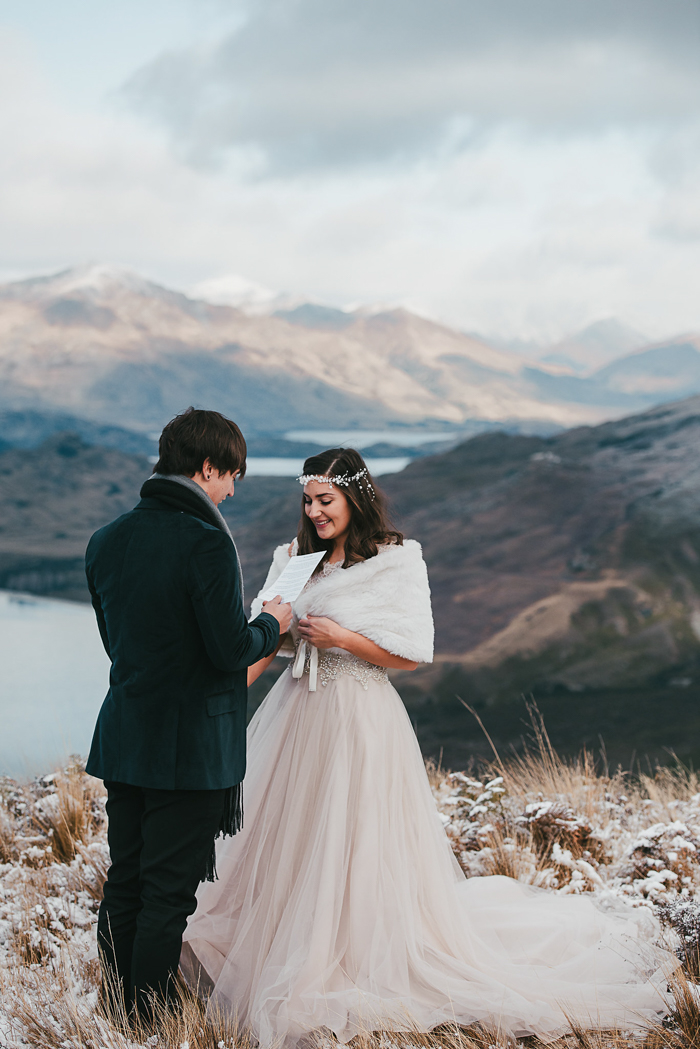 I made my head piece which you can see here in the photos. I searched high and low for something for my hair. I knew I wanted a crown style but couldn't find anything. I got these pearls on wire from the pound shop and twisted them around to make my headpiece. I loved it and was so glad I wore it as I nearly ditched it at the last minute!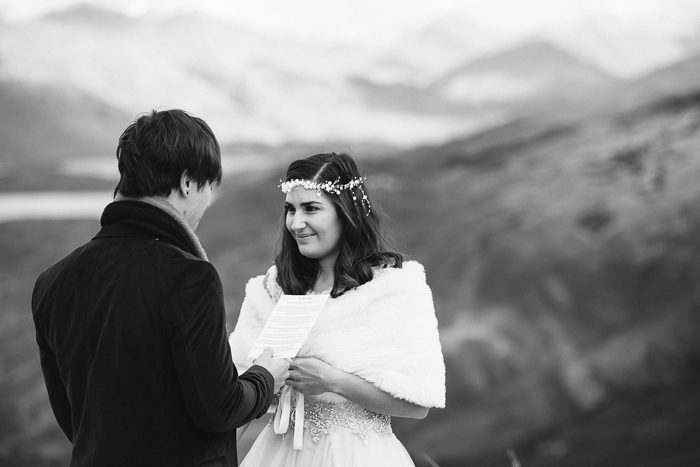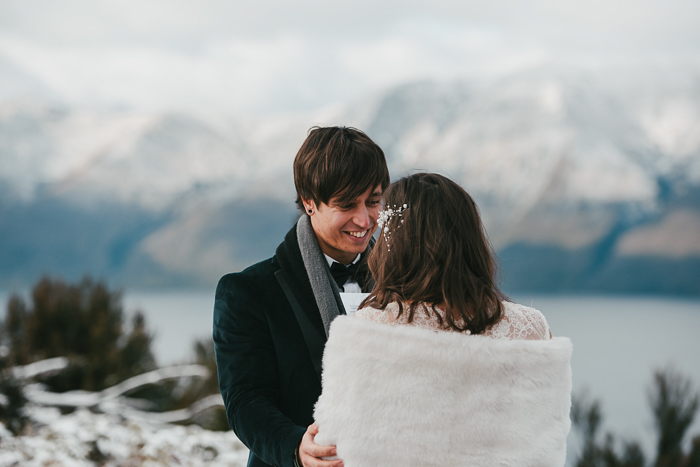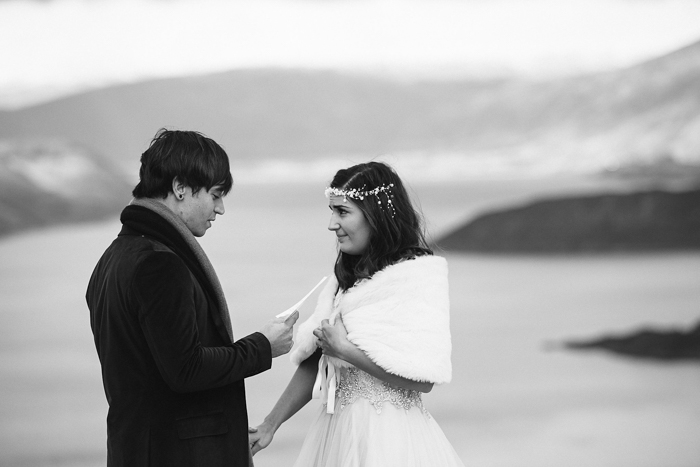 We wrote our own vows which was something we had always known we wanted to do. It was a way of saying what we really wanted to each other. Our wedding celebrant, Glennys, really made us feel like the service was ours. She asked us to choose the wording for ring exchange and we chose a special poem which was also read out.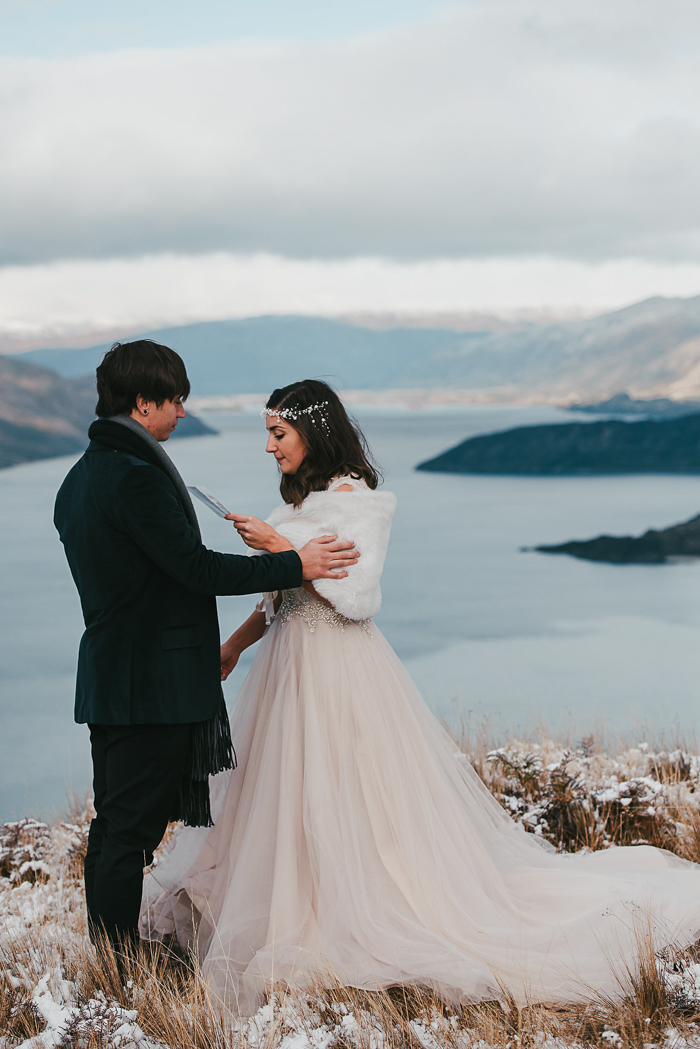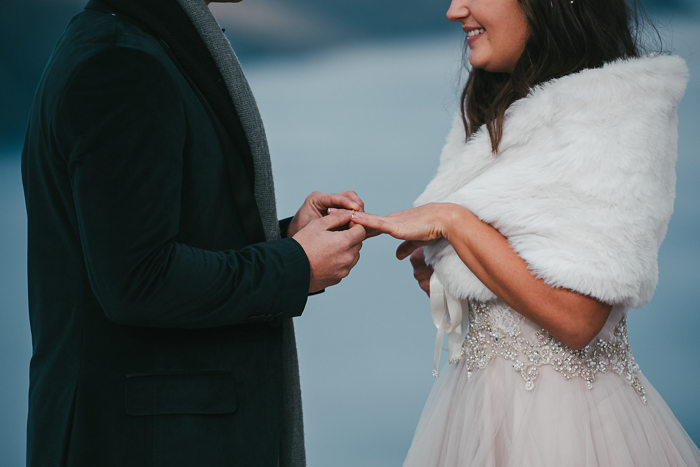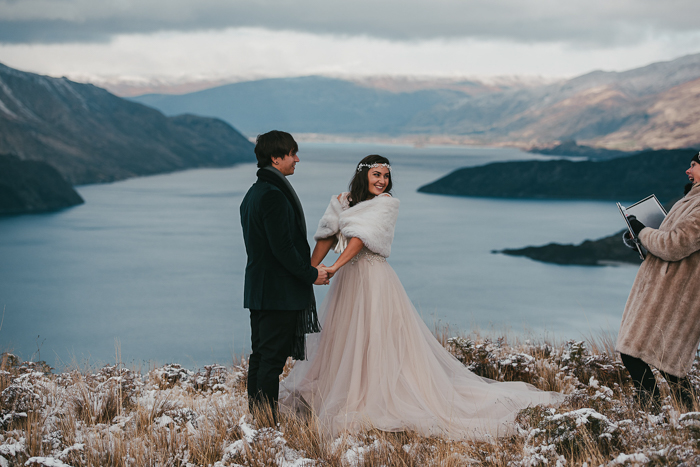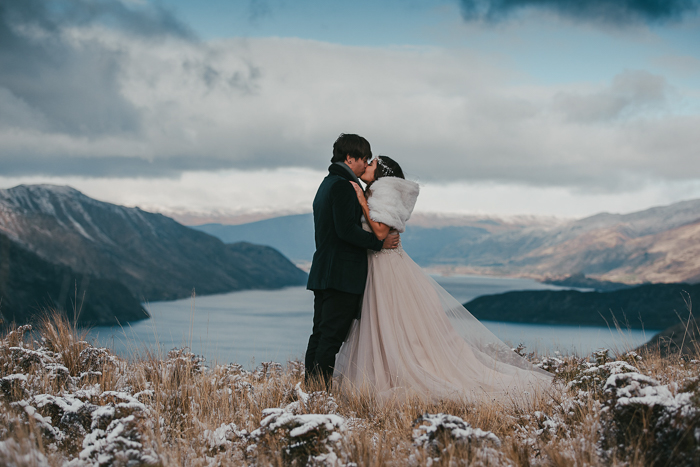 Do what YOU want to do. I think it's really important to remember why you're getting married. It's a promise between two people. It doesn't matter how much money you spend, how fancy your table center pieces are or whether you invite great aunt June twice removed who you haven't seen for 15 years. It's YOUR day. Don't be afraid to upset people because they will get over it and you have to do what make you happy. It's hard to feel like you're disappointing family members but if they love you, they'll understand why you make certain decisions about your special day.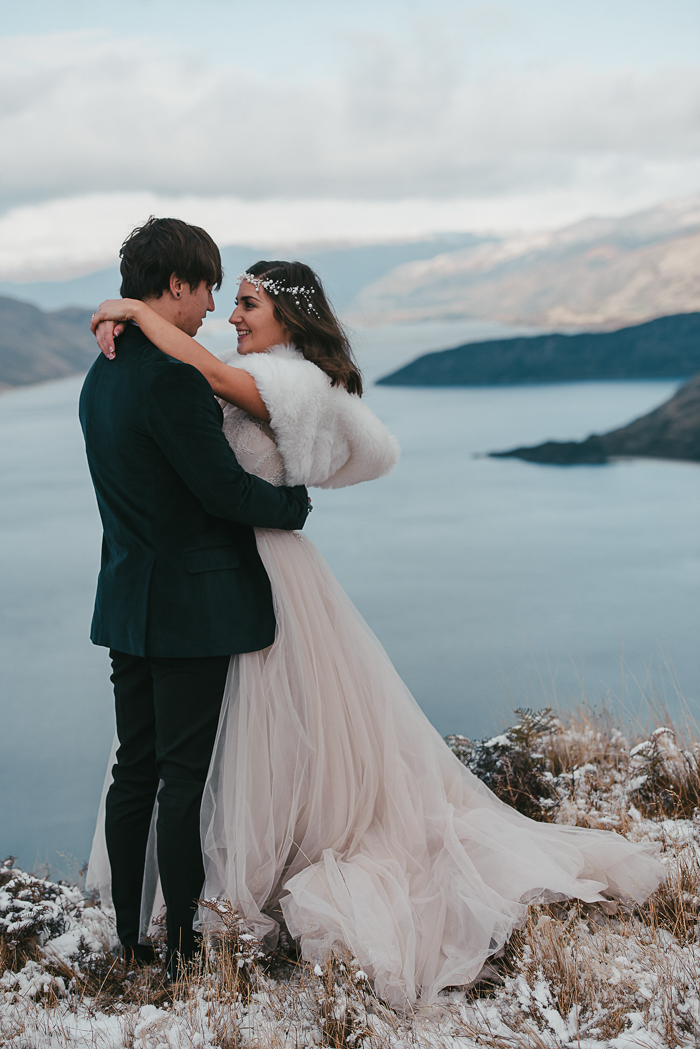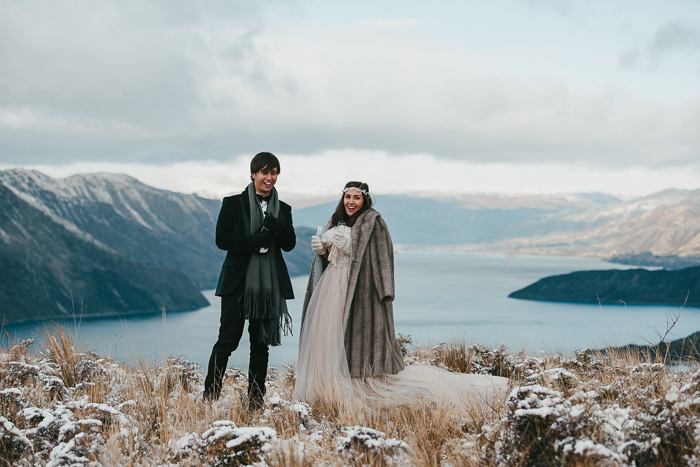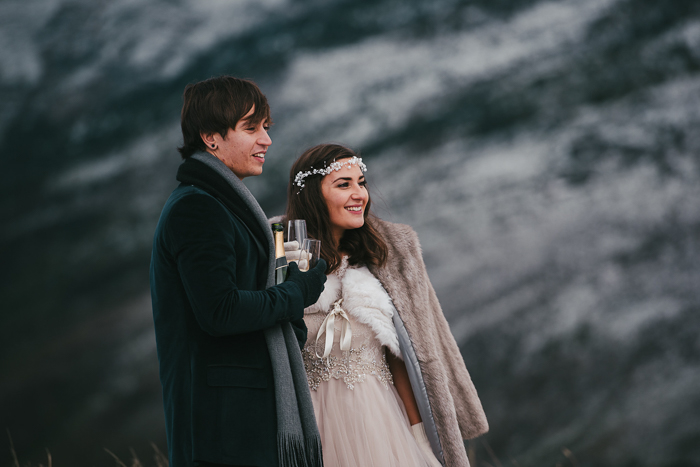 We were backpacking around the world when we decided on a mountain top wedding destination. We just wanted to do something memorable and different! It was totally US to do something crazy and spontaneous. We did tell our family our plans to get married in New Zealand and had a wedding blessing and party when we got back home to Guernsey!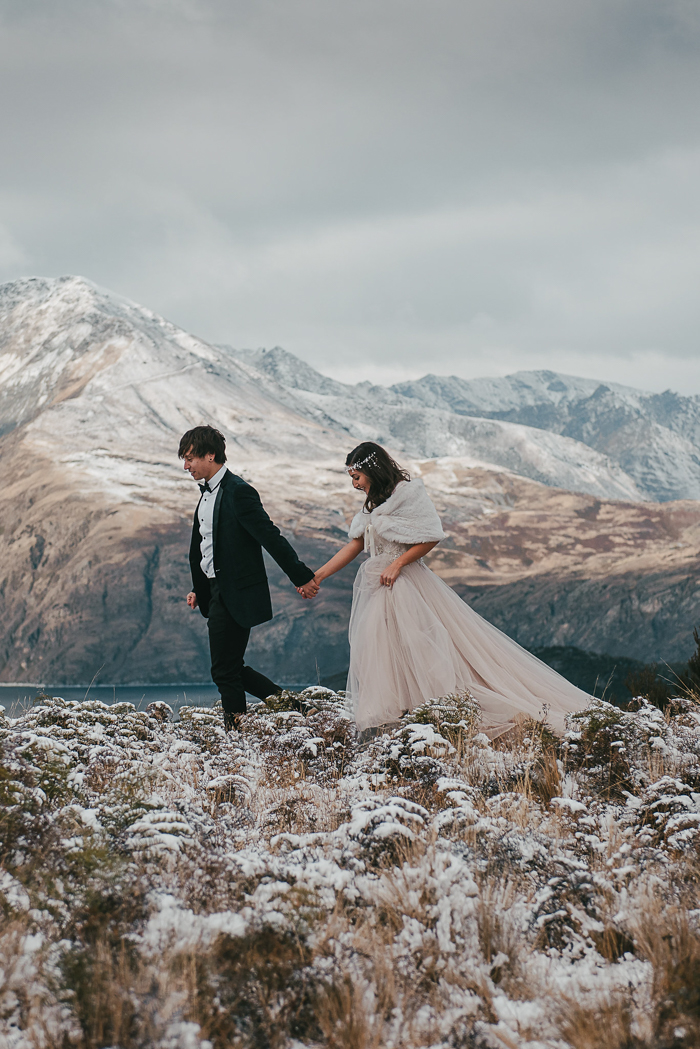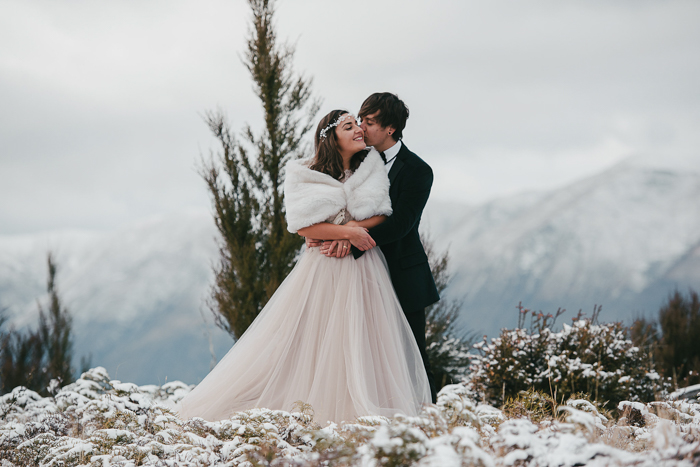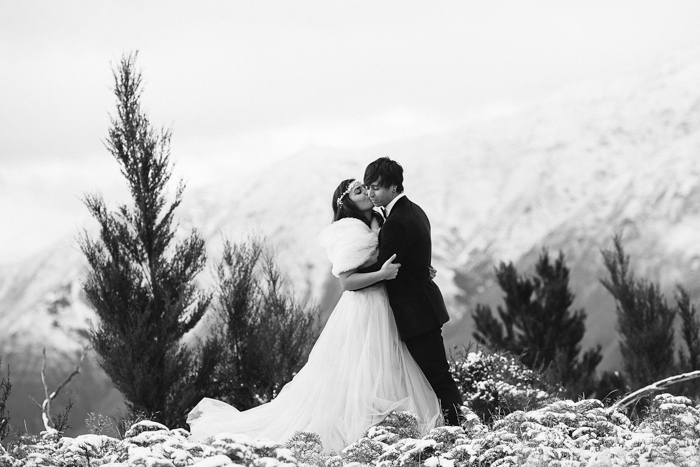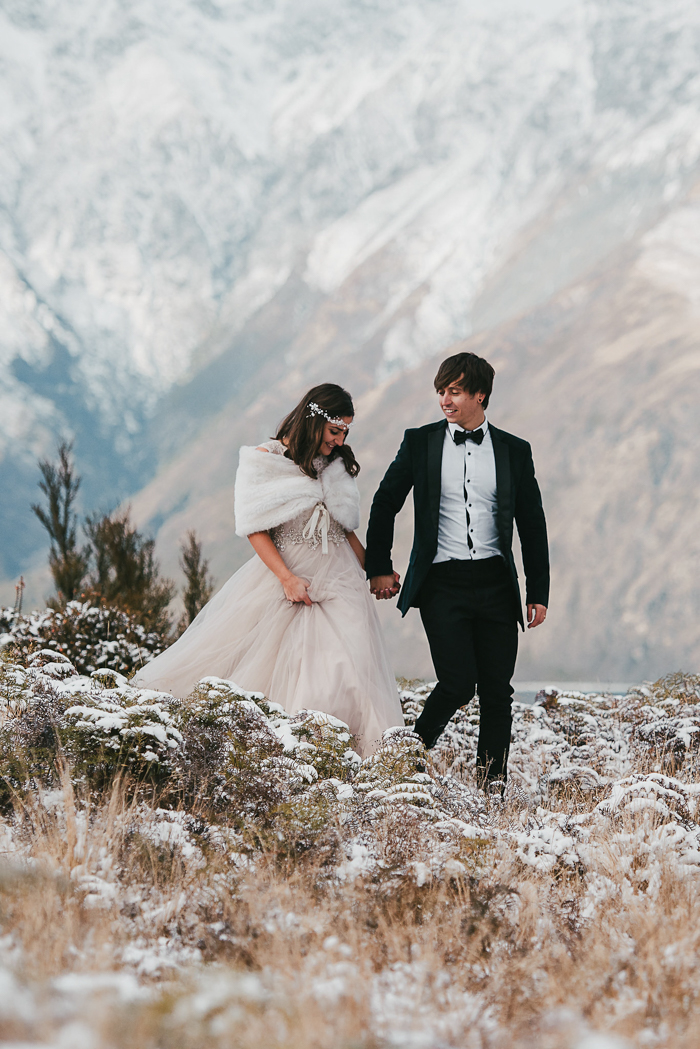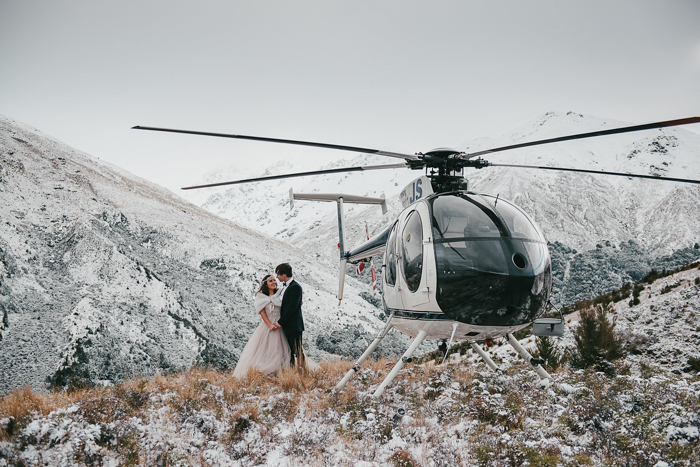 The time we spent in the helicopter flying to our location was breathtaking and a 'real pinch me now' moment! It looked like a painting and it was hard to believe it was real!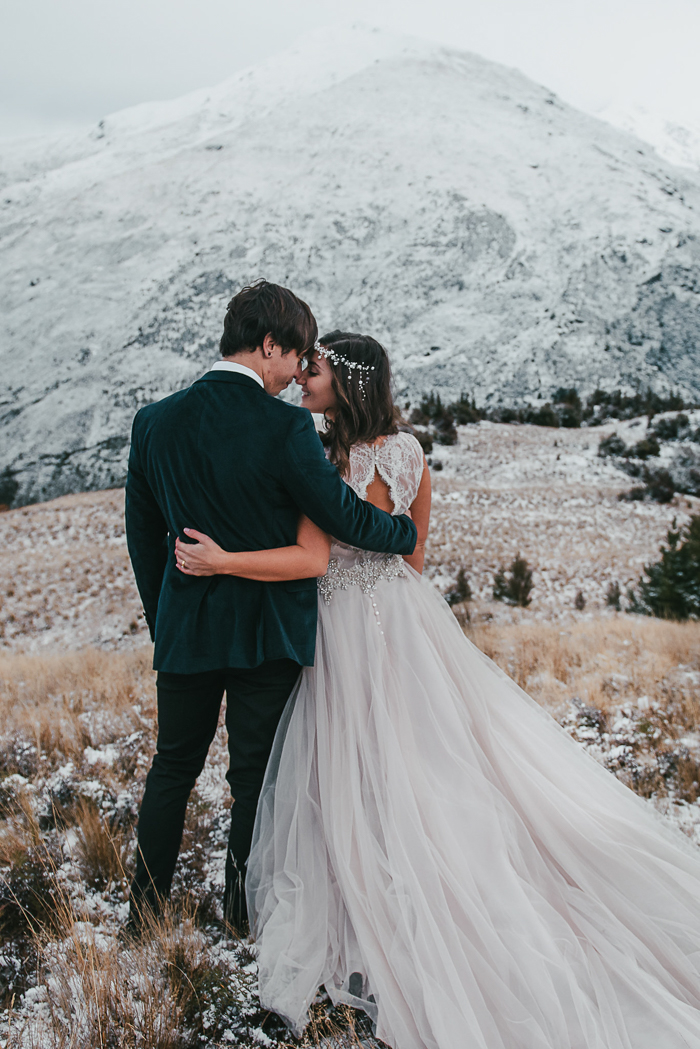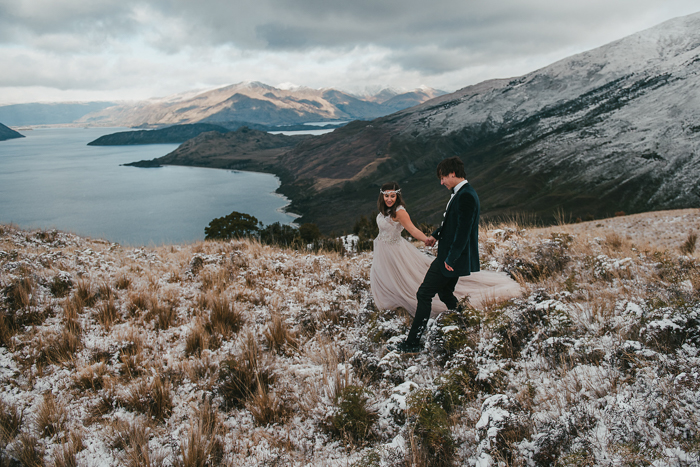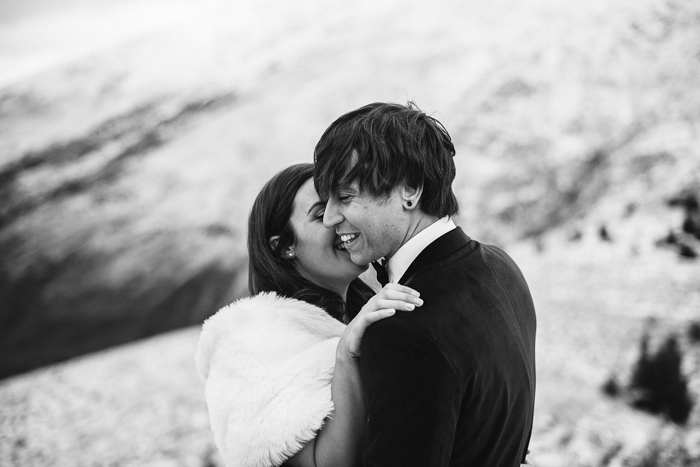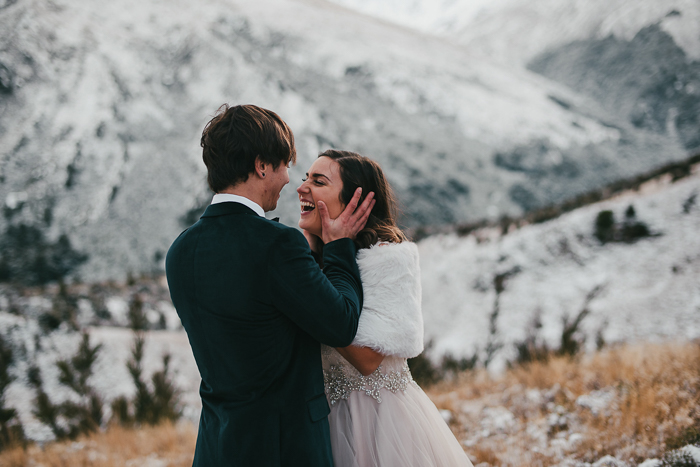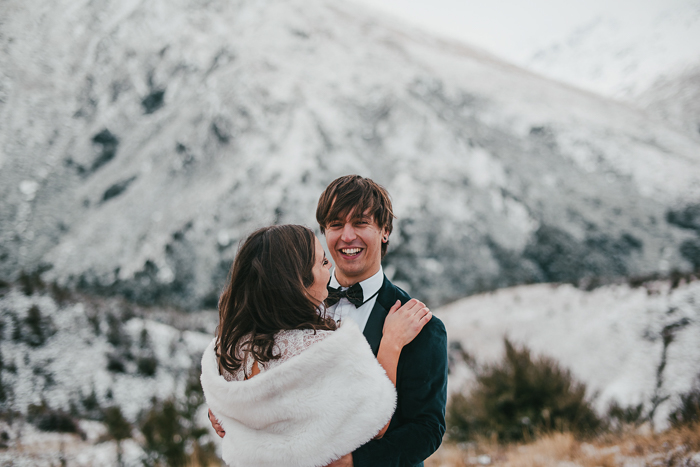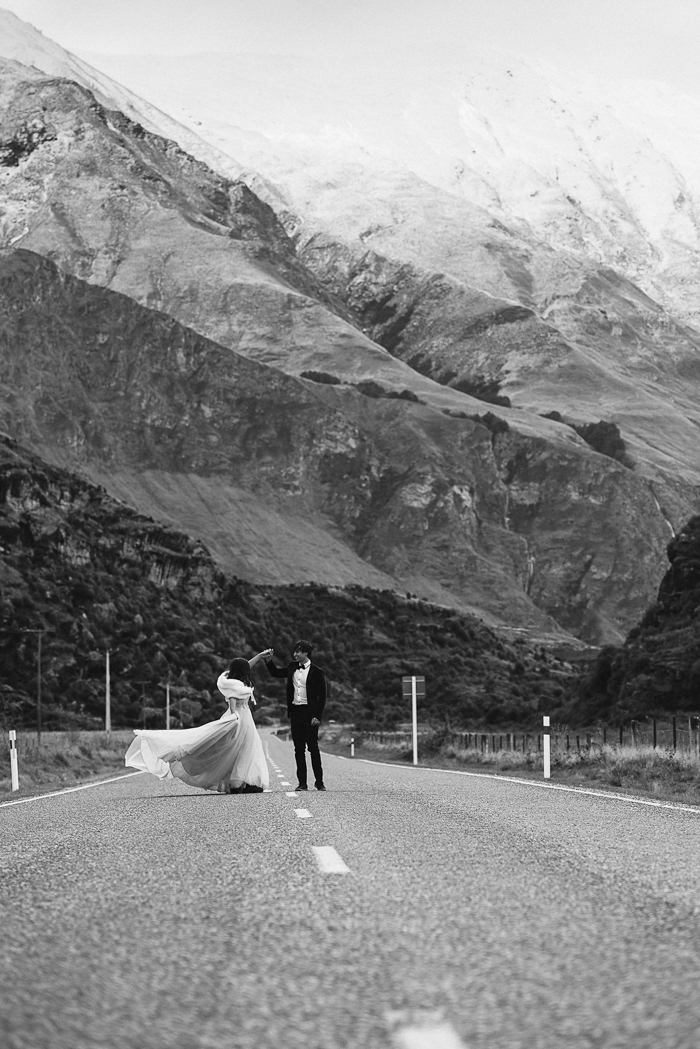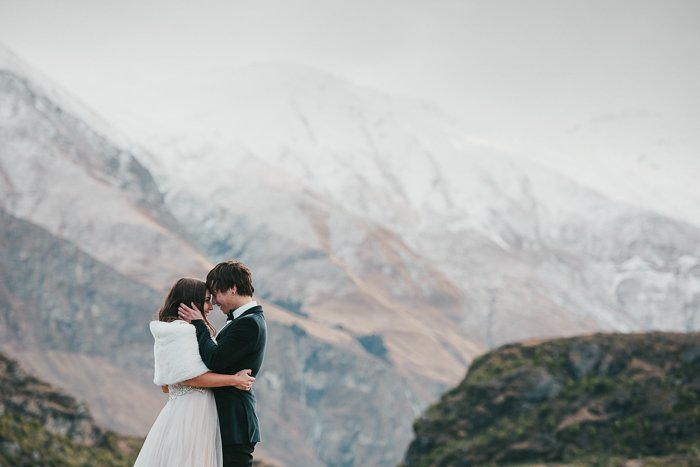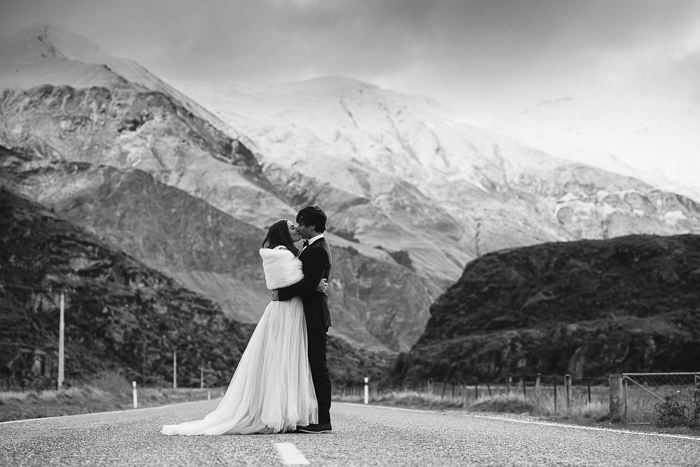 Our photographer, Carla, is AMAZING! She's young and full of energy so as soon as we met her we were excited to work with her. She was rolling around in the snow and getting wet in order to get the best shots – nothing was too much effort. She's so, so talented as you can see from our beautiful shots!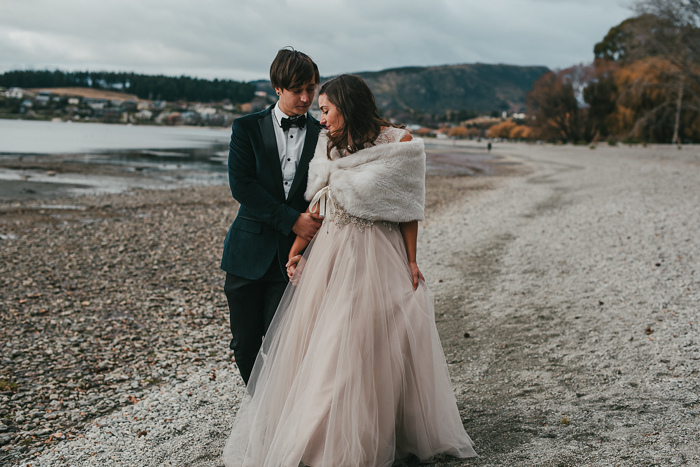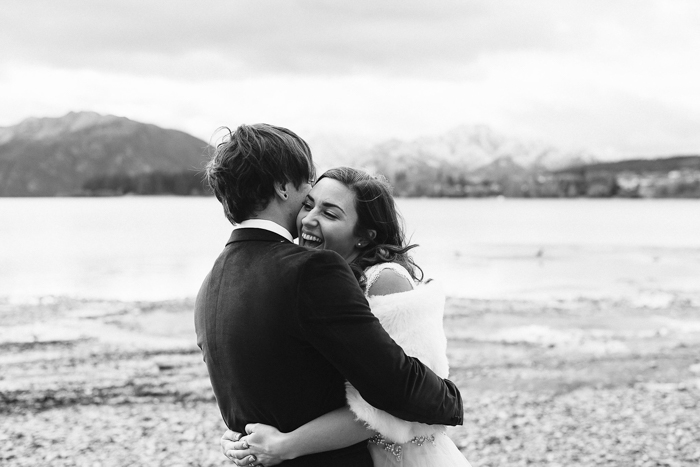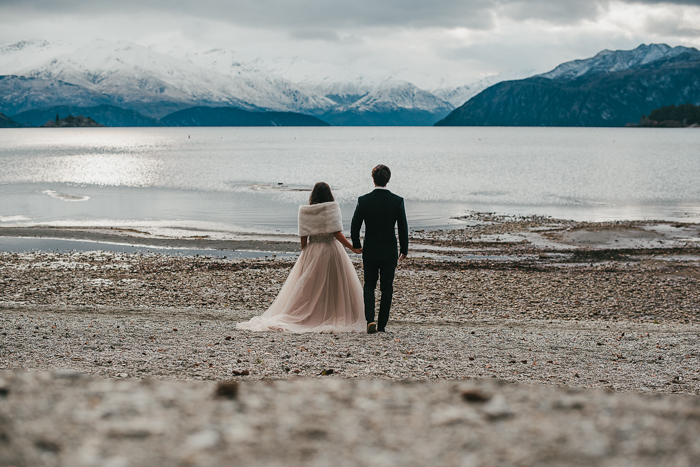 A big congratualtions to Phillippa and Oliver, and a huge thank you to Carla Mitchell Photography for sharing their elopement with us! For more adventurous love, take a look at this epic Thailand elopement adventure.