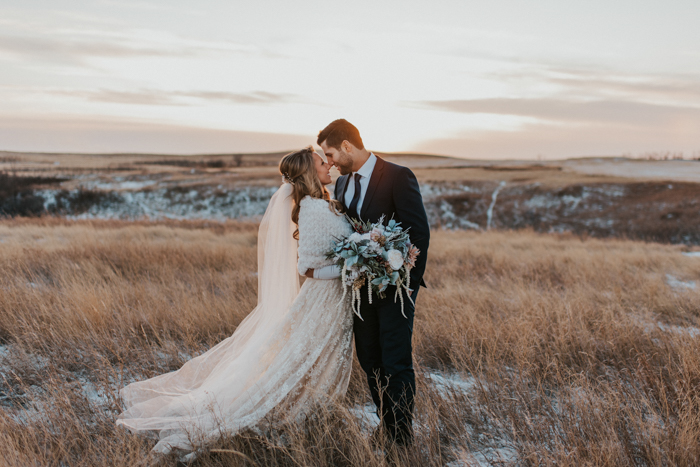 Timeless winter elegance was given a modern and DIY twist in Britney and Luke's gorgeous Saskatchewan wedding! The crafty couple handmade most of the elements of their day, including the florals, centerpieces, and — most impressively — the wedding cake. Their day began with an intimate and personal ceremony at St. Cecilia Church and ended with a cozy reception at Bethune K+S Community Hall. In between, Britney and Luke cuddled up for some seriously stunning newlywed photos with Stacie Carr Photography. Every detail, from the handmade decor to the modern, all-white bridal party attire, was thoughtfully curated and made us feel as if we'd stepped into a winter wonderland!
The Couple:
Britney and Luke
The Wedding:
St. Cecilia Church and K+S Community Hall, Bethune, Saskatchewan, Canada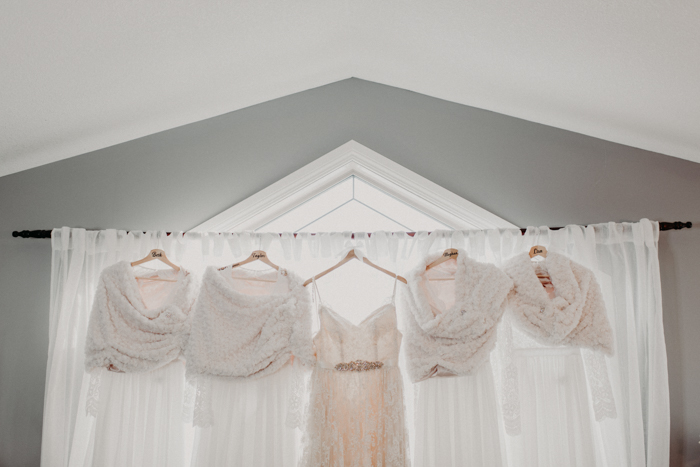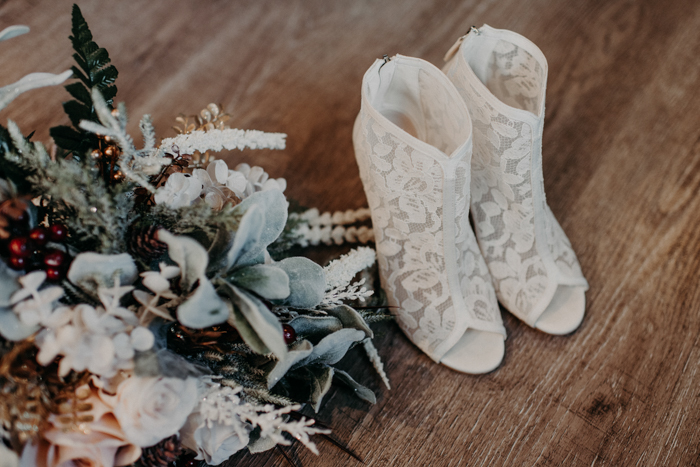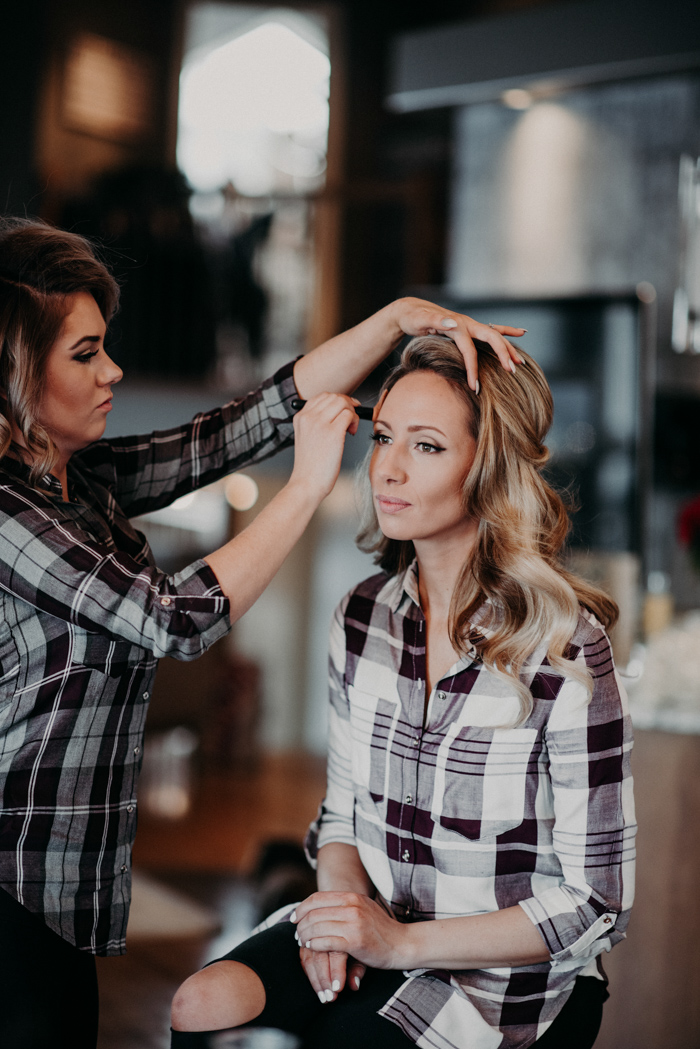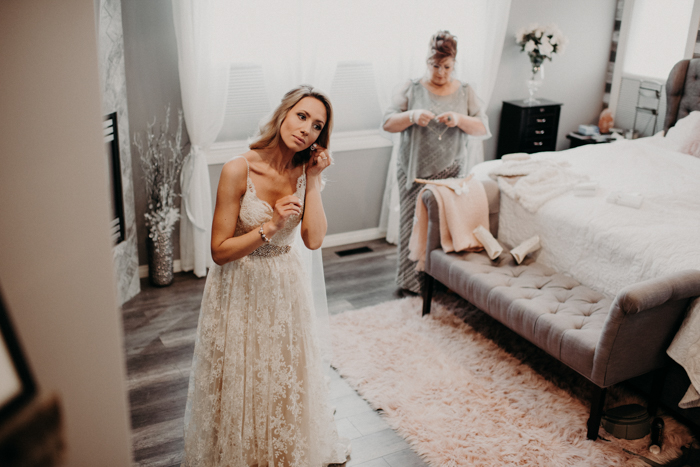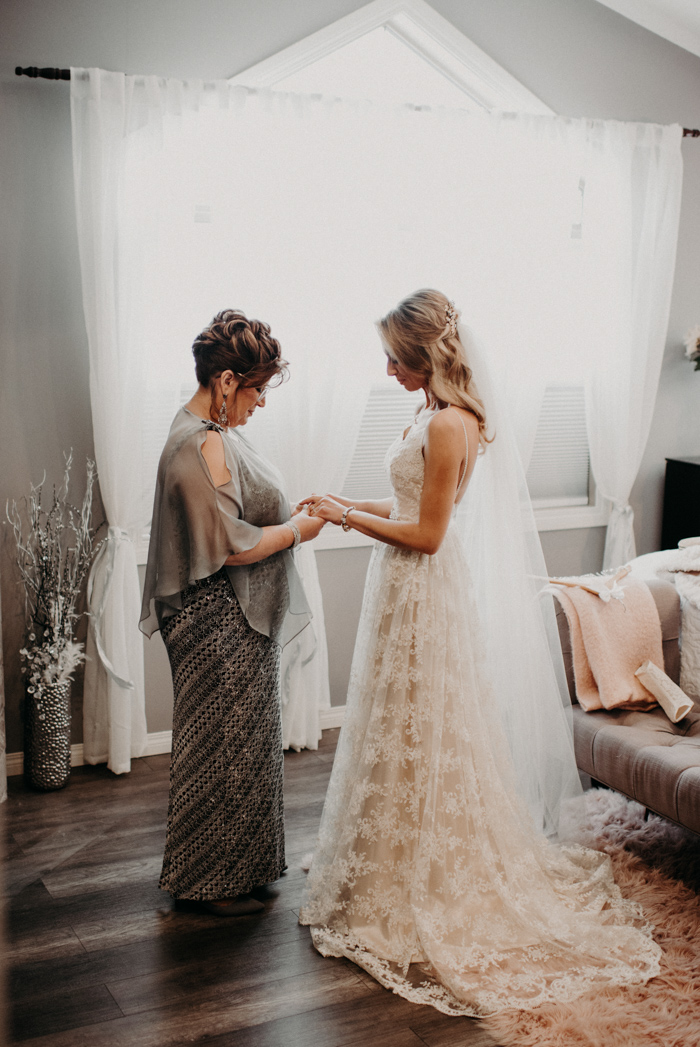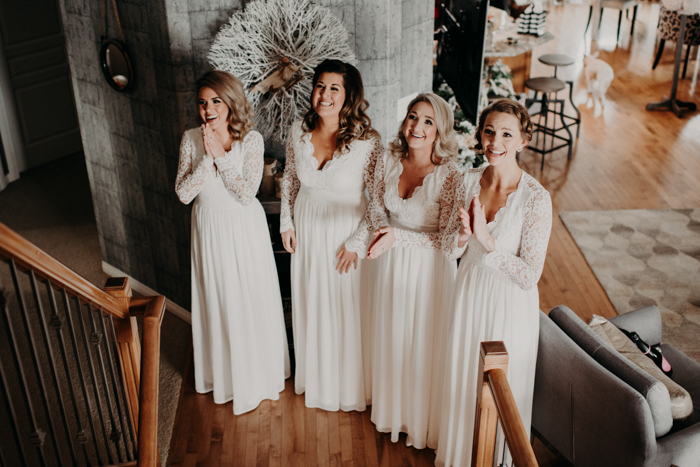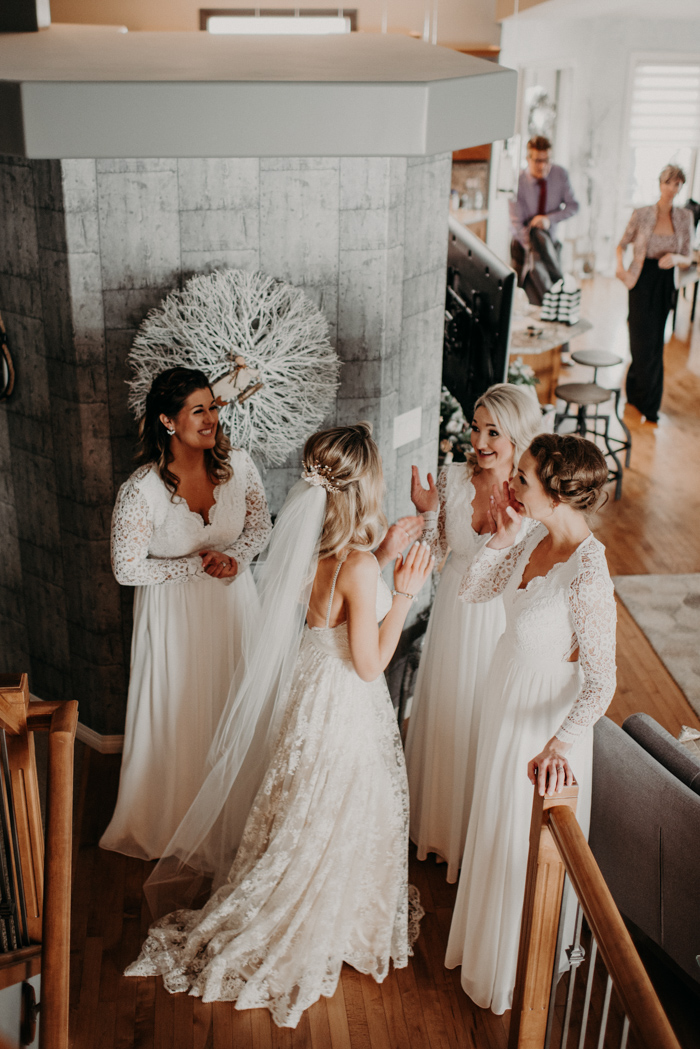 Our ceremony was so special and memorable to us, and I think it's because of those personal touches. To begin the ceremony, we played a slideshow of our engagement photos that told our love story, along with a special song to us called "Hey Pretty Girl" by Kip Moore. It definitely set the tone for our ceremony. Of course, writing our own vows made it very special as the words came from the heart. We had our friends very involved in our ceremony by sharing readings, prayers, playing guitar and singing. I also took a non-conventional approach to have my dad walk me up the aisle. After our wedding party had entered, we played the song "H.O.L.Y" by Maddie Wilson, and my dad stood up from his seat at the front of the church and walked down the aisle by himself to pick me up at the back of the church. When the curtains opened, we saw each other for the first time that day. It was an emotional and special moment we got to share with all of our friends and family. Then we did the big walk together. It was an incredible moment!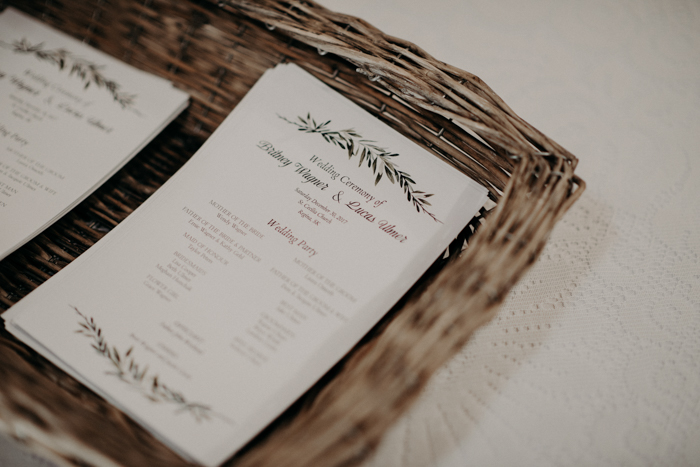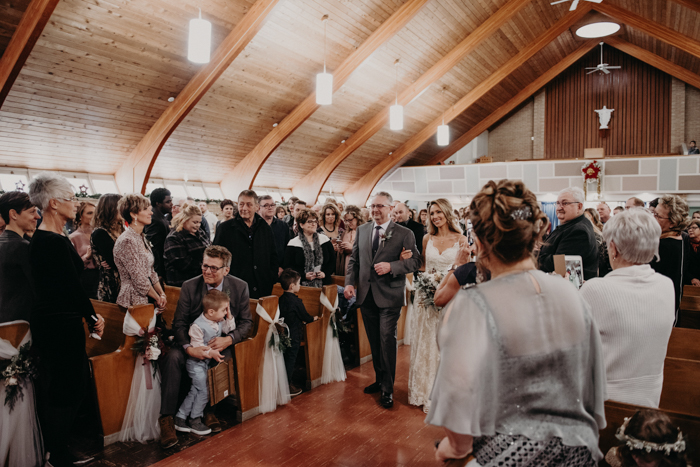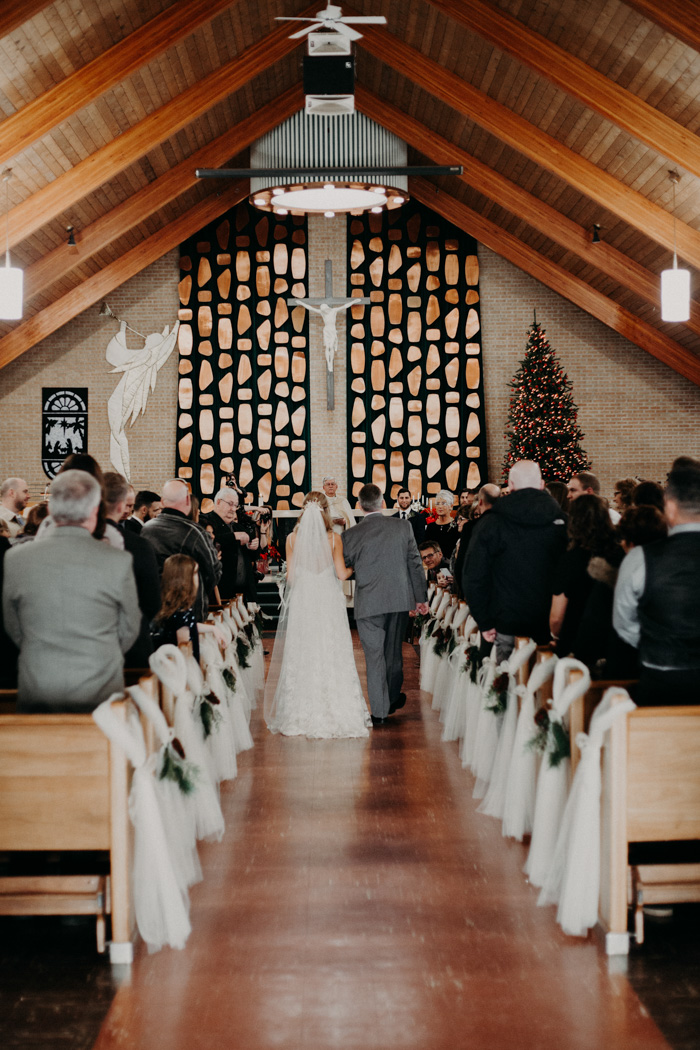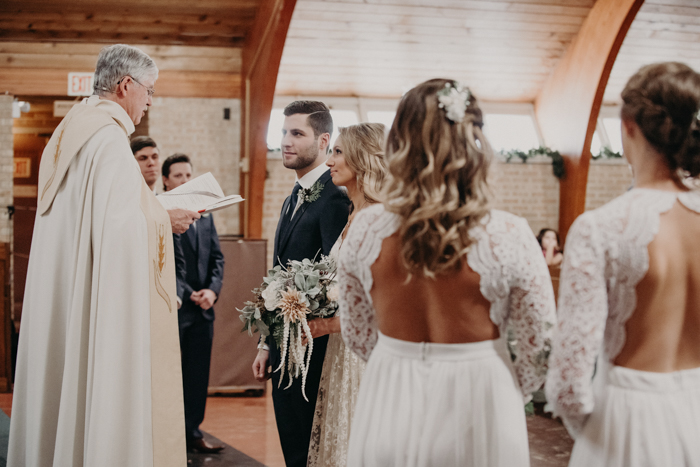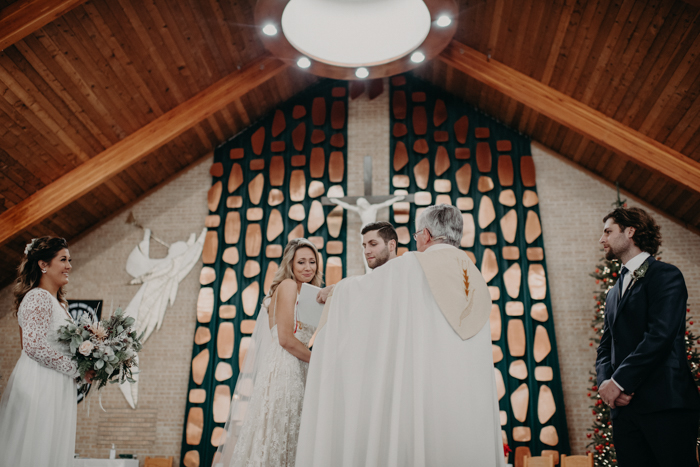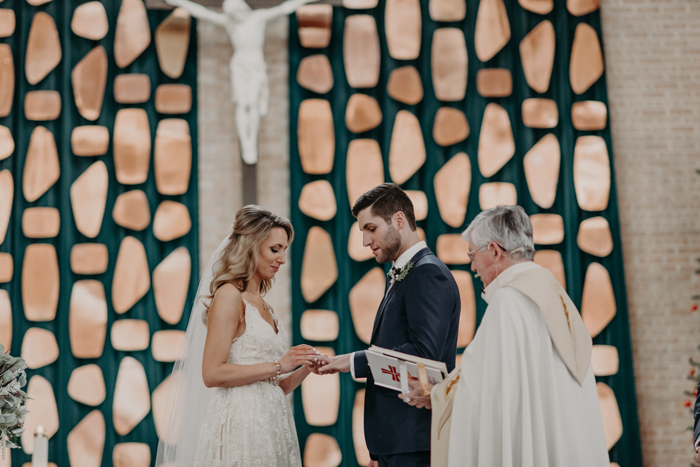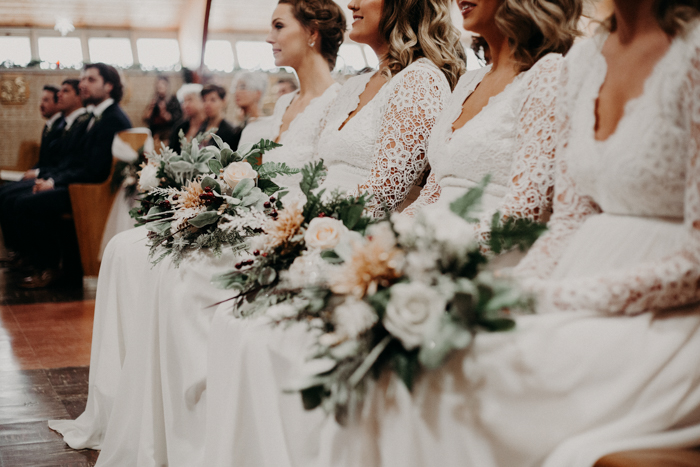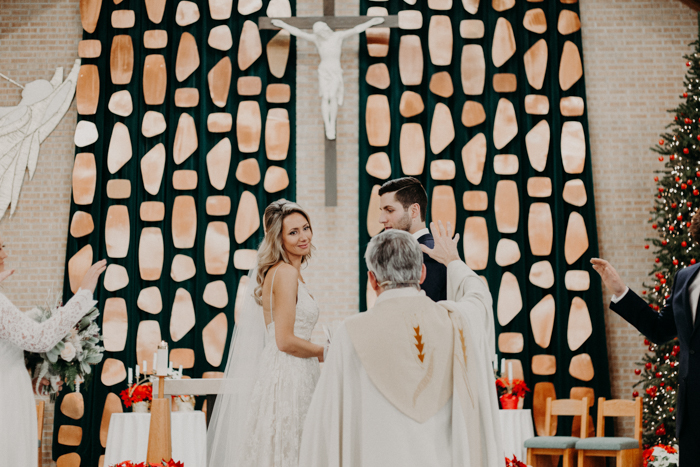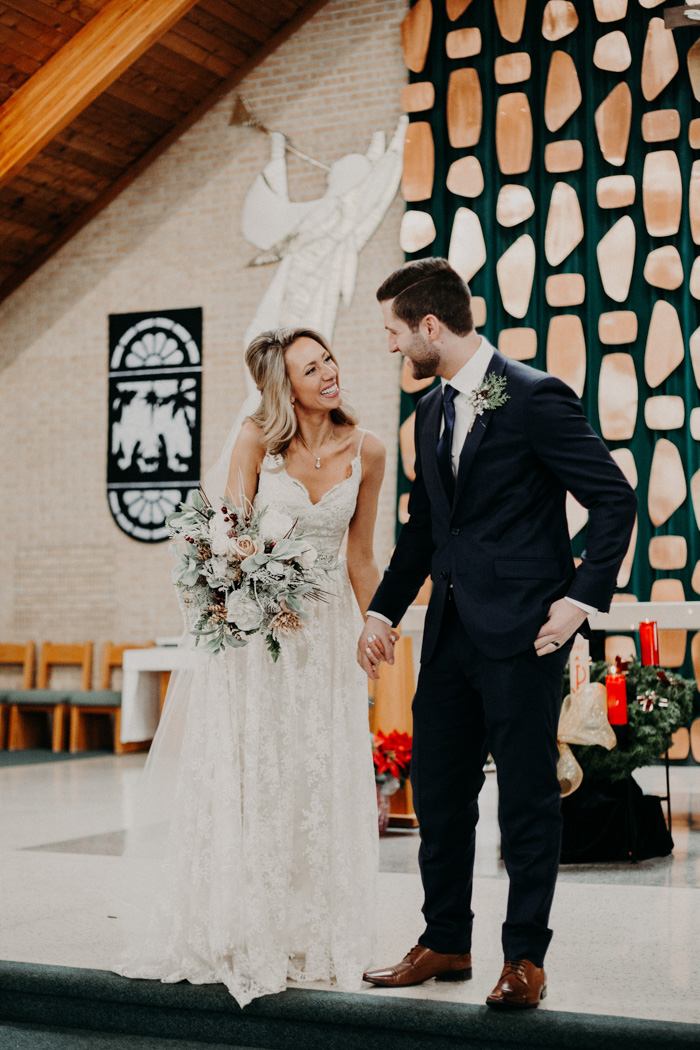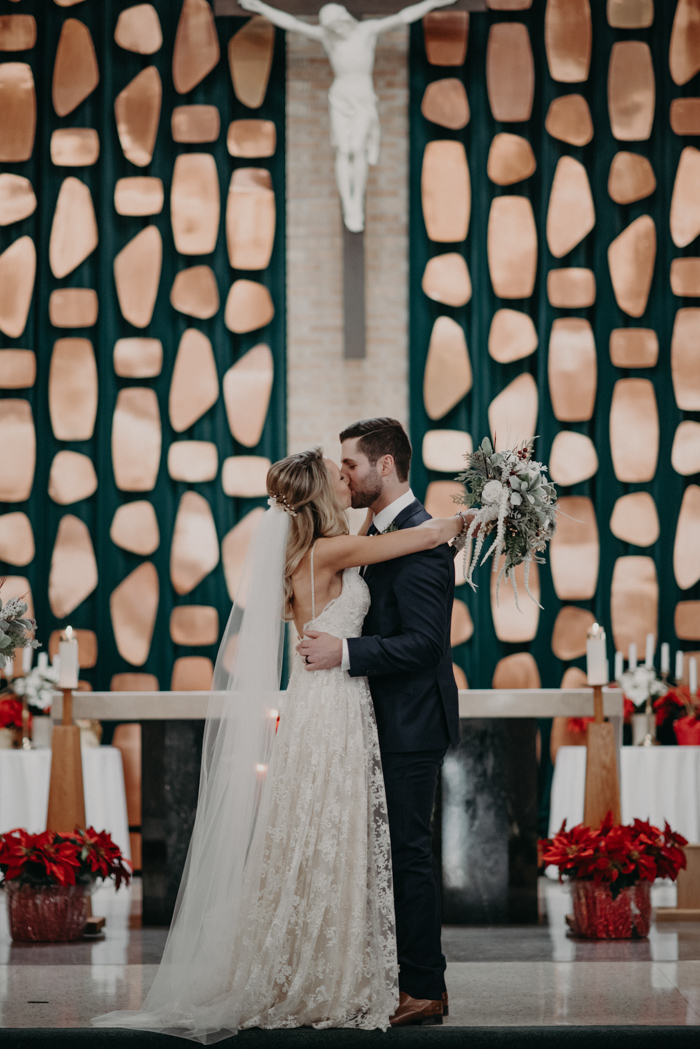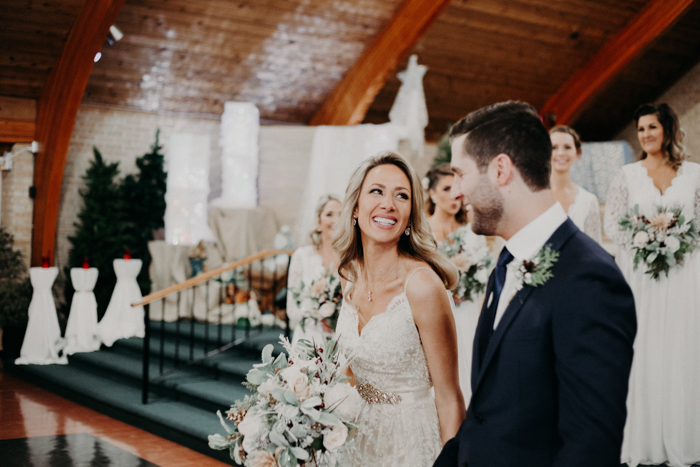 We had a winter wedding, and we definitely wanted to use the natural elements around us as inspiration. The look and feel we were going for was natural, effortless and timeless. We chose some more modern/trending looks like the navy suits and brown shoes for the guys. And for the ladies, we kept it all in the theme of whites and off-whites for winter. It was classic and elegant.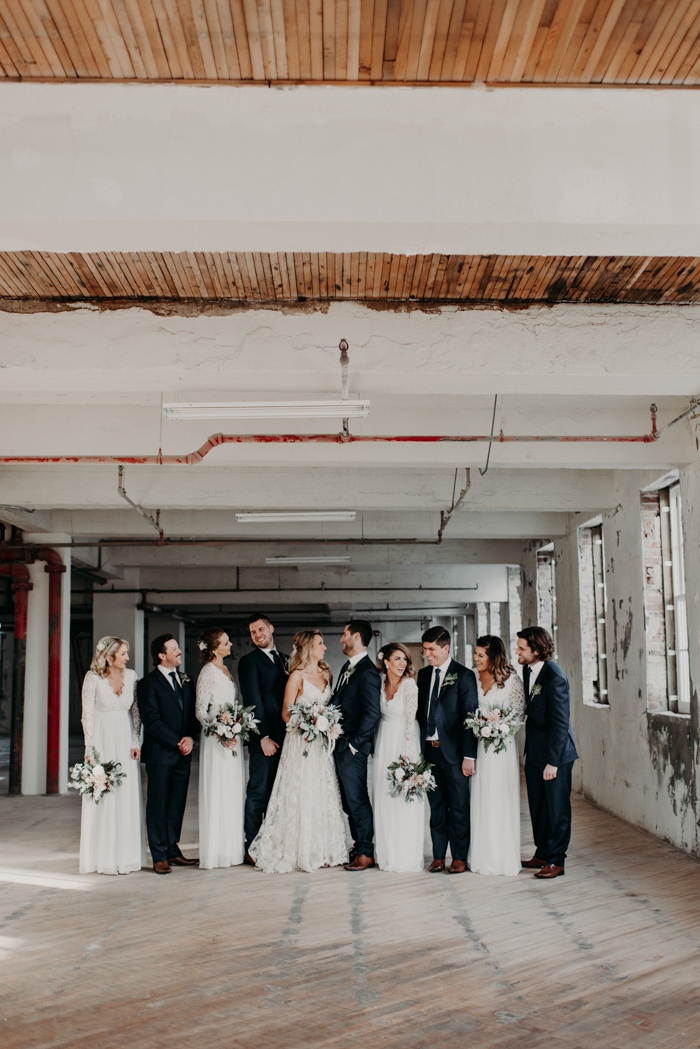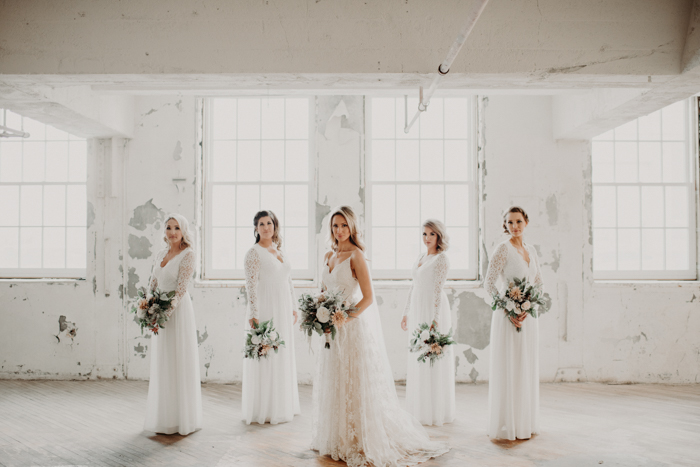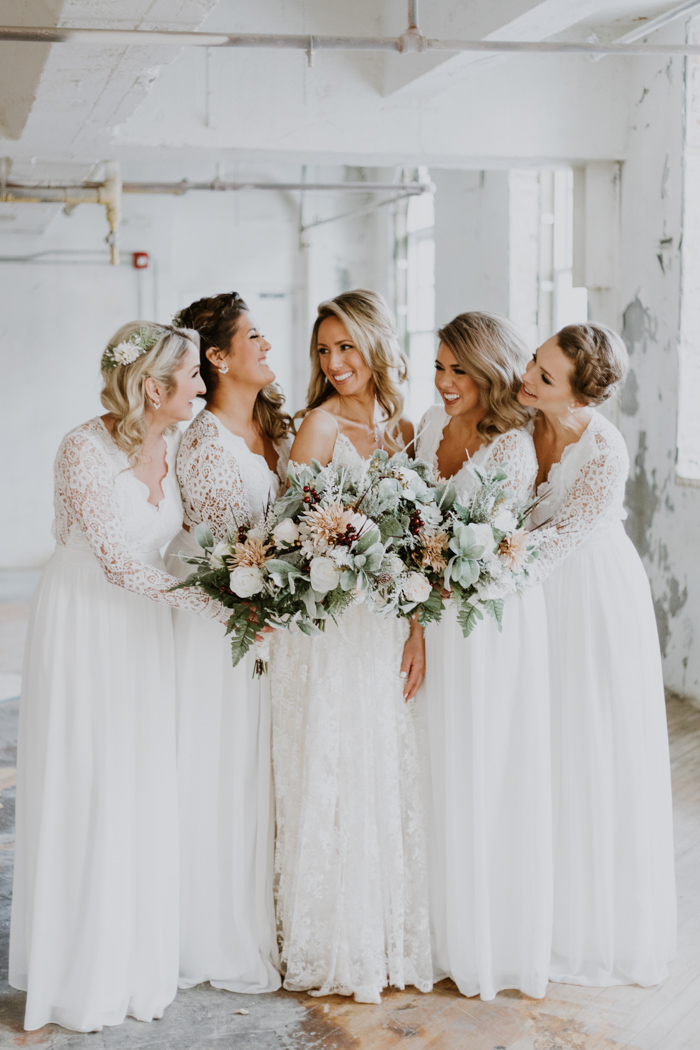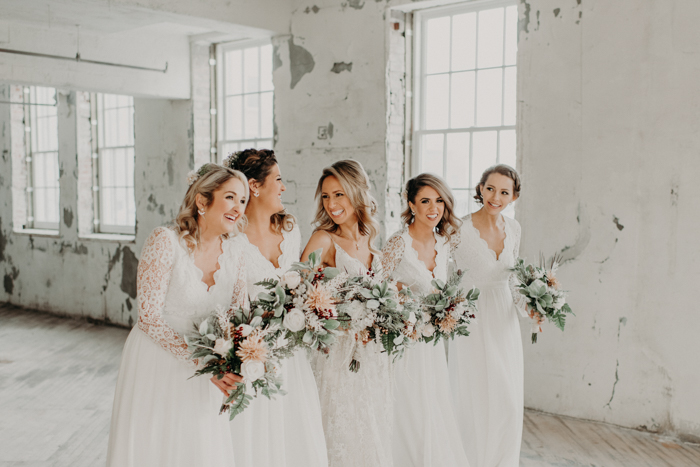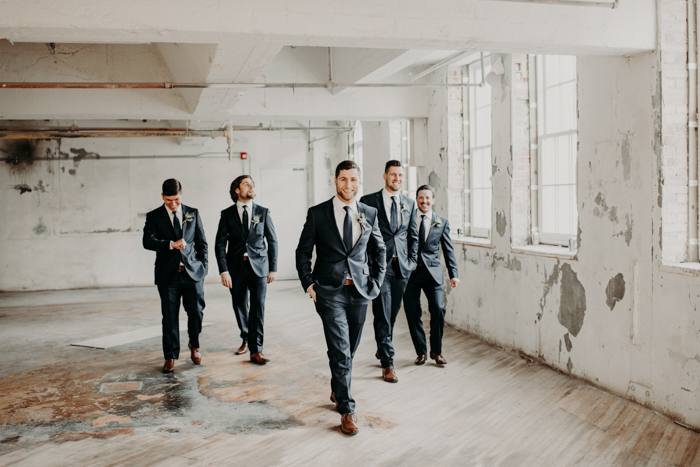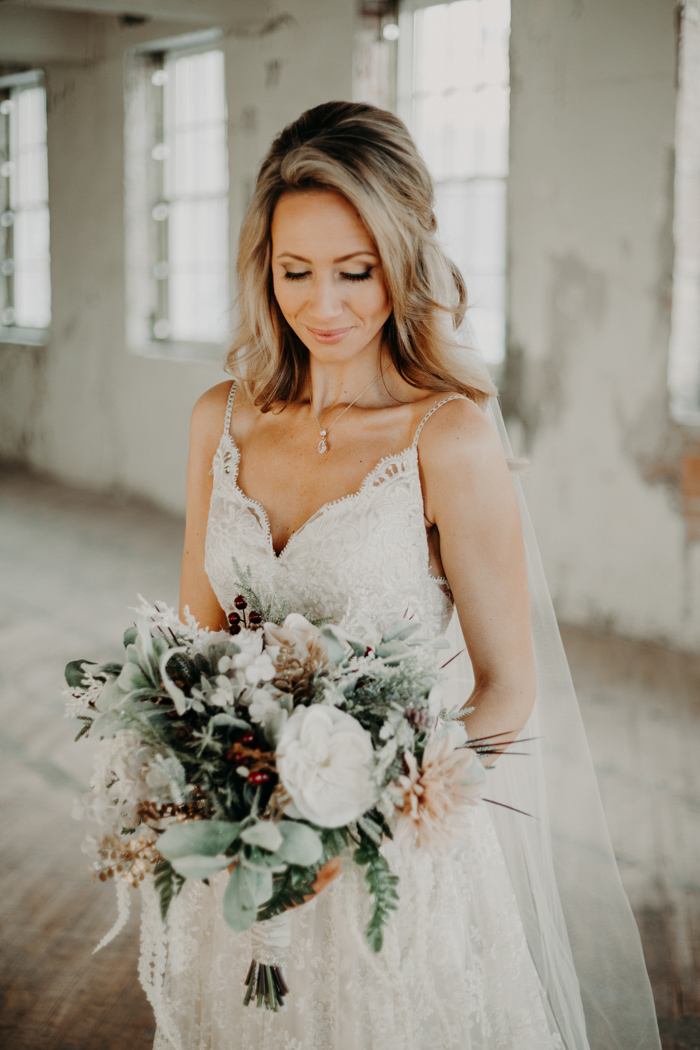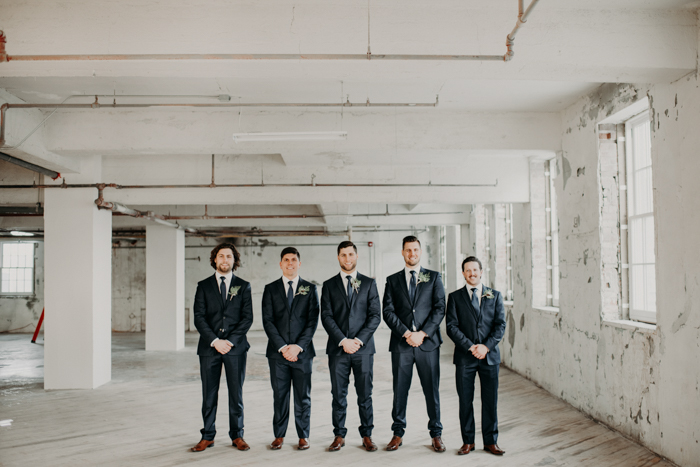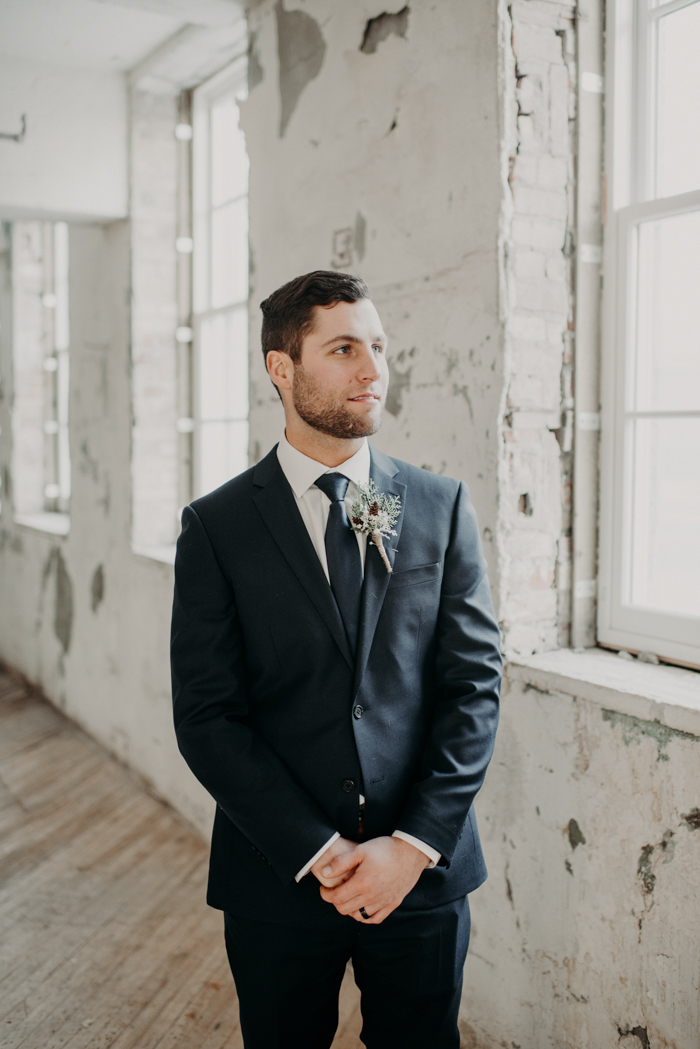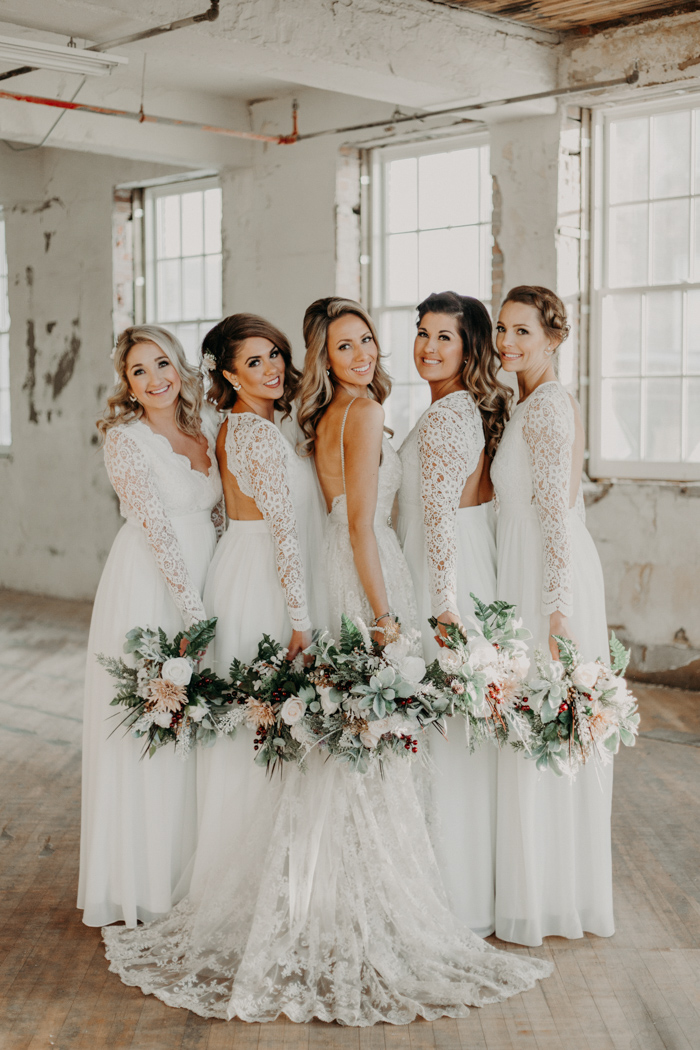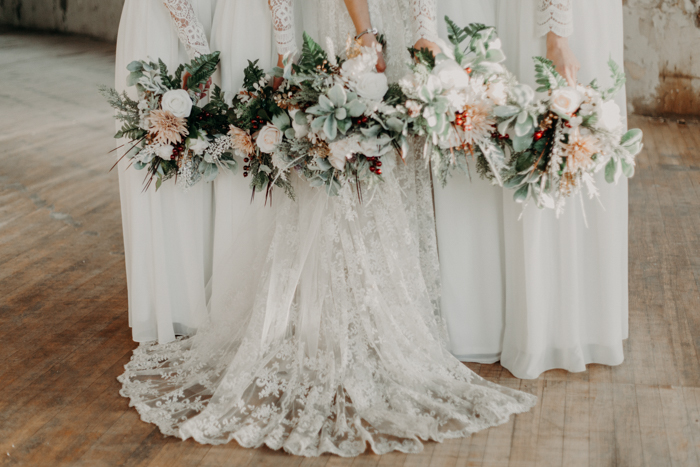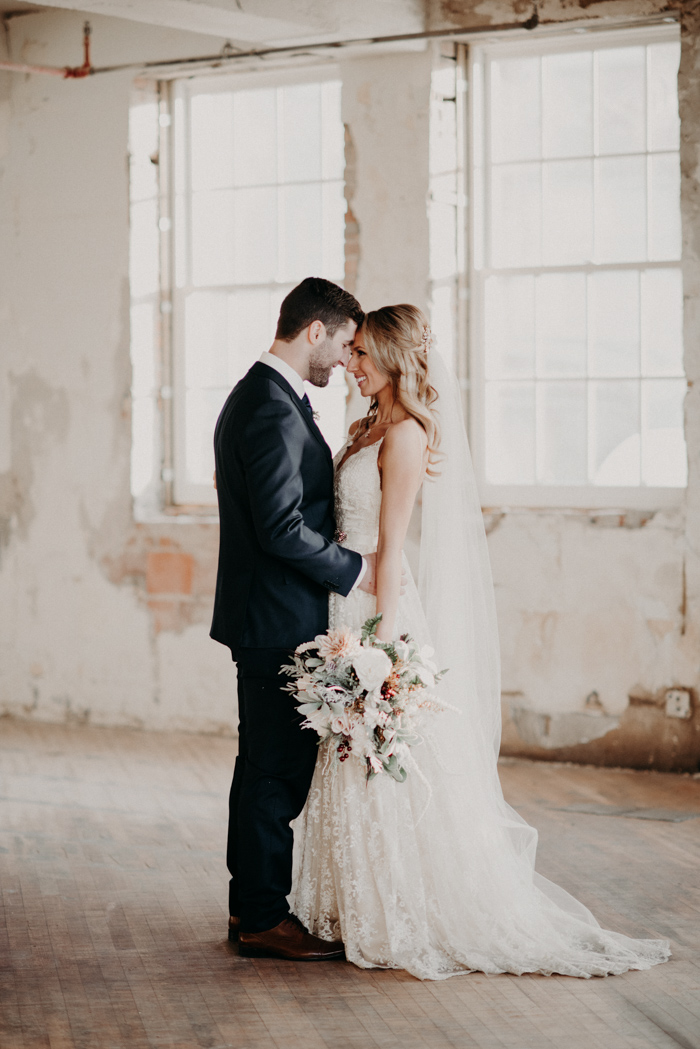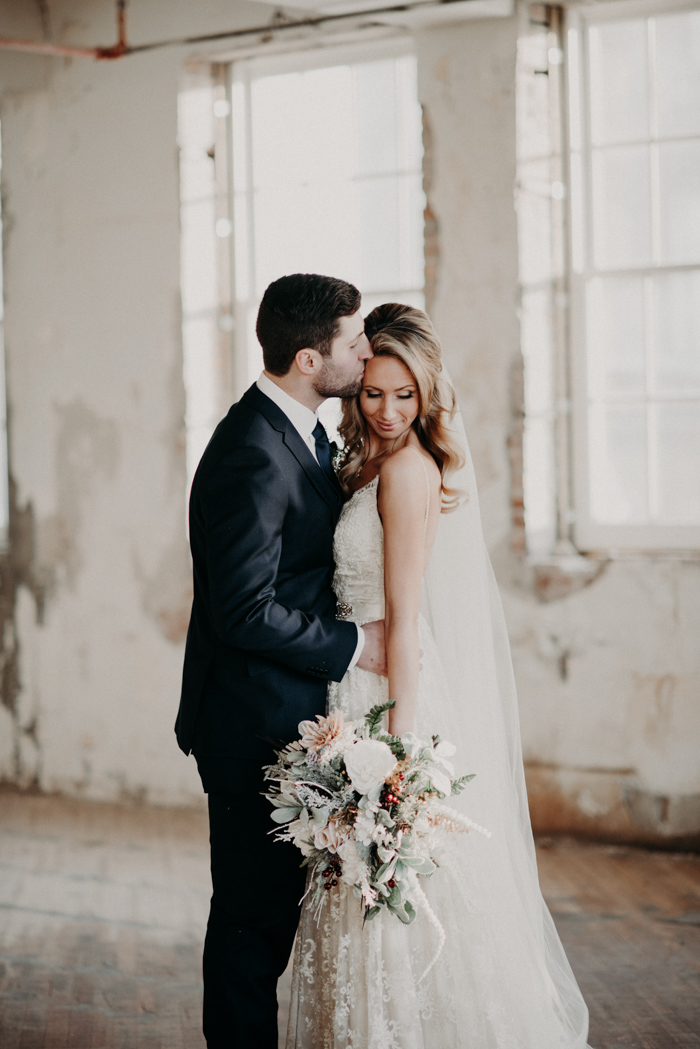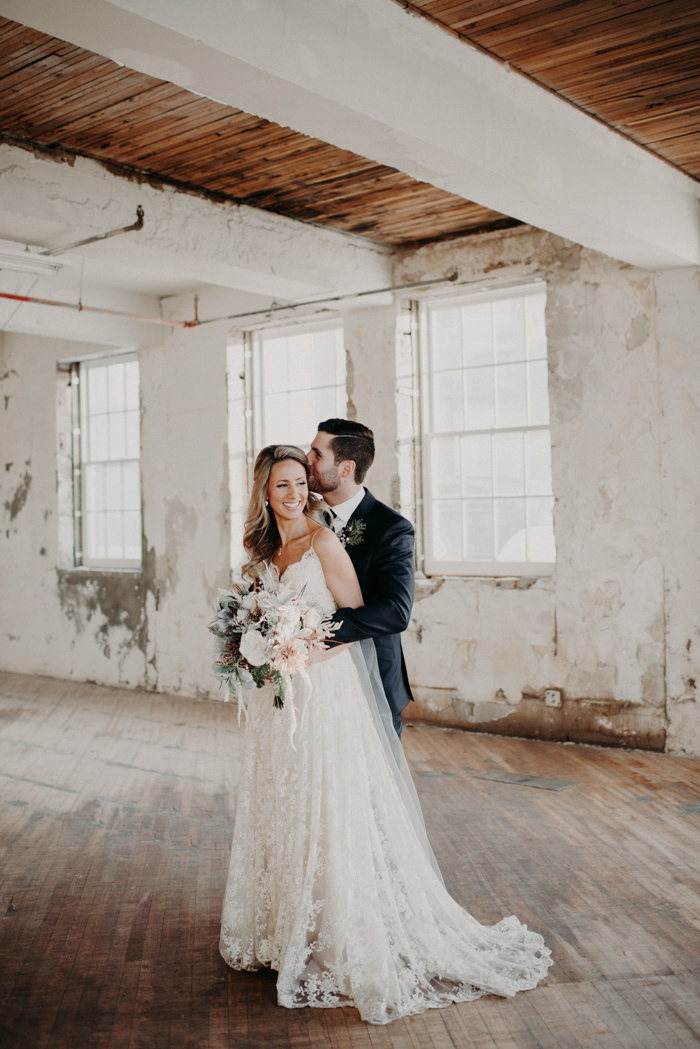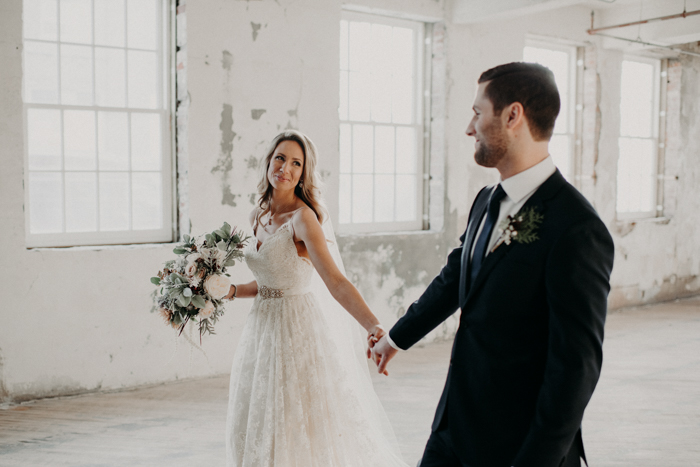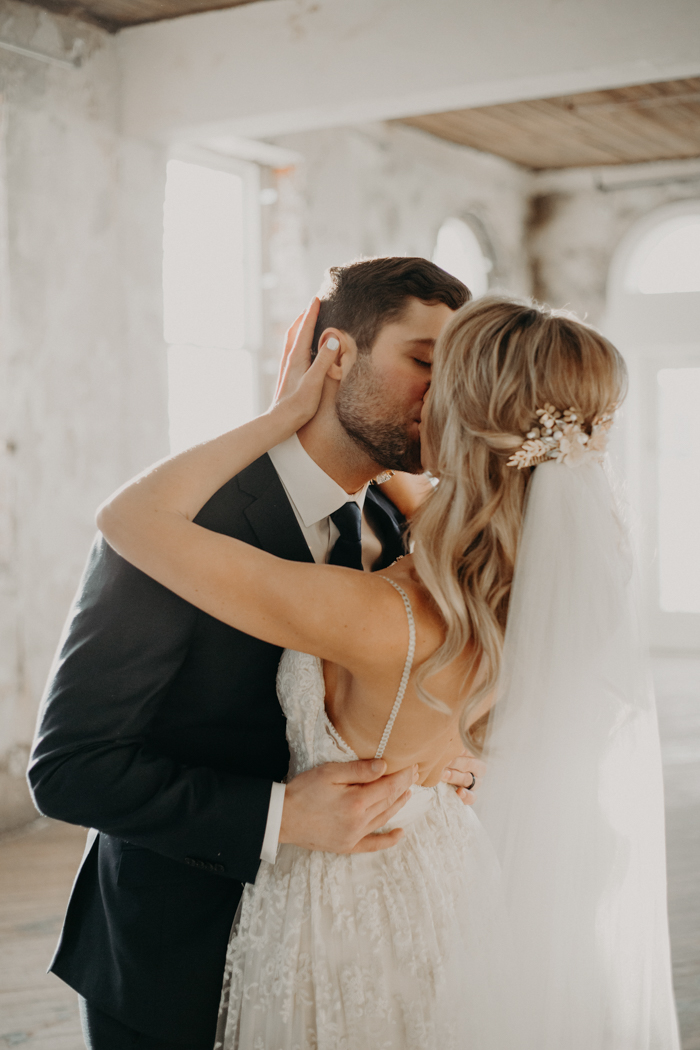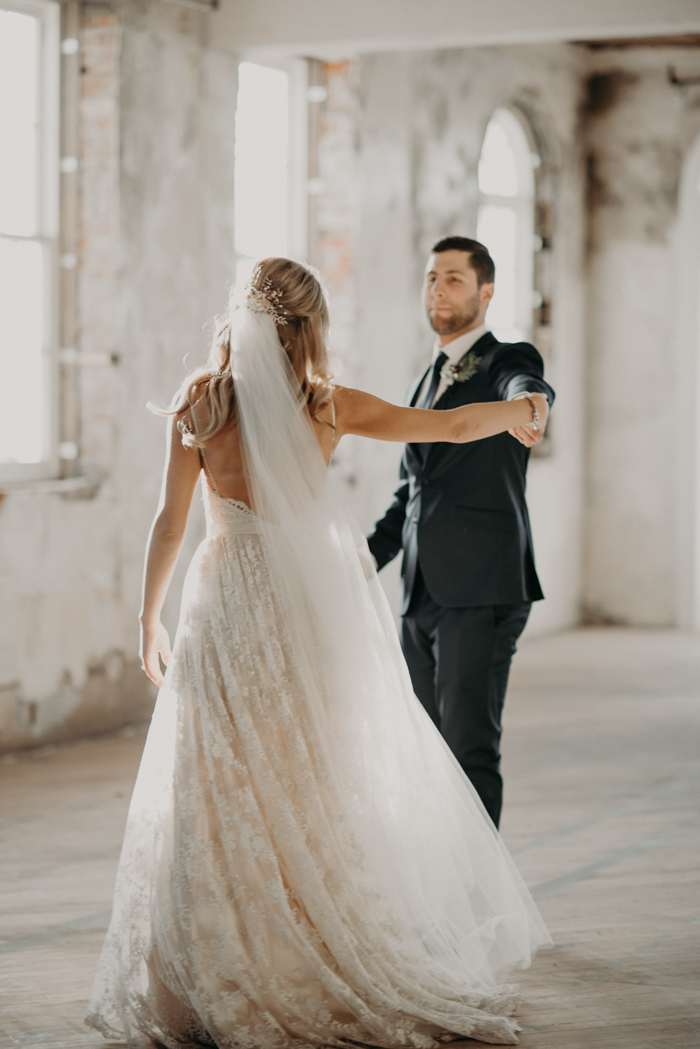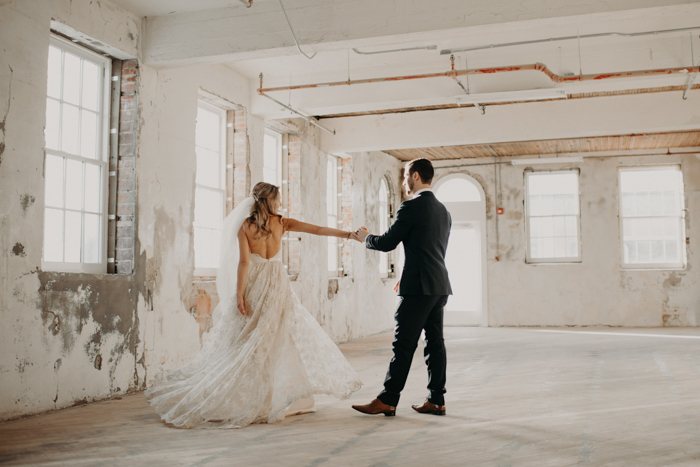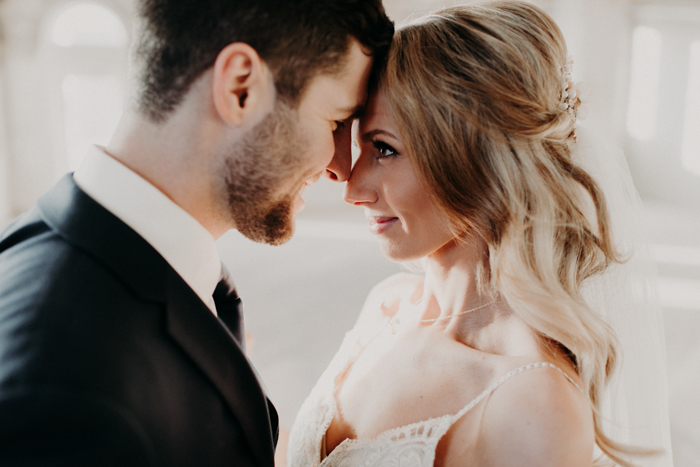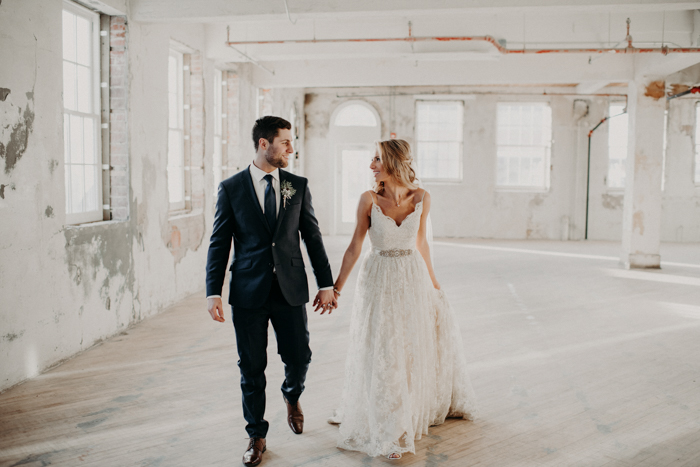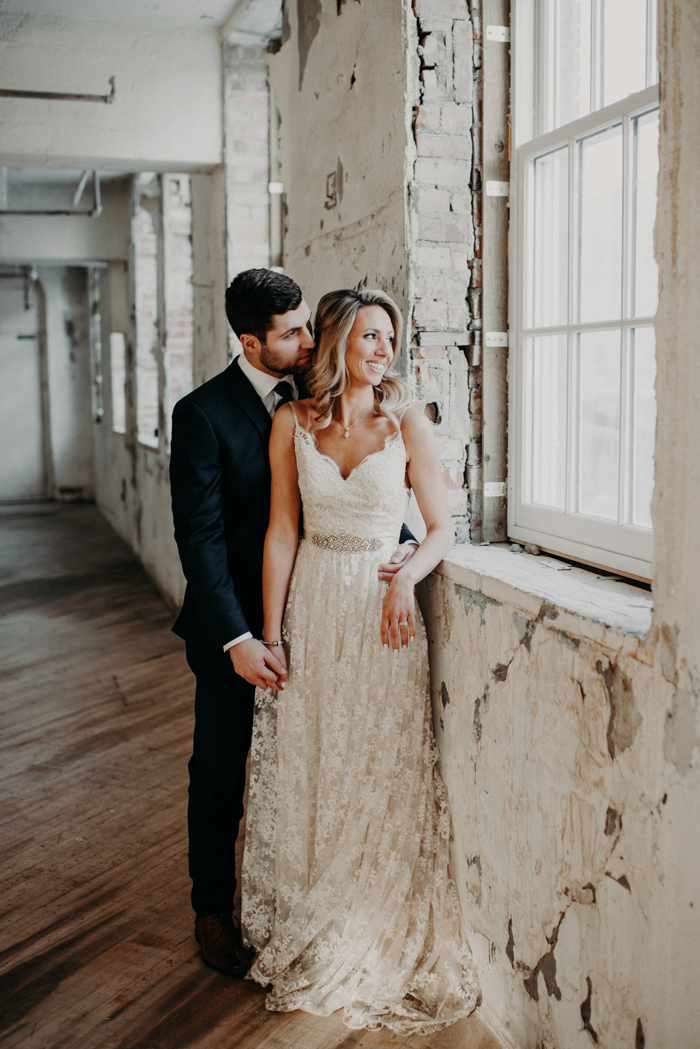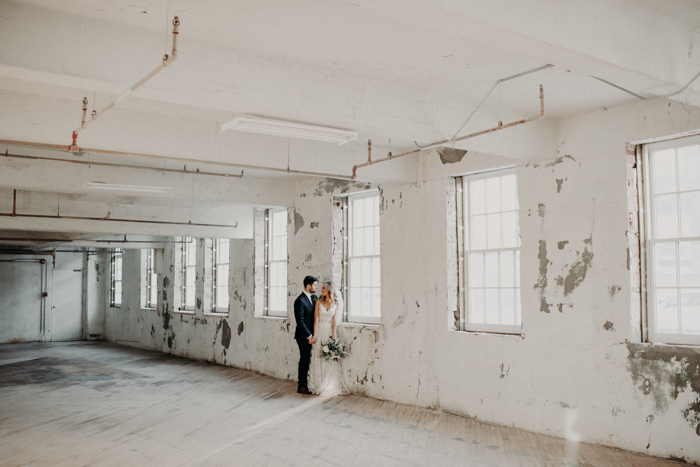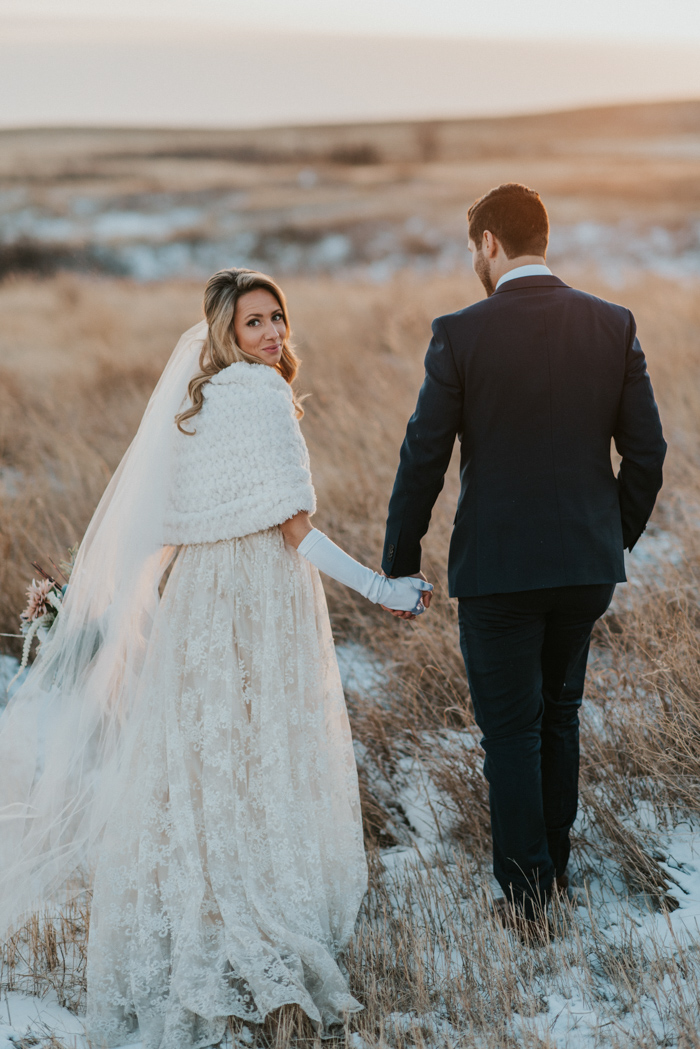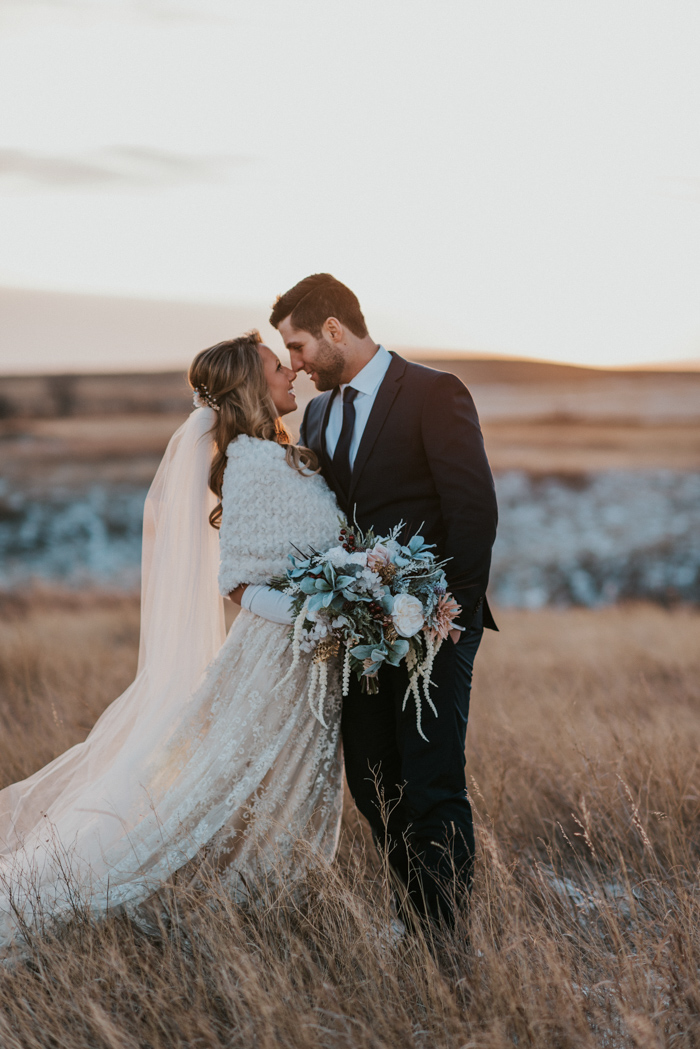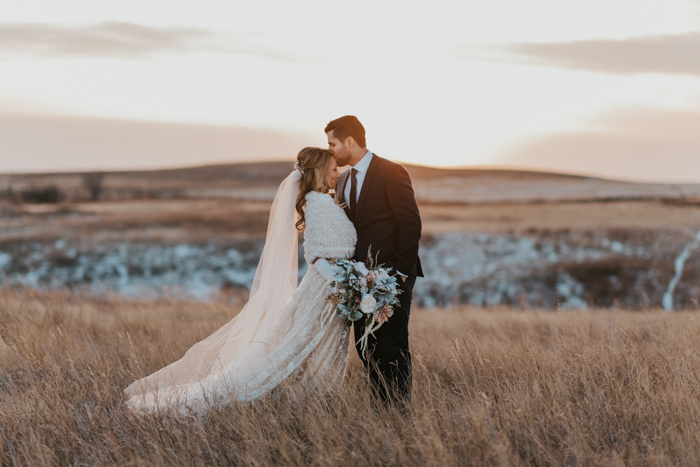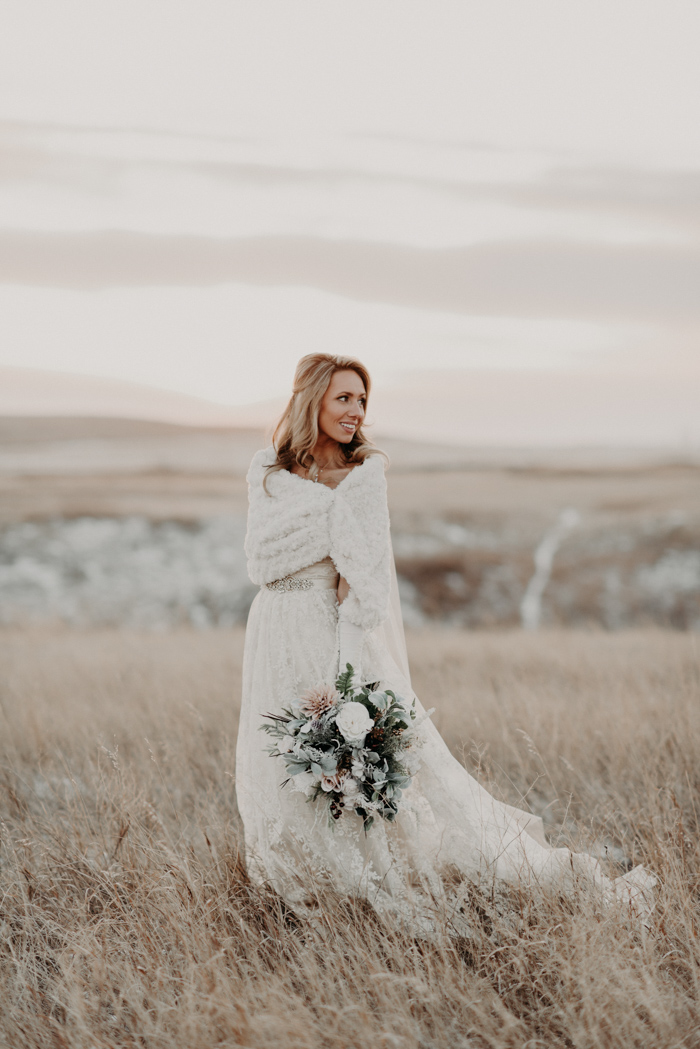 We did a ton of DIY projects for our wedding! My husband and I made our wedding cake together. It was a fun project that flopped a few times but, finally, we got it right! Our family helped us make the cake stand from tree stumps as well as the backdrop for the head table. It was stunning! We also made our own bouquets, hairpieces, and boutonnières.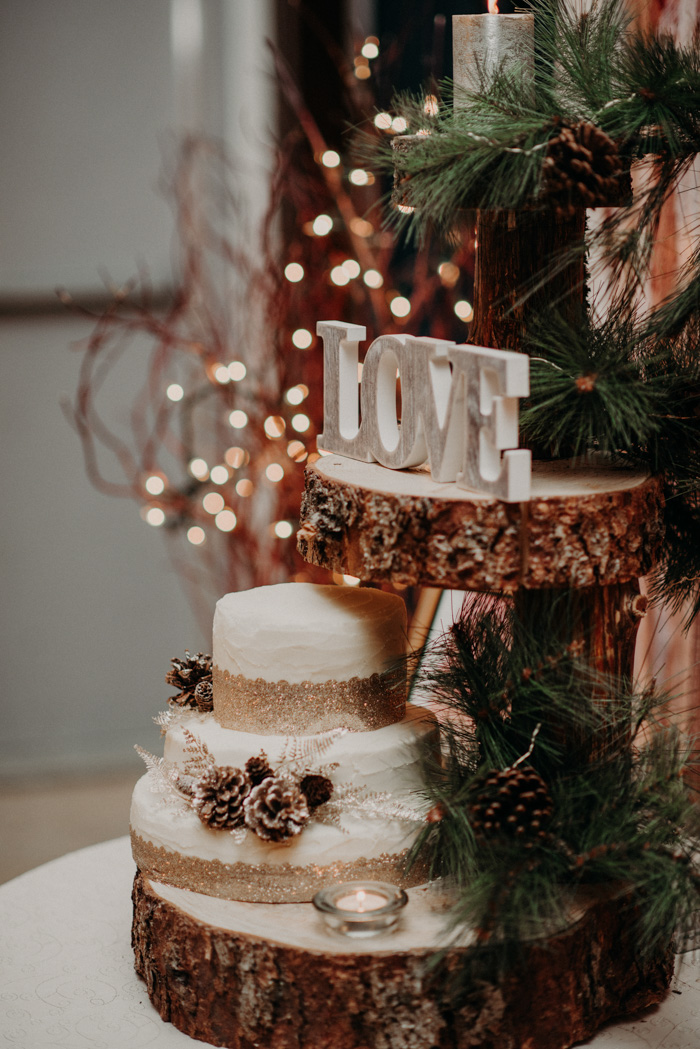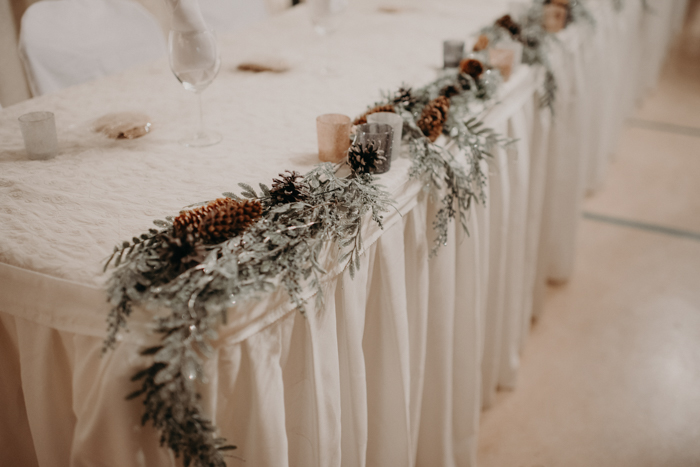 The centerpieces were simple and elegant glass vases filled with pinecones and fairy lights on a gold charger plate with candles. I also made our table numbers from photos of Luke and myself at each age. We had a Sweet Treats Bar filled with homemade cookies, tarts, and pies, as well as a Caesar Bar with all our favourite Caesar garnishes for guests to build their own Caesar.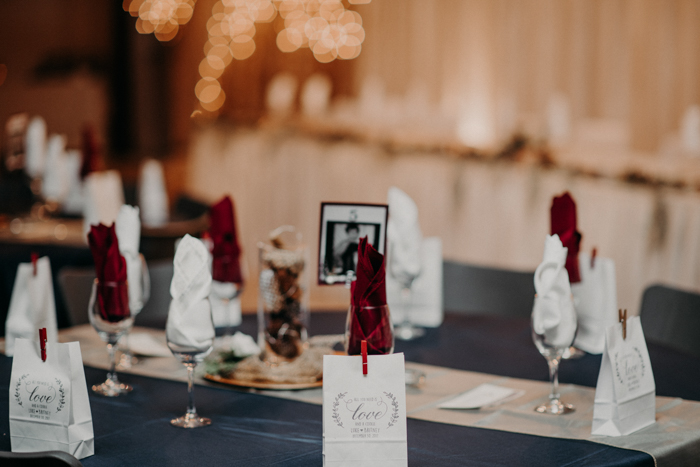 Our wedding favour to each guest was our favourite homemade chocolate chip cookies that were made by a friend of ours! She placed 9 chocolate chips on each cookie as it came out of the oven for Luke's hockey number. It was very cute and made each cookie special! Those cookies were a hit and are still talked about today.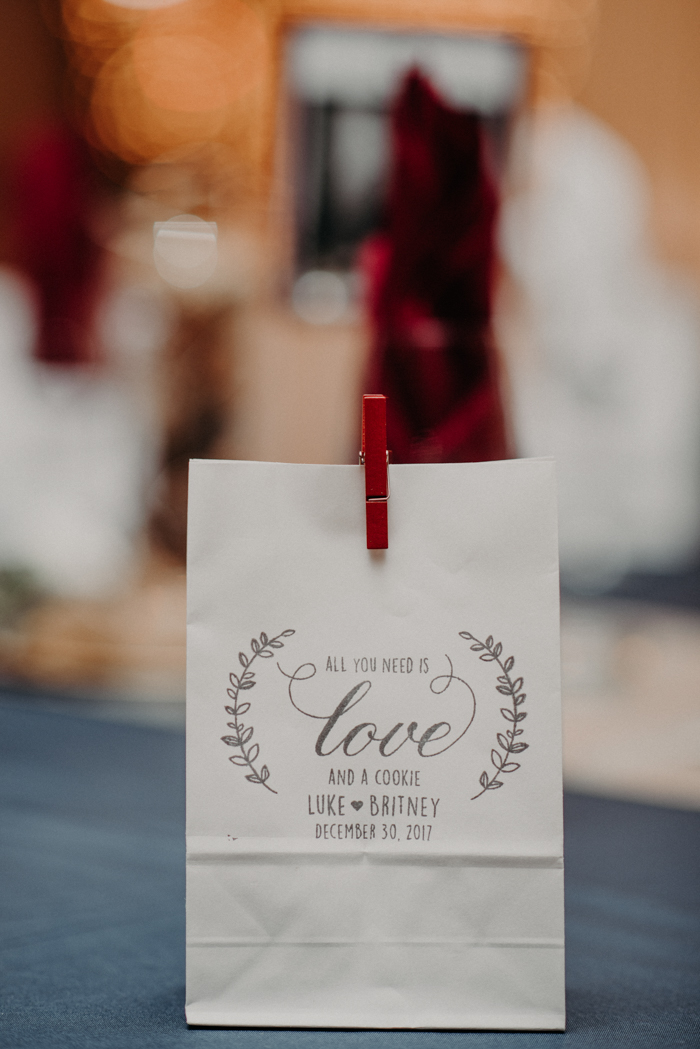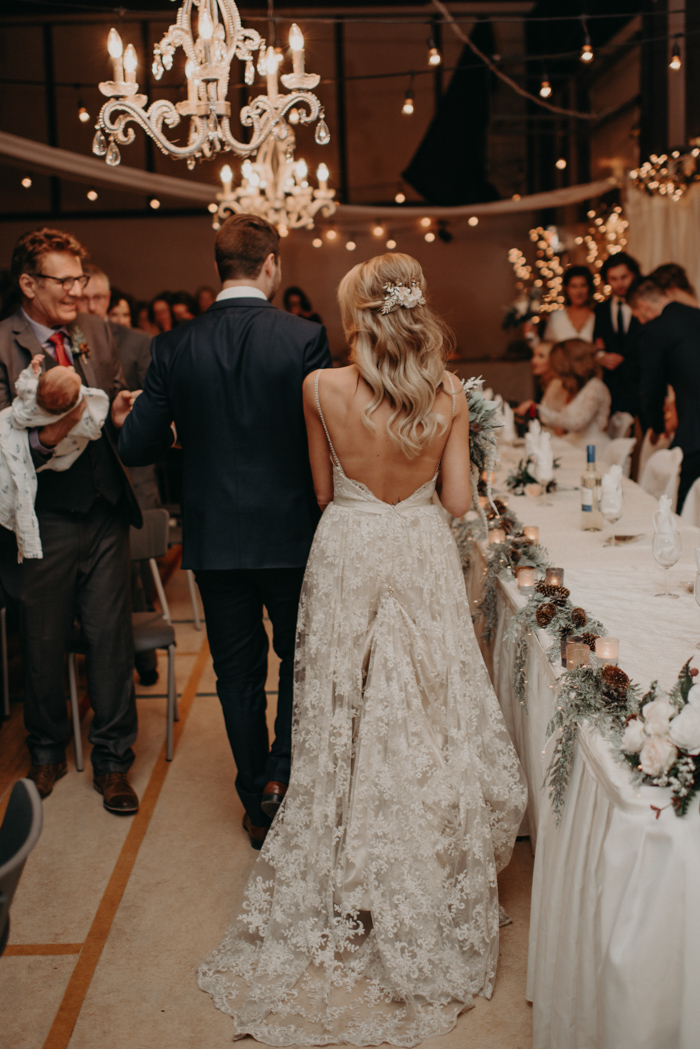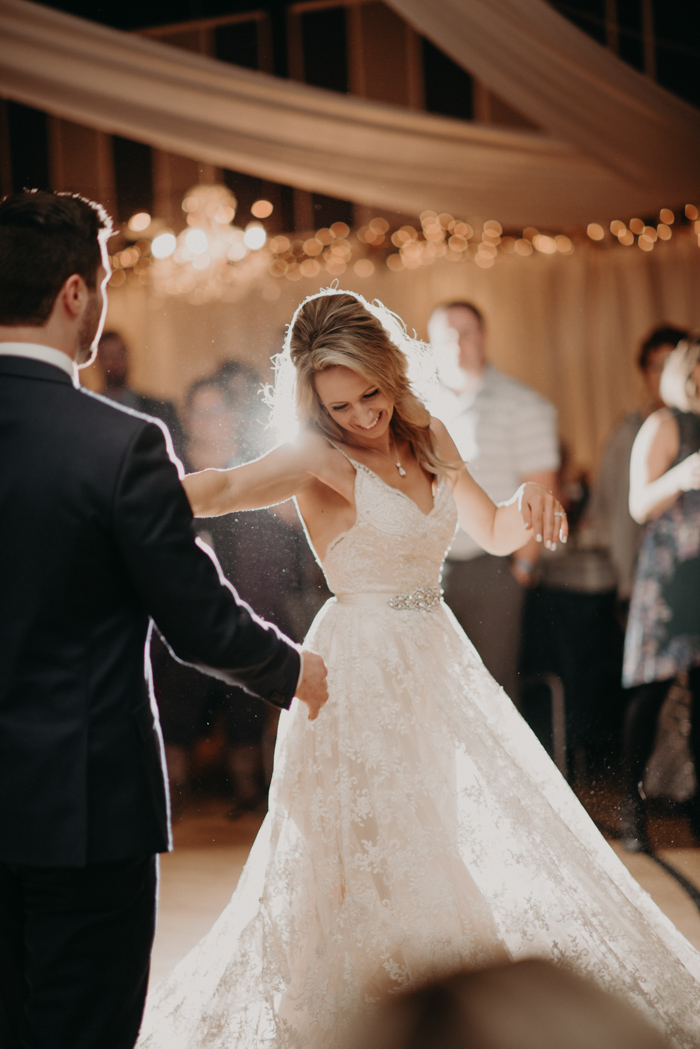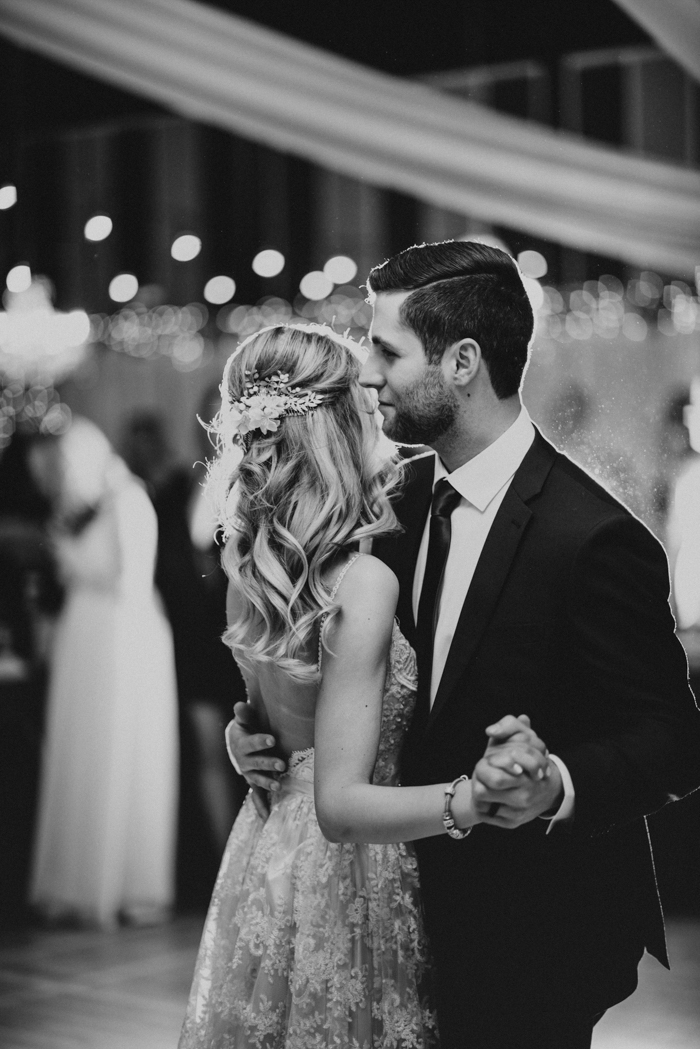 Congratulations to Britney and Luke, and a big thanks to Junebug member Stacie Carr Photography for sharing this beautiful Saskatchewan wedding! Want to see more from this talented photographer? There is so much to love in this DIY Pipe Shop Venue wedding in North Vancouver!