From picking out your wedding party to choosing the wedding attire of your dreams to hiring a killer vendor team, there's a lot that goes into planning a wedding. Between balancing all of these tasks and trying to maintain your sanity, you may also want to start prepping to look and feel your best–and this includes your skin. If you want glowing skin while you walk down the aisle, it's important to incorporate a wedding skincare routine months before the big day.
We know it's not as simple as applying a couple of serums on your face every day, though. So, if you're not sure where to start in your skincare regimen, keep scrolling. We're sharing tips and routines that will help you perfect your wedding day look.
Wedding Skincare Tips
Start Early
The earlier that you start, the better. Because you're most likely experimenting with different ingredients that may irritate the skin or need months of consistent use to see results, starting earlier helps you get a better understanding of what works and doesn't work for your skin type. If possible, try to start anywhere from six months to a year before your wedding.
Stress Less
Okay, we know what you're thinking. How in the world are you supposed to stress less when wedding planning can be the epitome of stressful? However, the calmer you are, the happier your skin. Give yourself nights off, and remember to partake in plenty of self-care.
Talk To A Dermatologist
If there are specific issues that you want to address, it's wise to see a dermatologist. They can assess your skin on a much deeper level than you'd be able to alone at home. And once they have a better understanding of your skin, they can create a tailored skincare regimen to ensure that you see results.
Go For Regular Facials
As we mentioned earlier, wedding planning is the perfect time to pamper yourself to keep stress levels at bay. So why not treat yourself to regular facials? Find a reputable aesthetician in your area and go in for consistent treatments three to six months before your big day.
When you find someone you can trust–much like the dermatologist–they can recommend treatments based on your budget, timeline, and skincare goals. They'll also give you a schedule that won't cause you to go overboard, which could do more harm than good.
Incorporate A Healthy Diet
Healthy skin begins on the inside. Your skin is your largest organ and gives you a snapshot of your diet. While everyone is different, having a nourishing diet of fruits, veggies, and plenty of water will help your skin shine. Because alcohol is known to dehydrate, you may also want to cut back on the drinking if you're aiming for dramatic results.
Basic Wedding Skincare Routine
Cleanse
Washing your skin is the most basic yet crucial step in a skincare routine. Ideally, you want to cleanse twice a day–once in the morning and once in the evening. To ensure that you truly remove all the dirt and grime from the day, some dermatologists recommend double cleansing in the evening to get rid of all impurities. This can look like using a micellar water or cleansing oil followed by any cleanser of your choice.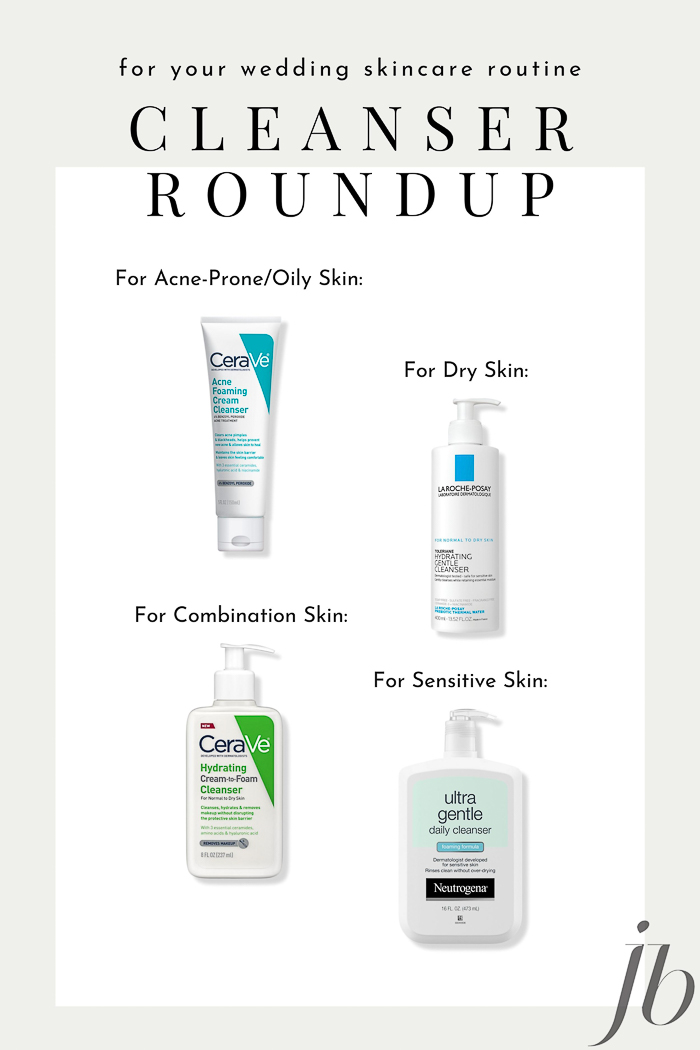 CeraVe Acne Foaming Wash. La Roche-Posay Hydrating Cleanser. CeraVe Hydrating Cleanser. Neutrogena Daily Cleanser.
Brighten
To brighten your complex, use brightening serums like Vitamin C. It helps reduce the appearance of dark spots, wrinkles, and acne, prevents sun damage, and helps slow early aging. Ideally, you want to use it in the morning paired with a moisturizer and sunscreen (this is a must). Just be mindful that if you do have sensitive skin, it can be irritating when you first start using it. If this is the case, aim for a serum with a lower percentage and then build up.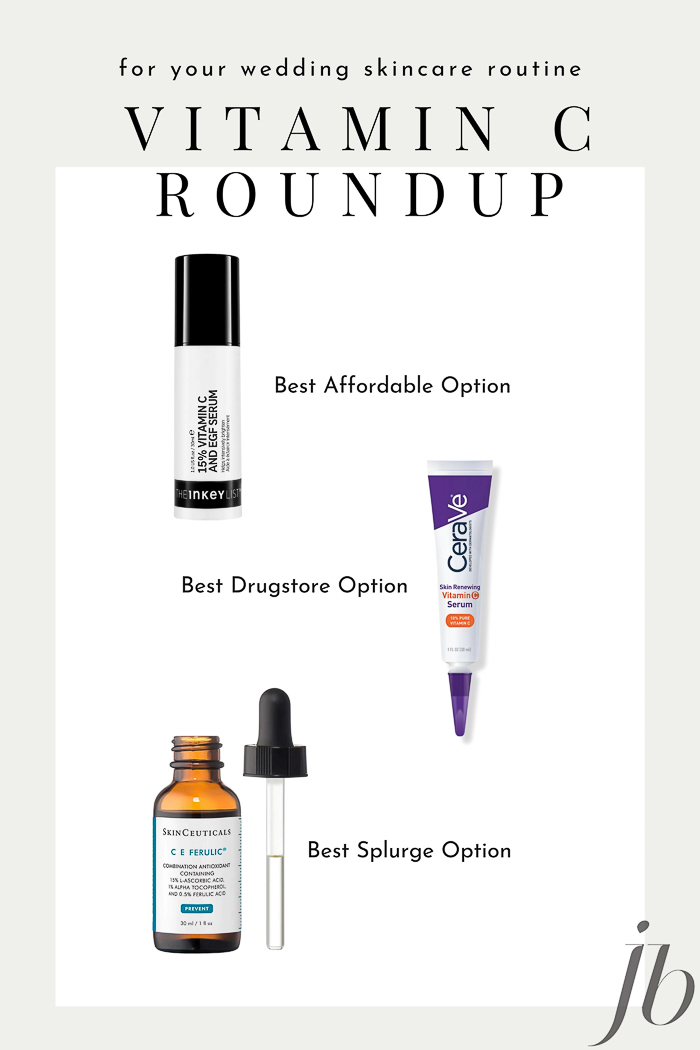 Inkey List Vitamin C & EGF Serum. CeraVe Vitamin C. SkinCeuticals C E Ferulic.
Exfoliate
To make the biggest difference in your skin, incorporate exfoliators. There are so many different products that give you this effect, so you're going to want to add these products to your routine based on your individual skincare needs. Some exfoliators include AHA/BHA's (such as lactic acid and glycolic acid) and retinol. These can also be very drying and harsh on sensitive skin, so talk to your dermatologist or research to find what works best for you. It may take some trial and error, but don't be deterred.
Paula's Choice Liquid Exfoliant. The Ordinary AHA/BHA Peeling Solution. CeraVe Retinol Serum.
Spot Treat
Now that you've got some of the basics down, you may want to add an extra serum or two for spot treatment. For example, niacinamide or azelaic acid is great for those with acne or rosacea.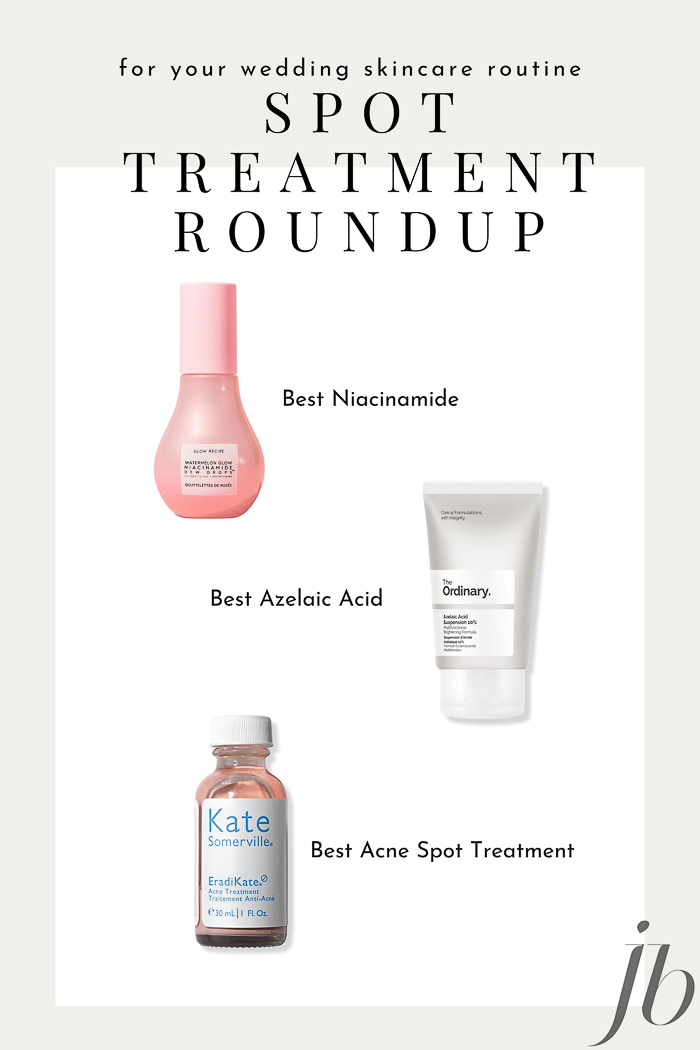 Glow Recipe Watermelon Niacinamide Drops. The Ordinary Azelaic Acid. Kate Somerville Acne Treatment.
Moisturize
With all of the products you are putting on your face, it's essential to moisturize. There are so many different moisturizers on the market, so focus most on your skin type.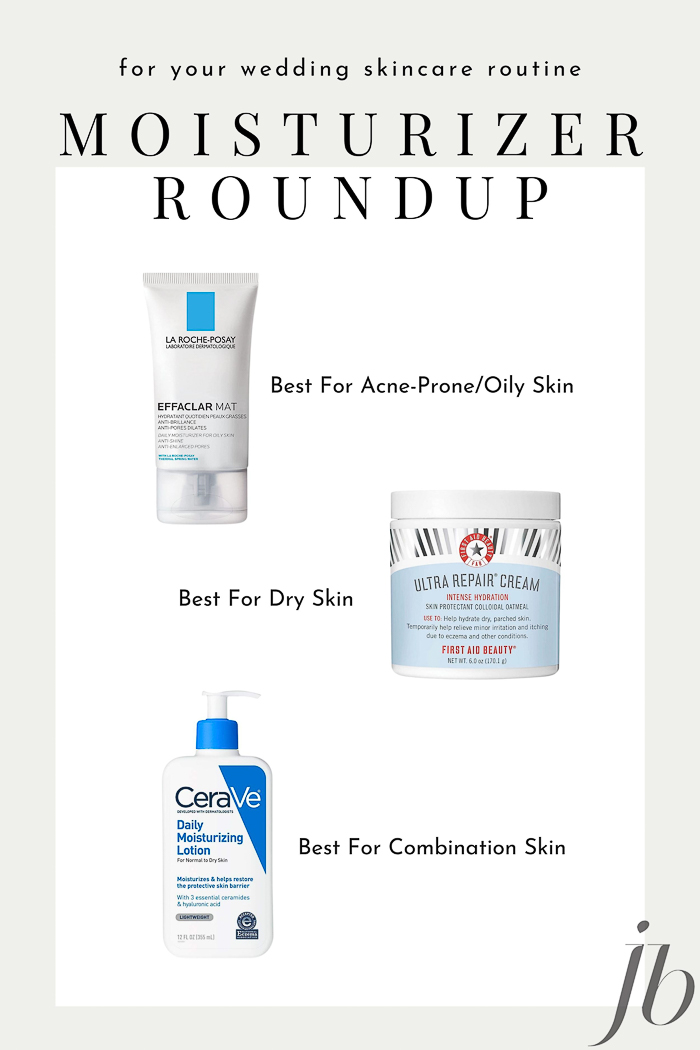 La Roche-Posay Effaclar Mat. First Aid Beauty Ultra Repair Cream. CeraVe Daily Moisturizing Lotion.
Protect
Last but certainly not least is sunscreen. All that hard work you're putting in to get glowing skin isn't worth it if you aren't applying a little SPF.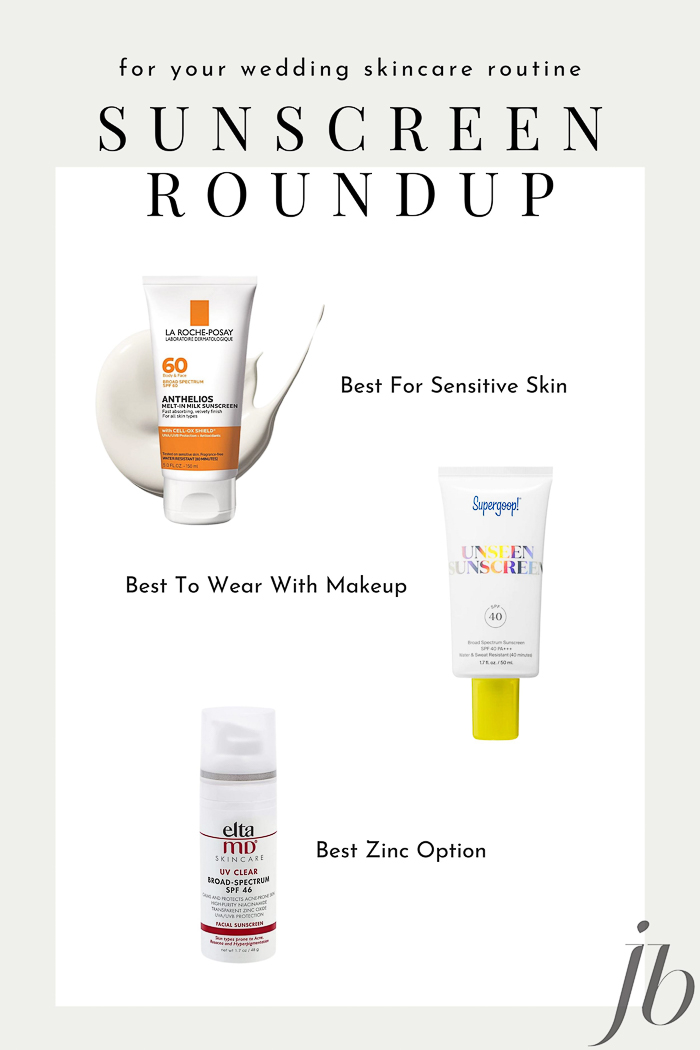 La Roche-Posay Melt-In Milk Sunscreen. Supergoop! Unseen Sunscreen. EltaMD Facial Sunscreen.
Now that you've got your wedding skincare routine down, you're ready for your special day! For more beauty timeline help, check out our official beauty timeline that breaks down everything from hair and make-up trials to teeth whitening and everything in between.