Etsy is one of our favorite resources for all things wedding—dresses and jumpsuits included. It doesn't matter if you're getting hitched in your local courthouse or planning the boho destination wedding of your dreams, there's guaranteed to be dozens of unique wedding outfit options that'll make you feel confident at an affordable price. Talk about the best of both worlds.
If your wedding vision is laid-back, neutral, and packed with a whole lot of rattan, odds are you're in the market for a boho wedding outfit. To help you say yes to the dress or jumpsuit of your dreams, we've created a round up packed with eye-catching bohemian outfits from our favorite Etsy shops. Keep scrolling for all the bell sleeves, flowy trains, and lace you've been searching for.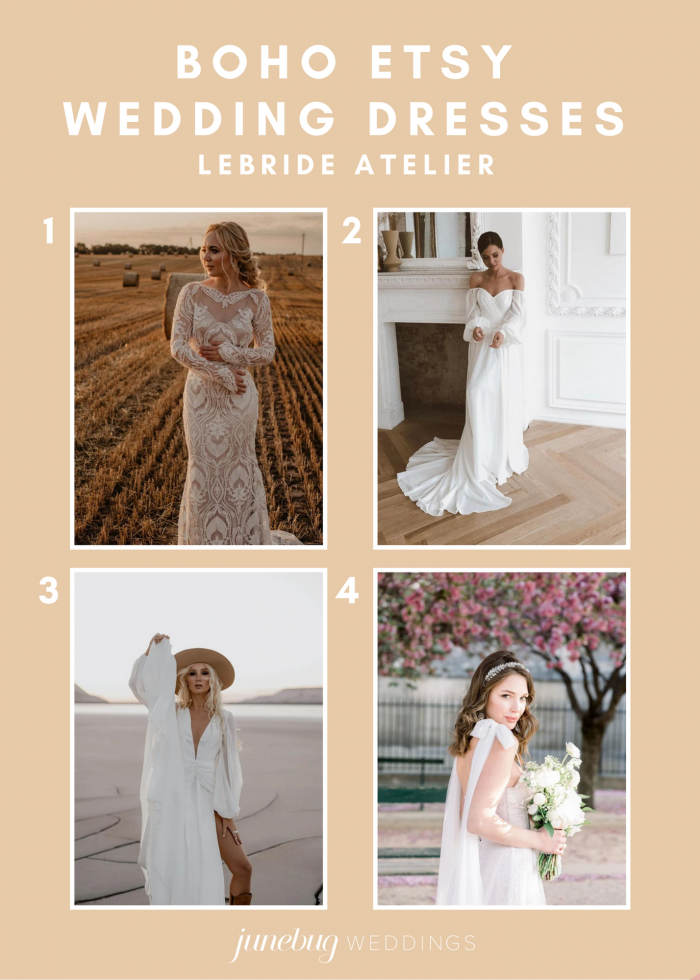 1. Open back boho wedding dress ($750); 2. Chiffon Bridal Gown With Long Sleeves ($400); 3. Stylish Chiffon Wedding Dress With Deep V-Neckline ($450); 4. Romantic Wedding Dress With Bows ($550)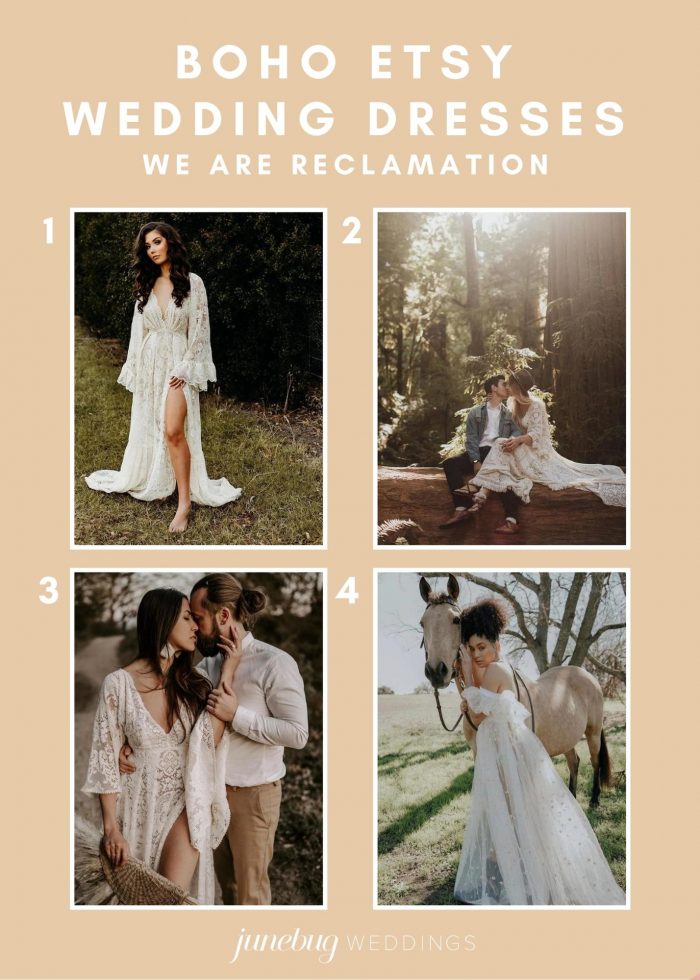 1. Much Love Gown Pre Order ($405); 2. The Wander With Me Dress ($1,315); 3. Magical Radiance In All Vintage ($877); 4. Summer Love Gown ($1,000)
Blush Fashion Etsy Wedding Dresses and Jumpsuits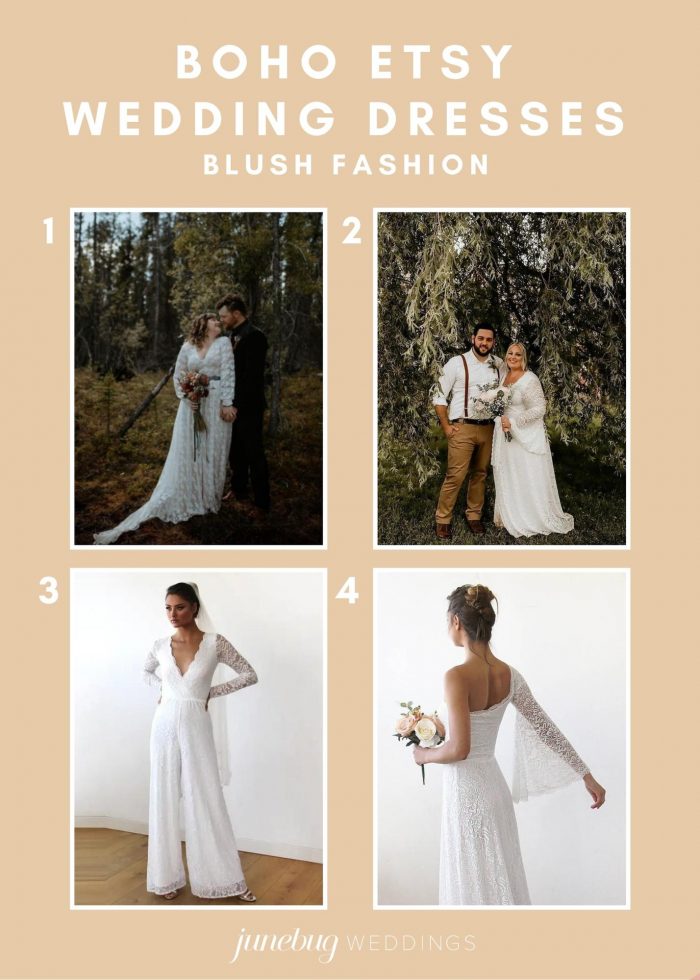 1. Leaf Lace Ivory Blush color Wedding Dress ($468); 2. Ivory wrap Full Lace Bell Sleeves Wedding Dress ($440); 3. Ivory Wedding Lace Jumpsuit ($440); 4. Ivory One Shoulder Dress ($450)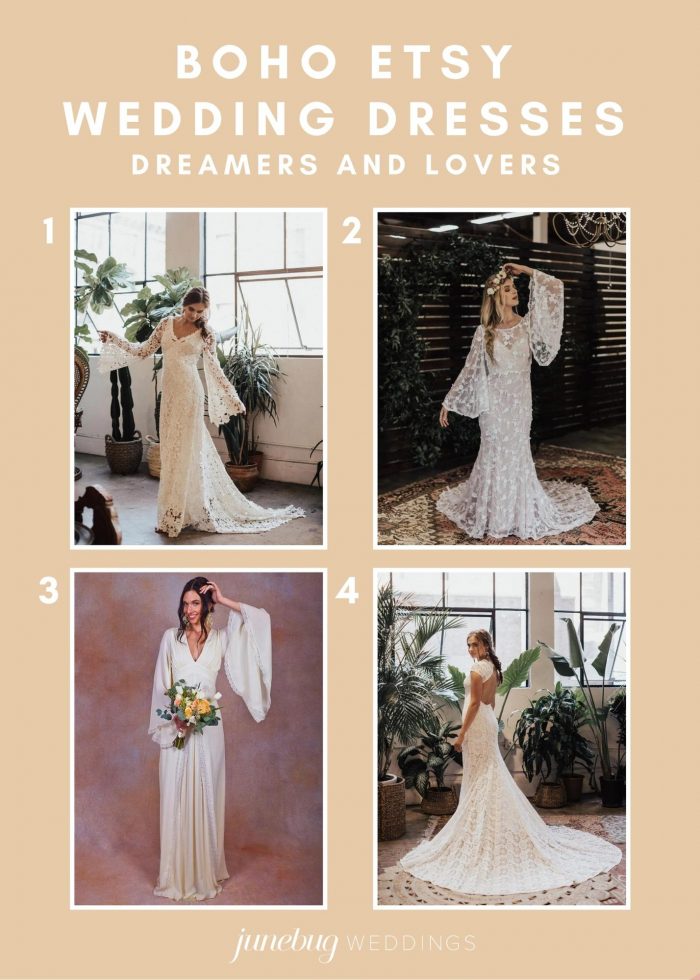 Arabelle Boho Wedding Dress ($1,934); 2. Samantha Angel ($1,984); 3. Ivory Pure Silk Bohemian Wedding Dress ($2,505); 4. Ivory Lace Bohemian Backless Wedding Gown ($1,754)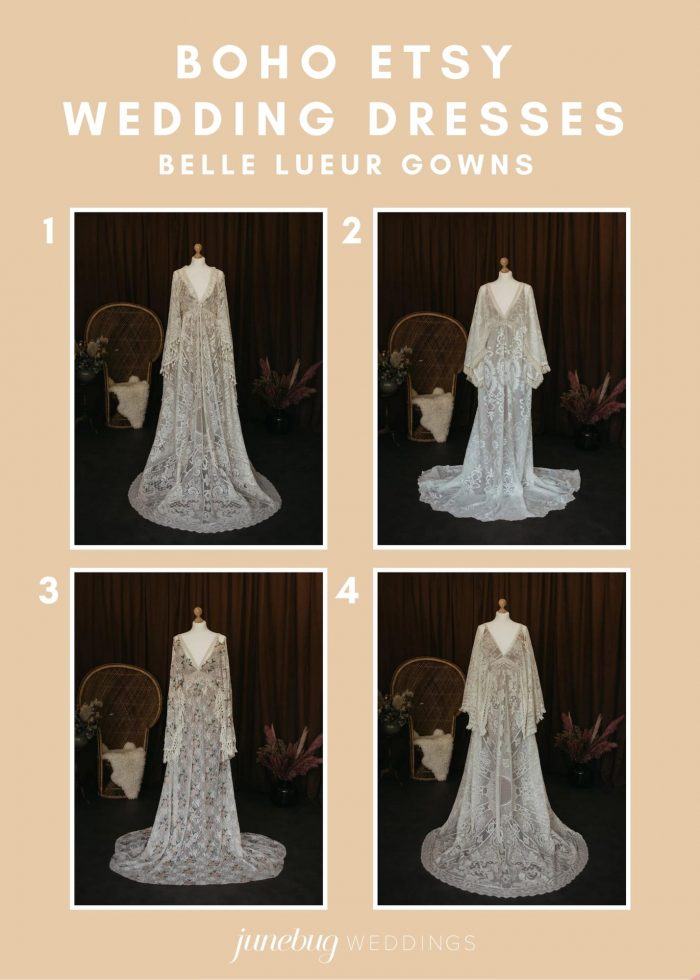 1. Aurora Boho Wedding Gown ($479) 2. Ophelia Boho Wedding Gown ($424); 3. Rae Boho Wedding Gown ($561); 4. Luna Boho Wedding Gown ($466)
Now that you have your boho wedding dresses secured, it's wedding party time. Start by grabbing inspiration from other real bohemian weddings. Then, check out our list of top-notch bohemian bridesmaid dresses that'll complement any boho wedding, no matter the color palette.