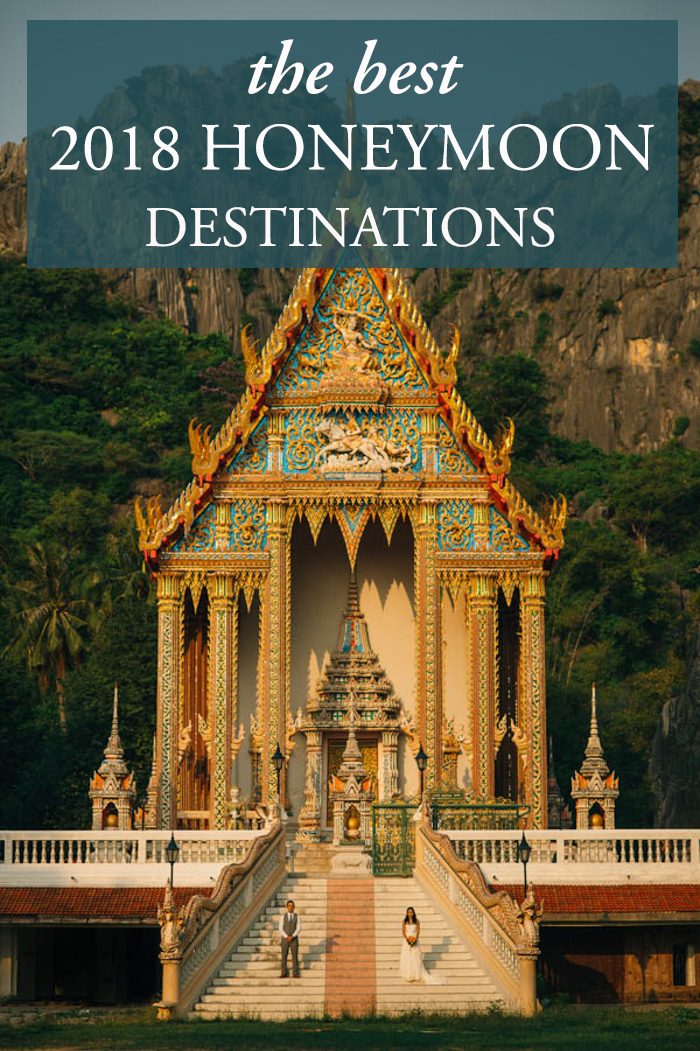 photo by Nordica Photography
Aside from your actual wedding day, your honeymoon is the most exciting part of getting married, so it's important to choose the perfect location! With so many travel blogs and booking sites posting travel suggestions these days, it can be hard to know where to look. So, we've scoured all those lists and rounded up the very best 2018 honeymoon destinations around the world — and included a handful of activities in each location to kick that wanderlust into high gear! Whether you're looking for a remote beach, a historic city, a romantic hideaway, or a little bit of everything, there is a place to fit every couples' honeymoon wishlist.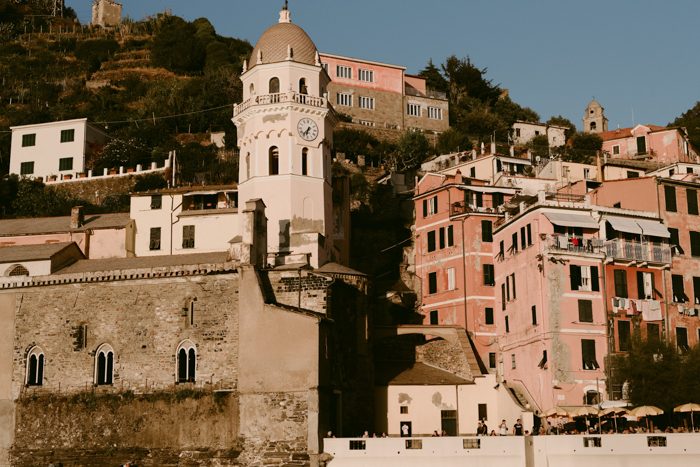 photo by Serena Cevenini Photography
Cinque Terre, Italy
The Cinque Terre is one of Italy's hidden gems, which makes it ideal for a romantic 2018 honeymoon getaway. Located on the Italian Riviera and listed as a UNESCO World Heritage Site, this region includes 5 different fishing towns set in the hillside that, while becoming more popular each year, are not as crowded as the towns along the Amalfi Coast. This is a haven for hikers, nature-lovers, and anyone with romantic ideals of getting lost through the winding streets of a sleepy Italian town. Each of the 5 towns offers a truly unique experience where you'll be able to relax, indulge in amazing food, and take in some of the most breath-taking views Italy has to offer.
Things to Do
Hike the scenic trails between the 5 towns of Riomaggiore, Manarola, Corniglia, Monterosso, and Vernazza
Eat focaccia, pesto, and all the seafood
Sip the region's most famous dessert wine, Sciacchetrà
Take a boat tour to get a perfect view of the hillside
Relax on the beach in Monterosso
Best Times to Visit
March through May is an ideal time for hikers who want to enjoy the first blooms of spring. There is a high probability of rain during these months and accommodation prices usually start to increase, but you'll be hitting a sweet spot just before all the summer tourists arrive.
September and October are considered to be the best months to visit the Cinque Terre because the summertime crowds are gone and the temperatures are beginning to cool. The only catch is that October is the rainiest month, but there are plenty of cafes and shops you can cozy up in to wait out the rain.
photo by Aguiam Wedding Photography
Portugal
Portugal is quickly becoming one of the top destinations in the world, and for good reason. This vibrant country offers just about anything travelers could want, from old-world architecture that makes you feel like you've stepped back in time to spectacular sandy beaches to castles perched atop hills with breathtaking views you'd have to see to believe. Not to mention it's overflowing with some of the best wines in the world and known for its exquisite cuisine. Whether you want to walk through history, surf the crystal clear waters, or indulge in a Michelin Star restaurant, paradise is waiting for you in Portugal.
Things to Do
Best Times to Visit
March through May and September, October are considered the best months to visit because of the cooler temperatures, which makes for perfect walking weather. Portugal's cities are best enjoyed on foot, so shoulder seasons are the best option for beating the heat and missing the frigid temperatures. As with most European countries, these cooler months tend to also be the rainiest, so pack layers and sturdy, water-resistant shoes.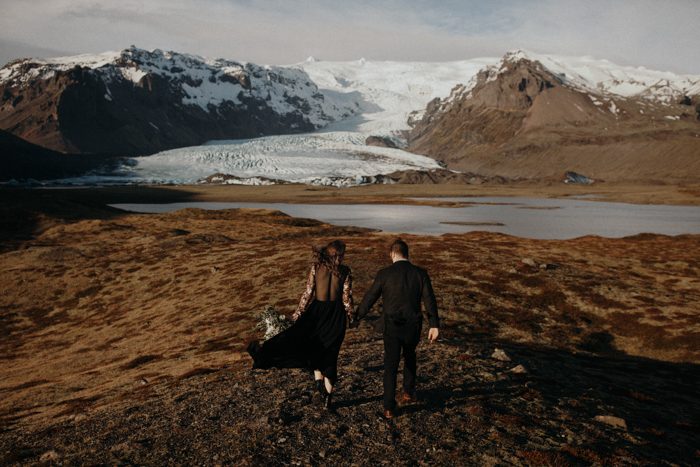 photo by Jordan Voth
Iceland
Iceland is one of those rare places on Earth that is just as magical in the winter as it is in the summer. During the winter months, snow covers the majority of the landscape, providing a winter wonderland for skiers, snowboarders, and anyone who's wanted to see the Northern Lights. During the summer months, the temperatures warm up (though it never gets hot), which makes it perfect for camping, hiking, or attending one of the many festivals hosted in cities all around the island. Regardless of what time of year you choose to visit Iceland, you'll get the opportunity to walk among the glaciers and relax in the natural hot springs — how amazing is that?!
Things to Do
Best Times to Visit
December through early March is the ideal window for winter travelers because temperatures stay right at or just below freezing and there is enough snow-cover to enjoy all the winter activities. Keep in mind that, because Iceland sits at such a high latitude, you'll only get between 4-6 hours of daylight during winter months.
Mid-June through August are the perfect months for summer travel because, although the average summer temperature doesn't go above 52°, those are the months you get the least amount of rain and the most sunshine — anywhere between 21-24 hours.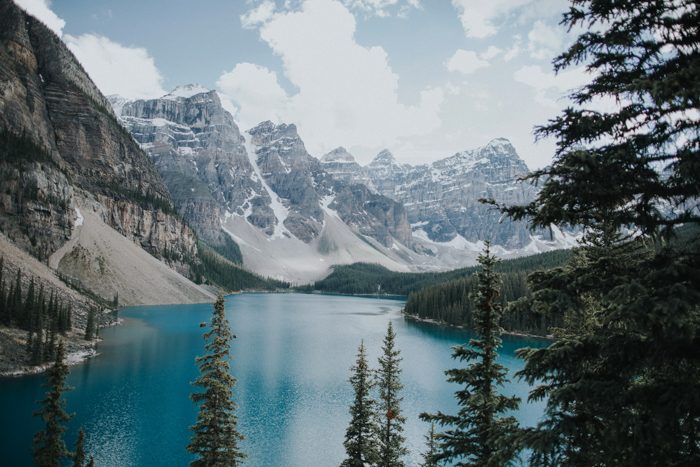 photo by Alex Lasota Photography
Banff, Alberta, Canada
If you're the couple who lives to be in nature, there might not be a more perfect 2018 honeymoon destination than Banff. Surrounded by the Rocky Mountains, this National Park boasts a dramatic landscape that looks almost too pristine to be real. The crystal clear lakes sparkle in hues of turquoise, sapphire, and emerald, snowcapped mountains dominate the skyline, and dense forests offer sanctuary to wildlife of all shapes and sizes. The winter snow is a skier's paradise and the temperate summers are made for hiking and camping. No matter how adventurous you want to be on your honeymoon, Banff has something for every kind of nature lover.
Things to Do
Best Times to Visit
June through August are the perfect months for summer sports and activities. By June, the lakes should be completely thawed and at their most brilliant. Plus, all the trails and roads should be open and ready for exploring.
December through March are the ideal months for winter fun. These are the peak months for snowfall and, therefore skiing. However, this also means the risk of avalanches is high, which could cause roads to top tourist sites to be closed.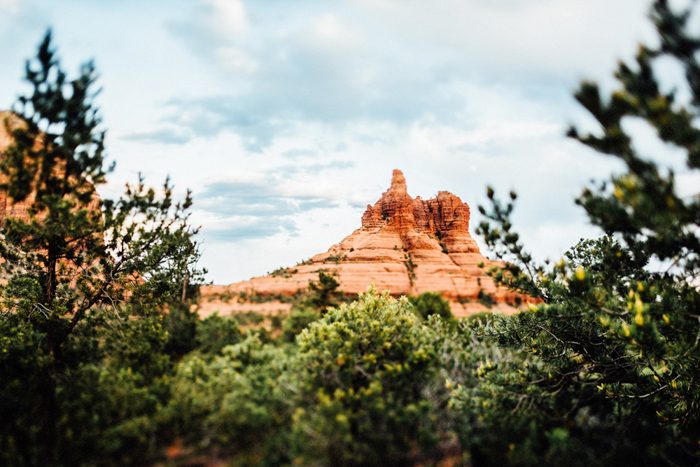 photo by Cling & Peck
Sedona, Arizona
Desert honeymoons are becoming more common in the U.S. and (understandably) flocks of couples are heading for Palm Springs or Joshua Tree National Park. But, if you're craving free-spirit vibes and stunning desert landscapes, look no further west than the haven of Sedona. Located in the northeast region of Arizona, Sedona has a more mild climate than the rest of the state, making it the perfect destination at nearly any time of the year. Between the iconic red rock formations, the new-age spas, and the deep roots in Native American culture, you and your spouse are sure to have a magical — some would say "spiritually healing" — desert experience.
Things to Do
Best Times to Visit
March through May is considered the best time to visit Sedona because the temperatures are warm enough for hiking but are not scorching. Frankly, the desert climate is beautiful any time of year and there is very little chance of rain. If you're looking to avoid the crowds (and save some money), December through February is when hotel prices drop and tourists head further south to avoid the low-30° nights and mid-50° days.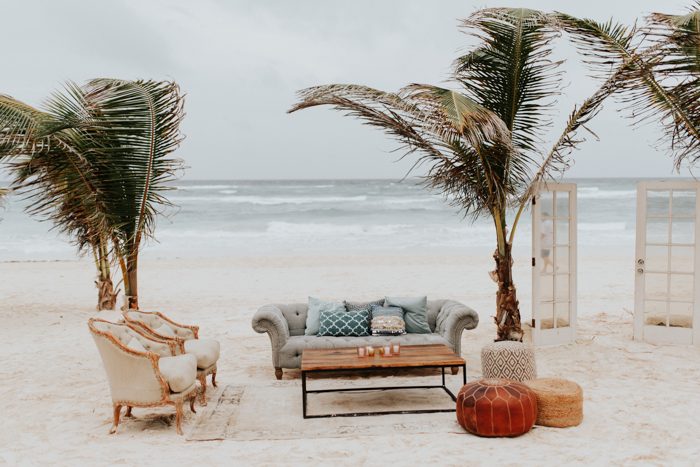 photo by Melissa Marshall
Tulum, Mexico
Tulum is one of the hottest beach destinations in the world right now. This idyllic stretch of the Riviera Maya is ideal for couples who want to spend the majority of their time sitting on a beach with a tropical drink in hand. For the days when you want to be a little more active, there are Mayan ruins to explore, caves to dive, and tacos to eat. After months of wedding planning, the clear waters, warm sand, and easiness of life in Tulum are just what you need to unwind and begin your newlywed life on the best foot.
Things to Do
Best Times to Visit
November and December are the two best months to visit Tulum. This is the sweet spot when hurricane season ends, the temperatures are hot but not scorching, and the throngs of tourists that arrive between January and March haven't taken over the beaches yet.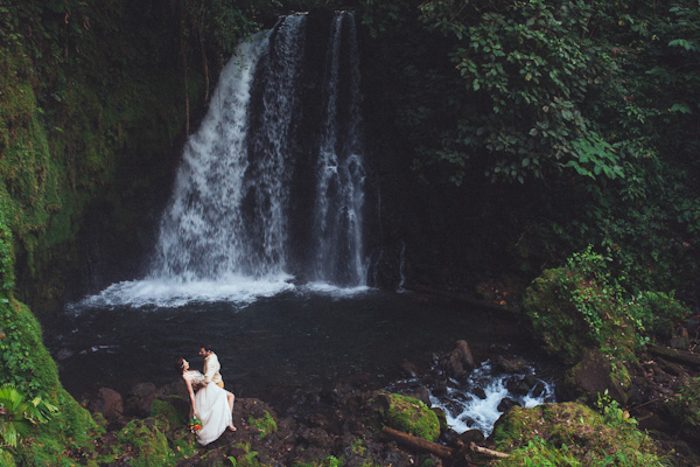 photo by Costa Vida Photography
Costa Rica
In Costa Rica, one idea drives every part of life: Pura Vida. Costa Rica is famous for its laid-back lifestyle, friendly locals, and diverse landscape, which makes it ideal for couples who are looking for a little bit of everything for their honeymoon. Within a few hours, you can go from volcanoes to rainforests to metropolitan cities to beaches. The food is simple but fresh and made with love, and the coffee and chocolate farms are not to be missed. To experience the very best of Costa Rica, plan a few days in different parts of the country, ending on the beach to round out your adventures with a few days of total relaxation.
Things to Do
Best Times to Visit
Mid-December through April is the dry season in Costa Rica, which means plenty of sunshine but also a lot of tourists. This is the perfect time for hiking and beach bumming if you don't want to gamble on rainy weather during your stay.
May, June, and September through November are also great months to visit Costa Rica if you don't mind a little rain and prefer fewer crowds. The temperatures stay in the 70s all year around so you'll have perfect temperatures no matter when you visit. If large crowds are a definite deal-breaker, avoid July and August completely!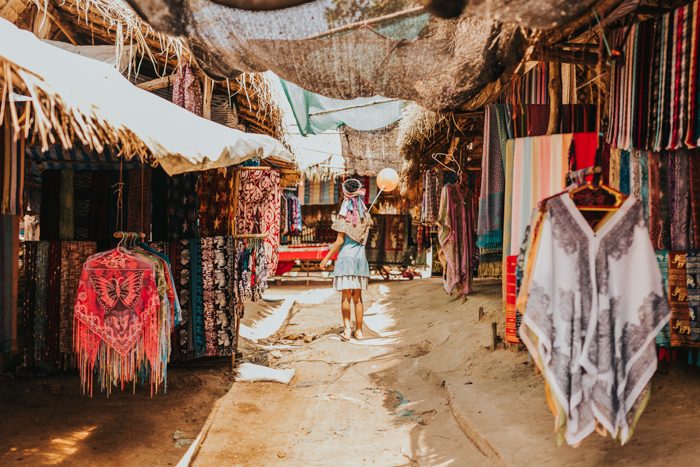 photo by Gustavo Franco Fotografia
Thailand
Thailand is probably one of the most famous destinations in Southeast Asia, which makes it the perfect place for couples who want a lively, dynamic, and culturally expansive 2018 honeymoon experience. Here, you'll find lush jungles, pristine beaches, spectacular palaces, ancient temples, mouth-watering street food, and unbelievable wildlife, as well as plenty of off-the-beaten-path activities. Thailand is famously easy to travel around and relatively inexpensive, so you won't need to limit yourself to just the cities or just the beaches. Feel the freedom to go anywhere and everywhere, and experience one of the most visually captivating countries in the world while creating priceless memories together.
Things to Do
Best Times to Visit
November through February is generally considered the best window to travel to Thailand because it's the driest and coolest season (relatively); although, you should expect hot and humid weather all year long.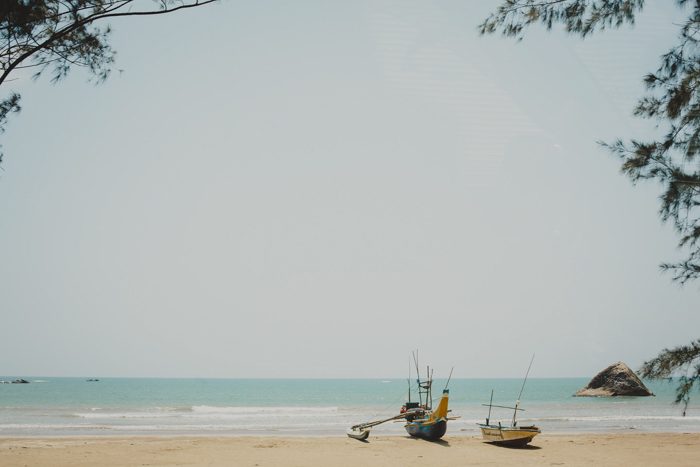 photo by Samuel Goh Photography
Sri Lanka
Of all the destinations on this list, Sri Lanka is likely the most underrated and, therefore, most unexpected 2018 honeymoon suggestion. Located southeast of the Indian continent, this island is steeped in ancient history that's just begging to be explored. On this relatively small island, you'll find Buddhist ruins, a 5th-century citadel, vast nature preserves, tea plantations, hundreds of miles of unspoiled beaches, and so much more. Plus, the locals are some of the friendliest people in the world. Sri Lanka is still an up-and-coming tourist destination, which means you'll find smaller crowds than other tropical locations, making now the perfect time to go!
Note: If you're traveling from any country except Singapore, Maldives, or Seychelles, you'll need a tourist visa to enter Sri Lanka. See this website for instructions.
Things to Do
Best Times to Visit
Sri Lanka has two monsoon seasons that hit different regions of the island: December to March and June to October. So, if you're traveling in the eastern part of the island, the best time to visit is between May and September. If you're traveling in the western or southern part of the island, the best time is between December and March — but it's also the busiest time in this region.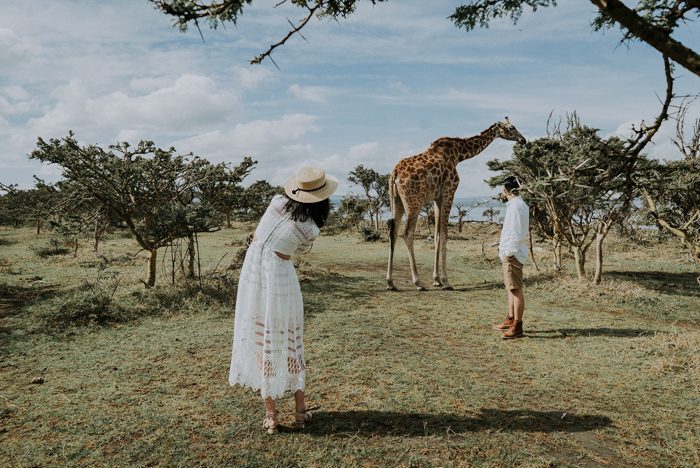 photo by Tu Nguyen Wedding
Kenya
Kenya might not be the first destination that comes to mind when discussing your 2018 honeymoon, but the once-in-a-lifetime experiences this country offers deserve a place on every honeymoon short list. Kenya is most famous for its safaris, so this is the ideal spot for adventure- and animal-lovers alike. But there is so much more to Kenya than meets the eye. Whether you spend time in Nairobi or venture out to the rural villages, you'll meet native tribes and locals who are ready to greet you with open arms and show you the best of their country and their cultures. They also have incredible beach resorts so you can easily include a sandy escape into your visit, as well. If you're willing to take a chance on a honeymoon that's a little outside the box, you're guaranteed to leave with unique memories that will last a lifetime.
Things to Do
Best Times to Visit
Late June through October are the best times to view wildlife in most of the nature reserves. These are also the months when The Great Migration occurs and the savannahs are flooded with wildebeests, zebras, elephants, giraffes, and big cats.
Now that you know you're going to have the best 2018 honeymoon ever, read our 8 tips for feeling your best on your wedding day!