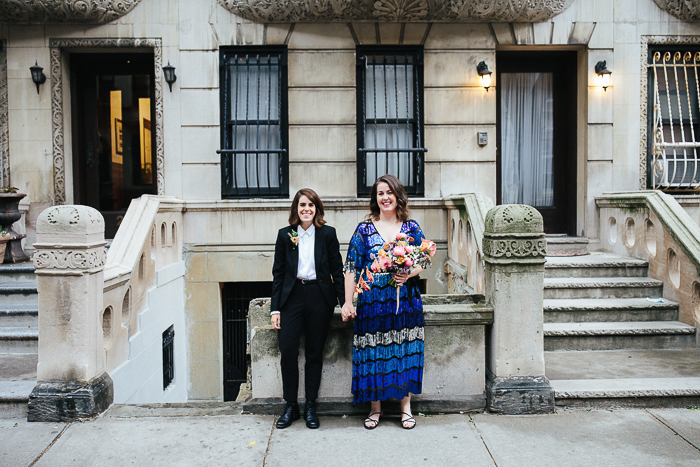 Elopements have taken the world by storm thanks to COVID, and while they may not be the celebrations couples originally planned on having, we love how intimate they are. After months of planning, librarians Amanda and Caitlin opted for a Shakespeare Garden elopement as a nod to their time as booksellers and favorite date night activity.
Caitlin looked glamorous in her Eloquii blue sequined dress, and we're obsessed with Amanda's bridal suit. There's nothing we love more than couples breaking wedding traditions, after all. And both styles fit perfectly with their New York city portraits by photographer Sylvie Rosokoff. Keep scrolling to take a stroll through this Big Apple elopement.
The Couple:
Amanda and Caitlin
The Wedding:
Shakespeare Garden, Central Park, New York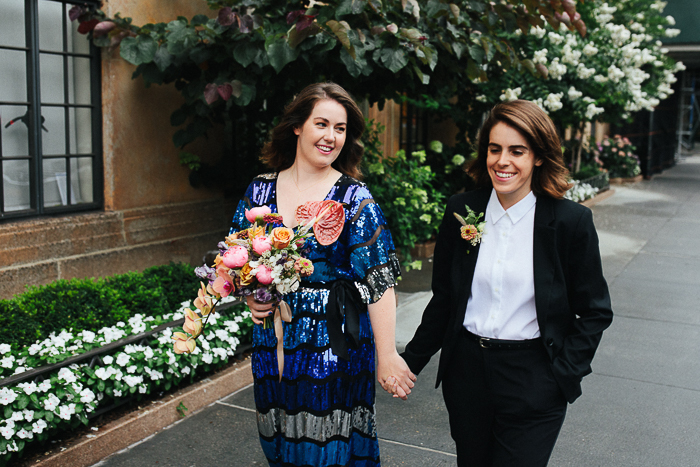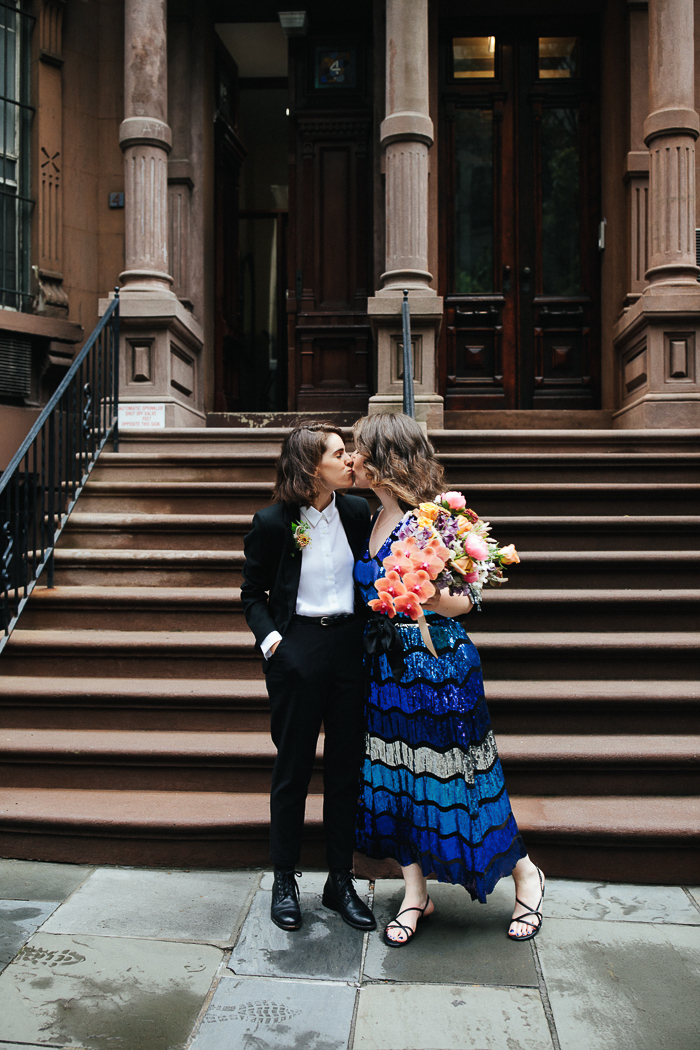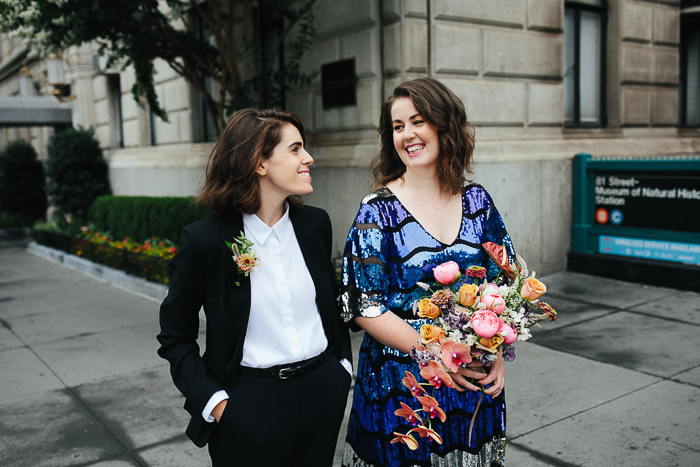 Why A Shakespeare Garden Elopement
We chose the Shakespeare Garden in Central Park as the site of our elopement because one of our favorite traditions–that started before we were even dating–has been to go to Shakespeare in the Park every summer together. We met as booksellers, and are now both librarians. Since we are also early risers we also wanted to marry early in the morning—it's the perfect way to start the day. Marrying early allowed us to avoid the crowds and made us feel like we were all alone in Central Park.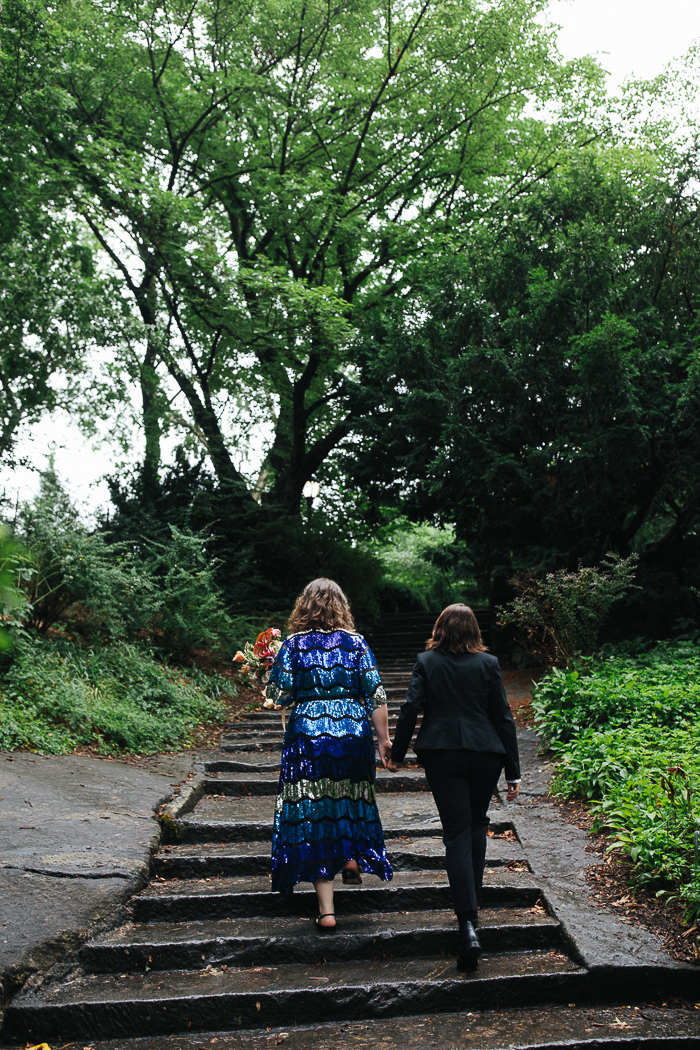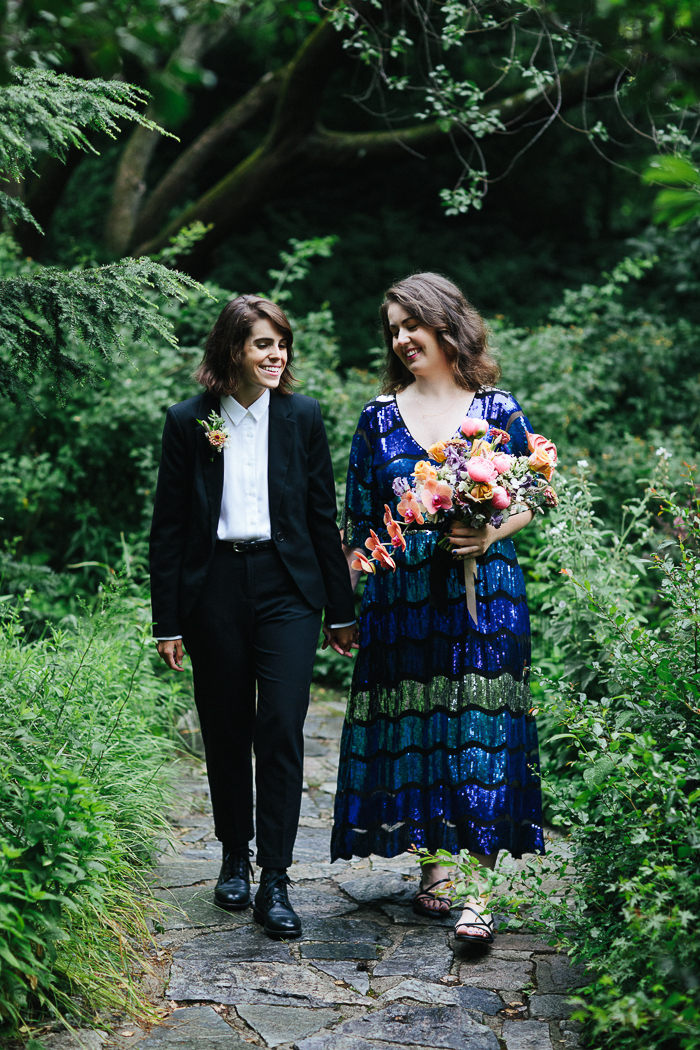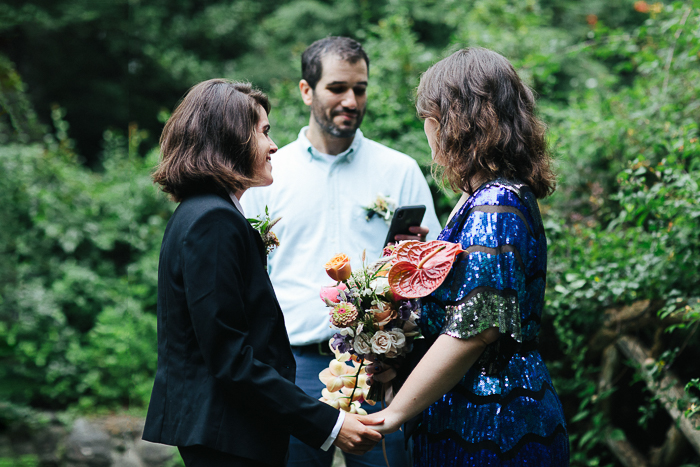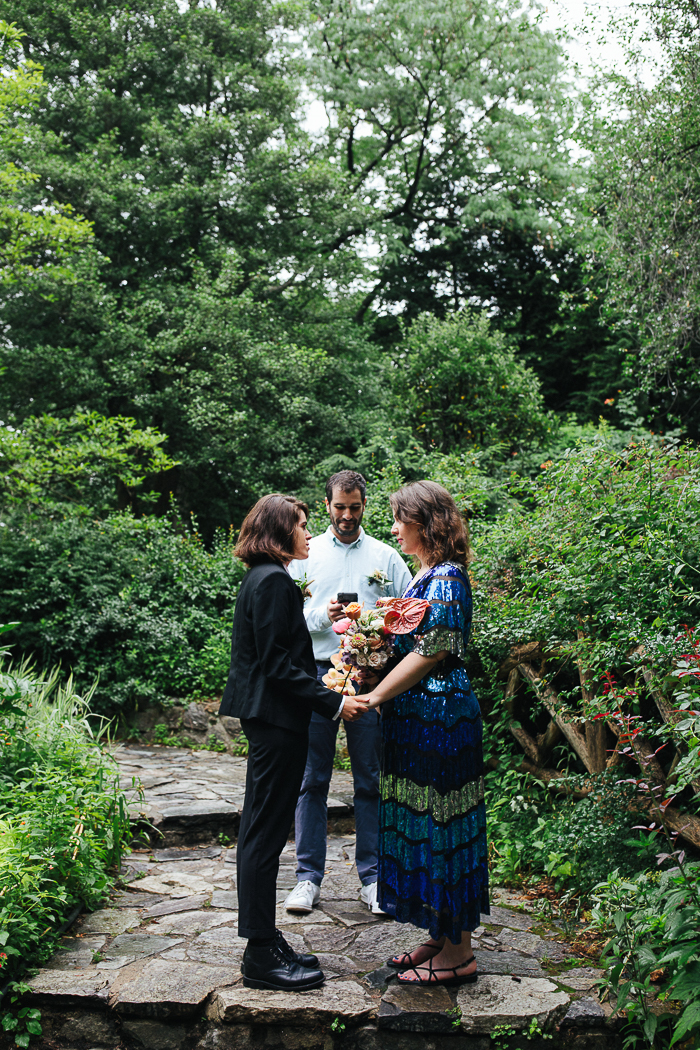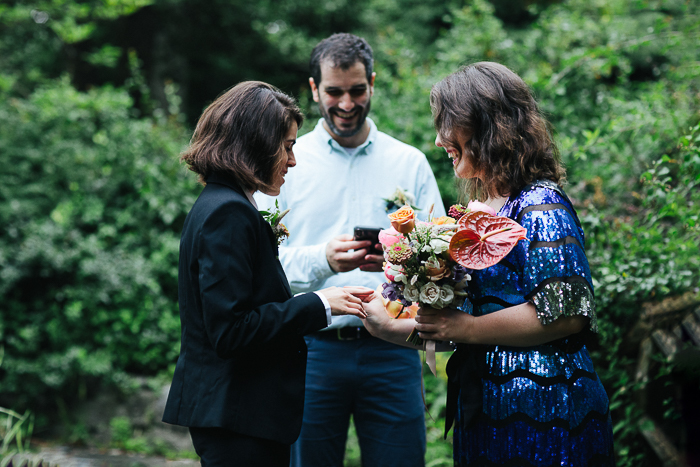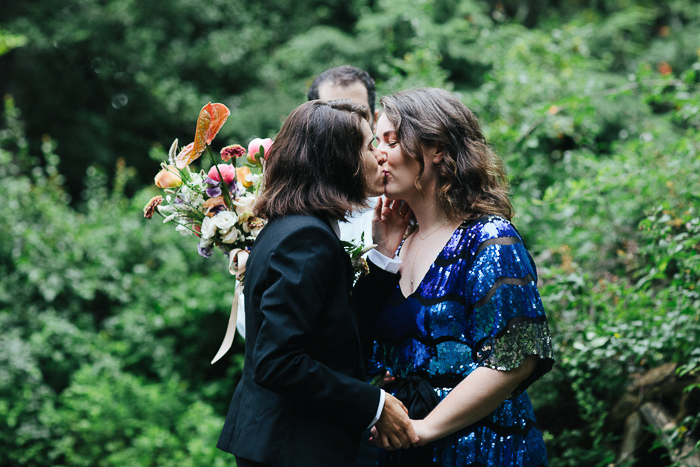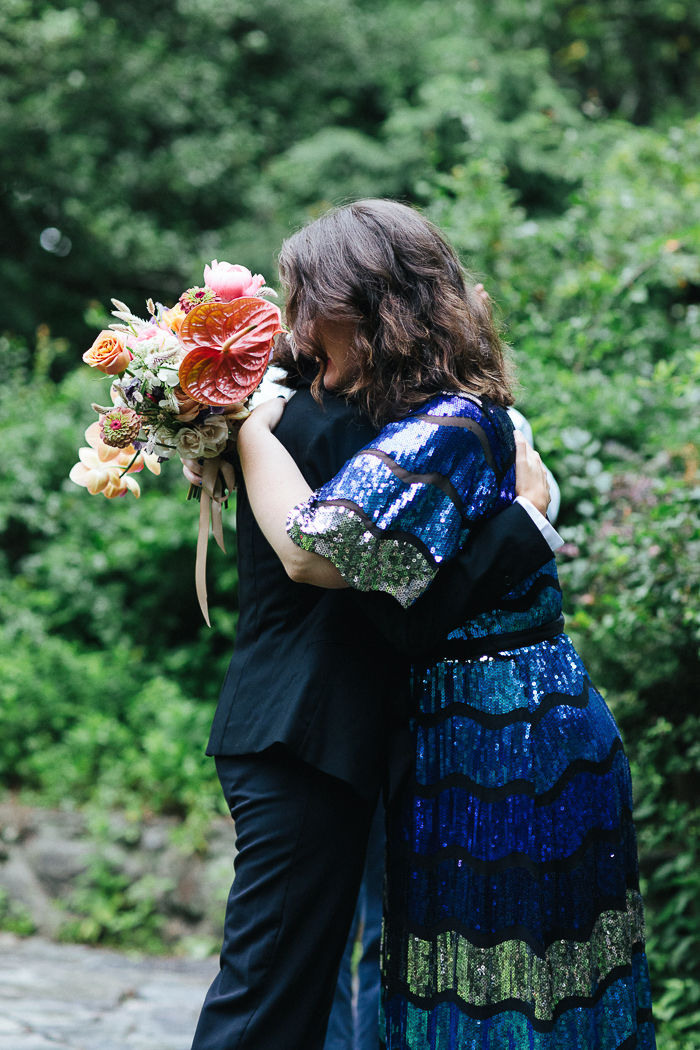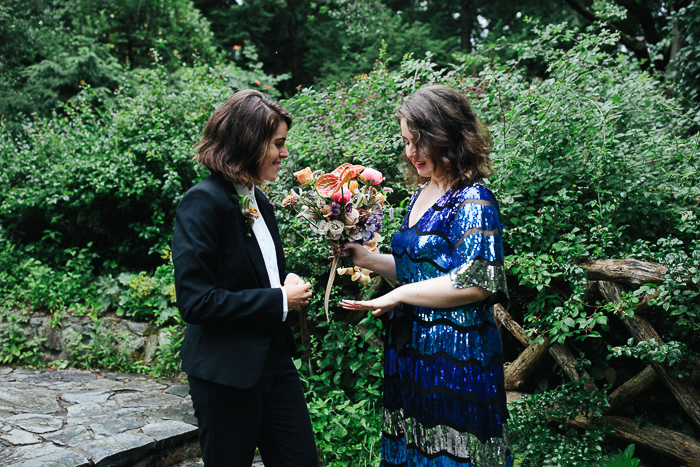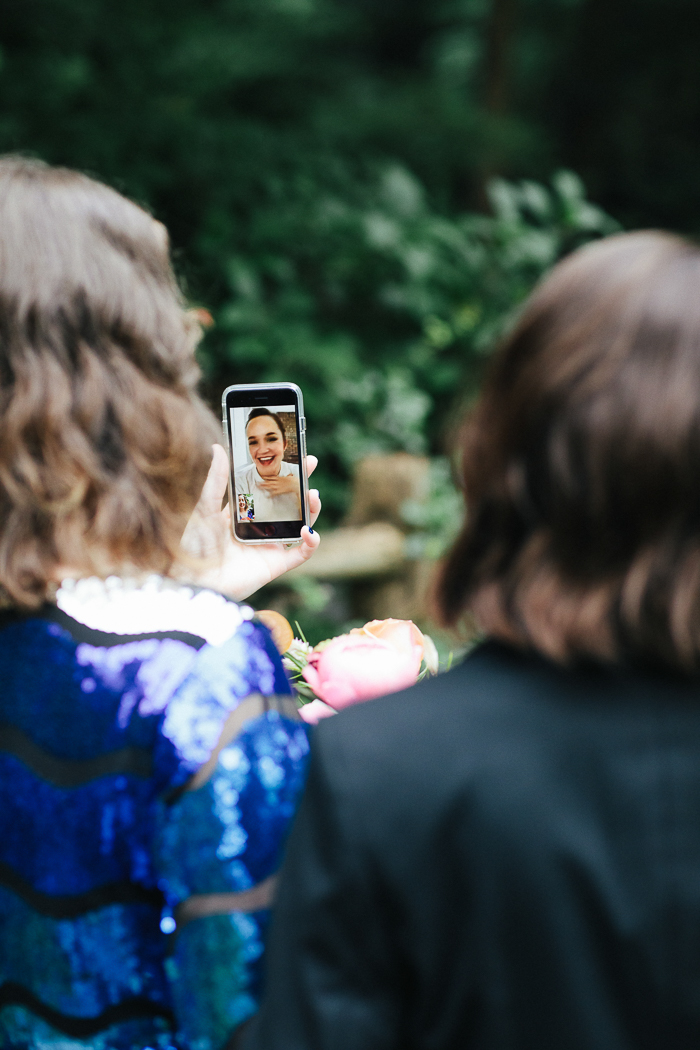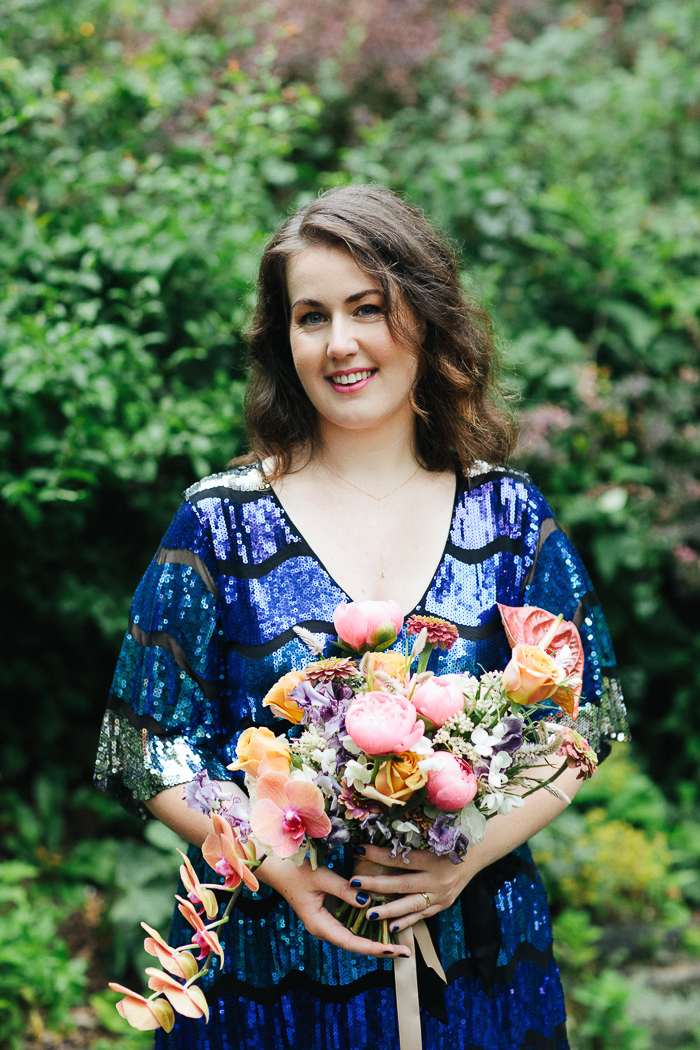 Unique Bridal Fashion
For a long time, Caitlin thought that we would both be wearing suits at our wedding. However, after a long winter and COVID quarantining, she wanted something colorful and bright and sparkly; something that reflected how she felt–exuberant in love. She was able to find her blue sequined dress on Eloquii in the sale section after a long virtual search. It wasn't so much about the brand or price of the dress but how it made her feel, which was incredible.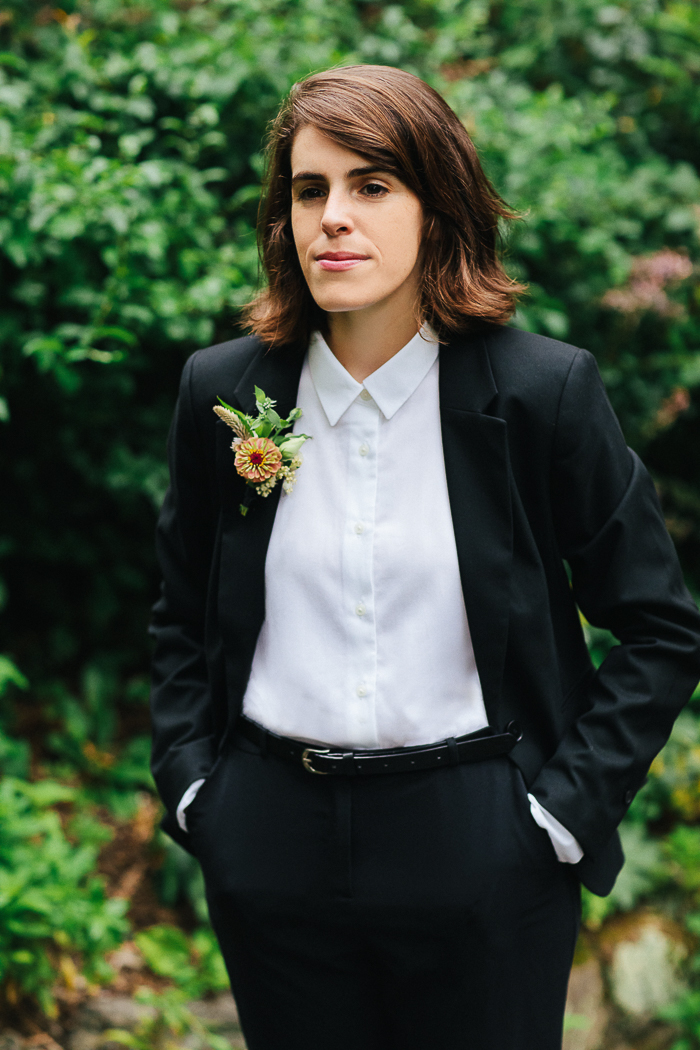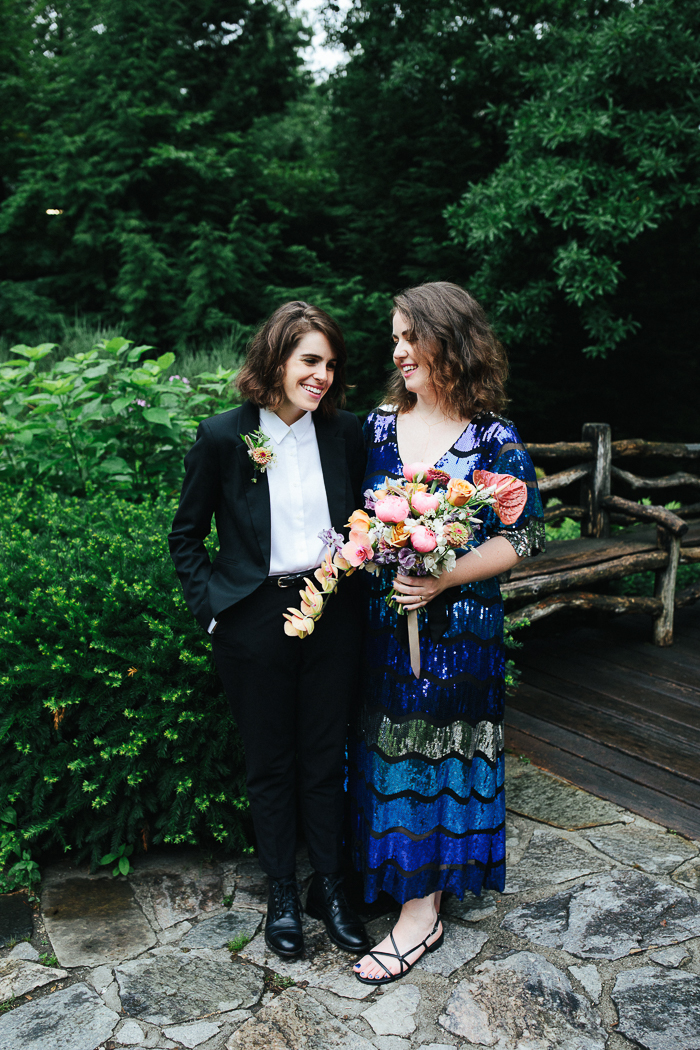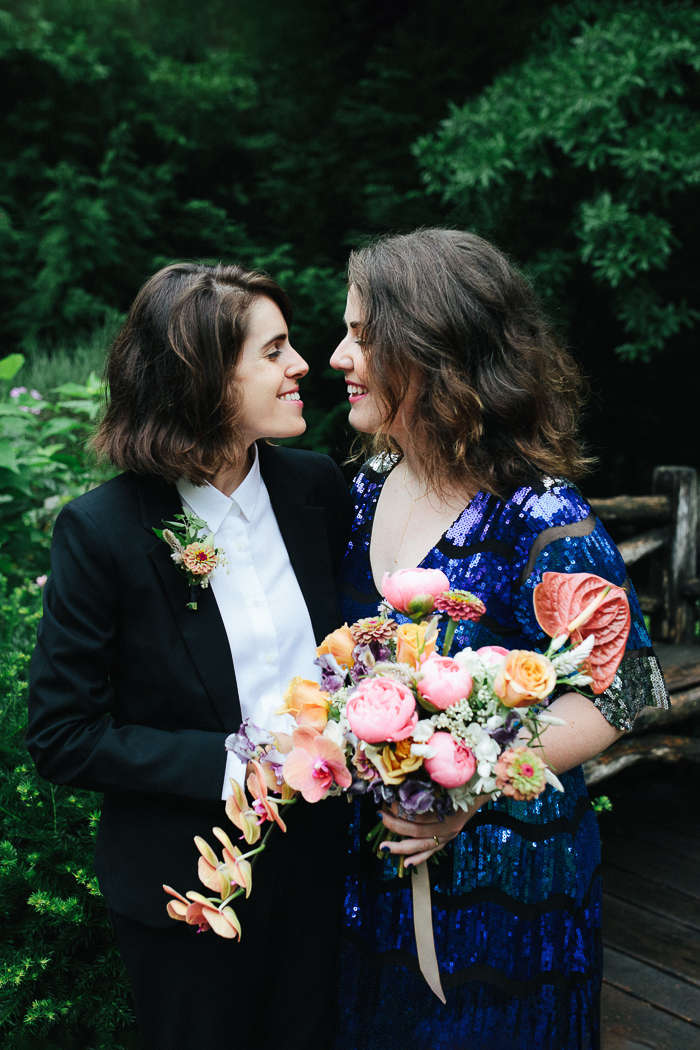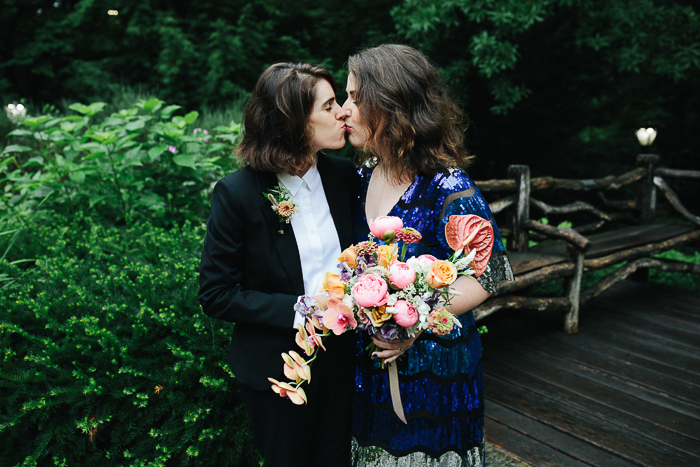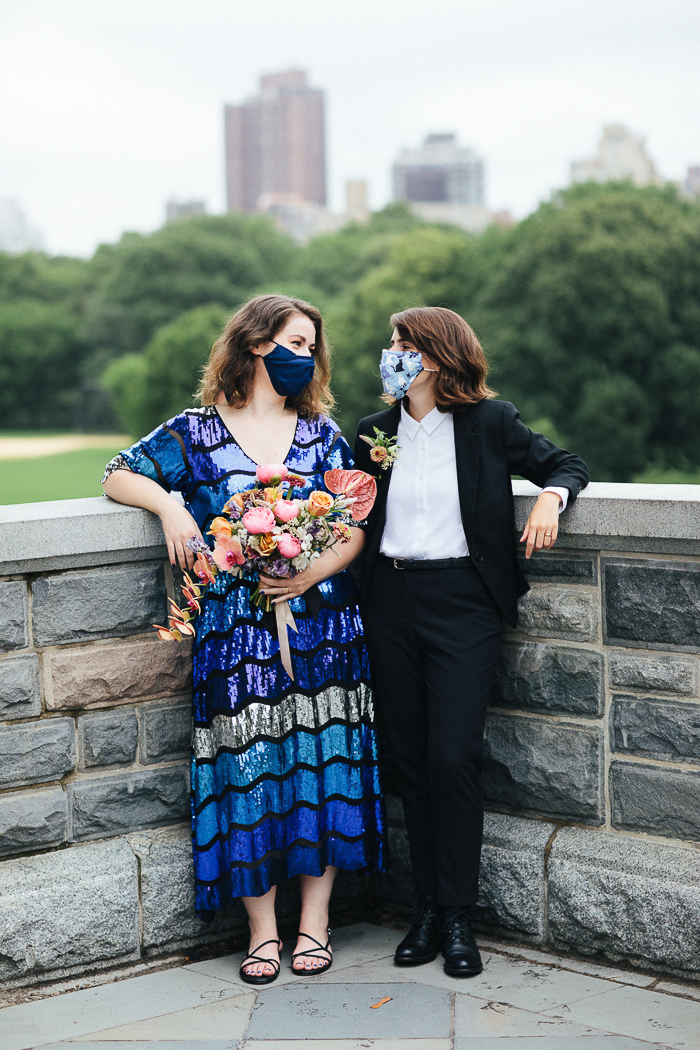 Recommended Reading: 31+ Stylish Face Masks For Your Wedding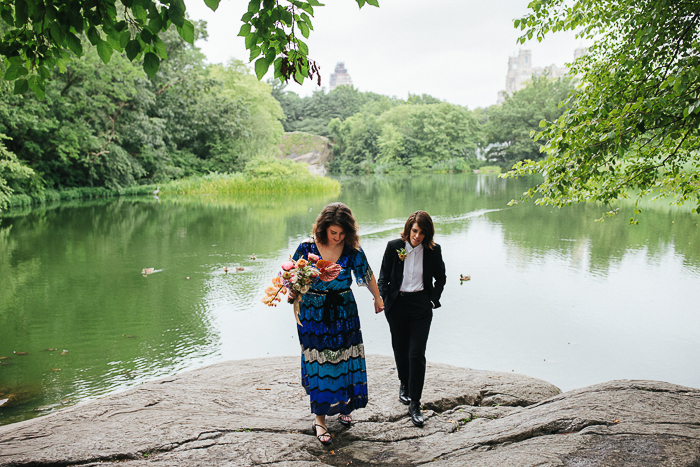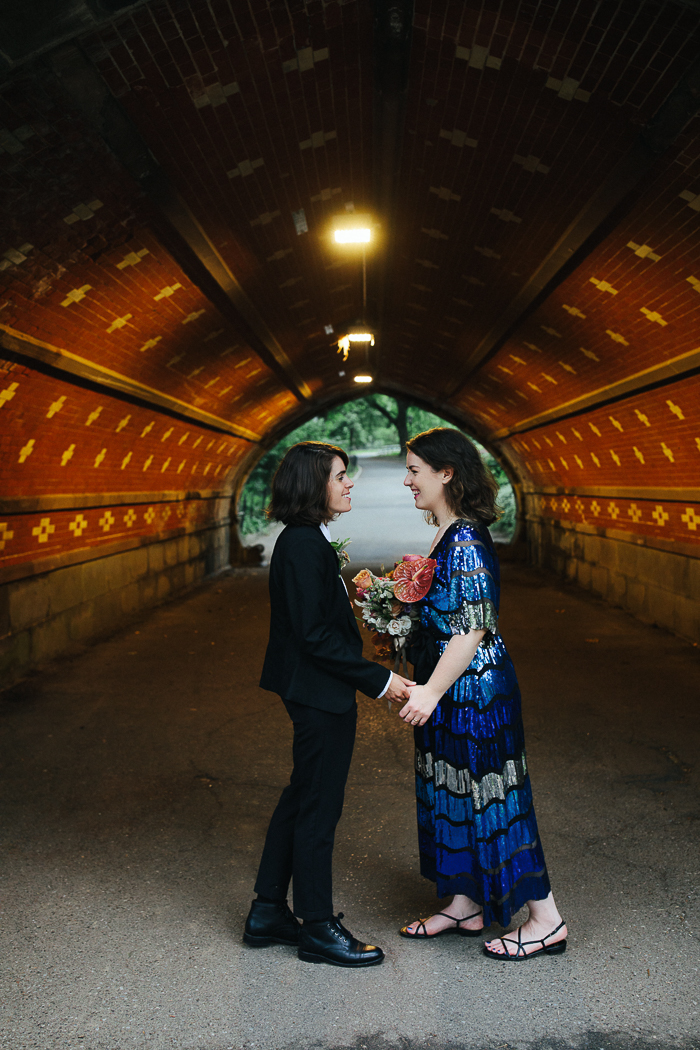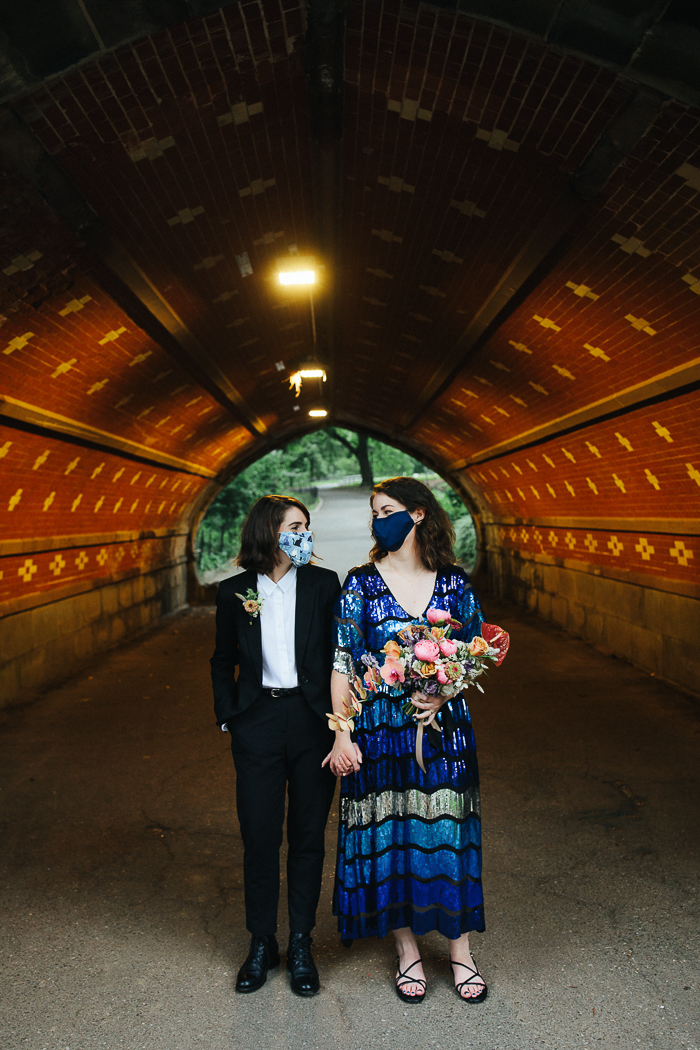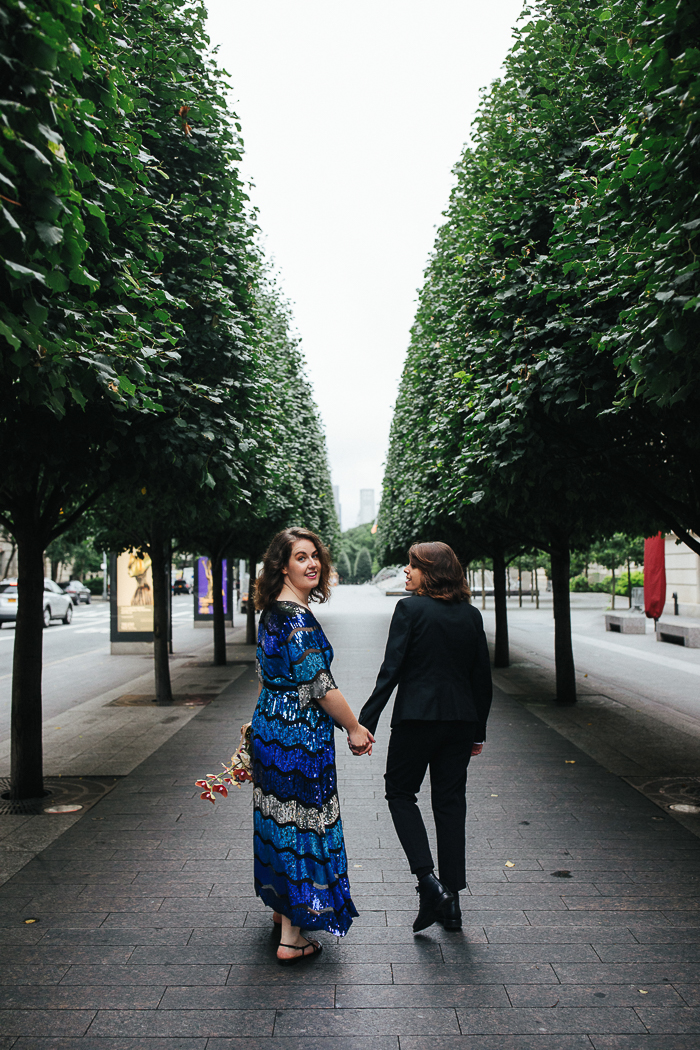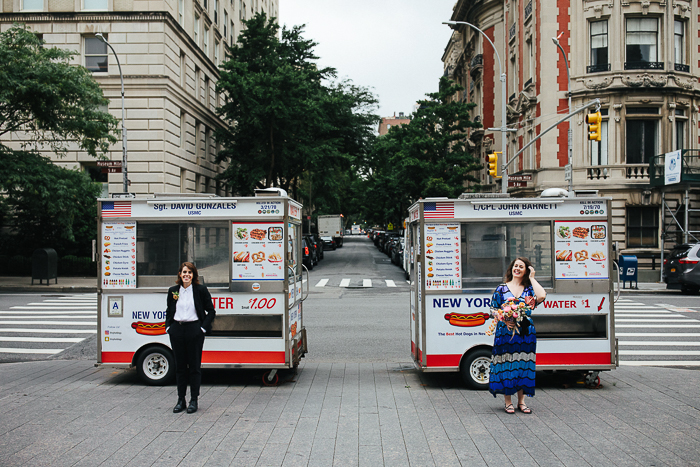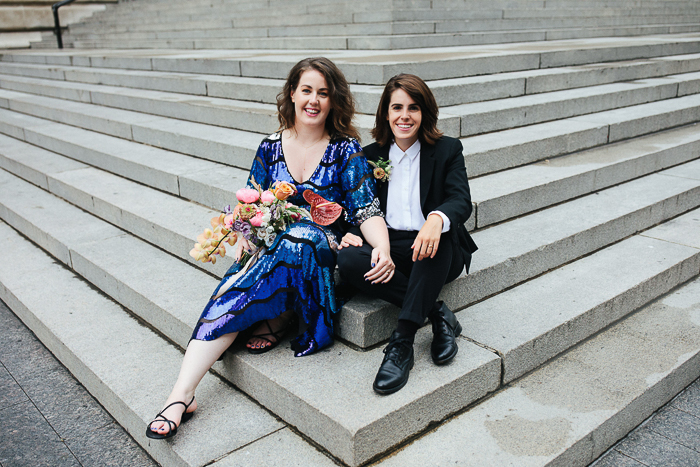 The Couple's Favorite Photo At The Met
Our favorite photo was taken sitting on the steps of the Metropolitan Museum of Art, a place we often visit in non-COVID times. We like to get lost amongst the art together. When we first saw this photograph as part of a sneak peek, we actually gasped. It's of the two of us looking at each other, and Caitlin's flowers resting against her foot. The colors are so vibrant, and our shared look is so clearly full of love. Sylvie was able to beautifully capture this moment of intimate joy. If we only had this photo of our wedding day, it would be more than enough.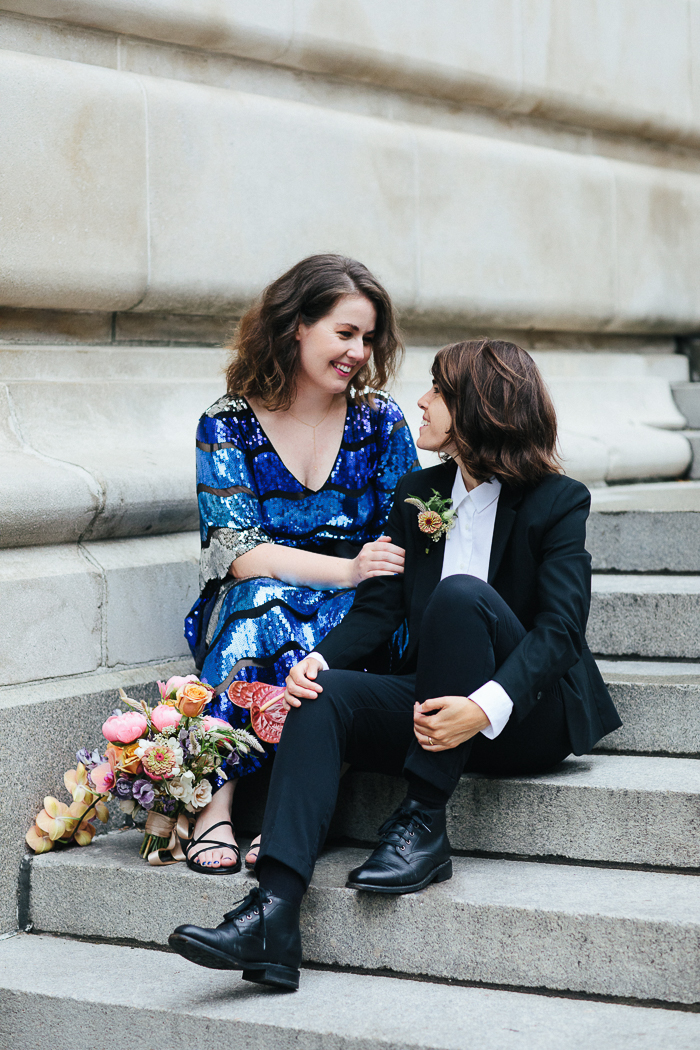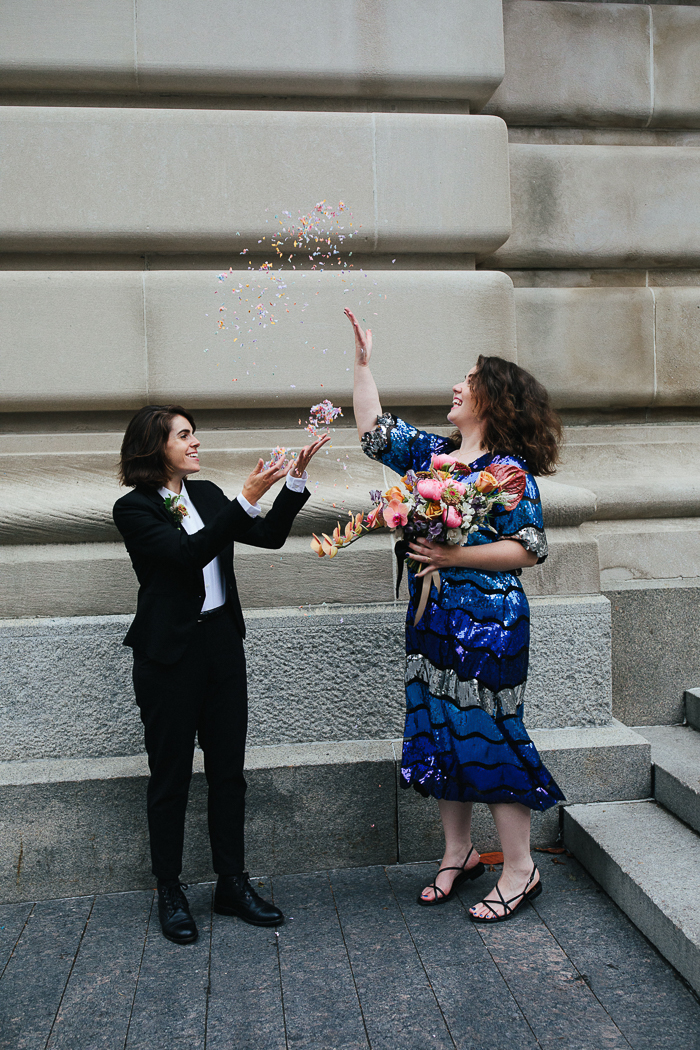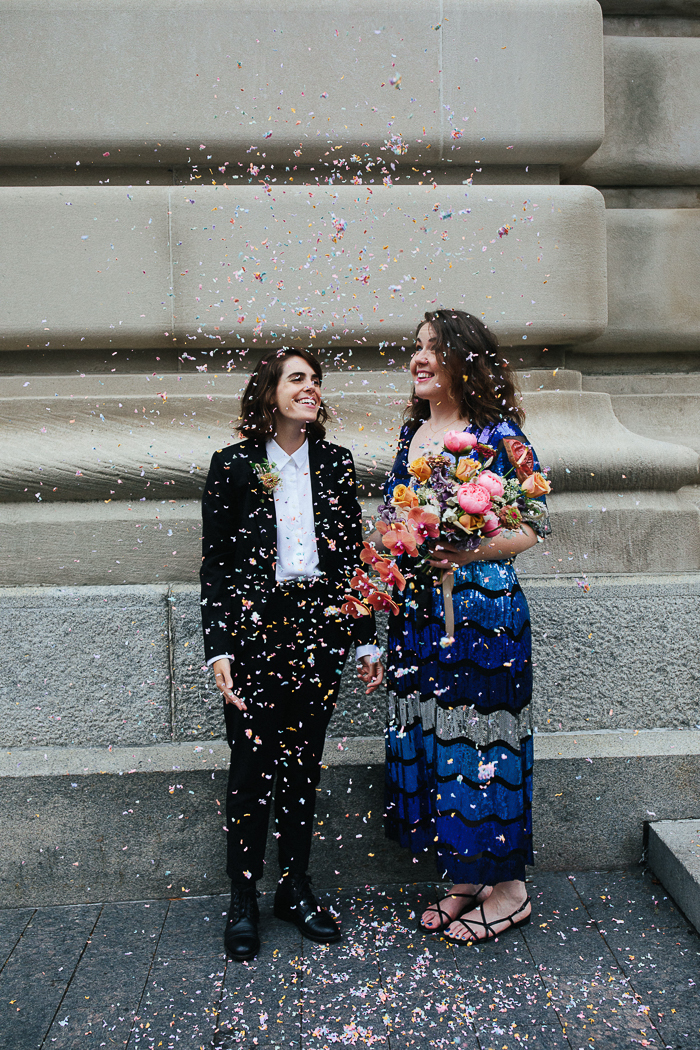 Congratulations again to Amanda and Caitlin on their intimate Shakespeare Garden elopement. Big thank you to Sylvie Rosokoff for capturing the day and sharing it with Junebug. To make your own elopement unique, check out these 16 elopement ideas to make your small wedding special!