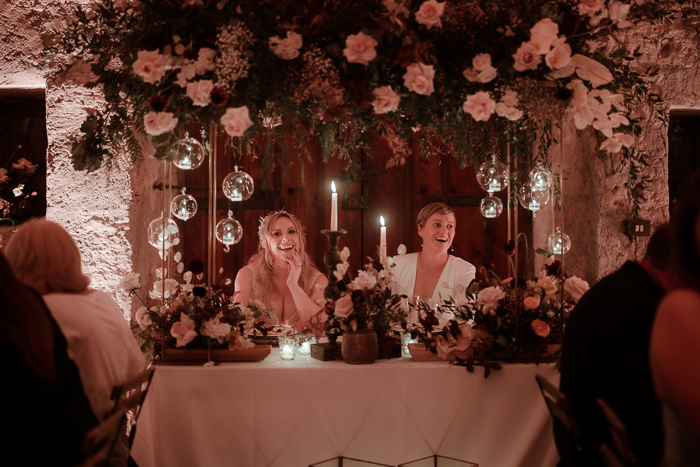 Carly and Jen had their hearts set on a La Badia destination wedding. So despite the rainy forecast on their big day, the pair was determined to have their dream wedding come to life.–and nothing was going to stop them from tying the knot. Set in a 12th-century monastery and tucked in the rolling hills of Umbria, their rainy day soiree featured gorgeous floral arrangements, dreamy lighting, and chic wedding fashion.
The pair initially planned to have their ceremony under the ancient cathedral arches but ended up huddled under the sheltered steps of the abbey. The last-minute change turned out to be the best decision, as the intimacy in such a small space made the moment even more magical. Following the ceremony, they treated their guests to a cozy and stunning reception inside the tower. They dined on tables filled with blooms and taper candles and danced all night (that ended with a 3 a.m. dip in the pool!)
Carly and Jen's special day was a testament to the power of their love and determination. The downpour may have added a little challenge to the day, but they didn't let it dampen their spirits, and they had the best time with the people they love. These images captured by Junebug members Andrea & Federica prove that a bit of rain can make the wedding memories even sweeter, so read on to discover their beautiful journey to "I do."
The Couple:
Carly and Jen
The Wedding:
La Badia, Orvieto, Umbria, Italy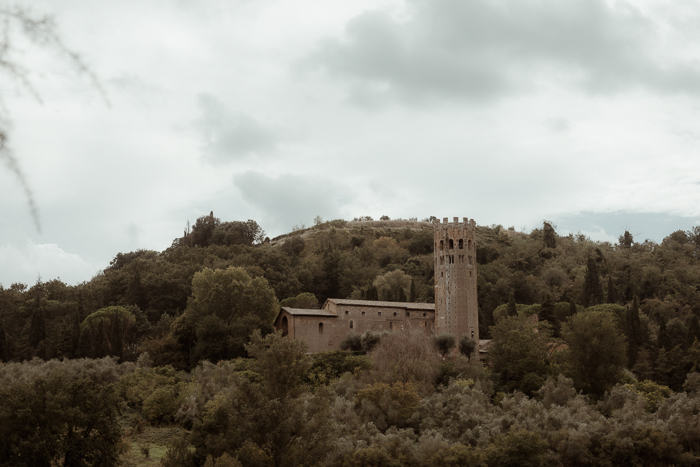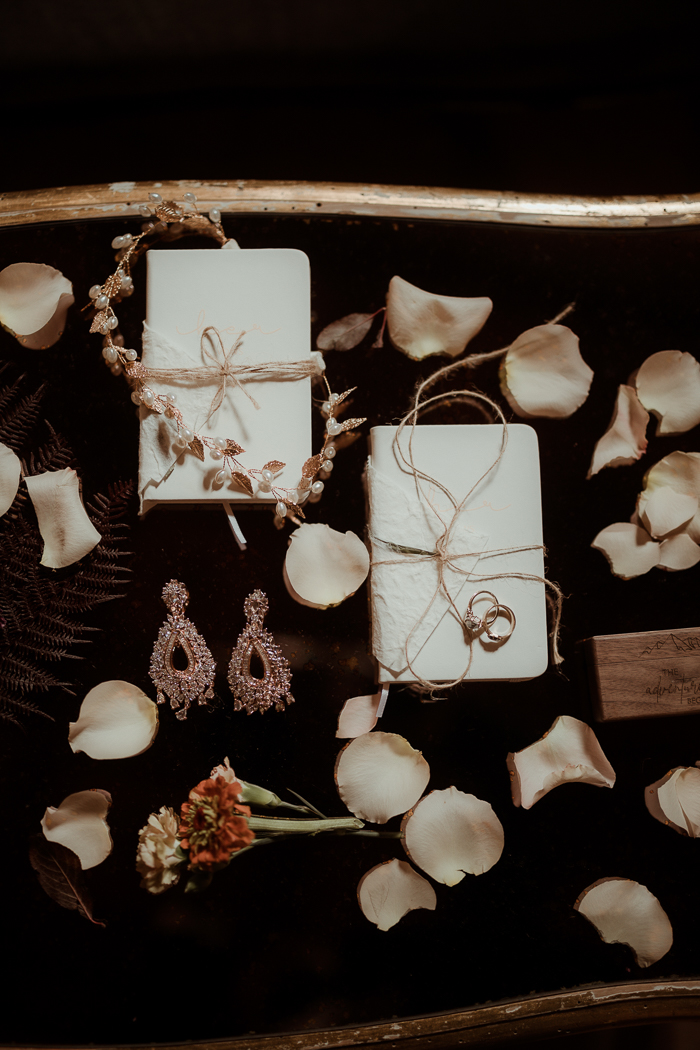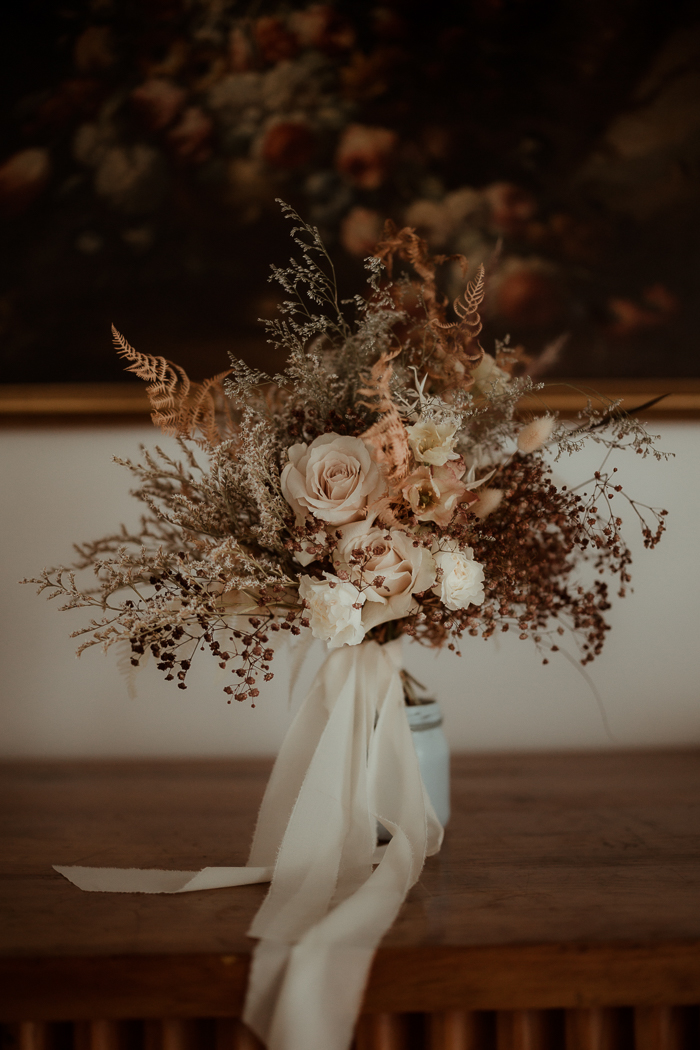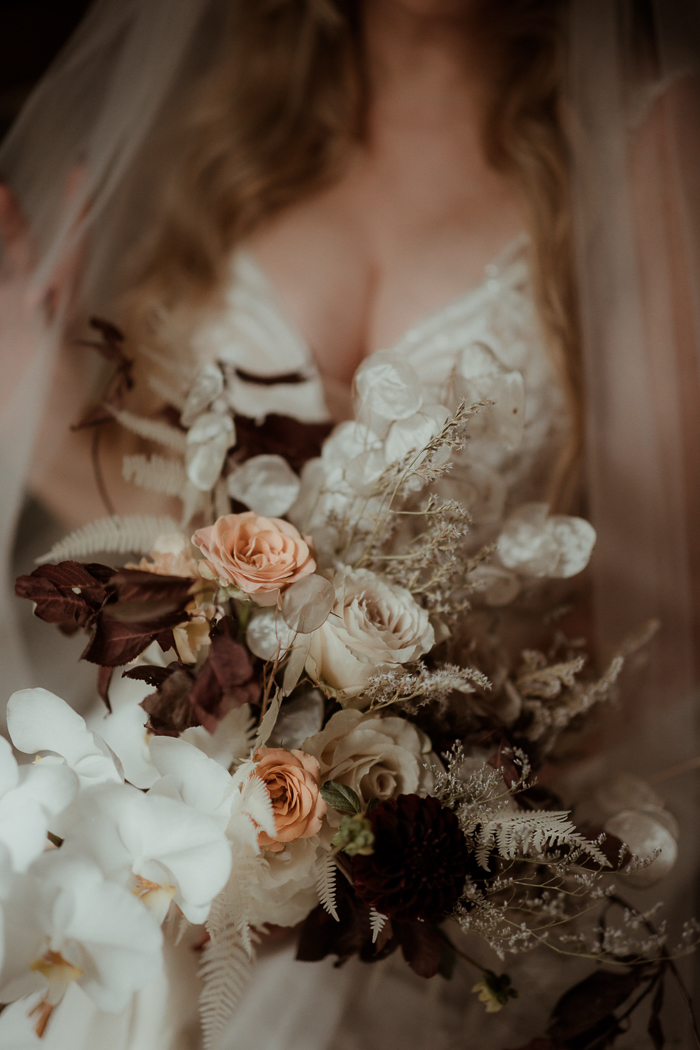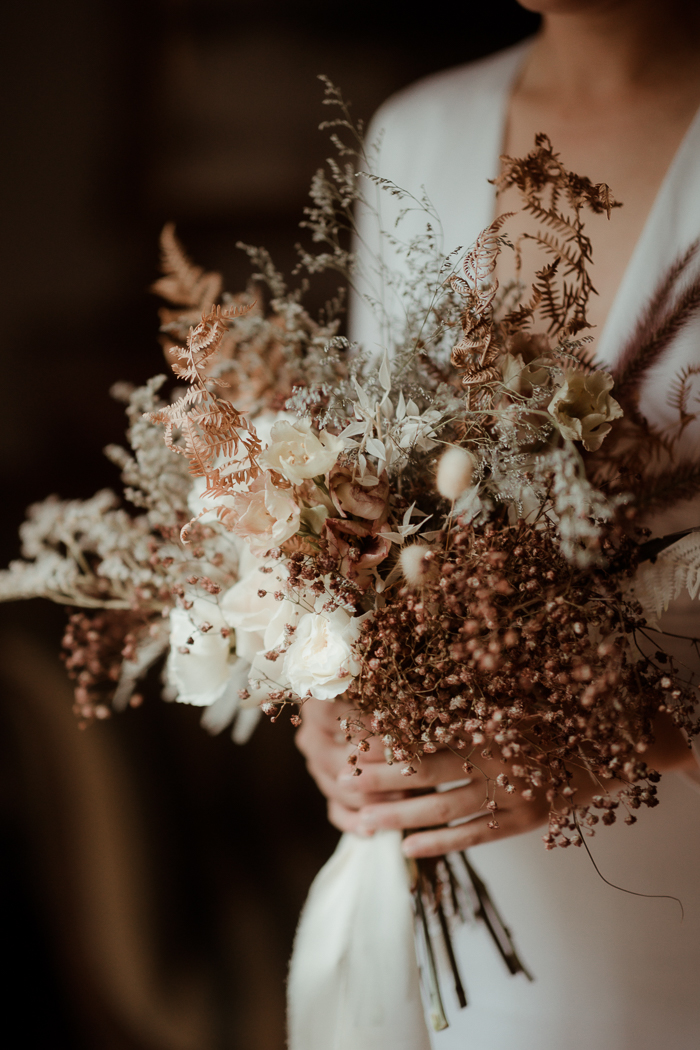 The Inspiration Behind Their La Badia Destination Wedding
It was important to us that the style of our wedding reflects our love. We are both people who feel and love deeply and passionately. We wanted the style and design of our ceremony and reception to be deep and brooding. This led to the inspiration for our flowers and the choice of photographers. We also both waited a long time until we found someone we wanted to spend the rest of our lives with, so we wanted it to be a once-in-a-lifetime experience. The venue–a medieval monastery–and the decision to have it in Italy were inspired by that.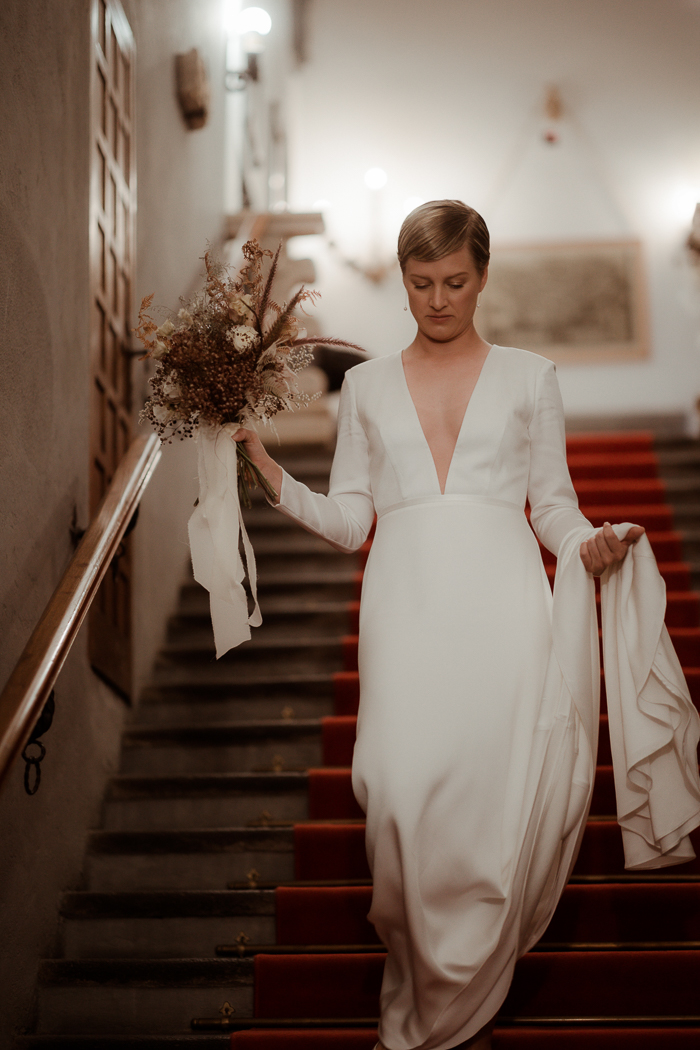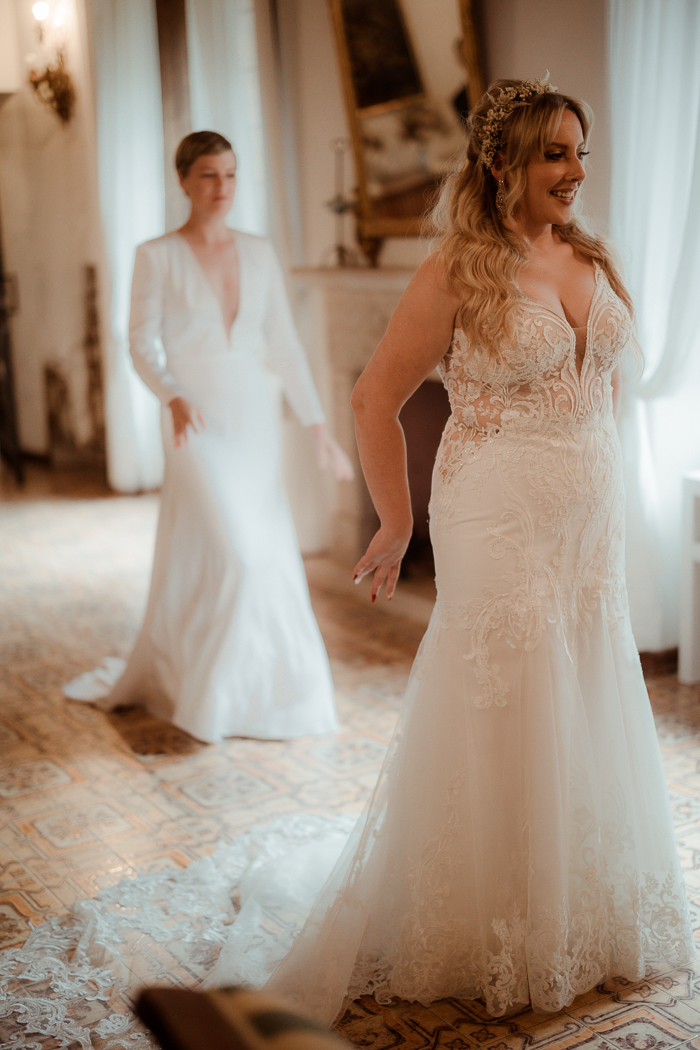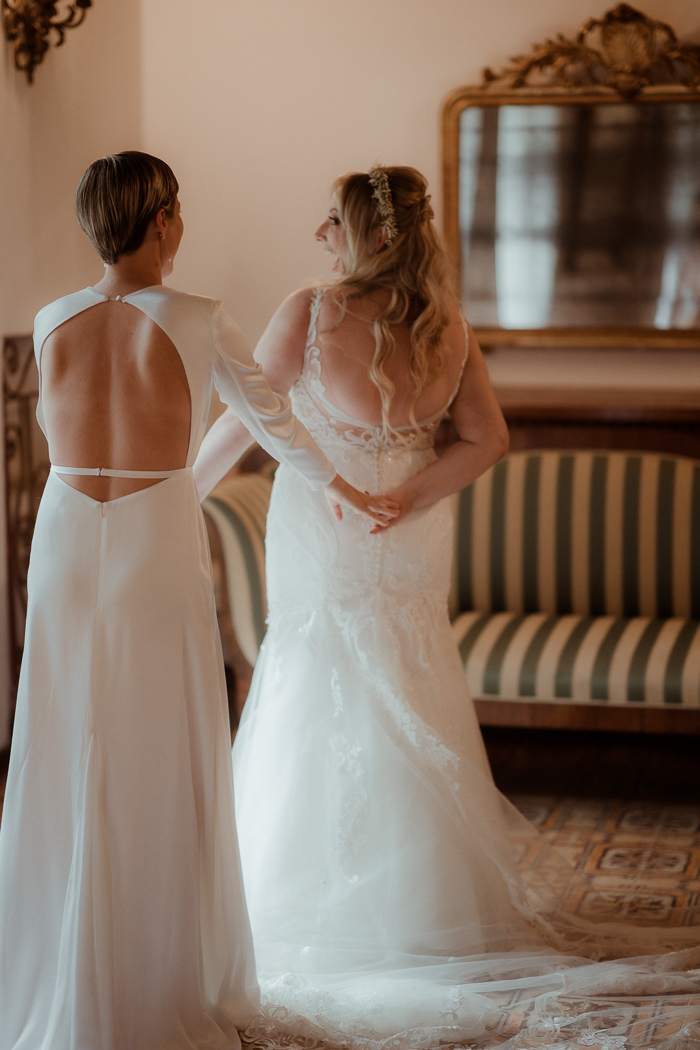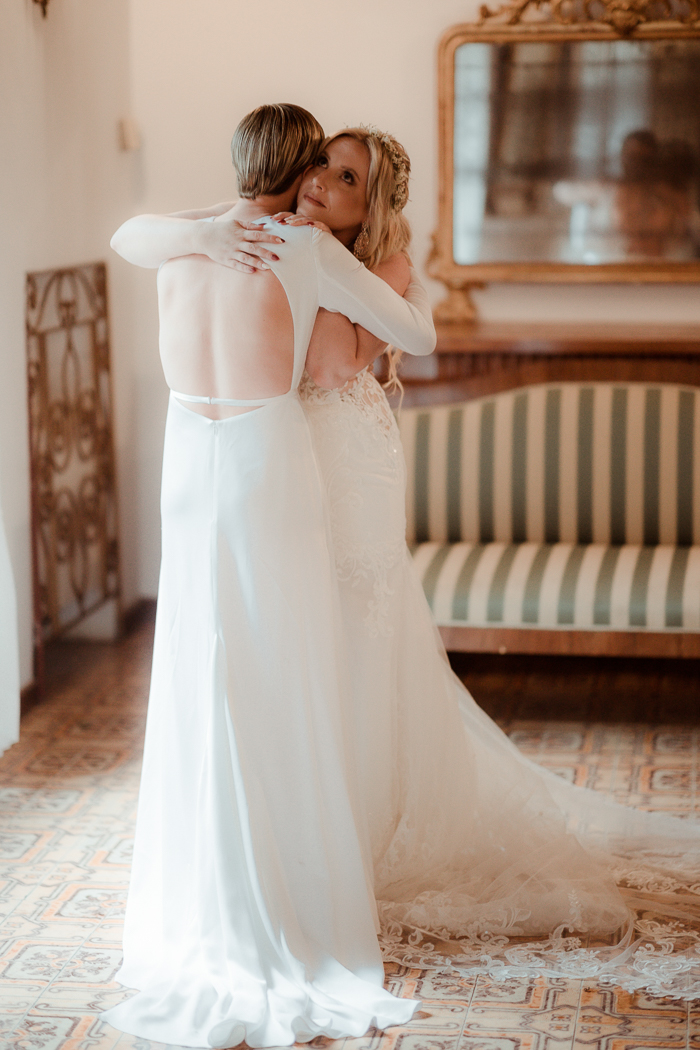 Choosing Wedding Attire That Reflected Their Personal Style
When choosing our dresses, we both went in a direction that reflected our own individual styles, showcasing that we both individually bring different but beautiful things to the relationship.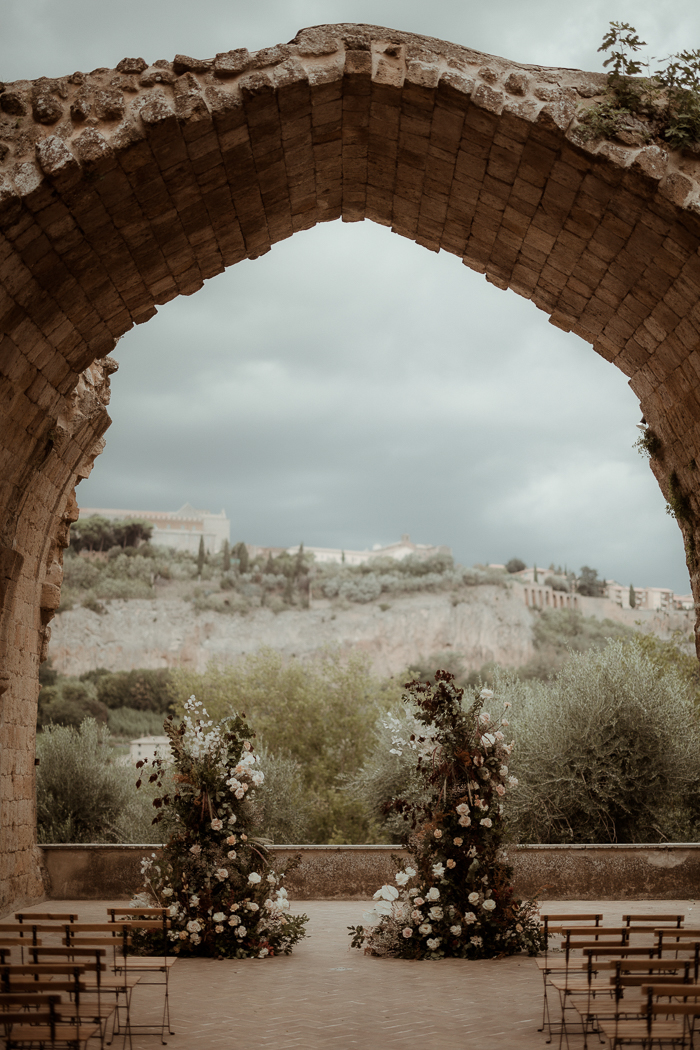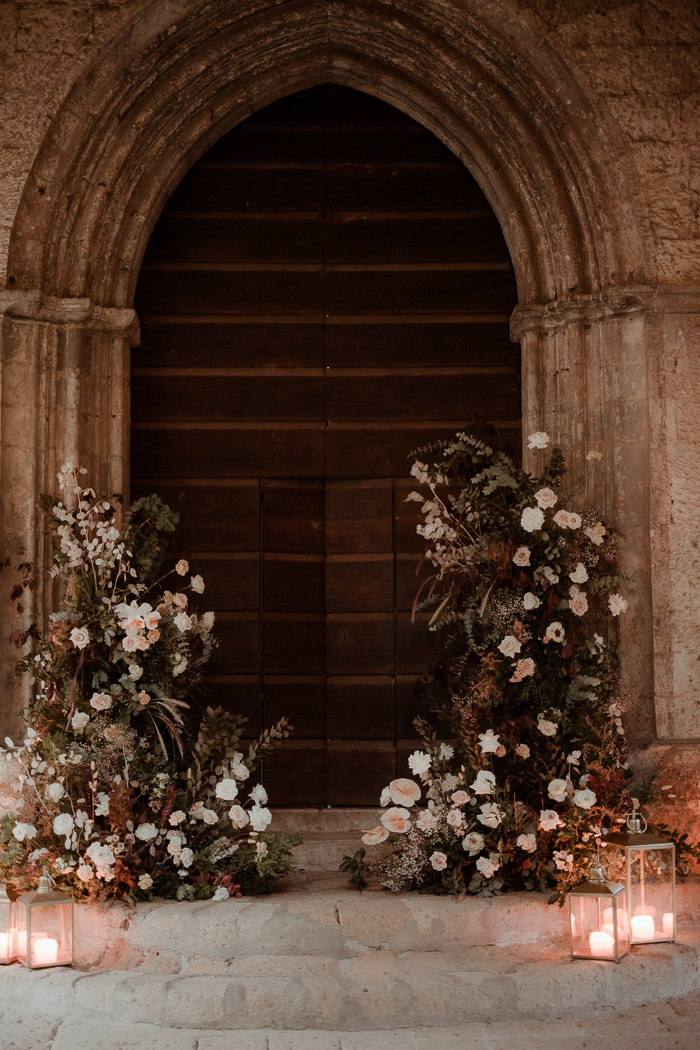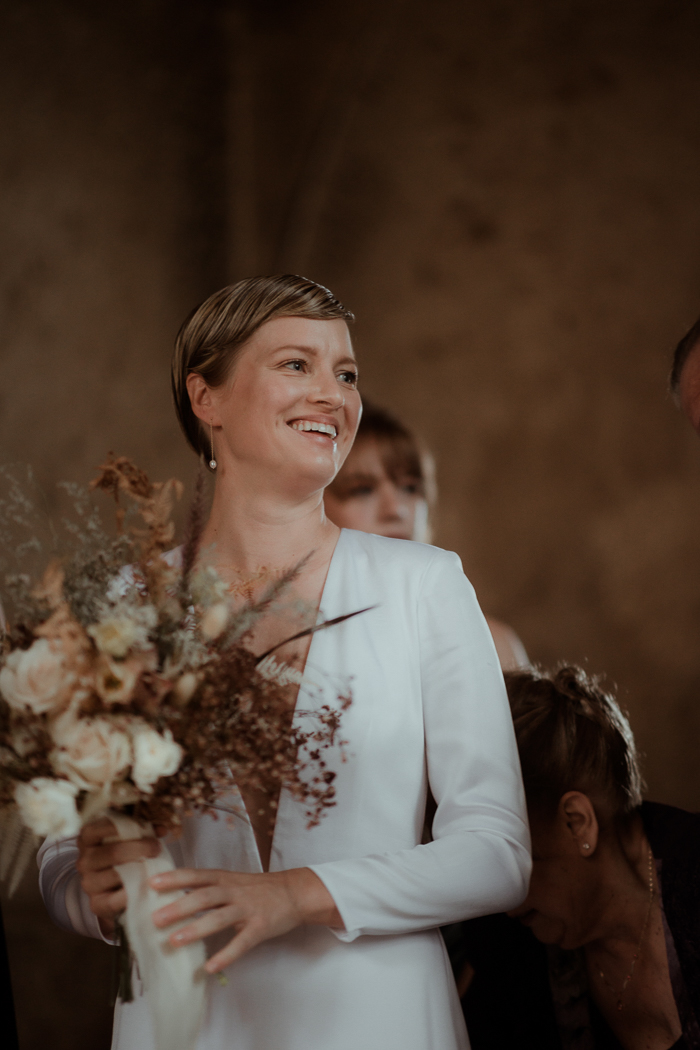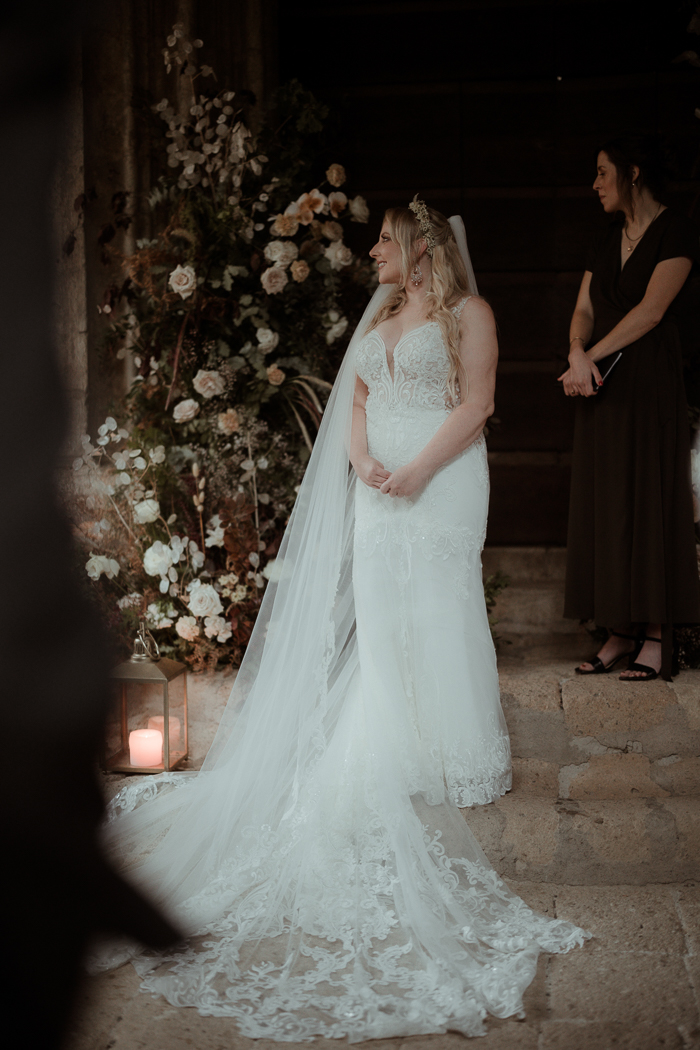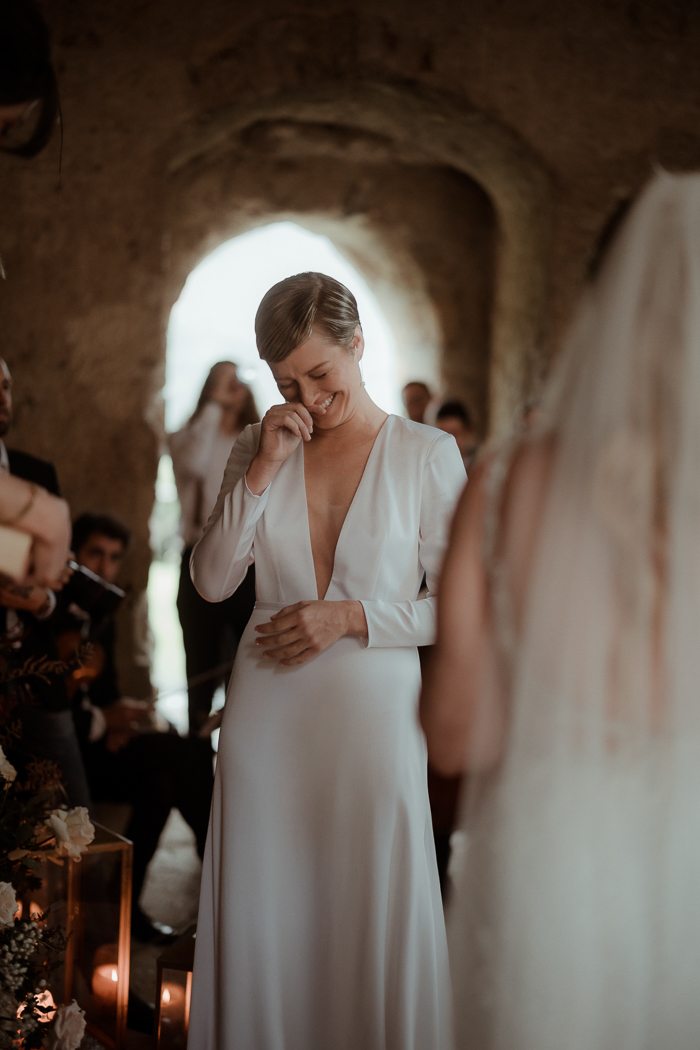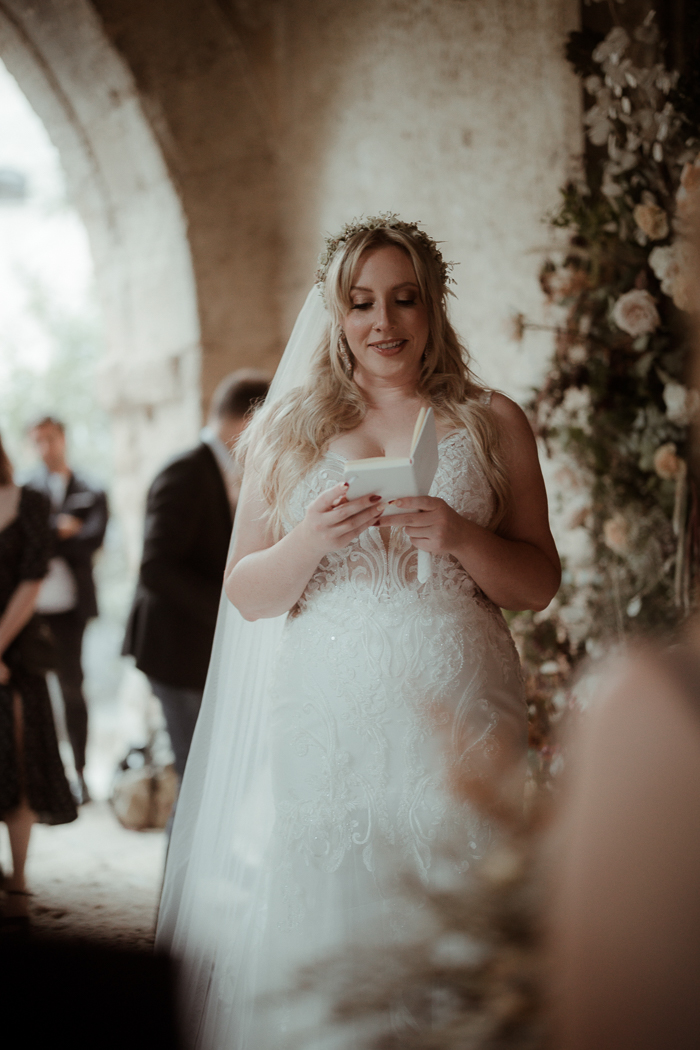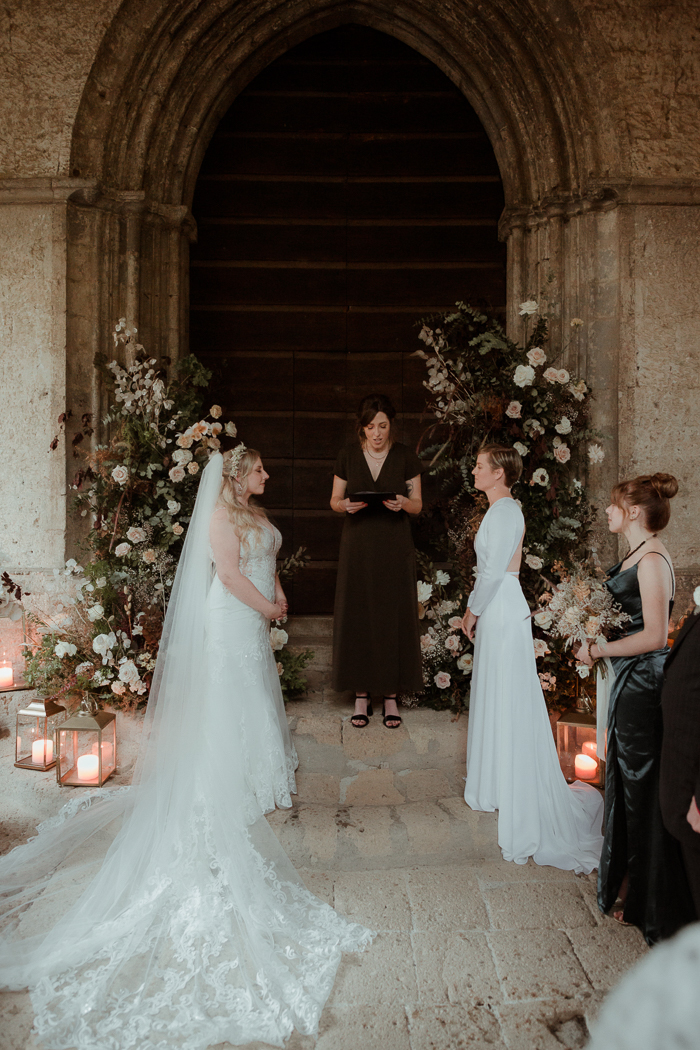 The Unpredictable Weather Couldn't Keep Them From Celebrating Their Love
We couldn't have known that the weather would force us into a location that made the ceremony perfect. It ended up raining the day of the ceremony, forcing all 100 guests and the string duet to stand shoulder-to-shoulder on the small sheltered steps in front of the chapel doors. "Mystery of Love," played by the cello, echoed hauntingly through the space as we walked in. Our vows were a perfect reflection of our love for one another. It was unplanned, and it was perfect.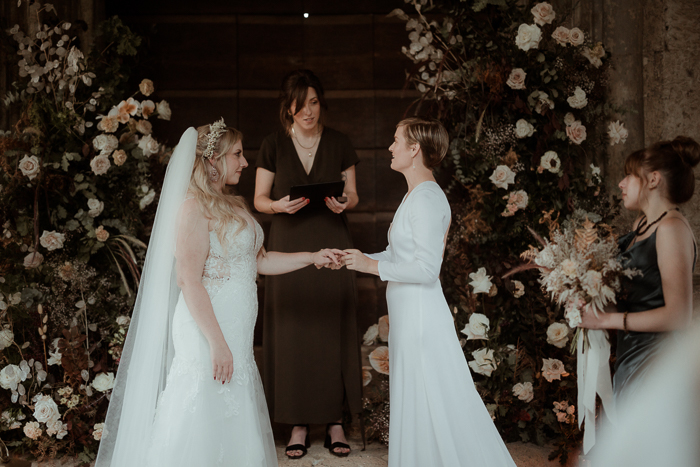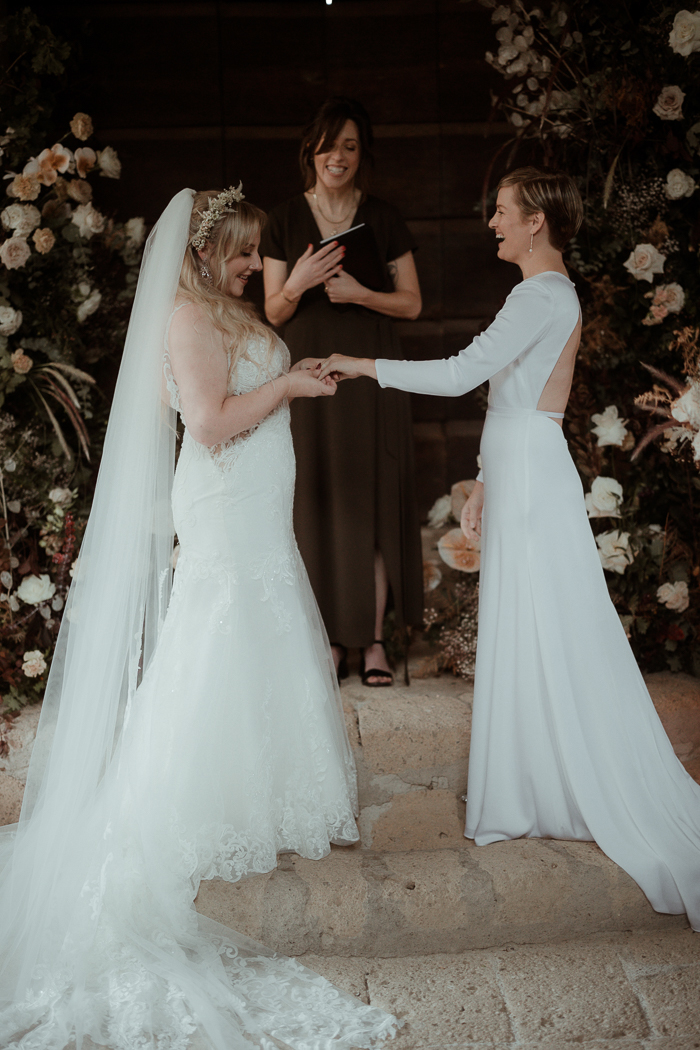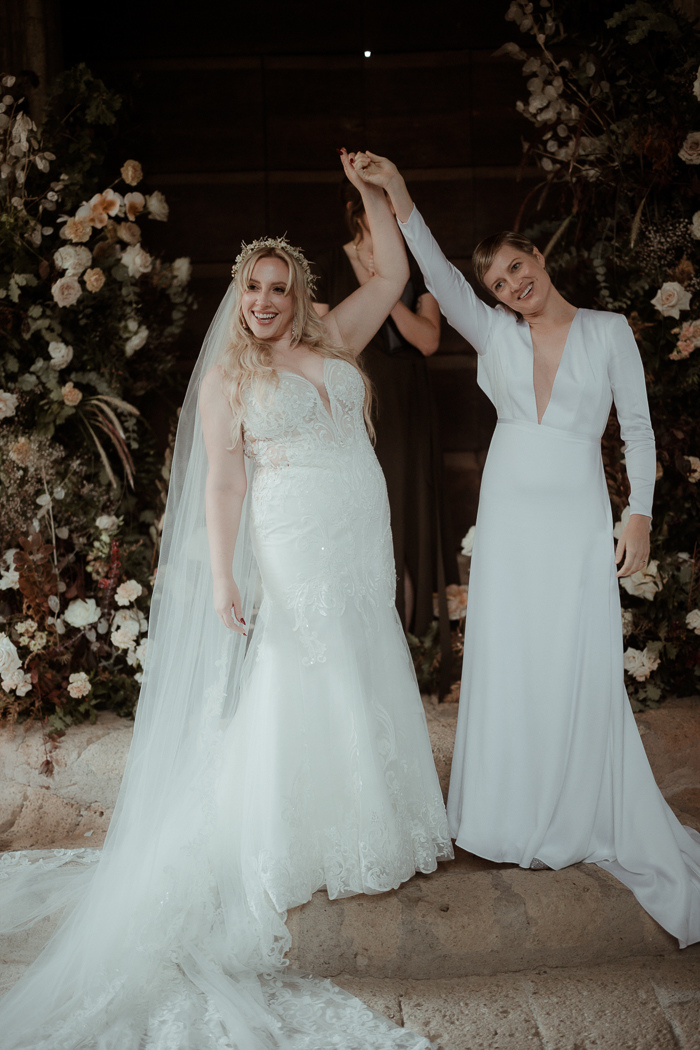 Their Travels All Over Italy Inspired Their Wedding Menu
The wedding day menu was the most talked about thing of the whole event! We leaned into the local culture, and our caterer La Parolina delivered modern takes on classic Umbrian dishes. Much of our relationship revolves around eating and cooking. So we wanted the food to showcase some memorable moments we shared while traveling around Italy. La Parolina took our guests on a journey. For the aperitif, we had a raw bar to reflect the fantastic raw seafood we had in Sicily. We also had an assortment of fresh cheese and charcuterie local and traditional to the Umbria region. And, of course, we had to have Aperol spritz available—it's an Italian classic! One of the coolest parts was the dessert at the end. They made a tiny dessert representing each region in Italy.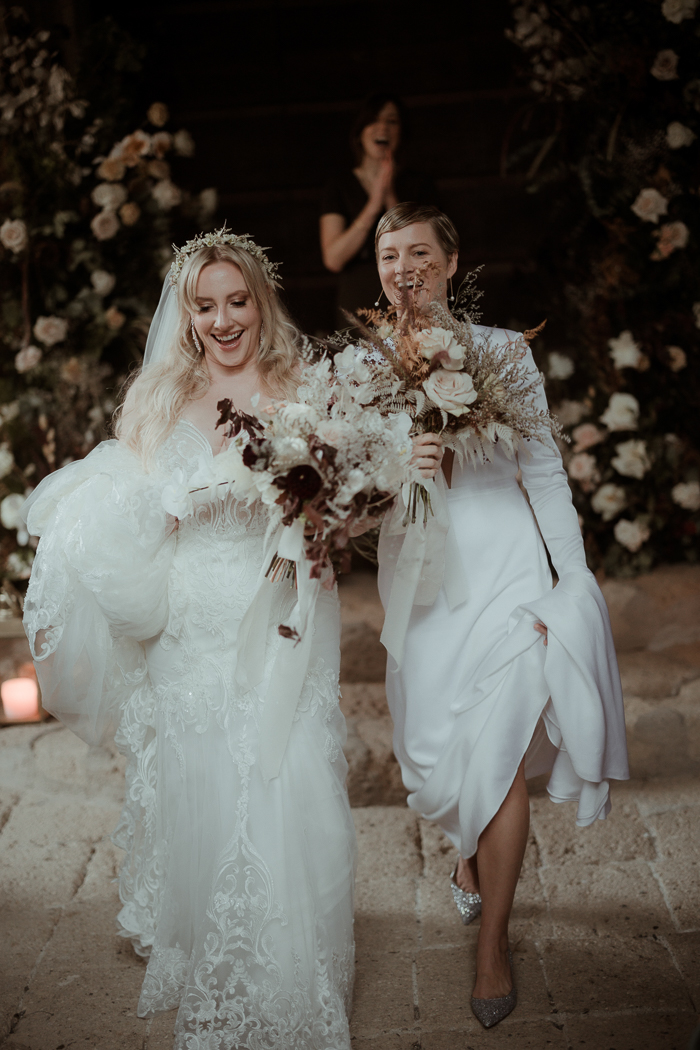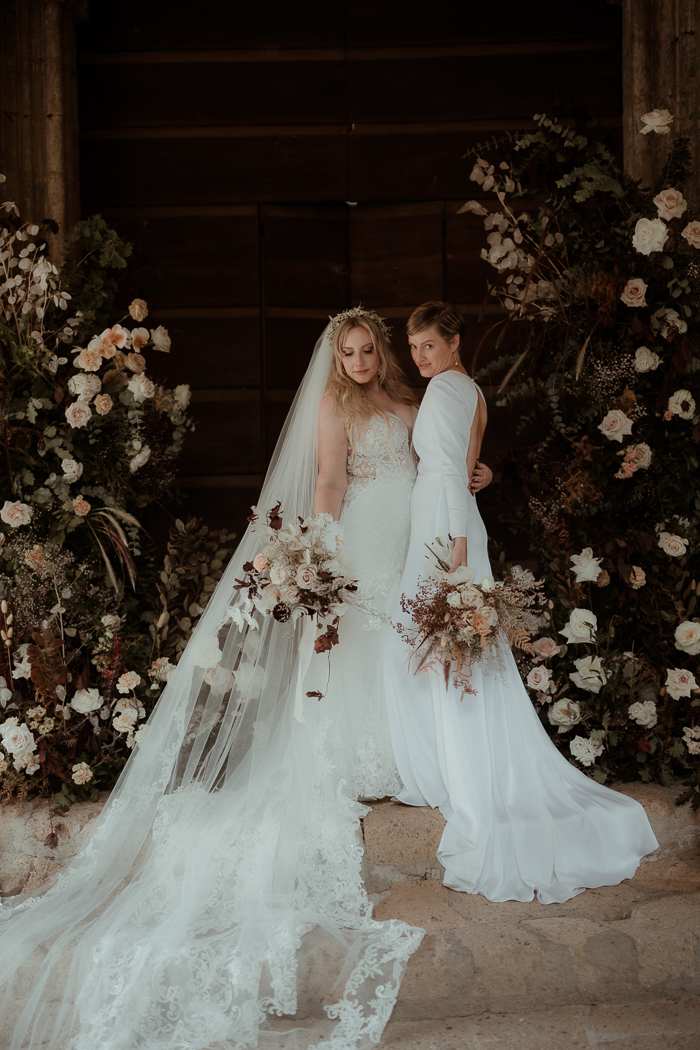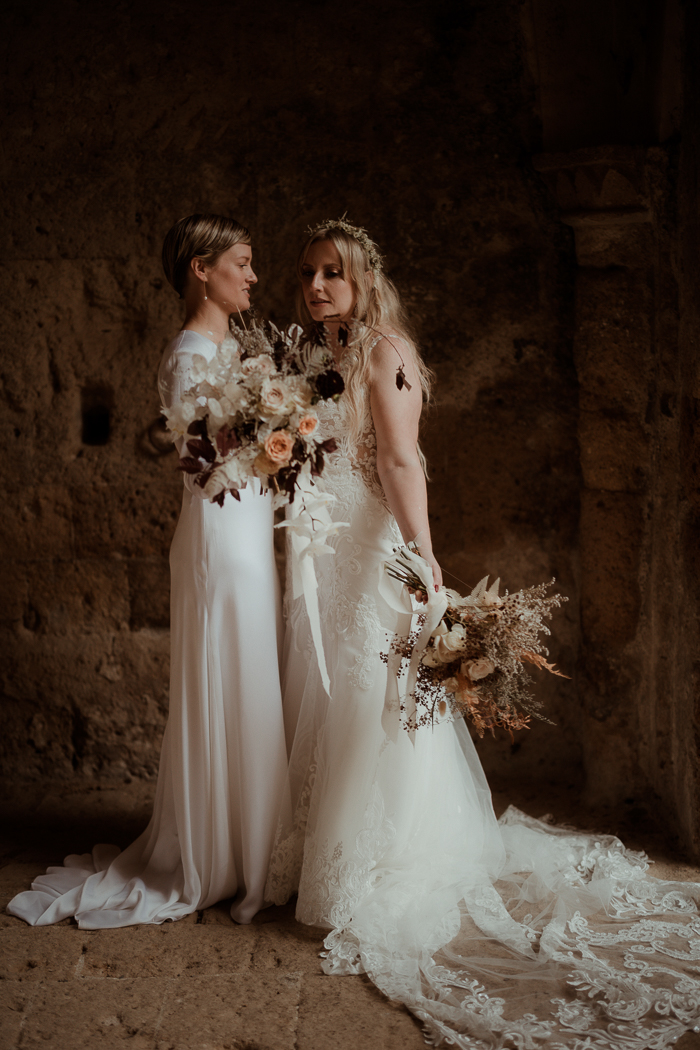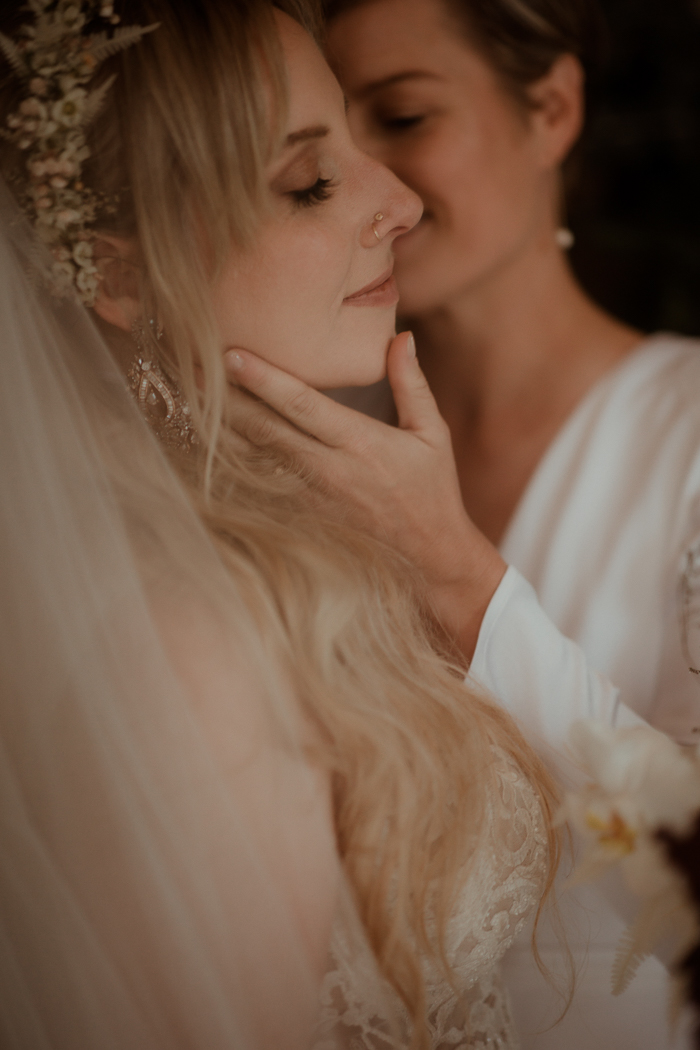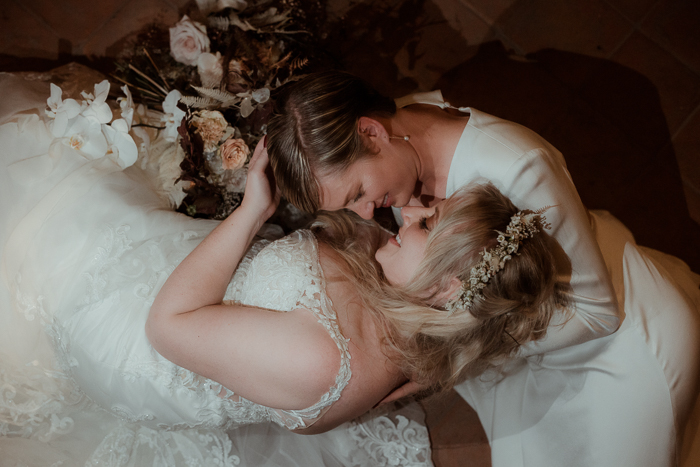 Advice: Trust Your Vendor Team And Magic Will Truly Happen
If you have a destination wedding, work with local vendors. We had excellent vendors who made the wedding day perfect. And we truly came away with friends we will have for the rest of our lives. Also, let the day of the wedding be. Let go of everything you're stressed about. Assign someone you trust to handle any drama that comes up, and then just relax. It will be perfect because you're getting married!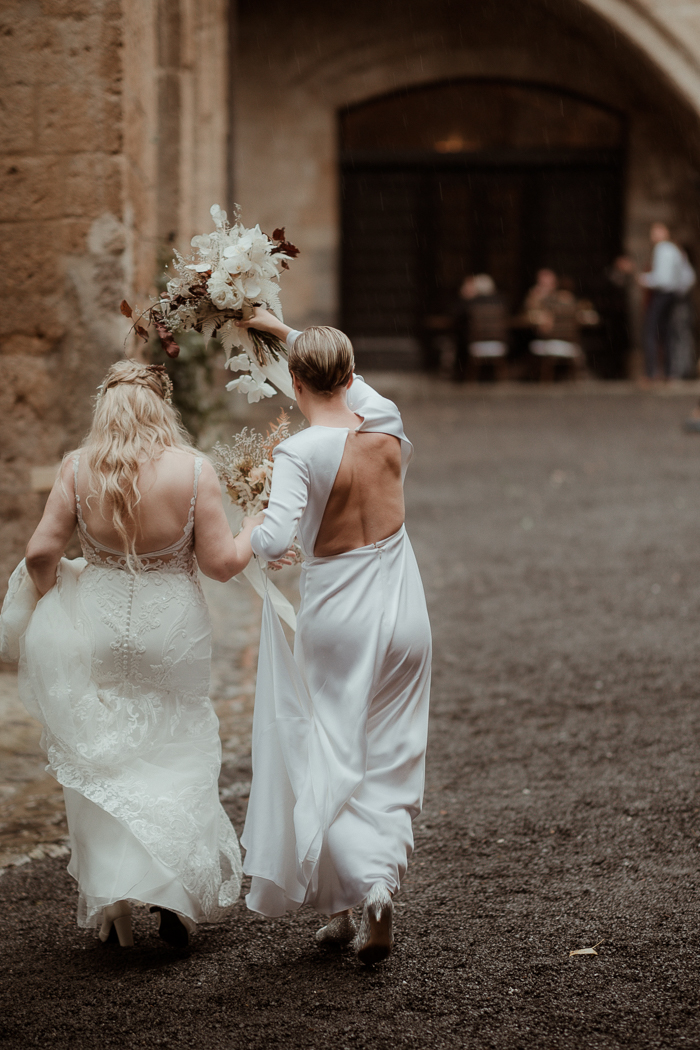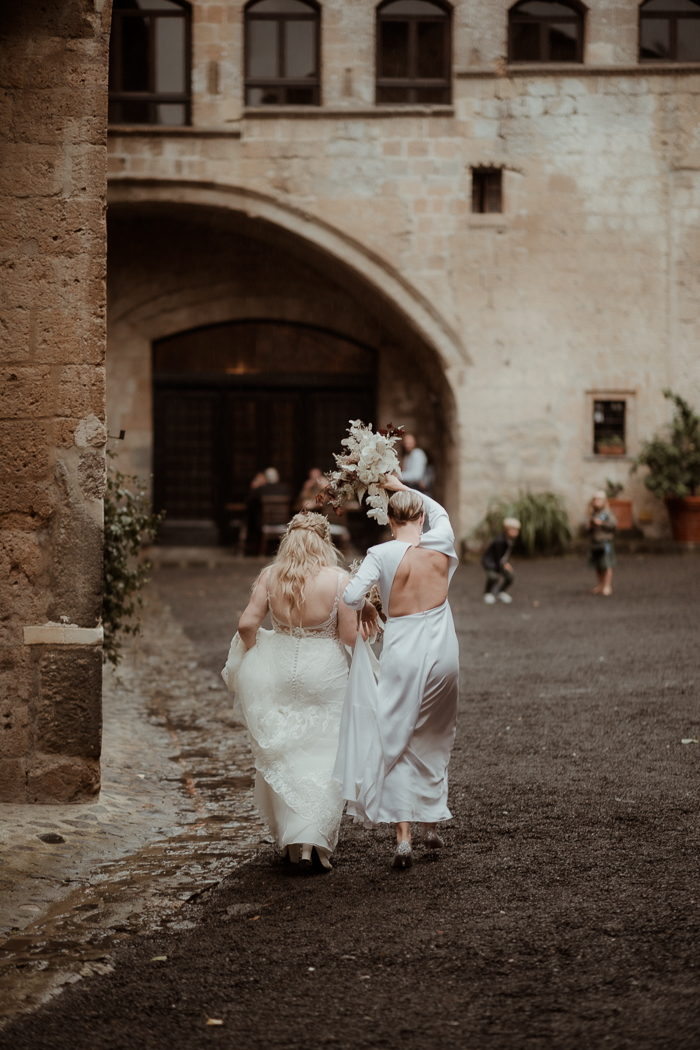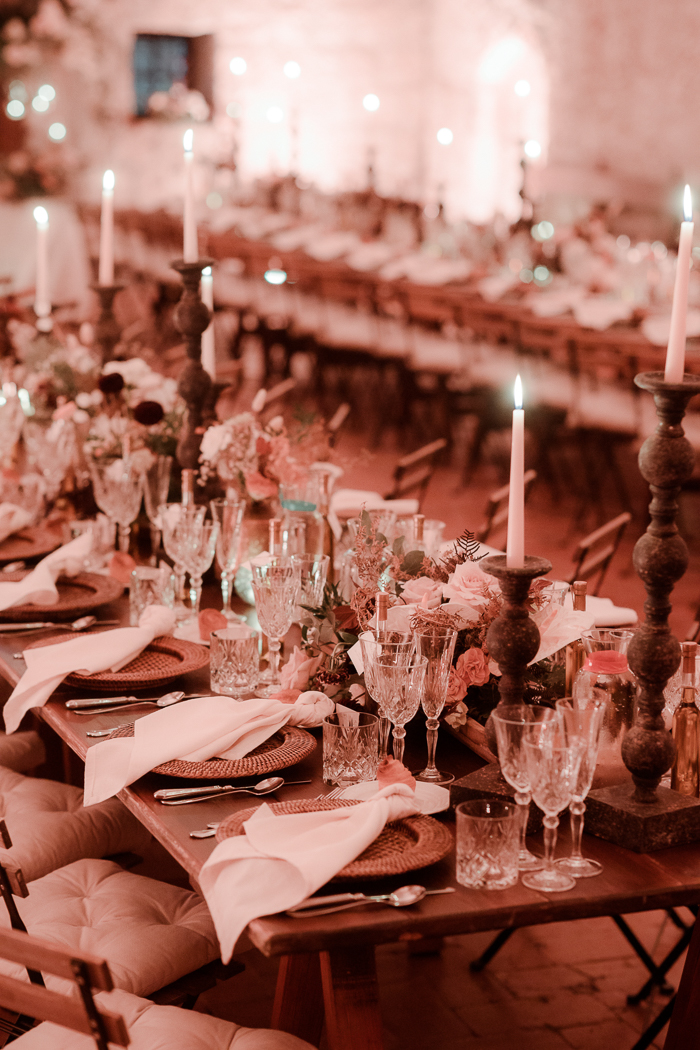 Shop Similar Rattan Chargers: 1. Rattan Charger Plates 2. Rattan Table Charger 3. Round Rattan Charger Plates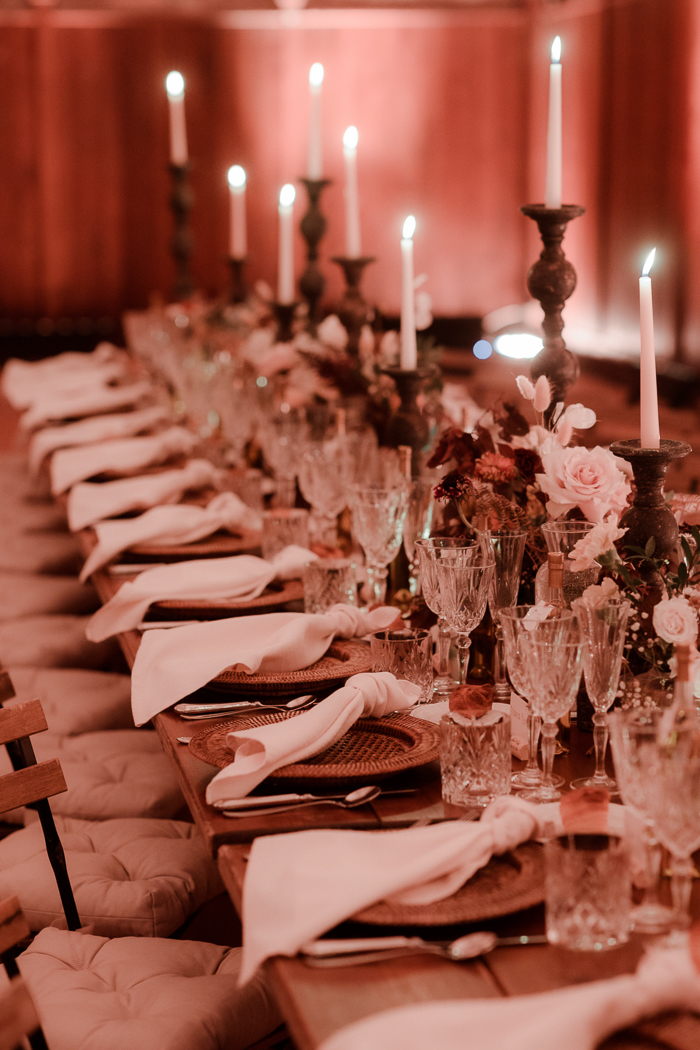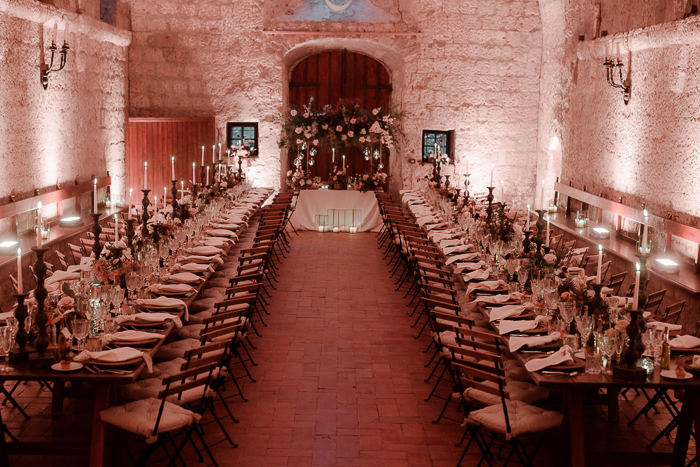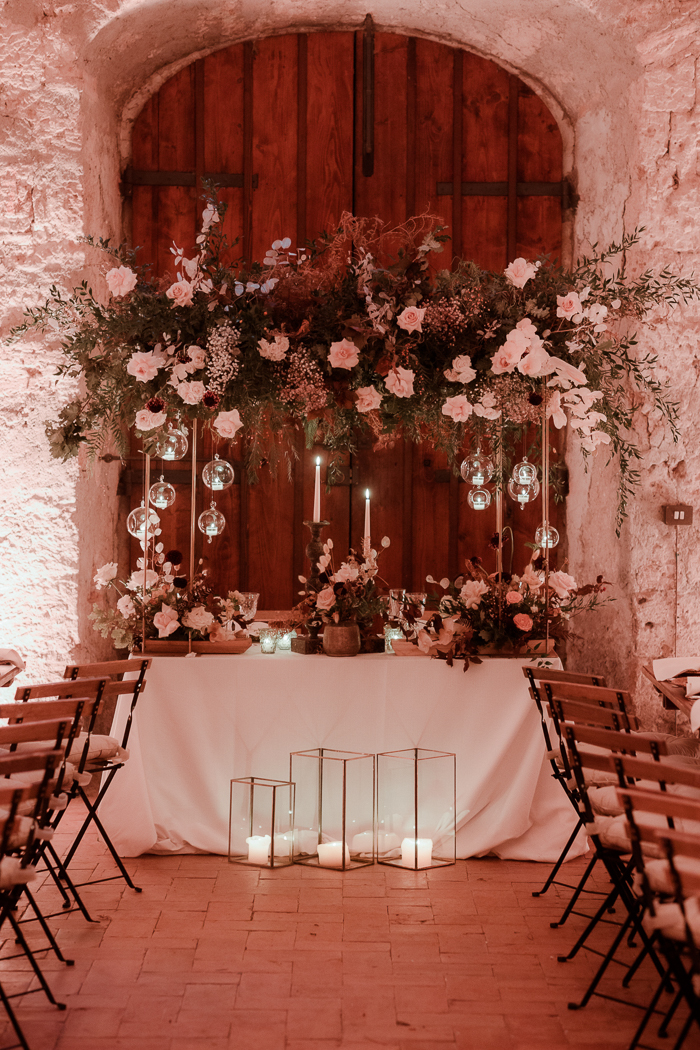 Seeing Their La Badia Destination Wedding Vision Come To Life Made Their Big Day Even More Special
We are most proud of the amazing experience we got to have with our loved ones. We felt so loved and couldn't believe that so many amazing people surrounded us in such a special place. It was the perfect representation of us merging our lives and of the love, excitement, experiences. The true "bella vita" we hope to cultivate in our marriage for the rest of our lives.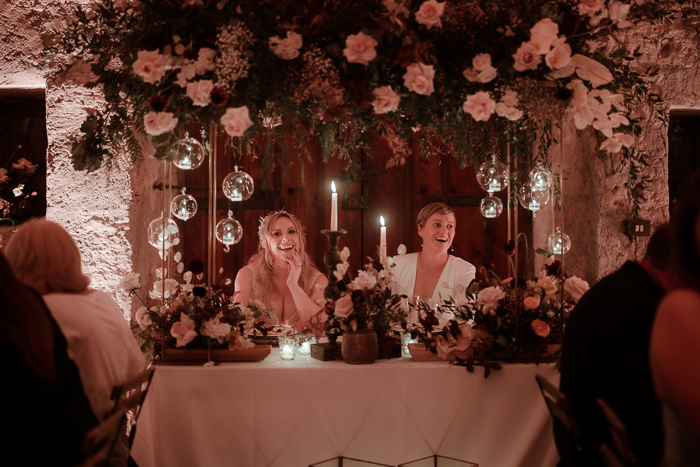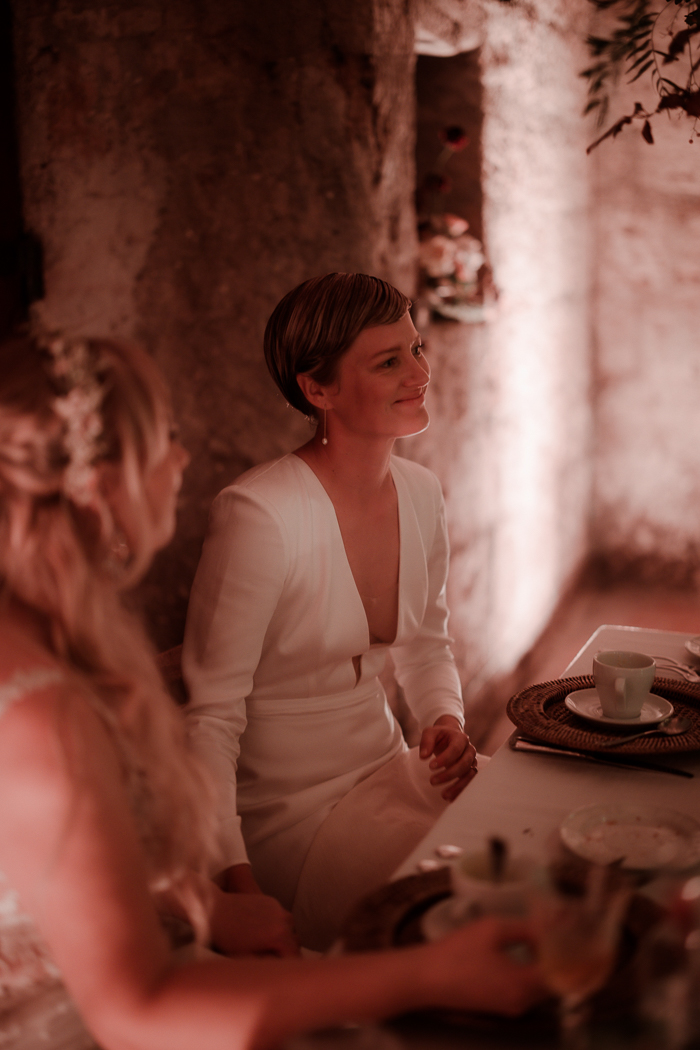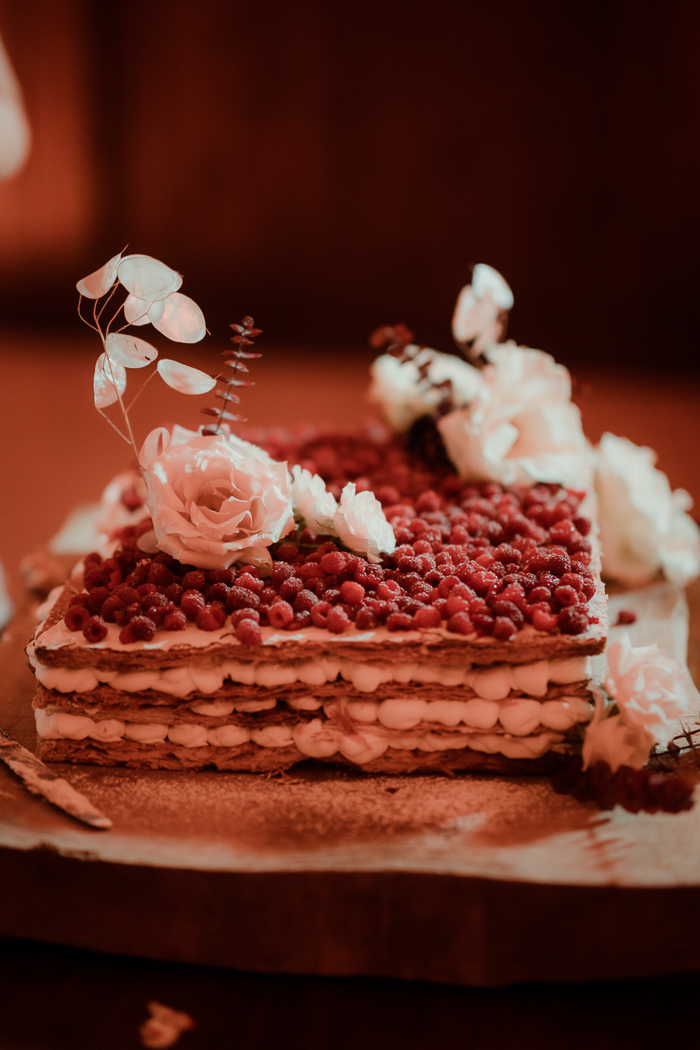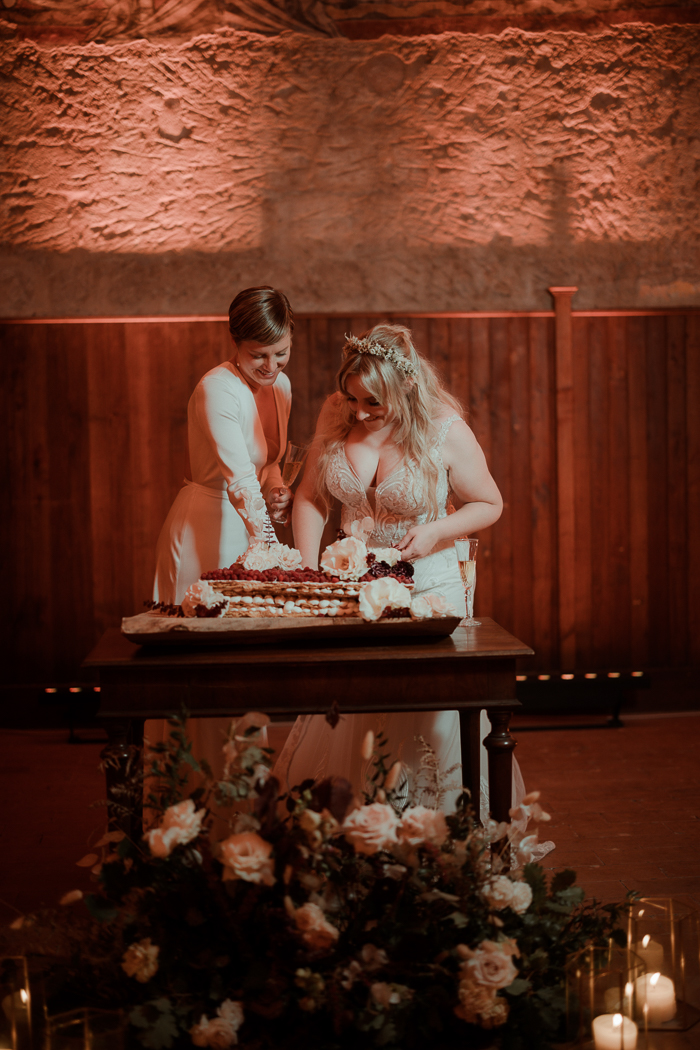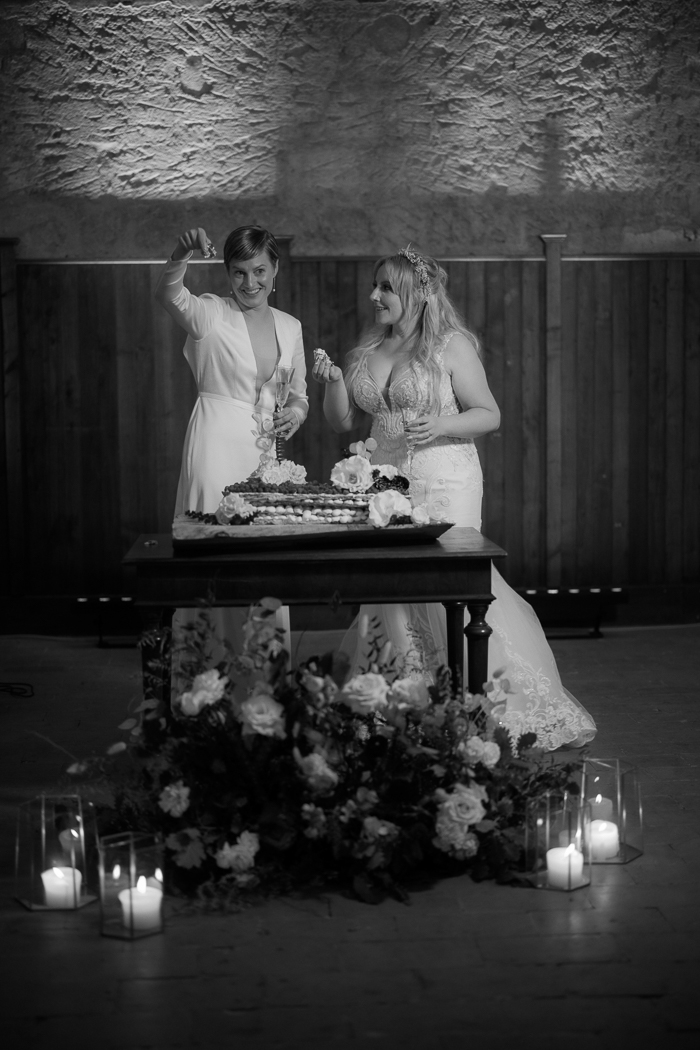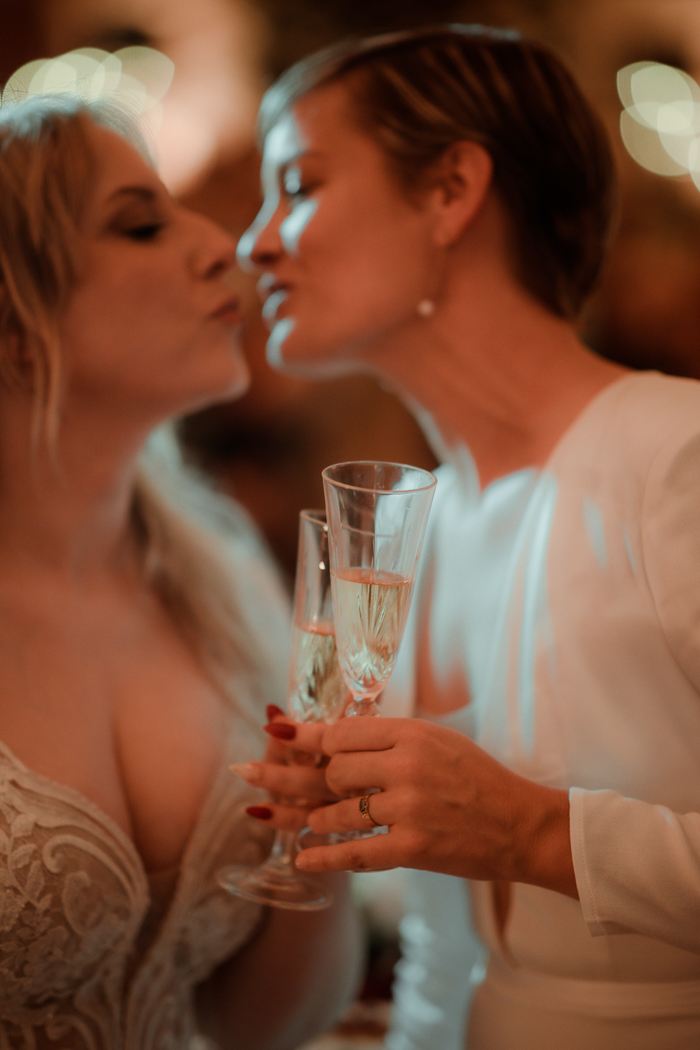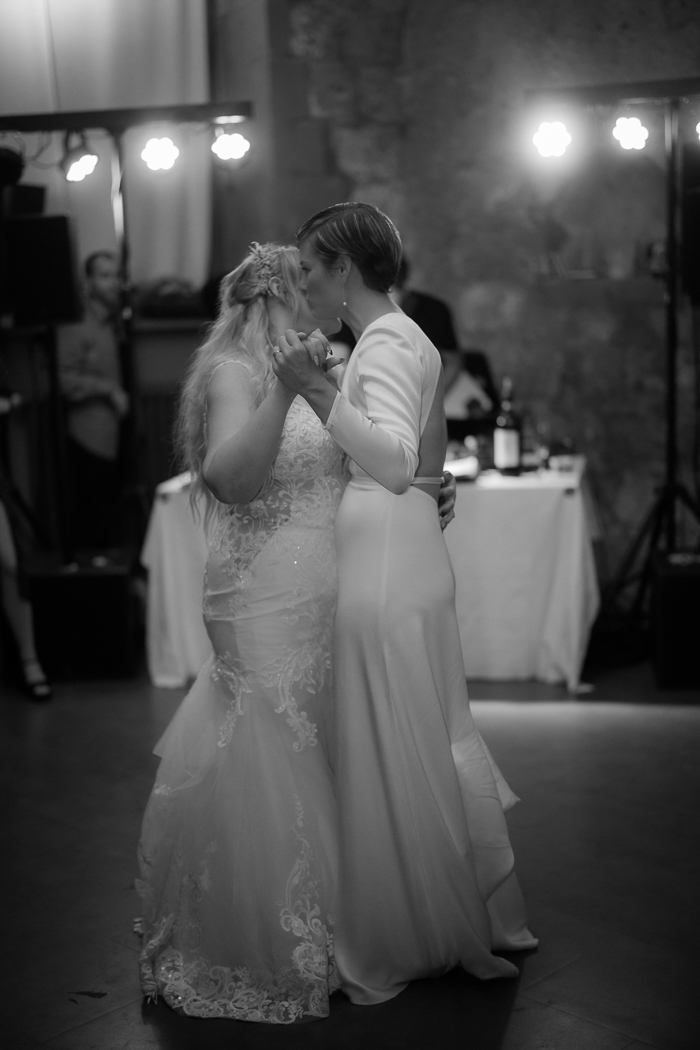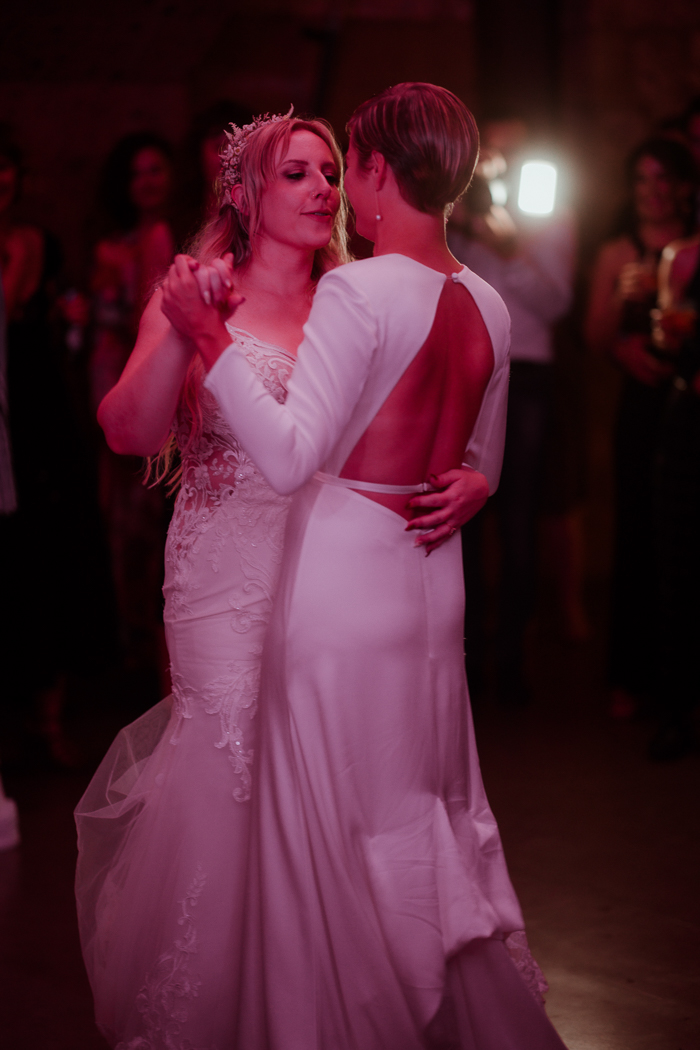 Congratulations to Carly and Jen on their La Badia destination wedding. And a special shout out to Junebug members Andrea & Federica for beautifully capturing all the details and emotions, despite the weather. To see more incredible weddings like this one, check out their profile in our directory of the world's best wedding photographers.
Even the most meticulously planned weddings can have a few hiccups. Every now and then, mother nature decides to throw a curveball. But with a positive attitude, a few changes to your original plans, a trusted crew of experts by your side, and even a little rain on your wedding day can still make it a magical and memorable experience, just like Carly and Jen's.