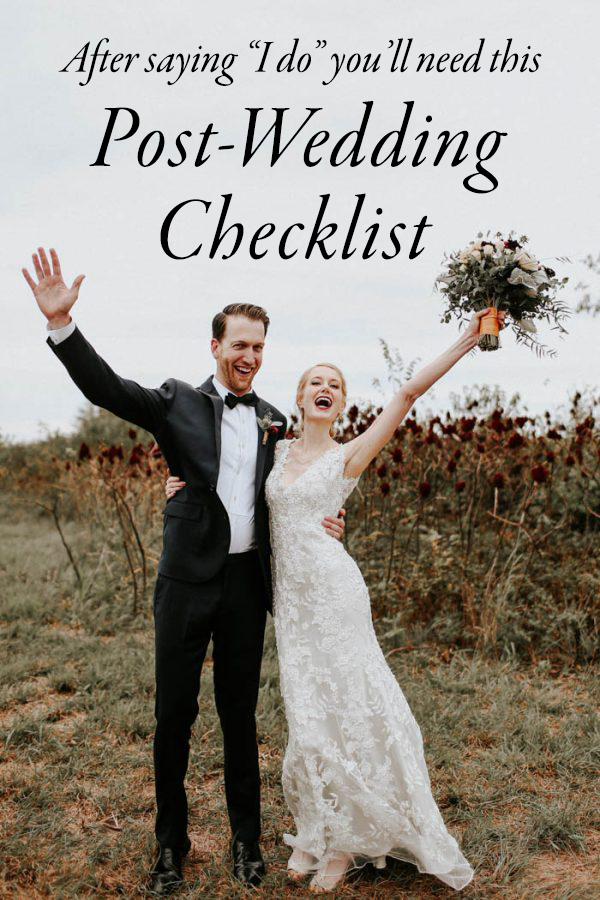 photo by Melissa Marshall
They say the wedding day feels like it's over in a flash, but there are a few wedding-related tasks that actually take place after your grand exit. We've put together an easy post-wedding checklist to help you tie up any loose ends after tying the knot. Keep this list handy in the weeks leading up to your big day so you can start making arrangements to make your post-wedding experience go as smoothly as the wedding itself!
Pay Remaining Vendor Balances
When: Immediately after wedding
In general, most of your vendors will be paid in full before or on your wedding day. However, should there be any remaining balances for your caterer, bartender, etc., you will want to tie up those loose ends as soon as the wedding is over.
Return Rentals
When: Within one week of your wedding
Before you head out to bask in the bliss of being a newlywed on your honeymoon, you'll want to return any goods you rented! If you're hopping right on an airplane, be sure to make arrangements for someone you trust to take furniture and decor back to the rental company. Note: each rental company may have their own policy about the return timeline, so don't forget to check with them a few weeks before your wedding!
Clean and Preserve Your Wedding Dress
When: After your honeymoon
While we love seeing couples adventure into the wilderness in their wedding day attire, you may want to keep those memories in the photos and not on your dress. Technically you can get your wedding dress cleaned and preserved at any point, but the longer you wait, the less effective the process will be. We recommend having your dress cleaned and preserved after your honeymoon so that any stains (even the ones you may not see!) can be dealt with before they set in.
You may be wondering what makes the preserving process different from dry cleaning. A professional preservationist, often found at your local bridal salon, will survey your gown looking for any stains and create a specialized procedure to clean your dress, good as new! After the dress has been cleaned, the preservationist will package your gown in acid-free tissue paper and an archival box.
A few important notes: It's a good idea to track down a trained preservationist a few weeks before your wedding just in case any major stains occur on your wedding day. Should that be the case, a relative or member of your bridal party can take your dress in while you're away on your honeymoon. When doing your research, we recommend taking your gown to a true professional preservationist, whose referral you can get from your bridal consultant or other friends who have had the process done. Many dry cleaners claim to offer the service, but most are not actually trained in the art of preserving such an important garment. Lastly, being that this is 2017, you can even find wedding dress preservation kits with mail-away services! This process takes from six to eight weeks and typically includes insurance for your gown.
Send "Thank You" Cards
When: Within three months of your wedding
Some of our best wedding planning advice is actually post-wedding planning advice: write your "thank you" cards as soon as possible! First, it's simply good etiquette to thank your loved ones for their thoughtful presents in a timely manner. Just as important is writing them before real life gets in the way! Make an event of it: pop a bottle of champagne, open your gifts while keeping a record of who gave what, and write your cards together. A bit of bonus fun? Listen to a playlist of songs from your wedding while you do it!
Looking for the perfect cards to say "thank you"? We love the selection on Minted as well as these pretty cards below!
Apply for Life Insurance
When: As soon as possible!
While it's not the sexiest item to check off your list after saying I do, life insurance is something that every couple (married or not) should look into when planning a future together.
The type of life insurance you need totally depends on your relationship, expenses, and future plans. For example, if you own a house together, you'll need a plan that covers more financially versus if you and your partner are leasing a condo for the next three years.
Whatever your coverage needs, we highly recommend that you get a quote through Bestow.
The traditional life insurance application process can often be time-consuming. Physicals and blood work are usually required and insurance companies can take upwards of 6 months or more to approve your application. With Bestow, getting a quote can take just minutes and physicals and blood work are not required. Click here to get a quote!
Take Stock of Remaining Registry Items
When: Within six months of your wedding
Once you've sent your thank yous, it's time to take stock of what's left on your wedding registry. Most registries offer a discount on remaining registry items if you purchase within one year. Now is a great time to determine what you still want and need from your registry! Pro-tip: Make the most of your discount by taking care of bigger ticket items that you may not have the funds to purchase later.
Officially Change Your Name
When: Within one year of your wedding
Changing your last name upon getting married is, of course, optional. However, if you've decided you want to do so, we recommend starting the process sooner rather than later! While the laws and procedures vary by jurisdiction, this article breaks it down each piece of the puzzle.
Want to keep this post-wedding checklist handy for after you say "I do"? Pin this graphic below!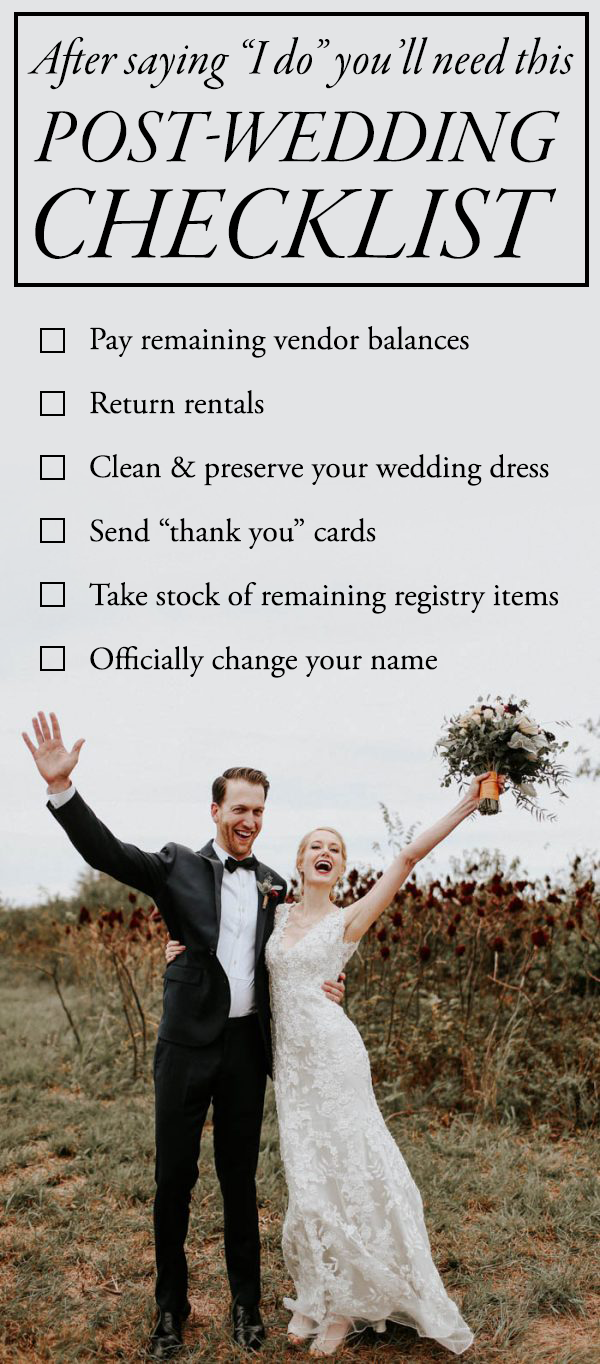 Be sure to check out our wedding planning checklist and wedding decor checklist to keep all of your wedding planning in order!