You've found the perfect honeymoon destination, now it's time to decide what to pack for the best vacation of your life! This handy honeymoon checklist has all the essentials you'll need, plus a few add-ons for either a beach getaway or a snowy mountain escape. Simply pin the checklist at the bottom of this post for quick and easy reference, and rest assured you'll have everything you need.
Honeymoon Checklist
Documents
Driver's license and/or another form of identification
Passport
2 photocopies of ID & passport/visa
Plane tickets
Printed booking confirmations
Medical insurance cards
List of emergency contacts
Credit cards & cash
Clothing Basics You'll Want
T-shirts
Layering tank tops
Blouses
Polos
Button downs
Jeans
Shorts
Skirts
Pants (casual & dressy)
Leggings
Cardigans
Sweaters
Dresses (casual & dressy)
Rain jacket
Bras
Underwear
Socks
Undershirts
Sleepwear
Workout clothes
Athletic shoes
Comfortable walking shoes
Evening shoes
Shop some of these basics:
Beach and Pool Additions You Might Need
Swimsuit
Cover up
Beach towel
Flip flops
Water shoes
Beach tote
Sun hat
Aloe vera
Shop beach and pool additions:
Accessories
Silicone wedding rings
Sunglasses
Reading glasses
Belts
Ties
Hats
Scarves
Jewelry
A crossbody bag
Evening clutch
Wallets
Shop accessories:
Toiletries
Toothbrush, toothpaste, and floss
Shampoo and conditioner
Body and face wash
Lotions and moisturizers
Sunscreen for face and body
Deodorant
Razor and Shaving Cream
Cotton balls and Q-tips
Tweezers
Hairbrush, hair ties, and bobby Pins
Hair products
Hair tools
Feminine products
Contraceptives
Prescriptions and vitamins
First aid
Sewing kit
Hand sanitizer
Perfume and cologne
Makeup and makeup remover
Electronics
Cell phone & charger
Headphones
Splitter cable
Camera
Camera battery & charger
Extra memory cards
Power converter
Adapter
Miscellaneous Items That Might Come In Handy
A bag for dirty clothes
Ziploc bags
Small backpack or day pack
Playing cards
Ear plugs
Tide pen
Compact umbrella
Neck pillow
Luggage locks
Reusable water bottle
Books to read or a Kindle
Journal and pens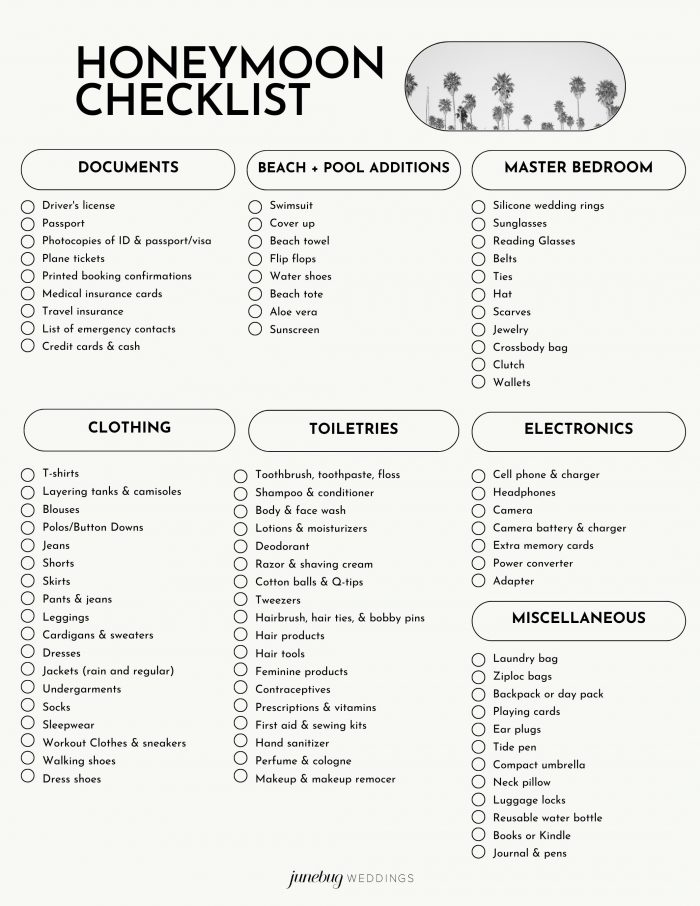 Now that the stress of packing is off your shoulders thanks to this honeymoon checklist, tie up all the loose ends of your trip with this guide to planning your perfect honeymoon. Then kick that wanderlust into high gear with our list of romantic honeymoon destinations around the world!