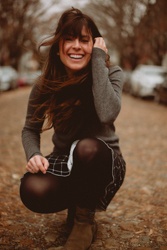 Best Wedding Photographers in San Francisco, California
Teri B Photography
23 REVIEWS
About
MEMBER SINCE 2019
Artful Storytelling.
Long ago, I fell in love with being able to capture tangible mementos of places I had been and things I had seen. My photos are memories, reminders, morsels of joy. My approach to photographing weddings comes from the same place. I work carefully to craft light, surroundings, movement and mood to tell your most authentic story. This is my life's work.
A little more about me: I am fascinated by dreams, history and perfecting my old- fashioned recipe. I could live off of noodles and am at my happiest exploring new places.
Why couples love Teri B Photography
Sharon R.
Beverly Hills Courthouse
Reviewed on Jun 02, 2022
My husband and I were going to have our civil ceremony at the Beverly Hills courthouse and while we only had 3 weeks until our wedding date, we had to kick our planning into high gear. Searching for a wedding photographer in Los Angeles was overwhelm...&nbsp &nbsp Read More
Katherine A.
Millwick
Reviewed on Jun 02, 2022
Teri is absolutely amazing! She has continued to amaze me as we had come back to her for both our engagement and our wedding photos! She is the most calming presence and can make any bride feel comfortable. My photos are stunning and I have continued...&nbsp &nbsp Read More
Sanchi R.
Point Reyes, California
Reviewed on Jan 19, 2022
Teri does some incredible work! She is professional, accommodating, makes you feel at ease and is very kind. We could not be more thrilled about our engagement pictures. She is truly passionate about photography, and it is definitely reflected throug...&nbsp &nbsp Read More
Virdiana V.
Santa Barbara, CA
Reviewed on Jan 18, 2022
Teri was absolutely terrific. We were so happy to have her photograph our wedding day. Her eye for capturing the most authentic and vulnerable moments is exceptional. She is a gifted artist. Her nimbleness, creativity, and curiosity went a long...&nbsp &nbsp Read More
Alex B.
Gold Hill Gardens
Reviewed on Jan 15, 2022
Well, where do we start when it comes to Teri. She is an absolute treasure - from our first time getting together for an engagement shoot, to receiving our pics just a few weeks after the wedding, we could not have imagined a better wedding photogra...&nbsp &nbsp Read More
&nbsp + See More Reviews
Request Information
Thank you for your submission. We will be in touch soon!
X

Email Sent.