Known for its warm weather, architecture, and retro atmosphere, Palm Springs is the perfect city for couples wanting to travel back into time–and that's exactly what Laura and Tom were looking for. With the keywords "fun," "casual," and "party" in mind, they landed on a disco-themed Palm Springs wedding at Ace Hotel and Swim Club.
Paying homage to their hometowns–Arizona and Maryland–along with their new home–Los Angeles–the newlywed's special day was complete with pink flamingos, desert details, a taco bar, and a custom-made swan boat mimicking those found in Echo Park Lake. And as if that wasn't fun enough, they also incorporated disco balls galore, donuts, and a late-night dip in the pool–fully dressed in their wedding attire, of course.
These two proved they know how to party, and luckily, Junebug member and photographer Alicia Wiley was there to capture it all. So whether you're looking for retro wedding inspiration or want to break tradition and create a day that is the epitome of unconventional, scroll through these photos to travel back to the 70s.
The Couple:
Laura & Tom
The Wedding:
Ace Hotel and Swim Club, Palm Springs, California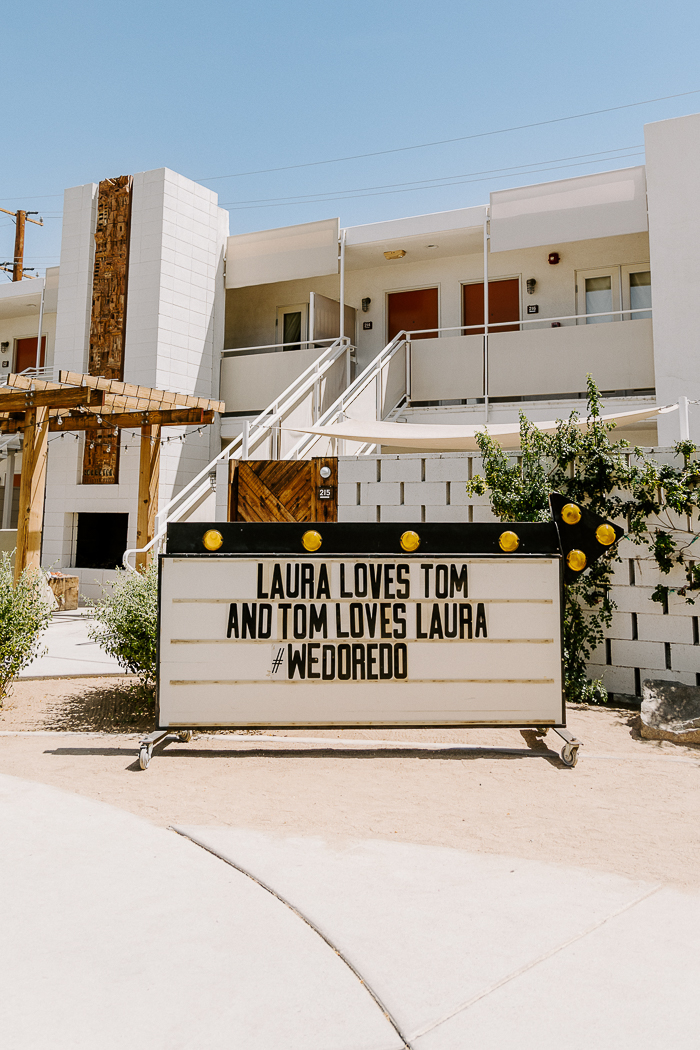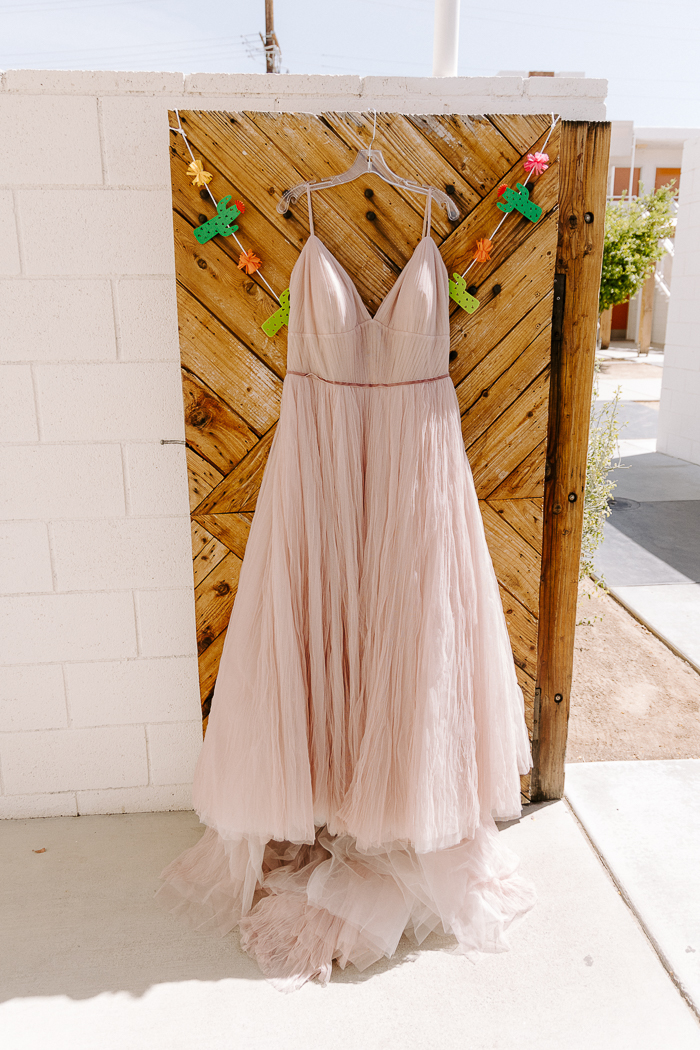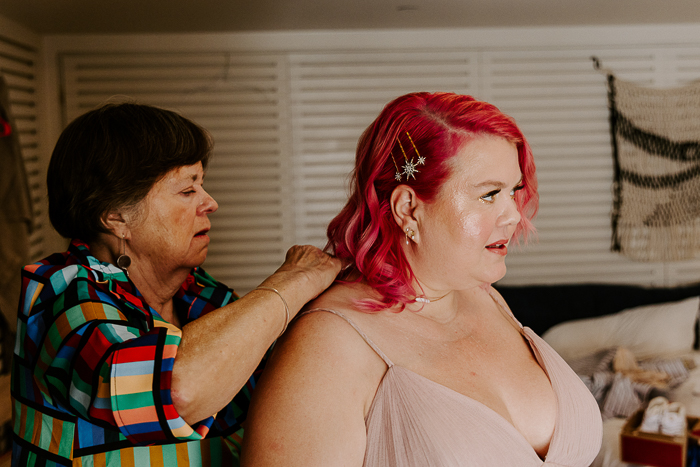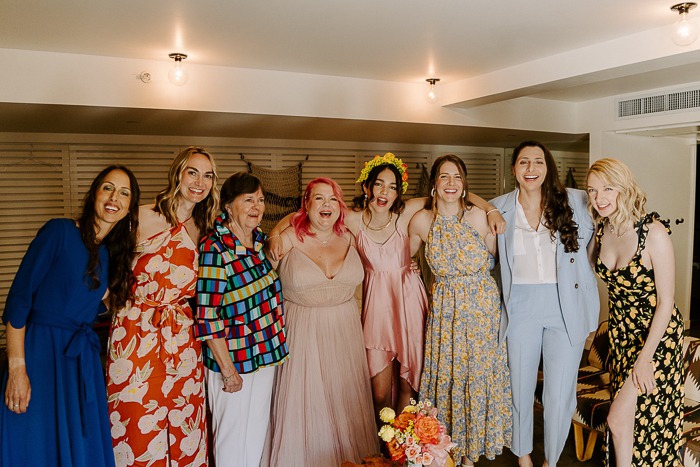 How The Newlyweds Chose The Ace Hotel For Their Disco-Themed Palm Springs Wedding
When we originally went to look at venues, we brought a friend, Katherine Brooks. She suggested that we come up with three words that best describe how we see our wedding. The words were "fun," "casual," and "party!" We were really having a hard time with so many great options in Palm Springs, and she said, "remember your words." That immediately landed us at the Ace Hotel and Swim Club.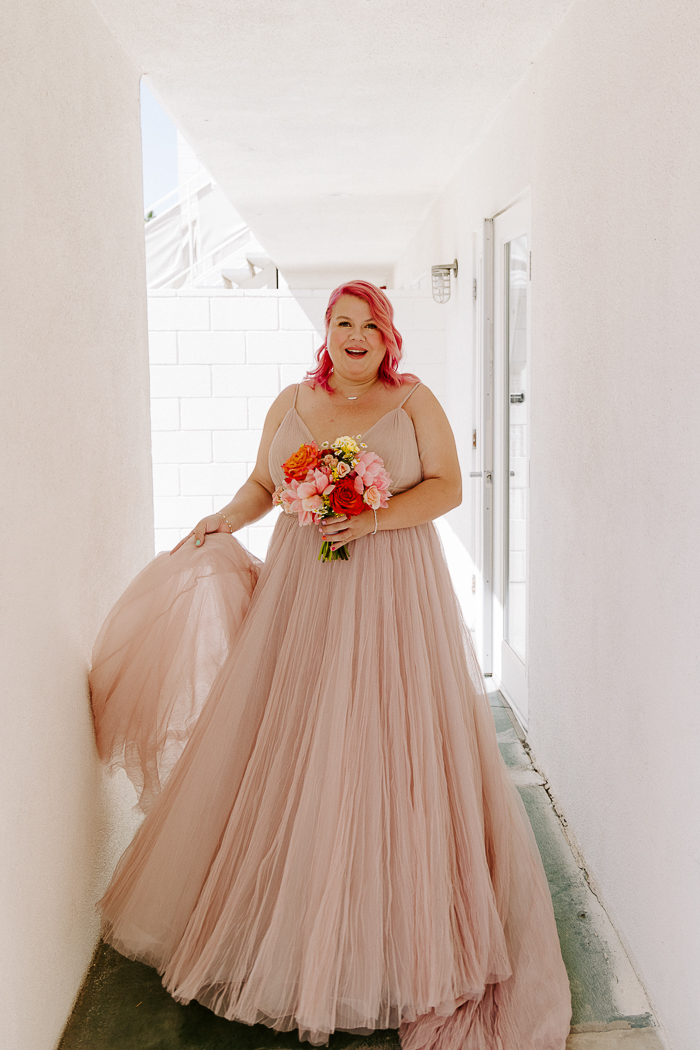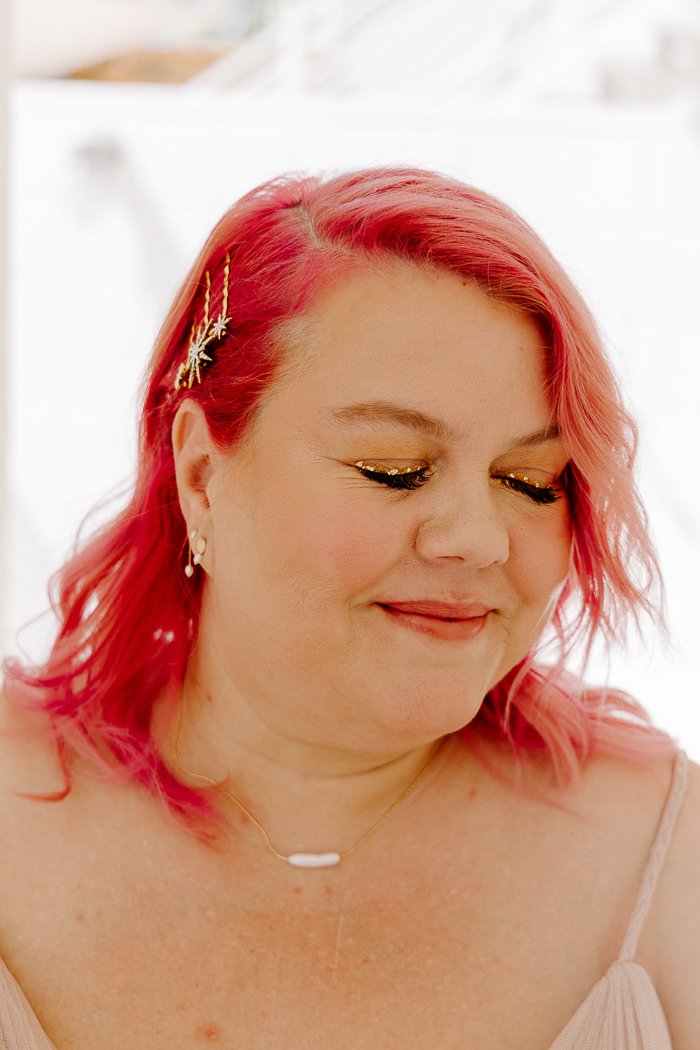 Shop similar hair clips: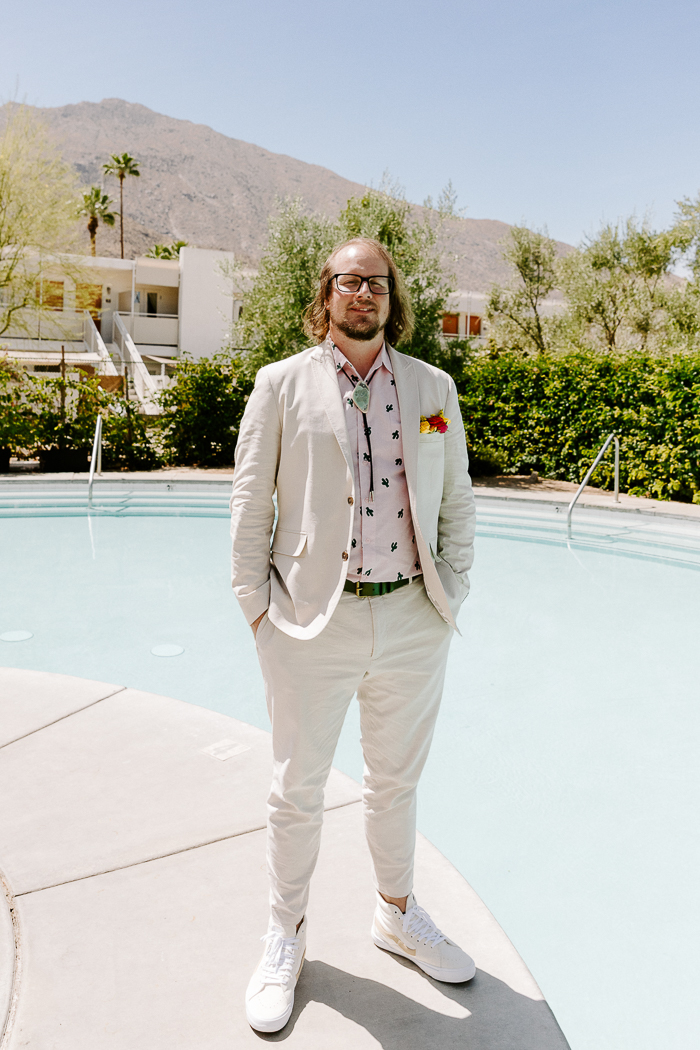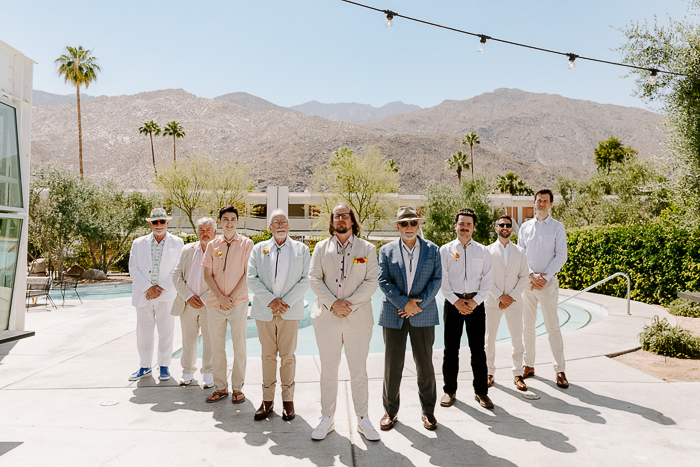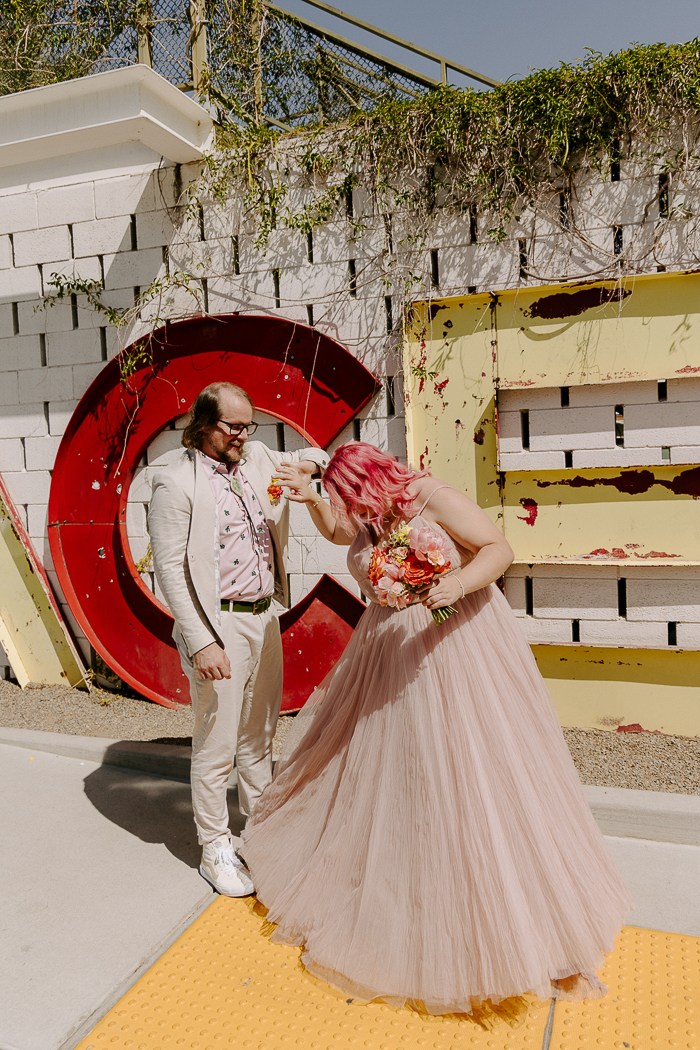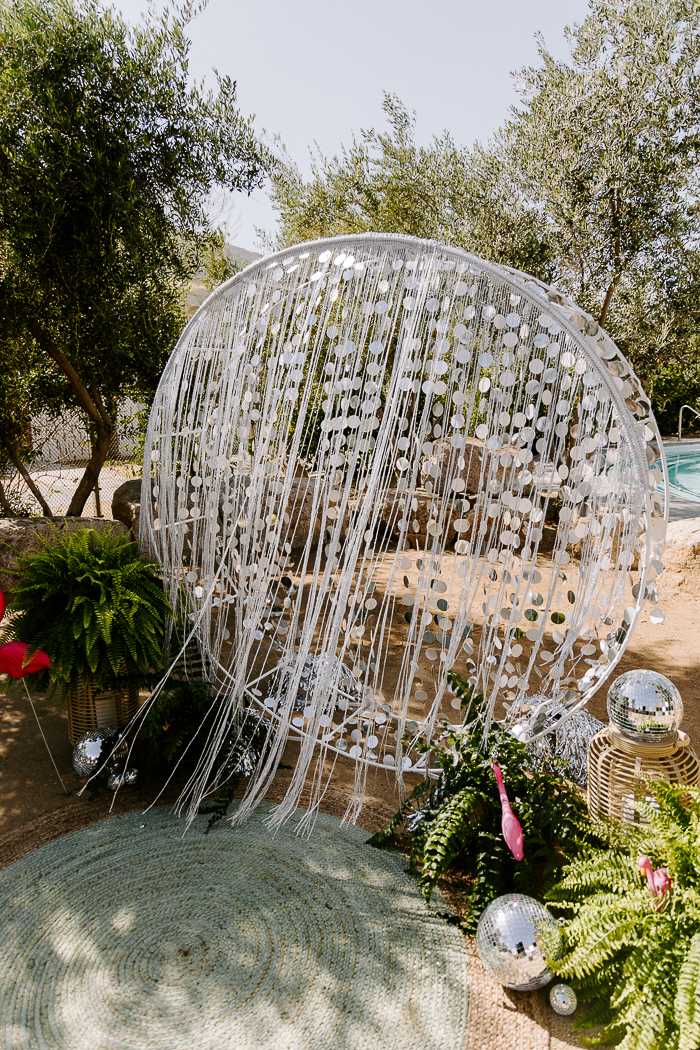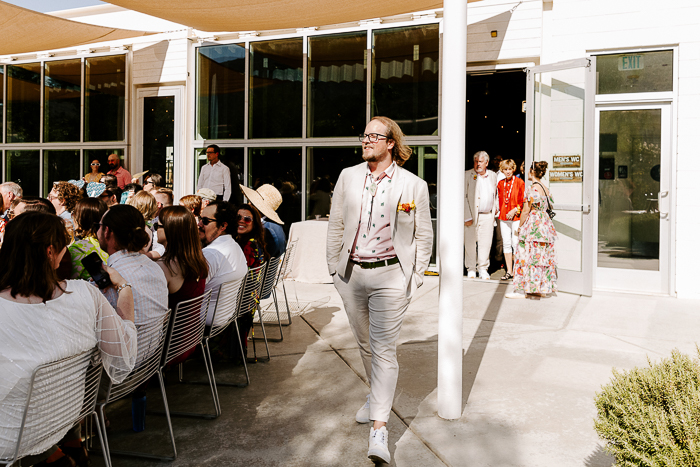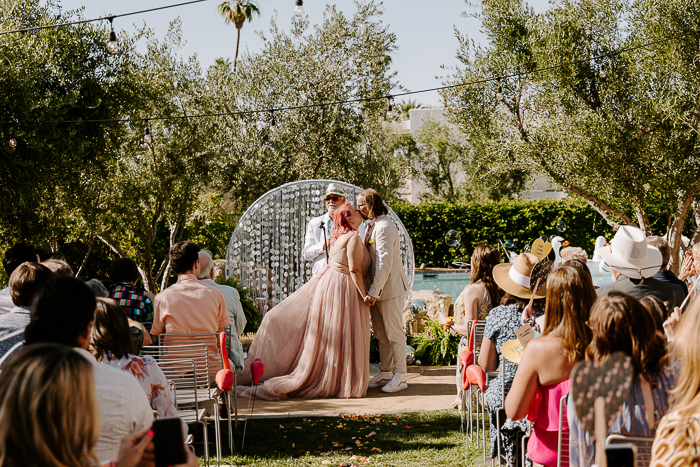 Incorporating Their Hometowns Into The Special Day
We wanted to incorporate our hometowns and where we live now. We had Baltimore vibes with pink flamingos and old bay shrimp. Arizona was represented with cacti. And our new home in Los Angeles was represented with elote and a custom swan boat to mimic Echo Park lake. Keeping with our words, we had a quick ceremony followed by the LA Roller Girls passing out cocktails. Dinner was a taco bar, and instead of cake, we had donuts from Donas. The night continued with dancing, more roller girls, and a dip in the pool!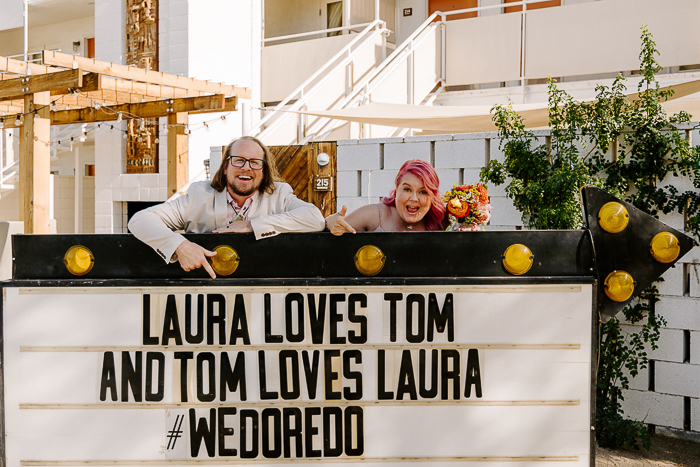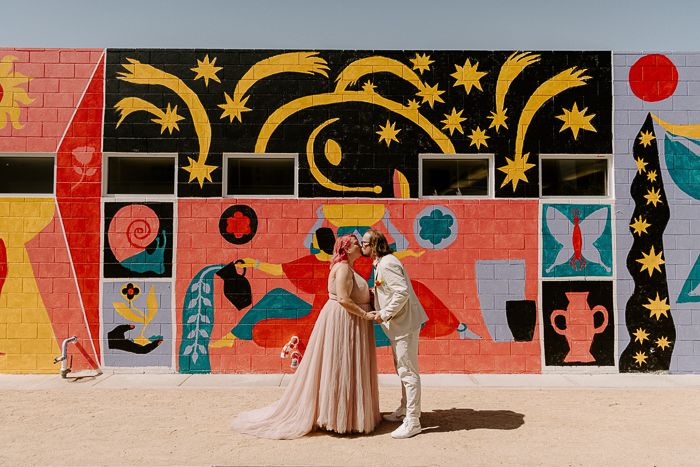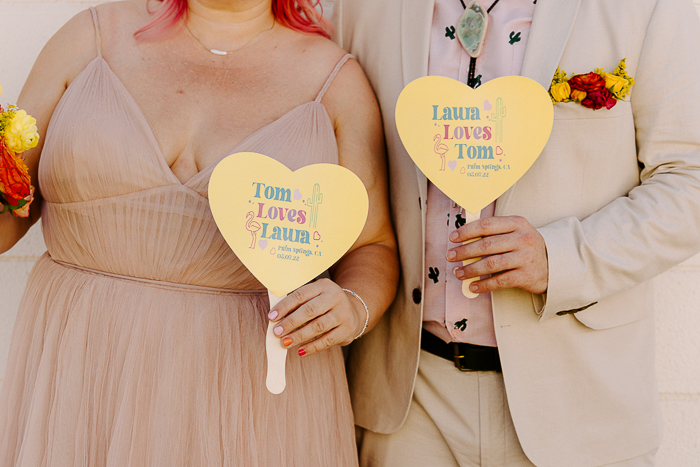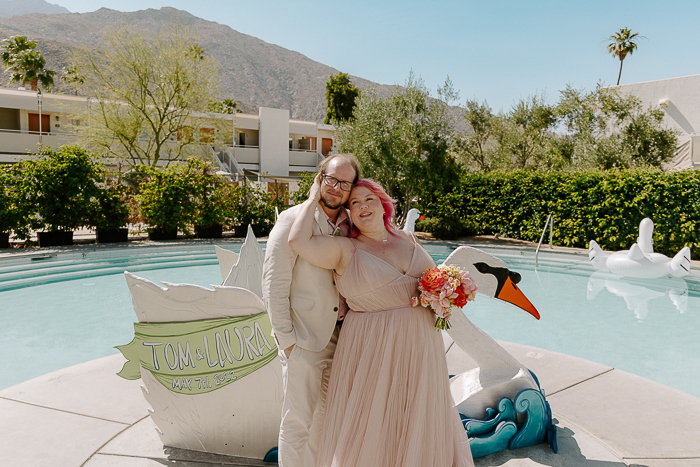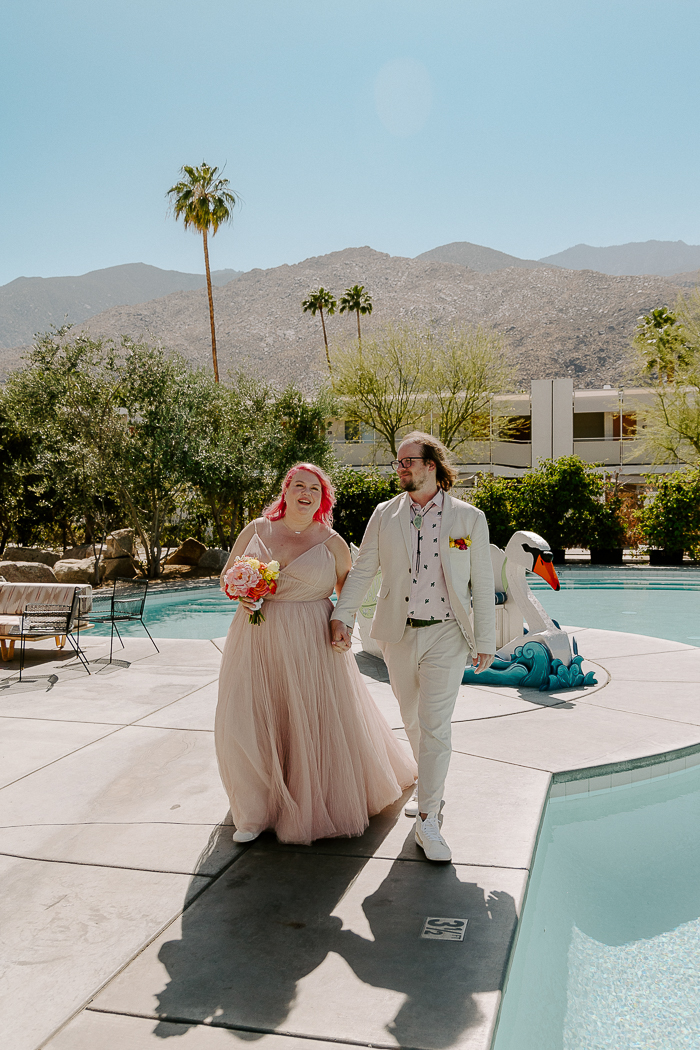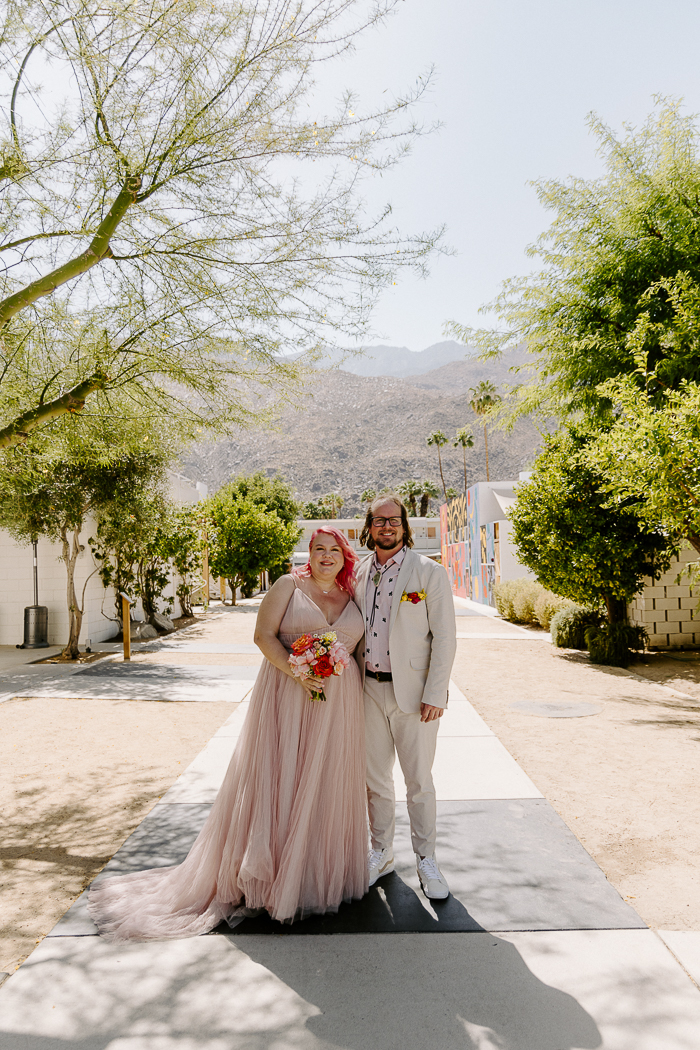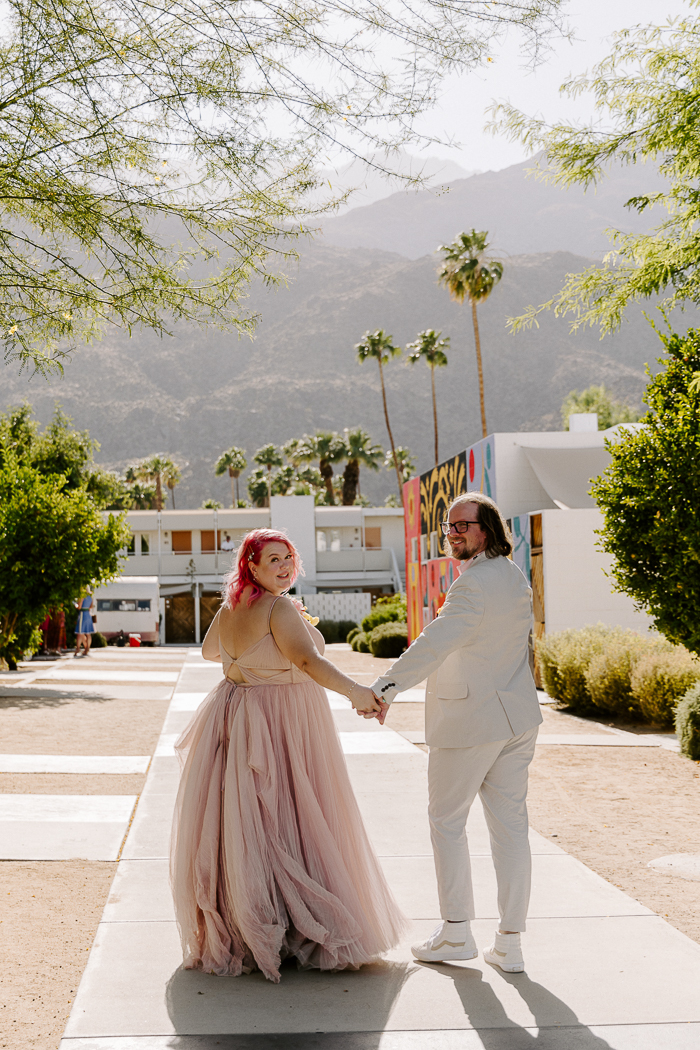 Creating A Memorable Wedding Weekend For Their Guests
I think everyone really enjoyed themselves, and we created a memorable weekend. We started with my uncles hosting welcome drinks at Margaritaville, complete with leis and crazy glasses, to set the tone of fun! We ended with a Mother's Day brunch on Sunday. Our guests traveled from LA to as far as London, so I wanted everyone to really have a great time and enjoy Palm Springs.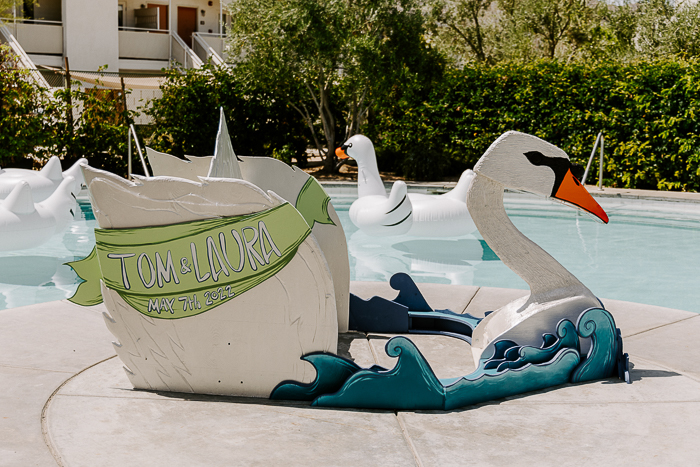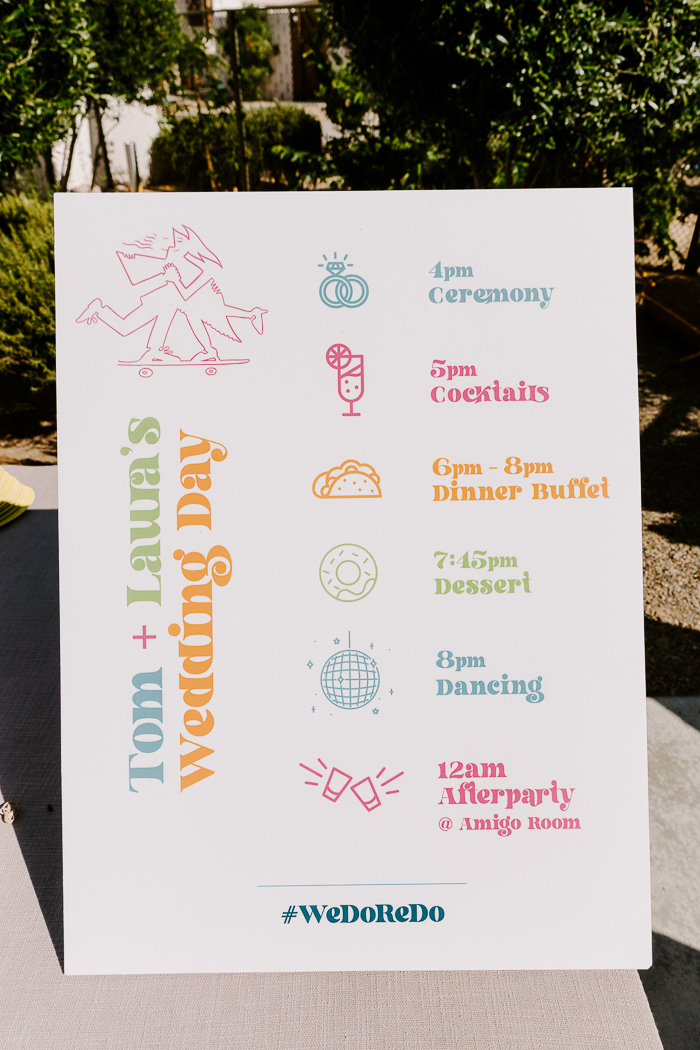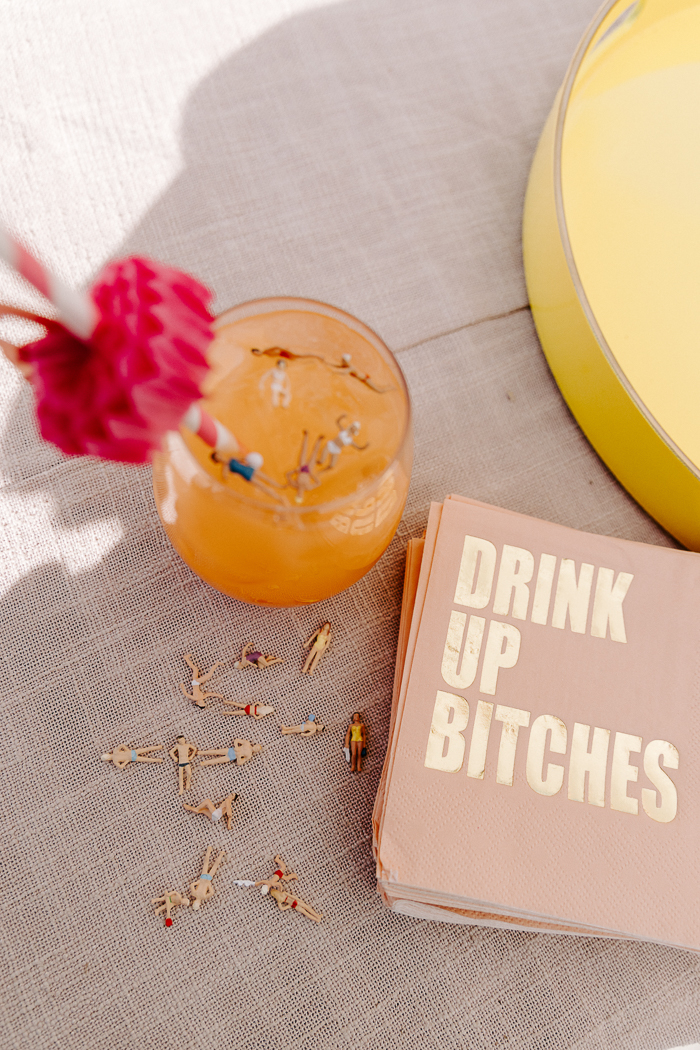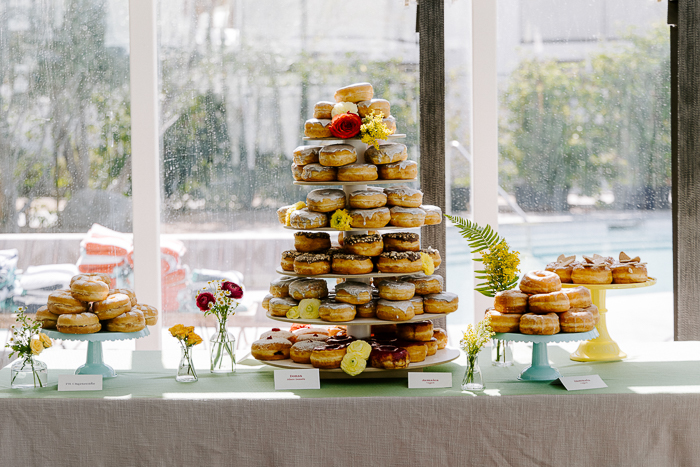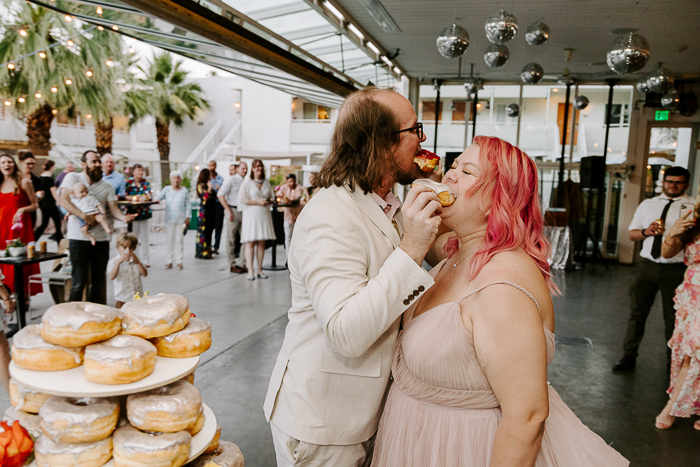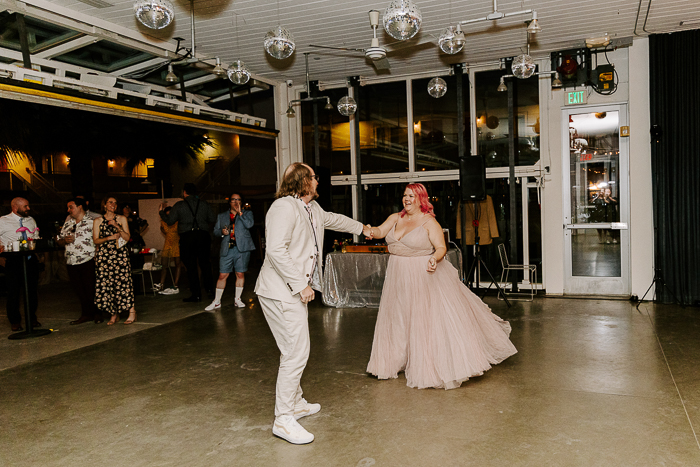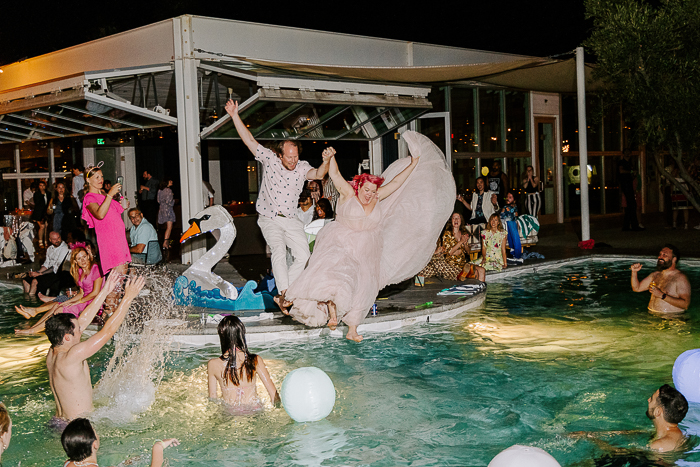 Congratulations again to Laura and Tom on their disco-themed Palm Springs wedding! We're so thankful that Junebug member Alicia Wiley was there to capture the quirky, well-thought-out details. To see more of Alicia's work, check out her profile in our directory of wedding photographers from around the world!
If you're ready to break out of the traditional wedding mold and host a unique affair just like Laura and Tom did, check out the five traditions we think you can skip.