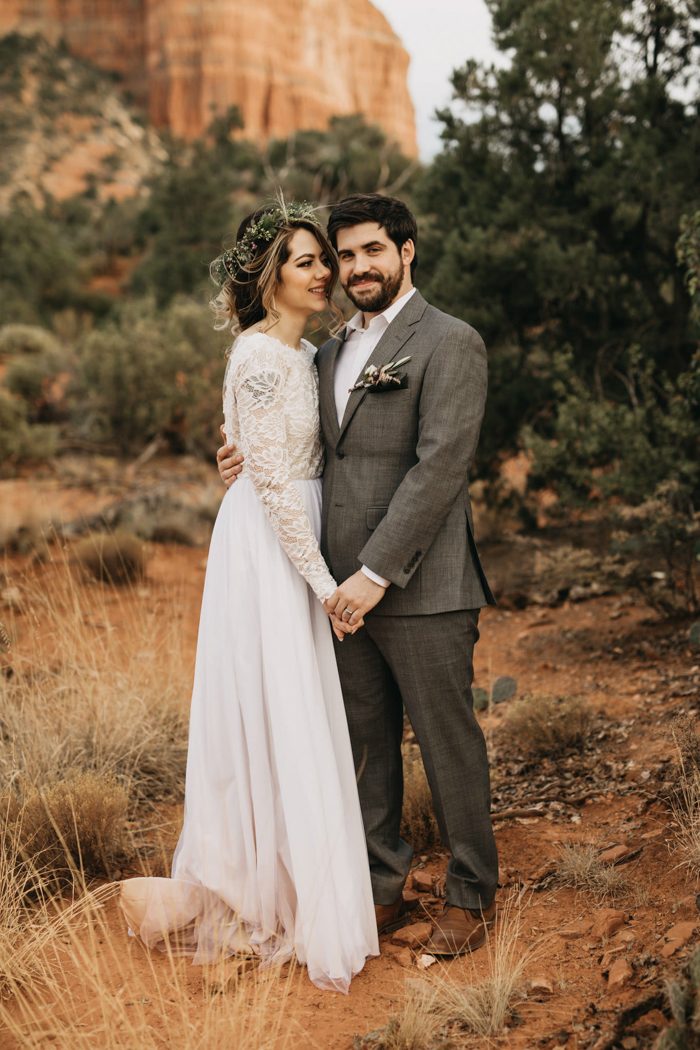 If desert vibes and mountains are your thing, then Jordan and Ben's Bell Rock elopement is just the wedding for you! These lovebirds opted for an adventurous and intimate wedding ceremony for just the two of them. Thanks to Heather Van Houten & Artists, Jordan is wearing a romantic updo with loose curls and a simple Wear Your Love wedding dress that is perfect for hiking around in Sedona. Jordan's entire bridal look is complete with a flower crown and wildflower bouquet created by Sedona Mountain High Flowers. All of this goodness was photographed by Amy Bluestar Photography and boy did Amy knock it out of the park! Get ready to swoon over some sweet bride and groom portraits!
The Couple:
Jordan and Ben
The Wedding:
Bell Rock, Sedona, Arizona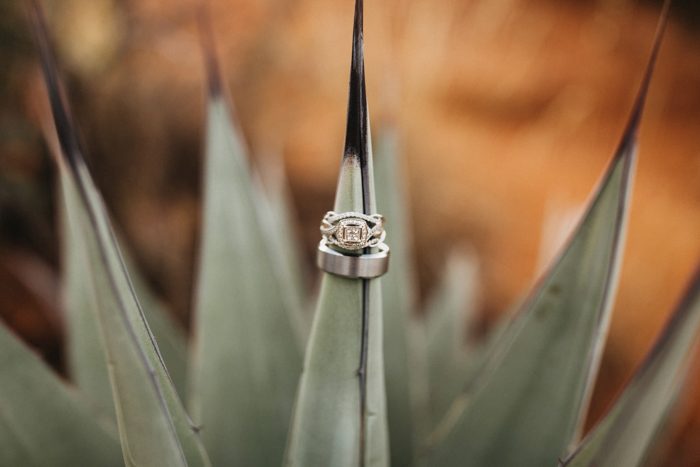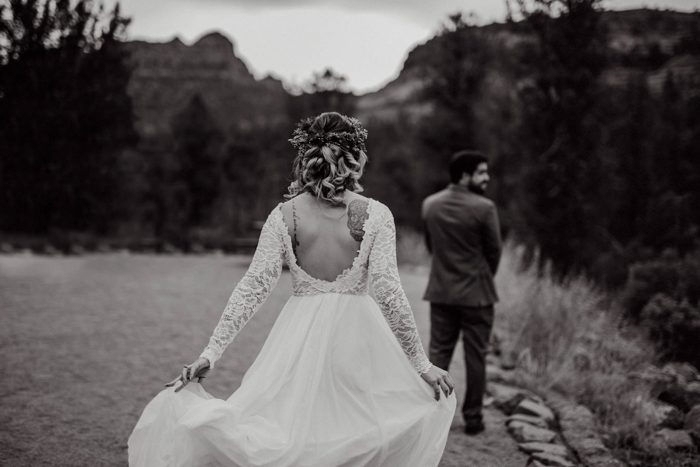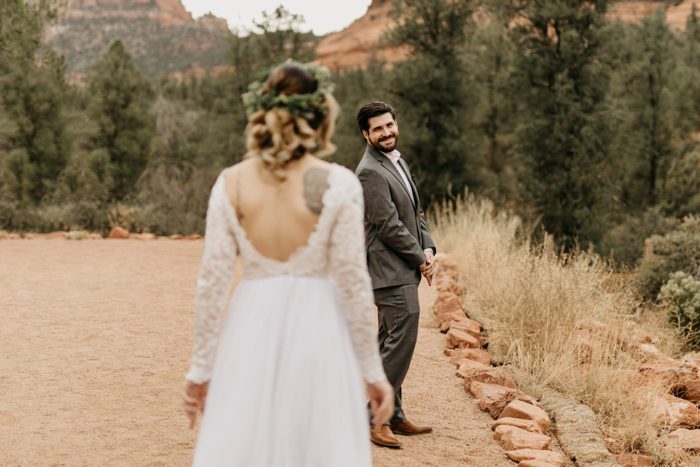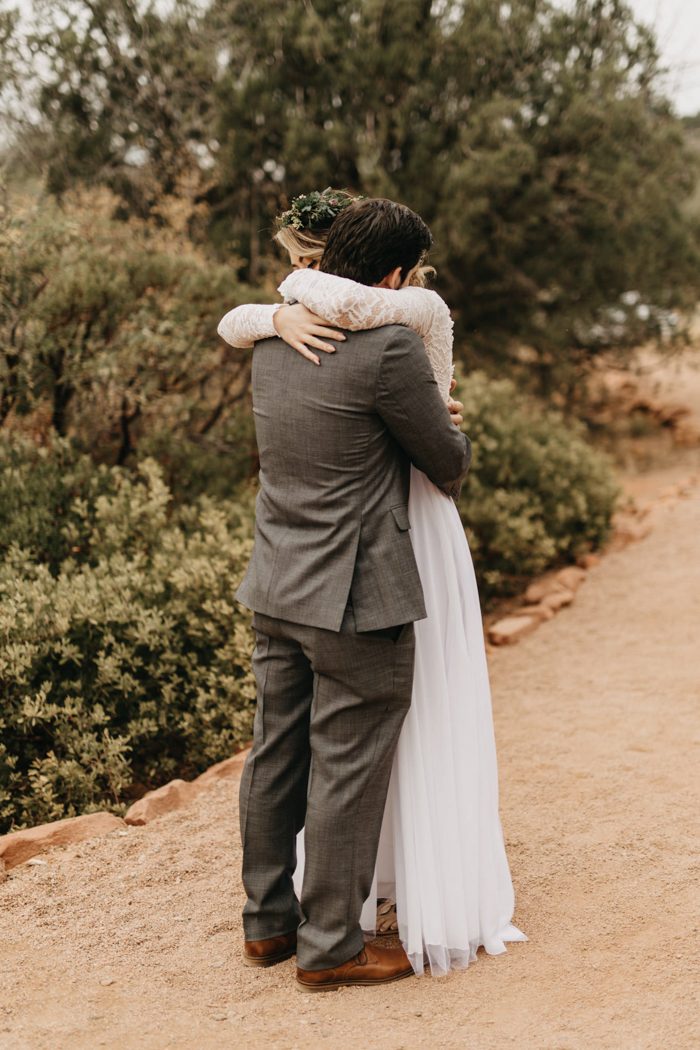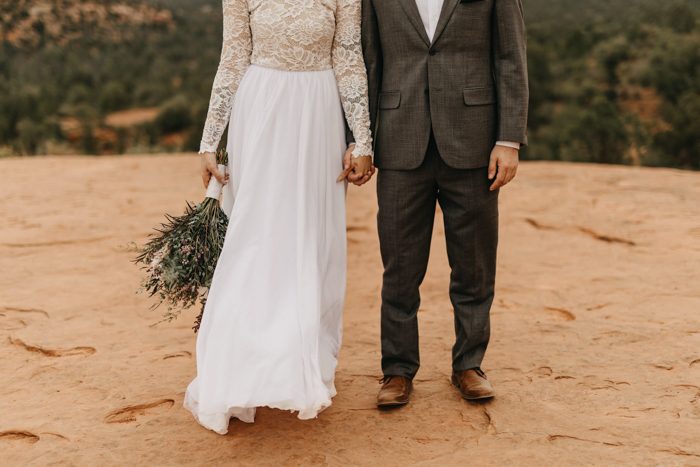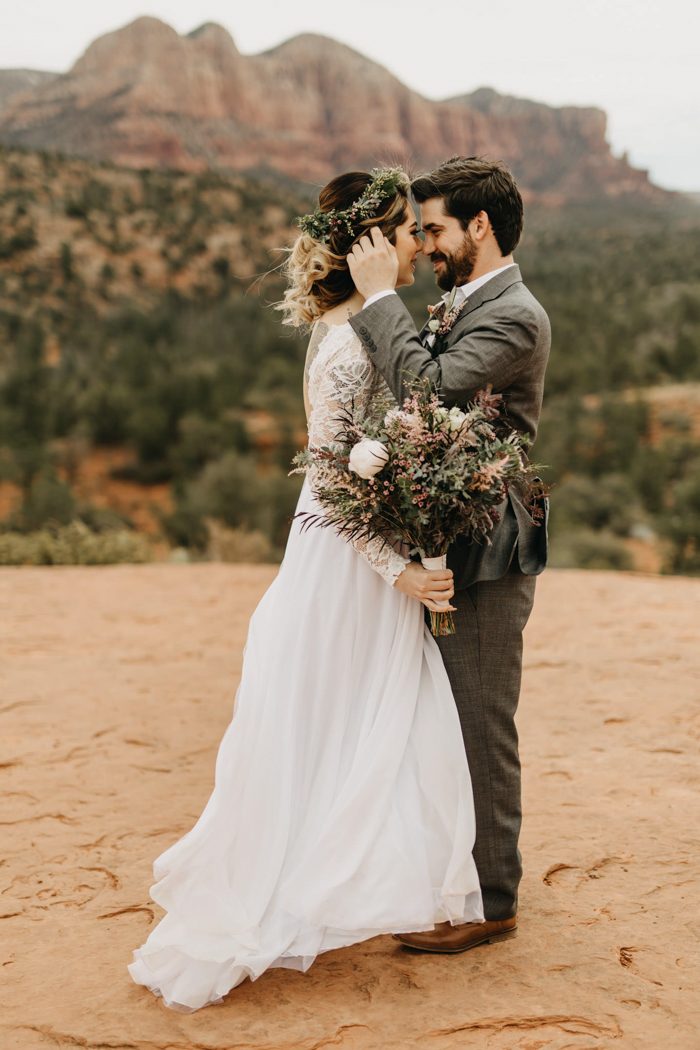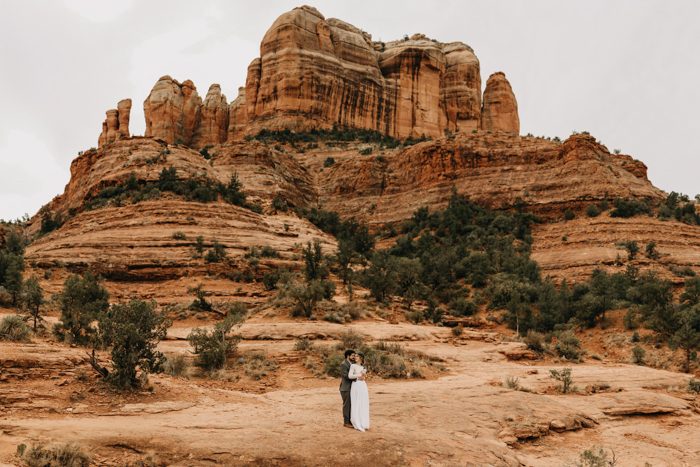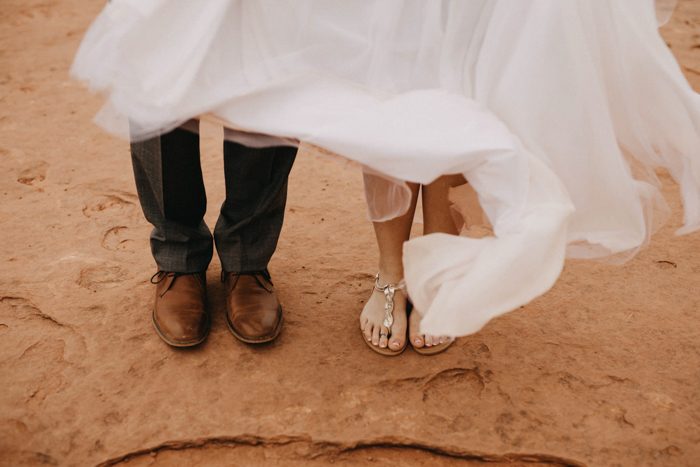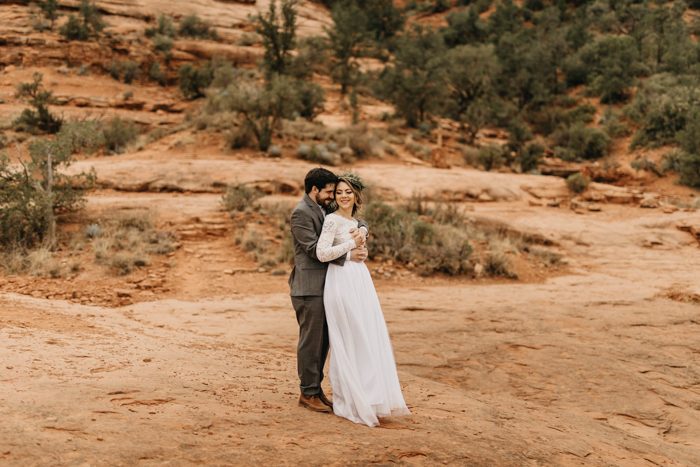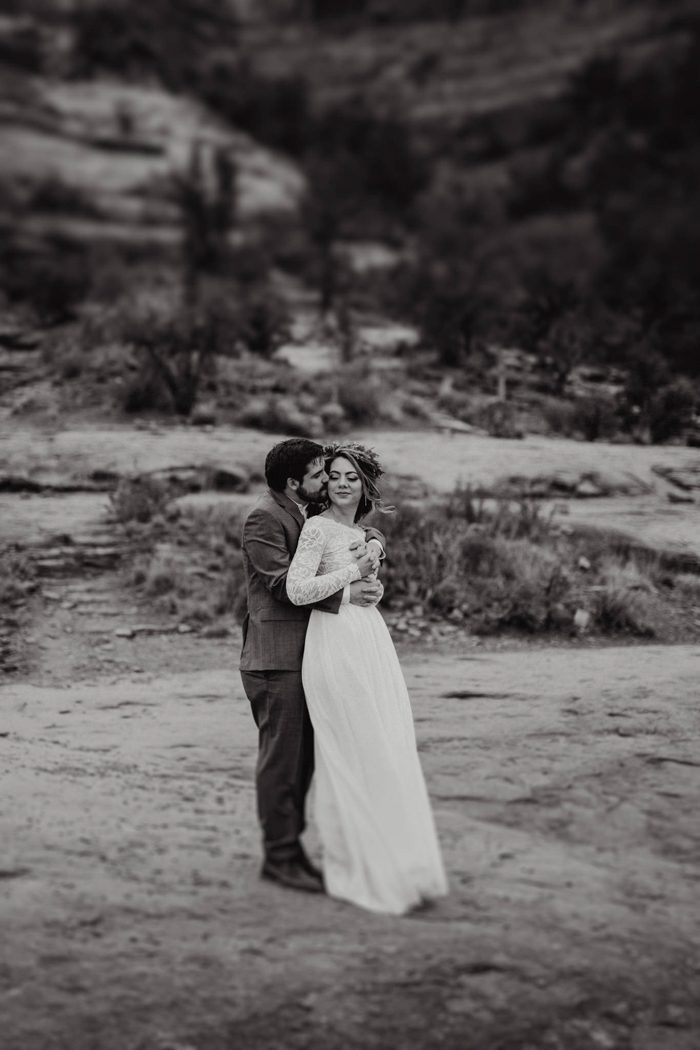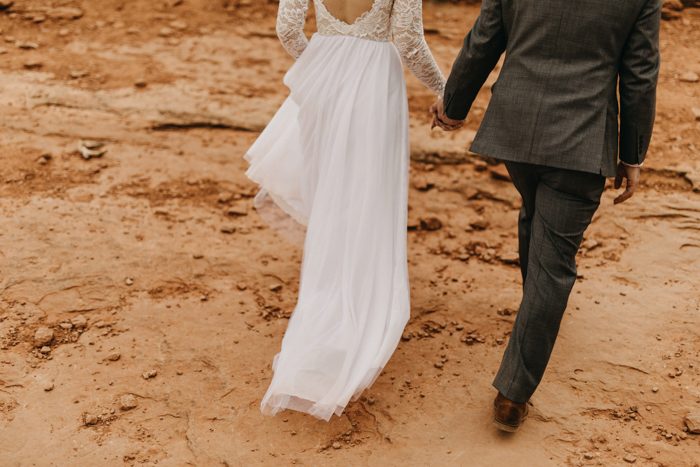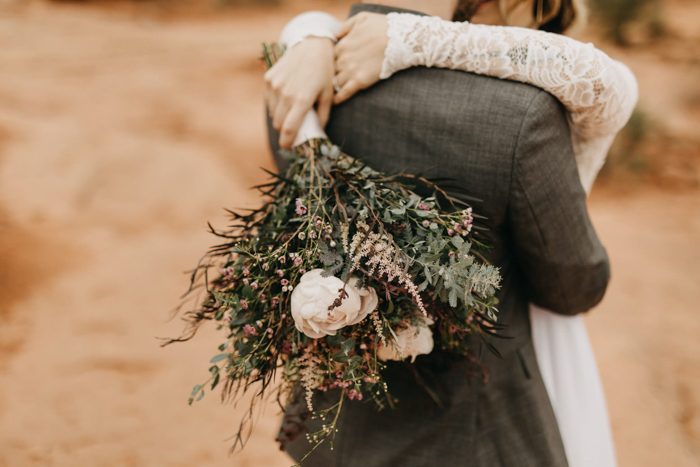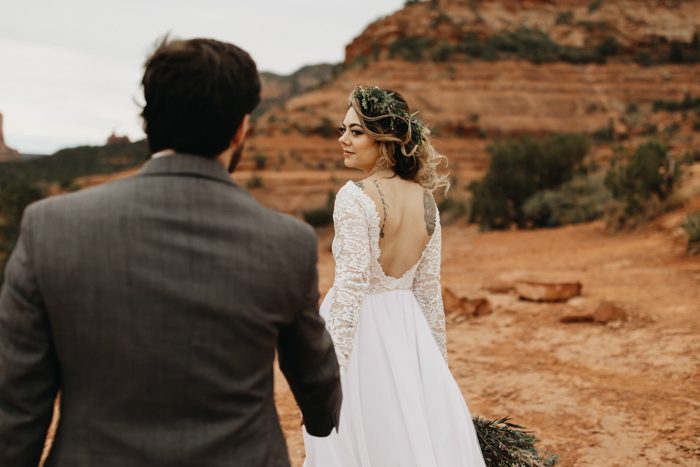 We have 2 photos that just give us goosebumps! One favorite by Amy is the black and white photo of my back with my husband's arms around me. There is something so intimate and romantic about the placement of his hands on my back and how he holds me. The other one is the photo of him walking in behind me and I am looking back at him, it's such a sweet moment.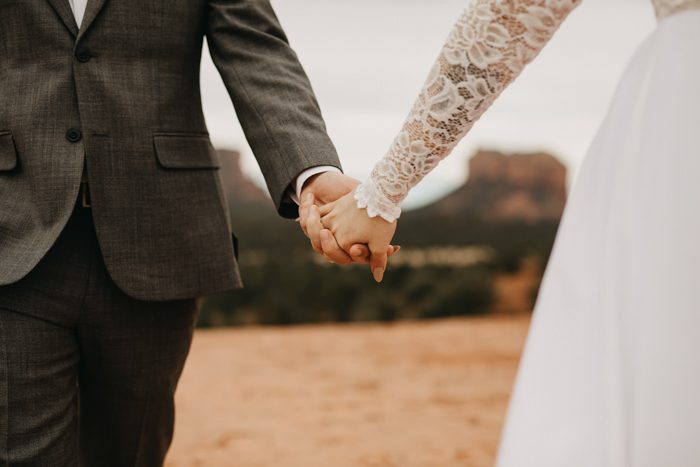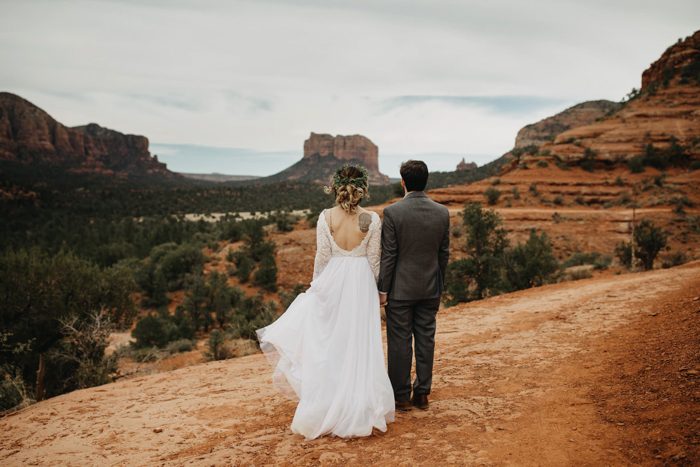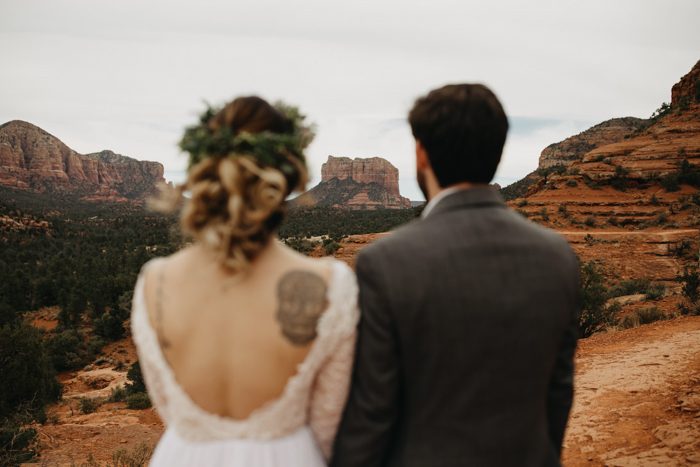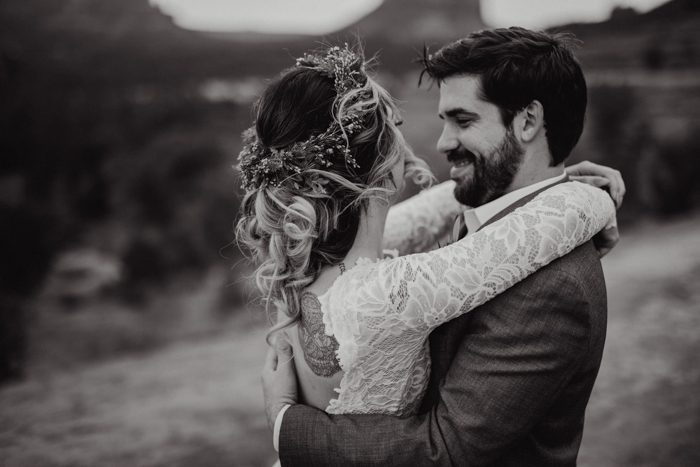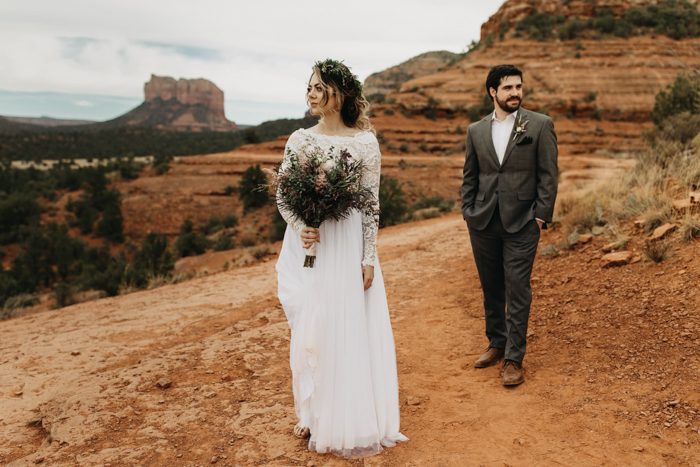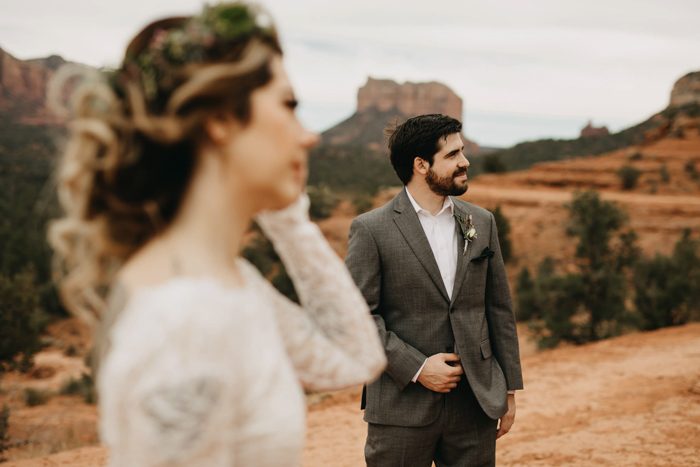 Your wedding day is about you and your spouse, don't forget that. It is easy to get overwhelmed and lost with everyone elses' ideas of what your big day should be like but that isn't what matters. Keeping that in my mind during the planning process really helped me because in the end, our ceremony was the perfect representation of who we are as individuals and as a couple.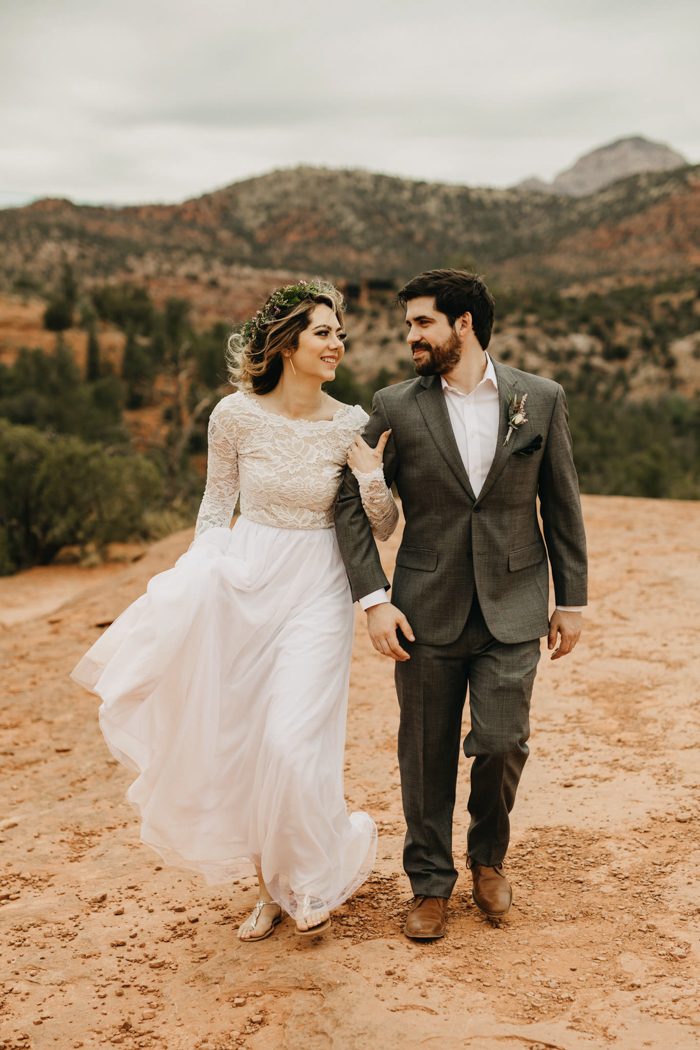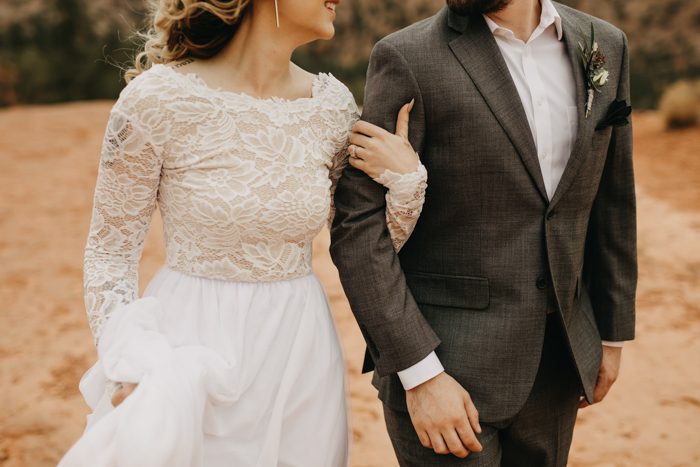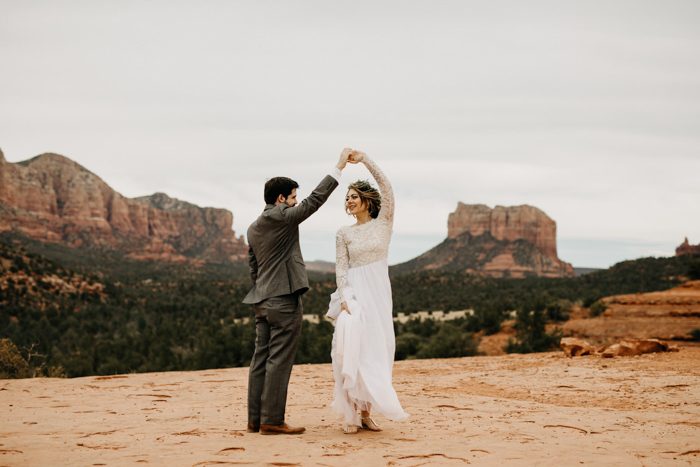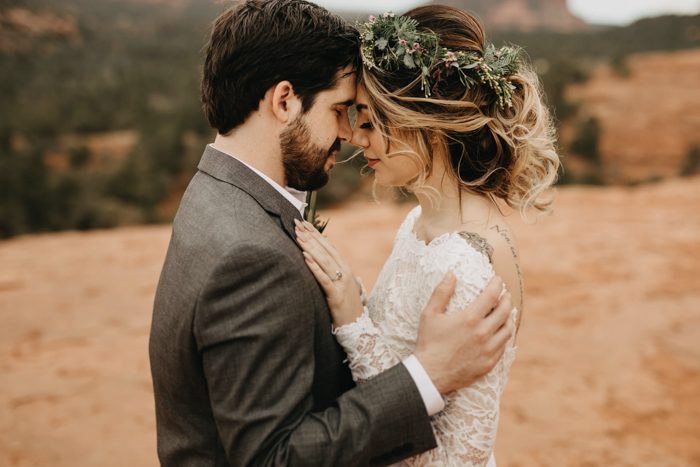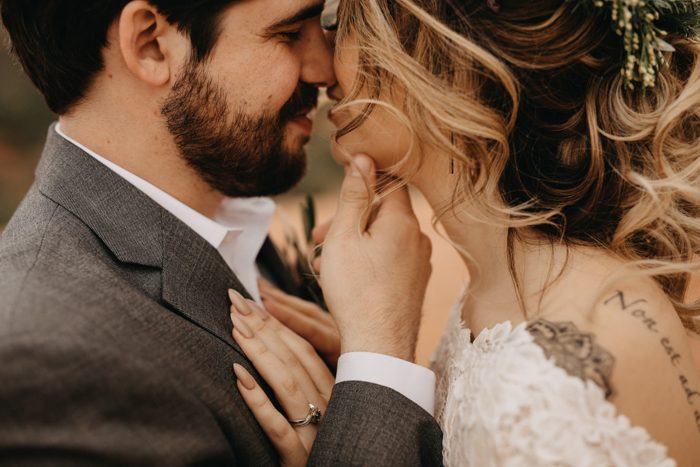 Our photographer, Amy, was so so sweet! I was nervous because we had both never had professional photos taken of us but Amy directed us the whole day. She had a bunch of fun ideas and made sure that we were comfortable with the poses and that we had the landscape views that we wanted. She really paid attention to our personal styles and our interests. She's the bees knees!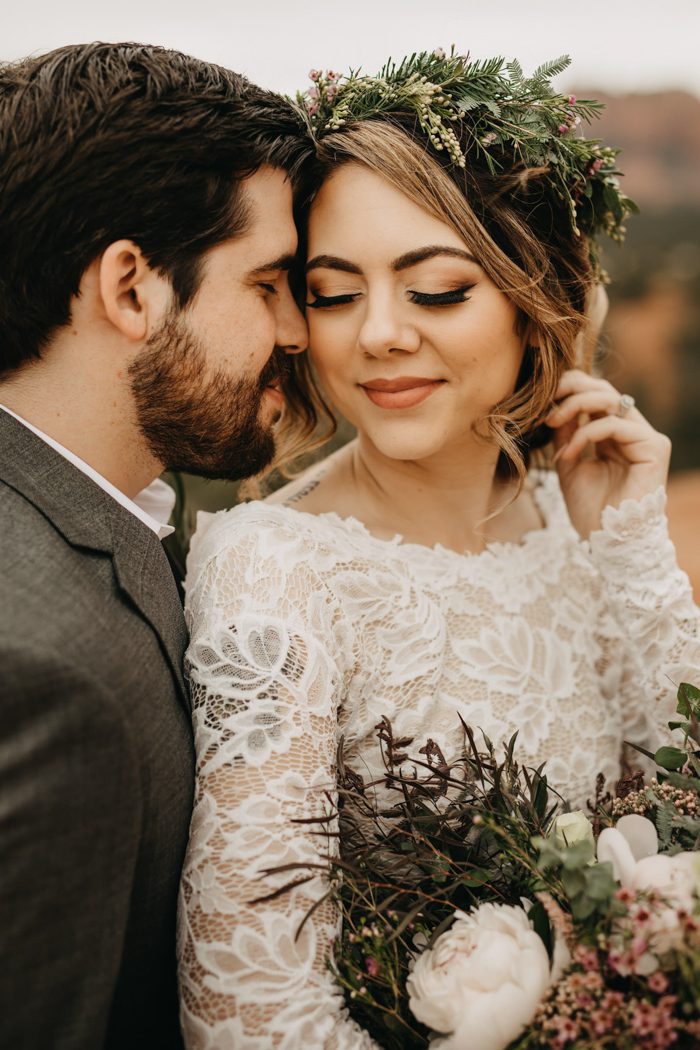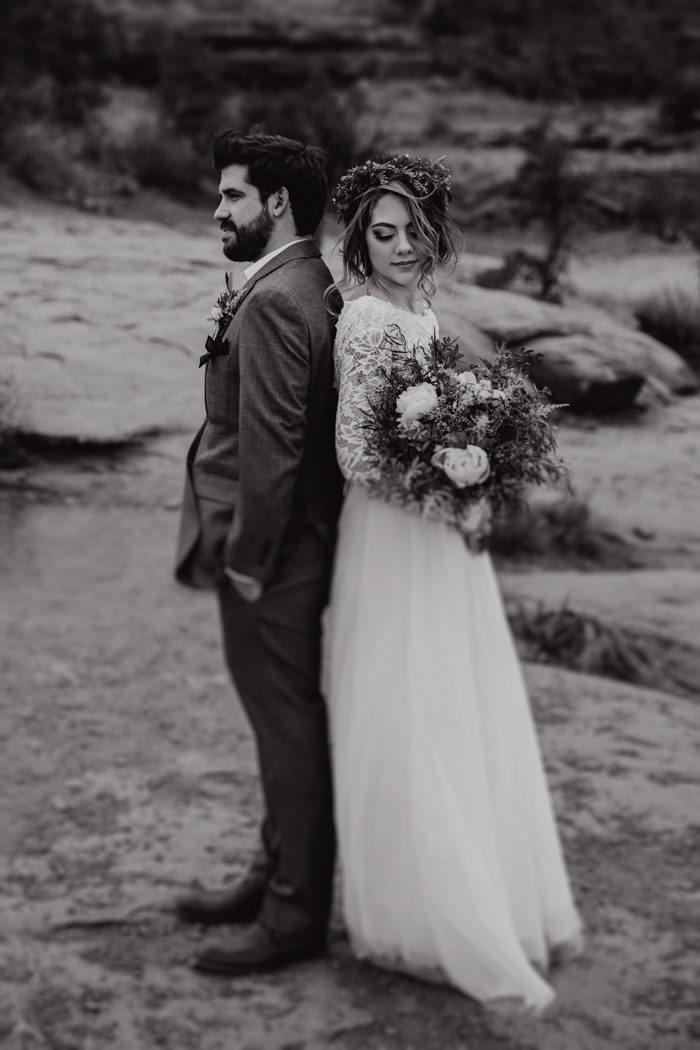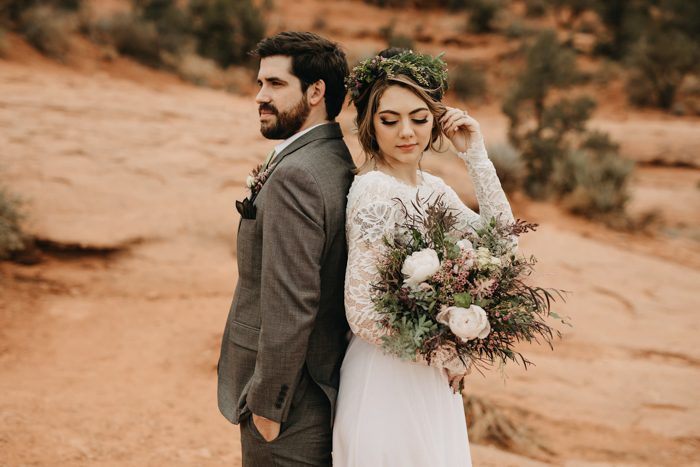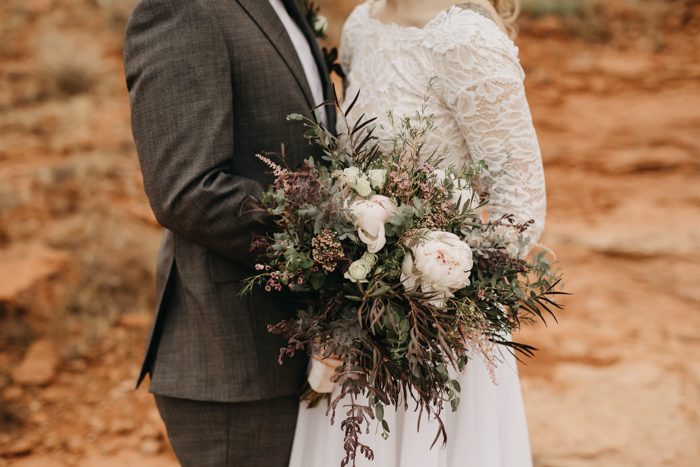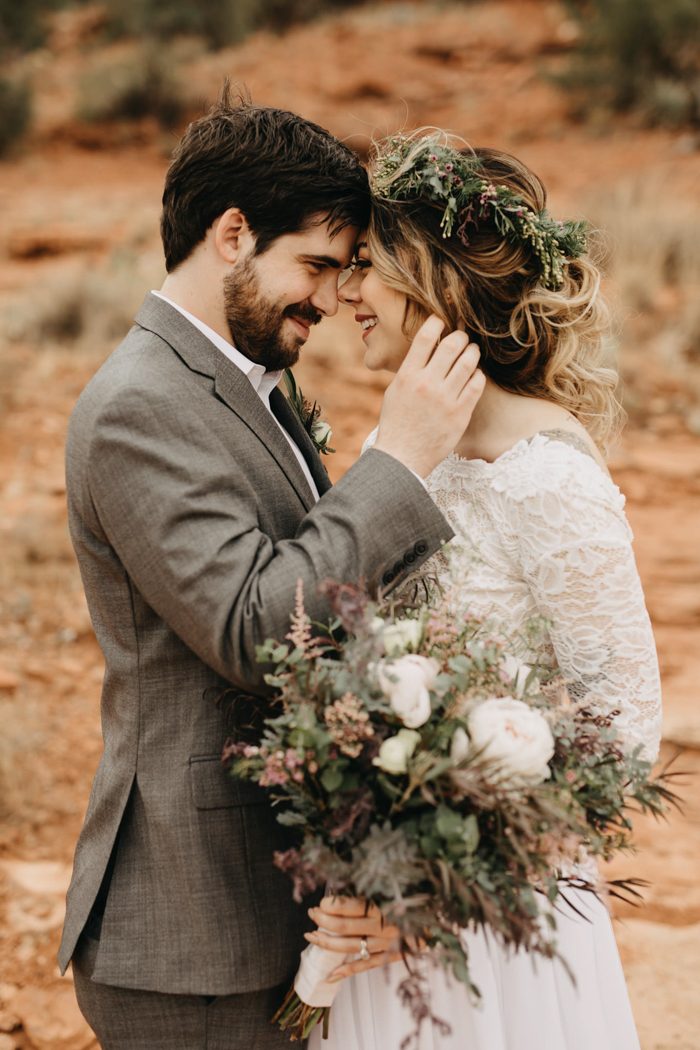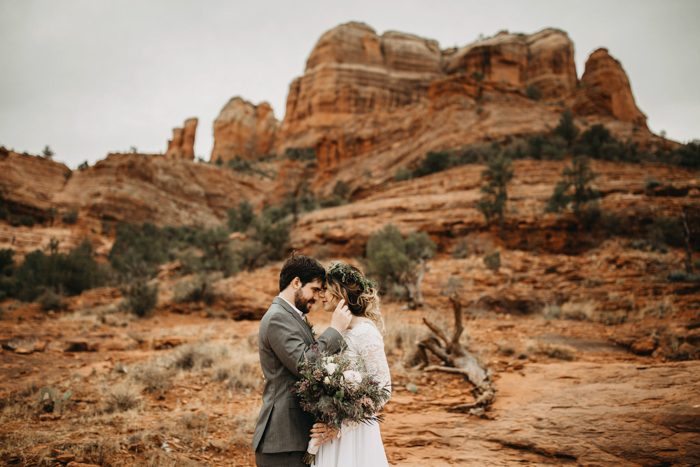 We chose our venue because Sedona is a very special place to me (Jordan). I grew up going to Sedona every winter with my family and continued going with Ben throughout college. It is a beautiful place and Bell Rock was an obvious choice for the ceremony because of the mountain and valley views that surrounded us.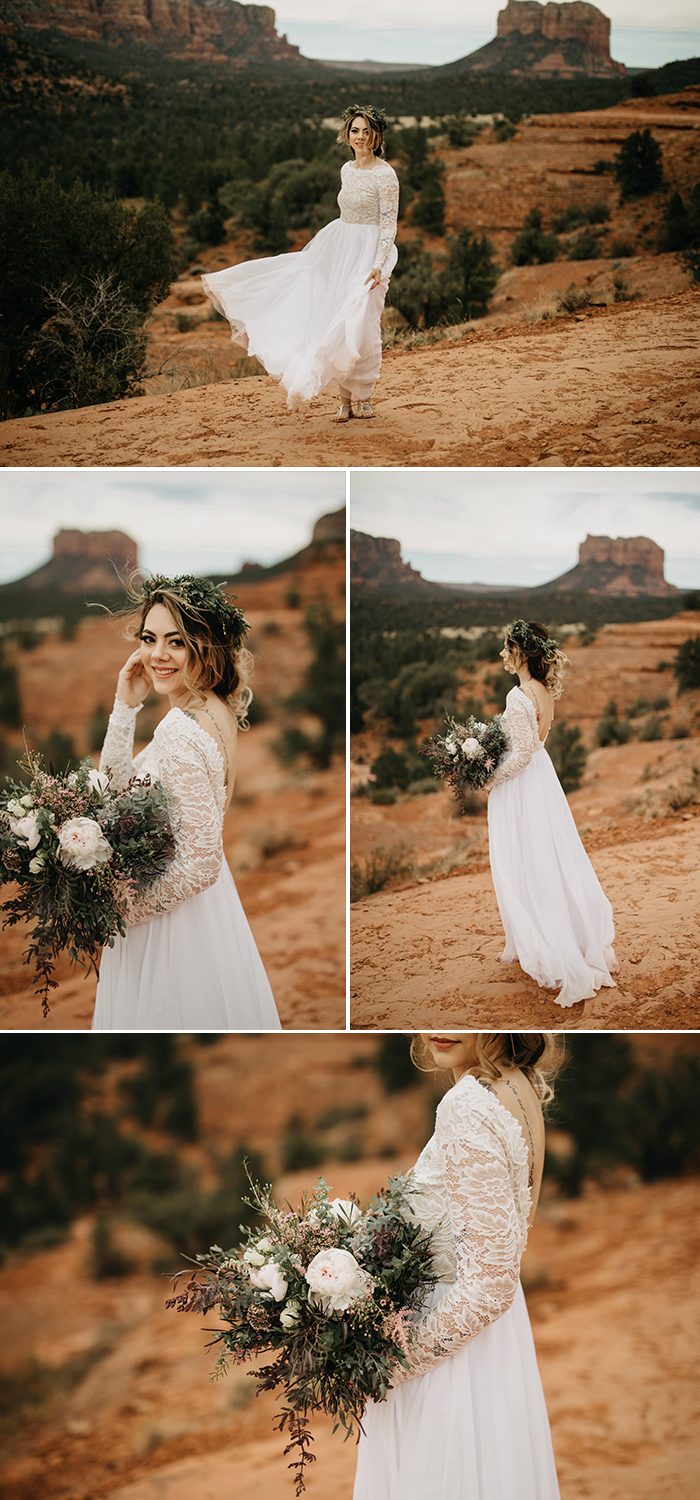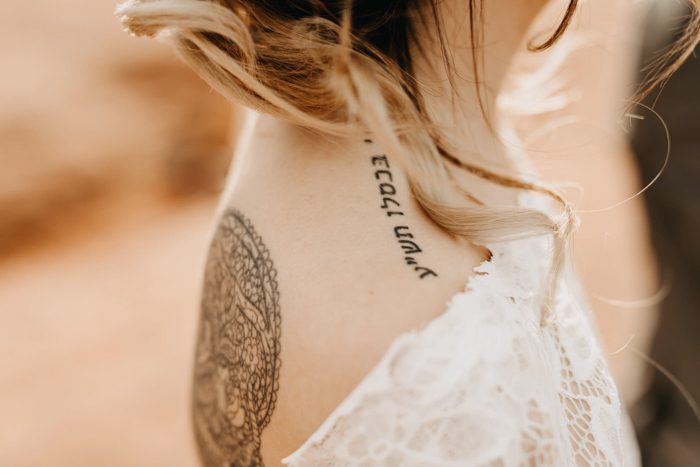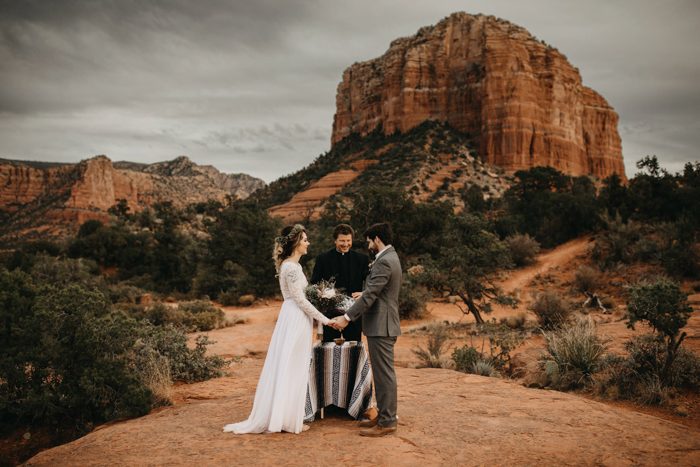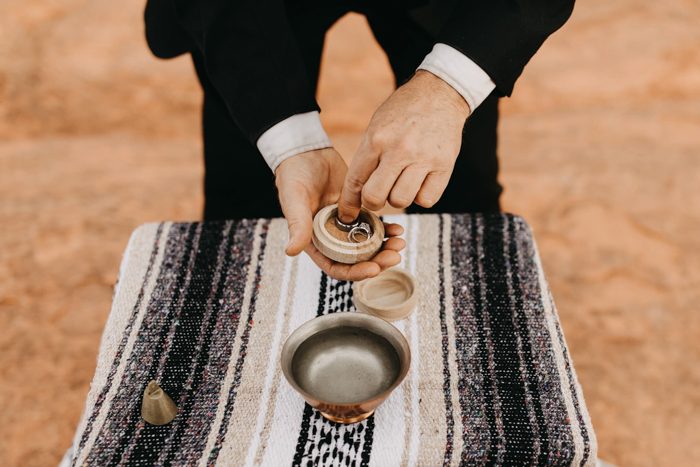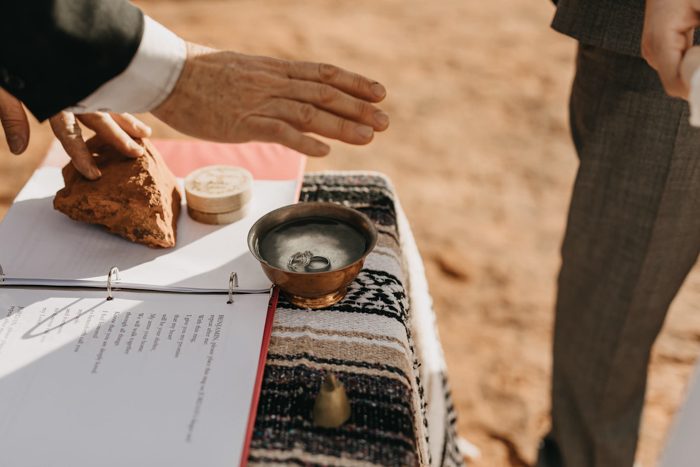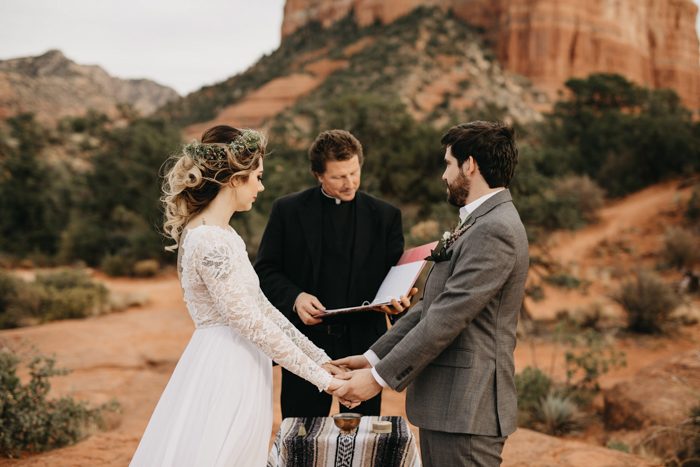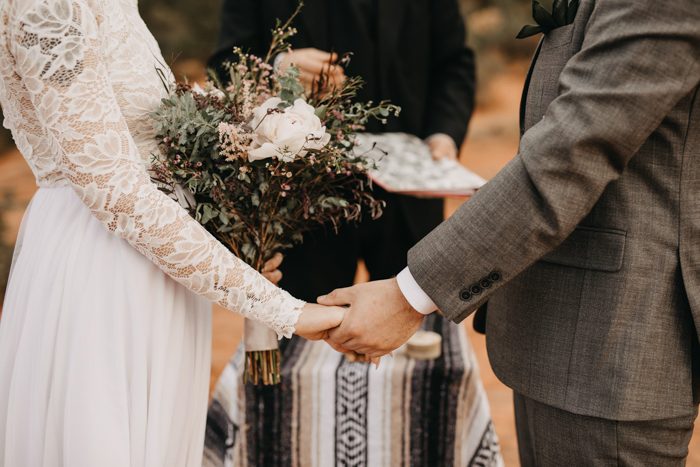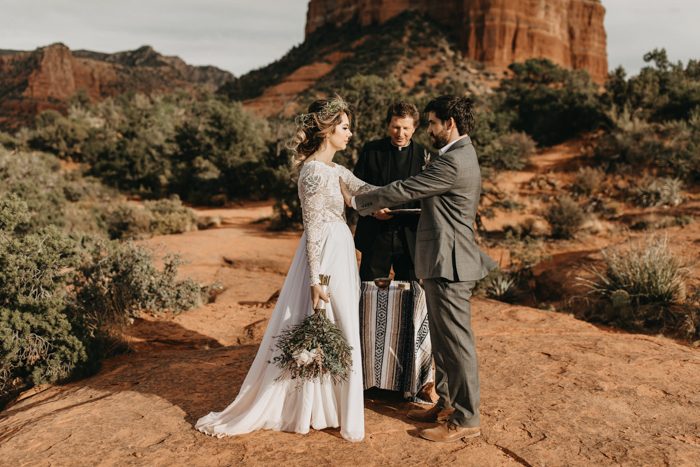 We had a few personalized moments during our ceremony. At the beginning of the ceremony, out officiant had us place our left hands over each other's hearts and breathe together until our hearts beat as one. We also read our personal vows to each other while our rings were blessed in the sacred waters of Oak Creek. After the ceremony, we used the sacred waters to water a small tree at our ceremony site.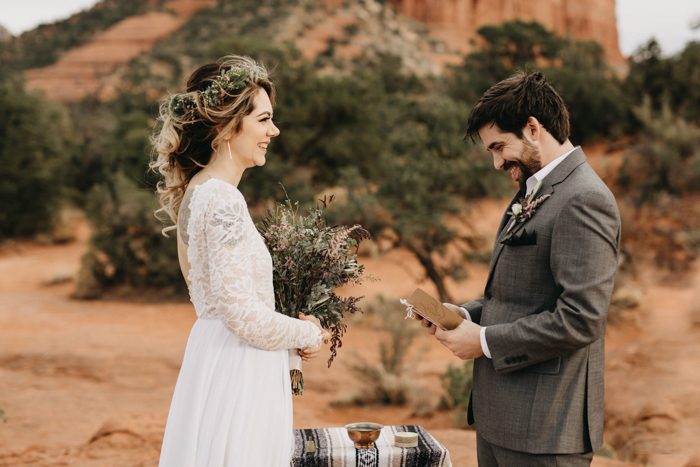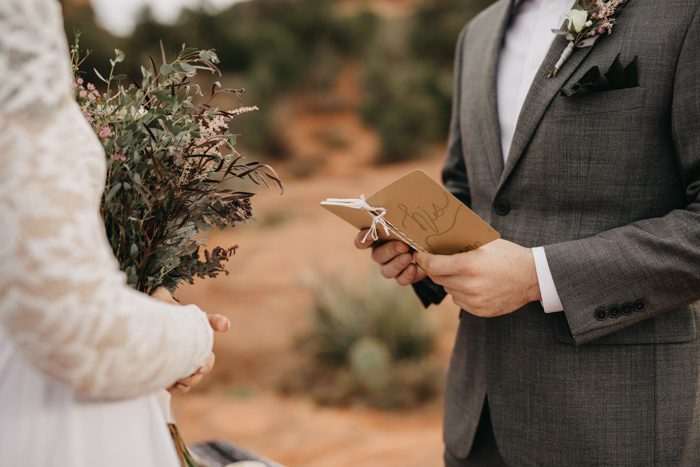 SHOP THIS LOOK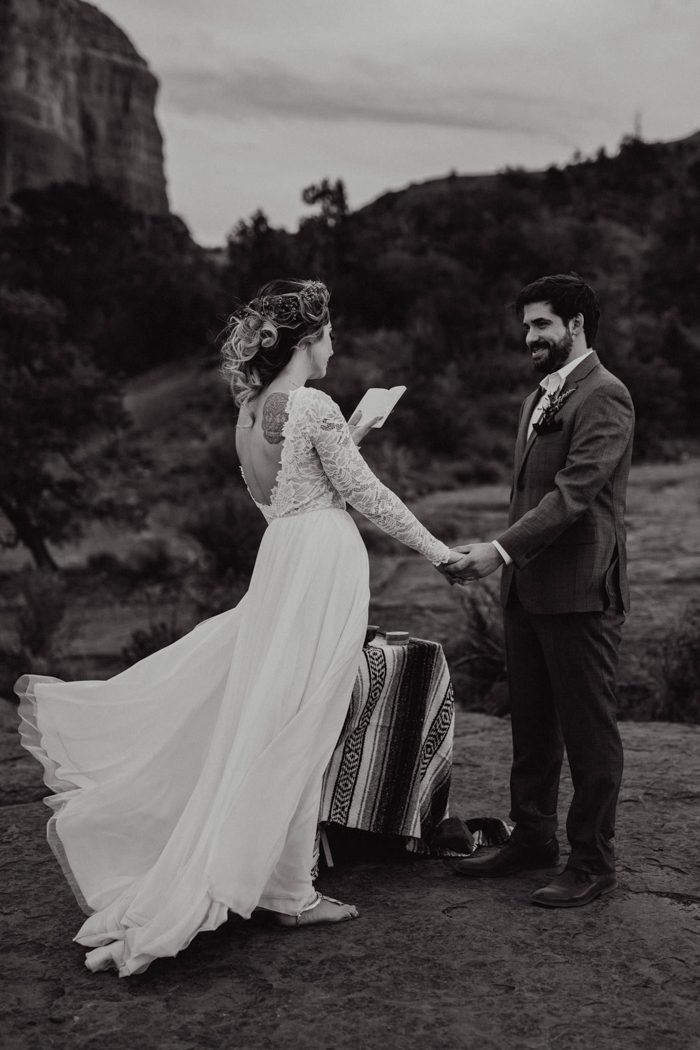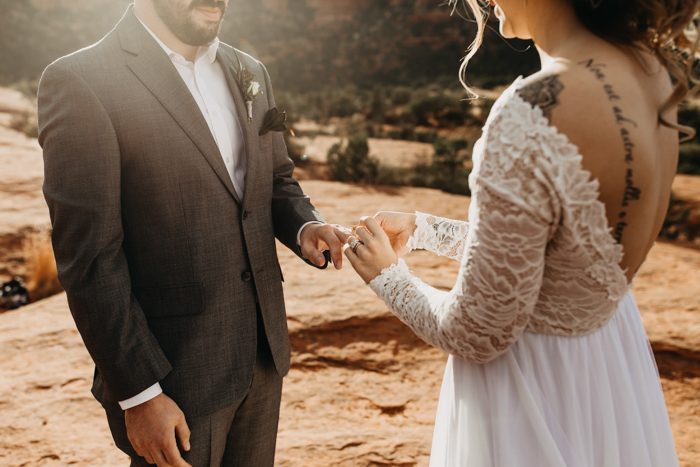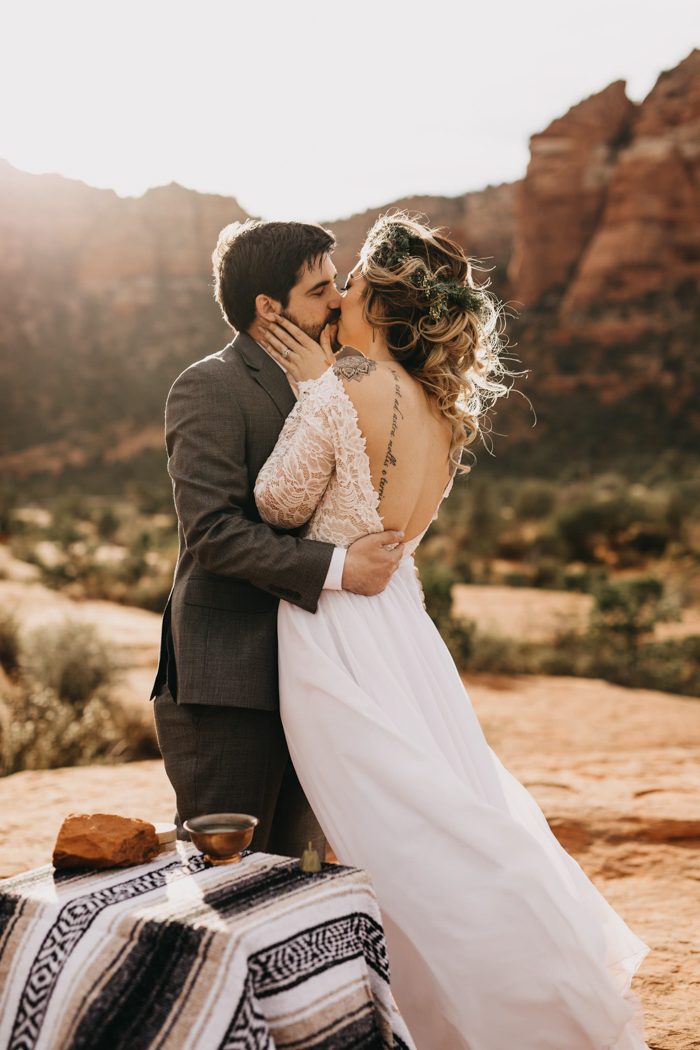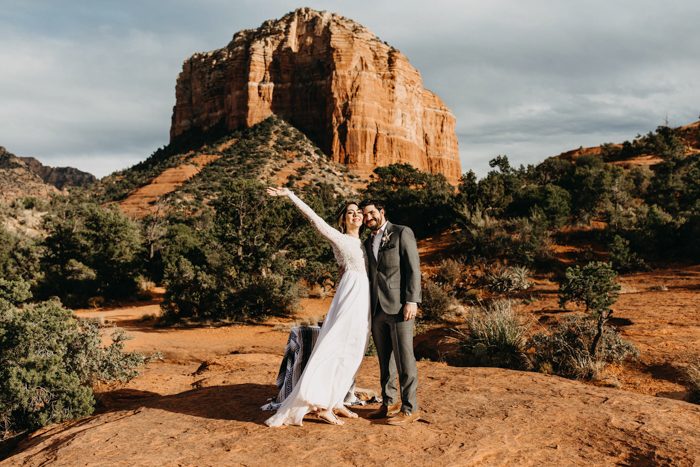 It was a beautiful, intimate, romantic, and small elopement ceremony in the middle of the mountains with no one around. That will always be the most memorable thing about our wedding. It was a ceremony that I got to share with the one person that matters. Sometimes big weddings can become less about the couple and more about the guests and making sure everything goes correctly. Our ceremony was special, stress-free, and honestly a dream come true. I would do it over and over again and never change a thing.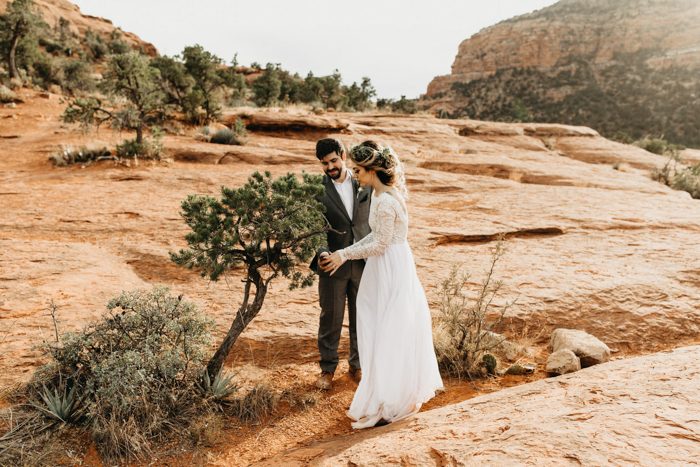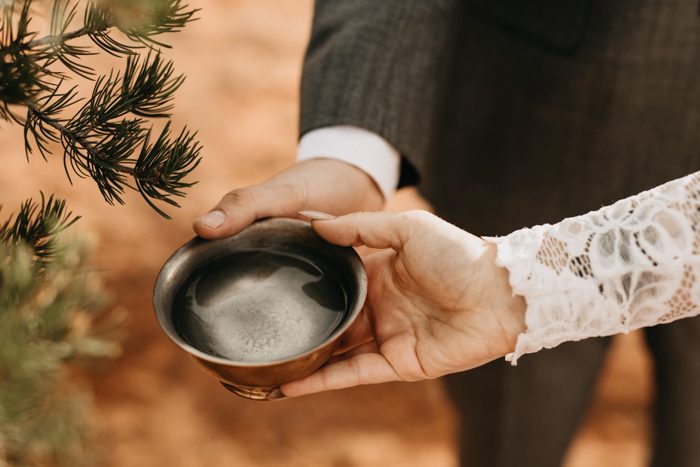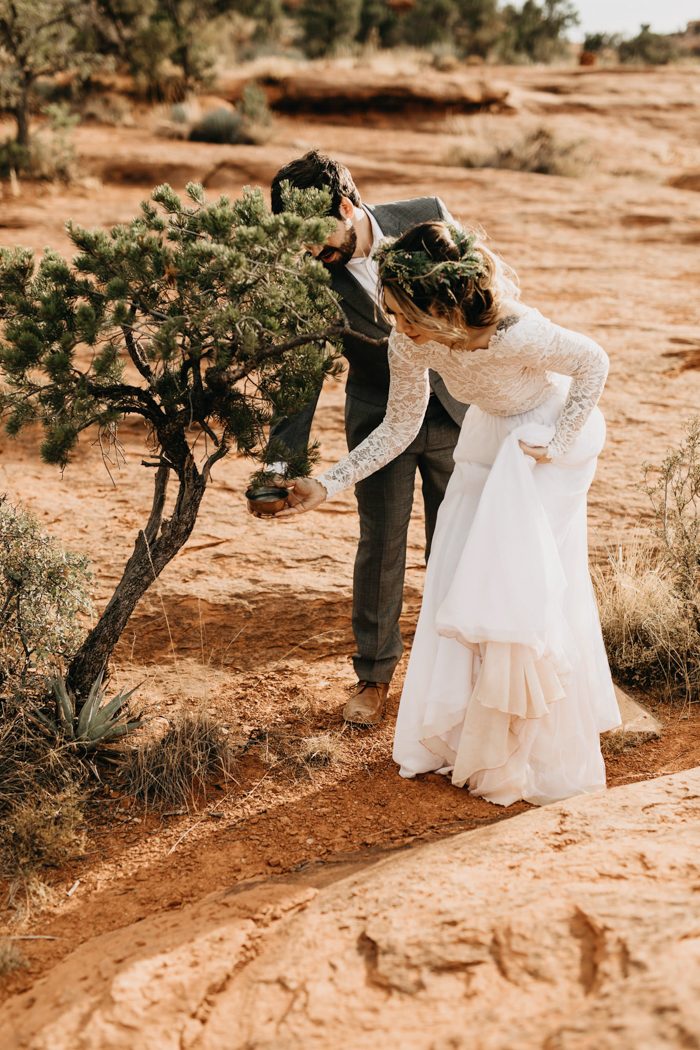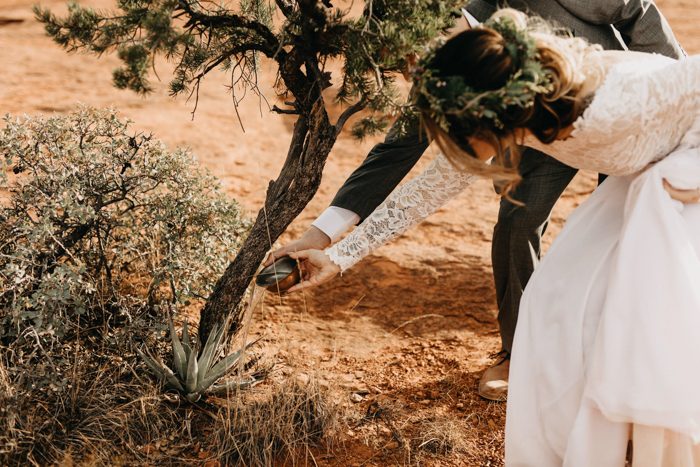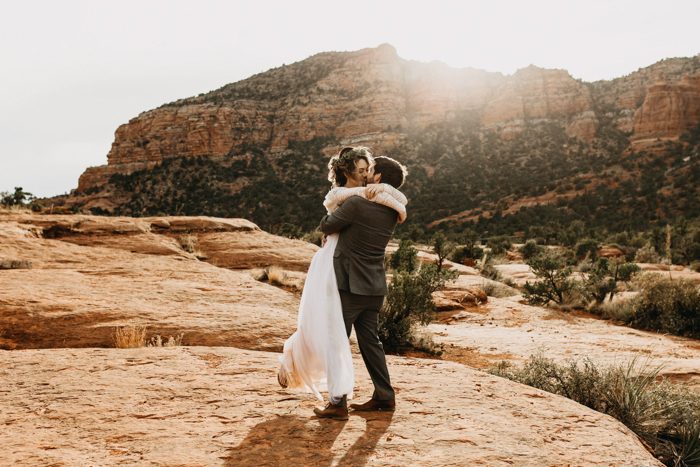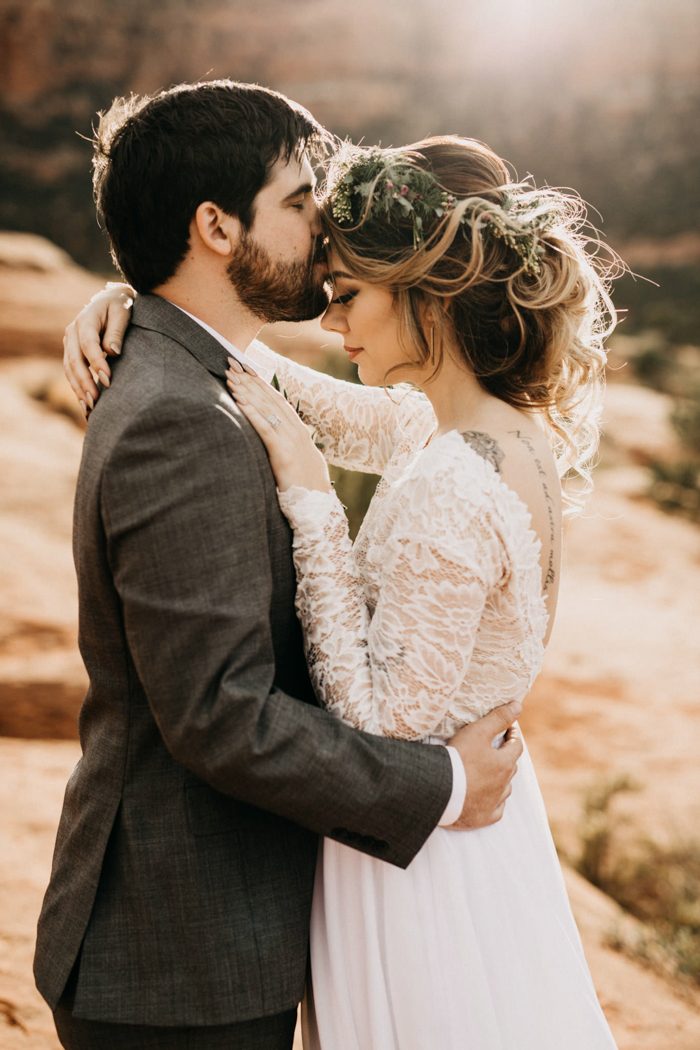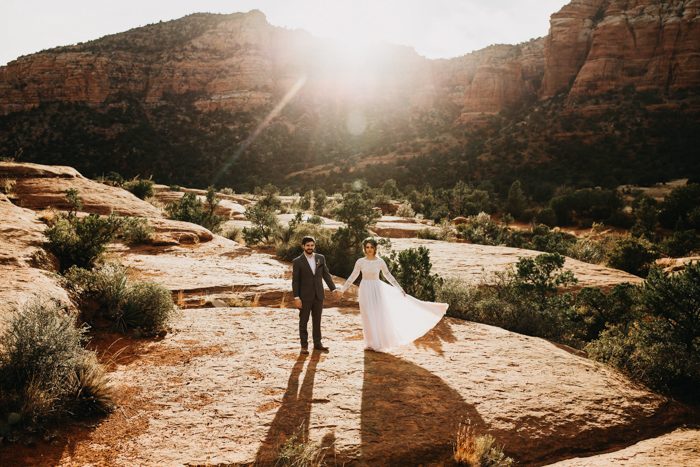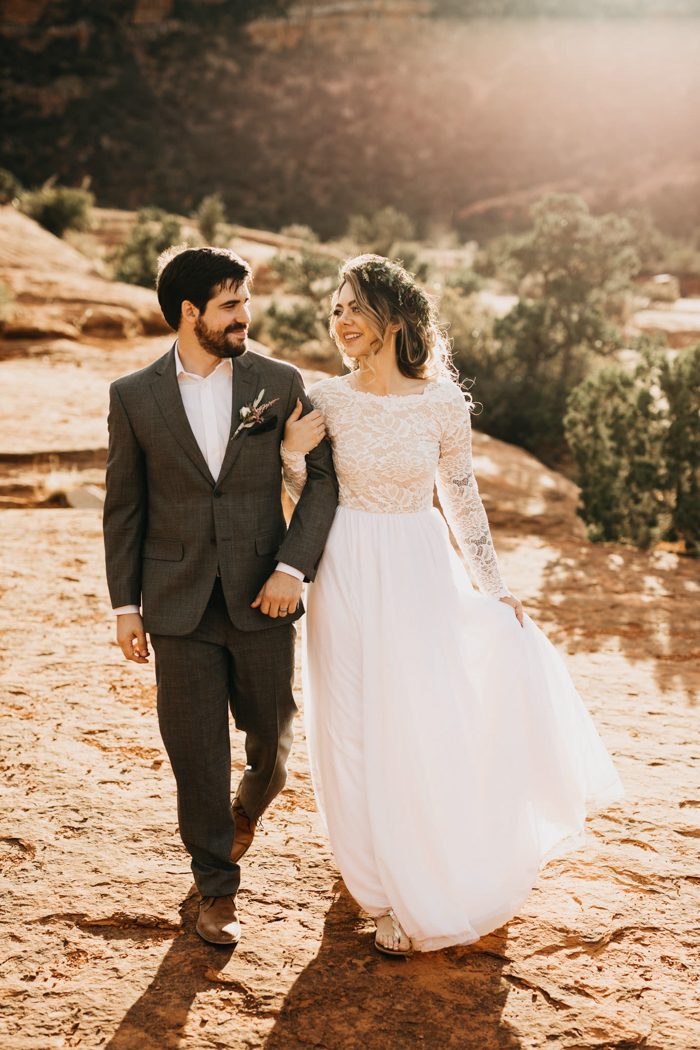 I'm a very laid back individual with a boho-vibe and I really wanted my wedding to convey that. I love the outdoors and the Arizona desert is my home so I wanted a boho style with desert tones.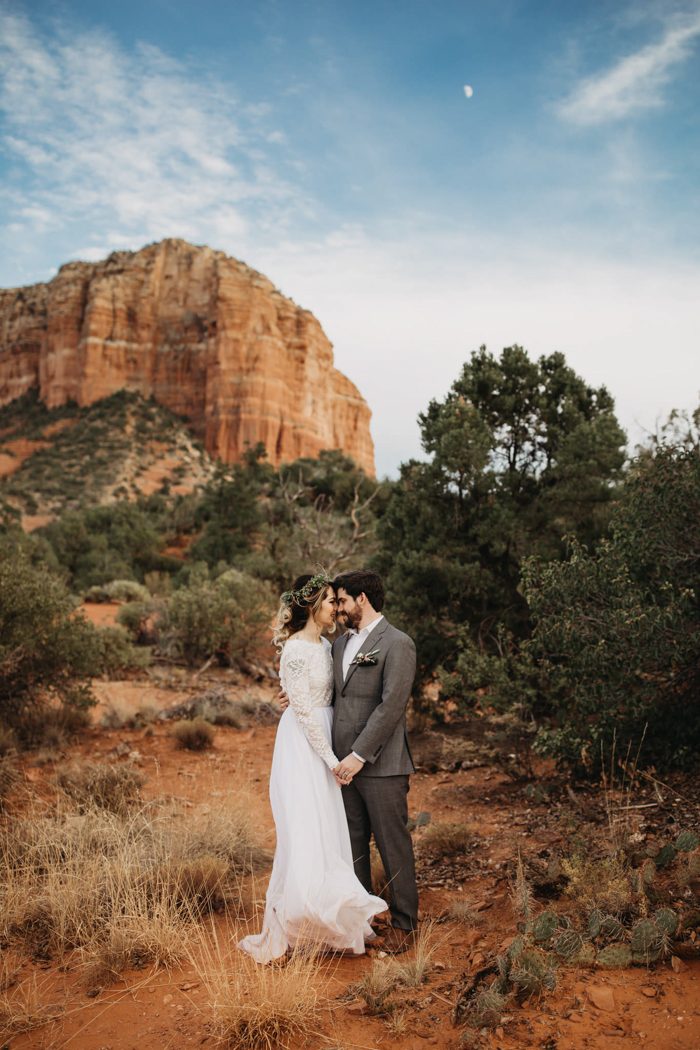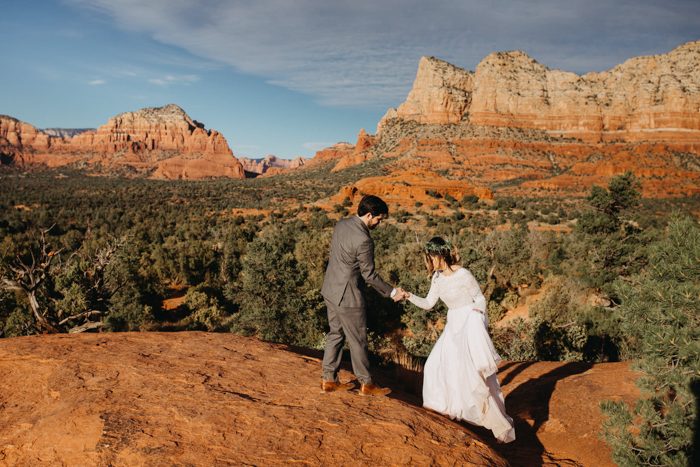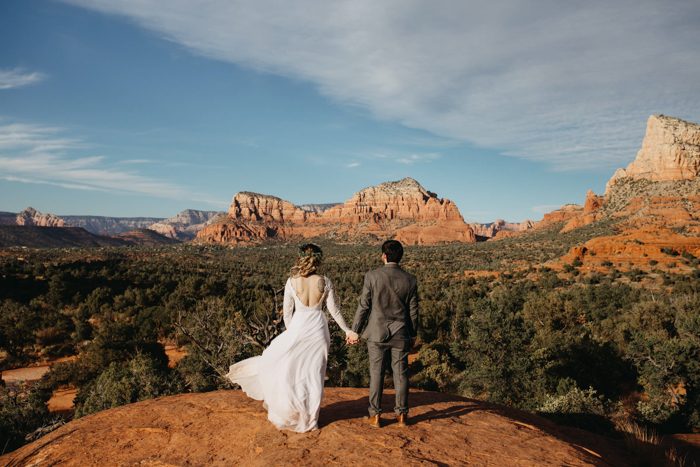 Congratulations to Jordan and Ben on their elopement, and a big thanks to Amy Bluestar Photography for sharing their special day with Junebug! If you love intimate nuptials as much as we do, then check out this Kwaaymii Point elopement in the California sunset.