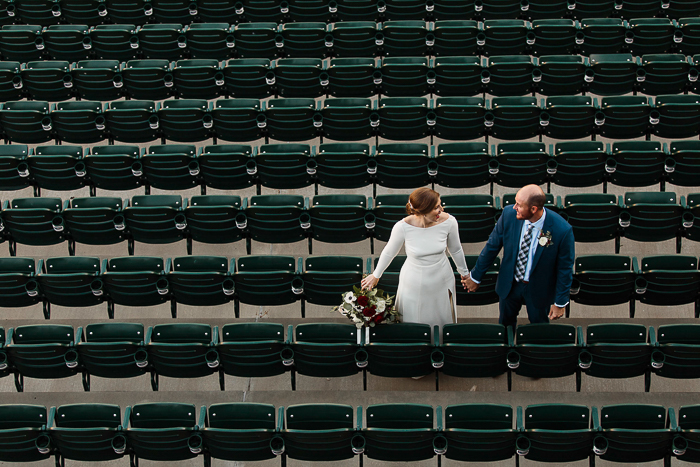 Kevin and Emily initially planned to get married at a museum, but when the pandemic nixed those plans, they reevaluated what would be the best wedding venue for them and got creative. Without realizing that the change might actually have been meant to be, ultimately, they chose the Truist Field—where they had their first date. Switching to a new venue a month before the big day was no easy feat but the couple–along with their planner Caroline of Mint To Be Weddings–were able to pull off an amazing and totally unique baseball field wedding.
The couple exchanged their vows on the home plate as friends and family seated in the bleachers cheered them on. And their beautiful tented rooftop reception featured romantic drapery, dreamy string lighting, and gorgeous cascading foliage with a mix of deep red and white florals. Not to mention the fireworks display against the Uptown Charlotte skyline–a wonderful way to end the night.
From the out-of-the-box venue to the clever and fun ways this couple incorporated their shared passions into their big day—Junebug members The Stewarts Roam captured all the unforgettable moments that will help you create a celebration that is uniquely yours during these extraordinary times.
The Couple:
Emily and Kevin
The Wedding:
Truist Baseball Field, Charlotte, North Carolina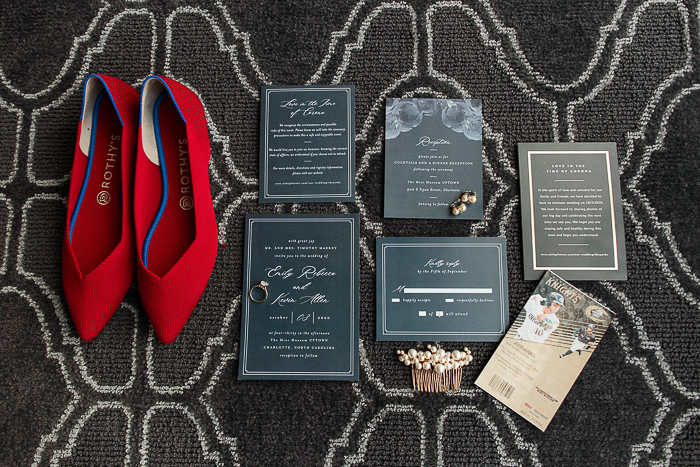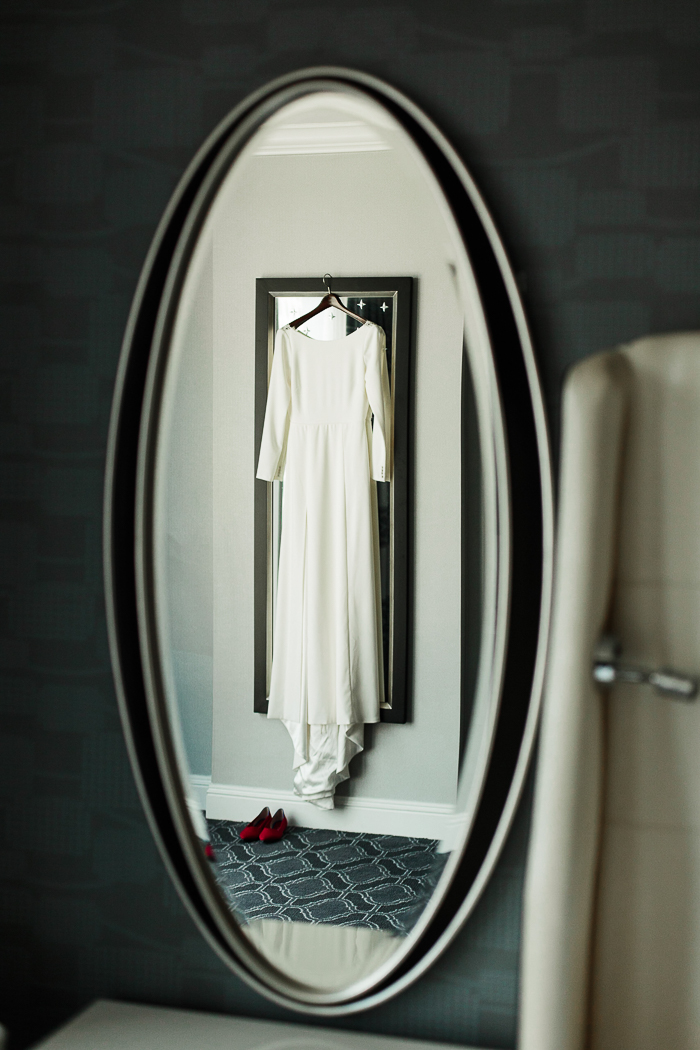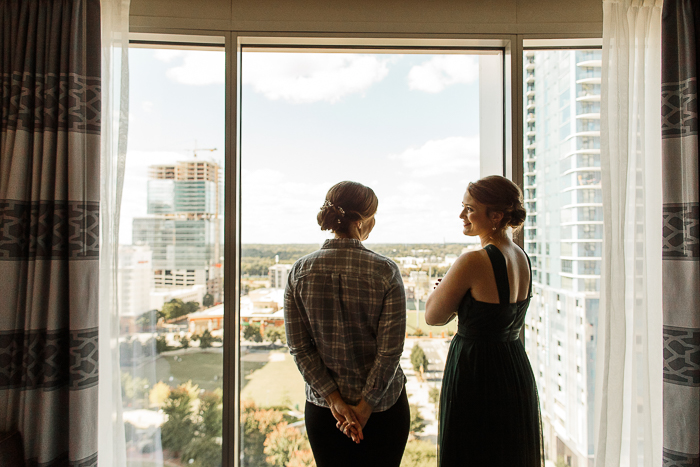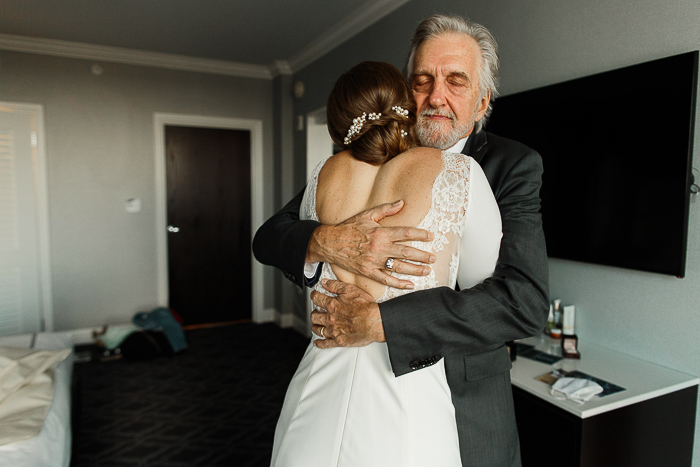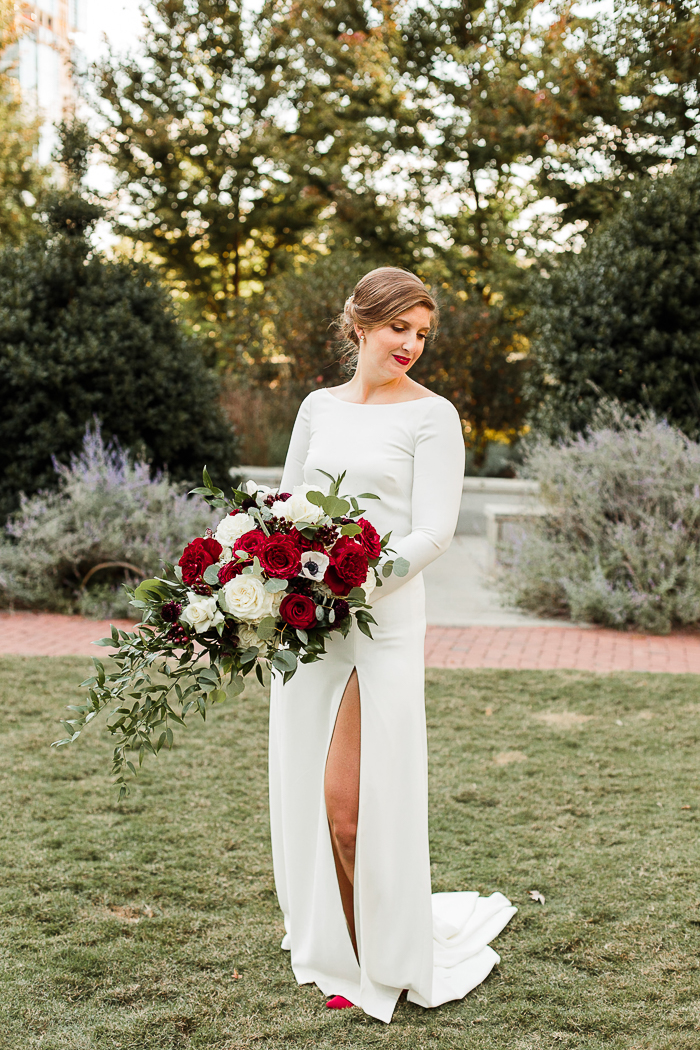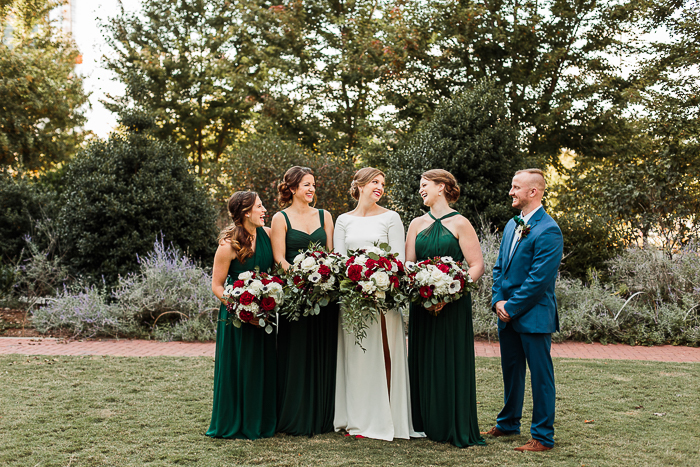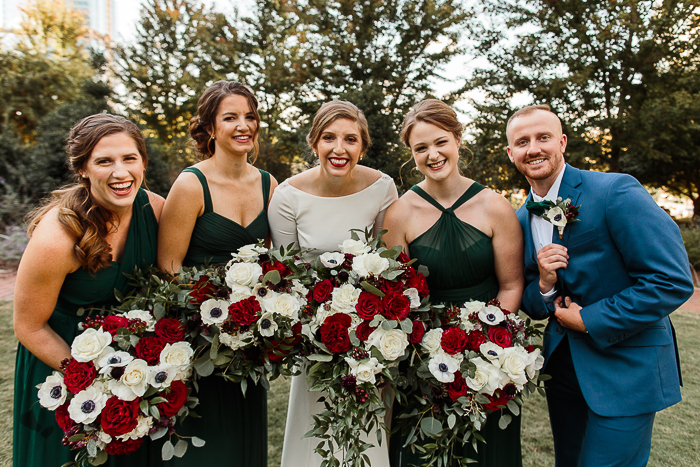 Last-Minute Change of Plans That Turned Into A Blessing
Having the wedding in October 2020 presented a few challenges. Due to the ongoing and ever-changing COVID-19 regulations, we were forced to adjust many aspects of our wedding just a little over a month before the big day. Our previous venue was more than accommodating, but we would have given up too much to have the wedding we wanted. What started as a crazy idea became something bigger than we could have ever originally planned when we were presented with a wonderful opportunity to get married at the place where we had our first date. Grace and the Truist Field staff seamlessly worked with our previous vendors and our planner Caroline of Mint To Be Weddings to put on a wedding that was beyond what we could have hoped for.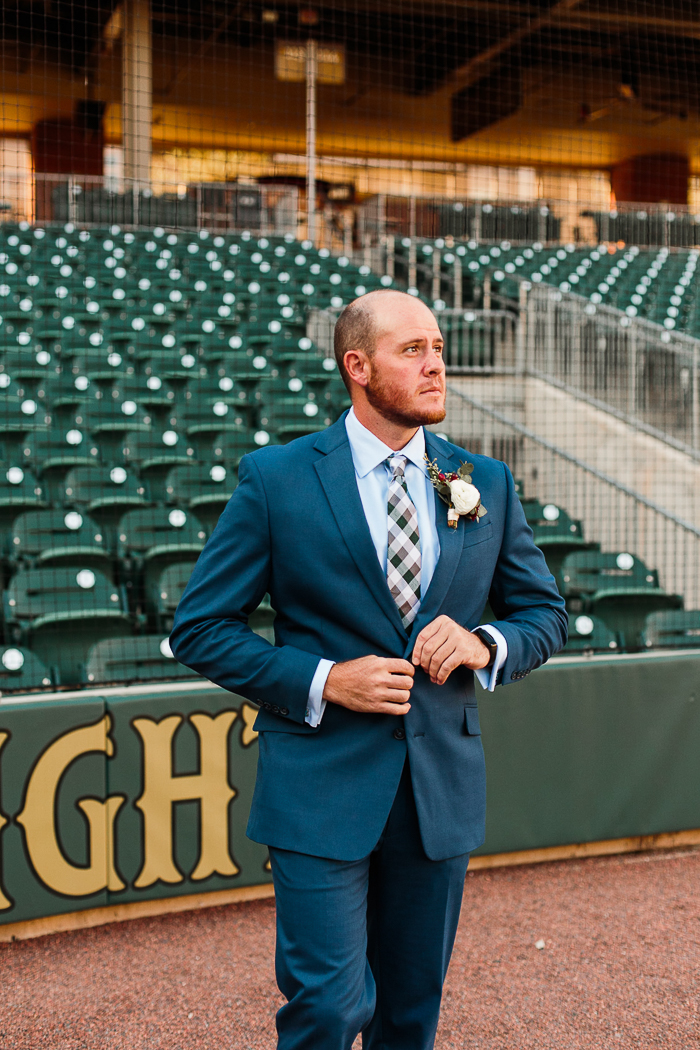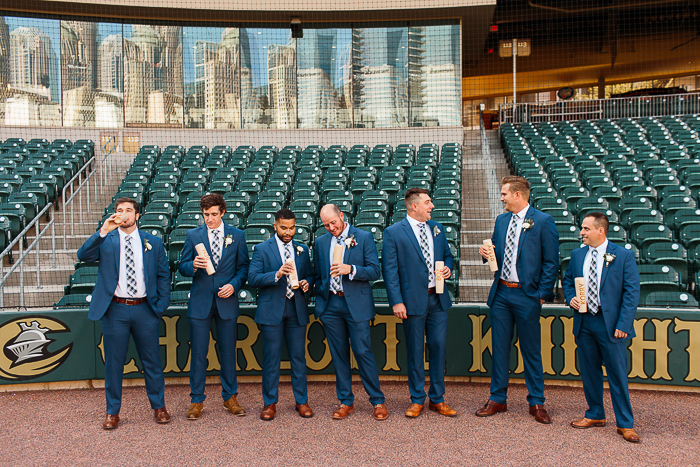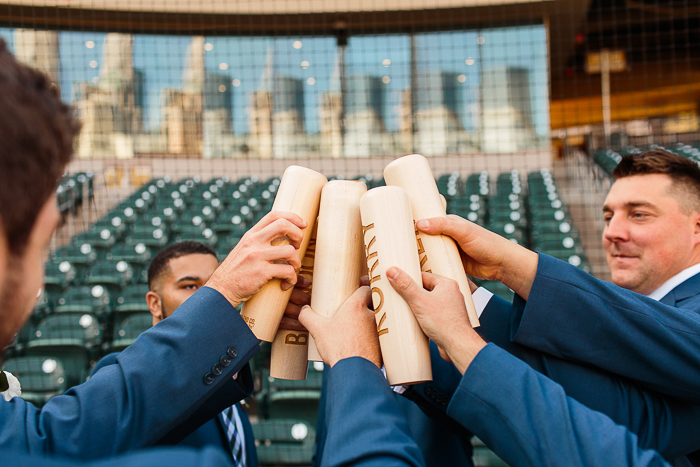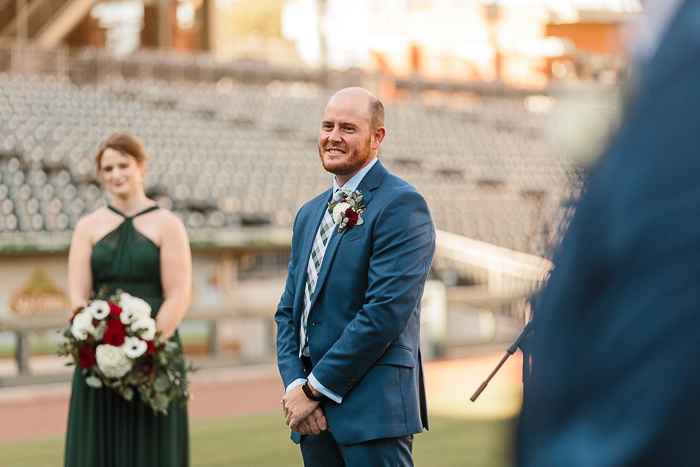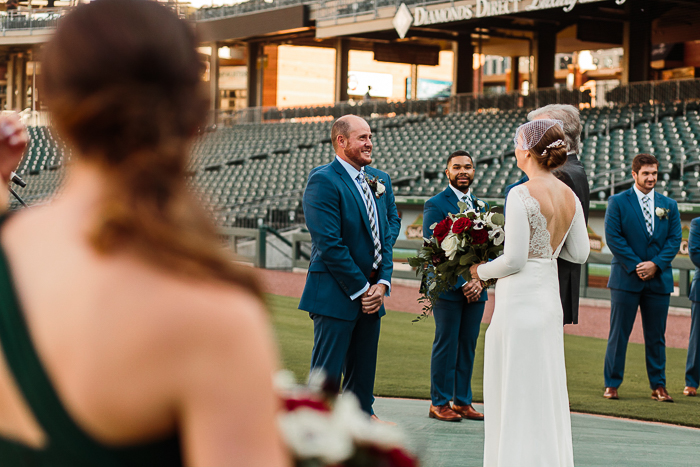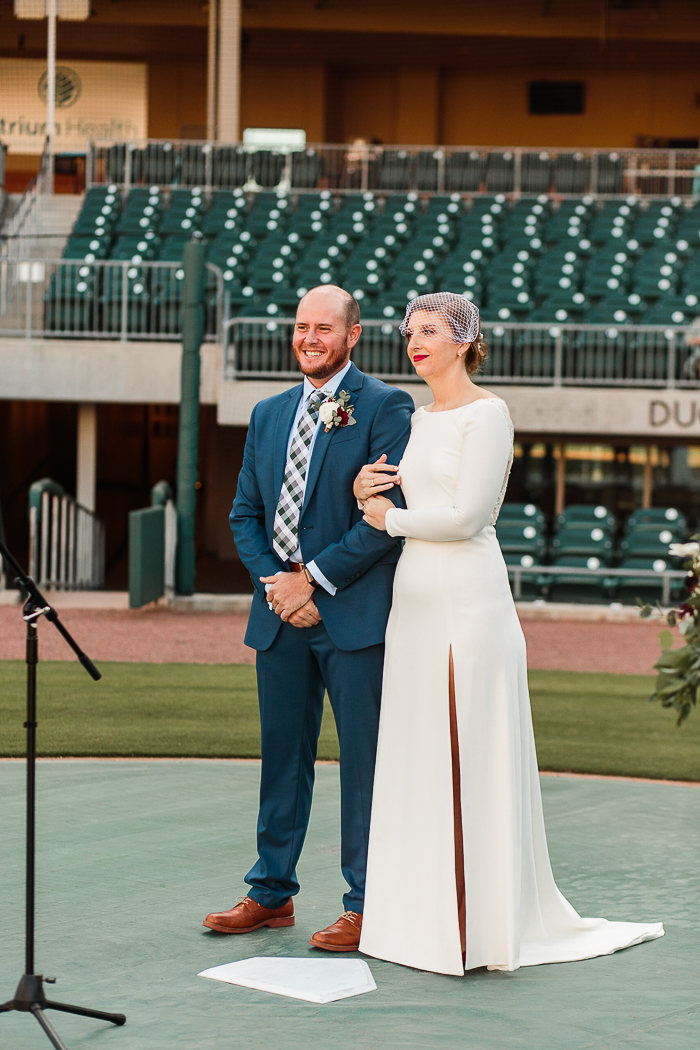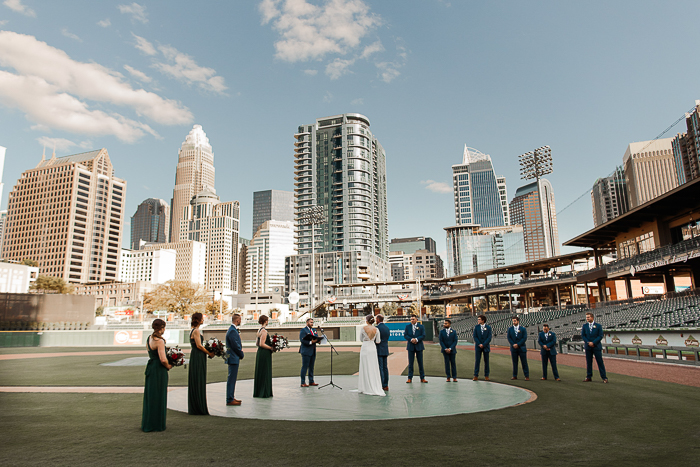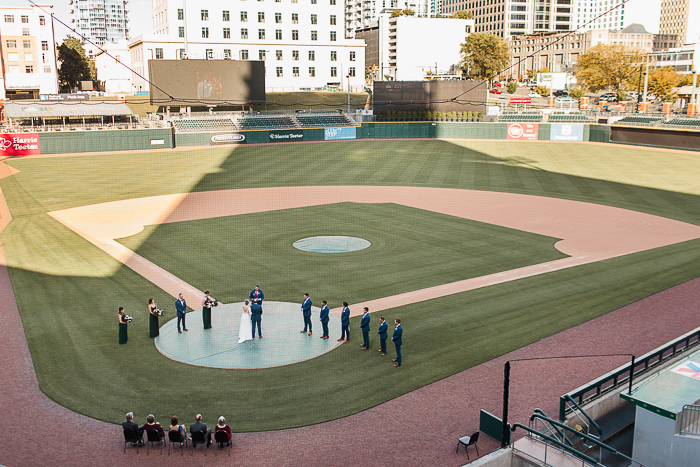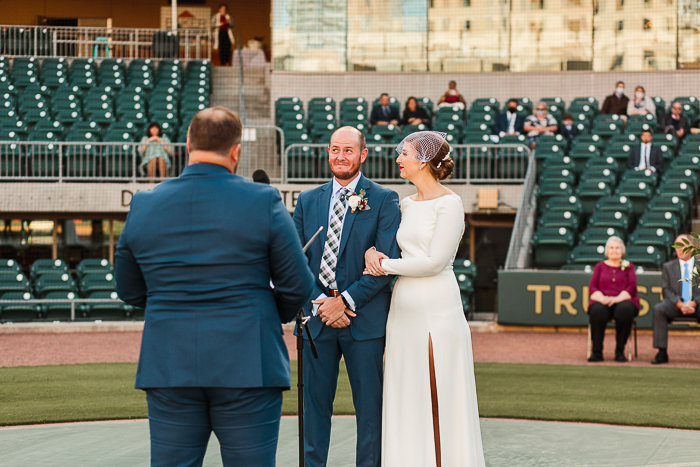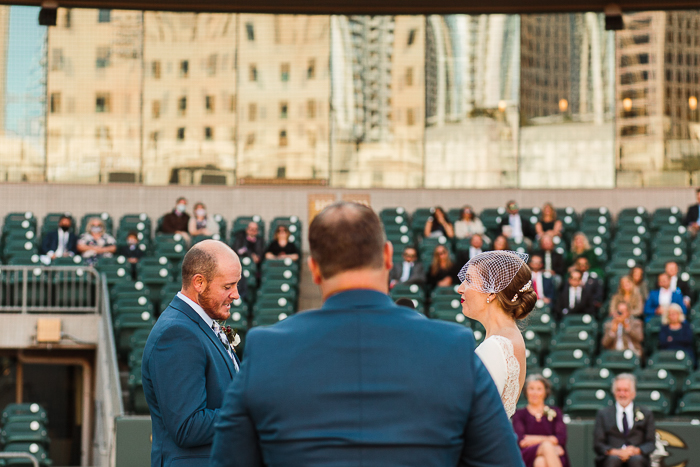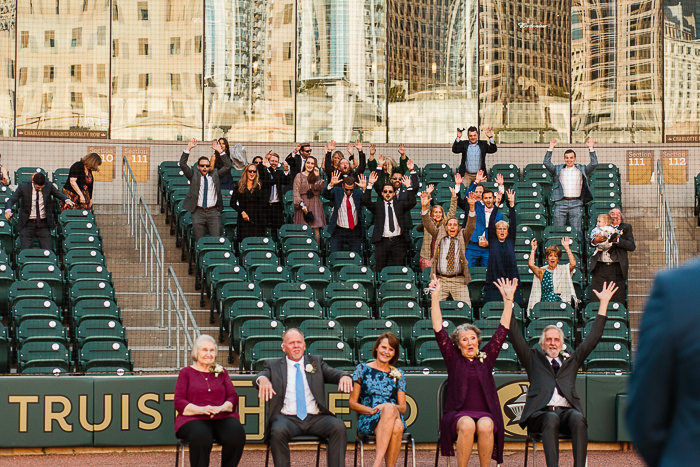 A Baseball Field Wedding That Beautifully Breaks Tradition
We personalized our big day in a few different ways. We chose our own music—Kevin walking out to Pump up the Jam and his groomsmen walking out to Jump Around. I am an avid Pink Floyd fan, so my father and I walked out to an instrumental version of Brain Damage—which I thought was a little tongue-in-cheek given that we were walking across the grass. We also had one of our very good friends marry us. He and Kevin went to rival colleges, so it provided lovely commentary throughout the ceremony, ending with Kevin and I reciting our own vows. After we changed venues, we talked to the baseball staff and they were able to print tickets for us on official ticket stubs that we were able to send out with new information prior to the wedding.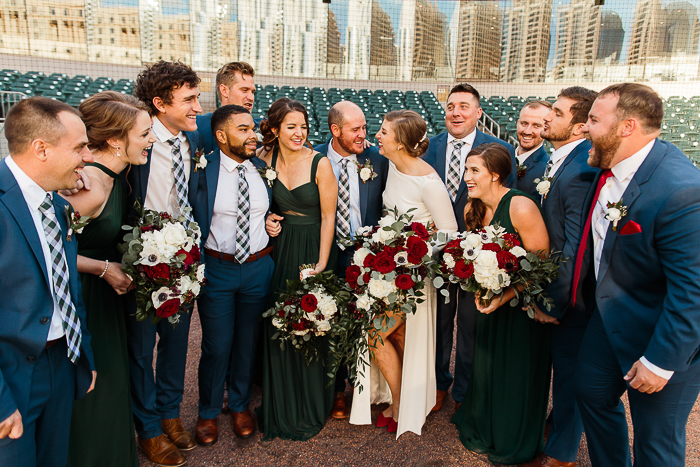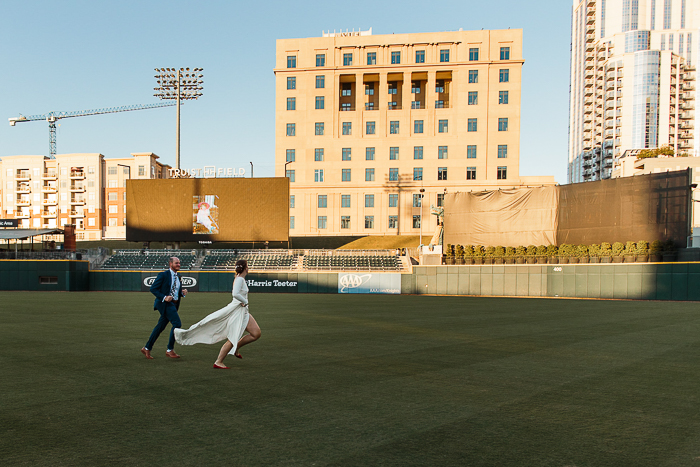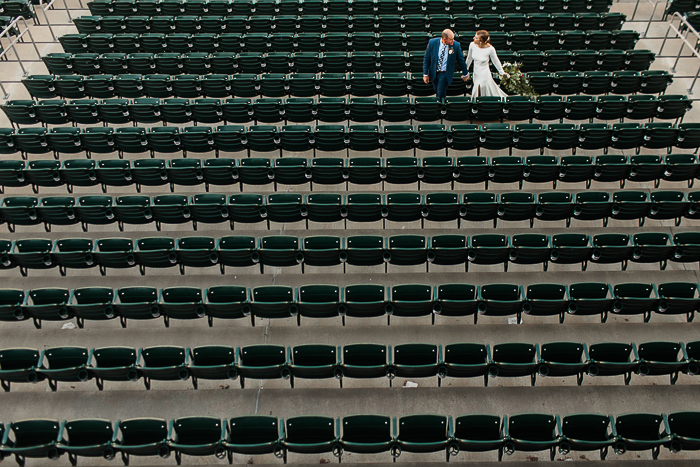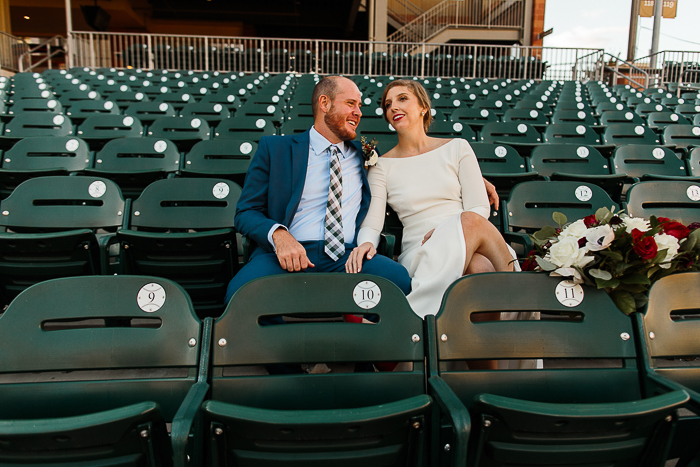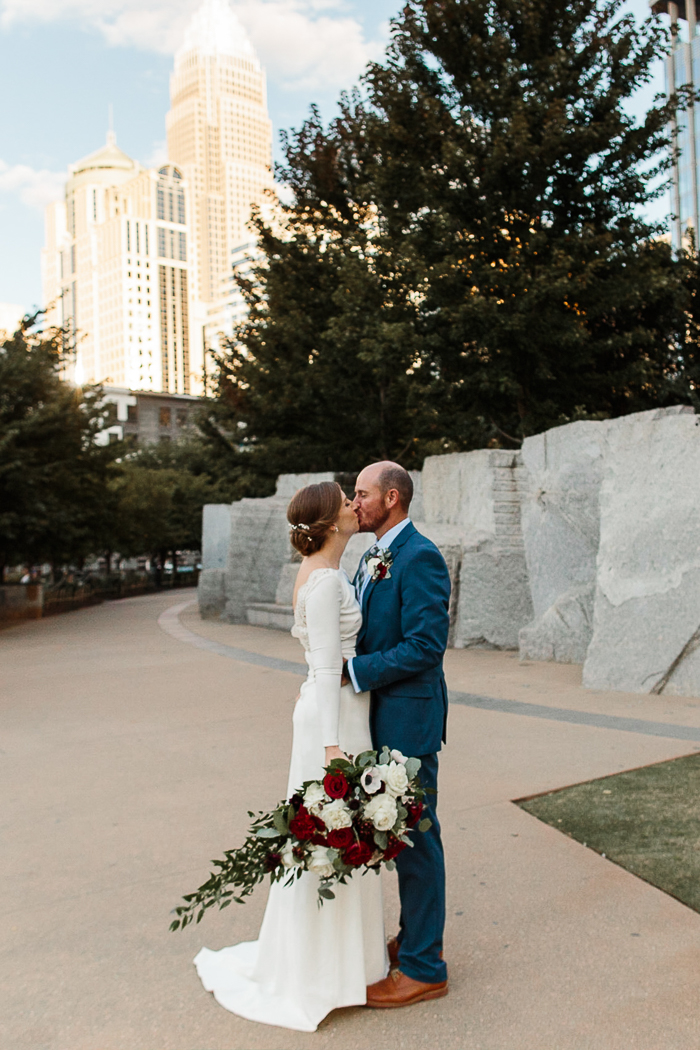 Working With The Stewarts Roam
When we met The Stewarts back in early 2019, we knew immediately that's who we wanted. They were so fun, down to earth, and their photography approach was what we were looking for. As the day approached, we discussed further some specific photos that Kevin and I wanted. On our wedding day, they blended in with everyone else and were able to capture everything seamlessly as it was happening. When the sun went down, and I wanted some night photos, they were all about getting some more photos—whatever we wanted to do, they were all for it. When we got our photos, it was like reliving our wedding.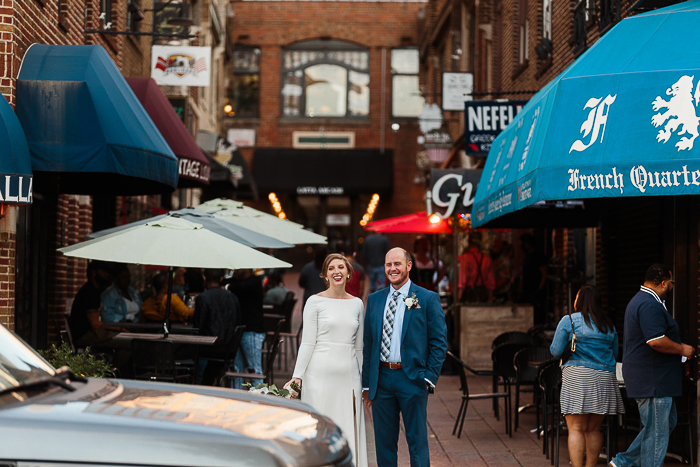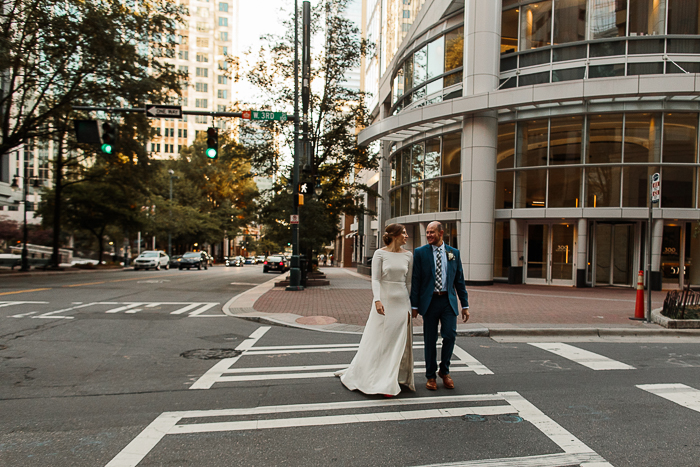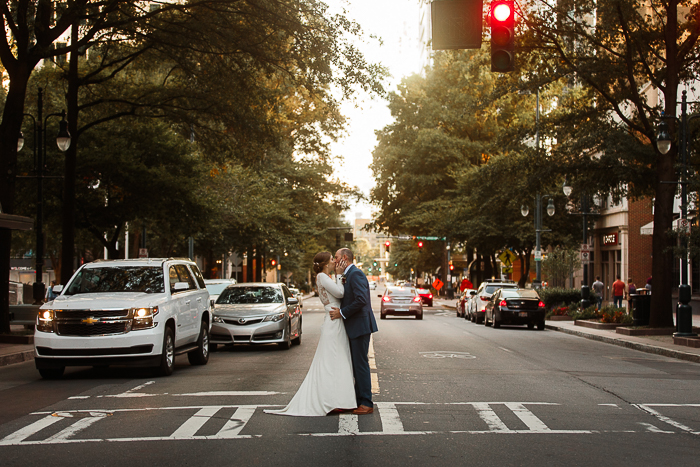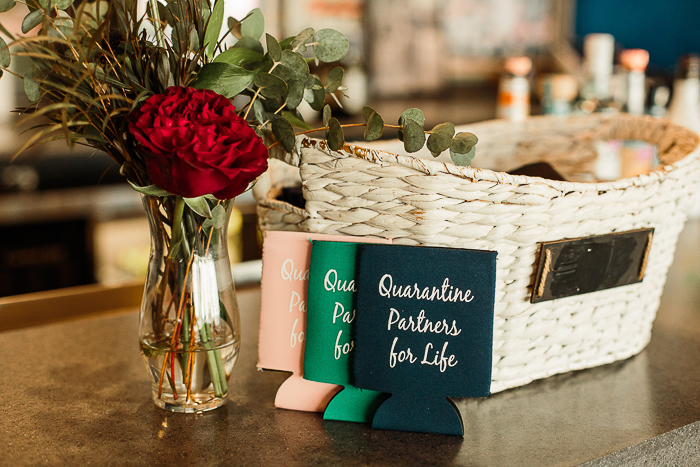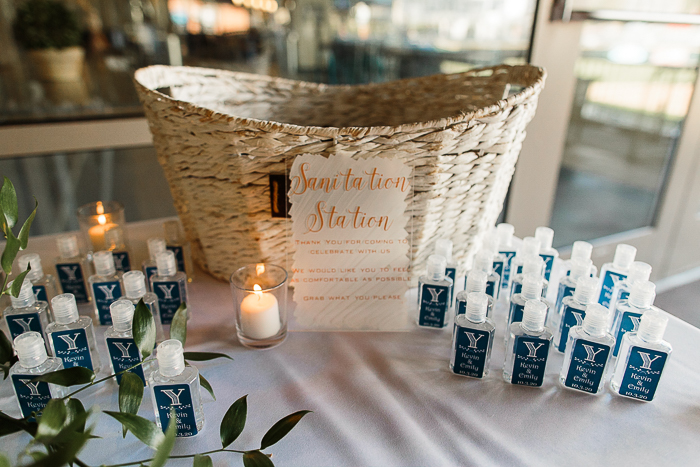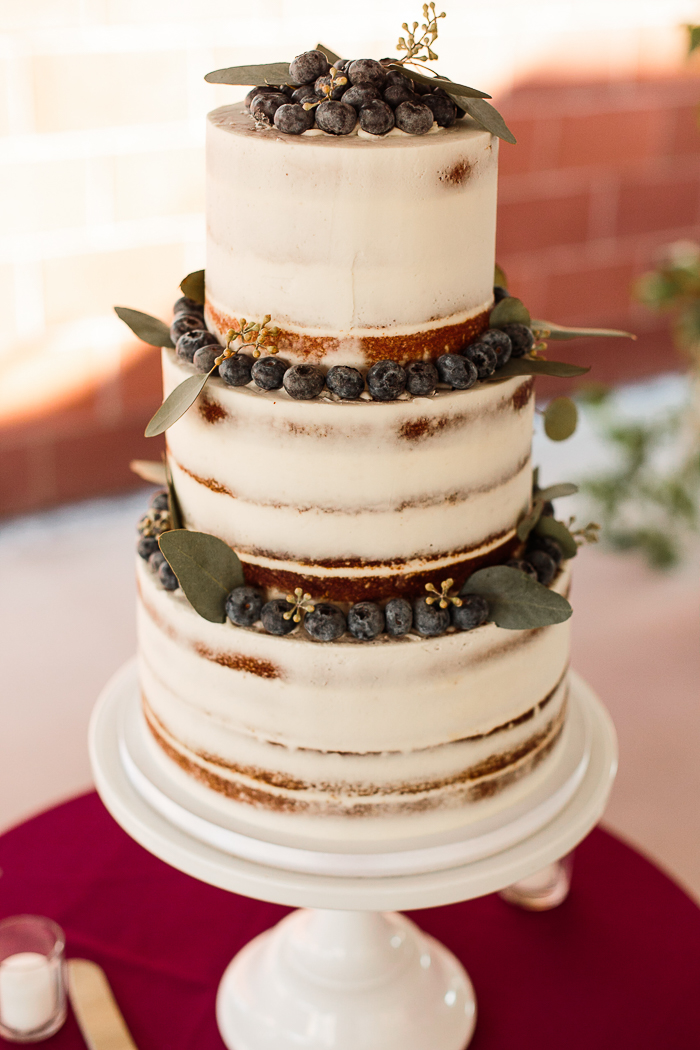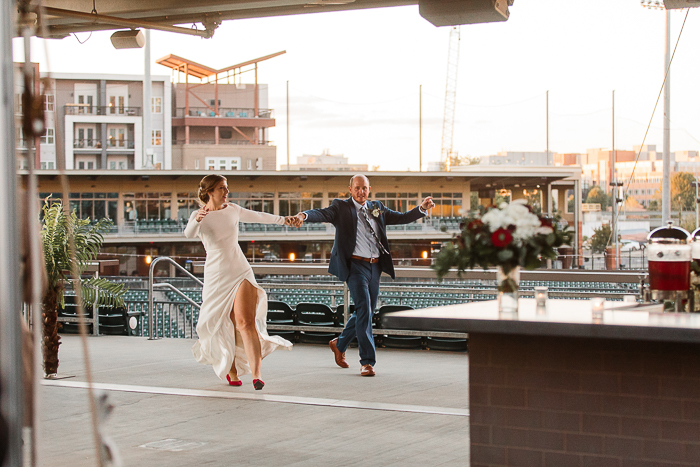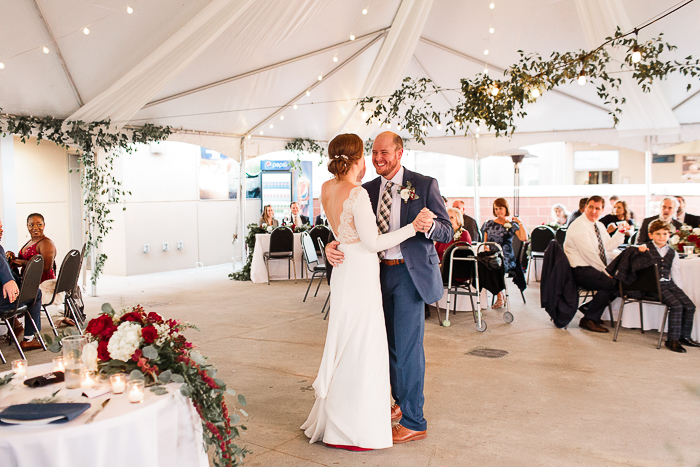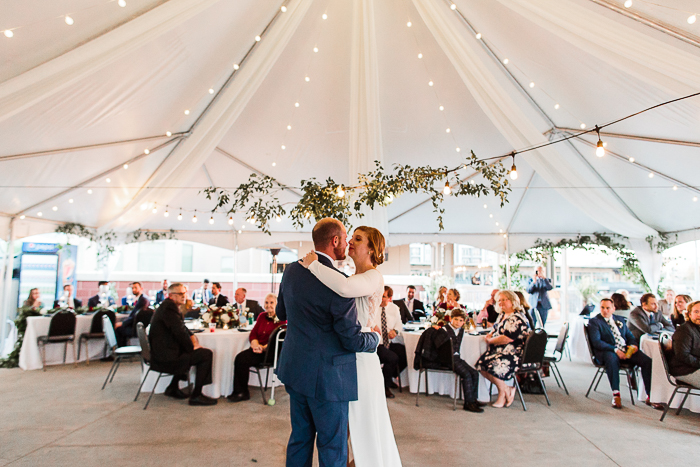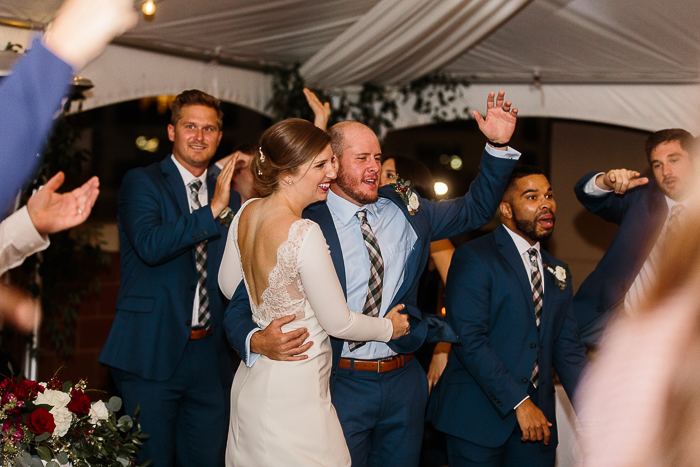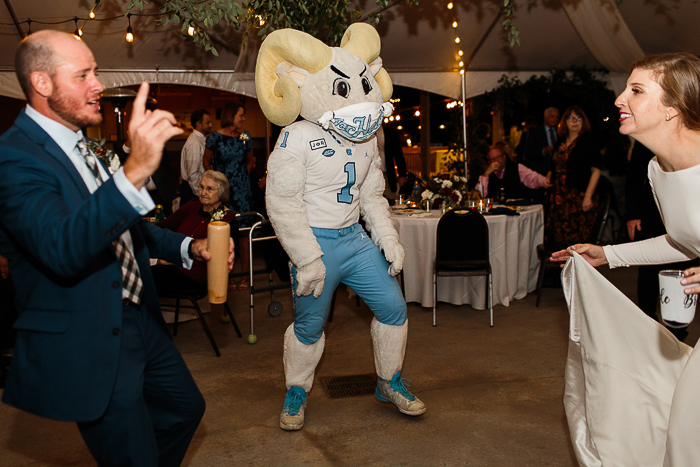 A Fun Wedding Mascot To Get The Party Started
Kevin is a HUGE UNC Tar Heels Fan. He graduated from there a few years ago, and I have always made fun of him for his passionate obsession. We always joked about having Ramses show up at the wedding due to his undying love. Fortunately, Kevin's sister was a cheerleader at UNC and put me in contact with Ramses. After dinner and toasts, Ramses came out to kick off the dancing, and it was amazing! It was definitely a surprise–as only myself, my parents, his sister, and his mother knew. It was a great way to kick off the reception and keep it fun with the smaller number of people. It also helped that we had a lot of NC State fans there to antagonize him.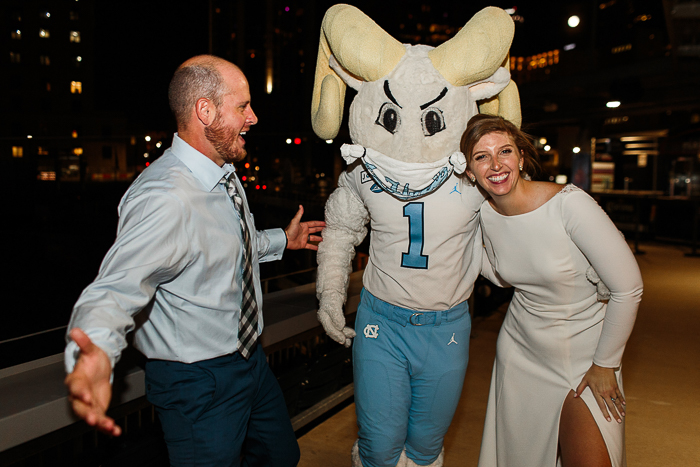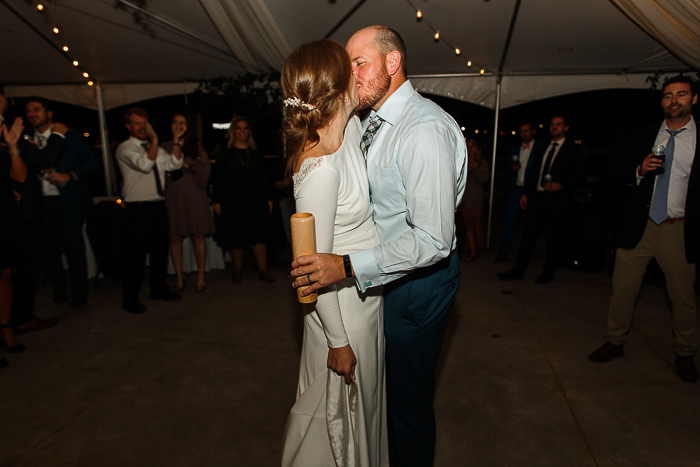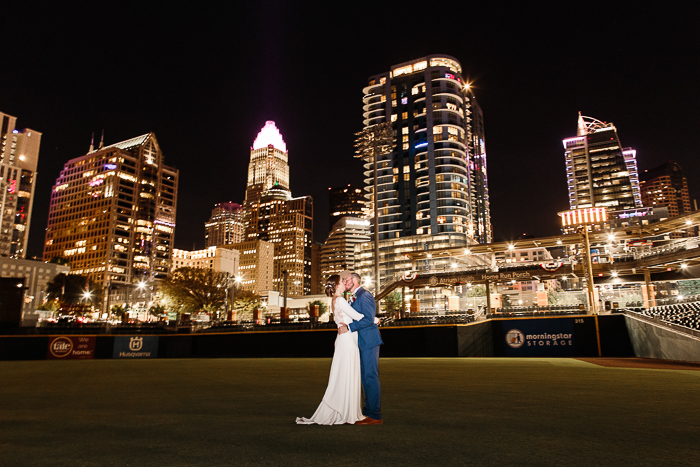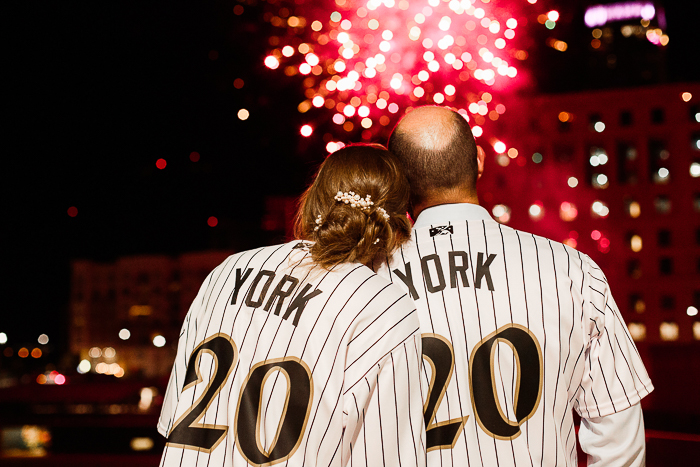 Congratulations to Kevin and Emily on their totally unique baseball field wedding. Many thanks to The Stewarts Roam for capturing all the details this couple put their heart into and sharing these with us! Saying "I do" doesn't always turn out exactly as planned. Sometimes, making a change can be exactly what you need. And just like Kevin and Emily–it all worked out beautifully! Whether you're a couple who's drawn to unconventional wedding ideas and romantic unexpected venues or if you simply want to infuse your personalities into your big day—a celebration that represents you and your partner will be special and memorable no matter what.