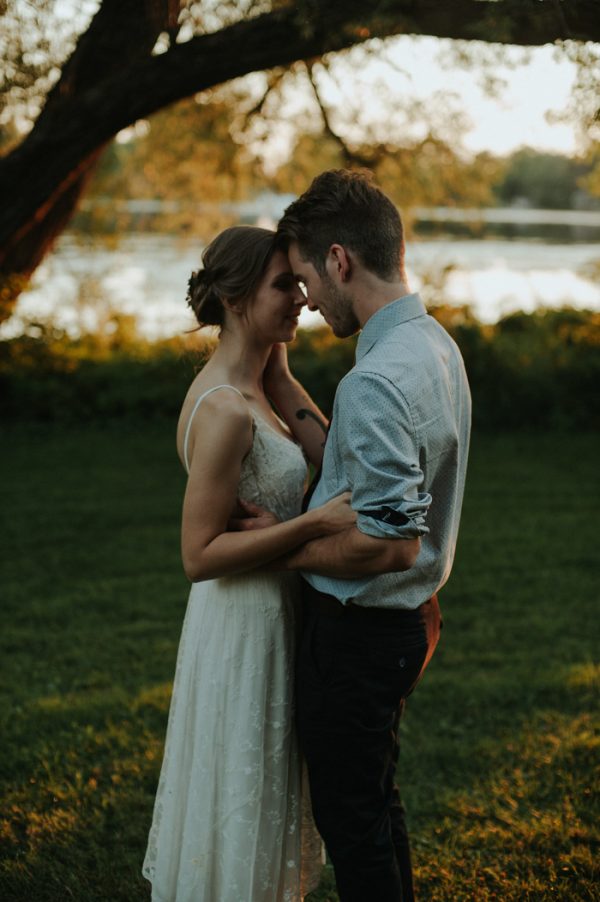 Tori and Kyle's relationship revolves around community, so they wanted their wedding to feel like an epic Thanksgiving dinner combined with a fun summer camp stay! The couple held their summer camp wedding at Rideau Hill Camp in Ontario and incorporated outdoorsy décor details like foraged ferns and handmade signs to reflect their surroundings. Photographer Daring Wanderer captured every heartfelt moment of Tori and Kyle's wedding, including their kazoo processional entrance and DIY tablescapes made with sentimental objects.
The Couple:
Tori and Kyle
The Wedding:
Rideau Hill Camp, Ontario, Canada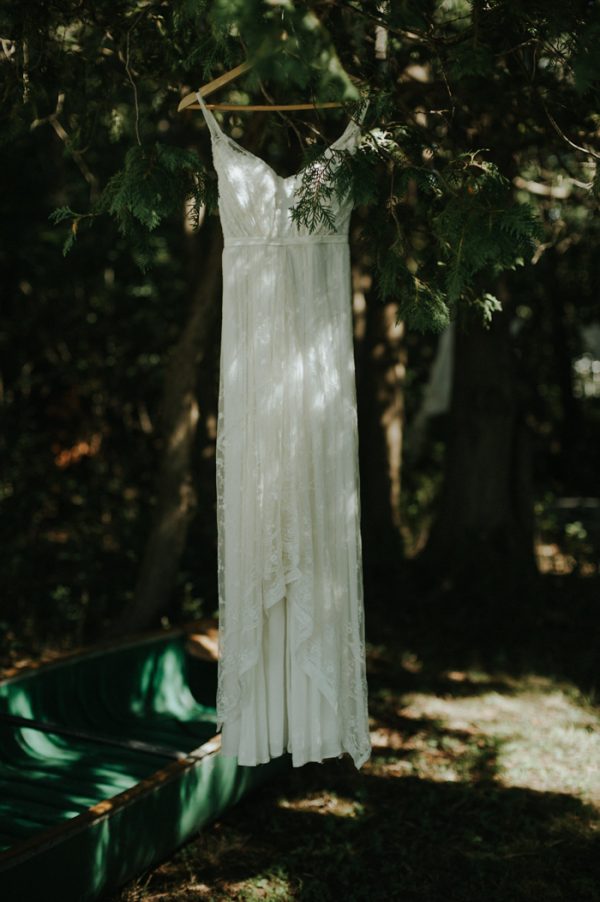 Through our wedding planning, we kept bringing ourselves back to this: "simple, plain, ordinary, and sincere". We'd heard these elements from the Anishinaabemowin nation on Manitoulin Island (Northern Ontario, Canada) who keep these values in mind for their way of life. It helped us keep a good perspective on what was most important for the day and not getting sucked into the big wedding industry machine.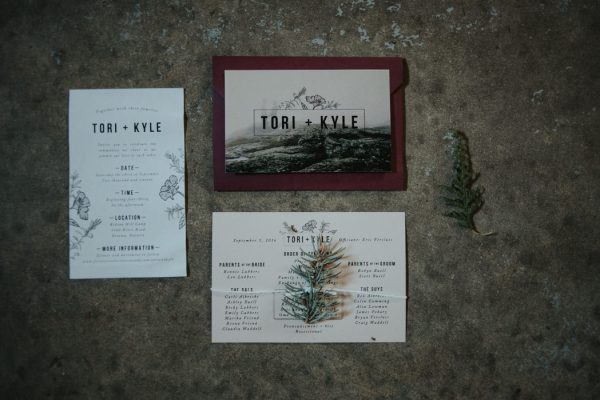 My wedding dress was one of my most loved pieces from the day. My mother had kept her mother's wedding dress all these years, and she (amazingly) agreed to sew my dress herself! The base was a simple white dress from Urban Outfitters. She then added my grandmother's lace to the top, and lace sheaths over the bottom skirt were from a beautiful vintage wedding dress I scored thrifting. I owe a thousand thanks to my mother who spent hours over her sewing matching, bringing what I had envisioned to life! My makeup was simple with natural tones, and I braided my hair up so it stayed out of my face for the day. I'm really not a shoe girl – so I just went barefoot!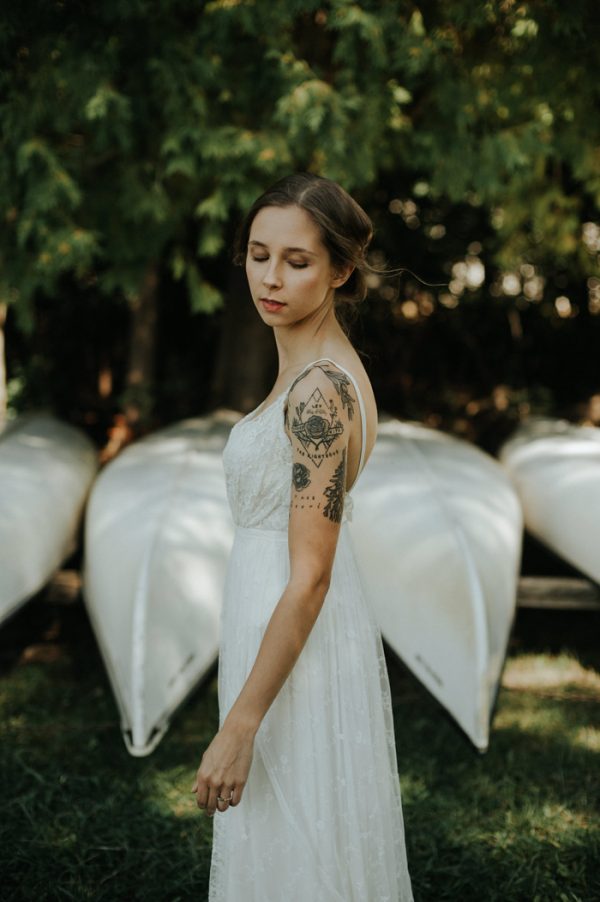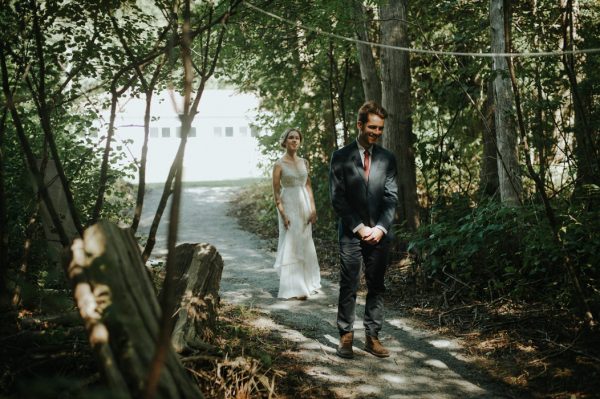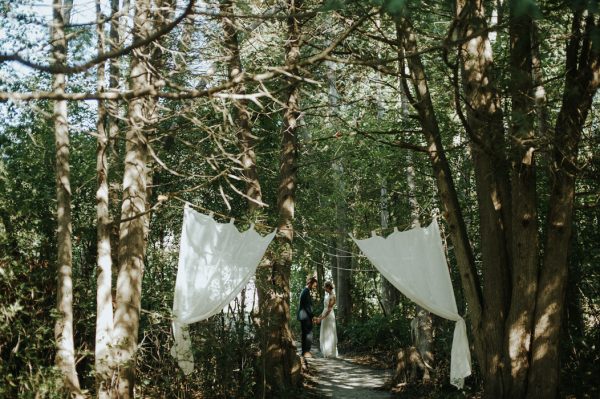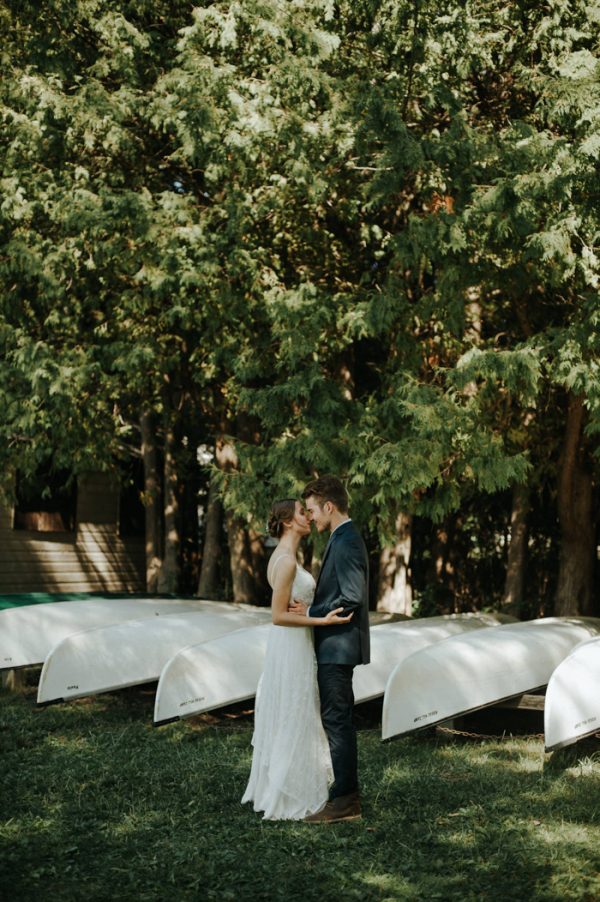 The people were the most important part of our wedding – our best friends, our family that had traveled from out of town, our brothers and sisters, our mentors… So when it came to creating a certain vibe, we wanted to create an open and welcoming atmosphere for everyone to feel comfortable in. If we could put specific words to it, it would be 'gather' and 'community'. Think of a mix between Thanksgiving dinner and summer camp!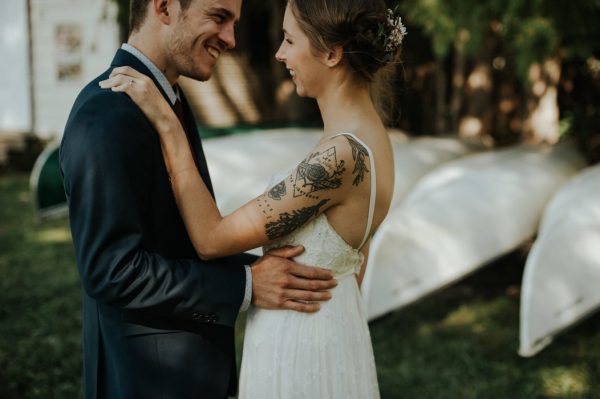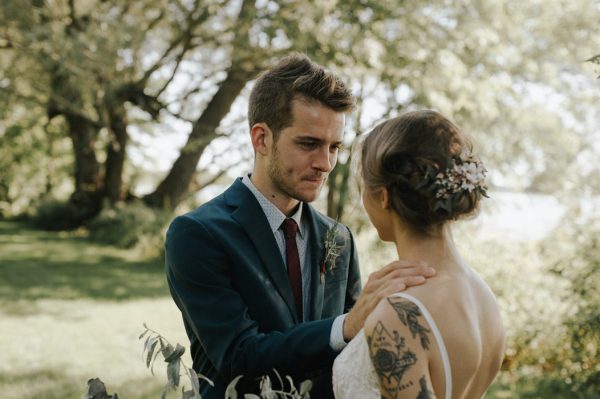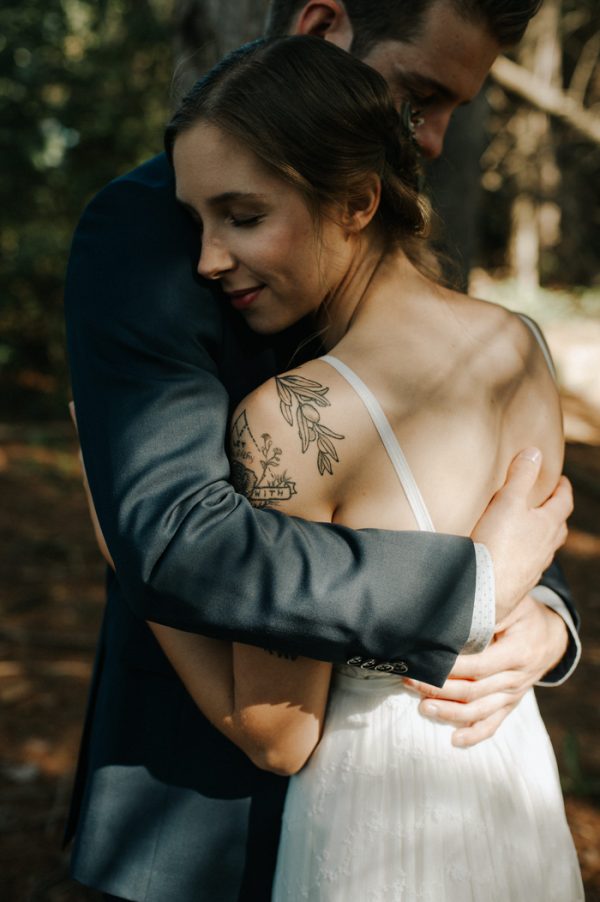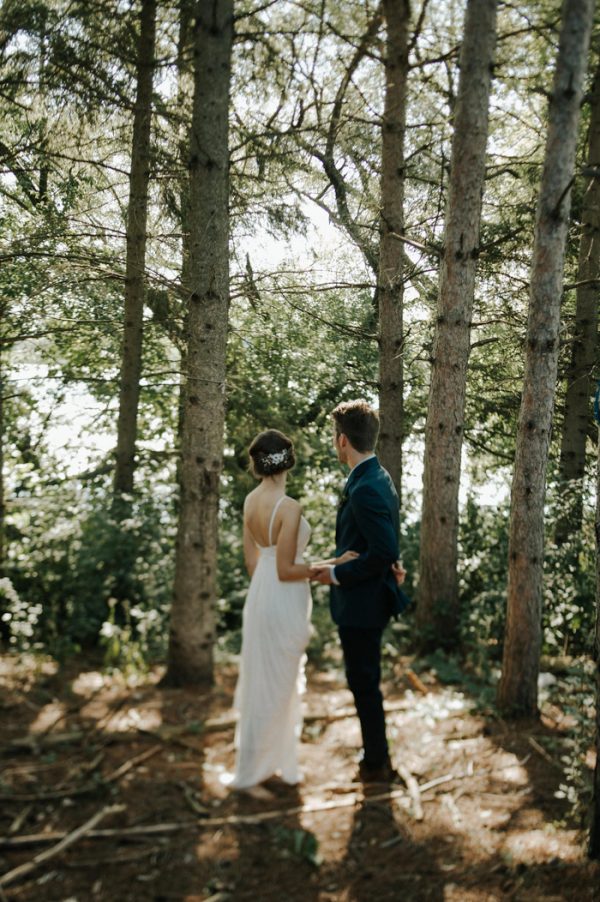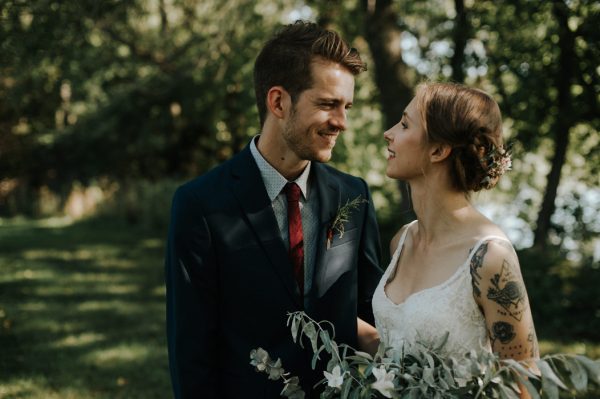 It's a bit embarrassing to admit, but I had actually booked the venue before Kyle proposed to me! I like to plan in advance! Kyle and I wanted our ceremony and reception outdoors and as close to home as possible. When my mother suggested using a nearby summer camp, we visited the space and booked their last available weekend all before I was engaged! They'd never had a wedding before, but they had everything we needed: beautiful grounds for an outdoor ceremony and reception if it didn't rain, rustic indoor areas if it did rain, cabins to sleep in, a full industrial kitchen, and a designated campfire spot! It was incredible having a blank canvas to work with, and we are so thankful for Rideau Hill Camp trusting us with their first wedding rental.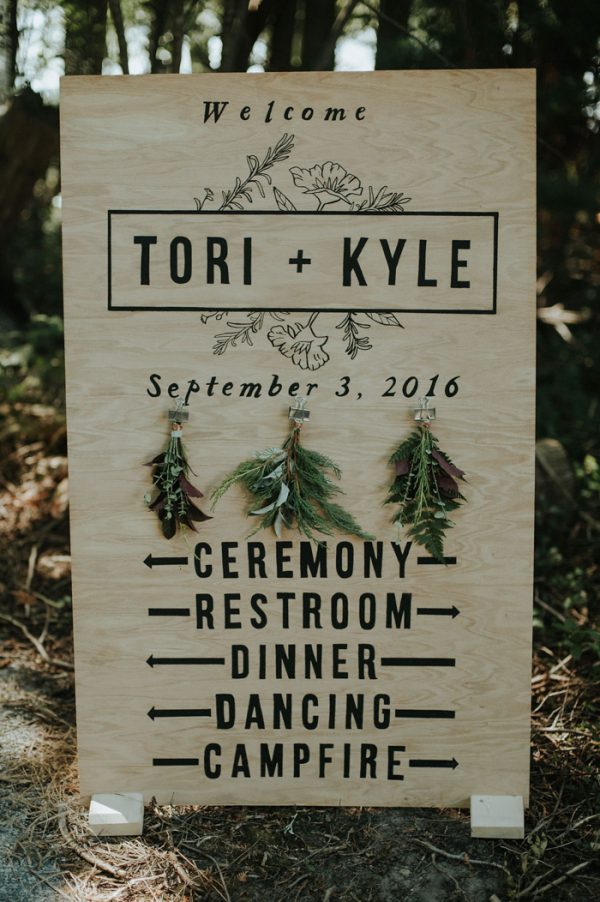 I wanted our colours and florals to remain simple: white and green, with accents of a deep red and blue thrown in. We gathered buckets full of (free!) local greenery and foliage, which made up the majority of our bouquets and other florals. Additionally, we requested that our guests put their phones away for the ceremony so that we could all be fully present instead of observing the day through camera lenses and phone screens. We wanted a photographer we knew we could rely on, and we had absolute trust in Jess's ability to do this :) It was relieving to not worry about capturing a moment with anything but our own eyes. We were at ease, knowing Jess would capture it all, and beautifully too!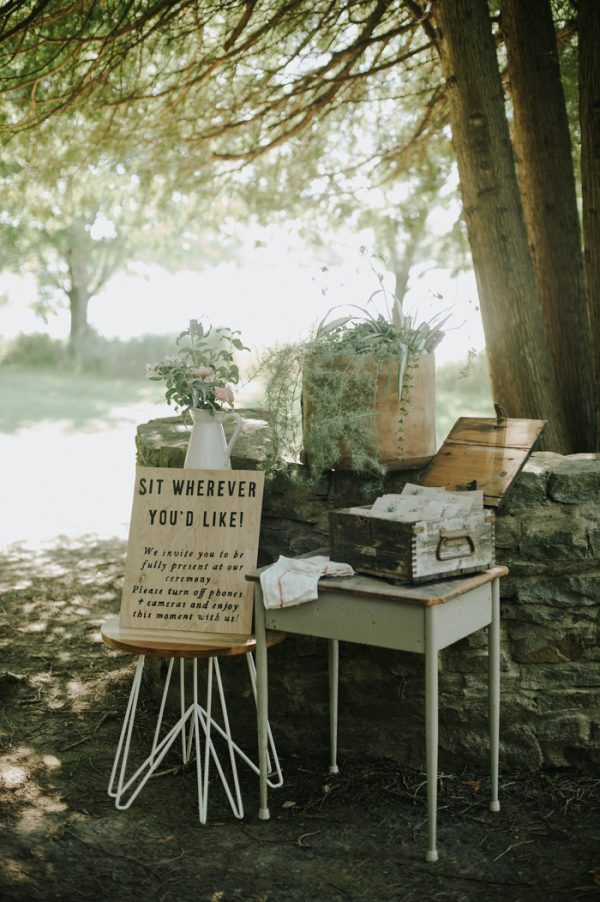 One huge way we saved money was designing and printing the paper stationary ourselves – the invitations, RSVPs, and ceremony programs. Kyle and I tied a piece of pine around each ceremony program for an extra touch.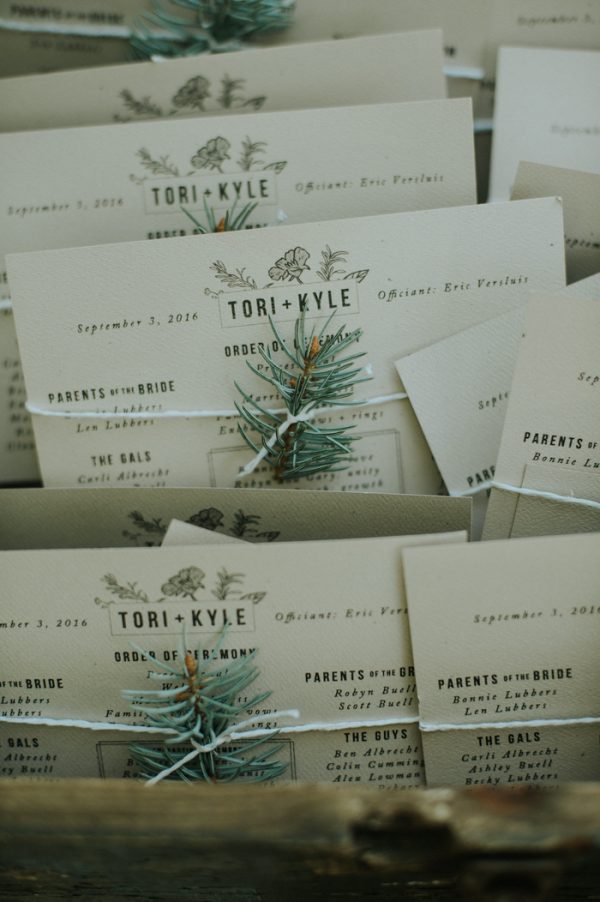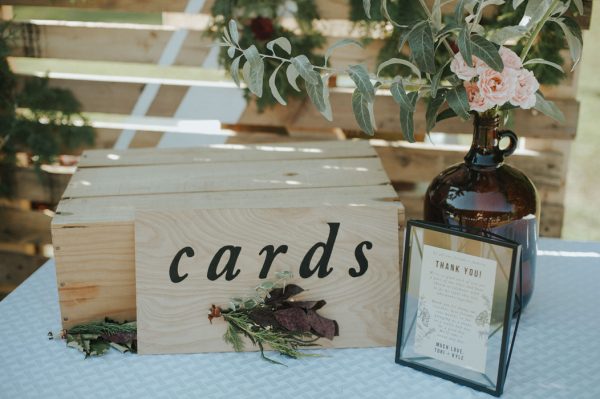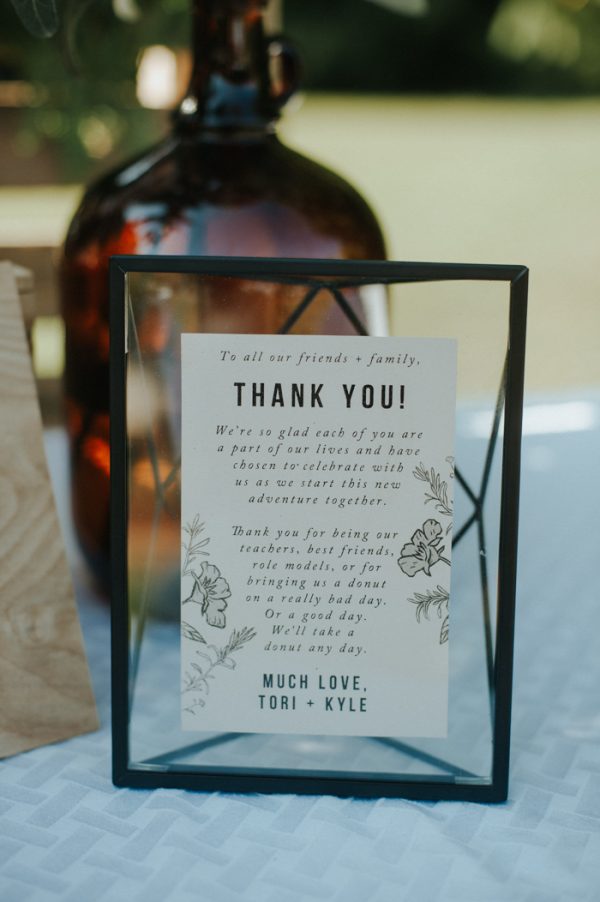 For the girls' dresses, the colours expanded to include shades of blush and pink so that a few of the gals could wear dresses they already owned. As we included more colours beyond the green and white, we kept those colours muted instead of vibrant and I think that is what helped it all fit together.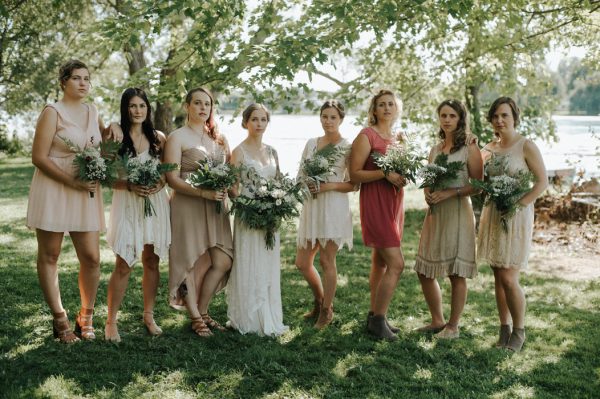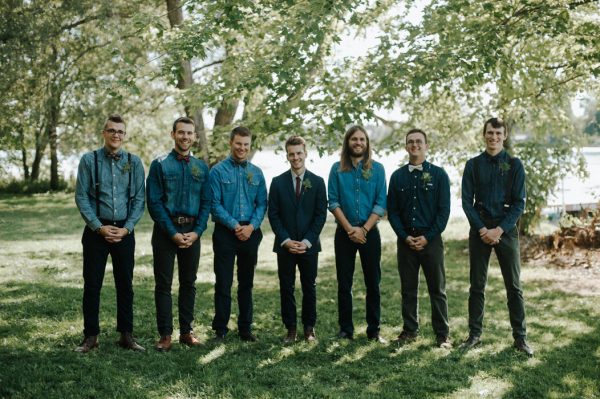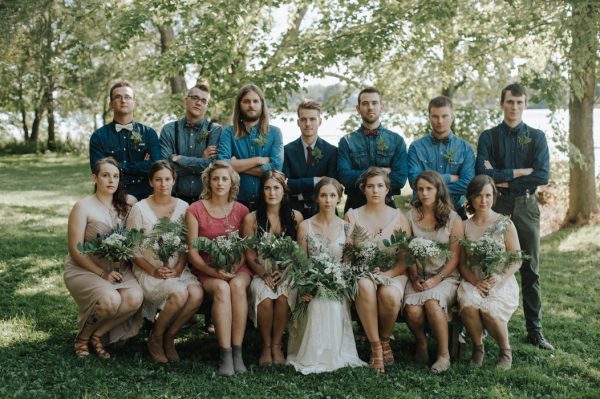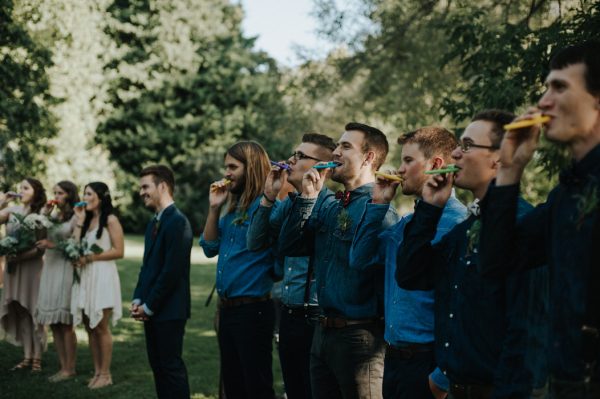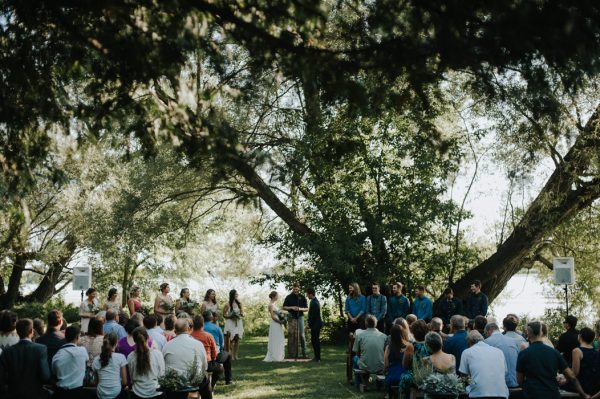 We kept the rest of the ceremony simple to focus on the content of our actual joining together. Part of the ceremony was a Handfasting ritual, where various friends and family symbolically bound our hands together. The colourful ropes we used for this were bits of purchased and saved fabrics from our friends, simply braided together.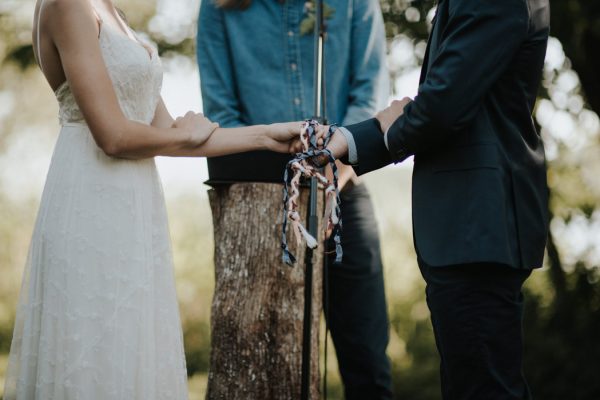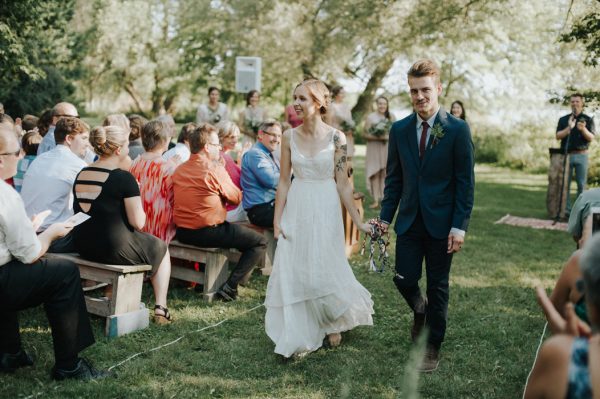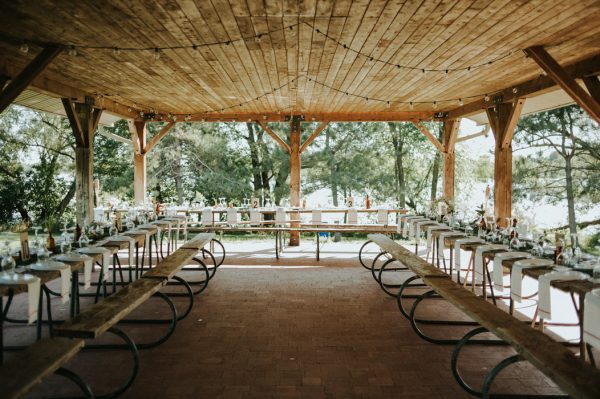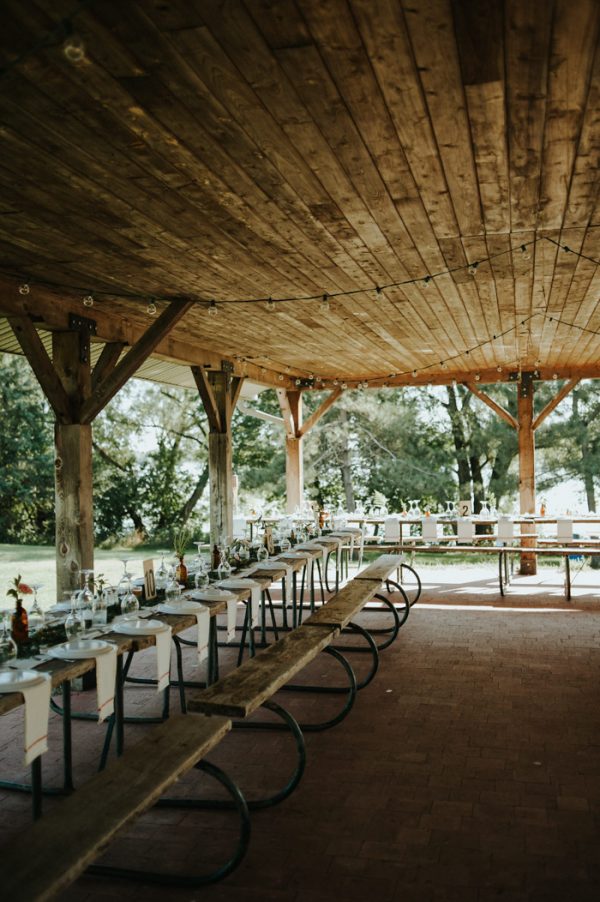 While not spending beyond our small budget was important to us, having high quality, beautiful, lasting photos of the day was one of our top priorities. I spent what felt like days researching photographers that were in country (Canada) so that travel fees would be less. After not finding anyone with the photography vibe I was looking for, I stumbled across Jess's work on my Instagram explore page! We looked through her entire online archives and were in love. We saved money elsewhere through many handmade projects so that we could spend the majority of our budget on photos. We wanted beautiful photos to look back on for the rest of our lives, and to pass onto our family – and we are so happy with Jess's work!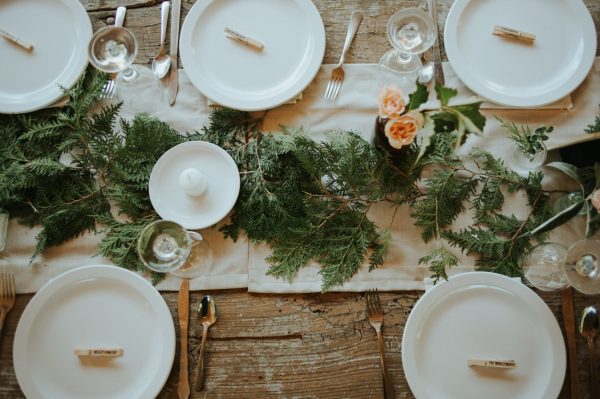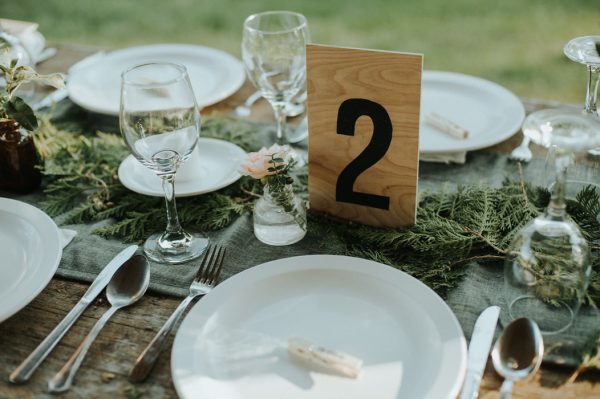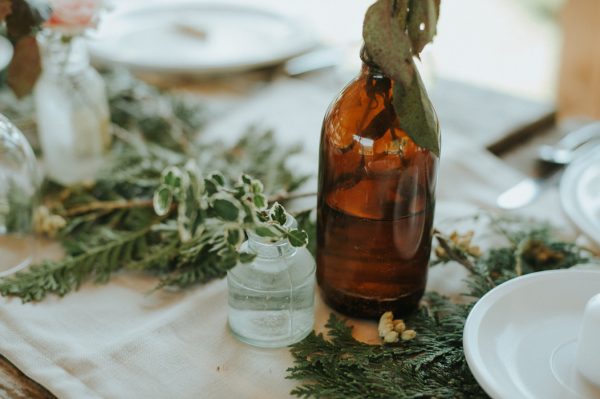 We put a lot of work into the reception area, with a wood pallet wall, cedar wreaths, hooks to hang our bouquets up… We made table runners from curtains and cloth napkins from dish towels – we found we could save a lot by buy larger materials then cutting them into smaller pieces! I've been collecting vintage glass bottles since I was in high school, so we scattered them across the picnic tables and filled them with greenery and flowers.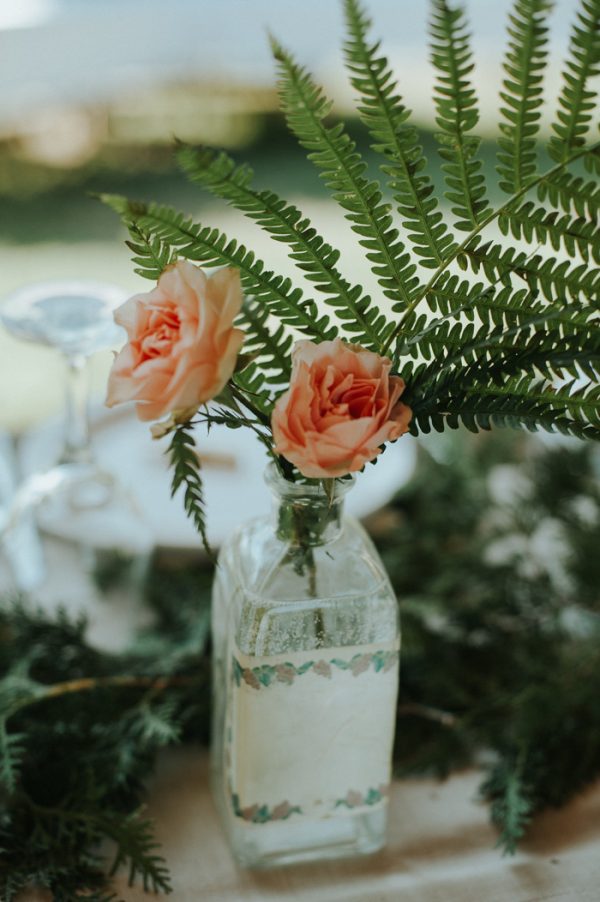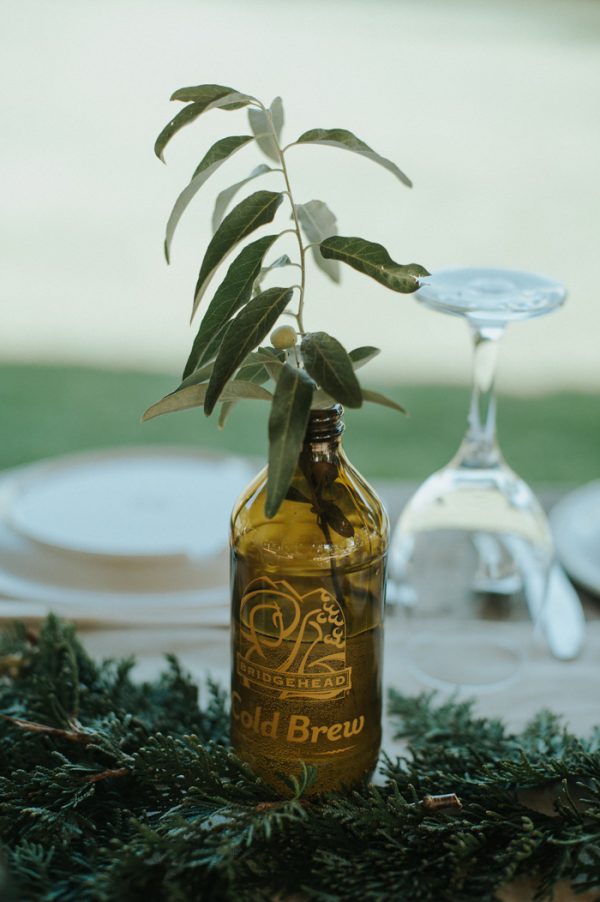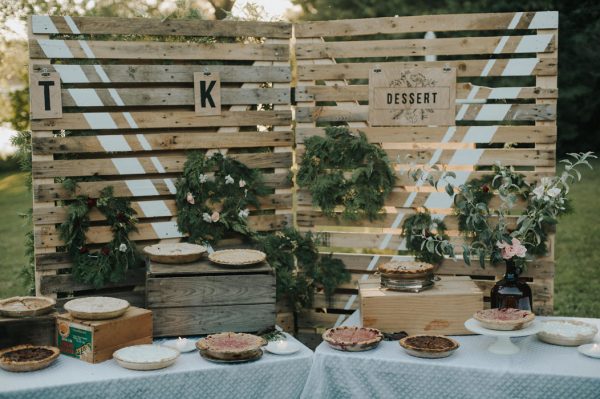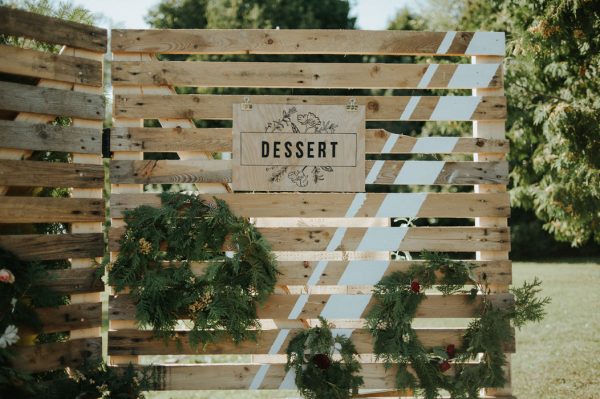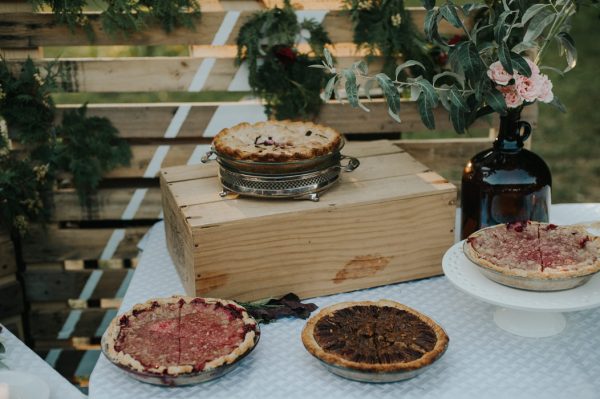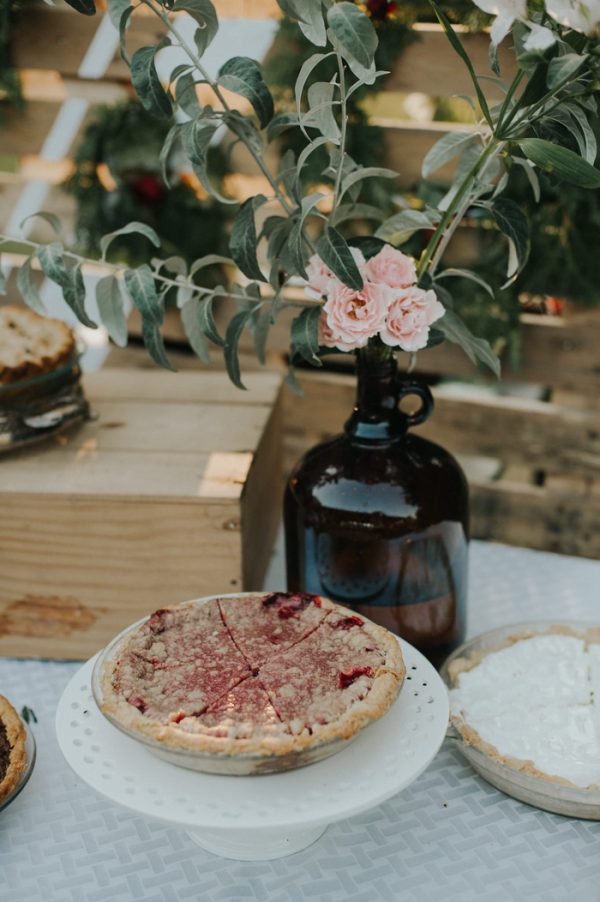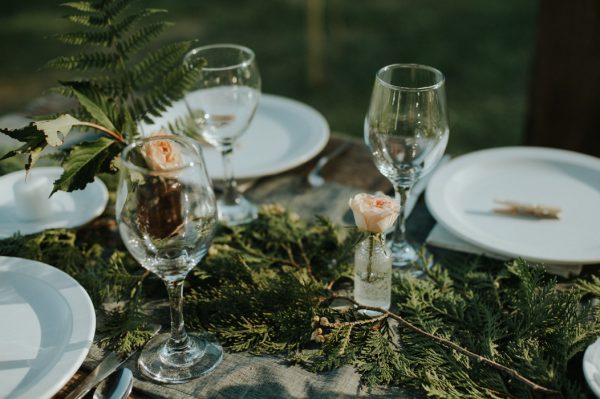 My favourite project were the brown paper bags with the menu printed on them. My mum sewed the bottom together, we placed a homemade bun inside, and pinned the top closed using a clothespin with each guests' name on it!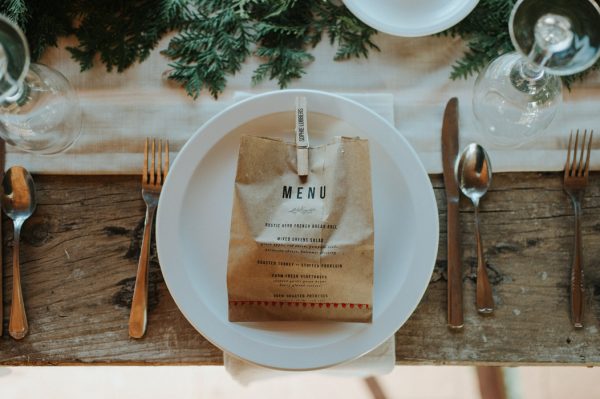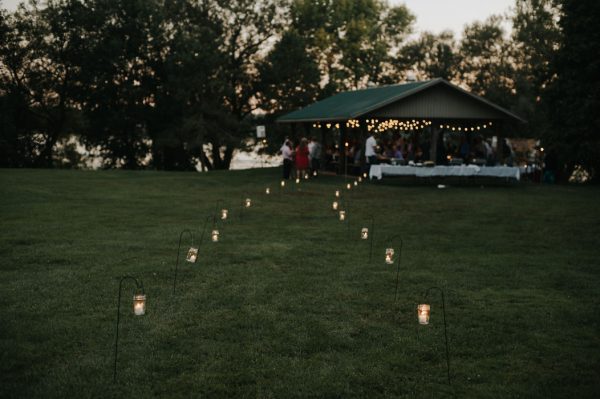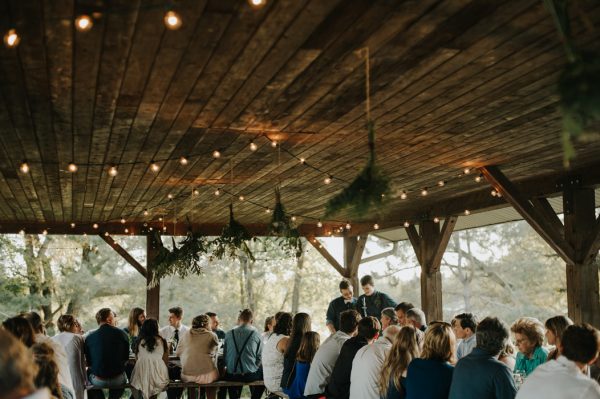 There are a few moments that stand out in our minds when we were looking out at our friends and family the enjoying the night, feeling so thankful and full of love for each of them! Right after our wedding, we left to travel India for half a year – so knowing it was the last time we'd enjoy their company for a while was definitely bittersweet.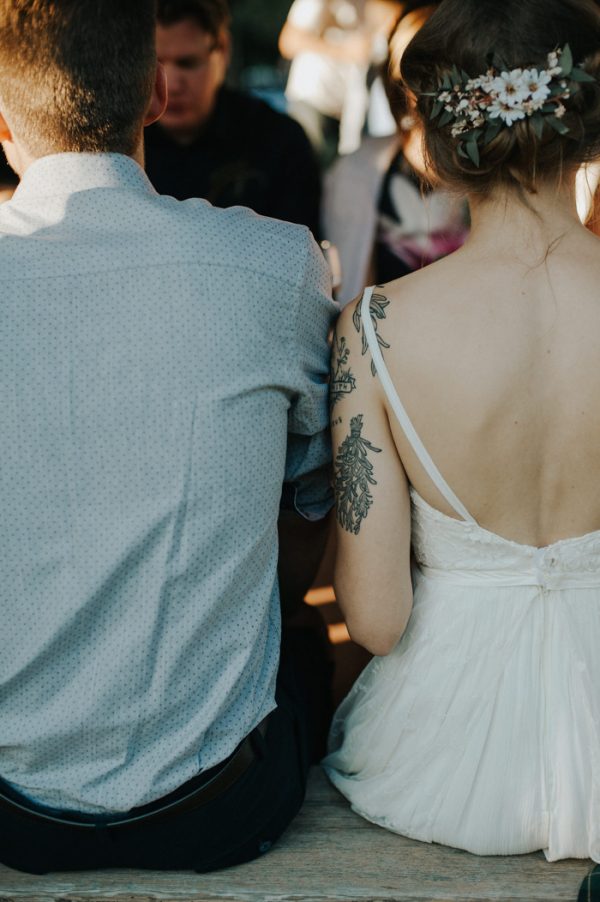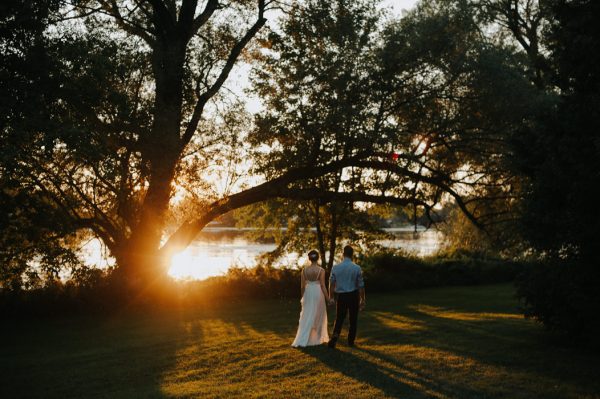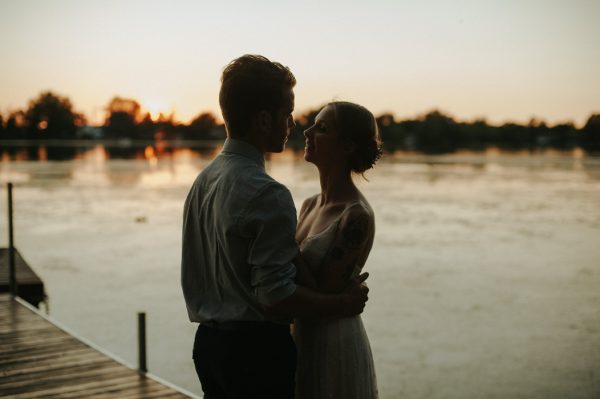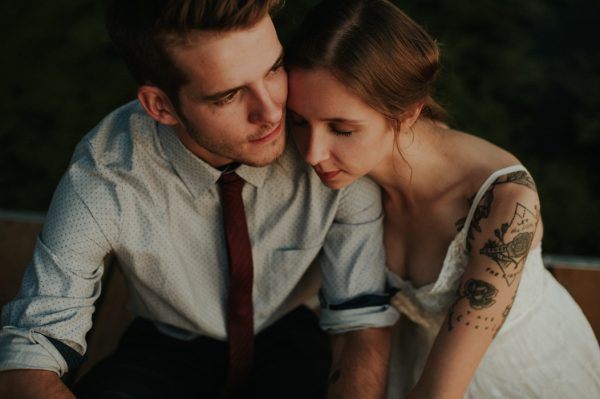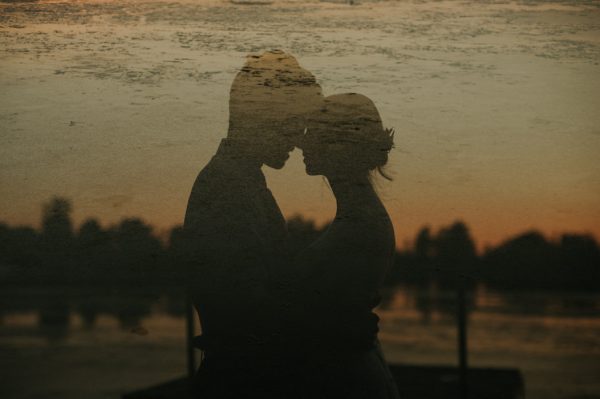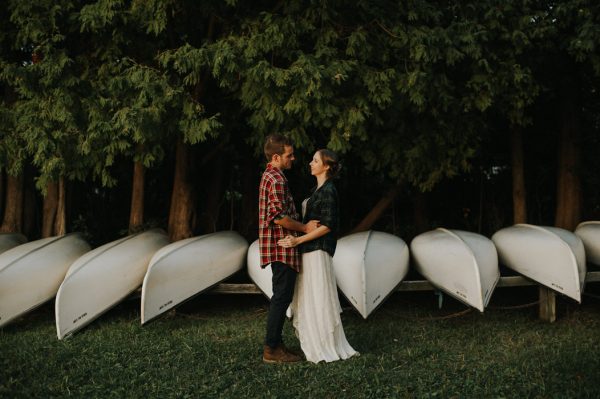 A few other moments that stand out in our mind are the kazoo processional entrance (so much joy and laughter filled us in that moment!), our first dance to Gregory Alan Isakov (everything faded into the background and it was just the two of us), each of the wedding party recounting a short story or rap or poem about us, and after all the dancing was done, we joined some of our closest friends and talked and laughed for a few more hours around the campfire.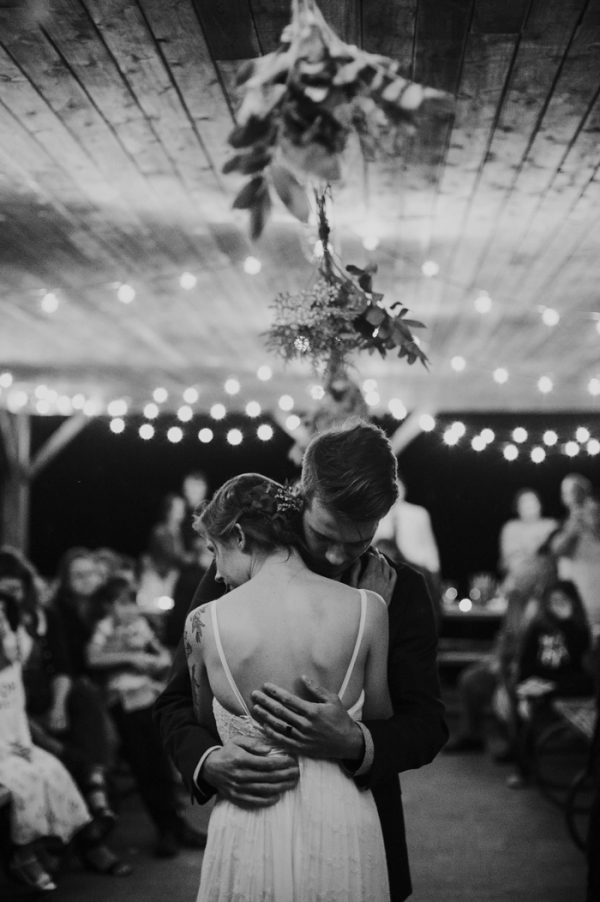 Processional Song: Ben Howard – Promise
Recessional Song: Lord Huron – She Lit A Fire
First Dance: Gregory Alan Isakov – Words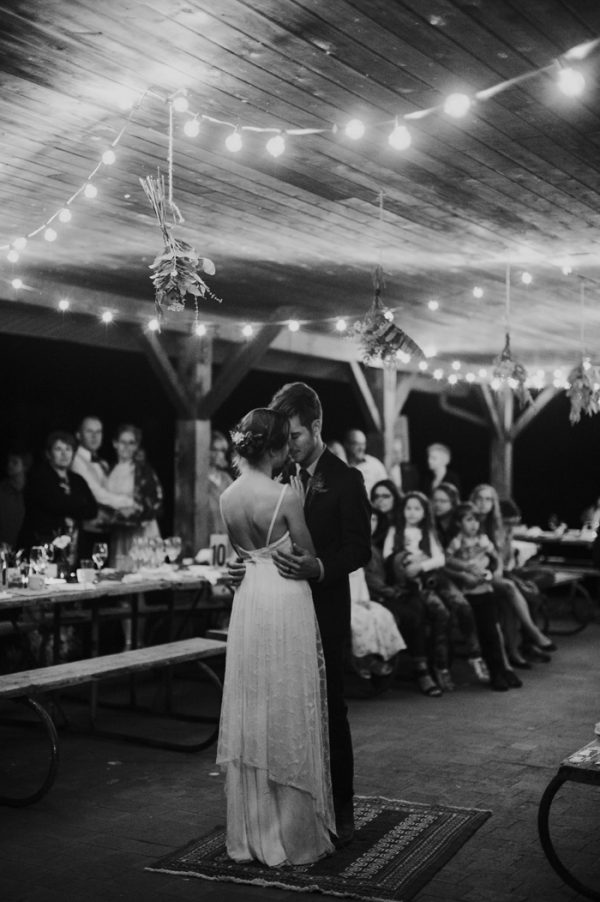 Congratulations to Tori and Kyle, and a very special thanks to Junebug member Daring Wanderer for sharing their wedding with us. Looking for more summer camp wedding inspiration? Then you've got to see this black and white Muskoka wedding at Camp Mini-Yo-We!