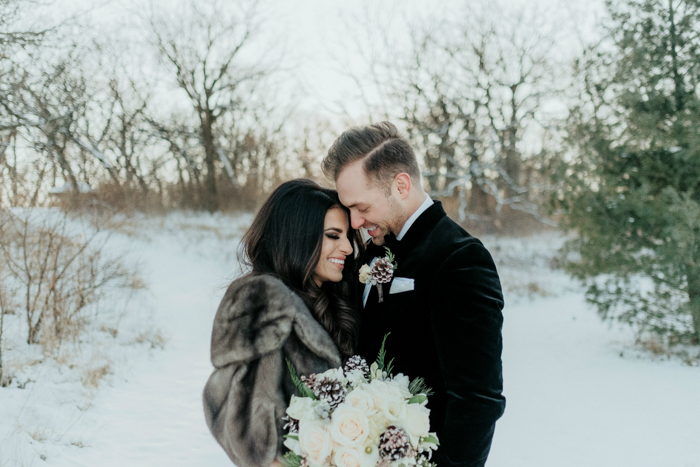 Between the glamorous gowns, the snow-covered farm, the reindeer, and all the desserts a sweet tooth could hope for, Jennifer and Bradley's NYE wedding at The Pavilion at Orchard Ridge Farms was pure winter magic! Despite the freezing temperatures, Forged in the North managed to capture the true essence of this winter wonderland wedding to the fullest extent. When this sweet couple wasn't romping through the snow, they were exchanging vows and toasting to the New Year in the glow of twinkle lights, candles, and sparklers. They filled the ceremony and reception spaces with pine trees, garlands, velvet, rustic-vintage table accents, and a stunning display of florals. And, as if all of that was spectacular enough, Jennifer rocked a Galia Lahav mermaid gown and fur stole for a Gatsby-inspired look that elevated this already glamorous wedding to a whole other level!
The Couple:
Jennifer and Bradley
The Wedding:
The Pavilion at Orchard Ridge Farms, Rockton, Illinois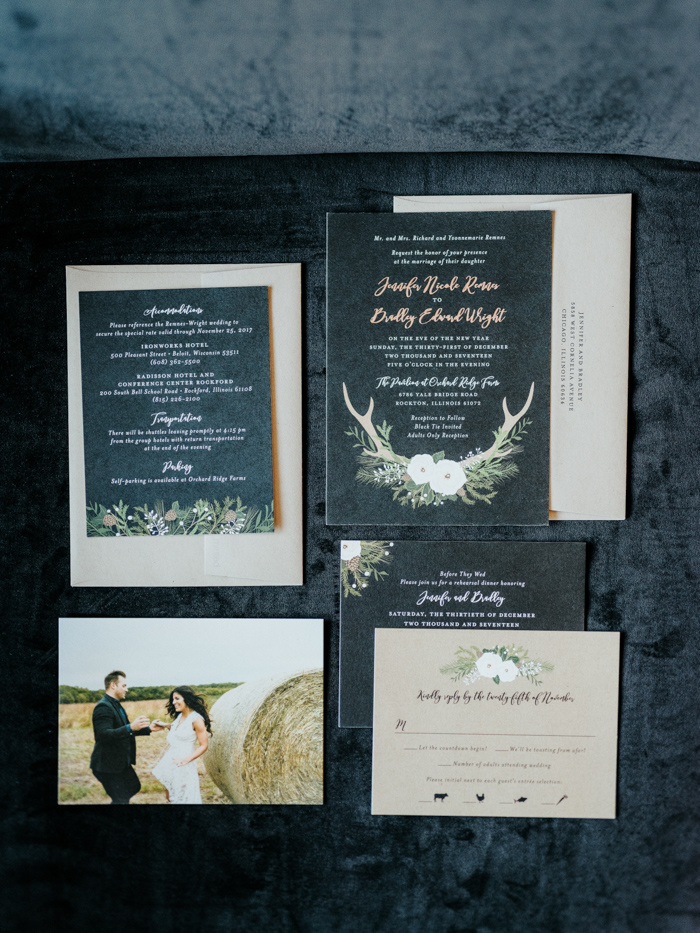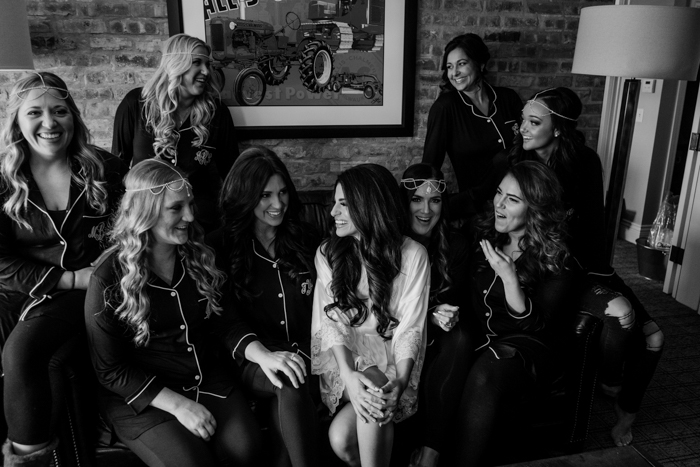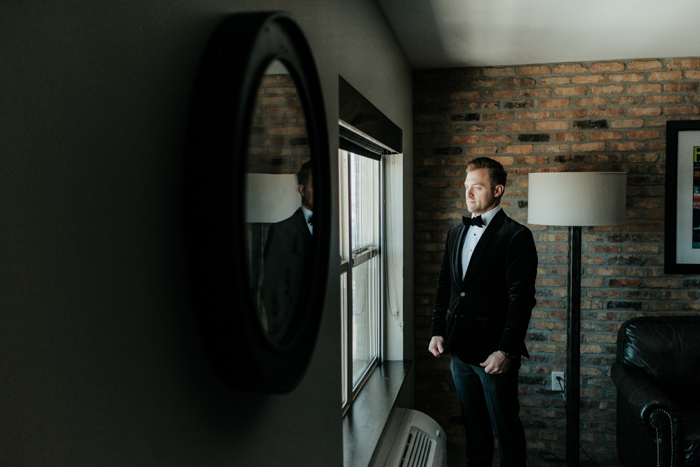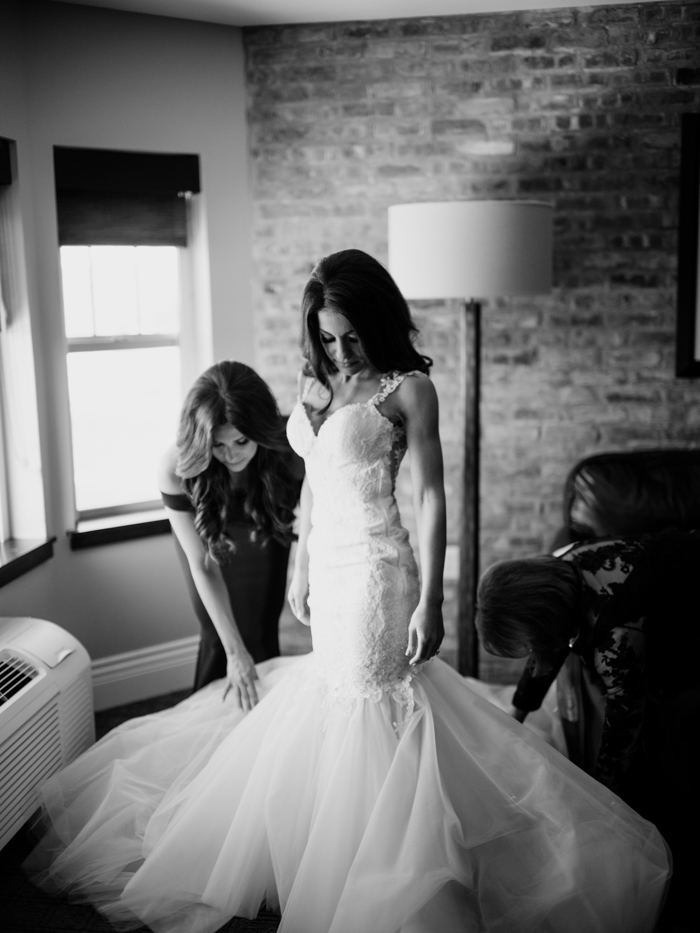 Brad and I chose the coldest day of the year to wed. Our entire bridal party was forced to lodge Hothands warmers in every nook and cranny while sprinting to and from the barn for outdoor portraits. Despite the frigid temperature, our incredible photographers and cinematographers still managed to capture so much raw emotion.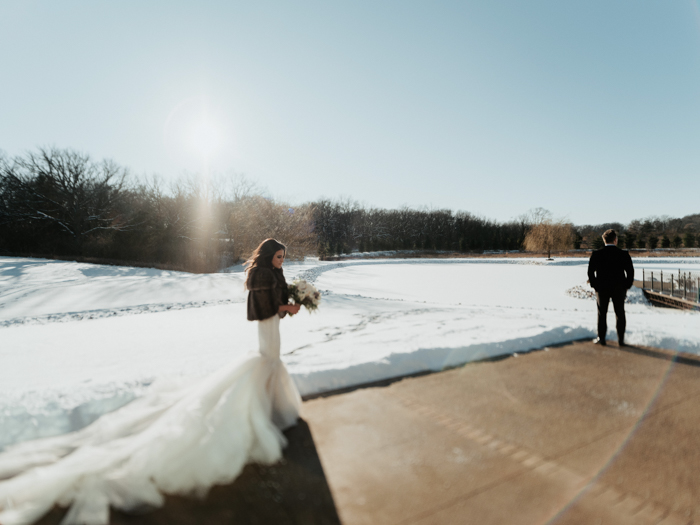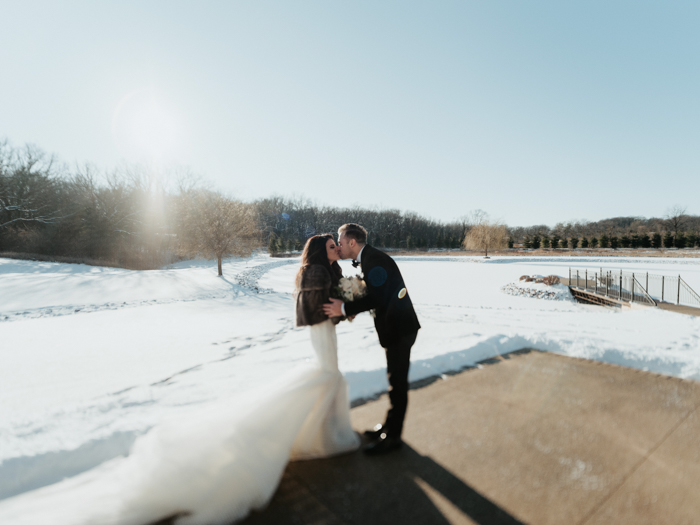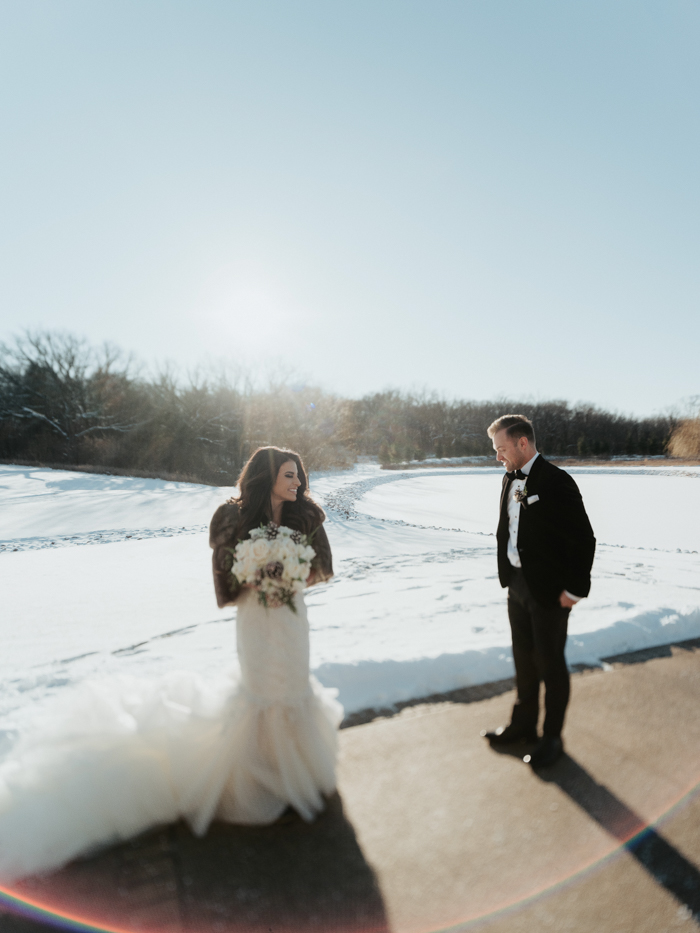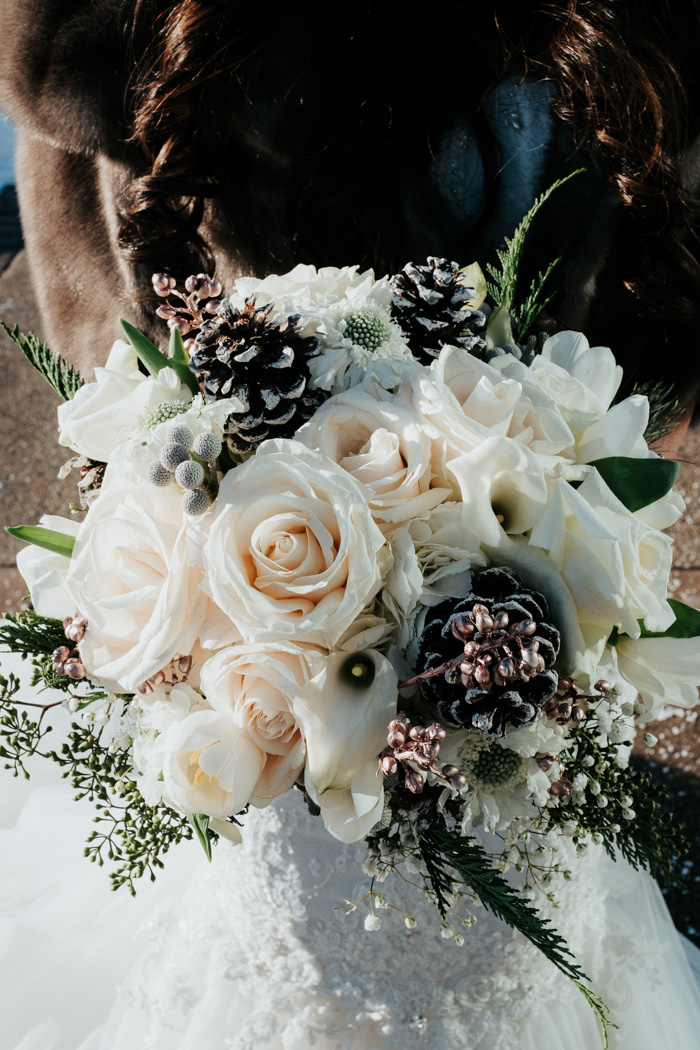 My wedding day fashion was inspired by 1920s glamour. With The Great Gatsby serving as inspiration, I paired a rare gunmetal Lutetia vintage mink heirloom with a form-fitting, backless mermaid gown. The Odette has a Swan inspired silhouette with very fine French lace dotted with pearls. I absolutely loved that I chose a show-stopper for my wedding gown. Given my etiquette, I always strive to be just a tiny bit extra. As if the fullness of the Odette was not sufficient, I decided to add even more "Va Va Voom" by creating a detachable train to include for my ceremony, and obviously, the once in a lifetime photos.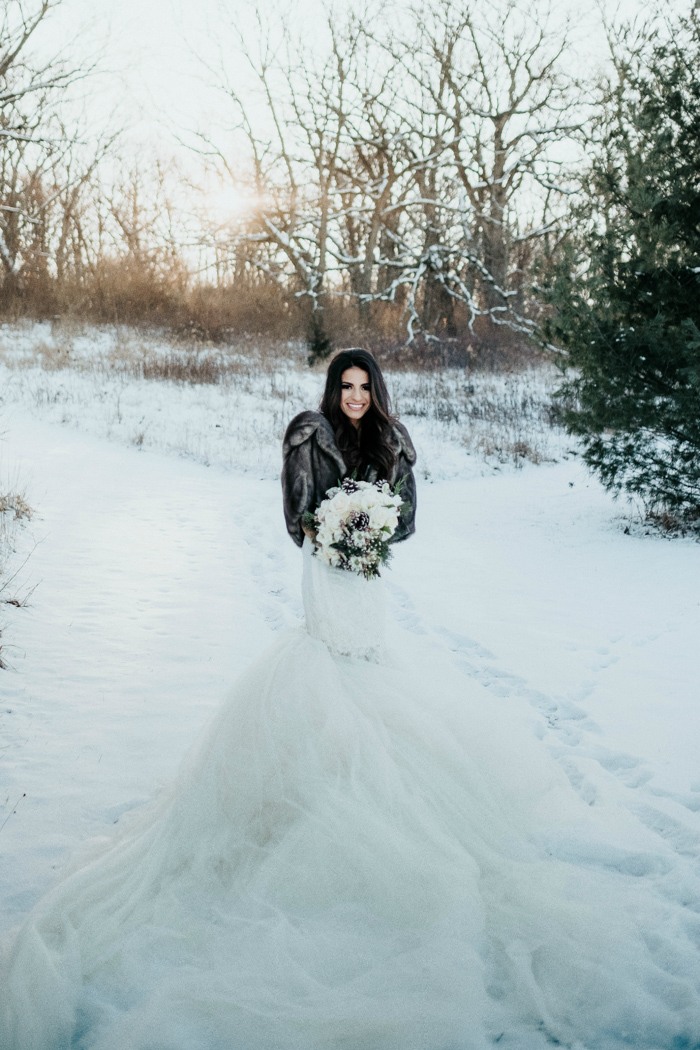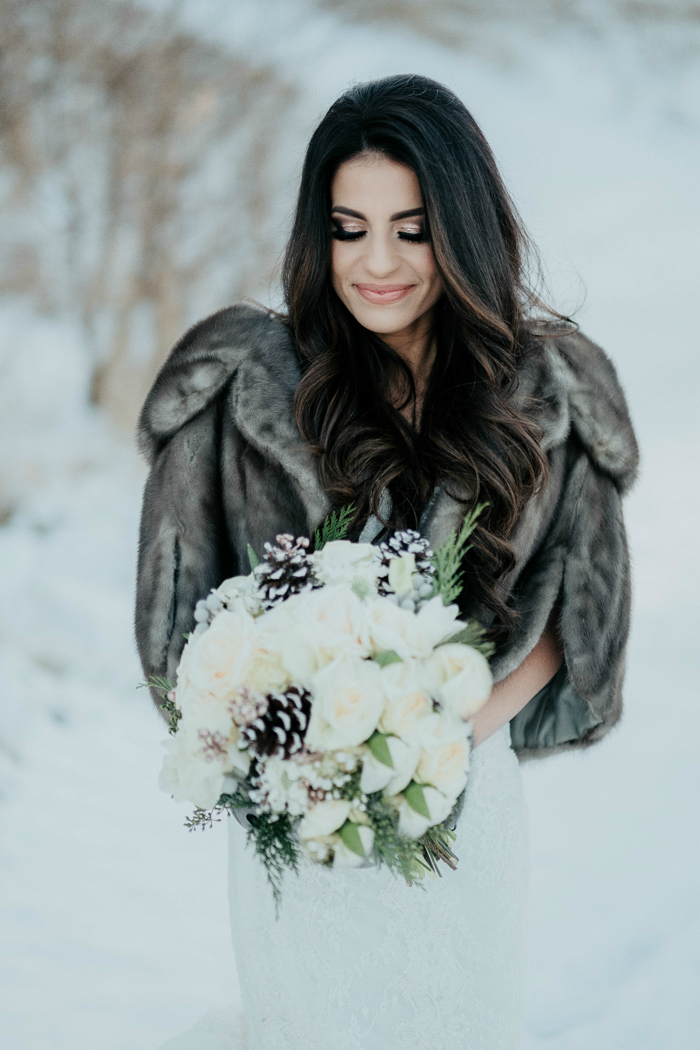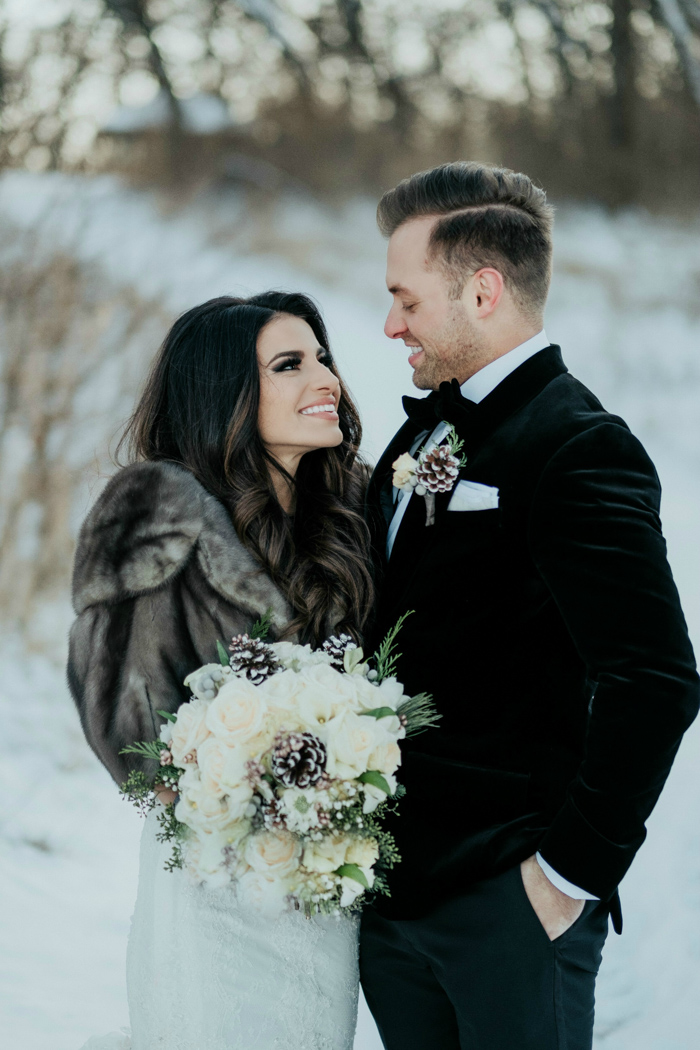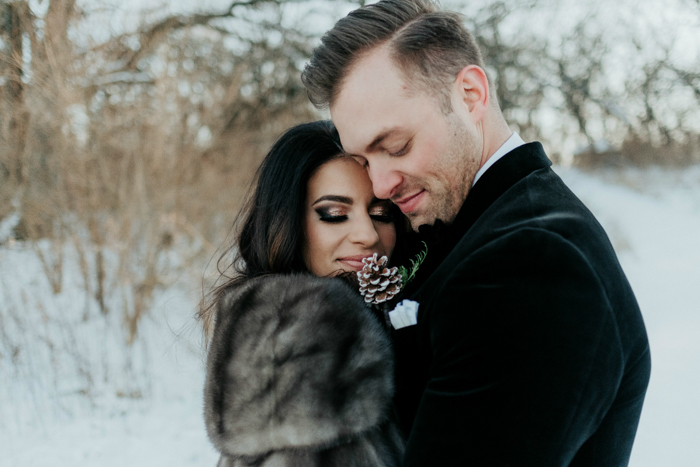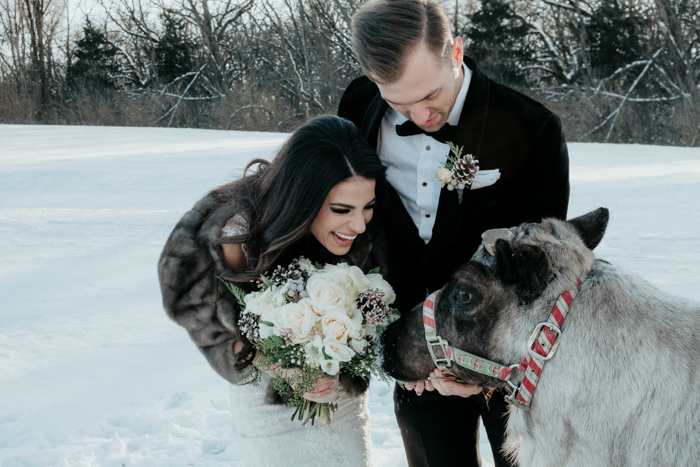 Given that I am a veterinarian based in Chicago, Illinois, and Brad is just as big of an animal lover, it was no shock that two reindeer from the North Pole, Comet and Elsa, made their debuts for our big day.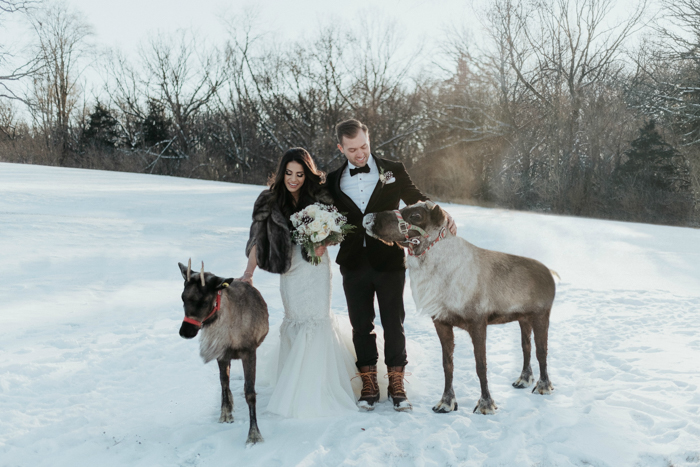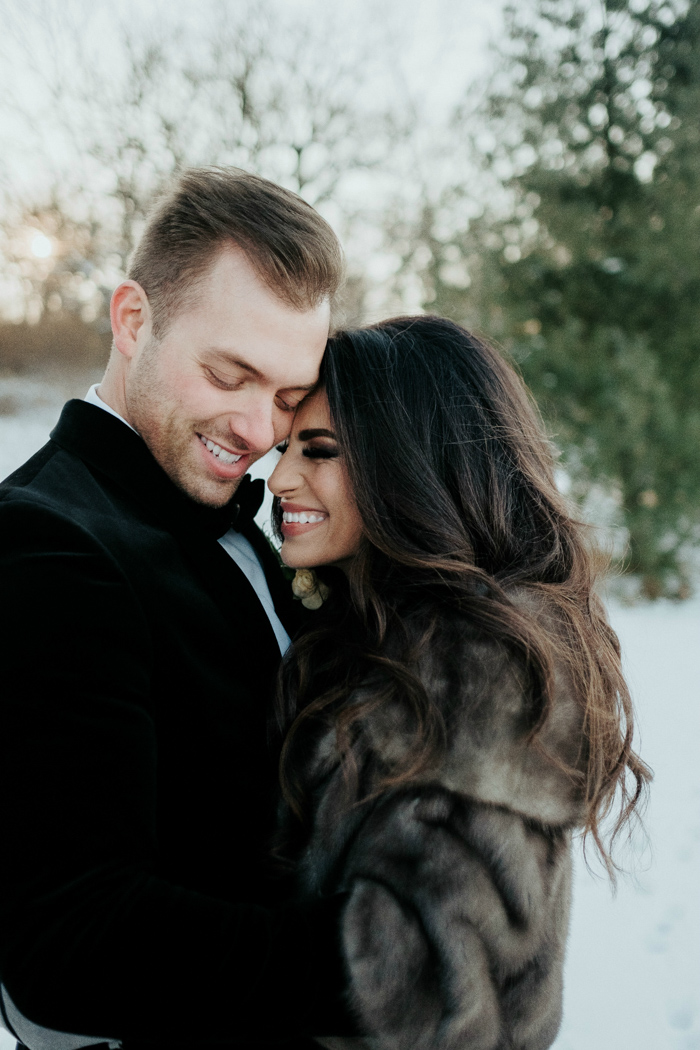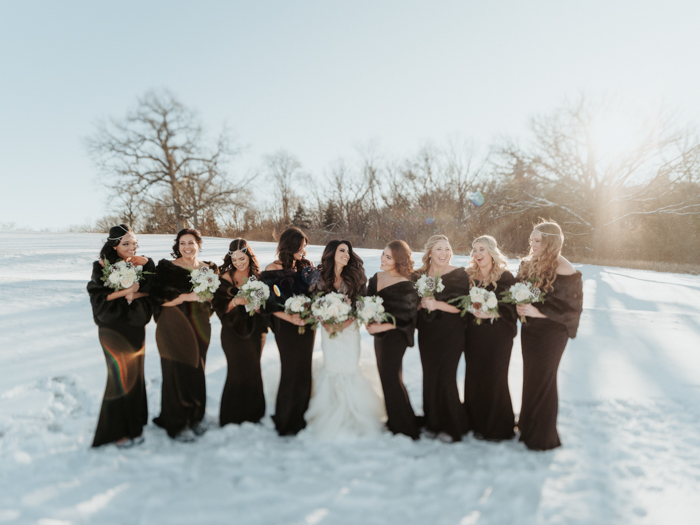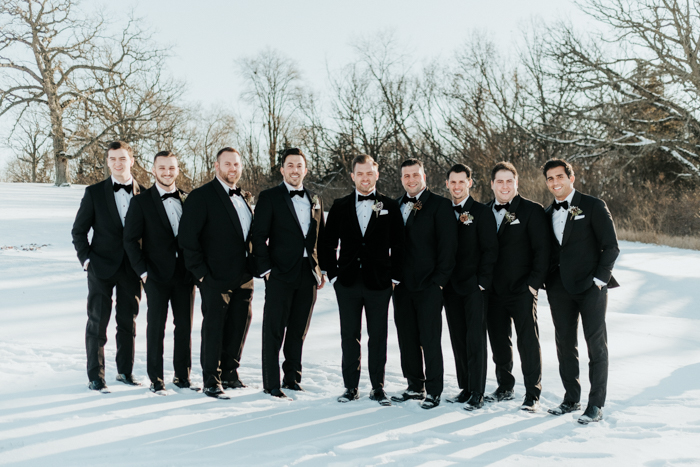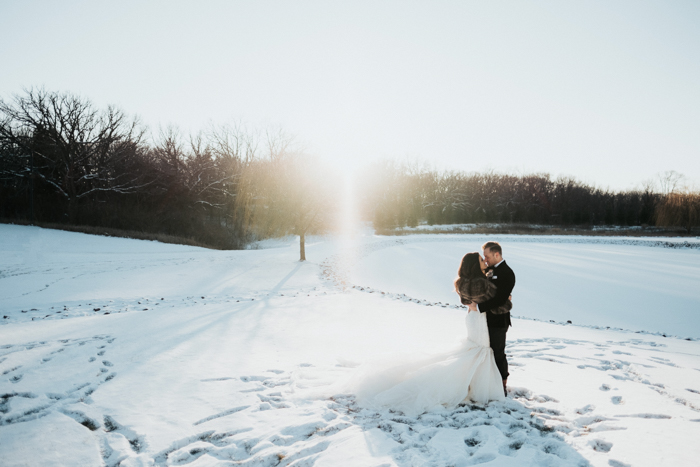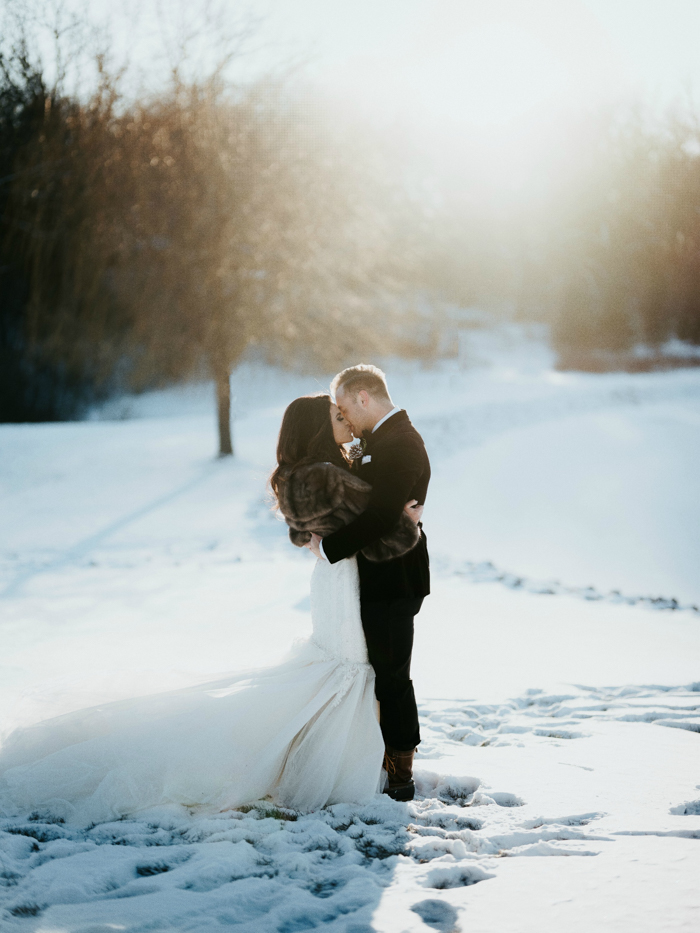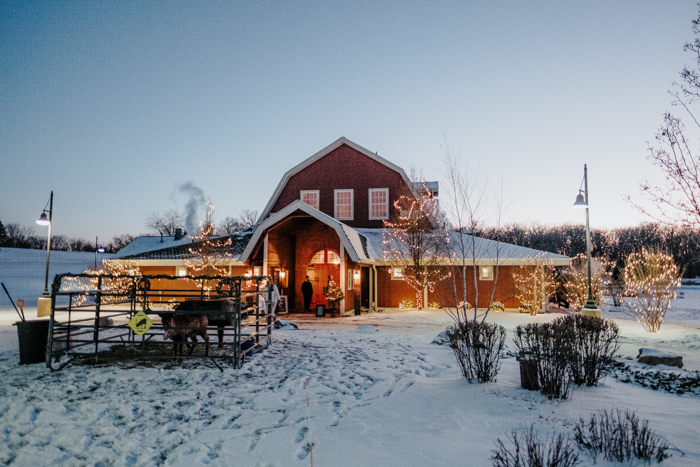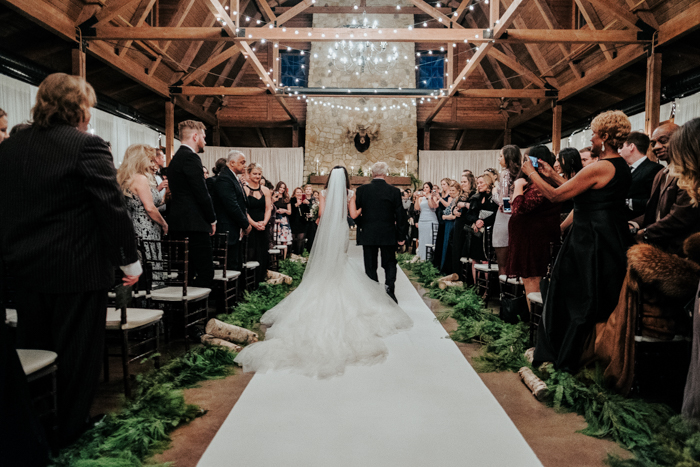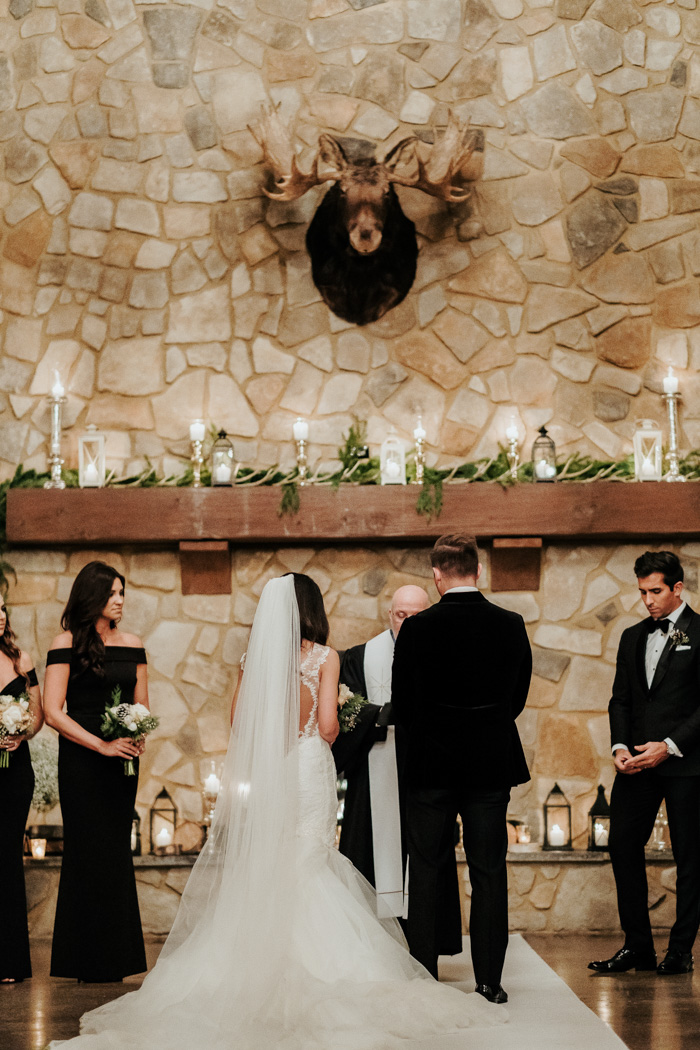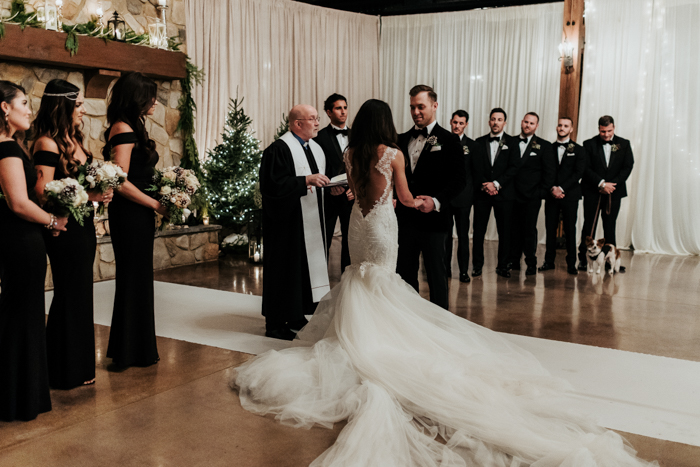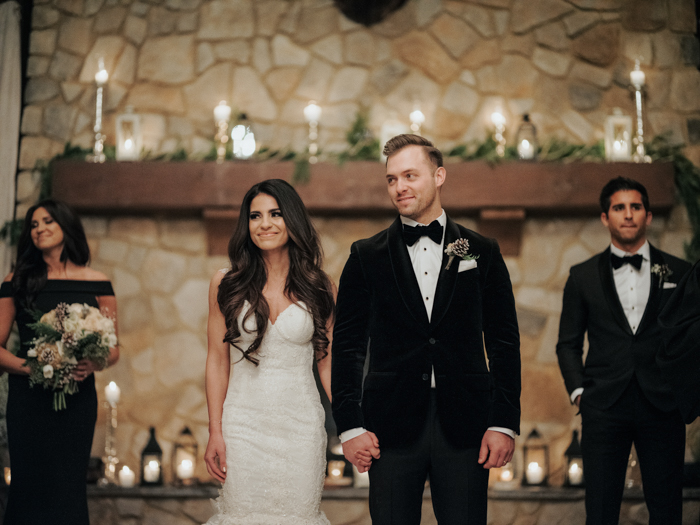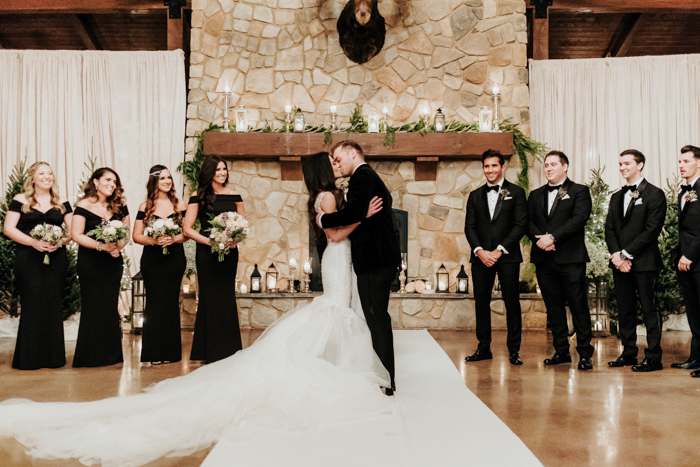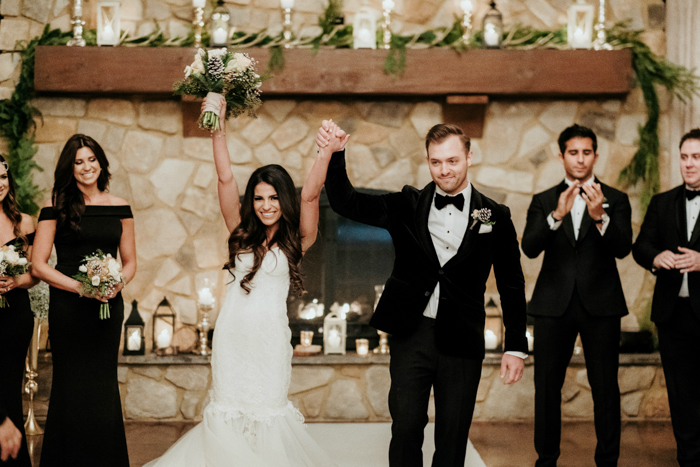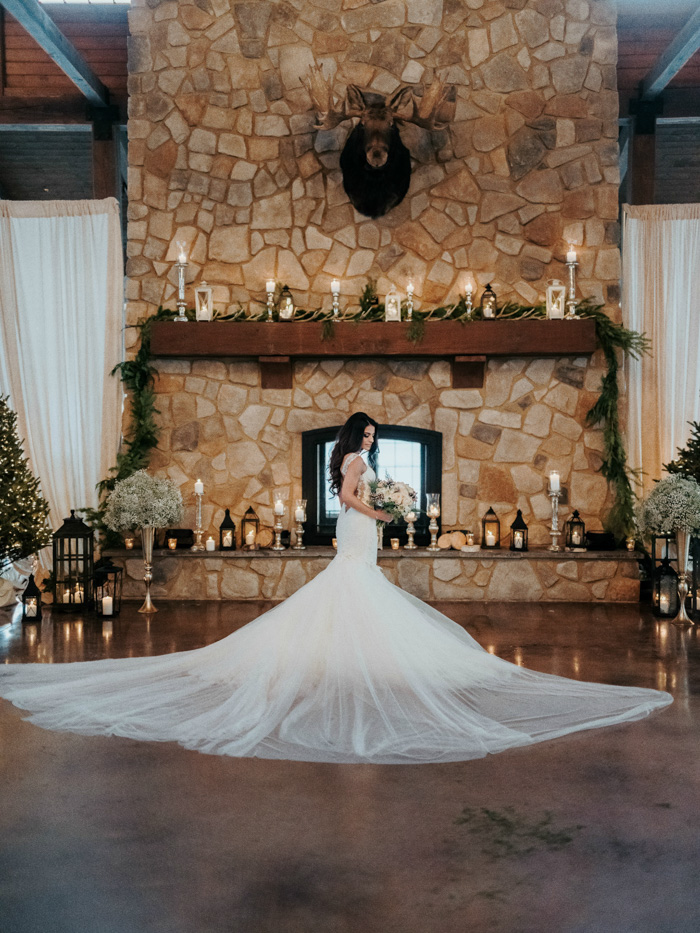 Many of our couple favorites influenced our wedding day details, including The Great Gatsby (my favorite book and our first movie date), all things rustic and farmhouse, animals, vintage fur, winter greenery, rose gold, and NYE glam. As the bride, I must admit that our florist really took my breath away as those entrance barn doors opened into the ceremony. The ceremony setting was just jaw-droppingly beautiful. From the fresh pine aligning the aisle to the twinkling cafe lights, the moody candlelights, and the giant moose head embellishing the mantle, the ambiance surely could have been described as nothing short of "lodge meets glam."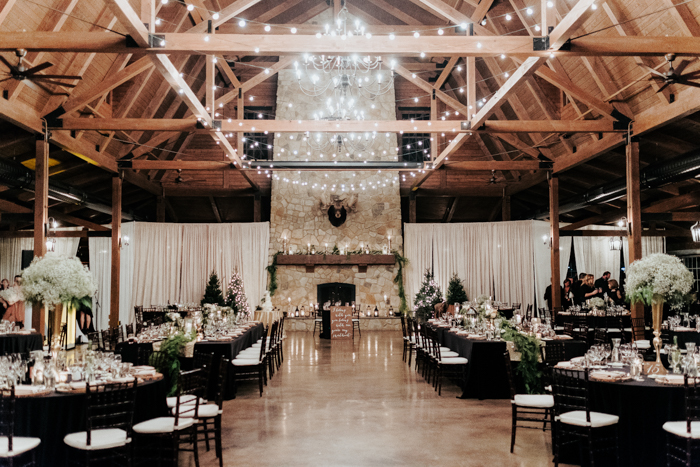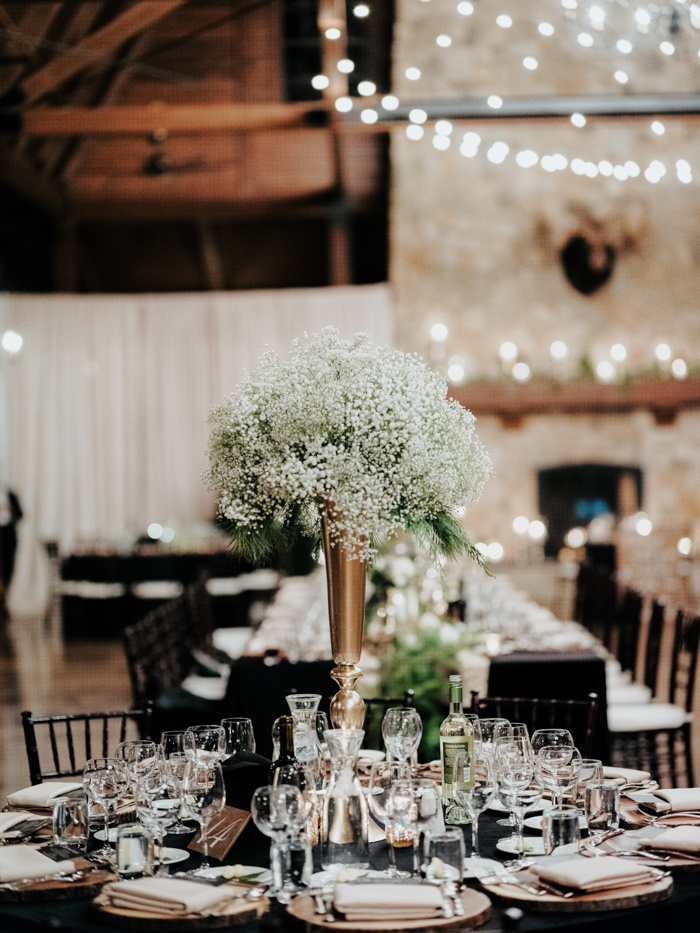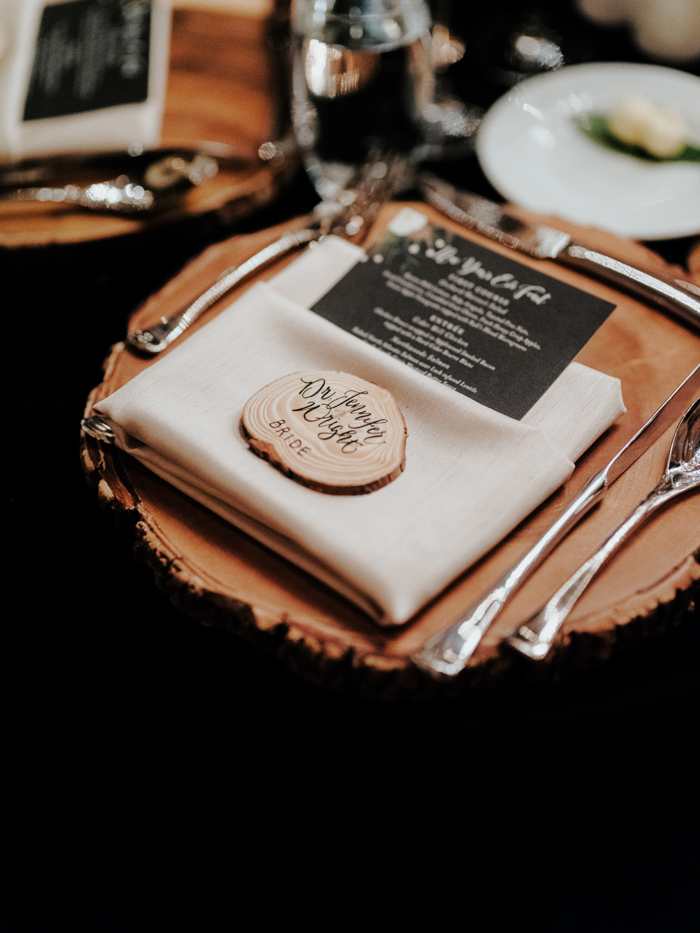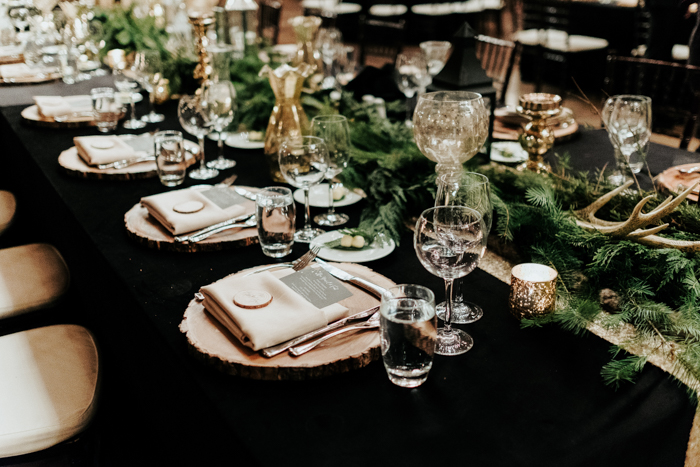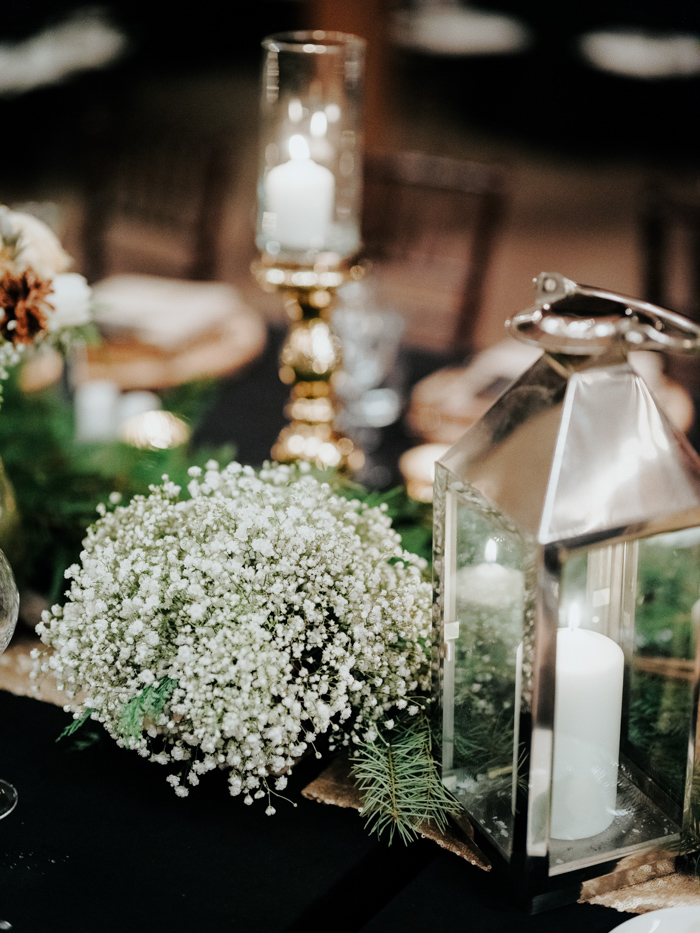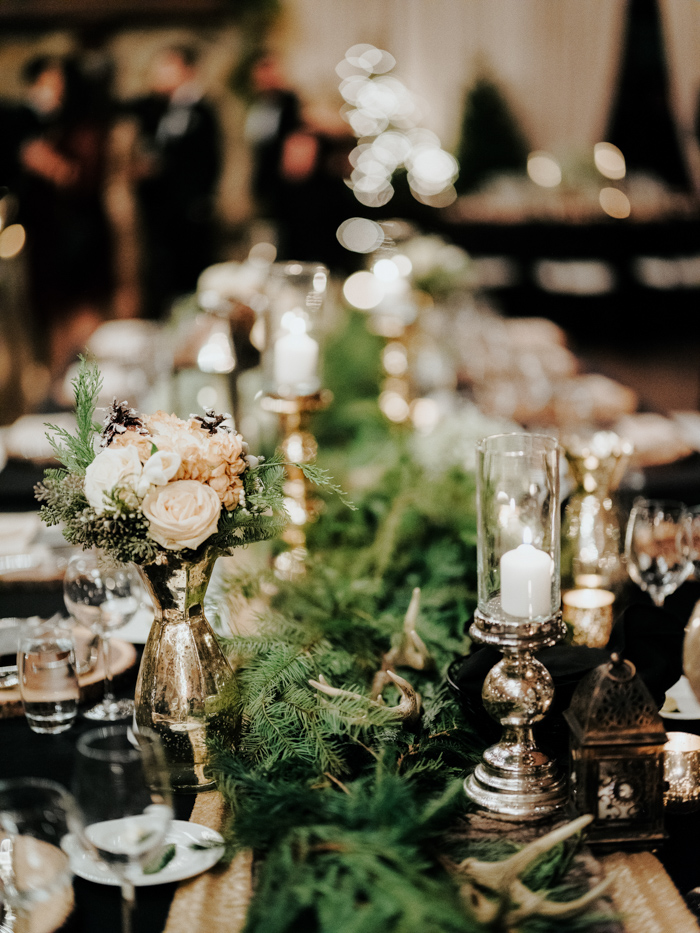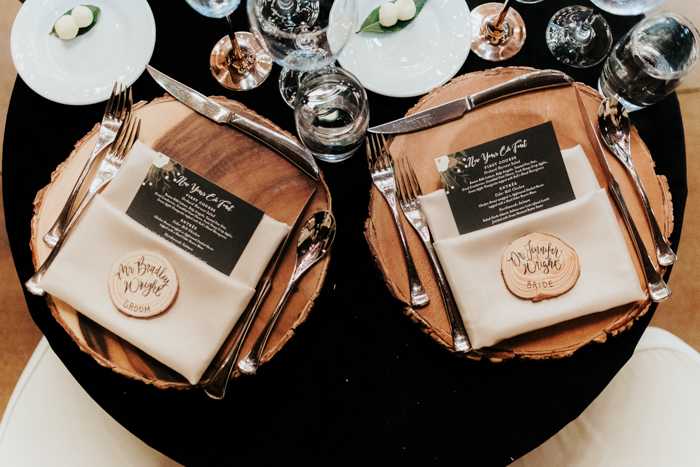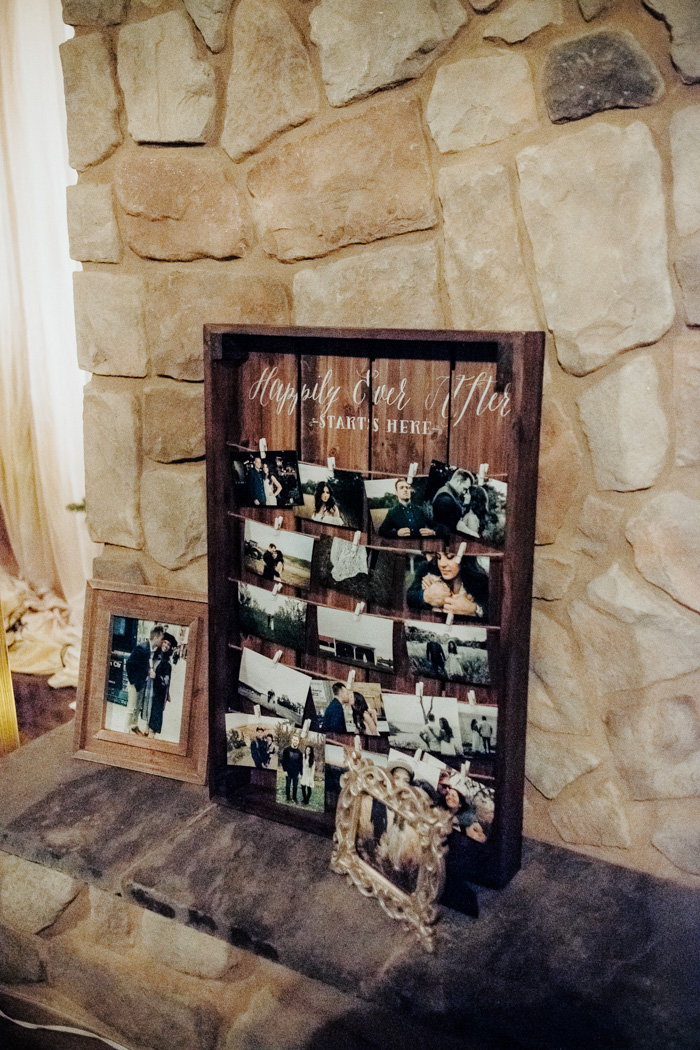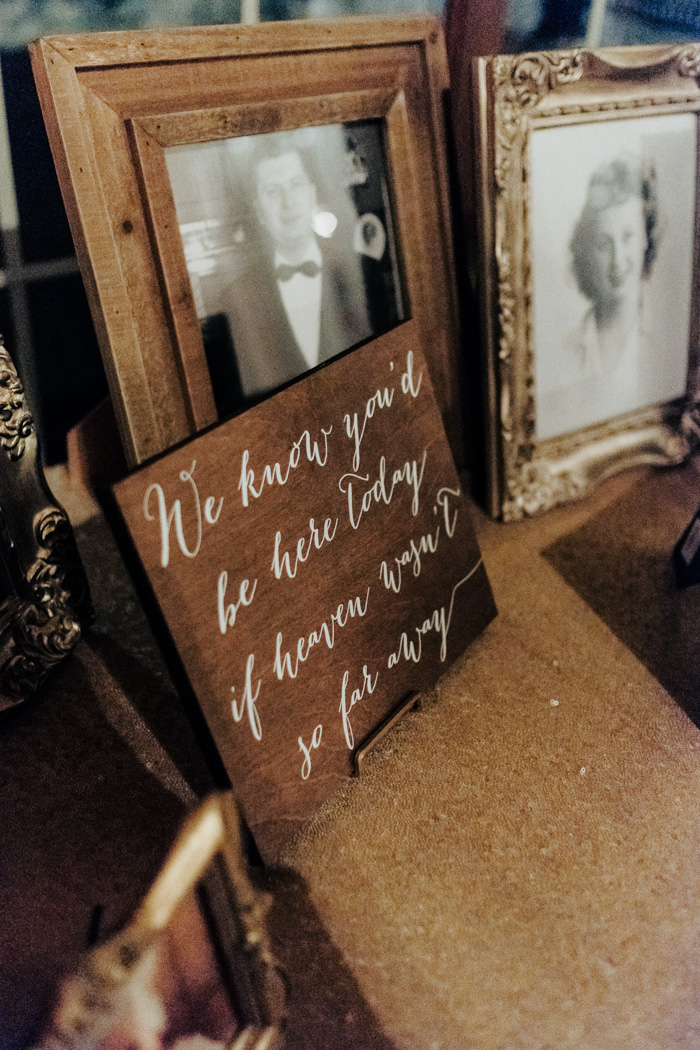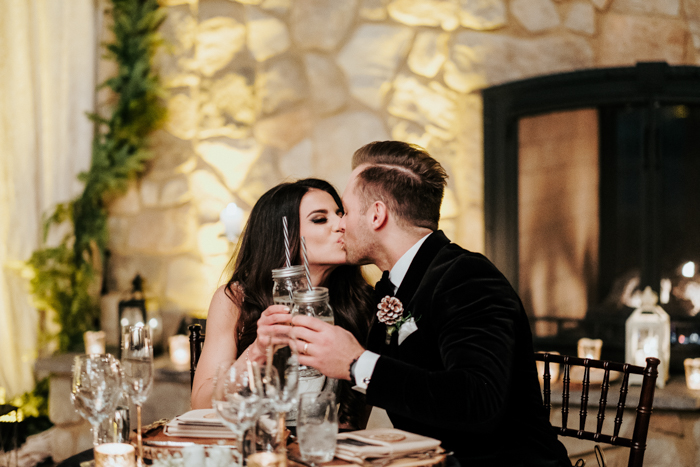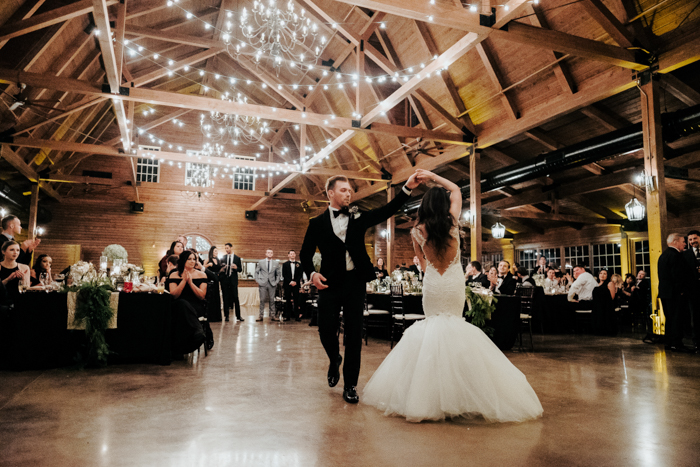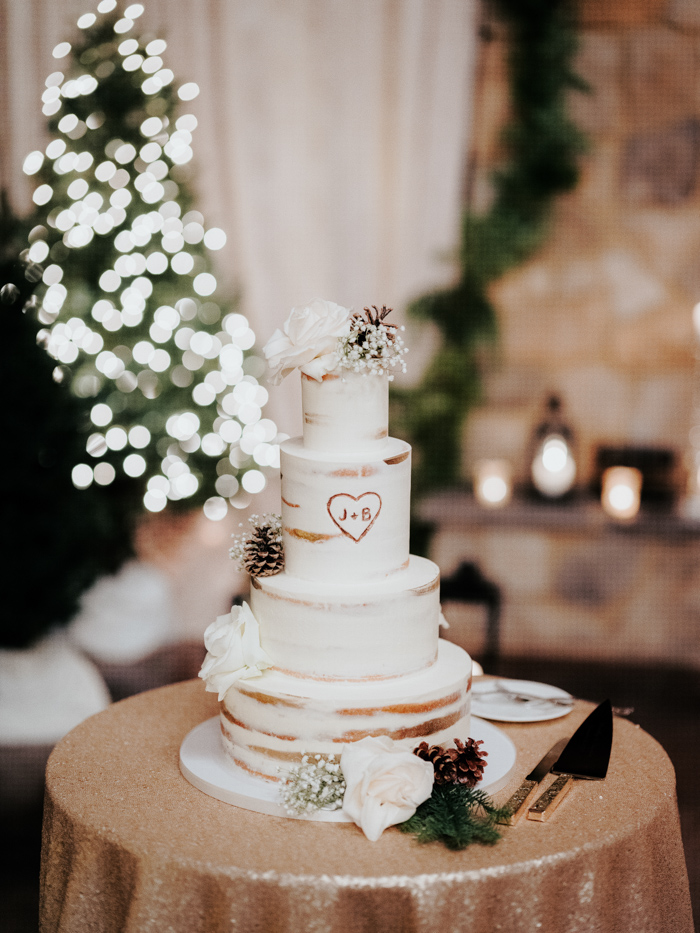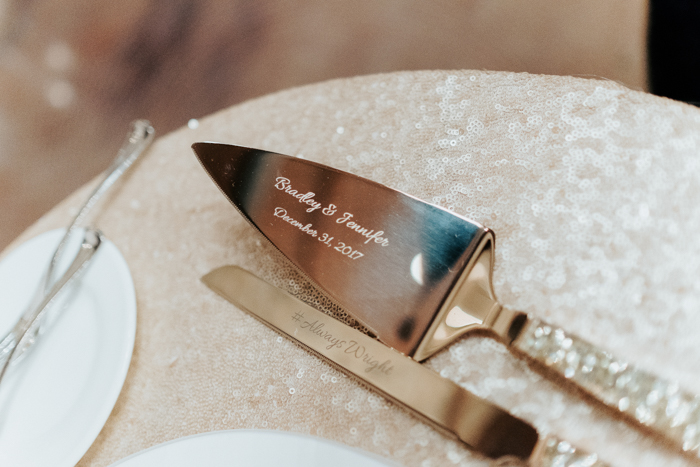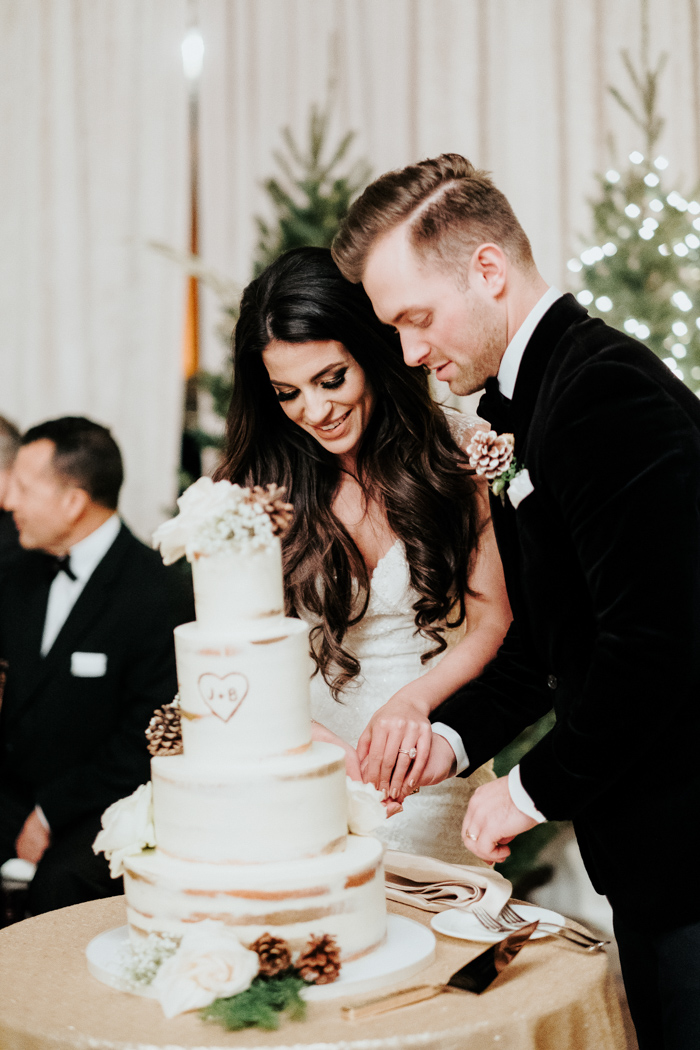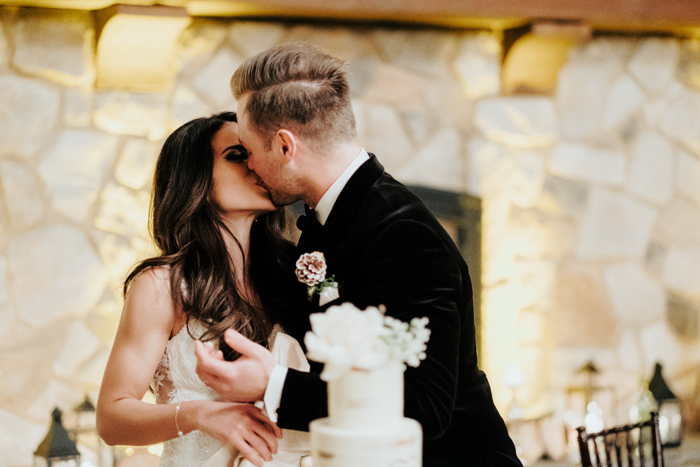 Our favorite moment of the evening was boldly rushing outdoors to the front of the barn during the reception for our extraordinary sparkler shots. A bit of liquid courage and adrenaline allowed me to toss my vintage fur and jump into Brad's arms for the most epic photo shoot known to (wo)mankind.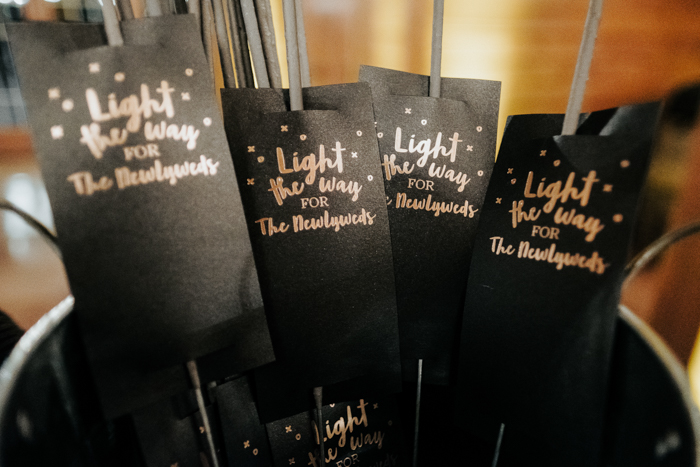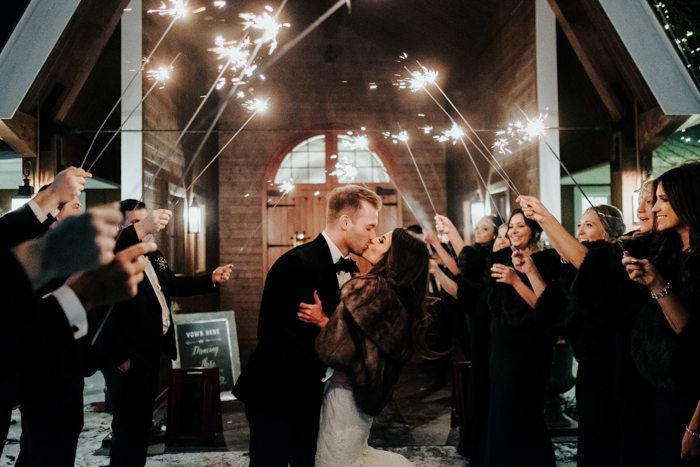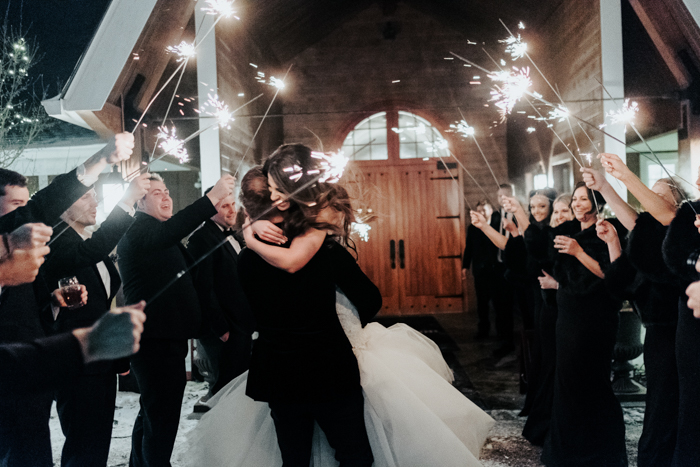 Aside from dancing the night away with our loved ones, Brad and I were very enthusiastic to bestow our guests with the most impressive spread of desserts. Donuts are our love language, so it was fitting to include a donut wall adorned with the very last order (literally) from Chicago's well-renowned Glazed and Infused prior to closure of their doors in January 2018. Supplementary desserts also included Sprinkles cupcakes, a DIY s'mores bar, cooked and mild shooters, and a DIY hot cocoa bar.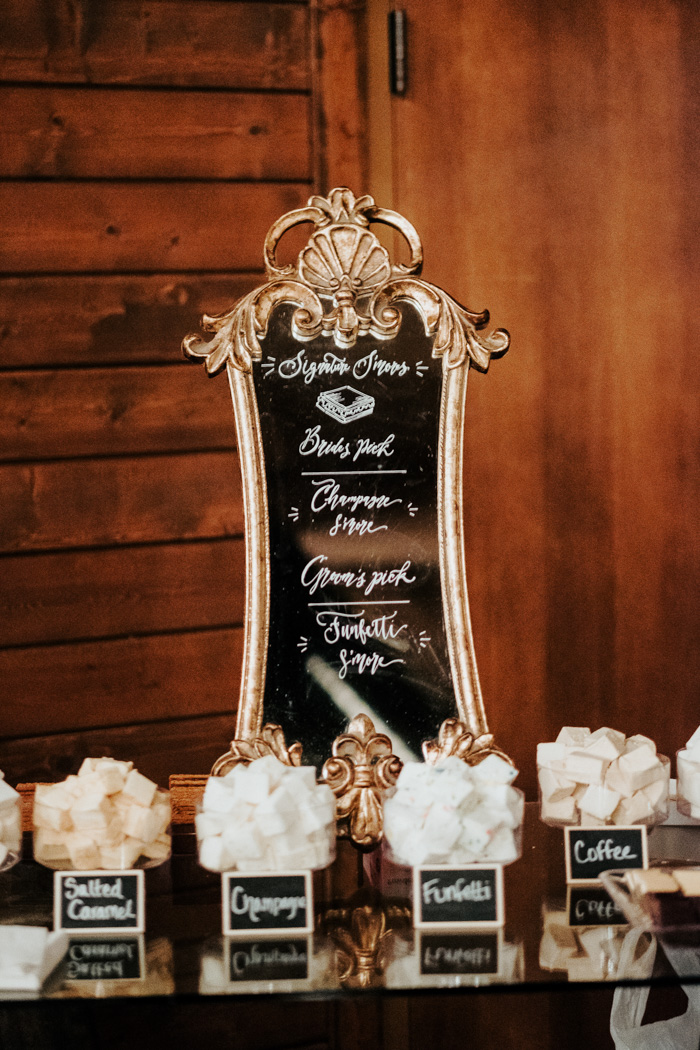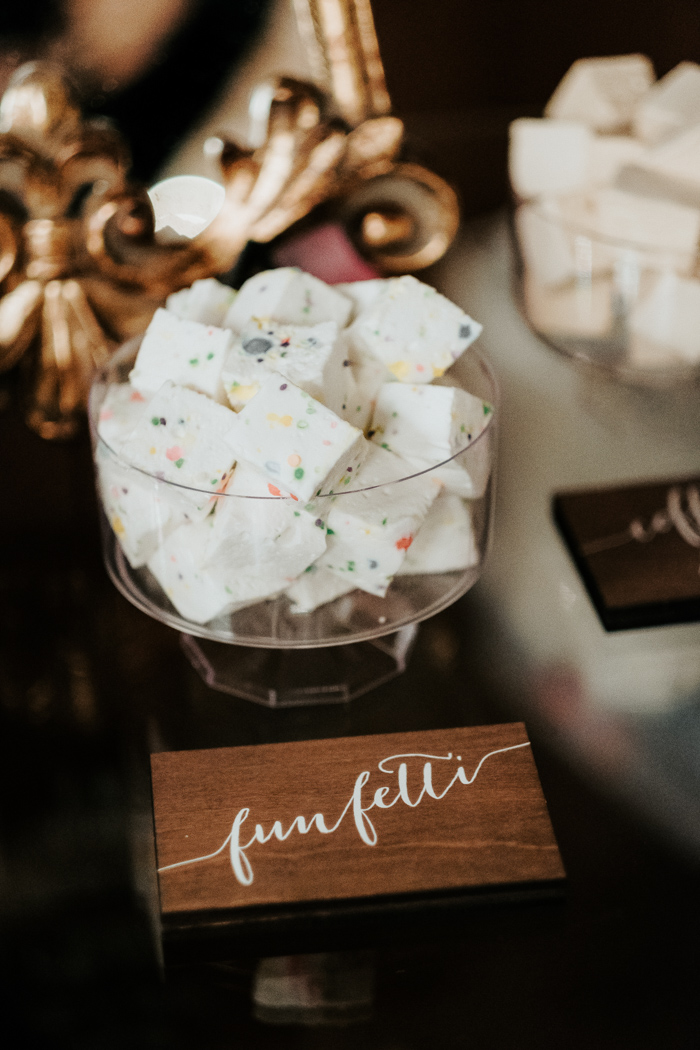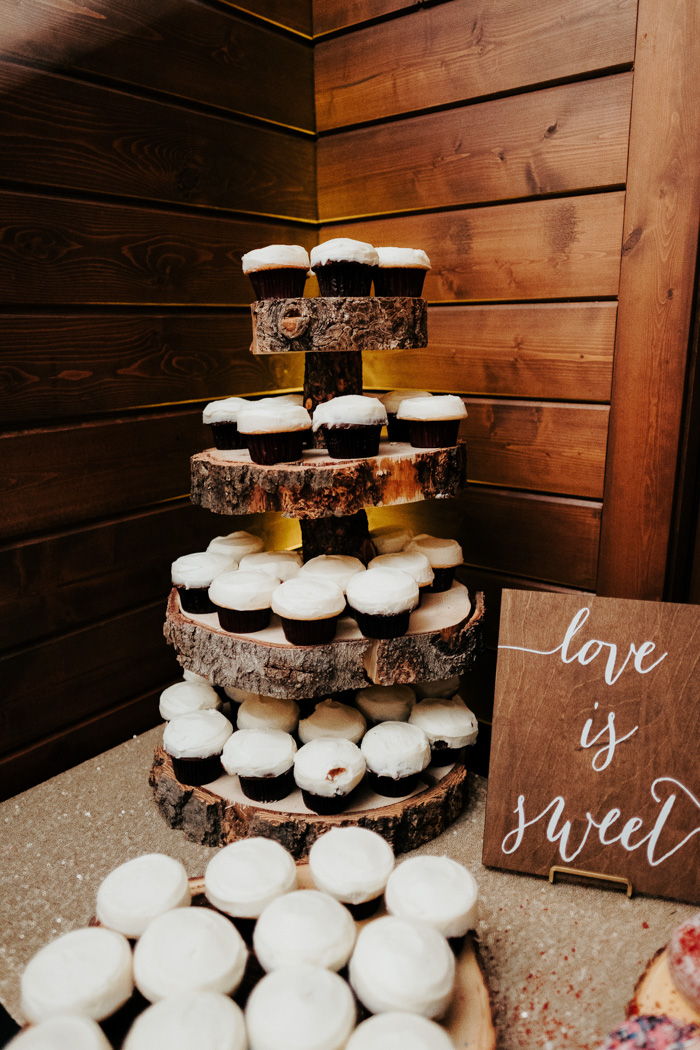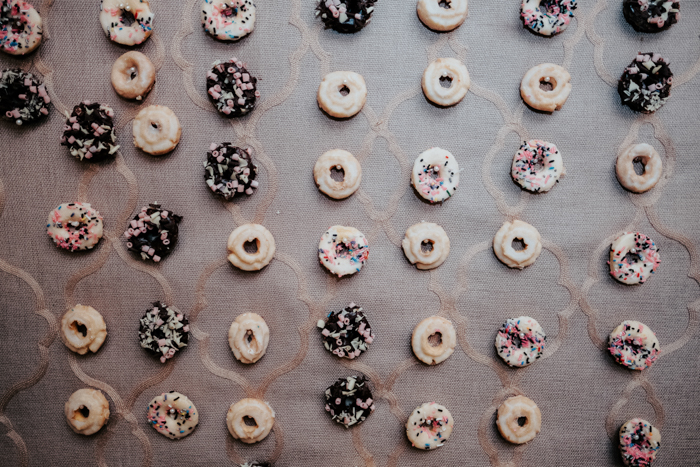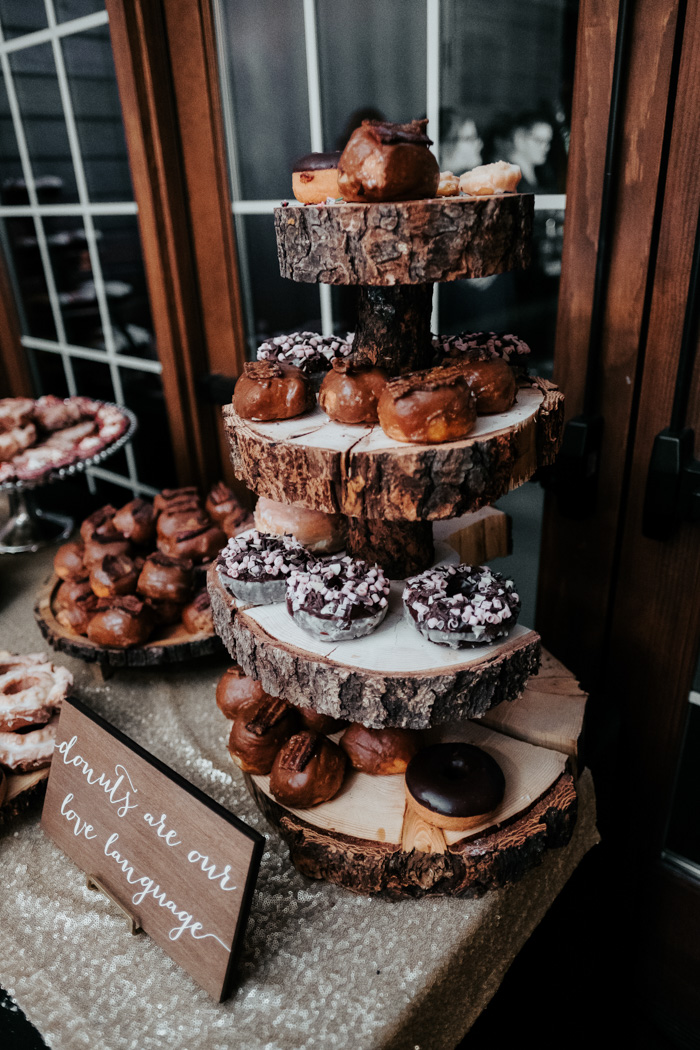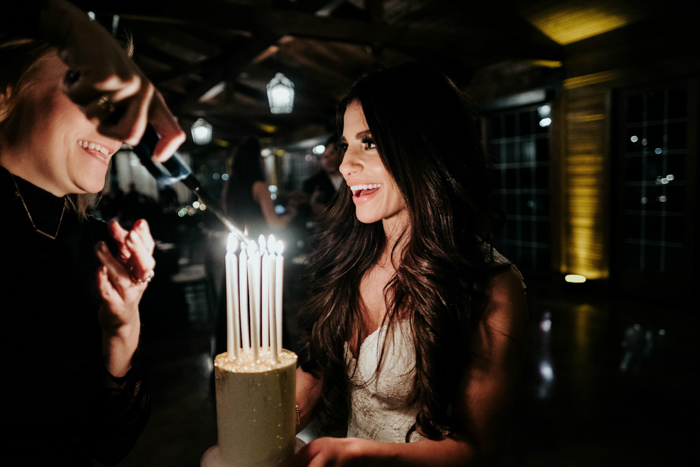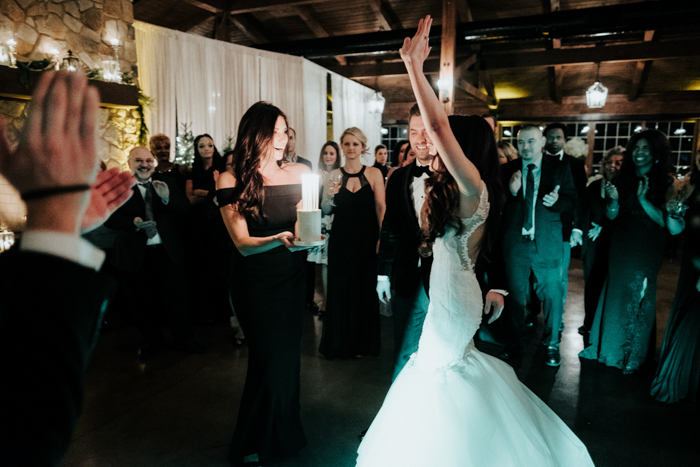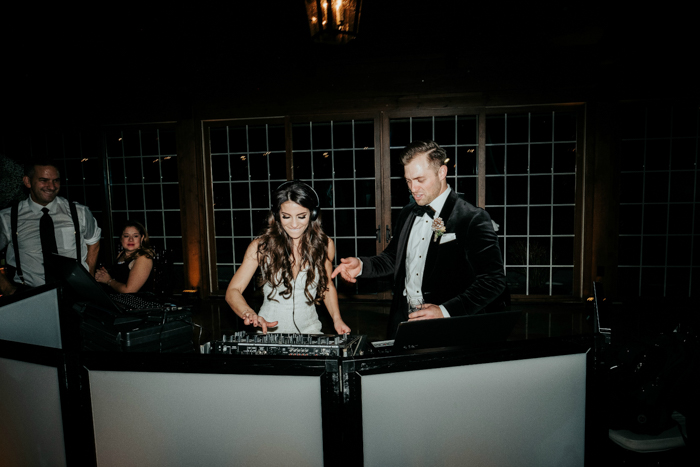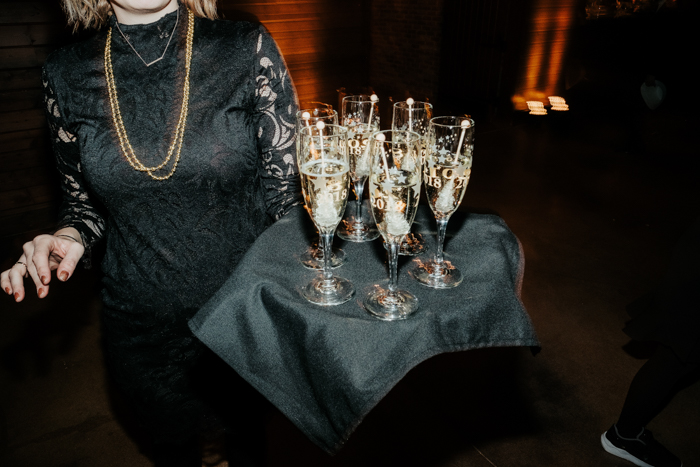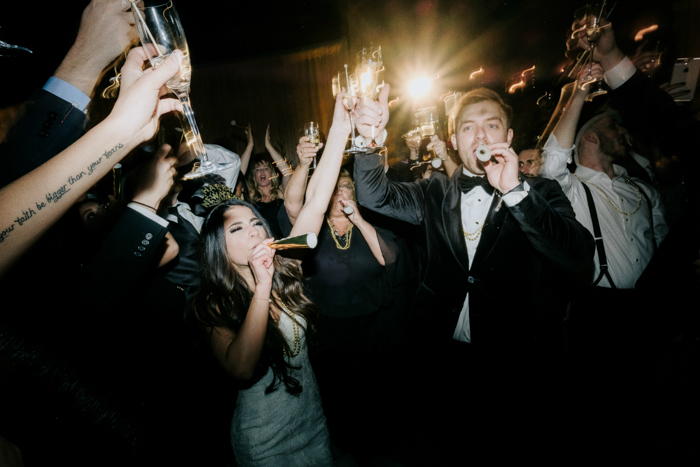 Our biggest congratulations and thanks to Bradley and a special thanks for sharing their gorgeous wedding at The Pavilion at Orchard Ridge Farms! Ready for more NYE wedding magic? This stylish NYE wedding at The Metropolist will convince you to ring in the New Year by saying I do!