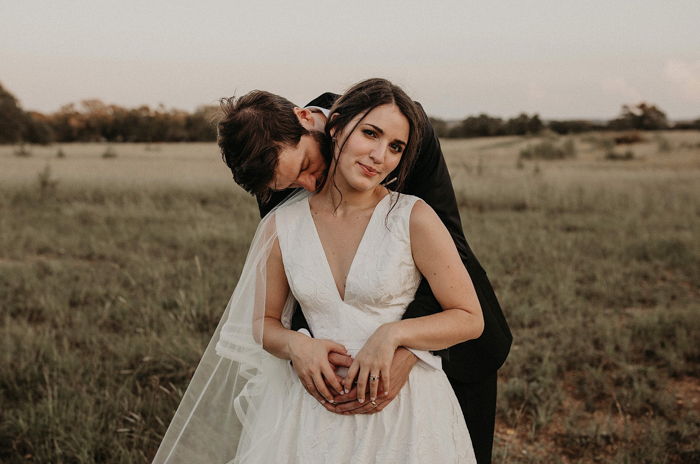 Megan and Josh's Prospect House wedding in the Texas Hill Country was a designer's dream come true! The bride, who is a professional interior designer, was drawn to the minimalist, modern venue because of the opportunity to fill the blank canvas with all the personal touches they could imagine. The result was an eclectic mix of thrift store finds, mixed metals, feathers, and organic arrangements in a neutral palette that brought the space to life. Simplicity was the name of the game for this casual couple, and the result was approachable and truly beautiful. From the outdoor ceremony to the newlywed portraits in the open field to the dance-party reception, Nikk Nguyen Photo captured this Texas wedding with incredible attention to every detail!
The Couple:
Megan and Josh
The Wedding:
Prospect House, Dripping Springs, Texas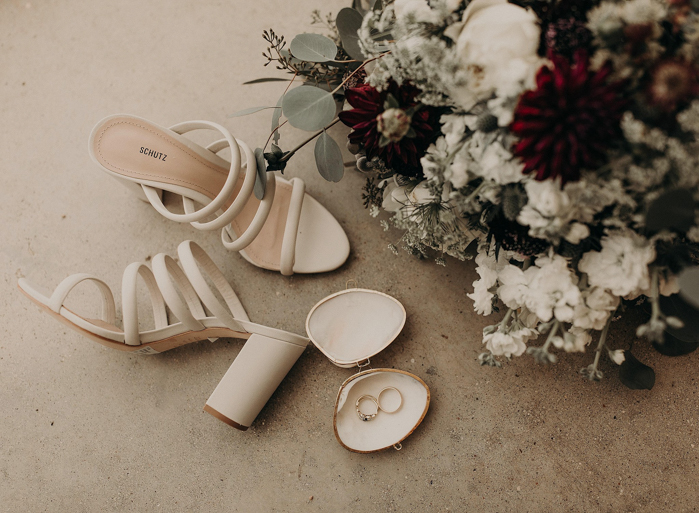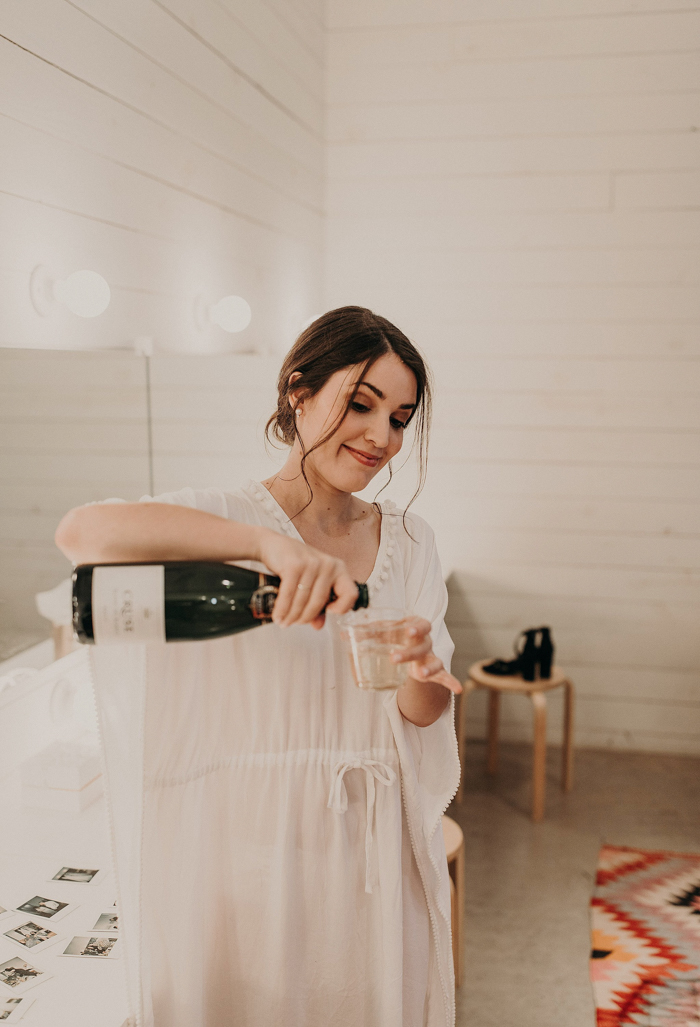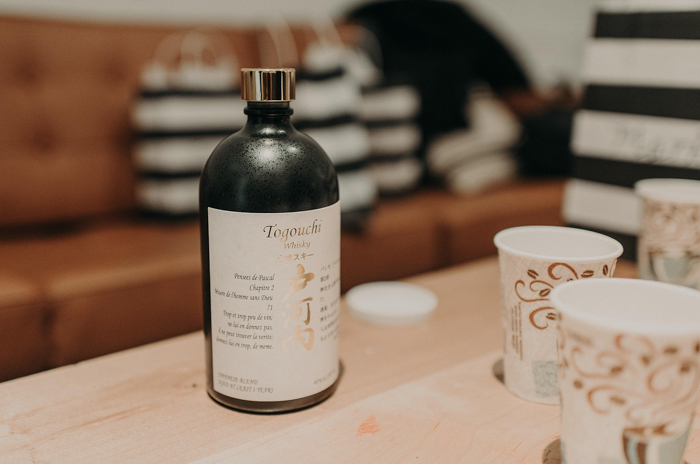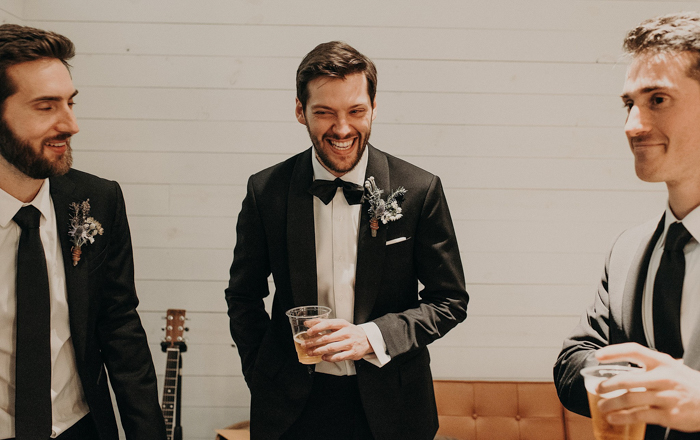 We're a pretty casual couple, so we wanted our wedding to reflect that. I wasn't interested in having a super glitzy princess wedding. It was really more important to me that our guests were comfortable and had a great time, so we spent the most time (and money) ensuring our guests had plenty to eat and drink throughout the evening.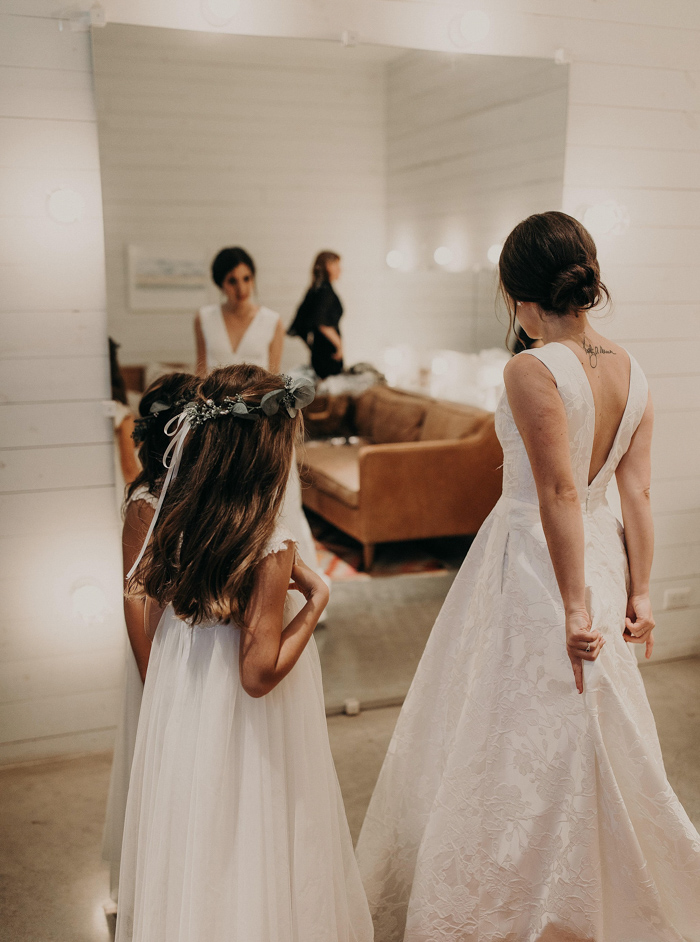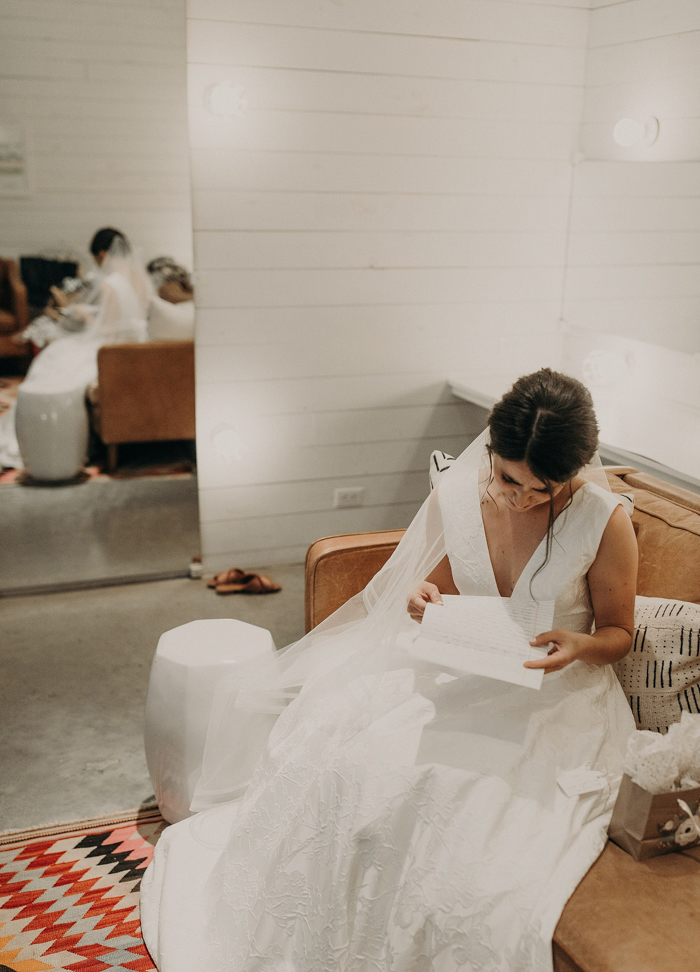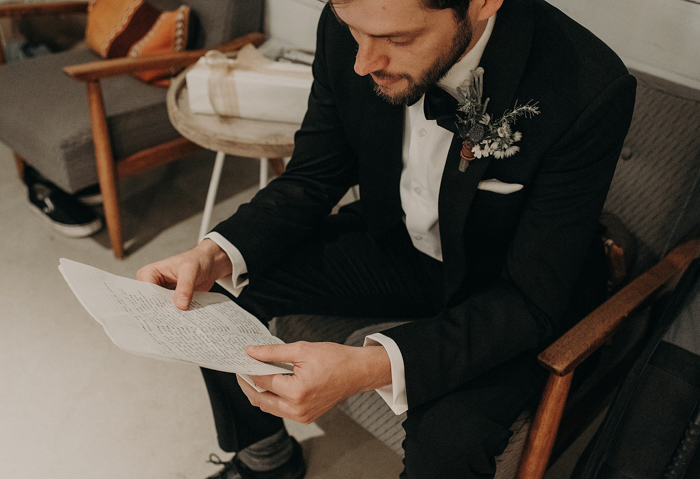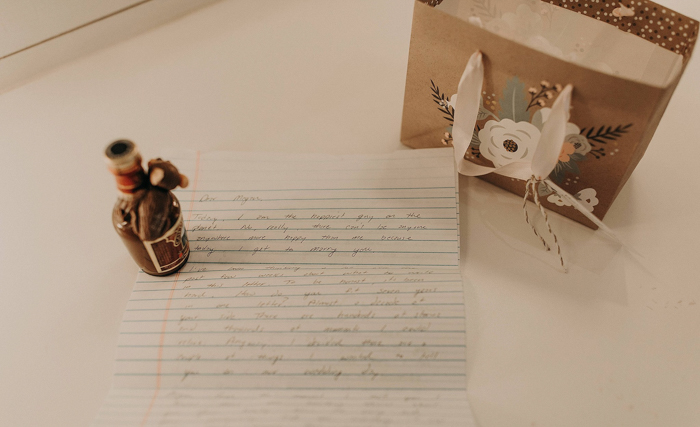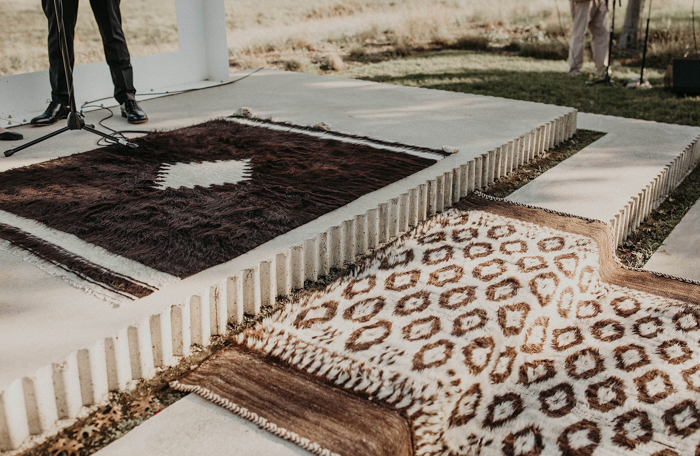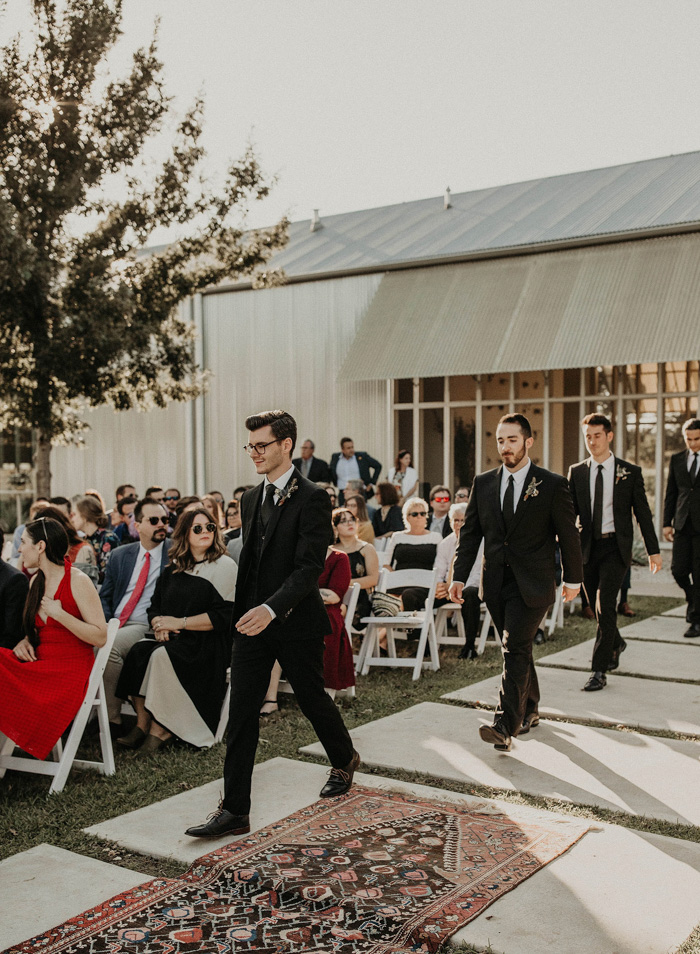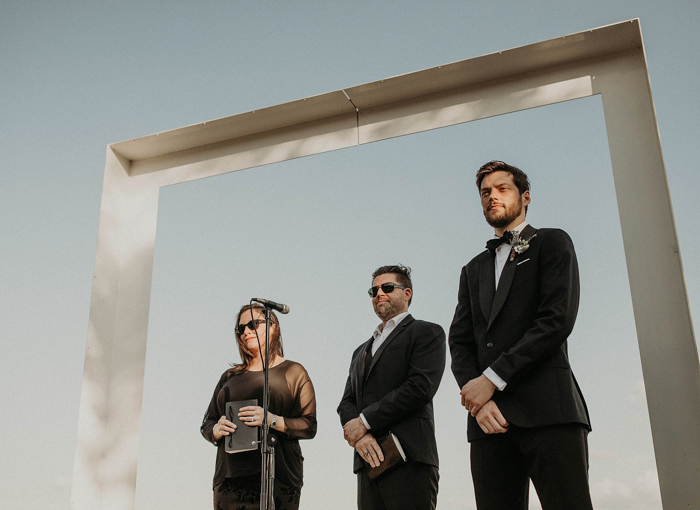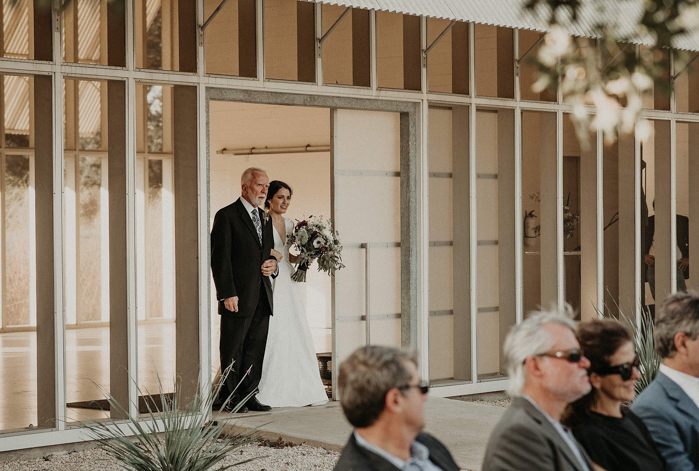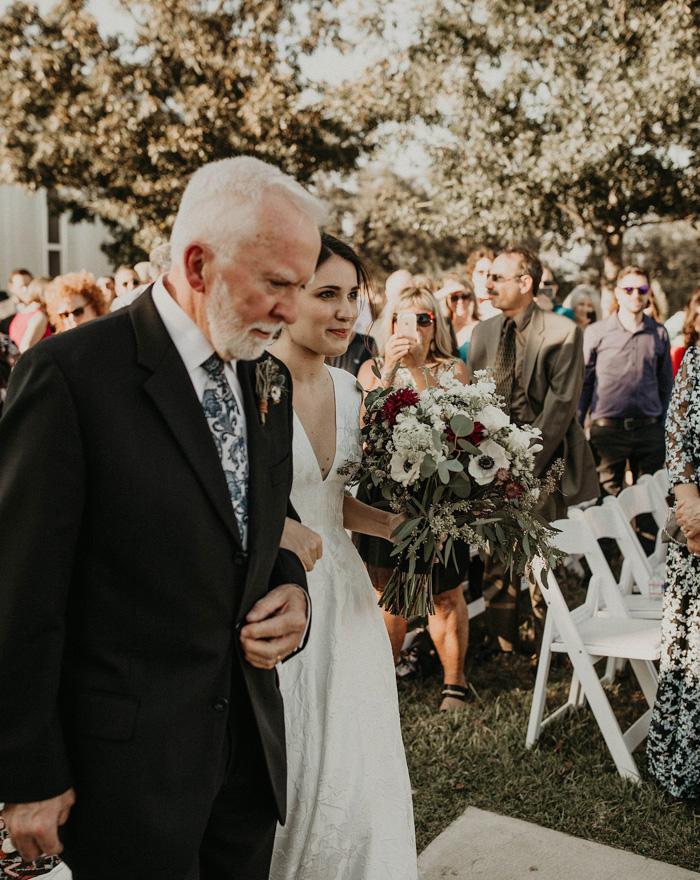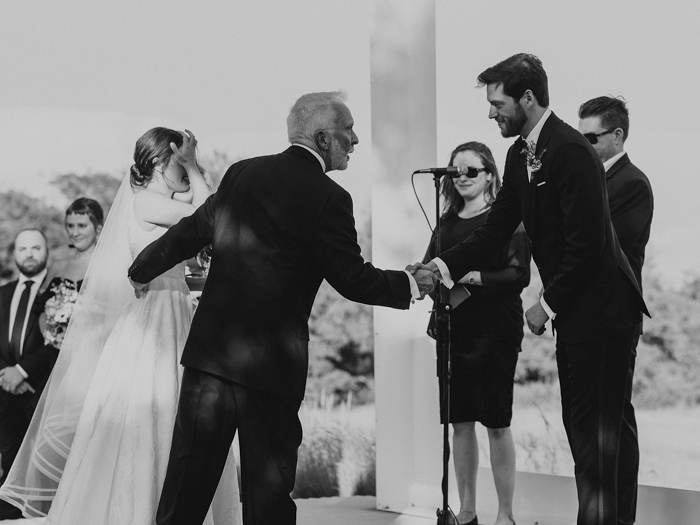 My sister and brother-in-law performed the most beautiful, perfect ceremony for us. They'd given us the general outline of what they'd planned to say during the sermon, but they sprinkled so many funny, sweet, heartfelt anecdotes and moments into the ceremony that had us and our guests in happy tears.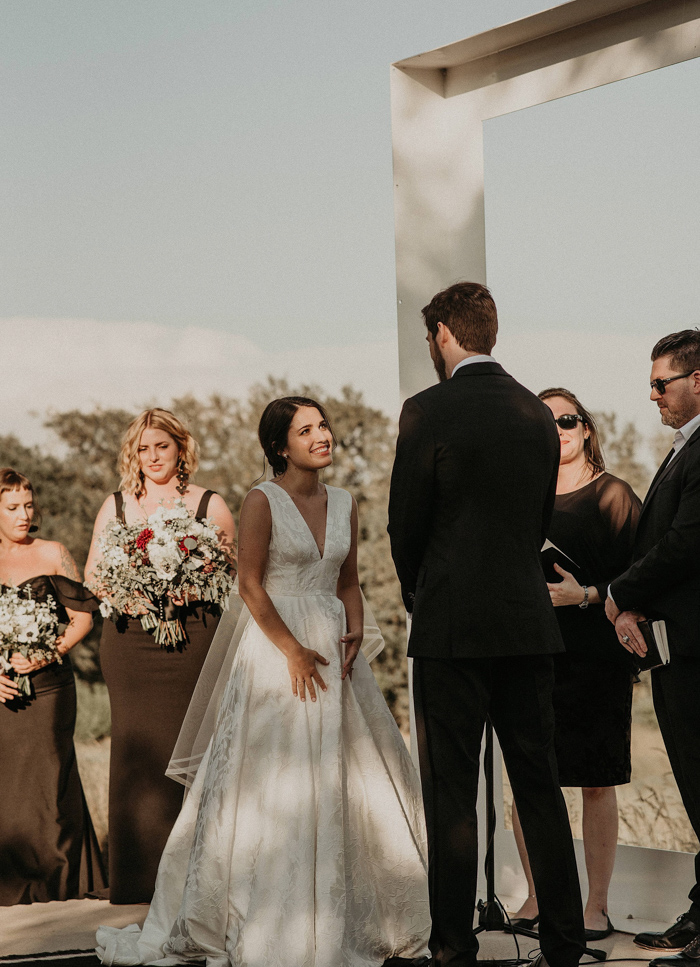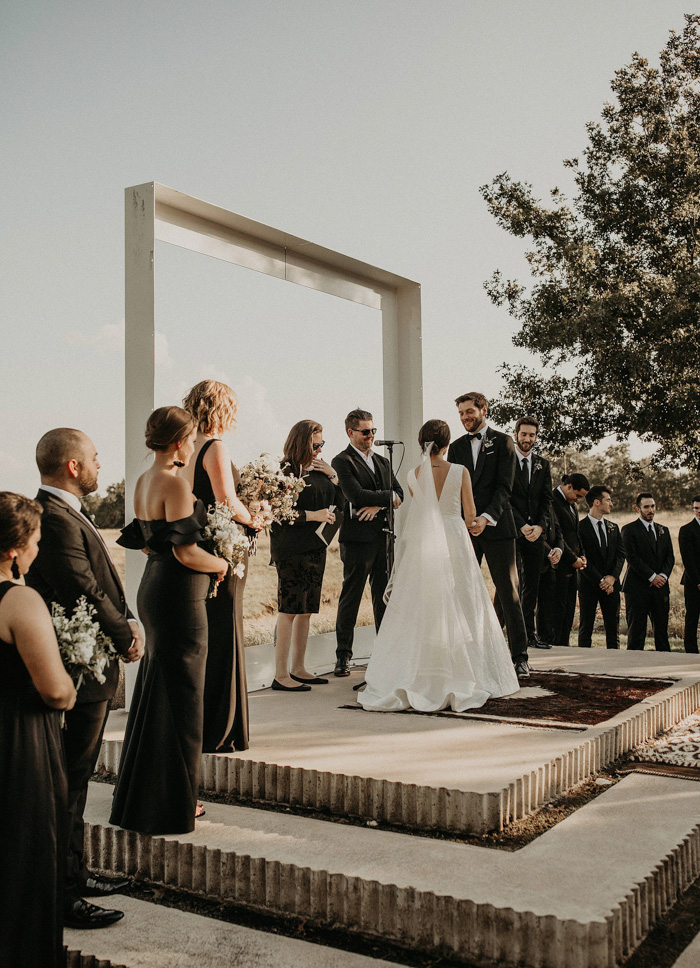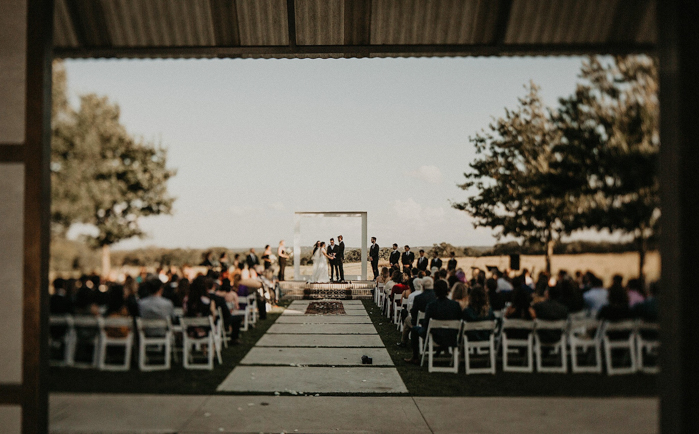 We're both huge dog lovers and have four rescued street pups at home, so Megan's sister (a veterinarian) and brother-in-law officiated the ceremony with lots of funny dog references. We also had Megan's little cousins read a poem called "How Falling in Love is Like Owning a Dog" by Taylor Mali and Josh's cousin read a passage from a letter John Steinbeck (one of Josh's favorite authors) wrote to his teenage son on the subject of love.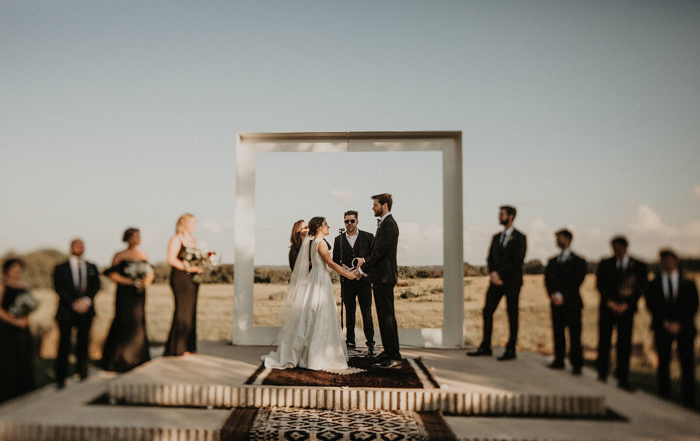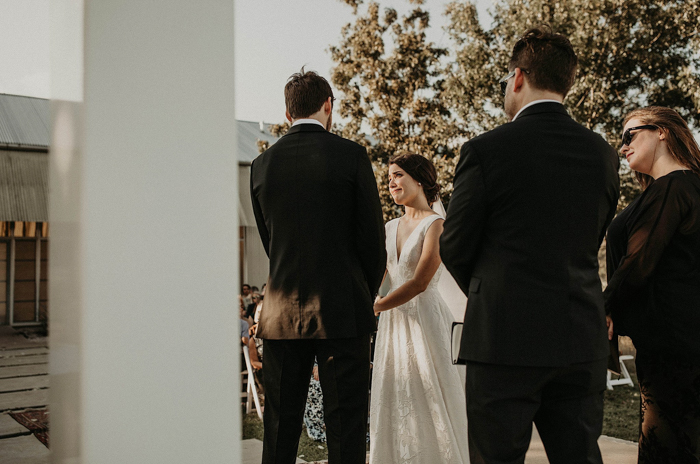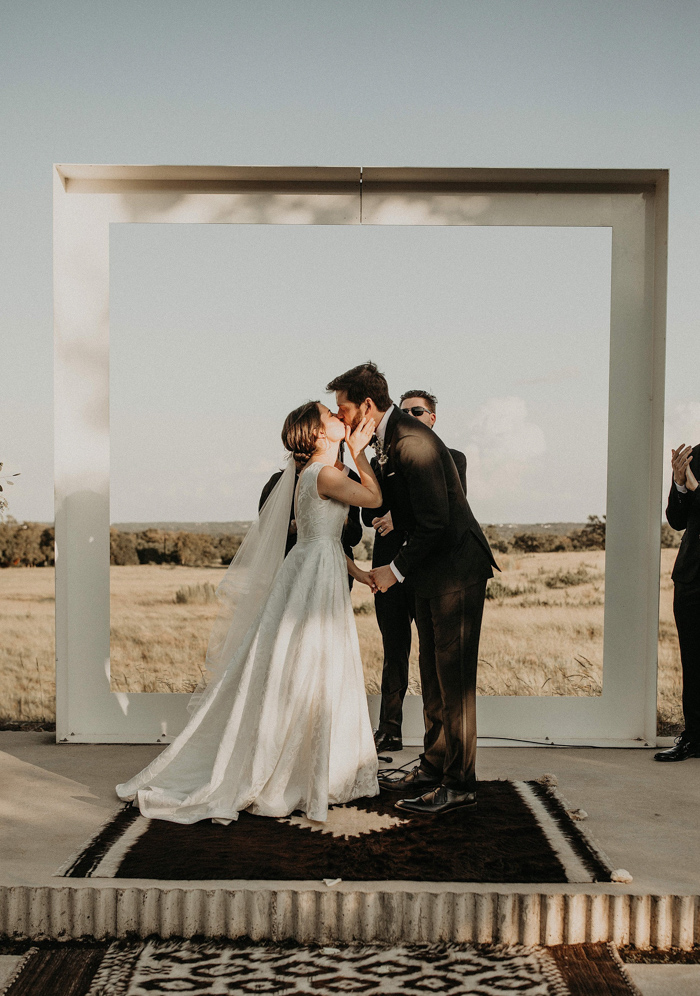 Josh comes from a family of incredibly talented musicians. His father, Keith Harter, and uncle, Bob Patterson, performed our processional, recessional, and first dance songs.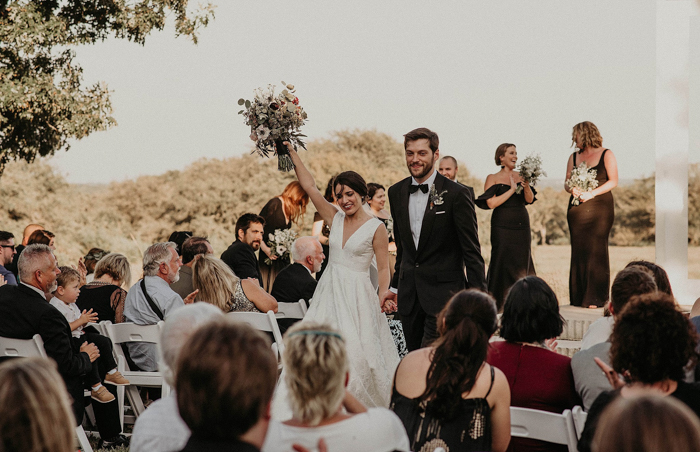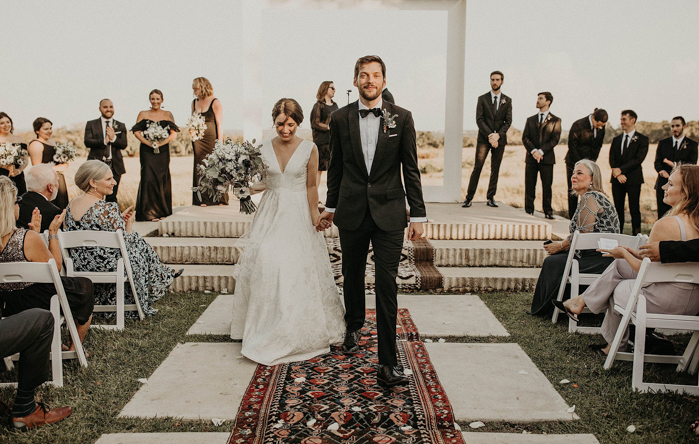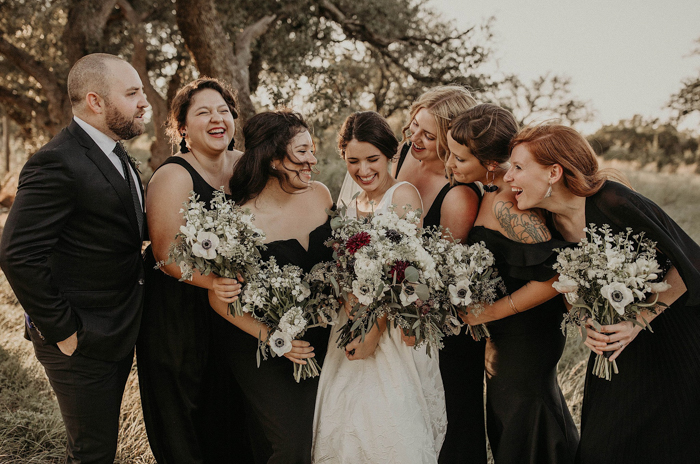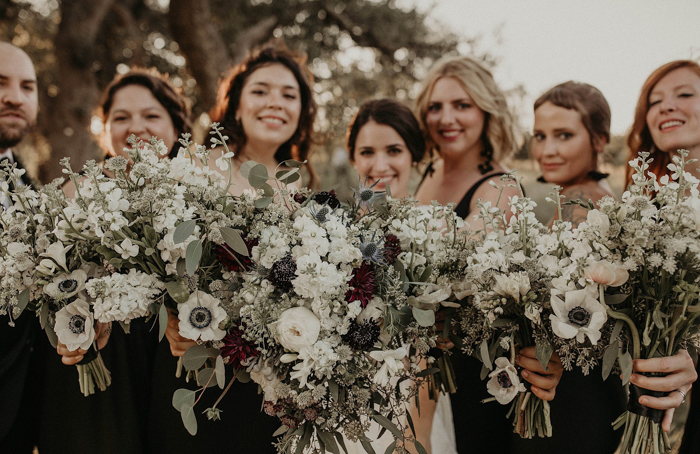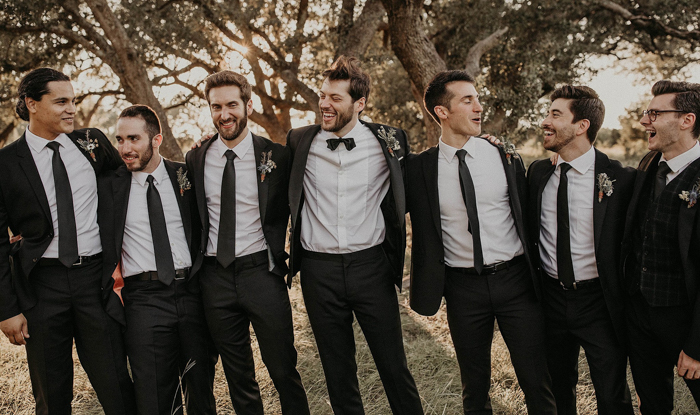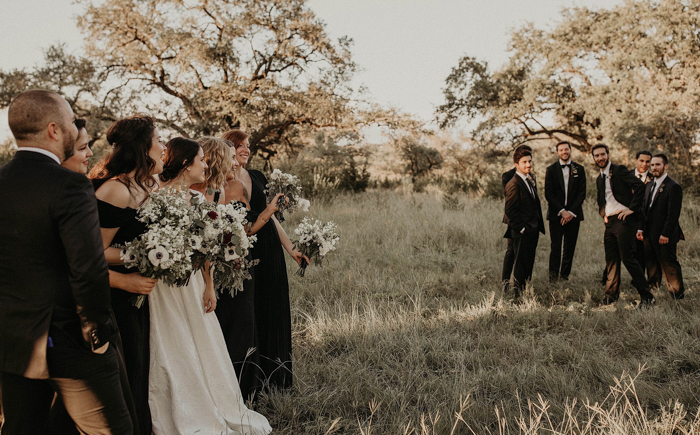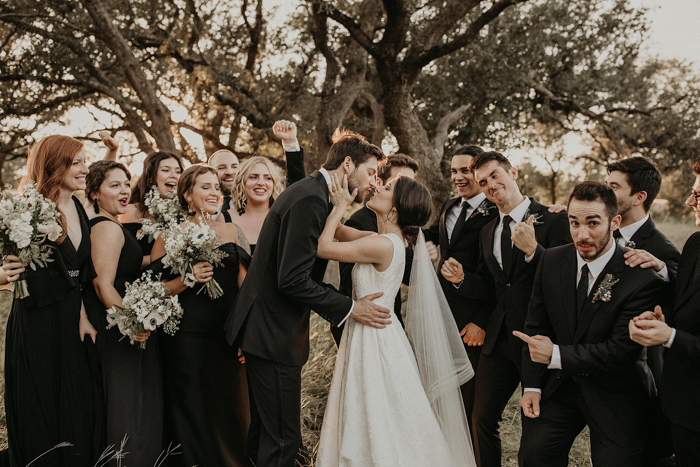 Megan is an interior designer, so the venue was really important to us. Prospect House has a clean, modern aesthetic and the property is so well planned and designed. The interior of the venue is like a blank canvas and there's a lot of beauty in its simplicity. We didn't have to throw thousands of dollars worth of flowers and decor at it, which we loved. Prospect House also offers the use of their own dining tables and chairs. They're sort of Scandinavian industrial/ mid-century inspired and different from your run of the mill wedding rental furniture. That was a big selling point for us.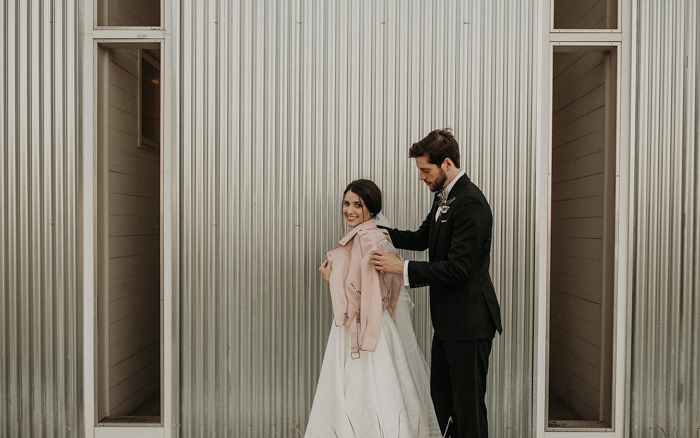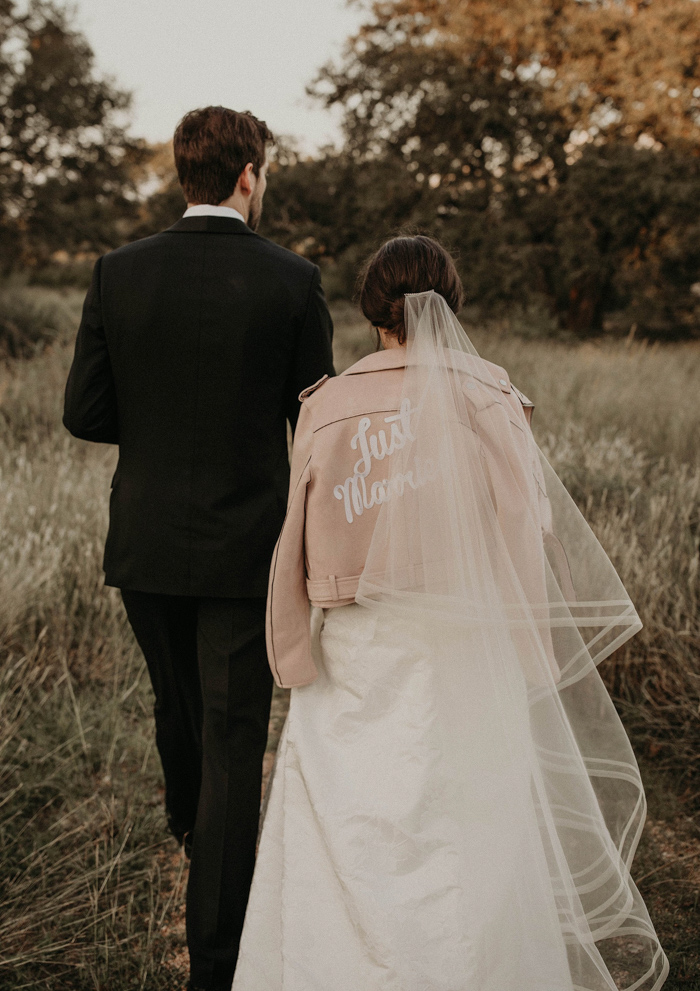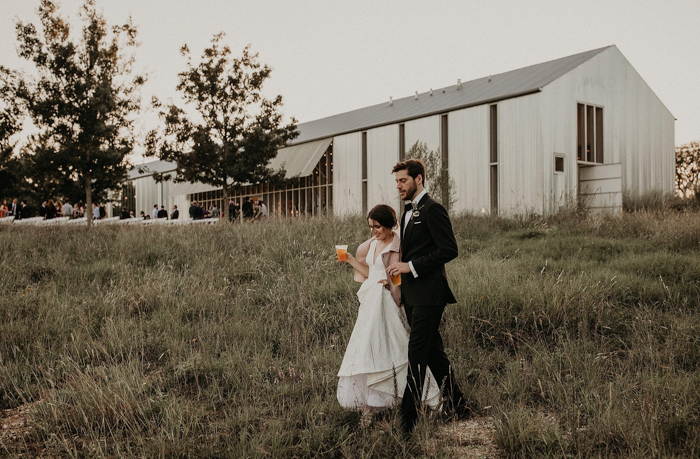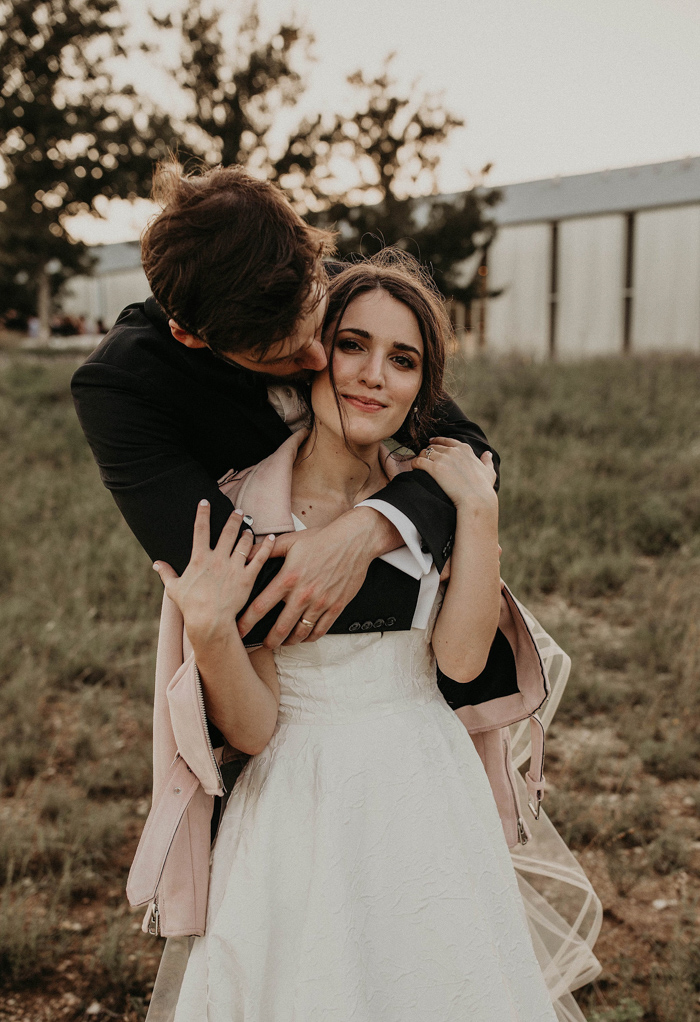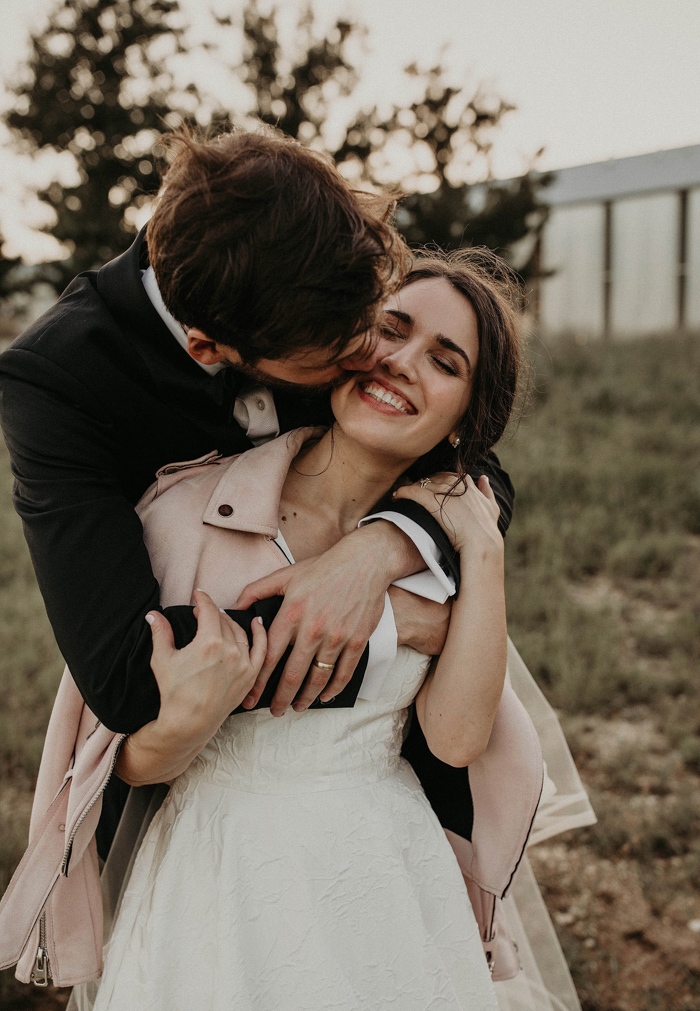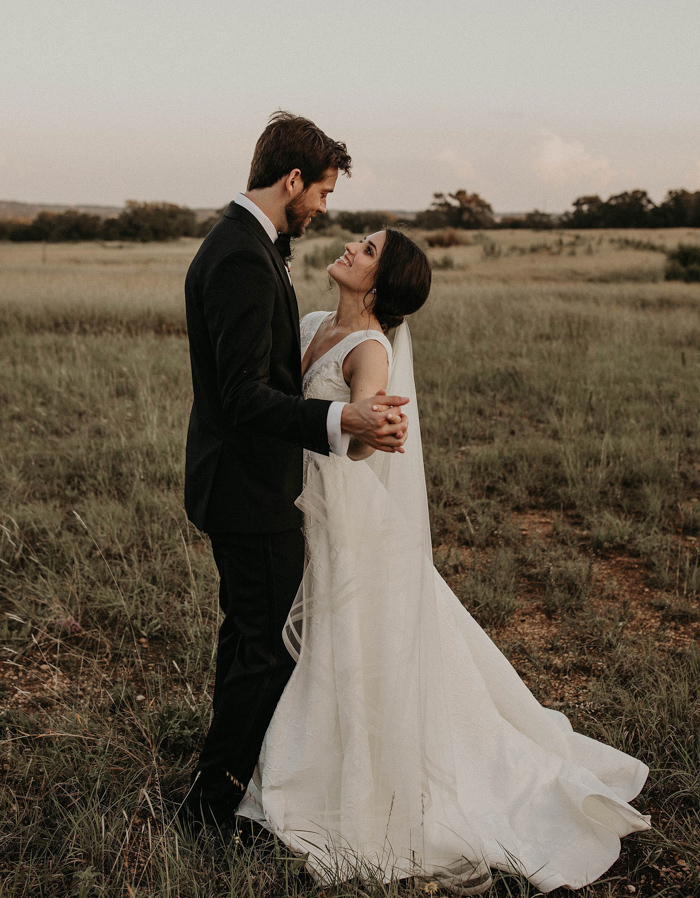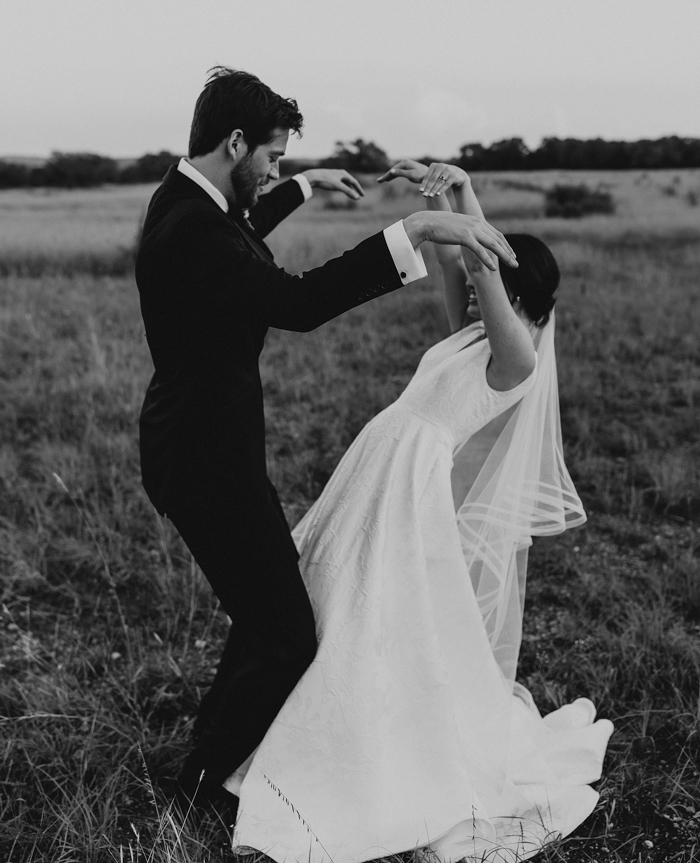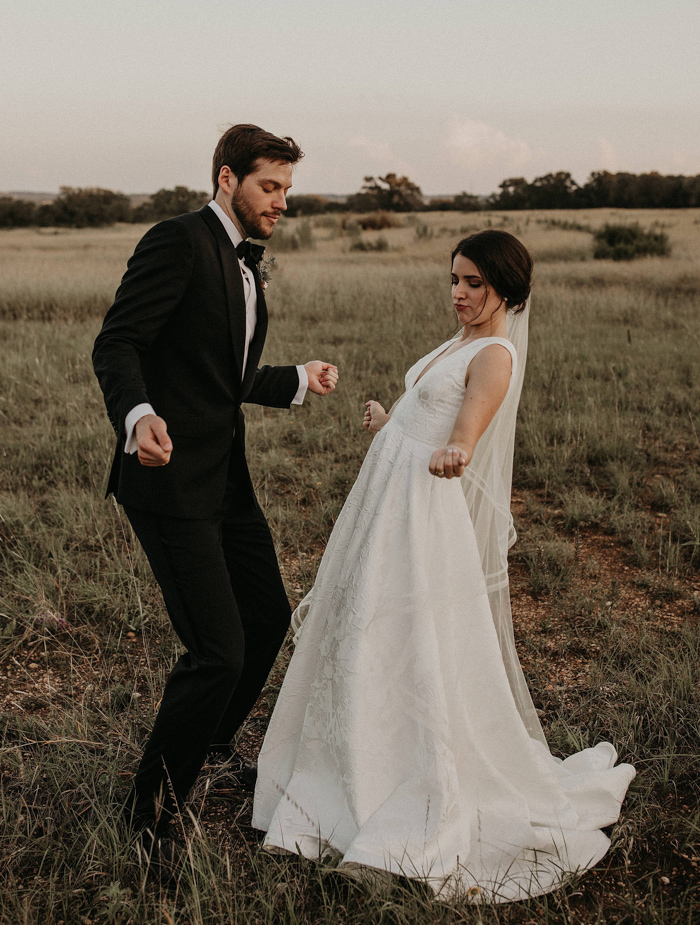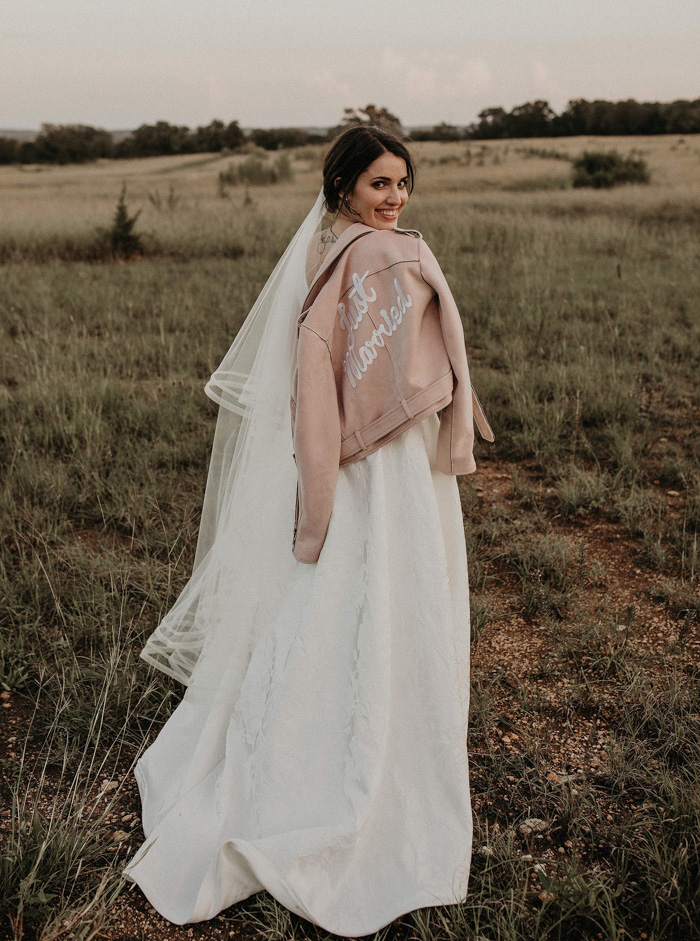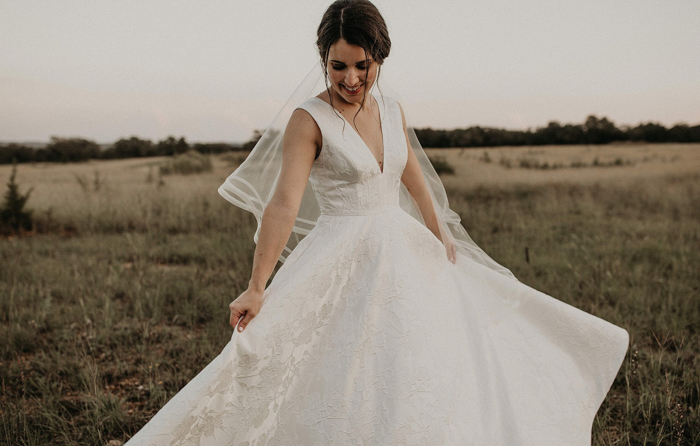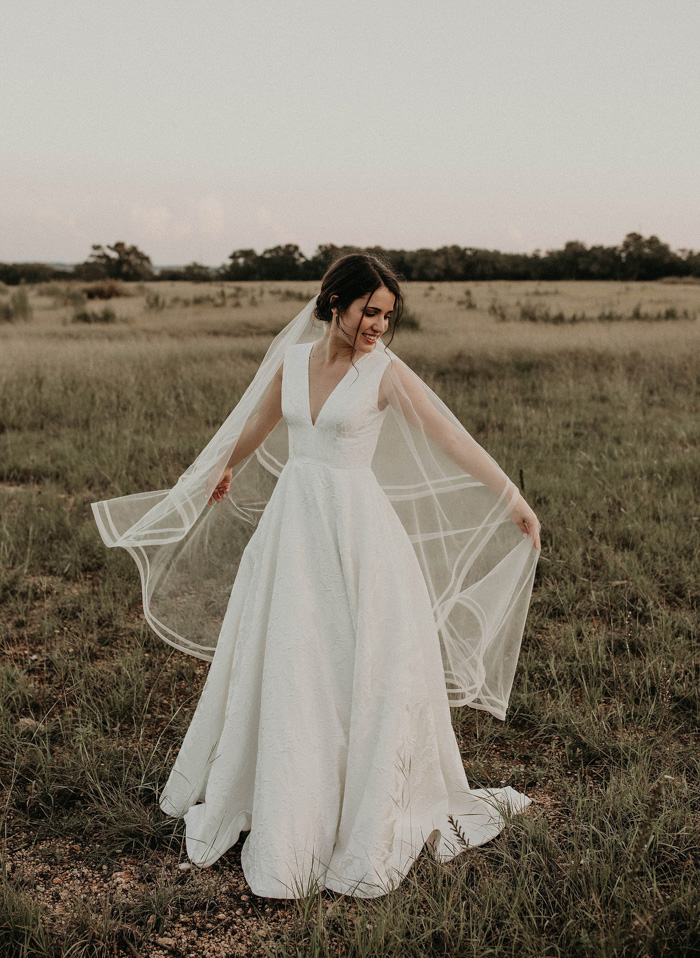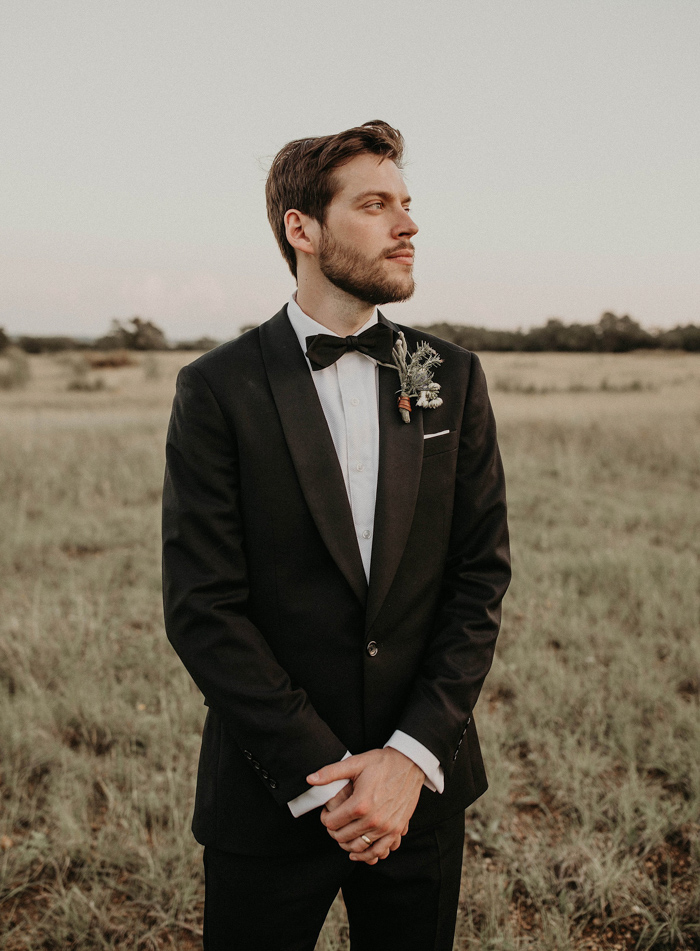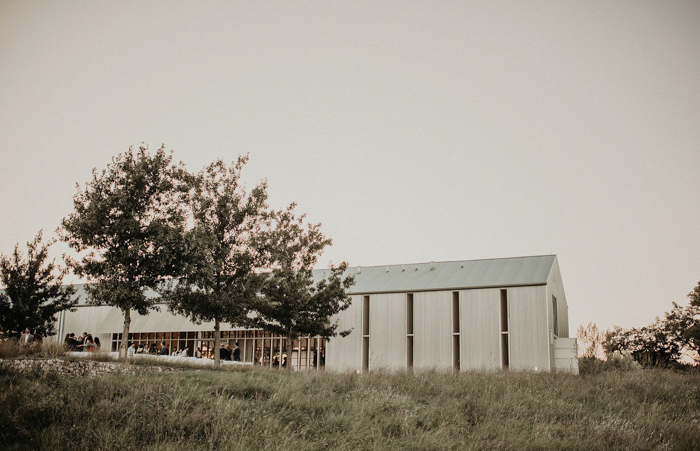 We wanted our wedding to be fairly casual, but still elegant. I approached the decor as I do when preparing for one of my client's projects. I assembled a storyboard of texture, color, finishes, interiors I liked and went from there. The result was a neutral palette with touches of brass, vintage glassware, feathers, and organic flower arrangements.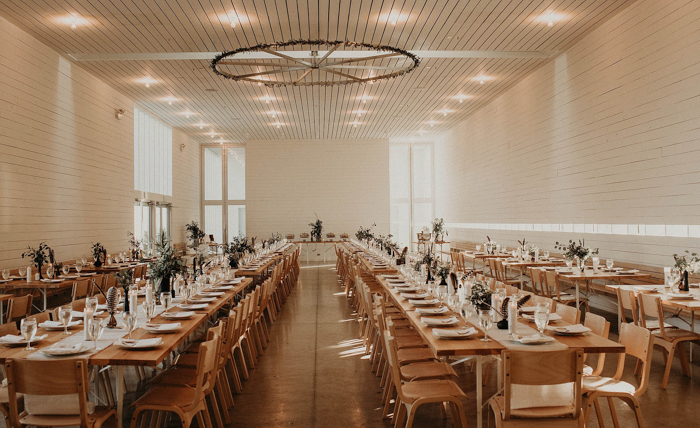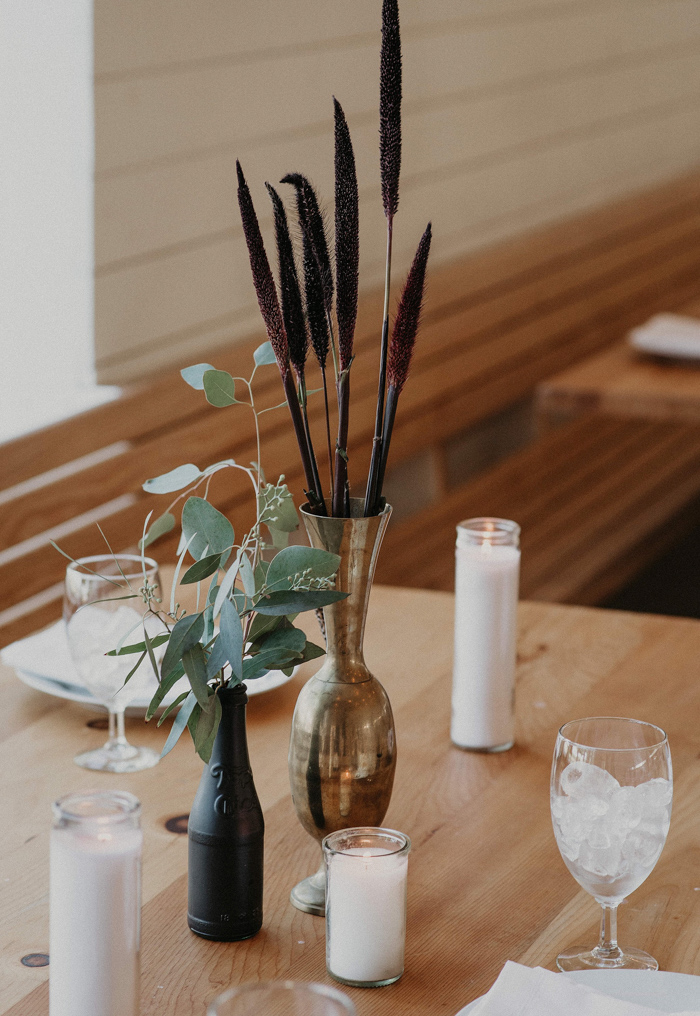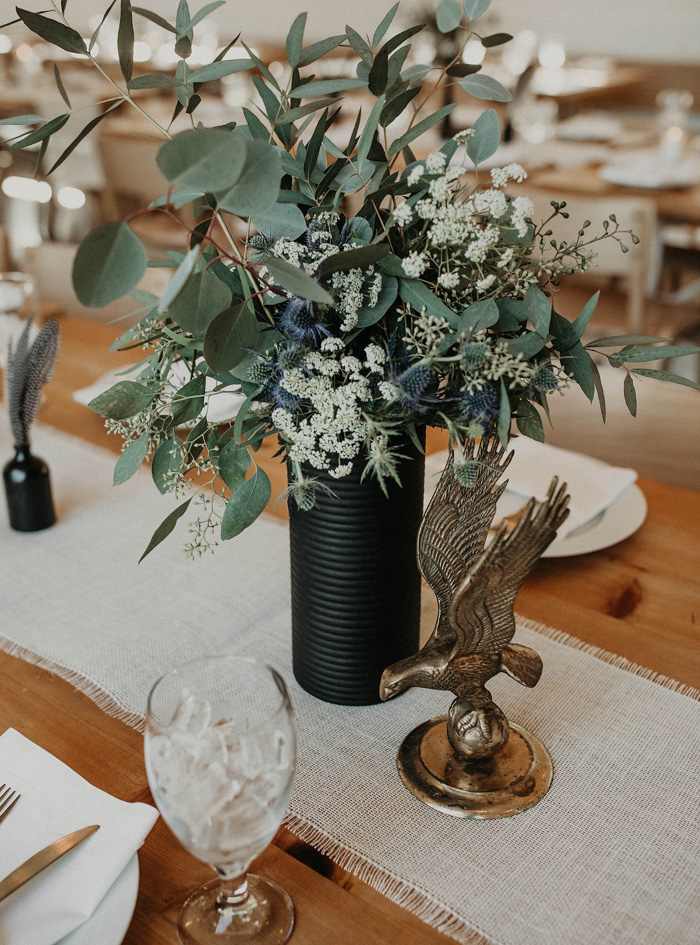 I spent the year leading up to the wedding collecting the tabletop decor, so there were weekly trips to Goodwill and other thrift stores. I found lots of great handmade school project style pottery, smokey and amber glass vases, and vintage brass objects. I painted a lot of the pottery with black matte paint to give it all a unified look but also play up the differences in texture. My incredible boss and close friend, Hillary Conrey and Katy Finch (both super talented designers), created the flower arrangements and placed the decor throughout the venue. My mother-in-law, Pam Harter, has a gift with flowers, and she made the most beautiful bouquets and boutonnieres for us and our wedding party.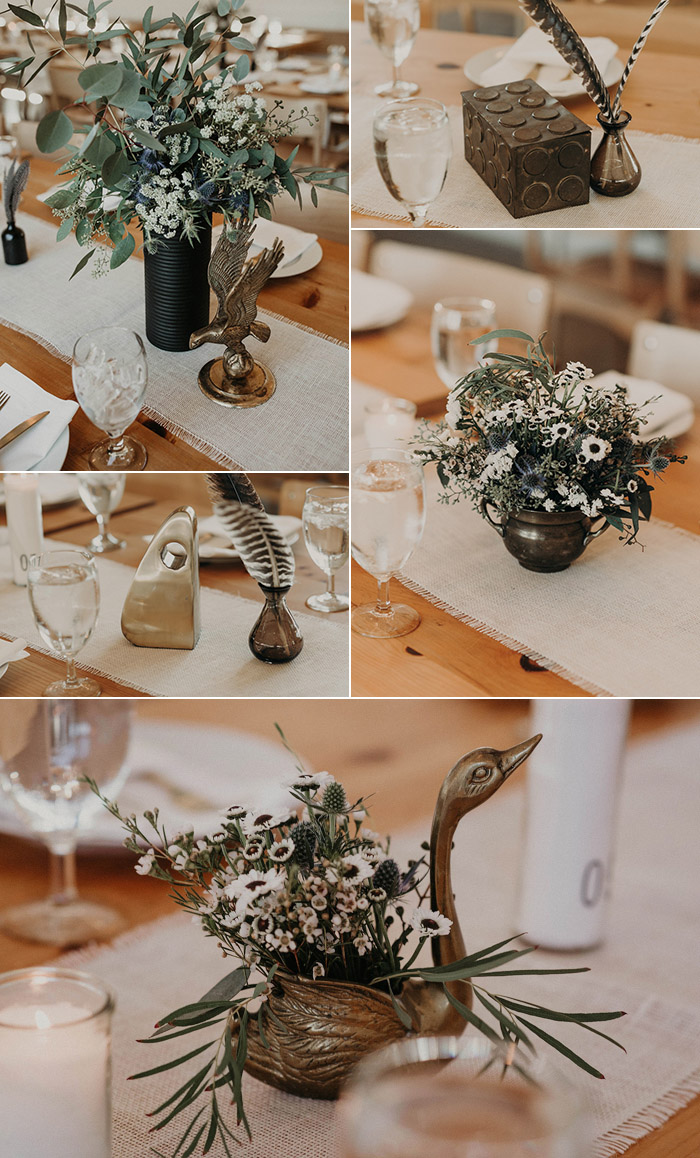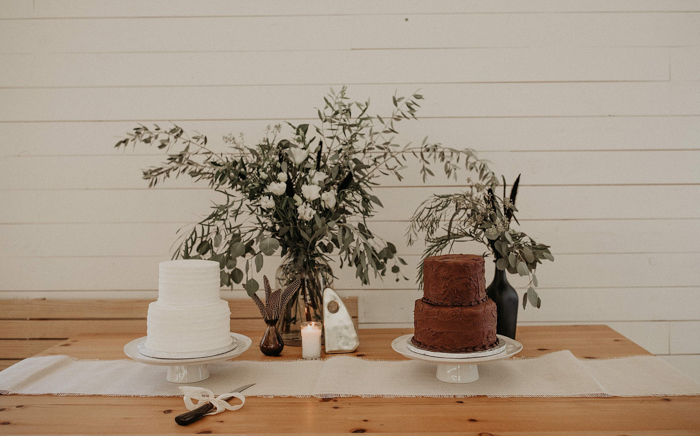 Hire a coordinator! I'd planned on hiring just a day-of coordinator, but our D-O-C turned into a full-blown coordinator in the three months leading up to the wedding. There are so many tiny details that coordinators know to plan for. If I were to do it all over again, I would have hired our coordinator from the very beginning.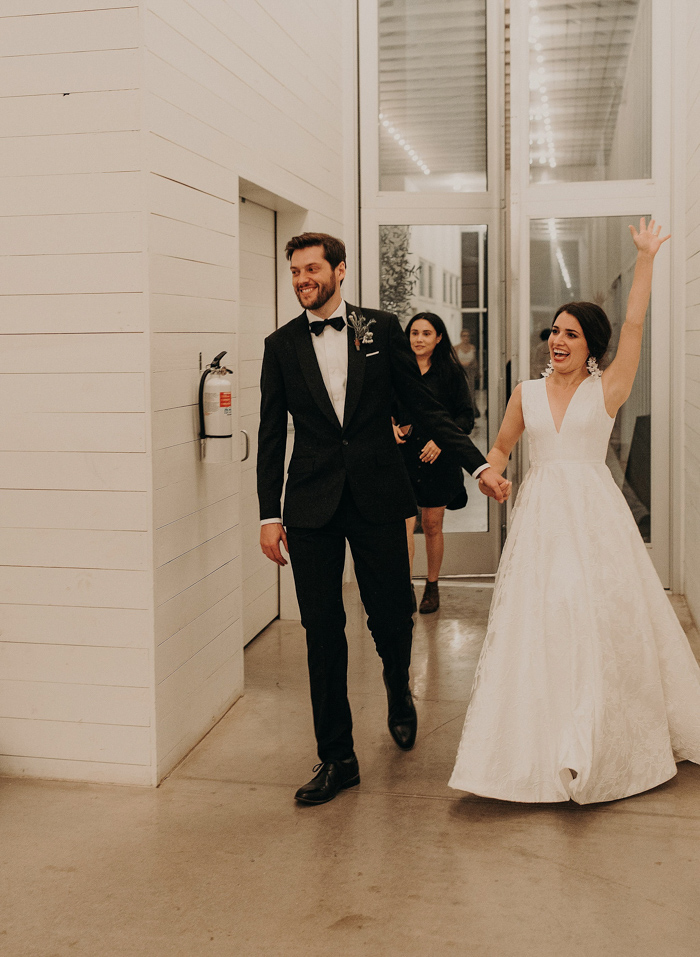 Processional – "Love" by John Lennon, performed by Keith Harter and Bob Patterson
Recessional – "No Matter What" by Badfinger, performed by Keith Harter and Bob Patterson
First Dance – "Open Mind" by Wilco, performed by Keith Harter and Bob Patterson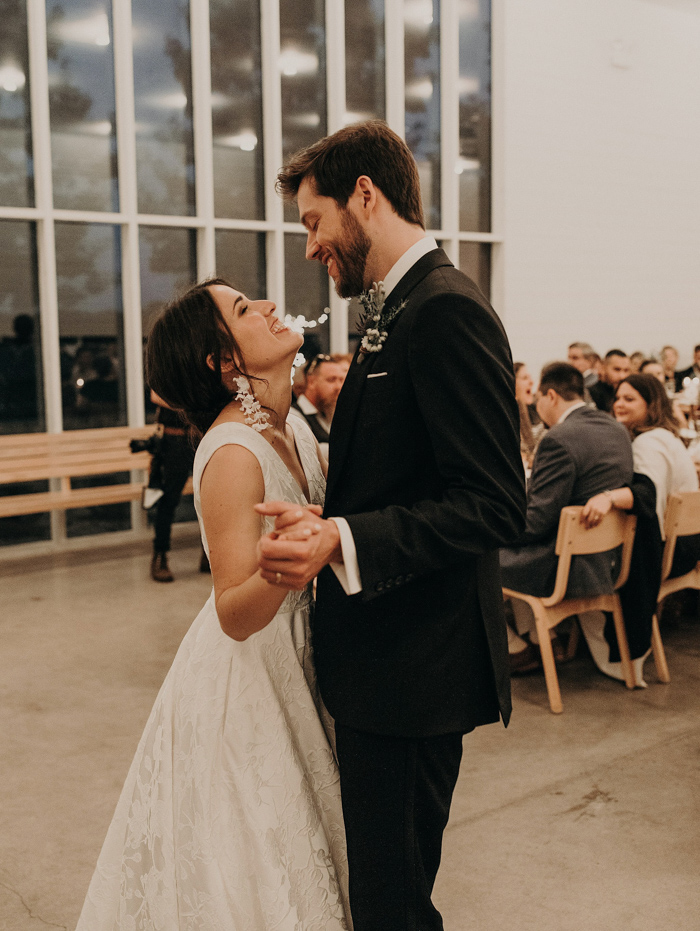 Most of our guests traveled over an hour from San Antonio to the venue in Dripping Springs, so we wanted to make sure they had a snack on the way home. We went to Costco and purchased family sized boxes of our favorite snacks and packed them in personalized snack bags labeled "His Favorite" and "Her Favorite." Megan is notoriously fond of cheese, so her favorite snacks naturally included Cheez-Its, Cheetos, Doritos, and Cheese Puffs. Josh has a more diverse palette, so he chose Oreos, various candy bars, and trail mix.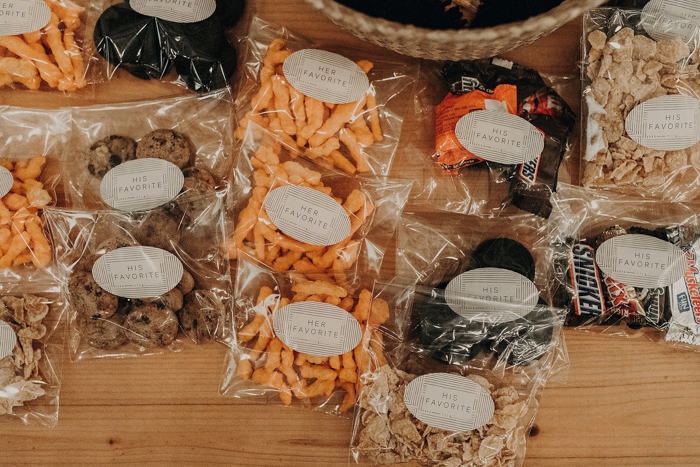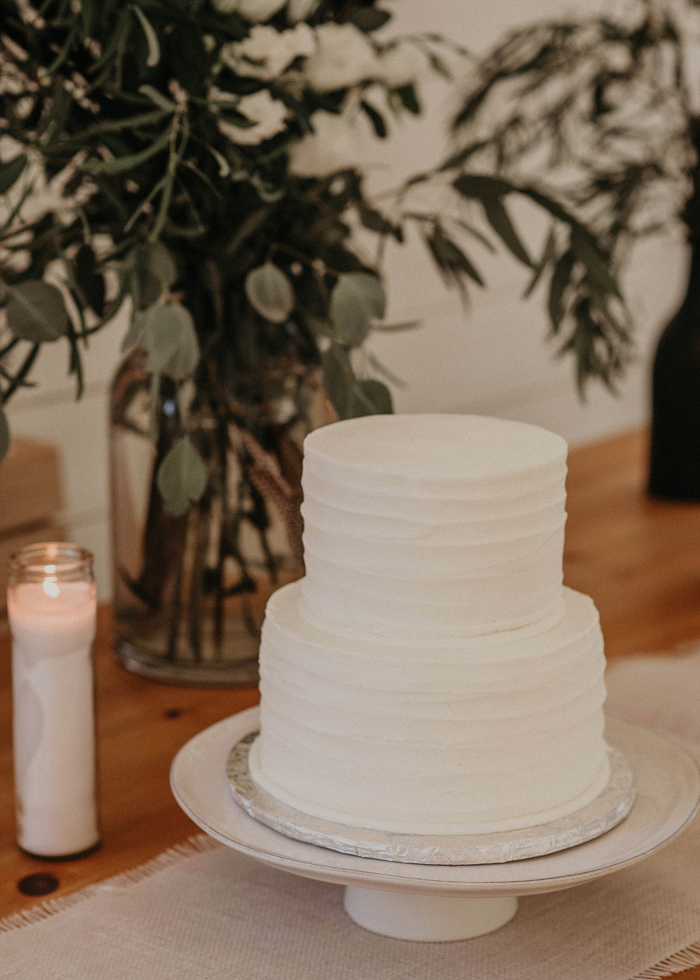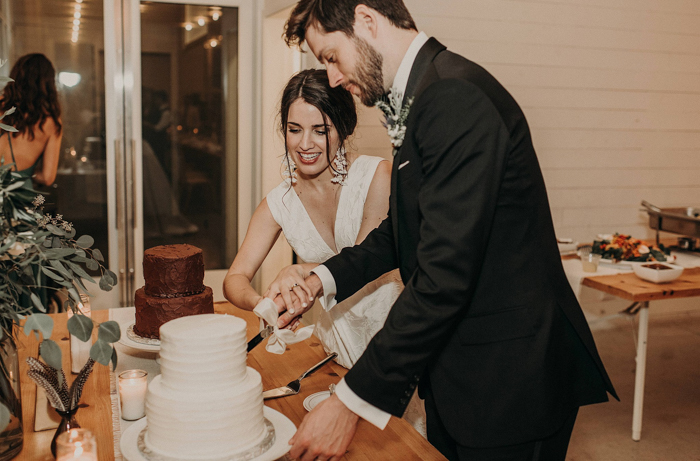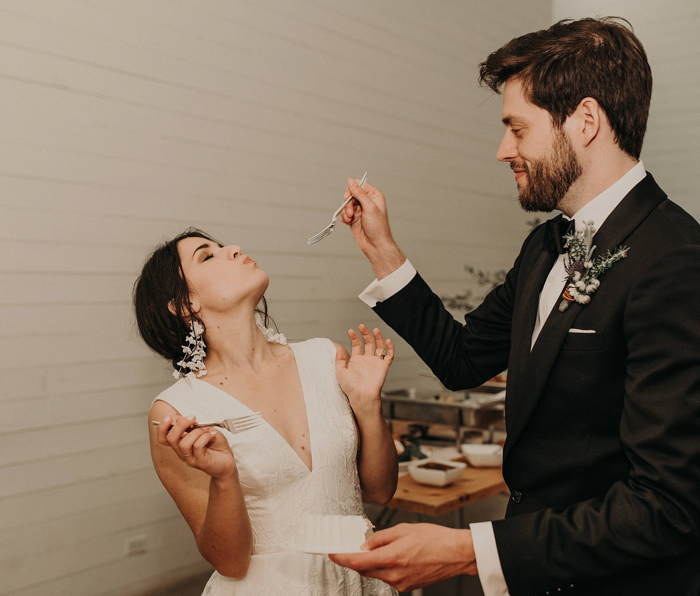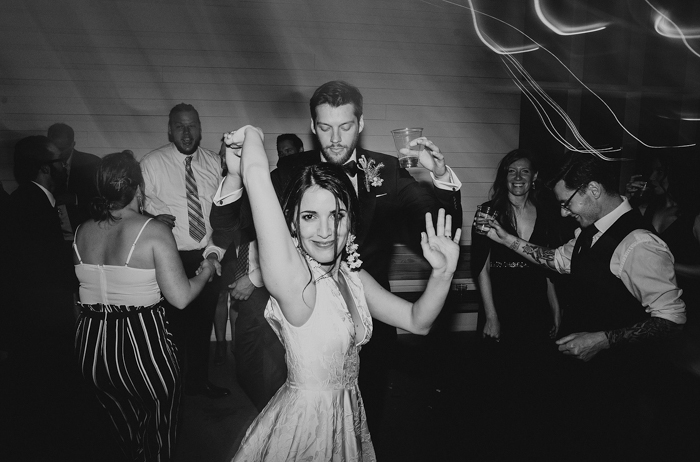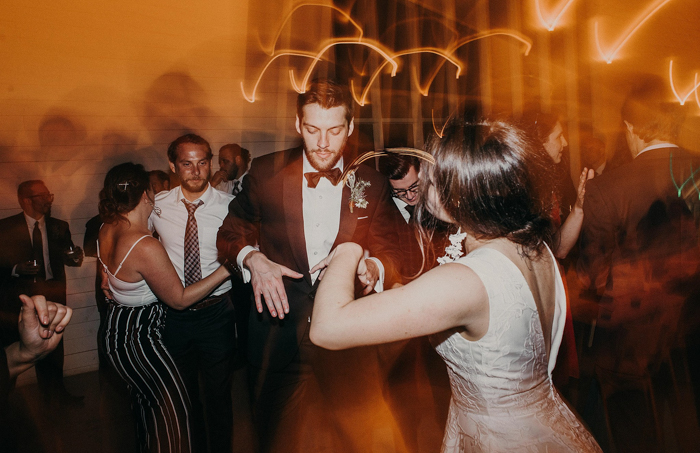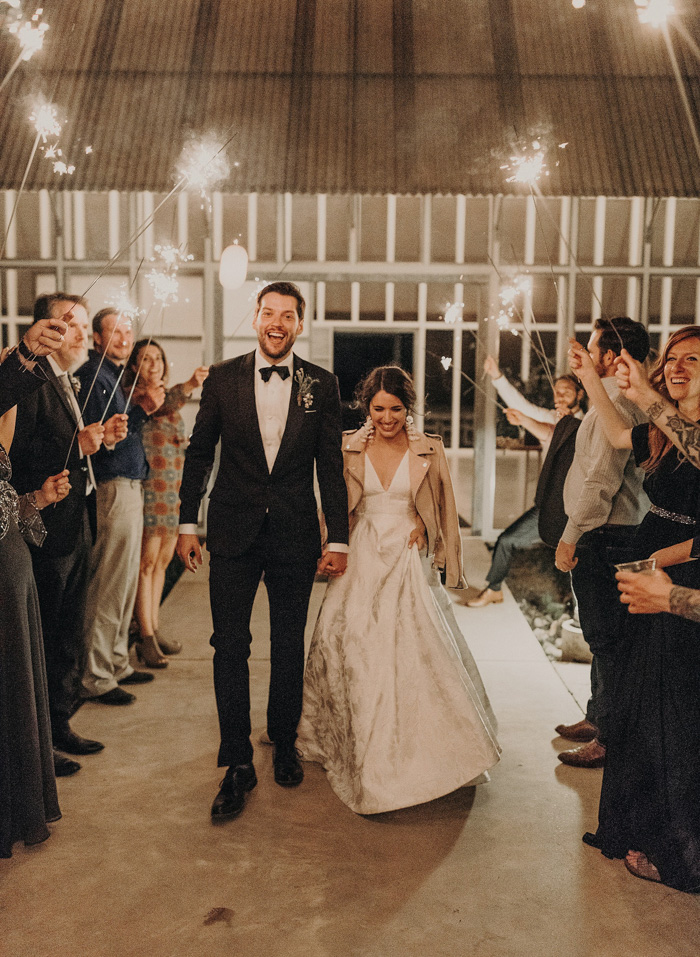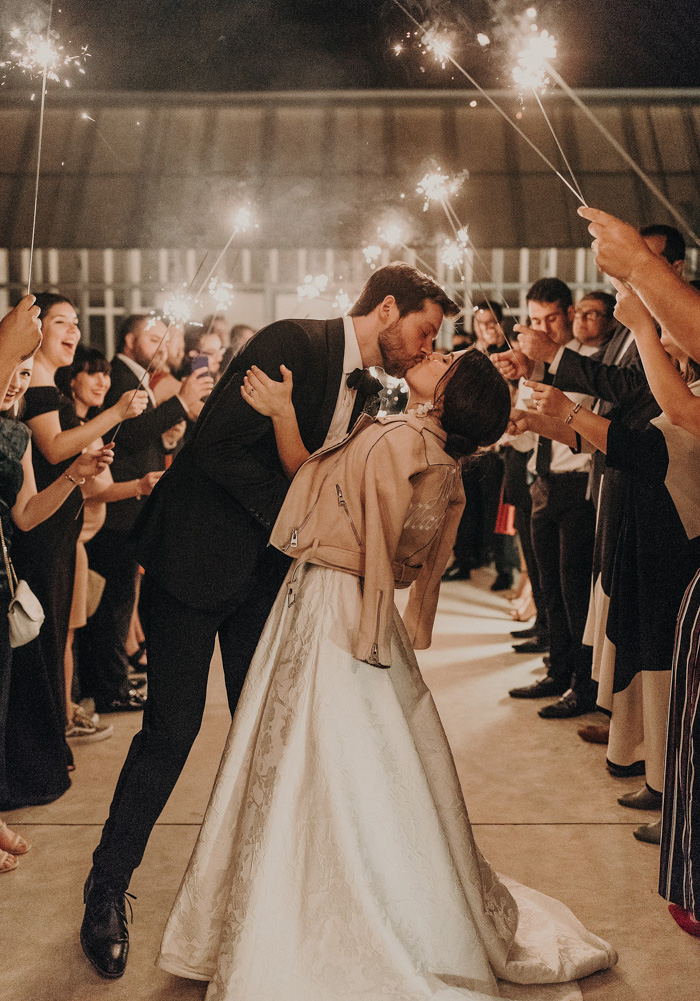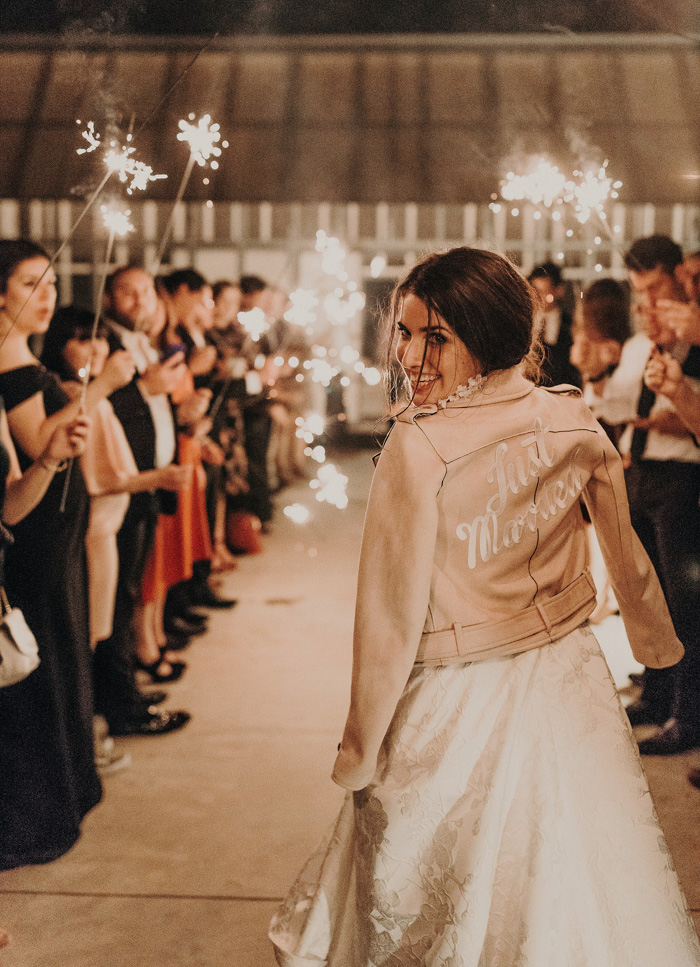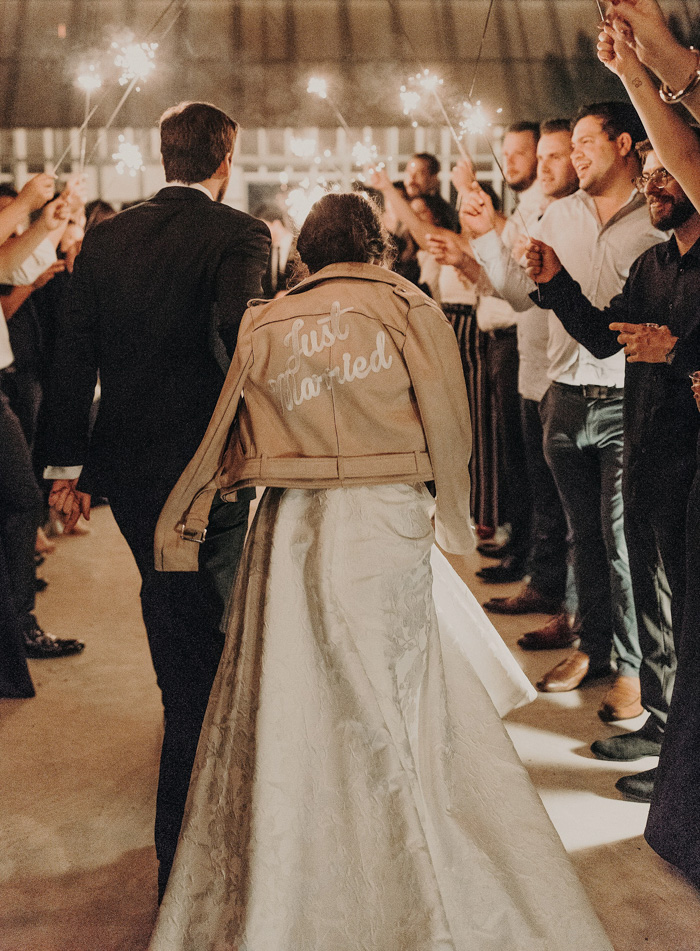 Congratulations to Megan and Josh, and a big thanks to Junebug member Nikk Nguyen Photo for sharing this gorgeous Prospect House wedding! Want to see more from this talented photographer? This couple treated their out-of-town guests to a quintessentially Texas wedding at Jacoby's Restaurant and Mercantile!