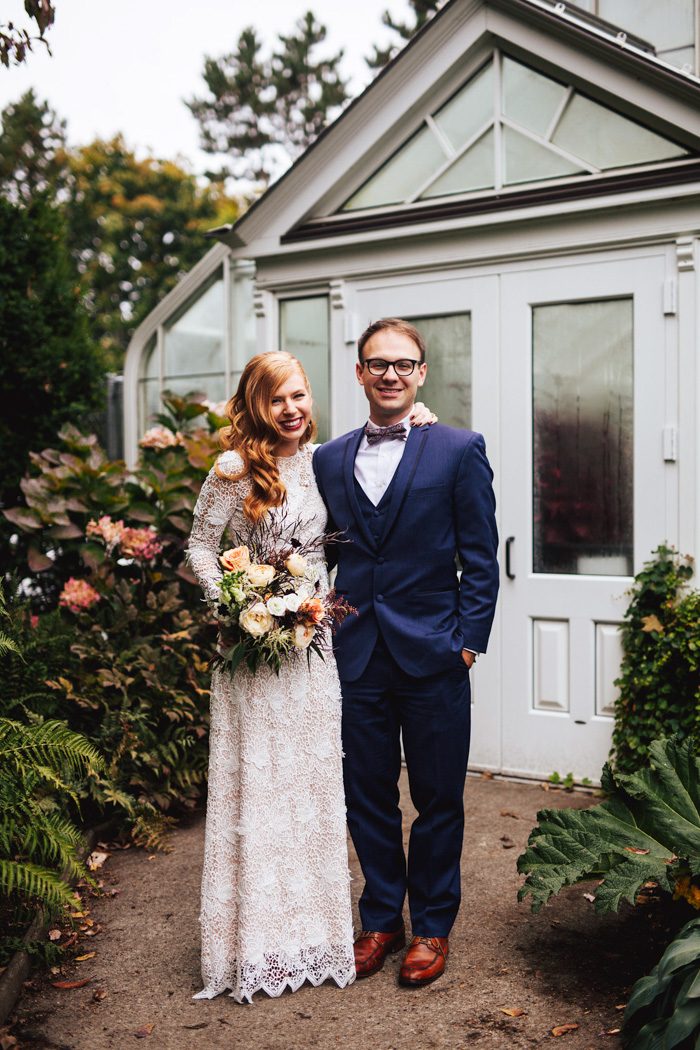 Megan, Alex, and their close friend/wedding planner Shalom Murphy could teach a master class on bucking wedding tradition and creating a spectacularly cool celebration that's full of personality! The couple's greenhouse ceremony at Volunteer Park Conservatory in downtown Seattle can be described in two words: dreamy and magical. It was the perfect amount of space for their small guest list, and it offered both shelter from the Seattle fall weather along with the natural beauty of the outdoors. As if that wasn't cool enough, they then hosted a family style brunch-for-dinner reception at Local 360, complete with chicken and waffles, a poppyseed muffin wedding cake, signature brunch cocktails, and all the vintage decor your heart could desire! Shadi Garman Photography nailed it and captured every unique detail and fun moment of this Seattle wedding beautifully!
The Couple:
Megan and Alex
The Wedding:
Local 360, Seattle, Washington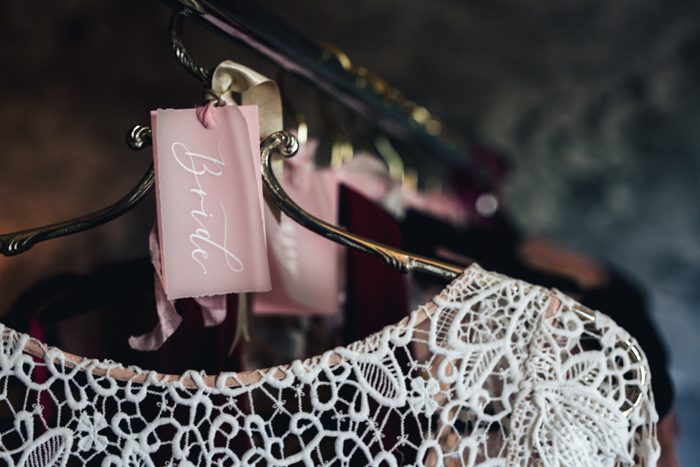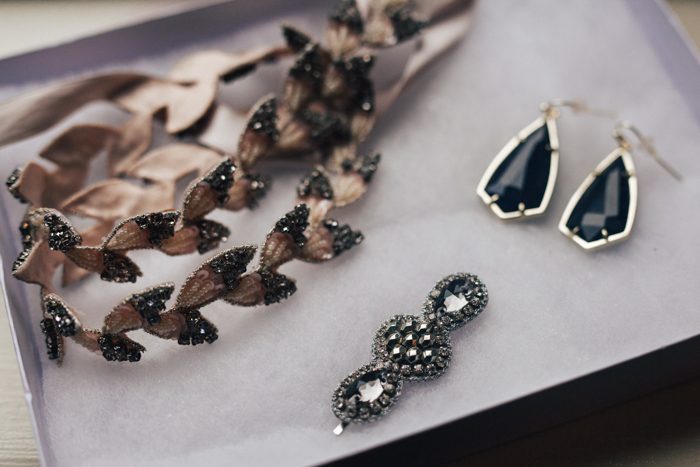 SHOP THIS LOOK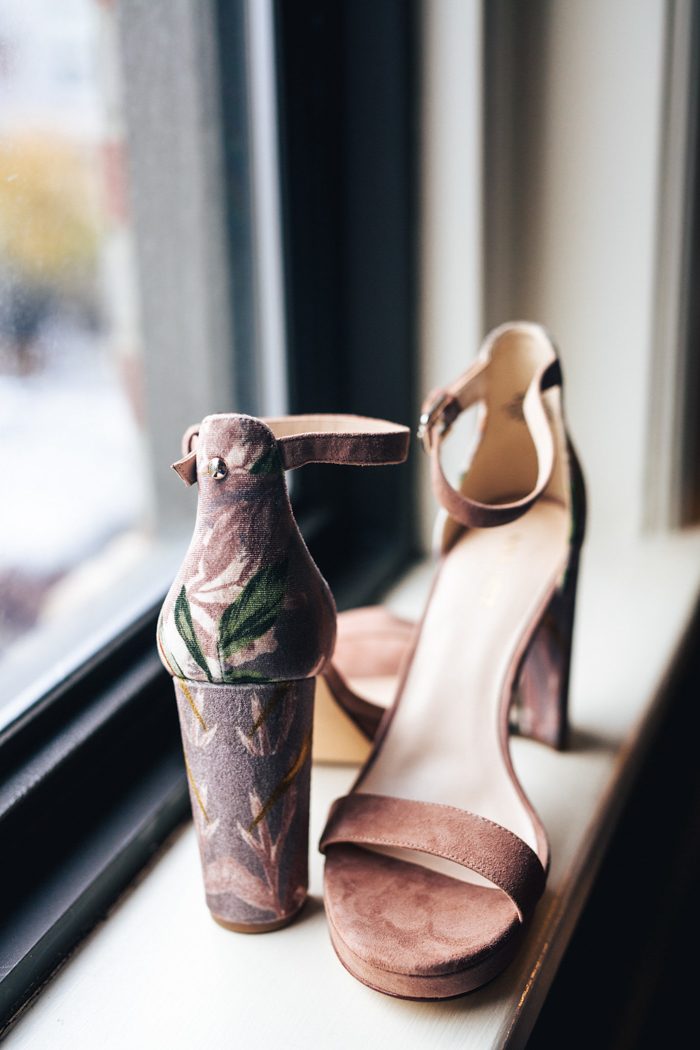 SHOP THIS LOOK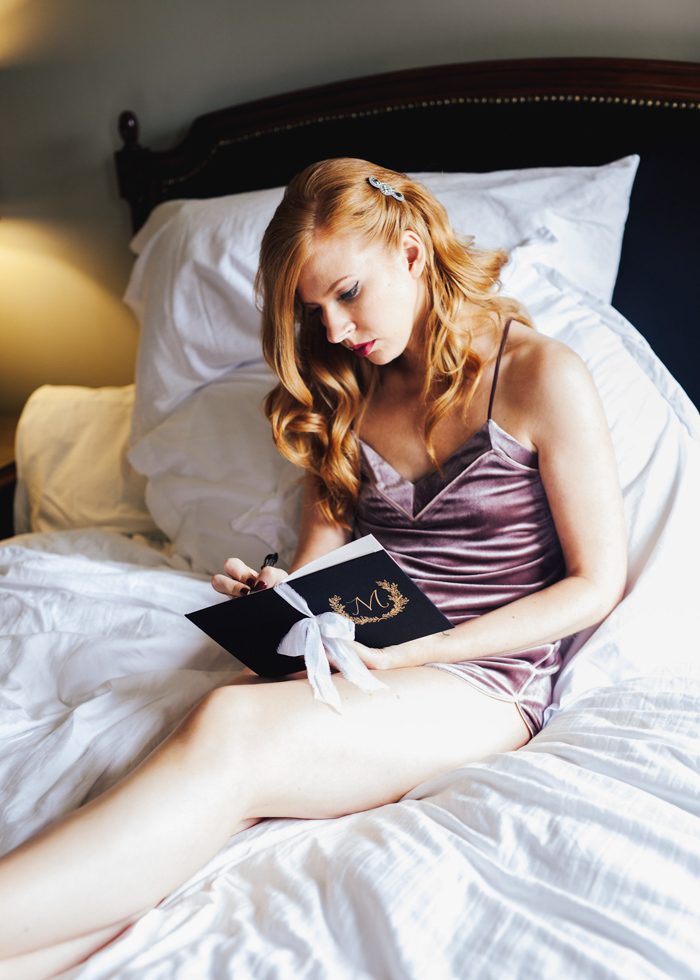 We threw out the rule book on weddings and wanted to keep it as intimate as possible. Keeping the number small meant that any decision we made had to be passed through two people: the bride and groom. There was an F-bomb paying homage to Drake on our Save the Dates, and my parents weren't worried because everyone who was attending knows exactly who we are and would expect nothing less. Most went searching for an F-Bomb on the formal invite, and were sorely disappointing when they couldn't find one. But we like to keep people guessing.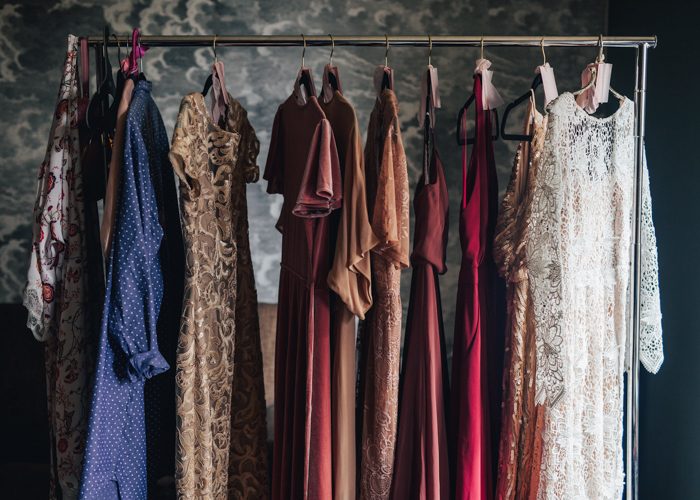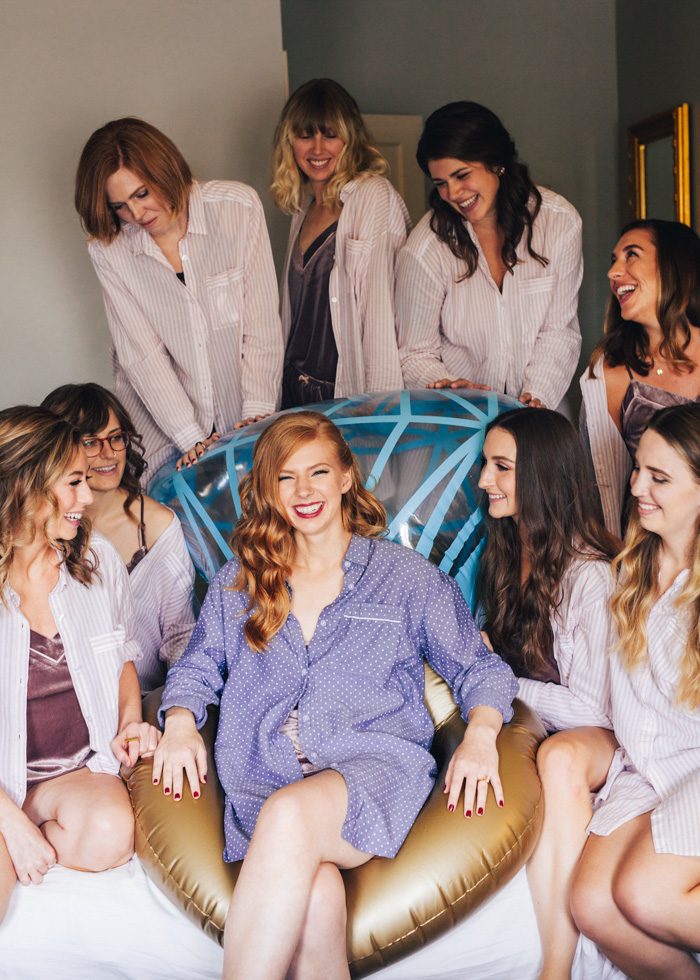 SHOP THIS LOOK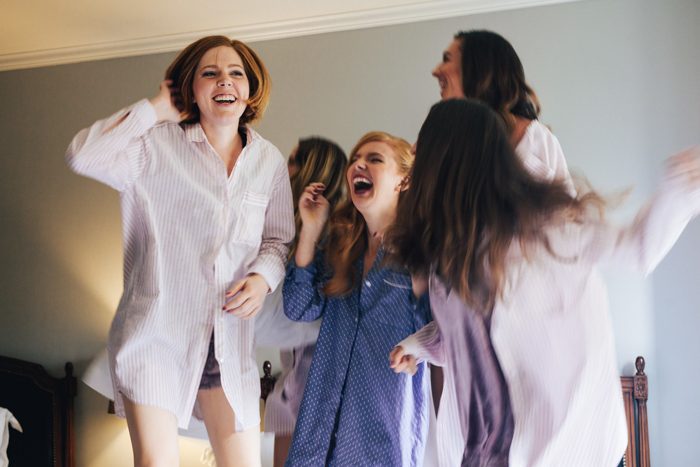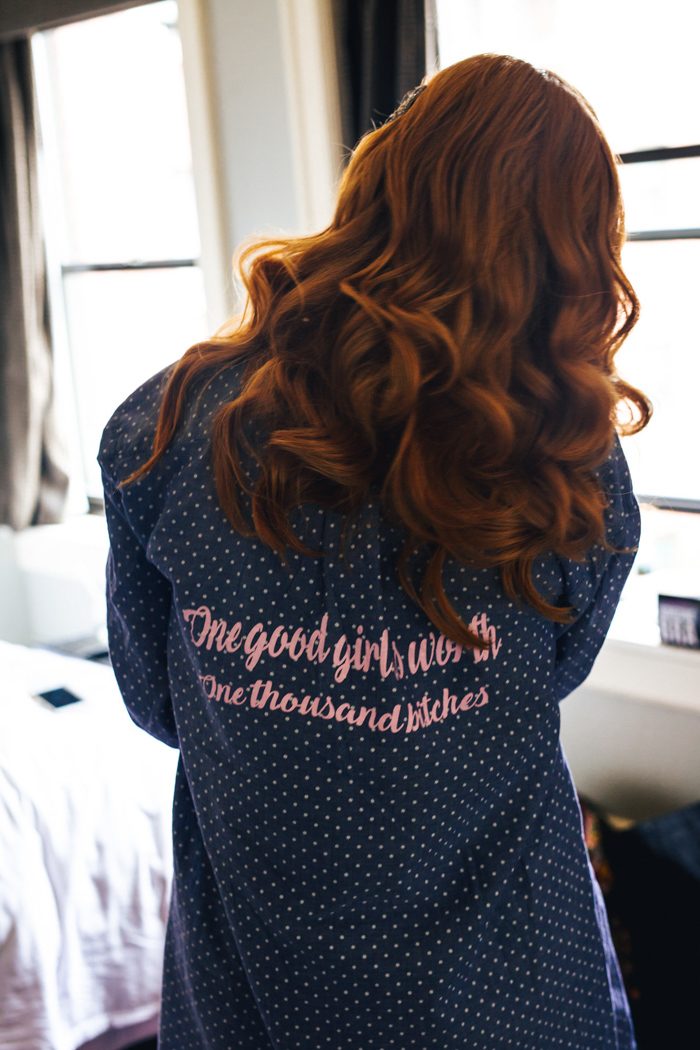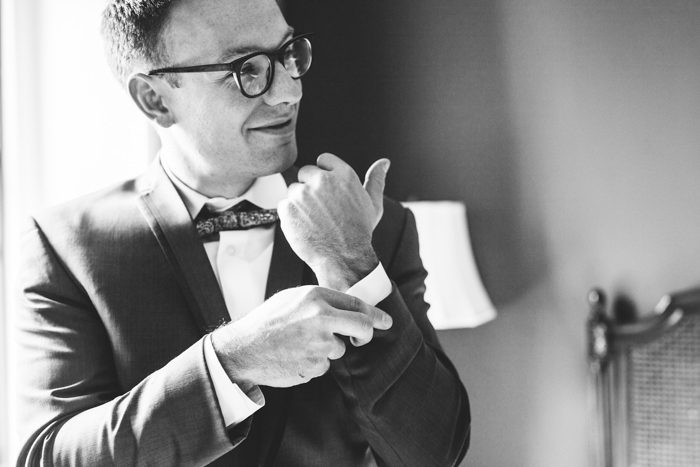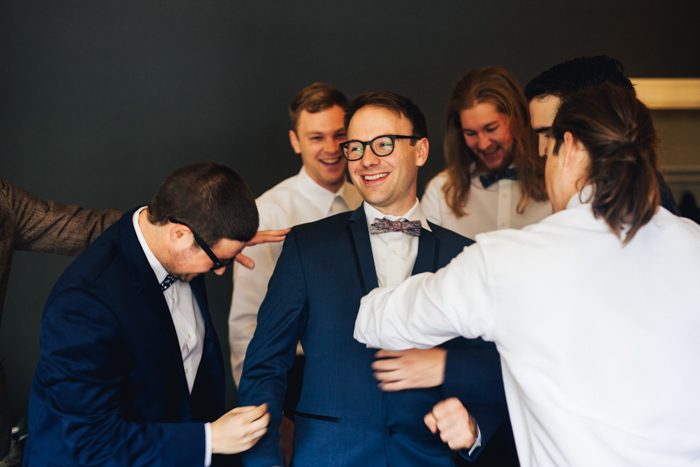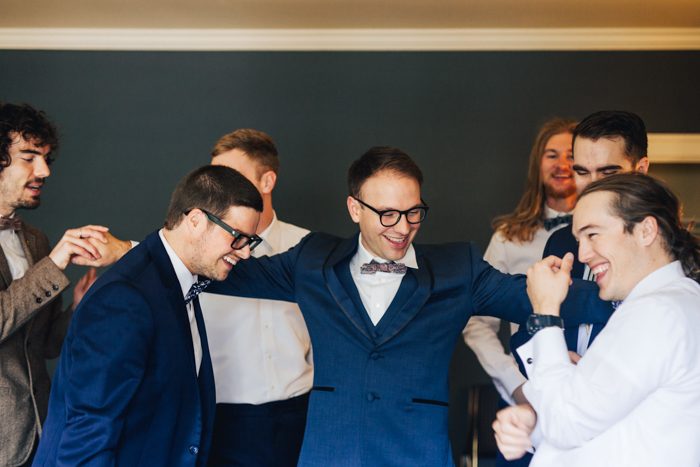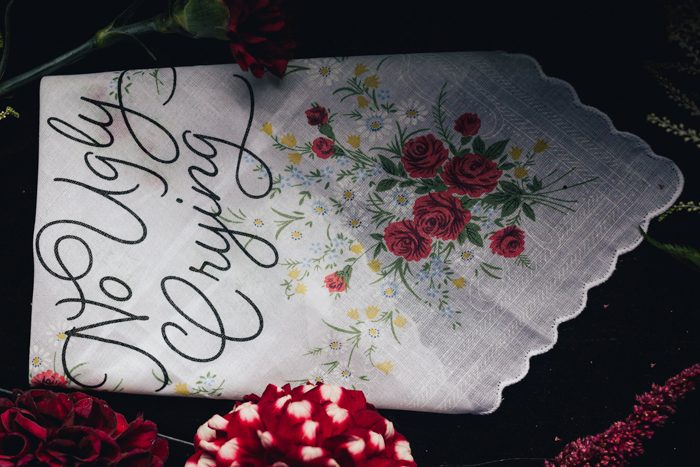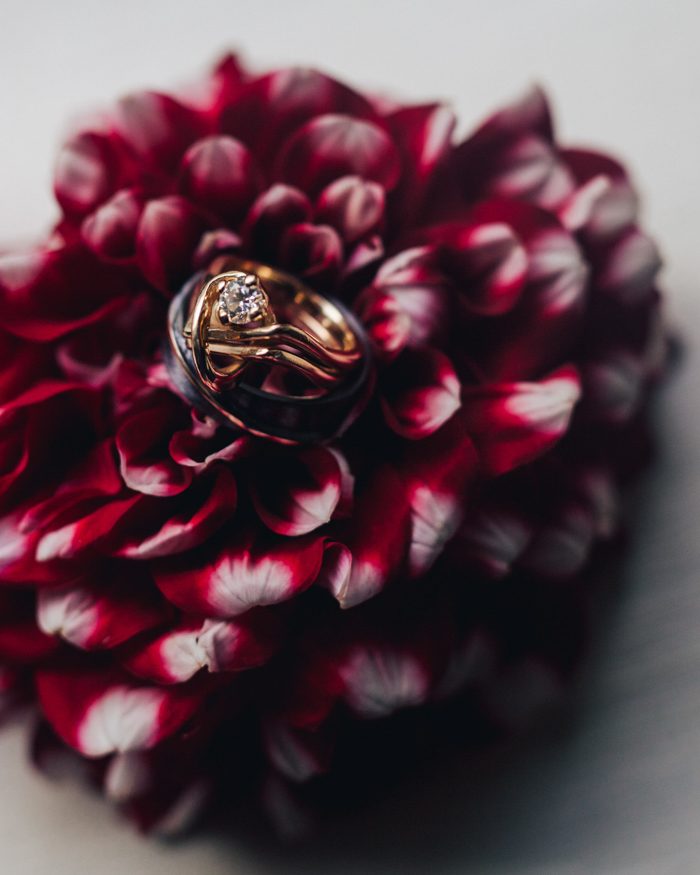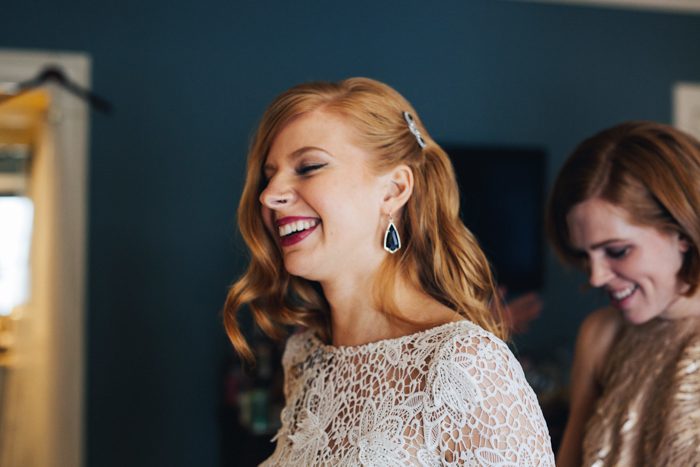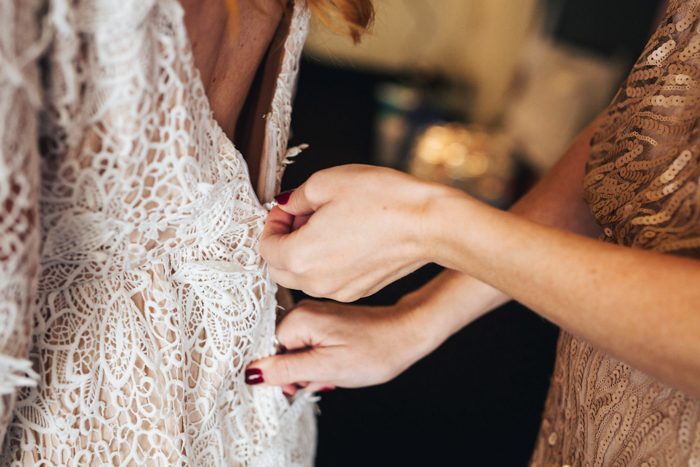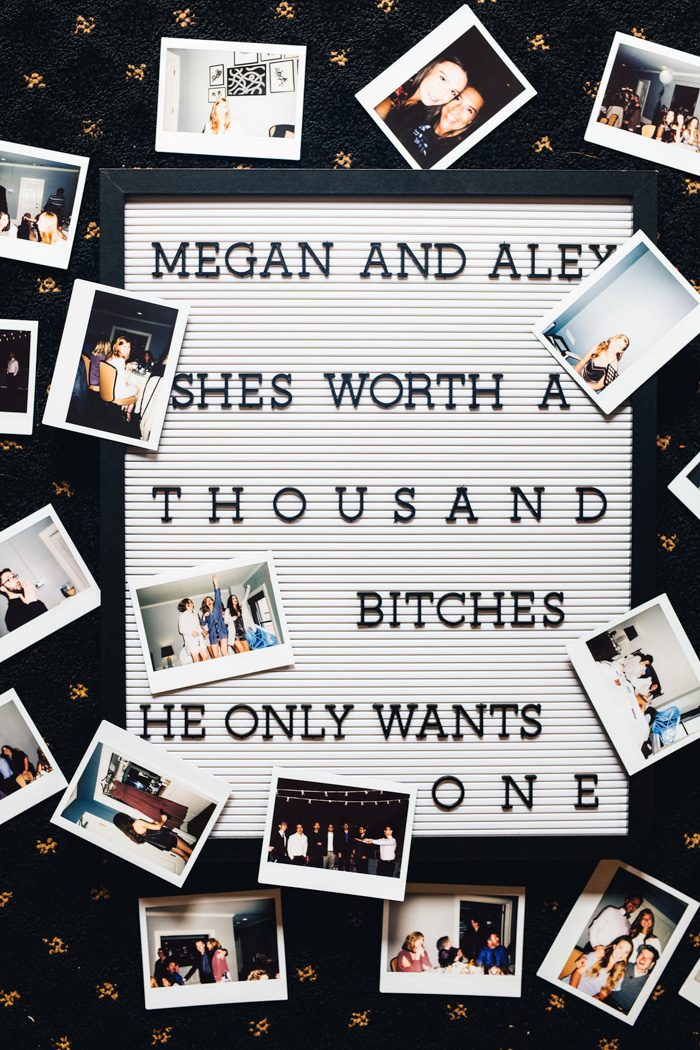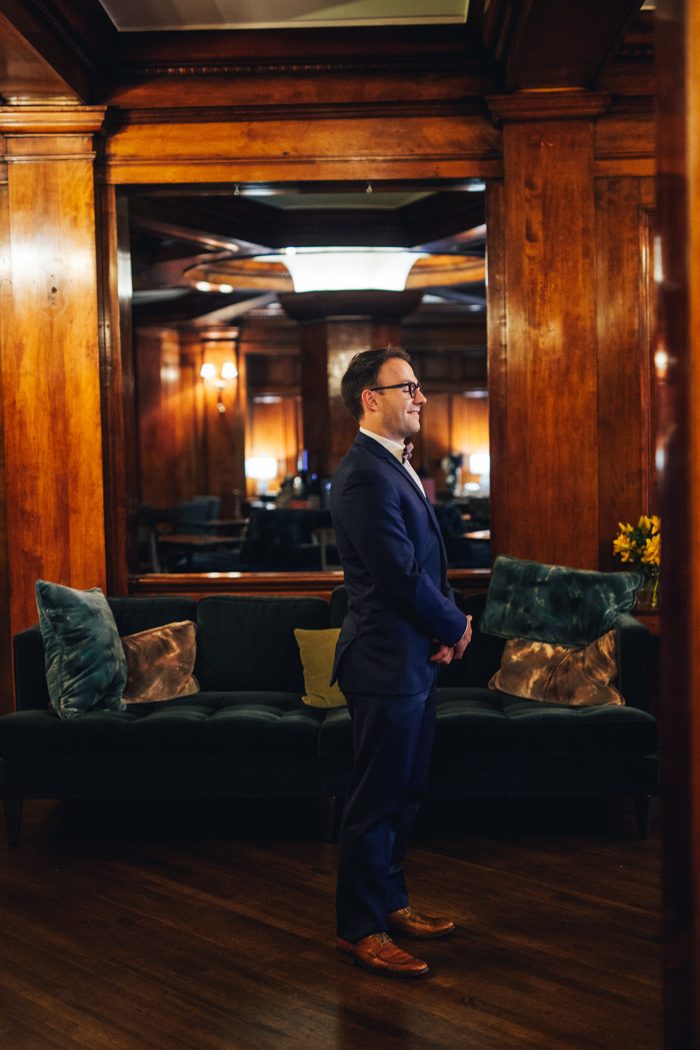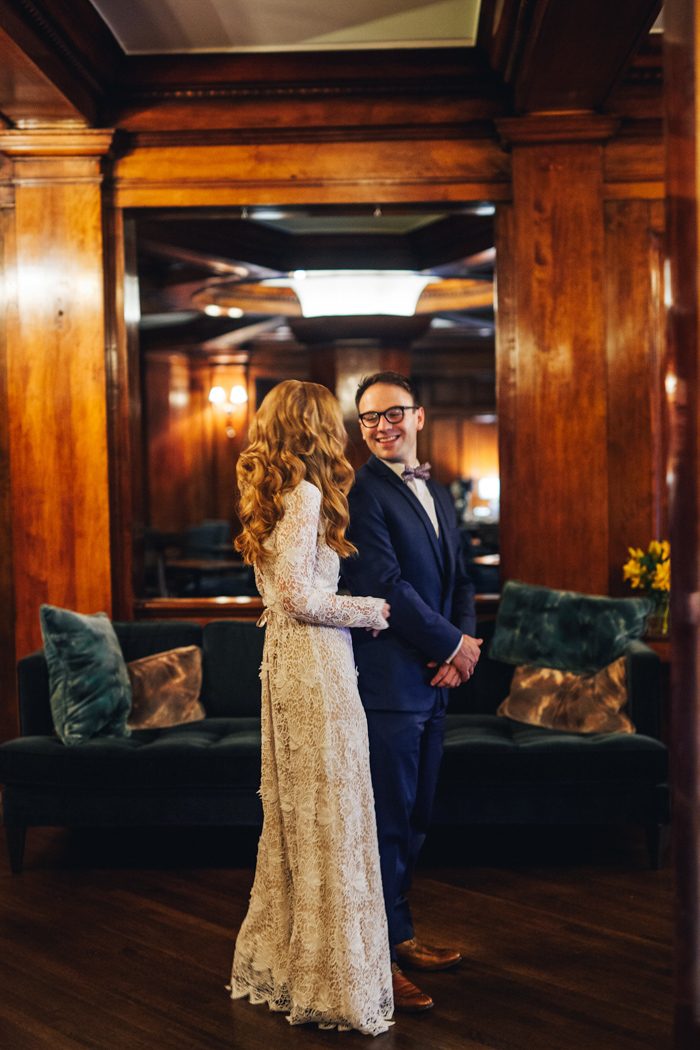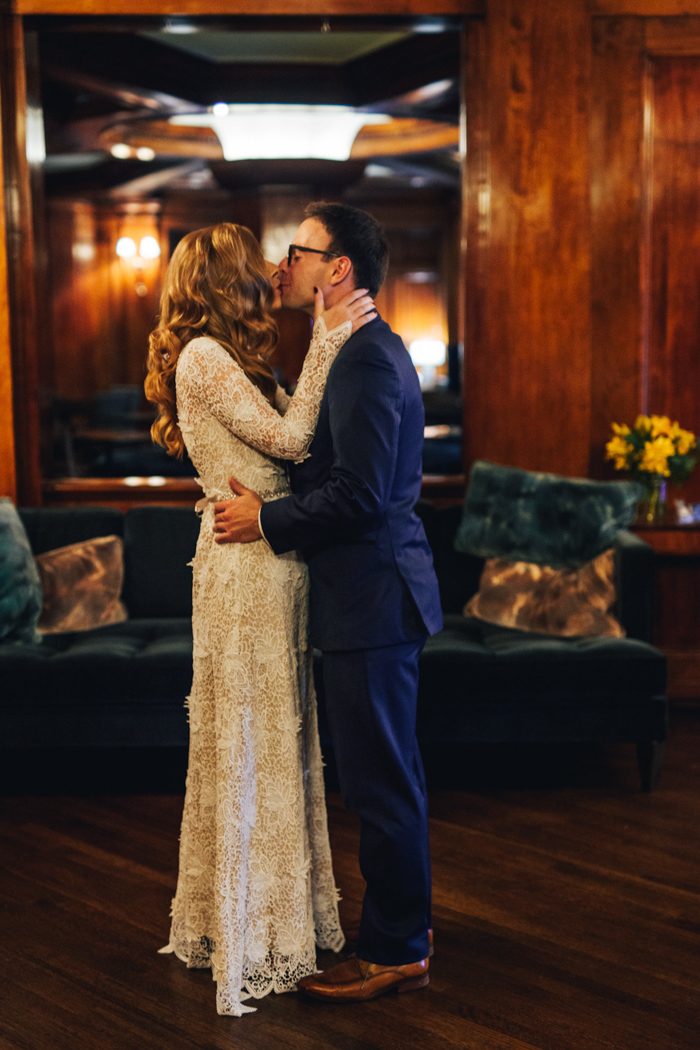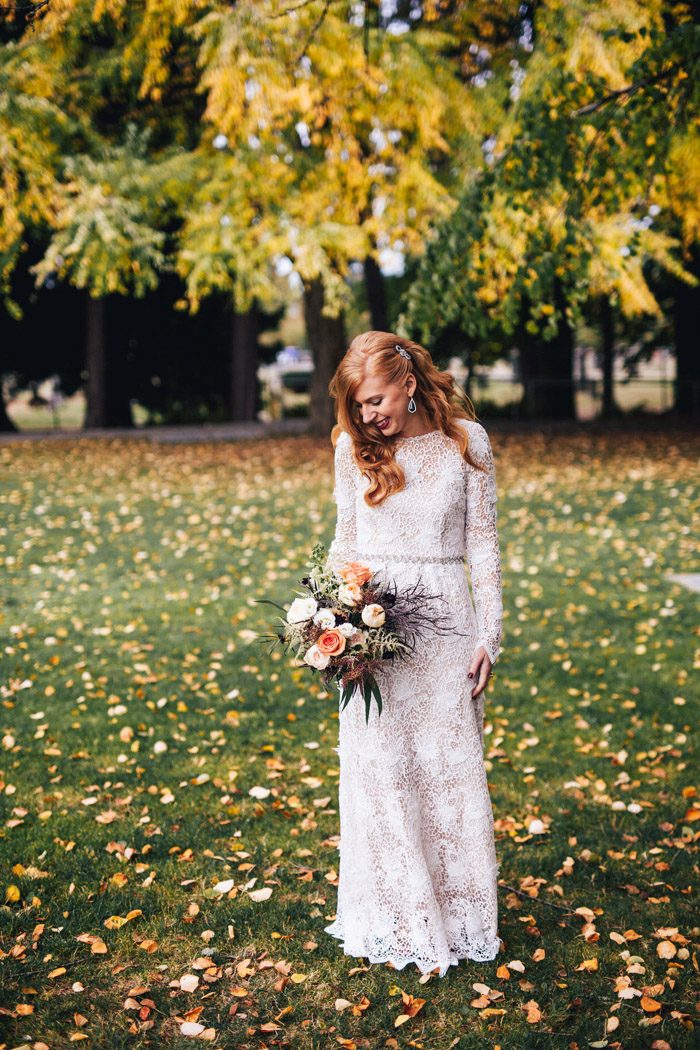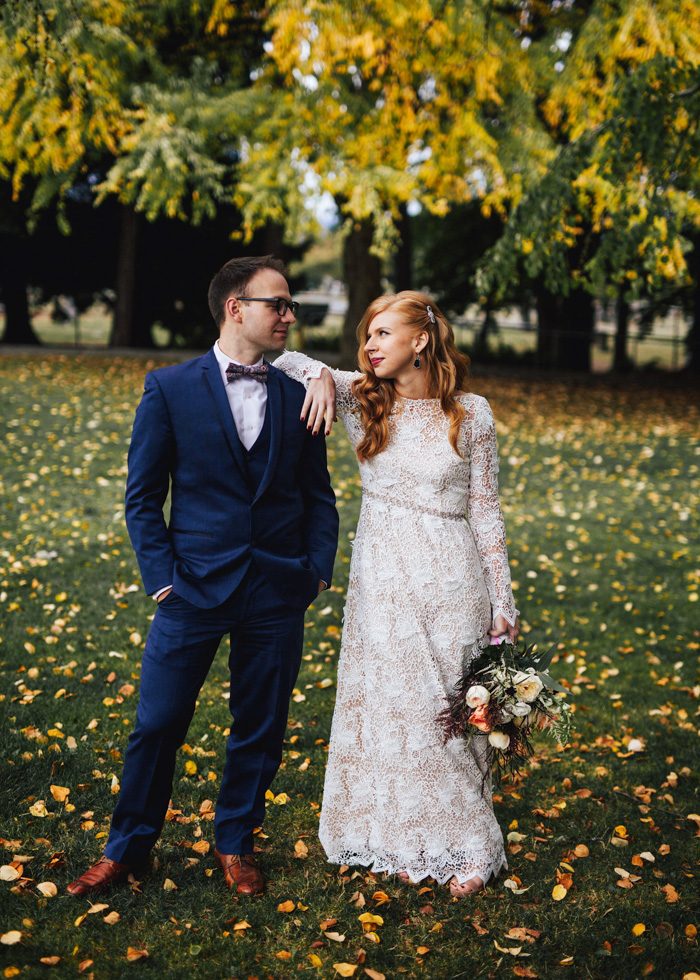 I have always loved the Volunteer Park Conservatory greenhouse on Capital Hill in Seattle. It has a seasonal house, which is my favorite in the fall, a cactus house, and a ton of nooks and crannies packed with tropical plants. It's a stunning spot for photos. It's also no secret that planning a wedding in October, it's safe to expect rain. I loved the idea of being in the middle of a park, surrounded by glass, and basically be outside while being protected from rain. Also, we saved a lot on florals since we were only allowed to bring in one hand-held bouquet.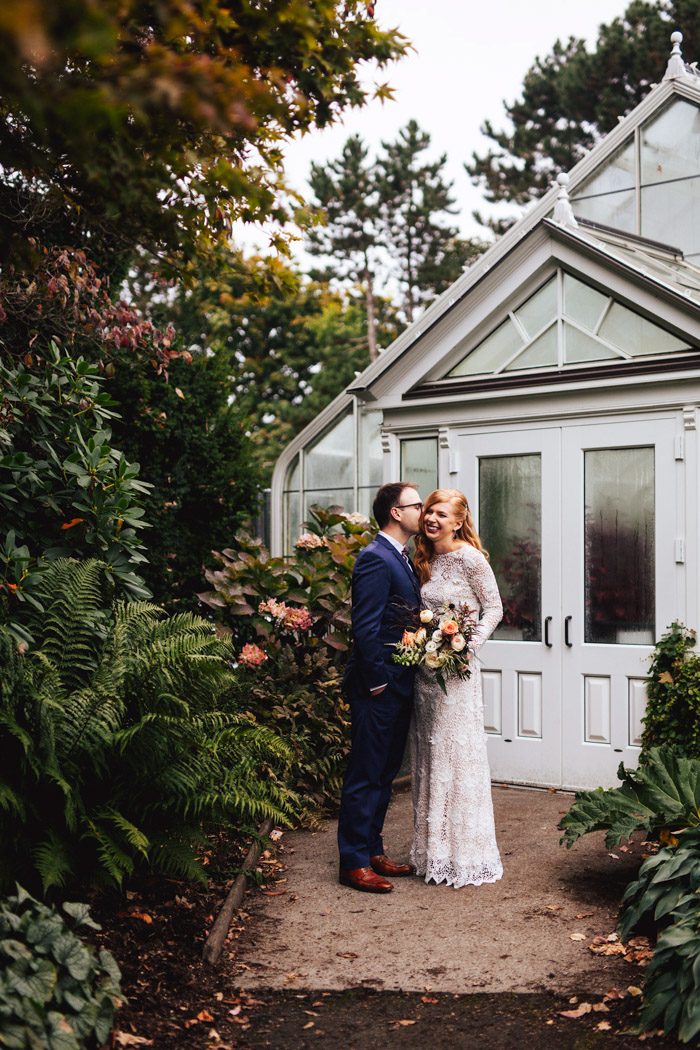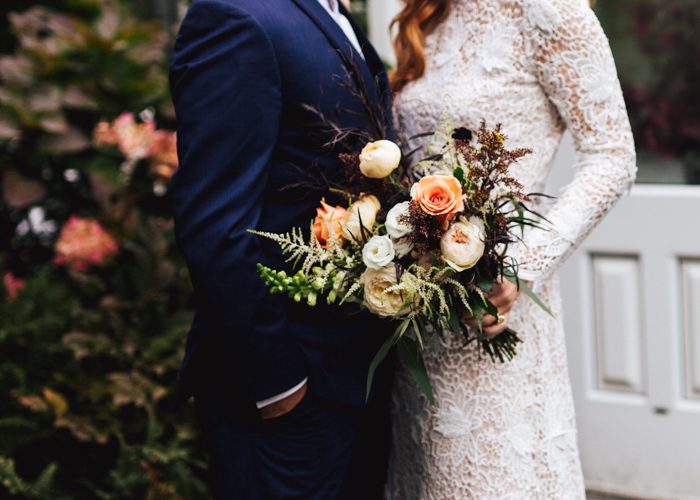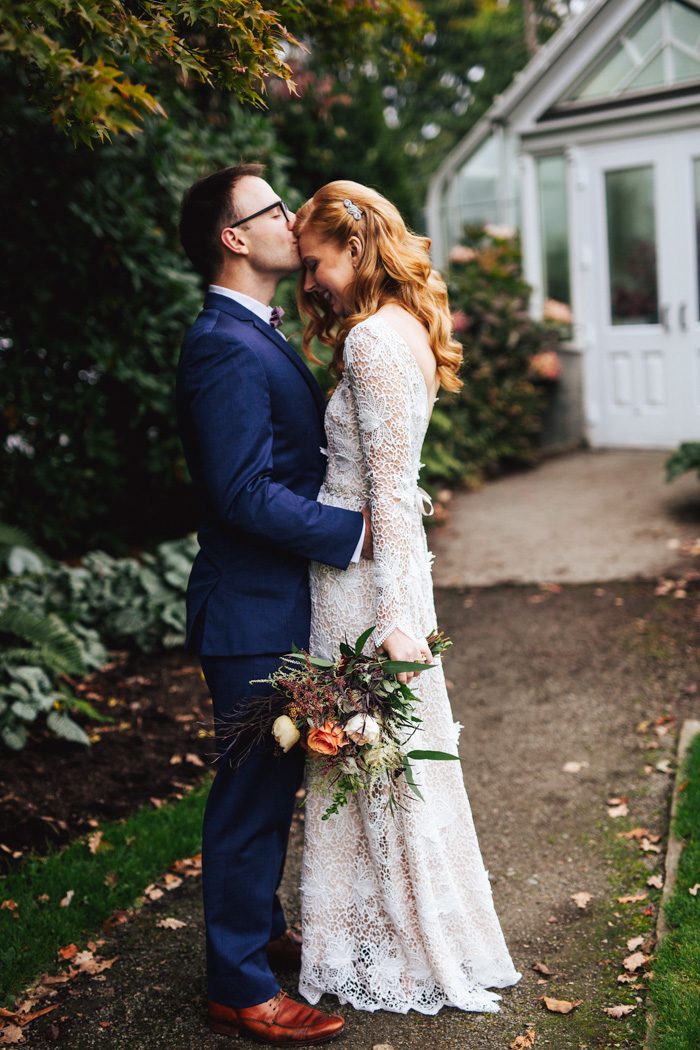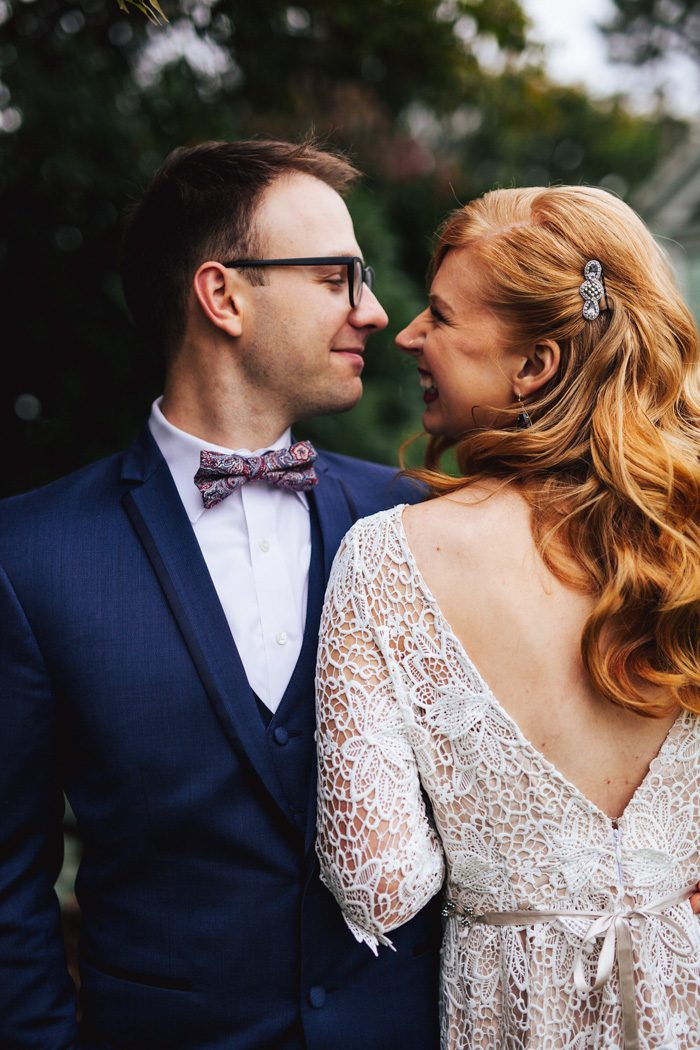 SHOP THIS LOOK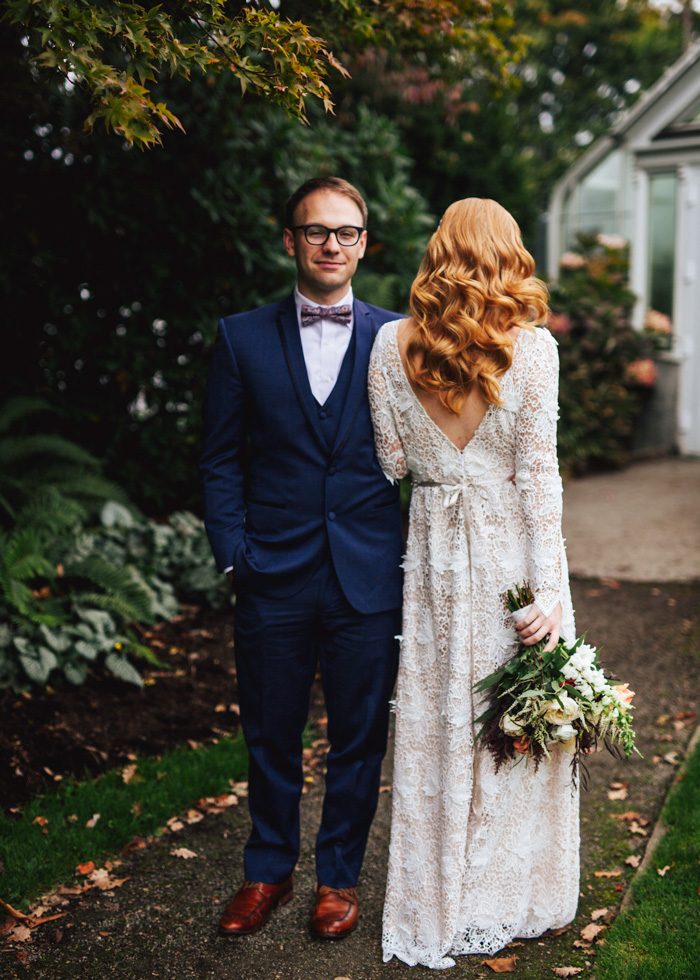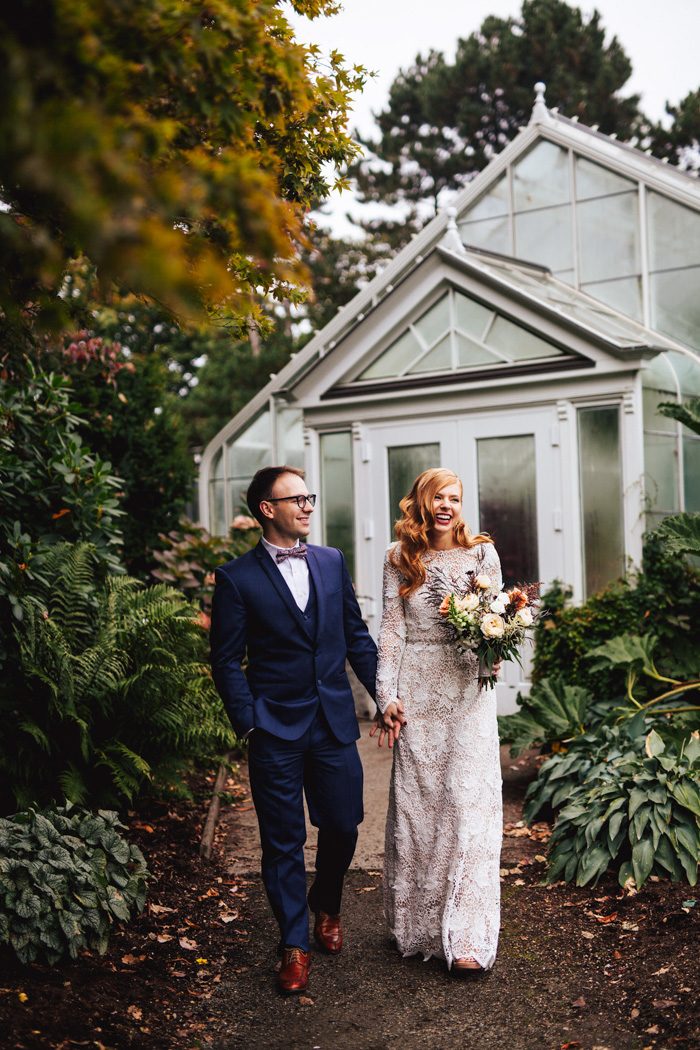 The conservatory is a City Park venue, so it was fairly reasonable and the city staff were amazing to work with. We wanted a ceremony venue that would only hold our wedding party and immediate family, so that we could more or less "privately" exchange our vows but still get to throw in a little tradition, such as my dad walking me down the aisle to our favorite song. I feel like we got to have a wedding without having to do anything that didn't feel natural to us.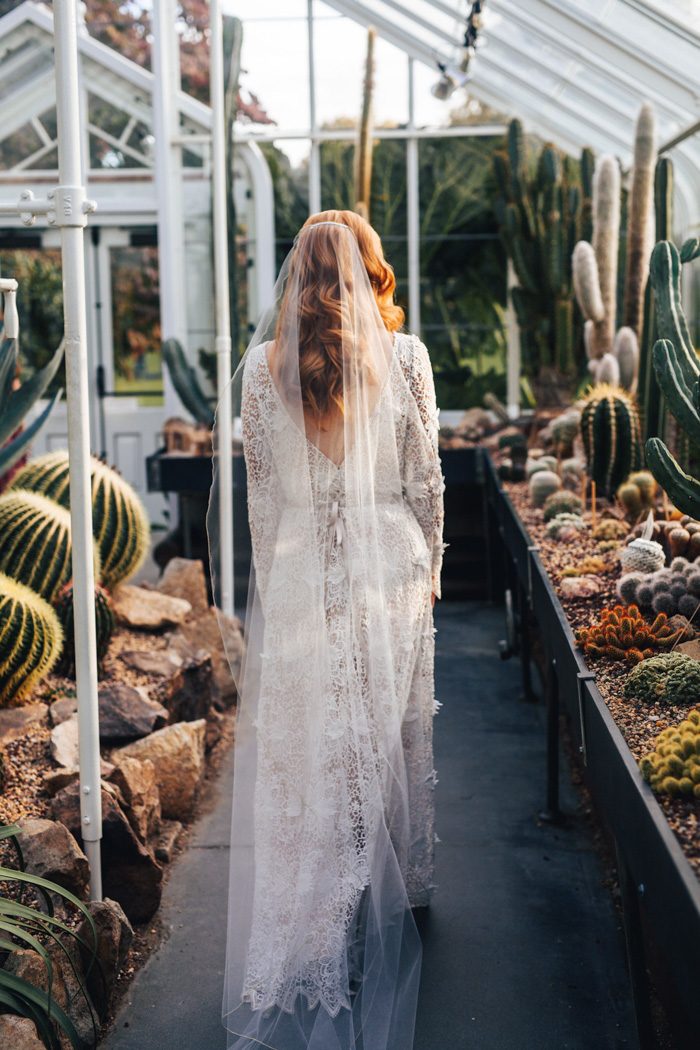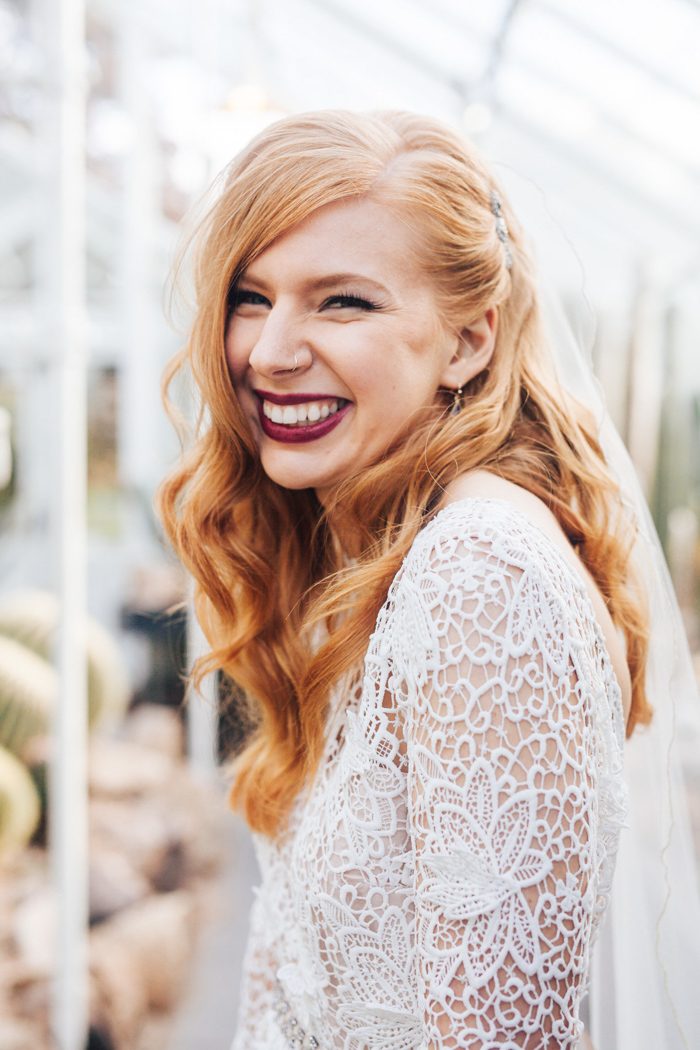 One of my favorite photos is of my husband retying the belt of my wedding dress before the ceremony when we were taking our bride and groom photos with just Shadi. The intimacy of this moment was captured in perfect late afternoon dusk light, and with so much emotion and feeling. I remember thinking in that moment that this would be the man who will zip and unzip my dresses, and clasp and unclasp my necklaces for the rest of my life.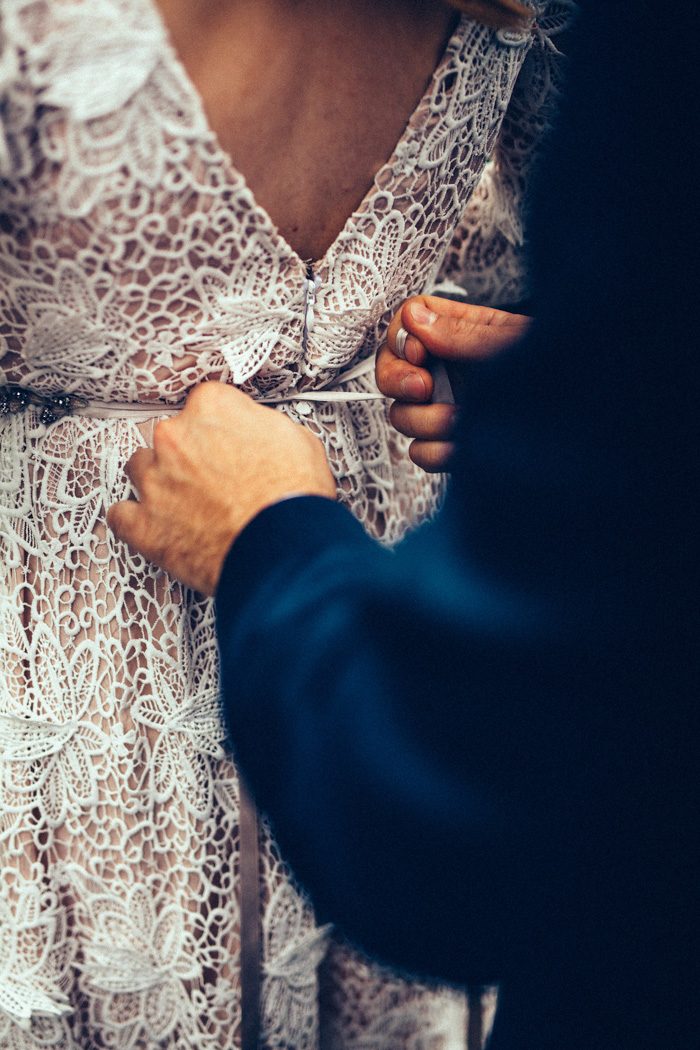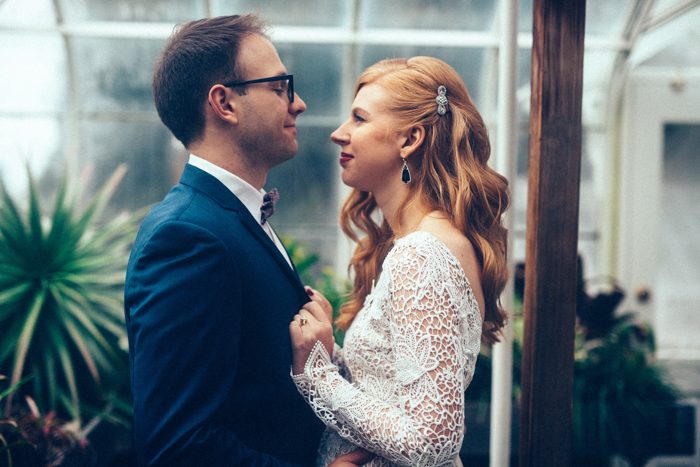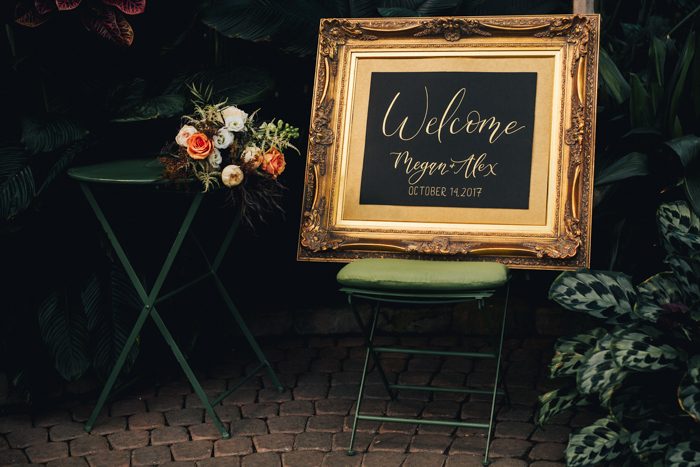 Processional – "God Only Knows" (acoustic) by The Beach Boys
Recessional – "Champs Elysées" (acoustic instrumental) by Joe Dassin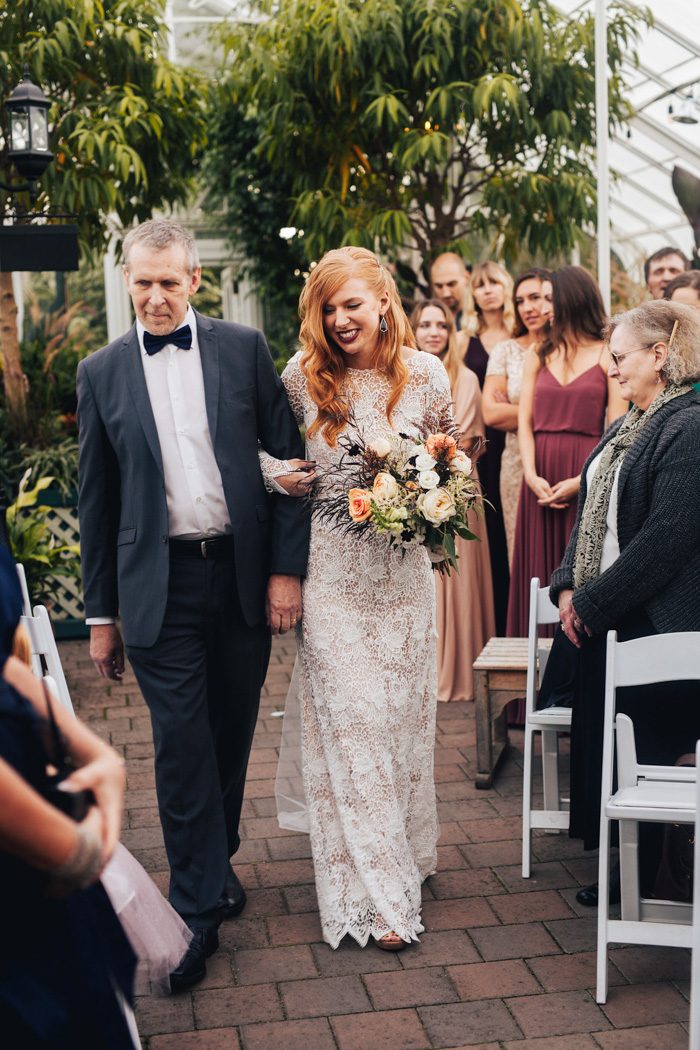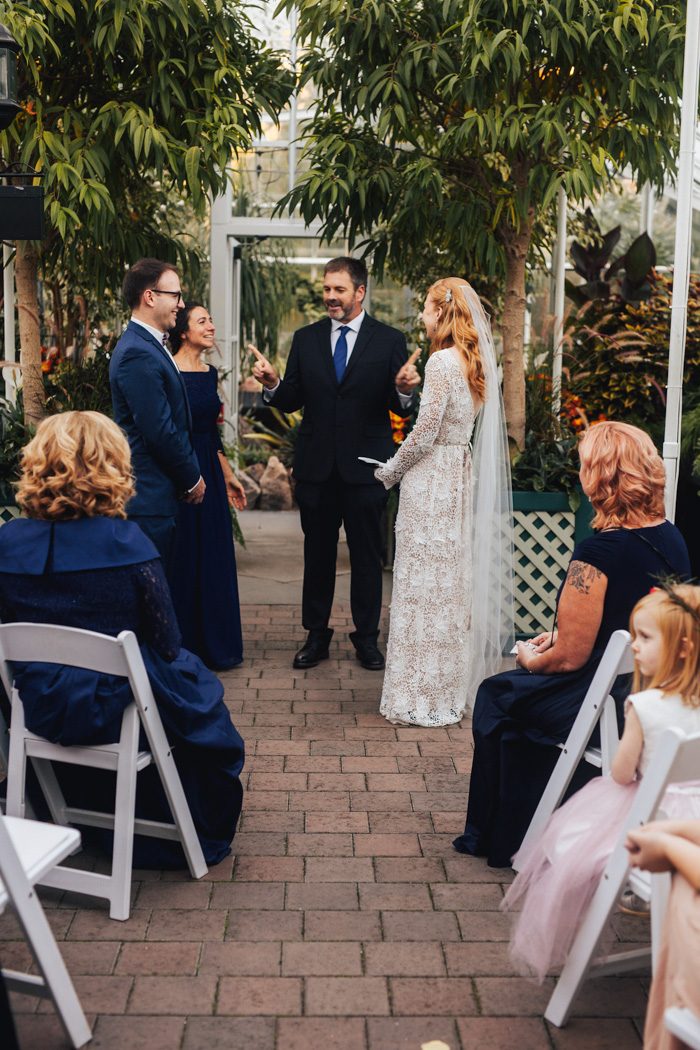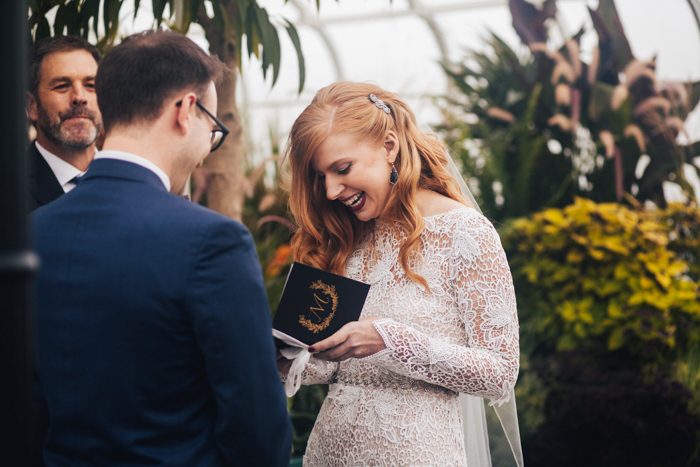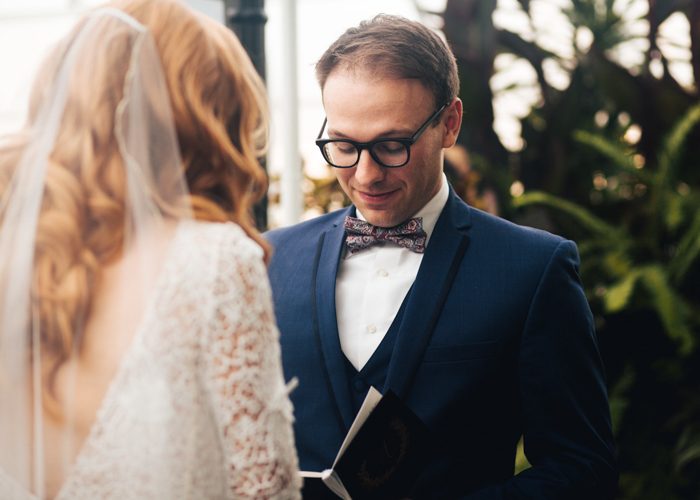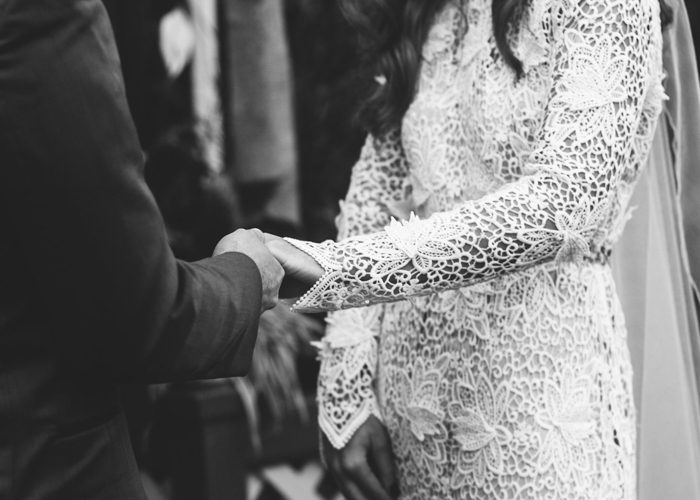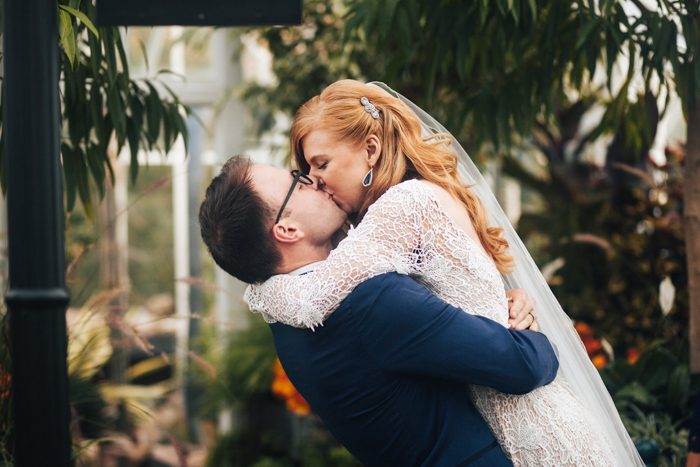 Our best wedding advice is you do you, girlfriend (or boyfriend)! If your instincts tell you that you want something at your wedding but people are immediately negative when you tell them, gut check yourself. If it's not too outrageous or causing anyone bodily harm, charge on! Any decision I made that was met with an eyebrow raise turned out to be the details our wedding attendees loved the most.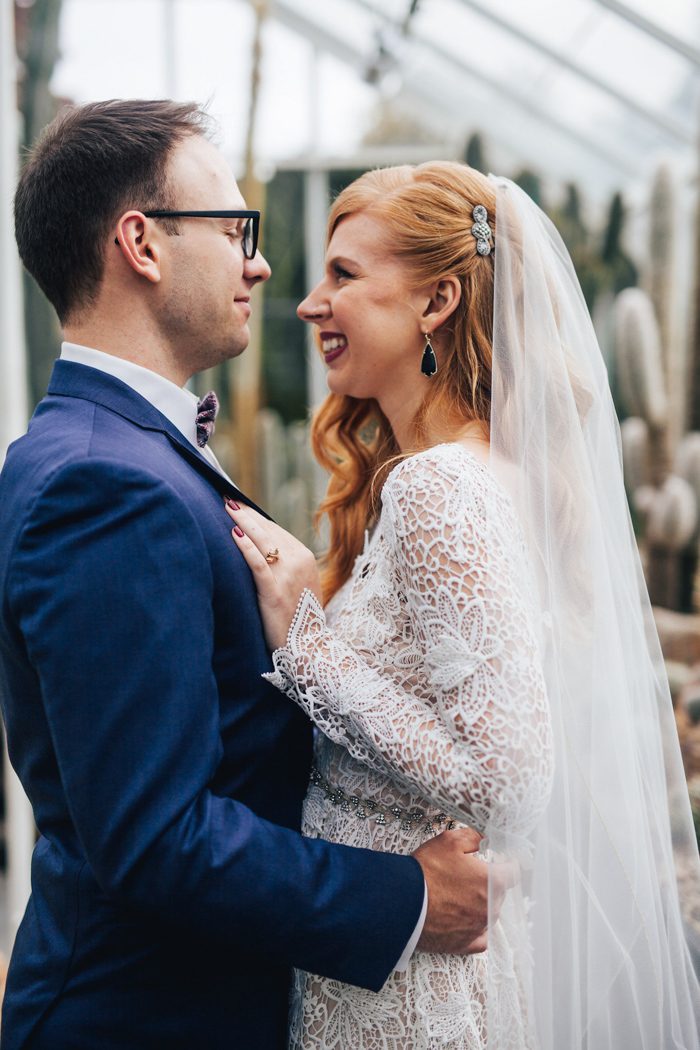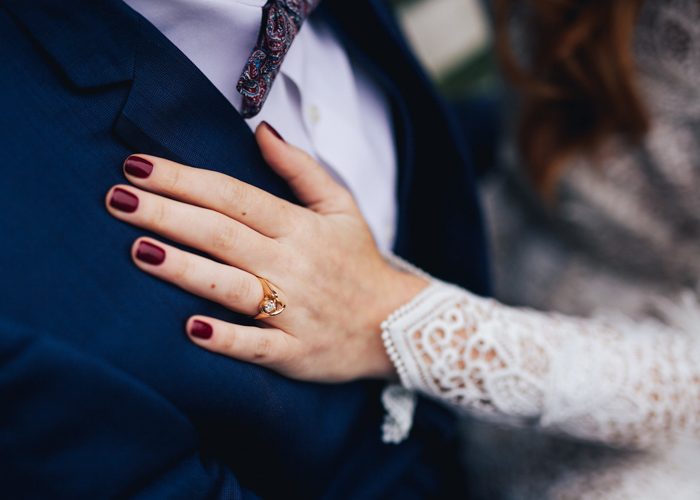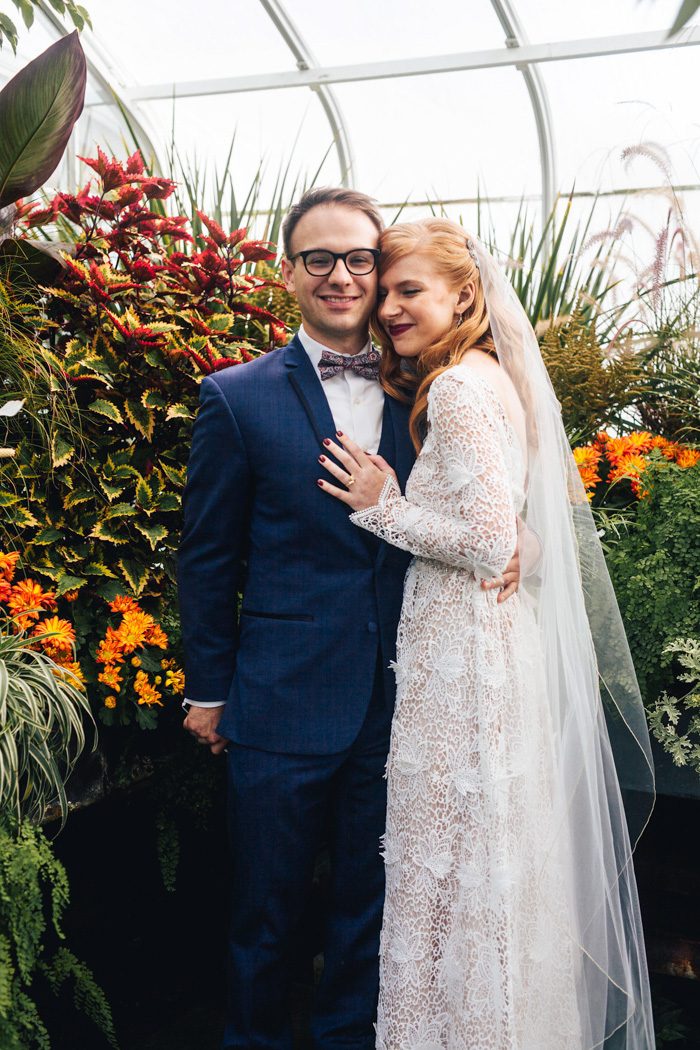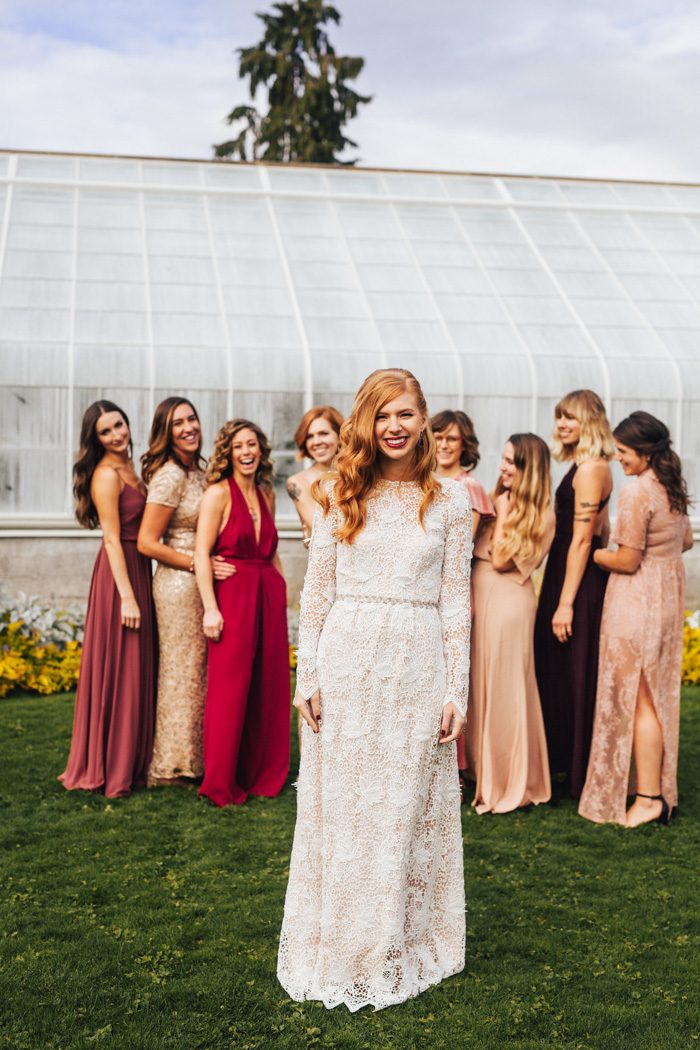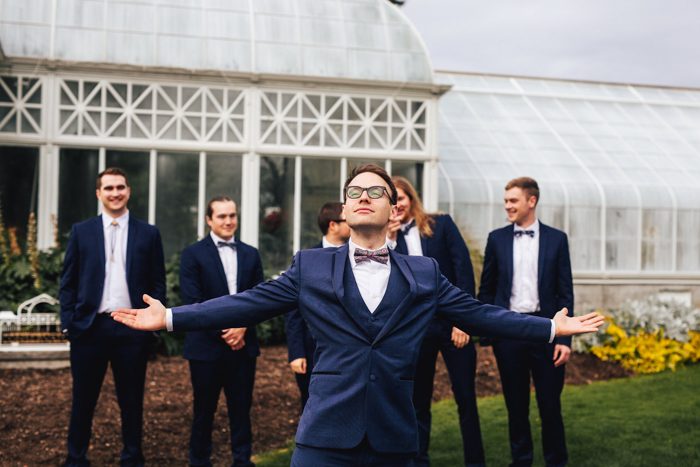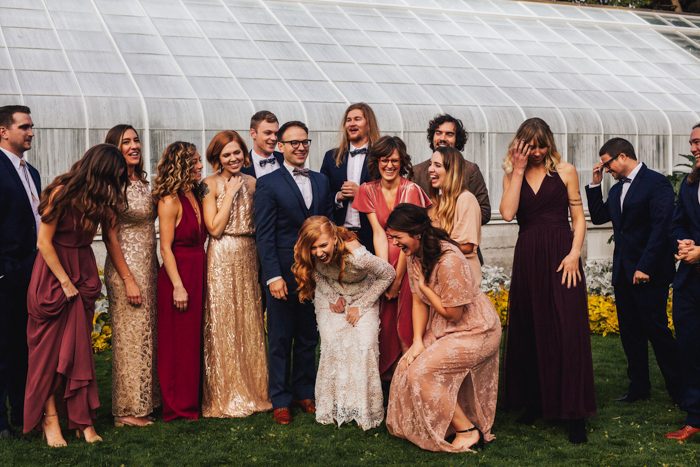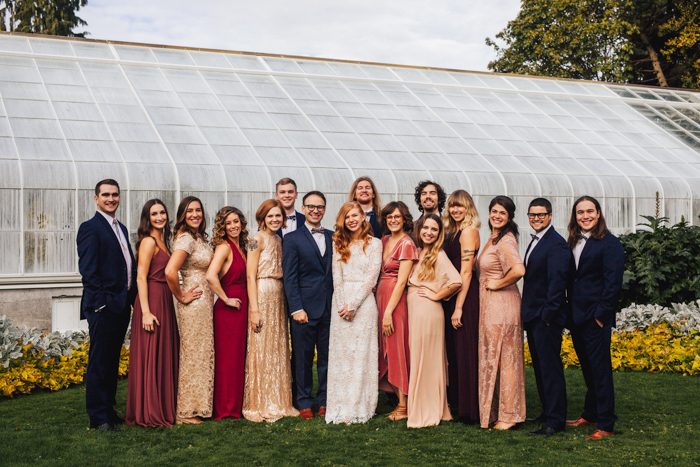 Our second piece of advice is to assemble your dream team. I am lucky to be surrounded by dear friends and family who are talented at all the things that go into the wedding. If you know someone who is insanely organized and has a knack for design but isn't a wedding planner, ask them if they'd take you on as their first client. If you want to hire a photographer who lives in New York, yet your wedding is in Seattle, ask them if they'd like to take a vacation. We had a very small budget and needed all hands on deck to make the most personal details I could have never imagined without my dream team. Lastly, trust your team. Don't sweat the small stuff. If they're as good as mine were, they will handle everything better than you can!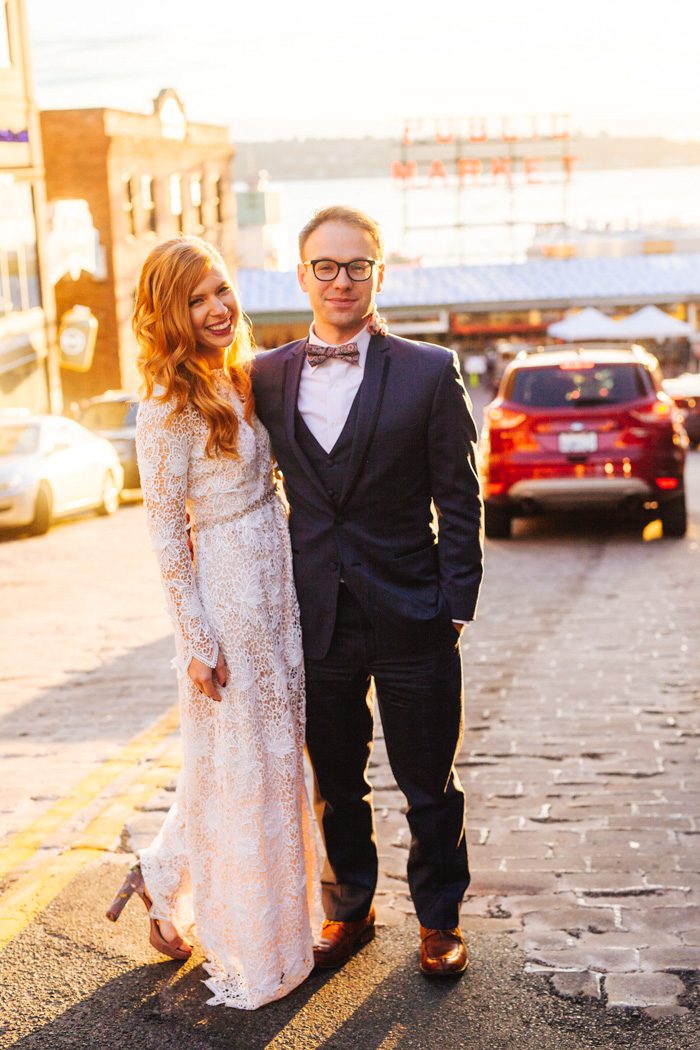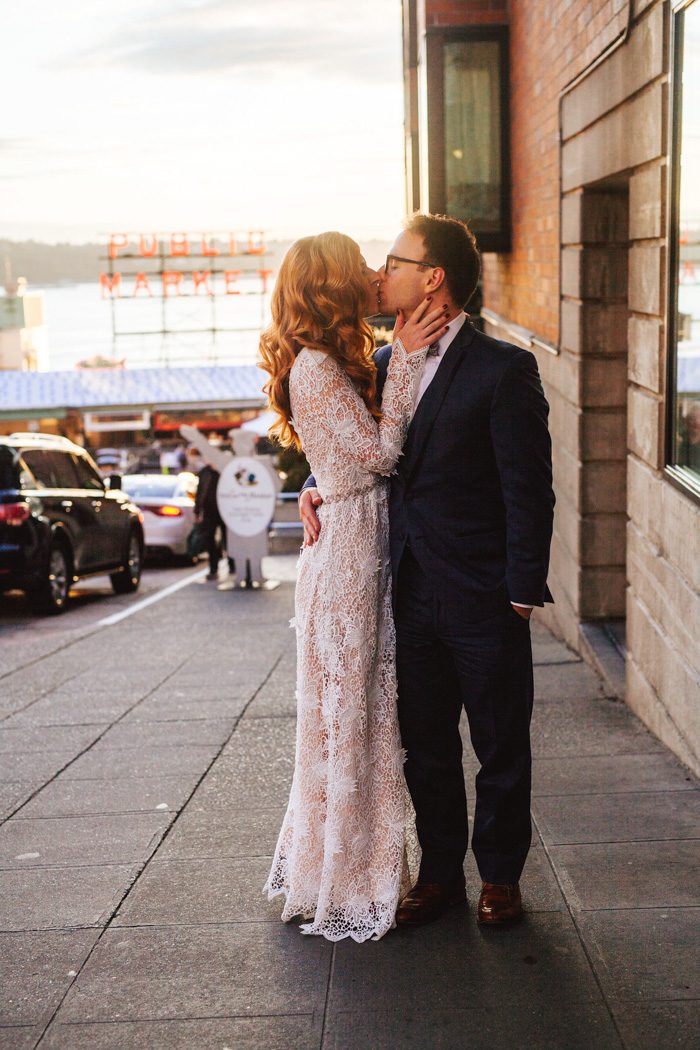 We wanted a cozy dinner party vibe for the reception. We have eaten brunch at Local 360 in downtown Seattle many times and knew we wanted to have brunch for dinner served family style. Local 360's private space is called the "Chef's Table," so we were able to fit all our guests at two long tables. We had a private bar and could see into the kitchen. Like the Sorrento, it felt like being in someones (very nice and well attended to) home. We served chicken and waffles, biscuits and gravy, bagels and Lox, among many other share-ables. We wanted everything to be family style, indulgent, and a break from the norm. We each picked a signature cocktail — a spicy Bloody Mary for my husband and a Spiced Gin Mule for me. Our apps were deviled eggs sprinkled with bacon and PB&J poppers, which were to die for! Our wedding cake was made by my best friend and was poppyseed to hint at a "breakfast muffin" with homemade jam filling and butter cream frosting.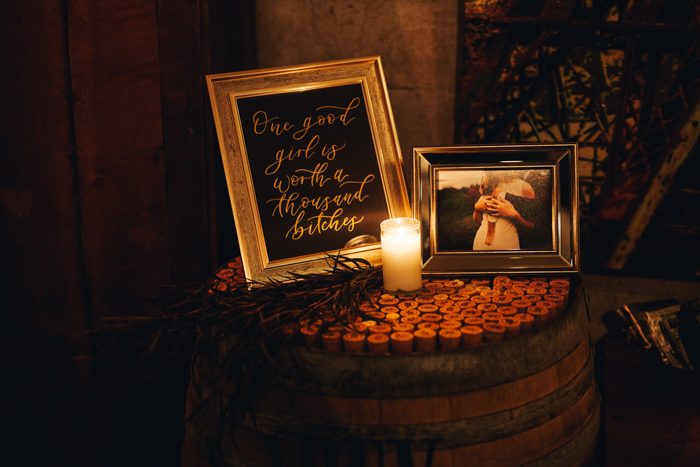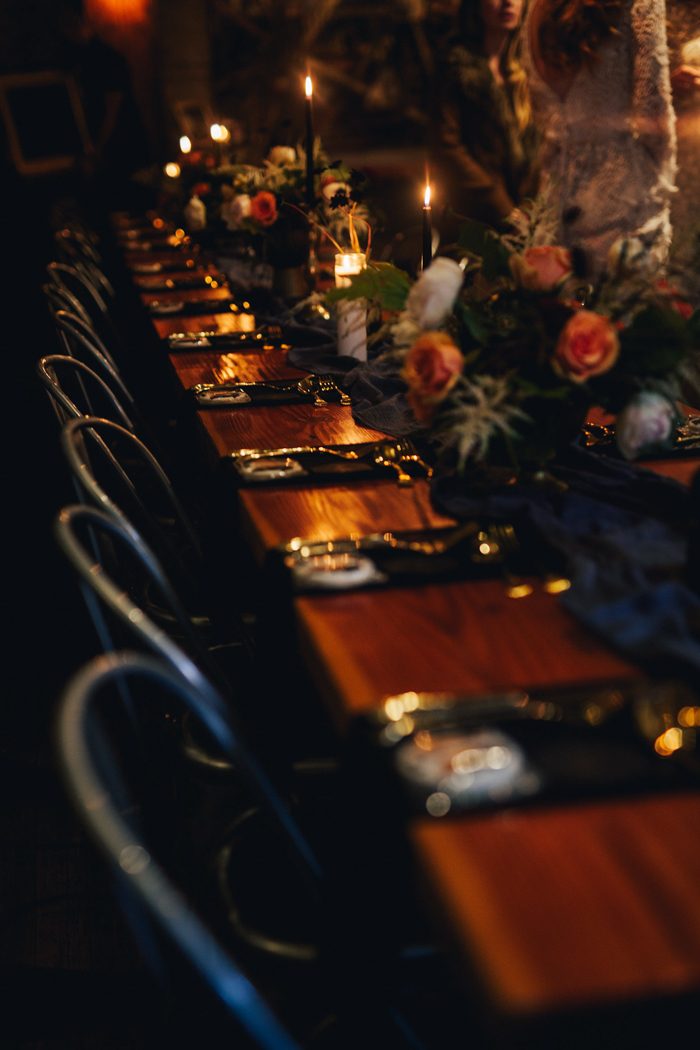 Shalom Murphy, my dear friend and event designer, and I came up with a tablescape design and sourced all the materials ourselves. We asked our moms and dads who are also expert thrifters/vintage hunters to pick up ornate heavy gold mirrors and frames to present our Kanye West quotes and brass candlestick holders for the tables. I used a calligrapher — an old friend from high school — to create all the paper goods for the wedding. Anything I couldn't do myself, either Shalom or the calligrapher jumped in with their own unique ideas to create very unique details.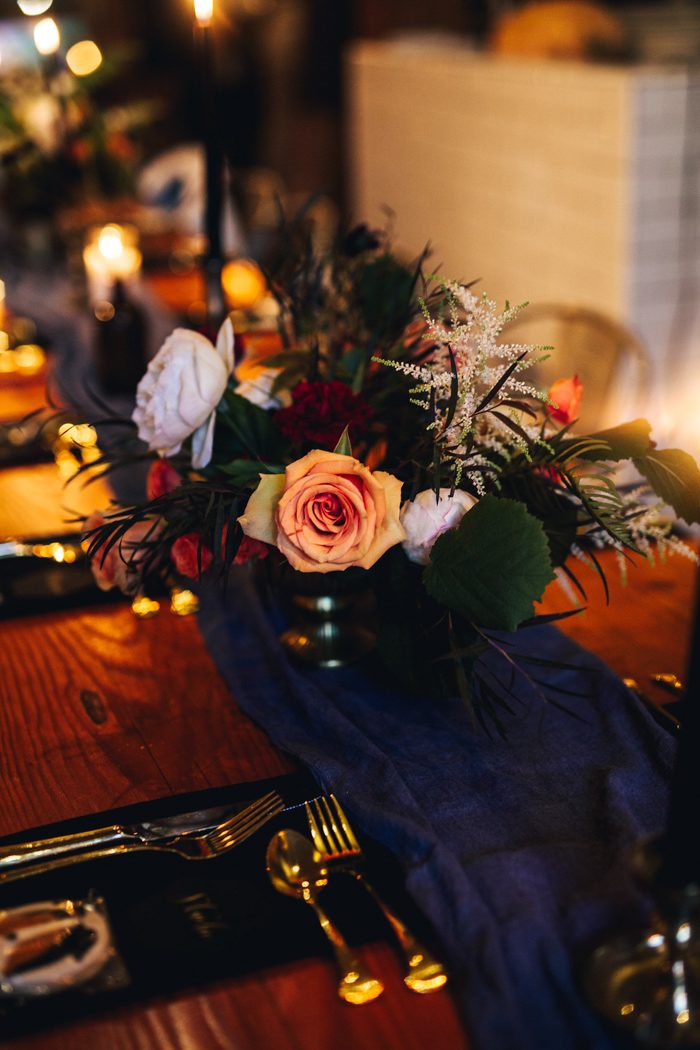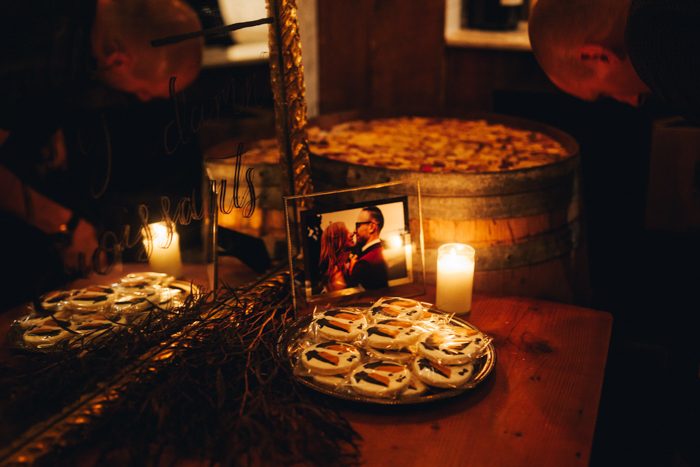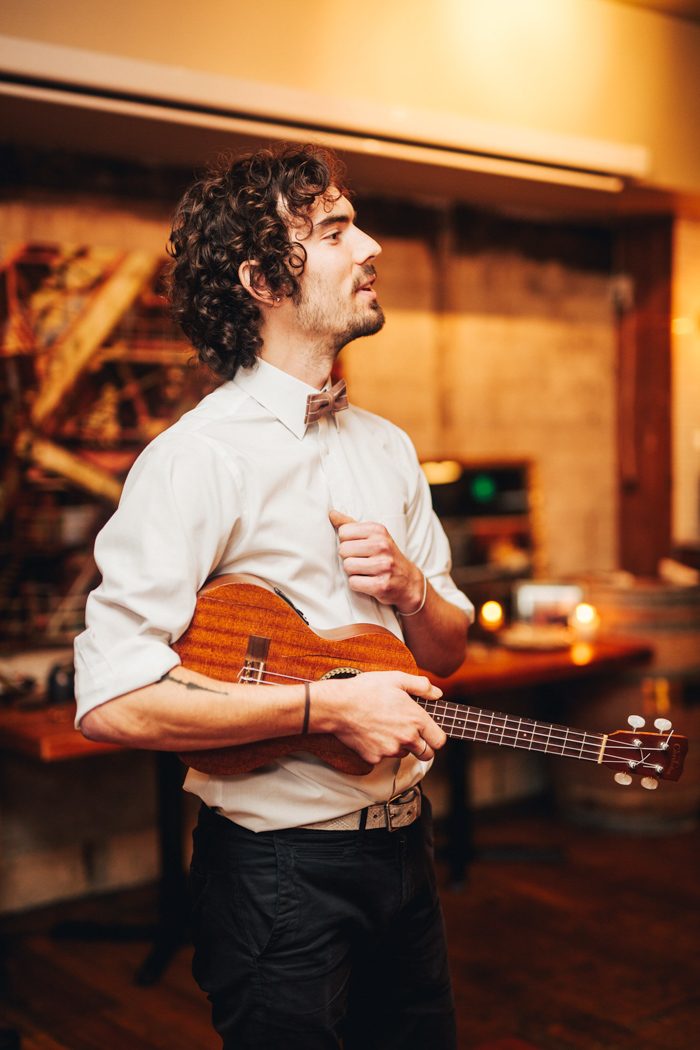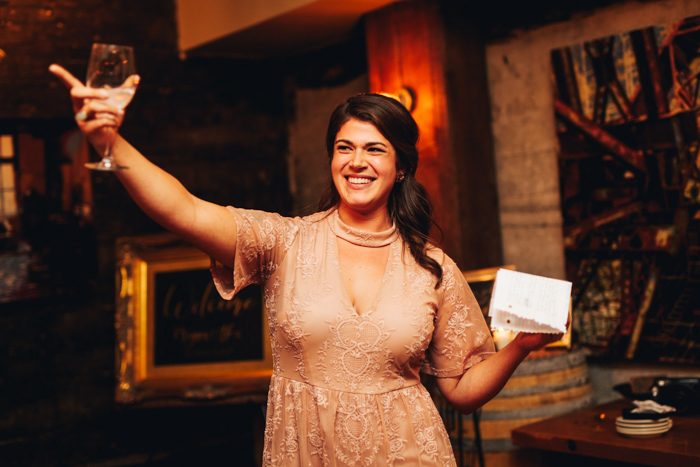 I asked our wedding singer to arrange some Carly Rae Jepson as a surprise for my husband at the reception. He absolutely loves CRJ and has no shame about this! One of his favorite songs is "Let's Get Lost," because he things it's so sweet that she just wants to drive around with her love interest. Jake played and sang an amazing version of this, in which he instructed the entire room to join in on the whisper chorus. Let's just say, I will never forget looking around the room at my entire group of friends and family whispering along to the callback from the chorus.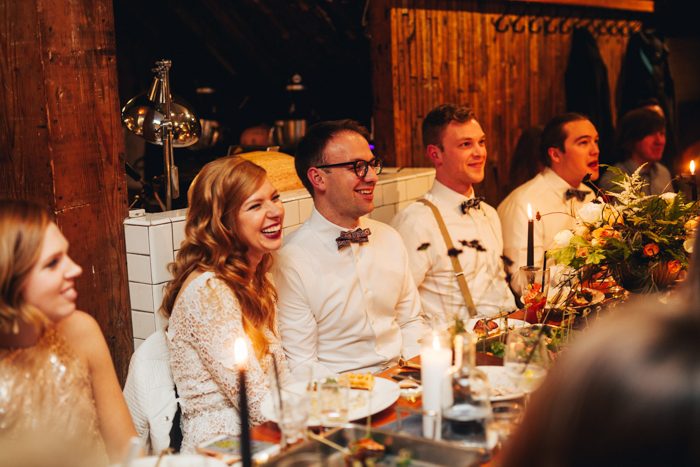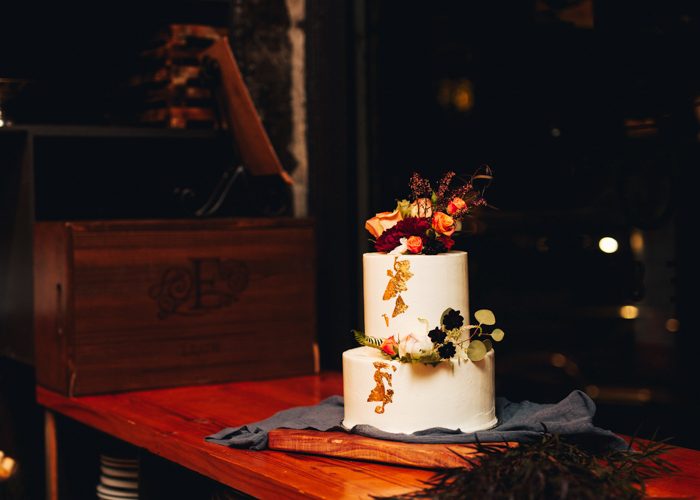 Congratulations to Megan and Alex, and a big thanks to Shadi Garman Photography for sharing this fun Local 360 wedding with Junebug! Looking for more brunch wedding inspiration? Check out this artsy Georgia brunch wedding at Sugarboo Farms!