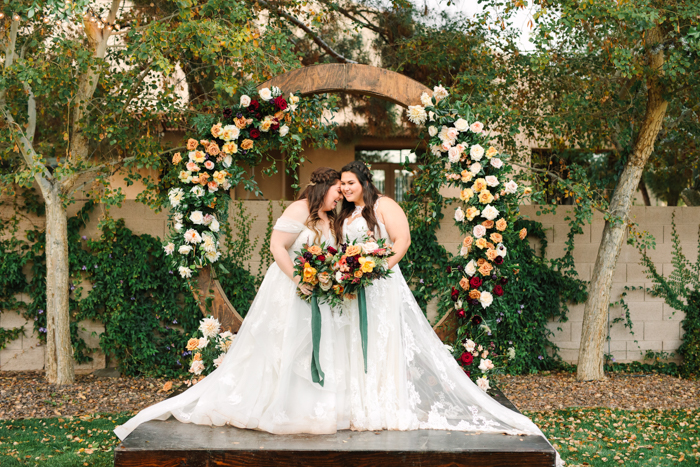 Nothing was raining on Molly and Chelsea's Phoenix backyard celebration. Almost. The morning of the wedding, rain clouds dispersed and the skies filled with desert sunshine—the perfect wedding day weather. With the help of their loved ones, wedding planner Bloom & Blueprint Event Co., and a talented team of vendors, this couple was able to transform an ordinary backyard space into the dreamiest wedding venue.
Their big day was filled with sentimental and nostalgic pieces. From the wedding venue—Molly's parents backyard and the place their love blossomed—to the hand-written and personalized vows. Every wedding day detail was carefully curated with intentionality and purpose in mind.
We can't take our eyes off the sweet, memorable moments that were captured by Mary Costa Photography. Grab your tissues and get ready to soak up this powerful and heartfelt ceremony. It perfectly celebrated both Molly and Chelsea's love for each other and marriage equality.
More From Mary Costa On This Phoenix Backyard Wedding
Molly and Chelsea's wedding was heartfelt, beautifully styled, and full of joy. It took place in Molly's parents' backyard and was full of personal touches. It was pouring rain the morning of their wedding—which is a rarity in Phoenix, Arizona. As luck would have it the sun came out just after Molly and Chelsea finished getting ready, and the talented team of planners from Bloom & Blueprint Event Co broke down dozens of small tents to create a beautiful space in record time. Their ceremony was incredibly heartfelt, including a candle lighting with all the guests. We also caught the last bit of daylight in the Phoenix mountains. Such a beautiful couple and a stunning day!
The Couple:
Molly and Chelsea
The Wedding:
Phoenix, Arizona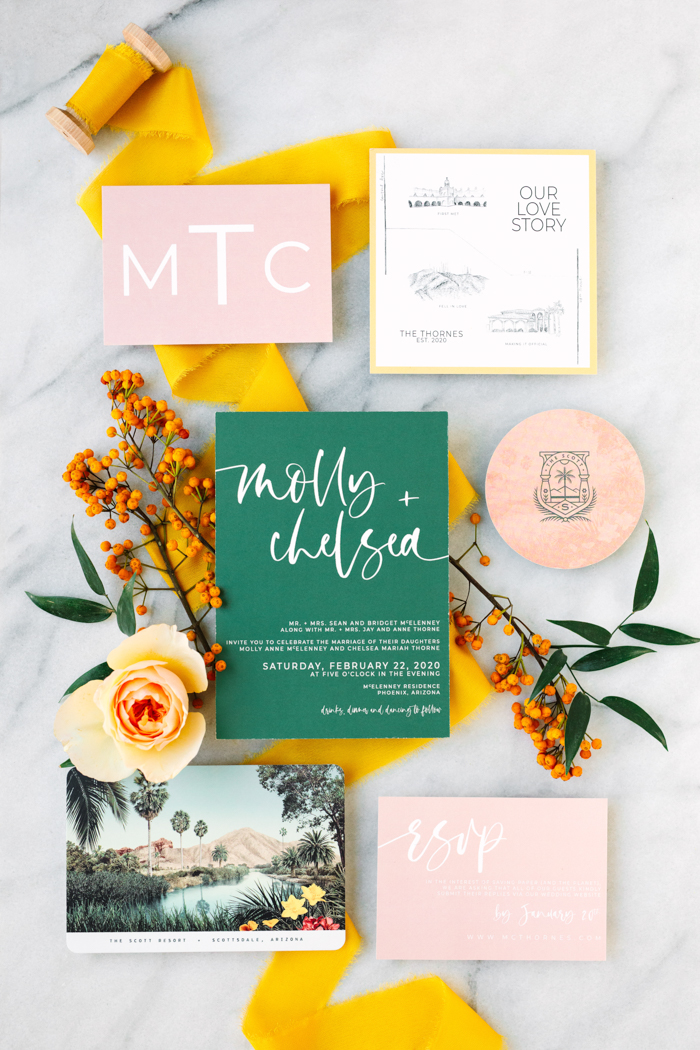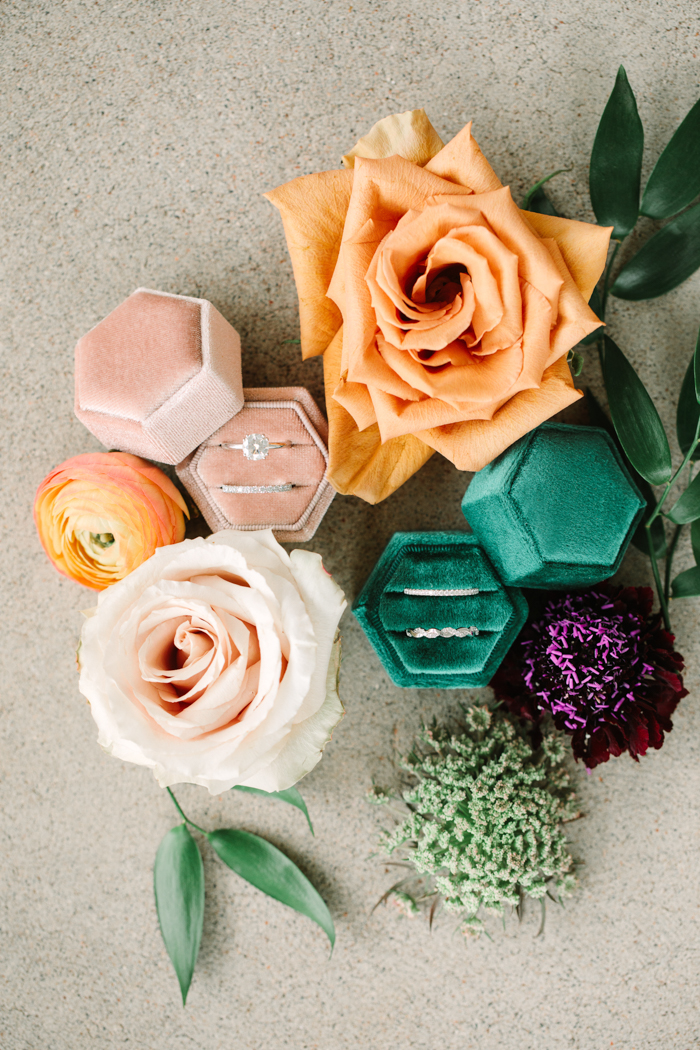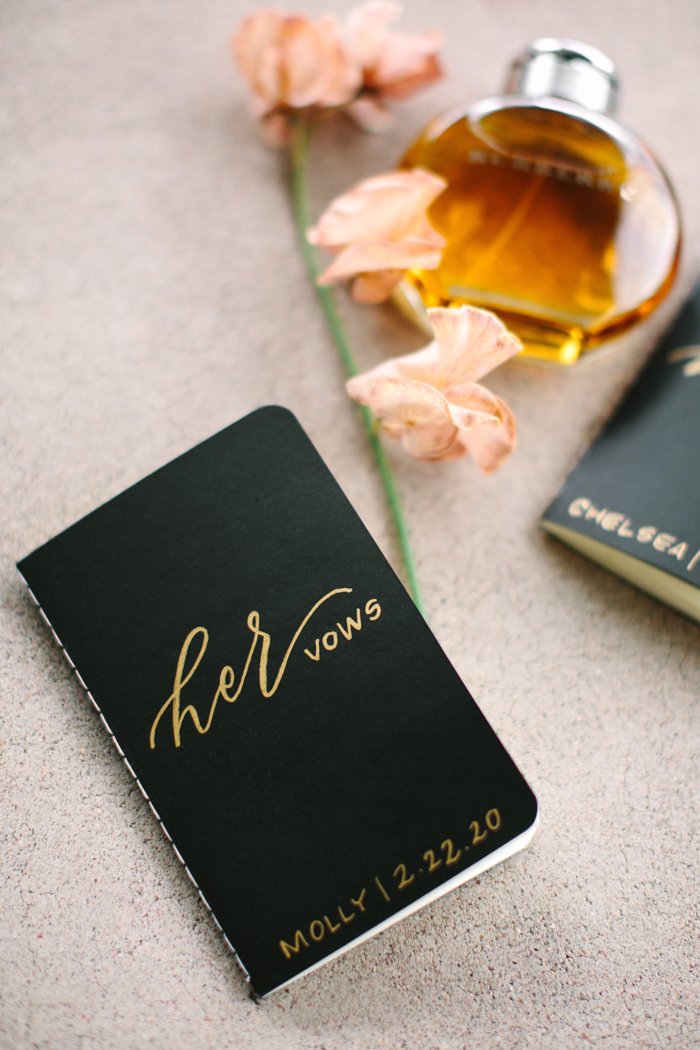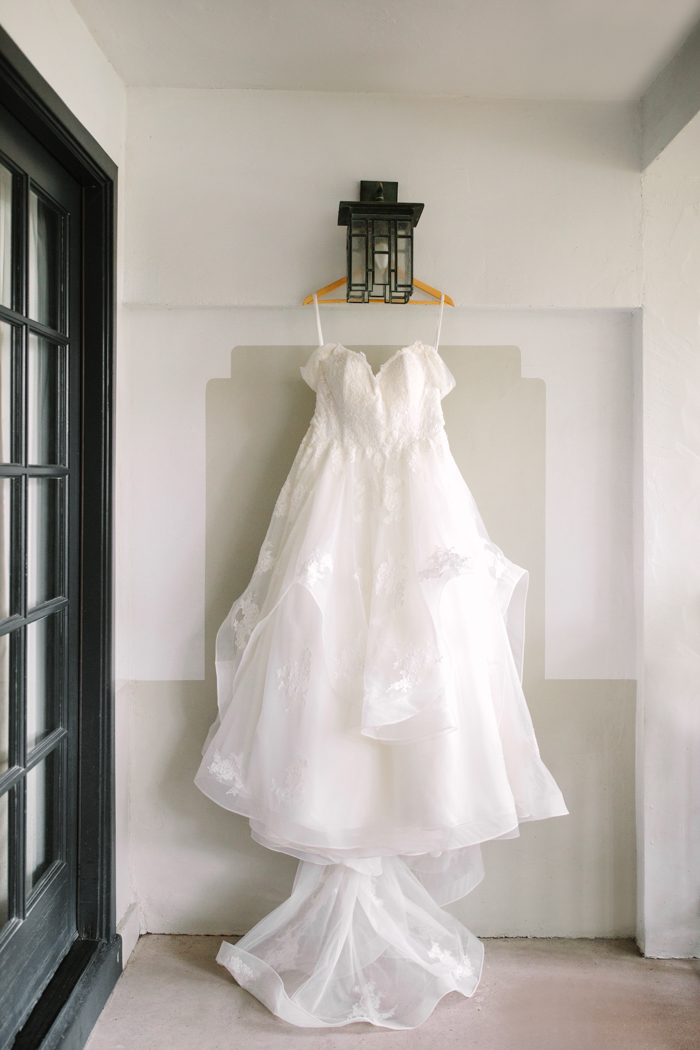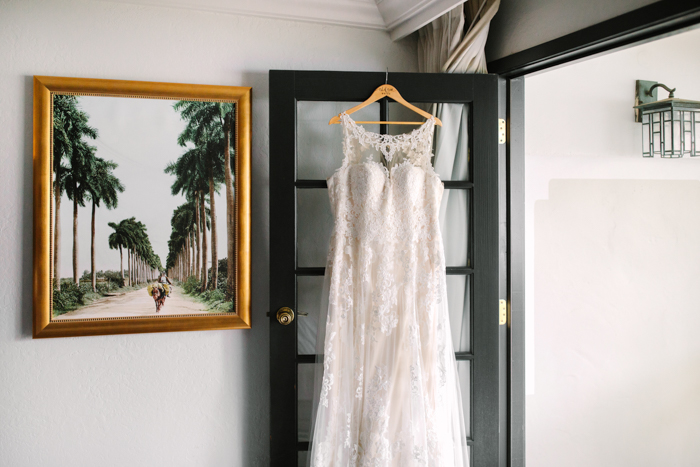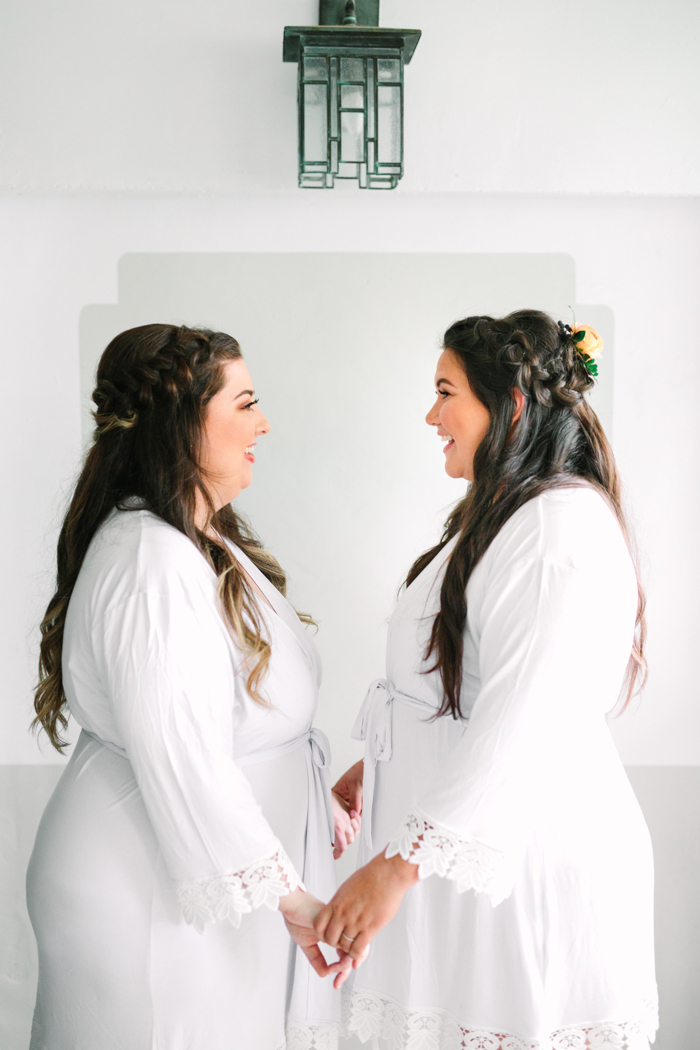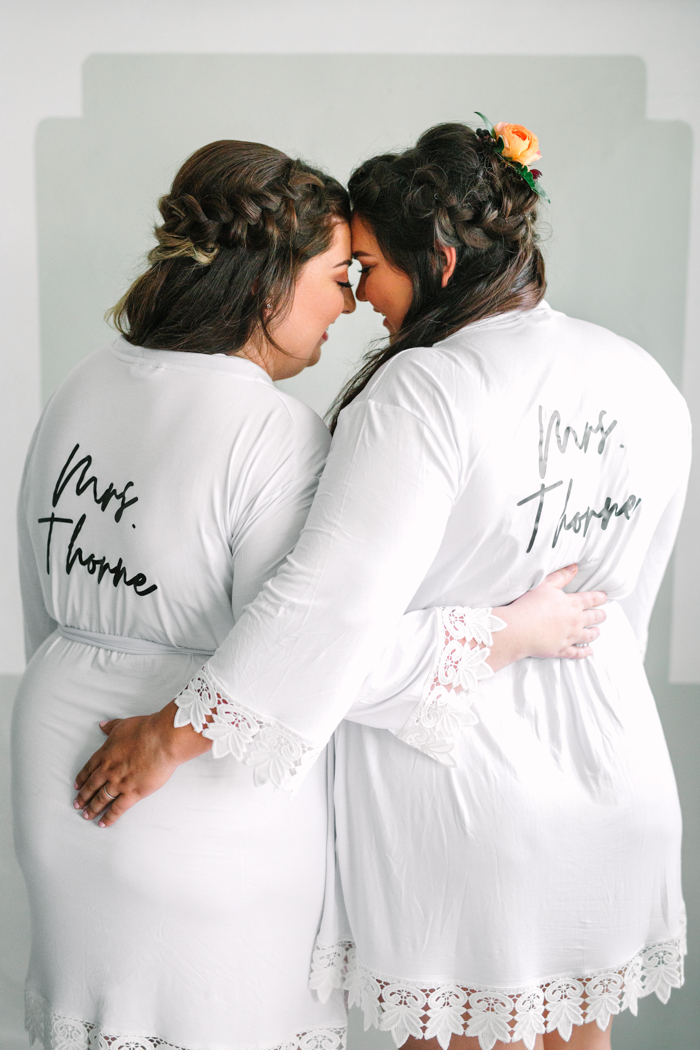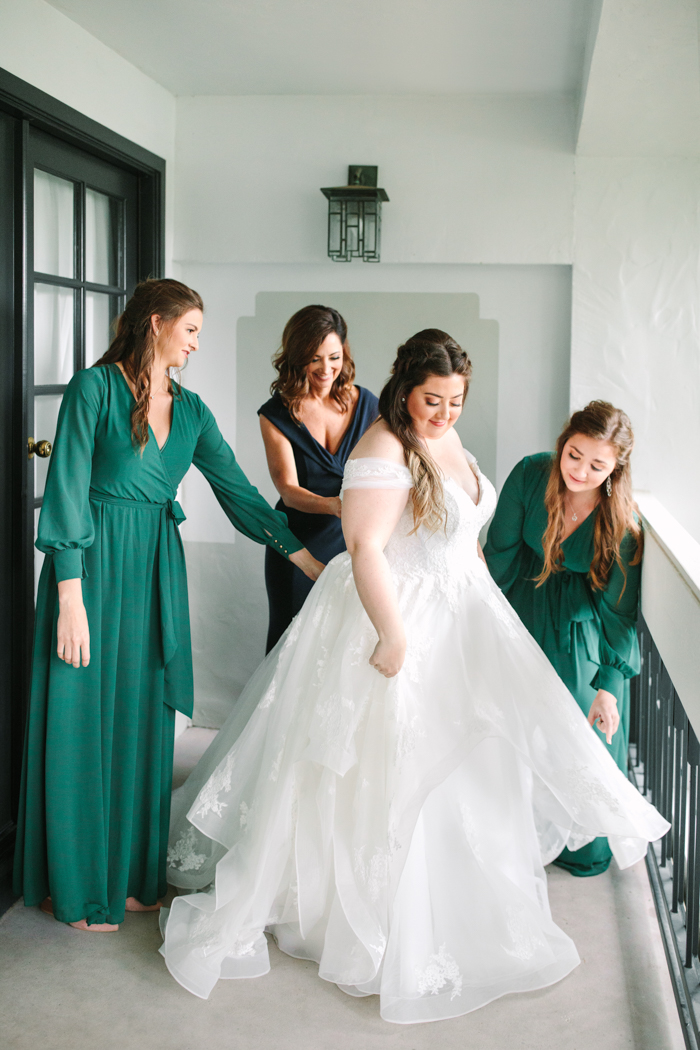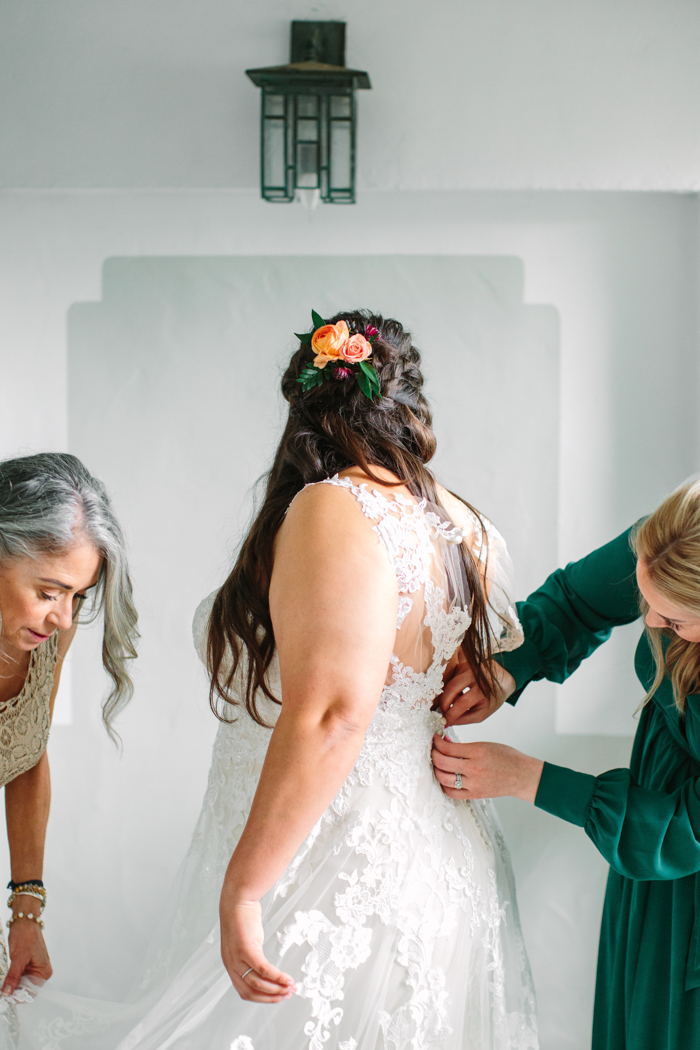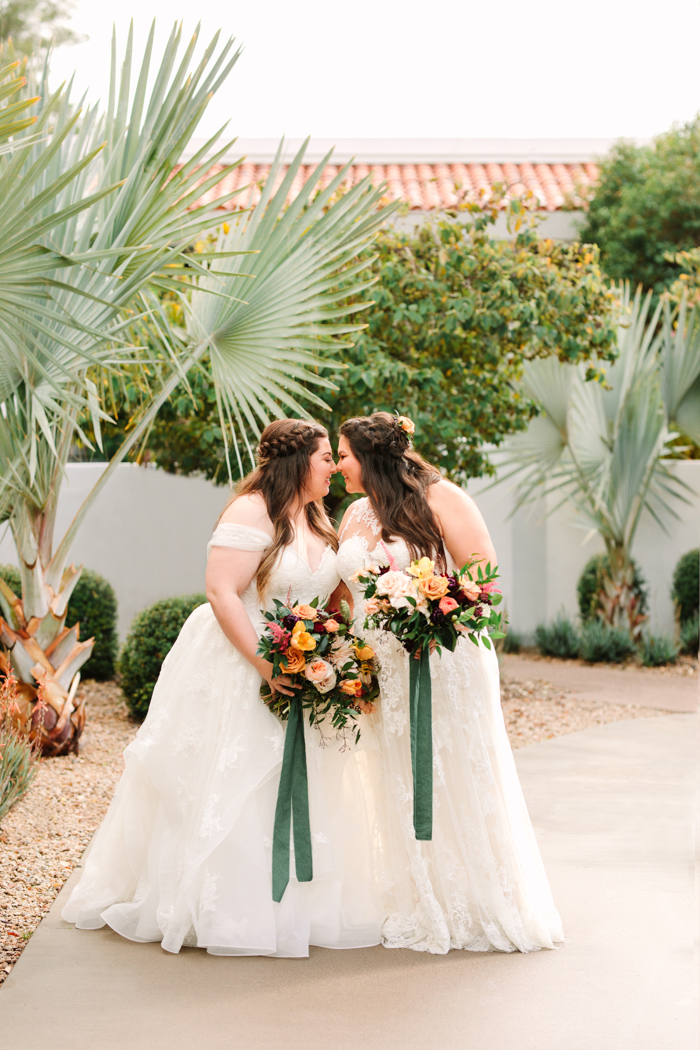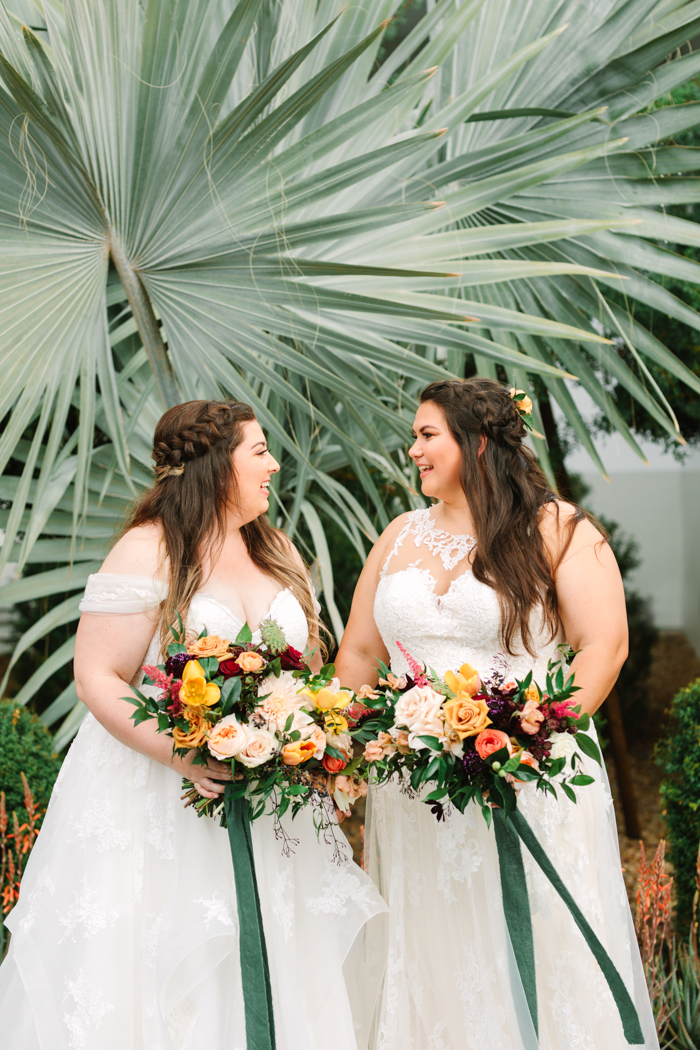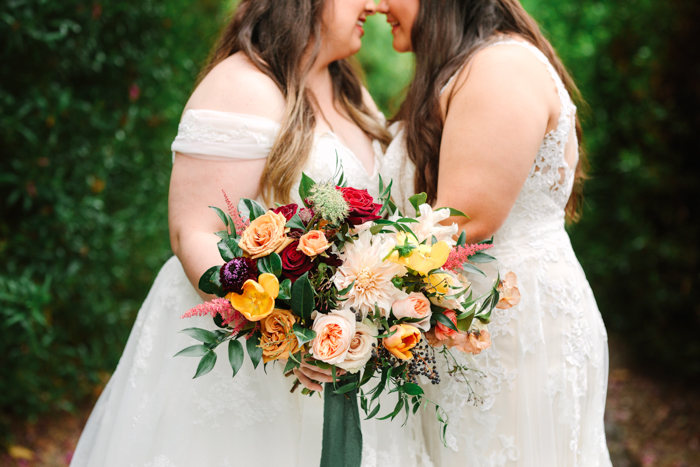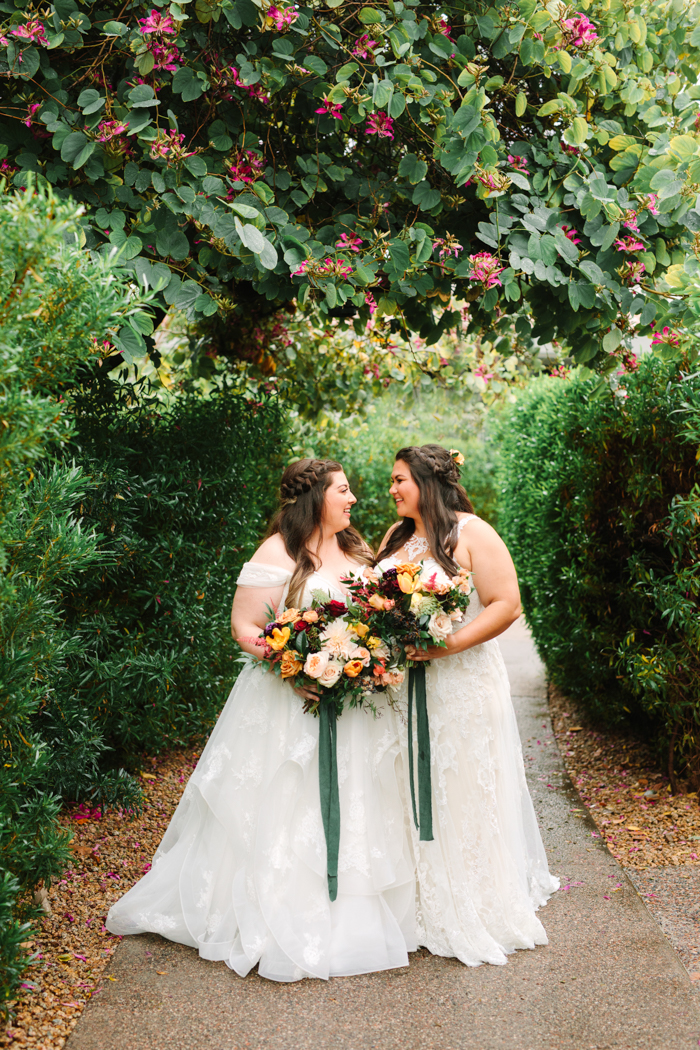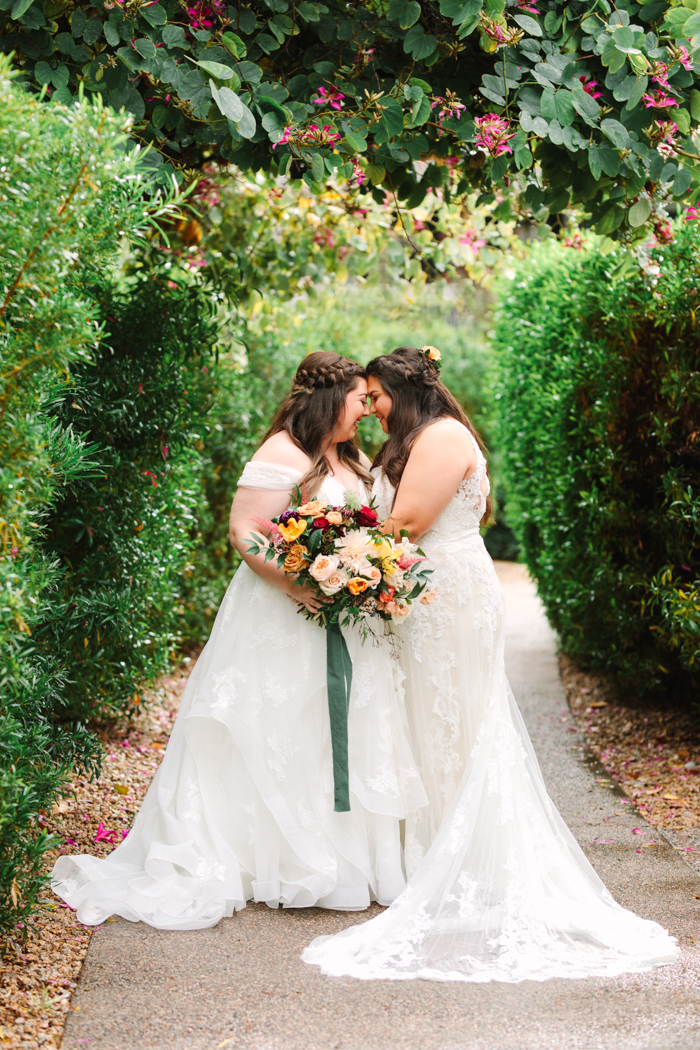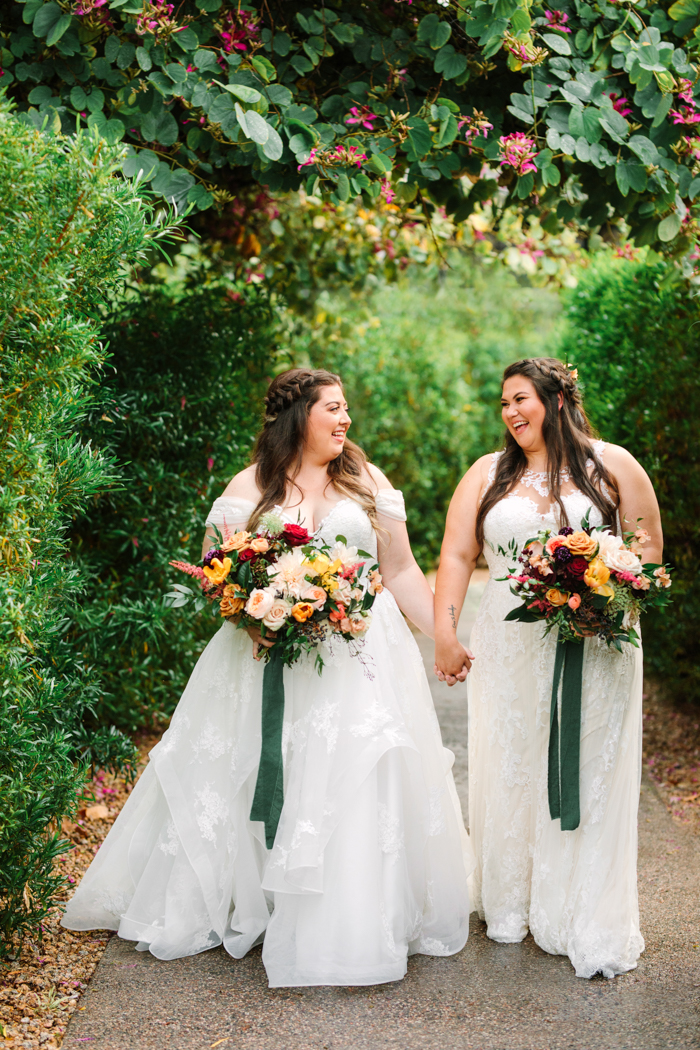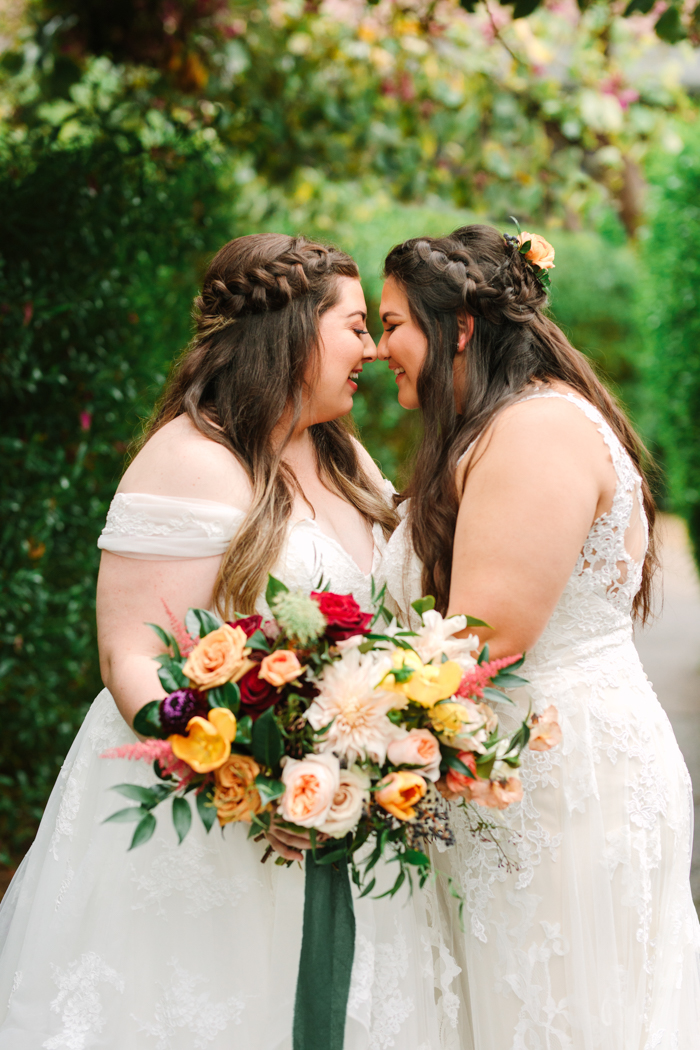 A Backyard Turned Dream Wedding Venue
We really loved how the design came together. We worked very hard coming up with concepts and colors and sourcing pieces for our day and we transformed the backyard into a "venue" that other people started asking to get married in!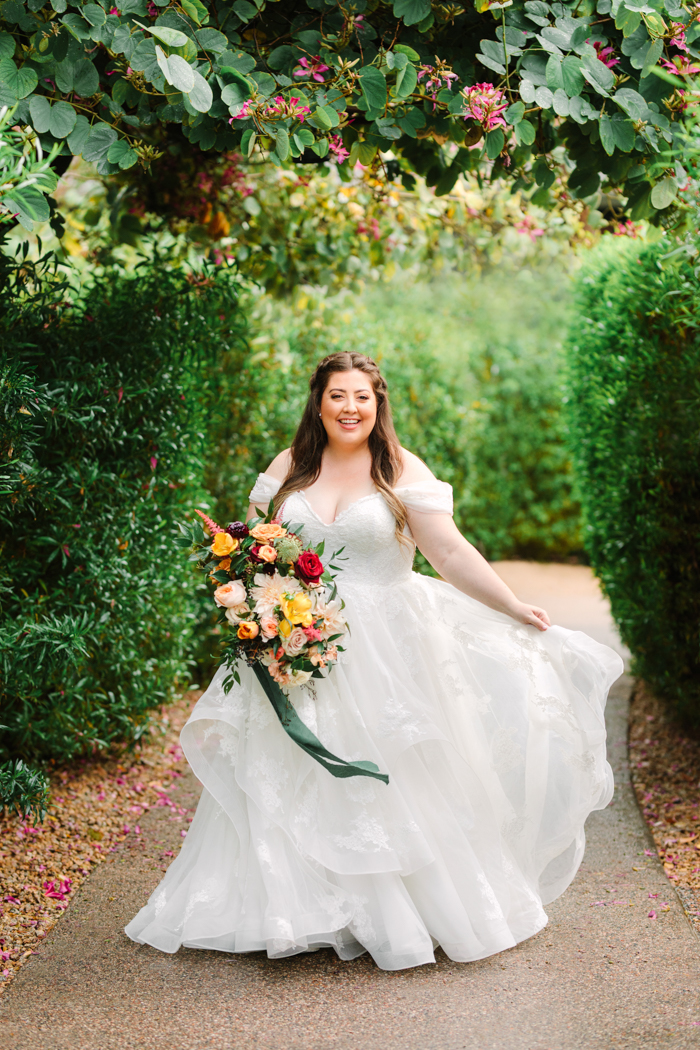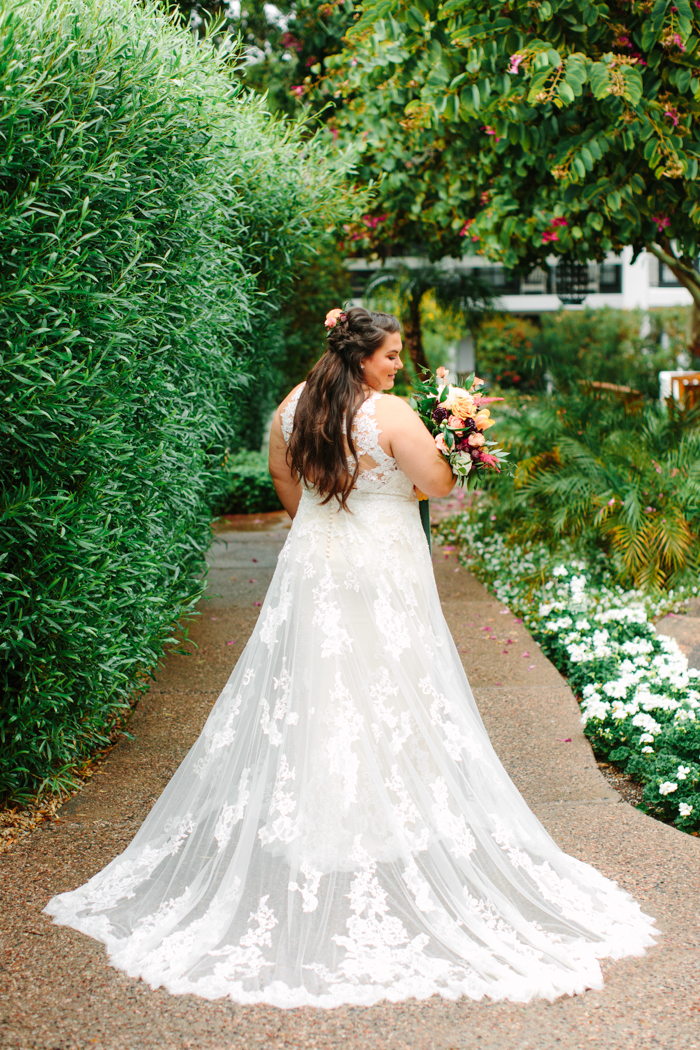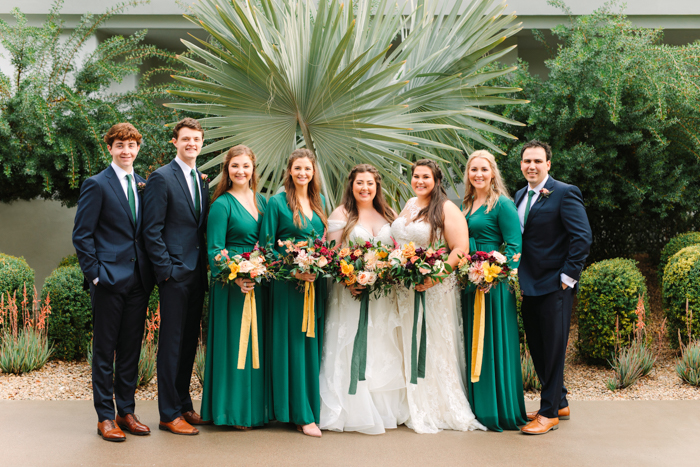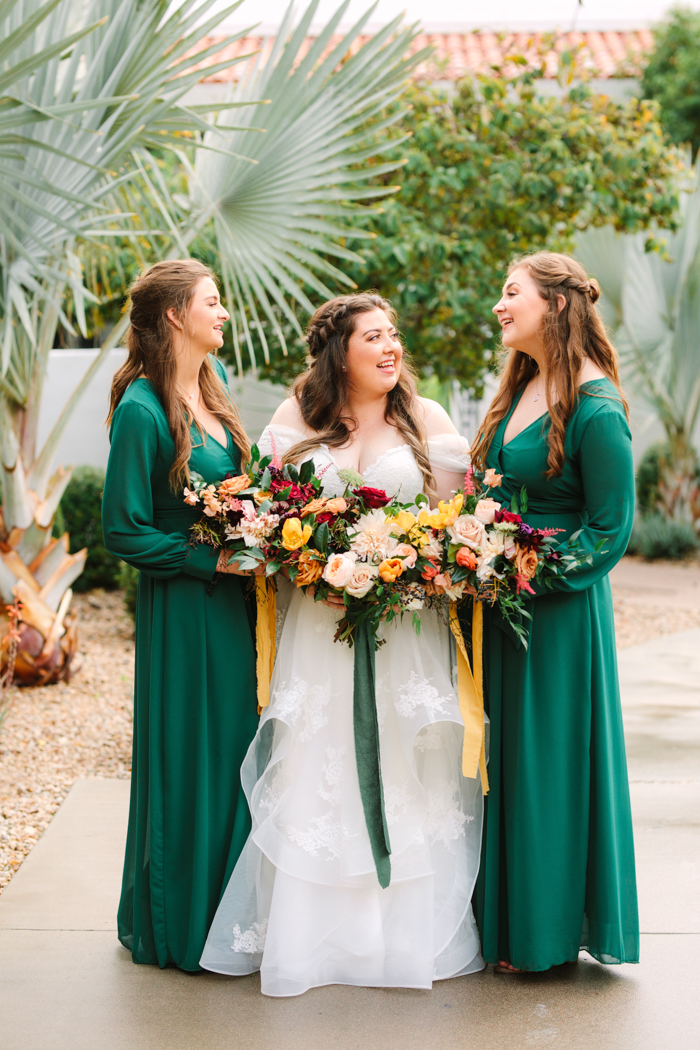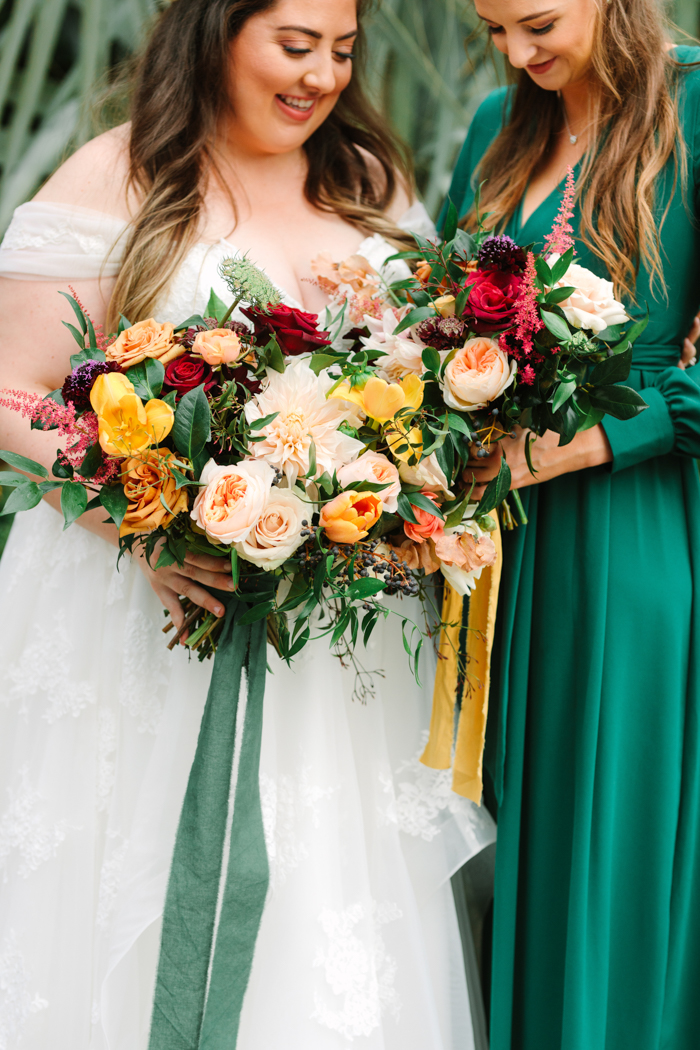 Nothing Could Rain On Molly And Chelsea's Parade
Our wedding was extremely memorable. It started with the rainiest day of 2020—a flash flood warning, thunder, lightning, and a torrential downpour covering the Phoenix valley. We had our first look under the eaves of the hotel we were staying at. Suddenly the rain stopped and the clouds parted. We ran out into the sunshine to get as many photos as we could before it started to rain again—but it never did! Sun poured over the yard and we had the chance to have a gorgeous outdoor ceremony, cocktail hour, and dinner. As guests took their seats, the grass was so wet from the rain that the chairs were sinking, and people were dropping like flies. Our dresses were muddy and our shoes were dark brown from all the mud, but at that point we didn't care!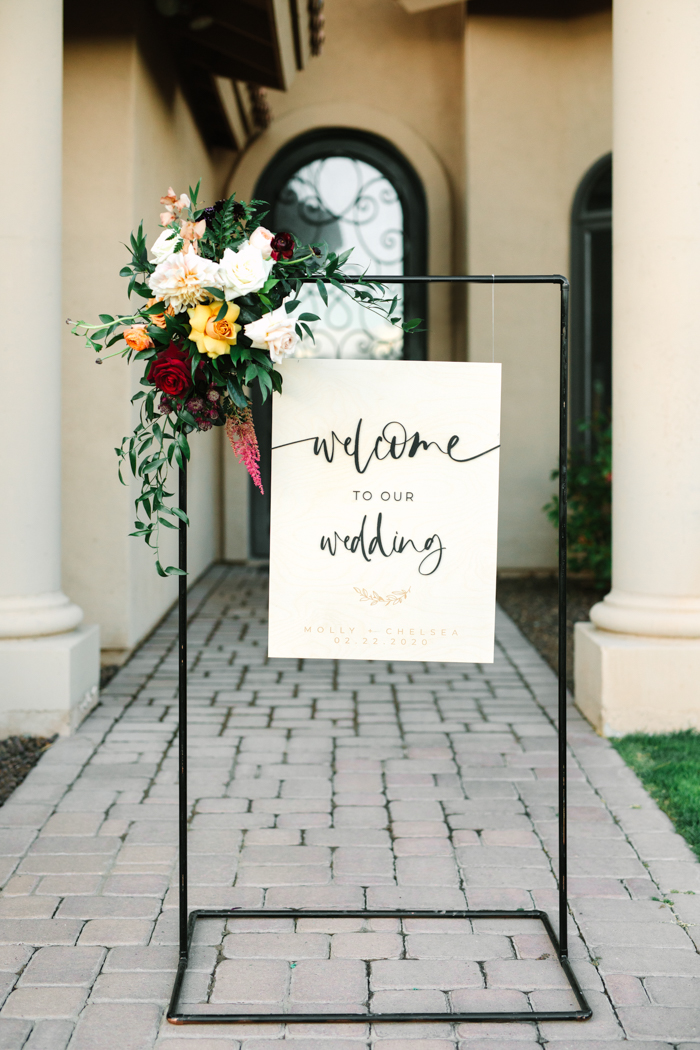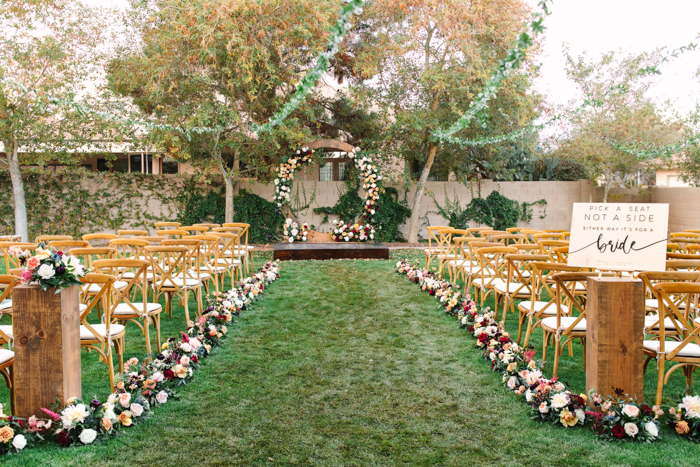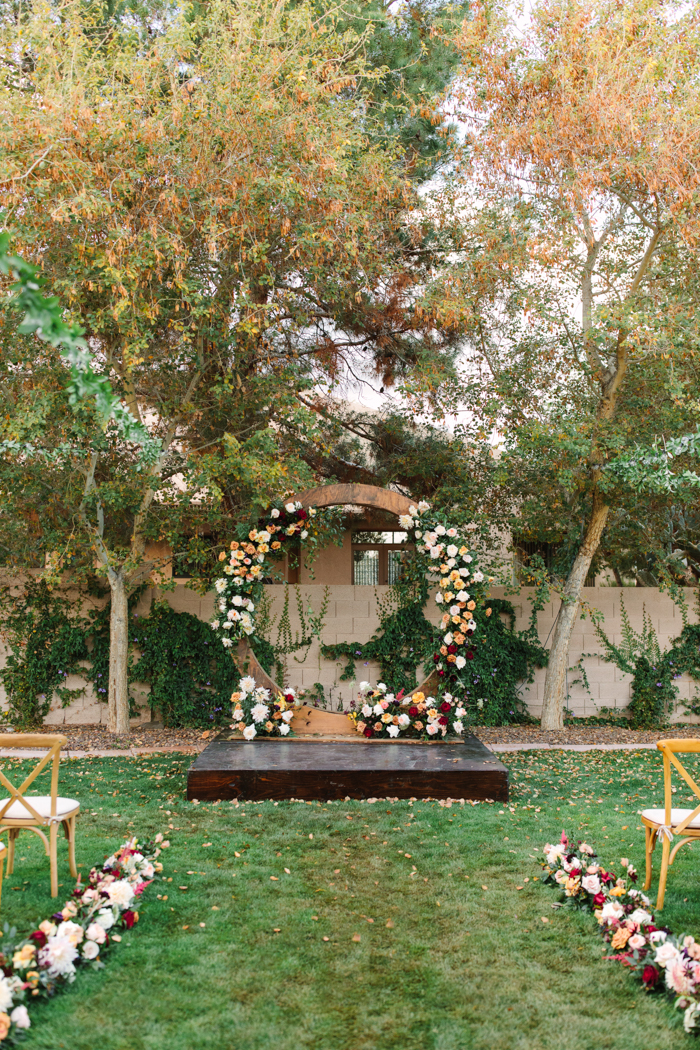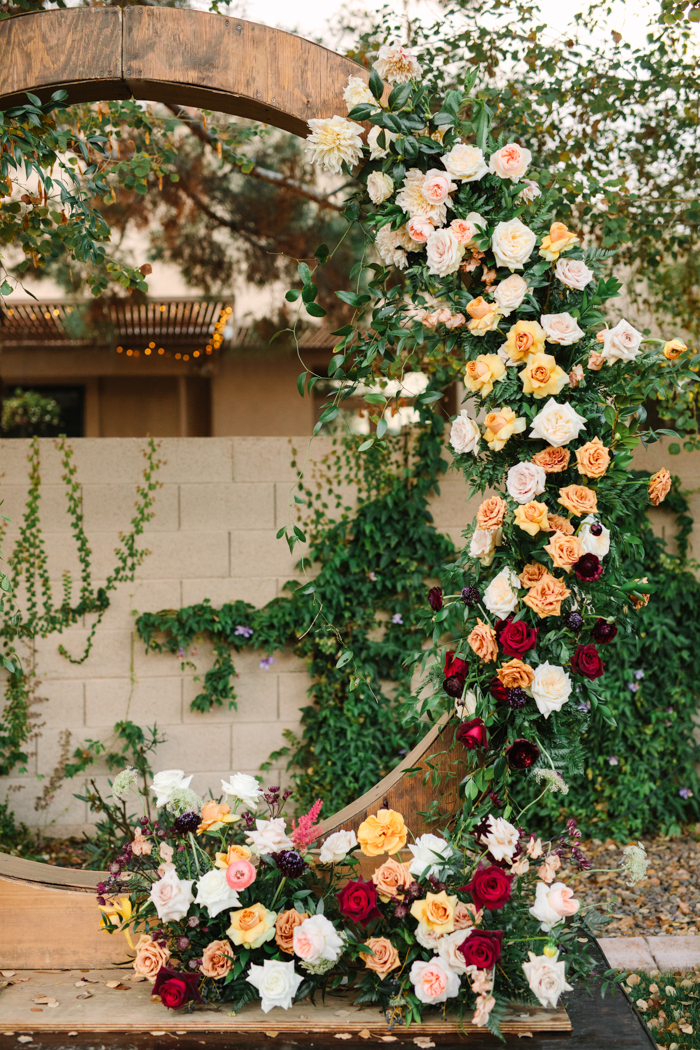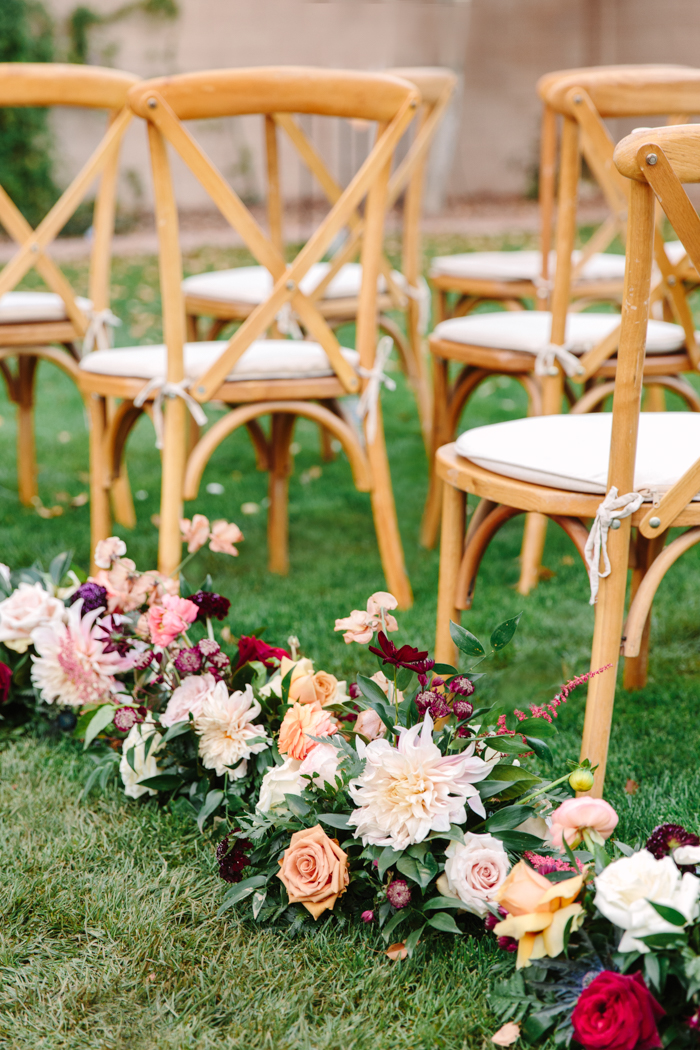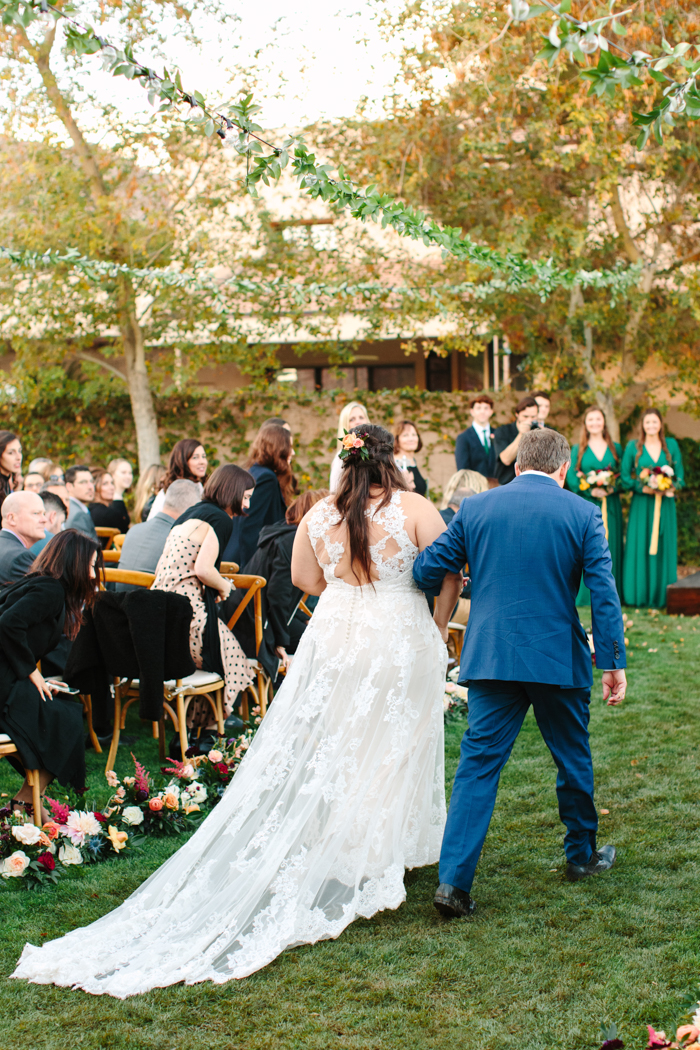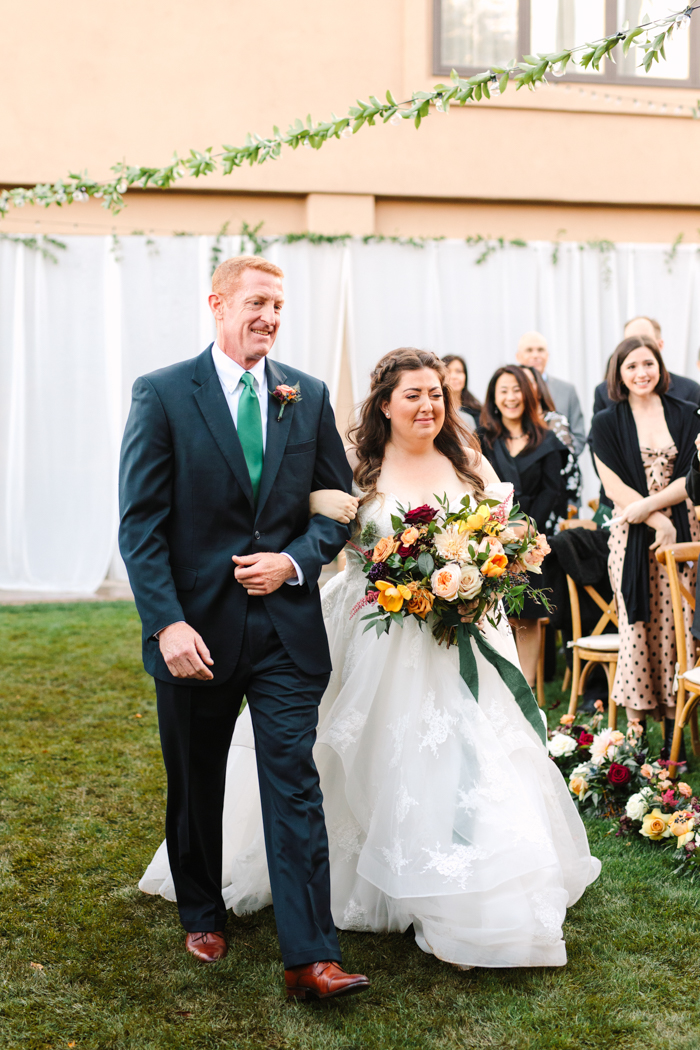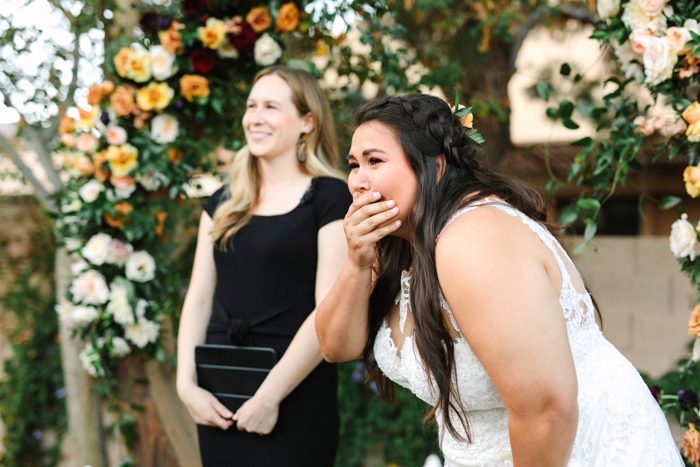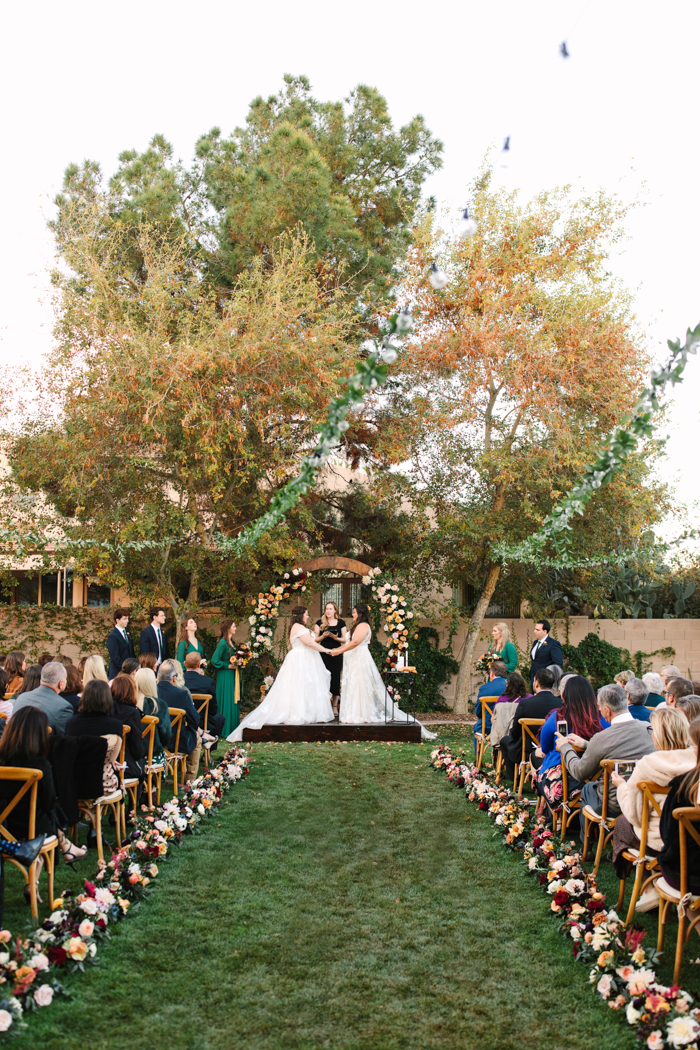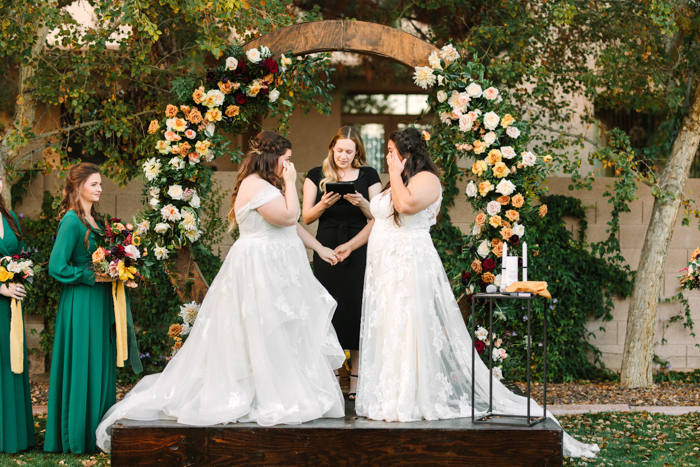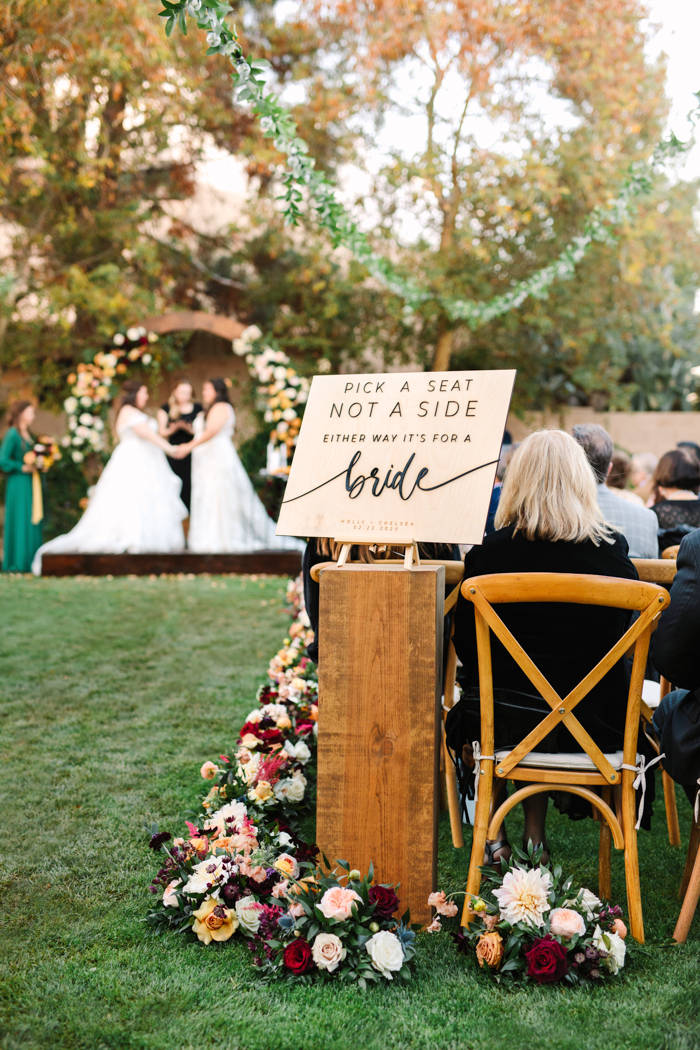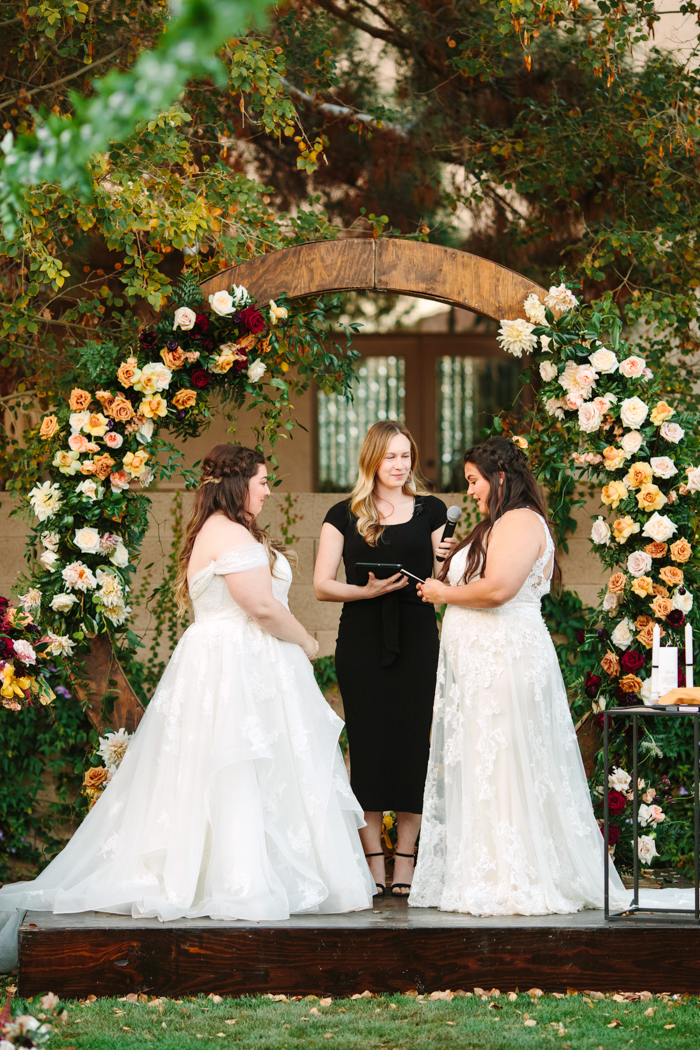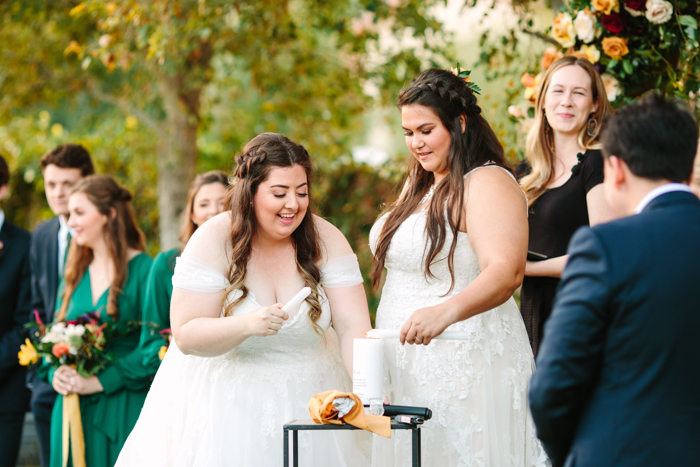 A Unity Ceremony To Honor Loved One's Support
We said personal vows that made us sob and we're not sure anyone actually understood what we said—haha! We also had friends of ours read the Marriage Equality Supreme Court decision during our ceremony—it was an extremely powerful and heartfelt moment. We also had a reserve unity candle ceremony. We had each of our guests light a candle to represent the light, warmth, and love of their support as an LGBTQ+ couple.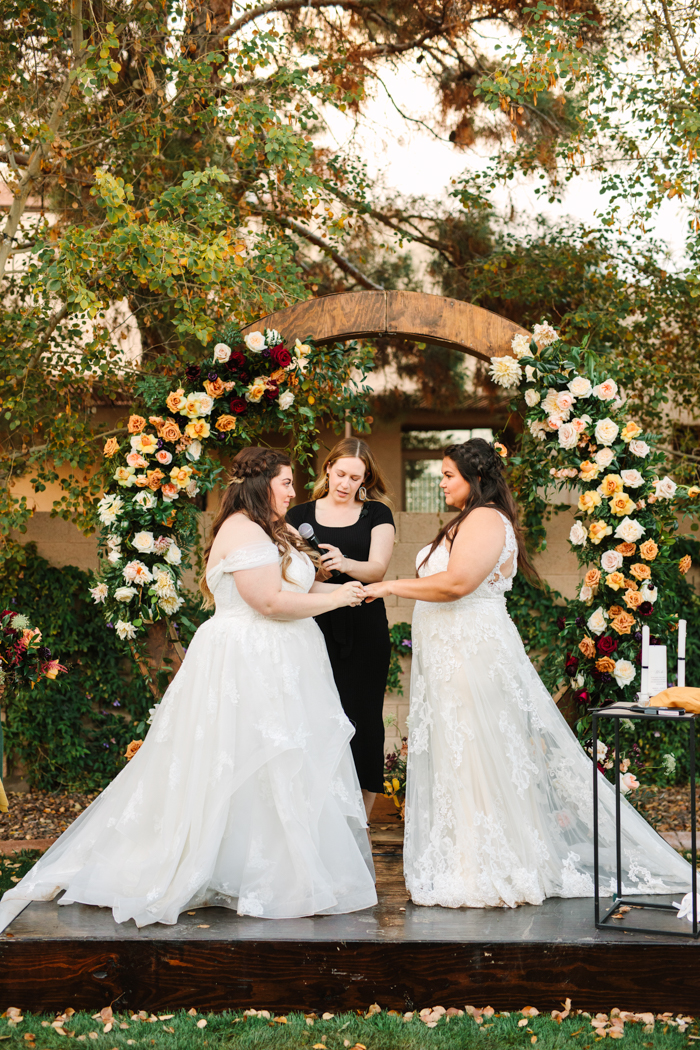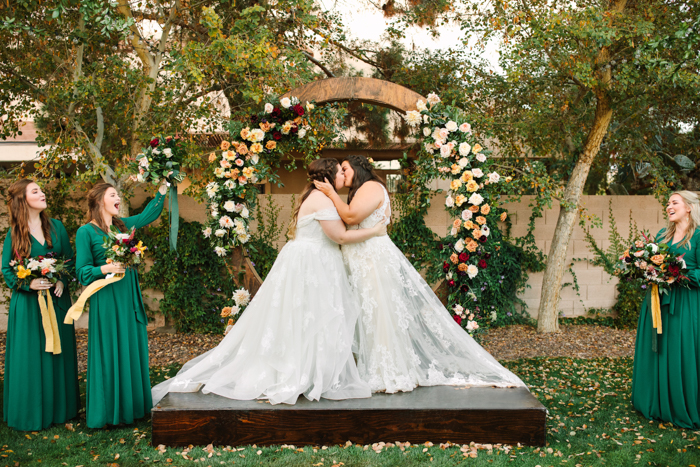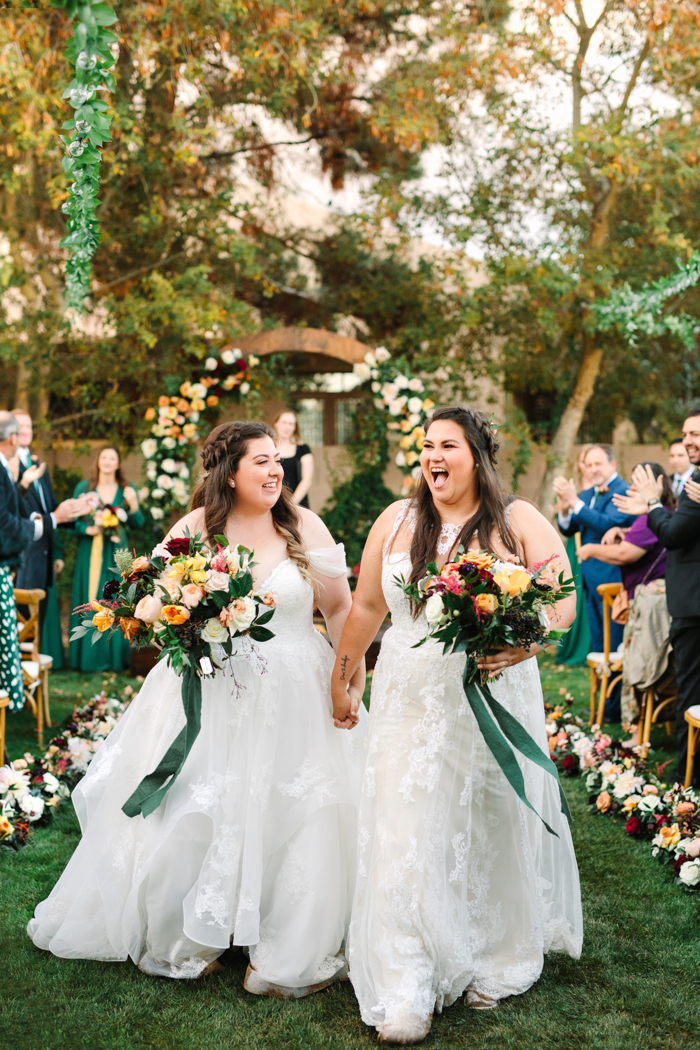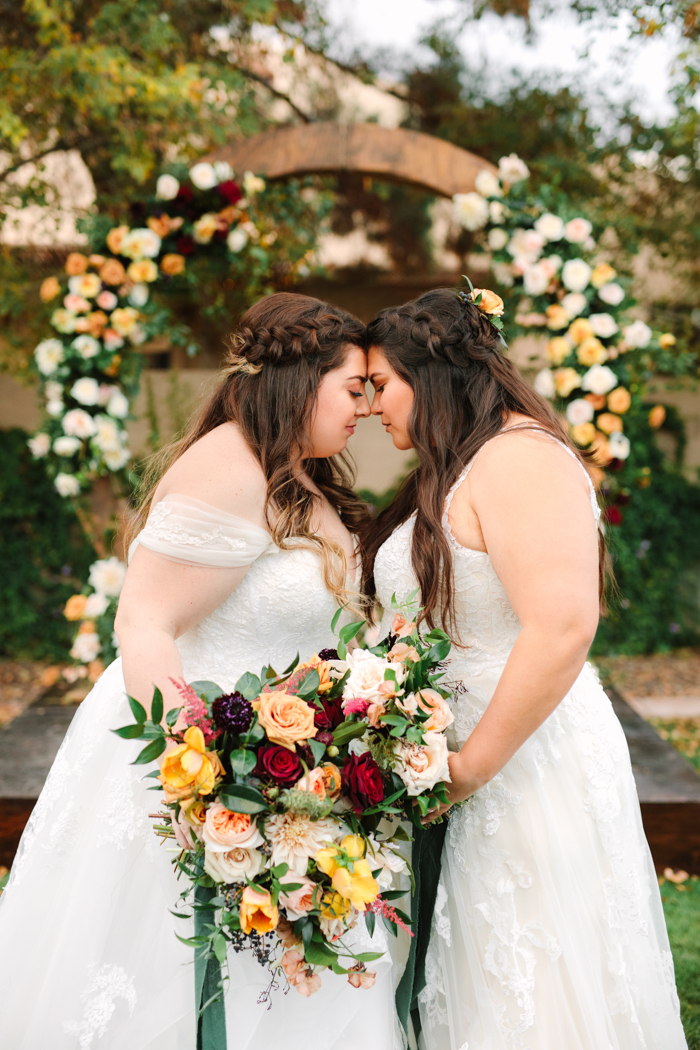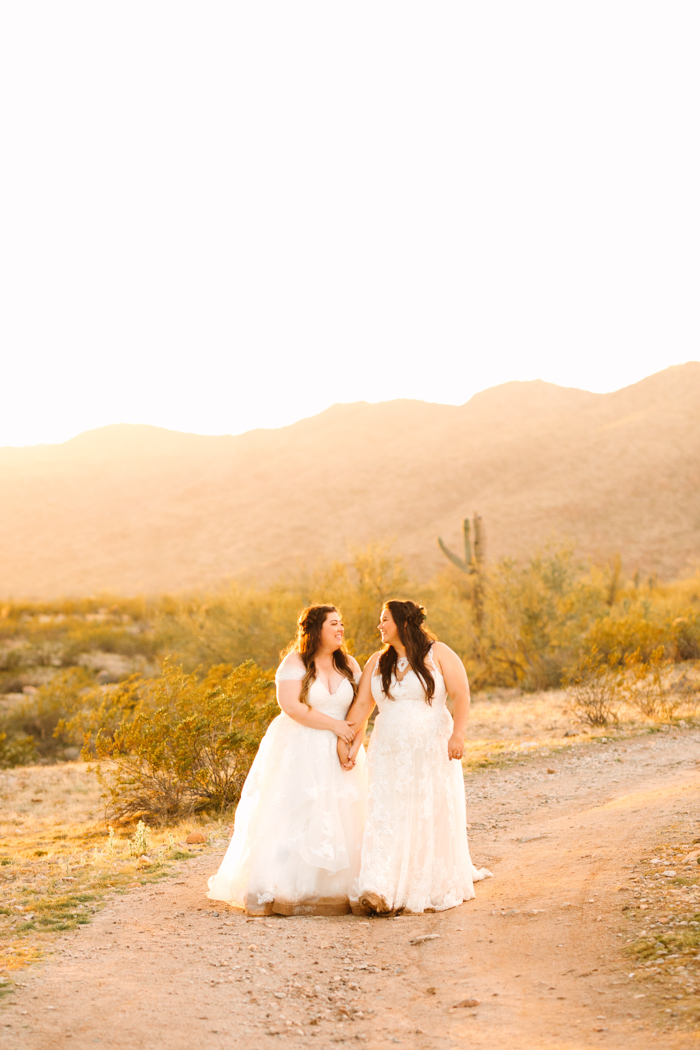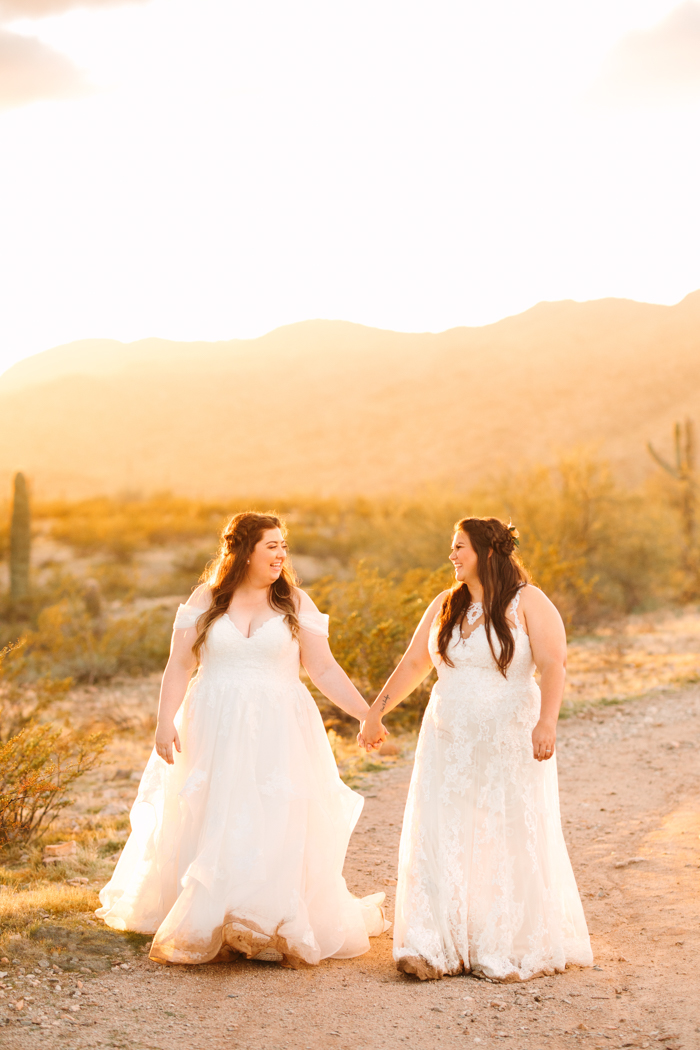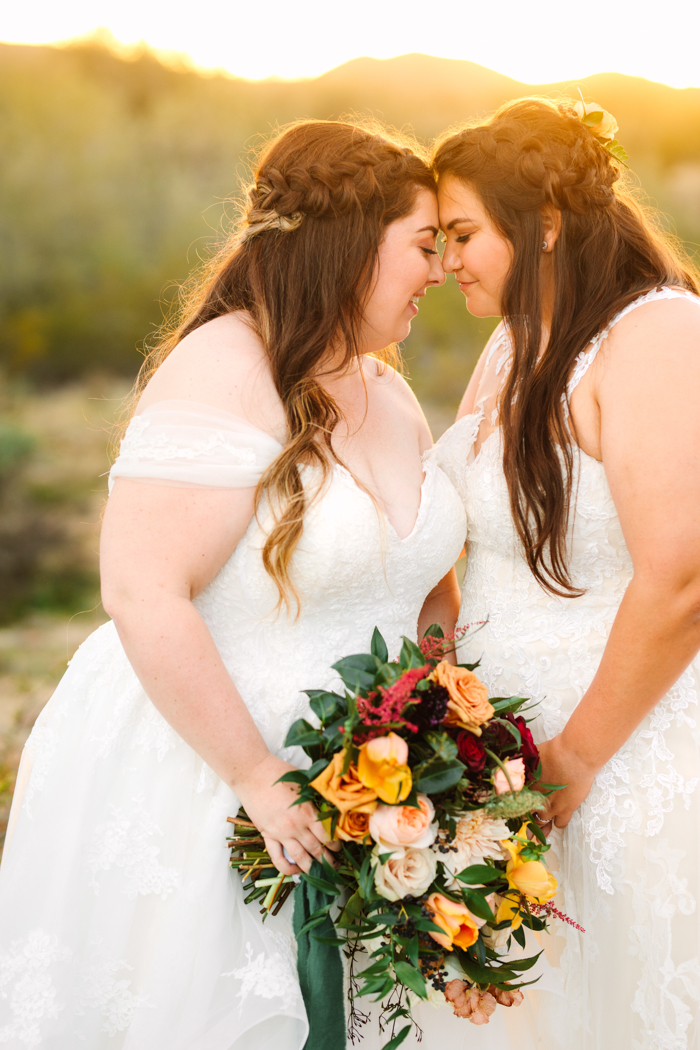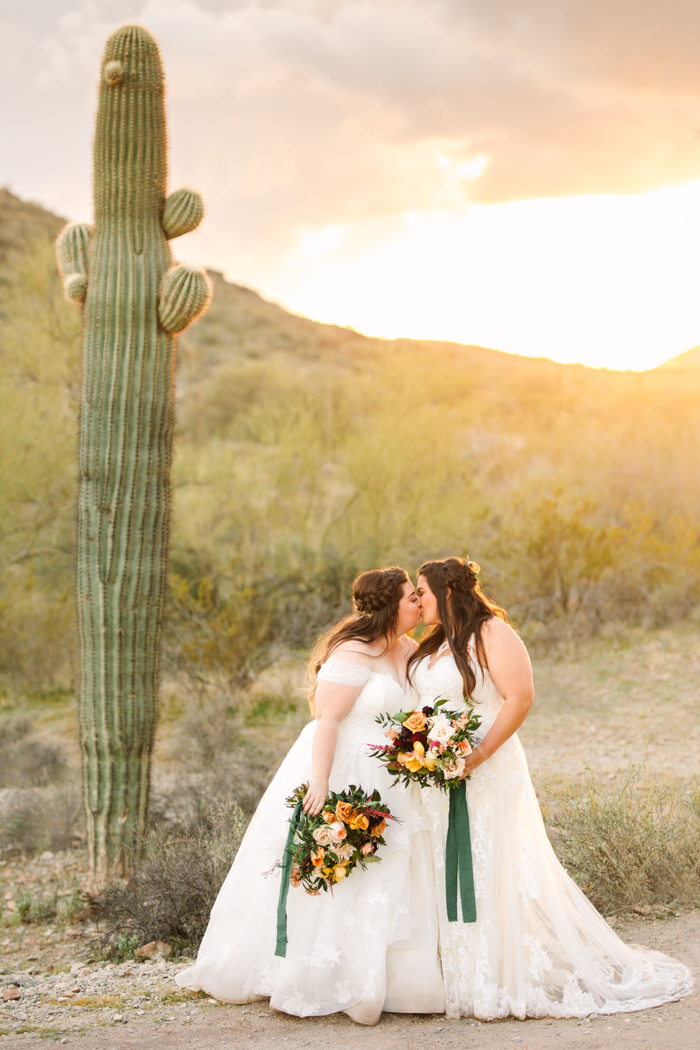 A Venue With Sentimental Value
Our venue was Molly's parents' backyard. It was the place we spent our high school summers together when we were just falling in love. It was nice to get married at home and have that additional sentimental value.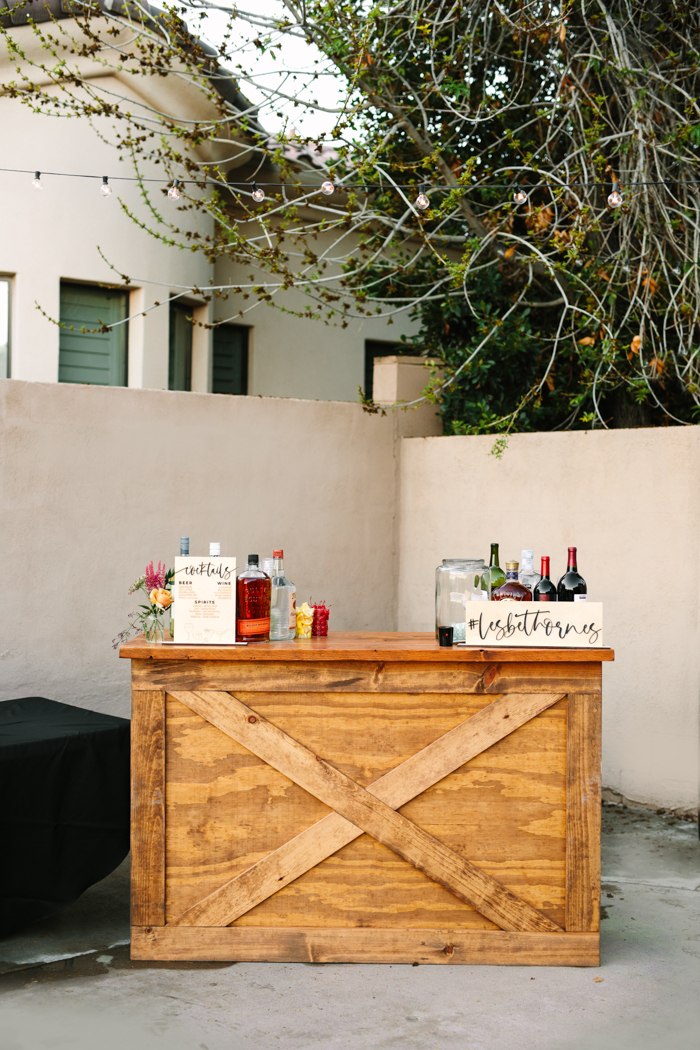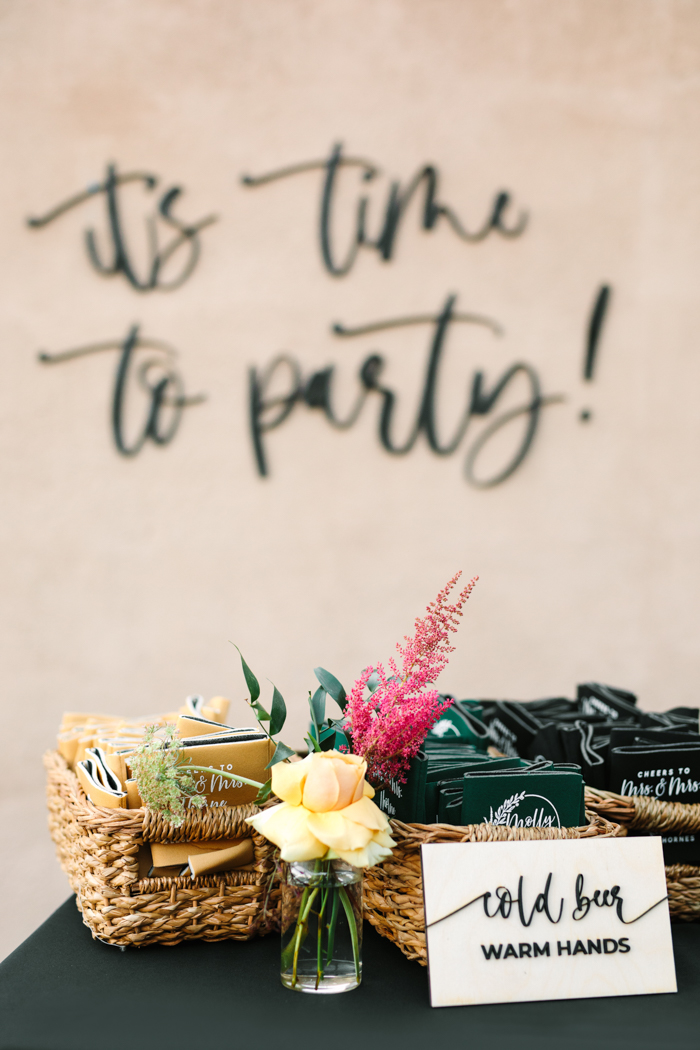 DIY Signage Doubles As Wedding Keepsake
Molly's Mom learned to use a laser cutter to design, cut, paint, and display all of the signage at the wedding! It was an incredible gift that saved us a ton of money and really enhanced the look of the decor. Molly also designed and printed the invitations.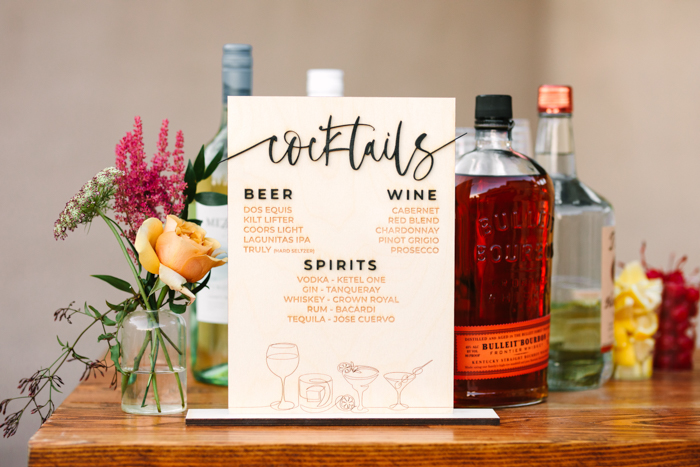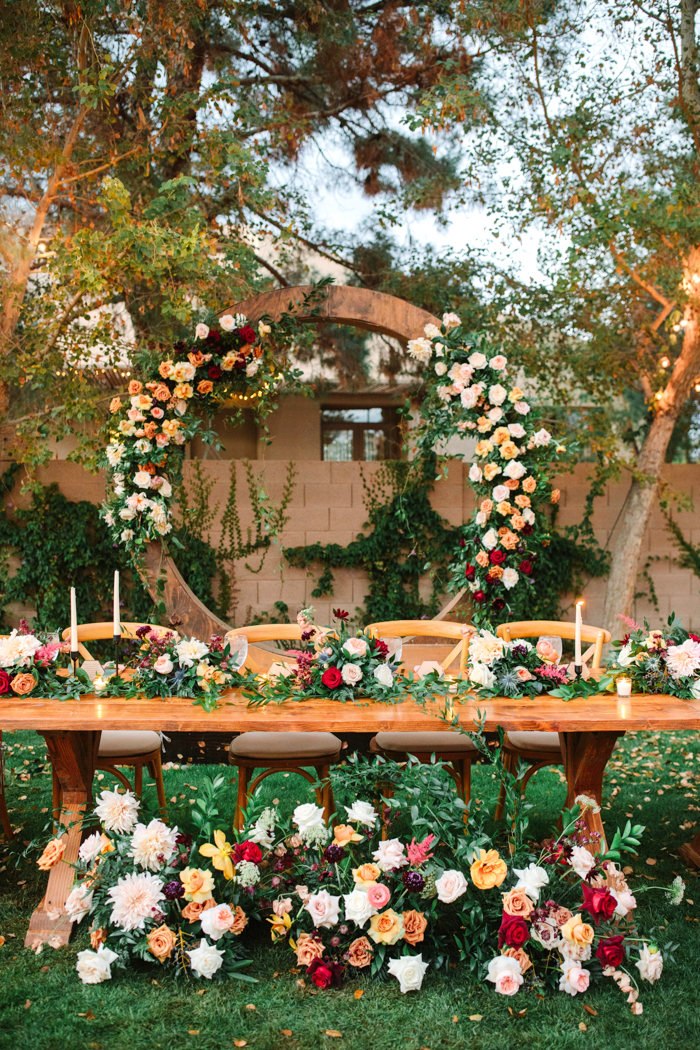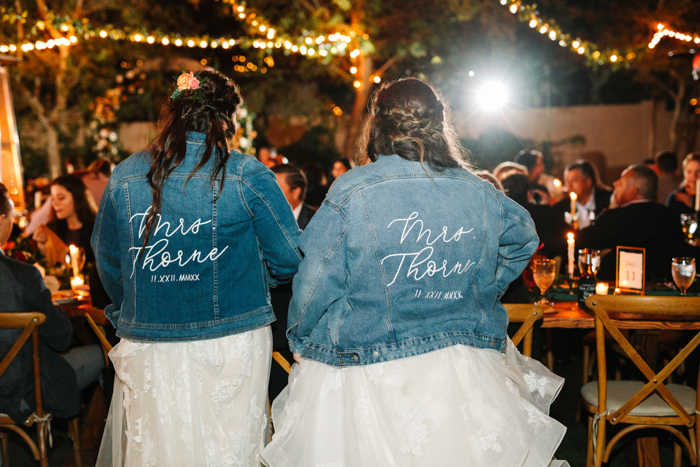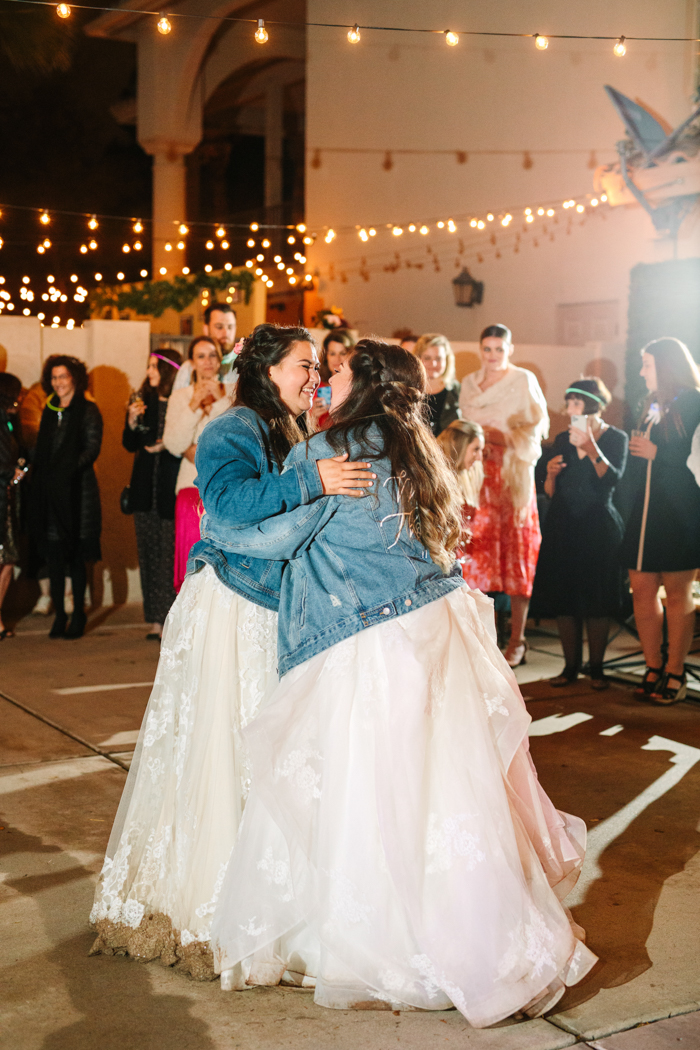 Congratulations Molly and Chelsea on their beautiful sun-filled backyard wedding. We are thankful photographer Mary Costa Photography was present to capture every sweet moment from this powerful LGBTQ+ wedding.
From the backyard venue to the ceremony script—every moment was carefully crafted with intentionality in mind. Whether you're looking to save money in your budget or dreaming of a venue with sentimental value, a backyard wedding is just what you're looking for. Check out the ultimate guide to planning a backyard wedding and get started planning your own.