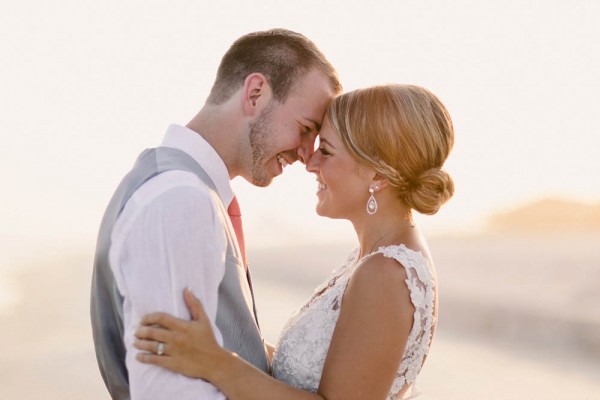 What better way is there to have a relaxed and chic wedding than to choose a beach venue with elegant decor? Following through with this vision, Kevin and Kimberly picked the beautiful Halekai III in Gulf Shores, Alabama for their elegant and effortless ceremony. Burlap, mason jars, sunflowers, and sand surrounded the couple has they exchanged their vows, and the casual setting contrasted perfectly with the bride's formal beaded gown. Smiles and laughter filled the air as Jules & Cait photography captured the incredible moments.
The Couple:
Kevin and Kimberly
The Wedding:
Halekai III, Gulf Shores, Alabama
The Inspiration:
Our theme was rustic beach chic. We both love the look of driftwood, burlap, mason jars, mercury glass and so we wanted to include that in our decor. It was also important that we incorporate our faith so thats when we came up with the idea to have 1 Corinthians 13:4-7 signs going down the isle and an anchor. The anchor was a big symbol shown throughout our decor. The decor was either homemade or from Home Goods. Our color palette was coral, sea-foam, mustard yellow, and grey. Our wedding Day Fashion was chill but chic.
The Moments:
Kevin: My favorite moment was when Kimberly and I washed each others feet. This was something different than a unity candle or sand. It was my favorite moment because even though we were all dressed up we knelt down on the sand and washed each others feet to show that we loved each other and that we were serving one another and also symbolized and showed our faith.
Kimberly: My favorite moment was when I got to dance with my dad. It was a moment that I have been dreaming of since I was a little girl. My dad surprised me and we danced to a song that he wrote and recorded. While we were dancing my dad was singing along to the recording. I don't think there was a dry eye to be found. It meant a lot to me and will be something I will always cherish.
The Couple Recommends:
Jules and Cait became apart of the family. They were constantly asking what they could do to help and even took some pictures of the rehearsal & my little bridal/bachelorette shower. Kevin and I felt so comfortable with them and we just enjoyed and laughed the whole time. Namans Catering besides that the food was delicious the caters went above and beyond to make sure the day was perfect. They always were checking up on Kevin and I to see if we needed anything. They also put together a to-go box of everything so that we could eat when we got to our hotel.
The Wedding Team:
Photography – Jules & Cait
Venue – Halekai III
Floral Design – Flowers By the Shore
Catering – Namans Catering
Cake – Publix
Invitations – Elise McIntyre
Hair Styling – Christine Wilhelm
Wedding Dress – Wedding Shoppe, Inc
Bridesmaids' Apparel – Davids Bridal
Groom's Apparel – Banana Republic, Express
Groomsmen's Apparel – Banana Republic, PacSun
Rings – Gold Diamond and Design
Rentals – SOHO Events and Rentals
A special thanks to Jules & Cait for showing us Kevin and Kimberly's sweet beach wedding in Gulf Shores! Looking for more casual wedding styles? Check out this bohemian Block Island wedding and this sunset beach wedding in North Carolina!