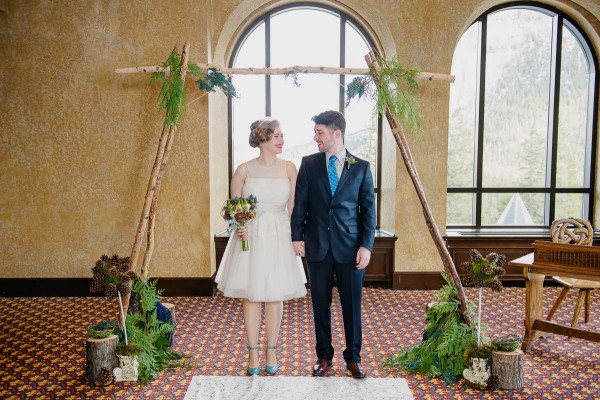 Lauren and Erik wanted to incorporate their personal styles into their intimate Banff wedding. Pinecones from Okanagan Valley, sent by the groom's mother, dressed the decor by adding a natural, wintery feel. Erik wore a Narwhal patterned blue tie. The couple explains that they have always considered the whale to be a symbol of their relationship. Other shades of blue and teal were prominent throughout their wedding at the Fairmont Banff Springs Hotel, creating an incredibly fresh vibe. The talented Orange Girl photography captured the precious moments the couple spent on their big day.
The Couple:
Lauren and Erik
The Wedding:
Fairmont Banff Springs Hotel in Banff, Alberta, Canada
The Inspiration:
Erik and I are pretty low key individuals, and I think our wedding style reflects that. I would say that we just indulged our little quirks a bit more than usual that day! Also, since we were having a winter wedding, we hoped to include natural elements into the decor. We recruited Erik's mom to send up a giant bag of pinecones from the Okanagan Valley, and our decor grew from there. We were lucky enough to locally source some wood rounds, and then just started playing! As far as our fashion, we both decided that we wanted very classic looks. My sister always has told me that I am a bit of a Bettie. So for me, the interpretation of classic took a bit of a vintage vibe, lots of pearls, bows, and dashes of dusty blue. Erik went with a classically tailored navy suit, and got his dash of whimsy with his tie and socks. The tie also has a bit of sentiment for Erik and I. Throughout our relationship we have identified with the narwhal as a symbol of us. An animal that seems like a mythical creature, but in fact is quite real.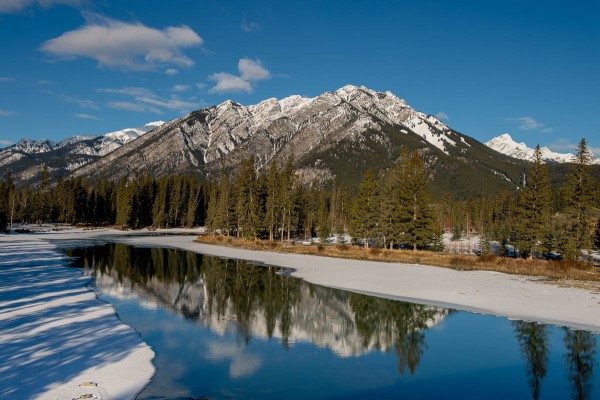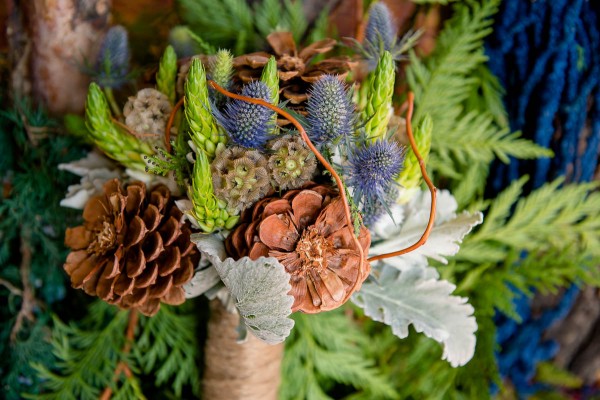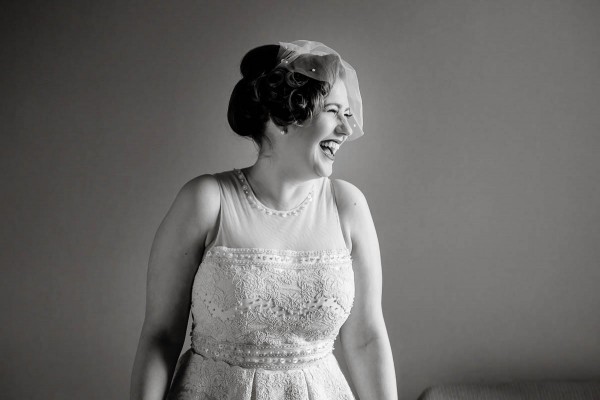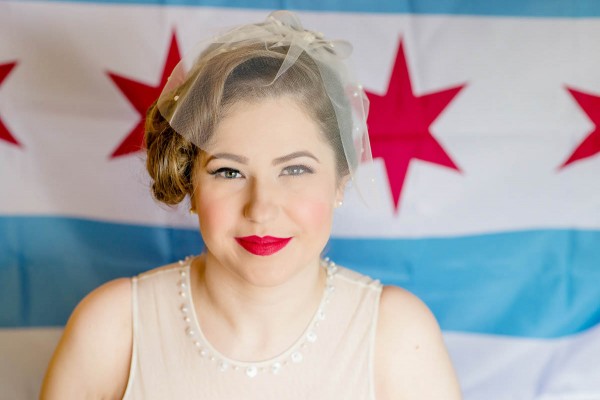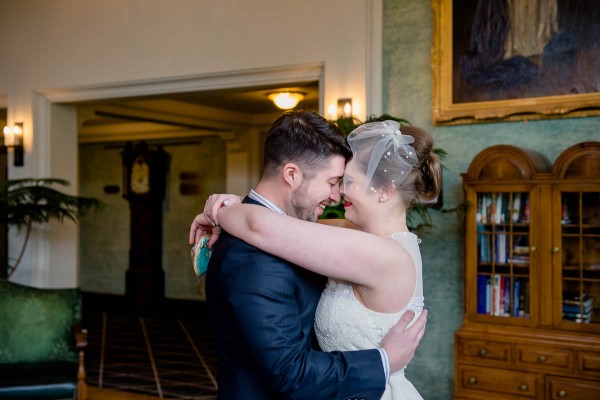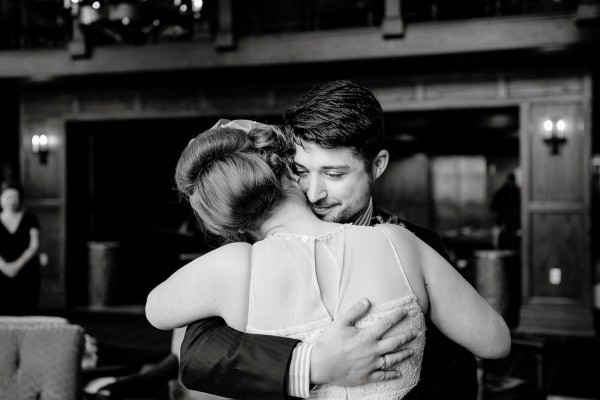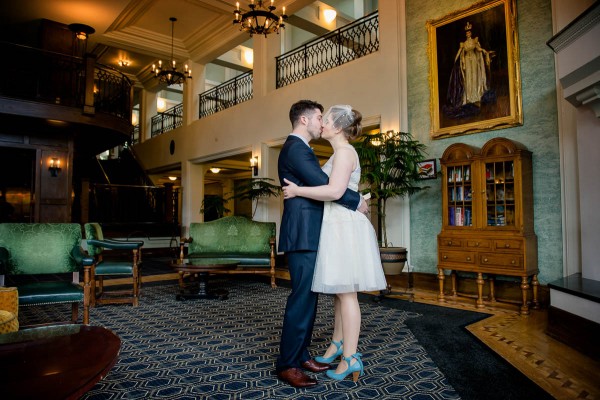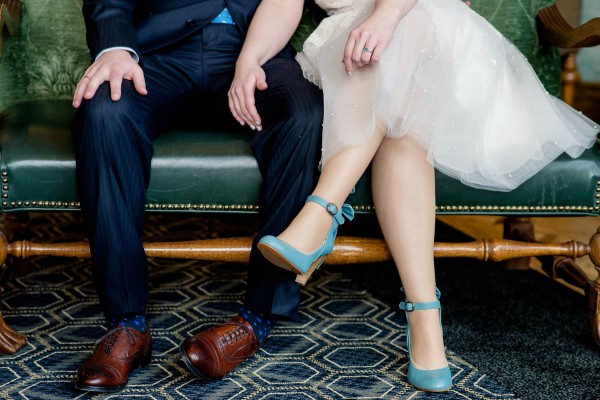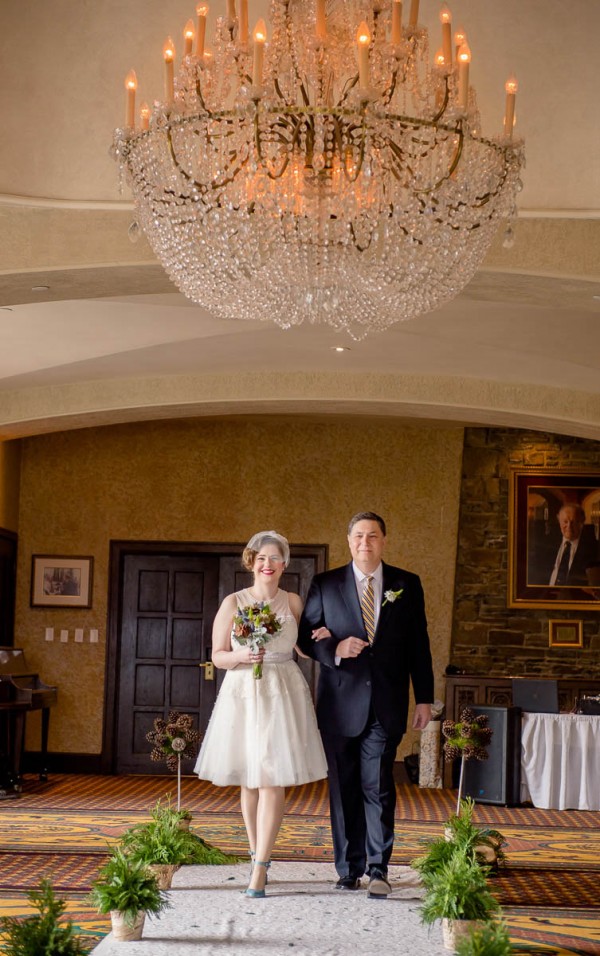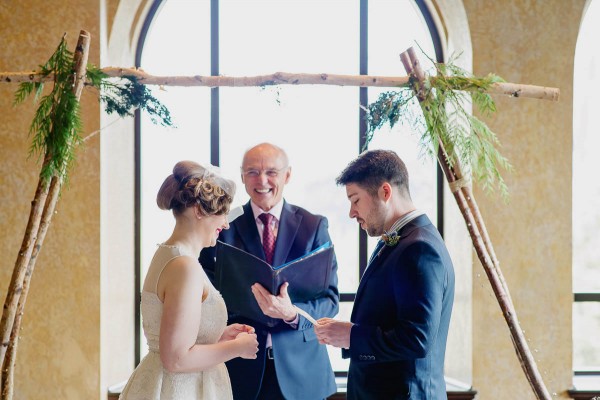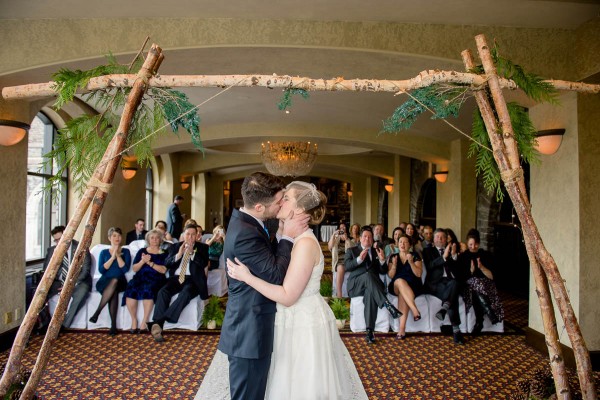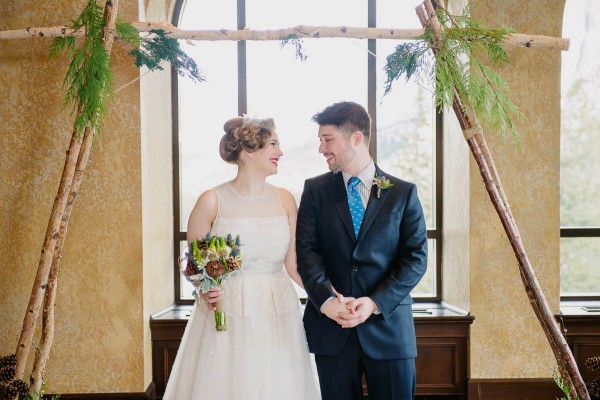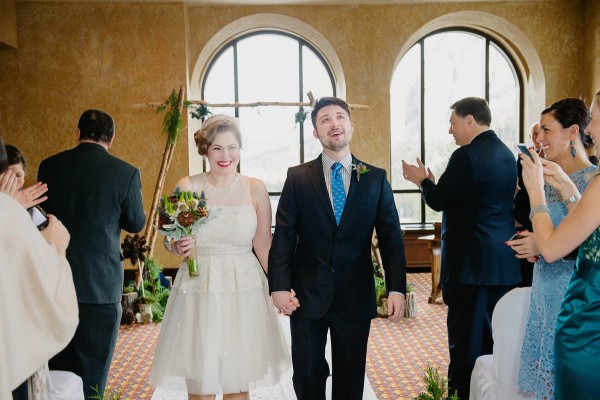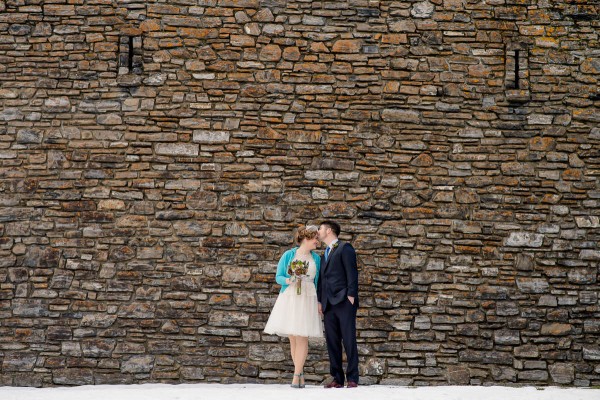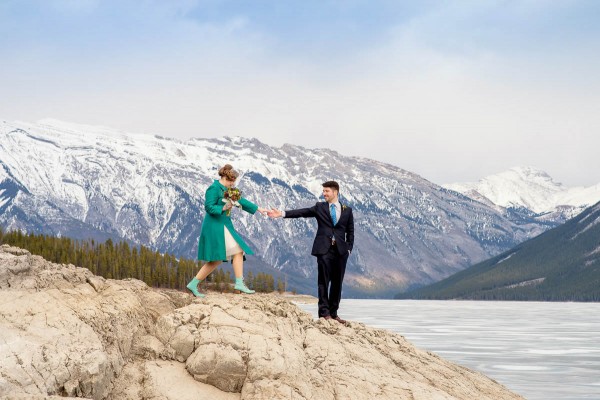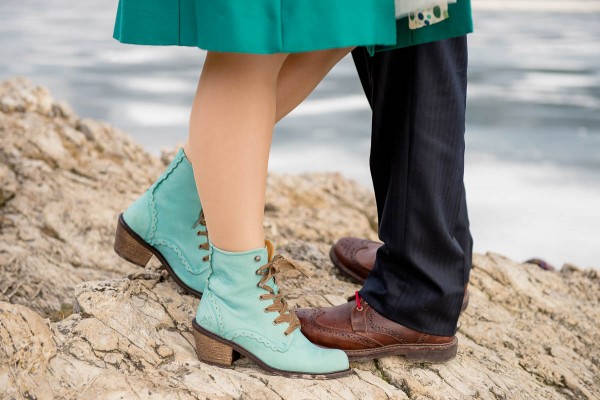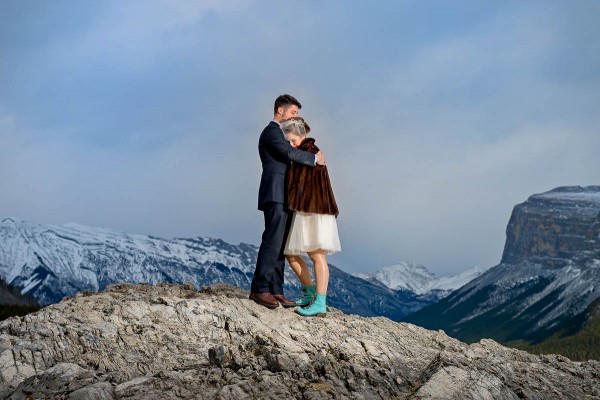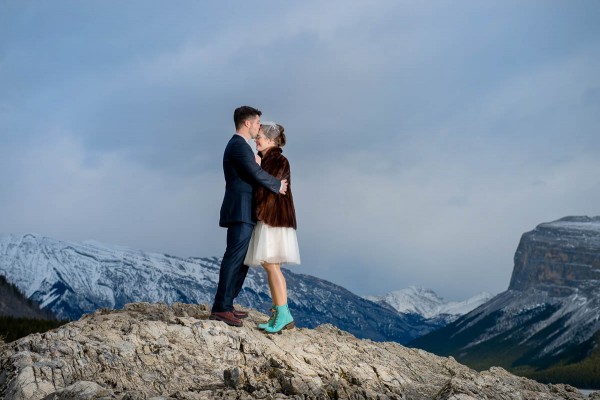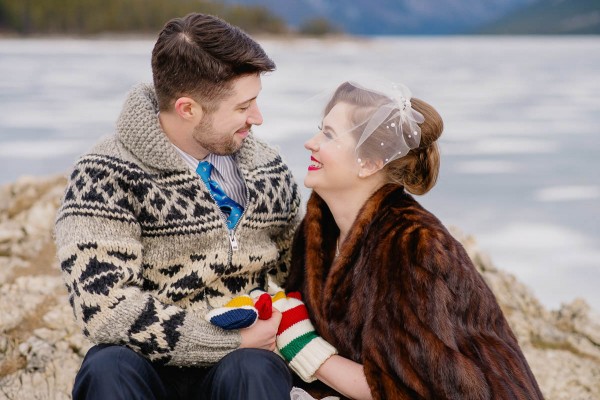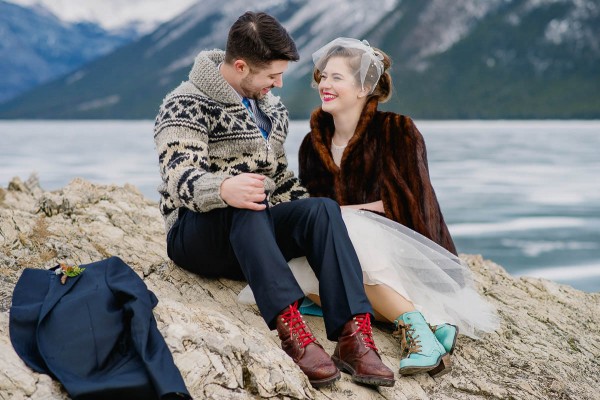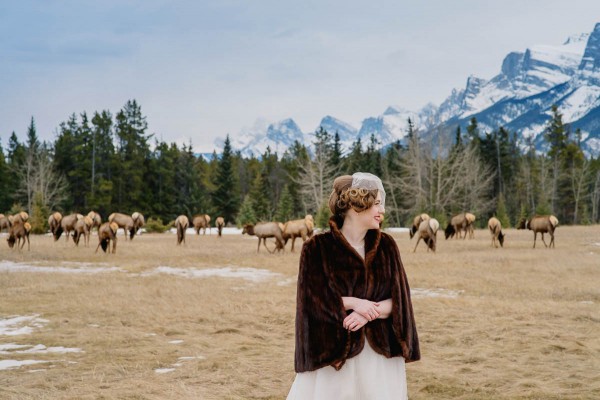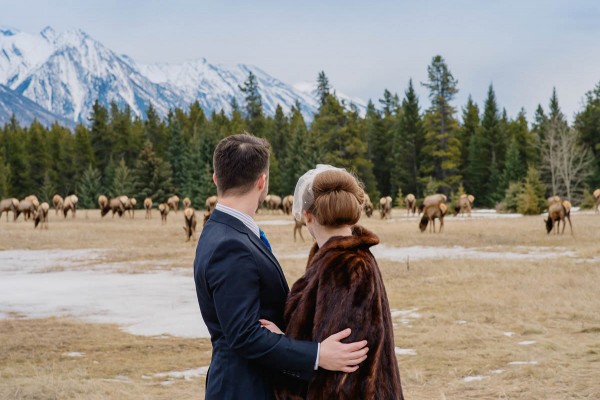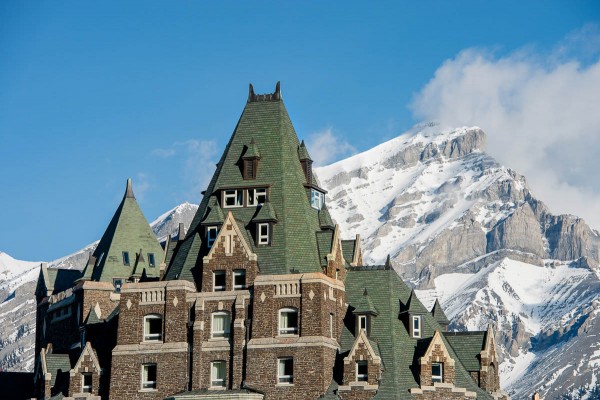 The Moments:
Lauren: My favorite part of the day was when Erik hugged me during our vows. I was having a bit of a sobby struggle to get through what I had written. Erik and I had chosen to write very personal vows, and they were very emotional. I had only gotten half-way though and I started sobbing a bit, but to calm me down Erik gave me a big hug so I could get through the rest of my vows. It worked, and I was able to squeak out the rest of the words I wanted to say to him.
Erik: It is hard to choose just one moment… the reveal before the ceremony, reading our self-written vows to each other, hearing my brother read a children's story to close the ceremony and bring the whole room to (even more) tears… But if I had to choose, it would have to be one small action that was repeated throughout the day… As long as we've been together, Laure has had the habit of holding my face while she talks to me. I have very small ears and so half the time I couldn't hear her because she'd end up covering them with her hands. Needless to say, I smiled and nodded a lot without knowing what she was telling me. I thought it was funny and adorable and always laughed when i caught her doing it. Over time this became our way of saying I love you without words. When we had our reveal, that is how she let me know I could turn around. During the ceremony, she reached up to do the same. )She just did it again as I was writing this too.) Having Laurenbring that small gesture into our wedding day is something I will always remember.
The Couple Recommends:
OUR PHOTOGRAPHER! Kirstie is just a wonderful human, the fact that she is also an amazingly talented photographer just made the day even more fun. Just asErik & I are a perfect fit, Kirstie was the perfect fit for the style and atmosphere of the day. She just took our two crazy families in stride, and captured the giggles and love perfectly. Also, a special nod to our florist Philip Chong. He was an absolute dream to work with, and is an extremely talented florist. He may also be the most laid back man I have ever met!!
The Wedding Team:
Photography – Orange Girl
Venue – Fairmont Banff Springs Hotel
Floral Design – Philip Chong Flower Bar
Cake – Brulee Patisserie
Officiant – Rob White
DJ – Banff Entertainment
Videography – Dave Drogos
Invitations – Nesting Project
Makeup Artist – Canmore & Banff Makeup Artistry
Hair Styling – Botega Hair
Wedding Dress – BHLDN
Bridal Accessories – Meringue Vintage
Groom's Apparel – Brooks Brothers
Rings – Kendra Renee Jewelry (Groom's Ring)
Favors – David's Tea
A huge thank you to Orange Girl photography for giving us a glimpse into Lauren and Erik's quirky Banff wedding! Looking for more fun intimate wedding ideas? Check out this joyful and bright wedding in Austin, Texas and this quirky vintage wedding.