In a canary yellow, 50's style dress that absolutely radiates happiness, Sara married Darshan in an intimate ceremony at the Chapel Dulcinia in Austin, Texas. This happy couple did things their way, through and through, including starting the day off with a photo shoot with their exuberant puppies, captured perfectly by Jake Holt!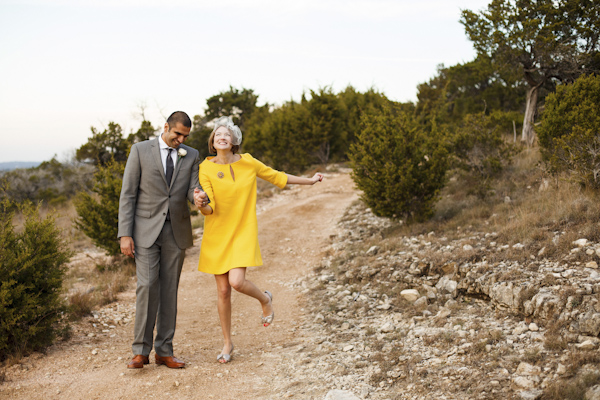 The Couple: Sara and Darshan
The Wedding: 12.12.13 – Hotel St. Cecilia and Chapel Dulcinia, Austin, TX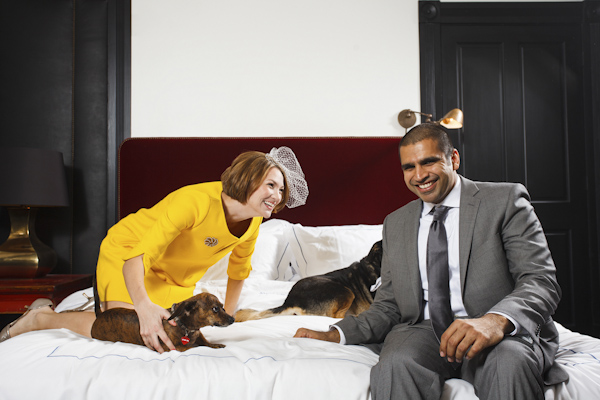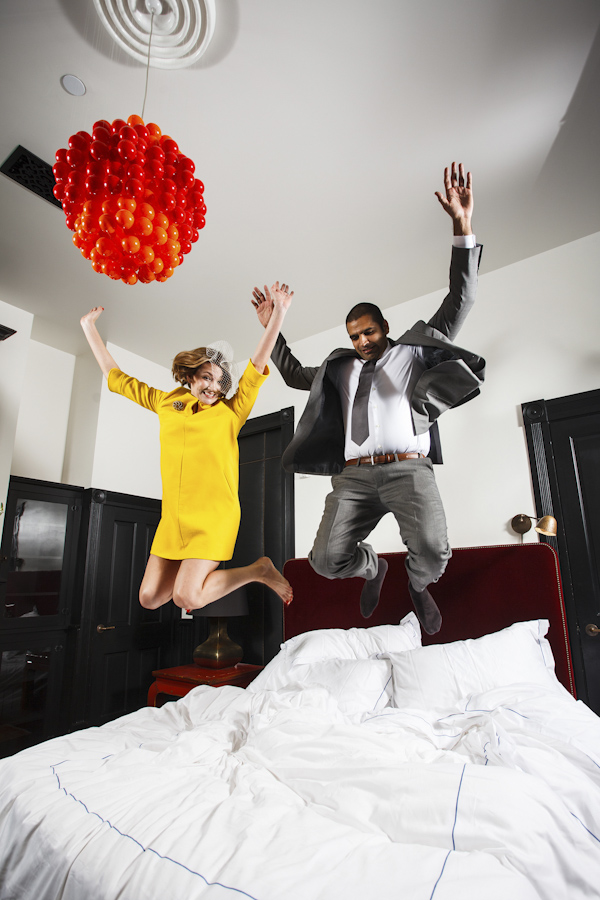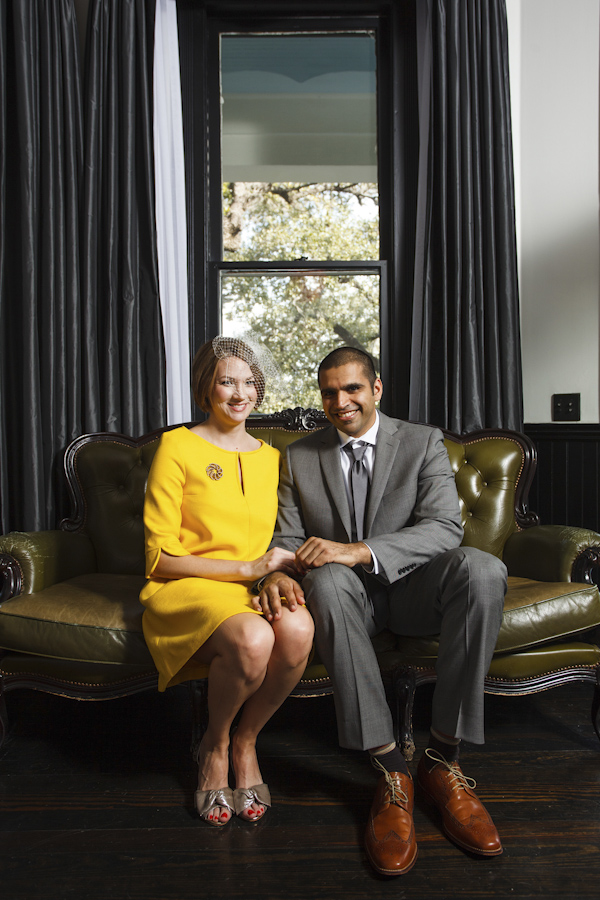 The Goals: We wanted a small, simple wedding that was fun and casual for us and our family.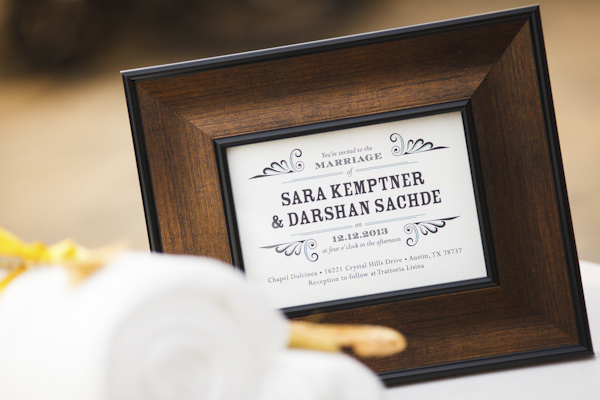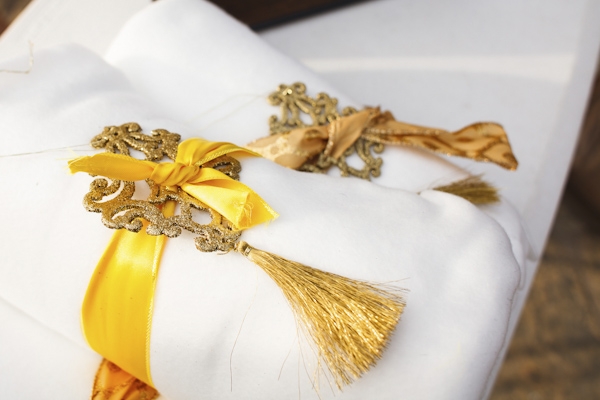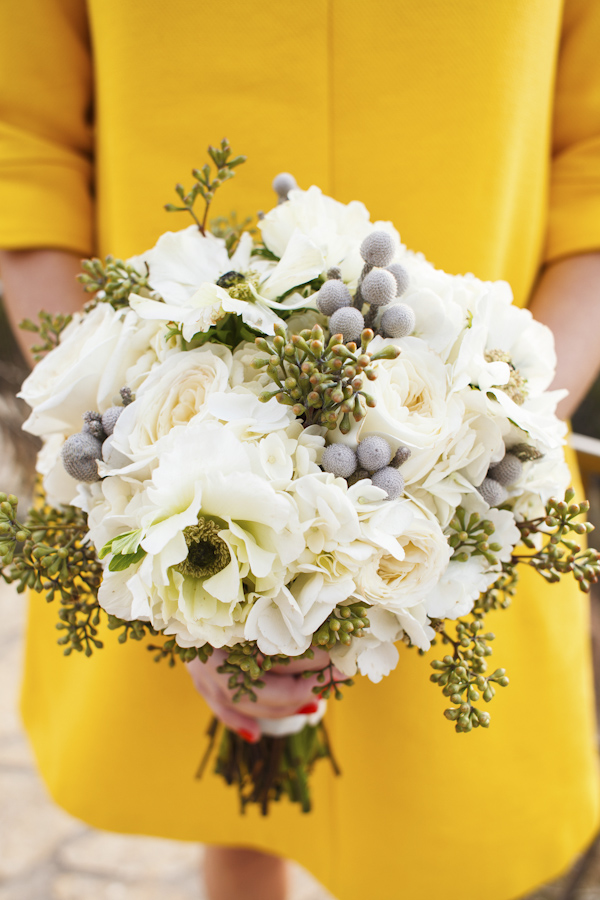 The Moments: I hate to sound sappy, but the day was filled with some really special moments. I'd love to make a longer list, but here are my top three memories:
Both my stepdad and dad walked me down the aisle, which is apparently too many people for Chapel Dulcinea (or maybe we were just too big). As soon as we started into the chapel we realized we all wouldn't fit so we literally had to walk down the aisle sideways–it was hilarious!
My second favorite moment was managing a photo shoot with our two dogs. I knew it was going to be interesting, but wow—they were out of control. I bought little veils for them to wear–which lasted about two seconds. I imagined a cute family picture of us all in formal attire, looking regal (in a humorous way), but that was out of the question. Within minutes one dog had the veil completely off and the other one was eating her's!
The ceremony was short, sweet and lovely, but the best part was ringing the chapel bells after we were announced as a couple. It was a lot of fun and a great ritual to announce our union.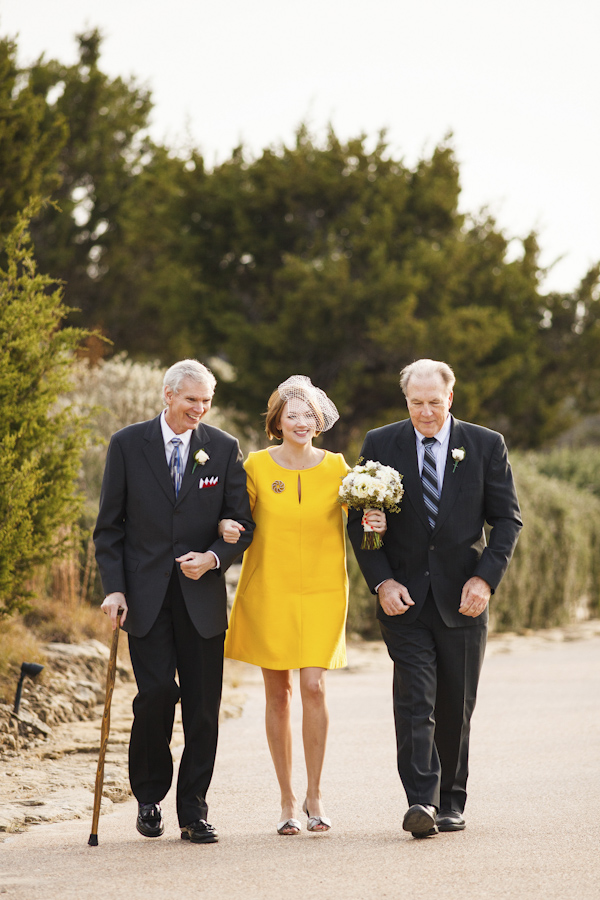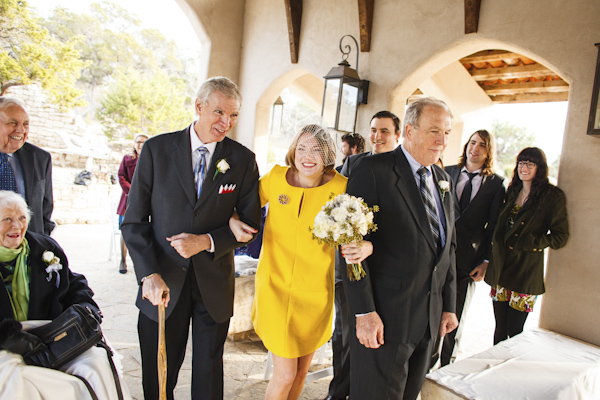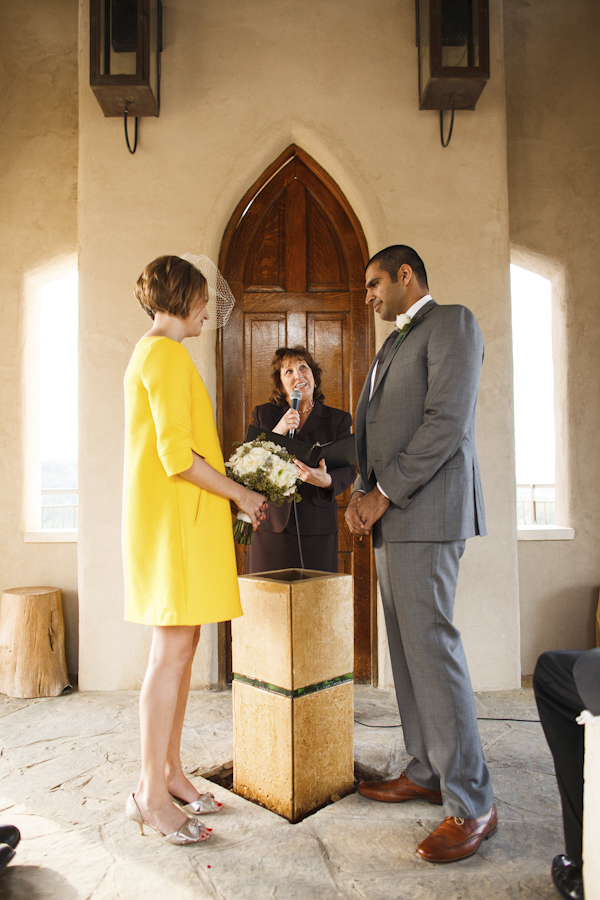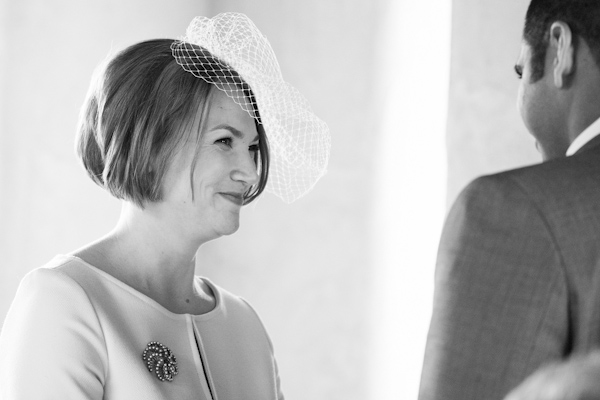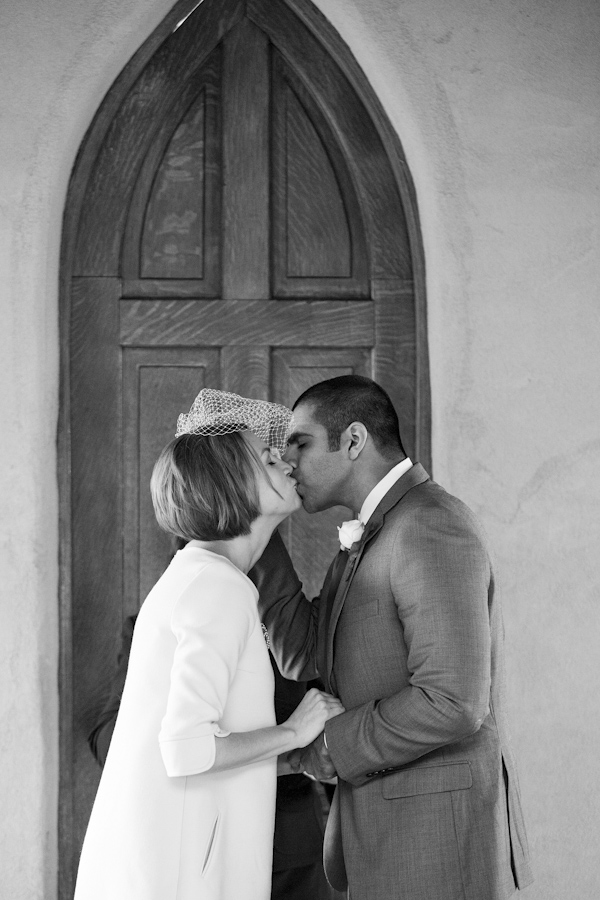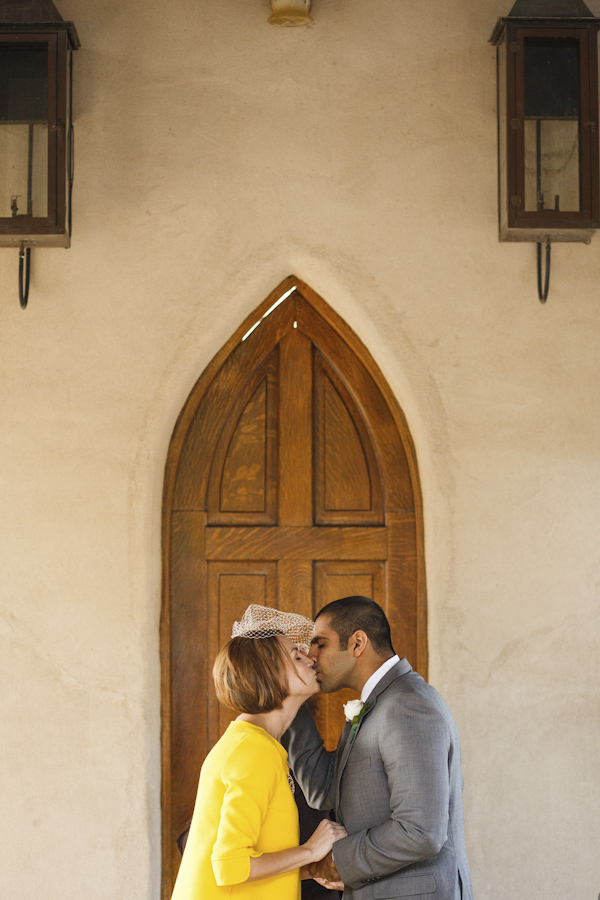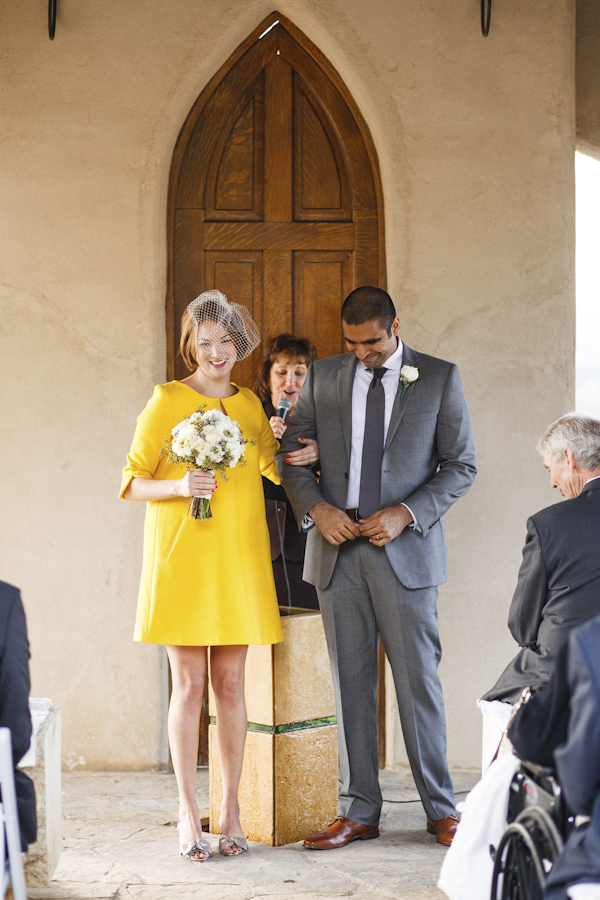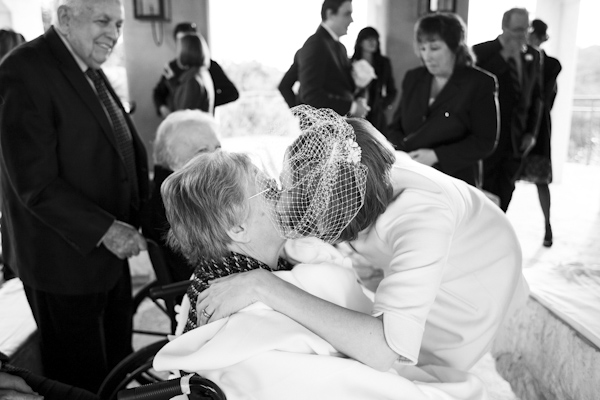 The Look: It all started with the dress. I wanted a dress that was comfortable and pretty –and that could be worn again! I'm actually planning on wearing it for all our anniversaries. My main concern with my wedding style was avoiding a costumey-look since my dress had a 50s/60s feel and I have a short, bob haircut. I originally wanted to add a white caplet to the look, but it looked too silly and overdone.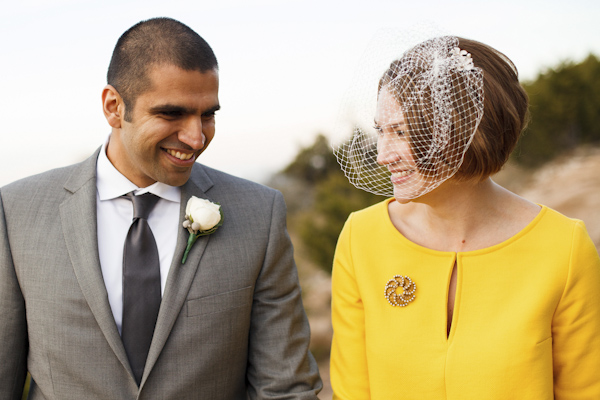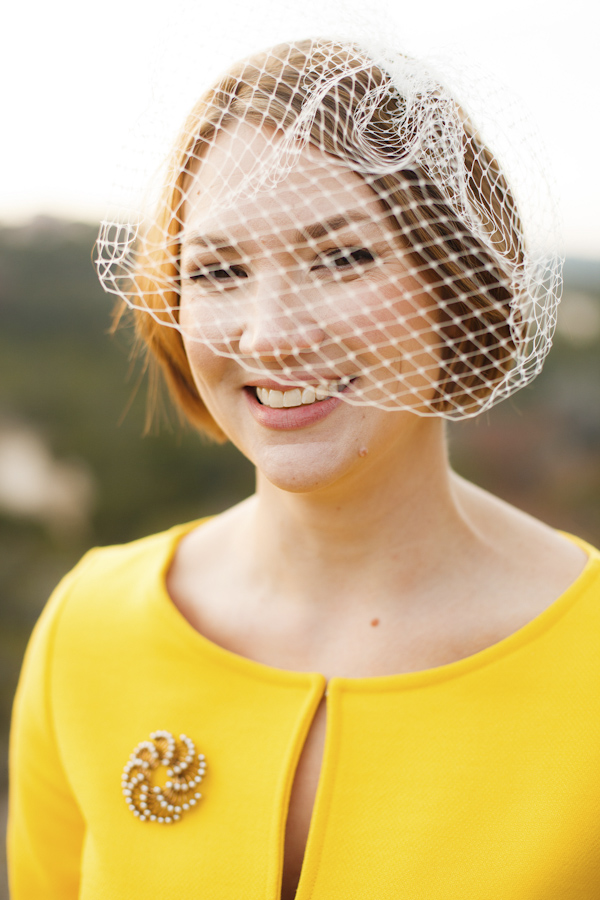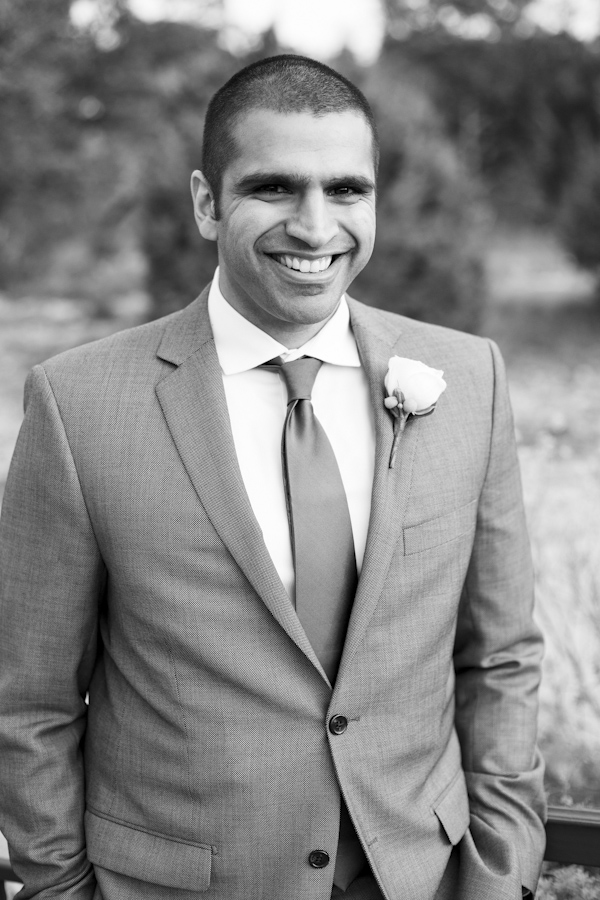 The Advice: I was a complete stress-ball when we were deciding between having a large or small wedding and even a local or destination wedding, however that all disappeared once we just made a decision and stuck with it! I also loved having a really short, two month engagement. I think I would've come up with a ton of extra expenses if I had longer to plan.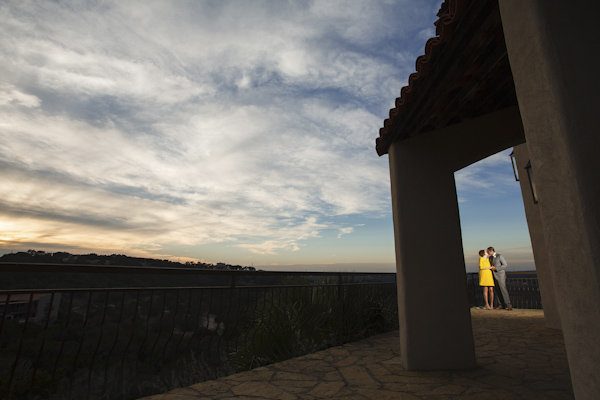 The Wedding Team:
Photographer: Jake Holt Photography
Getting Ready Venue: Hotel St. Cecilia
Ceremony Venue: Chapel Dulcinia
Officiant: Linda McWhorter
Invitation Designer: Paper Source
Wedding Dress: Paul & Joe
Bridal Accessories: Hairpin from BHLDN, Birdcage Veil from Blush Bridal, Shoes – Julian Gold, vintage brooch
Makeup Artist: Makenzi Lane
Hair Stylist: Blo Dry Bar
Rings: L Frank Jewelry
Music: Acoustic guitar, Mike "T-bird" Jackson